Descriptions and specifications of Doosan equipment
The company Doosan began its existence in 1896. For a short time the company has developed into a corporation with a worldwide reputation - of Doosan Infracore . The company's plants are located worldwide. The company has become the largest manufacturer Doosan in South Korea, construction machinery, forklifts, machine tools with numerical control (CNC), armored vehicles, missiles and torpedoes nodes and doosan parts (Запчасти Doosan), which include and construction equipment parts doosan (запасные части Doosan).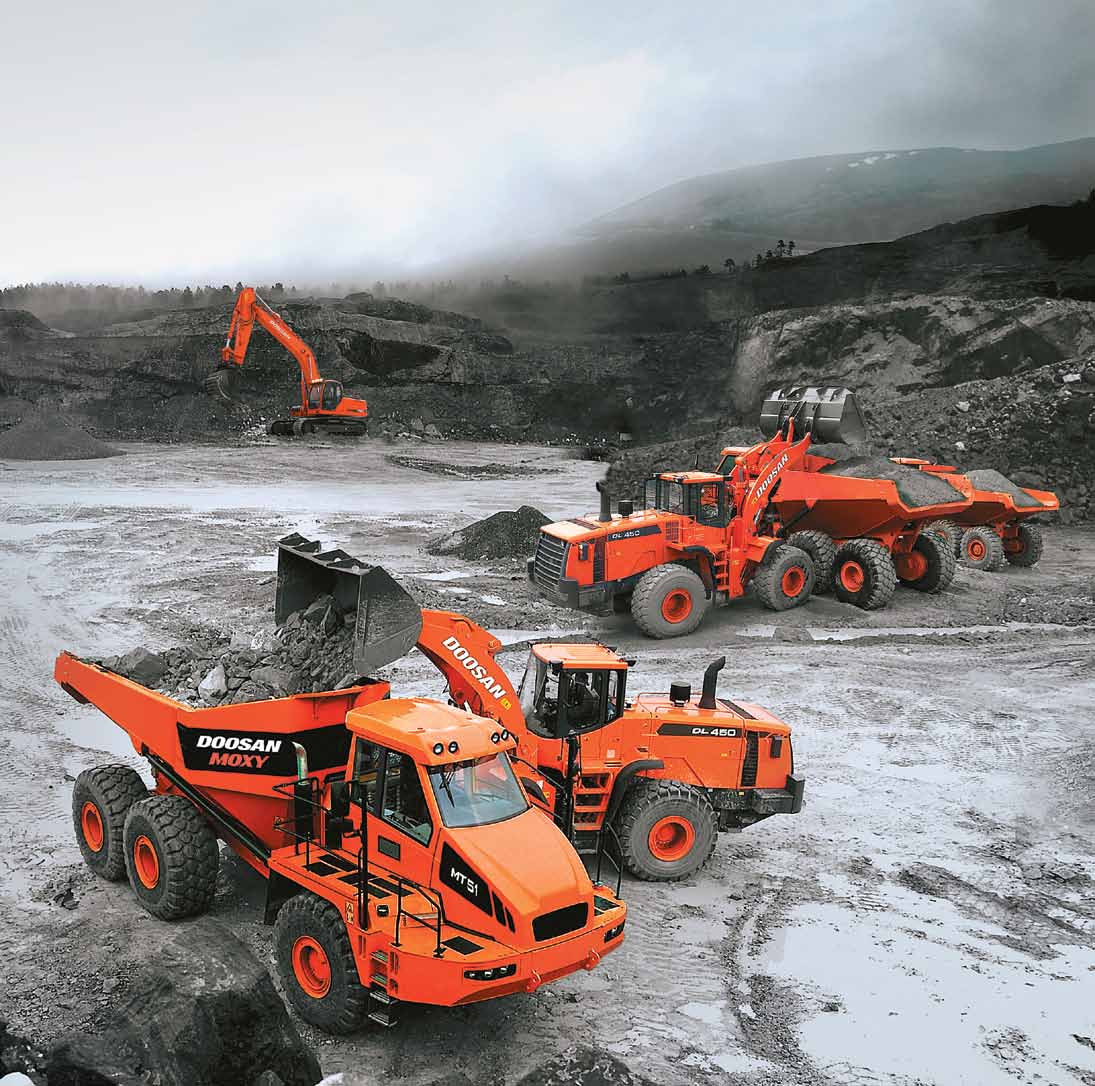 In mid-2005 the company bought the company Doosan Daewoo Heavy Industries & Machinery, which began with the development of markets engines and heavy equipment machinery. Corporation Doosan Infracore began producing equipment and special equipment under the brand Doosan-Daewoo, including doosan solar, and doosan parts.
Tracked excavator DOOSAN
Lineup Doosan excavators divided into crawler, wheeled and mini excavators. All machines are distinguished performance and the working masses, as well as the purpose and application area. For example, to perform the digging of a different nature the company offers a range of full-size excavators on tracks, which are represented by two series - DX and SOLAR.
Crawler Excavators DX series includes more than 13 models and have different operating parameters: the working of machines ranges from 14 to 50 tons; digging radius ranges from 8.8 meters to 17.5 meters; digging depth reaches 13.8 meters; Dumping height reaches 14 meters. Crawler excavators SOLAR series includes 16 models with a variety of optional equipment options and attachments. Depending on the model crawler excavator SOLAR series to the main performance characteristics are: maximum digging radius - 17.4 Meta; Maximum dig depth - 13.8 meters; Dumping height reaches 14 meters. Operating weight range of crawler excavators Doosan SOLAR series is in the range of 8 to 49 tons. Spare parts Doosan you can buy in our online store.
Wheel excavator DOOSAN
Wheeled excavators Doosan DX and SOLAR Series favorably increased transport speed and maneuverability. Topical application of Doosan wheeled excavators increases during excavation works in the city, pnevmokolesa have minimal damage to the work surface, whether asphalt, concrete or grass cover. The possibility of independent movement from one object to another is another advantage of wheeled excavators Doosan DX and SOLAR series. Wheeled excavators are equipped with all necessary facilities (parking lights, headlights, brake lights, horn, mirrors, turn signal) for driving on public roads.
Lineup wheel excavators Doosan DX series includes three machines: 210W, 190W and 140W. Maximum travel speed is 36 excavators kilometers per hour. For comparison, track loaders rate of less than 5 mph. Kerb weight models is different and varies in the aisles of 13 to 20 tons. The depth of the excavation wheel excavators Doosan DX series varies depending on the model, and is 4.5-6 meters, the maximum height of unloading of the bucket is 10.5 meters. Parts of Doosan the DX Doosan Solar and you can buy from us.
Front loader DOOSAN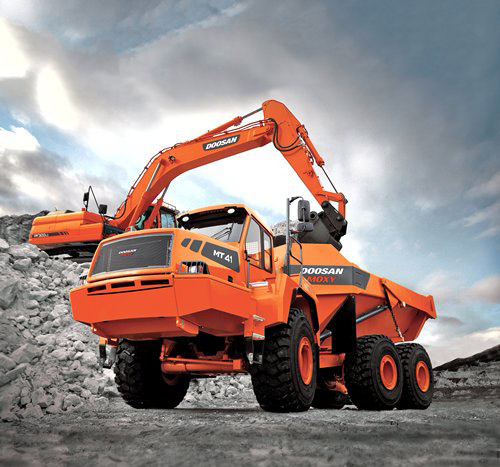 Wheel loaders Doosan presented a series of SOLAR, which has five models. Operating weight trucks varies from 14.7 to 19 tonnes, with the exception of the most compact model in the series - Doosan SOLAR 55 the WV, its operating weight of 5.5 tonnes. The average travel speed of this range of machines is 35 kilometers per hour, the exception - the WV model 55, which is equal to the speed of 25 kilometers per hour. The main technical features of this model range are: maximum radius of digging machines varies from 7.5 to 9.8 meters; Maximum digging depth - 4.5-6.5 m; discharge height of the bucket - from 8.1 to 10.3 meters.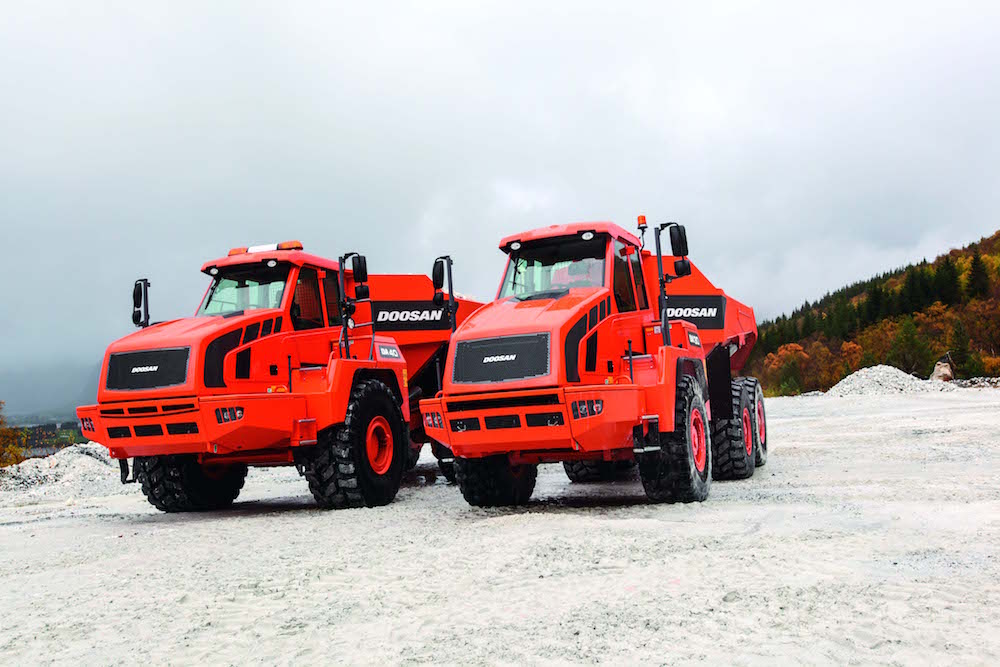 Doosan wheel loaders are most popular and are one of the most popular types of specialized equipment daewoo. Wheel loaders to rapidly perform a number of labor-intensive operations. For example, growth, capture, transport and stacking of goods. Wheeled shovel loaders Doosan are high performance machines and optimally combines qualities such as high speed, and maneuverability. Also Doosan wheel loaders are represented by a series of MEGA and DL. In a series of front-end loaders Doosan MEGA includes six models. This range features high performance and capacity. Bucket Capacity models for wheel loaders Doosan MEGA begins with a volume of 2.4 cubic meters, and ends with a volume of 4.7 cubic meters. Gross Machine Operating Weight is in the range 8,6-22,6 tons. The next series of wheeled front loaders Doosan DL has the designation and has five basic models. Operating weight loaders Doosan DL varies from 11 to 30 tons. Bucket capacity varies and ranges from 1.8 to 5.2 cubic meters. For Doosan wheel loaders Spare parts can be purchased from us.
DOOSAN PARTS
| | | | | |
| --- | --- | --- | --- | --- |
| K1045198EF | 2021-7076EF | 524024 | 524024 | 524024 |
| K1045198EF | 2021-7076EF | 524024 | 524024 | 524024 |
| K1045198EF | 2021-7076EF | 524024 | 524024 | 524024 |
| K1045198EF | 2021-7076EF | 524024 | 524024 | 524024 |
| K1045198EF | 2021-7076EF | 950106-00050EF | 524024 | 524024 |
| K1025518EF | 2021-7076EF | 950106-00050EF | 524024 | 524024 |
| K1025517EF | 2021-7076EF | 950106-00050EF | 524024 | 524024 |
| K1025517EF | 2021-7076EF | 950106-00050EF | 524024 | 524024 |
| K1025517EF | 2021-7076EF | 950106-00050EF | 524024 | 524024 |
| K1025517EF | 2021-7076EF | 950106-00050EF | 524024 | 524024 |
| K1025517EF | 2021-7076EF | 950106-00050EF | 524024 | 524024 |
| K1025517EF | 2021-7076EF | 950106-00050EF | 524024 | 524024 |
| K1025517EF | 2021-7076EF | 950106-00050EF | 524024 | 524024 |
| K1025517EF | 2021-7076EF | 950106-00050EF | 524024 | 524024 |
| K1025517EF | 2021-7076EF | 950106-00050EF | 524024 | 524024 |
| K1025517EF | 2021-7076EF | 950106-00050EF | 524024 | 524024 |
| K1025517EF | 2021-7076EF | 950106-00050EF | 524024 | 524024 |
| K1025517EF | 2021-7076EF | 950106-00050EF | 524024 | 524024 |
| K1025517EF | 2021-7076EF | 950106-00050EF | 524024 | 524024 |
| K1025517EF | 2021-7076EF | 950106-00050EF | 524024 | 524024 |
| K1025517EF | 2021-7076EF | 950106-00050EF | 524024 | 524024 |
| K1025517EF | 2021-7076EF | 950106-00050EF | 524024 | 9021-7028 |
| K1025517EF | 2021-7076EF | 950106-00050EF | 524024 | 9021-7028 |
| K1025517EF | 2021-7076EF | 950106-00050EF | 9021-7028 | 524024 |
| K1025517EF | 2021-7076EF | 950106-00050EF | 9021-7028 | 524024 |
| K1025517EF | 2021-7076EF | 950106-00050EF | 501240 | 524024 |
| K1025517EF | 2021-7076EF | 950106-00050EF | 501240 | 501240 |
| K1025517EF | 2021-7076EF | 950106-00050EF | 524024 | 501240 |
| K1025517EF | 2021-7076EF | K1016583EF | 524024 | 524024 |
| K1025517EF | 2021-7076EF | K1016583EF | 524024 | 524024 |
| K1025517EF | 2021-7076EF | K1016583EF | 524024 | 524024 |
| K1025517EF | 2021-7076EF | 9021-7043 | 524024 | 524024 |
| K1025517EF | 2021-7076EF | 9021-7043 | 524024 | 524024 |
| K1025517EF | 2021-7076EF | K1024536EF | 524024 | 524024 |
| K1025517EF | 2021-7076EF | K1024536EF | 524024 | 524024 |
| K1025517EF | 2021-7076EF | K1024536EF | 524024 | 524024 |
| K1025517EF | 2021-7076EF | K1024536EF | 524024 | 524024 |
| K1025517EF | 2021-7076EF | K1024536EF | 524024 | 524024 |
| K1025517EF | 2021-7076EF | K1024536EF | 524024 | 524024 |
| K1025517EF | 2021-7076EF | K1024536EF | 524024 | 524024 |
| K1025517EF | 2021-7076EF | K1024536EF | 524024 | 524024 |
| K1025517EF | 2021-7076EF | K1024536EF | 524024 | 524024 |
| K1025517EF | 2021-7076EF | K1024536EF | 524024 | 524024 |
| K1025517EF | 2021-7076EF | K1024536EF | 524024 | 524024 |
| K1025517EF | 2021-7076EF | K1024536EF | 524024 | 524024 |
| K1025517EF | 2021-7076EF | K1024536EF | 524024 | 524024 |
| K1025517EF | 2021-7076EF | K1024536EF | 524024 | 524024 |
| K1025517EF | 2021-7076EF | K1024536EF | 524024 | 524024 |
| K1025517EF | 2021-7076EF | K1024536EF | 524024 | 524024 |
| K1025517EF | 2021-7076EF | K1024536EF | 524024 | 524024 |
| K1025517EF | 2021-7076EF | K1024536EF | 524024 | 524024 |
| K1025517EF | 2021-7076EF | K1024536EF | 524024 | 524024 |
| K1025517EF | 2021-7076EF | K1024536EF | 524024 | 524024 |
| K1025517EF | 2021-7076EF | K1024536EF | 524024 | 524024 |
| K1025517EF | 2021-7076EF | K1024536EF | 524024 | 524024 |
| K1045199EF | 2021-7076EF | K1042446EF | 524024 | 524024 |
| K1045199EF | 2021-7076EF | 524024 | 524024 | 524024 |
| K1045199EF | 2021-7076EF | 524024 | 524024 | 524024 |
| K1045199EF | K1045199EF | 524024 | 524024 | 524024 |
| K1045199EF | K1045199EF | 524024 | 524024 | 524024 |
| K1045199EF | K1045199EF | 524024 | 524024 | 524024 |
| K1045199EF | K1045199EF | 524024 | 524024 | 524024 |
| K1045199EF | K1045199EF | 524024 | 524024 | 524024 |
| K1025518EF | K1045199EF | 524024 | 524024 | 524024 |
| K1025518EF | K1045199EF | 524024 | 524024 | 524024 |
| K1025518EF | K1045199EF | 524024 | 524024 | 524024 |
| K1025518EF | K1045199EF | 524024 | 524024 | 524024 |
| K1025518EF | K1045199EF | 524024 | 524024 | 524024 |
| K1025518EF | K1045199EF | 524024 | 524024 | 524024 |
| K1025518EF | K1045199EF | 524024 | 524024 | 524024 |
| K1025518EF | K1025518EF | 524024 | 524024 | 524024 |
| K1025518EF | K1025518EF | 524024 | 524024 | 524024 |
| K1025518EF | K1025518EF | 524024 | 524024 | 524024 |
| K1025518EF | K1025518EF | 524024 | 524024 | 524024 |
| K1025518EF | K1025518EF | 524024 | 524024 | 524024 |
| K1025518EF | K1025518EF | 524024 | 524024 | 524024 |
| K1025518EF | K1025518EF | 524024 | 524024 | 524024 |
| K1025518EF | K1025518EF | 524024 | 524024 | 524024 |
| K1025518EF | K1025518EF | 9021-7046 | 524024 | 524024 |
| K1025518EF | K1025518EF | 9021-7046 | 524024 | 524024 |
| K1045199EF | K1025518EF | 9021-7046 | 524024 | 524024 |
| K1045199EF | K1025518EF | 9021-7046 | 524024 | 524024 |
| K1045199EF | K1025518EF | 9021-7046 | 524024 | 524024 |
| K1045199EF | K1045199EF | 9021-7046 | 524024 | 524024 |
| K1045199EF | K1045199EF | 9021-7046 | 524024 | 524024 |
| K1045199EF | K1045199EF | 9021-7046 | 524024 | 524024 |
| K1045199EF | K1045199EF | 9021-7046 | 524024 | 524024 |
| K1045199EF | K1045199EF | 9021-7046 | 524024 | 524024 |
| K1045199EF | K1045199EF | 9021-7046 | 524024 | 524024 |
| K1045199EF | 950106-00050EF | 9021-7046 | 524024 | 524024 |
| K1045199EF | 950106-00050EF | 9021-7046 | 524024 | 524024 |
| K1045199EF | 950106-00050EF | 9021-7046 | 524024 | 524024 |
| K1045199EF | 950106-00050EF | 9021-7046 | 524024 | 524024 |
| K1045199EF | 950106-00050EF | 9021-7046 | 524024 | 524024 |
| K1045199EF | 950106-00050EF | 9021-7046 | 524024 | 524024 |
| K1045199EF | 950106-00050EF | 9021-7046 | 524024 | 524024 |
| K1045199EF | 950106-00050EF | 9021-7046 | 524024 | 9021-7028 |
| K1045199EF | 950106-00050EF | 9021-7046 | 524024 | 524024 |
| K1045199EF | 950106-00050EF | 9021-7046 | 524024 | 524024 |
| K1045199EF | 950106-00050EF | 9021-7046 | 524024 | 501240 |
| K1045199EF | 950106-00050EF | 9021-7046 | 524024 | 524024 |
| K1045199EF | 950106-00050EF | 9021-7046 | 524024 | 524024 |
| K1045199EF | 950106-00050EF | 9021-7046 | E140W-RW | 524024 |
| K1045199EF | 950106-00050EF | 9021-7046 | E140W-RW | 524024 |
| K1045199EF | 950106-00050EF | 9021-7046 | E140W-RW | 524024 |
| K1045199EF | 950106-00050EF | 9021-7046 | E140W-RW | 524024 |
| K1045199EF | 950106-00050EF | 9021-7046 | E140W-RW | 524024 |
| K1045199EF | 950106-00050EF | 9021-7046 | 9021-7028 | 524024 |
| K1045199EF | 950106-00050EF | 9021-7046 | 9021-7028 | 524024 |
| K1045199EF | 950106-00050EF | 9021-7046 | 501240 | 524024 |
| K1045199EF | 950106-00050EF | 9021-7046 | 501240 | 524024 |
| 021-00024EF | 950106-00050EF | 9021-7046 | 524024 | 524024 |
| 021-00024EF | 950106-00050EF | 9021-7046 | 524024 | 524024 |
| 021-00024EF | 950106-00050EF | 9021-7046 | K1024536EF | 524024 |
| 021-00024EF | 950106-00050EF | 9021-7046 | K1024536EF | 524024 |
| 021-00024EF | 950106-00050EF | 9021-7046 | K1024536EF | 524024 |
| 021-00024EF | 950106-00050EF | 9021-7046 | K1024536EF | 524024 |
| 021-00024EF | 950106-00050EF | 9021-7046 | K1024536EF | 524024 |
| 021-00024EF | 950106-00050EF | 9021-7046 | K1024536EF | 524024 |
| 021-00024EF | 950106-00050EF | 9021-7046 | K1024536EF | 524024 |
| 021-00024EF | 950106-00050EF | 9021-7046 | K1024536EF | 524024 |
| 021-00024EF | 950106-00050EF | 9021-7046 | K1024536EF | 524024 |
| 021-00024EF | 950106-00050EF | 9021-7046 | K1024536EF | 524024 |
| 021-00024EF | 950106-00050EF | 9021-7046 | K1024536EF | 524024 |
| 021-00024EF | 950106-00050EF | 9021-7046 | K1024536EF | 524024 |
| 021-00024EF | 950106-00050EF | 9021-7046 | K1024536EF | 524024 |
| 021-00024EF | 950106-00050EF | 9021-7046 | K1024536EF | 524024 |
| 021-00024EF | 950106-00050EF | 9021-7046 | K1024536EF | 524024 |
| 021-00024EF | 950106-00050EF | 9021-7046 | K1024536EF | 524024 |
| 021-00042EF | 950106-00050EF | 9021-7046 | K1024536EF | 524024 |
| K1046895EF | 524024 | 9021-7046 | K1024536EF | 524024 |
| 2021-7152EF | 524024 | 9021-7046 | K1024536EF | 524024 |
| 2021-7152EF | 524024 | 9021-7046 | K1024536EF | 524024 |
| 2021-7152EF | 524024 | 9021-7046 | K1024536EF | 524024 |
| 2021-7152EF | 524024 | 9021-7046 | K1024536EF | 524024 |
| 2021-7152EF | 524024 | 9021-7046 | K1024536EF | 524024 |
| 2021-7152EF | 524024 | 9021-7046 | K1024536EF | 524024 |
| 2021-7152EF | 524024 | 9021-7046 | K1024536EF | 524024 |
| 2021-7152EF | 524024 | 9021-7046 | K1024536EF | 524024 |
| 2021-7152EF | 524024 | 9021-7046 | K1042446EF | 524024 |
| 2021-7152EF | 524024 | 9021-7046 | K1024536EF | 524024 |
| 2021-7152EF | 524024 | 9021-7046 | K1024536EF | 524024 |
| 2021-7152EF | 524024 | 9021-7046 | K1024536EF | 524024 |
| 2021-7152EF | 524024 | 9021-7046 | K1024536EF | 524024 |
| 2021-7152EF | 524024 | 9021-7046 | K1024536EF | 524024 |
| 2021-7152EF | 524024 | 9021-7046 | K1024536EF | 524024 |
| 2021-7152EF | 524024 | 9021-7046 | K1024536EF | 524024 |
| 2021-7152EF | 524024 | 9021-7046 | K1024536EF | 524024 |
| 2021-7152EF | 524024 | 9021-7046 | K1024536EF | 524024 |
| 2021-7152EF | 524024 | 9021-7046 | K1024536EF | 524024 |
| 2021-7152EF | 524024 | 9021-7046 | K1024536EF | 524024 |
| 2021-7152EF | 524024 | 9021-7046 | 9021-7028 | 524024 |
| 021-00024EF | 524024 | 9021-7046 | 9021-7028 | 524024 |
| 021-00024EF | 524024 | 9021-7046 | 524024 | 524024 |
| 021-00024EF | 524024 | 9021-7046 | 524024 | 524024 |
| 021-00024EF | 524024 | 9021-7046 | 524024 | 524024 |
| 021-00024EF | 524024 | 9021-7046 | 524024 | 524024 |
| 021-00024EF | 524024 | 9021-7046 | 524024 | 524024 |
| 021-00024EF | 524024 | 9021-7046 | 524024 | 524024 |
| 2021-7152EF | 524024 | 9021-7046 | 524024 | 524024 |
| 2021-7152EF | 524024 | 9021-7046 | 524024 | 524024 |
| 2021-7152EF | 524024 | E140W-RW | 524024 | 524024 |
| 2021-7152EF | 524024 | E140W-RW | 524024 | 524024 |
| 2021-7152EF | 524024 | E140W-RW | 524024 | 524024 |
| 2021-7152EF | 524024 | E140W-RW | 524024 | 524024 |
| 2021-7152EF | 524024 | 524024 | 524024 | 524024 |
| 2021-7152EF | 524024 | 524024 | 524024 | 524024 |
| 2021-7152EF | 524024 | 524024 | 524024 | 524024 |
| 2021-7152EF | 524024 | 524024 | 524024 | 524024 |
| 2021-7152EF | 524024 | 524024 | 524024 | 524024 |
| 2021-7152EF | 524024 | 524024 | 524024 | 524024 |
| 2021-7152EF | 524024 | 524024 | 524024 | 524024 |
| 2021-7152EF | 524024 | 524024 | 524024 | 524024 |
| 2021-7152EF | 524024 | 524024 | 524024 | 524024 |
| K1046895EF | 524024 | 524024 | 524024 | 9021-7028 |
| K1046895EF | 524024 | 524024 | 524024 | 9021-7028 |
| K1046895EF | 524024 | 524024 | 524024 | 501240 |
| 021-00024EF | 524024 | 524024 | 524024 | 501240 |
| 021-00024EF | 524024 | 524024 | 524024 | 524024 |
| 021-00024EF | 9021-7028 | 524024 | 524024 | 524024 |
| 021-00024EF | 501240 | 524024 | 524024 | 524024 |
| 021-00024EF | 501240 | 524024 | 524024 | 524024 |
| 021-00024EF | 524024 | 524024 | 524024 | 524024 |
| 021-00024EF | 9021-7028 | 524024 | 524024 | 524024 |
| 2021-7076EF | 524024 | 524024 | 524024 | 524024 |
| 2021-7076EF | 524024 | 501240 | 524024 | 524024 |
| 2021-7076EF | 524024 | 501240 | 524024 | 524024 |
| 2021-7076EF | 524024 | 524024 | 524024 | 524024 |
| 2021-7076EF | 524024 | 524024 | 524024 | 524024 |
| 2021-7076EF | 524024 | 524024 | 524024 | 524024 |
| 2021-7076EF | 524024 | 524024 | 524024 | 524024 |
| 2021-7076EF | 524024 | 524024 | 524024 | 524024 |
| 2021-7076EF | 524024 | 524024 | 524024 | 524024 |
| 2021-7076EF | 524024 | 524024 | 524024 | 524024 |
| 2021-7076EF | 524024 | 524024 | 524024 | 524024 |
| 2021-7076EF | 524024 | 524024 | 524024 | 524024 |
| 2021-7076EF | 524024 | 524024 | 524024 | 524024 |
| 2021-7076EF | 524024 | 524024 | 524024 | 524024 |
| 2021-7076EF | 524024 | 524024 | 524024 | 524024 |
| 2021-7076EF | 524024 | 524024 | 524024 | 524024 |