John Deere Construction parts

Only on our online parts store you will find about 1 million John Deere Construction parts for, as well as John Deere Agricultural parts for agricultural machinery.
Only here you will find the entire list of John Deere spare parts for all models of John Deere eqyuipment
Here you can order John Deere spare parts for such equipment as: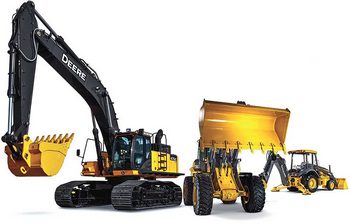 John Deere Articulated Dump Trucks models 260E ADT, 310E ADT, 370E ADT, 410E ADT, 460E ADT
Backhoes - 310L, 310L EP, 310SL, 310SL HL, 315SL, 410L, 710L.
John Deere Compact Track Loaders as 317G, 325G, 331G, 333G.
John Deere Crawler Loaders such models as 605K, 655K, and 755K.
Dozers John Deere: 450K, 550K Crawler Dozer, 650K, 700K, 750K, 850K, 950K, 1050K Crawler Dozer
John Deere Excavators:
Compact Excavators - 17G, 26G, 30G, 35G, 50G, 60G Excavator
Mid-Size Excavators - 75G, 85G, 130G, 135G, 160G LC, 180G LC, 190G W, 210G LC, 245G LC, 250G LC, 300G LC, 345G LC, 350G LC, 380G LC
Large John Deere Excavators - 470G LC, 670G LC, 870G LC.
John Deere Motor Graders models as 620G/GP, 622G/GP, 670G/GP, 672G/GP, 770G/GP, 772G/GP, 870G/GP, 872G/GP.
Skid Steers as 312GR, 314G, 316GR, 318G, 320G, 324G, 330G, 332G.
Tractor Loaders John Deere - 210L and 210L EP Tractor Loader
John Deere Wheel Loaders:
Compact Wheel Loaders like 204L, 244K-II, 304L, 324K and 344L.
Mid-Size Wheel Loaders: 444K, 524K-II, 544K-II, 624K-II, 644K, 644K Hybrid Wheel Loader and 724K.
Large Wheel Loaders like 744K-II, 824K-II, 844K-III, 944K Hybrid Wheel Loader
Construction Attachments: Augers & Trenchers, Backhoes, Blades & Scrapers, Shredders & Mulchers, Forks & Spears Grapples, Hammers, Planers, Rakes & Tillers, Rollers, Snow Attachments, Steel Tracks.
Contact us or find your John Deere parts online.