Waukesha parts

The history of the VHP series of engines begins in the oil fields of East Texas in the early 1920's. Waukesha Motor Company was instrumental in introducing multi-cylinder internal combustion engines to replace the large and cumbersome steam engines. Waukesha engines were in demand in the newly discovered East Texas oil fields.
But the oil fields needed still more power, as oils wells had to be drilled deeper and deeper to find the "black gold". By 1929 Waukesha introduced two 6-cylinder engines with 8.5 inch stroke! They were the 6 cylinder Models, 60S, 60K with 7.00 and 7.75 inch bores respectfully and CID's of 1962.7 and 2405.5. By 1930 the first Waukesha engine with a bore and stroke of 8.5 x 8.5 inches was introduced and became the standard of the oil fields, paving the way for the future VHP series of engines. The model was the 6 cylinder 6LRO with a displacement of 2894.0 cubic inches.
Waukesha discontinued building Diesel engines in order to concentrate on it's gaseous fueled engines, which had become the major share of the business.
The Waukesha 6LR, VLR and then the VHP series of engines have been the standard in the oil fields and gas compressor stations around the world for 84 years!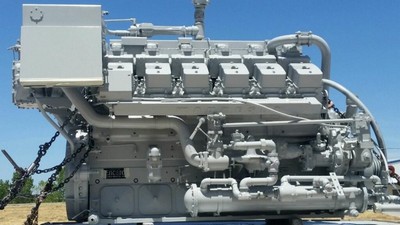 When researching aftermarket Waukesha versus OEM, a number of benefits are unfolded. Included in this is discovering a larger variety of parts as well as a higher quality. At our parts store, we test all of our parts to ensure that you are receiving the best possible replacement parts for Waukesha. This allows you to shop for all of the replacement parts that you need for a Waukesha 7042 and various other engines.
Use Only Quality Replacement Waukesha Parts
Likewise, if you buy parts that are of poor quality, you will regret it later. Our company builds and sells replacement Waukesha parts for Waukesha VHP series engines such as the Waukesha 7042. Our parts are guaranteed to be OEM quality without the hefty OEM price tag. We have a strict quality control process for the production of our parts. This is one reason we are able to produce such highly durable, dependable, and long-lasting replacement or aftermarket Waukesha parts. We believe so strongly in the quality of our parts that we have an excellent warranty offer. If the part does not stand up to our quality promise, it will be replaced.
Wide Variety of Waukesha aftermarket Parts
We specialize in building replacement and aftermarket Waukesha parts that fit the Waukesha 7042 and several different Waukesha VHP engines. When you contact us or quote Waukesha parts online, our knowledgeable sales staff can help you find exactly which replacement part you are looking for. We pride ourselves in excellent customer service. We help you get the right part with the right fit the first time you come looking. When it comes to inventory of high quality, economically priced parts, our online Waukesha parts store cannot be beat! Give us a mail or quote Waukesha spare parts online. We will have the part you need.
Mail or contact us through our website if you have any questions.