Powertrain Component Repair

For more than one decades, we have been solving problems for our customers. We provide expert heavy equipment service, including drivetrain component repair. We are committed to minimizing your downtime and helping you get the longest possible life out of your equipment investment.
Drivetrain components that we rebuild:
Transmissions
Torque converters
Final drives
Steering clutches and brakes
Axles
Differentials
Swing drives
Pump drives
We provide expert field service as well as component repair and rebuild in our fully equipped shop.
Site Repair for Powertrain Components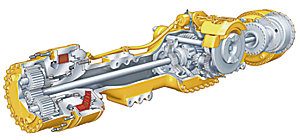 For those repairs that can be completed onsite, the we provides the most responsive service you're likely to find in our industry. Finding qualified powertrain repair technicians is challenging today, even for authorized dealers.
All our technicians are highly trained, experienced and knowledgeable – and you won't find anyone more dedicated to getting your equipment back online. We complete field repairs quickly and affordably without sacrificing quality.
We work on all makes and models of heavy equipment and industrial machinery, from small to massive.
Drivetrain Component Rebuild
You've invested substantially in your equipment and you need to get the maximum possible use from it. Our Services team understands the importance of a successful repair, as compared to replacing a drivetrain component or the entire piece of equipment.
We provide expert component rebuild services in our fully equipped facility. Our advanced technology and equipment allow us to complete precision repairs for engine parts, transmission parts, bearings, bushings and more.
Our commitment to you is that we will repair or rebuild whenever possible, so that you don't have to replace it.
Powertrain Component Repair Experts
When you trust our Services to handle your equipment repair, you have the peace of mind that comes with our 10+ years of experience.
Our obsessive attention to detail and commitment to customer service have earned us a loyal customer base. Our responsive services can help you maintain productivity and minimize downtime. Our transparent, affordable pricing helps keep your costs under control.
Whether you need a repair on a single component or an entire drivetrain rebuild, we will be there to help, whenever and wherever your equipment happens to be.