Why do our Waukesha parts cost so much less than OEM parts?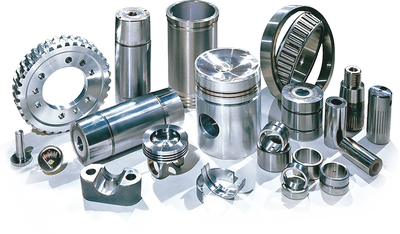 The answer is simple really. In a word it's "Overhead"! The amount of cost it takes to operate the business. In the OEM's case such as GE with their Waukesha engines and parts, they have enormous overhead with their facilities and employees etc... While we do incur a certain amount of overhead it is nowhere near the level the OEM has and therefore we can pass along savings to our customers. We often use the same factories that the OEM did or is currently using. GE does not manufacture all their parts in house, they have many factories they farm the work out to, and our Waukesha parts store does the same. We manufactures all their parts to meet or exceed the OEM specifications. Therefore you can get equal or better quality that fits, functions, and gets the job done for considerably less cost to you.
Below is a small list of Waukesha parts. However, if you are interested in something - please use the site search.
| | |
| --- | --- |
| G932287 PISTON & LINER GROUP (KG932287) | 209242H COUPLING,HALF 2.00 |
| G932200 PISTON & LINER GROUP (KG932200) | 209244Z PANEL, JUNCTION BOX |
| G932275 PISTON & LINER GROUP (KG932275) | 209244Y PANEL, JUNCTION BOX |
| 205504P PISTON | 209246B ELBOW, OIL SCREEN |
| 205504Z PISTON | 209246C ELBOW, OIL SCREEN |
| 205504N PISTON | 209255B VALVE,2-WAY N.O. SOL. 2.... |
| G907238 RING GROUP | 209255H VALVE 2.WAY SOLENOID |
| G907147 SET PISTON RING | 209255M VALVE,SOL.2-WAY .75 IN |
| 10006 PISTON PIN | 209255P VALVE, SOLENOID |
| 44999C RETAINER | 209255U VALVE,2-WAY SOLENOID NC,... |
| 205130R LINER | 209255T VALVE,2-WAY SOLENOID NO,... |
| 205130S LINER | 209255Z VALVE, SOL. 3WAY DIRECT ... |
| 119397G LINER ORING | 209265A LEVER BELL CRANK |
| 119397E LINER ORING | 209270E BRACKET, 3 WAY VALVE |
| 204236K VALVE INTAKE | 209270F BRACKET, 3 WAY VALVE |
| 204436G VALVE EXHAUST | 209270G BRKT,START/PRELUBE CONTR... |
| 204109T VALVE GUIDE | 209270J BRACKET, 3 WAY VALVE |
| 204209N VALVE GUIDE | 209270L BRACKET, STARTER & PRELU... |
| 176352P VALVE SEAT INTAKE & ... | 209275A UNION, BLKHD .50 OD X.50... |
| 176352R VALVE SEAT EXHAUST | 209274G BRACKET,BULKHEAD |
| 176450G SEAL VALVE STEM EXHA... | 209289A BRACKET, CLIP |
| 176450H SEAL VALVE STEM INTA... | 209288A BRACKET, CLIP |
| 204436E VALVE EXHAUST | 209290B PANEL,BLANK |
| 176352K VALVE SEAT INTAKE & ... | 209290A PANEL,PYROMETER S.SW |
| 214229 SEAL VALVE STEM INTAK... | 209290C PANEL,PYRO.SEL.SWTCH |
| G9361017 SINGLE CYLINDER VALV... | 209315S TUBE,OIL |
| G9361044 SINGLE CYLINDER VALV... | 209326A INSERT,GOVERNOR ROD |
| 204436K VALVE EXHAUST | 209326B INSERT, GOVERNOR ROD |
| 204436A VALVE INTAKE | 209345B STRAP, 8 IN OIL COOLER |
| 211801J VALVE SEAT INTAKE | 209345C STRAP,10 INOIL COOLER |
| 204209E VALVE GUIDE INTAKE | 209353B BRACKET,REGULATOR |
| 204209F VALVE GUIDE EXHAUST | 209353F BRACKET, REGULATOR |
| 214230 ROTOCOIL | 209353G BRACKET, REGULATOR -RB |
| 73629C VALVE LOCK | 209353H BRACKET, REGULATOR -LB |
| 211802B VALVE SEAT EXHAUST | 209353J BRACKET, REGULATOR -RB |
| 204035A SPRING VALVE INNER ... | 209353K BRACKET, REGULATOR -LB |
| 204135A SPRING VALVE OUTER ... | 209353L BRACKET, GAS REGULATOR |
| 204235B SPRING VALVE INNER ... | 209353M STRAP,REGULATOR MOUNTING |
| 204335B SPRING VALVE OUTER ... | 209353U BRACKET, REGULATOR -LB |
| 204035 SPRING VALVE INNER | 209353T BRACKET, REGULATOR -RB |
| 204135 SPRING VALVE OUTER E... | 209353V BRACKET, REGULATOR |
| 204235C SPRING VALVE INNER | 209353X BRACKET, GAS REGULATOR L... |
| 204335C SPRING VALVE OUTER ... | 209360Z TUBE,OIL |
| 153883A SEAL | 209367A ADAPTER,AIR INLET |
| 153884D RETAINER VALVE SPRIN... | 209367N TRANSITION, AIR INLET |
| 73629A VALVE LOCK | 209367P ADAPTER, TURBO AIR INLET |
| A205210 CON ROD BEARING STD (A205010Y) | 209377G TACH./HR. MTR. DIG. |
| A205210B CON ROD BEARING STD | 209377J TACH-HOUR MTR. DIG. |
| A205010Z CON ROD BEARING STD | 209377L TACH/HRMTR,DIGITAL |
| G918344 MAIN BEARING SET STD | 209377N TACH/HRMETER,DIGITAL |
| G918328 MAIN BEARING SET STD | 209377P TACH/HRMETER, DIGITAL |
| 47108F BUSHING CONN ROD | 209378G CABLE, 2 CONDUCTOR |
| 9277 CAMSHAFT BUSHING SET | 209385A VALVE,BUTTERFLY |
| 200027 CAM BUSHING | 209386C SHAFT, BUTTERFLY VALVE |
| 200050 CAM BUSHING | 209423C SHAFT,BUTTERFLY VALV |
| 153032 THRUST WASHER CAMSHAF... | 209395A SEAL, OIL |
| G977049 GASKET SET SINGLE CY... | 209432B VALVE, BUTTERFLY |
| G977046 GASKET SET SINGLE CY... | 209432A VALVE, BUTTERFLY |
| G979266 GASKET SET MULTIPLE ... | 209474A BRACKET,BY-PASS FLTR |
| G979258 GASKET SET MULTIPLE ... | 209472C CONTROL, SPEED |
| G9001025 GASKET SET LOWER 4... | 209476E SKID, ENGINE DEEP SUMP |
| G9001033 GASKET SET LOWER 5... | 209476D SKID, ENGINE DEEP SUMP |
| G979292 GASKET SET MULTIPLE ... | 209478B TUBE,AIR |
| 205100C GASKET CYLINDER HEAD | 209477A SKID, ENGINE |
| 153121 O RING OIL PAN SIDE CO... | 209478C TUBE, AIR |
| 951054E O RING OIL PAN SIDE C... | 209478D TUBE, TURBO OIL, RB |
| 153894D GASKET | 209478E TUBE, TURBO OIL, LB |
| 153994C GASKET ROCKER COVER | 209491D BRACKET, EJECTOR-FRONT |
| 209364 ELEMENT,AIR FILTER | 209491E BRACKET, EXTRACTOR-FRONT |
| 209365 PAD, PRE-FILTER | 209492D BRACKET, EJECTOR (REAR) |
| 295844 SENSOR,HALL EFFECT,FLYWHE... | 209492E BRACKET,EXTRACTOR-FRONT |
| 295962 THERMOCOUPLE K-SERIES | 209492F BRACKET, EXTRACTOR-REAR |
| 489605 ELEMENT, FILTER OIL SEPAR... | 209492G BRACKET,BREATHER TUBE SU... |
| 199395B FILTER, LUBE OIL | 209492H BRACKET, TUBE SUPPORT- R... |
| 740825 ENGINE CONTROL UNIT | 209492J BRACKET, SUPPORT-FRONT |
| 214046B ACTUATOR,HEINZMANN 2080 | 209493A BRACE, WASTEGATE TUBE |
| 214275A FILTER, AIR CLEANER 3 IN | 209494A CONNECTION,FLEXIBLE |
| 309118A ELEMENT, AIR FILTER | 209512G BRACKET,VALVE |
| 69694G COIL, IGNITION | 209512J BRACKET,SUPPORT,FRNT |
| 69919D SPARK PLUG, WAUKESHA | 209513E TUBE,OIL PRESSURE |
| A309204C JBOX ASM.,POWER DISTRIB... | 209517N TUBE,OIL SEPERATOR |
| A740127 ASSEMBLY, NOX SENSOR | 209522D TUBE, BREATHER DRAIN |
| 1944 HOSE,1.25ID X 2.00 LG | 209522E TUBE,BREATHER DRAIN |
| 3167 PLUG CUP | 209522F TUBE,BREATHER DRAIN |
| 3337 PLUG,EXP,2,BRASS | 209542A FLANGE,150#,SLIP-ON WELD... |
| 7044 HOSE,1.5IDX1.88X2.62 | 209542B FLANGE,150#,SLIP-ON WELD... |
| 7180 GEAR RING | 209542C FLANGE,150#,SLIP-ON WELD... |
| 8749 BUSHING IDLER GEAR | 209542D FLANGE,150#,SLIP-ON WELD... |
| 8768 GEAR RING | 209542J FLANGE,150#,SLIP-ON WELD... |
| 12310 BEARING CONN ROD | 209551A TUBE SUPPLY |
| 14005 RING, PISTON INTERMEDIATE | 209551C TUBE, AIR GAUGE |
| 14505 RING, PISTON | 209552B DECAL,DRAIN |
| 16409 GASKET, COPPER | 209552E DECAL IDENTIFICATION |
| 14405 RING, PISTON | 209552L DECAL,INSTRUCTION |
| 20221 KEY,SQ.,1.0X6 LG | 209554A TUBE OIL,TURBO |
| 21000 KEY,WDRF 1,.06X.50 | 209554F TUBE,WATER DRAIN |
| 21004 KEY,WDRF 5,.12X.62 | 209554H TUBE,AIR |
| 21002 KEY,WDRF 3,.125X.50 | 209554P TUBE,OIL TURBO SUPPL |
| 21005 KEY,WDRF 6,.16X.62 | 209554R TUBE RA OIL SUPP .62 |
| 21007 KEY,WDRF 9,.188X.75 | 209554S TUBE,WTRMFLD DR REAR |
| 21006 KEY,WDRF 8,.156X.75 | 209561D SUPPORT, CLIP |
| 21009 KEY,WDRF 11,.188X.88 | 209561H SUPPORT, CLIP |
| 21011 KEY,WDRF 13,.188X1.00 | 209561K STRAP,CLIP SUPPORT |
| 21014 KEY,WDRF 18,.25X1.12 | 209561T BRACE, TUBE CLIP |
| 21015 KEY,WDRF 21,.25X1.25 | 209561Y SUPPORT, CLIP |
| 21017 KEY,WDRF 25,.312X1.50 | 209562D SEAL,PRECHAMBER |
| 21018 KEY,WDRF 27,.25X2.12 | 209567E CARRIER, SPARK PLUG |
| 21020 KEY,WDRF 126,.19X2.12 | 209567J CARRIER,SPARK PLUG |
| 21022 PIN,TAPER NO 0 X .75 | 209567K CARRIER, SPARK PLUG |
| 21033 PIN,TAPER NO 3 X.75 | 209567M CARRIER, SPARK PLUG |
| 21035 PIN,TAPER NO 3 X1.25 | 209567R CARRIER, SPARK PLUG |
| 21037 PIN,TAPER NO 4 X 1.00 | 209567S CARRIER, SPARK PLUG |
| 21039 PIN,TAPER NO 5 X2.00 | 209567V CARRIER, SPARK PLUG |
| 21041 PIN,TAPER NO 5 X2.50 | 209577B BRACE,AIR CLEANER RB |
| 21042 PIN,TAPER NO 6 X.75 | 209577C BRACE,AIR CLEANER LB |
| 21043 PIN,TAPER NO 6 X1.00 | 209577H TIE BRACE,LWR A/C RH |
| 21047 WASHER,LOCK,.75 | 209577M BRACE, UPPR A.C. TIE |
| 21048 WASHER,LOCK,.88 | 209577N BRACE, SURGE TANK |
| 21049 WASHER,MED LOCK,#10-.188 | 209577U BRACE, AIR CLEANER SUPPO... |
| 21050 WASHER,MED LOCK .25 | 209582C COUPLING, HELICAL |
| 21051 WASHER,LOCK,.312 & M8 | 209585G COVER, MOTOR |
| 21052 WASHER,MED LOCK .375 | 209585H COVER, MOTOR |
| 21053 WASHER,MED LOCK,.4375 | 209585J COVER, MOTOR (MACHINING) |
| 21054 WASHER,MED LOCK .50 | 209586D MOTOR, STEPPER |
| 21055 WASHER,LOCK,.625 & M16 | 209611A SEAL,CONDUIT CONN,.75 |
| 21056 WASHER,MED LOCK 1 IN & M24 | 209611B SEALING RING, 1 IN |
| 21057 PIN,COTTER,.062X.50 | 209603C RECEPTACLE, BOX MTG |
| 21058 PIN,COTTER,.062X.50 | 209615B ROD,GOVERNOR |
| 21062 PIN,COTTER,.094X.75 | 209615C ROD,GOVERNOR |
| 21064 PIN,COTTER,.125 X.75 | 209615F ROD,GOVERNOR |
| 21065 PIN,COTTER,.125X1.00 | 209615S ROD, GOVERNOR (38.62 IN) |
| 21066 PIN,COTTER,.125X1.25 | 209619A CROSSBRACE,AIR CLEANER |
| 21067 PIN,COTTER,.125X1.75 | 209619B CROSS BRACE, AIR CLEANER |
| 21068 PIN,COTTER,.094X1.25 | 209620A BRACKET,GAUGE |
| 21084 RDHDSCR,4-40X.38 | 209621B STRUT,AIR CLEANER RH |
| 21087 RDHDSCR,8-32X.25 | 209622B STRUT,AIR CLEANER |
| 21088 RDHDSCR,8-32X.25 | 209624A SUPPORT, BEAM REAR |
| 21090 RDHDSCR,8-32X.38 | 209624C SUPPORT, BEAM REAR |
| 21092 RDHDSCR,8-32X.62 | 209625B SUPPORT, BEAM FRONT |
| 21093 RDHDSCR,8-32X.75 | 209625D SUPPORT,BEAM A/C FRT. |
| 21094 RDHDSCR,8-32X.75 | 209626A BRACKET, AIR FILTER |
| 21097 RDHDSCR,10-24X.38 | 209626B BRACKET, AIR FILTER |
| 21100 RDHDSCR,10-24X.50 | 209627A SUPPORT, AIR CLEANER |
| 21101 RDHDSCR #10-24 X .50 | 209666F TUBE,CRANKCASE EJECT |
| 21102 RDHDSCR,10-24X.62 | 209666G TUBE,OIL BREATHER |
| 21104 RDHDSCR,10-24X1.50 | 209666N TUBE,BREATHER |
| 21105 RDHDSCR,10-32X.25 | 209668D TIMING UNIT ALTRO.V |
| 21107 ROHDSCR #10-32 X .375 LG | 209669B SUPPORT,WATER TUB RH |
| 21108 RDHDSCR 10-32 X .38 | 209669C SPPRT INTCLR TUBE LH |
| 21109 RDHDSCR,10-32X.50 | 209672A MUFFLER,PNEU EXH,.38 |
| 21112 RDHDSCR,12-24X.50 | 209672B MUFFLER/VENT,EXH,.25 |
| 21122 RDHDSCR,.312-18X.62 | 209672C MUFFLER/VENT,EXH,.50 |
| 21126 FILHDSC 10-24 X .50 | 209678A REG. GAS FISHER 66 |
| 21129 FILHDSC,10-32X.62 | 209678T REGULATOR, GAS (FISHER 6... |
| 21127 FILHDSC,10-32X.38 | 209678U REGULATOR, GAS (3 IN FIS... |
| 21134 FILHDSC,.25-20X.75 | 209678V REG,GAS(3IN FISHR 66Z)ST... |
| 21130 FILHDSCR,10-32X1.00 | 209678X REGULATOR, GAS- FISHER 6... |
| 21141 FLATHDSCR,.38-16X.75 LG | 209678Y REG., GAS- 3 IN (66Z),EX... |
| 21143 FLHDSC,.50-13X1.50 LG | 209704D TUBE,PR.RED.VA.VT.LH |
| 21144 FLHDSCR,.62-11X1.00 | 209704J TUBE VENT LH |
| 21150 SQHDSETSCREW,.25-20X1.00 | 209704M TUBE, BALANCE |
| 21157 SQHDSETSCR,.25-20X1 | 209704U TUBE, BALANCE |
| 21166 NUT,CASTLE,.38-24 UNF | 209704V TUBE, BALANCE |
| 21169 NUT,CASTLE,.62-18 UNF | 209704W LINE, BALANCE |
| 21171 NUT,CASTLE,.88-14 UNF | 209709A VALVE,6-WAY |
| 21173 NUT,HEX,.25-20 UNC | 209724G PRECHAMBER, CYL. HEAD |
| 21174 NUT,HEX,.25-20 UNC | 209729F MAGNETO,ALTRONIC V |
| 21175 NUT,HEX JAM,.25-20 UNC | 209724F PRECHAMBER, CYL. HEAD |
| 21176 NUT,HEX JAM,.25-20 UNC | 209729G MAGNETO ALTRONIC V |
| 21177 NUT,HEX,.25-28 UNF | 209729J MAGNETO, ALTRONIC 5 |
| 21178 NUT,HEX,.25-28 UNF | 209729T MAGNETO |
| 21179 NUT,HEX JAM,.25-28 UNF | 209729V MAGNETO |
| 21180 NUT,HEX JAM,.25-28 UNF | 209736J TUBE WATSUPPLY WGATE |
| 21181 NUT,HEX .312-18 UNC | 209736K TUBE WATSUPPLY WGATE |
| 21182 NUT,HEX,.312-18 UNC | 209749D TUBE,AIR |
| 21185 NUT,HEX,.3125-24 UNF | 209749F TUBE,AIR/GAS |
| 21183 NUT,HEX JAM .3125-18 | 209749G TUBE,GAS |
| 21186 NUT,HEX,.312-24 | 209749H TUBE |
| 21187 NUT,HEX JAM,.3125-24 | 209749U TUBE,AIR SUPPLY L.H. |
| 21189 NUT,HEX .375-16 UNC | 209749V TUBE, GAS INLET |
| 21190 NUT,HEX,.38-16 UNC | 209749W TUBE, AIR |
| 21191 NUT,HEX JAM,.375-16 | 209749Y TUBE, GAS SUPPLY |
| 21193 NUT,HEX .375-24 UNF | 209755H BRACKET, JUNCTION BOX |
| 21194 NUT,HEX,.375-24 | 209762C TUBE, OIL PICKUP |
| 21195 NUT,HEX JAM,.375-24 UNF | 209765F CABLE ASM. MAGNETO |
| 21197 NUT,HEX,.4375-14 UNC | 209770W TUBE,OIL DISCHARGE |
| 21198 NUT,HEX,.4375-14 UNC | 209772A PLATE,LOCK |
| 21199 NUT,HEX JAM,.4375-14 | 209773B BRACKET BREATHER SUP |
| 21201 NUT,HEX,.4375-20 | 209780R TUBE, AIR PRESSURE |
| 21202 NUT,HEX,.4375-20,ZINC | 209780S TUBE,AIR PRESSURE |
| 21205 NUT,HEX,.50-13 UNC | 209788A EJECTOR,BREATHER |
| 21206 NUT,HEX,.50-13 | 209792J BRKT, BREATHER CONN |
| 21207 NUT,HEX JAM,.50-13 | 209792M BRKT,BREATHR SUPPORT |
| 21208 NUT,HEX,.50-13,ZINC | 209792N BRKT.,PIPING SUPPORT |
| 21209 NUT,HEX,.50-20 | 209792T SUPPORT, FUEL PIPE CLAMP |
| 21210 NUT,HEX,.50-20 | 209792U BRACKET, PIPE SUPPORT |
| 21213 NUT,HEX,.5625-12 | 209792W BRACKET,THERMOSTAT HSG |
| 21219 NUT,HEX JAM,.562-18 | 209792X BRACKET, PIPE SUPPORT |
| 21221 NUT,HEX .625-11 UNC | 209792Z BRACKET, SADDLE SUPPORT |
| 21223 NUT,HEX JAM,.625-11 | 209796B CPLG .25 NPT(3000LB) |
| 21224 NUT,HEX JAM,.625-11,ZINC | 209802B CLAMP.MFLR. 2.00 OD |
| 21225 NUT,HEX,.625-18 | 209802C SEAL CLAMP 4.00 OD |
| 21227 NUT,HEX JAM,.625-18 UNF | 209802E CLAMP,MUFFLER |
| 21229 NUT,HEX,.75-10 UNC | 209805B PIPE,2 X 8.75 TBE |
| 21230 NUT,HEX,.75-10 UNC | 209805G PIPE,2 X 6.88 TBE |
| 21231 NUT,HEX JAM,.75-10 UNC | 209805H PIPE, 2 X 21.00 TBE |
| 21233 NUT,HEX .75-16 UNF | 209805E PIPE,2 X 4.25 TBE |
| 21243 NUT,HEX JAM,.875-14 UNF | 209805P PIPE, 2 X 1.50 TBE |
| 21245 NUT,HEX,1-8 UNC | 209805R PIPE, 2 X 2.50 TOE |
| 21246 NUT,HEX,1-8 UNC | 209805S PIPE, 2 X 27.25 TOE |
| 21247 NUT,HEX JAM,1-8 UNC | 209805W PIPE, 2 X 10.50 TOE |
| 21248 NUT,HEX JAM,1-8 UNC | 209805Z PIPE, 2 X 3.50 TOE |
| 21249 NUT,HEX,1-14 UNF | 209808A SWICHGAGE,INT. TEMP. |
| 21251 NUT,HEX JAM,1-14 UNF | 209808F SWICHGAGE,INT MFLD TEMP |
| 21255 NUT,HEX,#4-40 UNC | 209808H GAUGE, INT MFLD TEMP |
| 21257 NUT,HEX,#6-32 UNC | 209808J GAUGE, INT MFLD TEMP |
| 21259 NUT,HEX,#8-32 UNC | 209808K GAUGE, INT MFLD TEMP |
| 21260 NUT,HEX,#8-32 UNC | 209808L GAUGE, INT MFLD TEMP |
| 21261 NUT,HEX,#10-24 UNC | 209808M GAUGE, INT MFLD TEMP |
| 21262 NUT,HEX,#10-24 UNC | 209814C VALVE,BUTTERFLY,2 NPT |
| 21263 NUT,HEX,#10-32 UNF | 209814D VALVE, BUTTERFLY, 3 IN N... |
| 21264 NUT,HEX,#10-32 UNF | 209815A HSG,WATER HEATER |
| 21266 NUT,HEX,#12-24 UNC | 209815B HOUSING, HEATER |
| 21269 HXHDSCR,.25-20X.38 LG | 209816A STRAP, LUBE OIL COOLER |
| 21270 HXHDSCR,.25-20X.38 LG | 209824D ELBOW, PIPE 1 IN FORGED ... |
| 21271 HXHDSCR,.25-20X.50 LG | 209824E ELBOW,PIPE,.38 NPT FORG ... |
| 21272 HXHDSCR,.25-20X.50 LG | 209824F ELBOW,PIPE .25 NPT FORG ... |
| 21273 HXHDSCR .25-20X.625 LG | 209824G ELBOW, PIPE 1.25 NPT FOR... |
| 21274 HXHDSCR,.25-20X.62 LG | 209824H ELBOW, PIPE .50 NPT FORG... |
| 21275 HXHDSCR .25-20X.75 LG | 209829A TUBE,STARTER AIR IN |
| 21276 HXHDSCR,.25-20X.75 LG | 209829C TUBE,PRELUBE AIR OUT |
| 21278 HXHDSCR,.25-20X.88 LG | 209846P TUBE, AIR PRELUBE |
| 21280 HXHDSCR,.25-20UNCX1 | 209875A REGULATOR, PRESSURE |
| 21281 HXHDSCR,.25-20X1 | 209879P TUBE, PRELUBE -A- |
| 21282 HXHDSCR,.25-20X1.12 LG | 209879R TUBE, VENT -A- |
| 21284 HXHDSCR,.25-20X1.25 LG | 209879S TUBE VENT -B- |
| 21285 HXHDSCR,.25-20X1.25 LG | 209879T TUBE PRELUBE -B- |
| 21286 HXHDSCR,.25-20X1.38 LG | 209879V TUBE PRELUBE -C- |
| 21287 HXHDSCR,.25-20X1.38 LG | 209879X TUBE,AIR(VLV.TO VLV) |
| 21288 HXHDSCR,.25-20X1.50 LG | 209889A PIPE,1.5X2.0,TBE,#80 |
| 21289 HXHDSCR,.25-20X1.50 LG | 209889B PIPE,1.5X4.0,TBE,#80 |
| 21290 HXHDSCR,.25-20X1.75 LG | 209889C PIPE,1.5X8.5,TBE,#80 |
| 21291 HXHDSCR,.25-20X2.00 LG | 209889D PIPE,1.50X4.50,TBE,#80 |
| 21293 HXHDSCR,.25-20X2.25 LG | 209889E PIPE,1.50X2.00,TOE,#80 |
| 21296 HXHDSCR,.25-28X.50 LG | 209889J PIPE,1.50X5.50,TBE,#80 |
| 21294 HXHDSCR,.25-20X2.50 LG | 209889H PIPE,1.50X1.75,TBE,#80 |
| 21298 HXHDSCR,.25-28X.75 LG | 209889K PIPE,1.50X3.25,TBE,#80 |
| 21299 HXHDSCR,.25-28X.88 LG | 209889L PIPE,1.50X3.50,TBE,#80 |
| 21300 HXHDSCR,.25-28X 1 | 209892A TEE .38, 2000 LB |
| 21302 HXHDSCR,.25-28X1.25 LG | 209906A TUBE, BALANCE (L.B.) |
| 21303 HXHDSCR,.25-28X1.50 LG | 209906N TUBE WASTE GATE PRES |
| 21305 HXHDSCR,.312-18X.50 LG | 209906V TUBE,ROCKER ARM OIL |
| 21306 HXHDSCR .312-18X.50 | 209927B PIPE, 1 NPT X 3.00 SCH 8... |
| 21307 HXHDSCR,.3125-18X.625 | 209927C PIPE,1 NPTX4.50 SCH80 |
| 21308 HXHDSCR,.312-18X.62 LG | 209927D PIPE,1.0X1.50,SCH 80 TBE |
| 21309 HXHDSCR,.312-18X.75 | 209927E PIPE,1.0X1.75,SCH 80 TBE |
| 21310 HXHDSCR,.312-18X.75 LG | 209927F PIPE,1 NPTX8.00 SCH80 |
| 21312 HXHDSCR,.3125-18 X.88 | 209932D BRACE,AUX.PUMP GUARD |
| 21313 HXHDSCR,.3125-18 X 1 | 209932E BRACE,AUX.PUMP GUARD |
| 21314 HXHDSCR,.312-18X1.00 LG | 209933A HOSE, HUMP |
| 21315 HXHDSCR,.3125-18X1.25 | 209942A Y-STRAINER, 1.00 NPT |
| 21316 HXHDSCR,.312-18X1.25 LG | 209942B Y-STRAINER, 1.5 X 600LB |
| 21317 HXHDSCR,.312-18X1.50 | 209942C Y-STRAINER, 1.25 NPT |
| 21318 HXHDSCR,.312-18X1.62 LG | 209942D Y-STRAINER, 1.5 X 600LB |
| 21319 HXHDSCR,.3125-18X1.75 LG | 209948A PIPE .38X3.0 TBE 80S |
| 21320 HXHDSCR,.312-18X1.75 LG | 209948B PIPE .38X2.0 TBE 80S |
| 21321 HXHDSCR,.312-18 X 2 | 209948C PIPE .38X2.5 TBE 80S |
| 21322 HXHDSCR,.3125-18X2.25 LG | 209951N TUBE, AIR CTRL.PANEL |
| 21324 HXHDSCR,.3125-18X2.75 LG | 209951P TUBE, PRELUBE |
| 21323 HXHDSCR,.3125-18X2.50 LG | 209951R TUBE, VENT |
| 21325 HXHDSCR,.312-18X3.25 LG | 209951X TUBE,AIR |
| 21326 HXHDSCR,.312-18 X 4 | 209953A TUBE, PRE-ENGAGE INCT |
| 21331 HXHDSCR,.312-24X1.00 LG | 209953C TUBE, PRELUBE VALVE OUT |
| 21332 HXHDSCR,.312-24X1.12 LG | 209953D TUBE, PRELUB AIR SUPP |
| 21334 HXHDSCR,.3125-24X1.38 LG | 209953G TUBE AIR PRELUBE |
| 21335 HXHDSCR,.3125-24X1.50 LG | 209953R TUBE,STRTR AIR SPPLY |
| 21337 HXHDSCR,.3125-24 X 2 | 209953U TUBE,START ENGAGE |
| 21338 HXHDSCR .375-16X.50 | 209953V TUBE, PILOT VALVE |
| 21339 HXHDSCR,.375-16X.50 LG | 209958A PIPE .25NPTX2.O TBE |
| 21340 HXHDSCR,.375-16X.62 LG | 209958B PIPE .25NPTX1.5 TBE |
| 21342 HXHDSCR,.375-16X.62 LG | 209961D BRACKET, BELT GUARD SUPP... |
| 21343 HXHDSCR .375-16X.75 | 209961C BRACKET, BELT GUARD SUPP... |
| 21344 HXHDSCR,.375-16X.75 LG | 209963C BRKT, PRECHAMBER MNFLD. |
| 21346 HXHDSCR,.375-16X.88 LG | 209963A BRACKET,PRECHAM.MFLD |
| 21347 HXHDSCR,.375-16X.88 LG | 209967A TUBE SUPPLY -B- |
| 21348 HXHDSCR .375-16 X 1 | 209966A BELT,3V 800 JOINED |
| 21349 HXHDSCR,.375-16X1.00 LG | 209967B TUBE STARTER -B- |
| 21350 HXHDSCR,.375-16X1.12 LG | 209967C TUBE START -C- |
| 21351 HXHDSCR,.375-16X1.12 LG | 209967D TUBE STARTER -A- |
| 21352 HXHDSCR,.375-16X 1.25 | 209972A BRACKET,SUPPORT |
| 21353 HXHDSCR,.38-16X1.25 LG | 209967N TUBE, RELAY VALVE |
| 21354 HXHDSCR,.375-16X1.38 LG | 209972B BRACKET,SUPPORT |
| 21357 HXHDSCR .375-16X1.50 | 209978E TUBE WATER SUPPLY |
| 21355 HXHDSCR,.375-16X1.38 LG | 209978F TUBE WATER DISCHARGE |
| 21358 HXHDSCR,.375-16X1.50 LG | 209978G TUBE WATER |
| 21360 HXHDSCR .375-16X1.75 | 209978S TUBE,LUBE OIL DR LOW |
| 21362 HXHDSCR,.375-16 X 2 | 209978W TUBE WATER SUPPLY |
| 21361 HXHDSCR,.375-16X1.75 LG | 209978X TUBE WATER DISCHARGE |
| 21363 HXHDSCR,.375-16X2.00 LG | 209978Y TUBE, WATER |
| 21364 HXHDSCR,.375-16X2.25 LG | 209987L TUBE,REG BALANCE RB |
| 21365 HXHDSCR,.375-16X2.50 | 209987M TUBE,REG BALANCE LB |
| 21367 HXHDSCR,.375-16X2.75 LG | 209992D O RING,5.12X5.50X.19,VIT... |
| 21369 HXHDSCR,.375-16 X 3 | 209992E O RING,5.50X5.88X.19,VIT... |
| 21370 HXHDSCR,.375-16X3.25 | 209992F O RING,1.00X1.12X.06,VIT... |
| 21371 HXHDSCR,.375-16X3.50 LG | 209992G O RING,1.88X2.12X.12,VIT... |
| 21372 HXHDSCR,.375-16X3.75 LG | 209992J O-RING 5.75 X 6.12 X .19... |
| 21373 HXHDSCR,.375-16X4.00 LG | 209992H O RING,1.12X1.50X.19,VIT... |
| 21374 HXHDSCR,.375-16X4.25 | 209992K O RING, 1.88X2.12X.12 VT... |
| 21375 HXHDSCR,.375-16X4.50 LG | 209993A PIPE .12X2.0 TBE 80S |
| 21376 HXHDSCR,.375-24X.50 LG | 209994C ELBOW, CARB. INLET |
| 21377 HXHDSCR,.375-24X.75 LG | 209997B TUBE,START-C-SHUT.IN |
| 21380 HXHDSCR,.375-24X1.25 | 209997D TUBE,PRELUBE -A- |
| 21381 HXHDSCR,.375-24X1.50 LG | 209997E TUBE,PRLB.-B-SHUT.IN |
| 21382 HXHDSCR,.375-24X1.75 LG | 209997F TUBE,SUPPLY -A- |
| 21383 HXHDSCR,.375-24X2.00 LG | 209997G TUBE,SUPPLY -B- |
| 21388 HXHDSCR,.375-24X3.00 LG | 209997H TUBE,VENT -A- |
| 21391 HXHDSCR,.4375-14X.75 LG | 209997U TUBE START PILOT |
| 21392 HXHDSCR,.4375-14 X 1 LG | 209998A BRACKET, REGULATOR |
| 21395 HXHDSCR,.438-14X1.25 | 209999A CONN,MALE SS .75 ODX .50... |
| 21396 HXHDSCR,.438-14X1.38 LG | 209999B CONN.,MALE SS 1.0 OD X 1... |
| 21398 HXHDSCR,.438-14X1.50 LG | 209999D CONN,MALE SS 1.0 ODX .75... |
| 21401 HXHDSCR,.4375-14X2.00 LG | 209999E CONN,MALE SS .25 ODX .25... |
| 21403 HXHDSCR,.4375-14X2.25 LG | 209999F CONNECTOR, MALE, .38 OD ... |
| 21404 HXHDSCR,.438-14X2.50 | 21001A KEY,WDRF 2,.09X.50 |
| 21405 HXHDSCR,.4375-14 X 3 LG | 21012B KEY,WDRF 15,.25X1.00 |
| 21406 HXHDSCR,.4375-14X3.50 LG | 21013B KEY,WDRF, 16,.188X1.12 LG |
| 21407 HXHDSCR,.4375-14X3.75 LG | 21019A KEY,WOODRUFF-SPECIAL |
| 21408 HXHDSCR,.4375-14X4.00 LG | 211000A ELBOW,MALE SS .75 ODX .5... |
| 21409 HXHDSCR,.438-14X4.25 | 211000D ELBOW,MALE SS .25 ODX .2... |
| 21410 HXHDSCR,.4375-14X4.50 | 211000E ELBOW, MALE .38 OD TUBE ... |
| 21421 HXHDSCR,.50-13X.62 LG | 211007A CONN,Y,1X.5X.5 |
| 21422 HXHDSCR,.50-13X.75 LG | 211008A PIPE,.5X37.5,TBE,SS |
| 21423 HXHDSCR,.50-13X.88 LG | 211009C TURBOCHARGER |
| 21425 HXHDSCR,.50-13X1.00 | 211014A BRACE,AIR CLEANER |
| 21427 HXHDSCR,.50-13X1.12 LG | 211015A MOTOR STARTER,MAGN 230V ... |
| 21428 HXHDSCR,.50-13X1.25 LG | 211015B MOTOR STARTER,MAGN |
| 21429 HXHDSCR,.50-13X1.25 LG | 211015H MOTOR STARTER,MAGN |
| 21430 HXHDSCR,.50-13X1.38 LG | 211015F MOTOR STARTER,MAGN 208V ... |
| 21431 HXHDSCR,.50-13X1.50 | 211015J MOTOR STARTER,MAGN |
| 21432 HXHDSCR,.50-13X1.50 | 211016A HEATER OVERLOAD 526A |
| 21433 HXHDSCR,.50-13X1.75 | 211016B HEATER OVERLOAD 104B |
| 21434 HXHDSCR,.50-13X1.75 | 211016F HEATER OVERLOAD 592A |
| 21435 HXHDSCR,.50-13X 2.00 | 211016G HEATER OVERLOAD 356A |
| 21436 HXHDSCR,.50-13X2.00 | 211016L HEATER, OVERLOAD |
| 21437 HXHDSCR .50-13X2.25 | 211021G ROD, GOV CONTROL |
| 21438 HXHDSCR,.50-13X2.25 LG | 211031B TUBE,PRELUBE AIR INL |
| 21439 HXHDSCR .50-13X2.50 | 211032B DISC VACUUM REG. VALVE. |
| 21440 HXHDSCR,.50-13X2.50 LG | 211032C DISC VACUUM REG. VALVE. |
| 21441 HXHDSCR,.50-13X2.75 | 211056B PYROMETER,GAUGE |
| 21442 HXHDSCR,.50-13X3.00 LG | 211056C GAUGE,DUAL PYROMETER |
| 21443 HXHDSCR,.50-13X3.25 LG | 211056J PYROMETER,DIG.,F.,TYPE K |
| 21444 HXHDSCR,.50-13X3.50 | 211056L PYROMETER,DIG.,C.,TYPE K |
| 21445 HXHDSCR,.50-13X3.75 LG | 211056N PYROMETER,DIG.,C.,TYPE K |
| 21446 HXHDSCR,.50-13X 4 LG | 211061A BRKT.FRONT LIFTING |
| 21447 HXHDSCR,.50-13X4.25 LG | 211066A ADAPTER,B.V.HSG SHFT |
| 21448 HXHDSCR,.50-13X4.50 | 211068A BRACKET, PRECHAMBER REG. |
| 21454 HXHDSCR,.50-20X1.75 LG | 211070E BRACKET, SOLENOID VALVE |
| 21456 HXHDSCR,.50-20X2.25 LG | 211071A BRKT,FRICTION HANDLE |
| 21465 HXHDSCR,.625-11X1.25 | 211072A BRACE,REGULATOR |
| 21459 HXHDSCR,.50-20X3.00 LG | 211072C BRACE, CONTROL TUBES |
| 21466 HXHDSCR,.625-11X1.50 LG | 211072D BRACE, CONTROL TUBE |
| 21467 HXHDSCR,.625-11X1.75 LG | 211073A ELBOW,90 DEG PIPE .25 NP... |
| 21468 HXHDSCR,.625-11X1.75 LG | 211074A TEE, PIPE .25 NPT SST |
| 21469 HXHDSCR,.625-11X2.00 LG | 211078A TUBE, VENT AIR |
| 21470 HXHDSCR,.625-11X2.25 LG | 211078B TUBE,START INTERMED. |
| 21471 HXHDSCR,.625-11X2.50 LG | 211078C TUBE,PRELUBE INTERM |
| 21472 HXHDSCR,.625-11X3.00 LG | 211078D TUBE,SUPPLY PANEL |
| 21473 HXHDSCR,.625-11X3.25 LG | 211078E TUBE, VENT PANEL |
| 21487 HXHDSCR,.75-10X2.00 LG | 211078F TUBE,START PANEL |
| 21485 HXHDSCR,.75-10X1.50 LG | 211078G TUBE,PRELUBE PANEL |
| 21488 HXHDSCR,.75-10X2.25 LG | 211078K TUBE,COMPOUND GA RB |
| 21489 HXHDSCR,.75-10X2.50 LG | 211078L TUBE,COMPOUND GA LB |
| 21490 HXHDSCR,.75-10X2.75 LG | 211078M TUBE OIL PRESS SWT |
| 21491 HXHDSCR,.75-10X3.00 LG | 211078N TUBE, INTAKE MNFLD SENSI... |
| 21492 HXHDSCR,.75-10X3.50 LG | 211078P TUBE REG SENSING |
| 21496 HXHDSCR,.875-9X3.00 LG | 211078R TUBE,GAS SUPPLY |
| 21493 HXHDSCR,.75-10X4.00 LG | 211078S TUBE,PILOT START FR |
| 21499 HXHDSCR,1.00-8X3.00 LG | 211078V TUBE,START SHTTL VAL |
| 21502 PIN,COTTER,.12X1.50 LG | 211078W TUBE,RUN SHUTTLE VA |
| 21503 PIN,COTTER,.09X1.00 LG | 211078X TUBE, OIL PRESSURE |
| 21504 PIN,TAPER,NO 4X.75 LG | 211079C TUBE,REG. SENSING |
| 21512 HXHDSCR,.375-16X5.00 LG | 211079F TUBE CNTR REG LO-BTU |
| 21513 HXHDSCR,.375-16X5.50 LG | 211079J TUBE,REG SEN HBTU LB |
| 21514 HXHDSCR,.438-14X5.00 LG | 211079S TUBE,REGRB SENS LBTU |
| 21517 HXHDSCR,.50-13X4.75 LG | 211079U TUBE CONTRL PROPANE |
| 21518 HXHDSCR,.50-13X5.00 LG | 211079W TUBE, REG. SENSING |
| 21519 HXHDSCR,.50-13X5.50 LG | 211079Z TUBE,SENSING LOWER |
| 21520 HXHDSCR,.50-13X6.00 LG | 211084A BRACKET,PIPE SUPPORT |
| 21521 HXHDSCR,.50-13X6.25 LG | 211085B PLUG,2.12 W .38 NPT |
| 21524 HXHDSCR,.625-11X6.00 LG | 211085C PLUG,MFLD W/.50 NPT |
| 21529 KEY,WDRF 7,.125X.75 | 211122H TUBE,HEATER INLET |
| 21530 KEY,WDRF 19,.188X1.25 | 211122J TUBE,HEATER OUTLET |
| 21534 KEY,WDRF G,.375X1.50 | 211122K TUBE, LB WTR HTR IN |
| 21536 WASHER,MED LOCK,.25 | 211122L TUBE, LB WTR HTR OUT |
| 21538 WASHER,MED LOCK,.3125 | 211122M TUBE, RB WTR HTR IN |
| 21539 WASHER,MED LOCK,.50 | 211122N TUBE, RB WTR HTR OUT |
| 21540 WASHER,MED LOCK,.62 | 211122S TUBE,WATER IN,LOWER |
| 21543 SOCHDSCR,.25-20X1.00 LG | 211122T TUBE, BREATHER AIR |
| 21550 PIN,COTTER,.094X.50 LG | 211122U TUBE, WATER IN, LOWER |
| 21545 SOCHDSCR,.312-18X1.00 LG | 211125A TEE, FEMALE BRANCH TUBE ... |
| 21554 PIN,COTTER,.094X1.25 LG | 211125B TEE, FEMALE BRANCH TUBE ... |
| 21575 PIN,TAPER,NO 2X.75 LG | 211128B TUBE, AIR SUPPLY |
| 21579 PIN,TAPER,NO 3X1.50 LG | 211128H TUBE AIR SUPPLY LH |
| 21566 PIN,COTTER,.188X2.00 LG | 211128J TUBE,AIR SUPPLY RB |
| 21602 SHPRF EXT LW NO 6 | 211128K TUBE,AIR SUPPLY LB |
| 21600 NUT,CASTLE,.50-20 UNF | 211128L TUBE, BREATHER R.B. |
| 21604 SHPRF EXT LW NO 8 | 211128M TUBE BREATHER R.B. |
| 21606 WASHER,LK #10 SHPRF EXT | 211128P TUBE, BREATHER LB |
| 21607 SHPRF EXT LW .25 | 211129G TUBE WSTGATE PR RH |
| 21609 WASHER,.31 SHPRF EX LOCK | 211129H TUBE WSTGATE PR LH |
| 21608 SHPRF EXT LW .25 | 211129M TUBE,WATER LB INNER |
| 21611 SHPRF EXT LW .38 | 211129N TUBE,WATER LB OUTER |
| 21612 SHPRF EXT LW .50 | 211129P TUBE, WATER RB OUTER |
| 21625 SHPRF INT LW NO 10 | 211129R TUBE,WATER RB INNER |
| 21627 SHPRF INT LW NO 12 | 211129S TUBE,SENSOR RB |
| 21629 SHPRF INT LW .25 | 211129T TUBE,SENSOR LB |
| 21631 SHPRF INT LW .312 | 211133A BLOCK, MOUNTING |
| 21632 SHPRF INT LW .38 | 211134B BRACKET, EJECTOR |
| 21633 SHPRF INT LW .38 | 211141A TUBE GAS INLET |
| 21642 SHPR LW EXTCTSK #10 | 211141B LINE BALANCE |
| 21640 SHPRF INT LW 1.25 | 211141K TUBE,BALANCE LINE RB |
| 21648 SHPR EXT-INT LW .312 | 211141X TUBE,GAS SOL VLV OUT |
| 21647 SHPR EXT-INT LW .312 | 211141E TUBE GAS INLET |
| 21650 SHPR EXT-INT LW .38 | 211143E TUBE,START SHUTTLE/N |
| 21653 RDHDSCR,10-32X.62LG | 211143K TUBE, PRELUBE PILOT |
| 21656 WASHER,MED LOCK NO 8 | 211143L TUBE,STARTER PILOT |
| 21666 RDHDSCR,10-24X.38 LG | 211143M TUBE PILOT AIR SUPPL |
| 21665 RDHDSCR,8-32X1.50 LG | 211143N TUBE VENT |
| 21670 RDHDSCR,10-32X.75 LG | 211150B DAMPER, VIBRATION |
| 21667 RDHDSCR,10-24X.75 LG | 211151A PANEL, PYROMETER |
| 21671 RDHDSCR,10-32X1.25 LG | 211151D PANEL, INSTRUMENT |
| 21679 WASHER,MED LOCK,#6-1/8 | 211151P PANEL,PYRO SEL SWITCH |
| 21692 SOHDSETSC,.25-20X.38 | 211174F TUBE, LUBE OIL SUPPLY |
| 21702 FILHDSCR,.25-20X1.00 LG | 211174T TUBE,TURBO WATER LOW IN |
| 21713 FILHDSCR,#10-32X.75 LG | 211174U TUBE, GAS INLET |
| 21719 SOHDSETSC,#10-32X.25 LG | 211175A COVER PLENUM |
| 21720 SOHDSETSC,.25-20X.25 LG | 211175C COVER,PLENUM |
| 21734 FLHDSCR,#10-32X.75 LG | 211188A BRACKET, GAS VALVE |
| 21729 WASHER,MED LOCK,.375 | 211188D BRACKET, SOLENOID MOUNTI... |
| 21740 PIN,TAPER,NO 0X.38 LG | 211190D TUBE,VENT -B- |
| 21766 PKRDHDSCRB #4X.188 | 211190K TUBE,GAS VENT |
| 21791 PKRDHDSCR A #8X.38 | 211190L TUBE AIR SUPPLY |
| 21792 PKRDHDSCRU #10X.38 | 211190S TUBE,GAS VENT |
| 21797 HX WASHER HDSCR #14X.50 ZI... | 211190T TUBE,AIR |
| 21798 HX WASHER HDSCR #14X.62,ZI... | 211190U TUBE,AIR |
| 21800 HX WASHER HDSCR #14X.75,ZI... | 211190Z TUBE,PILOT START R |
| 21803 HX WASHER HDSCR,.312X.50,Z... | 211193D VALVE,2-WAY NC SOL. 2 IN... |
| 21816 HXHDSCR,.312-18X.88 LG | 211194C VALVE,3-WAY NC SOL,.25 N... |
| 21817 FILHDSCR,6-32X.50 LG | 211194D VALVE,3-WAY NC SOL,.50 N... |
| 21818 SHPRF INT LW #8 | 211194H VALVE, 3-WAY N.C. SOLENO... |
| 21833 FILHDSCR,#6-32X.62 LG | 211196B O RING,1.12X1.25X.06,FKM |
| 21834 FLHDSCR,#10-24X.75 | 211203E O RING,4.62X5.00X.19,NIT... |
| 21841 CTSKHDRIVT,.12X.50 | 211203F O RING,5.38X5.75X.19,NIT... |
| 21844 SQHDSETSCR,.312-18X1.50 | 211203G O RING,3.12X3.38X.12,NIT... |
| 21856 HDLESSETSCR,.312-18X1.00 L... | 211217D GOVERNOR,WOODWARDPSG |
| 21858 SOHDSETSC,10-32X.38 | 211217E GOVERNOR,WOODWARDPSG |
| 21859 SOHDSETSC,.25-20X.50 LG | 211217G GOV |
| 21860 SOHDSETSC,.312-18X.38 | 211217J GOVERNOR, WOODWARD PSG |
| 21862 WASHER,BEVEL,.62 | 211220D LEVER, GOVERNOR 4.290 LG |
| 21869 NUT,BR HEX,10-24 UNC | 211220R LEVER, GOVERNOR 4.62 LG |
| 21875 SOCHDSCR,.38-16X1.50 LG | 211220C LEVER, GOVERNOR 2.625 LG |
| 21877 WASHER,COPPER,1.25 | 211220T LEVER, GOV.2.12, 2.62, 3... |
| 21879 HXHDSCR,.25-20X3.50 LG | 211220X LEVER, GOVERNOR |
| 21880 RDHDSCR,.25-20X.50 LG | 211220Z LEVER, THROTTLE (2.203 L... |
| 21885 HXHDSCR,.38-16X2.25 LG | 211220Y LEVER, GOVERNOR |
| 21887 HXHDSCR,.62-11X2.50 LG | 211221A BUSHING,SPLINED,.38-36 S... |
| 21889 RDHDSCR,8-32X.50 LG | 211221B BUSHING, SPLINED 3/8-36 ... |
| 21890 HXHDSCR,.312-18X1.12 LG | 211228B THERMOMETER WELL |
| 21897 SOCHDSCR,#10-32X1.00 | 211228D THERMOWELL |
| 21901 HXHDSCR,.438-14X.88 LG | 211229D VALVE,SOLENOID 24VDC |
| 21902 WASHER,MED LOCK,.438 | 211229G VALVE, SOL 24VDC |
| 21912 FLHDSCR,#8-32X.50 LG | 211228G THERMOWELL .75 NPT |
| 21916 RIVET,FLHD,.188X.88 LG | 211229H VALVE,SOL 24VDC |
| 21932 RDHDWOODSCR,#4X.50ST | 211231B TUBE,PILOT SUPPLY |
| 21945 FLHDWOODSCR,#5X.50 | 211231A TUBE,GAS VENT REAR |
| 21951 PLUG,PIPECTSKHD,.38 | 211231C TUBE, VENT |
| 21953 HXHDSCR,.62-11X2.00 LG | 211231U TUBE, START-OUT |
| 21961 RDHDSCR,8-32X.312 | 211231V TUBE,COMP.LB CROSS |
| 21967 NUT,HEX,.25-28 L.H | 211231W TUBE, COMP GA LB |
| 21981 SOCHDSC,.375-16X.88 LG | 211231X TUBE,COMP GA RB |
| 21982 SOCHDSCR,.375-16X1.25 | 211232A CLIP,COMPOUND TUBE |
| 21983 SOCHDSCR,.375-16X.75 LG | 211238A ADAPTER,COMP.DISCH. |
| 26000 WASHER,LIGHT LOCK,.75 | 211239B GASKET, COMP. DISCHARGE |
| 26005 RDHDSCR,6-32X.31 LG | 211239C GASKET, COMP. DISCHARGE |
| 26009 SOCHDSC,.25-20X.75 LG | 211241A GASKET, TURBO MOUNTING A... |
| 26011 RDHDSCR,10-24X.31 LG | 211249L TURBOCHARGER |
| 26012 RDHDSCR,10-32X.50 LG | 211240A GASKET, TURBO MOUNTING |
| 26030 SOCHDSC,.25-20X.50 LG | 211249U TURBOCHARGER |
| 26035 SQHDSETSCR,.25-20X.75 LG | 211249V TURBOCHARGER |
| 26038 HX WASHER HDSCR #14X.38,ZI... | 211249Y TURBOCHARGER |
| 26039 HXHDSCR,.62-11X1.50 LG | 211250A BRACKET,JUNCTION BLOCK |
| 26049 HXHDSCR,.62-11X2.25 LG | 211253H GASKET, RECEPTICLE |
| 26051 RDHDSCR,10-24X.62 LG | 211254C BOX,JUNCTIONNEMA 4 |
| 26052 HXHDSCR,.75-10X2.00 LG | 211254D BOX,JUNCTIONNEMA 4 |
| 26058 HXHDSCR,.312-18X1.50 LG | 211254F BOX, JUNCTION |
| 26059 WASHER,MED LOCK,#8 | 211254X BOX, JUNTION |
| 26070 FLHDSCR,10-24X2.00 LG | 211255M TUBE,AIR |
| 21743 FLHDSCR,.25-20X1.00 LG | 211260A PIPE, #80, 1.25NPT X 2.0... |
| 26080 SOCHDSCR,10-32X.88 LG | 211260B PIPE, #80, 1.25NPT X 2.0... |
| 26081 SOHDSETSC,.38-16X.50 LG | 211287B BRACKET,JUNCTION BOX |
| 26087 WASHER,BRASS,.38 | 211288A THRMCPL,TYPE J,10 FT |
| 26096 RDHDSCR,8-32X.38,ZINC | 211288B THRMCPL,TYPE J,24 FT |
| 26097 RDHDSCR,10-24X.38,ZINC | 211288C THRMCPL,TYPE J,60 FT |
| 26105 KEY,WDRF 27,.25X2.12 | 211288E THRMCPL,TYPE J,36 FT |
| 26110 SHPROOF INT LW,.50 | 211288K LEADWIRE,THERMOCOUPL |
| 26114 HXHDSCR,.25-20X.62 LG | 211288L THERMOCOUPLE |
| 26118 PKRDHDSCRB #4X.38 | 211288N THRMCPL,TYPE K, 10FT |
| 26122 FLHDSCR,10-24X.62 LG | 211288P LEADWIRE,THERMOCOUPL |
| 26125 HXHDSCR,.312-18X3.75 LG | 211288R THRMCPL,TYPE K, 12FT |
| 26128 PLUG,PIPE,HXHD,.50 BRASS | 211288S THRMCPL,TYPE K, 16FT |
| 26129 SQHDSTS .375-16X1.75 | 211288T THERMOCOUPLE,TYPE K,168+... |
| 26131 HXHDSCR,.38-16X7.50 LG | 211288Y THERMOCOUPLE, TYPE K |
| 26144 SHPR LW EXT CTSK,.38 | 211288Z THERMOCOUPLE, TYPE K |
| 26154 NUT,EV'DUR HX,.312-18 | 211291X VALVE, GAS |
| 26168 HXHDSCR,.50-13X1.00 LG | 211291Y VALVE, GAS |
| 26181 HXHDSCR,1.00-8X3.25LG | 211297G DECAL,IDENTIFICATION |
| 26186 HXHDSCR,.25-28X1.12 LG | 211304C SCREW,SPRING ADJUSTMENT |
| 26187 SHPR EXT-INT LW,.50 | 211304D SCREW,SPRING ADJUSTMENT |
| 26189 FILHDSCR,10-24X.62 LG | 211304E SCREW, SPRING ADJUSTING |
| 26198 HXHDSCR,.25-28X.62 LG | 211304F SCREW, SPRING ADJUSTING |
| 26199 HXHDSCR,.38-24X3.50 LG | 211304G SCREW, SPRING ADJUSTING |
| 26202 KEY,WDRF 61,.188X.62 | 211306A PIN,DOWEL |
| 26204 PLUG,PIPESOCHD,.25BR | 211308D TUBE,REGULATED GAS |
| 26212 SCRSOCCUP,.38-16X.50 | 211308E TUBE, AIR |
| 26213 HXHDSCR,.50-13X6.50 LG | 211308P TUBE,PRECHAMBER LB |
| 26214 HXHDSCR,.50-13X8.00 LG | 211308S TUBE, PRECH MFLD LB |
| 26221 HXHDSCR,.75-10X3.25 | 211308U TUBE, PRECHAM-REG |
| 26224 HXHDSCR,.625-11X1.00 LG | 211308V TUBE,PRECHAMBER |
| 26237 HXHDSCR,.312-18X3.50 LG | 211308Y TUBE,GAS |
| 26239 HXHDSCR,.312-18X5.50 LG | 211308Z TUBE, PRECH MFLD RB |
| 26242 HXHDSCR,.438-20X1.00 LG | 211315R TUBE,OS OIL SUPPLY |
| 26246 HXHDSCR,.438-14X2.75 LG | 211326D WASHER, DYNA SEAL |
| 26249 HXHDSCR,.3125-18X1.38 LG | 211327D TUBE BALANCE LOW-BTU |
| 26248 HXHDSCR,.50-13X1.12 LG | 211327K TUBE,GAS VLV IN,LBTU |
| 26258 FILHDSCR,#8-32X.62 LG | 211327R TUBE, OIL LEVEL VENT |
| 26266 RDHDSCR,10-32X.75 LG | 211342E COUPLING, FLEXIBLE |
| 26270 NUT,SQMACHSCR,.62-11 | 211351G TUB,SHTL.VLV.TOVRSA |
| 26276 SQHDSETSCR,.312-18X1.00 LG | 211351H TUB,SHTL.VLV.TO AMDT |
| 26293 HXHDSCR,.438-14X3.25 LG | 211351N TUBE, RELAY VALVE RH |
| 26300 HXHDSCR,.38-16X4.75 LG | 211355A OIL LINE,REGULATOR |
| 26308 HXHDSCR,.50-20X1.25 LG | 211357D CONN,SPK.PLUG |
| 26311 HXHDSCR,.25-20X4.25 LG | 211357H CABLE,SPARK PLUG,ASM |
| 26322 HXHDSCR,.312-18X1.125 | 211357S CABLE,SPARK PLUG |
| 26340 HXHDSCR,1.00-8X5.00 LG | 211359E CONDUIT, UPPER |
| 26341 HXHDSCR,.75-10X1.75 LG | 211359F CONDUIT,THERMOCOUPLE |
| 26348 HXHDSCR,.312-18X3.00 LG | 211359G CONDUIT,THERMOCOUPLE |
| 26358 FLHDSCR,8-32X.38 LG | 211362A BRACKET,SWITCH |
| 26359 FLHDSCR,.25-20X1.50 LG | 211367B PUMP LUBE OIL 60HZ |
| 26379 WASHER,COPPER,.188 | 211367C PUMP, LUBE OIL |
| 26388 HXHDSCR,.375-24X1.62 LG | 211367F PUMP, LUBE OIL (50/60 HZ... |
| 26391 HDLSTSCR,.312-18X1.50 LG | 211368C THERMOSTAT, SWITCH 120/2... |
| 26398 HXHDSCR,.50-13X1.62 LG | 211391J TURBOCHARGER |
| 26405 SHPR INT LW,.62 | 211377D BRACKET, PRELUBE MOUNTIN... |
| 26408 NUTSLTED,.75-16X.73 | 211391L TURBOCHARGER |
| 26411 PLUG,PIPE,SOCHD,.38 | 211391T TURBOCHARGER |
| 26416 PLUG,SOCHDPIPE .125 NPT | 211391U TURBOCHARGER |
| 26418 SOCHDSCROVPT #10-32 | 211395L BOX, JUNCTION |
| 26420 WASHER,MED LOCK,#10-.188 | 211402A SPACER,MFLD TOP WTR. |
| 26423 HXHDSCR,.50-13X2.75 LG | 211410C TUBE,AIR START |
| 26424 SOHDSTSC,.38-16X1.50 | 211410D TUBE,PRE-ENGAGE |
| 26427 SOCHDSCR,10-32X.50 LG | 211410E TUBE,SUPPLY TO CPANL |
| 26440 HXHDSCR,.38-16X3.50 LG | 211410K TUBE,RUN SHUTTLE VLV |
| 26444 SOCHDOVP,.25-20X1.25 LG | 211410N TUBE, GAS VENT |
| 26445 HI PRO KEY NO 1708-B | 211410P TUBE,START SHUTT VLV |
| 26447 FLHDSCR,10-24X1.25 LG | 211410R TUBE, SOLENOID INLET |
| 26451 SOCHDSCR,.50-13X1.00 LG | 211410S TUBE,SOL VA-AIR PLEN |
| 26453 SCRSOCCUP.50-13X.50 | 211410X TUBE,PRELUBE REAR |
| 26455 FLHDSCR,10-24X1.50 LG | 211410Y TUBE,PNU SUPPLY REAR |
| 26459 PLUG PIPE | 211410Z TUBE,VENT REAR |
| 26461 SOCHDSC,.50-13X1.25 LG | 211411D TUBE,SEPARATOR OUT |
| 26467 SOCHDSCR,.3125-18X.62 LG. | 211412A BRACKET,ZEE |
| 26470 HDLSSCR,.38-16X2.50 LG | 211412B SUPPORT, TUBE CLAMP |
| 26472 SOCHDSCR,.50-13X3.00 LG | 211412D SUPPORT, TUBE CLAMP |
| 26474 WASHER,MED LOCK .75 | 211412E BRKT., PIPE SUPPORT |
| 26478 SOCHDSCR,#10-24X.62 LG | 211415B TURBOCHARGER |
| 26477 SOCHDSCR #10-24X1.00 | 211416A TUBE,PREL OIL DISCHARGE |
| 26488 SOHDSETSC,.50-13X.75 LG | 211416H TUBE, GAS/CROSS |
| 26507 WASHER,COPPER,.312 | 211416J TUBE, GAS |
| 26514 SOCHDSCR,.3125-18X1.50 | 211416K TUBE 1.00 X 9.50 LG |
| 26517 HXHDSCR,1.00-8X3.75 LG | 211416L TUBE, REG TO PRECHA |
| 26519 SHPR EXT-INT LW,.62 | 211416M TUBE,GAS |
| 26520 KEY,WDRF 213,.12X.38 | 211416Y TUBE, COOLING WATER IN L... |
| 26529 PIN,ROLL,.188X1.00 LG | 211418H TUBE,BAL-CARB TO REG |
| 26530 PIN,ROLL,.25X1.75 LG | 211418N TUBE,BAL-TO CARB,RB |
| 26531 PIN,ROLL,.094X.62 LG | 211418S TUBE,BAL-TO VALVE,LB |
| 26532 PIN,ROLL,.094X.75 LG | 211418T TUBE,BAL-TO REG, |
| 26533 PIN,ROLL,.12X.88 LG | 211418R TUBE,BAL-TO VALVE,RB |
| 26536 PLUG,PIPE HXHD,.38,BRASS | 211418W TUBE,BAL-TO INLET,LB |
| 26544 PIN,ROLL,.25X.62 LG | 211418Z TUBE BALANCE NAT GAS |
| 26547 PIN,ROLL,.12X.50 LG | 211422A CABLE 3CNDCTR SHIELD |
| 26549 PIN,ROLL,.25X1.25 LG | 211428B SWITCH, TOGGLE |
| 26552 PIN,ROLL,.12X.69 LG | 211439J TUBE SUPP.RES TO LUB LH |
| 26563 HXHDSCR,.50-13X3.25 LG | 211435A CONNECTOR ADAPTER GAS IN... |
| 26567 HXHDSCR,.38-16X3.25 LG | 211439N TUBE SUPP.RES TO LUB |
| 26568 HXHDSCR,.75-10X1.75 LG | 211439P TUBE SUPP.RES TO LUB |
| 26583 PIN,ROLL,.188X1.25 LG | 211440B TUBE, VACUUM GAUGE |
| 26584 RDHDSCR,10-32X.62 LG | 211440C TUBE,COMP GAUGE |
| 26589 PIN,ROLL,.25X1.00 LG | 211440H TUBE,COMPOUND GAUGE |
| 26594 PIN,ROLL,.25X1.50 LG | 211440N TUBE, LUBE OIL PRESS |
| 26596 PIN,ROLL,.312 X .81 LG | 211440P TUBE,COMPOUND GAUGE |
| 26597 ROLL PIN5/16 X 2 1/4 | 211440S TUBE,INT MFLD PRESS GAUG... |
| 26603 HXHDSCR,.75-10X1.00 LG | 211440U TUBE, OIL ACC DRIVE |
| 26628 SOHDSETSC,.38-16X1.00 LG | 211442A SEAL, OIL |
| 26659 NUT,FLEXLOC,1.12-12,THIN | 211443A BRKT., AIR CLEANER |
| 26660 NUT,FLEXLOC,1.00-14,THIN | 211443B BRACKET,UPPER PLENUM |
| 26661 NUT,FLEXLOC,.75-16,THIN | 211443C BRKT., AIR CLEANER |
| 26662 PIN,ROLL,.25X.50 LG | 211445S TUBE, WASTEGATE VENT |
| 26669 RDHDSCR,#10-32X2.00 LG | 211445U TUBE BREATHR DRN UPR |
| 26666 HXHDSCR,.62-11X2.75 LG | 211445V TUBE,O'SPEED GOV OIL |
| 26677 FILHDSCR,10-32X.50 LG | 211445W TUBE,BREATHER DRAIN-UPPE... |
| 26679 PIN,ROLL,.12X.81 LG | 211446A BRACKET,MAG DRIVE SUPP |
| 26682 FILHDSCR,10-32X.38 LG | 211448A GASKET, A/F CONTROL |
| 26690 RECRDHDSC,8-32X.50 LG | 211448B GASKET, A/F CONTROL |
| 26700 PIN,ROLL,.19X1.50 LG | 211449C SPACER, AFM STEPPER MOTO... |
| 26710 NUT,STSTHEX,.50-20 | 211450R TUBE,SHUTTLE VALVE |
| 26721 SOCHDSCR,.375-16X1.00 LG | 211450S TUBE,AIR VALVE |
| 26728 RDHDSCR,12-24X.50 LG | 211450U TUBE,SOL.VLVE INLET |
| 26729 NUT,FLEXLOC,.50-20,THIN | 211450V TUBE,OIL INLET |
| 26730 PIN,ROLL,.19X.50 LG | 211450W TUBE,OIL INLET |
| 26731 PLUG,PIPE,SOCHD,.06 | 211450X TUBE,OIL OUTLET |
| 26733 PIN,ROLL,,19X.44 LG | 211450Y TUBE,OIL OUTLET |
| 26734 PIN,ROLL,.25X2.25 LG | 211454B ELBOW, AIR/GAS |
| 26738 PIN,ROLL,.312X.62 LG. | 211456A SLEEVE, COUPLING |
| 26740 HXHDSCR,.75-16X1.50 LG | 211457A GASKET,AIR CL PLENUM |
| 26742 HXHDSCR,.88-14X2.50 LG | 211463A PIPE 2.00NPT-SPECIAL |
| 26743 PLUG,PIPE,HXHD,.125 | 211467B TUBE, GAS SUPPLY |
| 26745 PIN,ROLL,.12X1.00 LG | 211467G TUBE,GOV L.O. SUPPLY |
| 26750 PLUG,PIPE,HXHD .25 | 211467R TUBE,TURBO LO IN LOW |
| 26751 NUT,STSTHEX,.50-13 | 211467V TUBE,OIL SUPP TO GOV |
| 26756 SCRFLATSOCHD,.38-16X1.00 L... | 211467Y TUBE,SUPPLY PRECHMBR |
| 26758 WASHER,COPPER,.22X.34X.03 | 211467Z TUBE,SUPPLY LOW BTU |
| 26762 HXHDSCR,.38-16X5.25 LG | 211476A NIPPLE,SPECIAL |
| 26763 PKRDHDSCRU #4X.19 | 211476D NIPPLE, SPECIAL |
| 26774 PIN,ROLL,.12 X .38 | 211476E NIPPLE, SPECIAL |
| 26779 NUT,FLEXLOC,.625-18,THIN | 211476F NIPPLE, .25 IN ID SPECIA... |
| 26781 SOCHDSCR,10-24X.62 LG | 211476G NIPPLE,SPECIAL |
| 26786 PIN,ROLL,.12X1.12 LG | 211476H NIPPLE, SPECIAL |
| 26792 PIN,ROLL,.125X1.50 LG | 211477C TEE, SPECIAL |
| 26795 HXHDSCR,.25-20X3.00 LG | 211477E BLOCK, OXYGEN SENSOR |
| 26799 PIN,ROLL,.19X1.75 LG | 211477F BLOCK, NOX SENSOR |
| 26800 PIN,ROLL,.125X.62 LG | 211482D SADDLE, PIPE 1.25 IN R |
| 26807 PIN,ROLL,.38X.81 LG | 211482E SADDLE,PIPE 2 IN |
| 26825 SCREW,#6-32 SKHD SET | 211482G SADDLE,PIPE,2 IN PIPE |
| 26827 FILHDSCR,4-40X.38 LG | 211482J SADDLE,PIPE(2.50 IN PIPE... |
| 26828 WASHER,LOCK,#4 | 211482L SADDLE, PIPE 2 IN |
| 26840 PIN,ROLL,.375X2.25 LG | 211483A JACKET, INSULATION |
| 26843 HXHDSCR,.38-16X1.88 LG | 211483B JACKET, INSULATION |
| 26855 WASHER,MEDLOCK,#12-.22 | 211484H TUBE,LUBRICATOR |
| 26861 PIN,ROLL,.16X1.00 LG | 211484P TUBE,PRELUBE |
| 26863 SOCHDSCR,.38-24X1.50 LG | 211487A BRACE,AIR CLEANER |
| 26865 8HXHDSC,.625-11X2.25 LG | 211498A THERMOSTAT 120 DEG F NOM |
| 26871 RDHDSCR,10-24X1.25 LG | 211498B THERMOSTAT 165 DEG F NOM |
| 26872 RDHDSCR,10-24X1.25 LG | 211508D TUBE, PRECHA INLET |
| 26873 SOCHDSCR,#8-32X.38 LG | 211508F TUBE,WASTEGAT PRESS. |
| 26874 NUT,HEX LH.3125-24 | 211508G TUBE,WASTEGATE PR RH |
| 26882 SCRSKHD,.438-14X1.25 LG | 211508H TUBE,WASTEGATE PR.LH |
| 26898 CPSCRSOCHD,.312-18X1.00 LG | 211508W TUBE, UPPER BALANCE |
| 26890 PIN,ROLL,.25X.75 LG | 211508X TUBE, UPPER BALANCE MID.... |
| 26899 HXHDSCR,.50-13X1.00 LG NYL... | 211508Y TUBE, BAL. UPPER PRECHAM... |
| 26900 HXHDSCR,.50-13X1.25 LG NYL... | 211508Z TUBE, BAL. LOWER PRECHAM... |
| 26906 NUT,FLEXLOC,.25-28 REG. | 211512G TUBE |
| 26908 SOCHDSCR,.38-16X1.75 LG | 211518A BRKT,IGN MODULE-REAR |
| 26902 NUT,FLEXLOC,.375-24 THIN | 211518B BRKT,IGN MODULE-FRNT |
| 26914 PIN,ROLL,.19X2.00 LG | 211518C BRKT,IGN MODULE-REAR |
| 26915 PIN,ROLL,.25X2.00 LG | 211519A GUIDE,PICK-UP LOC. |
| 26916 HXHDSCR,.50-13X8.50 LG | 211520A ELBOW, MALE 45DEG. 20VBU... |
| 26932 NUT,FLEXLOC,.50-13 THIN | 211521H BRACKET, GAS REG. RH. |
| 26934 SCRSTCONE,.25-28X.38 | 211521J BRACKET GAS REG. LH. |
| 26938 SHPR EXT-INT LW,#10 | 211535D TUBE,COMPOUND GAUGE LB |
| 26939 HXHDSCR,.31-18X.75 NYLOC | 211535E TUBE,COMPOUND LB CROSS |
| 26941 PIN,ROLL,.09X.50 LG | 211535C TUBE,COMPOUND GAUGE RB |
| 26942 HXHDSCR,.38-24X1.75 LG | 211535S TUBE, INT MANIFOLD L.B. |
| 26943 NUT,STSTJAMHX .375-24 | 211535U TUBE, OIL PRESSURE |
| 26946 HXHDSCR,.50-13X1.50 LG | 211537A TUBE, AIR SUPPLY |
| 26947 HXHDSCR,.50-13X2.00 LG | 211537B TUBE, AIR SUPPLY |
| 26948 NUT,STSTJAMHX,.50-20 | 211537X TUBE, TURBO OIL SUPPLY |
| 26949 NUT,STSTJAMHX,.50-13 | 211537Y TUBE, PUMP TO HEATER |
| 26950 PIN,ROLL,.16X.75 LG | 211538B BRACKET, JUNCTION BOX L.... |
| 26952 NUT,STSTJAMHX,.62-18 | 211538C PLATE,JUNCTION BOX MTG |
| 26954 PIN,ROLL,.09X.88 LG | 211538A BRACKET, JUNCTION BOX R.... |
| 26962 HXHDSCR,.50-13X.75 LG | 211541A CONDUIT, FLEX .75 X 241 ... |
| 26963 HXHDSCR,NYLOC,.50-13X1.50 ... | 211541E CONDUIT, FLEX .50 X 7 LG |
| 26964 HXHDSCR,.75-10X2.25 LG | 211541J CONDUIT, FLEX .50 X 101... |
| 26965 NUT,FLEXLOC,.62-18 REG. | 211541P CONDUIT, FLEX .75 X 30 L... |
| 26967 NUT,FLEXLOC,.88-14 THIN | 211541R CONDUIT, FLEX .50 X 16 L... |
| 26969 HXHDSCR,.375-16X1.00 LG | 211541T CONDUIT, FLEX .50 X 168 ... |
| 26971 PLUG,EXP,1.31,BR | 211541U CONDUIT, FLEX .50 X 42 L... |
| 26981 NUT,FLEXLOC,.25-18 THIN | 211541V CONDUIT, FLEX .50 X 33.7... |
| 26982 HXHDSCR,.62-11X2.00 LG | 211541X CONDUIT, FLEX .50 X 108 ... |
| 26989 HXHDSCR,.375-16X2,NYLOCK | 211550A BRACE, PRESSURE TRANSDUC... |
| 26990 HXHDSCR,NYLOC,.375-16X1 LG | 211550B BRACKET, TURBO OIL DRN S... |
| 26991 HXHDSCR .375-16X1.25 | 211551A TUBE,CONTROL NAT GAS |
| 26992 HXHDSCR,.38-16X1.50 LG | 211551E TUBE,AIR START-3 WAY VLV |
| 26994 HXHDSCR,.75-16X1.25 LG | 211551H TUBE, OIL FILTER SUPPLY |
| 26996 8HXHDSC,.50-20X1.25 LG | 211551J TUBE, SENSING LOWER |
| 26997 SCRSOCCUP,.375-16X.62 LG | 211551K TUBE,SENSING |
| 26999 HXHDSCR,.31-18X3.25 LG | 211551L TUBE, DOWNSTREAM PRESS. |
| 28102 NUT,FLEXLOC,.25-20 REG. | 211551M TUBE, REGULATOR SENSING |
| 28115 SOCHDSCR,.50-13X2.00 LG | 211551U TUBE, SENSING REG. |
| 28116 HXHDSCR,.312-18X.88 LG | 211551V TUBE, SENSING GAS REG. |
| 28126 SHPR LW EXTCTSK,.438 | 211551W TUBE, MICROSPIN SUPPLY R... |
| 28148 HXHDSCR,NYLOC,.38-16X.75 L... | 211551X TUBE, MICROSPIN SUPPLY L... |
| 28157 PIN,ROLL,.312X1.50 LG | 211551Y TUBE, MICROSPIN SUPPLY U... |
| 28159 PIN,ROLL,.094X .312 | 211551Z TUBE, MICROSPIN SUPPLY L... |
| 28160 SOCHDSCR .25-28 X .62 LG. | 211552A PIPE, SIDE OUTLET 2 INNP... |
| 28171 PIN,ROLL,.12X1.38 LG | 211554D BOX, JUNCTION |
| 28178 8HXHDSCR,.50-13X2.25 LG | 211554H BOX, JUNCTION |
| 28187 HXHDSCR,.25-20X.75 LG | 211554K BOX, JUNCTION |
| 28188 HXHDSCR,.25-20X.50,NYLOC | 211554T BOX, JUNCTION |
| 28190 HXHDSCR,.312-18X3.75 LG | 211555B BRACKET, JUNCTION BOX |
| 28198 NUT,STSTJAMHX,.75-10 | 211555E BRACKET, JUNC BOX THERMO... |
| 28204 HXHDSCR .312-18X1.00 LG GR... | 211555F BRACKET, CEC MODULE |
| 28207 PIN,ROLL,.12X.75 LG | 211555G BRACKET, DC JUNCTION BOX... |
| 28209 CPSCREW,.50-13X1.25 LG | 211555L BRACKET, MOUNTING |
| 28215 ROLL PIN 3/16 X 3/4 | 211555S BRACKET, IGN. SW. / OS S... |
| 28220 HXHDSCR1/2-13X4-1/2 | 211556A PANEL, JUNCTION BOX |
| 28223 8HXHDSR. .38-24 X 1.75 LG. | 211556E PANEL, JUNCTION BOX |
| 28234 NBL HXHDSCR,.62-18X2.00 LG | 211556L PANEL, JUNCTION BOX |
| 28236 HXHDSCR,.50-13X7.75 LG | 211556M PANEL, JUNCTION BOX |
| 28238 HXHDSCR,.50-13X5.75 LG | 211556N PANEL, JUNCTION BOX |
| 28245 NUT,ELASTI STP,.75-16 | 211556P PANEL, JUNCTION BOX |
| 28253 SCR,FLNGD12PT.50-13X1.50 | 211556R PANEL, JUNCTION BOX |
| 28254 SCR,FLNGD12PT.50-13X2.25 | 211556T PANEL, JUNCTION BOX |
| 28269 SCR,FLNGD12PT.38-16X1.00 | 211556X PANEL,JUNCTION BOX |
| 28272 SCRSOCCUP,.312-18X.38 | 211565A FLANGE |
| 28273 HXHDSCR,.62-11X2.50 LG | 211587C VALVE, ADMISSION |
| 28276 NBL HXHDSCR,.75-10X7.50 | 211596A TUBE, PRELUBE OIL SUCTIO... |
| 28278 NBL HXHDSCR,.62-18X5.75 LG | 211596J TUBE,LB JW HEATER INLET |
| 28279 HXHDSCR .312-18X1.25 LG GR... | 211596K TUBE,LB JW HEATER OUTLET |
| 28281 INSERTPIN,.38-24X.687 | 211596N TUBE,TURBO WATER INL,ASM |
| 28282 8HXHDSCR,.50-13X1.00 LG | 211596R TUBE, OIL SUCTION |
| 28283 8HXHDSCR,.50-13X1.50 | 211596W TUBE,OIL SUCTION |
| 28284 8HXHDSCR,.62-11X1.38 LG | 211596Z TUBE, OIL SUCTION |
| 28286 8HXHDSCR,.75-10X2.25 LG | 211600B ENCLOSURE, SWITCH |
| 28293 NUT,GR8HEX,.62-18 | 211604B BLOCK, PRESSURE |
| 28304 ROLL PIN, NON-MAGNETIC, .1... | 211604C BLOCK, PRESSURE |
| 28307 HXHDSCR,.25-20X.75 LG | 211611A INSULATION, TURBO INLET ... |
| 28311 NUT,STSTHEX,.375-24 | 211611C INSULATION, TURBO HOUSIN... |
| 28313 NUT,STSTHEX,.312-24 | 211611E INSULATION, CLAMP BAND. |
| 28314 HXHDSCR,.38-16X3.00 LG | 211611F INSULATION, TURBO OUTLET... |
| 28315 HXHDSCR,.38-16X3.50 LG | 211612A TUBE, SUPPLY |
| 28320 HXHDSCR,.25-20X.50 LG | 211612M TUBE, CARB. AIR PRESS. U... |
| 28326 NUT,STSTJAMHX,.25-28 | 211612V TUBE, INT MAN PRESS L.B. |
| 28332 HXHDSCR .375-16X1.25 | 211612W TUBE,INT MFLD PRESS LB |
| 28334 HXHDSCR,.375-16X1.12 LG | 211612X TUBE, SENSING UPPER |
| 28337 WASHERSPGLOK,.25X.062 | 211615A RETAINING RING, S.S. |
| 28338 WASHRSPGLOK,.31X.078 | 211619G TUBE, INT. MAN. R.B. |
| 28339 WASHER,LOCK .375,ST ST | 211621D TUBE, INTAKE MANIFOLD PR... |
| 28340 WASHERSPGLOK,.50X.125 | 211621H TUBE, INTAKE MANIFOLD |
| 28341 FILHDSCR,8-32X.25 LG | 211621U TUBE,GOV DRIVE OIL SUPPL... |
| 28344 WASHER,STNLST,.66X1.31X.09 | 211621V TUBE, OIL PRESSURE |
| 28346 WASHER,STNST,.41X.81X.12 | 211622D TUBE, GAS SUPPLY |
| 28348 WASHER,STNLST,.53X1.06X.09 | 211622E TUBE, BALANCE |
| 28349 WASHER,STNLST,.66X1.00X.09 | 211622F TUBE, BALANCE |
| 28352 HXHDSCR,.25-20X1.00 LG | 211622J TUBE, GAS REG BALANCE |
| 28117 SOCHDSC,.375-16X3.00 LG | 211622K TUBE, BALANCE FISHER 99 |
| 28354 HXHDSCR,.375-16X1.75 LG | 211622P TUBE, OIL LEVELER VENT |
| 28353 HXHDSCR,.312-18X1.25 LG | 211624A LINE,BALANCE. L.H. |
| 28357 WASHER,STNST,.39X.69X.12 | 211629D TUBE, TURBO OIL DRAIN |
| 28356 HXHDSCR,.375-16X4.75 LG | 211629E TUBE, EJECTOR PRESSURE S... |
| 28362 HXHDSCR,.50-13X1.25 LG | 211629F TUBE, AIR SUPPLY TO EJEC... |
| 28365 HXHDSCR,.50-13X1.75 LG | 211629K TUBE, EXTRACTOR AIR SUPP... |
| 28368 WASHER,STNLST,.28X.62X.06 | 211633E TUBE, PILOT AIR |
| 28369 WASHERSPGLOCK#8X.040 | 211635H TUBE, OIL SUPPLY MAGNETO... |
| 28402 HXHDSCR,.38-16X2.75 LG | 211635L TUBE, GAS REG BALANCE |
| 28403 HXHDSCR,.375-16X5.00 LG | 211635M TUBE, SOLENOID VENT |
| 28405 HXHDSCR.375-16X2.00LG STNL... | 211635P TUBE, WASTEGATE PRESSURE |
| 28406 NUT,HEX,STSTJAM,.375-16 | 211636A TUBE, BREATHER DRAIN LOW... |
| 28411 NUT,HEX,STST,.375-16 | 211636B TUBE, LOWER BALANCE LINE |
| 28415 WASHER,STNLST,.53X.88X.12 | 211636C TUBE, BALANCE LINE LOWER |
| 28419 WASHERSPGLOK,.62X.16 | 211636D TUBE, BALANCE LINE LOWER |
| 28420 NUT,STSTHEX,.62-18 | 211636F TUBE, OIL TO R.A. HEADER |
| 28425 NUT,STSTJAMHX,.25-20 | 211636H TUBE,W.G. WATER OUT-RB |
| 28429 NUT,STSTHEX,.25-20 | 211636J TUBE, W.G. WATER IN-L.B. |
| 28433 PIN,ROLL,.12X.88 LG | 211636K TUBE, W.G. WATER OUT-LB |
| 28438 PLUG,SOCHDPIPE,.12,BRASS | 211636L TUBE, W.G. WATER IN-R.B. |
| 28450 HXHDSCR,.50-13X6.25 LG | 211636N TUBE, WASTEGATE SUPPLY |
| 28455 HXHDSCR,.75-10X9.50 LG | 211636P TUBE, INTAKE MNFLD PRESS... |
| 28457 NUT,STOP,.62-18X.75 | 211636S TUBE, HIGH PRESSURE SENS... |
| 28460 SCR,FLNGD12PT.62-11X1.50 | 211636T TUBE-VENT WASTEGATE RH |
| 28468 SCR,FLNGD12PT.38-16X1.25 | 211636U TUBE-VENT WASTEGATE LH |
| 28470 HXHDSCR,SERR.FLG,.31-18X.6... | 211636Z TUBE, WASTEGATE TO WASTE... |
| 28471 NUT,ELSTOP,1-14X.52 | 211638A STRIP,TIMING FLYWHL |
| 28478 PLUG,PIPE,SOCHD,.25 | 211638B STRIP,TIMING FLYWHL |
| 28481 NUT,STOP,.375-24X.28 | 211638C STRIP,TIMING FLYWHL |
| 28486 8HXHDSCR,.50-13X1.25 LG | 211638D STRIP,TIMING FLYWHEEL, 1... |
| 28490 8HXHDSC,.625-11X1.75 LG | 211638E STRIP,TIMING FLYWHEEL, 1... |
| 28493 8HXHDSCR,.50-13X1.75 LG | 211638F STRIP,TIMING FLYWHEEL, 6... |
| 28495 SCRFLGLOK,.312-18X.50LG | 211639B VALVE, THERMOSTATIC 2.5 ... |
| 28496 SCRFLGLOK,.312-18X.75 LG | 211639C VALVE,THERMOSTATIC,3 IN,... |
| 28504 NUT,FLEXLOC,.50-20 REG. | 211640B VALVE, THERMOSTATIC |
| 28521 BOLTNYLO,.38-16X1.75 LG | 211639D VALVE, THERMOSTATIC, 2.5... |
| 28522 POP RIVET | 211644B BRACKET, SWITCH ENCLOSUR... |
| 28526 PIN,ROLL,.08X.88 LG | 211641A BRACKET, JUNCTION BOX |
| 28528 8HXHDSCR,.438-20X2.25 LG | 211649A GASKET, FLANGE |
| 28529 8HXHDSCR,.438-20X3.00 LG | 211651A BRACKET, CONTROL PANEL |
| 28531 SOCKHDSETSC,.25-20X2 | 211653A VALVE, SOLENOID NC, 230V... |
| 28532 NUTSTOPELA,.625-18X.75 | 211653D VALVE,SOLENOID NC,208VAC |
| 28540 HXHDSCR,.38-16X2.50 LG | 211654E TUBE,INT MFLD R.B. |
| 28543 PLUG,PIPE,HXHD .375 | 211654H TUBE, SOL. PRESS. SUPPLY |
| 28545 PIN,ROLL,.38X4.00 LG | 211654L TUBE, AIR START SIGNAL |
| 28559 SOCHDSCR,.50-13X2.50 LG | 211654U TUBE, VENT (PANEL) |
| 28562 NBL SCR,12PT.50-13X5.00 | 211654P TUBE, VENT AIR |
| 28563 SOCHDSCR,10-24X.50 LG | 211654Y TUBE, GAS VENT |
| 28567 HXHDSCR,.375-16X1.50 | 211663Y TUBE, INTAKE MNFLD PRESS |
| 28568 8HXHDSCR .375-16X2.25 | 211663Z TUBE, J.W. PRESS, LOWER |
| 28570 HXHDSCR,.50-13X2.00 LG | 211665D KIT, ADMISSION VALVE REP... |
| 28571 8HXHDSCR,.50-13X3.25 LG | 211665E KIT, ADMISSION VALVE REP... |
| 28573 NYLOKSCR,.38-16X2.50 LG | 211670C SEAL RING,SQUARE 1.88X2.... |
| 28576 SCR,FLNGD12PT.50-13X4.75 | 211670D SEAL RING,SQUARE |
| 28584 HXHDSCR,.75-10X6.50 LG | 211671A SPACER,.34X.44X.07LG. |
| 28597 PIN,ROLL,.38X4.50 LG | 211686A TURBOCHARGER,TV94 |
| 28599 SOCKHDSETSC,.25-20X1.50 LG | 211712B TUBE, SENSING UPPER |
| 28602 NUT,HXHD,REG,.62-11 | 211700M ELBOW, I.C. WATER INLET |
| 28607 SCR,FLNGD12PT.50-13X2.50 | 211712H TUBE, OIL PRESSURE |
| 28609 SCR,FLNGD12PT.38-16X1.50 | 211712J TUBE, SOLENOID VENT |
| 28610 HXHDSCR,.38-16X6.75 | 211712K TUBE, AIR START SIGNAL |
| 28611 HDHSCR,GR8,.75-16X7 | 211712L TUBE, START PANEL |
| 28612 NUT,STSTHEX,.75-16 | 211712M TUBE, AIR SUPPLY |
| 28615 BOLT,HX.HD.NYLOK | 211712P TUBE, INTAKE MANIFOLD SE... |
| 28618 SCR,FLNGD12PT.50-13X3.25 | 211712Z TUBE, INTAKE MANIFOLD PR... |
| 28624 8HXHDSCR,.50-20X2.50 LG | 211714J TUBE, REGULATOR BALANCE |
| 28626 NBL SCR,12PT,.50-13X2.75 | 211714L TUBE, AIR PRELUBE |
| 28627 NBL SCR,12PT.50-13X4.00 | 211714S TUBE, AIR PRELUBE |
| 28628 SCR,FLNGD12PT.50-13X3.00 | 211714Z TUBE, AIR PRELUBE |
| 28630 8HXHDSCR,.75-16X3.75 LG | 211724A RING, RETAINING |
| 28635 HXHDSCR,.62-11X2.75 LG | 211754B COUPLING,FLEXMASTER 2.50... |
| 28640 NBL SCR,12PT.50-13X1.75 | 211754C COUPLING,FLEXMASTER 2.50... |
| 28641 PLUG,PIPE,SOCKHD,.75 | 211754G COUPLING, FLEXMASTER, 2\ |
| 28644 SCR,FLNGD12PT.31-18X.88 LG | 211754H COUPLING, FLEXMASTER, 3.... |
| 28647 NBL 8HXHDSCR,.88-14X3.00 L... | 211755C BRACE, CLIP |
| 28655 WASHER, LOCK M1O | 211755D BRACE, CLIP |
| 28657 WASHER,LOCK,.75 | 211755E BRACE, CLIP |
| 28662 WASHER,STNLST,.47X.75X.12 | 211755G BRACE, CONDUIT |
| 28664 WASHER,MEDLOCK,.88 | 211755J BRACE, TUBE |
| 28665 GASKET | 211755L SUPPRT,IC WAT TUBE-INTER |
| 28666 NUT, HEX-GRADE 8 | 211755M SUPPORT,IC WAT TUBE-REAR |
| 28667 C'SCREW. 75-10 X5 LG | 211755N SUPPORT, CLIP |
| 28677 PLUG,PIPE,HXHD,.50 | 211755P SUPPORT, CLIP |
| 28681 HXHDSCR,STAIN-M12X50 | 211755R BRACKET, TURBO OIL TUBE |
| 28683 HXHDSCR,SS,.375X.75 | 211755T BRACE, SUPPORT CLIP |
| 28684 WASHER,STNLST,.53X.88X.06 | 211755U BRACE, TUBE |
| 28685 NUT,FLEXLOC,#8-32 REG. | 211755V SUPPORT, CLIP |
| 28697 PLUG,PIPE,HXHD 1.0 | 211755W BRACE, SUPPORT, SENSOR |
| 28700 NUT,FLEX LOC #10-24 | 211755X BRACE, TUBE |
| 28717 CPSCR., .75-16X3.00 | 211756A ACTUATOR, WOODWARD UG |
| 28721 8HXHDSCR,.625-11X1.5 LG. | 211756C ACTUATOR, UG, CSA |
| 28728 PIN,DOWEL,.31X.50 LG | 211761A TUBE,EJECTOR INLET-FRONT |
| 28729 HXHDSCR,.62-18X3 SS | 211761B TUBE,SEPARATOR OUTLET-RE... |
| 28732 HXHDSCR,.875-14X2.75 LG | 211761C TUBE,SEPARATOR OUTLET-FR... |
| 28735 SCR,FLNGD12PT.31-18X .75 | 211761D TUBE, BREATHER |
| 28738 HXHDSCR .312-18X4.25 | 211761G TUBE, BREATHER FRONT INT... |
| 28740 HXHOSCR.312-18X.75 | 211761S TUBE, BREATHER-REAR |
| 28741 HXHDSCR.312-18X4.75 | 211761T TUBE, BREATHER-FRONT |
| 28743 NUT,HEX,THINJAM,.38-24 | 211761U TUBE, BREATHER- FRONT |
| 28744 NBL SCR,12PT.50-13X2.00 | 211761V TUBE, BREATHER- REAR |
| 28745 NBL BOLT,FLY COUP.75-10X3.... | 211761Z TUBE,IC WATER OUT,FRONT |
| 28750 HXHDSCR,.31-18X4.25 LG | 211764B BRACKET,IGNITION SWITCH |
| 28753 SCR,FLNGD12PT.50-20X1.50 | 211764C BRACKET, EMERGENCY SWITC... |
| 28749 SCR,FLNGD12PT.50-13X1.25 | 211769A TUBE, MAIN GAS TO BULKHE... |
| 28754 SOCHDSCR,#12-24X.75 LG | 211769B TUBE, CARB AIR TO BULKHE... |
| 28755 SCR,FLNGD12PT.50-20X1.00 | 211769C TUBE, J.W. TO BULKHEAD |
| 28758 WASHER,1.03X1.88X.13 | 211769D TUBE, INTAKE MNFLD TO BU... |
| 28763 SPRING, WAVE | 211769E TUBE, LUBE OIL TO BULKHE... |
| 28766 CAPSCR,OIL PAN DOOR | 211769W TUBE, SOL PRESS SUPPLY |
| 28767 NUT,.4375-14 SQUARE | 211769Y TUBE, PRECHAMBER PRESSUR... |
| 28768 NUT,FLEX LOC .375-24 THIN | 211769Z TUBE, CARB AIR PRESSURE |
| 28769 NYLK SOCHDSCR #10-32UNFX.7... | 211771A ADAPTER,MAIN BEARNG TEMP |
| 28770 NYLOK SOCHDSCR#10-32X1.00L... | 211782A BRACKET, SAFETY LABEL |
| 28773 HXHDSCR,.75-10X11 LG GR8 | 211782B PLATE, SAFETY LABEL |
| 28778 NUT,HXTHINJAM,1.00-20 | 211783B REGULATOR,PRESSURE (FISH... |
| 28779 HXHDSCR M20 X 95 LG | 211788A WIRE,THERMOCOUPLE,61' LG |
| 28780 BOLT,RT ANG HOOK,.38-16 UN... | 211790A SUPPORT, ROCKER SHAFT |
| 28782 SCR,FLNGD12PT.38-16X4.50 | 211792A BRIDGE, VALVE |
| 28783 HXHDSCR,.88-9X3.75 LG | 211792E BRIDGE, VALVE |
| 28785 SHOULDRSCR,SOCHD,.62X.62 | 211793A GUIDE, VALVE BRIDGE |
| 28787 SCR,FLNGD12PT.38-16X3.50 | 211795B SEAL, IGNITER SLEEVE |
| 28788 RDHDSCR, #4-40 X 5/8 LG. P... | 211796C SLEEVE, SPARK PLUG |
| 28791 SCR,FLNGD12PT.50-13X3.75 | 211795A SEAL,IGNITER SLEEVE |
| 28790 HXHDSCR,.375 X .88 SS | 211798A BUSHING,ROCKER |
| 28794 PLUG,SQHDPIPE,.50-14 | 211798D BUSHING, ROCKER |
| 28796 8HXHDSCR,.875-14X3.50 LG. | 211798E BUSHING,ROCKER |
| 28795 SCR,FLNGD12PT.38-16X5.00 S... | 211801 2 INSERT, VALVE SEAT 30 D... |
| 28797 SCREW, BTNHDSOC 6-32X.25 L... | 211801 3 INSERT, VALVE SEAT 30 D... |
| 28798 PLUG,EXPANDER SEALING 5MM ... | 211801J 1 INSERT, VALVE SEAT 20 ... |
| 28799 SCR,FLNGD12PT.38-16X1.25 S... | 211801J 2 INSERT, VALVE SEAT 20 ... |
| 28800 NUT,REG.FLNGE .750-16 UNF ... | 211801J 3 INSERT, VALVE SEAT 20 ... |
| 28807 SCREW,FLANGED HXHD M8X30 | 211802B1 INSERT, VALVE SEAT 20 D... |
| 28810 SOCHDSC,.50-13X1.38 LG | 211802B2 INSERT, VALVE SEAT 20 D... |
| 28814 NUT, HEX - .38-24 GRADE 8 | 211802B3 INSERT, VALVE SEAT 20 D... |
| 28816 SOCHDSCR, 1.00-8 X 3.50 LG... | 211802B4 INSERT, VALVE SEAT 20 D... |
| 28818 STUD 3/8-16 X 1.5 LG | 211802B5 INSERT, VALVE SEAT 20 D... |
| 28825 SOCHDSCR, .500-13 X 2.25 L... | 211802B6 INSERT, VALVE SEAT 20 D... |
| 28826 \ | 211808A SOCKET, BALL |
| 28828 CLIP, .25 DIA X .38 SCREW,... | 211819A BALL, ROCKER |
| 28829 SCREW, CAP, HXHD, 5/8-11X2... | 211820B SCREW, ADJUSTING |
| 28830 NUT, HEX, 5/8-11, GR 16 | 211830A O-RING |
| 28835 PIN, CLEVIS, TAPPED | 211830D O-RING 6.50 X 7.00 X .25... |
| 28839 HXHDSCR, 1.00-8 X 3.50 LG,... | 211830E O-RING 1.67 X 1.88 X .09... |
| 28840 WASHER, LOCK 1.00\ | 211830H O-RING 6.50 X 7.00 X .25... |
| 28841 HXHDSCR, SERR. FLANGE, #10... | 211830K O RING,3.75X4.00X.12,HNB... |
| 28842 HXHDSCR, SERR. FLANGE, .25... | 211830L O-RING,6.5 X 7.0 X .25 P... |
| 28848 HXHDSCR, 1.00-8 X 2.50 LG,... | 211830M O-RING STANDARD |
| 28851 NUT, FLEXLOC, .750-10 | 211830N O-RING, STANDARD |
| 28861 HXHDSCR .500-13 X 1.75 LG ... | 211845B BOX,JUNCTION |
| 28862 SCREW, CAP, HEX HEAD, 1/2-... | 211849B PANEL,JUNCTION BOX |
| 28863 NUT, HEX, 1/2-13 STAINLESS... | 211856A SPRING,GAS REGULATOR-BLK... |
| 28871 SOCHDSCR, SET, CUP POINT .... | 211856B SPRING,GAS REGULATOR-GRY... |
| 28875 WASHER, WEDGE-LOCK .312 (N... | 211857B COOLER,LUBE OIL (38 IN.) |
| 28885 WASHER, FLAT .375 HARDENED... | 211858B PIPE, 2.50 X 6.00 TBE |
| 28888 NUT, HEX FLANGE SERRATED (... | 211869F PIPE, 2 X 19.00 TBE |
| 29606 8HXHDSC,.38-16X1.25 LG | 211870E TUBE, VENT |
| 28890 NUT, HEX FLANGE SERRATED .... | 211870F TUBE, GAS PRESS, LOWER |
| 29607 8HXHDSC,.38-16X1.50 LG | 211870G TUBE, CARB AIR PRESS, LO... |
| 29609 8HXHDSCR. .38-16 X 1.75 LG... | 211870H TUBE, PRECHAMBER PRESS, ... |
| 29610 8HXHDSC,.50-20X2.00 LG | 211870J TUBE, GAS PRESS, UPPER |
| 38738 HXHDSCR,.500-13 X3.5 GRD.8 | 211870K TUBE, PRECHAMBER PRESS, ... |
| 39025 STUD,GR5,.312X1.44LG | 211870M TUBE, J.W. PRESS, CENTER |
| 39023 UNION, MALE HALF | 211870N TUBE, OIL PRESS |
| 39048 ADAPTER EXTENSION | 211870L TUBE, J.W. PRESS, UPPER |
| 39056 UNION,FEM HALF 4X4 | 211870P TUBE, SENSING |
| 39078 ELBOW,PIPE,.25,BRASS | 211870V TUBE, SENSING |
| 39110 STUD,GR5,.25X1.25 LG | 211870Z TUBE, GAS PRESSURE, UPPE... |
| 39111 ELBOW,HALF UNION 4X6 | 211887A THERMOSTAT,165 DEG. F. |
| 39112 ELBOW,MALE HALF | 211887B THERMOSTAT,170 DEG. F. |
| 39148 WASHER,SOCHDSCR LOCK,.25 | 211887C THERMOSTAT,175 DEG. F. |
| 39149 WASHER,SOCHDSCR LOCK,.31 | 211887D THERMOSTAT,180 DEG F |
| 39150 WASHER,SOCHDSCR LOCK,.38 | 211887E THERMOSTAT,190 DEG. F. |
| 39151 WASHER,LOCK,.44,FOR SKHDSC... | 211887F THERMOSTAT,197 DEG. F. |
| 39152 WASHER,SOCHDSCR LOCK,.50 | 211887G THERMOSTAT,220 DEG. F. |
| 39237 WASHER,SOCHDSCR LOCK #10 | 211887H THERMOSTAT,210 DEGREE F |
| 41092 COUPLING,PIPE,.38 | 211895A TUBE, VENT |
| 41156 HOSE,1.5IDX1.880DX2 | 211895B TUBE, CARB AIR PRESS UPP... |
| 41236 CLAMP,HOSE 3.56-4.5 | 211895C TUBE, CARB AIR PRESS MID... |
| 41248 BEARING BALL | 211895D TUBE, CARB AIR PRESS LOW... |
| 41284 ELBOW 90 DEGREE | 211895E TUBE, INTAKE MNFLD PRESS... |
| 41305 HSG OIL COOLER | 211895F TUBE, INTAKE MNFLD PRESS... |
| 41307 ELEMENT OIL COOLER | 211895P TUBE, INT MNFLD PRESS, U... |
| 41392 PIN,DOWEL .187X.81LG | 211895R TUBE, INT MNFLD PRESS, L... |
| 41415 CLEANER AIR | 211895S TUBE, CARB AIR PRESS, UP... |
| 41454 BUSHING BRONZE | 211895T TUBE, CARB AIR PRESS, UP... |
| 41471 CLAMP,BYPASS LINE SUPP | 211895U TUBE, CARB AIR PRESS, LO... |
| 41484 STUD,GR5,.375X1.81LG | 211895V TUBE, VENT |
| 41543 SPACER FAN | 211895W TUBE, OIL DAMPER COOLING |
| 41879 COUPLING, HALF .75 | 211895X TUBE, PRESSURE SENSING |
| 41883 FAN BLADE ASM | 211895Y TUBE,OIL HEADER TO GOVER... |
| 41884 PULLEY FAN ASM | 211895Z TUBE, CARBURETOR AIR PRE... |
| 44083 PIN,DOWEL,.50X1.12LG | 211896A TURBOCHARGER |
| 44108 STUD,GR5,.375X1.31LG | 211899A BRACKET,DSM PLATE SUPP |
| 44114 U BOLT,.25X1.38X2.19 | 211899D PLATE, DSM MOUNTING |
| 44125 COVER OIL COOLER | 211899E BRACKET, DSM SUPPORT |
| 44141 GASKET CARB AIR CONN | 211899F BRACKET, DSM FILTER |
| 44142 SPRING OIL COOLER BP | 211899H BRACKET, MOUNTING |
| 44296 SPACER .56X.88X.62LG | 211899K BRACKET, JUNCTION BOX MO... |
| 44316 ADAPT OIL P DR HOLE | 211899G BRACKET, J-BOX MOUNTING |
| 44334 GASKET | 211899N BRACKET, JUNCTION BOX |
| 44365 STUD,GR5,.50X3.0 LG | 211899L BRACKET, JUNCTION BOX MO... |
| 44378 KEY WOODRUFF #5 | 211899T BRACKET, ALTERNATOR JUNC... |
| 44502 PLUNGER REL VALVE | 211910A LABEL,SAFETY GUARD WARNI... |
| 44438 ELBOW TUBE | 211910C LABEL, RELIEF VALVE WARN... |
| 44515 GASKET | 211910E LABEL, GAS VENT WARNING |
| 44566 SPACER,.56X.88X.25LG | 211910J LABEL,WARNING SAFETY GUA... |
| 44759 GASKET,INTAKE | 211910L LABEL,WARNING SAFETY GUA... |
| 44781 TEE INVERTED | 211910P LABEL, WARN MAX GAS REG ... |
| 44803 TEE, PIPE SERVICE .12 NPT ... | 211910S LABEL,WARNING GAS VENTIN... |
| 44944 STUD,GR5,.375X1.75 LG | 211910W LABEL,WARNING GAS VENTIN... |
| 46056 SHAFT WATER PUMP | 211910X LABEL,WARNING FLMBLE LIQ... |
| 46063 IMPELLER WATER PUMP | 211911A LABEL, WARNING, DIESEL E... |
| 46064 ELBOW W P INLET | 211911D TAG,WARNING-NO IGNITION ... |
| 46108 BUSHING PISTON PIN | 211911E LABEL,WARNING-MAX PRELUB... |
| 46136 VALVE EXHAUST | 211911G LABEL,WARNING-RELIEF VAL... |
| 46163 IMPELLER WATER PUMP | 211911H LABEL,WARNING-ACTUATOR P... |
| 46409 GUIDE INTAKE VALVE | 211911K LABEL,WARNING-RELIEF VAL... |
| 46509 GUIDE VALVE | 211911N LABEL,WARN MAX GAS REG 1... |
| 48126 BEARING BALL | 211911R LABEL,WARN MAX GAS REG 6... |
| 48204 LINE OIL | 211911T LABEL, WARNING, HARMONIZ... |
| 48306 BEARING BALL | 211911V LABEL, WARNING, HARMONIZ... |
| 48311 SEAL, OIL | 211911W LABEL,MAX PRES RATING 15... |
| 48314 RETAINER,WP BRG GREASE | 211911X LABEL, WARNING, HARMONIZ... |
| 48340 GASKET | 211911Y LABEL, WARNING, HARMONIZ... |
| 48406 SPACER,.41X.75X.19LG | 211911Z LABEL, WARNING, HARMONIZ... |
| 48458 STUD,GR8,.375X2.25LG | 211912A LABEL,WARNING, EXPLOSION... |
| 48587 BUSHING | 211912D LABEL, WARNING, HARMONIZ... |
| 48594 GASKET | 211912E LABEL,WARNING, HARMONIZE... |
| 48600 RING SNAP | 211912F LABEL, SYMBOL ONLY, VOLT... |
| 48601 SPACER,1.18X1.38X.34 | 211912G LABEL, CAUTION, ENGINE D... |
| 48602 SPACER,2.25X2.44X.16 | 211912H LABEL,CAUTION ENGINE DAM... |
| 48624 HOSE,1.38X1.75X1.75 | 211912K LABEL, WARNING, HARMONIZ... |
| 48928 GASKET | 211912M LABEL, WARNING, HARMONIZ... |
| 48993 COCK, DRAIN, .50 | 211912P TAG, WARNING, HARMONIZED... |
| 50033 BEARING BALL | 211912R LABEL, WARNING, HARMONIZ... |
| 50123 SWITCH STARTING | 211912S LABEL, WARNING, HARMONIZ... |
| 56059 NUT FUEL PUMP | 211912T LABEL, WARNING, HARMONIZ... |
| 59018 CARBURETOR, R.H. | 211912U LABEL, WARNING, HARMONIZ... |
| 59019 CARBURETOR | 211912V LABEL, WARNING, HARMONIZ... |
| 59022 CARBURETOR,600DVF1 | 211912W LABEL, WARNING/NOTICE, E... |
| 59030 CARBURETOR (IMPCO 600VF) | 211912X TAG, LABEL WARNING EXPL.... |
| 59033 CARBURETOR, 200 DIA., DELT... | 211920B LABEL,CAUTION EAR/EYE PR... |
| 60333 NIPPLE RUBBER | 211920C LABEL, CAUTION HOT SURFA... |
| 60356 SWITCH OIL PRESSURE | 211920D LABEL,CAUTION HOT SURFAC... |
| 60533 SWITCH IGNITION | 211920E LABEL,CAUTION HOT SURFAC... |
| 60874 SWITCH MAGNETIC | 211920F LABEL,CAUTION EAR/EYE PR... |
| 60883 MOTOR STARTING | 211920G LABEL, FILTER ELEMENT CA... |
| 60902 AMMETER | 211920H LABEL,CAUTION IGN MODULE... |
| 60903 AMMETER,60-0-60,2 | 211920K LABEL, CAUTION, HARMONIZ... |
| 60905 AMMETER,2.50 | 211920L LABEL, CAUTION, HARMONIZ... |
| 60907 GAUGE, TEMPERATURE | 211920M LABEL, CAUTION, HARMONIZ... |
| 63000 COPPER WASHER | 211920N LABEL, SYMBOL ONLY, HOT ... |
| 63007 PLUG,CUP,1.5 | 211920R LABEL, CAUTION |
| 63205 GASKET | 211920S TAG, CAUTION, HARMONIZED... |
| 63347 GASKET | 211930A LABEL,SAFETY INSTR LIFTI... |
| 63464 BUSHING BRONZE | 211930C LABEL,SAFETY INSTR LIFTI... |
| 63555 END GOV ROD | 211930F LABEL, CAUTION, HARMONIZ... |
| 63590 GASKET | 211930G LABEL, WARNING, HARMONIZ... |
| 63600 WASHER,1.53X1.88X.06 | 211930J LABEL, SYMBOL ONLY, PHYS... |
| 63602 PIPE 1.25 X 1.62 TBE | 211930K LABEL, SYMBOL ONLY, GROU... |
| 63700 WASHER,.59X1.00X.09 | 211930L LABEL, EMERGENCY STOP, Y... |
| 44707 BEARING BALL | 211930M LABEL, SYMBOL ONLY, GROU... |
| 63722 CROSS,PIPE,.12 | 211930R LABEL, EMISSION CONTROL ... |
| 63809 SPACER,.41X.75X.88LG | 211943B FLANGE, TURBO WATER INLE... |
| 63723 ELBOW STREET | 211930N LABEL, WARNING, SYMBOL O... |
| 63884 WASHER,.39X.88X.06 | 211943C FLANGE, TURBO WATER INLE... |
| 63970 BUSHING BRONZE | 211943D FLANGE, TURBO CONNECTION |
| 65010 BUSHING BRONZE | 211944A GASKET, TURBO WATER IN/O... |
| 65128 RING SNAP | 211945B FLANGE, TURB0 OIL INLET |
| 65346 GASKET | 211945C FLANGE, TURBO OIL SUPPLY... |
| 65446 PLUG CUP | 211946A GASKET, TURBO OIL INLET |
| 65461 CLIP,.38 DIAX .5 SCR | 211948A GASKET, TURBO OIL DRAIN |
| 65623 FITTING,GREASE,.125 | 211953B SHIELD HEAT, TURBO INLET... |
| 65679 STUD,GR 5,.38X2.75LG | 211953C SHEILD HEAT, TURBO INLET... |
| 69400 MOTOR STARTING | 211955A SHIELD, HEAT |
| 69451 FAN ALTERNATOR | 211958A SHIELD, HEAT |
| 69408 PLUG SPARK | 211986A BRACKET,AIR CLEANER LOUV... |
| 69504 SWITCH,MAGNETO IGNITION | 211958B SHIELD, HEAT |
| 69560 NOZZLE | 211988A PIPE,.25X1.25 LG TBE SST |
| 69692 HARNESS, WIRE | 211988B PIPE,.25X2.00 LG TBE SST |
| 69694 COIL IGNITION | 211988C PIPE,.25X4.00 LG SST |
| 69695 ADAPTOR | 212977A O RING,2.88X3.25X.19,FSI |
| 69746 SWITCH,OIL PRESSURE | 212977B O RING,3.38X3.75X.19,FSI |
| 69763 SWITCH, PRESSURE | 212977C O RING,2.12X2.38X.12,FSI |
| 69772 ADAPTOR, SPARK PLUG | 212977D O RING,5.25X5.50X.12,FSI |
| 69778 VALVE SOLENOID | 212977F O RING,3.38X3.62X.12,FSI |
| 69785 SWITCH,DIG.OVERSPEED | 212977E O RING,3.12X3.38X.12,FSI |
| 69792 HARNESS,PRIMARY | 212977G O RING,5.75X6.25X.25,FSI |
| 69793 HARNESS,PRIMARY | 212977H O RING,4.50X5.00X.25,FSI |
| 69794 HARNESS,PRIMARY | 212977J O RING,5.00X5.50X.25,FSI |
| 69796 CABLE,PICKUP SENSOR | 212977K O RING,4.38X4.75X.19,FSI |
| 69799 CABLE,PICK-UP SENSOR | 212977L O RING,4.88X5.12X.12,FSI |
| 69803 TERM BLK, #22-12 AWG, TK M... | 212977M O RING,4.75X5.12X.19,FSI |
| 69808 PLATE, END OR SECTION | 212977N O RING,6.00X6.38X.19,FSI |
| 69810 LABELS, BLANK MARKING | 212977P O RING,6.50X6.88X.19,FSI |
| 69815 BLOCK, TERMINAL DOUBLE | 212977S O-RING 7.25 X 7.62 X .19... |
| 69816 BLOCK,TERMINAL THERMOCPL | 212977V O-RING,5.22X5.64X.21 HNB... |
| 69817 PLATE, END OR SECTION | 21373A HXHDSCR,.375-16X4.00 LG |
| 69818 BLOCK, TERMINAL SINGLE | 214000A TUBE ASM.,TURBO OIL DR L... |
| 69819 PLATE, END OR SECTION | 214000B TUBE, TURBO DRAIN |
| 69830 PLUG, 90 DEGREE | 214000C TUBE ASM., TURBO OIL DRA... |
| 69848 BAR,2-POLE JUMPER ASM. | 214000D TUBE ASM., TURBO OIL DRA... |
| 69846 BLOCK,TERMINAL FUSE | 214000E TUBE ASM., TURBO OIL DRA... |
| 69849 BAR,4-POLE JUMPER ASM. | 214000F TUBE ASM., TURBO OIL DRA... |
| 69851 ENDPLATE | 214007A TURBOCHARGER (DRAW-THRU) |
| 69866 FERRULE,26-22 AWG | 214007B TURBOCHARGER |
| 69867 FERRULE,16 AWG | 214009H TUBE, LUBE OIL INLET COO... |
| 69868 FERRULE,14 AWG | 214007C TURBOCHARGER |
| 69870 FERRULE,10 AWG | 214009L TUBE, REGULATOR BALANCE-... |
| 69872 BAR,2-POLE JUMPER ASM. | 214009K TUBE, REGULATOR BALANCE-... |
| 69900 BLOCK, TERMINAL | 214009S TUBE, STARTER PRE-ENGAGE... |
| 69901 BLOCK, TERMINAL | 214009R TUBE,PRELUBE AIR SUP LWR |
| 69904 COMB, QB JUMPERING | 214009T TUBE, STARTER SOL.VALVE ... |
| 69907 FUSE,.5A FAST-ACTING | 214009U TUBE, PRELUBE SOL.VALVE ... |
| 69908 ELBOW,WATERTIGHT 90 PULLIN... | 214009W TUBE, OIL SUPPLY, MICROS... |
| 69915 JUMPER,2-POLE TERM BLOCK | 214009Y TUBE, AIR PRELUBE |
| 69921 BRKT,END TYPE WEW 35/2 | 214009Z TUBE, OIL COOLER DRAIN |
| 69925 BAR,5-POLE JUMPER ASM. | 214023C BOX,JUNCTION |
| 69926 BAR,3-POLE JUMPER ASM. | 214029A ADAPTER, WIRING HARNESS |
| 69936 TERMINAL, FEMALE | 214029B ADAPTER, WIRING HARNESS ... |
| 69950 TERMINAL BLK.DBL.BRANCH | 214029C ADAPTER, WIRING HARNESS ... |
| 69951 BAR,3-POLE JUMPER ASM. | 214031A BRACE, TUBE |
| 69952 HARNESS,PRIMARY | 214031B STRAP, TUBE |
| 70000 FERRULE, 16 GAUGE | 214031C STRAP, TUBE |
| 69954 FERRULE, 14 GA | 214032D TUBE,OXYGEN SAMPLING, AF... |
| 69956 COIL, IGNITION W/LEAD | 214032E TUBE, OIL COOLER VENT |
| 69957 COIL,IGNITION W/LEAD | 214032F TUBE, GOV. DR. TO OIL SU... |
| 69959 E-STOP PUSH-TWIST RELEASE | 214032K TUBE, OIL COOLER VENT |
| 73018 ELBOW INVERTED | 214032L TUBE, VENT AIR-PANEL |
| 73093 BEARING BALL | 214032M TUBE, SUPPLY AIR-PANEL |
| 73311 BUSHING | 214032N TUBE, PRELUBE AIR-PANEL |
| 73346 GASKET | 214032P TUBE, START AIR-PANEL |
| 73420 BRACKET MAGNETO | 214032R TUBE, SUPPLY AIR-PANEL |
| 73430 BEARING BALL | 214032S TUBE, VENT AIR-PANEL |
| 73444 TUBING COPPER | 214032T TUBE, START AIR-PANEL |
| 73558 WASHER,.47 | 214032U TUBE, PRELUBE AIR-PANEL |
| 73628 RETAINER VALVE SPR | 214032V TUBE,BULKHEAD TO RELAY V... |
| 73641 WASHERTACDRTHST,.50 ID | 214032X TUBE,STRT PRE-ENGAGE PIL... |
| 73695 NBL, STUD CYL HD TUBE | 214032Y TUBE,CONT PANEL AIR SUPP... |
| 73820 GASKET | 214033A BRACKET, CLIP SUPPORT |
| 73806 THROWER OIL | 214034D JUNCTION BOX, POWER DIST |
| 73829 GASKET | 214034E JUNCTION BOX, POWER DIST |
| 73830 GSKT GOV CROSS ROD | 214034F JUNCTION BOX, POWER DIST |
| 73831 GASKET | 214035B HARNESS,THERMOCOUPLE |
| 73832 GSKT GOV CROSS ROD | 214034G JUNCTION BOX, POWER DIST |
| 73833 GASKET | 214036C THERMOCOUPLE, EXHAUST |
| 73837 GASKET | 214035C HARNESS,THERMOCOUPLE |
| 73840 GASKET | 214036E HARNESS,EXHAUST THERMOCO... |
| 73844 STUD FAN ADJUSTING | 214036D HARNESS,EXHAUST THERMOCO... |
| 73888 SPRING ST CRANK | 214037D HARNESS,MAIN BRG THERMOC... |
| 73894 RING SNAP | 214037E HARNESS, MAIN BRG THERMO... |
| 73895 GASKET | 214038B BRKT, WASTEGATE VENT TUB... |
| 73904 GASKET, MAGNETO | 214038H STRAP, WATER HEADER SUPP... |
| 73905 TERMINAL SPARK PLUG | 214038K SUPPORT, CLIP |
| 73916 BUSHING OIL PUMP | 214044A DOWEL, DIAMOND |
| 73920 GASKET PUMP BODY | 214048F HARNESS,ENG ASM THER INT... |
| 73921 GASKET BAFFLE | 214048E HARNESS,ENG ASM THER INT... |
| 73927 GASKET | 214048J HARNESS,ENG ASM THER INT... |
| 73934 SHAFT GOV WGT | 214048H HARNESS,ENG ASM THER INT... |
| 73937 SCREW REL VALVE ADJ | 214049F HARNESS,EXH THER INTERFA... |
| 73973 SPINDLE GOV SP LEVER | 214049E HARNESS,EXH THER INTERFA... |
| 73985 PIN GOV WEIGHT | 214049G HARNESS,EXH THERMOCOUPLE... |
| 74008 GASKET | 214049H HARNESS,EXH THER INTERFA... |
| 74025 SPRING | 214049J HARNESS,EXH THER INTERFA... |
| 74112 ELL,STREET,45 DEG,2 | 214049N HARNESS,EXH THERMO INT,2... |
| 74113 PLUG,PIPE,SQ HD 2.00 | 214049R HARNESS,EXH INTERFACE 20... |
| 74128 SPACER,1.0X1.31X.44 | 214050B HARNESS,MN BRG THERM INT... |
| 74176 ELBOW 2 IN X 45 DEG | 214050D HARNESS,MAIN BRG THERMO,... |
| 74195 WASHER,1.00X1.31X.06 | 214050C HARNESS,MAIN BRG THER IN... |
| 74202 GASKET O P BODY | 214050E HARNESS,MAIN BRG THER IN... |
| 74203 BUSHING OIL PUMP DR | 214050F HARNESS, MAIN BEARING TH... |
| 74232 SHIM,2.94X3.69X.002 | 214052A VALVE,BALL .75 NPT |
| 74259 BUSHING GEAR | 214055B TUBE, AIR SUPPLY- R.H. |
| 74334 SEAL, OIL | 214055D TUBE, BALANCE, CARB TO R... |
| 74609 FLANGE WATER BY-PASS | 214055J TUBE, GAS |
| 74626 WASHER,1.00X1.47X.16 | 214055L TUBE,OIL LVLR.SUP.LOW CA... |
| 74709 GASKET | 214055N TUBE, PRECHAMBER |
| 74725 GASKET | 214055U TUBE, TURBO OIL SUPPLY, ... |
| 74747 GASKET | 214057C ROD, GOVERNOR |
| 74781 RECRDHDSC,.25-20X.50 | 214057D ROD, GOVERNOR |
| 74789 SEAL OIL | 214057E ROD, GOVERNOR |
| 74992 RETAINER VALVE SPR | 214067A TUBE, SOLENOID VENT |
| 74993 SPRING,BUTTON | 214067B TUBE, WASTEGATE TO ACCUM... |
| 76399 GASKET O P BODY | 214067C TUBE, ACCUM. TO RELIEF V... |
| 76400 COCK,DRAIN .25 | 214067E TUBE,OIL CYL.HEAD |
| 76420 BUTTON,THRUST | 214067G TUBE, WASTEGATE TO WASTE... |
| 76427 PLUG EXPANSION | 214067H TUBE, REG.TO INTAKE MANI... |
| 76430 GASKET MANIFOLD | 214067K TUBE, PRECHAMBER INLET |
| 76432 GASKET MANIFOLD | 214067L TUBE, WASTEGATE RETURN |
| 76435 STUD,GR5,.375X1.0 LG | 214067M TUBE, W.G. WATER IN L.B. |
| 76460 GASKET WATER PUMP | 214067R TUBE, W.G. WATER OUT L.B... |
| 76455 GASKET | 214067P TUBE, W.G. WATER -IN R.B... |
| 76476 GTI RADIATOR BELT | 214067S TUBE,WASTEGATE R.H. |
| 76467 ELBOW,PIPE,4 | 214067T TUBE, WASTEGATE L.H. |
| 76491 WASHER,.53X.94X.06 | 214067V WASTEGATE, WATER OUTLET ... |
| 76567 SPACER,.56X1.12X.38 | 214067W TUBE, WASTEGATE |
| 76643 WASHER,.53X.70X.05 | 214067X TUBE,RELAY VALVE TO ACT ... |
| 76693 GASKET | 214067Z TUBE,RELAY.VLV. TO START... |
| 76709 GASKET WATER ELBOW | 214071B RESTRICTOR,.25X.25NPTF |
| 76717 WASHTHRUST,1.75DX.12 | 214071C RESTRICT,.25X.25NPTF,.02... |
| 76723 LOCK SHAFT | 214071D ORIFICE .25 X .25 NPT X ... |
| 76767 SPACER,.39X.75X.31LG | 214071E RESTRICTOR, 1/4 NPTF- 2.... |
| 76897 SHAFT GOV LEVER | 214072A BRACKET, GOVERNOR SUPPOR... |
| 76898 COTTER ROCKER ARM | 214074A STRAP, SUPPORT |
| 76909 PLUG OIL PAN DRAIN | 214076B BRACKET, OIL COOLER SUPP... |
| 76911 WASHER,.41X.88X.12 | 214076C BRACKET, OIL COOLER SUPP... |
| 76913 PLUG,EXP,.38,BRASS | 214076D BRACKET, OIL COOLER SUPP... |
| 76916 GASKET THERMOSTAT | 214077B BRACKET,IGN. POWER MODUL... |
| 78002 SPACER,.41X.75X.5 LG | 214076E BRACKET, OIL COOLER SUPP... |
| 78028 BEARING | 214077E BRACKET, IGN. MODULE |
| 78040 BEARING BALL | 214078C BRACKET, AFPM MOUNTING |
| 78039 BEARING BALL | 214079C BRACKET, JUNCTION BOX MO... |
| 78046 RET GOV SHIFT BRG | 214079D BRACKET JUNCTION BOX MOU... |
| 78047 PLATE RETAINING | 214079E BRACKET JUNCTION BOX MOU... |
| 78064 GASKET,EXH.MAN.END | 214080F BOX, JUNCTION |
| 78062 OIL SEAL | 214084A BRACKET, 30 DEGREE |
| 78154 PLUG SPARK | 214080G BOX, JUNCTION |
| 78116 TUBING,FLEX,.12X9 LG | 214085B BRACKET, 90 DEGREE |
| 78165 STUD,GR8,.438X10.25 | 214086A BRACKET, SENSOR PROTECTI... |
| 78200 ELBOW SALT W INLET | 214095A DECAL,EXH.THERMOCOUPLE |
| 78265 WASHER,.45X.62X.06 | 214095B DECAL,BRG.THERMOCOUPLE |
| 78337 HOSE FLEXIBLE | 214100J TUBE, BREATHER, FRONT |
| 78349 NUT,HEX,.312-24 X.22 | 214100K TUBE,BREATHER,FRNT-LOWER |
| 78390 BEARING,BALL | 214100S TUBE,INTERC.-OIL CLR.-LO... |
| 78391 BEARING,BALL | 214100U TUBE,INTERC.-OIL CLR-LOW... |
| 78584 ELEMENT,FILTER | 214100X TUBE,WATER IN(INTERMEDIA... |
| 78624 GASKET | 214100Z TUBE,WATER SUPPLY-OIL CL... |
| 78645 SLINGER OIL | 214102D TUBE, WATER DISCHARGE |
| 78845 TUBE BY PASS | 214102E TUBE, WATER SUPPLY |
| 78846 TUBE UPPER BY-PASS | 214102F TUBE, WATER |
| 78854 SPACER,.39X.69X.25LG | 214102V TUBE, BREATHER TO A/C |
| 78899 CAP,PIPE,.12 | 214102J TUBE, BREATHER INLET |
| 78908 GASKET OIL PAN DOOR | 214102X TUBE, BREATHER TO A/C |
| 78915 HOSE,3.5X4.0X4 LG | 214102Z TUBE, BREATHER TO A/C |
| 78920 TEE,SERVICE,.38 | 214105A CENTRIFUGE,SMALL,MICROSP... |
| 78965 CLAMP MFLD GAP | 214112A TUBE,PUMP-THERMOST LOWER |
| 78966 GASKET EXH MANI EXP | 214125A O-RING, 330 X 5 NITRILE |
| 80118 PLUG, DISTRIBUTOR HOLE | 214125B O-RING, 4.50 I.D. X 4.75... |
| 80148 GASKET | 214125C O-RING, .69 I.D. X .94 O... |
| 80170 GASKET | 214125D O RING,2.25X2.62X.19,NIT... |
| 80199 PLUG CUP | 214125E O RING,5.00X5.38X.19, VI... |
| 80238 ROD CONN & DOWE M BR | 214125G O-RING, 2.75 X .14, NBR |
| 80556 DIAPHRAGM | 214125K O RING, 1.00X1.19X.09, F... |
| 80782 CONN HOSE | 214129B TUBE, AIR PRELUBE |
| 80833 COLLAR STOP | 214129H TUBE,GAS SUPPPLY TO PREC... |
| 80892 CPSCRRD,.31-18X1.12 | 214129J TUBE,STARTER SOL VLV SUP... |
| 85323 FITTING,.062REST,.12 | 214129K TUBE,PRELUBE SOL VLV SUP... |
| 85419 CAP VAC CYL PUSH ROD | 214129L TUBE, INLET PRECHAMBER S... |
| 85571 SEAL, OIL | 214129M TUBE, INLET PRECHAMBER S... |
| 85641 SEAL, OIL | 214129P TUBE,PRELUBE AIR SUPPLY |
| 85708 STUD,GR5,.31X2.5 LG | 214129Y TUBE, PRECHAMBER LB |
| 85811 CLIP HEAT SHIELD | 214129Z TUBE, PRECHAMBER RB |
| 85935 BEARING BALL | 214132A CPLG,38 DRESSER 6 TUBE |
| 95105 RING ,PISTON INTERMEDIATE | 214148A STARTER,AIR |
| 95605 RING,PISTON OIL CONTROL | 214148B STARTER,AIR(TDI)PRE-ENGA... |
| 96083 SHAFT OIL PUMP | 214148D STR, AIR/GAS (TDI-150PSI... |
| 97008 BUSHING PISTON PIN | 214148E STARTER,AIR/GAS(TDI-90PS... |
| 97035 SPRING | 214148F STARTER,AIR/GAS(TDI-150P... |
| 97050 BUSHING CAMSHAFT | 214148J STARTER, AIR/GAS, 90 PSI |
| 97118 BEARING,CEN.MAIN-STD | 214148K STARTER, AIR/GAS, 130 PS... |
| 97106 PIN PISTON | 214148L MOTOR, AIR STARTER, 90 P... |
| 97122 BEARING,FRT.MAIN-STD | 214148M MOTOR, AIR STARTER, 150 ... |
| 97125 BEARING,INT.MAIN-STD | 214151B REGULATOR,GAS |
| 97163 IMPELLER,WATER PUMP | 214151C REGULATOR, GAS FISHER 66... |
| 97218 BEARING,CEN.MAIN-STD | 214154A TUBE, OIL SUPPLY, MICROS... |
| 97221 BEARING,RR.MAIN-STD | 214160A SPACER |
| 97222 BEARING,FRT.MAIN-STD | 214163B TUBE, GAS INLET |
| 97225 BEARING,INT.MAIN-STD | 214163C TUBE, GAS INLET |
| 100758 LUBRICATOR | 214168A TUBE, SENSING |
| 101577 FAN BLADE ASM | 214168B TUBE, PILOT LOADING LINE |
| 102273 BRKT | 214168D TUBE, PILOT SUPPLY |
| 105516 BALL RELIEF VALVE | 214168E TUBE, PILOT EXHAUST |
| 105675 HOSE,1.25 ID X 2.5 LG | 214168K TUBE, SENSING |
| 105922 BALL | 214168L TUBE,BALANCE,RIGHT BANK |
| 106026 LOCKNUT,CONDUIT .75 | 214168X TUBE,BALANCE,LEFT BANK |
| 106031 CONN 90 DEG SQUZ.38CABLE.... | 214168Z TUBE,PILOT SUPPLY -LH |
| 106043 LOCKNUT,CONDUIT .50 | 214171B REGULATOR, 1.50 INNPT LE... |
| 106212 SCREW,CONTROL ARM CLAMP | 214171C REGULATOR, 1.50 INRIGHT ... |
| 106343 PLUG,PIPE,SOCKHD,.25 | 214172A PILOT,GAS REGULATOR,MOON... |
| 106721 GASKET CYL BASE | 214176B TUBE, TURBO OIL DRAIN UP... |
| 106947 SCREW,6MMX1-20MM | 214176E TUBE, FRONT INTERCOOLER ... |
| 109135 CAP SHIPPING | 214176F TUBE, FRONT INTERCOOLER ... |
| 109153 SPRING COUPLING | 214176G TUBE, REAR INTERCOOLER W... |
| 109177 SCREW FRICTION | 214176H TUBE, REAR INTERCOOLER W... |
| 109179 SPRING SCREW | 214177B TUBE, PILOT LOADING |
| 109263 CLAMP,HOSE.31-.88 | 214177C TUBE, PILOT EXHAUST, RB |
| 109289 GASKET THERMOPLUG | 214177D TUBE, PILOT SUPPLY |
| 109566 SCRSOCHD.50-20X2.44,CTRWG... | 214177E TUBE, PILOT EXHAUST, LB |
| 109704 SWITCH TOGGLE | 214177F TUBE, PILOT SUPPLY |
| 109778 GASKET BLEED TUBE | 214177H TUBE, BALANCE, RB |
| 109963 SEALS END PLATE | 214177G TUBE, BALANCE, LB |
| 110994 WASHER | 214178A TUBE, SENSING, LB |
| 111215 ELBOW,ALEMITE,.125 | 214178B TUBE, SENSING |
| 111372 NUT,JAM,1.125-12 X .61 | 214179A TUBE, OIL FILTER DRAIN |
| 111380 U BOLT,.25X2.19X2.84 | 214179B TUBE, OIL FILTER DRAIN |
| 111434 ELBOW,HOSE | 214179C TUBE, STARTER TO PRELUBE |
| 111435 FITTING,HOSE | 214179D TUBE, CARB. TO REG. BALA... |
| 111548 SPACER BENDIX DIST | 214179E TUBE, CARB. TO REG. BALA... |
| 111563 PLUG,FELT | 214179F TUBE, SENSING R.H. |
| 111697 INDICATOR DIG.TIMING | 214179H TUBE, OIL RA SUPPLY |
| 111721 CELL,FUEL LOAD CELL | 214179G TUBE, SENSING L.H. |
| 111846 NUT, ROCKER ARM COVER | 214179K TUBE, R.A.OIL SUPPLY FRO... |
| 113149 CAP CEN MAIN BEARING | 214179J TUBE, BALANCE |
| 116012 GASKET CARBURETOR | 214179T TUBE,TURBO.OIL.SUP.INLET |
| 116045 NUT,STOP,.62-18X.39 | 214179U TUBE,TURBO.OIL.SUP.INLET |
| 116098 GASKET | 214179X TUBE, OIL SUPPLY-LOWER |
| 116124 GASKET | 214179Y TUBE, OIL SUPPLY-UPPER |
| 116154 FITTING GREASE | 214188A TUBE, OIL PUMP FEEDBACK |
| 116162 PIN,DOWEL,.375X1.12 | 214188B TUBE, OIL PRESSURE |
| 116242 PIN FLYWHEEL TIMING | 214188C TUBE, WASTEGATE |
| 116282 SHAFT GOV LEVER | 214188D TUBE,RELAY VLV TO VERSA ... |
| 116288 COVER BB DUST | 214188H TUBE, PRECHAMBER INLET |
| 116292 GASKET DISTRIBUTOR | 214188J TUBE, PRECHAMBER INLET |
| 116335 CONNECTOR | 214188K TUBE, PRECHAMBER INLET |
| 116435 GASKET FAN SPACER | 214188L TUBE, PILOT SUPPLY R.H. |
| 116530 TUBE STEEL | 214188M TUBE, PILOT SUPPLY L.H. |
| 116583 CLEANER AIR | 214188N TUBE, PILOT LOADING R.H. |
| 116584 CAP RAIN | 214188P TUBE, PILOT LOADING L.H. |
| 97121 BEARING,RR.MAIN-STD | 214188R TUBE, PILOT EXHAUST R.H. |
| 116811 HOSE,1.12X1.5X3 LG | 214188S TUBE, PILOT EXHAUST L.H. |
| 116839 BEARING BALL | 214188T TUBE, INT.MFLD TO VOL.CH... |
| 116855 WASHER CARBON | 214188U TUBE,WASTEGATE L.H. |
| 116867 OIL RETAINER | 214188V TUBE,WSTGTE.WTR.OUT,R.B. |
| 116870 PLUNGER | 214188W TUBE,WSTGTE.WTR.OUT,L.B. |
| 117327 ELBOW | 214188Y TUBE, WASTEGATE PRESSURE... |
| 117362 RELFVLVSCROC1-14X.62 | 214190A TUBE,AIR VLV TO PLENUM &... |
| 117470 WASHRFELT,3.88IDX.38 | 214188X TUBE, GOVERNOR OIL SUPPL... |
| 117488 RING, EXT.RET. 5100-143 | 214190B TUBE, AIR TO PILOT VALVE |
| 117496 BUSHING IDLER GEAR | 214190C TUBE,AIR VALVE TO PLENUM |
| 117500 PLUG CUP 1 IN | 214190G TUBE,GAS VENT .25 O.D. |
| 117517 INSERT EXHAUST VALVE | 214190H TUBE, SOLENOID INLET |
| 117550 CLAMP | 214190D TUBE,AIR VALVE TO PILOT ... |
| 117590 NIPPLE, LOWER RAD. | 214190L TUBE, SHUTTLE VALVE |
| 117612 DAMPER | 214190J TUBE,PRECMBR.AIR SUPPLY |
| 117645 CONN,FLEX COND .38 | 214190M TUBE, SHUTLLE VALVE TO P... |
| 117686 SPACER,.41X.69X.16LG | 214190N TUBE,AIR VALVE TO PILOT ... |
| 117699 WASHER,.94IDX.19 | 214191A TUBE, BALANCE, RIGHT BAN... |
| 117720 SEAL OIL | 214191B TUBE, BALANCE, LEFT BANK |
| 117748 INSERT,EXH STELL #3 | 214191G TUBE,BALANCE,RB |
| 117762 GASKET EXH FLANGE | 214191H TUBE,BALANCE,LB |
| 117802 WASHER,.78IDX.05 | 214203A TUBE,J.W. HEATER OUTLET ... |
| 117858 GROMMET, RUBBER | 214203G TUBE, PRELUBE DRAIN TO P... |
| 117864 VALVE TEST | 214203H TUBE,PRELUBE PUMP SUPPLY |
| 118129 ADAPTER | 214203K TUBE, OIL SUCTION |
| 118013 O RING,.75X.94X.09,NITRIL... | 214203J TUBE,WATER SUPPLY-LOWER |
| 118172 SPRING RELIEF VALVE | 214203U TUBE, OIL FILTER DRAIN |
| 118132 SPACER,1.18X1.38X.41 | 214203T TUBE, OIL FILTER DRAIN |
| 118215 SEAL OIL | 214203W TUBE,WATER SUPPLY-LOWER |
| 118224 CLAMP,HOSE .69-1.25 | 214203X TUBE,WATER SUPPLY-L.BANK |
| 118227 INSERT SEAT THRUST | 214203Z TUBE,WATER SUPPLY-LOWER |
| 118298 GASKET | 214224G TUBE, CARB AIR PRESS. (B... |
| 118337 GROMMET, RUBBER | 214224H TUBE, AIR PRESSURE (UPPE... |
| 118462 GASKET | 214224J TUBE, GAS PRESSURE (UPPE... |
| 118530 GASKET | 214224K TUBE, INTAKE MANIFOLD SE... |
| 118554 STUD MAIN BRG SHORT | 214224L TUBE,WASTEGATE PRESSURE ... |
| 118566 PIPE, 3/8 BLK X.75 PLN | 214224M TUBE, WASTEGATE PRESSURE... |
| 118678 DAMPER VIBRATION | 214224N TUBE, WASTEGATE AMBIENT ... |
| 118697 WASHR.531X1.375X3/32 | 214224P TUBE, WASTEGATE AMBIENT ... |
| 118786 NUTESTOP#10-32X.23 | 214224R TUBE,PRESS SENSING-VOL.C... |
| 118799 LEVER THROTTLE | 214224S TUBE, PRESSURE GAUGE (LO... |
| 118824 GASKET INTAKE MFLD | 214224T TUBE, PRESSURE GAUGE (HI... |
| 118825 GASKET EXH MFLD | 214224U TUBE,WASTEGATE PRESSURE ... |
| 118927 GASKET,EX.MAN.FLANGE | 214224W TUBE, STR TO RELAY VALVE |
| 118925 RING, BEVEL INT.RET. N500... | 214224X TUBE, RELAY TO CP AIR SU... |
| 118957 TURN TUBE | 214224Y TUBE, LB 3-WAY VALVE |
| 118928 FLANGE | 214224Z TUBE, RB STARTER OUT |
| 119001 GASKET | 214228A TUBE,OIL CLR-TO WTR PUMP |
| 118996 DECAL,DRAIN | 214228C TUBE,1ST STAGE INTERCOOL... |
| 119004 SPACER FAN PULLEY | 214228D TUBE,OIL PUMP-THERMOSTAT... |
| 119036 GASKET | 214228E TUBE,OIL PUMP-THERMOSTAT... |
| 119055 TUBE WATER BY PASS | 214229A SEAL, VALVE STEM-GRAY CO... |
| 119058 MOUNT,VIBRATION W/.312-18... | 214233B COVER, AIR CLEANER |
| 119061 SHAFT BUTTERFLY VALV | 214233C COVER, AIR CLEANER |
| 119123 HEADER EXHAUST MANI | 214233H COVER, AIR CLEANER |
| 119301 GASKET | 214254B TUBE, GAS SUPPLY, UPPER |
| 119537 NUTSTOP,.50-13X.53 | 214254C TUBE, GAS SUPPLY, LOWER |
| 119557 GASKET | 214254E TUBE, WASTEGATE WATER OU... |
| 119627 MOUNT,VIBRATION-.3125-18 ... | 214254G TUBE,OIL LVLR.VENT HI CA... |
| 119837 SEAT SPRING | 214254J TUBE, WASTEGATE WATER IN... |
| 119910 GEAR OIL PUMP DRIVE | 214254K TUBE, STARTER INLET |
| 119977 SPACER,.41X.75X.25LG | 214254L TUBE, AIR |
| 120231 STUD,GR5,.312X2.12LG | 214254M TUBE, RB STARTER IN |
| 120180 PLATE, COVER | 214254N TUBE, LB STARTER OUT |
| 120239 SPRING | 214254S TUBE, LUBRICATOR UPPER |
| 120444 GASKET | 214254T TUBE,OIL LVLR VENT HI CA... |
| 120572 DECAL, WAUKESHA | 214254U TUBE,OIL LVLR SUP LOW CA... |
| 120637 SPACER,.50X1X1 LG | 214254V TUBE,OIL LVLR VENT LOW C... |
| 120843 GAUGE SWITCH TEMP | 214254W TUBE,OIL LVLR VENT HI CA... |
| 120666 NUTGOVAJ,.25-20X.34 | 214254X TUBE, LUBRICATOR LOWER |
| 120844 SWITCH OIL SAFETY | 214255B TUBE,GEAR HOUSING-OIL CO... |
| 120848 GASKET | 214256A BRKT, RAIN SHIELD HINGE ... |
| 123006 PIN PISTON | 214256B BRKT, RAIN SHIELD HINGE ... |
| 123017 CAP MAIN BEAR | 214257A BUSHING, RAIN SHIELD HIN... |
| 123019 GEAR MAGNETO | 214258A BRACKET ASM., AIR CLEANE... |
| 123028 GEAR GOVERNOR | 214258B BRACKET ASM., AIR CLEANE... |
| 123051 GEAR OIL PUMP DRIVE | 214258C BRACKET ASM., AIR CLEANE... |
| 123108 BUSHING, PISTON PIN | 214258D BRACKET ASM., AIR CLEANE... |
| 123231 LEVER GOVERNOR | 214259A SCREEN, TOOL |
| 123290 RETAINER, OIL SEAL | 214259B SCREEN, TOOL |
| 123383 SHAFT IDLER | 214259C SCREEN, TOOL |
| 123605 RING PISTON | 214259D SCREEN, TOOL |
| 123681 GEAR OIL PUMP DRIVE | 214259E SCREEN, TOOL |
| 123684 SHAFT OIL PUMP DRIVE | 214259F SCREEN, TOOL |
| 123760 BODY WATER PUMP | 214259G SCREEN, TOOL |
| 123761 COVER WATER PUMP | 214259H SCREEN, TOOL |
| 123856 SHAFT WATER PUMP | 214259K SCREEN, TOOL |
| 123863 IMPELLER,WATER,PUMP | 214259L SCREEN, TOOL |
| 123956 SHAFT WATER PUMP | 214259M SCREEN, TOOL |
| 127002 WASHER,LOCK,SOCHDSCR M6 | 214259N SCREEN, TOOL |
| 127004 WASHER,LOCK,SOCHDSCR M10 | 214260A ADAPTER,PRESSURE BY-PASS |
| 127005 WASHER,LOCK,SOCHDSCR M12 | 214261A HOUSING, OIL PRESSURE BY... |
| 127010 NBL., SOCHDSC M20X2.5X120... | 214266A SUPPORT, OIL FILTER BASE |
| 127011 WASHER 20.5 X 30 X 4.8THK | 214271A LEVER, GOVERNOR (1.22 LG... |
| 127012 HXHDSCR M20X2.5X85,10.9 | 214291B SUPPORT, LUBRICATOR TUBE |
| 127014 HXHDSCR M24X3X100 LG, ISO... | 214300K SLEEVE, SPARK PLUG |
| 127016 NUT, WELD | 214304A GASKET, SINGLE FUEL INLE... |
| 127017 HXHDSC M12X1.75X40LG10.9N... | 214302C TUBE, SPARK PLUG EXTENSI... |
| 127018 HXHDSCR M12X1.75X160L10.9... | 214305A PANEL, ESM DISPLAY |
| 127021 HXHDSCR M16X2X90 LG,10.9 | 214310A COVER, INERTIA SEPARATOR |
| 127022 HXHDSCR M16 X 50 LG,10.9 | 214316A TUBE,3WAY VAL TO STR OUT... |
| 127023 SOCHDSCR, M10 X 45 | 214316D TUBE, PRESSURE GAUGE (LO... |
| 127024 SOCHDSCR M6 X 8 | 214316E TUBE, PRESSURE GAUGE (HI... |
| 127025 STUD M16 X 220 | 214316G TUBE, MAGNETO DRIVE COVE... |
| 127026 STUD, METRIC M12 X 65 LG ... | 214316H TUBE,VENT,WASTEGATE-DELT... |
| 127027 HXHDSCR M10X140 MMLG | 214316S TUBE, OIL COOLER VENT |
| 127028 HXHDSCR M10X190 MMLG | 214316T TUBE, VENT LINE |
| 127030 NUT, FLANGED M8 | 214316U TUBE, VENT LINE |
| 127032 SOCHDCSR M16 X 45 ISO 8.8 | 214316Y TUBE, OXYGEN SENSOR |
| 127033 HXHDSCR M16X65 ISO 8.8 | 214316Z TUBE, OXYGEN SAMPLING, A... |
| 127035 SOCHDSCR, M12X90, CLS 10.... | 214321A STRAP, TUBE SUPPORT |
| 127038 SOCHDSCR M4 X 8 | 214321B STRAP, TUBE SUPPORT |
| 127039 WASHER,COPPER 42 X 32.2 X... | 214321D STRAP, RADIATOR TUBE |
| 127040 WASHER,FLAT,FENDER, | 214328A CLIP, SUPPORT |
| 127043 HXHDSCR,M8X120LG,10.9 | 214322A BRACKET, SUPPORT |
| 127044 HXHDSCR.,M8X60LG.,8.8 | 214329A HXHDSCR GR 5 .500-13 FUL... |
| 127047 HXSOCKHDSCR M12X40,12.9 | 214331A STRAP, TUBE SUPPORT |
| 127048 SOCHDSCR M16X55,SS | 214333A PANEL,JUNCTION BOX |
| 127049 HXSOCKHDSCR M24X110,8.8 | 214333B PANEL, JUNCTION BOX |
| 127051 SOCHDSCR, M10 X 40 CLASS ... | 214336A BRACKET, MOTOR START |
| 127052 SOCHDSCR, M10 X 55 CLASS ... | 214336C BRACKET, PRELUBE JUNCTIO... |
| 127053 WASHER, FLANGE, M10, HI-T... | 214342A OVERHAUL (TUNE-UP) KIT |
| 127056 SOCHDSCR, M12 X 50 LG, GR... | 214342B RELAY VALVE ASM., INTEGR... |
| 127057 SOCHDSCR, M10 X 45 LG, GR... | 214342C TURBOVALVE PLUS OVERHAUL... |
| 127064 HXHDSCR M16X55 10.9 | 214342D ADAPTER KIT, RELAY VALVE... |
| 127065 HXHDSCR M12X120 8.8 | 214346A TUBE,WATER IN-L.B. |
| 127066 HXHD,M10X20GD10,9 | 214346B TUBE,WATER OUT-L.B. |
| 127067 SOCHDSCR, M12 X 60 LG., G... | 214346H TUBE,PRELUBE PUMP-ENGINE... |
| 127068 HXHDSCR, M16X 230LG, GRAD... | 214346J TUBE,PRELUBE PUMP-ENGINE... |
| 127069 SCREW, HXHD, M10X 1,50 X ... | 214346L TUBE,OIL TO REG HOUSING |
| 128068 VALVE, SOLENOID | 214346M TUBE, OIL PAN RETURN |
| 128070 VALVE,HIGH PRESS. FLUSH | 214346N TUBE,HEATER TO PUMP |
| 128080 TRANSMITTER, TEMP.PROGRAM... | 214346R TUBE, JUMPER TO VALVES |
| 128091 VALVE, RELIEF 1/4 NPT | 214346S TUBE ASM.,PRELUBE PUMP O... |
| 128092 PUMP, FUEL INJECTION | 214346P TUBE, OIL SUPPLY TO PUMP |
| 128401 ADAPTOR, SPRING | 214346U TUBE, OIL DISCHARGE |
| 130028 WASHRBAKELITE,.12THK | 214346V TUBE, OIL DRAIN |
| 135035 SPRING | 214346X TUBE, WATER SUPPLY-LOWER... |
| 135283 SHAFT OIL PUMP IDLER | 214348B TUBE,WATER SUPPLY, LOWER... |
| 140016 SPINDLE IDLER | 214348C TUBE,WATER SUPPLY, LOWER... |
| 140089 PIN GOVERNOR WEIGHT | 214348H TUBE, TURBO WATER INLET ... |
| 140092 GASKET | 214348J TUBE, TURBO WATER OUTLET |
| 140097 SEAL BUTTERFLY VALVE SHAF... | 214348K TUBE, TURBO WATER INLET ... |
| 140184 SHAFT O P DRIVE | 214348L TUBE, PRECHAMBER GAS UPP... |
| 145006 PIN PISTON | 214348P TUBE, BREATHER OIL DRAIN |
| 145008 BUSHING PISTON PIN | 214358F JACKET, INSULATION, TURB... |
| 145026 GEAR CAMSHAFT | 214348R TUBE, BREATHER, OIL DRAI... |
| 145042 MANIFOLD, EXHAUST (CENTER... | 214358H JACKET, INSULATION, TEE ... |
| 145044 MANIFOLD, EXHAUST (REAR) | 214358G JACKET, INSULATION, INNE... |
| 145068 SUPPORT ROCKER ARM | 214358J JACKET, INSULATION, INNE... |
| 145083 SHAFT OIL PUMP | 214358K JACKET, INSULATION, MANI... |
| 145084 SHAFT OIL PUMP | 214358M JACKET, INSULATION, MANI... |
| 145081 GEAR OIL PUMP | 214358L JACKET, INSULATION, MANI... |
| 145085 GEAR OIL PUMP IDLER | 214367J PLATE, NAME (VHP 16-CYL) |
| 145094 SEAL OIL | 214359A TUBE, OIL PICK-UP SUCTIO... |
| 145115 GEAR IDLER | 214378A ASSY, FLEX METAL HOSE |
| 145208 BUSHING PISTON PIN | 214378B ASSY, FLEX METAL HOSE |
| 145221 BEARING MAIN | 214379A COVER, BREATHER HOLE |
| 145305 RING PISTON | 214384A PLUG,LIQ'DTIGHT K.O. 3/4... |
| 145308 BUSHING, PISTON PIN | 214390D NUT,LOCK,.750-10 |
| 145335 NBL SPRING, VALVE | 214391B TUBE,AIR.PRELUBE SUPPLY |
| 145356 SHAFT WATER PUMP | 214391C TUBE,WSTGATE.WTR.IN-L.B. |
| 145364 ELBOW WATER P INLET | 214391K TUBE,TURBO OIL SUP.-LB |
| 145603 FAN BELT | 214391L TUBE,TURBO OIL SUP.-RB |
| 147605 RING PISTON-OIL CONTROL | 214391N TUBE TURBO OIL SUPPLY |
| 147905 RING, PISTON TOP COMPRESS... | 214391P TUBE,TURBO.OIL.SUPPLY-LB |
| 151037 UNION,STRT ADAPT,.25 | 214391R TUBE,TURBO.OIL.SUPPLY-RB |
| 151141 RING PACKING | 214391S TUBE,TURBO.OIL.SUPPLY-LB |
| 151169 WASHR,.94X1.38X.12 | 214391T TUBE,TURBO.OIL.SUPPLY-RB |
| 151170 RESTRICTOR OIL PUMP | 214391U TUBE,TURBO.OIL.SUPPLY-RB |
| 151225 SPACER,.53X1X1.38 LG | 214391V TUBE,TURBO.OIL.SUPPLY-LB |
| 151270 SPACER,.50X.88X.69 LG. | 214391W TUBE,MSPIN OIL SUPPLY |
| 151383 PIN,DOWEL,.495X1.25 | 214391X TUBE, UPPER, RB STARTER ... |
| 151430 BRACKET, CABLE | 214391Y TUBE, TAPPET HSG. OIL SU... |
| 151622 GASKET | 214391Z TUBE, AIR/GAS PRELUBE |
| 151689 FLANGE, AIR INLET | 214392E TUBE, SUPPLY, AIR/GAS PR... |
| 151750 LEVER BUTFLY V SHAFT | 214392G TUBE, TURBO WATER INLET,... |
| 151751 SHAFT BUTFLY VALVE | 214392H TUBE, TURBO WATER INLET,... |
| 151808 SPACER,.56X1X.38 LG | 214392T TUBE,OIL FRONT |
| 151813 SHAFT ENGINE BRG | 214392W TUBE, TURBO OIL SUPPLY |
| 151815 GEAR ENGINE BARR PIN | 214395D SCREEN, TOOL |
| 151967 PLUNGER,RELIEF VALVE | 214395K SCREEN, TOOL |
| 151971 GASKET | 214395P SCREEN, TOOL |
| 151974 SHIM | 214404A SUPPORT, BREATHER TUBE |
| 151995 COUPLING GOV DRIVE | 214404B BRACKET, BREATHER TUBE |
| 152168 SLINGER OIL | 214404C SUPPORT ASM., BREATHER T... |
| 152276 GASKET | 214404D SUPPORT, BREATHER TUBE |
| 152397 RETAINER W P GREASE | 214404E SUPPORT ASM., BREATHER T... |
| 152401 GASKET | 214407A BRACE, TUBE CLIP |
| 152406 TEE INVERTED | 214413A TUBE, OIL FILTER INLET |
| 152452 SPACER,.28X.44X.5 LG | 214428A PIPE, .50 X 1.50 TBE - S... |
| 152631 COUPLING MAGNETO | 214428B PIPE, .50 X 2.50 TBE - S... |
| 152655 BUSHING BRONZE | 214428C PIPE, .50 X 4.50 TBE - S... |
| 152737 BUSHING PILOT BRG | 214447A JACKET, INSULATION, INNE... |
| 152879 WASHER,.66X1.00X.10 | 214447B JACKET, INSULATION, INNE... |
| 152917 SLEEVE,FLEX.F17T.50 | 214447C JACKET, INSULATION, INNE... |
| 152934 SWITCH MAGNETIC | 214447D JACKET, INSULATION, INNE... |
| 152956 COLLAR VALVE GUIDE | 214447E JACKET, INSULATION, INNE... |
| 153002 SEAL,OIL | 214447F JACKET, INSULATION, INNE... |
| 153010 NBL CAP FR CAMSHAFT BRG | 214447G JACKET, INSULATION, INNE... |
| 153018 PIN,DOWEL,.75X1.88LG | 214447H JACKET, INSULATION, INNE... |
| 153021 CSCROILH,.62-11X2.25 | 214447J JACKET, INSULATION, OUTE... |
| 153029 SHIMS,CAMSHAFT | 214447K JACKET, INSULATION, OUTE... |
| 153030 NOZZLE GR TR OIL SPR | 214447L JACKET, INSULATION, OUTE... |
| 153042 THROWER OIL | 214447M JACKET, INSULATION, OUTE... |
| 153047 WASHER CAMSH THRUST | 214447N JACKET, INSULATION, OUTE... |
| 153048 NUT,HEX,1.50-12X.75 LG | 214447P JACKET, INSULATION, OUTE... |
| 153049 WASHERLOCK,1.56ID | 214447R JACKET, INSULATION, OUTE... |
| 153053 BUSHING,OIL PUMP GEAR | 214447S JACKET, INSULATION, OUTE... |
| 153056 NUT,RV,1.62-16X1.88 | 214447T JACKET, INSULATION, OUTE... |
| 153058 NUTRVLOK,1.62-16X.50 | 214481A BRACKET, HEAT SHIELD |
| 153083 PIN FLYWHEEL DOWEL | 214483N TUBE, VOLUME CHAMBER TO ... |
| 153091 COVER CAMSHAFT GEAR | 214483R TUBE, WASTEGATE WATER SU... |
| 153098 WASHERCOP,.91 ID | 214483S TUBE, WASTEGATE WATER RE... |
| 153105 GEAR OVER-SPEED GOV | 214483T TUBE, WASTEGATE WATER SU... |
| 153111 BEARING BALL | 214483U TUBE, WASTEGATE WATER RE... |
| 153119 DOWEL OIL PAN | 214483V TUBE, WASTEGATE AIR/GAS ... |
| 153144 TUBE,DIP STICK | 214483W TUBE, WASTEGATE TO VOLUM... |
| 153145 GASKET,INT.MANIFOLD | 214483X TUBE, WASTEGATE TO WASTE... |
| 153146 COVER, FLANGE | 214483Y TUBE, OUTER VENT, INTERC... |
| 153170 BEARING BALL | 214483Z TUBE, INNER VENT, INTERC... |
| 153179 KEY,RECT.25X.56X1.25 | 214484E TUBE, OIL SUPPLY, MICROS... |
| 153180 GEAR OVERSPEED GOV | 214484F TUBE, OIL SUPPLY, MICROS... |
| 153181 GEAR TACHOMETER DR | 214484H TUBE, OIL PRESSURE REGUL... |
| 153183 GEAR TACHOMETER | 214484J TUBE, TURBO WATER RETURN |
| 153207 RETAINER BEARING | 214484K TUBE, REGULATOR SENSING |
| 153219 GEAR GOVERNOR | 214484L TUBE, PRELUBE MOTOR, LB |
| 153271 SPIDER UNIV JOINT | 214484M TUBE, PRELUBE MOTOR, RB |
| 153273 SHAFT BFLY VALVE | 214484N TUBE, PRELUBE MOTOR W/RE... |
| 153287 GEAR MAGNETO DRIVE | 214492A SPACER, HARDENED, .406 X... |
| 153288 SHAFT MAGNETO DRIVE | 214492B SPACER, HARDENED, .531 X... |
| 153289 GEAR MAG DRIVE SHAFT | 214499A HOSE, 1 ID X 7.88 LG |
| 153294 COUPLING MAG DRIVE | 214502A BRACKET, HARNESS SUPPORT |
| 153374 LEVER GOVERNOR | 214502H BRACKET, HARNESS SUPPORT |
| 153377 COVER OIL FILLER | 214504B TUBE, DUAL STARTER CONTR... |
| 153399 GROMMET, RUBBER .813 I.D. | 214504C TUBE, DUAL STARTER CONTR... |
| 153402 CLAMP, T-BOLT HOSE 5.50-5... | 214504E TUBE, STARTER SOLENOID V... |
| 153462 STRAINER AIR | 214504L TUBE, CATALYST DELTA P S... |
| 153478 HEATER,IMMERSION | 214504D TUBE, DUAL STARTER RELAY... |
| 153502 VALVE,CHECK,.5 | 214504M TUBE, CATALYST DELTA P S... |
| 153505 SCROILHD,.75-16X1.50 | 214504P TUBE, PRESSURE SWITCH |
| 153541 GASKET | 214504X TUBE, CATALYST DELTA P S... |
| 152876 NIPPLE,CLOSE,.25 | 214504Y TUBE, CATALYST DELTA P S... |
| 153572 BRACKET MAGNETO | 214509D LABEL, CAUTION, HARMONIZ... |
| 153610 SEAL THERMOSTAT | 214509K LABEL, CAUTION, HARMONIZ... |
| 153580 PLATE COVER | 214509M LABEL, WARNING, HARMONIZ... |
| 153647 FLANGE | 214512B TUBE, BALANCE LINE R.B. |
| 153655 WASHR,.53X2.25X.38 | 214512C TUBE, BALANCE LINE L.B. |
| 153682 INSERT,INTAKE VALVE | 214512H TUBE, TURBO WATER INLET |
| 153732 COVER | 214512J TUBE, BALANCE LINE (UPPE... |
| 153741 GASKET O BY-PSS LINE | 214512N TUBE, EXHAUST SENSOR OUT... |
| 153743 GASKT SCAV PUMP-DUMP | 214512P TUBE, TURBO OIL SUPPLY |
| 153749 COVER, MAG DRIVE HSG | 214512R TUBE, TURBO OIL SUPPLY |
| 153742 COVER SCAV PUMP-DUMP | 214512S TUBE, TURBO OIL SUPPLY |
| 153750 LOCK NUT | 214512Z TUBE, BALANCE LINE LB |
| 153751 WASHER,.56X2.25X.38 | 214517A REGULATOR GAS |
| 153785 CLAMP | 214532A VALVE, GAS |
| 153753 SCREW,ADJUSTING | 214543B BRACKET, PRESSURE SWITCH |
| 153790 ELEMENT, RESTRICTOR | 214562A FLANGE ASM., AFR VALVE I... |
| 153789 INDICATOR, RESTRICTION | 214571A TUBE, RELAY VALVE |
| 153881 GASKET | 214571C TUBE, PRELUBE VALVE |
| 153965 CLAMP LEVER | 240005A RING, PISTON INTERMEDIAT... |
| 153978 HEADER,OIL | 240010 2 BRG.CONN ROD .020 |
| 153982 CLIP,R.A.OIL HEADER | 240021 2 BRG.MAIN#7.020 |
| 153990 SEAL OIL | 240018 2 BRG.MAIN#3.020 |
| 154080 CABLE CLAMP | 240022 2 BRG.MAIN#1&5 .020 |
| 154101 SCRCMLK,.88-18X1.31 | 240025 2 BRG.MAIN#2,4&6 .020 |
| 154084 SPACER,.69X1.1X.19LG | 240030B SLEEVE, CYLINDER |
| 154102 PLATE CAM GEAR LOCK | 240105A RING, PISTON INTERMEDIAT... |
| 154130 SPRING | 240110 2 CONN ROD BRG |
| 154301 DECAL,RE-SET | 240130B SLEEVE, CYLINDER |
| 154407 BRACE RADIATOR L H | 240205C RING, PISTON OIL CONTROL |
| 154570 MOUNT VIBRATION | 240305A RING, PISTON TOP COMPRES... |
| 154579 NUT WELD #10-32X.12 | 244010A NBL BEARING,CONN.ROD-STD |
| 154681 CAP AIR CLEANER | 244010A2 BEARING,CONN.ROD.020 |
| 154693 ROLLER PUSH ROD | 244022 2 BRG.MAIN#1,3&5 .020 |
| 154756 ADAPTOR, HOSE | 251004A BELLOWS, TURBINE INLET |
| 154813 U BOLT,.31X1.94X2.84 | 251006A BELLOWS, COMPRESSOR OUTL... |
| 154889 SPRING | 251007B BELLOWS, TURBINE OUTLET |
| 154981 PIPE,.25X2.50,TBE GALVAN. | 251008B BELLOWS, WASTEGATE |
| 155242 TEE,PIPE,.38,BRASS | 251015B ELBOW, TURBO EXHAUST OUT... |
| 155248 O RING,1.06X1.19X.06,SILI... | 251017B HOUSING, WASTEGATE |
| 155311 THERMOSTAT ASM., 160 DEG ... | 251018A GASKET, TURBINE INLET (U... |
| 155359 CLIP AIR CLEAN BRACE | 251043A SEAL, OIL PUMP TO GEAR H... |
| 155404 SPACER,.53X.88X.19LG | 251053A GASKET, WASTEGATE OUTLET |
| 155641 CAP, RADIATOR 7 PSI | 251054A GASKET, WASTEGATE INLET |
| 155645 CAP RADIATOR | 251059A BRACKET, TURBINE OUTLET |
| 155935 SLEEVE FLEX FITTING | 251067A VALVE, OIL PRESSURE RELI... |
| 155997 PIPE,1.50 X 10.00 TOE | 251068A PLUG, OIL PRESURE RELIEF... |
| 156302 SCREW | 251093A SUPPORT, WIRE WAY |
| 156303 PLUNGER RELIEF VALVE | 251105A SUPPORT, IGNITION HARNES... |
| 156304 SLEEVE RELIEF VALVE | 251106A BRACKET, REGULATOR, PREL... |
| 156339 LEVER GOVERNOR | 251124A TUBE, BALANCE (CARBURETO... |
| 156341 SHAFT FLEXIBLE DRIVE | 251126D BRACKET, BREATHER REGULA... |
| 156398 LEVER GOVERNOR | 251126E BRACKET, BREATHER REGULA... |
| 156476 SHAFT REGULATING | 251126F BRACKET, BREATHER REG. I... |
| 156506 GASKET | 251127B BRACKET, BREATHER SEPARA... |
| 156534 RET V SPRING INTAKE | 251129C BRACKET, BREATHER OUTLET... |
| 156535 RETAINER V SPRING EX | 257012D GEAR CRANKSHAFT |
| 156623 COLLAR | 257012F GEAR, CRANKSHAFT |
| 156738 BRG,IDLER PULLEY SHAFT | 257014G PAN, OIL |
| 156821 GAUGE, WATER LEVEL | 257015A GEAR,IDLER |
| 156841 HOSE,4.5IDX5 ODX5 LG | 257016A SPINDLE, IDLER GEAR |
| 156984 ELEMENT | 257026C GEAR, CAM |
| 157109 CUP PLUG-STANDARD | 257016B SHAFT, IDLER SPINDLE |
| 157329 PLUG, HOLE, .688 DIA. | 257034C HOUSING, TAPPET, END |
| 157336 SPACER,.56X1.1X.75LG | 257026H GEAR, CAMSHAFT |
| 157460 COUPLING,HALF,.25 | 257045G HOUSING, GEAR |
| 157475 SEAL W P SHAFT | 257046G NBL CAP,MAIN BEARING FRT... |
| 157497 O RING,2.12X2.31X.09,NITR... | 257054A PLATE, FRONT |
| 157609 ELEMENT,FILTER | 257061A COVER, PUMP FRONT |
| 157635 NUTESTOP,.50-20 | 257074B PLATE, REAR |
| 157799 HOSE ADAPTER | 257074E PLATE, REAR |
| 157828 PLUG,CUP | 257083A SHAFT,IDLER OIL PUMP |
| 157842 STUD,GR5,.312X1.62LG | 257085B GEAR,OIL PUMP IDLER |
| 157869 HUB MAGNETO DRIVING | 257090C CARRIER,SEAL |
| 157872 ROD | 257093C GEAR, MAGNETO DRIVE |
| 157910 BUSHING,RED,1.00-.12 | 257115A GEAR,IDLER |
| 158043 HOSE,2.25X2.75X3 LG | 257134D HOUSING, TAPPET, CENTER |
| 158127 HOSE,3.5X4.0X3 LG | 257124B DOOR, OIL PAN |
| 158143 HOSE,2.75X3.25X3.75 | 257272E CONN. C.INT.MFLD.R.H |
| 158155 HOUSING TACHOMETER D | 257272F CONN C INT MFLD L H |
| 158156 GEAR TACH DRIVEN 15T | 257472B HOUSING,BUTTERFLY VA |
| 158157 GEAR TACH DRIVE 5T | 257472C HSG,BUTTERFLY VALVE |
| 158158 GASKET W P COVER | 257472D HOUSING,BTTRFLY VLV |
| 158162 WASHER,.41X1.12X.25 | 257472E ADAPTER,CARB TO INT MFLD |
| 158316 GASKET | 257641B MFLD,INT.CENTER SECT |
| 158317 GASKET | 257741B MFLD,INT.END SECTION |
| 158318 GASKET | 257941D MANIFOLD, INTAKE, END SE... |
| 158320 SEAL OIL | 257741C MFLD,INT.END SECTION |
| 158321 GASKET | 257941E MANIFOLD, INTAKE, END SE... |
| 158346 GASKET | 257941F MANIFOLD, INTAKE, CENTER... |
| 158358 SPACER,.47X1X.31 LG | 26398A HXHDSCR,.50-13X1.75 LG |
| 158395 STUD,GR5,.38-.31X2.5 | 26750A PLUG,HXHDPIPE,.25,SST |
| 158404 PLATE,COVER | 26757A HXHDSCR,.38-16X6.50 LG |
| 158406 SEAL THERMOSTAT | 27261H SPRING, GOV |
| 158417 NUTSTOP,.312-18X.344 | 27261K SPRING |
| 158653 STUD,GR5,.312X1.62LG | 27261N SPRING, OIL PUMP RELIEF V... |
| 158859 CABLE FLEXIBLE | 27277B SPRING GOVERNOR |
| 158848 GASKET,W.P.INLET | 27261P SPRING,OIL PUMP REL VLVE |
| 158869 ELEMENT FILTER | 27277E SPRING GOVERNOR |
| 158876 PLATE NAME | 27331F FLANGE OIL HEADER |
| 158896 COUPLING FLEXIBLE | 27432C PULLEY WATER PUMP |
| 159054 FITTING GREASE | 27432M PULLEY,WATER PUMP |
| 159067 SHAFT FAN | 27432N PULLEY,ACC. W.P. |
| 159077 CAP BRG HSG END | 27432R PULLEY,ACC W.P. |
| 159079 BEARING BALL | 27566P TUBING |
| 159082 RUBBERNECK CUSHION | 27432U PULLEY, AUX WATER PUMP |
| 159099 GSKT FUEL INJECTOR | 280006A NBL PIN, PISTON |
| 159083 RUBBERNECK CUSHION | 27647G TUBING STEEL |
| 159169 ROTATOR VALVE | 280009B GUIDE,VALVE |
| 159315 NUTESTOP,.50-20X.31 | 280012A GEAR, CRANKSHAFT FRONT |
| 159364 STUD,SS,.375X1.62 LG | 280015C GEAR, IDLER |
| 159365 STUD,SS,.50X2 LG | 280017E CAP, MAIN BEARING |
| 159475 SPACER,.69X.88X1.2LG | 280027A BEARING,CAM THRUST |
| 159372 SEAL OIL | 280029B BEARING,IDLER GEAR |
| 159477 BEARING, BALL | 280035A NBL SPRING,INNER VALVE |
| 159553 BELT | 280050A BEARING,CAM |
| 159580 GASKET, WATER PUMP | 280056A SHAFT, WATER PUMP |
| 159575 GASKET | 280060A HOUSING, WATER PUMP |
| 159624 FLANGE | 280063B IMPELLER, WATER PUMP |
| 159697 MUFFLER | 280063C IMPELLER, WATER PUMP |
| 159849 THERMOSTAT | 280063E IMPELLOR, COOLING WATER ... |
| 159892 CLIP ANGLE | 280115B GEAR, IDLER |
| 159991 CPLG,38 DRESS,3 TUBE | 280123B NBL CAMSHAFT SECTION,FRO... |
| 161113 GASKET | 280123C NBL CAMSHAFT SECTION,FRO... |
| 161264 RING,INT.RET.-137 | 280123D NBLCAMSHAFT SECTION,FRON... |
| 161269 SLEEVE CRANKSHAFT | 280123E NBLCAMSHAFT SECTION,FRON... |
| 161270 SLEEVE FAN PULLEY | 280130A NBL LINER, CYL. |
| 161288 SEAL,CRANKSHAFT | 280135A NBL SPRING,OUTER VALVE |
| 161293 NUTESTOP,.75-16X.41 | 280170B COVER, EXPLOSION RELIEF |
| 161339 BALL BEARING | 280170E COVER, EXP. RELIEF W/MIC... |
| 161341 SEAL, OIL | 280170F COVER, EXPLOSION RELIEF ... |
| 161345 HOLE COVER | 280205A NBL RING,COMP BARREL FAC... |
| 161361 PAINT WAUK OF ORANGE SPRA... | 280211A SHAFT, EXTENSION |
| 161362 PAINT, SILVER GRAY SPRAY | 280223D NBL CAMSHAFT SECT, REAR,... |
| 161405 VENT BREATHER | 280223E NBL CAMSHAFT SECTION,REA... |
| 161526 SPACER,1.94X2.25X.04 | 280223F NBL CAMSHAFT SECTION,REA... |
| 161579 COUPLING DRESSER | 280223G NBL CAMSHAFT SECTION,REA... |
| 161592 ELB,65DRESS,1.5PIPE | 280305A NBL RING,INTERMEDIATE ST... |
| 161900 SPARK PLUG COVER | 280312B GEAR, FRONT CRANKSHAFT |
| 161842 RETAINER BEARING | 280391A RETAINER, OIL |
| 161925 GASKET | 280391C BLOCK, OIL DRAIN CONN. |
| 161926 GASKET | 280391B TUBE, OIL RETAINER DRAIN |
| 161944 DISCONNECT FEMALE | 280523B NBL CAMSHAFT SECTION, FR... |
| 161971 GASKETO RING | 280511D NBL CRANKSHAFT (W/OIL HO... |
| 162189 COVER SWITCH BOX | 280623D NBL CAMSHAFT SECTION, RE... |
| 162492 THERMOSTAT, 160 DEG F | 280623A CAMSHAFT SECTION, REAR |
| 162557 CONNECTOR, 3-4 WIRE | 280811A EXTENSION, SHAFT INTERM. |
| 162614 ELEMENT FUEL FILTER | 281024A COVER, CAMSHAFT, FRONT L... |
| 162615 ELEMENT FUEL FILTER | 281124A COVER, CAMSHAFT, FRONT R... |
| 162629 HOSE,7IDX7.38X4 LG | 281224A COVER, CAMSHAFT, CENTER ... |
| 162649 NUTFLTER,.69-16X.50 | 28278A NBL HXHDSCR,.62-18X4.75 L... |
| 162660 GUIDE LOWER VALVE SP | 28462A STUD,SEAL-LOK,.25X.25 |
| 162674 PLATE COVER | 28470A HXHDSCR,SERR.FLG,.38-16X.... |
| 162706 BELT | 285004E PISTON (9:1) |
| 162870 TACHOMETER | 285023B NBL CAMSHAFT SECTION |
| 162887 WASHER,1.31X2.06X.25 | 285039B COVER,ROCKER ARM |
| 163146 STUD,GR8,.625X8 LG | 285041E MANIFOLD SECTION,CENTER ... |
| 163214 GASKET GEAR COVER | 285041F MANIFOLD SECTION, CARB I... |
| 163274 GASKET OIL PAN | 285072C HOUSING, BUTTERFLY VALVE |
| 163275 GASKET OIL PAN | 285072D HOUSING, BUTTERFLY VALVE |
| 163276 GASKET | 28512A NUT,FLANGE,1-12X1.12 |
| 163279 GASKET | 285074E PLATE, REAR |
| 163395 GUARD FAN | 285141A MANIFOLD SECTION, REAR I... |
| 163396 GUARD FAN | 285141C MANIFOLD SECTION, FRONT ... |
| 163415 STRAP SPRING | 285174D PLATE, REAR |
| 163643 RETAINER SPRING | 28522A POP RIVET |
| 163454 RING RETAINING | 28522B POP RIVET |
| 163705 U BOLT,.25X3.12X4.06 | 285423B NBL CAMSHAFT SECTION |
| 164005 BOSS,.75DIAX1 LG | 28543A PLUG,PIPE,HXHD,SS.375 |
| 164025 BOOT DUST | 28587D NBL CAPSCREW, CONN. ROD |
| 164076 RING, EXT.RET. 5100-156 | 28611A SCR,HXHDSPEC.75-16X7 |
| 164135 ELEMENT OIL FILTER | 287004D NBL PISTON, 9:1 |
| 164181 PLATE, COVER | 287006A NBL PIN, PISTON |
| 164182 GASKET | 287027A TURBOCHARGER RR221 |
| 164184 BRKT OIL FIL MOUNT | 287205A NBL RING, #3 PISTON |
| 164438 U BOLT,.31-18X2.44X3.72 | 287230C NBL, LINER, CYLINDER |
| 164493 FITTING REUSABLE | 287405B NBL RING, #1 PISTON |
| 164635 RING, PISTON INTERMEDIATE | 287605A NBL RING, PISTON OIL CON... |
| 164676 INSERT,VALVE SEAT | 28763A SPRING,WAVE |
| 164688 BUSH,RED 1.25X.375 | 28763B SPRING, WAVE WASHER |
| 164710 RETAINER GOV GEAR | 28766A CAPSCREW, OIL PAN DOOR |
| 164711 PIN GOV GEAR DR | 287705C RING, ANTI-POLISHING |
| 164712 DAMPNER GOV GEAR | 28794A PLUG,SQHDPIPE,.75-14 |
| 164713 GEAR GOV DRIVE | 28794B PLUG,SQSOCPIPE,.75-14 NPT |
| 164714 PLATE COVER | 28794C PLUG,SQSOCPIPE,1.00-11.5 ... |
| 164768 GASKET | 28794D PLUG,SQSOCPIPE,.25-18 NPT |
| 164769 GASKET | 28818A STUD, .375-16X 1.5 |
| 164770 SEAL, OIL | 28828A CLIP, .25 DIA X .50 SCREW... |
| 164771 SEAL OIL LIP TYPE | 28850A WASHER, FLAT, 1/2\ |
| 164772 SPACER,.81X1.0X2.63 | 290000A NBL STUD,BEARING CAP |
| 166037 BRACKET FAN | 290003A NBL SCREW, MAIN BRG CAP |
| 166040 SCREW FAN BRKT ADJ | 290000B NBL STUD,MAIN BRG CAP |
| 166058 TURN TUBE | 290003B NBL SCREW,MAIN BRG CAP |
| 166072 SUPPORT AIR CLEANER | 290027A PLUG,SCREW G 1 1/2 |
| 166099 PULLEY PUMP | 290038B FLANGE |
| 166180 FITTING REUSABLE | 290055B FLANGE, OIL SUMP |
| 166181 FITTING FEMALE REUSE | 290060B PIPE, SUCTION ASSY |
| 166261 BEARING BALL | 290069B NBL BRG,THRUST RING HALF |
| 166305 U BOLT,.38X2.00X2.62 | 290075A GASKET, STARTER BRKT |
| 166386 GASKET | 290087A WASHER, M36 |
| 166411 BUSHING OILITE | 290087B WASHER, M30 |
| 166319 SPACER,1.18X1.5X1.81 | 290087C SPACER |
| 166415 VENTURI, UPPER | 290087D SPACER |
| 166416 VENTURI ASM., LOWER | 290136B RING |
| 166420 SEPARATOR, OIL | 290136C RING |
| 166445 GASKET | 290141A CLAMP |
| 166484 GOVERNOR | 290141B CLAMP |
| 166572 SCRLEVELING1-8X3.75 | 290167G COVER, TURBO OIL DRAIN L... |
| 166739 PIN,DOWEL,.156X1.12 | 290178C COVER |
| 166807 RING CYLINDER SLEEVE | 290191B BRACKET,TIMING POINTER |
| 166809 VALVE, INSERT | 290191C POINTER,TIMING |
| 166810 INSERT VALVE SEAT | 290215F NBL, GUIDE, WATER |
| 166975 SEAL | 290216A SLEEVE, WATER GUIDE |
| 167069 PULLEY WATER PUMP | 290219D O RING,CYL LINER,UP.,SQ. |
| 166991 ROD | 290221C O RING, WATER GUIDE SLEE... |
| 167077 BUSHING BRONZE | 290225A SPACER |
| 167148 REGULATOR, GAS | 290225C SPACER,ADMISSION VALVE |
| 167149 CLEANER AIR | 290229A \ |
| 167160 RING, EXT.RET. 5160-75 | 290230A GASKET,SILICONE |
| 167150 ELEMENT AIR CLEANER | 290294A CAP BALL, INTAKE VALVE |
| 167183 SHAFT FAN DRIVE | 290295A BALL, CAP |
| 167198 WASHER,1.56X1.88X.06 | 290306K NBL COUNTERWEIGHT |
| 167185 WASHER,1.00X1.50X.19 | 290306A NBL COUNTERWEIGHT |
| 167258 METER FLOW | 290306L NBL COUNTERWEIGHT |
| 167208 U BOLT,.25X1.12X1.75 | 290309A NBL BOLT,FITTED |
| 167264 BELT,VEE | 290345A SLEEVE |
| 167329 GASKET | 290349A BEARING,STEP |
| 167340 TUBE CRANKCASE INLET | 290351A SOCHDSCR, M12 X 40, DRIL... |
| 167396 FLANGE | 290359B SUPPORT,CAM BEARING |
| 167424 ELBOW LOW BY-PASS RH | 290359C SUPPORT,CAM BEARING |
| 167437 RING, INT.RET. 5008-137 | 290369A SPRING,PUSH ROD |
| 167425 ELBOW LOW BY-PASS LH | 290370A ROCKER ARM,CAM |
| 167535 FITTING PRESS REL | 290371C ROLLER, ROCKER CROWNED |
| 167528 CPLG,RED,2-1.5,.25PT | 290372A BRG,CAM ROCKER ARM |
| 167550 GAUGE VACUUM | 290372B BEARING, CAM ROCKER ARM |
| 167548 GAUGE,VACUUM | 290377B COVER, THRUST BEARING |
| 167551 GAUGE,VACUUM | 290430B BRACKET, JUNCTION BOX MO... |
| 167552 GAUGE TEMPERATURE | 290430C BRACKET, JUNCTION BOX MT... |
| 167581 VALVE,LOAD ADJ,1.25 | 290552C BRACKET, GOVERNOR |
| 167840 SEAL | 290553A SHAFT,GOVERNOR DRIVE |
| 167843 PANEL JACK - TYPE J | 290554A BEARING, GOVERNOR DRIVE |
| 167844 DISCONNECT QUICK | 290555A SUPPORT,GOV.DRIVE |
| 167845 CLAMP CABLE | 290592A SCREW-SLOTTED SET |
| 167907 PIPE,2 X 3.75 TBE | 290625A O RING,3.12X3.38X.12,FKM |
| 167955 ADAPTER | 290625B O RING,3.38X3.62X.12,FKM |
| 167958 COVER | 290625C O RING,3.88X4.25X.19,FKM |
| 168003 FITTING HOSE | 290625D O RING,4.50X4.88X.19,FKM |
| 168006 UNION,STRT ADAPT,1.5 | 290625E O RING,4.50X5.00X.25,FKM |
| 168025 CAP POWER LIMITER | 290688A RING, ROD SEAL |
| 168026 CAP POWER LIMITER | 290762A BOLT,COLLAR |
| 168027 CLAMP SPRING LOCKING | 290787A SLEEVE, WATER PUMP |
| 168029 PLUG SPRING ADJ | 290789A GEAR, AUX/JACKET WATER P... |
| 168030 DIAPHRAGM | 290792B SEAL, AXIAL FACE |
| 168031 ROD CONTROL | 290934A PLATE, LOCKING |
| 168042 GASKET | 290934B PLATE, LOCKING |
| 168054 O RING | 290935A BUSHING, OIL PUMP ASSY |
| 168055 PILOT EXH MANIFOLD | 290940A RETAINER, SPRING |
| 168115 PUMP CENTRIFUGAL | 290938A VALVE, RELIEF |
| 168200 SEAL | 290947A SCREW, SET M12 X 80 |
| 168201 GASKET | 290953A WIRE,LOCK,.048 DIA 18.00... |
| 168202 SEAL | 291006A TUBE,TURN 114.2 X3.6 |
| 168204 ADAPTER PLUG | 291114A PLATE, COVER |
| 168210 VALVE | 291131B RETAINER,VALVE SPRING UP... |
| 168230 PLATE THRUST | 291133A SHAFT,EXTENSION |
| 168256 GASKET | 291134A BOLT, FITTED |
| 168265 RETAINER BEARING | 291136A TUBE, LUBE OIL |
| 168273 PICKUP, MAGNETIC | 291140B NBL DAMPER, VIBRATION |
| 168290 BUSHING | 291140C NBL DAMPER, VIBRATION |
| 168300 COVER GOV DR HSG | 291140D DAMPER,VIBRATION |
| 168301 GASKET | 291312C ADAPTER,WATER JUMPER |
| 168304 GASKET | 291359A TUBE, DRAIN EXTENSION |
| 168307 FLANGE WATER BY-PASS | 291445B TIMING TAPE,CCW ROT |
| 168308 GASKET | 291445C TIMING TAPE,CCW ROT |
| 168311 BRACKET TURBO | 291576B TUBE STRAINER, LUBE OIL |
| 168322 COLLAR O RING | 291598A GASKET, SQUARE |
| 168325 ELBOW TURBO EXH | 291672A PIPE, SUCTION ASSY |
| 168326 ADAPTER | 292297B NBL STUD, CONNECTING ROD |
| 168327 BRACE, TURBO ELBOW | 292373A DOOR,INSPECTION |
| 168328 ELBOW TURBO OUTLET | 292942D COUPLING,FLEXIBLE |
| 168329 STUD,SUPP,.75X5 LG | 293303B SUPPORT, LIFTING |
| 168335 GASKET, INTERCOOLER | 293311B CLEVIS |
| 168336 SPACER,CONN ROD | 293404A BODY,ELBOW .25NPTX8 |
| 168337 GEAR GOV DRIVER | 293413B NBL BOLT,COUPLING |
| 168338 GEAR GOV INTER | 293430A BODY,RED. UNION |
| 168348 GASKET | 293431C BRACKET,BARRING DEVICE |
| 168350 SHAFT GOV DR INTER | 293431E BRACKET,STARTER R.B. |
| 168351 GASKET | 293431F BRACKET,STARTER L.B. |
| 168366 GASKET | 293435B MOTOR,AIR STARTER R.B. |
| 168367 COLLAR SAFETY SW | 293435E MOTOR,TURBINE STARTER,LB... |
| 168373 GASKET | 293435H MOTOR,AIR STARTER(TDI)LO... |
| 168372 RETAINER AIR CONN | 293435J MOTOR,AIR STARTER(TDI)HI... |
| 168374 COUPLING F P DRIVE | 293435L STARTER, AIR/GAS (150 PS... |
| 168415 FLANGE BREATHER | 293435M STARTER, AIR/GAS (90 PSI... |
| 168417 COUPLING EXHAUST | 293437E BRACKET,SUPPORT |
| 168439 ELBOW,RED. 3X2 | 293437F BRACKET,WATER INLET SUPP... |
| 168461 PLATE COVER | 293437M BRACKET,WATER INLET SUPP... |
| 168483 RETAINER SEAL | 293437U BRACKET, SUPPORT |
| 168500 ELBOW TURBO EXH | 293437V SUPPORT, STARTER SOLENOI... |
| 168507 BRACKET INTERCOOLER | 293453E INTERCOOLER,CHARGE AIR |
| 168510 SHAFT B V | 293454J MANIFOLD,EXHAUST,RB |
| 168512 SUPPORT EXH ELBOW | 293454K MANIFOLD, EXHAUST,RB |
| 168515 COVER CAMSHAFT | 293455J MANIFOLD,EXHAUST L.B. |
| 168517 FLANGE AIR HORN | 293455K MANIFOLD,EXHAUST LB |
| 168527 TUBE AIR L. H. | 293462B CONN.EXH.MFLD. |
| 168533 SHIELD AIR CLEANER | 293463D BELLOW, EXHAUST MANIFOLD... |
| 168597 CAP,OIL FILLER 2.00 NPT | 293467D PLENUM,OUTLET REAR |
| 168681 BUSH,RED 1.25X.25 | 293467H PLENUM,INTERCOOLER INLET |
| 168705 SPACER,1.5X2.5X1.06 | 293470B GASKET, PLENUM |
| 168700 PLUG,PIPE,HXHD,.25 BRASS | 293470C GASKET, PLENUM |
| 168707 NUT HEX SLOTTED | 293471A GASKET,AIR TUBE-PLENUM |
| 168708 END BRG CAP HSG | 293471D GASKET,COOLER TO AIR DUC... |
| 168740 WASHER,.63X1.00X.07 | 293471F GASKET,RETAINING FLANGE |
| 168825 ELB;FLEX.CPLG. 2.00\ | 293471G GASKET,COMP DISCH ELBOW |
| 168847 BRACKET | 293471H GASKET,INTERCLR PLENUM E... |
| 168899 COVER CROSS SHAFT | 293471J GASKET,INTCLR PLENUM DIS... |
| 168904 TURN,TUBE | 293471K GASKET,FLEX CONN DISCH E... |
| 168905 BRACE AIR CLEANER | 293495A PIN,SPRING 4X36 |
| 168910 TUBE BREATHER | 293502A ELBOW |
| 168923 GAUGE,PRESSURE | 293502C ELBOW |
| 168941 CLIP WIRE | 293504C HEADER,WATER DISCHARGE |
| 168967 BOOT O RING | 293504D HEADER, WATER DISCHARGE |
| 169001 RING,RETAINING | 293506B ELBOW |
| 169010 GUARD INJ DRIVE | 293600C PLUG,GAS ADMISSION PILOT |
| 169011 SUPPORT GUARD | 293602B FLANGE |
| 169013 CLIP,.25 DIAX.38 SCR | 293602D FLANGE,ADMISSION VALVE |
| 169052 WASHER,.77X1.50X.19 HARDE... | 293607E EXTENSION,SPARK PLUG HOL... |
| 169056 O-RING | 293644C TUBE,WSTGATE SENSING |
| 169058 HOSE | 293644F TUBE,WSTGT SENSING |
| 169061 ELBOW WATER | 293644G TUBE,LUBE OIL SUPPLY |
| 169062 CAP MANIFOLD | 293645F MAGNET0,ALTR0NIC 3 |
| 169065 GASKET | 293685G BRKT,WATER MFLD SUPPORT |
| 169067 FLANGE | 293685H BRACKET,WATER MFLD SUPPO... |
| 169080 SCREW HYD LFTR ADJ | 293685M BRACKET,WATER MFLD SUPPO... |
| 169104 BRACE AIR DUCT | 293685P BRACKET, WATER MANIFOLD ... |
| 169106 GAUGE,PRESSURE | 293685R BRACKET, WATER MANIFOLD ... |
| 169107 GAUGE VACUUM | 293714B MANIFOLD CAP,FRONT INTAK... |
| 169133 GAUGE COMPOUND | 293717A FLG,AIR INLET ELBOW |
| 169158 PLUG,MAGN DRAIN,.375 | 293721A NBL COUNTERWEIGHT |
| 169184 RETAINER O-RING | 293726A TAPE, TIMING |
| 169185 BODY RELIEF VALVE | 293728B TUBE,LUBE OIL |
| 169193 ADAPTER, BREATHER | 293776A TUBE, SUCTION ASSY |
| 169194 TUBE BREATHER | 293784D NBL BEARING, THRUST |
| 169258 BRACKET SUPPORT EXH | 293813A CLAMP |
| 169291 INSERT VALVE SEAT | 293831A VALVE,3-WAY BALL |
| 169333 CLIP | 293835J DAMPER,VIBRATION |
| 169405 ELEMENT FILTER | 293850A BEARING,GOV.DRIVE |
| 169457 STRAP | 293861A NUT,LOCK M16X1,5 |
| 169458 STRAP | 294011A BUSHING |
| 169514 STRAP | 294037A WASHER |
| 169561 PUMP WATER | 294093H GASKET,SPIRAL,OBLONG |
| 169569 ADAPTER-CARB | 294093J GASKET,SPIRAL |
| 169574 INSERT VALVE INT | 294093K GASKET,SPIRAL |
| 169584 PIPE AIR INTAKE | 294093L GASKET,SPIRAL |
| 169586 FLANGE AIR HORN | 294093N GASKET,SPIRAL |
| 169587 TUBE DUCT | 294093P GASKET,SPIRAL |
| 169616 O RING,5.50X6.00X.25,EPDM | 294093R GASKET,SPIRAL,2 IN PIPE |
| 169677 ELEMENT BREATHER | 294093S GASKET,SPIRAL,2.5 IN PIP... |
| 169632 BRACKET WATER PUMP | 294093T GASKET,SPIRAL,3 IN PIPE |
| 169741 SWITCH GAUGE-TEMP | 294093U GASKET,SPIRAL WOUND |
| 169742 SWITCHGAUGE-OIL PRES | 294093V GASKET,SPIRAL |
| 169749 BELT WATER PUMP | 294093W GASKET,SPIRAL |
| 169760 U BOLT,.38-16X3.12WX3.88L... | 294093X GASKET, SPIRAL |
| 169761 CLAMP-GAS VALVE | 294124A GASKET, CIRCULAR |
| 169764 BRACKET VALVE SUPP | 294124B GASKET, CIRCULAR |
| 169781 TUBE COOLER INLET | 294124C GASKET |
| 169796 BRACKET OIL COOLER | 294156A TUBE,AIR LB PINION |
| 169798 TEE SIDE OUTLET | 294156B TUBE,PINION INLET AIR,LB |
| 169800 PULLEY WATER PUMP | 294156C TUBE,PINION AIR INLET LB |
| 169801 PULLEY IDLER | 294157A TUBE,AIR STARTER |
| 169803 GASKET W P COVER | 294157C TUBE,AIR STARTER TO UNIO... |
| 169804 ELBOW L H CASE INLET | 294158A TUBE,AIR RB PINION |
| 169807 GASKET FRONT PLATE | 294158N TUBE, AIR STARTER TO 3-W... |
| 169808 DOWEL | 294492E TUBE,AIR CARB INLET |
| 169811 NOZZLE OIL SPRAY | 294495A FLANGE,AIR INLET TUBE |
| 169817 GASKET TAPPET HSG | 294540A PIN,SPRING 6X40 |
| 169818 GASKET OIL RETAINER | 294554C BRACKET,GAS REGULATOR |
| 169824 GASKET | 294582B BRACKET,PRECHAMBER REGUL... |
| 169825 ELBOW | 294582C BRACKET, REGULATOR |
| 169829 BAFFLE OIL SCREEN | 294596A TUBE,PRECHAMBER SUPPLY |
| 169830 GASKET OIL RETAINER | 294596B TUBE, PRECHAMBER SUPPLY |
| 169832 SLEEVE O-RING OUTER | 294773A COLLAR, THRUST |
| 169835 COLLAR O-RING | 294773C COLLAR, THRUST |
| 169833 SLEEVE O-RING INNER | 294774A VALVE, BUTTERFLY |
| 169837 SHAFT GOV DRIVE | 294811G INSERT, VALVE SEAT |
| 169838 GEAR DRIVEN MAGN | 294811G2 INSERT,VALVE SEAT,.020 ... |
| 169840 SPACER CRANKSHAFT | 294811G3 INSERT, VALVE SEAT,.030... |
| 169841 NBL., CAPSCREW, CRANKSHAF... | 294811G5 INSERT,VALVE SEAT,.050 ... |
| 169849 TUBE WATER | 294811G4 INSERT, VALVE SEAT,.040... |
| 169847 CPLG,FLEXMAST,5 TUBE | 294811G6 INSERT, VALVE SEAT,.060... |
| 169854 GASKET REAR PLATE | 294811G7 INSERT,VALVE SEAT .070 ... |
| 169855 GASKET IDLER SPINDLE | 294811G8 INSERT, VALVE SEAT,.080... |
| 169856 FLANGE | 294811G9 INSERT,VALVE SEAT,.090 ... |
| 169857 CONN-TURBO OUTLET | 294814B VALVE, EXPLOSION RELIEF |
| 169859 GASKET-BREATHER | 294830D TUBE, GAS SUPPLY |
| 169869 GASKET BYPASS VALVE | 294832A SEAL, SHAFT |
| 169871 BODY PRESS REG VALVE | 294867A POST,AIR BLEED |
| 169872 TEE, OIL COOLER OUTLET | 294867B POST,AIR BLEED |
| 169875 PLUNGER,PRESS REG | 294869A GASKET,CARB MOUNTING |
| 169877 PLUG PRESS REG VALVE | 294870A GASKET,CARB MOUNTING |
| 169873 PLATE PRESS REG | 294871A PLATE, COVER |
| 169878 SCRREGVL,.50-20X2.12 | 294871B PLATE, COVER |
| 169880 TUBE OIL PUMP DISCH | 294871C END CAP, EXHAUST BRANCH |
| 169882 FLANGE OIL SYSTEM | 294871D PLATE, COVER |
| 169898 BEARING DR BALL | 294881A ROD, CONTROL (288MM) |
| 169890 LEVER GOVERNOR | 294881E ROD,CONTROL |
| 169902 SHFT BUTTERFLY VALVE | 294881G ROD,CONTROL |
| 169903 VALVE BUTTERFLY | 294881H ROD,CONTROL |
| 169905 GASKET CARBURETOR | 294881M ROD,CONTROL |
| 169904 SPACER,1.02X1.5X.66 | 294881N ROD, CONTROL |
| 169908 COVER PLATE | 294881P ROD,GOV CONTROL |
| 169907 PLATE GEAR HSG COVER | 294881S ROD,GOV CONTROL |
| 169917 GASKET CARBURETOR | 294881U ROD, GOVERNOR |
| 169909 GASKET,GEAR HSG COVER PLA... | 294896C LEVER,GOV LINKAGE |
| 169944 CONN EXHAUST OUTLET | 294896D LEVER, MANUAL GOV |
| 169926 TUBE BY-PASS UPPER | 294896E PIN,GOV.LEVER |
| 169950 ELBOW CONN AIR OUT | 294899B COVER |
| 169951 ELBOW CONN AIR INLET | 294899E SUPPORT, PIVOT |
| 169953 BRACE INTERCOOLER | 294900A SHAFT,PIVOT |
| 169954 BRACE INTERCOOLER | 294901A GASKET,IGNITION COIL |
| 169955 BRACE AIR CLEANER | 294901B GASKET,PIVOT SUPPT. |
| 169959 BRACKET INST COVER | 294901D GASKET,SUPPORT PIVOT |
| 169980 TUBE WATER | 295040B TUBE WSTGATE SUP LB |
| 169986 GASKET,AIR HORN | 295040H TUBE,WSTGT WTR IN-LO |
| 169987 BRACE GAS VALVE | 295040K TUBE,WASTEGATE SUPPLY LB |
| 169990 SLINGER OIL | 295040L TUBE,WASTEGATE SUPPLY RB |
| 169998 GASKET | 295040M TUBE,WSTGT WAT OUTLET |
| 169992 FLANGE PIPE 8 IN | 295040P TUBE,WSTGT WAT INL UPPER |
| 172003 O-RING | 295040R TUBE,WASTEGATE RETURN |
| 172005 COVER VALVE LIFTER | 295087H TUBE,LUBE OIL IN RB |
| 172006 GASKET,LIFTER COVER | 295096A TUBE TURBO SUP LOWER |
| 172008 WASHER COPPER | 295096B TUBE TURBO SUP UPPER |
| 172010 GASKET,W.IN.&OUT.MAN | 295174D DEVICE,LIFTING |
| 172012 GUIDE-VALVE LIFTER | 295179F CONDUIT,FW L.B. |
| 172013 STUD,CYL.HD. 9.75 IN | 295179G CONDUIT,AFT R.B. |
| 172015 RETAINER,LWR.VLV.SPR | 295179H CONDUIT,FW R.B. |
| 172016 RETAINER,UPR.VLV.SPR | 295179N PYROPIPE, EXH. GAS |
| 172017 KEEPER,VALVE STEM | 295179R PYROPIPE, L.B. |
| 172018 CAP VALVE STEM | 295179J CONDUIT,AFT L.B. |
| 172019 INSERT,INT.VALV.SEAT | 295179S PYROPIPE, R.B. |
| 172020 INSERT,EX.VALVE SEAT | 295182A WELL,PROTECTING |
| 172021 GASKET OIL PAN | 295186D THERMOCOUPLE |
| 172024 GASKET HH COVER | 295186E THERMOCOUPLE |
| 172026 GASKET HH PLATE | 295189A BOLT, COUPLING |
| 172029 GASKET- O.F. BODY | 295200A PLATE,GOVERNOR MOUNTING |
| 172044 BRACKET OIL STRAINER | 295251E BAR,THERMOCOUPLE CLAMPIN... |
| 172048 STUD OIL PLUG CRANK | 295251F BRACKET, MOUNTING |
| 172051 BEARING,CAM THRUST | 295263A THERMOCOUPLE |
| 172056 BOLT CONN ROD | 295362G TURBOCHARGER |
| 172058 SNAP RING | 295362L TURBOCHARGER |
| 172060 NBL BOLT CONN ROD | 295362M TURBOCHARGER,RR181 |
| 172061 SNAP RING,PISTON PIN | 295379C PLENUM,CHARGE AIR OUTLET |
| 172062 STUD FLYWHEEL | 295380L EXTENSION,SP PL CARRIER |
| 172067 GASKET INTAKE MAN | 295381F SLEEVE,IGNITER |
| 172070 SHAFT THROTTLE VALVE | 295387A O RING,1.62X1.88X.12,VIT... |
| 172071 BALL BEARING | 295388A O RING,2.25X2.50X.12,VIT... |
| 172074 GASKET CARBURETOR | 295389C O RING, 2.12X2.38X.12, V... |
| 172075 SHAFT GOV VALVE | 295389D O RING,4.62X5.00X.19,HNB... |
| 172077 PACKING,EX.MANIFOLD | 295389E O-RING,1.75X2.00X.12,HNB... |
| 172078 CLAMP EXP BAND | 295389F O RING,2.75X2.94X.09,HNB... |
| 172079 GASKET EXH MAN | 295389G O RING, 2.12X2.38X.12, F... |
| 172080 CAPSCREW EXH MAN | 295396J CONN,EXH OFFSET,LB |
| 172082 GASKET EXH MAN | 295396K CONN,EXH OFFSET,RB |
| 172089 GASKET,COVER | 295397B CONN WATER OFFSET RB |
| 172090 GASKET VALVE COVER | 295397C CONN WATER OFFSET LB |
| 172091 GASKET VALVE COVER | 295397F CONNECTION,WATER OFFSET |
| 172092 GASKET H H COVER | 295398H BRKT MFLD. SUPP. L.B. |
| 172096 OIL SEAL | 295404A BRKT,GAS LINE SUPP |
| 172097 GASKET TIMING GEAR C | 295435B LEVER,FIXED |
| 172098 GASKET CRANK FRT PLA | 295437B LEVER,FLOATING |
| 172099 GASKET | 295437C LEVER,FLOATING |
| 172100 GASKET,GEAR COVER | 295442C LEVER, CARBURETOR |
| 172105 GASKET HOLE COVER | 295444B LEVER,INTERMEDIATE |
| 172107 GASKET GOV BASE | 295444C LEVER,INTERMEDIATE |
| 172108 SEAL,TEFLON CYL.SLV. | 295447A VALVE, GAS INLET |
| 172110 GASKET F W HSG | 295445B SPRING,DBL.TORSION |
| 172109 GASKET | 295451P BOX,THERMOCOUPLE JUNCTIO... |
| 172112 GASKET REAR OIL SEAL | 295451K BOX, JUNCTION CEC |
| 172115 GASKET CORK | 295451U BOX,THERMOCOUPLE JUNCTIO... |
| 172116 GASKET REAR OIL SEAL | 295474A TUBE,RAW WATER DISCHARGE |
| 172121 AIR CLEANER | 295475A HOSE,FLEX METAL LOW RAW ... |
| 172141 BANDS AIR CLEANER | 295475B OUTLET,TURBO WATER LB&RB |
| 172144 BOLT,.62 HEX | 295475C OUTLET,TURBO WATER LB&RB |
| 172148 BLOCK ADJ. | 295475D TUBE,FLEX GAS SUPPLY |