We supply quality parts for the Waukesha 7042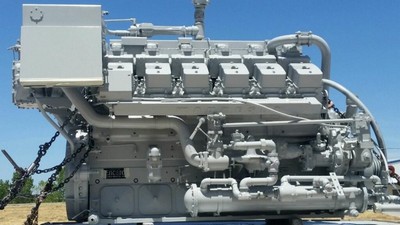 Our Waukesha parts store has been making high quality replacement parts for the Waukesha VHP engine for almost 3 decades. Our experience in the field has made us a top seller in OEM quality replacement Waukesha parts. We build and sell parts that fit the Waukesha 7042 as well as several other different Waukesha natural gas VHP engine models. If you are looking for reliable aftermarket Waukesha parts, call or mail us or quote Waukesha spare parts online!
Prevent Downtime with Scheduled Maintenance
In order for your VHP natural gas engine to function properly, you need to be sure to schedule and perform maintenance in a timely manner. Don't put off this crucial routine. Inspect your engine to be sure all the parts are in working order. If you find parts that look like they will soon need to be replaced, it is better to have them purchased and ready to go when needed. If you put off maintenance, eventually your engine will shut down which will waste your business's money.
Use Only Quality Replacement Waukesha Parts
Likewise, if you buy parts that are of poor quality, you will regret it later. Our company builds and sells replacement Waukesha parts for Waukesha VHP series engines such as the Waukesha 7042. Our parts are guaranteed to be OEM quality without the hefty OEM price tag. We have a strict quality control process for the production of our parts. This is one reason we are able to produce such highly durable, dependable, and long-lasting replacement or aftermarket Waukesha parts. We believe so strongly in the quality of our parts that we have an excellent warranty offer. If the part does not stand up to our quality promise, it will be replaced.
Wide Variety of Waukesha aftermarket Parts
We specialize in building replacement and aftermarket Waukesha parts that fit the Waukesha 7042 and several different Waukesha VHP engines. When you contact us or quote Waukesha parts online, our knowledgeable sales staff can help you find exactly which replacement part you are looking for. We pride ourselves in excellent customer service. We help you get the right part with the right fit the first time you come looking. When it comes to inventory of high quality, economically priced parts, our online Waukesha parts store cannot be beat! Give us a mail or quote Waukesha spare parts online. We will have the part you need.
Mail or contact us through our website if you have any questions.
Below is a small list of Waukesha parts. However, if you are interested in something - please use the site search.
| | |
| --- | --- |
| 296454 ROD,THRD,.75-10UNCX72 IN | 44831A PIN,DOWEL,.156X.75LG |
| 296455 HXHDSCR M20X90 | 44893A SPACER,.44X.75X.25LG |
| 296456 NUT,HEX M20 | 44893C SPACER,.44X.75X.12LG |
| 296457 SPACER,TURBO INLET | 44893D SPACER,.44X.75X3.25LG |
| 296459 STUD,GR8,M10X60 | 44999E RING,INT.RET.-187 |
| 296461 CLIP,WIRE VALVE SPRING RE... | 44999F RING,INT.RET.-162 |
| 296462 CONN,TURBO WATER TUBE | 44999H RING,INT.RET.-187 |
| 296465 ELBOW,TURBINE INLET LB | 44999J RING,INT.RET.-125 |
| 296466 END CAP,WATER HEADER | 44999K RING,INT.RET.-250 |
| 296467 HXHDSCR M12X65,HI-TEMP | 44999L RING,INT.RET.-244 |
| 296468 HXHDSCR,M8X60 GR 10.9 | 44999M RING,INT.RET.-225 |
| 296470 BRKT,EXH OUT LOWER | 44999N RING,INT.RET.-156 |
| 296471 BRKT,ANG SUPPORT | 44999R RING,INT.RET.-150 |
| 296478 PIN,DIAMOND DOWEL | 44999S RING,INT.RET.-118 |
| 296481 ADAPTER,STRAIGHT THRD-FEM... | 44999Y RING,INT.RET.-315 |
| 296488 STUD, METRIC, HIGH TEMP | 46000F GASKET CYL HEAD |
| 296489 STUD, METRIC, HIGH TEMP | 46030D SLEEVE, CYLINDER |
| 296491 O RING,1.05X1.28X0.116 NI... | 46064A ELBOW W P INLET |
| 296492 TOOL,ANTI-POLISH INSTALL | 47036C VALVE,INTAKE |
| 296493 CORD GRIP | 47130H SLEEVE, CYLINDER |
| 296494 CORD GRIP | 47206A NBL PIN, PISTON |
| 296498 FLANGE ASM., FUEL SUPPLY | 472086A HOLDER, SPARK PLUG SLEEV... |
| 296505 SOCHDSRW M5 X 10 | 472102A TOOL, COMBUSTION ANALYZE... |
| 296507 SHIM,STARTER MOUNT BRKT | 475073A HIGH TEMPERATURE INFRARE... |
| 296508 SPACER | 476002A CON ROD HYD JACK |
| 296513 COOLER, OIL | 476003A CYL HEAD MAIN BEARING HY... |
| 296515 ACTUATOR, HEINZMANN | 476017A OIL FILTER, TURBOCHARGER |
| 296529 INSULATION, MANIFOLD END,... | 47605E RING,PISTON OIL CONTROL |
| 296531 INSULATION, MANIFOLD END,... | 47605W RING,PISTON OIL CONTROL |
| 296518 BRACKET, RH SUPPORT | 48208M TUBE FLEXIBLE |
| 296533 INSULATION, MANIFOLD CENT... | 48406A SPACER,.406X.75X1.688LG |
| 296535 INSULATION, MANIFOLD CENT... | 476077A MAIN BRG CAP JACK, REPLA... |
| 296537 INSULATION, LEFT BANK, LO... | 48406B SPACER,.41X.75X1.1LG |
| 296538 INSULATION, LEFT BANK, LO... | 48406D SPACER,.41X.75X.34 LG |
| 296539 INSULATION, RIGHT BANK, L... | 48406H SPACER,.41X.75X.38LG |
| 296540 INSULATION, RIGHT BANK, L... | 48406J SPACER,.41X.75X.59LG |
| 296541 INSULATION, U-SHAPED TUBE... | 48406M SPACER,.41X.75X.28LG |
| 296542 INSULATION, U-SHAPED TUBE... | 48406P SPACER,.41X.75X1.3LG |
| 296546 INSULATION, RIGHT BANK TU... | 48406R SPACER,.41X.75X2.0LG |
| 296547 INSULATION, LEFT BANK TUR... | 48406X SPACER,.41X.75X2.9LG |
| 296548 INSUL,TURBO/DUCT/L RIGHT-... | 48578A GASKET |
| 296549 INSUL,TURBO/DUCT/L RIGHT-... | 48604A GASKET |
| 296550 INSUL,TURBO/DUCT/L RIGHT-... | 48607A GASKET |
| 296551 INSULATION, RIGHT BANK TU... | 48636A PIPE,.75X2.00,TBE,GALV |
| 296553 INSUL,TURBO/DUCT/L LEFT-3 | 48636C PIPE,.75X4.25,TBE,GALV. |
| 296554 INSUL,TURBO/DUCT/L LEFT-4 | 48636K PIPE,.75X4.00,TBE |
| 296552 INSUL,TURBO/DUCT/L LEFT-2 | 48766B DISC, DRIVING |
| 296555 INSULATION, TURBO INSERT | 48797B BUSH,RED,1.00-.75,GALV |
| 296556 INSULATION, TURBO INSERT | 48797E BUSH,RED,1.25-.75 |
| 296557 INSULATION, TURBO LEFT | 48797F BUSH,RED,.75-.12,GALV |
| 296566 CONNECTOR, OIL | 48797G BUSH,RED 1.50-1.25 |
| 296567 INTERFACE, THERMOSTAT | 48797H BUSH,RED,1.50-.75 |
| 296577 TUBE, OIL, PAN TO MANIFOL... | 48797L BUSH,RED,1.50 X 1 |
| 296578 TUBE, OIL, MANIFOLD TO PA... | 48797K BUSH,RED,1.25-.50 |
| 296582 GASKET, OIL THERMOSTAT DO... | 48797S BUSH,RED,1.50-.50 |
| 296583 CONNECTOR, CHECK VALVE, H... | 48797M BUSH,RED,2.0-1.0 |
| 296586 BRACKET, CENTER SUPPORT | 48797T BUSH,RED,1.00-.75 |
| 296587 BRACKET, RH SUPPORT | 48797Z BUSHING REDUCING |
| 296588 THERMOCOUPLE K-SERIES W/C... | 48934A CPSCREW 3/8-24X2-3/4 |
| 296589 GASKET, WATER INLET | 48914A GASKET |
| 296597 BRACKET, CRANKCASE BLOWER | 489612A DSM POWER SUPPLY CIRCUIT... |
| 296601 BRACKET, 1098 REGULATOR (... | 48943B EXHAUST INSERT |
| 296607 GASKET, CENTRIFUGE, FM600 | 489669A KIT, PILOT FLOWGRID |
| 296608 SUPPORT, CENTRIFUGE FILTE... | 48988A PIPE,2 X 11.50 TBE |
| 296612 SPACER, SPRING | 48988E PIPE,2 X 5.00 TBE |
| 296613 THERMOSTAT | 48988B PIPE,2 X 8.75 TOE |
| 296614 GASKET, THERMOSTAT HOUSIN... | 48988G PIPE, 2 X 8.00 TOE |
| 296615 SHIELD, OIL TUBE | 48988F PIPE, 2 X 7.25 TOE |
| 296617 GASKET, SQUARE | 48988H PIPE, 2 X 2.00 TBE |
| 296620 POINTER, TIMING | 48988J PIPE, 2 X 3.25 TOE |
| 296621 STRIP, TIMING FLYWHEEL | 48988L PIPE, 2 X 13.00 TOE |
| 296627 TURBOCHARGER, TPS52, RIGH... | 48988P PIPE, 2 X 7.00 TOE |
| 296630 FLEX, 5 IN.-150# FLANGED ... | 48988K PIPE, 2 X 4.50 TBE |
| 296632 SCREW, HEX HEAD, M12X1.75... | 48988R PIPE, 2 X 5.00 TOE |
| 296638 HXHDSCR M16X35 10.9 | 48988S PIPE,2.00X8.00,TBE,GALV |
| 296639 BRACKET, MAIN GAS LINE | 48988T PIPE,2.00X2.00,TBE,GALV |
| 296641 ELBOW, FLEX CONNECTION | 494474B GASKET, COUPLING |
| 296640 HOSE, FLEXIBLE, WASTEGATE... | 494474A GASKET, COUPLING |
| 296651 SUPPORT, TURBO EXHAUST, L... | 495671A KIT, CANISTER SERVICE |
| 296652 PLATE, RETAINING | 495703C KIT, GAS REGULATOR, S201 |
| 296653 INSULATION, TURBO, INSIDE | 495752A KIT, GAS REGULATOR CS800 |
| 296654 INSULATION, TURBO, OUTSID... | 495758D VHP EMPACT .15GNOX KIT |
| 296656 INSULATION, RIGHT CROSSOV... | 495780A BEARING, GEAR BOX |
| 296657 INSULATION, RIGHT CROSSOV... | 495780B SPACER WASHER FOR BENDIX... |
| 296659 INSULATION, CROSSOVER CAP... | 495780D BEARING RETAINER (SNAP R... |
| 296660 INSULATION, CROSSOVER CAP... | 495780E BENDIX DRIVE |
| 296663 INSULATION, EXHAUST OUTLE... | 495780C ROLLER BEARING, PINION H... |
| 296665 INSULATION, EXHAUST OUTLE... | 495780F EXPANSION PLUG |
| 296666 INSULATION, EXHAUST OUTLE... | 495780G CONTACTOR/SWITCH ONLY/NO... |
| 296664 INSULATION, EXHAUST OUTLE... | 50666A THERMOSTAT BY-PASS |
| 296668 INSULATION, WASTEGATE, IN... | 50794A GAUGE GAS ENG FUEL |
| 296667 INSULATION, WASTEGATE, OU... | 50861E GAUGE,OIL TEMPERATUR |
| 296670 INSULATION, WASTEGATE, IN... | 50861G GAUGE TEMPERATURE |
| 296669 INSULATION, WASTEGATE, OU... | 50864B HOSE,FLEXIBLE 36 LG. |
| 296677 STUD, HI-TEMP, M10X25LG | 50864C HOSE,FLEXIBLE 18 LG. |
| 296676 SCREW, HEX HD, M20 X 220L... | 50864D HOSE,FLEXIBLE 24 LG. |
| 296678 NUT, HI-TEMP, M10X1.5 | 50864E HOSE,FLEXIBLE 30 LG. |
| 296686 U BOLT,M8X57X84 | 50864J HOSE,FLEXIBLE 48 LG. |
| 296687 GASKET, BREATHER | 50900B PLUG SPARK |
| 296688 TUBE, AIR STARTER TO 3-WA... | 5108FR P9390G,GSI/FRENCH SERVICE... |
| 296690 COVER, NCM | 57030D CARBURETOR GAS |
| 296691 BRACKET, PRELUBE MOTOR | 5743C VHP SERIES GAS / PARTS CAT... |
| 296694 BELLOWS, AIR INLET | 59017D CARBURETOR, IMPCO RH |
| 296692 BRACKET, PRELUBE MOTOR | 59018A CARBURETOR-LH |
| 296702 INSULATION, LB ACTUATOR | 59018T CARBURETOR-L.H. |
| 296701 INSULATION, LB ACTUATOR | 59018V CARBURETOR |
| 296703 BELLOW, LB COMPRESSOR | 59019A CARBURETOR. L.H. |
| 296704 BELLOW, RB COMPRESSOR | 59019L CARB.IMPCO 600D RB |
| 296711 TUBE, OIL RELIEF VALVE | 59019M CARB.IMPCO 600D LB |
| 296712 ELBOW, MALE 1-1/2G X 1-1/... | 59019S CARBURETOR LB |
| 296714 TUBE, TURBO WATER SUPPLY,... | 59019T CARBURETOR RB |
| 296737 STUD, HI-TEMP, M10X30 LG | 59019W CARBURETOR 600D L.B. |
| 296740 SHAFT, WASTEGATE PIVOT | 59019X CARBURETOR 600D R.B. |
| 296743 BRACKET, OXYGEN SENSOR TU... | 59020D CARBURETOR |
| 296751 TUBE, NOX | 59021B CARB. IMPCO #600VFI |
| 296752 NUT, HEX, M14 CLASS 10 | 59021F CARB. IMPCO #600 VFI |
| 296753 BRACKET, MAIN GAS SUPPORT | 59021L CARB,IMPCO 600 VFI L36/P4... |
| 296754 BRACKET, MAIN GAS VALVE | 59021M CARB.,IMPCO 600VFI |
| 296766 ADAPTER, M33X2.0 X 1\ | 59021T CARBURETOR- R.H. |
| 296762 ADAPTER, 1\ | 59021U CARBURETOR- L.H. |
| 296786 BRACKET, CLAMP (M12) | 59021V CARBURETOR - R.B. |
| 296767 ADAPTER, M33X2.0 X 1\ | 59021W CARBURETOR - L.B. |
| 296787 CLAMP, TUBE (3/8\ | 59021X CARBURETOR-RH. |
| 300009 GUIDE,VALVE | 59021Y CARBURETOR-LH |
| 300024 COVER,CONN.ROD INSP. | 59021Z CARBURETOR,IMPCO 600 VFI |
| 300017 COOLER,OIL | 59022A CARB., 6OOD VFI |
| 300027 BUSHING,CAMSHAFT-FR. | 59022B CARB., 600D VFI |
| 300050 BEARING,CAMSHAFT | 59022G CARBURETOR, R.H. |
| 300063 IMPELLER,WATER PUMP | 59022H CARBURETOR, L.H. |
| 300061 COVER,WATER PUMP | 59022M CARBURETOR, IMPCO 600D |
| 300069 SHAFT,ROCKER ARM | 59022N CARBURETOR,IMPCO 600D RB |
| 300068 SUPPORT,ROCKER ARM | 59022P CARBURETOR,IMPCO 600D LB |
| 300081 GEAR,OIL PUMP-DRIVER | 59022T CARBURETOR |
| 300108 NBL BUSHING,PISTON PIN | 59022U CARBURETOR |
| 300154 DIP HOUSING,GEAR | 59022X CARBURETOR |
| 300245 COVER,CAMSHAFT | 59022Y CARBURETOR |
| 300323 NBL CAMSHAFT | 59022Z CARBURETOR |
| 300605 NBL RING,PISTON 2ND (YELL... | 59023J AIR VALVE ASM |
| 300705 NBL RING,PISTON OIL CNTR. | 59023K AIR VALVE ASSEMBLY |
| 301016 SHAFT,IDLER | 59023L AIR VALVE ASSY, VFIII |
| 301051 GEAR,OIL PUMP DRIVE | 59023M AIR VALVE ASSY, VFIII |
| 301053 BEARING,CAMSHAFT-RR | 59023N AIR VALVE ASSY, VFIII |
| 301081 GEAR,OIL PUMP-DRIVER | 59023P AIR VALVE ASSY, VFIII |
| 301085 GEAR,OIL PUMP-DRIVEN | 59023R AIR VALVE ASSY, VFIII |
| 301095 PULLEY,CRANKSHAFT | 59023S AIR VALVE ASSY, VFIII |
| 301116 HUB,INTERMED. GEAR | 59023U VALVE,AIR,ASM |
| 301623 NBL CAMSHAFT | 59023W AIR VALVE ASSEMBLY |
| 302012 GEAR,REAR C'SHAFT | 59024C CARB,IMPCO 600D VFI HORIZ |
| 302015 GEAR,INTERMEDIATE | 59025A CARBURETOR,LFP NAT GAS |
| 302024 COVER,CON-ROD. INSP. | 59025C CARB, IMPCO #600 VFI |
| 302027 BEARING,FRT CAMSHAFT | 59028A CARB,IMPCO 400VF |
| 302029 SPACER,GEARING | 59028C CARB ASSY-400 VF, W/SPACE... |
| 302047 NBL CAP MAIN BRG REAR | 59028D CARB,IMPCO 400VF |
| 302049 NBL CAP,MAIN BRG CNTR. | 59032D CARB,140 DIA DUAL FL |
| 302054 HSG,GEAR REAR | 59032G CARB,200 DIA. DIGESTER GA... |
| 302178 HOUSING,THERMOSTAT METRIC | 59032H CARB,LANDFILL GAS(ALL SPE... |
| 302116 SHAFT,J.W. IDLER | 59032M CARB,200 DIA-NAT GAS |
| 302215 GEAR,CAM DRIVE IDLER | 59032N CARB,140 DIA.-NG |
| 302223 NBL CAMSHAFT(LB) | 59032P CARB,140 DIA DIG GAS |
| 302316 SHAFT,IDLER GOV DR | 59032T CARB,140 DIA N.G. |
| 302323 NBL CAMSHAFT RB | 59032U CARB,200 DIA. NAT. GAS |
| 302372 HSG,BUTTERFLY VALVE RB | 60407D NOZZLE INJ |
| 303223 NBL CAMSHAFT LB | 60615F COIL,INTEGRAL SHIELDED IG... |
| 303323 NBL CAMSHAFT RB | 60662E METER HOUR |
| 304004 SEAT CROSS BAR | 60738U MAGNETIC VALVE |
| 304005 SCREW ADJUSTING | 60839C SWITCH,MAGNETIC OUTLINE |
| 304008 BEARING,CAMSFT THRST | 60869A SWITCH, PUSH BUTTON |
| 304009 RING,ADJUSTMENT | 60883B MOTOR,STARTING |
| 304011 CUP,LOWER FIXED | 60883C MOTOR,STARTING |
| 304013 NBL LOCK,VALVE SPLIT | 60906D GAUGE OIL TEMP |
| 304014 NBL RETAINER,VALVE SPRING | 60907F GAUGE, TEMPERATURE |
| 304015 SEAL, VALVE STEM | 60907G GAUGE,WATER TEMP. |
| 304016 GUIDE, VALVE CROSSHEAD | 60999E PLUG,SPRK,18MM,SH 15 |
| 304019 RETAINER, GEAR HUB | 60999F PLUG,SPRK,18MM .020 GAP |
| 304021 WASHER CYL HEAD | 60999G PLUG,SPRK,18MM SP 20 |
| 304023 RETAINER,O.P.IDL.BRG | 60999H PLUG,SPRK,18MM,SP 20 |
| 304026 NBL BOLT,MAIN BRG.CAP | 60999J PLUG,SPRK,18MM,SH 25 |
| 304027 WASHER,MAIN BRG. CAP | 60999M PLUG,SPRK |
| 304028 PIN, HXHDSCR, M10X30.5LG. | 60999N PLUG,SPRK,18MM,SP 10 |
| 304029 ADAPTER, STUD, M14-M10 | 60999S PLUG,SPARK18MMX.81LG THD ... |
| 304037 SPACER,CAM FOLLOWER | 60999U PLUG,SPARK18MMX.81LG THD ... |
| 304038 SPRING,AUX. ROCKER | 60999W PLUG,SPARK18MMX.81LG THD ... |
| 304039 WASHER,SPRING | 60999Y PLUG,SPARK18MMX.81LG THD ... |
| 304043 WASHER,ROCKER ARM | 60999Z PLUG,SPARK |
| 304044 PIN,ROCKER SUPPORT | 63043B SEAL OIL DIST HOUSIN |
| 304045 NUT,SOCKET BALL | 63075P PIPE,3 X 2.62 TBE |
| 304051 NBL BOLT,COUNTERWEIGHT | 63087D SEAL OIL |
| 304057 NUT,M10X1,8MM THK. | 63087E SEAL OIL |
| 304062 PIN, DOWEL 6X14LG | 63087F SEAL OIL |
| 304063 PIN,DOWEL 8X12 INT THRD M... | 63087J SEAL OIL |
| 304064 PIN DOWEL 12X20 INT THRD ... | 63153B STUD,GR5,.438X6.38LG |
| 304067 PIN,SPLIT | 63378E FLANGE |
| 304070 PLUG, CUP 32MM DIA. | 63420C STUD. MAIN BRG. CAP |
| 304071 PLUG, CUP 12MM DIA. | 63423B HOSE,1.25X1.62X3 LG |
| 304072 PIN,DOWEL 16X24 INT THRD ... | 63424M PIPE,1 X 4.25 TBE |
| 304075 PIN, DOWEL 6X10LG | 63424N PIPE,1 X 3.75 TBE |
| 304077 PIN,SPIRAL 10 DIAX26 LG | 63555B END, ROD |
| 304079 BEARING,WATER PUMP | 63602A PIPE,1.25 X 2.00 TBE |
| 304080 BEARING IDLER GEAR | 63602L PIPE,1.25X1.62,TBE,GALV |
| 304081 PLUG, CUP 36MM DIA. | 63617A BEARING THRUST |
| 304082 PIN, SPIRAL 6 DIA 20 LG | 63602F PIPE,1.25 X 10.00 TOE |
| 304084 STUD, M8 X 20 | 63722A CROSS,.25 PIPE |
| 304085 NUT,HEX DOMED M8 | 63722C CROSS,PIPE,.375 |
| 304089 BEARING,WATER PUMP | 63722K CROSS,PIPE,1.50 |
| 304090 KEY,WOODRUFF | 63722H CROSS,PIPE 1.00 |
| 304091 HXHDSCR,M16X80 GR10.9 | 63722L CROSS,PIPE,.50 |
| 304099 RING,ADUSTMENT | 63722M CROSS,2.00 PIPE |
| 304109 SPRING,PRESS VALVE | 63722N CROSS, 1.25 NPT 300LB WOG |
| 304111 PIN,LOCATING | 63727B GAUGE PRESSURE |
| 304118 PLUG, OIL GALLEY | 63809A SPACER,.41X.75X1.2LG |
| 304119 PLUG,M32X1.5 | 63809B SPACER,.406X.75X1.75LG |
| 304123 PLUG,M18 | 63809D SPACER,.41X.75X1 LG |
| 304124 PLATE,OIL COOL.STACK | 63809E SPACER,.34X.75X.5 LG |
| 304126 FILTER,OIL | 63809F SPACER,.34X.75X.75LG |
| 304131 CONN.,OIL FILTER | 63809G SPACER,.27X.75X.31LG |
| 304133 PISTON,COOLING VALVE | 63809H SPACER,.41X.75X.75LG |
| 304136 PISTON,PRESS VALVE | 63809M SPACER,.34X.75X.91LG |
| 304137 BODY,PRESS.REG.VALVE | 63809P SPACER,.53X.75X.25LG |
| 304146 RESERVOIR,OIL | 63809R SPACER,.34X.75X.56LG |
| 304149 STRAP, HEAT SHIELD | 63809T SPACER,.41X.75X2.7LG |
| 304179 NUT,TUBE | 63809U SPACER,.41X.75X1.25LG |
| 304193 BODY,VALVE | 63809V SPACER,.41X.75X1.4LG |
| 304194 SPRING,VALVE | 63809X SPACER,.41X.75X.12LG |
| 304195 SPRING,PRESS REG V | 63809Y SPACER,.41X.75X.56LG |
| 304196 O RING 8X2 VITON | 63809Z SPACER,.5X.75X2.62LG |
| 304207 GASKET,INTERCOOLER | 63857A GEAR DISTRIBUTOR |
| 304210 GASKET,INTERCOOLER | 63970D BUSHING,O.P.DR.SHAFT |
| 304213 GSKT.,INTRC.AIR CONN | 65098B PIPE,.38 X 2.50 TBE |
| 304233 BUSHING,REDUCING | 65098D PIPE,.38 X 2.00 TBE |
| 304253 WASHER,EXH.OUT.ELBOW | 65098E PIPE,.38 X 2.00 TOE |
| 304254 NUT,EXH.OUT.ELBOW | 65098G PIPE,.38 X 6.50 TBE |
| 304256 GASKET,EXH. OUTLET | 65098H PIPE,.38X1.00,TBE,TIN |
| 304271 CONN,INTER AIR IN | 65098Y PIPE,.38 X 1.50 TBE |
| 304276 GASKET,EXH.MANIFOLD | 65110C PIPE,.12X2.50,TBE,TIN |
| 304306 SPACER,WP GEAR | 65098V PIPE,.38 X 1.75 TBE |
| 304307 SPACER,WATER PUMP | 65110E PIPE,.12 X 3.00 TBE |
| 304308 SPACER,W.PUMP SHAFT | 65110G PIPE,.12X2.00,TBE,TIN |
| 304310 HOUSING,THERMOSTAT | 65110J PIPE,.12 X 3.50 TBE |
| 304309 GASKET,THERMO BOX | 65110P PIPE,.12X2.00,TBE,GALV |
| 304314 GASKET | 65110R PIPE,.125 X 1.75 TBE |
| 304316 GASKET,WATER MFLD. | 65110X PIPE,.125 X .75 TBE |
| 304318 GASKET | 65110Y PIPE,.125 X 1.00 TBE |
| 304317 GASKET | 65110Z PIPE,.125 X 1.25 TBE |
| 304323 COCK,DRAIN | 65180B ROD |
| 304325 WASHER,THERMO END | 65407A GUARD RADIATOR |
| 304328 BUSHING,OP SHAFT | 65422B COUPLING MAGNETO |
| 304339 CONN,WAT PMP INLET | 65423X PIPE,.75X7.50,TBE,GALV |
| 304391 BUSHING,OIL | 65423Z PIPE,.75X1.50,TBE,GALV |
| 304397 SEAL | 65500A NUTACORN,.50-13X.81 |
| 304341 GASKET,WP INLET | 65517N ROD THROTTLE CONTROL |
| 304423 KEY,WOODRUFF | 65698A PIN,DOWEL .375X.44LG |
| 304436 WASHER,W.PUMP SHAFT | 65877D SPACER,.27X.5X.62 LG |
| 304437 NUT,WATER PUMP SHAFT | 69407E MOTOR, STARTING |
| 304595 GASKET,COPPER WASHER | 69462B PLUG,SPARK14MMX.75LG THD ... |
| 304597 WASH,SERRATED TENS | 69498F DISTRIBUTOR |
| 304638 KEY,WOODRUFF | 69504A SWITCH,MAG. IGNITION |
| 304639 PIN,DOWEL 8X24 INT THRD M... | 69512A SPARK PLUG ASM. |
| 304641 GASKET | 69553E MOTOR, STARTING |
| 304678 TUBE,WATER MFLD-FRNT | 69553F MOTOR, STARTING |
| 304704 COVER,WATER PUMP | 69560C NOZZLE |
| 304717 GASKET,SEALING RING | 69677B ALTERNATOR |
| 304721 O RING,.38X.62X.12,VITON | 69677C ALTERNATOR |
| 304731 WASHER,COPPER,38.9X33.3X2 | 69692B HARNESS WIRE |
| 304734 GASKET-COPPER WASHER | 69692K HARNESS ASM., WIRE |
| 304736 PLUG,THREADED | 69692M HARNESS,PRIMARY |
| 304737 GASKET,COPPER WASHER | 69692S HARNESS ASM., PRIMARY |
| 304738 WASHER,COPPER 43.9X38.3X2 | 69692U HARNESS ASM., PRIMARY |
| 304739 WASHER,COPP,8.4X15.8X1.5 | 69692V HARNESS,PRIMARY CEC |
| 304740 WASHER,COPPER 32.9X28.3X2 | 69692W HARNESS,PRIMARY,ASM. |
| 304742 GASKET,COPPER WASHER | 69692X HARNESS, PRIMARY, ASM. |
| 304745 O RING 20X3 VITON | 69693A ALTRONIC 3 UNIT |
| 304749 O RING,16.9X2.7 NITRILE | 69694A COIL SHIELDED |
| 304752 O RING,90X4 VITON | 69694D COIL,IGNITION,SHIELDED |
| 304753 O-RING,118X4 NITRILE | 69694F COIL, IGNITION |
| 304754 O RING,100X4 NITRILE | 69711D MAGNETO, ALTRONIC III |
| 304755 O RING,65X4 NITRILE | 69711E MAGNETO,ALTRONIC III |
| 304759 O RING,48X3 VITON | 69711F MAGNETO,ALTRONIC 3 |
| 304760 O RING,41X3 VITON | 69711G MAG.,ALTRONIC III |
| 304762 O RING,96X4 NITRILE | 69711K MAGNETO, ALTRONIC 3 |
| 304765 BRACKET,OIL RESERV. | 69711L ALTR. III MAG(STD./CSA) |
| 304766 GASKET,COPPER WASHER | 69711M ALTR. III MAG(STD./CSA) |
| 304769 GASKET,COPPER WASHER | 69711N ALTR. III MAG(VAR. TIMG) |
| 304773 GASKET,CPR 10X19X2 | 69714E MAGNETO ALTRONIC III |
| 304792 GASKET | 69714G MAGNETO-ALTRONIC |
| 304819 WASHER,CROSSBOLT | 69714H MAGNETO-ALTRONIC |
| 304818 NBL BOLT,CROSS-BRG CAP | 69714M MAG.-NON VAR.TIM. |
| 304820 WASHER, O-RING | 69714P MAGNETO |
| 304821 O RING,15.88X2.62,VITON | 69743A SWITCH IGNITION |
| 304822 WASHER,COPPER,41.9X36.3X2 | 69743D SWITCH, IGNITION |
| 304830 SHAFT,AUX.ROCKER ARM | 69745C SWITCH,OVERSPEED |
| 304831 BUSHING,INTERM. GEAR | 69753B ALTERNATOR |
| 304832 RETAINER,GEAR HUB | 69757S VALVE,SOLENOID |
| 304833 SPACER,OILPUMP IDLER | 69757T VALVE,SOLENOID |
| 304836 O RING 110X3.5 NITRILE | 69757U VALVE,SOLENOID |
| 304860 PLUG,HXHD M24X1.5 | 69757V VALVE,SOLENOID |
| 304874 COVER,GOV.ACCESS-LH | 69772A ADAPTOR, SPARK PLUG |
| 304878 GASKET | 69772F ADAPTOR,SPARK PLUG |
| 304882 PIN,DOWEL 10X24 INT THRD ... | 69772G EXTENSION,SPARK PLUG 1 IN |
| 304888 NBL SOCHDSCR M12X100,GR12... | 69772H ADAPTER,SPARK PLUG-COIL |
| 304894 STARTER,AIR/GAS | 69778C VALVE, GAS SOL.24VDC |
| 304897 PLUG,M24X1.5 TAPER DIN 90... | 69783B DISCONNECT,TERMINAL WIRE ... |
| 305022 ADAPTER,MAGNETO MTG. | 69795A HARNESS,PRIMARY |
| 304898 COVER,OIL COOLER | 69785A SWITCH, DIGITAL SPEED |
| 305041 PIN,ROLL 8X16 | 69811A TRACK, MOUNTING |
| 305038 TUBE,OIL SUP.PSG GOV | 69811B TRACK, MOUNTING |
| 305042 SCREW,SOCKHD M8X25 | 69811D RAIL,TERMINAL |
| 305045 PULLEY,ALTERNATOR | 69811E TRACK, MOUNTING |
| 305050 SPACER, BEARING | 69811F TRACK, MOUNTING |
| 305049 IMPELLER,AUX WP | 69811J TRACK, MOUNTING |
| 305054 FERRYHDSCR,M12X35 | 69811K TRACK,MOUNTING,120 MM LG |
| 305051 PULLEY, CRANKSHAFT | 69811L TRACK, MOUNTING |
| 305056 BRACKET,DOUBLE LUG | 69831A SWITCH, PUSH-PULL |
| 305059 GASKET, W P IDLER | 69837A ENG OIL/WATER/INTAKE TEMP... |
| 305064 BODY,MALE ELBOW | 69838A EXH PYRO W/TURBO INLET SH... |
| 305065 FITTING, ADJUSTABLE | 69850B FUSE,CERAMIC 10A-250V |
| 305068 BEARING,TAPERED ROLL | 69853B LABELS,PRINTED 1-50(5MM W... |
| 305070 HOUSING,VOLUTE | 69853C LABELS,PRINTED 51-100(5MM... |
| 305082 BEARING,GOV. DRIVE | 69919C DIP SPARK PLUG,BERU |
| 305083 SHAFT,GOV. DRIVE | 69919E SPARK PLUG |
| 305086 BUSHING,INTERM GEAR | 69919G SPARK PLUG, WAUKESHA |
| 305090 ELBOW,CARB AIRINLET | 69952A HARNESS,PRIMARY |
| 305102 SHAFT,REG.-FRONT | 69957A COIL,IGNITION W/LEAD |
| 305104 O RING 42.2X3 VITON | 701192A STUD END BONNET |
| 305105 PLUG, CUP 40MM DIA. | 701264A SPRING AIR SHUT-OFF |
| 305109 BRACE,REGULATOR | 701281B HOSE FLEX |
| 305112 SHAFT,REG.-REAR | 701612B PLUG, STR THD O RING |
| 305114 SHAFT,REG.-REAR | 7272Z LEVER CONTROL |
| 305116 LEVER,GOVERNOR | 73016A NUT INVERTED |
| 305120 STRAP,TUBE SUPPORT | 73016B NUT INVERTED |
| 305122 BRACE, AIR DUCT | 73017A CONNECTOR INVERTED |
| 305132 HOUSING,W.P. IDLER | 73017G CONNECTOR INVERTED |
| 305135 COVER,WATER PUMP IDL | 73017B CONNECTOR INVERTED |
| 305138 STUD,AIR CLEANER MB | 73018A ELBOW INVERTED |
| 305145 HXHDSCR M10X45GR10.9 | 73018B ELBOW INVERTED |
| 305147 NUT, WELD M8 | 73018D ELBOW INVERTED |
| 305156 ADAPTER,PIPE | 73059A VALVE COMP SHUT-OFF |
| 305157 ELBOW,BANJO | 73136C BODY THROTTLE |
| 305169 END,ROD M6 RH | 73164A GASKET |
| 305177 SPACER | 73386A GASKET OIL LINE PRES |
| 305178 YOKE,AIR ACTUATOR | 73386B GASKET |
| 305180 NUT,HEX LH M6 | 73400A HOSE,.88X1.25X2.0 LG |
| 305185 SHIM 0,05 | 73411E VALVE BUTFLY |
| 305187 PIN,SPRING 10X14 LG. | 73413A COCK,DRAIN,.375 |
| 305190 SHAFT,MAG.DRIVE | 73448A WASHER,.27X.50X.06 |
| 305192 NUT,BEARING LOCK | 73596C BEARING NEEDLE |
| 305194 NBL SCRW,SCKT HD.M18X120 | 73596D BEARING NEEDLE |
| 305195 HXHDSCR M16X65CL10.9 | 73596J BEARING NEEDLE |
| 305196 HXHDSCR M12X75 | 73596Y BEARING,NEEDLE |
| 305197 WASHER,COP,28.9X24.3X2 | 73597E VALVE SEAT INSERT |
| 305198 PACKING,SEAL | 73596P BEARING NEEDLE |
| 305213 HXHDSCR M12X160 | 73598A BOLTRD,.50-20X3.94 |
| 305214 PLATE,WARNING-IGN. | 73639A SHAFT TACHO DRIVE |
| 305215 PIN,DOWEL 012X18LG | 73639C SHAFT TACHO DRIVE |
| 305220 RETAINER,PIPE | 73639D SHAFT TACHO DRIVE |
| 305229 GASKET,C'CASE.JW.HDR | 73640H HOUSING TACH DRIVE |
| 305231 BRACKET,JW HEATER | 73640E HOUSING TACHO DRIVE |
| 305237 GEAR,RING | 73654C PIPE,.50 X 5.00 TBE |
| 305238 GASKET,THERM HSG. | 73654A PIPE,.50 X 10.00 TBE |
| 305240 GASKET | 73654G PIPE,.50 X 2.75 TBE |
| 305241 O RING 75X3 NITRILE | 73654M PIPE,.50 X 3.50 TBE |
| 305246 BUSHING | 73654S PIPE,.50 X 8.00 TBE |
| 305243 SHIM 0,05 | 73654P PIPE,.50X1.50,TBE,GALV |
| 305248 GASKET,PUMP END | 73654V PIPE,.50 X 4.50 TBE |
| 305247 SHAFT,AUX WATER PUMP | 73654Z PIPE,.50 X 2.50 TBE |
| 305250 SEAL,WATER | 73658C SCADJ,.438-20X1.81 |
| 305249 SPRING | 73667D SHAFT ROCKER ARM |
| 305251 NUT M34X1.5 | 73807A STUD |
| 305252 COUPLING, .75 NPT | 73810F GASKET R A COVER |
| 305255 SOCHDSCR M10X100LG | 73811D GASKET |
| 305257 COVER,C'CASE J.W.HDR | 73812J ROD PUSH |
| 305266 BELL,SUCTION | 73818A GASKET OIL PAN COVER |
| 305268 SPACER | 73815B GASKET OIL PAN |
| 305269 HSG,AUX.WATER P.BRG. | 73825A GASKET |
| 305270 SPACER, BEARING | 73825B GASKET |
| 305282 SPACER BEARING | 73827A GASKET |
| 305280 WASHER,IMPELLER | 73827B GASKET |
| 305284 COVER,CCASE OIL | 73838A GASKET GEAR COVER |
| 305291 CONN,WATER INLET | 73839B GASKET,FUEL PUMP DR |
| 305292 SEAL,OIL | 73841A HOSE,2.5X3.0X4.0 LG |
| 305293 ELBOW,WATER BYPASS | 740009A COUPLING, .38/.50 DIA. S... |
| 305295 BRNG,CAMSHAFT THRUST | 740009D COUPLING, .50 DIA & .50 ... |
| 305296 SHIM,0,1 THICK | 740011A BOOT SEAL, SPARK PLUG EX... |
| 305299 GASKET,CCASE OIL COV | 740012D HEATER, CARTRIDGE |
| 305301 GASKET,EXH BYPASS | 740012E HEATER, CARTRIDGE |
| 305303 ELBOW,COMP DISCHRG | 740015A MANUAL, CEC AFM |
| 305305 ELBOW,EXH MFLD LB | 740015B FORM 6286,CEC AFM MANUAL |
| 305306 ELBOW,EXH MFLD RB | 740018A TAG, IDENTIFICATION |
| 305308 COVER,RELIEF VALVE | 740018B LABEL, HARNESS |
| 305309 SLEEVE,VALVE | 740018E LABEL (CSA), HARNESS |
| 305315 STUD M8 X 90 | 740018H LABEL, CSA ACT., GAS REG... |
| 305319 TEE,TURBO EXH.OUTLET | 740018J LABEL,(CSA) HARNESS (NO ... |
| 305312 ELBOW INTERC WATER | 740019C LABEL, KNOCK SENSOR |
| 305320 ELBOW,EXHAUST OUTLET | 740019D LABEL, KNOCK SENSOR |
| 305322 GASKET,CAMSHAFT LOV. | 740038A SEAL, OIL |
| 305325 CONNECTION,AIR | 740039B CORD GRIP (.38-.50) |
| 305328 COVER,WATER OUTLET | 740039C CORD GRIP |
| 305329 STUD M12 X 45 | 740040A COVER, PROXIMITY SWITCH |
| 305330 STUD M12 X 75 | 740040B COVER, PROXIMITY SWITCH |
| 305333 SPRING,OIL PRES.RELF | 740043G LABEL, TRANSDUCER, PRESS... |
| 305334 ELBOW,WATER INLET | 740043H LABEL, TRANSDUCER, PRESS... |
| 305336 COVER,TOP | 740043J LABEL, TEMPERATURE SENSO... |
| 305339 O RING,S0 CUT SECT | 740043K LABEL, PICKUP, MAGNETIC |
| 305340 NUT,HEX W/FLANGE M12 | 740043L LABEL,HARNESS TEMP SENSO... |
| 305341 SEAL,RING 6.25ID X .19WAL... | 740043V LABEL, TRANSDUCER, PRESS... |
| 305342 HELICOIL,M16X2X24LG. | 740104B SENSOR,OXYGEN,STOICHIOME... |
| 305346 GASKET TURBO ADAPTER | 740110C SENSOR,KNOCK |
| 305353 BRKT,AUX WAT.SUPP | 740110B SENSOR, KNOCK CONTROL |
| 305358 HXHDSCR M10X180 10.9 | 740111B TRANSDUCER, PRESSURE |
| 305359 HXHDSCR,M16X45 10.9 | 740111C TRANSDUCER, PRESSURE |
| 305360 HXHDSCR M20X45 10.9 | 740112G THERMOCOUPLE,REPAIR END,... |
| 305361 NUT,MAIN BRG CAP | 740112C THERMOCOUPLE,REPAIR END,... |
| 305362 NBL CROSSBOLT | 740112H THERMOCOUPLE,REPAIR END,... |
| 305367 BLOCK,ALT ADJUSTER | 740120A THERMISTOR,INTAKE MNFLD |
| 305372 NBL STUD,MAIN BRG CAP | 740121A DETECTOR,RESISTANCE TEMP... |
| 305373 GUARD,START BUTTON | 740122C ADAPTER, RTD SENSOR |
| 305377 WASHER,MAIN BRG CAP | 740206A HARNESS,ALTERNATOR-REG. |
| 305379 RETAINER,PACKING | 740207A HARNESS,ACT J-BOX TO ENG |
| 305380 TUBE OIL | 740207C HARNESS,ACTUATOR-J'BOX |
| 305382 BRACKET,SOLENOID SUP | 740207B HARNESS,ACT AFM TO J-BOX |
| 305383 CLIP | 740221A HARNESS,DSM IGN MODULE |
| 305387 SHAFT,STUB-FRONT | 740221C HARNESS,DSM TO IGN,SHIEL... |
| 305385 GASKET,THERMO BYPASS | 740221E SHLD HARNESS,DSM-IGN MOD |
| 305389 O RING,2.25X2.38X.06HT,EP... | 740221D HARNESS,DSM TO IGN,SHIEL... |
| 305393 COVER,RB CAMSHAFT | 740222B TERMINAL |
| 305392 COVER,LB CAMSHAFT | 740222C HOUSING W/BUSHING,CONNEC... |
| 305399 COVER,FRT.FACE | 740222J HARNESS,KDM BOX/SENSORS |
| 305398 GASKET,FRT.FACE COV | 740222K HARNESS,KDM BOX/SENSORS |
| 305400 GASKET,TOP COVER | 740225C HARNESS, FILTER/DSM |
| 305403 BRACE,AIR CLEANER | 740225B HARNESS,FILTER-DSM 14PIN |
| 305407 STRAP | 740225D PIGTAIL, DSM SENSOR |
| 305411 ADAPTER,CARB OUT | 740225E HARNESS,FILTER-DSM SENSO... |
| 305415 COVER,WATER PUMP | 740225H HARNESS,FILTER TO DSM |
| 305416 SPACER,GEAR | 740230A HARNESS, FILTER POWER |
| 305417 WASHER, WATER PUMP | 740230B HARNESS, FILTER POWER |
| 305418 SPACER,SHAFT END | 740231A HARNESS,DSM J BOX-FILTER |
| 305419 RETAINER TURBO INLET | 740243A HARNESS,PRESS TRANSDUCER |
| 305420 FLANGE,GAS IN,2.00 NPT | 740244A HARNESS, AFM TO J-BOX |
| 305423 ELBOW I.C AIR OUT | 740244C HARNESS, AFM TO J-BOX |
| 305426 PIN,DOWEL 12X70 INT THRD ... | 740247C HARNESS, SENSOR TO J-BOX |
| 305427 PIN,DOWEL 16X100 INT THRD... | 740247E HARNESS,SENSOR TO FILTER |
| 305428 BUSHING,SEAL ADAPTER | 740247F HARNESS,SENSOR TO FILTER |
| 305436 ROD, THREADED M6 | 740247V HARNESS, DSM SENSOR TO J... |
| 305440 BRACKET,THROTTLE LEVER | 740248A HARNESS, IGNITION |
| 305442 BRACKET,PIPE SUPPORT | 740254A HARNESS,IGNITION |
| 305443 BRCKT,INTRCLR TUBE | 740257A HARNESS,CUSTOMER INTERFA... |
| 305445 GASKET | 74025A SPRING |
| 305446 VALVE,THERMOSTATIC | 740262B HARNESS,ESM,2 STEPPER MO... |
| 305450 FLANGE | 740269A MODEM CABLE |
| 305456 COVER,THERMOSTAT HSG | 740270A HARNESS,ALTERNATOR,ASM. |
| 305461 O RING,5.25X5.50X.12,VITO... | 740267M HARNESS,CUST, INTERFACE ... |
| 305470 PLENUM I C AIR OUT | 740270B HARNESS, ALTERNATOR FEED... |
| 305467 INTERCOOLER | 740271A HARNESS,ECU-JUNCTION BOX |
| 305472 PLENUM I C AIR IN | 740277A CABLE, GRD POWER DISTR B... |
| 305474 FITTING,SNUBBER | 740278A CABLE, POWER DISTR BOX |
| 305476 GASKET,I.C. COVER | 740278B CABLE,GND, JBOX TO START... |
| 305477 HOSE,6,35IDX200LG | 740278C CABLE,GND,JBOX TO BLOCK |
| 305480 STUD, M10 X 40LG. | 740278D CABLE,GND,RB STUD TO STU... |
| 305478 TUBE,TURBO OIL DR | 740278E CABLE,GND,LB STUD TO STU... |
| 305484 SET, HEX SOCKET SET, M5X6 | 740278F CABLE,GND, LB TO RB |
| 305481 PLATE, COVER | 740278J CABLE, 4 GAUGE 15.0 IN L... |
| 305485 ROLL PIN M4X16 | 74027A TUBE OIL |
| 305486 TUBE, BEARING LUBE | 740295A HARNESS,CAN,STEP MOTOR 1... |
| 305488 TUBE,VALVE TO PRESS GAGE | 740300A SWITCH ASSY, PROXIMITY |
| 305491 SPACER,CRANKSHAFT PULLEY | 740307D HARNESS,ESM STEPPER MOTO... |
| 305493 SHIM | 740307E HARNESS,ESM STEPPER MOTO... |
| 305494 SUPPORT, EXHAUST OUTLET | 740307F HARNESS, ESM, STEPPER MO... |
| 305495 SUPPORT,EXH OUTLET LH | 740404A BOARD,IN/OUT LOGIC PAIR |
| 305496 STUD,FULL THREAD M10X60 | 740404B BOARD,IN/OUT LOGIC PAIR |
| 305499 ADAPTER,CARB OUT | 740407C EPROM, CORE AFM |
| 305505 PLATE,NAME | 740408A EPROM,DISPLAY AFM |
| 305509 MAGNET,TIMING SENSOR | 740408C EPROM, DISPLAY AFM |
| 305515 SCRSOCHD M16X1.5X 40 | 740409A BOARD, DISPLAY |
| 305517 RESERVOIR - GOV. OIL | 740413B EPROM, DSM |
| 305527 SHIM GSKT.GOV.DR.SPT | 740501A NUT, SPRING ADJUSTING |
| 305532 COVER,GOVNR MOUNTING | 740501C NUT, SPRING ADJUSTING |
| 305539 BRACE, FRT.ENG.SUPPORT | 740502D HOUSING, ESM GAS REGULAT... |
| 305541 BRACKET,CEC MODULE SUPP | 740600A REGULATOR, VOLTAGE |
| 305543 BRACKET,FUEL INLET SUPP | 740602A GENERATOR,24VDC TYPEI AL... |
| 305546 GASKET,COPPER WASHER | 740604A GENERATOR,24VDC TYPEIIAL... |
| 305547 O RING 129,5X3 NITRILE | 740607A GENERATOR,24VDC TYPEI AL... |
| 305548 O RING 114.5X3 NITRILE | 740608A M0DULE, IGNITION |
| 305549 O RING 94.5X3 NITRILE | 740609A MODULE, IGNITION CEC |
| 305550 O RING 84.5 X 3 | 740610A MODULE, IGNITION |
| 305552 O RING,.44X.62X.09,VITON | 740701C HARNESS, ESM START, AIR |
| 305553 O RING,144.3X5.7 NITRILE | 740702A HARNESS, ECU CAN |
| 305556 RETAINER,DISCHARGE ELBOW | 740705A HARNESS, ECU INPUT B |
| 305557 BRACE,GOVNR BRACKET | 740704B HARNESS, ESM STEPPER MOT... |
| 305560 SOCHDSCR,10MM SHLDRXM8 TH... | 740706A HARNESS, ECU INPUT A |
| 305562 STUD M12 X 35 | 740707A HARNESS, ESM ALTERNATOR |
| 305564 BRACKET,VOLTAGE REG | 740708A HARNESS, CUST. INTERFACE... |
| 305566 HEADER, GAS INLET | 740709A HARNESS, EXHAUST TEMPERA... |
| 305572 O RING,6.00X6.25X.12,VITO... | 740710A HARNESS, OXYGEN SENSOR |
| 305573 BOLT,LEVELING M16 X 60 | 740711A HARNESS, CAN,STEPPER MOT... |
| 305575 RING,RETAINING,EXT 17 | 740711C HARNESS,CAN,STEPPER MOTO... |
| 305577 BRACKET,VOLTAGE REG | 740722A HARNESS, 24V DC PRELUBE |
| 305583 BRACKET, GAS INLET | 740722B HARNESS, 24V PRELUBE |
| 305584 WASHER,THREAD SEAL,.62 | 740722C HARNESS,24 VDC PRELUBE |
| 305585 NUT, CAP M10 | 740727A HARNESS,CUST 25' ECU INT... |
| 305589 O RING,84.5 X 3 VITON | 740727D HARNESS,CUST 50' ECU INT... |
| 305590 O RING,94.5 X 3 EPDM | 740727E HARNESS, ECU INTERFACE |
| 305592 RING, RETAINING, 40 | 740728A HARNESS,CUST 25' PD INTE... |
| 305591 O RING,114.5 X 3 VITON | 740728B HARNESS,CUST 100' PD INT... |
| 305597 O RING,2.38X2.62X.12,VITO... | 740728D HARNESS,CUST 50' PD INTE... |
| 305595 O RING,1.44X1.69X.12,VITO... | 740728J HARNESS, CUSTOMER PD INT... |
| 305600 KEY,WOODRUFF 10X13 | 740729A HARNESS, NETWORK, CAN1 |
| 305599 O RING,2.19X2.38X.09,VITO... | 740729B HARNESS, NETWORK, CAN2 |
| 305613 ELBOW EXHAUST OUTLET | 740745A HARNESS, PRELUBE MOTOR |
| 305610 PLUG, TUBE | 740735C HARNESS, O2 SENSOR & EXH... |
| 305621 O RING,1.38X1.50X.06,VITO... | 740745B HARNESS, PRELUBE MOTOR |
| 305625 O-RING 28 X 2 VITON | 740746B HARNESS, IGN. COIL |
| 305626 BRACKET,PANEL BOARD | 740749A HARNESS, CRANK SENSOR |
| 305629 BRACKET,IGN COIL | 740746D HARNESS, IGNITION COIL |
| 305631 BRACE, REAR SUPPORT | 740750A HARNESS, CAM SENSOR |
| 305632 BRACKET, PIPE SUPPRT | 740751A HARNESS, PRECHAMBER GAS |
| 305634 PLUG,HXHD M36X1,5 | 740752A HARNESS, AIR START |
| 305639 BRKT,SEPARATOR SUPTR | 740753B HARNESS, GND, WIRE MANIF... |
| 305640 BRKT, TUBE SUPPORT | 740765A HARNESS, KW ELECTRIC STA... |
| 305644 PLATE,CHAIN RETAINER | 740767A CABLE, 12 GAUGE |
| 305653 GASKET | 740767B CABLE, 12 GAUGE |
| 305654 CLAMP, BAND | 740770A CABLE,GND ECU TO GRND ST... |
| 305652 GASKET | 740770B CABLE,GND AUX SYS TO GND... |
| 305655 CAP,BREATHER INLET | 740770C CABLE, ECU-SEC TO ECU-M |
| 305656 BODY, THROTTLE | 740770E CABLE, GND STU TO GRND S... |
| 305669 TUBE, SEPARATOR INLT | 740770F CABLE, GND ICU-M TO ICU-... |
| 305671 TUBE, SEPARATOR INLT | 740770G CABLE, GND ICU-SEC TO GN... |
| 305673 RETAINER,TACH SHAFT | 740770K CABLE, 12 GAUGE |
| 305675 SEAL,OIL | 740771A HARNESS, PD J-BOX TO PRE... |
| 305687 COVER,VIB.DMPR GUARD | 740776B HARNESS, CATALYST CONN. |
| 305696 JET, WATER, CYL.HEAD | 740776C HARNESS, CATALYST CONN. |
| 305698 GASKET,SUPP.ADJUST. | 740771B HARNESS, PRELUBE SOLENOI... |
| 305701 WASHER,TOUNGED | 740782A HARNESS, IGNITION CROSS ... |
| 305702 RING,RETAINER | 740785A HARNESS, KNOCK SENSOR CR... |
| 305704 O RING,96X4 VITON | 740784A HARNESS, POWER & CONTROL... |
| 305705 BEARING,WATER PUMP | 740787A HARNESS, IGNITION COIL |
| 305707 RING,RETAINING,52 | 740790A HARNESS, ECU CUSTOMER IN... |
| 305708 RING,RETAINING,80 | 740822B MODULE-DIAG,IGN PWR(IPM-... |
| 305709 STUD M10X75 | 740823B MODULE, AIR/FUEL POWER |
| 305710 NUT,HEX M18X1.5 | 740829B AUXILIARY SYSTEMS INTERF... |
| 305711 KEY,10X8X36 LG | 740829C AUXILIARY SYSTEMS INTERF... |
| 305713 TUBE GOV DRAIN PSG | 740852A HARNESS, ECU TO AUX SYST... |
| 305716 GASKET MAG DRIVE HSG | 740863A HARNESS, CUST.INTERFACE,... |
| 305718 PIN,SPRING | 740863B HARNESS, CUST.INTERFACE,... |
| 305719 HUB,FLEX.COUPLING | 740874A HARNESS, REAR, E-STOP, S... |
| 305721 BEARING,NEEDLE | 740913A LABEL, CSA, PWR DIST JBO... |
| 305723 O RING,2.50X2.88X.19,VITO... | 740930A HARNESS, MAIN BEARING TH... |
| 305724 HXHDSC M10X50 CL10.9 | 740945A HARNESS, PDB CUSTOMER IN... |
| 305725 HXHDSC M10X150 C10.9 | 740948A HARNESS, SENSORS, FRONT ... |
| 305728 HXHDSCR M10X35GR10.9 | 740949A HARNESS,MAIN BEARING THE... |
| 305729 ELBOW GALLERY END | 740968A HARNESS, ECU INTERCONNEC... |
| 305731 ELBOW CROSS OVER | 741000A HARNESS, ACTUATORS, FRON... |
| 305733 COVER SPOOL STOP | 741052A CONNECTOR, BULKHEAD 5 PI... |
| 305736 BODY RELIEF VALVE | 740978A HARNESS, FUEL SYSTEM |
| 305737 ELBOW INLET | 741064A HARNESS, CATALYST TEMPER... |
| 305741 PISTON PILOT | 741067A HARNESS, MAIN BEARING TH... |
| 305742 SPRING,THERMOSTAT | 741066A HARNESS, GENERATOR CONTR... |
| 305748 GASKET THERM COVER | 741068A HARNESS, EXHAUST THERMOC... |
| 305751 NUT,JAM W.P.,M28X1.5 | 741069A HARNESS, CUSTOMER INTERF... |
| 305752 KEY,8X7X22 LG | 741070A HARNESS, LOCAL CONTROL, ... |
| 305769 NUT, ADJUSTING | 741095A WIRE, SPARK PLUG |
| 305776 BONNET, INLET OIL COL | 741095B WIRE, SPARK PLUG |
| 305791 GASKET,WATER CONN. | 74197E CARRIER GOV WT |
| 305798 GASKET,FRT GEAR CVR | 74179A GAS.STRAIN.W/SHUTOFF |
| 305800 BODY,VALVE | 74198B WEIGHT GOVERNOR |
| 305801 GASKET,OIL COOLER | 74198C WEIGHT GOV |
| 305805 DISC.TIMING ECIS IGN | 74472Z BRACKET,ADAPTER SWT. |
| 305807 BRACKET,UPPER A/C | 7447J PIPE,2.50X9.00,TBE,GALV |
| 305808 BRACKET,LOWER A/C | 7447K PIPE,2.50X2.50,TOE |
| 305809 SPRING EXTENSION | 7447V PIPE,2.50X3.00,TBE |
| 305810 WASTEGATE,TURBO | 7447Y PIPE,2.50X3.50,TBE |
| 305813 FLANGE,EXH.BYPASS | 74627A BUSHING OIL PUMP |
| 305814 STUD,OFFSET | 74611D TUBING |
| 305815 HEAT SHIELD | 74767C COVER END, EXH MFLD |
| 305816 SUPPORT,PIPE | 74745B SCRADJ,.25-28X4.44LG |
| 305819 RETAINER,EXH.BYPASS | 74844A SPACER,1.0X1.25X1.56 |
| 305821 TUBE,OIL FILTR OUT | 74818F PIPE,4.00X5.75,TBE |
| 305828 PLATE LOCK | 75117A OIL SEAL |
| 305830 SCW,FERRY M8X30X1.25 | 74879A GEAR DIST DRIVEN |
| 305833 CONDUIT, T'COUPLE-RB | 75298D PIPE,.12X1.50,TBE |
| 305834 COVER,T'COUPLE CONDT | 75298H PIPE,.12X2.00,TBE |
| 305845 GASKET, OIL PAN L36 | 75966A VALVE,FUEL SELECTOR |
| 305846 GASKET,AIR CLEANER INLET | 76422B STUD,.50X6.75 LG |
| 305847 SOCHDSCR M12X130,GR12.9 | 76423C GASKET R A COVER |
| 305853 BRACKET,JUNCT BOX SUPP | 76428A GASKET GEAR COVER |
| 305854 BRACKET,CEC MODULE SUPP | 76461B O SCR BAFFLE GASKET |
| 305856 GASKET,CARBURETOR INLET | 76621A SHIFTER GOV LEVER |
| 305857 CONTROL, EPG GOV SPEED | 76883A PIPE,2 X 9.00 TBE |
| 305858 ACTUATOR, GOV | 76883C PIPE,2 X 4.00 TBE |
| 305859 HOUSING, THROTTLE VALVE | 76883D PIPE,2 X 10.00 TOE |
| 305860 O RING,3.75X4.00X.12,VITO... | 76883F PIPE,2 X 7.25 TBE |
| 305866 TURBOCHARGER | 76883K PIPE,2 X 4.50 TOE |
| 305867 TUBE,GOV DRAIN,SG/PSG | 76883P PIPE,2 X 14.50 TBE |
| 305869 VALVE,GAS CONTROL,1.50 IN | 76883V PIPE,2 X 12.50 TBE |
| 305871 TUBE,CARBURETOR AIR INLT | 76883W PIPE, 2 NPT X 18 TBE SCH.... |
| 305875 STRAP, AIR CLEANER | 7721B NUT ADJ SCREW |
| 305876 WASHER, SPECIAL | 78002A SPACER,.44X.75X.5 LG |
| 305882 O RING, 1.62X1.75X.06, HS... | 78064C GASKET,EXH MANIFOLD END |
| 305884 BRACKET, LABEL | 78117A SCRADJRV,.50-20X.97 |
| 305885 PLATE, LABEL | 78201A PIPE,.25X.88,TBE,TIN |
| 305886 PLATE, LABEL | 78201C PIPE,.25 X 2.50 TBE |
| 305887 PLATE, LABEL | 78201H PIPE,.25X1.00,TBE,TIN |
| 305889 SUPPORT, CLIP | 78201L PIPE .25 NPT X 4.00 LG TB... |
| 305890 WASHR,COP,25.5X14.35X1.5 | 78201N PIPE,.25 X 2.00 TBE |
| 305895 BRACKET, AIR ACTUATOR | 78202A ELL,STREET .125 |
| 305899 CAP, PIPE | 78202B ELL,STREET,.25 |
| 305922 ELEMENT,SPIN-ON OIL FILT | 78202C ELL,STREET,.25,BRASS |
| 305923 OIL FILTER HEAD | 78202D ELL,STREET .375 |
| 305924 BRACKET, OIL FILLER | 78202H ELL,STREET,.75 |
| 305926 REGLTOR,GAS,Y692,1.5 INNP... | 78202J ELL,STREET,.75,GALV |
| 305927 SPRING, REG. BROWN | 78202L ELL,STREET,1.00 |
| 305929 NUT, LOCKING | 78202M ELL,STREET,1.00,GALV |
| 305930 SCREW, ADJUSTABLE | 78202N ELL,STREET,2.00 |
| 305931 SEAT, SPRING | 78202Q ELL,STREET,1.50 |
| 305932 DIAPHRAGM & PLATE,REGLTR | 78202W ELL,STREET,1.25 W/.25TAP |
| 305933 ORIFICE, FISHER Y692 GAS ... | 78204B ELBOW,PIPE, .375 |
| 305934 HXHDSCR M12X45 | 78204C ELBOW,PIPE, .50 |
| 305935 HXHDSCR M12X25 | 78204A ELBOW,PIPE, .25 |
| 305936 BODY GASKET, COMPOSITION | 78204D ELBOW,PIPE, .75 |
| 305937 CLOSING CAP GASKET,NEOPRE... | 78204E ELBOW,PIPE,1.00 |
| 305938 NITRLE DISK,.75-1.19 ORF | 78204F ELBOW,PIPE 1.25 |
| 305939 PILOT TUBE ASSY, ST.STL. | 78204G ELBOW,PIPE, 1.50 |
| 305943 COVER, BREATHER ACCESS | 78204H ELBOW,PIPE, 2.00 |
| 305946 CLAMP, SUPPORT BLOCK | 78204J ELBOW,PIPE 2.5 |
| 305953 HXHDSCR M10X120,GR10.9 | 78204K ELBOW,PIPE 3 |
| 305955 SEPARATOR, OIL | 78204P ELBOW,PIPE,2.00,GALV |
| 305960 VALVE, CARBURETOR | 78204R ELBOW,PIPE,.75,GALV |
| 305971 VALVE,OIL SHUTOFF,.50NPT | 78206B ELL,STREET,45 DEG,.25 |
| 305996 TURBOCHARGER, HI-SPD. | 78206E ELL,STREET,45 DEG,.75 |
| 306001 DIP GASKET,DELTEC HSG | 78206F ELL,STREET,45 DEG,1.00 |
| 306002 DIP GASKET | 78207A ELBOW,45 DEG,.12 |
| 306005 DIP VALVE,GAS CONTROL | 78207B ELBOW,45 DEG,.25 |
| 306006 DIP HOSE AIRCL TO CARB | 78207D ELBOW,PIPE,.375,45DEG |
| 306020 BRACKET,DELTEC | 78207F ELBOW,PIPE,.75,45DEG |
| 306024 EXPANDER 7MM | 78207G ELBOW,PIPE,45 DEG,1.00 |
| 306026 WASHER,25X10.5X4 | 78207H ELBOW,PIPE,1.50,45 DEG |
| 306027 DIP-GASKET | 78207L ELBOW,2.00,45 DEG,GALV |
| 306033 DIP SHAFT,AIRDUCT | 78207R ELBOW,PIPE,2.5,45DEG |
| 306040 WASHER,SPECIAL | 78207S ELBOW,1.25 X 45DEG |
| 306044 DIP COVER,J.W.PUMP HOLE | 78207T ELBOW PIPE |
| 306045 DIP GASKET | 78208A TEE,PIPE .25,150#,IRON |
| 306050 DIP REDUCER,88.9X76.1 DIN... | 78208B TEE,PIPE .38,150#,IRON |
| 306059 DIP, SHIELD HEAT | 78208C TEE,PIPE .50,150#,IRON |
| 306066 DIP COUPLING,STRAIGHT | 78208E TEE,PIPE,.75,150#,IRON |
| 306068 SCREW,HOLLOW M14-1,5 | 78208H TEE,RED,1.00X1.00X.75 |
| 306082 GREASE,SILUBRINE 307343 | 78208J TEE,PIPE,1.00,150#,IRON |
| 306086 DIP- PLUG | 78208K TEE,RED,.12X.12X.25 |
| 306087 DIP ORING #141 VITON | 78208L TEE,PIPE,.25,BRASS |
| 306095 DIP SCREW,M6X6 DIN913-45H | 78208P TEE,PIPE 2.00,150#,IRON |
| 306100 DIP TUBE,WGATE WATER OUT | 78208R TEE,RED,1.25X1.25X1.00 |
| 306105 VALVE,BALL, .50 T-PLUG | 78208S TEE,RED,2X1.25X1.25,GALV |
| 306109 VALVE,SAFETY, .50 | 78208U TEE,PIPE,2.00,150#,GALV |
| 306162 DIP ELBOW,SENSING | 78208V TEE,PIPE,.75,150#,GALV |
| 306203 DIP INSERT, VALVE SEAT | 78208X TEE,PIPE,1.25,150#,IRON |
| 306215 DIP GASKET,AIR COOLER | 78208Y TEE,RED,.50X.50X.25 |
| 306234 DIP GASKET,OIL COOL CONN | 78209B COUPLING,PIPE,.12,BR |
| 306251 DIP GASKET,BREATHER | 78209C COUPLING,PIPE,.25 |
| 306253 DIP PLATE,NAME BLOKSMA | 78209D COUPLING,PIPE,.38 |
| 306255 DIP BRACKET,OIL COOLER | 78209E COUPLING,PIPE,.50 |
| 306272 DIP SHAFT,RAINSHIELD | 78209F COUPLING,PIPE,.75 |
| 306273 DIP SPACER,RAINSHIELD | 78209G COUPLING,PIPE,1.00 |
| 306274 DIP SPACER,AIR DUCT | 78209H COUPLING,PIPE,1.25 |
| 306283 DIP BRACKET,AIR CLEANER | 78209J COUPLING,PIPE,1.50 |
| 306284 DIP SUPPORT,AIR CLEANER | 78209K COUPLING,PIPE,2.00 |
| 306291 DIP PRELUBE PUMP | 78209W COUPLING,PIPE,.125 |
| 306293 ADAPTER SUCTION DIP | 78210A ELBOW,RED .25-.12 |
| 306294 BRACKET PRELUBE PUMP DIP | 78210B ELBOW,RED,.38-.25 |
| 306295 TUBE, PRELUBE DIP | 78210G ELBOW,RED,1.00-.75 |
| 306296 CONNECTION,SWIVEL,.75 BSP... | 78210H ELBOW,RED,2.50-2.00 |
| 306297 COUPLING,R 1.50X.75 | 78210J ELBOW,RED,1.50X1.00 |
| 306317 SENSOR,TEMP/PRESSURE | 78210L ELBOW,RED,2.00-1.50,GALV |
| 306320 PICKUP,MAGNETIC | 78210M ELBOW,RED,1.25-1.00 |
| 306318 O RING BLOKSMA OILC P20 | 78210R ELBOW,RED,2.00-1.50 |
| 306323 BOX,CONTROL IMAS | 78210T ELBOW,RED,2.00-1.25 |
| 306328 BOX,JUNCTION NEMA 4 | 78210U ELBOW,RED,2.00-1.25W/.12T... |
| 306329 PANEL,JUNCTION BOX | 78210W ELBOW,RED,1.50-1.25 |
| 306330 CABLE,VALVE CONTROL | 78211A COUPLING,RED .25-.12 |
| 307003 LATCH, DRAW | 78211B COUPLING,RED .5-.25 |
| 307030 GASKET, OIL PAN DOOR | 78211F COUPLING,RED 1-.75 |
| 307070 DOOR, OIL PAN | 78211G COUPLING,RED 2.5-2 |
| 307077 PLATE, COVER | 78211K COUPLING,RED 3-2.5 |
| 307076 BRACKET, TUBE SUPPORT | 78211L COUPLING,RED .75-.5 |
| 307078 BRACKET, BREATHER MOUNTIN... | 78211N COUPLING,RED 2-1.5 |
| 307082 BRKT.,KENCO OIL LVLR. | 78211U COUPLING,RED 3-2 |
| 307092 TUBE, J.W. HEATER CONN. | 78211X COUPLING,RED 1.25-1 |
| 307093 SOCHDSCR M10 X 30LG, GR 1... | 78212A BUSHING,RED,.38-.25 |
| 307094 SOCHDSCR M10 X 35 LG, GR ... | 78212B BUSHING,RED,.50X.12 |
| 307097 CRADLE, OIL COOLER | 78212C BUSHING,RED,.50X.25 |
| 307098 ELBOW, FORMED HOSE | 78212D BUSHING,RED,.50-.38 |
| 307102 BRACKET,OIL SEPARATOR OUT... | 78212F BUSH,RED,.75X.25 |
| 307101 COVER, OIL SEPARATOR INLE... | 78212G BUSH,RED,.75X.50 |
| 307104 ADAPTER,FLEXMASTER 1.5 IN... | 78212H BUSHING,RED,.75-.50,GALV |
| 307110 PIN, CONTACT CROSS BAR | 78212J BUSH,RED,1.00-.25 |
| 307112 SOCHDSCR M12 X 60LG. GR12... | 78212K BUSH,RED,1.00X.375 |
| 307111 LABEL, VGF EXTENDER | 78212N BUSHING,RED,1.25-1 |
| 307115 GASKET, IN/OUT | 78212P BUSHING,RED,3.0-2.0 |
| 307113 GASKET, RETURN | 78212T BUSHING,RED,1.0-.50 |
| 307124 STARTER, AIR (90PSIG) | 78212V BUSHING,RED,2.5-2.0 |
| 307123 BRACE, ALT. GUARD | 78212W BUSHING,RED,2.00-1.50 |
| 307126 CONNECTION, HOSE | 78212X BUSHING,RED,2.00-1.25 |
| 307132 BOX,JUNCTION TYPE4 ENVIRO... | 78212Y BUSHING,RED,2.0-.75,GALV |
| 307135 SUPPORT, AUX. PIPING R.B. | 78213A ADAPTER,PIPE,.25-.12 |
| 307133 ADAPTER, OIL INLET | 78215A PIPE,1 X 4.00 TBE |
| 307145 ADAPTER, J.W. PUMP PIPE | 78215K PIPE,1 X 5.00 TBE |
| 307146 SPACER, BAFFLE PLATE | 78215U PIPE,1 X 6.00 TBE |
| 307151 MOTOR,AIR START(TDI)LOW P... | 78280A PLUG,PIPE SLOTHD .12 |
| 307153 BOX, JUNCTION | 78280B PLUG,PIPE SLOTHD .25 |
| 307155 DIP-BRACKET, JUNCTION BOX | 78282A PLUG,SQ HD PIPE,.12 |
| 307159 SPACER - POWER VALVE | 78282B PLUG,PIPE,SQHD,.12,GALV |
| 307184 BRACKET ASM.,JUNCTION BOX... | 78282C PLUG,SQ HD PIPE,.25 |
| 307188 DOOR, OIL PAN ADAPTER | 78282D PLUG,PIPE,SQ HD,.38 |
| 307195 CLAMP,TURBO.SUP&DRAIN.LIN... | 78282E PLUG,PIPE,SQ HD,.50 |
| 307196 BRACKET,CARB.SUPP.DELTEC,... | 78282F PLUG,PIPE HXHD,.75 |
| 307201 \ | 78282G PLUG,PIPE,SQ HD,1.00 |
| 307220 PLUG, CRANKSHAFT HXSOCHD ... | 78282H PLUG,PIPE,SQ HD,1.25 |
| 308004 PISTON, REENTERENT BOWL | 78282J PLUG,PIPE,SQ HD,1.5 |
| 308006 NBL PIN, PISTON | 78282K PLUG,PIPE,SQ HD,.12 |
| 308011 NBL CRANKSHAFT | 78282N PLUG,PIPE,SQ HD,1.5,GALV |
| 308023 NBL CAMSHAFT LB | 78282S PLUG,PIPE,SQ HD,2.5 |
| 308060 HOUSING, JACKET WATER | 78282U PLUG,PIPE,SQ HD,3.0 |
| 308123 NBL CAMSHAFT RB | 78282W PLUG,PIPE,SQ HD,.25 |
| 309000 ADAPTER,FLYWHEEL-CRANKSHA... | 78282Z PLUG,SQ HD PIPE,.75 |
| 309002 ADAPTER/PULLEY, VIBRATION... | 78283A PLUG,PIPE,CTSKSQHD,.50 |
| 309003 SEAL,CRANKSHAFT OIL(FRONT... | 78283B PLUG,CTSKSQHD PIPE,.75 |
| 309006 GASKET, INTAKE MANIFOLD | 78283C PLUG,PIPE,SOCHD,1.00,PLT |
| 309008 CAPSCREW, CYLINDER HEAD | 78283D PLUG,PIPECTSKHD,1.25 |
| 309013 PLATE, END COVER | 78283E PLUG,PIPE,CTSKHD,1.5 |
| 309016 GASKET, EXHAUST MANIFOLD | 78283G PLUG,PIPE,CTSKHD,.25 |
| 309019 TUBE, ROCKER COVER RECESS | 78283H PLUG,PIPE,CTSKHD,2.0 |
| 309023 BELLOWS, TURBO | 78283J PLUG,SOCHDPIPE,.50,PLTD |
| 309030 BALL, ROCKER | 78283M PLUG,PIPE,CTSKHD,1,GALV |
| 309031 SPACER, ROCKER ARM | 78451A CPSCRFLY,.50-20X1.75 |
| 309037 TUBE, CROSSOVER | 78451C CPSCRFLY,.50-20X2.38 |
| 309039 GASKET, ROCKER ARM COVER | 78492F SHIELD,HEAT |
| 309041 SHAFT, ROCKER ARM | 78515T LEVER CROSS SHAFT |
| 309043 DOWEL, RING | 78515U LEVER CROSS SHAFT |
| 309044 CAP, EXHAUST MANIFOLD | 78709B BRACE RADIATOR |
| 309045 RING, SEAL EXH MANIFOLD | 78782A SPACER,THERM HSG |
| 309047 GUIDE, VALVE CROSSHEAD | 78843A BEARING, BALL |
| 309055 HXHDSCR.,M16X 200LG,10.9 | 78843C BEARING, BALL |
| 309078 GASKET,COMP.ADAPTER | 78899A CAP,PIPE,.25 |
| 309079 GSKT.,ICOOLER FLG.AIR IN | 78899B CAP,PIPE,.38 |
| 309083 BRACKET,AFPM & IPMD MOUNT... | 78899G CAP,PIPE,1.5 |
| 309102 RING, INTERNAL RETAINING | 78899H CAP,PIPE,2.0 |
| 309105 NBL PISTON RING,TOP COMPR... | 78915A HOSE,3.5X4.0X5 LG |
| 309113 GASKET, THERMOSTAT HOUSIN... | 78915E HOSE,3.5X4.0X2.25 LG |
| 309114 DISC, TIMING | 78920C TEE,SERVICE,.50 |
| 309119 NUT, WING | 78920D TEE SERVICE |
| 309120 WASHER,GASKET | 78920E TEE,SERVICE,.75,GALV |
| 309141 TUBE, WASTEGATE BYPASS | 78927A HOSE, 4.0 X 4.5 X 2.25LG |
| 309153 SEAL, OIL | 78927M HOSE, 4.0 X 4.5 X 2.5LG |
| 309154 SHAFT, BUTTERFLY VALVE | 78932A HOSE,1.00X1.38X3.50 LG |
| 309160 PLATE, GOVERNOR MOUNTING | 78932G HOSE,1.00X1.38X2.00 LG |
| 309173 BRACKET, INTERCOOLER | 78932K HOSE,1.00X1.38X3.00 LG |
| 309175 BRACKET,INTERCOOLER UPPER | 78982B CLIP OIL LINE |
| 309161 COUPLING, SPIDER | 7915A PIPE,.38 X 3.00,TBE |
| 309179 TUBE, UPPER WATER | 80125A STUD,GR5,.375X.75 LG |
| 309180 SEAT, SPRING | 80183R HOSE,.25IDX.50X32LG |
| 309181 BRACKET,INTERCOOLER | 80183X HOSE,.25IDX.50X13.5 |
| 309182 GUARD, VIBRATION DAMPENER | 80297A SPACER,.41X.75X.62LG |
| 309183 HXHDSCR, M10 X 85 CLASS 1... | 80297B SPACER,.5X.75X.25LG |
| 309195 COVER,JW PUMP OPENING | 80297F SPACER,.41X.75X1.5LG |
| 309202 BRACKET,START/STOP SWITCH | 80297C SPACER,.41X.75X.44LG |
| 309203 COVER, START/STOP SWITCH | 80297M SPACER,.34X.75X.22LG |
| 309205 NBL PISTON RING,MIDDLE CO... | 80297R SPACER,.5X.75X 1 LG |
| 309208 TUBE, WASTEGATE BYPASS | 80297U SPACER,.5X.75X1.81LG |
| 309218 TUBE .25 OD X 20GA.X 48.0... | 80297W SPACER,.41X.75X1.25LG |
| 309234 O-RING, 161.8 X 168.15 X ... | 80339A UNION,PIPE 2.00 |
| 309235 SEAL RING, .61IDX.16WX.12... | 80339J UNION,PIPE,.50 |
| 309243 BRACKET, AUX WATER INLET ... | 80415B END GOVERNOR ROD |
| 309249 CLIP, HARNESS SUPPORT, 17... | 80555A NUTAJ,1.25-16X1.19 |
| 309250 CLIP, HARNESS SUPPORT, 23... | 80782A CONNECTION,HOSE |
| 309252 PLUG, WATER OUTLET | 810043B PIPE,1.25 X 9.25 TOE |
| 309255 STRAP,RETAINING,IC DUCT | 81135A SPRING |
| 309271 SPACER, .469 X .88 X .88L... | 84089A GEAR RING |
| 309273 DUCT, INTERCOOLER OUTLET | 85428B GASKET |
| 309282 TEE, AIR/GAS INLET | 85091D VALVE,THREE WAY, .12 |
| 309283 PLATE,INT MANIFOLD INLET | 85745A GASKET |
| 309284 ELBOW,INT MANIFOLD INLET | 85761A PIPE,1.50 X 11.00 TBE |
| 309285 TUBE,JACKET WATER DISTRIB... | 85761D PIPE,1.50 X 6.25 TOE |
| 309286 COVER, INTERCOOLER | 85761E PIPE,1.50 X 12.25 TBE |
| 309287 BRACKET, TURBO SUPPORT | 85761F PIPE,1.50 X 10.00 TBE |
| 309288 BRKT, TURBO EXH. OUTLET | 85761H PIPE,1.50 X 3.00 TBE |
| 309290 ELBOW,JACKET WATER BYPASS | 85761G PIPE,1.50 X 2.50 TBE |
| 309294 INSULATION SHLD,TURBO,UPP... | 85761U PIPE,1.50X1.75 TBE |
| 309295 INSULATION SHLD, TURBO, U... | 85761N PIPE,1.50 X 1.75 TOE |
| 309296 INSULATION SHLD,EXH ELB,F... | 85761X PIPE,1.50 X 2.25 TBE |
| 309297 INSULATION SHLD,EXH ELB,R... | 85793T PIPE,1 X 1.75 TBE |
| 309298 INSULATION SHLD,WASTEGT,U... | 8716A SPINDLE IDLER |
| 309299 INSULATION SHLD,WASTEGT,L... | 9367B PLUNGER RELIEF VALVE |
| 309300 INSUL SHLD,TURBO ADAPTER,... | 9379F BAFFLE OIL SCREEN |
| 309301 INSUL SHLD,TURBO ADAPTR,R... | 94309J GUIDE VALVE |
| 309302 INSUL SHLD,TURBO ADAPTER,... | 94309K VALVE GUIDE |
| 309303 INSULATION SHLD,REAR PANE... | 951031F BLOCK TERMINAL |
| 309304 INSULATION SHIELD,TOP,FRO... | 951049B CORD GRIP,.25-.31(.50 NP... |
| 309307 INSUL SHLD,TOP,CENTER,LEF... | 951049G CORD GRIP,.19-.25(.50 NP... |
| 309308 INSULATION SHIELD,TOP,REA... | 951313G BUSHING BAKELITE |
| 309309 INSULATION SHIELD,SIDE,CO... | 951313H BUSHING,MALE 0.50 IN |
| 309310 BRACKET,AIR/GAS INLT TEE | 952150G TERM BLOCK 30A 2T |
| 309311 BRACKET, TUBE SUPPORT | 952296B BREAKER,CIRCUIT-24V |
| 309314 WASHER, HARDENED M10 | 952749B RING,BEVEL INT RET N5002... |
| 309315 WASHER, FLAT M42, CUSTOM | 952805E TERMINAL, WIRE |
| 309316 JAM NUT, M42, CUSTOM | 952807G TERM,.50X10-12 WIRE |
| 309317 COOLER, OIL | 952955A SYMBOL, LETTER B |
| 309320 BRACKET,WATER OUTLET SUPP... | 952955B SYMBOL, LETTER C |
| 309323 BRACKET,VOLUME CHAMBER SU... | 952955C SYMBOL, LETTER D |
| 309321 PLATE ASM;GAS OUTLET VLV ... | 952955E SYMBOL, LETTER G |
| 309324 TUBE, LOWER WATER | 952955F SYMBOL, LETTER H |
| 309330 HOUSING, PUMP DRIVE | 952955G SYMBOL, LETTER J |
| 309331 GASKET, PUMP HOUSING | 952955H SYMBOL, LETTER K |
| 309332 IMPELLER 60HZ AUX PUMP | 952955L SYMBOL, LETTER N |
| 309333 SEAL ASM, 1 IN SHAFT | 952955J SYMBOL, LETTER L |
| 309334 HOUSING, AUX PUMP | 952955M SYMBOL, LETTER F |
| 309339 IMPELLER 50HZ AUX PUMP | 952955N SYMBOL, LETTER T |
| 309342 IMPELLER, 50HZ JACKET WAT... | 952955P SYMBOL, LETTER R |
| 309343 IMPELLER, 60HZ JACKET WAT... | 952955Q SYMBOL, LETTER S |
| 309345 ADAPTER,PUMP HOUSING | 953058F SYMBOL, NUMBER 7 |
| 309346 SUPPORT, PUMP DRIVE HOUSI... | 953058G SYMBOL, NUMBER 8 |
| 309347 SEAL, JACKET WATER | 953058H SYMBOL, NUMBER 9 |
| 309348 GEAR, JACKET WATER PUMP | 953058J SYMBOL, NUMBER 10 |
| 309349 GASKET, JACKET WATER | 95305A RING,PISTON TOP COMPRESSI... |
| 309351 HOLDER, SPRING | 953493A CLIP TUBING |
| 309352 SEAL, OIL | 954008F NIPPLE PIPE |
| 309359 TUBE,UPPER BYPASS JW | 954029F ALARM FS&S 450 24VDC |
| 309363 COVER, DAMPER GUARD-JW PU... | 954046F BATTERY 12V 150AH HD |
| 309364 COVER,DAMPER GUARD-ALTERN... | 954046V BATTERY 12V 205AH 8D |
| 309365 GUARD, VIBRATION DAMPER | 954143G HOUR METER 120V 50HZ |
| 309370 PUMP, 1/25 HP 240V 1PH | 954168V CPT 250VA 480/240:120 |
| 309371 CONTACTOR, 50A, 240V | 954282D .5 IN COND CONN 90DEG FL... |
| 309374 BRACKET, PRELUBE MOTOR ST... | 954282E .75 IN COND CONN 90DEG F... |
| 309375 O-RING,161.8 X 168.15 X 3... | 954350J CONN,3PIN SOCKET AMPHENO... |
| 309376 GASKET,CARBURETOR | 954350K CONN AMPH 2 CONTACT |
| 309378 BRACKET, HARNESS SUPPORT | 954355J FLANGE |
| 309379 CLIP, HARNESS SUPPORT, 12... | 954537A LAMP, 30V 25W (PIL) |
| 309380 SOCHDSCR, M5-0,8 X 8 LG. | 954638C ISOLATOR, VIBRATION LKE-... |
| 309392 SHIELD, TURBO HEAT | 954814A CONNECTOR CONDUIT |
| 309399 SPACER, GEAR | 954830G SWITCH DUAL SPEED |
| 309400 RETAINER,SEAL PLATE | 954831A SWITCH UNDERSPEED |
| 309401 SPACER,SHAFT SEAL | 954838A CONNECTION FLEX EXH |
| 309405 ELEMENT,SPACER | 954838B CONNECTION FLEX EXH |
| 309408 MICROSPIN DRAIN/MOUNTING | 954838J CONN. FLEX EXHAUST 8-125... |
| 309409 PLENUM, AIR/GAS | 954838E CONN, FLEX - 10X10 |
| 309413 TUBE BRACE | 954847E TEMPERATURE CONTROL |
| 309416 STRIP,TIMING FLYWHEEL | 954864A CONNECTOR 2 WIRE |
| 309417 BRACKET, JUNCTION BOX | 954988G RELAY, TIME DELAY, AMPER... |
| 309418 CLAMP,2.625 DIA.X .50 SCR | 955000A SLEEVE,INSUL,.50 |
| 309420 TUBE,WSTEGTE AMB PRES SEN... | 955000B SLEEVE,INSUL,.75 |
| 309422 TUBE, JACKET WATER HEATER | 955092C VALVE,CHECK 1.25 |
| 309423 BRACKET, BULKHEAD SUPPORT | 955204A NP MANIFOLD PRESS |
| 309424 TUBE, TURBO WATER SUPPLY | 955204M NP LUBE OIL |
| 309425 BRACKET, MNT OIL HEATER | 955204P NP START |
| 309426 TUBE, PRELUBE HEATER OUT | 955204R NP JACKET WATER |
| 309427 TUBE, PRELUBE HEATER OUT | 955205B STRIP TERMINAL |
| 309430 CONTROL THERMOSTAT | 955418A BRACKET |
| 309431 CONTACTOR, 3 POLE 24VDC 9... | 955612A TERM BLK 4 CONTACTS |
| 309432 RELAY, (CLIP, MARKER, SOC... | 955767A U BOLT,.25X1.75X2.88 |
| 309433 FLOW SWITCH | 955762A SWITCH DIFF PRESSURE ... |
| 309434 HEATER ELEMENT ASSEMBLY | 955998B NP LH - RH - OFF |
| 309435 VALVE,INTEGRATED ACTUATOR | 955998U NP WATER TEMP |
| 309436 SPRING,870-1050 LHV | 955998V NP OIL PRESSURE |
| 309438 THERMOSTAT,HIGH LIMIT | 956469C NP MAGNETO ON-OFF |
| 309439 VALVE, 2 WAY SOLENOID N.C... | 956469D NP ENGINE VACUUM |
| 309440 VALVE, 2 WAY SOLENOID N.O... | 956469E NAME PLATE, ON-OFF |
| 309441 JUNCTION BOX, 8X10X5 NEMA... | 956852A GASKET |
| 309442 RELAY 24VDC 3-POLE OVRLD ... | 957000E FLANGE |
| 309443 PANEL, JUNCTION BOX | 957068F NP PRELUBE OIL CIRC |
| 309446 TUBE,START ASSIST (UPPER ... | 957389C NP NATURAL GAS PRESSURE |
| 309447 TUBE,START ASSIST (LOWER ... | 957389L NP PL RUN-PSH STOP |
| 309448 TUBE, START ASSIST (LEFT ... | 957410E SUPPORT PIPE |
| 309449 TUBE, START ASSIST(LEFT F... | 957430A TERM BLOCK 12T30A600 |
| 309451 VALVE, 2-WAY SOLENOID N.C... | 957557A BREAKER CIRCUIT 15 A |
| 309452 BRACKET, RETAINING FUEL L... | 957620B MUFFLER,EXHAUST,MT41,12 ... |
| 309453 ELEMENT ASM.,9KW 220V W/T... | 958012E SWITCH SELECT 2 POS |
| 309454 PUMP, 1/25HP 220V 1PH | 958017E NP ENGOMATIC DATA |
| 309456 TUBE, ASM. GAS INLET TO R... | 959436B RELAY 24V DPDT 10A |
| 309457 TUBE, BALANCE LINE | 959436C RELAY 24V 3PDT 10A |
| 309459 GASKET, CARBURETOR | 96034B GUIDE VALVE LIFTER |
| 309460 HOUSING, FUEL MIXER | 96050B BUSHING CAMSHAFT |
| 309461 PLATE ASM,GAS OUTLET VLV ... | 96083A OIL PUMP IDLER SHAFT |
| 309464 ACTUATOR, MODULAR (F-SERI... | 96088A SHAFT OIL PUMP DRIVE |
| 309465 HOUSING ASM., B-FLY VALVE... | 97009F GUIDE VALVE EXHAUST |
| 309466 GASKET, SQUARE | 97012B GEAR CRANKSHAFT |
| 309467 BRACKET,ACTUATOR | 97026C GEAR CAM |
| 309468 SPACER,JACKET WATER PUMP | 97027A BUSHING, FRONT & REAR, CA... |
| 309469 REGULATOR, GAS (4 IN FISH... | 97050A BUSHING CAMSHAFT |
| 309472 PLATE ASM,GAS OUTLET VLV ... | 97056A SHAFT WATER PUMP |
| 309479 PLATE, NAME | 97100D CYL HEAD GASKET |
| 309480 TUBE, START ASSIST (UPPR ... | 97109D GUIDE VALVE INT |
| 309481 TUBE, START ASSIST (LWR R... | 97110A BEARING,CONN.ROD-STD |
| 309482 TUBE, START ASSIST (LEFT ... | 97210A BEARING,CONN.ROD-STD |
| 309483 TUBE, START ASSIST (LEFT ... | 97230H SLEEVE, CYLINDER |
| 309484 VALVE, CHECK LOW-PRESSURE | 97236B NBL VALVE INTAKE |
| 309491 ROTATOR ASSEMBLY, VALVE | 97336D VALVE, EXHAUST |
| 309494 TUBE,BALANCE LINE | 97904A NBL 7 INCH PISTON 10:1 CO... |
| 309499 BRACKET, MICROSPIN | 97904B 7 IN PISTON 8.25:1 |
| 309500 TUBE, MICROSPIN DRAIN | A100472A BELT SET 1 IN |
| 309526 RING, RETAINING, INT., IN... | A10048A ROD PUSH ASM |
| 309527 O RING,2.00X2.25X.12,EPDM | A10048F ROD PUSH ASM |
| 309532 VALVE, DOUBLE BLOCKING DN... | A100919K NIPPLE ASM |
| 309534 VALVE PROVING SYSTEM | A101023B PIPE ASM., PRELUBE INLE... |
| 309535 REGULATOR, FUEL PRESSURE,... | A100834X PIPE ASM, OIL FILLER |
| 309593 SUPPORT ASM, TUBE | A106583E HEATER AND CORD ASM |
| 309581 DUCT, INTERCOOLER INLET | A109178 PLUG FRICTION ASM |
| 309600 CAP, SQUARE | A109334L SOLENOID ASM. |
| 309606 BRACKET, SUPPORT, DN100 | A110382A STRAP GRND |
| 309623 BRACKET, RDT CLIP | A111475A CABLE PRIMARY IGN |
| 309626 BRACKET, MOUNTING | A111719 BASE,LOAD CELL ASM |
| 309641 STRAP, ANGLE | A117864 VALVE GAS PRS GA TST |
| 309646 BRACKET, HMI | A118799E LEVER,THROTTLE,ASM |
| 309647 SUPPORT, AIR CLEANER | A118879K FLANGE,OIL COOLER W.OUT |
| 309649 DOOR, AIR CLEANER | A119548A VALVE OIL CONT ASM |
| 309657 GASKET, SENSOR PORT COVER | A123072N HSG B'FLY VALVE ASM |
| 309658 COVER, SENSOR PORT | A123221A BEARING REAR MAIN |
| 309660 GAS TRAIN ASSEMBLY, LOW B... | A123222A BEAR FR&INT MAIN ASM |
| 309661 50 MIRCON FILTER DN 100 | A123218A BEARING CENTER MAIN |
| 309668 BRACKET, HARNESS SUPPORT | A123485 GEAR IDLER ASM |
| 309670 SENSOR, ABSOLUTE PRESSURE... | A123503 BELT 1 IN |
| 309671 SENSOR, TEMPERATURE (NTC) | A123603 BELT SET 1 IN |
| 309672 SENSOR,PRESS.DIFFERENTIAL... | A128019 INJECTION UNIT ASSEMBLY |
| 320007 ROD, CONNECTING | A13285A GEAR OIL PUMP ASSM |
| 320039 COVER, ROCKER ARM | A145072F HSG BUTFLY VALVE ASM |
| 322014 OIL PAN | A145503 BELT SET 1 IN |
| 325020 NOZZLE OIL SPRAY | A146395J PULLEY,CRANKSHFT ASM |
| 325023 STUD, CONNECTING ROD | A151589S ELBOW CASE INLET |
| 325024 DISC, TIMING | A1521D SCREEN ASM.,OIL |
| 325025 HOUSING, SENSOR | A153000M HOUSING,INJ PUMP DRV,AS... |
| 325037 BOOT HIGH TEMPERATURE | A153000S HOUSING,MAG DRIVE,ASM |
| 325042 MANIFOLD, EXHAUST | A153015G GEAR,O P DRIVE,ASM. |
| 325043 BRACKET,OIL PIPE | A153104A SHAFT DRIVE ASM |
| 325046 CONNECTION,GAS INTAKE | A153123A SCREEN OIL ASM |
| 325047 BRACKET, TURBOCHARGER | A153123B SCREEN,OIL,ASSEMBLY |
| 325051 HXHDSCR M30-3.5 X 220 | A153286L ADAPTER,MAG DRIVE,ASM |
| 325052 HX NUT M30-3.5 | A153373A GAUGE OIL ASM |
| 325053 WASHER, FLAT M30 | A153403Z ROD ASM,HAND TROTTL |
| 325054 WASHER, LOCK M30 | A153545B CONN.WATER OUTLET |
| 325055 HXHDSCR M24-3 X 100 | A153581E MANIFOLD WATER INLET |
| 325056 WASHER, FLAT M24 | A153591 BELT SET |
| 325057 SCREW,HXHD M30X160GRD#8.8 | A153646 BY-PASS WAT ASM LOW |
| 325059 BRACKET MAIN GAS VALVE | A153647 ELBOW,WATER BY-PASS,ASM |
| 325060 SPACER FOR AIR STARTING M... | A153707K STRAINER,LUBE OIL,ASM |
| 325061 GUIDE,THERMOSTAT ELEMENT | A153707L STRAINER,LUBE OIL,ASM |
| 325062 AIR SUCTION BRANCH AXIAL ... | A153754L PUSH ROD ASM |
| 325063 AIR SUCTION BRANCH AXIAL ... | A153754U ROD,PUSH,ASM. |
| 325064 ACTUATOR HEINZMANN | A153889C SCREW R A ADJ ASM |
| 325070 HOUSING, LUB OIL MODULE | A153889D SCREW ADJ ASM |
| 325072 EXH.BELLOW DN250 ACC. DIN... | A153964A LEVER ASM |
| 325073 EXH.GASKET DN250 550C DIN... | A154761A BELT SET,COG TYPE |
| 325074 COUNTER-FLANGE DN250 DIN8... | A155661A LINE OIL COOL JUMPER |
| 325075 EXH.BELLOWS DN300 ACC.DIN... | A155852A CONN AIR CLEANER |
| 325076 EXH. GASKET DN300 550C DI... | A156061U TUBE TURN ASM. |
| 325077 COUNTER-FLANGE DN300 DIN8... | A156479T ROD ASSEMBLY |
| 325079 CONNECTION OIL SUPPLY | A156632 BELT SET,.88 |
| 325080 BELLOWS DIAM.140 L=250 | A157001P TUBE ASM., AIR |
| 325082 BELLOWS DIAM.140 L=119 | A157001S TUBE,AIR,ASM. |
| 325083 BELLOWS DIAM.140 L=292 | A157255G CONTROLLER,OIL LEVEL,AS... |
| 325086 PIN,STRAIGHT,SPECIAL | A157255H REGULATOR,LO LEVELER,AS... |
| 325088 HXSOCKHDSCRM24X3X90,12.9 | A157255M CONTROLLER, OIL LEVEL,A... |
| 325089 BELLOWS DIAM.140 L=90 | A157255N LEVEL REGULATOR ASM., L... |
| 325090 BELLOWS DIAM.80 L=80 | A157869E HUB ASM.,MAG.DRIVE |
| 325091 BELLOWS DIAM.145 L=120 | A158161R ROD GOVERNOR ASSEM |
| 325092 BELLOWS DIAM.158 L=120 | A158243H FLANGE,ASSEMBLY |
| 325093 ADAPTER GAS INLET DN80 PN... | A158391H ROD,CONTROL |
| 325094 GAS INLET BELLOWS DN80 PN... | A158702 LINE OIL PUMP-FILTER |
| 325098 GAS INLET GASKET | A158709U PIPE ASSEMBLY |
| 325100 PLENUM INTERCOOLER AIR IN... | A159581E PULLEY,WATER PUMP,ASM |
| 325101 TDI, ISSM STARTER ASSY | A161694G PIPE,ASM. 1.50 NPT |
| 325102 BRACKET,SHIELD HEAT | A162190H TUBE AIR ASM |
| 325103 BRACKET,SHIELD HEAT | A162348C HOUSING,ACC DRIVE,ASM |
| 325104 SHIELD HEAT FOR WASTEGATE | A162440 BELT SET .380 |
| 325105 SHIELD HEAT FOR WASTEGATE | A162674C FLANGE ASM. |
| 325106 SENSOR,EXH TEMPERATURE | A162704C PLUG G P HOLE ASSEM |
| 325107 INJECTOR, PRECHAMBER FUEL | A162706 V-BELT, .500-SET |
| 325108 INJECTOR, MAIN CHAMBER FU... | A163344A BREATHER EJECTOR ASM |
| 325110 ELBOW COMPRESSOR OUTLET A... | A163594B ROD,GOVERNOR ASM. |
| 325111 ELBOW COMPRESSOR OUTLET B... | A163594H ROD,GOV.-ASM |
| 325112 ELBOW COMPRESSOR OUTLET A... | A163938F TUBE BY PASS LH |
| 325113 ELBOW COMPRESSOR OUTLET B... | A163938H TUBE BY PASS LH |
| 325148 VALVE CHECK DN100 | A163938J TUBE BY PASS RH |
| 325138 COVER AFTER COOLER | A163938S TUBE BY PASS ASM LH |
| 325151 DISC, ACTUATOR | A163938T TUBE BY PASS RH |
| 325152 SHIM | A164160 BELT SET |
| 325156 BRACKET,IPM-D MNTG A BANK | A164181 COVER ASM., A/C INLET |
| 325159 BRACKET, IPM-D HRNS SUP B... | A164464 ELBOW ASSEMBLY |
| 325172 INTEGRAL RELAY VALVE ASSY | A164494 HOSE FLEXIBLE ASM |
| 325186 FILTER, CENTRIFUGE FM400 | A164494G FLEX HOSE ASM |
| 325189 WELDNECK FLANGE DN80 PN16... | A164494K HOSE-FLEXIBLE-ASM |
| 325195 PAPER INSERT FM400-PKG OF... | A164494Y HOSE FLEX ASM |
| 325196 CUT OFF VALVE KIT FM400 | A164923 BELT SET .380 |
| 325197 SEALS KIT FM400 | A166058K TURN,TUBE-ASM. |
| 325198 CIRCLIP KIT FM400 | A166144 HUB FAN ASSEMBLY |
| 325200 COVER FIXING KIT FM400 | A166182A HOSE FLEXIBLE ASM |
| 325206 CLIP, HARNESS SUPPORT, 29... | A166182B HOSE,FLEX,ASM. |
| 325205 CLIP, HARNESS SUPPORT, 10... | A166182L FLEXIBLE HOSE ASM |
| 325207 STRIP, FLYWHEEL TIMING | A166182N HOSE, FLEXIBLE, ASM. |
| 325219 CLIP, HARNESS SUPPORT NW1... | A166182R HOSE ASM |
| 325220 CLIP, HARNESS SUPPORT NW1... | A166182T HOSE,FLEX,ASM,.19ID X36 |
| 325221 CLIP, HARNESS SUPPORT NW1... | A166182U HOSE FLEXIBLE ASM |
| 325222 CLIP, HARNESS SUPPORT NW2... | A166184G HOSE FLEX ASM |
| 325223 CLIP, HARNESS SUPPORT NW2... | A166184N HOSE FLEX ASM |
| 325231 O-RING, 155X5.3, FKM | A166184W HOSE FLEX ASM |
| 325232 O-RING, 190X3.55, FKM | A166186 HOSE FLEXIBLE ASM |
| 325233 SPACER | A166188A HOSE FLEX ASM |
| 325247 HOSE,FLEX 6MM DIA 550 LG | A166238A TUBING ASSEMBLY |
| 325248 EXPLOSION RELIEF VALVE 98... | A166417 BODY ASM., VENTURI |
| 325249 ADAPTOR FLANGE | A166990C VACUUM REGULATION ASM |
| 325250 O RING 129X3,55-N-EDPM | A166990E REGULATOR ASM.,VAC. |
| 325252 BRACKET,HEAT SHIELD | A166990D REGULATOR ASM.,VAC. |
| 325253 BRACKET,HEAT SHIELD | A166993E VALVE,VACUUM REG,ASM. |
| 325256 MANIFOLD EXHAUST | A166993F VALVE,VACUUM REG.,ASM. |
| 325257 HOSE,FLEXIBLE DN80 | A167111E HOSE FLEXIBLE ASM |
| 325258 HOSE,FLEXIBLE DN100 | A167111K HOSE FLEXIBLE ASSEM |
| 325259 GEAR, WATER PUMP | A167111D HOSE FLEXIBLE ASSEM |
| 325261 BRACKET, HEAT SHIELD | A167111W HOSE FLEXIBLE ASSEM |
| 325262 BRACKET, HEAT SHIELD | A167148G VALVE,PRESS REDUCTION,A... |
| 325263 HOOD PANEL | A167220S HOSE FLEXIBLE ASM |
| 325264 HOOD PANEL | A167244 BELT SET .500 |
| 325266 HOOD PANEL | A167309R HEADER ASM., WATER INLE... |
| 325267 BRACKET, HEAT SHIELD | A167457H HOSE FLEX ASM. |
| 325277 FLANGE | A167600R FILTER,LUBE OIL,ASM |
| 325279 BRACKET, PCC GAS MANIFOLD | A167758A ADAPTER,OIL STRAINER |
| 325283 PCC, GAS PIPE A BANK | A167907U PIPE ASM., OIL FILLER |
| 325284 PCC GAS PIPE B BANK | A167907D PIPE ASM.2X9TOE,SPEC |
| 325285 ADAPTER 1 IN / M30X1.5 | A168007 HOSE,FLEXIBLE,ASM. |
| 325290 BRACKET, ENGINE LIFTING | A168007A HOSE,FLEX,ASM. |
| 325293 DAMPER, VIBRATION | A168007K HOSE,FLEX,ASM. |
| 325294 COVER, WIREWAY LOWER | A168007M HOSE,FLEX,ASM. |
| 325295 PIN, DOWEL 8X20LG | A168007W HOSE,FLEXIBLE,ASM |
| 325298 RING, ANTI-POLISH | A168025 LIMITER POWER |
| 325299 CLIP, HARNESS SUPPORT, 10... | A168028 GUARD LINKAGE |
| 325300 CLIP, HARNESS SUPPORT, 12... | A168282M INTERCOOLER ASSEMBLY |
| 325301 CLIP, HARNESS SUPPORT, 17... | A168282N INTERCOOLER ASSEMBLY |
| 325302 CLIP, HARNESS SUPPORT, 23... | A168339B GEAR ASM., GOV. DRIVE |
| 325303 CLIP, HARNESS SUPPORT, 29... | A168339C GEAR,GOV DRIVE,ASM |
| 325305 BRACKET,HRNSS SUPP,ECU LC... | A168340G ELBOW, EXHAUST ASM. |
| 325306 PLATE, NAME WAUKESHA | A168340H ELBOW, EXHAUST ASM. |
| 325307 PLATE, NAME APG SERIES | A168362E HUB,GOV DRIVE GEAR,ASM |
| 325308 HOSE, FLEXIBLE | A168408V TUBE BY-PASS |
| 325309 WASHER,FLAT M12 | A168408W TUBE,LOWER BY-PASS,ASM. |
| 325310 SEAL, ANTI-SEDIMENTATION | A168415 FLANGE BREATHER |
| 325320 O RING - V12 | A168418A BRKT EXH ELBOW ASM |
| 325321 O RING - V18 | A168527F TUBE ASM., AIR INLET |
| 325333 COVER, FLYWHEEL END A BAN... | A168528F TUBE ASM., AIR INLET |
| 325334 COVER, FLYWHEEL END B BAN... | A168540 BELT SET(2).88X69.75 |
| 325335 BRACKET, IGNITION WIRE WA... | A168597 ASM, CAP, OIL FILLER |
| 325336 COVER,WIRE WAY UPPER | A168743N BRKT ASM.,J.W.PREHEAT M... |
| 325343 PLATE, COVER | A168743P BRACKET ASM, J.W.PREHEA... |
| 325358 CAP 1 IN STAINLESS STEEL | A168843 BELT SET .380 |
| 325366 BRACKET, SIDE COVER | A168873D BRACKET W.P. |
| 325369 CONNECTION, OIL SUPPLY | A168883 TUBE COPPER ASM |
| 325370 GAS PIPE, A BANK | A168934G TUBE,INTERCOOLER WATER |
| 325371 GAS PIPE, B BANK | A168951B CONNECTION WATER ASM |
| 325397 ROD, THREADED-M10 | A168974B TUBE,LUBE OIL |
| 325398 COVER, CAMSHAFT, FREE END | A168974C TUBE, LUBE OIL |
| 325401 GASKET, CAMSHAFT COVER, F... | A168974D TUBE,LUBE OIL |
| 325403 GASKET, TURBO OIL DRAIN (... | A168990U PANEL,INSTR,ASM |
| 325404 CONNECTION, TURBO OIL DRA... | A168990V PANEL,INST.,ASM. |
| 325405 CONNECTION, TURBO OIL DRA... | A169003A BRACKET FILTER ASM |
| 325406 CONNECTION, TURBO OIL DRA... | A169081A SCREW R A ASM |
| 325407 GASKET, TURBO OIL DRAIN (... | A169098A BRACKET BREATHER |
| 325408 OIL TUBE, LUBE OIL MODULE... | A169123 TUBE BREATHER |
| 325419 MANIFOLD, PRECHAMBER A BA... | A169524B ELBOW ASM |
| 325420 MANIFOLD, PRECHAMBER B BA... | A169524E ELB,INTERC.OUT.ASM. |
| 325423 TUBE, PRECHAMBER SUPPLY | A169632E BRACKET,ACC PUMP ASM |
| 325424 COVER, FREE END A BANK | A169632G BRKT,ACC PUMP ASM. |
| 325425 COVER, FREE END B BANK | A169632K BRACKET ACC PUMP ASM |
| 325427 MANIFOLD, GAS INLET | A169812D GUARD, FLYWHEEL |
| 325428 GAS INLET BELLOW | A169812E GUARD, FLYWHEEL |
| 325429 REGULATOR, GAS, FISHER 10... | A169632N BRACKET ASM., W.P. |
| 325430 BRACKET, REGULATOR | A169812F GUARD, FLYWHEEL |
| 325431 BRACKET, REGULATOR | A169816 BLOCK PILLOW ASM |
| 325432 BRACKET, VALVE GAS INLET | A169816A BLOCK ASM.,PILLOW |
| 325433 BRACKET, VALVE GAS INLET | A169819C TIE BOLT & NUT ASM |
| 325434 PIPE, GAS SUPPLY | A169822 SCREEN OIL |
| 325437 BRACKET, VENT SOLENOID VA... | A169833 SLEEVE O-RING ASM |
| 325438 TUBE, VENT LINE | A169837 SHAFT GOV DRIVE ASM |
| 325435 VALVE, GAS INLET | A169856 O/P INLET CONN. |
| 325440 TUBE, CONTROL LINE | A169858U HEADER,OIL ASSEMBLY |
| 325439 TUBE, PILOT SUPPLY LINE | A169856C PIPE,ASSEMBLY |
| 325466 MODULE, LUBE OIL | A169858Y HEADER ASSY, OIL |
| 325441 TUBE, BALANCE LINE | A169863 TUBE CROSS SHAFT ASM |
| 325470 SPACER, COIL, 2% PRE-CHAM... | A169867A BODY ASM OIL BYPASS |
| 325467 COVER, LUBE OIL MODULE | A169867B BODY,OIL TEMP BYPASS,AS... |
| 325476 TUBE, CENTRIFUGAL FILTER ... | A169890D LEVER ASM., GOVERNOR |
| 325473 COVER, OIL CHANNEL | A169886 HOSE FLEX ASM |
| 325478 TUBE, VENT, PRE-FILTER - ... | A169893 TUBE TURBO OUT ASM |
| 325477 TUBE, VENT, POST-FILTER -... | A169911 BELT SET |
| 325526 \ | A169923K GUARD, AUX.PUMP-REAR |
| 325495 BRACKET, PCC GAS MANIFOLD... | A169924H GUARD,AUX.PUMP FRT. |
| 325527 \ | A169925K BRACKET ASM W.P. |
| 325561 NBL HXHDSCR M30 X 288, GR... | A169925J BRKT WATER PUMP ASM |
| 325564 BRACKET, HARNESS SUPPORT,... | A169925L BRKT.,WATER PUMP,ASM |
| 325572 BRACKET, OIL LEVEL REGULA... | A169926 TUBE BY-PASS UPPER |
| 325650 FILTER, FUEL | A169927A TUBE BY-PASS |
| 325651 GUARD, STARTER TERMINALS | A169927 TUBE BY-PASS LOWER |
| 325653 COLLET, VALVE | A169957E COVER,INST.PANEL |
| 325654 VALVE, SOLENOID | A169963A HEADER CENTER INLET |
| 350031 SHAFT STUB | A169963B HEADER WATER INLET |
| 350131 HXHDSCR M14X45FULTHD | A169963E HEADER, WATER INLET, CE... |
| 350354 HXHDSCR M14X 45 LG. | A169979A TUBE ASM WATER |
| 350374 ELBOW | A169981A TUBE ASM WATER |
| 350407 HXHDSCR M10 X 130MM | A169982D TUBE,WATER ASM. |
| 350414 HXHDSCR M14X35FULTHD | A169999 CONNECTION EXHAUST |
| 350419 HXHDSCR M6X14 FULTHD | A169999G CONNECTION,EXH.STACK |
| 350421 HXHDSCR M6X22 FULTHD | A172047 OIL PLUG CRANKSHAFT |
| 350425 WASHER, LOCK M14 | A172195B RELIEF VALVE ASSY. |
| 350428 HXHDSCR M10X22FULTHD | A172213 WIRE MAG GROUND |
| 350430 HXHDSCR M14X40FULTHD | A172227 ROCKER ARM W/BUSHING |
| 350433 FILTER,FUEL | A172428 BELT SET, MATCHED(2) |
| 350437 ELEMENT AIR CLEANER | A172429 WIRE ASSEMBLY |
| 350438 HX HD CPSC M6X40 | A173140 BELT SET,MATCHED(2) |
| 350440 HXHDSCR M8X45 MM LG | A176737E HOSE ASM |
| 350441 HXHDSCR M8X60 MM LG | A176737P HOSE ASM |
| 350442 HXHDSCR M6X25 FULTHD | A176836 CYL ACCUMULATOR ASM |
| 350445 WASHER, LOCK M5 | A176858 FILLER NECK ASM |
| 350450 WASHER, FLAT M10 | A176921 ARM THROTTLE ASM |
| 350460 NUT,HEX M 14 | A177390C TURBO CHARGER |
| 350486 HXHDSCR M14X90 G10.9 | A177394 BRKT GUARD |
| 350490 HXHDSCR M14 X60 CLASS 10,... | A177450 TUBE ASM |
| 350673 GASKET,THROTTLE BODY | A177452 TUBE,ASM |
| 350684 GASKET,MAG. HOUSING | A177457 BELT SET |
| 350686 KEY,WOODRUFF 6X9 | A178066 BELT SET-MATCHED (3) |
| 350693 WASHER,THRUST | A178698 CAPSCREW-CYL HEAD |
| 350694 WASHER,THRUST | A178918 OIL PUMP COVER ASSY. |
| 350696 SHAFT, DRIVEN (GOV.) | A178919 OIL PUMP BODY ASSY |
| 350697 SLEEVE,DRIVEN | A179048 TUBE ASSY,SUCTION |
| 350698 SLEEVE.DRIVE | A179048A TUBE ASSY,DISCHARGE |
| 350699 KEY,WOODRUFF METRIC | A194673 TUBE BY-PASS UPPER |
| 350738 GUARD,CRANKSHAFT PULLEY | A194675 TUBE EXHAUST |
| 350759 SHIELD,HEAT | A194931P GUARD,BELT LOWER RH |
| 350770 LEVER,THROTTLE | A194932F GUARD,BELT LOWER LH. |
| 350771 BRACKET,THROTTLE LEV | A194933B GUARD, UPPER BELT |
| 350780 GASKET,TURBO OIL SUP | A194934K GUARD, BELT, L.H. |
| 350781 GASKET,TURBO OIL DR. | A194934L GUARD,BELT UPPER RH |
| 350785 TIGHTENER, BELT | A194934M GUARD,BELT L.H. |
| 350792 SUPPORT,WP BASEPLATE | A194934N GUARD,BELT,L.H. |
| 350793 PLATE,W P BASE | A194934P GUARD,BELT,L.H. |
| 350794 SUPPORT,EYE BOLT | A194935B GUARD, BELT R.H. |
| 350798 BRACKET, TURBO EXH. | A194935E GUARD,BELT UPPER LH |
| 350799 ELBOW, EXH. BY-PASS | A194936D GUARD,COUPLING UPPER |
| 350816 ADAPTER, EXH. OUTLET | A194936E GUARD,COUPLING LOWER |
| 350817 PUMP,WATER | A194937H GUARD,LOWER BELT |
| 350820 CONNECTION,FLEX EXH. | A194937K GUARD, LOWER BELT |
| 350828 BRACKET,AIR LINE | A194938B GUARD, BELT TOP |
| 350826 GASKET, EXH. BY-PASS | A194938G GUARD, BELT TOP |
| 350829 BRKT.,OIL RESERVOIR | A194938H GUARD,BELT TOP |
| 350830 SPACER | A198045 CONTROL, FUEL LOGIC |
| 350835 ADAPTER, EXH BY-PASS | A199030K PIPE ASM., OIL FILLER |
| 350842 SCREW, HEX. HD. | A199052A BRACE,SURGE TANK |
| 350847 STARTER AIR/GAS | A199262E COVER,ACC.DR. GUARD |
| 350854 SLEEVE,SP.PLUG WELL | A199263G GUARD, ACCESSORY DRIVE |
| 350855 GUARD,ALTERNATOR FAN | A199284 BELT SET |
| 350862 STRAP | A199415S ELBOW,AIR START EXH,RH |
| 350888 ELBOW,EXHAUST OUTLET | A199429 ROD,GOVERNOR |
| 350890 ADAPTER M14 X 1.5 - .25 N... | A199429A ROD,GOVERNOR |
| 350892 ADAPTER,JW HEATER HOSE | A199429D ROD,GOVERNOR |
| 350895 ELBOW, SWIVEL HOSE | A199691 GEAR,DRIVE ASSEMBLY |
| 350900 HXHDSCR, M12X110 | A199800 GUARD, BELT, RH LOWER |
| 350923 SPACER,FAN DRIVE | A199800B COVER PLATE,GUARD |
| 350924 HXHDSCR M12X160 | A199800D COVER,BELT GUARD RH |
| 350927 ELEMENT 8IN. PRIM. | A199800R COVER,BELT GUARD RH-FRN... |
| 350928 ELEMENT 8IN. SAFETY | A199800K COVER,BELT GUARD |
| 350929 ELEMENT 10IN. PRIM. | A199800S COVER,BELT GUARD RH-REA... |
| 350930 ELEMENT,10 IN SAFETY | A199801B GUARD,DAMPER RIGHT |
| 350931 BRACKET,TIMING UNIT | A199802 GUARD, BELT, ENG WP |
| 350933 SILENCER,AIR STARTER | A199802A GUARD,DAMPER TOP |
| 350936 BRACKET,CLSD BREATHR | A199803 GUARD, BELT, ENG WP |
| 350939 BRACKET,CLOSED BRTHR | A199804 GUARD, BELT, LH UPPER |
| 350940 COVER,OPEN BREATHER | A199804B GUARD,DAMPER LEFT |
| 350941 BRACE,BREATHER BRKT. | A199804D GUARD,BELT,LH UPPER |
| 350943 CONNECTION,BREATHER | A199805C GUARD, BELT, LH ACC WP |
| 350944 NUT,BRTHER CONN. | A199805M GUARD, LH REAR, ACC WP |
| 350945 GASKET,BREATHER CONN | A199805V GUARD,REAR,ALT/AUX WP |
| 350947 SUPPORT,HOSE | A199805N GUARD,BELT |
| 350948 CLAMP,HOSE | A199805Y GUARD,OIL COOL WATR PUM... |
| 350956 ADAPTER,TURBO OILDRN | A199805X GUARD,OIL COOL WATR PUM... |
| 350964 PLUG | A199806C COVER,GUARD,LH ACC WP |
| 350966 GUIDE,EXHAUST VALVE | A199806D GUARD,LH FRONT,ACC WP |
| 350965 GUIDE,INTAKE VALVE | A199806J COVER,GUARD |
| 350968 INSERT,VAL.SEAT,INT. | A199806P GUARD,FRONT,ALT/AUX WP |
| 350969 INSERT,VALVE SEATEXH | A199806S COVER, O.C.W.P. GUARD |
| 350970 PLUG | A199806T COVER, O.C.W.P. GUARD |
| 350972 VALVE,INTAKE | A199806U GUARD,FRONT,ALT/AUX WP |
| 350974 WASHER,GUIDE LOWER | A199806V GUARD, FRONT, AUX WP |
| 350975 SPRING,VALVE INNER | A199807 GUARD, BELT, FRONT |
| 350976 SPRING,VALVE OUTER | A199868 BELT SET |
| 350977 WASHER,GUIDE UPPER | A199868A BELT SET(2).38X76 LG |
| 350978 KEY,VALVE STEM | A199807A GUARD, BELT, FRONT |
| 350979 CAP,VALVE STEM | A199868B V-BELT (SET OF 2) |
| 350984 RING,SEAL | A199868C V-BELTS(SET OF 2) |
| 350986 SCREW,CAP,M16X187 | A199868D V-BELT (SET OF 2) |
| 350987 SCREW,CAPM18X110 | A200010B BEARING ASM.,CON.ROD |
| 350988 WASHER | A200022S2 BEARING,MAIN FCR ASM-P... |
| 350989 PIN | A200024G DOOR ASM., OIL PAN |
| 350991 PLUG | A200054J HOUSING, ASM., GEAR |
| 350992 GASKET | A200122C BEARING, MAIN FCR ASM |
| 350993 SCREW,CAPM12X65 | A200122H NBL, BEARING,MAIN,FRT,C... |
| 350995 WASHER | A200122J NBL. BRG,MAIN,FRT,CENT,... |
| 350996 FLANGE,WATER BYPASS | A200125A BEARING, MAIN INT ASM |
| 350997 GASKET | A200125F NBL, BEARING,MAIN,INTER... |
| 351002 SCREW,ADJUSTING | A200125G NBL. BEARING,MAIN,INTER... |
| 351003 NUT,LOCK | A200184C SHAFT,OIL PUMP,ASM. |
| 351004 SHAFT | A200185B GEAR,O.P.ASM.-DRIVEN |
| 351005 PLUG,BOWL | A200224C DOOR ASM., OIL PAN |
| 351007 RING,RETAINING | A200245F COVER,GEAR,ASM. |
| 351008 WASHER | A200313B NBL FLYWHEEL ASM |
| 351009 BRACKET,BEARING OUT | A200313C NBL FLYWHEEL ASM |
| 351010 BRACKET,BEARING CNTR | A200313D NBL FLYWHEEL ASM |
| 351012 HXHDSCR M12X80 | A200313E NBL FLYWHEEL ASM |
| 351013 LINE,OIL | A200411D NBL CRANKSHAFT ASM. |
| 351014 BOLT,HOLLOW | A200380 BODY,OIL PUMP,ASM |
| 351015 GASKET | A200420D NBL CRANKCASE ASM., 8.5... |
| 351016 NIPPLE | A200511D NBL CRANKSHAFT ASSEMBLY |
| 351017 FERRULE | A200513Z NBL FLYWHEEL ASM |
| 351018 NUT,COUPLING | A200520B NBL CRANKCASE ASM., 9.3... |
| 351019 COVER,ROCKER ARM | A200613H NBL FLYWHEEL ASM |
| 351020 RING,SEAL | A203081 GEAR,OIL PUMP,ASM,DRIVER |
| 351021 WASHER | A204065J ROCKER ARM ASM., INTAKE |
| 351022 NUT,GRIP | A204065K ROCKER ARM ASM,INTAKE |
| 351023 COVER,OIL FILLER | A204066J ROCKER ARM,EXHAUST,ASM |
| 351024 GASKET | A204066K ROCKER ARM ASM.,EXH |
| 351025 PIN,TENSION | A204069H SHAFT ASM,ROCKER ARM |
| 351029 NIPPLE | A204165B ROCKER ARM, INTAKE |
| 351030 GASKET | A204178K HOUSING ASM., THERMOSTA... |
| 351031 TUBE,DIPSTICK | A204241P MANIFOLD,INTAKE,ASM,LB |
| 351032 FERRULE | A204342X MANIFOLD,EXHAUST,ASM. |
| 351035 O RING | A204342Z MANIFOLD,ASM. EXH. |
| 351033 NUT | A204442E MFLD.,EXH.,ASM.RB |
| 351040 RING,SNAP | A204442G MFLD,EXH,ASM.RB |
| 351041 PIN,PISTON | A204442H MANIFOLD,EXHAUST,ASM |
| 351044 BUSHING | A204442J MFLD ASM,EXH. R.B. |
| 351045 DOWEL | A204442K MFLD ASM.,EXH. R.B. |
| 351052 DOWEL | A204478 HSG,THERMOSTAT ASM. |
| 351053 GEAR,CRANKSHAFT | A204542E MFLD,EXH,ASM LB |
| 351054 KEY | A204542G MFLD,EXH,ASM LB |
| 351055 FLYWHEEL WITH RING GEAR | A204542J MFLD ASM,EXH. L.B. |
| 351056 GEAR,RING | A204542K MFLD ASM.,EXH. L.B. |
| 351057 SCREW,CAP M14X68MM | A204577A MANIFOLD,TOP WATER |
| 351059 RING,RETAINING | A204577C MANIFOLD,TOP WATER |
| 351061 HUB,VIBRATION DAMPER | A204702R HEAD ASM., CYLINDER (ST... |
| 351062 DEFLECTOR,OIL | A204742F MFLD EXH CTR |
| 351063 CONE,EXPANDING | A204742G MANIFOLD,EXH CTR EBUCOO... |
| 351064 BOLT | A204802E NBL HEAD ASM., CYLINDER |
| 351065 WASHER | A204942 MANIFOLD, ASM. EXH. |
| 351066 PULLEY | A205010K2 BEARING,CONN.ROD ASM |
| 351067 WASHER | A205010U BEARING, CONN ROD ASM |
| 351072 WASHER,GUIDE STD SZ. | A205078 HOUSING,THERMOSTAT,ASM. |
| 351073 PAN,OIL | A205085 GEAR OIL PUMP ASM |
| 351074 BUSHING,THREADED | A205111 NBL CRANKSHAFT ASM |
| 351075 GASKET,OIL PAN | A205177A MANIFOLD TOP WTR ASM |
| 351077 WASHER | A205210 2 BEARING, CONN. ROD |
| 351081 GASKET | A205210A BEARING,CONN ROD |
| 351082 PLUG,DRAIN | A205210B2 NBL. BEARING, CONN. RO... |
| 351083 GASKET | A205278 HOUSING,THERMOSTAT,ASM |
| 351090 GASKET | A205407H NBL ROD,CONNECTING,ASM |
| 351089 O RING | A205407HWA ROD, CONNECTING - 'A'... |
| 351091 SCREW,CAP M10X100 | A205407HWC ROD, CONNECTING - 'C'... |
| 351094 DISTRIBUTOR,OIL | A205477A MANIFOLD,WATER CENT |
| 351097 PLUG,PIPE M14 | A205477B MANIFOLD,WATER REAR |
| 351098 GASKET | A205607 ROD,CONNECTING,ASM. |
| 351104 BOLT,HOLLOW | A205520B NBL CRANKCASE ASSEMBLY |
| 351110 GUIDE | A205623D NBL CAMSHAFT ASM. |
| 351111 BOLT | A205707 ROD, CONNECTING, ASSEMBL... |
| 351112 WASHER | A205707WC ROD. CONNECTING - 'C' ... |
| 351113 WASHER,SEAL | A206000H GASKET,HEAD,ASM,9.125 D |
| 351116 PLUG,PIPE M20 | A207178 SUPPORT,SHAFT ASM |
| 351117 GASKET | A207186B ROD,THROTTLE,ASM. |
| 351124 GASKET | A207454C CABLE,ASM.,L.H. |
| 351126 WASHER | A207530A SHIELD,RAIN |
| 351134 NIPPLE | A207530B SHIELD RAIN |
| 351137 HOUSING,THERMOSTAT | A207530C FRAME,AIR CLEANER |
| 351138 THERMOSTAT174DF-79DC | A207530D FRAME,AIR CLEANER |
| 351140 GASKET | A207530F FRAME AIR CLEANER |
| 351141 GASKET | A207531P DUCT,AIR |
| 351142 SCREW,CAP M10X50 | A207555F BLOCK CONN. ASM., OIL S... |
| 351144 HOSE | A207772E MOTOR, ELECTRIC, 24V |
| 351148 ROD,PUSH | A207808 EXH BY-PASS, ASM. |
| 351150 BEARING,CAMSHAFT (1) | A207808E TUBE,EXHAUST BY-PASS,AS... |
| 351151 BEARING,CAM (2,3) | A207808G TUBE,EXH BY-PASS,ASM |
| 351152 BEARING,CAMSHAFT (4) | A207815 BRKT,BREATHER ASM. |
| 351153 GEAR,CAMSHAFT | A208117 TUBE, BREATHER ASM. |
| 351154 KEY | A208117A TUBE,BREATHER,ASM. |
| 351155 NUT | A208177 TUBE,ASM-BREATHER |
| 351156 FLANGE | A208188B TUBE,TURBO ASM. |
| 351158 GEAR,INTERMEDIATE | A208188X TUBE,TURBO OIL ASM |
| 351160 WASHER,GUIDE | A208188Y TUBE,TURBO OIL ASM. |
| 351161 WASHER | A208189A SLEEVE,FIRE ASM. |
| 351164 O RING | A208272 SHIELD,RAIN |
| 351166 GASKET | A208272A SHIELD,RAIN |
| 351167 GASKET | A208272B SHIELD,RAIN |
| 351173 SCREW,CAP M10X75 | A208272G SHIELD, RAIN |
| 351177 GASKET | A208346E PIPE ASSEMBLY |
| 351180 GASKET | A208439E ROD,ASSEMBLY |
| 351185 GASKET | A208439D ROD ASM. |
| 351187 SCREW,CAP M10X130 | A208439F ROD ASM. |
| 351190 GASKET | A208439G ROD ASM. |
| 351193 PLUG,PIPE M12X1,5 | A208439H ROD ASM. |
| 351194 GASKET | A208439J ROD ASM. |
| 351198 GASKET | A208442 V-BELT, .500-SET |
| 351199 GASKET | A208439V ROD ASSEMBLY |
| 351200 GASKET | A208472A ELEMENT, PAPER ASM. |
| 351201 STUD | A208472 ELEMENT, PAPER ASM |
| 351202 STUD | A208502G CABLE ASM, MAG.-CSA |
| 351203 STUD | A208541 BELT, AUTOMOTIVE SET |
| 351204 NUT | A208560E FLANGE ASM OIL STRAINER |
| 351207 GASKET | A208544C BRKT ASM.,STRNR ADJ.SUP... |
| 351208 PLUG,PIPE M14 | A208568S LINE,L.B.TURBO INLET |
| 351211 CONNECTION,ELBOW | A208568R LINE,R.B.TURBO INLET |
| 351212 NUT | A208628 CONDUIT,WIRING,.50 |
| 351213 FERRULE | A208606 INLET ASSY, AIR CLEANER |
| 351215 SCREW,CAP M10X25 | A208628F CONDUIT,WIRING,.50 |
| 351217 PLUG | A208628C CONDUIT ASM,.50 X 46 LG |
| 351219 GASKET | A208628J CONDUIT ASSY |
| 351220 PIN,GUIDE | A208628H CONDUIT ASM .50 |
| 351224 GASKET | A208628M CONDUIT ASM |
| 351228 RING,SEAL | A208628N CONDUIT ASM |
| 351236 GASKET | A208628U CONDUIT ASM,WIRING,.50 |
| 351237 FILTER,OIL | A208628P CONDUIT ASM,.50 X 64 LG |
| 351238 HOUSING,OIL FILTER | A208628W CONDUIT ASM,WIRING,.50 |
| 351239 SPINDLE | A208628Z CONDUIT ASM,WIRING,.50 |
| 351240 WASHER | A208689E COUPLING,FLEX,ASM,1.5 I... |
| 351242 ROTOR | A208689D COUPLING,FLEX,ASM,2 INP... |
| 351243 STRAINER | A208719 CONNECTION,WATER IN. |
| 351244 COVER | A208744Y TUBE,PRELUBE OIL DISCH. |
| 351245 NUT | A208816R TUBE ASSEMBLY, INLET, B... |
| 351246 O RING | A208816G CONN. CRANKCASE VENT |
| 351247 NOZZLE | A208816W TUBE, BREATHER REGULATO... |
| 351249 O RING | A208816X TUBE, BREATHER REGULATO... |
| 351250 NUT, LOCK | A208836 ADAPT,TURBO O.DR.ASM |
| 351251 EAR,LIFTING | A208836A ADAPTER,OIL DR LOW,ASM |
| 351252 O RING | A208882 BRACKET,CONNECTOR |
| 351253 RING,LOCK | A208882C BRACKET ASM,CONNECTR |
| 351259 GASKET | A208882E BRACKET ASM., CONNECTOR |
| 351260 GASKET | A208882F BRACKET,TUBE PRELUBE |
| 351268 GASKET | A208890A VALVE,VAC. ADJ.ASM. |
| 351274 SCREW,CAP M8X14 | A208890C VAL.VACUUM ADJ. ASM. |
| 351277 EYE,LIFTING | A208898A TUBE VAC. VA. ASM. |
| 351279 CAPSCREW,HXHD M16X30 | A208940 V-BELT SET .38 |
| 351280 WASHER | A208949 TUBE,BYPASS UPPER LH |
| 351285 PLUG,M16 | A208949B CONNECTION,WATER |
| 351290 ADAPTOR, STARTER | A208983 LINE ASM, WATER RET. |
| 351293 SHAFT,WATER PUMP | A208983A LINE ASM WATER IN |
| 351294 IMPELLER | A209044B SLEEVE,FIRE,ASSEM |
| 351295 RING | A209057S TUBE ASSEMBLY, AIR |
| 351296 O RING | A209057Z TUBE,WATER RETURN,ASM. |
| 351297 RING,WEAR | A209108J TUBE, OIL |
| 351298 NUT | A209108L TUBE ASM. OIL SUPPLY |
| 351300 BEARING,BALL INNER | A209129K TUBE,EJECTOR ASSEMB. |
| 351301 SLEEVE,SPACER | A209133B ROD ASM THROTTLE |
| 351302 BEARING,BALL OUTER | A209129L TUBE,EJECTOR ASSEMB. |
| 351303 DEFLECTOR | A209152 ELBOW,WATER IN,ASM,RB |
| 351304 RING,SNAP | A209154G ROD,GOVERNOR ASM |
| 351306 WASHER | A209154C ROD,GOVERNOR ASM. |
| 351307 HUB | A209220 FLANGE,EXH BY-PASS,ASM |
| 351308 PULLEY 2-GROOVES | A209224 FLANGE ASM.,SPACER |
| 351311 GASKET | A209230 PANEL,CONTROL ASM. |
| 351316 GASKET | A209230L PANEL ASM CONTROL |
| 351317 GASKET | A209230V BRACKET, CONTROL PANEL |
| 351318 SCREW,CAP M8X25 | A209230Z BRACKET,CONTRL PANEL,AS... |
| 351320 HOSE | A209243X BOX,ENG.ELEC.CONTROL |
| 351325 TUBE,BREATHER | A209290A PANEL ASM.,SEL-SWTCH |
| 351326 GASKET | A209290C PANEL ASM.,PYRO SLSW |
| 351333 BUSHING | A209362M PLENUM,AIR CLEAN,ASM,RH |
| 351334 GASKET | A209366 GAUGE ASSEMBLY |
| 351336 GASKET | A209378C CABLE ASM., TACH |
| 351337 GEAR,PUMP | A209410E CONN.,AIR INLET |
| 351338 GEAR,PUMP | A209494 CONNECTION FLEX-ASM. |
| 351339 GEAR,DRIVE | A209495 ADAPTER ASSEMBLY |
| 351340 NUT | A209517N TUBE,OIL SEPARATOR,ASM |
| 351342 SHAFT | A209517X TUBE ASM., OIL SEPARATO... |
| 351343 BOLT | A209531 VALVE ASSY, RELIEF |
| 351346 RING,LOCK | A209539 PLATE,RETAINER ASM. |
| 351349 PLUNGE | A209542 PIPE ASM., AUX WATER OUT... |
| 351345 SPACER | A209542J FLANGE,LUBE OIL COOL,AS... |
| 351350 SPRING | A209577D BRACE,A/C SUPPORT RH |
| 351352 O RING | A209577E BRACE,A/C SUPPORT LH |
| 351356 GASKET | A209577F BRACE,A/C SUPPORT RH |
| 351359 SCREW,CAP M8X16 | A209577G BRACE,A/C SUPPORT LH |
| 351362 SHIM | A209585M COVER, MOTOR (W/PCB FOR... |
| 351366 KIT,OIL FILTER GASKT | A209603D RECEPTACLE ASM,BOX MNTN... |
| 351370 GASKET | A209615 ROD ASM.GOVERNOR |
| 351384 KIT,WATERPMPSHFT RPR | A209615B ROD ASM.GOVERNOR |
| 351386 GASKET | A209615C ROD ASM.GOVERNOR |
| 351391 REGULATOR, GAS | A209615F ROD ASM.GOVERNOR |
| 351414 SHIM | A209617 BELT SET(2).88X65.5 |
| 351417 O RING,2.62X3.00X.19,VITO... | A209629A HEADER,WATER INLET |
| 351447 ADAPTOR, CARBURETOR | A209641 TUBE ASSEMBLY, AIR |
| 351454 TUBE, DISTR. OIL | A209644 TEE ASSEMBLY |
| 351461 PLATE,BREATHER | A209666M TUBE,EJECTOR BREATHR,AS... |
| 351465 SHIELD, HEAT | A209666P TUBE,ASM BREATHER |
| 351471 DRIVE HSG,MAG | A209675K OIL LINE ASM,ACC.DR. |
| 351474 BRACKET,AIR CLEANER TOP | A209725B BELT ASM, FAN |
| 351475 HSG,B'FLY VALVE | A209725C BELT ASM, FAN |
| 351473 BRACKET, AIR CL RH | A209729J MAGNETO ASM.,ALTR.V. |
| 351478 NUT,SPRING ADJ | A209731 TUBE ASSEMBLY, AIR |
| 351479 PINION,MAGNETO | A209778 BRACKET,OIL SEPARATR,ASM |
| 351486 SHAFT,BUTTERFLY VALVE | A209782 TUBE ASM,WATER CONN. |
| 351480 RACE, NEEDLE BRG | A209805 PIPE ASSEMBLY |
| 351489 STOP,WEAK LINK | A209805S OUTLET,OIL PUMP,ASM |
| 351490 LEVER | A209805Y FLANGE, COMPANION |
| 351495 SEAL OIL | A209814C VALVE,POSITIONL LOCK,AS... |
| 351492 SPRING,WEAK LNK | A209889 PIPE ASSEMBLY |
| 351504 GEAR,GOV WOODWARD | A209960B TUBE ASM,AIR/GAS IN |
| 351501 HSG,GOVERNOR DRV | A209962D MANIFOLD,ASSY PRECHA |
| 351506 GEAR, GOVERNOR | A209978 TUBE ASM.,WAT.INLET |
| 351507 HOSE 2.62X3.13X2.5LG | A209978H TUBE,INTERC WATER,ASM |
| 351510 HXHD,M10X25GD10,9 | A209978J TUBE,WATER INLET FRT,AS... |
| 351509 BEARING, NEEDLE | A209978K TUBE ASM WATER IN FT |
| 351511 PLUG,TIMING HOLE M30X1.5 | A209978L TUBE ASM WATER OUT |
| 351525 SCREW, STOP | A209978M TUBE ASM.WATER IN RR |
| 351524 SPRING, DISK | A209978N TUBE ASM WATER OUT |
| 351527 STRAP | A209978W TUBE,TURBO OIL DR UP,AS... |
| 351531 BOLT,MAGNETO DRIVE | A209978X TUBE,TURBO OIL DR UP,AS... |
| 351529 RACE,NEEDLE BRG | A209978Z TUBE,INTERCOOL WATER,AS... |
| 351533 VOLUTE ASM.,AUX.W.P. | A209987E TUBE,TURBO ASM SUPPL |
| 351532 IMPELLER,WP | A211021E ROD ASM.,GOV.CONT. |
| 351534 GASKET | A211021G ROD ASM., GOV CONTROL |
| 351535 SEAL, WATER | A211021H ROD ASM., GOV CONTROL |
| 351538 SPACER | A211054 WIRE ASM.,PRIMARY |
| 351537 PULLEY, AUX. W.P. | A211055 WIRE ASM.,PRIMARY |
| 351539 ADAPTOR | A211064 HANDLE ASM,FRICTION |
| 351541 SHAFT, AUX. WP | A211067 LEVER ASM,THROTTLE |
| 351542 HSG,AUX. WATER PUMP | A211089 PIPE ASM |
| 351543 WASHER | A211141M TUBE,TURBO OIL IN,ASM |
| 351545 BRACKET,GUARD SUPPORT RH | A211141U TUBE,TURBO OIL RB. |
| 351547 GUARD, LOWER BACK | A211141V TUBE,TURBO OIL L.B. |
| 351550 RING,RETAINING E | A211174 TUBE,INTERCOOLER,ASM RH |
| 351560 PLATE ASM, BREATHER | A211174A TUBE ASM INTERCOOLER |
| 351561 TUBE, CLSD BRTHR | A211174E TUBE,LUBE OIL SUPPLY,AS... |
| 351566 GASKET | A211174F TUBE,LUBE OIL SUPPLY,AS... |
| 351567 PRECLEANER | A211174M TUBE,LUBE OIL SUPPLY,AS... |
| 351568 ELEMENT, A-C | A211174R TUBE,LUBE OIL SUPPLY,AS... |
| 351569 BRACKET, GAS REG | A211174V TUBE,OIL SUPPLY,ASM. |
| 351570 PLUG,STATIC CONN. | A211174W TUBE ASM.,INTRCLR R/T |
| 351577 OIL DIPSTICK | A211188C BRACKET ASM, GAS VALVE ... |
| 351578 COVER PLATE | A211194H ASSEMBLY, SOLENOID VALV... |
| 351585 MANIFOLD, INTAKE | A211200 TUBE,ASM EXTRACTOR |
| 351586 CAMSHAFT | A211200B TUBE ASM., EXTRACTOR |
| 351587 MANIFOLD,LOWER INTAKE | A211237A ADAPTER ASM, TURBO MTG |
| 351588 MANIFOLD, UPPER INTAKE | A211254B BOX,ASM.JUNCTION |
| 351590 CPSCR, HXHD M10 X 120 | A211254E BOX ASM., JUNCTION |
| 351591 CPSCR, HXHD M10 X 95 | A211254J BOX,JUNCTION,ASM. |
| 351592 GASKET | A211254U BOX ASM. JUNCTION |
| 351593 INTERCOOLER | A211254X JUNCTION BOX, ASM. |
| 351594 SEAL,VITON | A211254Z JUNCTION BOX ASSY |
| 351606 PLUG, M20 X 1.5 | A211269 HEADER ASM.WATER RTN |
| 351607 M10 X 35 HHCS | A211291A KIT, VARIFUEL GAS |
| 351610 GASKET | A211291B VARIFUEL GAS CON.KIT |
| 351619 BRACKET, GAS REG. | A211291C KIT, VARI FUEL GAS |
| 351621 VALVE ASM.,BYPASS | A211291D KIT, VARIFUEL GAS |
| 351623 PLATE, RETAINER | A211291E KIT, VARIFUEL GAS |
| 351627 SPRING, OIL FILTER | A211291G KIT, VARIFUEL GAS |
| 351629 SUPPORT,WIRE CLIP | A211291H KIT, VARI FUEL GAS |
| 351637 BRACKET, PUSHBUT SW | A211291N KIT,VARIFUEL GAS CONVER... |
| 351638 HOSE,.50 ID X 4 FT LG | A211291P KIT, VARIFUEL GAS |
| 351639 HOSE,.88 ID X 4 FT LG | A211291T KIT,VARIFUEL GAS CONVER... |
| 351646 BOLT, HOLLOW M16X2 | A211291V KIT,VARIFUEL GAS CONVER... |
| 351647 TUBE,OIL REG SUPPLY | A211291Z KIT, VARIFUEL GAS CONVE... |
| 351650 STRAP,IGNITION CONDUIT | A211327M TUBE, TURBO OIL ASM |
| 351655 BRACKET, IGNITION COIL | A211357D CABLE ASM,SP PLUG |
| 351657 BRACKET, BREATHER TUBE | A211359C CONDUIT,THERM. ASM. |
| 351659 GOV,ELEC,BARBER-COLMAN | A211395H BOX ASM, JUNCTION |
| 351661 BRACKET, GOVERNOR | A211395J BOX ASM, JUNCTION |
| 351668 BUSHING | A211411B TUBE ASM., BREATHER |
| 351672 JOURNAL, SHAFT | A211411C TUBE ASM., A.C. INLT |
| 351676 GASKET | A211411R TUBE,CLOSED BREATHER,AS... |
| 351677 LINE,OIL | A211411S TUBE,WP SUPPLY,ASM |
| 351678 BOLT,HOLLOW | A211416A TUBE,PREL OIL DISCH,ASM |
| 351679 NIPPLE | A211416B TUBE,PREL OIL DISCH,ASM |
| 351680 SCREW, FLANGE HEAD | A211416C OUTLET,TURB WATER LB |
| 351683 O RING,.69X1.06X.19,VITON | A211416D OUTLET,TURB WATER RB |
| 351686 TURBOCHARGER | A211416E INLET,TURBO WATER LB |
| 351688 TUBE, BALANCE LINE | A211416F INLET,TURBO WATER RB |
| 351689 ELBOW, EXHAUST OUTLET | A211416Y TUBE,COOL WATER IN LB,A... |
| 351693 SEAL, VITON | A211424E DUCT, AIR-R.H |
| 351694 COLLAR | A211424F DUCT, AIR-L.H. |
| 351695 O RING,.88X1.25X.19,VITON | A211434 PLENUM, UPPER,R.H. |
| 351696 BRACKET, WATER LINE | A211434A PLENUM, UPPER,L.H. |
| 351697 BRACKET, WATER LINE | A211434B PLENUM,UPPER AIR-GAS |
| 351699 ADAPTER, COMP DISCHRG TO ... | A211434D PLENUM, UPPER L.H. |
| 351701 BRACKET, OIL SUPPLY TUBE | A211440T TUBE,OIL SUP TO ACC DRV |
| 351702 ELBOW,FEMALE,.25X.12NPT | A211453 SLEEVE ASM,METER VLV |
| 351705 GASKET | A211454C ELBOW, AIR/GAS |
| 351712 PLATE, COVER | A211456C SLEEVE, COUPLING |
| 351715 O RING,1.75X2.00X.12,VITO... | A211541S CONDUIT,THERMOCOUPLE,AS... |
| 351716 O RING,2.75X3.12X.19,VITO... | A211554B BOX ASM.,JUNCTION |
| 351717 TAG, WARNING | A211554D BOX ASM., JUNCTION |
| 351720 TUBE, WASTEGATE SENSING | A211554K BOX,JUNCTION,ASM,L.B. |
| 351721 PLUG, M44X3/8 INNPSF | A211554J BOX,JUNCTION,ASM |
| 351726 PLATE, LABEL | A211554L BOX,JUNCTION,ASM,R.B. |
| 351729 SPRING, REGULATOR | A211554P BOX,JUNCTION,ASM. |
| 351730 VALVE ASSY, GAS | A211554T BOX ASSY, JUNCTION |
| 351732 SEAL, CYLINDER SLEEVE | A211554Y BOX,JUNCTION,ASM. |
| 351733 BUSHING, ADAPTER | A211577 ROD,BUTTERFLY VALVE,ASM |
| 351735 WASHER,SEALING 44,5 ID X ... | A211600 SWITCH ASM.,CSA IGN. |
| 351738 COVER, FRONT GUARD SLOT | A211629H TUBE,PRELUBE OIL DISCHR... |
| 351739 RACE, NEEDLE BEARING | A211639 VALVE, THERMOSTATIC, ASM... |
| 351740 GEAR, GOVERNOR IDLER | A211639C VALVE,THERMOSTAT,ASM,16... |
| 351741 SHAFT, GOVERNOR IDLER | A211660 FLANGE, ASM. |
| 355019 GEAR,MAGNETO | A211660A FLANGE,LUBE OIL,ASM. |
| 408408 .625 X .049 X 144 FLST | A211682 DUCT, AIR CLEANER |
| 408465 CONDUIT,NON-CSA SEALTITE,... | A211661 FLANGE, ASM. |
| 408676 CONDUIT,CSA LIQUID-TIGHT,... | A211714W TUBE,TURBO WAT IN-RB,AS... |
| 408677 CONDUIT,CSA LIQUID-TIGHT ... | A211700L TUBE,PUMP TO IC-REAR,AS... |
| 441112 FIRE SLEEVE,.688 ID | A211761F TUBE,PUMP TO IC FRONT,A... |
| 448029 WIRE 10 STRAND PRIM | A211761E TUBE ASM., IC WATER OUT |
| 448039 WIRE 14 PRIMARY | A211761H TUBE,IC WATER OUTLT FRN... |
| 448167 LEAD WIRE, THERMOCPL | A211761K TUBE,I.C. WATER OUT,ASM... |
| 472001 CONN ROD WRENCH ADAPTER | A211761X TUBE,PUMP-IC,FRONT,ASM. |
| 448179 *WIRE 25 GA X 0.24 OD | A211761W TUBE,PUMP TO IC REAR,AS... |
| 472002 CRANKCASE SPREADER | A211792A BRIDGE,VALVE,ASM. |
| 472004 VALVE SEAT DRIVER | A211761Y TUBE,IC WAT OUT,REAR,AS... |
| 472007 PISTON PULLER | A211797M EXTENSION,TELES TERMINA... |
| 472008 VALVE GUIDE EXTRACTOR | A211792E BRIDGE,VALVE,ASM. |
| 472009 VALVE GUIDE DRIVER | A211797P EXTENSION ASM., SPARK P... |
| 472010 VALVE SEAT EXTRACTOR | A211797N EXTENSION ASM., SPARK P... |
| 472012 CONN. ROD BUSHING PRESS | A211797R EXTENSION ASM., SPARK P... |
| 472017 LOWER SP PL TUBE SOCKET | A211797S EXTENSION ASM., SPARK P... |
| 472015 RA STAND/MFLD NUT WRENCH | A211820 SCREW,ADJUSTING,ASM |
| 472023 DAMPER DRVNG FLNGE WRENCH | A211845B BOX,ASM.,JUNCTION |
| 472024 CAMSHAFT PILOT | A211857 COOLER,38 IN LUBE OIL,AS... |
| 472030 GUIDE PIN KIT | A211859 COOLER,52 IN LUBE OIL,AS... |
| 472035 VALVE GUIDE PILOT | A211869F PIPE ASM.,OIL FILLER |
| 472044 VALVE SEAT GRINDNG WHEEL | A211876 JUNCTION BOX ASSY |
| 472048 SEAL DRIVER | A211879 CONDUIT ASSY, R.B. |
| 472055 CAMSHAFT PILOT TOOL | A211930 LABEL,SAFTY INST HT SHLD |
| 472056 CAMSHAFT BUSHING PRESS TO... | A214027 PLATE, MOUNTING |
| 472057 BEARING ROLLOUT TOOL | A214048E HARNESS,ENG.ASM.THERMCP... |
| 472059 CEC TEST CABLE | A214057 ROD,GOVERNOR,ASM. |
| 472061 CEC TEST CABLE | A214057B ROD ASM.,GOVERNOR |
| 472062 CEC TEST CABLE | A214057C ROD ASM., GOVERNOR |
| 472064 PIN KIT | A214057E ROD ASM., GOVERNOR |
| 472065 SPARK PLG CARRIER HOLDER | A214061 ROD, GOVERNOR, ASSEMBLY |
| 472066 DAMPER DRVNG FLNGE WRENCH | A214061A ROD,GOVERNOR,ASM. |
| 472067 WAT PUMP JAM NUT SOCKET | A214100H TUBE ASM., BREATHER |
| 472068 SP PLG TUBE REMOVAL TOOL | A214100L TUBE,PUMP TO IC REAR,AS... |
| 472071 PULLER, W.P. IMPELLER | A214100M TUBE,IC WATER OUT,ASM |
| 472070 TOOL, SENSOR VGF DSM | A214100R TUBE,INTERC-O.CLR-UPPER... |
| 472072 PULLER,VGF CYL SLEEVE | A214100T TUBE ASM.,INTERC-AUX. P... |
| 472073 KIT, KDM TOOL | A214100P TUBE,INTERC-AUX PUMP,AS... |
| 472074 TOOL,VGF RA COVER REMOVE | A214100V TUBE,INTERC. WATER CONN... |
| 472075 PLIERS,PIST RING EXP 152M... | A214100W TUBE ASM.,WATER INLET |
| 472076 COMPRESSOR, PISTON RING | A214102G TUBE ASM., TURBO WATER ... |
| 472077 INSTALLATION TOOL,VGF | A214102H TUBE ASM., TURBO WATER ... |
| 472078 KIT, VGF HAND TOOL | A214102N TUBE ASM., BREATHER OUT... |
| 472080 TOOL, CONN ROD GUIDE PIN | A214102S TUBE ASM., BREATHER OUT... |
| 472081 ALGN TOOL, CONN ROD BEARI... | A214102R TUBE ASM., BREATHER OUT... |
| 472082 TURBO FITTINGS WRENCH 1-1... | A214102U TUBE ASM., BREATHER INL... |
| 472083 PISTON EXTRACTION TOOL | A214102W TUBE ASM., BREATHER OUT... |
| 472087 TOOL,MAIN BEARING ROLL OU... | A214102Y TUBE ASM., BREATHER OUT... |
| 472088 KIT, HYDRAULIC PUMP | A214107A TUBE,OIL COOLR SUPP UPP... |
| 472089 TOOL,VALVE SEAT EXTRATION | A214107D TUBE, OIL COOLER CONNEC... |
| 472090 KIT,REPLACEMENT EXTRACTOR... | A214107E TUBE,OIL COOLER SUPPLY ... |
| 472091 TOOL,HEAD LIFTER 100LBS C... | A214108A TUBE,OIL COOLR SUPP LOW... |
| 472092 VALVE SEAT INSERT DRIVER | A214108B TUBE,COOLR-THERMOST LOW... |
| 472093 DRIVER, VALVE GUIDE | A214109A TUBE,COOLR-THERMOST UPP... |
| 472094 TOOL,SLEEVE PULLER | A214109D TUBE,COOLER-THERMOSTAT ... |
| 472095 CONROD BUSHING REMOVAL TO... | A214111A TUBE,PUMP-THERMOST UPPE... |
| 472096 4-VALVE SPRING COMPRESSOR | A214117 BOX,ALTERNR JUNCTION,ASM |
| 472099 GAUGE TO CHECK VALVE RECE... | A214133 GUARD,ALTERNATOR TERMINA... |
| 472101 TOOLS, APG HAND | A214144 GUARD,OIL CLR WP UPPER |
| 472103 TOOL, SEAL DRIVER CRANKSH... | A214148 STARTER,AIR,ASM |
| 472108 O2 0-25 REPLACEMENT SENSO... | A214148A STARTER,AIR,ASM. |
| 472109 NO 0-3,000 PPM REPLCMT SE... | A214148B STARTER ASM.,AIR (TDI) |
| 472110 NO2 0-500 PPM REPLCMT SEN... | A214148C STR. ASM., AIR/GAS, RB ... |
| 472111 ENGINE PROBE 12 INSS W/7F... | A214148E STR. ASM., AIR/GAS, LB ... |
| 472112 PWR SUPPLY/RECHARGER | A214148F STR. ASM, AIR/GAS, LB (... |
| 472113 LI-ION BATTER W/CHRGNG ST... | A214163G PIPING INLT,SPPLY TO RE... |
| 472114 THERMAL PRINTING PAPER(6R... | A214163H PIPING INLT,SPPLY TO RE... |
| 472115 SPARE PARTICLE FILTERS | A214163J PIPING INLT,SPPLY TO RE... |
| 472116 IR PRINTER,AA BAT,1 ROLL ... | A214179 TUBE ASM.,TURBO WATER OU... |
| 472117 TOOL, SPARK PLUG SLEEVE | A214203K TUBE ASM.,PRLB.PUMP OIL... |
| 472118 TOOL, ROCKER TUBE | A214228 TUBE ASM.,OIL CLR-WATER ... |
| 472119 TOOL, WATER PUMP IMPELLER | A214228B TUBE,AUX PUMP,ASM. |
| 472132 CYLINDER LINER PUSHER/CLA... | A214228F TUBE ASM.,O.C. TO AUX P... |
| 472133 CYLINDER LINER PULLER FOR... | A214228H TUBE ASM.,OIL PUMP-OIL ... |
| 472134 APG/VGF VALVE RECESSION G... | A214228K TUBE ASM., AUX WATER PU... |
| 472990 PISTON RING COMPRESSOR | A214228J TUBE ASM.,OIL TANK OUT-... |
| 472991 CARBON CLEANING TAP | A214228L TUBE ASM.,I.C.WTR.IN |
| 472994 REPAIR KIT-MAIN/HEAD JACK... | A214228T TUBE ASM., OIL FILTER T... |
| 472995 REPAIR KIT-HYD. CONN ROD ... | A214228M TUBE ASM.,I.C.WTR.OUT |
| 473001 PISTON LIFTING TOOL | A214248A BASE ASM., OIL FILTERS |
| 472996 COMPRESSION TESTER ADAPTE... | A214253 GUARD,REAR,ALT/AUX WP |
| 473005 GEAR BACKLASH ADJUS TOOL | A214253A GUARD, REAR AUX WP |
| 473002 CYL SLEEVE PULLER/INSTALL... | A214255Z TUBE ASM., OIL COOLER W... |
| 473010 STUD DRIVER | A214259P SCREEN, TOOL |
| 473011 DSM DRILL/TAP FIXTURE | A214261A BY-PASS BODY KIT |
| 473014 HYDRAUL HOSES(2 PCS=1SET) | A214262 FILTER ELEMENT REPLACEME... |
| 473015 HYDRAUL HOSES(4 PCS=1SET) | A214264 ELBOW, ASM.,WATER INLET |
| 473016 KIT,PULLER AT27 PRECHAMBE... | A214267 BRACKET ASM., MOUNTING |
| 473017 COMPRESSOR,PISTON RING | A214273E WIREWAY, ASM. RB |
| 473018 PLIERS, PISTON RING EXPAN... | A214274E WIREWAY, ASM. LB |
| 473019 TOOL,ANTIPOLISH RING REMO... | A214284B PIPE ASM., FUEL INLET |
| 473020 SCREW,THREADED W/EXP ROD | A214284A PIPE,FUEL INLET,ASM. |
| 473022 COLLET,W/EXT TUBE 1.25-1.... | A214285A PIPE,FUEL INLET,R.B.,AS... |
| 473023 COLLET,LARGE 1.50-1.75 | A214284C PIPE ASM., FUEL INLET |
| 473024 ROD,EXPANDING FOR COLLETS | A214285C PIPE ASM., FUEL, R.B. |
| 473025 ADAPTOR,HYDRAULIC RAM | A214285B PIPE ASM., FUEL INLET R... |
| 473026 YOKE | A214286A PIPE,FUEL INLET,L.B.,AS... |
| 473027 RAM, HYDRAULIC 20 TON | A214286B PIPE ASM., FUEL INLET L... |
| 473028 COUPLER,HYDRAULIC RAM | A214286C PIPE ASM., FUEL, L.B. |
| 473029 KIT, FLUID SAMPLE | A214288B PIPE ASM., SINGLE FUEL ... |
| 473030 TOOL,VIB DAMP EXT PLUG RE... | A214290A DUCT, AIR CLEANER, ASM.... |
| 473031 PLIERS,PISTON RING EXP 25... | A214291A DUCT, AIR CLEANER, ASM.... |
| 473032 COLLET,SMALL 1.25-1.50 | A214292A PLENUM, AIR CLEANER R.H... |
| 473033 TOOL,CAMSHAFT GEAR ADJUST... | A214293A PLENUM, AIR CLEANER L.H... |
| 473034 KIT,CAMSHAFT GEAR PUMP | A214296B ASM., OIL PICKUP |
| 473036 GAUGE,REPLACEMENT FOR A29... | A214323 BOX ASM., JUNCTION 115V |
| 473044 KIT, MISC. TOOL ATGL | A214312 TANK, OIL |
| 474000 CAMSHAFT DUMMY GEAR | A214330 MNIFOLD, PRECHAMBER |
| 474001 CAM BEARING ROLLOUT TOOL | A214335A TUBE, PRE-LUBE OIL PICK... |
| 474003 ADAPTER | A214345 CABLE, GROUND |
| 474005 STOP SLEEVE | A214345B CABLE, GROUND |
| 474007 COLLET | A214346Y TUBE,TURBO WATER OUT,AS... |
| 474008 SCREW EXTRACTOR | A214360 MANIFOLD, OIL INLET |
| 474012 REAMER HANDLE | A214361 ASM., OIL PICKUP |
| 474013 WATER PUMP REBUILD KIT | A214368A ASSY, OIL COOLER TUBE |
| 474016 V-BELT TENSION TESTOR | A214369 ASSY, OIL COOLER TUBE |
| 474018 PISTON PULLER | A214370A ASSY, OIL COOLER TUBE |
| 474019 PISTON PULLER | A214371A TUBE, OIL PUMP |
| 474021 DRILL / TAP FIXTURE | A214373 ASSY, OIL COOLER TUBE |
| 474022 TIMING DISK ALIGNMT TOOL | A214374 CLAMP, OIL PICKUP TUBE |
| 474023 CSA SP PLUG CARRIER TOOL | A214395B SCREEN, TOOL |
| 474024 TIMING DISC LOCATOR | A214395F SCREEN, TOOL |
| 474025 PICK-UP LOCATION GUIDE | A214395J SCREEN, TOOL |
| 474026 ROCKER ARM SPOTFACE | A214395L SCREEN, TOOL |
| 474029 VALVE STEM SEAL INSTALL T... | A214397 TUBE ASM., OIL PICK-UP |
| 474031 VALVE SPRING COMPRESSOR | A214438 TUBE ASM., OIL PICKUP |
| 474033 COMPRESSOR,VALVE SPRING C... | A214453 CONNECTION, INLET, BREAT... |
| 474034 COMPRESSOR,4 VALVE SPRING | A214454 CONNECTION, OUTLET, BREA... |
| 474035 TESTER,DIESEL COMPRESSION | A214484P TUBE ASM., TURBO WATER ... |
| 474036 TOOL,SPARK PLUG CARRIER | A214487 PIPE ASM., PRELUBE OUTLE... |
| 474038 EXTRACTOR, VALVE SEAT | A214507 FLANGE ASM., OIL COOLER ... |
| 474039 PULLER, IGNITER SLEEVE | A214544 TUBE ASM., AUX WATER INL... |
| 474040 PULLER,VLVE BRIDGE GUIDE | A240237A ASSEMBLY, TAPPET |
| 474041 PLIERS,PIST RING EXPAND 2... | A244060 WATER PUMP ASSY.-STD |
| 474042 PLIERS,PIST RING EXP 215M... | A244182A COVER ASSY-O.P. |
| 474044 GAGE MACH VHP CYLINDER HE... | A251016A WYE, EXHAUST OUTLET |
| 474046 REAMER,VLVE GUIDE(.5612/.... | A250238 PUSH ROD ASSY |
| 475006 SPARK PLUG GAPPER | A251029 BASE ASM., LUBE OIL FILT... |
| 475007 OXYGEN ANALYZER | A251056B TUBE, COMPRESSOR AIR IN... |
| 475014 DRILL GUIDE | A251055A TUBE, COMPRESSOR AIR IN... |
| 475015 FILTER (BOX OF 10) | A251083A TUBE ASM., BYPASS, JACK... |
| 475008 SPARK PLUG SOCKET/EXT | A251095 BRACKET, ECM |
| 475022 DC BATTERY PACK | A251113 ELBOW, CARBURETOR INLET |
| 475019 TORQUE WRENCH | A251128A PIPE, BREATHER SEPARATO... |
| 475024 DELUXE AT BORESCOPE KIT | A251151A TUBE, BREATHER SEPARATO... |
| 475023 LIGHT SOURCE/CABLE, AC/DC... | A257015A GEAR,IDLER,ASM. |
| 475026 REGULATOR ADJUSTER | A257042 MANIFOLD ASM, EXHAUST CE... |
| 475028 DIGITAL MANOMETER/CALIB K... | A257081B GEAR,OIL PUMP ASM |
| 475029 TUBE,LUBE | A257082D COVER, REAR OIL PUMP |
| 475031 PERF-A-TORQ | A257085B GEAR,OIL PUMP ASM. |
| 475032 CEC IGNITION TESTER | A257141 MANIFOLD INTAKE ASM |
| 475033 SPARK PLUG GAPPING KIT | A257124B DOOR ASM., OIL PAN |
| 475035 SOCKET EXTENSION | A257182C COVER,FRT.O.PUMP ASM |
| 475037 SPARK PLUG SOCKET | A257241 MANIFOLD INTAKE ASM |
| 475038 PI TAPE | A257241E MANIFOLD ASM.,INTAKE |
| 475039 OXYGEN SENSOR SOCKET | A257272E HSG.BUTTERFLY ASM RH |
| 475040 GAS SAMPLING KIT | A257311C NBL CRANKSHAFT ASM. |
| 475041 5 O-RINGS REPAIR KIT/4750... | A257272F HSG.BUTTERFLY ASM LH |
| 475063 ALIGNMENT COMPUTER PROGRA... | A257472H HOUSING ASM., BUTTERFLY... |
| 475064 DIGITAL THERMOMETER | A257511 NBL CRANKSHAFT ASM |
| 475065 SP PL THREAD & SEAT CLEAN | A257620B NBL. CRANKCASE ASSEMBLY |
| 475066 ADJUSTABLE HOOK SPANNER | A257623C NBL CAMSHAFT ASM. |
| 475068 OXYGEN ANALYZER 220 VOLT | A27970 BELT SET |
| 475069 ANALYZER,OXYGEN | A280006A NBL PIN ASSY, PISTON |
| 475070 GRINDER,VALVE SEAT 220 VO... | A280011E CRANKSHAFT ASSY FOR HYD... |
| 475071 TIMING LIGHT | A280030A LINER,CYLINDER ASSY |
| 475072 MANOMETER,DIGITAL | A280036C NBL VALVE,EXHAUST & INT |
| 475073 THERMOMETER,PORTABLE,INFR... | A280038 ROD,PUSH ASSY |
| 475075 PULLER,SPARK PLUG EXTENSI... | A280065 ROCKER ARM ASSY, MAIN |
| 475076 KIT; PRISM BORESCOPE | A280066 ROCKER ARM,AUXILARY,ASM |
| 475077 IGNITION ANALYZER TOOL | A280069B SHAFT,ROCKER ARM,ASM |
| 475078 OSCILLOSCOPE | A280082 COVER, OIL PUMP ASSY |
| 475079 ESM DRILL JIG CONV. KIT | A280091A CATCHER, OIL ASSEMBLY |
| 475083 OSCILLOSCOPE | A280092A GEAR SET,GOV DRIVE BEVE... |
| 476000 TOOL, CONROD BEARING | A280105 RING, OIL SCRAPER |
| 476001 TOOL, CONROD CUSHION, UPP... | A280107K NBL ROD,CONNECTING,ASM. |
| 476002 TOOL, CON ROD TENSIONERS | A280110S NBL BEARING,CONNECTING ... |
| 476003 TOOL, CYL HEAD HYD TENSIO... | A280110T NBL BEARING, CONNECTING... |
| 476004 REPAIR KIT, CON ROD JACK ... | A280112 GEAR,CRANKSHAFT,REAR,ASM |
| 476005 TOOL, IGN TIMING DISC ADJ... | A280115B GEAR ASSY, IDLER |
| 476006 ANTI POLISH.RING REMOV.TO... | A280118S NBL BEARING,CRANKSHAFT ... |
| 476007 WRENCH FOR PREHEAT.RESIST... | A280118T NBL BEARING, CRANKSHAFT... |
| 476008 PRECHAMBER REMOVAL TOOL | A280169B SHAFT,AUX ROCKER ARM,AS... |
| 476009 TDC CHECKING GAUGE | A280170 COVER,C'CASE,ASM. |
| 476011 DAMPER LIFTING DEVICE | A280170D COVER,CRANKCASE,ASM. |
| 476010 ROD & PISTON ASM LIFT.DEV... | A280170F COVER, CRANKCASE (R.R.)... |
| 476012 STUD FOR DAMPER REMOVAL | A280191 RETAINER, OIL ASM FRONT |
| 476013 CYLINDER HEAD LIFTING DEV... | A280218D NBL BEARING,CRANKSHAFT ... |
| 476014 CON.ROD INSTALLATION TOOL | A280223D CAMSHAFT ASM., REAR END... |
| 476016 PISTON RING PLIERS - 220M... | A280223E CAMSHAFT ASM., REAR END... |
| 476018 FLYWHEEL PIN EXTRACTOR | A280223F CAMSHAFT ASM., REAR END... |
| 476021 CAMSHAFT MOUNTING DEVICE ... | A280223G CAMSHAFT ASM., REAR END... |
| 476022 INNER BUSHING GEAR EXTRAC... | A280282 COVER,BEARING,ASSY. |
| 476023 CAMSHAFT TIMING DEVICE | A280290 RETAINER,OIL,ASSY. |
| 476024 OUTER BUSHING GEAR EXTRAC... | A280391A RETAINER,OIL,FRONT,ASM |
| 476026 VALVE SEAT INSTALLATION T... | A280760 HOUSING,W.PUMP,ASSY |
| 476027 VALVE SEAT INSTALLATION T... | A285039B COVER, ROCKER ARM ASM |
| 476028 VALVE GUIDE INSTL TOOL | A285039D COVER, ROCKER ARM |
| 476029 VALVE GUIDE REMOVAL TOOL | A285072A CARBURETOR ASSEMBLY |
| 476030 DISMANTLING VALVES DEVICE | A287006A NBL PIN, PISTON, ASM. |
| 476031 EXTRACTOR, VALVE SEAT | A290104A DIPSTICK ASSY |
| 476034 WATER CONNECTION INSTL TO... | A290110 TUBE,PROTECTION ASSY |
| 476067 COMPRESSOR, RING | A290165A GASKET ASM., GEAR COVER |
| 476068 TOOL, PRCHMBR CHCK VLV 2P... | A290167C COVER |
| 476069 TOOL, PRCHMBR CHCK VLV 1P... | A290173 NOZZLE,LUBE OIL-ASSY |
| 476070 TOOL, CONROD CUSHION LOWE... | A290173A NOZZLE,VIB DAMP COOL,AS... |
| 476071 INSTALLER, STUD M36 | A290191B BRKT ASM,TIMING POINTER |
| 476072 SOCKET, SPARK PLUG M14 | A290318 FLANGE ASM., LUBE OIL |
| 476073 PLATE, TOP CYL SLEEVE PUL... | A290321 GASKET ASSY |
| 476074 TOOL, MAIN BRG INSTALLATI... | A290359B SUPPORT,CAM BRG,ASM |
| 476075 TOOLS, HAND APG2000/3000 | A290359C SUPPORT,CAM BRG,ASM |
| 476076 KIT, DAMPER FLUID SAMPLE | A290363 SUPPORT,VALVE GEAR |
| 476077 MAIN BEARING JACK, SMALL ... | A290365A SUPPORT,THRUST BRG,ASM |
| 476078 CAMSHAFT BUSHING POS. TOO... | A290373C SHAFT,ROCKER ARM ROLLER |
| 476079 CAMSHAFT BUSHING EXTRACTO... | A290375B SHAFT, CAM ROCKER ARM |
| 476080 WRENCH, THERMOCOUPLE | A290436 SWITCH,FLOW ASSY |
| 476083 ENGINE LIFTING BRACKET KI... | A290555A SUPPORT ASSY, GOV DRIVE |
| 476084 HAMMER, SLIDE | A290594 VALVE,DELIVERY ASSY |
| 476085 OIL FILTER, TURBOCHARGER | A290783B HOUSING ASSY, BEARING |
| 476344 SPARK PLUG SOCKET | A291064 HSG,CRKCASE VENT ASS |
| 485056 COUPLING, ALTRONIC | A291356B TUBE ASM., DRAIN WATER |
| 485057 CONDENSOR | A291356C TUBE ASM., DRAIN WATER |
| 485064 SHIELDED HARNESS | A291604 TUBE,LUBE OIL ASSY |
| 485066 HARNESS,PICKUP | A291619 TUBE ASSY, LUBE OIL |
| 485067 COUPLING | A291621 TUBE ASSY, LUBE OIL |
| 485505 SPACER | A291626 TUBE,LUB OIL BRG SUPPORT |
| 489008 OIL FILTER KIT | A291633 TUBE ASSY, LUBE OIL |
| 485596 GUIDE, VALVE | A291636 TUBE ASSY, LUBE OIL |
| 489009 KIT,SEAL REPAIR | A291646A TUBE ASSY, LUBE OIL |
| 489010 KIT,SEAL REPAIR | A291649A TUBE ASSY, LUBE OIL |
| 489020 VALVE ASM,AIR | A291651 TUBE,LUBE OIL ASSY |
| 489021 SPRING,AIR VALVE | A291652 TUBE ASSY, LUBE OIL |
| 489030 BODY,CARBURETOR | A291662 TUBE,LUBE OIL ASSY |
| 489031 O-RING, UPPER | A291666B TUBE ASSY, LUBE OIL |
| 489032 O-RING, LOWER | A292511 WATR GUIDE SLEEVE REMOVE... |
| 489035 SHAFT FOR 600VFI CARB. | A292514 MAIN HYD. JACK |
| 489042 SEAL FOR IMPCO 200D | A292539 HYDRAULIC PUMP ASSY. |
| 489043 VALVE,GAS,ASM. | A292587 DEVICE,TURNING,ASSY |
| 489045 GAS JET FOR 600VFI CARB. | A292591 DEVICE,TURNING,ASSY |
| 489046 O-RING | A292669 VALVE SEAT REMOVER |
| 489056 THERMOSTATIC VALVE REPAIR... | A292683 METRIC DEFLECTION GAUGE |
| 489057 THERMOSTATIC VALVE REPAIR... | A292696A CONN. ROD BRG INST TOOL |
| 489061 SPRING-GREEN CARB. | A292704 CONN. ROD HYD. JACKS |
| 489068 LUBE OIL STRAINER REPAIR ... | A292693 DAMPER SAMPLE CONTAINER |
| 489069 GAS ADMISSION VALVE LOCK ... | A292804 CAMSHAFT MOUNTING DEVICE |
| 489076 THERMOSTATIC VALVE REPAIR... | A292942D COUPLING,FLEXIBLE,ASM |
| 489078 O-RING | A292848 PUMP GEAR DISASSEMB TOOL |
| 489083 EXPL. RELIEF VALVE KIT | A293432 GUARD ASM.,PINION RB |
| 489084 TURBO COMPRESSOR O-RING | A293268 SUPPORT,HYDR DEV,ASM |
| 489085 TURBO COMPRESSOR O-RING | A293435E STARTER ASM,TURBINE LB |
| 489095 VALVE,GAS | A293435H STARTER,AIR,ASM. |
| 489098 THERMOSTATIC VALVE REPAIR... | A293435L STARTER ASM., AIR/GAS (... |
| 489104 OIL FILTER KIT VGF (V ONL... | A293438 BRACKET,RB AIR PLUMB |
| 489108 BOTTOM IN/OUT INTERCLR GA... | A293438B BRACKET,RB AIR PLUMB |
| 489112 SCREEN | A293453E INTERCOOLER ASM. |
| 489113 FILTER,FOAM | A293454E EXHAUST BRANCH ASM,RB |
| 489114 PERF SHELL | A293455E EXHAUST BRANCH ASM,LB |
| 489117 HEAD ASM | A293501 BELLOWS ASSEMBLY |
| 489119 SPRING HOLDER | A293504 HEADER,WAT DISCH,ASM |
| 489120 VALVE REPAIR KIT | A293504B HEADER, WATER DISCHARGE |
| 489125 JUNCTION BOX ASM | A293505 HEADER,WAT DISCH,ASM |
| 489162 EXPL. RELIEF VALVE KIT | A293506 ELBOW ASSEMBLY |
| 489164 TURBOCHARGER GROUP | A293728B TUBE ASSY, LUBE OIL |
| 489166 EXHAUST OUTLET | A293728E TUBE, LUBE OIL ASSY |
| 489189 CENTRIFUGE | A293799 TUBE ASSY, PROTECTION |
| 489191 LINERS,PAPER | A293826 POINTER,TIMING,ASSY. |
| 489192 O-RING,ROTOR | A293849 HOUSING,GOV DRIV ASM |
| 489193 O-RING,BASE | A293853 GEAR SET,GOV DRIVE BEVEL |
| 489196 CLAMP, BELL HOUSING | A294014 COVER,ASSY |
| 489197 TURBINE ASM | A294027 HOUSING ASM., BEARING |
| 489245 DIAPHRAGM KIT | A294027A HOUSING ASM., BEARING |
| 489246 GASKET,HSG | A294028 BUSHING,WATER PUMP,ASM |
| 489249 O-RING,UPPER BELL HSG | A294030 FLANGE, INTERMEDIATE |
| 489254 BOWL,LUBE OIL STRAINER | A294030A FLANGE, INTERMEDIATE |
| 489260 REPAIR KIT,VALVE | A294140 TUBE,COOLING WATER,ASM |
| 489266 SPRING,COIL | A294345 TUBE,LUBE OIL,ASSY |
| 489261 DIAPHRAGM | A294356 TUBE,LUBE OIL,ASSY |
| 489268 VHP SINGLE HD GSKT CORE | A294359 TUBE,L.O.-GOV DRIVE,ASM |
| 489267 VHP SINGLE HD GSKT CORE | A294368 TUBE,JW PUMP LUBE OIL |
| 489269 VHP HD GSKT CORE-45,46 | A294500 GASKET ASSY |
| 489272 VGF HD GSKT CORE | A294502 TUBE,LUBE OIL,ASSY |
| 489273 AT HD GSKT CORE | A294579A BRACKET,ASM,IGN COIL&PR... |
| 489275 SPRING | A294579F BRACKET,ASM,IGN COIL&PR... |
| 489278 VALVE, RELIEF | A294582F ASM, PRECHAMBER BRACKET |
| 489276 O-RING, COVER | A294591F MNFLD,PRECHAMBER,ASM |
| 489280 RETAINER PLATE | A294591J MNFLD,PRECHAMBER,ASM |
| 489293 GASKET | A294591N MANIFOLD, PRECHAMBER AS... |
| 489294 SPACER | A294773 SHAFT,BUTTRFLY VALVE,ASM |
| 489295 DIAPHRAGM | A294591K MANIFOLD, PRECHAMBER |
| 489302 LINER FOR SMALL CENTRIFUG... | A294773B SHAFT,BUTTRFLY VALVE,AS... |
| 489304 COVER O-RING FOR SM CENTR... | A294797 HOUSING,AIR INLET |
| 489303 ROTOR O-RING FOR SM CENTR... | A294881B ROD ASSY., CONTROL, M12 |
| 489307 JUNCTION BOX GR0UP | A294881E ROD ASSY CARB. |
| 489305 COVER NUT O-RING FOR SM C... | A294881G ROD ASSY.MAN.CONTROL |
| 489310 PAINT,DARK GREY SPRAY | A294881H ROD ASSY,CONTROL |
| 489323 SHAFT | A294881M ROD ASSY, CARB |
| 489324 REPAIR KIT,90 DEGREE | A294881N ROD, GOV, ASM. |
| 489328 BOWL,STRAINER | A294881P ROD ASSY, GOVERNOR |
| 489341 GREASE,DUPONT 8 OUNCE | A294881S ROD ASSY, GOVERNOR |
| 489343 KIT,THERMOSTATS & GASKETS | A294881T ROD ASSY, GOVERNOR |
| 489348 COVER | A294881U ROD ASSY, GOVERNOR |
| 489349 CLAMP,COVER | A294881V ROD ASM., GOVERNOR |
| 489369 DIAPHRAM | A294891 LEVER ASM, HAND CONT. TH... |
| 489370 WARNING TAG | A294892 LATCH ASM., STOP |
| 489372 REPAIR KIT,CASE DOOR REL ... | A294893 BRACKET,GEAR SEC.ASM |
| 489386 GAS VALVE,AIR | A294900 SHAFT,PIVOT |
| 489389 THERMOSTAT KIT | A295002 SUPPORT ASM., BEARING |
| 489388 ELEMENT,AIR STRAINER | A295002D SUPPORT,BEARING ASM |
| 489405 REPAIR KIT, VALVE | A295087C TUBE,TURBO OIL RB |
| 489401 INSULATION TCM 2 UPGRADE | A295087D TUBE TURBO OIL LB |
| 489408 O-RING | A295087H TUBE,LUBE OIL INLET,RB |
| 489420 THERMAL ASSEMBLY | A295087M TUBE,TURBO OIL SUPPLY,L... |
| 489429 GOV WEIGHT SET | A295087N TUBE,LUBE OIL INLET,LB |
| 489430 SERIES 4 OIL HEADER 12CYL | A295137 DEVICE,TURNING,ASSY. |
| 489431 SERIES 4 OIL HEADER 6CYL | A295138 DEVICE,TURNING,ASSY. |
| 489432 SERIES 4 HEAD UPGRADE 1CY... | A295140 CONN. ROD HYD JACKS |
| 489435 O-RING | A295322 BRACKET,CAMSHAFT MOUNTNG |
| 489437 O-RING | A295380B HOLDER,SPARK PLUG |
| 489438 O-RING | A295380D HOLDER ASSY, SPARK PLUG |
| 489442 SCREW | A295380E HOLDER,SPARK PLUG,ASM |
| 489439 O-RING | A295380G HOLDER ASSY, SPARK PLUG |
| 489443 SPRING,GREEN | A295380H HOLDER ASSY, SPARK PLUG |
| 489444 DIAPHRAGM TAN | A295380M HOLDER ASM, SPARK PLUG |
| 489445 VALVE, GAS | A295398D BRKT MFLD.SUPPT.R.B. |
| 489446 SPRING SPACER | A295435 LEVER ASM., FIXED |
| 489447 JET, GAS | A295435B LEVER,FIXED ASSY |
| 489450 VALVE ASM, AIR | A295437 LEVER,FLOATING,ASM |
| 489453 OUTSIDE V WATER PIPING | A295437B LEVER ASM., FLOATING |
| 489461 INSULATION UPGRADE AT25 | A295437C LEVER,FLTG ASSY |
| 489459 REPAIR KIT,THERMOSTATIC V... | A295437D LEVER ASSY,FLOATING |
| 489466 SPRING, AIR VALVE, BLUE | A295447A VALVE, GAS INLET, ASM. |
| 489468 SHAFT, AUXWP | A295451E BOX, JUNCTION ASSY. |
| 489469 WARNING TAG | A295451L JUNCTION BOX ASSEMBLY |
| 489470 CONE, FUEL | A295451N BOX,JUNCTION,ASM |
| 489473 O RING,CYLINDER SLEEVE | A295451P BOX, JUNCTION, ASM. |
| 489474 TRANSDUCER,TCM MODULE | A295451R BOX,JUNCTION,ASM,IGNITI... |
| 489476 CYL.SLEEVE PACKING RING | A295451T BOX,JUNCTION,ASM,AUXILI... |
| 489477 INLET/OUTLET BONNET | A295451V BOX,AUX JUNCTION,ASM. |
| 489478 RETURN BONNET | A295467A GAS JET ASSEMBLY |
| 489479 INLET/OUTLET GASKET | A295467E GAS JET ASSEMBLY |
| 489480 RETURN GASKET | A295514 HOLDER,CARB OIL SEAL,ASM |
| 489482 RELAY | A295545 HEADER,WATER |
| 489483 DIAPHRAGM (BLUE) | A295547C CONNECTOR,EXH MANIFOLD |
| 489484 O RING | A295548A BELLOWS,EXH.MFLD. |
| 489490 ELEMENT,STAINLESS STEEL | A295549D INTERCOOLER ASM |
| 489491 ELEMENT,STAINLESS STEEL | A295559A TUBE,TURBO OIL DRAIN UP... |
| 489492 ELEMENT,STAINLESS STEEL | A295560A TUBE,TURBO OIL DRAIN LW... |
| 489493 ELEMENT,STAINLESS STEEL | A295563C TUBE, AUX WATER PUMP |
| 489494 ELEMENT,STAINLESS STEEL | A295579 LEVER ASM., SHUT-OFF |
| 489495 FILTER, CLEANABLE OIL | A295579A LEVER,SHUT-OFF ASSY |
| 489496 PINION, DRIVE | A295609F DRAIN,TURB OIL,UP LB |
| 489501 GLYCOL KIT WITH STAND | A295600A BELLOWS ASSY, COMP. DIS... |
| 489499 SPECIAL HAND TOOLS | A295609H DRAIN,TURBO OIL, LWR |
| 489502 LEAD WIRE, 25 FEET | A295609J DRAIN,TURB OIL,UP RB |
| 489503 LEAD WIRE, 50 FEET | A295612B TUBE ASM., FUEL SUPPLY |
| 489508 ELEMENT, GLYCOL FILTER | A295613A TUBE,ASSY GAS SUPPLY |
| 489504 LEAD WIRE, 100 FEET | A295617A TUBE,TURBO OIL SUPP UPP... |
| 489514 CASE, CARRYING | A295635C EXHAUST BYPASS ASM,LB |
| 489515 GROMMET | A295648B MANIFOLD, WATER |
| 489527 KIT, GLYCOL O-RING | A295653A BRKT,MAGNETIC PICKUP |
| 489528 INDICATOR, GLYCOL FLOW | A295841A HARNESS ASSY, IGN POWER |
| 489531 SPRING(BLUE-BLACK) | A295844D PICK-UP,MAGNETIC,ASM. |
| 489530 DIAPHRAGM | A295844E PICK-UP ASM., MAGNETIC |
| 489532 WASHER,DIAPHRAGM | A295846 REGULATOR,BYPASS WSTGT A... |
| 489533 O-RING | A295982 BRACKET,ASM,ON/OFF SWITC... |
| 489544 FUEL SHUTOFF | A295982D BRACKET,ASM,SHUTDOWN SW... |
| 489555 KNOB,COVER | A295996A ADAPTOR ASM.,PIPE FLANG... |
| 489550 LED ASM LIGHTS(RED) | A296028 ASSY.,2-WAY VALVE |
| 489556 PIN, KNOB | A296063A HOUSING,BARRING DEV,ASM |
| 489565 SPRING,REGULATOR | A296064G CONNECTOR, SPARK PLUG |
| 489578 KIT, THERMOSTATIC VALVE | A296064J CONNECTOR, ASM SPARK PL... |
| 489570 BEARING | A296064K EXTENSION ASM., SPARK P... |
| 489585 KIT, THERMOSTATIC VALVE | A296064L EXTENSION ASM., SPARK P... |
| 489581 KIT, THERMOSTATIC VALVE | A296078F HSG,B'FLY VALVE 3 IN,AS... |
| 489587 KIT, THERMOSTATIC VALVE | A296078K HOUSING ASSY., WASTEGAT... |
| 489589 KIT, THERMOSTATIC VALVE | A296078G HSG,B'FLY VALVE 3 IN RH... |
| 489590 KIT, THERMOSTATIC VALVE | A296078M ASSEMBLY, WASTEGATE LB |
| 489595 TOOL, GAP SPREADING | A296083C BRACKET,BRG SUPPORT,ASM |
| 489596 KIT, THERMOSTATIC VALVE | A296083D BRACKET,BRG SUPPORT,ASM |
| 489599 KIT, THERMOSTATIC VALVE | A296085G ROD ASSY, CONTROL |
| 489604 ELEMENT,FILTER OIL SEPARA... | A296087A SHAFT,EXH WASTEGATE,ASM |
| 489606 GUARD GROUP | A296093P MODULE,TURBO CONT,TCM 2 |
| 489608 EXTENSION STUD | A296112 HOUSING,AIR INLET,ASM |
| 489609 WORM & WORM SHAFT | A296130F JUMPER ASM., WATER HEAD... |
| 489611 LOGIC BOARD | A296135B TUBE,LWR TURB AIR BYPAS... |
| 489625 FILTER ASM,LARGE COOLANT | A296140E HOUSING, BUTTERFLY VALV... |
| 489626 GLYCOL FILTER KIT,LGE CAP... | A296140F HSG,B'FLY VALVE 4 IN,AS... |
| 489628 O-RING,13.62 D.DELTEC | A296140G HOUSING, BUTTERFLY VALV... |
| 489629 O-RING,11.8 D.DELTEC | A296140H HOUSING ASM., BUTTERFLY... |
| 489630 O-RING,9.5 D.DELTEC | A296186A TOOL,BEARING INSERTION |
| 489641 SPOT FACE CUTTER | A296193C ROD ASSY, CONTROL |
| 489631 O-RING,16.83 D.DELTEC | A296193D ROD ASSY, CONTROL |
| 489646 VALVE ASSY, AIR GAS | A296193K ROD ASSY, CONTROL |
| 489648 FLOW INDICATOR,HIGH TEMP ... | A296193L ROD ASSY, CONTROL |
| 489654 SPRING | A296193M ROD ASSY, CONTROL |
| 489657 CENTER HOUSING & ROTATING... | A296193N ROD ASSY, CONTROL |
| 489659 GLASS SIGHT GAUGE | A296193S ROD ASM, CONTROL |
| 489660 GAUGE,0-1000 BAR,.25 NPT | A296193X ROD ASSY, CONTROL |
| 489666 KIT, FILTER FLOWGRID | A296193W ROD ASSY, CONTROL |
| 489667 KIT, CARTRIDGE PILOT FLOW... | A296193Z ROD ASSY, CONTROL, M8 |
| 489668 CARTRIDGE PILOT FLOWGRID | A296217B MANIFOLD, WATER |
| 489670 KIT, MAINT FLOW GRID | A296224A COVER, CAMSHAFT, ASSEMB... |
| 489669 KIT, PILOT FLOWGRID | A296228B CONN,WATER DISCH RB UPP... |
| 489671 KIT, REGULATOR FLOWGRID O... | A296229M CONNECTION, JACKET WATE... |
| 489679 GASKET FOR 169847D | A296229N CONNECTION, JACKET WATE... |
| 489681 FIBER OPTIC LIGHT CABLE | A296230B CONN,WATER DISCH LB UPP... |
| 489680 GASKET, FLEXMASTER | A296233A TUBE ASSY, MIXER INLET |
| 489699 RING SET | A296233B TUBE ASM., MIXER INLET |
| 489698 GAUGE, CRANKSHAFT DEFLECT... | A296234A ELBOW,TURBO EXHAUST,RB |
| 489701 SLEEVE, CYLINDER | A296235A ELBOW,TURBO EXHAUST,LB |
| 489702 SLEEVE, CYLINDER | A296236A HOUSING, BUTTERFLY VALV... |
| 489766 GASKET FOR 159991R | A296288A PIPE,GAS SUPPLY INLT,AS... |
| 489775 GASKET | A296288B PIPE,GAS SUPPLY INLET A... |
| 489796 MOONEY REG-6CYL | A296290C TUBE, UPPER GAS SUPPLY |
| 489776 END BONNET, OIL COOLER | A296290D TUBE, LOWER GAS SUPPLY |
| 489804 FIBER GEAR | A296301A ELBOW, FUEL INLET ASM. |
| 489809 CENTER CARTRIDGE | A296330A TUBE,TURBO AIR BYPASS,F... |
| 489810 CENTER CARTRIDGE | A296332B TUBE,LOWER WASTEGATE RH |
| 489811 CENTER CARTRIDGE | A296332C TUBE,LOWER WASTEGATE LH |
| 489814 WASTEGATE WATER TUBES | A296351C HSG,B'FLY VALVE,RH,ASM |
| 489815 WATER JUMPER IMPROVEMENT ... | A296410A ACTUATOR SHAFT,WASTEGAT... |
| 489816 TURBO ELBOW LEAK FIX | A296493 HARNESS, CHASSIS GROUND,... |
| 489885 INSTALLATION MANUAL #1091... | A296520A BASE, OIL FILTER/COOLER... |
| 489939 IGNITION GROUP | A296537 INSULATION, EXTENSION SE... |
| 489970 CAP | A296567 THERMOSTAT, ASM. |
| 489975 THERMOSTATIC VALVE KIT | A296571A PIPE, AUX WATER DISCHAR... |
| 489976 AFR FOR USE WITH ESM | A296574A PIPE, AUX WATER, INTERC... |
| 489985 CARB SHAFT | A296575 PIPE ASSY, AUX WATER, IN... |
| 489986 TOOL BOX ONLY | A296600A CONNECTION, CRANKCASE B... |
| 490005 O RING | A296609 ROD, GOVERNOR ASM. |
| 490019 REBUILD KIT FOR A292669 | A296713 ASM., PRECHAMBER SOLENOI... |
| 490024 SPRING 6 TO 14 | A296726 ASSEMBLY, PUMP INLET |
| 490025 DIAPHRAGM VITON | A296728 ASSEMBLY, PUMP OUTLET |
| 490020 REBUILD KIT FOR 474038 | A296741 PIVOT ASSY., WASTEGATE |
| 490026 VALVE 30 DEGREE VITON | A296742 ROD ASSY., CONTROL, M12 |
| 490027 VALVE 10 DEGREE VITON | A296742A ROD ASSY., CONTROL, M12 |
| 490028 AFR,USE WITH ESM/MOONEY | A296749 PIPE, AUX WATER OUTLET |
| 490038 FUEL RELAY | A296805 EXTENSION ASM., SPARK PL... |
| 490049 REPLACEMENT COLLET | A296805A EXTENSION ASM., SPARK P... |
| 490043 COLLET FOR 494290 PULLER ... | A300017 OIL COOLER ASM. |
| 490070 O-RING | A300024C DOOR AS.,MSPIN.MOUNTING |
| 490071 GASKET | A300024D FILLER ASM, LUBE OIL |
| 490072 GASKET | A300054C HOUSING ASM., GEAR |
| 490073 SNAP RING | A300054D HOUSING,GEAR,ASM. |
| 490077 BEARING, GENERATOR | A300065C ROCKER ARM,INTAKE,ASM |
| 490078 ELEMENT, FILTER OIL SEPAR... | A300065D ROCKER ARM,INTAKE,ASM |
| 490084 GASKET | A300066C ROCKER ARM,EXHAUST,ASM |
| 490086 RELAY 24VDC (CSA) | A300066E ARM ASM., EXHAUST ROCKE... |
| 490087 PINION FOR AIR STARTER | A300068 SUPPORT,ROCKER ARM,ASM |
| 490099 REPAIR KIT, REGULATOR | A300069 SHAFT,ROCKER ARM,ASM |
| 490100 REPAIR KIT, ACTUATOR | A300110H BEARING ASM., CONNECTIN... |
| 490101 REPAIR KIT | A300110H2 BEARING, CONNECTING RO... |
| 490102 REPLACEMENT ELEMENT,GAS F... | A300111A CRANKSHAFT ASSEMBLY |
| 490103 REPAIR KIT, REGULATOR | A300139F COVER ROCKER ARM ASM.CS... |
| 490107 BEARING | A300213C FLYWHEEL ASM. |
| 490108 THRUST BEARING | A300225F NBL BEARING ASM.,MAIN |
| 490111 THRUST RING | A300225F2 BEARING ASM,MAIN,.020 |
| 490142 GASKET | A300642B MANIFOLD,EXHAUST,ASM. |
| 490160 RING | A300742A MANIFOLD,EXHAUST,ASM. |
| 490303 GASKET REGULATOR | A301015C GEAR,INTERMEDIATE,ASM. |
| 490323 BOLT,.312-18X.50 | A301060D PUMP ASM.,JACKET WATER |
| 490325 RETAINER, BEARING | A301111A CRANKSHAFT ASSEMBLY |
| 490326 SEAL,O-RING | A301182B COVER ASM., OIL PUMP |
| 490329 LOCK PLATE TURB END | A302011F CRANKSHAFT ASSEMBLY |
| 490367 WASHER, THRUST | A302013C FLYWHEEL ASSEMBLY (INCH... |
| 490368 RING | A302024C COVER ASM,CON-ROD BRTHR... |
| 490369 GASKET, WASTE GATE | A302024F COVER ASM., CON-ROD MIC... |
| 490376 GASKET COVER TO BASE | A302042A MANIFOLD ASM,EXHAUST |
| 490387 SPRING | A302069A SHAFT ASM,AUX ROCK A |
| 490388 VALVE POPPET | A302090B RETAINER,REAR OIL SEAL |
| 490389 VALVE, POPPET | A302125A BEARING ASM.,MAIN |
| 490391 GUIDE, VALVE | A302125A2 BEARING,MAIN,ASM,.020 |
| 490395 BASE ASM | A302142A MANIFOLD ASM,EXHAUST |
| 490400 CENTER HSG&ROTAT ASM | A302178A HSG,T'STAT 180F INCH FL... |
| 490404 RING, PISTON | A302214F OIL PAN (SPECIAL) |
| 490667 SET DIST POINT | A302272 HSG,BUTTERFLY,ASM,LB |
| 490969 ELEMENT TEMP VALVE | A302372 HSG,BUTTERFLY,ASM,RB |
| 490970 O RING SEAL | A302441A MANIFOLD ASM.,INTAKE |
| 490971 O RING SEAL | A303013B FLYWHEEL ASSEMBLY (INCH... |
| 491503 COVER | A303013C FLYWHEEL ASSEMBLY (INCH... |
| 491507 POINTS | A303042 MANIFOLD ASM,EXHAUST |
| 491509 ARM BREAKER | A303111E CRANKSHAFT ASSEMBLY |
| 491515 ROTOR | A304001 NBL WASHER ASM.,THRUST |
| 491655 CONDENSER | A304003C CROSS BAR ASM. |
| 491674 CONDENSOR | A304003E CROSS BAR, ASSEMBLY, VA... |
| 491960 POINT | A304036 SHAFT ASM;AUX ROCKER |
| 492619 GASKET ELEMENT | A304120B COOLER,OIL,ASM. |
| 492681 GASKET, SHELL | A304130 SUPPORT,OIL FILTER,ASM. |
| 492699 GASKET | A304135A VALVE,PRESS.RELIEF,ASM. |
| 492801 WASHER | A304150E HANDLE, DIPSTICK ASSEMB... |
| 492813 PLUG | A304193 VALVE ASM;PISTON JET |
| 492868 V-BAND CLAMP | A304342D FLANGE,WATER OUTLET,ASM... |
| 492875 WASHER | A304825E COUNTERWEIGHT ASM.,C'SH... |
| 492973 SLEEVE | A304830 SHAFT ASM.,AUX. R.A. |
| 492979 COVER | A305015C ELBOW ASM, INT MFLD |
| 492987 CLAMP | A305016D HSG ASM.,B'FLY VALVE |
| 493020 PLATE LOWER | A305016F HSG,B'FLY VALVE-63 DIA |
| 493023 O RING (SMALL) | A305016G HSG,B'FLY VALVE-70 DIA |
| 493024 O RING | A305016H HSG,B'FLY VALVE-81 DIA |
| 493026 O RING,SQ SECT (LARGE) | A305023B DRIVE,MAGNETO,ASM. |
| 493028 INDICATOR ASM | A305024E SHAFT ASM., MAG DRIVE |