Spare parts for Komatsu undercarriage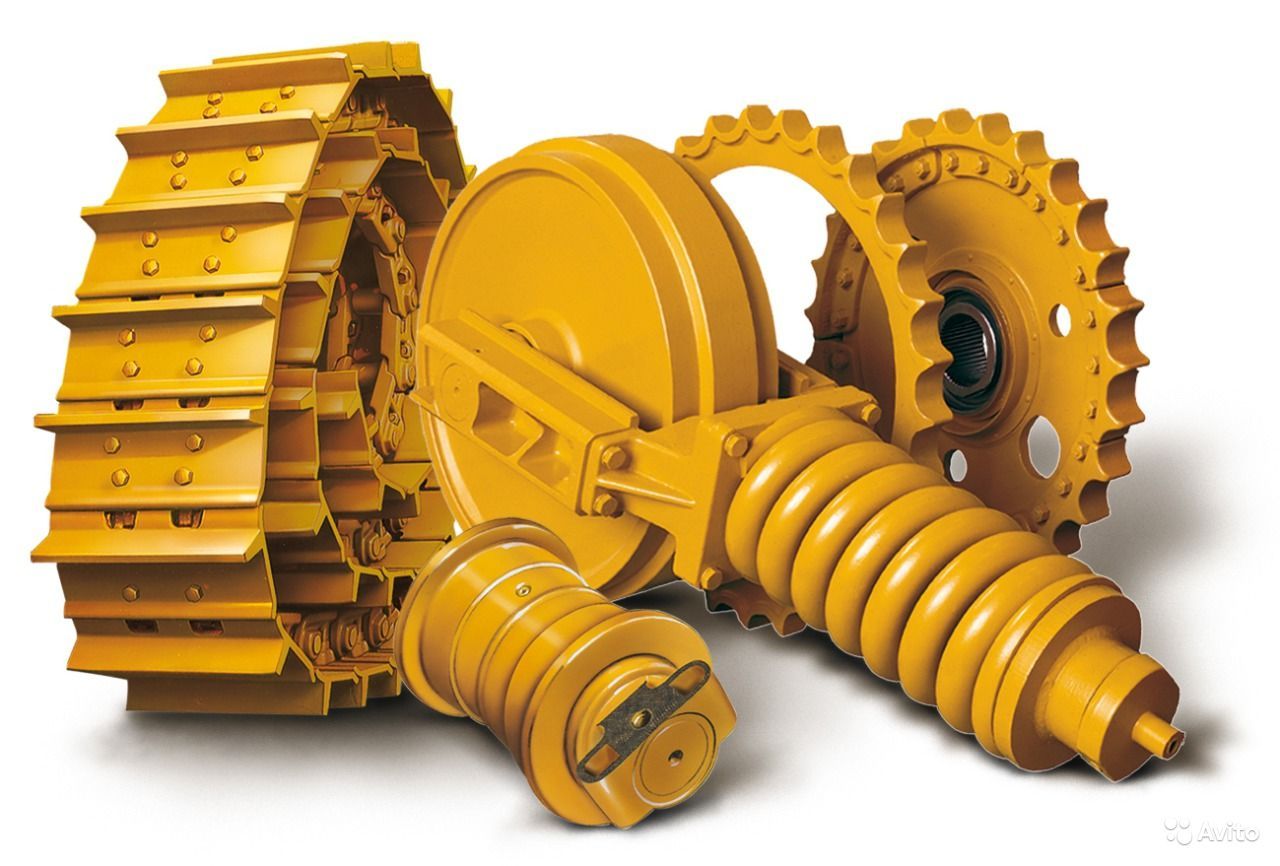 Buy spare parts for the undercarriage
Komatsu
we have. We have the lowest prices on all parts and components Komatsu equipment. Our company cooperates with distributors around the world to deliver high-quality aftermarket and original spare parts for all Komatsu equipment, including forklifts, wheel loaders and skid steer, caterpillar bulldozers with intelligent control system, wheel loaders, excavators, bulldozers, crushers, motor graders, dump trucks with a rigid frame and much more. Request a price quote today and save on spare parts for the equipment.
Undercarriage for Komatsu excavators and bulldozers may be subject to corrosion when working with silica and alumina. These substances harder than the material from which made the chassis. The cost of repairing the chassis is quite high, it can be up to 30% of the total cost of repairs to a bulldozer. In this situation, we can help reduce repair costs.
Komatsu manufactures equipment with high-quality spare parts and values ​​the trust of its customers. Our company offers high-quality aftermarket and original spare parts for the chassis
of Komatsu
. We provide fast delivery anywhere in the world. Call us now and get a free price quote for spare parts for the undercarriage Komatsu.
| | | | |
| --- | --- | --- | --- |
| SD1235-07610X0 - RECTIFIER | SD2080-21500X0 - PULLEY | SD4041-056-00 - BUSHING | SD6206-01260X0 - BALL BEARING |
| SD1235-079-00 - RECTIFIER | SD2080-21900X0 - PULLEY | SD4041-05600X0 - BUSHING | SD6206-015-00 - BALL BEARING |
| SD1235-07900X0 - RECTIFIER | SD2080-22100X0 - PULLEY | SD4041-057-00 - BUSHING | SD6206-015-10 - BALL BEARING |
| SD1235-080-00 - RECTIFIER | SD2080-222-00 - PULLEY | SD4041-05700 - | SD6206-01500X0 - BALL BEARING |
| SD1235-08000X0 - RECTIFIER | SD2080-22200X0 - PUILLEY | SD4041-05700X0 - BUSHING | SD6206-01510X0 - BALL BEARING |
| SD1239-036-00 - CONNECTOR ASS'Y | SD2080-224-00 - PULLEY | SD4041-05710X0 - BUSHING | SD6206-01700X0 - BEARING |
| SD1239-03600X0 - CONNECTOR ASS'Y | SD2080-22400X0 - PULLEY | SD4041-060-00 - BUSHING | SD6206-01710X0 - BEARING |
| SD1239-043-10 - LAMP | SD2080-22700X0 - PULLEY | SD4041-06000X0 - BUSHING | SD6410-010-00 - OIL SEAL |
| SD1239-043-20 - CHARGER | SD2080-231-00 - PULLEY | SD4041-075-00 - BUSHING | SD6410-01000 - SEAL |
| SD1239-04300X0 - SWITCH ASS'Y | SD2080-23100X0 - PULLEY | SD4041-07500X0 - BUSHING | SD6410-01000X0 - OIL SEAL |
| SD1239-04310X0 - LAMP | SD2080-26400X0 - PULLEY | SD4101-008-10 - CAP | SD6410-01800X0 - OIL SEAL |
| SD1239-04320X0 - CHARGER | SD2080-29000X0 - PULLEY | SD4101-00810X0 - CAP | SD6410-01900X0 - OIL SEAL |
| SD1240-071-00 - BRACKET | SD2202-014-01 - COVER | SD4101-030-00 - CAP | SD6410-01930X0 - SEAL |
| SD1240-072-00 - BRACKET ASS'Y | SD2202-01401X0 - COVER | SD4101-03000X0 - CAP | SD6410-02000X0 - SEAL |
| SD1240-07200X0 - BRACKET | SD2202-022-00 - COVER | SD4141-22110X0 - PACKING | SD64110-02000 - |
| SD1240-07400X0 - BRACKET ASS'Y | SD2202-02200X0 - COVER | SD4141-23701X0 - PACKING | SD6414-029-00 - O-RING |
| SD1251-006-00 - COIL ASS'Y | SD2240-190-00 - BRACKET | SD4141-23800X0 - PACKING | SD6414-029-10 - O-RING |
| SD1251-00600X0 - COIL ASS'Y | SD2240-19000X9 - BRACKET ASS'Y | SD4141-26301X0 - PACKING | SD6414-029-20 - O-RING |
| SD1251-007-00 - COIL ASS'Y | SD2240-1900009 - BRACKET | SD4141-26311X0 - PACKING | SD6414-029-90 - O-RING |
| SD1251-00700X0 - COIL ASS'Y | SD2240-195-00 - BRACKET | SD4141-26410X0 - PACKING | SD6414-02900X0 - O-RING |
| SD1291-00300X0 - REGULATOR | SD2240-19500X0 - BRACKET | SD4142-00900X0 - O-RING | SD6414-02910X0 - O-RING |
| SD1291-00400X0 - REGULATOR | SD2240-206-10 - BRACKET | SD4142-01000X0 - O-RING | SD6414-02920X0 - O-RING |
| SD1310-08100X0 - YOKE ASS'Y | SD2240-20610X0 - BRACKET | SD4215-007-00 - INSULATOR | SD6414-02940X0 - O-RING |
| SD1310-10030X0 - YOKE ASS'Y | SD2242-086-00 - BRACKET | SD4215-00701X0 - INSULATOR | SD6414-02990X0 - O-RING |
| SD1316-089-00 - FIELD COIL | SD2242-08600X0 - BRACKET | SD4215-008-00 - INSULATOR | SD6414-032-10 - O-RING |
| SD1316-08900X0 - COIL ASS'Y | SD2242-090-10 - BRACKET | SD4215-00800X0 - INSULATOR | SD6414-032-40 - O-RING |
| SD1320-063-00 - ARMATURE ASS'Y | SD2242-09010X0 - BRACKET | SD4215-039-00 - INSULATOR | SD6414-032-60 - O-RING |
| SD1320-063-10 - ARMATURE ASS'Y | SD2244-05810X9 - BRACKET | SD4215-03900X0 - INSULATOR | SD6414-032-70 - O-RING |
| SD1320-06300X0 - ARMATURE | SD2244-0581009 - BRACKET | SD4215-040-00 - INSULATOR | SD6414-032-80 - O-RING |
| SD1320-06310X0 - ARMATURE ASS'Y | SD2244-05820X9 - BRACKET | SD4215-04000X0 - INSULATOR | SD6414-03210X0 - O-RING |
| SD1320-06340X0 - ARMATURE ASS'Y | SD2244-05840X9 - BRACKET ASS'Y | SD5000-083-10 - SCREW | SD6414-03240X0 - O-RING |
| SD1320-07500X0 - ARMATURE ASS'Y | SD2244-0584009 - BRACKET ASS'Y | SD5000-08310X0 - SCREW | SD6414-03260X0 - O-RING |
| SD1320-07540X0 - ARMATURE ASS'Y | SD2244-05850X9 - BRACKET ASS'Y | SD5010-043-00 - BOLT | SD6414-03270X0 - O-RING |
| SD1320-07800X0 - ARMATURE ASS'Y | SD2244-06801X0 - BRACKET | SD5010-047-30 - BOLT | SD6414-03280X0 - O-RING |
| SD1320-07820X0 - ARMATURE ASS'Y | SD2244-06821X0 - BRACKET | SD5010-190-20 - BOLT | SD6414-042-10 - O-RING |
| SD1320-07830X0 - ARMATURE ASS'Y | SD2244-06902X0 - HOLDER | SD5010-19020X0 - BOLT | SD6414-042-30 - O-RING |
| SD1330-04400X9 - BRACKET ASS'Y | SD2245-006-10 - GEAR CASE | SD5010-233-00 - BOLT | SD6414-04210X0 - O-RING |
| SD1330-0440009 - BRACKET ASS'Y | SD2245-006-20 - CASE | SD5010-233-50 - BOLT | SD6414-04220X0 - O-RING |
| SD1331-03410X9 - BRUSH HOLDER ASS'Y | SD2245-00610X0 - GEAR CASE | SD5010-233-60 - BOLT | SD6414-04230X0 - O-RING |
| SD1331-0341009 - BRUSH HOLDER ASS'Y | SD2245-00620X0 - GEAR CASE | SD5010-233-70 - BOLT | SD6414-04240X0 - O-RING |
| SD1331-04300X0 - BRUCH HOLDER ASS'Y | SD2245-00820X0 - CASE | SD5010-23300X0 - BOLT | SD6414-04250X0 - O-RING |
| SD1331-04300X9 - HOLDER ASS'Y | SD2245-00830X0 - CASE | SD5010-23350X0 - BOLT | SD6414-04260X0 - O-RING |
| SD1350-10220X9 - MAGNETIC SWITCH | SD2425-16510X0 - BAR | SD5010-23360X0 - BOLT | SD6414-04270X0 - O-RING |
| SD1350-105-00 - MAGNETIC SWITCH | SD2425-16910X0 - BAR | SD5010-23370X0 - BOLT | SD6414-04280X0 - O-RING |
| SD1350-105-10 - MAGNETIC SWITCH | SD2425-17210X0 - BAR | SD5010-261-00 - BOLT | SD6414-04510X0 - O-RING |
| SD1350-105-30 - MAGNETIC SWITCH | SD2441-016-00 - SHAFT | SD5010-26100X0 - BOLT | SD6414-04650X0 - O-RING |
| SD1350-105-40 - MAGNETIC SWITCH | SD2441-01600 - SHAFT | SD5010-262-00 - BOLT | SD64140-03260 - |
| SD1350-105-50 - MAGNETIC SWITCH | SD2441-01600X0 - SHAFT | SD5010-26200X0 - BOLT | SD8140-050-301 - BOLT |
| SD1350-10500X9 - MAGNET SWITCH | SD2441-03200X0 - SHAFT | SD5010-26211X0 - BOLT | SD8140-0503010 - BOLT |
| SD1350-10510X9 - MAGNETIC SWITCH | SD2441-03400 - SHAFT | SD5010-26220X0 - BOLT | SD8140-060-351 - BOLT |
| SD1350-10511X9 - SWITCH | SD2441-03400X0 - SHAFT | SD5010-264-00 - BOLT | SD8140-0603510 - BOLT |
| SD1350-10530X9 - SWITCH ASS'Y | SD2620-09600X9 - METAL | SD5010-26400X0 - BOLT | SD8264-1830010 - NUT |
| SD1350-10540X9 - MAGNETIC SWITCH | SD2620-10500 - | SD5010-265-00 - BOLT | TZJB2401-P22-9 - 0-RING |
| SD1350-10550X9 - MAGNETIC SWITCH ASS' | SD2620-10500X9 - METAL | SD5010-26500X0 - BOLT | TZOS-153007 - SEAL |
| SD1350-10810X9 - SWITCH | SD2620-105009 - | SD5010-27300X0 - BOLT | TZROWG26-13120 - O-RING |
| SD1350-10900X9 - SWITCH | SD2620-10600X9 - METAL | SD5010-27421X0 - BOLT | TZSJR-01110 - RING |
| SD1350-10910X9 - SWITCH ASS'Y | SD2660-068-00 - BRUSH | SD5010-27430X0 - BOLT | TZW40-13177 - O-RING |
| SD1350-10911X9 - SWITCH ASS'Y | SD2660-068-10 - BRUSH | SD5030-052-00 - WASHER | TZW44-13202 - O-RING |
| SD1350-10920X9 - SWITCH | SD2660-06800X0 - BRUSH | SD5030-05200X0 - WASHER | TZ02204210 - OIL SEAL |
| SD1350-10930X9 - SWITCH ASS'Y | SD2660-06810X0 - BRUSH | SD5030-087-00 - WASHER | TZ03205211 - OIL SEAL |
| SD1350-10932X9 - SWITCH ASS'Y | SD2660-07000X9 - BRUSH | SD5030-08700X0 - WASHER | TZ043E1011-00 - PIECE |
| SD1350-11110X9 - SWITCH ASS'Y | SD2660-07100X7 - BRUSH | SD5031-01100X0 - SHIM | TZ043E1012-00 - PIECE |
| SD135010510X9 - ENGAGE SWITCH | SD2660-07100X8 - BRUSH | SD5031-053-00 - SHIM | TZ043E1020-01 - PIN |
| SD1361-047-00 - CLUTCH ASS'Y | SD2660-07100X9 - BRUSH | SD5031-05300X0 - SHIM | TZ100A-2007-00 - PLATE RETAINER |
| SD1361-04700 - CLUTCH ASS'Y | SD2660-07400X6 - BRUSH | SD5031-05700X0 - SHIM | TZ100A2007-00 - RETAINER |
| SD1361-04700X0 - PINION | SD2660-07400X7 - BRUSH | SD5058-042-00 - RING | TZ100A2008-00 - BALL |
| SD1361-048-00 - CLUTCH ASS'Y | SD3000-078-00 - WASHER | SD5058-04200 - | TZ100A2009-00 - PLATE |
| SD1361-04800X0 - CLUTCH ASS'Y | SD3000-07800X0 - WASHER | SD5058-04200X0 - RING | TZ100A2013-00 - SPRING |
| SD1361-05800X0 - PISTON ASS'Y | SD3000-098-00 - PLATE | SD5200-00400X0 - CLITCH SPRING | TZ100A2018-00 - VALVE |
| SD1372-036-00 - LEVER ASS'Y | SD3000-09800X0 - PLATE | SD5201-08600X0 - SPRING | TZ100A2020-00 - SPRING |
| SD1372-03600X0 - LEVER ASS'Y | SD3000-099-00 - PLATE | SD5201-10100X0 - SPRING | TZ100A2022-00 - RING |
| SD1372-04200X0 - LEVER ASS'Y | SD3000-09900X0 - PLATE | SD5221-012-00 - HOOK | TZ100A2054-00 - VALVE |
| SD1510-029-00 - REGULATOR ASSY | SD3001-116-00 - PLATE | SD5221-01200 - | TZ100A2055-00 - SPRING |
| SD1510-02900X0 - REGULATOR | SD3001-11600X0 - PLATE | SD5221-01200X0 - HOOK | TZ100A2057-00 - SPRING |
| SD1510-02901X0 - REGULATOR | SD3002-046-00 - COVER | SD5250-024-00 - BRUSH SPRING | TZ100A2057-01 - SPRING |
| SD1510-02910X0 - REGULATOR ASS'Y | SD3002-04600X0 - COVER | SD5250-02400X0 - SPRING | TZ100ZA2007-00 - PLATE |
| SD1599-0010010 - RELAY | SD3011-00400X0 - CLUTCH PLATE | SD5250-02600X0 - SCREW | TZ150A1007-01 - BEARING |
| SD1599-0010020 - SAFETY RELAY | SD3011-00500X0 - CLUTCH PLATE | SD5250-02800X0 - SPRING | TZ150A1017-00 - PIN |
| SD1599-0010030 - SAFETY RELAY | SD3040-12100X0 - PLATE | SD6060-119-20 - CONDENSER | TZ150A1023-00 - BEARING |
| SD1599-0010040 - SAFETY RELAY | SD3051-023-00 - LOCK PLATE | SD6060-1192 - | TZ150A1104-00 - GEAR ASSY |
| SD1599-0010050 - SAFETY RELAY | SD3051-02300X0 - PLATE | SD6060-11920 - CONDENSER | TZ150A1204-00 - GEAR ASS'Y |
| SD1912-213-00 - CORD | SD3220-388-00 - SUPPORT | SD6060-11920X0 - CONDENSER | TZ150A2002-00 - SHAFT |
| SD1912-213-01 - CABLE | SD3220-38800X0 - SUPPORT | SD6206-002-00 - ROLLER BEARING | TZ150A2004-00 - CYLINDER BLOCK |
| SD1912-21300X0 - CORD | SD3220-400-00 - SUPPORT | SD6206-00200X0 - ROLLER BEARING | TZ150A2010-00 - WASHER |
| SD1912-21301X0 - CABLE | SD3220-40000X0 - SUPPORT | SD6206-00210X0 - BALL BEARING | TZ150A9000-00 - SEAL KIT |
| SD1982-032-00 - FAN ASS'Y | SD3221-232-20 - COVER | SD6206-003-20 - BALL BEARING | TZ15017240 - SEAL |
| SD1982-03200X0 - FAN | SD3409-003-00 - COVER | SD6206-00320X0 - BEARING | TZ17820038 - FLOATING SEAL |
| SD2046-126-00 - CASE | SD3409-00300X0 - COVER | SD6206-005-20 - BEARING | TZ200A2004-00 - BLOCK |
| SD2046-12600X9 - CASE | SD3448-004-40 - FAN | SD6206-005-50 - BALL BEARING | TZ200A2015-00 - DISC PLATE |
| SD2046-12800X9 - CASE | SD3448-00440X0 - FAN | SD6206-00520X0 - BEARING | TZ200A2052-00 - STOPPER |
| SD2046-131-00 - CASE | SD3600-173-00 - COLLAR | SD6206-00550X0 - BEARING | TZ200A2105-00 - PISTON KIT |
| SD2046-13100X9 - CASE | SD3600-17300 - | SD6206-00730X0 - BEARING | TZ200B1009-01 - CRANKSHAFT |
| SD2046-133-00 - CASE | SD3600-17300X0 - COLLAR | SD6206-01110X0 - BALL BEARING | TZ200B1010-00 - PIECE |
| SD2046-136-00 - PINION ASS'Y | SD3600-17800X0 - ROD | SD6206-01120X0 - BALL BEARING | TZ200B1014-01 - PIECE |
| SD2046-13600X9 - PINION ASS'Y | SD3661-02000X0 - STOPPER | SD6206-01130X0 - BEARING | TZ200B1022-00 - BEARING |
| SD2046-14010X9 - CASE ASS'Y | SD4030-057-00 - WASHER | SD6206-01140X0 - BEARING | TZ200B1023-00 - BEARING |
| SD2080-207-00 - PULLEY | SD4030-05700X0 - WASHER | SD6206-01200X0 - BALL BEARING | TZ200B1104-02 - RV. GEAR ASSY |
| SD2080-20700X0 - PULLEY | SD4041-00900X0 - BUSHING | SD6206-01210X0 - BALL BEARING | TZ200B1204-01 - GEAR ASS'Y |
| SD2080-21300X0 - PULLEY | SD4041-037-00 - BUSHING | SD6206-01240X0 - BALL BEARING | TZ200B2002-01 - SHAFT |
| SD2080-215-00 - PULLEY | SD4041-03700X0 - BUSHING | SD6206-01250X0 - BALL BEARING | TZ200B2004-00 - PLATE |