Spare parts for Volvo asphalt pavers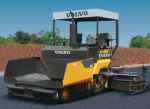 Buy high-quality parts for pavers
Volvo CE
online at Heavy Equipment Spare Parts for the lowest prices for building parts and other Volvo accessories. We offer parts for excavators, articulated trucks, pavers, milling equipment, self-propelled graders, backhoe loaders, and other equipment Volvo. Our representatives around the world, you can buy quality aftermarket and spare parts for Volvo pavers to work on construction sites.
Regardless of location, customers can always order the necessary parts for pavers
Volvo CE
in the online store. For non-original spare parts for such equipment as, for example, Volvo PF6110, Volvo ABG2820, Volvo MT2000 and other popular models are used only high quality materials and components. If your company has a balance of Volvo PF6110 unit using hinged crest rollers and tracks, you will be pleasantly surprised to see that Heavy Equipment Spare Parts offers a wide range of parts for the Volvo pavers, you can keep the equipment in working condition.
To achieve the maximum performance of your paver Volvo, you must use the best components. Our original and aftermarket parts for Volvo pavers are made in accordance with international quality standards. Heavy Equipment Spare Parts offers the lowest prices on the aftermarket and original spare parts, as well as worldwide shipping. Contact one of our representatives will get a price quote and see how much you can save.
| | | |
| --- | --- | --- |
| CH30478 Shim | CH350A-10180ZI Screw | CH37402 Valve |
| CH29B-02 Grease Fitting | CH32576X24 Trim moulding | CH37783 Spacer .2250 THICK |
| CH30124 Lock nut | CH350D-12030 Hexagon screw | CH37662 Yoke |
| CH30559 Bearing Bushing | CH36107 Element | CH37874 Back-up ring |
| CH28580 Pin | CH330D-10ZI Nut MODEL G710, G736 | CH36D-20ZI Nut |
| CH30092 Thrust Plate | CH350AC-06050ZI Flange screw | CH37919 Washer |
| CH300A-166S Paint YELL, Aerosol can | CH36D-04ZI Nut | CH35208 Shim .010 |
| CH30125 Lock Washer | CH34275 Bulb | CH37660 Yoke |
| CH30119 Seal | CH36493 Lifting eye | CH37799 Spacer .1750 THICK |
| CH30A-16ZI Nut | CH36748 Pedal INCL ITEM NO 33 - 40 | CH37861 Piston |
| CH30121 Bearing Race inner | CH3614 Plug | CH37866 Shim |
| CH30562 Bearing | CH36D-08ZI Nut | CH37820 Sleeve |
| CH30527 Pivot Pin | CH350AC-08025ZI Hexagon screw MODEL G710 - G716 | CH37764 Spacer .1800 THICK |
| CH30447 Thrust Bearing | CH36J-05 Lock nut Optional | CH37819 Roller Bearing |
| CH30A-04ZI Hexagon Nut | CH36D-12ZI Lock nut | CH37406 Gasket |
| CH300C-100S Paint GREY, Aerosol can | CH35207 Cap | CH37865 Shim |
| CH30440 Roller Bearing | CH36437 Tab Washer MODEL G710 - G740 | CH37784 Spacer .2300 THICK |
| CH29A-04 Grease Fitting | CH36463 Clevis | CH37401 Nut |
| CH30A-08ZI Hexagon Nut | CH32316 Clamp | CH37938 Housing MODEL G710 - G716 |
| CH30563 Thrust Washer | CH36498 Rod | CH37776 Spacer .1900 THICK |
| CH30D-08ZI Jam nut | CH350A-08020ZI Hexagon screw MODEL G710 - G716 | CH37935 Brake Disc G930 |
| CH30448 Pin pin | CH35535 Gauge | CH37849 Housing |
| CH30D-06ZI Nut | CH34B-10ZI Nut | CH37774 Spacer .2300 THICK |
| CH30A-06ZI Hexagon Nut | CH36D-05ZI Nut | CH37797 Spacer .1800 THICK |
| CH30D-12ZI Hexagon Nut | CH36D-06ZI Nut | CH37873 Back-up ring |
| CH30A-14ZI Nut PCS 2 per | CH36M-05ZI Nut | CH37909 Cylinder tube |
| CH30A-12ZI Hexagon Nut | CH36N-12ZI Lock nut | CH37945 Snap Ring |
| CH30D-28ZI Jam nut | CH36M-04ZI Nut | CH37782 Spacer .2200 THICK |
| CH31A-06ZI Hexagon Nut | CH36N-04PH Nut | CH37768 Spacer .2000 THICK |
| CH30D-16ZI Nut | CH36D-16ZI Lock nut | CH37K-12ZI Nut |
| CH30A-20ZI Nut | CH350A-10025ZI Hexagon screw MODEL G720 - G736 | CH38451 Wiper Arm |
| CH30561 Spherical plain bearing | CH31D-12ZI Nut S/N 33664 | CH37794 Spacer .2350 THICK |
| CH30123 Bearing Race outer | CH36968 Ring | CH37868 Bearing Race Cone, L.H. |
| CH314A-06ZI Lock Washer | CH36V-05ZI Nut | CH38447 Shaft |
| CH31A-16ZI Hexagon Nut | CH36V-04ZI Lock nut | CH37926 Drain Valve MODEL G710 - G736 |
| CH29439 Snap Ring | CH36293 Yoke | CH37848 Piston clutch |
| CH29525 Thrust Bearing | CH32891 Bearing | CH37D-16ZI Nut |
| CH30D-18ZI Jam nut 6 - 8 | CH36D-10ZI Nut | CH37H-20ZI Lock nut |
| CH300A-166P Paint 5 US gallon, YELL | CH37066 Linkage | CH38450 Spring Clip |
| CH30A-18ZI Nut 6 - 8 | CH36S-12UP Lock nut | CH38449 Washer |
| CH31A-08ZI Hexagon Nut | CH36V-08ZI Lock nut | CH37D-10ZI Nut |
| CH31A-05ZI Hexagon Nut | CH36U-05PH Wing Nut | CH38361 Pre-cleaner MODEL G710 - G716 |
| CH31D-32ZI Nut | CH36M-12ZI Lock nut | CH38657 Guide |
| CH31D-24ZI Hexagon Nut | CH36V-08 Lock nut | CH37864 Shim |
| CH31D-05ZI Jam nut | CH37178 Pivot Pin | CH3865 Ball Bearing |
| CH29E-04 Grease Fitting | CH3689 Vent | CH38651 Nut |
| CH30A-05ZI Hexagon Nut | CH36808 Heater MODEL G740 - G780 | CH38690 Brace MODEL G780 |
| CH30441 Roller Bearing | CH37071 Bracket | CH37939 Housing MODEL G720 - G736 |
| CH30075 Washer | CH37067 Anchor | CH37931 Housing MODEL G740 - G780 |
| CH31D-10ZI Jam nut | CH37180 Pin | CH38485X76 Hose assembly MODEL G710 - G736 |
| CH30137 Washer | CH37070 Kit | CH400008 Moldboard 1 x 26 x 14' |
| CH30A-10ZI Hexagon Nut | CH36N-08ZI Lock nut | CH38689 Brace MODEL G780 |
| CH31H-20ZI Nut | CH36T-06 Lock nut | CH37M-16ZI Nut |
| CH300C-100C Paint 1 US gallon, GREY | CH37405 Clip | CH38448 Link |
| CH31A-12ZI Nut | CH36N-24ZI Lock nut slotted | CH37867 Bearing Shell Cup, R.H. |
| CH31D-20ZI Jam nut | CH37170 Disc PCS 4 - 5 | CH39124 Attachment 9' |
| CH30J-24ZI Hexagon Nut | CH37068 Cylinder | CH400024 Shaft |
| CH31K-18ZI Nut | CH36N-05PH Nut | CH38485X85 Hose assembly MODEL G740 - G780 |
| CH32576 Trim moulding | CH37591 Seal | CH400116 Sleeve INCL ITEM NO 22 |
| CH32320 Clamp | CH36N-16ZI Lock nut | CH400002 Moldboard 7/8 x 22-3/16 x 14' |
| CH32824 Bushing | CH37181 Spring MODEL G710, G710 VHP,G716 VHP and G720 | CH400006 Moldboard 1 x 26 x 13' |
| CH31A-04ZI Hexagon Nut | CH36M-06ZI Hexagon Nut | CH400132 Support |
| CH32A-10 Hexagon Nut | CH37213 Spring | CH38A-0502 Cage Nut |
| CH33512 Shoe | CH37177 Block | CH3863 Ball Bearing |
| CH32845 Brace MODEL G710 - G740 | CH37179 Spring | CH400099 Grommet L.H. |
| CH30A-07ZI Nut | CH37174 Pressure Plate | CH400118 Collar |
| CH32546 Filter CPL, Optional | CH37554 Gauge | CH400121 Arm CPL, off arm - upper INCLITEM NO 19 - 35 Tripwing |
| CH30B-12ZI Hexagon Nut | CH37182 Backing Plate | CH37940 Washer |
| CH31H-24ZI Nut | CH37156 Atomizer MODEL G740 - G780 | CH400101 U-bolt |
| CH32319 Clamp | CH37585 Thrust Plate inner | CH400004 Moldboard 1 x 26 x 12' |
| CH31A-20ZI Hexagon Nut | CH36V-06ZI Lock nut | CH400016 Pinion |
| CH32318 Clamp | CH37654 Disc | CH37M-20ZI Nut |
| CH31D-05PH Jam nut | CH37677 Clutch INCL ITEM NO 32 - 52,MODEL G716 VHP andG720 | CH38485X39 Hose assembly |
| CH32576X4 Trim moulding | CH37400 Cover | CH400145 Extension |
| CH33D-10 Nut | CH37584 Thrust Plate outer | CH400139P Extension 5/8 x 26 L.H. - 5/8 holes |
| CH32A-10ZI Hexagon Nut MODEL G710, G736 | CH37436P Sleeve | CH400023 Bearing |
| CH32A-08 Hexagon Nut | CH37069 Push Rod | CH38B-06 Nut |
| CH33978 Plate | CH37765 Spacer .1850 THICK | CH400000 Moldboard 7/8 x 22-3/16 x 12' |
| CH330A-05ZI Nut | CH37766 Spacer .1900 THICK | CH39135 Relief valve |
| CH32576X6 Trim moulding | CH37767 Spacer .1950 THICK | CH400115 Tube CPL, INCL ITEM NO 24, 25 |
| CH33782 Pre-cleaner MODEL G710 - G736 | CH37592 Cap MODEL G710 - G740 | CH400120 Sleeve INCL ITEM NO 20 |
| CH34134 Ring | CH37770 Spacer .2100 THICK | CH38452 Wiper blade 18 in |
| CH33892 Bearing | CH37781 Spacer .2150 THICK | CH400159 Housing |
| CH330A-06ZI Hexagon Nut | CH37780 Spacer .2100 THICK | CH400183 Oil Cooler 2 row |
| CH32406 Gasket | CH37778 Spacer .2000 THICK | CH400119 Spring |
| CH350A-12020ZI Hexagon screw MODEL G720 - G736 | CH37773 Spacer .2250 THICK | CH400148 Cable harness |
| CH34119 Washer | CH37796 Spacer .2350 THICK | CH400185 Bracket R.H. |
| CH32A-06ZI Hexagon Nut | CH36V-20ZI Lock nut | CH400136P Extension 5/8 x 22 L.H. - 5/8 holes |
| CH34654 Coolant Filter | CH37769 Spacer .2050 THICK | CH400135P Extension 5/8 x 22 R.H. - 5/8 holes |
| CH350AC-08020ZI Screw MODEL G710 - G716 | CH37798 Spacer .1850 THICK | CH400178 Cover |
| CH330N-12ZI Nut MODEL G710 - G716 | CH37777 Spacer .1950 THICK | CH37933 Hub |
| CH31D-08ZI Jam nut | CH37772 Spacer .2200 THICK | CH39730 Receptacle 3 pin |
| CH34561 Spring | CH37583 Bearing | CH400187 Plate |
| CH351AA-20080ZI Hexagon screw | CH37779 Spacer .2050 THICK | CH400203 Pressure Switch MODEL G710, G716 |
| CH33A-10ZI Jam nut | CH37580 Seal | CH39079 Attachment 10' |
| CH32317 Clamp | CH37172 Washer | CH400167 Bulkhead Plate |
| CH31D-04 Jam nut | CH37771 Spacer .2150 THICK | CH37934 Disc G930 |
| CH35209 Shim .005 | CH32A-08ZI Nut | CH400243 Condenser |
| CH34196 Cap | CH37398 Primary Filter primary | CH400160 Strut |
| CH350A-16055ZI Hexagon screw | CH37795 Spacer .2400 THICK | CH400140 Extension 5/8 x 26 R.H. - 5/8 holes |