Caterpillar 815K Compactor parts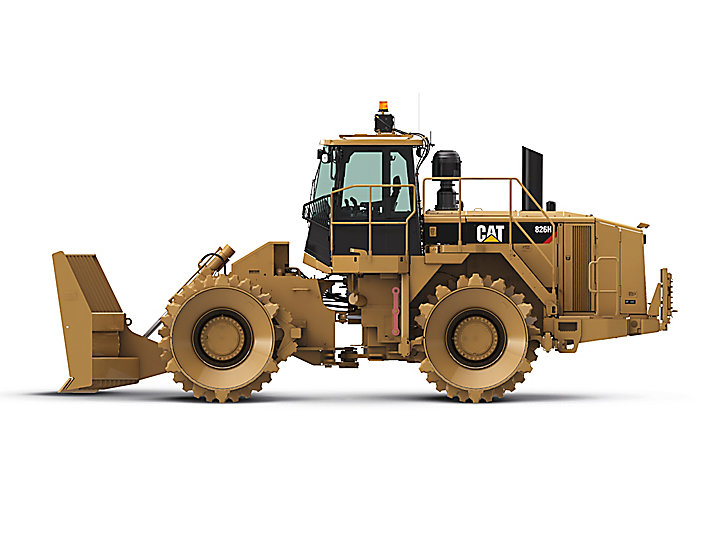 Here is some more information about Caterpillar 815K Compactor:
ENGINE
Engine Model Cat C7.1
Net Power 185.0 kW
Bore 105.0 mm
Stroke 135.0 mm
Displacement 7.01 l
If you send us your request, we will make you an offer for original and Aftermarket Caterpillar parts for your Caterpillar 815K Compactor.
Caterpillar 815K Compactor - it is a big machine. But even such machine sometimes needs maintenance.
Our online parts store give you an access to more than 1 000 000 Caterpillar parts that we have in our inventory.
Below is a small list of Caterpillar parts for this equipment. However, if you are interested in something - please use the site search.
| | | |
| --- | --- | --- |
| 3B1250 - NUT | 7E9410 - LOCK | 8T0287 - BOLT |
| 9D5993 - HOSE A | 4533653 - BRG-RLR-CL | 4N3284 - FUEL LINE |
| 0R5841 - Turbocharger T1238 465032-1 | 1347324 - TUBE A | 7V6654 - HOSE A |
| 3619918 - BREATHER | 8T3360 - GASKET KIT | 1411310 - HOSE A |
| 9S1063 - GASKET KIT | 3228733 - PUMP GP-2PS- | 1517220 - HOSE AS |
| 1850111 - RING SET | 2134449 - CARRIER-CLA | 2094226 - NUT-RING |
| 1747973 - EDGE-CUTTING | 2012836 - BOLT-HEX HD | 9X2364 - IN HOSE STK |
| 7T4177 - LINK | 8T0378 - BEARING (9M1998) | 1136887 - HOSE AS |
| 2506052 - HOSE | 3199472 - GASKET KIT | 0635799 - RING-PISTON |
| 2H3737 - BOLT | 8E5531 - BIT | 2186750 - ENGINE 3024C |
| 3T9525 - PLATE | 1969947 - ROLLER GP DF | 8C8842 - BOLT |
| 1509598 - HOSE AS | 7M1397 - SPACER | 7K4940 - TUBE A |
| 9U6787 - FITTING KIT | 7G2037 - JOINT AS | 9X7439 - RING WEAR |
| 9L5098 - HOSE A | 1368639 - SEAL-V RING | 5I8428 - GASKET |
| 3P7662 - PLUG | 6V9708 - GASKET KIT | 3256217 - SPACER-CLA |
| 8T9383 - BOLT | 7S9589 - GASKET KIT | 7T6932 - HOSE A |
| 7K0556 - HOSE A | 2U5341 - O RING 114.5 | 1V0026 - LEVER AS |
| 0R0862 - MOTOR GP-HYD | 4W6025 - BELT SET | 4651654 - GLASS |
| 1419643 - GASKET KIT | 9M1503 - RING | 1K4649 - SPACER |
| 0954927 - SEAL | 9D4689 - HOSE A | 1T0289 - PIN |
| 5P4340 - GASKET KIT | 5G1004 - HOSE A | 9L5095 - HOSE A |
| 3602329 - BRG-SLV-CLA | 2G1362 - HOSE A | 4503127 - KIT-GASKET |
| 1206814 - MOTOR GP | 2U2391 - SCREW HEX HD | 1576305 - HOSE AS |
| 1F3133 - GASKET | 5V0446 - HOSE A | 8C6538 - GASKET KIT |
| 0998112 - SCREW | 3100851 - PIN-17 | 1076476 - SWASHPLATE A |
| 3066346 - PUMP GP-FUEL | 6K8897 - BRACKET | 1052091 - SHAFT |
| 4L3843 - PISTON PIN | 4351125 - KIT-GASKET | 1694367 - HOSE AS |
| 1Q3268 - COUNTERWEIGHT | 3P5931 - HOSE A | 0989021 - HOSE A |
| 1757400 - GASKET AS-CY | 0950596 - BOLT | 9M1853 - MOUNT AS |
| 6N7988 - BODY AS | 1071581 - 107-1579 | 6N8190 - GASKET |
| 3P5849 - HOSE A | 7G5605 - HOSE A | 3481867 - ROLLER GP-SF (1634143) |
| 2T3732 - HOSE AS | 1169786 - KIT-DT BEARI | 0336039 - O-RING |
| 8H1993 - INTAKE VALVE | 3443523 - KIT DT GASKE | 8T1390 - SEAL KIT-STD |
| 9X7561 - SEAL GP (1095722) | 1102665 - SHAFT | 2517319 - BEARING SLEEVE |
| 1020302 - CARTRIDGE AS | 1388527 - SPIDER | 3801501 - PLATE-RCT-CL |
| 1741504 - MOTOR AS-27 | 1795922 - TURBO GP-BAS | 1492695 - SEAL |
| 7W3798 - CAMSHAFT | 7I5420 - HOSE A | 4204423 - KIT GASKET |
| 6693239 - RLR GRP T590 | 2799828 - SENSOR GP | 9X7371 - SEAL O RING |
| 1076038 - PEDAL AS | 8X9516 - HOSE A | 3857208 - MOUNT-CLA |
| 2562209 - SEAL | 8050178 - LINK W/BOSSES, | 9T5106 - ROTOR AS |
| 3333638 - PUMP GP-GR 1 | 1941243 - SUPPORT AS | 2366651 - CAP AS. |
| 1B8744 - KEY | 1990768 - RING GEAR FL | 3I0609 - P164375 FILT |
| 5P8864 - BOLT | 7W2326 - OIL FILTER | 7H7091 - GASKET |
| 1078143 - HOSE AS | 1496033 - MAIN BEARING | 6U4283 - HOSE ASSY 3/ |
| 9R2478 - DISC A | 1032235 - KEY,WOODRUFF | 7E5213 - PISTON RING SET |
| 0773798 - WASHER, LOCK | 3387450 - BRACKET AS. | 9U2005 - HOSE A |
| 9K0855 - SUPPORT | 4T1684 - BEARING | 3193607 - KIT-GASKET(R (1487121) |
| 6V4509 - BEARING A | CR4835/70 - SHOE 28" 3/GR - 312 | 2048165 - HOSE AS |
| 2558113 - PUMP GP-F XF | 2Q0551 - HOSE A XT | 1937620 - SEAL KIT-STD (7X2451) |
| 4K7334 - ROLLER | 6V2605 - STUD | 7K1825 - LINK |
| 2435796 - SEAL KIT | 6N6969 - CHAMBER AS | 7X9232 - ELEMENT |
| 2674101 - HOSE AS. | 3104785 - HOSE AS. | 4664849 - KIT-RING |
| 3305024 - MOTOR GP-WIP | 1194740 - ELEMENT | 2M5685 - BEARING-NEEDLE |
| 7T1253 - ROLLER DF D9N | 1297832 - CYLINDER GP | 2765605 - JET AS-PSTN |
| 1189855 - HOSE | 5S1604 - GEAR | 1584781 - SCREW |
| 2D6424 - RACE | 9T7392 - CYLINDER G | 5N4383 - WASHER |
| 1414372 - GASKET KIT | 7D5957 - HOSE A | 7000623 - NUT-HEX - SEGMENT D4/D5/D6 |
| 2140529 - GEAR-SUN-LGC | 1718689 - FLANGE AS | 5800062 - SHOE 22 2/GR ES - 963 |
| 1171744 - HOSE AS. | 0910842 - HOSE A | 4V0668 - TIP-TAMPING |
| 3B5315 - COTTER PIN | 5N5981 - HOSE A | 9S1102 - HOSE |
| 6V5921 - KIT GASKET | 9Y1082 - FUEL LINE | 4J0213 - WEAR RING |
| 4T6151 - BEARING | 9H8890 - GASKET | -2988006 |
| 2027064 - HOSE AS | 7Y1774 - CARRIER | 5S9289 - HOSE A |
| 5T5045 - INJECTOR (1536430) | 0951519 - O-RING | 0775227 - O-RING |
| 8M4446 - SEAL O RIN | 2P9193 - PISTON | 2P1784 - OIL PUMP |
| 5C4392 - HOSE A | 8B6075 - SEGMENT A | 3B4505 - LOCKWASHER (0855298) |
| 3620288 - KIT-SERVICE | 6T0235 - PISTON | 1104731 - GAUGE |
| 3E3280 - GASKET KIT | 1859511 - SEAL KIT-STD (7X2815) | 7M1856 - PILOT |
| 2V9792 - HOSE | 5K4802 - PIN | 6V2580 - GASKET KIT |
| 2826557 - PIN-CLA | 7T4096 - BIT-END | 4B4043 - CAPSCREW |
| 2366273 - BRG-SLEEVE (1865477) | 1V7952 - HOSE A | 5P9329 - GASKET KIT |
| 3775841 - GOV-COMP-CLA | 5I4352 - HOSE AS | 2370632 - HOSE AS. |
| 3E5454 - FAN | 2517567 - CORE AS-RADI | 8S9324 - HOSE A |
| 0875379 - BRG-SLEEVE | 5T9839 - HOSE A | 7V5647 - SWITCH |
| 4854895 - KIT-PUMP | 5S4383 - GEAR | 1C6144 - CUTTING EDGE |
| 1856589 - SEAL KIT (7X2812) | 7X7885 - GASKET KIT | 1075591 - NUT-JAM |
| 3256052 - CPLG-EXH-CLA | 5K9238 - FITTING | 4369657 - GLASS, LH |
| 9C1067 - HOSE A | 1938335 - COUPLING | 7N0172 - ELBOW |
| 1784538 - CYLINDER AS. | 2G2555 - HOSE A | 5K3713 - CONNECTION |
| 1644584 - GASKET KIT | 2172915 - TIE ROD AS | 3W8401 - LINK A |
| 1908970 - BASE AS | 3375100 - KIT-SEAL | 0944412 - ELEMENT |
| 0915027 - BOLT | 8S8954 - HOSE A | 3U8765 - HOSE ASSEMBL |
| 1186291 - WIPER GP | 9W7220 - SEAL KIT | 2055660 - GUARD AS |
| 964389 - SPRING | 1M9634 - GASKET | 1373625 - PAD |
| 3P4133 - SPACER | 1167462 - EDGE-SEGMENT | 2K0564 - NUT |
| 7L2904 - VEE BELT | 6V1397 - GASKET KIT | 1326193 - SEAL KIT STD |
| 7M0481 - SEAL G (6T8436) | 6F7522 - NUT | 1N3029 - TUBE |
| 5G4066 - PIN | 8H1105 - LOCK | 3P6560 - STOP |
| 8E5339 - SHANK | 995848 - PACKING | 9R3168 - BOLT-SHALLOW |
| 6V1658 - GASKET KIT | 0785031 - HEXAGON CAP | 4K9477 - FITTING |
| 4244683 - BLADE AS. | 9X6024 - SEAL KIT | 2N5125 - CORE A RAD |
| 1137794 - BUSHING | 9W9083 - HOSE A | 0983121 - BEARING |
| 4E6978 - HOSE A | 8X1214 - HOSE A | 2Y5159 - SEAL |
| 1087609 - HOSE AS | 3073073 - MOTOR GP | 1270631 - SEAL KIT-STD |
| 1027847 - HOSE A | 3L6768 - RING | 10R8618 - HEAD GP-CYL |
| 2S1373 - SPRING | 5P3426 - FITTING | 6K7909 - RING |
| 8N6796-L - COMPLETE CYLINDER HEAD | 9H6980 - BEVEL PINION | 0875734 - 087-5732 |
| 6J5316 - LINK | 0875505 - RING | 6I4957 - REGULATOR |
| 1018909 - CAP A | 1522057 - GASKET KIT | 4D8901 - 7S0122 |
| 1031291 - HOSE AS XT | 2353569 - FLANGE-HALF | 8T9311 - BOLT |
| 5M6630 - CAGE | 4K2467 - HOSE | 5D5754 - ADJUSTER |
| 3119317 - SEAL-U-CUP (1672324) | 1096783 - CYL AS | 63084VU - RUBBER TRACK (3 |
| 1620717 - HOSE AS. | 8U7313 - HOSE AS | 1044993 - KIT GASKET |
| 1335718 - HOSE A-XT | 1M3727 - SHIM | 1895762 - HOSE AS |
| 6D3886 - BEARING | 7K9212 - SEAL | 2564537 - HOSE AS. |
| 5M6674 - GUARD | 8S4719 - BOLT | 6K9214 - TUBE AS |
| 195-32-00170E - LINK ASS'Y (9W8320) | 4H9627 - GASKET | 9L7784 - BEARING |
| 2969949 - GASKET KIT | 8X1568 - HOSE A | 8S9152 - BEARING-CONE |
| 4I3862 - HOSE A | 5S4428 - JOINT AS | 3714306 - BRG-BALL-CLA |
| 2107443 - GASKET KIT | 5253504 - KIT SEAL | 2266686 - HOSE AS |
| 8C9173 - SEAL A | 1P6457 - TURBO G | 1419794 - GASKET KIT |
| 1885601 - TRACK SHOE | 2589797 - SEGMENT | 4378674 - GASKET-K-C |
| 3V3483 - COLLET | 1217523 - CABLE A | 7N8532 - SENDER AS |
| 4I6120 - HOSE AS | 6W7664 - HOSE AS | 8J6424 - PACKING-ROD |
| 1P1078 - REC & STAT A | 4W5716 - ELEMENT A | 2955422 - RING-PSTN-TO |
| 6C1015 - HOSE A | 1507954 - HOSE AS. | 2167011 - HOSE AS. |
| 1069824 - CONE | 2P6086 - ADAPTER | 0779688 - SCREW, HEX |
| 1152632 - BEARING | 1C9933 - HOSE AS. | 5S0888 - 5S0889 |
| 1853985 - GASKET | 1855294 - ALTERNATOR | 906004 - SEAL KIT TD20B |
| 4M7100 - GEAR | 9V8693 - ACTUATOR | 8T8969 - SEAL |
| 2002304 - HOSE AS. | 2P5111 - KIT | 2V1982 - HOSE A |
| 5V5960 - HOSE A | 5H5770 - GASKET | 1345440 - HOSE A |
| 6V2533 - GASKET KIT | 1583960 - PLATE | 1078149 - HOSE AS |
| 2845885 - PUMP GP-PS-B | 0964327 - SPROCKET DR | 7X1161 - SWITCH |
| 7S7070 - CYLINDER HEAD | 2351226 - HOSE AS | 2307118 - DISC-AS CLAS |
| 8N6586 - SPIDER A | 1369329 - GASKET KIT | 1506749 - SEAL-WIPER |
| 8U4499 - HOSE A | 8L5692 - FUEL LINE | 4K3150 - PIN |
| 5Y0561 - RING RETAIN | 8J1616 - LEVER AS | 5P2672 - SEAL |
| 5D9702 - SEAT | 3B3653 - BEARING | 2225153 - REBUILD KIT |
| 8T3700 - COUPLING AS- | 6I6354 - ADAPTER | 2707257 - FILTER KIT |
| 1642485 - HOSE AS | 3139550 - STUD-TAPERLO | 0931941 - SHOE 28" 3/GR - 312 |
| 4361455 - HOOD LATCH | 1122473 - EDGE-CUTTING | 8T4866 - GASKET KIT |
| 1W0443 - HOUSING | 2253542 - HOSE AS. | 1630885 - GASKET KIT |
| 0776474 - PLUG, PIPE | 4359418 - KIT GASKET | 2309800 - HOSE AS |
| 4F2041 - CUP AS | 7N6682 - GEAR | 1J2192 - BUSHING |
| 1979386 - RING-PISTON (1077636) | 7D5203 - HOSE A | 1452569 - GASKET KIT |
| 2616703 - PIN | 9T9200 - CYLINDER A | 9G4434 - HOSE A |
| 4T6944 - CYLINDER AS | 1438434 - MOTOR GP ELC | 4262155 - HOSE A |
| 0R4356 - CAMSHAFT AS (7W5426) | 2967643 - Turbocharger GTB5518BS 757473-0003 | 7T2095 - ALTERNATOR G |
| 1995330 - HOSE AS | 108512 - D80 - TILT SEAL | 6D1255 - MOTOR AS |
| 4D6664 - COUPLING AS | 7N5506 - GEAR | 1324907 - RING-WEAR |
| 3775857 - SHIELD-CLA | 3P4142 - PLATE | 7N0178 - REGULATOR KI |
| 7W9691 - LINE AS | 0050471 - BEARING | 6E6632 - CYL GP |
| 0307948 - ELBOW | 8G4050 - HOSE A | 3200563 - DRYER AS-DYE (3200562) |
| 9S2802 - PISTON | 1687354 - HOSE AS | 7M4236 - SEAL |
| 1906114 - GASKET | 2122838 - SHIM | 6V6443 - KIT GASKET |
| 1W3272 - VEE BELT SET | 8S0934 - NUT | 8J2218 - HOSE A |
| 7N0691 - ELBOW | 1163239 - GUARD A | 5I8054 - MANIFOLD |
| 1923004 - SEAL KIT-STD (7X2757) | 9W5218 - PIN | 3P7447 - PLATE |
| 950941 - RING,SNAP | 8C3111 - ROD END | 0995864 - SHAFT |
| 6V4783 - GASKET KIT | 9J3814 - HOSE A | 8J9735 - BLADE |
| 1063588 - LINE AS | 8W7817 - HOSE AS | 8C0503 - NUT |
| 2852078 - KIT-GASKET-S | 6D4154 - HOSE A | 1W6757 - BODY A (1290358) |
| 6N0814 - TANK | 1865644 - BOLT | 1108774 - HOSE AS |
| 4330443 - ARM-RKR-CL | 0780301 - KIT DR LINE | 1457001 - DISC-CLUTCH |
| 6H3977 - RING | 8Y3932 - HOSE A | 9X9099 - SWITCH |
| 8C3236 - BOLT | 9F7978 - GUARD | 6I2975 - Turbocharger Compatible TO4B91 6I2975 |
| 542213 - SPIDER & BEARING A | 0546189 - HOSE A | 2017745 - SEAL |
| 6L5554 - GASKET | 3V5762 - SUPPORT A | 9J3915 - CYLINDER A |
| 5D6058 - BEARING | 2358880 - CONDENSER AS | 3E3294 - SEAL KIT |
| 1114548 - HOSE A | 3E5178 - RECEPTACLE A | 1650138 - CLAMP-HOSE |
| 1865649 - BOLT | 7R3393 - NUT | 9G6097 - MOTOR GP. ELECTRIC |
| 2618555 - PINION-CIRCL | 9K7590 - HOSE A | 2M2123 - RING |
| 1439392 - STUD BOLT | 400684 - U-SEAL | 5I7982 - ALTERNATOR G |
| 2071332 - BELLOWS AS (5N9505) | 5P6393 - RING-RETAINI | 3929234 - KIT GASKET |
| 2K5109 - GASKET | 6V8285 - MIRROR A | 1075609 - HOSE A |
| 1962316 - SHOE AS-RH | 1765006 - BELT SET | 1U3374 - CYLINDER A |
| 1621549 - HOSE AS | 6L8161 - BELT SET | 7G3745 - RING |
| 2228212 - BOLT | 2278305 - LINK | 6L2501 - BEARING |
| 7J3864 - SEAL-RING | 1266579 - HOSE A | 2034811 - HOSE AS |
| 1586586 - CYLINDER GP | 4V7031 - HOSE A | 3604594 - PUMP GP-2PS |
| 7U9837 - HOSE AS | 5I7739 - EXHAUST VALVE | 8W5743 - HOSE A |
| 3359192 - GASKET KIT | 2941811 - WASHER | 3E9862 - LOCKNUT |
| 8D1833 - PIN | 3043781 - BOLT | 2D6512 - BEARING |
| 3N4859 - IMPELLER A | 1024056 - HOSE A | 8M4443 - SEAL O RIN |
| 3P2888 - HOSE A | 7V6890 - HOSE A | 2456834 - SEAL KIT |
| 0924452 - HOSE A | 8M4431 - SEAL-O-RING | 1047741 - HOSE A |
| 0774045 - BALL | 10R5603 - PUMP GP HYD | 1885630 - LINK - LH |
| 1P1990 - GEAR | 2U5363 - SEAL OIL | 1296259 - PUMP G-F PRM |
| 3637422 - HOSE AS | 7I5413 - HOSE AS | 1P0918 - GASKET KIT |
| 1406138 - HOSE AS | 4E9271 - HOSE A | 3807417 - STRIP-CLA |
| 5M9735 - SEAL | 3349980 - MOTOR GP-PST | 7M4962 - CORE A. |
| 3921633 - KIT GASKET | 5P8776 - GASKET KIT | 2456375 - AIR FILTER |
| 2H6473 - BEARING A. | 2055285 - ASKET | 1968228 - HOSE-DRAIN |
| 5T3699 - HOSE A | 5T9805 - HOSE A | 2259645 - HOSE AS |
| 3U8742 - HOSE ASSEMBL | 1990697 - PINNION SEAL | 8W4009 - HOSE AS |
| 1878191 - COIL AS | 1260198 - HOSE AS | 7I8172 - RING BACK UP |
| 9T7727 - PLATE | 6V1598 - GASKET KIT | 2W0493 - GEAR |
| 9N2366 - NOZZLE | 8J0484 - RING | 126417 - HOSE A |
| 2238331 - CYLINDER AS | 8B8325 - GASKET | 2Y5624 - CLAMP |
| 1345692 - SEAL O-RING | 4T9439 - TRUNNION | 5K9090 - SEAL O RING |
| 1902495 - IDLER AS.-BR (1100541) | 1291884 - RIM GP | 7Y8479 - HOSE AS |
| 2430336 - CAP-CLASSIC | 8N7780 - SHIELD | 1P0965 - GEAR |
| 8S9112 - DISC | 7C6967 - BEARING-THRU | 9W7224 - SEAL KIT |
| 6S2829 - BEARING | 8V6983 - HOSE A | 2319030 - MANIFOLD-EXH |
| 8P5117 - ROD G | 3807538 - GOV-COMP-CLA | 1083101 - HOSE A |
| 2697374 - MOTOR GP-ELE | 6A5569 - HOSE A | 6E0246 - SEAL AS-BUFF |
| 1135966 - HOSE A | 2010828 - BUSHG TRACK | 1505145 - GASKET KIT |
| 2M0574 - GASKET | 8T6686 - GASKET KIT | 2554846 - PUMP GP-ENG |
| 25-38PL - TEETH ESCO STYLE | 1328088 - SEAL KIT-STD | 8E5257 - BUSHING |
| 2072824 - INDICATOR | 7U3368 - HOSE | 9C4199 - HOSE A |
| 1273286 - RING | 9D5945 - HOSE A | 5P0374 - SEAL G |
| 3119541 - PUMP GP-2PL- (2835973) | 1195456 - RING (0931605) | 8E6558 - RACE |
| 1786546 - PISTON | 3H0744 - GASKET | 5T6816 - PINION |
| 7J8273 - SEAL | 7T3356 - ADAPTER | 4Y0402 - HOSE AS |
| 5S8834 - HOSE A | 9M3770 - NUT | 1295941 - 129-5940 |
| 4N0364 - HOSE A | 4W5484 - HOSE A | 8L8500 - BEARING |
| 3949186 - GEAR-BVL-CLA | 5P3087 - CUP AS | 9P1332 - RING-SEAL |
| 8X4176 - HOSE | 9P7823 - PLATE | 8U1519 - RELAY |
| 1898204 - HOSE AS. | 7S0445 - HOSE A | 2225160 - GASKET KIT |
| 2144499 - CYLINDER GRP | 1499136 - HOSE AS | 2528356 - GASKET |
| 1465496 - MOTOR GP-TRA | 7E4839 - PULLEY | 8J2933 - NUT |
| 3055302 - SEAL-RACETRA | 1086942 - HOSE A | 1P0907 - GASKET KIT |
| 1W5341 - LEVER AS | 7X0290 - BOLT | 2T0129 - HOSE |
| 1975796 - TUBE AS. | 1085203 - TUBE AS | 4P8280 - MANIFOLD |
| 4E6888 - HOSE A (1296619) | 6Y9269 - LINK | 1656690 - GASKET |
| 8X3889 - HOSE A | 1388677 - GASKET KIT | 5H5565 - SWITCH ASSY. |
| 1P0436 - GASKET | 1068957 - PUMP AS | 8R1703 - PINION |
| 4698466 - KITGASKET | 1333566 - TUBE AS | 2729757 - HOSE AS. |
| 8S6257 - TUBE AS | 1960383 - CLAMP-HOSE-M | 3919812 - MOUNT-CLA |
| 5I9598 - BEARING SLEEVE | 4V9182 - HOSE A | 8H2231 - SEAL |
| 4F2393 - BEARING | 6T5326 - SPRING | 5S5053 - BEARING-FRON |
| 4P9388 - SEAL LINER | 6N5374 - TURBOCHARGER - D7G | 6W6747 - HOSE A |
| 2P1824 - BEARING | 4N5110 - REGULATOR | 5P9636 - GASKET KIT |
| 2525001 - PRIMARY ELEM | 9Y5992 - GASKET | 1477108 - HOSE |
| 1028041 - SWITCH AS | 5P8369 - GASKET KIT | 6P4235 - PIN&BUSHINGG |
| 5W5390 - BEARING | 0908358 - HOSE A | 3318538 - WHEEL SEAL |
| 1978743 - HOSE AS. (9R3453) | 1117015 - HOSE AS | 6F7557 - GASKET |
| 1143391 - BEARING | 3Y6691 - ALTERNATOR G | 3951312 - RBLD-CMP-CLA |
| 1583026 - RING-BACKUP | 1782979 - GASKET KIT | 0830173 - SCREW/BOLT |
| 1287903 - SPACER | 2P9423 - PIN | 2D8782 - TERMINAL |
| 7G0180 - CAP A | 9P3731 - CARRIER | 1226166 - GASKET KIT |
| 6K6924 - SHAFT | 7S7018 - SEAL O RING | 3S2445 - ARM |
| 4V7061 - CARRIER | 4H0621 - GUIDE-VALVE | 0926347 - SENDER-TEMP |
| 5T8734 - HOSE A | 6Y9530 - HOSE AS | 2Y4645 - CLAMP-HOSE |
| 1514185 - NUT | 1R1809 - ELEMENT | 0930701 - HOSE,FLEXBLE |
| 3010431 - GASKET KIT | 0837789 - HOSE A | 1232701 - HOSE |
| 7S9092 - OVERHAUL GASKET SET | 0987406 - HOSE AS | 0776667 - RING, SNAP |
| 1145611 - BEARING SET | 7W5749 - SLEEVE-HEAD | 1105608 - VALVE GP |
| 2607994 - HOSE AS. | 6Y0061 - GEAR | 7N8557 - GASKET |
| 1600054 - CYL GP | 8H8437 - GASKET | 2087474 - GAUGE |
| 2117895 - TENSIONER | 9L9088 - BEARING | 2003398 - CYLINDER AS |
| 5S8804 - HOSE A | 1710802 - HOSE AS | 2588506 - BEARING-SLEE |
| 963774 - COTTER PIN | 4D9517 - CLIP | 659845 - BALL BEARING |
| 2V9298 - HOSE A | 3E8859 - SWITCH | 1133175 - ELBOW |
| 8D2229 - WHEEL A | 8T2479 - GASKET KIT | 1668562 - HOSE AS. |
| 0781972 - SQUARE SECTI | 2W1953 - TURBO G | 1706383 - HOSE AS. |
| 7N5908 - PUMP G | 4B1282 - SCREW | 1833232 - PUMP GP-28-V |
| 9R7911 - HOSE A | 2660330 - PISTON PUMP | 1360036 - HOSE AS. |
| 3334944 - BRG-SLV-CLA | 640236 - VALVE | 2720760 - SEAL-PIP |
| 5P9596 - SCREW | 1U3645 - HOSE A | 3747167 - DOOR GP HOOD SI |
| 9L6252 - CORE A OIL C | 2S5025 - TUBE AS | 0818414 - SEAL |
| 8T6974 - BOLT | 1774651 - BAR GP | 3P2044 - INHIBITOR |
| 9T0068 - HOSE A | 4T9320 - RING | 0949411 - RING,SNAP |
| 5K3968 - RETAINER | 6F0651 - STREET ELL | 3B5067 - SHAFT |
| 6P8921 - COVER | 8K2956 - PIN | 1604640 - HOSE A |
| 2M3340 - SEAL | 4N3841 - GASKET | 1Q5327 - HOSE A |
| 2V0961 - DRIVER | 1303997 - RING-PISTON | 1P7253 - GASKET KIT |
| 2354781 - BLADE A | 1007836 - HOSE A | 0694436 - HOSE A |
| 1H1886 - PLATE | 1407535 - DOOR | 3593706 - PUMP GP-FUEL |
| 8C3057 - SEAL-O-RING | 9R7158 - PIN | 8S6325 - DISC A |
| 3341023 - HOSE AS. | 1862635 - | 1T1615 - TORQUE CONVERTER |
| 3221126 - LINER-CYLIND (2538766) | 2346944 - LINK | 2445924 - HOSE AS. |
| 4666343 - FILTER - OIL | 2106722 - HOSE AS (1G7840) | 2540750 - PLATE AS |
| 6D0547 - COVER AS | 3207352 - O-RING | 8T4090 - BOLT-PLOW |
| 4W5869 - VALVE A | 3192228 - SHOE-CIRCLE | 903404 - SEAL KIT |
| 6E3484 - CYLINDER A | 6E2046 - PUMP G | 2366919 - SEAL-O-RING |
| 4189613 - RAC-OTR-CL | 8D1646 - CHAIN ASSY. | 1159318 - HOSE AS |
| 2364105 - LINK AS-TRAC | 7N9209 - TUBE AS | 1N3859 - GASKET-O PAN |
| 3T3142 - HOSE A | 6K8328 - BEARING | 4P1659 - RING-OIL |
| 2P6159 - PULLEY | 0780337 - NUT LUG | 9L8491 - NUT |
| 8U0291 - HOSE A | 6N1966 - FUEL LINE | 7X2662 - SEAL KIT |
| 2746665 - ADAPTER-TEE | 1427072 - SEAL-O-RING | 2005289 - HOSE AS. |
| 1129524 - HOSE AS | 5J3886 - SEAL O RING | 2426767 - CYL GP-0120 |
| 9F7783 - SEAL | 5M2056 - BEARING A.-R | 2Q0095 - HOSE A |
| 0531566 - HOSE | 4M8809 - SHAFT | 2799337 - CYLINDER AS |
| 1976564 - HOSE AS. | 6V9726 - GASKET KIT | 1R1807 - LUBE FILTER |
| 7D6423 - HOSE A | 9N3388 - SCREW-S-LOCK | 1112371 - ELEMENT AS |
| 2746810 - SOCKET GP-BA | 8N7859 - CORE AS | 0015706 - CUP |
| 4F7507 - RING | 4203222 - BRG-BALL-C | 5L7722 - RACE |
| 4V4893 - BRAKE G | 8T1637 - KIT GASKET | 1696862 - INSERT-V SEA (1260453) |
| 1240867 - HOSE AS | 2D2566 - RING | 2388637 - CYLINDER AS |
| 5V1781 - SHAFT | 7I3015 - EDGE | 1241072 - HOSE AS |
| 1535211 - VALVE GP-P R | 7V5311 - HOSE A | 1560724 - HOSE AS |
| 4I1635 - 4I1634 | 5C4399 - HOSE A | 9R4678 - PIN |
| 4M2442 - BOLT | 3S2317 - GASKET | 2984570 - GASKET EXH-M |
| 6K8478 - HOSE A | 9S1687 - HOSE A | 1141159 - COLLAR |
| 5T9545 - HOSE A | 8N4045 - COUPLING AS | 1H6227 - RING (0816905) |
| 2746719 - SENSOR GP-PR | 2236789 - HOSE AS | 9S7712 - ELBOW |
| 7W9391 - HEAD ASSY. | 3W2421 - RING | 9U4133 - HOSE A |
| 5I8251 - LAMP GP | 1119034 - CUP | 5W5048 - RING-RETAIN |
| 8S4914 - GAUGE | 6P3069 - TRACK SHOE | 1N3216 - SEAL G-CRANK |
| 1280331 - HOSE (1230820) | 1280162 - HOSE AS | 7D6064 - HOSE A |
| 4194710 - GASKET-CLA | 8T3365 - KIT GASKET | 7W2510 - BUSHING |
| 3028170 - PUMP GP-F PR | 9C3360 - CUSHION A | 1411646 - GASKET KIT |
| 10R1736 - MOTOR GP | 6E6174 - PLUNGER | 964878 - HEXAGON NUT |
| 3136478 - GASKET KIT | 1007616 - V BELT | 4F6880 - GASKET |
| 1487401 - GEAR | 2659125 - RETAINER | 3H1996 - BEARING |
| 2782360 - D5K SEGMENT GRP | 1286095 - HOSE AS XT | 1435426 - GASKET KIT |
| 2P8630 - DOWEL | 4I9525 - BAND | 5P3852 - BRG BALL |