Caterpillar 816K Compactor parts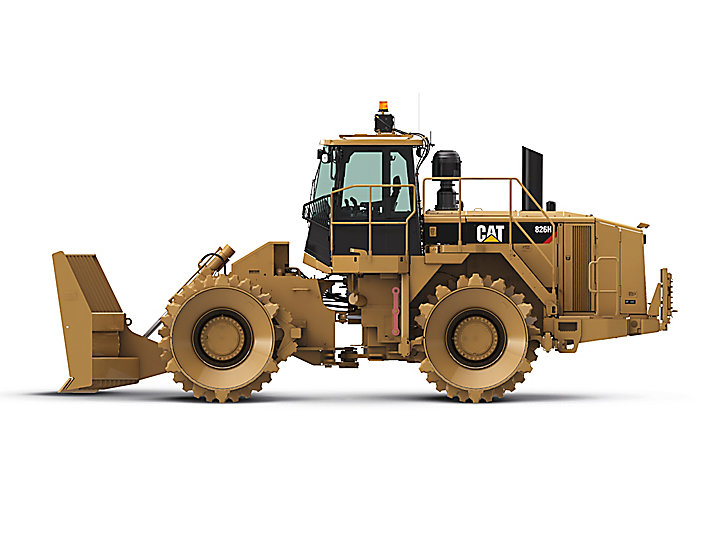 Here is some more information about Caterpillar 816K Compactor:
ENGINE
Gross Power 212.0 kW
Net Power 185.0 kW
Engine Model Cat C7.1 ACERT
Torque Rise 52.0 %
Bore 105.0 mm
Stroke 135.0 mm
Displacement 7.01 l

WEIGHTS
Operating Weight 25809.0 kg
If you send us your request, we will make you an offer for original and Aftermarket Caterpillar parts for your Caterpillar 816K Compactor.
Caterpillar 816K Compactor - it is a big machine. But even such machine sometimes needs maintenance.
Our online parts store give you an access to more than 1 000 000 Caterpillar parts that we have in our inventory.
Below is a small list of Caterpillar parts for this equipment. However, if you are interested in something - please use the site search.
| | | |
| --- | --- | --- |
| 3602318 - BRG-SLV-CLA | 2120833 - HOSE AS. | 9D1242 - WIPER BLADE |
| 8X6445 - HOSE A | 7D6106 - HOSE A | 9R7942 - PLUG A |
| 9P0567 - CASE | 7J8294 - ROD A | 1052140 - PUMP GP-PS&V |
| 5T7019 - HOSE A | 773109 - BOLT 1/2X1 1/2NC | 2477018 - HOSE AS. |
| 8K1754 - SPACER | 9Y1737 - CARTRIDGE AS | 6V9248 - GASKET KIT |
| 2167373 - GASKET KIT - | 9J7078 - BEARING | 3747259 - KIT-SEAL |
| 3D9609 - END | 2953099 - PLUG-SPARK (2780171) | 6V0959 - BEARING |
| 2668718 - INSERT | 3G8082 - CYLINDER A | 3314400 - GASKET |
| 3209345 - HEXAGON NUT | 1308905 - CAGE | 1458297 - HOSE AS |
| 2627096 - TURBOCHARGER | 5L7442 - SENDING UNIT | 8X6640 - HOSE A |
| 1618152 - CONE | 6F0249 - SEAL | 1407038 - COUPLING |
| 7Y1751 - CARRIER | 1959345 - TRACK GRP | 1859358 - GUARD AS FRONT |
| 5M3114 - BEARING | 0869899 - O RING | 2F4570 - GASKET |
| 4F1727 - BEARING STD | 4I5580 - HOSE A | 1375509 - HOSE A |
| 0816436 - SCR HX | 8X6037 - HOSE A | 1V6017 - HOSE A |
| 6F4350 - CAP | 0779869 - O-RING | 5P0765 - CM-HOSE STK 90 |
| 1488101 - GASKET | 2214931 - HOSE AS | 1C3879 - BRG CONE |
| 8U6206 - HOSE AS | 7K9343 - PIN | 1W6759 - PISTON G-BAS |
| 2102266 - GEAR | 6V6546 - BOLT | 7X2819 - SEAL KIT |
| 1S1318 - GASKET KIT | 7U8423 - SEAL KIT | 5P4926 - GASKET GP (8S7871) |
| 8M9810 - INSERT | 2339245 - GASKET KIT | 1335099 - CUP |
| 6C6167 - HOSE AS | 3114065 - FILTER-AIR | 4F8420 - PACKING |
| 951680 - SEAL O RING | 1204311 - SEAL | 6T4376 - CAP A |
| 3Y7604 - HOSE A | 1306879 - SEAL | 8E5486 - BEARING |
| 1053372 - SPRING | 3801511 - PIST-CLU-CLA | 3128934 - BELT |
| 1494910 - SWITCH | 7E7310 - BODY AS | 6U9669 - HOSE A |
| 4E1046 - HOSE A | 2366268 - BRG-SLEEVE (1633746) | 5C9788 - HOSE AS |
| 1732512 - GASKET KIT | 8X7332 - HOSE AS | 2362843 - HOSE AS |
| 6W2541 - HOSE A | 951687 - SEAL O RING | 5V7516 - HOSE A |
| 3807675 - BEARING-ALIG (1531370) | 1071716 - SCREW | 2048481 - HOSE AS |
| 1346950 - HOSE AS. | 5I3291 - PIN AS | 2026758 - HOSE AS |
| 2495558 - HOSE AS. | 8P6824 - HOSE A | 1296652 - GASKET KIT |
| 8W3289 - HOSE A | 3T3422 - WIRE A | 2397939 - CARRIER-GUID |
| 2M3403 - BOLT | 1406115 - GASKET KIT | 1437733 - GRILL D8R |
| 6D5761 - HOSE A | 2878472 - KIT-GASKET-F (1301306) | 4P1833 - LINE A |
| 8X0669 - HOSE A | 3B8485 - FITTING | 9W7602 - SHIM |
| 7P7069 - GEAR-RING | 1748044 - SIDE CUTTER | 5S6047 - GASKET |
| 7S4236 - GASKET | 8K3682 - HOSE A | 8D9475 - HOSE A |
| 1777517 - PUMP AS | 6D0469 - SEAL | 8R2912 - WASHER |
| 8K4291 - HOSE A | 1255365 - HOSE AS | 3H5077 - SEAL |
| 2200189 - DISC-FRICTIO (1305860) | 1216400 - HOSE AS | 2590751 - SEAL KIT |
| 1506262 - SEAL-BUFFER | 2720758 - SEAL-PIP | 1407518 - GASKET |
| 1418892 - CUP | 0776374 - CONE | 1899379 - ROTATING GP |
| 7X2525 - KIT GASKET | 2220844 - CABLE | 1004450 - GASKET |
| 1274422 - GASKET | 3005894 - HOSE AS. | 1630343 - DISC-FRICTIO |
| 6E4497 - ROD AS | 6T8249 - PIN | 2646898 - GASKET KIT |
| 5I8425 - PLATE | 7T9100 - HOSE AS (1544928) | 2A0164 - CAGE |
| 5J5365 - PIN | 0R6629 - Turbocharger TE06H-17C 2 49185-00040 | 4499222 - KIT GASKET |
| 6T4944 - DISC | 8E2184 - ADAPTER | 8D8639 - GEAR |
| 7S6309 - SHAFT A | 8W5407 - HOSE A | 3E3314 - SEAL KIT |
| 6V7371 - SEAL-LIPTYPE | 4346107 - PUMP-WTR-C | 7X7608 - RING |
| 1026341 - GLAND | 3125540 - HOSE AS | 2519906 - BUSHING |
| 0950878 - PIN,SPRING | 9W4163 - RACE | 1418936 - Turbocharger BTV5501 466423-5005 |
| 9R2672 - BOSS | 1711704 - ADAPTER-TIP | 8K0455 - PIN |
| 786950 - FILTER FUEL | 6V2485 - SENSOR G | 2P9613 - COMPRESSOR G |
| 9W3328 - NUT | 8M6152 - GUIDE | 1M5898 - SEALED UNIT |
| 7E5187 - TURBOCHARGER | 3864939 - BRG-RLR-CLA | 2512542 - PIN |
| 4M0447 - CRANKSHAFT | 7D1219 - HOSE A | 9R8110 - HOSE A |
| 3543805 - HOSE AS | 2J0157 - SEAL O RING | 5K1269 - SEAL |
| 5S7724 - HOSE A | 0775094 - RING | 3470471 - SHAFT-CLA |
| 2768132 - SPRING-VALVE | 1Q5208 - HOSE A | 2089047 - SCREW |
| 4K6802 - SEAL RING | 8C8838 - GASKET KIT | 0875772 - HOSE A |
| 6V9908 - GASKET KIT | 1N3799 - TUBE A | 7J6869 - RING |
| 8D5045 - COUPLING AS | 3I0831 - P181080 FILT | 7E7999 - BEARING (1077332) |
| 0874933 - HOSE AS | 4T6239 - END BIT | 7D4499 - SHANK |
| 0814143 - NUT | 8T6750 - SEAL FACE | 1145333 - SWITCH |
| 1U0432 - VALVE GRP | 0931401 - SEAL,DUST | 9R8734 - PIN |
| 8X1583 - HOSE A | 1590450 - TIP-J450 | 1411650 - GASKET KIT |
| 5C8583 - GEAR | 3E1804 - CABLE | 8K3529 - HOSE A |
| 1997424 - SEAL KIT | 2417150 - LINK AS | 7S1874 - BEARING |
| 7T2390 - SHOE | 4W4212 - TUBE AS | 5D3123 - 5S9295 |
| 1965537 - HOSE AS. | 7T1248 - BOLT | 8T4199 - BOLT |
| 2H3755 - CAPSCREW | 4T4709 - TIP | 0875760 - HOSE A |
| 9X8896 - CAP SCREW | 9R7821 - CAP | 6N8002 - CAP |
| 7M0271 - BEARING | 2243343 - INDICATOR | 5P5704 - GASKET |
| 0964276 - RING BACKUP | 1019348 - HOSE A | 1024064 - HOSE A |
| 2128755 - HOSE AS. | 1A1460 - CAPSCREW | 1S1180 - FRAME A |
| 9L3047 - BELT SET | 8S9184 - GEAR A | 4M2927 - GASKET |
| 6N3276 - CARTRIDGE | 1600161 - HEAD GASKET | 7G3815 - OIL PUMP |
| 2768124 - VALVE-EXHAUS | 6L9542 - EXPANDER | 1917583 - BEARING |
| 9R3525 - NUT | 1P3746 - GASKET KIT | 5T0523 - GEAR DIFF R |
| 1W7599 - HOSE AIR | 2597464 - VALVE GRP | 6V8378 - NUT |
| 1084818 - SHIELD | 5S1557 - GEAR | 0944057 - RING,WIPER |
| 5I7503 - TUBE AS | 5I7890 - GASKET KIT | 3K8422 - PIN |
| 6G3378 - PISTON | 7C5555 - LINE AS | 4196261 - SEAL, HYDRAULIC |
| 3493675 - KIT-GASKET(F | 1295889 - 129-5888 | 1074889 - SEAL G |
| 0114788 - PIN | 6V9849 - ELBOW | 1091234 - HOSE A |
| 1M2922 - GASKET | 8T2454 - GASKET KIT | 6N8891 - GASKET |
| 2276125 - HOUSING KIT | 1559117 - SPRING | 1319516 - HOSE A |
| 3T4563 - HOSE A | 9C5647 - SHAFT | 2552030 - HOSE AS. |
| 1080350 - RING | 2172870 - PIN | 9C5747 - HOSE A |
| 1T1784 - CARRIER | 1994025 - HOSE AS. | 9W9946 - LINK AS |
| 1318828 - COVER AS | 1141014 - HOSE A | 1178747 - GASKET KIT |
| 2834350 - HOSE AS. | 7W6940 - GASKET | 9D5873 - HOSE A |
| 0623735 - BEARING | 4H2978 - SCREEN A | 1153732 - HOSE AS |
| 1C9745 - HOSE AS. | 8C3206 - FLANGE | 2435409 - CLEANER GRP RH |
| 9P3464 - GEAR | 1452375 - HOSE A | 2G1470 - HOSE A |
| 1C9799 - HOSE AS. | 1348264 - GASKET KIT - | 8D6626 - HOSE A |
| 4N0117 - GASKET | 3S1281 - RING | 8W4085 - HOSE A |
| 1569037 - MOTOR GP | 5H5588 - COUPLER A. | 2898005 - CYLINDER AS |
| 5I5081 - GASKET,OIL C | 1796152 - BEARING | 9L5452 - HOSE A |
| 1021312 - 102-1311 | 1233792 - CYLINDER GRP | 6I6786 - RING SEAL (0875506) |
| 6R4038 - MOTOR GP | 6E4001 - BEARING A | 8T7936 - GASKET KIT |
| 1855883 - HOSE AS | 4F2611 - GEAR | 2397828 - SETSCREW |
| 4T9107 - TIP-RIPPER | 1H6172 - LINING | 9L7657 - PLUG |
| 7X5118 - FLATWASHER | 1844741 - HOSE AS | 4B0900 - BOLT 1/2X1 1/2NC |
| 3N7243 - HOSE A | 9W6372 - HOSE A | 1670014 - SEAL-BRAKE |
| 6W4281 - YOKE | 7H2118 - DISC | 9J5047 - PUMP G VANE |
| 1W5169 - INDICATOR | 6T7407 - SHAFT | 3S1467 - PUMP AS |
| 9N9999 - O RING | 7S0307 - HOSE A | 4N4705 - CONN ROD BRG STD |
| 6H1628 - BOLT | 1290433 - GASKET KIT - | 8E4621 - SHAFT A |
| 8X3859 - HOSE A | 2994400 - PIN | 9R2385 - LAMP GP. |
| 6T5102 - PIN A (7T9311) | 9D4923 - HOSE A | 1T1991 - STATOR |
| 1064303 - HOSE AS | 7Y4665 - RING | 1217449 - HOSE AS |
| 1D4324 - SEAL | 4J6580 - WASHER | 3588462 - CYLINDER AS |
| 6V0957 - CONE | 6T8440 - SEAL G | 2233694 - ELEMENT |
| 9S4295 - SEAL G | 1504104 - GASKET | 6V2943 - KIT GASKET |
| 1118182 - CYL A | 4T5614 - PUMP AS | 1K7112 - PACKING |
| 8M8514 - SEAL O RING | 2G7468 - INSERT | 2J3862 - BEARING SLEEVE |
| 2365847 - HOSE AS | 1545676 - GASKET KIT | 2063630 - CYLINDER GP |
| 1358168 - CLAMP | 1T0767 - BEARING | 1604926 - SEGMENT (1730949) |
| 8P1248 - HOSE A | 0R3676 - CYL HEAD G | 7Y0241 - CARRIER |
| 1345641 - GASKET | 3S7080 - SEAL-LIP TYP | 2418385 - SPRING-VALVE |
| 8X0320 - GEAR | 9W8941 - HOSE A | 1V6931 - BEARING |
| 6Y8997 - BEARING AS | 1N3133 - HOSE A | 4Y9736 - HOSE AS. |
| 6I0164 - LINER-CYLINDER | 3492987 - MOTOR GP-GR( | 2J6306 - BEARING SLEEVE |
| 0R3299 - CYL KT | 7T5125 - SEAL KIT | 6V3549 - SEAL |
| 7C5174 - LINE ASSY. | 1480898 - HOSE AS | 5W6374 - RING |
| 5P0890 - CUP AS | 1048738 - HOSE A | 9W9353 - LINK AS.-TRA |
| 5D6318 - 7S3399 | 9S0311 - COLLAR | 1905861 - GASKET |
| 2G4562 - HOSE A | 3033141 - RING-PSTN-TO | 1T0099 - PIN |
| 0995398 - LINK A | 1R0766 - ELEMENT | 5M7966 - SLEEVE |
| 5K8987 - GASKET | 7E1754 - GASKET | 1775356 - NUT-SQUARE |
| 3100150 - VALVE GP | 1624012 - GASKET KIT | 1146489 - HOSE A |
| 8F0737 - RING | 7Y2357 - PIN | 2T1794 - HOSE A |
| 4W2061 - OIL PAN | 8K5755 - LEVER A | 8K7678 - BEARING |
| 1086619 - HOSE A | 1905978 - GASKET KIT | 0R5369 - Turbocharger TV8110 465480-9001 |
| 2T2988 - HOSE A | 9M8271 - GEAR RING | 9X2524 - KIT GASKET |
| 3014190 - TUBE AS | 8I0823 - BAR FEEDER | 10R8695 - PUMP GP |
| 1220322 - INTAKE VALVE | 7T9126 - EDGE-CUTTING | 2Y5408 - HOSE A |
| 2361235 - MOTOR GP-PLV | 7K1127 - NUT | 1115150 - HOSE AS |
| 5S7713 - HOSE A | 4V2121 - PIN | 1310421 - FASTENER GP |
| 6Y9509 - PAD | 6N3964 - MUFFLER A | 0932028 - TRACK ROLLER (0854972) |
| 1497299 - HOSE A | 1W0214 - PIPE | 3T2216 - WIRE A |
| 5T4750 - HOSE A | 3162520 - GASKET KIT | 9X2486 - GASKET KIT |
| 7N0669 - CLAMP (6N0923) | 3597528 - | 2283636 - PUMP GP-PS-B |
| 5W2099 - WASHER | 8K1983 - BOOT | 2457690 - HOSE AS |
| 6E1404 - PISTON | 2136683 - SLEEVE BRG | 2364671 - PUMP GP-PS-B |
| 0R4609 - PUMP GP HYD | 6I4951 - Thermostat / Water Pump regulator | 6V1280 - GASKET KIT |
| 4I3501 - 4I3500 | 1059822 - CYLINDER GP | 2G4162 - HOSE A |
| 1838171 - HEAD AS-CYL | 1045724 - MOTOR GP. ELECTRIC | 2365132 - HOSE AS. |
| 3T4352 - ROLLER GP-SF | 1422214 - GASKET KIT | 9Y4058 - HOSE |
| 5C5135 - HOSE A | 2003199 - MUFFLER AS | 2145988 - GASKET KIT - |
| 2555566 - HOSE AS. | 4U2270 - HOSE ASSEM 1 | 5U4931 - HOSE A |
| 0921173 - HOSE A | 1725927 - HOSE AS | 0334845 - SCREW |
| 9K6841 - CAGE | 9R7701 - CAP A | 0L1169 - CAP SCREW |
| 2034802 - FRAME A | 3615097 - PUMP GP FUEL | 1384821 - PUMP G |
| 8T3384 - KIT-GASKET-S | 1130734 - HOSE AS | 2D4187 - BUSHING |
| 1062105 - ELBOW | 1738514 - HOSE AS. | 1508980 - HOSE AS-XT5 |
| 5018026 - PIN-PIST-C | 6V0277 - GASKET KIT | 9W3589 - SEAL AS. |
| 2434435 - HOSE AS. | 4315223 - SEAL O-RING | 2607988 - HOSE AS |
| 0R9450 - PUMP GP OIL | 8N0495 - PUMP A | 2780237 - PIN |
| 5I7644 - PLUG | 1045361 - BEARING | 1885532 - LINK-LH |
| 3600990 - NUT-HEX FL | 5P1294 - HOSE | 8E2230 - RETAINER |
| 1021561 - LIFTER AS | 6V5438 - GASKET KIT | 4H4261 - CONE |
| 3A3426 - TERMINAL G | 3059194 - NOZZLE AS | 7K1401 - CLIP |
| 1187860 - GASKET KIT | 6N7552 - TUBE AS | 1021029 - HOSE A XT |
| 1195229 - BEARING | 8E5703 - SHIM | 7J6767 - HOSE |
| 8X6123 - HOSE A | 2Y7710 - SEAL | 6K0357 - SEAL |
| 5T7135 - RING-WEAR | 9W4959 - SEAL | 1681359 - TIP-PENE-PLU |
| 6V2991 - GASKET KIT | 4380908 - KIT GASKET | 6L9781 - ADAPTER |
| 1476621 - SEAL KIT | 1518452 - HOSE AS (1497298) | 6V5492 - GASKET KIT |
| 8W6640 - HOSE A | 8N2291 - ELBOW | 3617480 - ELEMENT HYD (1097289) |
| 8S2174 - DISC | 5R6258 - HOSE A | 1240958 - HOSE AS. |
| 3U1081 - BUSH | 2099886 - TIE ROD AS | 0618024 - HOSE A |
| 7X9467 - NUT | 8J9012 - BRACKET A | 5K6383 - PIN |
| 5M5886 - VEE BELT | 1758197 - LINK | 11668459 - Turbocharger 3LJ319 159484 |
| 8L9757 - GASKET | 0819393 - WASHER - D4H/D5H | 1378119 - SEAL-RING |
| 2P3212 - CAPSCREW | 6J4568 - BOOT | 0665080 - BEARING |
| 6Y5410 - LINK A | 9K8857 - BEARING | 8W2458 - HOSE A |
| 8E1301 - COUPLING AS | 2P2519 - TUBE AS | 0617091 - HOSE A. |
| 1686504 - CARTRIDGE | 1800369 - HOSE AS. | 8B6073 - SEGMENT A |
| 1370896 - HOSE AS | 8J7824 - HOSE A | 8C7268 - ADAPTER |
| 1299921 - GASKET KIT | 7S6143 - BEARING | 1799982 - HOSE AS |
| 2764167 - HOSE AS | 2G0339 - LOCK NUT | 8T6489 - GASKET KIT |
| 600-185-5100 - ELEMENT ASS' (1327165) | 7K8452 - MASTER PIN & | 4N8219 - VEE BELT |
| 503102 - GROUP-HYDRAULIC KIT | 8X4613 - HOSE A | 6N3303 - HOSE |
| 5D1258 - HOSE A | 2P3261 - NUT | 6I0502 - PULLEY |
| 2M1433 - SHAFT | 2699909 - HOSE AS. | 1319613 - HOSE A XT |
| 1519512 - HOSE AS-XT6 | 1193205 - ADAPTER | 3T0234 - HOSE A |
| 0926058 - HOSE A | 6N8011 - ROD | 1684461 - HOSE AS |
| 4N0789 - GASKET | 2590128 - KIT-LINING | 6V2501 - GASKET |
| 7L6587 - ARMATURE | 2285810 - COVER-INLET | 1875653 - HOSE AS. |
| 2502486 - SEAL KIT | 6Y1510 - LINK AS.-TRA | 3043097 - SPACER |
| 0R7637 - HEAD GP CYL | 4S8610 - GASKET | 7M7193 - RACE |
| 8T6637 - RING | 7C6188 - GASKET | 3222956 - HOSE AS-OIL |
| 3701296 - PLATFORM GP | 8V7384 - HOSE A | 106741 - HOSE A |
| 2287089 - SEAL-O-RING | 1697442 - SEAL-O-RING | 8U6335 - SEAL O RING |
| 7N3205 - TURBO G BSC | 0875732 - HOSE AS | 4D8470 - 7S3393 |
| 2058433 - HOSE AS | 0821642 - O RING | 8S7717 - MANIFOLD |
| 1445282 - SCREW | 2835993 - SEAL-OIL | 1590937 - HOSE AS |
| 1752365 - SCREW | 1077809 - GEAR | 1570624 - GASKET KIT |
| 2253318 - CORE AS.-RAD | 0813870 - NUT | 0930083 - SPACER |
| 7T4779 - PUMP AS | 1336896 - PUMP | 6V8593 - GASKET KIT |
| 8D7083 - BEARING | 2426748 - CYL GP-SEAL | 1S0896 - HOSE A |
| 3752467 - LOCKNUT-FLAN | 4J2464 - WASHER | 5S9368 - HOSE A |
| 5P8775 - GASKET KIT | 8T8376 - SEAL | 4813122 - INCH HOSE |
| 3777459 - SEAL-DUO-CLA | 1121001 - HOSE A | 2009185 - CARRIER CLAS |
| 7N4932 - GASKET | 8N8014 - LINE A | 5L2683 - BOLT |
| 1054297 - HOSE AS | 1991622 - HOSE AS | 2399862 - SUPPORT AS MOTOR |
| 0311745 - PLUG | 2177882 - GASKET KIT | 3G0575 - HOSE A |
| 4E5597 - PIN A | 9Y2683 - GASKET SPACE | 1036192 - GASKET KIT |
| 6G2484 - HARNESS A | 2Y9779 - CORE A OIL C | 4E3539 - HOSE A (1487763) |
| 9H4214 - GASKET | 1368899 - PUMP | 3S4488 - SCREW |
| 2T3070 - HOSE A | 4B4731 - BEARING | 2289396 - HUB-CLASSIC |
| 6V2504 - KIT GASKET | 7G2477 - GEAR | 7J2980 - EDGE |
| 2G4847 - HOSE A | 8J4109 - HOSE A | 6I2378 - CYLINDER HEAD |
| 8N6554 - TURBO G | 3S2953 - AIR CLNR A | 2270727 - HOSE AS. |
| 9S5277 - GEAR | 2N1347 - HOSE A | 8S4394 - PLATE |
| 5M4470 - GEAR | 2197569 - BOLT | 9C8990 - HOSE A |
| 2G9884 - HOSE A | 5H1513 - SEAL | 6V2913 - KIT GASKET |
| 2125530 - HOSE AS (1735095) | 3G3260 - SEAL-U CUP | 4T6664 - BLADE |
| 3L6208 - BEARING | 1121086 - HOSE A | 2D9366 - SEAL O RING |
| 1S1225 - SEAL O RING | 7N4407 - GASKET | 7W7073 - HOSE A |
| 8I3957 - HOSE AS 1/4 (1212810) | 3P1796 - SEAL | 6V8070 - GASKET KIT |
| 4I6381 - 4I6380 | 1915027 - SEAL KIT | 6E1412 - PUMP AS |
| 6D0600 - HOSE A | 7J5795 - BUSHING | 1N8062 - BEARING |
| 0875539 - RING | 9Y7916 - CONNECTOR | 1377855 - CYLINDER GP |
| 3K5586 - VALVE A | 2627049 - CYL GP-BASIC | 8Y9529 - HOSE A |
| 1373751 - SEAL LIPTYPE | 2656618 - ELEMENT | 1635837 - PIN |
| 1S3184 - CONE | 5H5502 - SEAL | 9P7255 - RING |
| 1860877 - SPL BEARING (1964873) | 2P4699 - GEAR A | 0R6726 - Turbocharger S2EG-099 166802 |
| 4P9396 - FUEL LINE | 1399230 - EDGE-CUTT | 3S1718 - GASKET KIT |
| 2927309 - HOSE AS. | 6I6753 - 6I6752 | 3056220 - GASKET KIT |
| 7C3836 - TUBE | 5T9964 - HOSE A | 1D4617 - BOLT |
| 2335462 - INSERT-INLET | 3529259 - PUMP GP-GR I | 1063700 - HOSE A |
| 2P8107 - BEARING | 2417618 - SEAL KIT | 2W4182 - LINE A |
| 1940343 - HOSE AS | 2900528 - GASKET KIT | 7C1160 - GASKET |
| 2G8626 - WASHER | 9F4337 - WIRE A | 1267989 - HOSE AS |
| 8W6157 - HOSE A | 1M4225 - BUSHING ASSY - D4D | 7Y0680 - PISTON |
| 0963890 - SCREW SET | 4T6432 - HOSE A | 1076650 - STEM-SWING |
| 2933648 - ELEMENT AS | 1361114 - GASKET KIT | 2P9624 - PRECLEANER ASSY |
| 1885612 - CARRIER ROL | 2753567 - SHOE-TCK-CLA | 1013210 - PIN-PISTON |
| 3W4255 - HOSE A | 1P5420 - CUP AS | 8N1911 - GASKET (1617293) |
| 2888716 - GEAR-RNG-CLA | 1070092 - ROLLER GP-SF | 3T8405 - LINK |
| 7T1000 - BOLT | 3483297 - GASKET KIT | 5P6456 - CONE |
| 9M2013 - HOUSING | 1076861 - RING | 1087167 - HOSE AS |
| 6I0572 - BOLT | 1V3476 - HOSE A | 4365757 - KIT GASKET |
| 9D5892 - HOSE A | 2054856 - HOSE AS. | 1U1465 - CUTTING EDGE |
| 2040134 - HOSE AS | 5I4461 - 5I4460 | 2166756 - HOSE AS |
| 2309170 - BREAKER AS-C | 8T7345 - KIT GASKET | 2465909 - SEAL KIT |
| 2048479 - HOSE AS | 8T2122 - ADAPTER | 8J1456 - ADAPTER- W/O LH FLUSH 988 |
| 9L1425 - CORE A | 8S5767 - SEAL | 1M9444 - RETAINER |
| 9C8607 - HOSE A | 1530983 - BOLT | 7K7068 - HOSE A |
| 4V4879 - HOSE A | 9C8955 - HOSE A | 6Y0984 - GEAR |
| 995041 - BOLT | 3602347 - HORN-24V-CLA | 9W6612 - RING |
| 8R6529 - HOSE A | 3073161 - GASKET KIT | 2494120 - ROD AS |
| 9R3656 - HOSE A | 6W7690 - HOSE A | 8H9560 - GAUGE |
| 1G0755 - SEAL | 2283507 - CYL GP-BASIC | 2044442 - GASKET KIT |
| 2590625 - SEAL KIT | 2H6488 - CAPSCREW | 2234812 - GUARD-CLASSI |
| 1327450 - SWITCH AS (1305374) | 6I2506 - ELEMENT | 8M1714 - BELT SET |
| 6K4178 - COLLAR | 1G6003 - HOSE A | 8P8985 - New Rebuilt - VALVE |
| 8N8110 - GASKET | 1034666 - TUBE AS | 1723443 - HOSE AS |
| 7X2590 - BOLT | 0321924 - HOSE A | 8I4229 - PUMP AS |
| 7J5517 - RING-WEAR | 1S5159 - SLEEVE A | 7H9603 - INDICATOR |
| 7N8947 - PLATE THRUST | 2W7949 - TUBE AS | 9T2547 - PISTON |
| 8K3202 - HOSE A | 4M0639 - New Rebuilt - VALVE GRP | 3975181 - KIT SEAL |
| 5B6389 - LINK | 1344376 - HOSE AS | 7M5115 - ROLLER GP. |
| 3482054 - SENSOR | 2L0043 - RING | 7K9344 - PIN |
| 7K9361 - PIN | 2153486 - GASKET KIT | 3119380 - CPLG-EXH-CLA |
| 3085824 - GASKET KIT | 1052080 - BRACKET AS (1024140) | 6I0038 - FUEL LINE |
| 4N8344 - FAN | 0038920 - RING | 2674125 - HOSE AS |
| 7N3235 - MUFFLER | 1551379 - GASKET KIT | 9X8308 - GASKET KIT |
| 4669511 - KITGASKET | 7G2703 - PAD | 7R7404 - HOSE A |
| 9G9346 - WASHER | 3V5765 - HOSE A | 1R0658 - OIL FILTER |
| 1561200 - ELEMENT | 1122254 - PINION A | 1838177 - PLUG |
| 2G8743 - HOSE A | 2A0615 - GASKET | 1J6298 - BOLT |
| 3K1853 - SEAL RING | 1095380 - GASKET KIT | 2026472 - HOSE AS. |
| 2U6695 - HOSE A | 3900532 - BELT | 1W8922 - PISTON RING SET |
| 5I5082 - COVER | 2000874 - HOSE A | 2475096 - CRANKSHAFT |
| 1053485 - BOLT | 8S9237 - Turbocharger 4LE504 310258 | 8T2496 - KIT GASKET |
| 3N6412 - CONE | 2J9119 - CUP | 3807676 - BEARING-SPL SELF |
| 2T3029 - FLIGHT A | 1484929 - HOSE A | 1N4693 - HOSE |
| 1480620 - HOSE A (1292641) | 7X6807 - SEAL O RING | 9M4737 - GASKET KIT |
| 0920740 - HOSE A | 1329254 - HEAD GP | 1154241 - CROWN AS |
| 5S9377 - HOSE A | 7S1384 - HOSE A | 6I9573 - SHOE |
| 1R7370 - MOTOR GP. ELECTRIC | 2U0722 - (P&S) O RING | 676495 - ELBOW |
| 8S9216 - HOSE AS | 8K2757 - WASHER | 2642769 - BEARING |
| 3E6425 - SWITCH | 1588994 - CYL GRP | 8G4022 - BEARING |
| 1448353 - KIT-GASKET-M | 1889459 - HOSE AS. | 2423519 - LAMP GP-FLOO (1173468) |
| 9R4638 - HOSE A (1268066) | 9M5892 - SEAL O RING | 1381667 - JOINT AS |
| 1931397 - SEAL-O-RING | 4W7637 - Turbocharger TW7202 466432-0001 | 2426804 - BEARING |
| 0821389 - BOLT | 8T9452 - SEAL O-RING | 0814024 - O RING |
| 6W4261 - HOSE A | 8S2389 - BODY AS | 1P8277 - GASKET KIT |
| 4W6850 - GASKET | 1793005 - ROD | 4Y0497 - HOSE A |
| 3924484 - BRG-TPR-CLA | 5D9831 - HOSE A. | 5K2410 - SUPPORT |
| 9R0975 - HOSE AS | 2136726 - PIN | 2T1658 - HOSE A |
| 1107640 - CUP BEARING | 4J2585 - PIN | 8T1379 - SEAL KIT |
| 1917529 - BLADE | 9W6428 - ELEMENT | 1017774 - HOSE A |
| 7G3265 - JOINT AS | 5U7936 - HOSE 1" BORE | 3E3302 - SEAL KIT |