Caterpillar 825H Compactor parts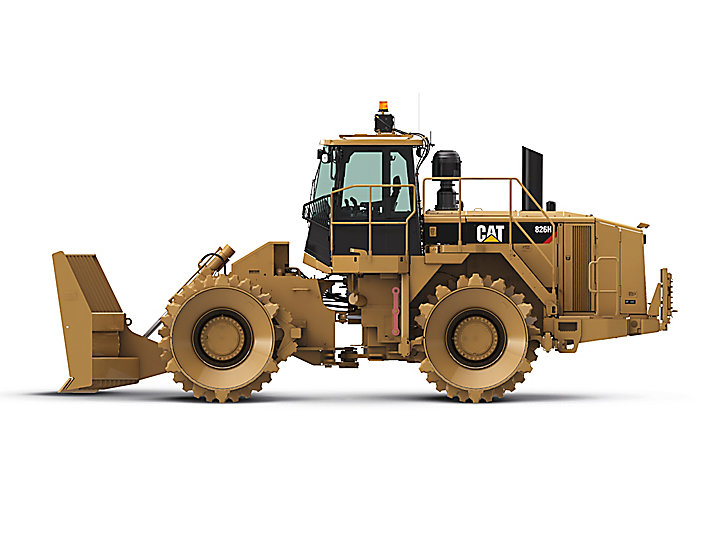 Here is some more information about Caterpillar 825H Compactor:
ENGINE
Engine Model Cat C15
Net Power 264.0 kg/mm
Gross Power 299.0 kg/mm

WEIGHTS
Operating Weight 32734.0 kg
If you send us your request, we will make you an offer for original and Aftermarket Caterpillar parts for your Caterpillar 825H Compactor.
Caterpillar 825H Compactor - it is a big machine. But even such machine sometimes needs maintenance.
Our online parts store give you an access to more than 1 000 000 Caterpillar parts that we have in our inventory.
Below is a small list of Caterpillar parts for this equipment. However, if you are interested in something - please use the site search.
| | | |
| --- | --- | --- |
| 6V2904 - GASKET KIT | 7F3146 - O RING | 7V6337 - HOSE A |
| 8W4917 - HOSE A | 9Y1723 - CAMSHAFT | 1158633 - 115-8631 |
| 1488428 - TEE A | 9W7005 - BIT A | 2321732 - ELEMENT |
| 8M8468 - SEAL O RING | 8W0252 - HOSE A | 4V7726 - New Rebuilt - ANCHOR |
| 2P7959 - HOSE A | 5W9435 - SEAL-O-RING | 9K1524 - HOSE A |
| 6U0355 - HOSE ASSEMBL | 4571023 - KIT GASKET | 8V7194 - COVER AS |
| 7K6536 - RIVET | 8M6676 - CYLINDER | 9T2868 - CYLINDER A |
| 2106029 - O RING | 2214810 - HOSE AS | 9U3659 - HOSE A |
| 931344 - O-RING | 0545721 - HOSE A | 8T4618 - CAP SCREW |
| 6F7024 - BOLT | 8X7804 - HOSE A | 2477614 - HOSE AS. |
| 8K3414 - HOSE A | 1921411 - SEAL KIT-STD | 0953085 - O-RING |
| 1160517 - COUPLING AS | 4F1121 - BRACKET | 1119251 - WASHER |
| 4T7183 - EDGE-SEGMENT | 5D7058 - HOSE A | 3148623 - ARM-RCKR-CLA |
| 1036093 - SENSOR AS | 1305187 - NOZZLE | 6D4759 - HOSE A |
| 5E9966 - BACKUP | 2044431 - HOSE AS | 7W8145 - GASKET |
| 2011239 - RETAINER AS | 2456816 - SEAL KIT | 5D9215 - 5S7699 |
| 8T8477 - SEAL | 5M7577 - PUMP ASSY. | 1996859 - HOSE AS |
| 0S1825 - BOLT | 2P5820 - SEAL | 1P1396 - NUT |
| 9W0550 - SHAFT | 8N6308 - BEARING | 5T4981 - HOSE A |
| 1124174 - HOSE A | 3887011 - CLAMP-BENT B (1081770) | 5W6277 - HOSE A |
| 6N1058 - GLOW PLUG G | 2594738 - CYLINDER AS | 8T7509 - KIT GASKET |
| 3W0241 - PIN A | 2374894 - SWITCH | 2Y3197 - MUFFLER |
| 2713842 - HOSE AS. | 8J4524 - SEAL | 1F6718 - AMMETER |
| 5D3376 - TUBE AS | 2396630 - COLLAR | 781726 - BOLT 3/4 X 5 |
| 5S1601 - OIL PUMP | 2D6380 - GASKET | 7S2903 - GEAR A |
| 5P0771 - GASKET KIT | 1003478 - HOSE A | 5D6437 - 5S8834 |
| 1328566 - HOSE AS | 3002590 - SHAFT-CLASSI | 6G8459 - SHAFT |
| 2S4363 - SHIM | 5P2235 - SEAL | 3120781 - WORM-CIRCLE |
| 1039280 - GASKET | 3P8188 - GASKET | 9J5049 - PUMP AS |
| 6V2971 - GASKET KIT | 6I0486 - CONNECTOR | 4N1918 - GASKET |
| 2314784 - HOSE AS. | 4202502 - BRG-RLR-CL | 1355037 - HOSE AS |
| 6L3944 - HOSE | 1644724 - LINK AS | 3532207 - KIT-BEARING (0332383) |
| 0314850 - BELT | 3337607 - PUMP GP-2PS- | 2143243 - PUMP GP-2PS- |
| 2966248 - BEARING AS | 2972982 - MOTOR GP-PRO | 1371338 - WATER PUMP |
| 6L4878 - HOSE | 4N1251 - NOZZLE A | 1W1109 - GASKET |
| 3K2243 - GEAR | 1783000 - HOSE AS (1547701) | 1384042 - GASKET KIT |
| 6C2881 - HOSE AS | 8C5230 - SEAL O RING | 2168820 - BUCKET |
| 0R1743 - NOZZLE AS-RE | 7D8354 - SPROCKET | 8G6335 - CARRIER |
| 3256180 - RETAINER-CLA | 1653838 - BARREL AS | 2G0941 - PISTON A |
| 1W5168 - INDICATOR | 4P1463 - MUFFLER | 0781440 - SINGLE ROW B |
| 2128177 - WATER PUMP | 781810 - LOCKWASHER 9/16 | 9X0514 - CAPSCREW |
| 9W6686 - SEAL KIT | 1859336 - HOSE AS | 1977471 - SEAL-O-RING (1493636) |
| 138758 - HOSE A | 5D0361 - HOSE A | 0016365 - SEAL |
| 2885312 - MUFFLER | 7G8769 - GEAR | 0915981 - HOSE A |
| 1137871 - HOSE AS | 4I1708 - 4I1707 | 9M4761 - GASKET KIT |
| 8S9198 - PISTON | 3387038 - KIT-SEAL-H.C | 5L5711 - PIN |
| 2U6120 - HOSE A | 9H6687 - PIN | 2004019 - PLUNGER KIT |
| 8T8076 - ELEMENT | 0R5536 - CORE AS-OIL | 6N1848 - REGULATOR 3304 175DEG |
| 2M0338 - SEAL O RIN | 2M3974 - RING | 8M0638 - TUBE |
| 1S2899 - GUIDE | 4N7573 - HOSE A | 5D1478 - SEAL O RING |
| 5G8290 - HOSE A | 1616859 - HOSE AS. | 1P7936 - SPIDER A |
| 2406695 - COVER | 0983410 - BOLT | 3S7166 - SLEEVE |
| 6I0291 - NUT | 6L4911 - GASKET | 2421811 - BOLT-HEX |
| 6733211 - SPROCKET MT50 | 6W5996 - PIN | 3212411 - ELEMENT PRIM |
| 7R7211 - O RING | 9W3732 - SEAL G | 6B1909 - SPRING |
| 5D6454 - SPACER | 0924463 - HOSE A | 1004841 - BOLT |
| 9N5429 - GASKET | 6V0347 - BEARING | 1650488 - RING-SEAL |
| 1W1748 - SPRING | 2H0637 - BOLT | 0179883 - BOLT |
| 2454982 - HOSE AS. | 8S4937 - HOSE A | 2274298 - PUMP GP |
| 1401739 - RING-RETAING | 1021238 - 102-1237 | 1672353 - SEAL-U-CUP |
| 8W3268 - HOSE A | 1647630 - BOLT | 4279093 - STRAINER, FUEL |
| 1923840 - FILTER GP | 1042228 - INCH HOSE | 8K4860 - HOSE A |
| 1560944 - GASKET KIT | 1719037 - CORE A | 4T6303 - CUTTING EDGE (1073481) |
| 6K0545 - NUT | 2214019 - PUMP GP-F IN | 9P0356 - BEARING |
| 4190884 - BRG-SLV-CL | 2003581 - HOSE AS (1560707) | 8W0246 - HOSE AS |
| 1111323 - BLOCK | 0S1572 - BOLT 5/8 X 2 | 4U8947 - HOSE ASSEMBL |
| 8M0341 - BEARING | 2069785 - GASKET KIT | 0775381 - NUT, HEX |
| 5I8596 - HOSE AS | 1688686 - HOSE A | 6E1837 - CYLINDER A |
| 2D2508 - GROMMET | 1S2894 - INSERT | 9W4902 - CUTTING EDGE |
| 4V4501 - SHAFT | 6I1132 - GASKET | 1191536 - PUMP GP-FUEL |
| 1P7355 - SEAL | 3550773 - GASKET KIT | 4D5448 - SHAFT |
| 5S4046 - GASKET KIT | 8C7171 - NUT | 1Q0493 - HOSE A |
| 7C7597 - CARTRIDGE AS | 1R7930 - MOUNT RUBBER | 2211070 - HUB-GEAR-CLA (7G8459) |
| 2826561 - PIN-CLA | 2T2548 - HOSE A (1544026) | 1Q2645 - WINDOW AS |
| 8B4394 - PINION | 1173852 - HOSE AS | 3801099 - VALVE-ISOL |
| 8D8633 - SHAFT | 1434216 - HOSE AS | 1003717 - PUMP AS |
| 1090063 - PLATE | 9X8488 - NUT HEX | 2S0154 - TRANSMISSION PUMP |
| 4P0721 - TUBE AS | 1752592 - COUPLING AS | 1N4095 - BELT SET |
| 3305010 - MOTOR GP-WIP | 1412917 - CYL A | 1928807 - RING-PISTON |
| 4J3363 - BEARING | 1788993 - ADAPTER | 3B0866 - GASKET |
| 9V2710 - HOSE A | 5S5587 - HOSE A | 6V2511 - GASKET KIT |
| 3441201 - BOLT-HEX HEA | 8W0839 - HOSE A | 3100166 - VALVE GRP |
| 9C2039 - HOSE A | 1P5414 - REPAIR KIT | 4587927 - KIT GASKET |
| 6V4546 - GASKET KIT | 8M7166 - HOUSING | 9D5404 - HOSE A |
| 2099218 - HOUSING AS | 1712205 - CONT GP-XMSN | 4V6421 - PIN |
| 4W6682 - ROD | 6S9067 - LINK AS.-TRA | 3T4581 - MOTOR G |
| 1V2555 - CLAMP | 1087360 - HOSE A | 3T2875 - MOTOR GRP |
| 6V0234 - GASKET KIT | 1964157 - CARTRIDGE AS | 2925505 - HOSE AS |
| 3G3448 - ELEMENT-HYD | 0875780 - HOSE A | 2837523 - PLATE |
| 3G7638 - PUMP AS | 7F2836 - LOCK | 5P0362 - GASKET KIT |
| 7S6140 - BEARING | 1874605 - HOSE AS (1070745) | 8K6359 - PIN |
| 7Y2038 - HOSE | 3E6310 - CONTROL G (1022240) | 5I5110 - NOZZLE A |
| 3756564 - HOSE AS | 1V7619 - HOSE A | 2992006 - DAMPER AS-CL |
| 1448065 - HOSE A | 1530807 - COUPLING AS | 3B8017 - GASKET |
| 0009263 - CUP | 7L6005 - GASKET | 0317601 - ADAPTER |
| 8W4477 - HOSE A | 1185086 - SPRING | 2664268 - HOSE A (1386913) |
| 2393345 - HOSE AS. | 3S9951 - WASHER | 5P8244 - WASHER |
| 1095085 - HOSE A | 1437135 - GASKET KIT | 7X2447 - GASKET KIT |
| 5U8505 - HOSE ASSEM 1 | 7T2392 - SHOE TRACK (7G6444) | 3118106 - MOTOR GP-STG |
| 3E7498 - GASKET KIT | 1271049 - HOOD D7R | 9X0813 - RING |
| 1838597 - SENSOR GP | 8D1909 - SOCKET G | 6N9837 - CONN ROD BRG 0.010 |
| 0R3589 - NOZZLE A | 1068720 - BOLT | 8D5635 - LEVER AS |
| 4H6504 - BEARING A | 2V6550 - BEARING SLEEVE | 1328557 - HOSE AS |
| 5T6605 - CYLINDER KIT | 1526791 - BEARING KIT | 9D4297 - HOSE A |
| 3G8051 - BEARING | 6E1171 - ROD A | 7K1338 - HOSE A |
| 8M4990 - SEAL O RIN | 1359059 - SEAL KIT (1359050) | 6N8079 - CRANKSHAFT |
| 3604174 - KIT-GASKET(W | 8X9342 - HOSE A | 2643851 - HARNESS |
| 8C7282 - SEAL | 7N0107 - CORE A OIL | 4I5934 - 4I5933 |
| 2266060 - GASKET KIT | 7G6448 - SHOE-TRACK | 5T9800 - HOSE A |
| 4T9156 - GEAR | 1672302 - SEAL-U-CUP | 7C5906 - SHIELD |
| 1740050 - HOSE AS | 5I8604 - 5I8603 | 5E8950 - O RING |
| 8J9821 - EDGE | 8C1767 - SEAL O RING | 8G1808 - HOSE A |
| 821311 - CUP BEARING | 5I8090 - STATOR | 0966466 - BUSHING |
| 7I5416 - HOSE AS | 2735711 - FILTER AS | 2144489 - HOSE AS |
| 7P9067 - HOSE A | 944412 - ELEMENT | 8P6609 - HOSE A |
| 2268005 - HUB-CLASSIC | 0676104 - GASKET | 6P4974 - SPRING |
| 9T2046 - FLANGE A | 2236701 - HOSE AS | 2G8628 - PIN |
| 9J1294 - PUMP G | 1166109 - SEAL LIP | 9V5271 - HOSE A |
| 1857685 - SEAL KIT | 2550108 - PUMP GP-GR A | 2U2417 - BOLT HEX HD |
| 3P2415 - CARRIER | 3B4620 - COTTER PIN | 7X0895 - NUT |
| 2Y4505 - CRANKSHAFT - 3304 ENG | 6G8668 - HOSE A | 4U3549 - HOSE ASSY |
| 8D2501 - HOSE A | 1159228 - HOSE A | 5P3114 - SEAL O RING |
| 0R4611 - MOTOR GP HYD | 2140530 - GEAR-RING-LG | 2U9764 - HOSE AS |
| 1877338 - PUMP GP-PS-B | 1478785 - O RING SEAL | 1153740 - 115-3739 |
| 5K2913 - NUT | 0645208 - CUP | 0781726 - BOLT 3/4 X 5 |
| 7T8193 - CABLE A | 1U2265 - HOSE A | 7K9793 - LINK A |
| 2208600 - DRIVE GP-FIN | 1655016 - HOSE AS | 9R3163 - SNAP-RING |
| 3607895 - MUFFLER-CLA | 2B2631 - BEARING | 2645866 - PULLEY-CLA |
| 1P2518 - PLATE | 9V6571 - CUTTING EDGE | 1234953 - BOLT |
| 1136667 - 113-6666 | 4T6585 - HOSE A | 3A2339 - RIVET |
| 2644770 - HOSE A | 8W7265 - HOSE A | 9Y1616 - GASKET (1115819) |
| 8C5098 - JOINT AS | 1709856 - SEAL-U-CUP | 150806 - HOSE A |
| 6C5303 - BOLT | 6V1167 - GASKET KIT | 2947746 - SOCKET AS. (1365695) |
| 6I2080 - SWITCH A | 1158161 - HOSE A | 8T8932 - PIN |
| 3084545 - PIN, BUCKET | 2N2188 - CUP | 0676809 - CAP SCREW |
| 3V9815 - HOSE A | 8C7031 - BEARING | 2042576 - PUMP GP-2PS- |
| 63082VB - RUBBER TRACK (B | 7M3681 - PISTON | 9T3017 - ROTATING GP |
| 0A4360 - AMMETER | 1387864 - HOSE AS | 9G0117 - SWITCH A |
| 2987381 - WASHER-SPR L | 7R4541 - CAP SCREW | 7T3275 - ARMATURE |
| 7I9158 - PISTON | 1F1310 - BUSHING | 3H5240 - NUT |
| 8U5711 - WASHER | 4728013 - HOUSING-CL | 9R3138 - HOSE A |
| 0988752 - HOSE AS | 9P6595 - GEAR PLANET | 1048973 - HOSE A |
| 6N0628 - TUBE A | 2V0146 - HOSE A | 7I7729 - SHAFT |
| 3N7954 - PIN | 4N4714 - CONN ROD BRG .020 | 3763643 - ROD-CLA |
| 2336680 - HOSE AS | 2H9247 - RING | 3138153 - HOSE AS. |
| 8W2791 - HOSE A | 1191329 - PIN | 5V2973 - BOLT |
| 0682861 - HOSE A | 6N8653 - REB CART G | 1601554 - HOSE AS. |
| 1288614 - SEAL KIT | 4F7002 - GASKET | 6N2509 - COVER AS |
| 5S0724 - SEGMENT - D5 (9 PCS) | 7R0424 - O RING | 5T3697 - HOSE A |
| 1076255 - RING-BACKUP | 1335773 - HOSE A | 4S8537 - DOWEL |
| 0964627 - CONNECTOR | 9S8801 - HOUSING | 6K8498 - FITTING |
| 0785401 - O'RING | 0R9806 - Turbocharger Compatible GT4702 0R9806 | 1A8651 - CAPSCREW |
| 1335188 - SEAL O RING | 7W1581 - INSERT | 7X2117 - WASHER |
| 2058681 - BODY AS | 9N2956 - HOSE A | 2154721 - PUMP GP-GR A |
| 8T8816 - COMPRESSOR A | 6Y5692 - PLATE | 5P7221 - GASKET GP |
| 3537424 - KIT-BRG(-0.2 | 1552263 - PLUG KIT-CON | 4202864 - KIT GASKET |
| 4665145 - KIT GASKET | 2470233 - HARDWARE KIT | 9C4198 - HOSE A |
| 5C4553 - HOSE A | 1282923 - GASKET KIT | 8W3763 - HOSE A |
| 8K2482 - CHANNEL | 8X5800 - HOSE A | 5I3102 - HOSE AS. |
| 6W1537 - HOSE A | 1772500 - BEARING | 8B3768 - END |
| 1662583 - CYLINDER AS | 1590997 - HOSE AS | 6W6306 - BEARING-SLEE |
| 8Y9294 - HOSE A | 6V9257 - KIT GASKET | 7N8972 - DRIVE G -FAN |
| 1025941 - PUMP G | 8V7884 - HOUSING | 5P6686 - SEAL |
| 2022917 - PUMP AS | 2200780 - PUMP GP-PS-B | 8T0343 - BOLT |
| 9V0750 - HOSE A | 3262946 - GASKET KIT | 9R9105 - PIN |
| 2H0858 - SPIDER & BRG | 8T7826 - GASKET KIT | 8T7938 - KIT GASKET |
| 2242639 - SEAL-O-RING | 2470056 - HOSE | 3G5228 - CYLINDER GP |
| 6V8500 - BEARING | 8S3204 - GASKET | 5I4105 - HOS AS |
| 5M6126 - BEARING | 7I1241 - HOSE AS | 9S9413 - HOSE A. |
| 7J7529 - HOSE A RH | 3602314 - BRG-SLV-CLA | 2S2596 - SPRING |
| 5I7837 - CAMSHAFT AS | 3083420 - KIT-GASKET(R | 7C1571 - ELEMENT A |
| 3S6162 - WASHER | 3V5840 - HOSE A | 7X5481 - RING RETAIN |
| 1073555 - ADAPTER RH | 3530487 - GEAR GRP | 2M8340 - END |
| 1347258 - FILM (1314155) | 2356370 - MOTOR GP-COM | 2004015 - NUT SQUARE 3/4 |
| 4I3778 - HOSE A | 3N4812 - HOSE A | 8K1493 - BOLT |
| 7N0855 - New Rebuilt - CYL HEAD | 6K8312 - PIN | 3686033 - BOLT |
| 6N9743 - SUPPORT | 4B8145 - SHIM | 0964768 - BOLT |
| 3D0490 - STUD | 5H2307 - LINING GP | 1T0229 - NUT |
| 2W7277 - TURBOCHARGER | 2Y9541 - REGULATOR | 2290070 - PUMP GP-F IN |
| 4350011 - SEAL | 3076489 - THERMOSTAT 180 DGR. | 2S7928 - BODY A |
| 8N3753 - CONNECTING ROD | 4U2267 - HOSE ASSEM 3 | 1550064 - PUMP GP |
| 2043614 - CYL GP-SEAL& | 6P0318 - HOSE A | 1654942 - GASKET |
| 2314404 - HOSE AS | 1N3365 - COLLAR | 7X2596 - NUT FULL |
| 4N3004 - IMPELLER | 3695036 - BOLT-HEX H | 1010710 - TIP DBL PT |
| 6D7317 - HOSE A | 1676701 - PLATE RET | 1427938 - HOSE -XT |
| 1P9945 - BRACKET A | 5T3661 - HOSE A | 5P9217 - SEAL |
| 2729758 - HOSE AS. | 8T1460 - RING | 6Y2008 - SEAL |
| 1875609 - HOSE AS | 9M1367 - LOCK | 0316091 - HOSE A |
| 10R6268 - 2254613 | 4W2952 - PUMP GRP (7E9195) | 1545021 - HOSE AS |
| 0950818 - WASHER,SPRNG | 2N0828 - WASHER | 3676087 - PAD-AS-CLA |
| 6S9364 - GASKET | 1621550 - HOSE AS | 2460649 - SEAL KIT |
| 7J9353 - CYL A | 5M6708 - WASHER | 2M7961 - GASKET |
| 1121075 - HOSE A | 8T0338 - BOLT | 6G5557 - HOSE A |
| 4F4682 - BEARING | 4E7388 - HOSE AS. | 5P9575 - GASKET KIT |
| 6I0787 - RING | 9S3369 - GASKET KIT | 9X3574 - SEAL |
| 6T8204 - SHOE | 0774678 - NUT, HEX JAM | 4V7697 - TUBE AS |
| 1424846 - HOSE AS | 8R7400 - HOSE A | 3030289 - PUMP GP-GR A |
| 5W9414 - SEAL-O-RING | 1411567 - GASKET KIT | 3G2749 - HYDRAULIC CARTRIDGE |
| 3E6114 - SENSOR A | 2069297 - SEAL-O-RING | 6K0806 - TIE (1138751) |
| 0969656 - BOLT (1472001) | 7T0158 - SEAL G | 2440969 - SEAL KIT |
| 3P1888 - OVERHAUL GASKET SET | 4Y3764 - MUFFLER A (1121665) | 3J8466 - RING |
| 7X5746 - B 20MMX 45MM | 4D7544 - PIN | 5N8018 - HOSE A |
| 1438681 - GASKET KIT | 4V6999 - MAGNET A | 1681831 - HOSE AS |
| 1080786 - STRIP | 1313469 - PIN AS | 7I0138 - HOSE A XT |
| 1550385 - RING-CLAMP | 8T4850 - GASKET KIT | 6V1013 - BEARING |
| 1P0014 - RING | 7T5459 - BEARING A | 4L7457 - HOSE |
| 2712992 - PUMP GP-PS-B | 2V7158 - LEVER | 2068703 - PUMP GP-GEAR |
| 1P6172 - SLEEVE | 1895374 - SEAL KIT (7X2704) | 3498455 - EDGE CUTTING |
| 3T4701 - FRAME A | 7M0820 - GEAR | 3P4841 - HOSE A |
| 4K5537 - GASKET | 7S2563 - HOSE A | 6V5765 - GASKET |
| 3081850 - SHAFT | 9Y2149 - TUBE AS | 2022047 - HOSE AS. |
| 3132060 - PLATE-PORT | 2992212 - COMPRESSOR G | 2H3790 - NUT |
| 9W9940 - MOUNT AS | 1F3131 - GASKET | 9U8093 - BLADE A |
| 4N0260 - SEAL | 6N2848 - METER-HOUR (4N3700) | 7C0683 - INDICATOR |
| 3678469 - SEAL-LINKAGE (0931349) | 0302191 - BELT | 5P9562 - GASKET KIT |
| 1061111 - VALVE | 1889460 - HOSE AS. (1340438) | 3162526 - GASKET KIT |
| 8H9804 - SHAFT | 9V4444 - CONE | 2048199 - HOSE AS |
| 1307009 - SHIM | 3244096 - WASHER | 5P0796 - SEAL |
| 1301841 - LOCKWASHER | 5W5737 - GEAR-DISC | 8T1685 - TEE (1192531) |
| 4E4334 - HOSE | 7D4955 - HOSE A | 5P2534 - BOLT |
| 3220615 - GASKET KIT | 6W2542 - HOSE A | 9M4878 - BEARING-050 |
| 6D1733 - CONE | 4N0527 - SPRING | 2169834 - TUBE AS-CYL |
| 2666321 - U-BOLT | 1624673 - CYL GP | 4217333 - GASKET-CLA |
| 7T2229 - HOSE AS. | 7W3355 - PICKUP AS | 2963273 - ROD A |
| 1135514 - CLEVIS | 1077566 - RING-PISTON | 3E7860 - BUSHING KIT |
| 1535016 - HOSE AS | 5P3487 - SEAL-O-RING | 7U9666 - HOSE AS |
| 1319685 - 121-6356 | 0813467 - O RING | 8C5048 - SEAL KIT-STD |
| 1D4579 - BOLT 5/8 X 1 3/4 | 6V1340 - GASKET KIT | 6N8875 - HEAD ASSY-CYL (3304 PC) |
| 6I2509 - ELEMENT | 7K9484 - HOSE A | 3529703 - RING-THRUST |
| 2037801 - GASKET KIT | 1113303 - SEAL KIT HYD | 0186285 - SCREW |
| 1241302 - HOSE AS | 4N1948 - GEAR | 1072945 - HOSE A |
| 1403638 - HOSE-RADIAT | 1S7104 - SEAL O RING | 1241872 - HOSE AS. |
| 5L1305 - HOSE | 0959254 - STRAINER | 3G5694 - CYLINDER A |
| 1559411 - HOSE AS | 4D4431 - BEARING | 4380153 - GASKET-K-C |
| 3A9619 - BOLT | 2038233 - GASKET KIT | 2613972 - VALVE |
| 1169576 - HOSE AS | 1362923 - ROLLER GP | 7N8469 - REGULATOR |
| 2699928 - HOSE AS. | 0R4119 - INJECTOR G | 1148131 - CYLINDER G |
| 9S4606 - HOSE A | 1319717 - 129-5866 | 3Y0091 - CYLINDER A |
| 5P9102 - GASKET KIT | 6N0130 - WASHER | 1712990 - MUFFLER |
| 2387739 - 7.00-15 WHEEL | 1T1880 - CARRIER | 2047387 - HOSE AS |
| 1002782 - HOSE A | 2979157 - PISTON | 1P7405 - EYE BOLT |
| 1807485 - CYLINDER GP | 2157183 - PLUG AS | 1336379 - ROD-VALVE PU |
| 1C6344 - CONEK | 3N2756 - VEE BELT SET | 1W0118 - SEAL |
| 6V8236 - PIN | 5L4995 - BELT SET | 5H8148 - PILOT |
| 2R1921 - HOSE A | 5U5928 - HOSE AS | 2901505 - RIM AS |
| 7N0061 - MUFFLER | 1A5405 - CAPSCREW | 3289668 - WASHER-THRUS |
| 1191551 - WASHER | 4E6864 - HOSE AS | 162083 - HOSE A |
| 2045306 - FITTING-GR | 1W9196 - FUEL LINE | 1987841 - SHIM |
| 1559454 - TUBE AS | 6V4709 - GASKET KIT | 5P5829 - SEAL GRP (6Y0520) |
| 8X7723 - BRACKET | 4B7618 - WRENCH | 1615398 - O-RING |
| 1P7046 - PIN & BSHG G | 1N4209 - BRG-MAIN | 890102 - BALL |
| 2699716 - HOSE AS. | 1382016 - CROWN AS. PS (1442948) | 1180233 - HOSE A |
| 2497060 - HOSE AS | 1984780 - WASHER-HARD | 2489804 - HOSE AS. |
| 2216949 - GASKET KIT | 3119410 - LINE-FI-CLA | 4V2532 - HOSE |
| 2172599 - PUMP GP-CLAS | 7S5739 - TURBO A | 0785334 - GEAR TYPE HO |
| 3090716 - HOSE AS. | 1453035 - PLATE | 1978354 - HOSE AS-SUPP |
| 3208876 - HOSE | 6P1357 - PIN | 7S2495 - HOSE A |
| 1350231 - GASKET KIT | 6N6420 - ADAPTER | 6V8121 - BEARING |
| 8D6813 - VALVE G | 819170 - FITTING | 3U9368 - HOSE AS |
| 2166637 - HOSE A | 7Y1315 - PIPE | 6V1082 - GASKET KIT |
| 1273326 - LINER | 4I4921 - PIN A | 2310016 - PINION-CLA |
| 8C0585 - GASKET KIT | 9J7730 - SEAL-LIPTYPE | 2894957 - SPACER-CLA |
| 6V8201 - BOLT | 1Q3385 - HOSE A | 1321650 - HOSE AS |
| 4K1372 - SEAL | 9J9600 - BIT | 6I4792 - GASKET |
| 0908515 - HOSE A | 6N6132 - TURBO G BSC | 4V5484 - HOSE A |
| 7S2729 - GASKET KIT | 3T1663 - HOSE A | 1U0730 - BEARING |
| 5M7353 - GEAR | 4H9704 - BEARING | 8W2946 - HOSE A |
| 2376366 - KIT-SEAL-H.C | 8K6847 - HOSE A | 0874407 - 087-4405 |
| 1409252 - HOSE AS | 1011818 - BRIDGE AS | 5W5803 - ELEMENT |
| 8N0035 - TERMINAL | 7U9657 - HOSE AS | 4206534 - BRG-RLR-CL |
| 1991737 - HOSE AS | 7I7420 - HOSE A (1519516) | 1W8609 - PIPE ASSY |
| 5S5148 - LAMP A 24 V | 7Y0659 - GEAR | 2309385 - PUMP GP-PS-B |
| 1696967 - HOSE AS. | 6V1555 - SEAL O RING | 1K7098 - RING |
| 8W4717 - HOSE A | 2344327 - LAMP GP-FLOO | 0053514 - BEARING |
| 1844458 - HOSE AS. (9U9568) | 6V4742 - GASKET KIT | 1864439 - GEAR |
| 4446468 - KIT GASKET | 1S9964 - GASKET | 2433858 - PUMP GP-F IN |
| 4K7463 - SEAL | 1114338 - PLATE | 2096856 - BEARING THRU |
| 9J5078 - PUMP G | 8T1889 - CLIP | 6U8382 - HOSE ASSEMBL |
| 9W5586 - ROLLER G | 2291612 - HUB AS-CLASS | 5M7539 - GASKET |
| 7U9395 - HOSE AS | 4N8591 - COUPLING AS | 8E0468 - PIN |
| 8I0187 - SPACER | 2451369 - COOLER AS-OI | 4394845 - HOSE |
| 1292416 - BELT SET | 8D5054 - WASHER | 7B3839 - CLAMP |
| 3E0256 - SWITCH A | 2W9270 - COMPRESSOR G | 1J6474 - RING |
| 1891790 - SEAL KIT-STD | 1169594 - BRG KIT-TC | 3339957 - COUPLING AS- (2P3178) |
| 5W6390 - RING-SPACER | 0925897 - HOSE A | 7V8375 - HOSE A |
| 1P1080 - KIT-RET-SEAL | 7X2694 - SEAL KIT | 8R4657 - HOSE A |
| 2220109 - PUMP GP-2PL | 1B8704 - KEY | 2076625 - HOSE AS |
| 2551429 - EDGE CUTTING | 0317224 - HOSE A HYD | 8S4752 - BOLT |
| 1637519 - BOLT | 1744806 - ROTATOR | 6L3178 - TUBE |
| 6Y7163 - FACING | 1030901 - HOSE A | 0R2901 - COMPRESSOR G |
| 3S0438 - WASHER | 909034 - KIT | 8T1919 - SEAL |
| 3200788 - BELT | 7D7232 - HOSE A | 1D4588 - CAP SCREW |
| 5D3128 - 7S0477 | 1S6477 - RING | 7B4032 - BELT |
| 0897903 - HOSE SUCT | 0R7476 - PUMP GP-HYD | 3T8953 - MOTOR GP. ELECTRIC |
| 9F6656 - RING | 1W5814 - OIL PAN | 1N3822 - BEARING |
| 8W5151 - HOSE A | 2089281 - BOLT-FLANGE | 5B6390 - LINK |
| 9X6155 - BOLT-HEX | 1327419 - SWITCH AS | 6C3220 - BOLT |
| 6I9697 - GEAR | 9H5920 - GASKET | 7C6617 - BUSHING |
| 6D1587 - HOSE A. | 8H0908 - SPACER | 1N3234 - GUIDE |
| 1N5405 - FUEL LINE | 1941134 - LINK A-TRACK (1028129) | 6C0423 - PLATE |