Caterpillar CB434D Compactor parts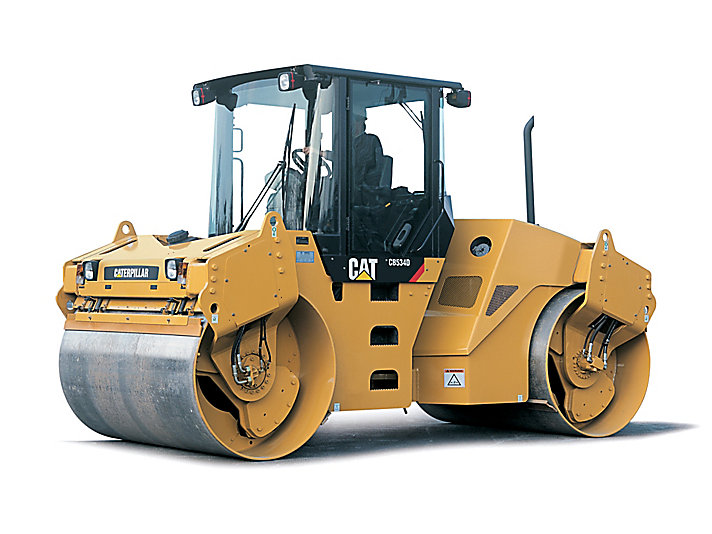 Here is some more information about Caterpillar CB434D Compactor:
ENGINE
Gross Power 62.0 kg/mm
Engine Model 3054C

WEIGHTS
Operating Weight 7380.0 kg

DIMENSIONS
Overall Length 4200.0 mm
Wheel Base 3100.0 mm
Height - Steering Wheel 2260.0 mm
Overall Width 1670.0 mm
Drum Diameter 1100.0 mm
Drum Width 1500.0 mm
Maximum Machine Height 3010.0 mm
If you send us your request, we will make you an offer for original and Aftermarket Caterpillar parts for your Caterpillar CB434D Compactor.
Caterpillar CB434D Compactor - it is a big machine. But even such machine sometimes needs maintenance.
Our online parts store give you an access to more than 1 000 000 Caterpillar parts that we have in our inventory.
Below is a small list of Caterpillar parts for this equipment. However, if you are interested in something - please use the site search.
| | | |
| --- | --- | --- |
| 8M6701 - WASHER | 4K2143 - BUSHING | 4D2218 - GEAR |
| 2071553 - MOTOR GP. ELECTRIC | 2096855 - PIN | 7J6772 - HOSE A |
| 7K2609 - TUBE AS | 2P6480 - SHAFT | 2U2672 - LOCKWASHER |
| 2169612 - GASKET KIT | 1875957 - HOSE AS | 1628759 - WASHER |
| 8U6060 - SEAL | 6D1004 - GASKET | 1W8608 - ELBOW, EXHAU |
| 1W5657 - TUBE A | 8W3351 - HOSE A | 2422541 - SEAL KIT |
| 3K3105 - LINING G | 0950944 - RING,SNAP | 3P9847 - CLAMP |
| 2S0884 - CM HOSE BULK | 1418848 - GASKET KIT | 1450163 - MAIN BEARING |
| 4W8729 - BELT SET | 1213374 - HOSE | 838513 - SEAL O-RING |
| 2135402 - PUMP AS-WATE | 3461094 - CYL GP | 2U2505 - WASHER SPRIN |
| 1114870 - TIMER AS-DEL | 7Y1685 - ROD | 1505874 - MOTOR GP-PSF |
| 1916760 - INSERT-EXHAUST | 9T3872 - SEAL | 1475543 - GASKET KIT |
| 8W4010 - HOSE AS | 8G5798 - SHAFT | 2031074 - BOLT-SOCKET |
| 9C8021 - LINING | 951604 - SEAL O RING | 3948238 - HUB-CPL-CLA |
| 1831175 - PIN | 9S0174 - BREAKER | 1469624 - SEAL KIT |
| 5U6074 - HOSE ASSEMBL | 1110902 - MOTOR GP | 2903912 - TUBE FUEL-IN |
| 3J7498 - BOLT (0776791) | 4M5282 - BOLT | 2J1411 - SEAL-WIPER |
| 2927184 - 292-7183 | 0082102 - O RING | 0081986 - CUP |
| 7K9036 - KIT | 6R3450 - HOSE A | 5P3218 - SEAL STOCK |
| 1022386 - HEAD | 2350354 - SEAL KIT | 2J7606 - GASKET |
| 1291077 - HOSE AS-XT | 2W8411-KIT - PISTON KIT | 3001922 - HOSE AS. |
| 5I8002 - GASKET | 7R3904 - HOSE A | 0951719 - O-RING |
| 1W1231 - CAMSHAFT | 2463426 - SEAL KIT | 1741725 - HOSE AS. |
| 6V7658 - SEAL | 9G6743 - BEARING | 1924129 - CYLINDER AS. |
| 9T8448 - BARREL | 1303436 - CONNECTOR AS | 4355309 - SEAL O-RING |
| 7Y0737 - ROD | 1082194 - SEAL GP | 8R2011 - HOSE A |
| 4E3273 - STRAP | 1560493 - HOSE | 7U9413 - HOSE AS |
| 8J5667 - BEARING | 8T8156 - SEAL FACE | 3V3484 - GUARD A |
| 2507696 - Turbocharger B2G-80H 30BP 175273 | 909018 - KIT | 1P1134 - RACE |
| 4W0045 - GASKET (7C1599) | 3748344 - BRG-RLR-CLA | 1250375 - CYL A |
| 2303344 - PIN AS. | 2309136 - VALVE PILOT | 2J0168 - DIAPHRAGM |
| 5H6181 - SEAL O-RING | 1743056 - CAP SCREW | 3J3230 - BALLSTUD |
| 7J9365 - BRG SLEEVE | 1645590 - VALVE AS. | 2237048 - HOSE AS |
| 1280382 - MAIN BEARING | 0R1221 - CRANKSHAFT A | 7W6734 - COUPLING AS |
| 3500971 - KIT-SEAL | 1160537 - TUBE A | 7F7889 - GASKET |
| 3242070 - LEVER AS | 4341864 - SHIM-CLA | 1581452 - GASKET KIT |
| 1403662 - RING-SEAL | 8G1359 - HOSE A | 8J5226 - HOSE A |
| 8E7745 - GASKET | 6J7481 - TUBE | 5K9065 - RING |
| 1482767 - STRIP WEAR F | 4V3742 - BEARING | 2391873 - HOSE AS. |
| 8R2491 - ACTUATOR G | 1659419 - SEAL KIT | 2W0719 - CARTRIDGE AS |
| 8T7043 - LOCKNUT | 1407504 - GASKET | 1211963 - 121-1962 |
| 1086982 - HOSE AS | 9V2494 - HOSE A | 2H4144 - GASKET |
| 4V5199 - HOSE A | 7T5886 - DOWEL | 1324783 - HOSE AS |
| 1196024 - HOSE AS | 8W6299 - HOSE A | 2S1285 - ELEMENT |
| 8S4676 - CAP G. | 3G5285 - BRG SLEEVE | 8E3471 - GEAR |
| 1216763 - CYL GP | 1N4098 - BELT SET | 7C7851 - SHAFT |
| 1799785 - CYL GP-0105 | 2249656 - HOSE AS | 7N2463 - BEARING-STD |
| 1856950 - PLATE | 5P0202 - XT5 HOSE HYD | 5I4956 - CLIP |
| 7W2935 - INDICATOR | 9C3396 - HOSE A | 9M0990 - SWITCH |
| 2V1074 - SHAFT | 2522419 - PIPE | 5M3038 - SEAL O RING |
| 6H5672 - RING | 1373791 - MOTOR GP | 0926877 - HOSE A |
| 5R4127 - HOSE AS | 5V5279 - BEARING | 1408227 - BUFFER |
| 2647773 - KIT-GASKET-F | 3209350 - NUT | 2G1499 - HOSE A |
| 2435336 - BOLT-SHALLOW | 9X6378 - RING | 1981508 - PUMP GP-EO 2 |
| 1468147 - ARM AS- | 964752 - TIP LONG | 7D2139 - HOSE A |
| 3196715 - BODY AS.-PIS | 2243128 - MOTOR GP GRT | 1357047 - HOSE AS. |
| 0920745 - HOSE A | 1045477 - HOSE AS | 1764983 - GASKET |
| 1490266 - HOSE AS | 1048585 - GASKET | 2M2417 - GUARD |
| 8N0246 - HEAD G | 8N3311 - SHAFT | 3119546 - BEARING AS |
| 1386256 - SEAL KIT | 2T2400 - HOSE AS. | 4M9214 - SHAFT |
| 8E7405T - R/H TRACK LINK | 2917507 - HARNESS | 0983608 - BACK UP |
| 1141826 - GASKET KIT | 1C6274 - CONEK | 8T8970 - SEAL |
| 4I1085 - HOSE AS | 4P8087 - BELT SET | 2F7577 - SHAFT |
| 2012231 - CAP SCREW | 5G1297 - CYLINDER A | 2429854 - GASKET KIT |
| 10R2985 - MOTOR G ELEC | 2868990 - PUMP GP-HYD | 9C8681 - LINING AS-BRAKE |
| 2Q1916 - HOSE AS | 9C3855 - SPACER | 951610 - SEAL O RING |
| 1764238 - HANDLE SCREW | 3476533 - MOTOR GP-WIP | 1964743 - HOSE |
| 4F6062 - GUARD | 2362542 - PUMP GP-F IN | 5T6966 - HOSE A |
| 7R3529 - SEAL KIT | 7I8323 - HOSE A XT | 1561911 - HOSE AS |
| 2218693 - HOSE AS. | 2295779 - AXLE GRP | 2258282 - GASKET |
| 10R8755 - ALTERNATOR G | 6B8808 - SPRING | 3807573 - SPRG-VLV-CLA |
| 1856583 - SEAL KIT (7X2737) | 8T8736 - RECEPTACLE | 7G5674 - RING-SEAL |
| 7S3454 - 8S9321 | 2D7691 - BEARING | 8C3107 - SEAL-O-RING |
| 2387566 - BOLT | 1491148 - CONTROL | 8D2477 - COVER |
| 6V0227 - GASKET | 8C9126 - SEAL A (1529022) | 2076332 - HOSE AS |
| 1873827 - PAD AS. | 3J9332 - CARTRIDGE AS | 5P0070 - SEAL |
| 8T8099 - SEAL O RING | 0991081 - BAND | 3E6751 - SEAL |
| 1D4127 - WASHER | 9X8886 - BOLT | 1B4428 - NUT |
| 1B4367 - CAPSCREW | 8W1001 - HOSE AS | 8R7165 - HOSE A |
| 1846970 - SEAL AS | 1M4344 - CAGE | 3358966 - SEAL-WIPER |
| 1307596 - NUT | 2360777 - HOSE AS. | 2042678 - VALVE GP-D R |
| 1645613 - GASKET | 2117328 - SEAL-SUSPENS | 2424066 - ROLLER GP-TR (1753274) |
| 7N1275 - PULLEY | 2P8643 - GASKET | 2778792 - HOSE AS. |
| 1H8027 - RING | 3T6963 - SEAL | 3608341 - NUT-HEX - |
| 7X2559 - BOLT | 4R9040 - GOVERNOR GP | 7S9100 - SHOE |
| 8N3304 - PULLEY | 2H2357 - BEARING | 8W9283 - HOSE A |
| 2F4159 - LOCK | 6U0201 - HOSE ASSEM 1 | 1164684 - INDICATOR |
| 9L1553 - VEE BELT | 7Y8470 - 7Y4399 | 9P2251 - PIN-TRACK |
| 5M1909 - SHAFT | 98506-2 - SCREED | 0996703 - BOLT |
| 3807495 - RACE-OTR-CLA | 1704825 - SEAL-O-RING | 1484467 - GEAR |
| 1765749 - RING-PISTON | 7D8291 - HOSE A | 10R1457 - PUMP GP-2PL- |
| 6N2790 - PUMP A | 3Y1603 - PRECLEANER | 1924215 - HOSE AS. |
| 3240355 - KIT-SEAL-H.C | 9V6460 - COLLET A | 3434007 - PIN |
| 8S1731 - LINK A | 2496711 - CYL GRP | 1593141 - WATER PUMP |
| 6W0527 - SHAFT | 7M1184 - HOUSING A | 6T5611 - SPACER |
| 6Y4341 - PUMP GP | 8M4106 - CLAMP | 1919633 - BEARING-SLEEVE |
| 7X2833 - GASKET KIT | 9C7068 - PIN A | 0781890 - GEAR TYPE HO |
| 2D6235 - NUT | 2956437 - MOUNT AS-CLA | 0854973 - TRACK ROLLER |
| 2T2615 - HOSE A | 8D9472 - GEAR | 7M3632 - MAIN BEARING 0.025 |
| 8D9756 - WASHER | 1020752 - LINK A. | 951515 - SEAL O RING |
| 4V5100 - SUPPORT | 6S8988 - HOSE A | 1481459 - HOSE AS |
| 1060581 - HOSE A | 6D1658 - HOSE A | 3500975 - KIT-SEAL (2590779) |
| 5U1763 - HOSE ASSEM 1 | 3379944 - PUMP GP-GEAR | 1087370 - 108-7369 |
| 1886396 - MOTOR GP | 6I8030 - DISC | 2724139 - HOSE AS. |
| 1V6564 - SWITCH ASSY. | 1230714 - BEARING | 10R0817 - CORE GP OIL |
| 7R3889 - HOSE AS. | 3T2466 - DISC | 0959796 - BOLT |
| 1362191 - HSG-PUMP | 5J6870 - 4T-6620 EDGE- SCRAPER CTR. 623 | 3D8935 - HOSE A |
| 7P7739 - ROD BEARING | 4U3048 - HOSE ASSEM 1 | 9P4170 - SPOOL A |
| 4260025 - CTG-VANE-C | 7N4446 - SWITCH | 1222527 - HOSE AS |
| 8C9438 - PACKING KIT | 4N8198 - BELT SET | 1348948 - PLATE |
| 2005941 - SEAL | 2426759 - CYLINDER GP | 3Y0043 - HOSE A |
| 1A9136 - CAPSCREW | 6Y0352 - TIP | 2246172 - MOTOR GP-COM |
| 8S5163 - ELBOW | 2900949 - PLATE | 1556648 - CONE |
| 9T3422 - PLATE | 8V9258 - REFILL KIT | 8X3174 - HOSE A |
| 1140877 - HOSE AS | 3998571 - GASKET-CLA | 9G7412 - GEAR |
| 1346054 - SWITCH | 2161729 - HOSE AS. | 7S5753 - LEVER AS |
| 1857700 - SEAL KIT-STD | 1087610 - HOSE AS | 1483381 - BEARING |
| 0R7052 - Turbocharger S3BSL-128 196425 | 8T4569 - SEAL O RING | 9W3317 - LINK AS |
| 7K1181 - TIE | 4J9212 - SEAL | 7D3668 - HOSE A |
| 4D2295 - VALVE | 5S8364 - HOSE A | 1793047 - RING-BACK UP |
| 2064433 - HOSE AS. | 7G5593 - GEAR | 1151635 - HOSE AS |
| 1T0630 - TORQUE CONVERTER | 4H9698 - KEY | 1537600 - RING-RETAINE |
| 1238909 - CONE-TAPERED | 0655338 - CARTRIDGE KI | 3256200 - SFT-ROCR-CLA |
| 7W5495 - AIR FILTER | 1071028 - HOSE A | 9Y7740 - RADIATOR |
| 4E5146 - HOSE A | 7Y4941 - RING | 1858676 - TIRE RIM |
| 9L6308 - TURBO G | 9S0798 - BEARING | 3085219 - HOSE AS. |
| 1041943 - CYL GP | 0894567 - PIN | 1786636 - SEAL |
| 9W2567 - HOSE A | 2T1150 - HOSE A | 1424159 - SEAL-INTEGRA |
| 0821641 - O RING | 1J3710 - BEARING-NEEDLE | 1219909 - BOLT |
| 8W3772 - HOSE A (1228296) | 6V8801 - NUT | 8D2811 - WASHER |
| 2212593 - GASKET KIT | 1227029 - HOSE | 9M8155 - GASKET KIT-S |
| 3G4667 - New Rebuilt - VALVE GRP | 6B9109 - GEAR | 5P8794 - GASKET KIT |
| 2829861 - HUB IDLER GE | 2621925 - CYLINDER AS. | 6F3202 - GASKET |
| 2P6173 - ELBOW | 2W3672 - INDICATOR | 5S8174 - HOSE A |
| 2712886 - MOTOR GP-PST | 8C5222 - SEAL | 7N1832 - HOSE |
| 2773076 - TUBE AS.-OIL JET | 941932 - BACK-UP RING | 2551744 - HOSE AS. |
| 1N4102 - HOSE | 4I3820 - HOSE A | 1358863 - PUMP GP |
| 1085959 - ELEMENT | 96005-01 - AUGER SB2500 | 2495276 - SHAFT AS. |
| 3K0741 - BEARING | 4I6028 - 4I6027 | 4I1412 - 4I1410 |
| 3Q6528 - SEAL-BRAKE | 2S3946 - GEAR | 6I1650 - ARM GRP |
| 9S2704 - GASKET KIT | 1979335 - PISTON PIN | 5J0964 - SEAL |
| 1U4599 - GASKET | 2311315 - HOSE AS. | 1175975 - BEARING |
| 1154243 - CROWN AS | 6V7262 - GASKET KIT | 2308917 - O-RING |
| 3832607 - MOTOR GP-GR( | 3082073 - ACTUATOR AS. | 4798076 - KITGASKET |
| 5P9392 - GASKET KIT | 1735095 - HOSE AS | 8P8132 - BEARING (1060933) |
| 6T7013 - DISC | 7D5241 - HOSE A | 7T6049 - HOSE A |
| 2136535 - HOSE AS | 2Q0750 - HOSE A XT3 | 6V0588 - STARTING MOTOR |
| 0311119 - RADIATOR CAP | 2V0155 - HOSE A | 1092947 - LINKAGE |
| 2243344 - INDICATOR | 2028627 - GASKET KIT | 8T9378 - BOLT |
| 5W5344 - BOLT | 2533566 - HOSE AS. | 216879 - SEAL RING |
| 1915966 - HOSE AS. | 3E4103 - SEAL WIPER | 6C5365 - CYLINDER G |
| 8N4204 - FUEL LINE | 1595976 - HOSE AS | 3465707 - PIN-CLA |
| 1774132 - GASKET KIT | 2442062 - SEAL KIT | 7S9749 - PULLEY |
| 1363188 - CLIP | 2482326 - BEARING-SPL (2811642) | 1941220 - SPRING |
| 0R2874 - CYL HEAD AS | 1516410 - HOSE AS | 7X6781 - LOCKWASHER 1/2 |
| 2G3741 - BEARING | 2260223 - BOLT-CLASSIC | 7X6823 - BREATHER |
| 2W2877 - VALVE | 2147568 - SEAL -O RING | 4M4460 - GASKET |
| 3166712 - GASKET KIT | 3189645 - GASKET KIT | 2526332 - GASKET KIT |
| 6G0584 - ELBOW | 1010745 - WIPER BLADE | 2G6337 - HUB |
| 1242681 - GUIDE VALVE | 9G4337 - MOTOR G | 5N8353 - HOSE A |
| 8E7510 - WASHER | 5H4451 - CLAMP | 7T9340 - HOSE A |
| 0777561 - SPIDER&BEARI | 1855065 - ROLLER GP SF (1091215) | 5T6308 - HOSE A |
| 0975220 - SHIM .35MM | 8R1893 - SEAR RING | 5L5014 - BELT SET |
| 5A3089 - GUN | 7X1547 - SEAL O RING | 2198783 - KIT - ROLLER |
| 3W3877 - HOSE A | 1273608 - HOSE A | 3A1872 - MOTOR GP |
| 7X5141 - HEX NUT | 4L4145 - BUSHING | 6N6984 - GROMMET |
| 5D8531 - BEARING | 7V9961 - PINION | 1Q5053 - HOSE A |
| 8X2993 - HOSE | 9D7933 - HOSE A | 9M3025 - COVER A |
| 3004911 - HOSE | 6I3739 - TURBOCHARGER | 1236563 - BEARING |
| 3681859 - C6.6 ENGINE | 4D8468 - 7S3389 | 7366658 - NUT 320/325 - 20X1.5 |
| 2G6385 - TUBE AS | 0966132 - WASHER | 3L5668 - FLANGE A |
| 2Y7998 - PIPE | 1319585 - 121-6356 | 2688149 - KIT-GASKET-M |
| 3E9350 - SWITCH | 930393 - WASHER | 5J3964 - RING |
| 7F3425 - BOLT | 8T9055 - BOLT | 6V2586 - GASKET KIT |
| 6D6854 - GEAR A | 4162159 - BRG-BALL-CLA | 3P0651 - SEAL-O-RING |
| 4K6810 - RETAINER | 2U9762 - HOSE AS | 1763644 - HOSE AS |
| 6W2874 - HOSE A | 7D6294 - HOSE A | 8G4511 - PLATE |
| 8X8456 - WHEEL A | 2V7363 - HOSE A | 1402749 - GASKET KIT |
| 1465224 - HOSE ASSY | 2B6030 - BOLT | 5L5840 - WASHER |
| 2396076 - VALVE GRP | 2959677 - PUMP GP-PS-B | 1R1310 - ROLLER AS |
| 7D2595 - 6D9145 | 8D7495 - HOSE A | 2487175 - SEAL O RING |
| 3752630 - GEAR-PIN-CLA | 1911868 - HOSE AS. | 1711706 - ADAPTER-TIP (4T4706) |
| 8C0930 - SEAL | 8U3896 - BOLT | 1686931 - SUPPORT |
| 6N8654 - REB CART G | 1275807 - HOSE AS | 1532073 - LAMP GP FLD |
| 6R2893 - HOSE A | 1790768 - HOSE AS. | 10R1714 - ARM A ROCKER |
| 6V2715 - LATCH A | 2055674 - GUARD | 9U2590 - HOSE A |
| 1611908 - HOSE AS | 7W4651 - RING | 6V1839 - GASKET KIT |
| 3783985 - GASKET-CLA | 1265418 - Turbocharger S200S-001 168414 | 9J0948 - BEARING |
| 9S2394 - SEAL | 2309384 - MOTOR GP-PSF | 1290338 - BODY A PISTO (1654262) |
| 2258530 - GASKET-ELBOW | 3V2660 - HOSE A | 4P2990-KIT |
| 1538713 - HOSE AS-XT6 | 9P6592 - GEAR | 2061750 - BELT GP-SEAT |
| 1939186 - MOTOR GP-ELE | 1099350 - MOUNT AS | 1550839 - GEAR-SUN |
| 4Y1110 - HOSE AS | 8W9230 - HOSE A (1357899) | 8E8413 - SHANK AS.-RI |
| 2P8048 - BUSHING | 9C3442 - HOSE A | 7N9634 - LEAD A |
| 5S9189 - HOSE A | 2751683 - HOSE AS. | 2412590 - PIN-CLASSIC |
| 2276968 - HOSE AS | 7X0343 - BOLT | 6Y2255 - HOSE A |
| 1832856 - CYLINDER GP | 6G1342 - HOSE A | 7X2543 - BOLT (1348221) |
| 1241297 - HOSE AS | 1699020 - BEARING | 4I6034 - 4I6033 |
| 8M6487 - PISTON PIN | 4728022 - SEAL-BSC-C | 2228183 - TAPPET (5I7627) |
| 2S3029 - BEARING | 5H8777 - SLEEVE | 7E4195 - BOLT |
| 8W3492 - HOSE A | 2S6443 - RING | 9R4675 - BUSHING |
| 8J6243 - RACE | 7H3472 - BOLT | 5P0233 - BOLT |
| 0983429 - RING RETAIN | 5M1235 - SPRING | 1454558 - HOSE AS. |
| 7F8295 - BUSHING | 3029176 - KIT SEAL | 2212791 - HOSE AS |
| 0687571 - HOSE A | 1196284 - LUBE G (4N7556) | 1259485 - HOSE AS |
| 2344478 - ROD A | 9R5459 - HOSE A | 2220108 - PUMP GP-2PL |
| 2047503 - HOSE AS | 8E6974 - SPROCKET TRK | 1896064 - PIN AS |
| 1605804 - HOSE AS | 1279095 - WASHER | 3G4465 - PUMP GRP - GEAR |
| 1F1470 - CAP | 6E5455 - New Rebuilt - COVER | 1661350 - HOSE AS (1409252) |
| 6K6349 - PIN | 1170456 - CRANKSHAFT A | 1210358 - CARTRIDGE AS |
| 4N6640 - MUFFLER | 2604855 - INSERT-VALVE | 0969532 - WASHER |
| 1928123 - BOLT | 2478977 - SEAL-SHAFT | 10R7053 - PUMP GP HYD |
| 6I9453 - SHOE TRACK | 5D3359 - 7D6387 | 9V6574 - CUTTING EDGE |
| 2452723 - HOSE AS. | 1223731 - HOSE AS | 1468947 - GASKET KIT |
| 1964787 - HOSE AS. | 9N4245 - PIN | 1483391 - PIN |
| 2716409 - HOSE AS. | 3U2758 - HOSE A | 3P1654 - CAGE |
| 875845 - PIN | 0R5762 - Turbocharger 4LF452 310510 | 0911368 - HOSE A |
| 6I4956 - REGULATOR | 6N6651 - BELT SET | 5W5804 - FILTER |
| 7U9847 - HOSE AS | 3361157 - MOTOR AS-W/F | 5K3489 - SHIM PACK |
| 3005440 - PIN | 1S5632 - BODY AS | 7X2393 - BUMPER |
| 7I6083 - HOSE A | 1256536 - TERMINAL AS | 1S2269 - SLEEVE |
| 8T4137 - BOLT (1135434) | 5S6910 - TRACK SHOE | 6V7253 - KIT GASKET |
| 1411276 - HOSE AS | 6T7589 - BLOCK | 7T4543 - LINK |
| 1087375 - HOSE A | 4536515 - BRG-SLV-CL | 3G2835 - HYDRAULIC CARTRIDGE |
| 9U6788 - FITTING KIT | 2051062 - HOSE AS. | 6P9163 - CARRIER |
| 6I9240 - LINK | 6T1151 - BOGIE MINOR | 5P3414 - RING-RETAINI |
| 1P9593 - BEARING | 6Y5888 - RING SEAL | 8N1374 - Turbocharger TW9102 465456-2 |
| 3P0168 - HUB | 8N3176 - NOZZLE | 5P9148 - GASKET KIT |
| 1391197 - PUMP GP | 4N8908 - HOSE A | 8T7346 - GASKET KIT |
| 138939 - HOSE A | 8M3138 - PUMP AS | 5D5886 - HOSE A |
| 1203976 - GASKET KIT | 1359056 - SEAL KIT | 5M2058 - SPRING |
| 3643149 - BOLT-HEX | 1197047 - SEAL | 8T1525 - SEAL KIT-STD |
| 5E3517 - BOLT A | 0949980 - PACKING | 1407682 - GASKET KIT |
| 7X0405 - BOLT | 7Y1901 - ELEMENT | 9K8944 - DIFFERENTIAL GP |
| 2418390 - SEAL-VALVE S | 2109246 - SEAL-O-RING | 1193842 - PUMP GP-GOV |
| 8T7886 - GASKET KIT | 4T7351 - BEARING | 4259367 - IMPELLER-C |
| 5230569 - HSG-BRAKE- | 2584043 - 3258383 | 3N4511 - HOSE A |
| 6P6849 - CONVERTER G | 2028687 - BREATHER AS | 6K8317 - PIN |
| 1238830 - HOSE AS | 6N9625 - Turbocharger TV8112 465332-4 | 2314708 - SEAL-O-RING |
| 4866737 - SHAFT AS | 8U5490 - SEAL O RING | 1085960 - SHAFT |
| 5M2026 - HUB | 3V1061 - HOSE A | 5W4860 - SEAL-O-RING |
| 9X7380 - SEAL O RING | 8N1375 - Turbocharger TW9102 465456-5001 | 2417340 - BRG-SLEEVE (2366277) |
| 9W7831 - HOSE A | 1448968 - SEAL KT | 8G2968 - PLATE |
| 3148725 - TRUNNION-CLA | 0R8354 - PUMP GP WTR | 3193565 - SEAL KIT |
| 3408206 - SEAL GP-DUO (0990193) | 8N0081 - TRUNNION | 9Y1936 - SHROUD |
| 1025905 - HOSE A | 1S0986 - HOSE A | 1071566 - TRACK ROLLER |
| 1177266 - RETAINER | 6I0034 - FUEL LINE | 6V9881 - GASKET KIT |
| 2V4076 - PIN | 0930097 - SPACER | 2037859 - GASKET |
| 1M8659 - GASKET | 7S0230 - HOSE A | 6V0616 - GASKET KIT |
| 1163391 - SEAL-LIP TYP | 6E4275 - CYLINDER AS | 0981379 - O-RING |
| 2V2180 - HOSE A | 6V8336 - BOLT | 6K2694 - BEARING |
| 4D7922 - CLAMP | 1130999 - HOSE AS | 6D0773 - 7S2637 |
| 8E8300 - DISC | 8M9315 - BEARING-SLEEVE | 2243236 - IMPELLER-PUM |
| 1S0834 - FRAME A | 9J8920 - TIP RIPPER | 8X5361 - HOSE A |
| 8K4003 - HOSE A | 2043204 - GASKET | 4162147 - KIT SEAL |
| 5I8411 - SPACER | 6N8942 - BOLT | 7R7153 - O RING |
| 1296019 - HOSE AS | 9L1629 - VEE BELT | 2M7943 - CLAMP |
| 1484644 - DRIVE GP | 3668298 - PISTON-CLUTC (6T6987) | 4E5262 - HOSE AS |
| 2141108 - GEAR PLANET | 8T0162 - BOLT | 8A5872 - CONE |
| 1005046 - ALTERNATOR 24V 50 AMPS. | 9R9994 - HOSE A | 1285670 - HOSE AS. |
| 7T4754 - IMPELLER | 7X2808 - SEAL KIT | 5J3941 - PIN |
| 3E4307 - BOLT | 9F5124 - SHANK | 3718947 - CM HOSE BULK (2S0884) |
| 4I7871 - 4I7875 | 9T7768 - PLATE | 7Y1883 - PLATE |
| 3T8597 - SHOE | 0785269 - COTTER PIN | 4T2110 - COVER AS |
| 2228662 - GASKET KIT | 8D1636 - SHIM | 0R4585 - PLATE |
| 7J2604 - BEARING | 0773559 - WASHER-FLAT | 9X6252 - GASKET KIT |
| 2863592 - GEAR-PUMP (W | 9W6584 - WASHER | 5W2498 - PIN |
| 2941784 - PULLEY | 1611383 - HOSE AS | 8P6986 - PLATE |
| 9G9883 - PLATE | 8D3949 - RING | 5K5008 - SHAFT A |
| 8T3601 - SETSCREW | 0898249 - SPACER | 4U1162 - HOSE ASSEM 3 |
| 9J5080 - PUMP AS | 3N8214 - IMPELLER | 3J3709 - ROLLER A |
| 1523001 - BOLT-HEX HED | 5P3185 - GROUP-MULT CYL/HD | 1864329 - SEAL KIT-STD (7X2653) |
| 35138C3 - LINK KIT, OUTER | 7D5869 - HOSE A | 2P8376 - RING |
| 6D1784 - 8S9214 | 2T0933 - HOSE A | 3857276 - LINER-CYLIND |
| 9J4296 - ADAPTER LH | 1031848 - HOSE A | 8J8119 - CUTTING EDGE |
| 3H4193 - RING | 8D9692 - GEAR | 1032802 - CAP |
| 2276082 - GEAR GP-BRG | 2531354 - COUPLING AS | 7T6996T - IDLER GRP - D6H REAR |
| 2956417 - CAP AS.-CLAS | 2149040 - HOSE AS. | 3975055 - ROTOCOIL-CLA |
| 7K5909 - HOSE A (1261359) | 2935781 - MOTOR GP-GRT | 3V9512 - HOSE A |
| 1N4321 - BEARING | 9V7759 - SEAL | 1A7677 - RING |
| 9S6910 - GEAR | 5P3062 - GASKET KIT | 1168000 - ADAPTER |
| 9V1254 - HOSE A | 8T7266 - SEAL-O-RING | 1435428 - GASKET KIT |
| 1019644 - HOSE A | 8V6960 - HOSE A | 6N0957 - CORE-RAD-CLA |
| 1194933 - HOSE AS. | 9K8982 - HOSE A | 1328614 - HOSE AS |
| 1K9420 - CAPSCREW | 1863495 - HOSE AS. | 8Q5589 - HOSE A |
| 8D3647 - HOSE A | 4P0613 - MUFFLER A | 7S0309 - HOSE A |
| 1764724 - HOSE AS | 3Z9068 - BUSHING | 8C3829 - RING-WEAR |
| 2T3848 - HOSE AS | 2617993 - MOTOR GP-WIP | 1945604 - SEAL KIT-STD (9X2400) |
| 9N3040 - HOSE A | 1W8845 - ELEMENT | 5K8245 - BOLT |
| 7Y1481 - GEAR COUPLIN | 1859936 - WHEEL | 2694283 - MOTOR GP-SWI |
| 2K1747 - BOLT | 5P0066 - SEAL | 2G8589 - SHAFT |
| 1366545 - SPIDER | 7W6702 - LINE AS | 2412562 - PIN-CLASSIC |
| 8J3376 - HOSE A | 9R2421 - SHAFT | 7L5199 - GASKET |
| 2N1963 - TUBE | 7Y4209 - BARREL | 8T0154 - CLAMP |
| 0964339 - BRG CYL ROLL | 4B9762 - SCREW | 3N4862 - PLATE |
| 2566021 - BAR A | 1A3284 - PIN | 8B9264 - COTTER PIN |
| 1C7877 - HOSE AS. | 3W8429 - PLATE | 1261974 - RING |
| 1054329 - TUBE | 0938792 - O-RING | 0958673 - SEAL |
| 8B2377 - CAPSCREW | 1447732 - SEAL KIT-STD | 1A0168 - CAP SCREW |
| 1180975 - HOSE AS | 3E7398 - LAMP A | 1283136 - HOOD AS 773D |