Caterpillar CB564D Compactor parts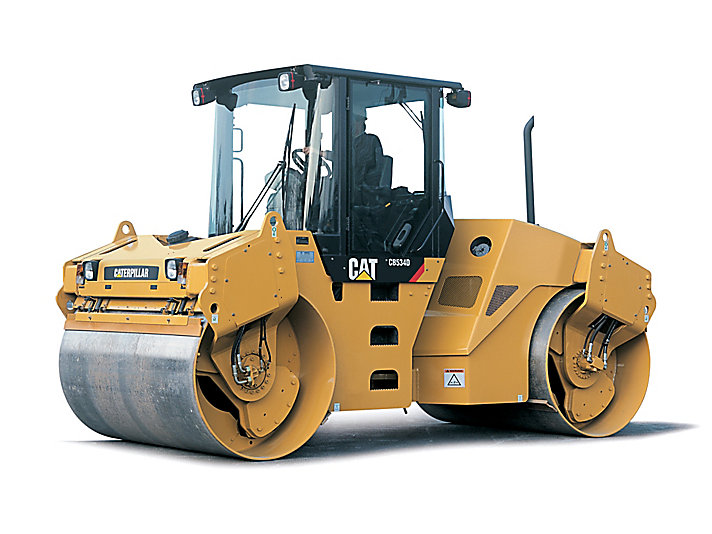 Here is some more information about Caterpillar CB564D Compactor:
ENGINE
Gross Power 97.0 kg/mm
Engine Model 3054C

WEIGHTS
Operating Weight 12600.0 kg

DIMENSIONS
Overall Length 4940.0 mm
Wheel Base 3640.0 mm
Height - Steering Wheel 2320.0 mm
Overall Width 2310.0 mm
Drum Diameter 1300.0 mm
Drum Width 2130.0 mm
Maximum Machine Height 3050.0 mm
If you send us your request, we will make you an offer for original and Aftermarket Caterpillar parts for your Caterpillar CB564D Compactor.
Caterpillar CB564D Compactor - it is a big machine. But even such machine sometimes needs maintenance.
Our online parts store give you an access to more than 1 000 000 Caterpillar parts that we have in our inventory.
Below is a small list of Caterpillar parts for this equipment. However, if you are interested in something - please use the site search.
| | | |
| --- | --- | --- |
| 3H4916 - REGULATOR | 6N3160 - REGULATOR | 0821924 - NUT |
| 9W2313 - EDGE CUTTING | 2W9779 - CLAMP | 0764020 - HOSE A |
| 4470828 - GASKET-K-C | 2P8616 - RACK | 4T6378 - CUTTING EDGE |
| 1P2428 - CARTRIDGE AS | 2135182 - GASKET KIT | 0847571 - SCREW BOLT |
| 1764776 - HOSE AS | 1674065 - GLASS | 1171232 - LINK A |
| 4H1566 - SPACER | 0915086 - HOSE A | 8C3463 - GASKET KIT |
| 9Y8591 - HOSE A | 0982845 - SPRING | 8X5339 - HOSE A (1169612) |
| 7Y0661 - SHAFT | 2041384 - HOSE AS. | 5I7960 - PUMP A |
| 2339134 - CYL GP-0165- | 5T8059 - WORM | 6Y1891 - HUB AS |
| 4D9985 - 7S1350 | 7S8791 - CORE A RAD | 8I0788 - MOTOR GP |
| 4866738 - SHAFT AS | 4F6107 - GASKET | 3V3036 - HOSE A |
| 6K0885 - SPIDER ASS'Y | 2977187 - GEAR-CLA | 1924309 - SEAL-O-RING |
| 3149959 - PISTON-STD | 7X7937 - SEAL KIT | 1139103 - HOSE AS |
| 2P3912 - DAMPER A | 2154722 - HOSE AS. (1876290) | 1039210 - GASKET KIT |
| 5A9448 - CAP | 2799872 - MOTOR GP-PLV | 2006962 - MOTOR GP-ELE |
| 2197974 - GASKET KIT | 6Y2594 - LINK LH (9W5940) | 2Y3324 - BEARING |
| 6I0281 - CAP | 8W3878 - HOSE A | 9P5536 - PLATE A |
| 2335716 - HOSE AS. | 8B5965 - BEARING-OUTER RACE | 0R3191 - PUMP GP |
| 6E3279 - SEAL | 9W3973 - SHOE | 4728037 - BRG-SLV-CL |
| 1377669 - CAP | 8S7499 - PIN | 2267985 - HOLDER AS-CL |
| 2243973 - GASKET KIT | 9D5307 - HOSE A | 3886577 - BRG-RLR-CLA |
| 4237723 - GASKET | 3634368 - SEGMENT GRP 963 | 8E6776 - LINK AS |
| 8T4223 - WASHER | 1674235 - CYL GRP | 0875648 - HOSE A |
| 1W4285 - GEAR | 6L3931 - HOSE | 4179478 - BRG-BALL-C |
| 7T4998 - DISC | 4W4901 - HOSE A | 4J8740 - HOSE A |
| 9W0662 - BOGIE A | 6Y8028 - SHAFT | 9C4014 - HOSE A |
| 8U2679 - HOSE A | 6Y2425 - CARRIER | 7Y4398 - HOSE A |
| 2887504 - HOSE AS. | 1T1285 - GEAR | 4J9058 - BOLT |
| 1018373 - CAP | 1068555 - STARTER - 24 VOLTS | 3402862 - 340-2861 |
| 2229826 - HOSE AS | 5T0308 - GEAR | 2U2638 - CLAMP HOSE 1 |
| 3B3355 - OIL SEAL | 2215839 - HOUSING GR 0 | 3R2776 - VEE BELT SET |
| 7J3301 - RING-WEAR | 3G0911 - SHIM | 2K5133 - NUT |
| 7X8855 - NUT | 0983361 - LOCK WASHER | 2G7184 - VALVE KIT |
| 2043735 - HOSE AS. | 7Y1430 - GEAR | 7S7156 - LINE A |
| 9P3076 - RING-SEAL | 1S2587 - LINER | 2L0041 - BOLT |
| 3H8125 - OIL SEAL | 2855342 - KIT-GASKET-F (1424926) | 2260226 - PILOT-CLASSI |
| 8X4605 - HOSE A | 1198752 - PUMP AS | 1174090 - GASKET |
| 6J1154 - HOSE A | 6V2520 - KIT GASKET | 2748567 - HEAD GASKET |
| 2036971 - HOSE AS. | 3833681 - WPMP-RBD-CLA | 3911086 - YOKE-CLA |
| 1U3351 - TIP | 2S6458 - GASKET | 158599 - HOSE A |
| 2807873 - PUMP GP-GR A | 0678437 - BALL JOINT | 1590961 - PIN |
| 8S2580 - GASKET KIT | 6D4045 - HOSE A | 4440575 - CAP-CLA |
| 1781688 - SHIM | 6T6653 - SWITCH A | 4174521 - BRG-SLV-CL |
| 5S6453 - COVER | 2399957 - SENSOR | 4907198 - VALVE-INTA |
| 1M5270 - PIPE | 0969569 - ROD | 1631437 - REGULATOR-TE |
| 3041870 - SPROCKET-TRA | 7N1046 - GASKET | 5023590 - GUARD-CLA |
| 1547025 - BEARING-ALIG | 1771058 - PLUG | 1374097 - MUFFLER |
| 6N3877 - HOSE A | 5T9797 - VALVE G | 9R4690 - HOSE A |
| 8D0163 - HOSE A | 1J8668 - STUD | 9B8714 - SKIRT A |
| 5U7329 - HOSE 1/2" BO | 0998308 - HOSE FLEX | 5311364 - SEAL O-RING |
| 2583018 - BOLT FLANGE | 3V0838 - SHAFT | 0961773 - SHIM |
| 9Y6849 - FILTER AS | 8E1806 - TUBE A | 4N0390 - ROD A |
| 6I3035 - LOCK (1560235) | 8M8501 - CAM A. | 6V9191 - BEARING |
| 9V9328 - HOSE A | 2375270 - Turbocharger S200AG047 174193 | 2339954 - BEARING |
| 2959886 - SEAL KIT | 6V5462 - GASKET KIT | 0826489 - BULB |
| 1077332 - BEARING | 0676836 - GASKET | 2U0937 - SEAL KIT |
| 4W5409 - CORE GRP | 6D7143 - HOSE A | 3T8581 - LINK AS.-TRA |
| 1173242 - HOSE A | 7Y1867 - PISTON | 2Y4442 - HOSE A |
| 1207375 - HOSE AS | 1099016 - EDGE-LH | 0816735 - FUSE |
| 7N1622 - SWITCH | 1900486 - HOSE AS | 1C6764 - CONEK |
| 8S5619 - HOSE A | 3662756 - ALTERNATOR G | 6D1599 - BLOCK |
| 2089935 - HOSE AS. | 2Q0559 - HOSE AS | 4196022 - BRG-RLR-CL |
| 3600994 - BOLT-HEX F | 2U5171 - SCREW | 3F1541 - GASKET |
| 9U3339 - HOSE A | 9D8037 - RING | 4W5729 - EXHAUST PIPE |
| 2384487 - SEAL KIT | 3P5728 - RING | 1T0987 - HUB |
| 1188106 - CYL A | 1134150 - HOSE A | 1425042 - MOTOR GP |
| 3790191 - BRG-SLV-CLA | 1627209 - RING-BACKUP | 6W9536 - HOSE A |
| 7Y1257 - RING | 9L9320 - PISTON | 8T4356 - CAP SCREW |
| 2380294 - RING-PISTON | 3757725 - KIT-DT GASKE | 4930375 - PISTON AS- |
| 2506563 - PISTON-CLA | 7W1944 - RETAINER | 4I9843 - SPROCKET RIM 311-312 |
| 1483111 - SPACER | 4F3646 - BOLT | 5N6093 - HOSE A |
| 1W4736 - GASKET | 4V8657 - PIN | 1991505 - HOSE A (1874526) |
| 9T8388 - ACCUMULATOR | 6D5815 - HOSE A | 3H9500 - LOCK |
| 8J3072 - CAP | 1337023 - PULLEY AS. | 8I0721 - MOTOR |
| 9G2419 - LINK | 3777400 - CONE-BRG-CLA | 0781866 - INTERNAL RET |
| 3388484 - BOLT-HEX HEA | 0365802 - BUSHING | 4W3864 - SEAL KIT |
| 1T1987 - HOUSING | 1222091 - BOLT | 7K8593 - WASHER |
| 4349762 - KIT GASKET | 9G9183 - SHAFT | 1912675 - GEAR-PLANET |
| 1920110 - GAGE-OIL LEV | 8T8972 - SEAL | 8Y2413 - HOSE AS |
| 4160609 - PUMP GP-WA | 7K2107 - HOSE A | 0963301 - GASKET |
| 4L9855 - BEARING KIT | 9D6115 - RING | 0067622 - SEAL |
| 1767566 - HOSE AS | 5I8537 - HOSE AS | 8W0267 - HOSE AS |
| 1075611 - YOKE A | 8G0181 - HOSE A | 2257629 - HOSE AS. (1074976) |
| 3780069 - 1290375 | 1021276 - HOSE A | 9X7538 - SEAL |
| 2295778 - HOSE AS | 7X7890 - BOLT | 4314300 - KIT GASKET |
| 9X5476 - CABLE | 1197042 - SHAFT | 3512791 - PIN-PISTON |
| 0021734 - AMMETER | 2S1382 - SPRING | 7N6866 - CORE A OIL C |
| 4165509 - SUPP-EXH-C | 9M8918 - PLATE | 5T5484 - HOSE A |
| 2G8735 - PIN | 2774167 - SEAL-KIT | 9C1072 - HOSE A |
| 7X4149 - CLAMP | 9S2291 - KIT | 1917753 - CYL GP-0114- |
| 2A1763 - GASKET | 2544340 - INJECTOR | 6V0229 - GASKET KIT |
| 6T7445 - GUIDE | 7B4310 - CLAMP | 108-1138 - CAP A |
| 1T1076 - PLATE A | 1857593 - DRIVE GP-FIN | 2T2773 - HOSE A |
| 6S8824 - SHOE | 4I9521 - BAND | 5I7796 - BEARING |
| 9J4259 - TIP | 9T5098 - FLEXPLATE | 4B5280 - WASHER |
| 7T5427 - CUP AS | 1241899 - COUPLING AS | 951613 - SEAL O RING |
| 7T4053 - SHAFT | 6W2455 - HOSE A | 0915231 - HOSE A |
| 951707 - SEAL O RING | 5T7145 - HOSE A | 1166702 - SHAFT |
| 1218508 - 087-5899 | 2462671 - SWITCH AS-CO | 1F2834 - BUSHING |
| 1630573 - HOSE AS | 1880750 - HOSE AS | 1450861 - BEARING |
| 3358198 - ROTATING GP- | 4Q0343 - HOSE AS XT5 | 0949299 - NUT (8) |
| 1052094 - CYLINDER AS | 1P8466 - BRACKET REAR | 4M9933 - GEAR |
| 7N3759 - RING | 1895601 - SEAL-O-RING | 1072139 - PIN |
| 2125336 - HOSE AS-XT6 | 4F7226 - CAPSCREW | 7D7419 - HOSE A |
| 7X2816 - SEAL KIT | 1P0929 - LEVER AS | 9L8925 - BOLT |
| 8U6235 - GROMMET | 8S4717 - BOLT | 3E7843 - CONTROL GP |
| 1172911 - COIL A | 4T6778 - SEAL RING | 0991397 - HOSE |
| 3998241 - KIT GASKET | 2262045 - HOSE AS. | 2768134 - BOLT |
| 1087388 - 108-7387 | 8D0399 - HOSE A | 7X0444 - BOLT |
| 9L1657 - STUD | 1J3527 - BOLT | 3T8728 - BREAKER-CIRC |
| 9X3973 - SEAL RING | 0R9490 - PUMP GP WTR | 7M8551 - SEAL |
| 8K3207 - HOSE A (8K1706) | 2886670 - SHOE TCK CLA | 1403048 - BOLT |
| 6E0770 - RING | 9U2434 - HOSE A | 1640770 - HOSE AS (1440640) |
| 7W5733 - GASKET | 4I9304 - HOSE | 8E4537F - END BIT D8 RH |
| 3982942 - PUMP-WTR-CLA | 2544421 - HOSE AS-AIR | 1226381 - PIN |
| 8T0363 - BOLT | 3G7657 - HYDRAULIC CARTRIDGE | 5S8812 - HOSE A |
| 4N5503 - ADAPTER | 7K4941 - LINING | 0874929 - HOSE AS |
| 951513 - SEAL-O | 0936234 - O-RING | 5I4387 - HOSE |
| 2993415 - PUMP GP-GR-B | 1441146 - GASKET KIT | 6T9438 - SEGMENT |
| 8D2517 - SPROCKET | 2129347 - LAMP AS | 3S7704 - GASKET |
| 0951574 - O-RING | 1525306 - CYL GP-0121- | 2941785 - BEARING |
| 2324560 - GASKET KIT | 5S8891 - HOSE A | 1572522 - COIL AS |
| 9X0872 - CONE BRG | 281370 - SEAL BRIGGS B1 | 2354964 - TURBO GP |
| 2253284 - SEAL-WIPER (1433671) | 1638423 - HOSE AS | 4583875 - KIT GASKET |
| 2974395 - VALVE | 7G1904 - COLLAR | 7L2181 - SEAL O RING |
| 8F4050 - BIT-END LH | 0782002 - O'RING | 3439343 - BRG-SLEEVE |
| 3047216 - KIT-GASKET-W | 2D9238 - NUT | 9J4459 - TIP |
| 6E6569 - ROTATING GP | 6Y8512 - PLATE | 1T1628 - SPIDER |
| 4J7441 - SEAL | 6V8613 - GASKET KIT | 1504385 - CONE |
| 1280957 - WASHER | 0784961 - HEXAGON CAP | 3P3205 - FLANGE |
| 529145 - GROUP-HYDRAULIC KIT | 9H2915 - SEAL | 4N3751 - PULLEY |
| 1261814 - ELEMENT | 1094318 - GASKET | 3B3966 - ROLLER A. |
| 10R7586 - MOTOR GP ELE | 2350843 - PUMP GP-PS-B | 1546405 - GASKET KIT |
| 0R6880 - Turbocharger S3BSL-119 178480 | 6W1586 - HOSE A | 8C4452 - GASKET KIT |
| 3H8509 - BUSHING | 3775852 - ADPT-MAN-CLA | 1437850 - HOSE AS |
| 3A3417 - BEARING A | 1005928 - YOKE | 0307936 - CONNECTOR |
| 2040884 - CORE AS-RADI | 4239425 - KIT GASKET | 3U3505 - HOSE AS |
| 7X0368 - BOLT | 1709182 - GASKET KIT | 4W7346 - RING |
| 6V4636 - BEARING | 1168046 - BEARING AS | 3794433 - GASKET |
| 1319494 - 131-9493 | 1396793 - HOSE A | 2P7445 - HOSE |
| 0958657 - O-RING | 5H9467 - SEAL | 8C6882 - GASKET KIT |
| 4E1035 - PIN | 5I7558 - GEAR | 2457851 - PLUG |
| 9M9760 - BEARING LH - IDLER - D7G | 1306225 - PUMP GP | 2965820 - SEAL-PIP |
| 3644130 - MOTOR GP-STG | 9Q3673 - ALTERNATOR | 2D1508 - ROTOR AS |
| 2W0994 - BODY AS | 4I0834 - 4I0833 | 9X0593 - WASHER |
| 9R2496 - SEAL | 2P1514 - SUPPORT A | 5F3999 - SEAL |
| 2P8353 - CONE | 1802417 - VALVE | 9Y3352 - CAMSHAFT AS |
| 9L0895 - BELT SET | 1U2876 - HOSE A | 5T3662 - HOSE A |
| 3U5077 - HOSE ASSY 1 | 1968076 - CORE AS-O/C | 6V3922 - SEAL O RING |
| 4V2252 - HOSE A | 4P3683 - PUMP AS | 2S1995 - GASKET |
| 2621908 - CYL GP-0076- | 2385105 - TURBOCHARGER | 0924986 - HOSE A |
| 6I8780 - SHOE | 2514880 - Turbocharger GTA4702BS 743001-3 | 2027874 - SHAFT AS.-FR |
| 1537023 - INTAKE VALVE | 7S4097 - ADAPTER | 5P2644 - GASKET KIT (1670615) |
| 5R6247 - HOSE A | 1874004 - HOSE AS (1566145) | 9R1047 - HOSE AS |
| 8L2753 - BALL BEARING | 4540291 - LUBRICANT | 2J7226 - CONE |
| 7P3455 - BEARING | 4D2847 - HOSE A | 6I3738 - HOSE AS |
| 1136200 - GASKET | 1982949 - SEAL (7Y4667) | 1515534 - HOSE AS |
| 2P2922 - GEAR | 8X1809 - PULLEY | 9P3801 - SHAFT |
| 4H6996 - PIN | 0R5020 - CRANKS KIT | 1912594 - DRIVE GP SWING |
| 1N4334 - BEARING | 6N4168 - MAIN BRG 0.025 | 6P0549 - GUARD |
| 4I1801 - HOSE A | 2666257 - COUPLING GP- | 3J4778 - ROLLER A |
| 2722165 - HOSE AS | 4499692 - KIT-GASKET | 1399179 - GASKET KIT |
| 5D4010 - RACK | 7C2102 - LINE AS | 2173882 - HOSE AS. |
| 8N0003 - GEAR | 9U1915 - SLEEVE A | 8I4027 - BEARING |
| 5A6898 - GUARD | 7I8180 - BARREL | 1939265 - SEAL KIT-STD |
| 9D2216 - HOSE | 6D6506 - HOSE A | 2780209 - VALVE GP-SOL |
| 3924643 - KIT GASKET | 0814058 - SCREW | 3157801 - GASKET KIT |
| 1002942 - GASKET KIT | 6C6719 - HOSE A (1021365) | 5L1906 - TUBE |
| 2533435 - GASKET KIT | 2979153 - ADJUSTMENT G | 2624916 - POST AS. |
| 6T9371 - ROLLER GP-SF | 3N7268 - HOSE A | 1021026 - HOSE A |
| 1487873 - PIN | 3731889 - LINE-FI-CLA | 4H9772 - PUSHROD |
| 6Y7964 - DISC | 6W9124 - HOSE A | 1747968 - EDGE-CUTTING |
| 3735388 - BALLJNT-CLA | 7D6282 - HOSE A | 4U6695 - HOSE ASSY 3/ |
| 10R2862 - Turbocharger GTA4088BS 752538-9009 | 2362228 - HOSE AS. | 8F7719 - SPIDER |
| 1457028 - SENSOR | 1900483 - HOSE AS (1694360) | 0315393 - SERVICE KIT |
| 6I9670T - TLA 40 LK - D6H/R SALT HD | 4D9889 - 7S0118 | 1720802 - CONT GP-E |
| 1859051 - RING-SEAL | 9W5430 - HOSE A | 0990681 - RING B/UP |
| 8W3109 - HOSE A | 0694707 - SEALANT | 3075095 - HOSE AS. |
| 8S4001 - CLAMP | 9Y1229 - MANIFOLD | 9X0391 - CABLE |
| 5183993 - BRG-ROD-CL | 2U2541 - LOCKNUT | 7L0520 - STUD |
| 1W3088 - CLAMP | 2259247 - HOSE AS. | 950924 - SNAP RING |
| 4P9383 - FUEL LINE | 8C5371 - GASKET KIT | 2K8530 - BEARING |
| 1129552 - GASKET | 3342737 - CYL GRP | 2903986 - KIT-GASKET-T |
| 1W0530 - BELT SET | 6V7434 - GASKET KIT | 8T5452 - SEAL O RING |
| 1V8241 - BEARING SLEEVE | 8E7636 - LINING GP | 5F0705 - PIN |
| 1077630 - RING-PISTON | 4T5407 - BIT-END RH | 5R4547 - CYLINDER G |
| 8Y6313 - LINING G | 7G2476 - GEAR | 6T8063 - SHOE |
| 1287633 - HOSE AS | 4M5469 - GASKET | 1156368 - SPRING |
| 0958529 - BOLT | 3H7162 - COLLAR | 1911042 - HOSE AS. |
| 7V9788 - HOSE A | 3522073 - PUMP AS-WATE | 1164178 - MUFFLER |
| 1564449 - CABLE | 8S6511 - BEARING-SLEEVE | 7V9308 - HOSE A |
| 8P9749 - ORIFICE | 8C0563 - SEAL | 2227796 - HOUSING |
| 2159977 - MOTOR GP-PSF | 0R6986 - Turbocharger BTG7506 451357-15 | 7S1394 - HOSE A |
| 6W1430 - HOSE A | 3833690 - LINE-FI-CLA | 6V3804 - KIT GASKET |
| 2P4191 - VEE BELT | 9N3483 - BELT SET | 5H8853 - SEAL-O-RING |
| 7T0573 - SPRING | 1T0804 - RING | 3H2652 - SEAL |
| 0995762 - HOSE FLEX | 8H1205 - PIPE | 6D6047 - 7D4983 |
| 2U7648 - HOSE AS | 5C3716 - GEAR | 1182985 - HOSE A |
| 1537518 - HOSE AS | 8J4258 - PIN | 5M5072 - PLATE |
| 2403170 - HOSE AS | 5J8175 - SEAL | 7N8515 - GAGE |
| 7T3107 - LEVER AS | 5P6410 - M-SEAL STK | 7N8834 - DRIVE G -FAN |
| 2534347 - VALVE AS-AIR | 2310229 - GEAR-CLASSIC | 3S0036 - PLUG |
| 4N3903 - PISTON A | 0R3391 - COMPRESSOR G | 8W4647 - ROLLER AS |
| 3054885 - GUIDE | 2225152 - REBUILD KIT | 8H5324 - GASKET |
| 1271530 - GASKET KIT | 1353155 - FILTER | 6G5127 - HOSE A |
| 3468376 - GASKET KIT | 9X0643 - BOLT | 1W8509 - BODY A |
| 5T4728 - HOSE A | 3E6430 - SWITCH GP | 6T0647 - MOTOR G-ELEC |
| 6Y4065 - HOSE A | 2M8888 - GEAR | 6A7467 - HOSE A |
| 0350520 - HOSE A | 1097554 - 109-7553 | 8J7750 - EDGE CUT |
| 0964882 - NUT SELFLOCK (5W1379) | 7B0206 - GASKET | 3P1848 - SEAL G |
| 3W8358 - SEAL | 3L0526 - BOLT | 2666764 - KIT-GASKET-F |
| 4E3443 - HOSE A | 5L9056 - BRUSH | 1G2131 - SHANK TOOTH UNIVERSAL |
| 5I8012 - INSERT-VALVE | 8N1722 - TUBE AS | 6J9482 - PIN |
| 1388174 - PLATE | 8T8442 - BOLT | 521144 - GROUP-HYDRAULIC KIT |
| 3A2116 - CAP ASSY. | 5U7775 - SEAL KIT | 2046598 - HOSE AS (7G1971) |
| 1Q2179 - HOSE AS XT3 | 3139074 - TUBE | 8T1158 - BOLT |
| 1211241 - METER KIT | 3165981 - WASHER | 0965609 - WIPER DUST |
| 8M7207 - GUARD A R H | 7M2360 - WASHER | 1163393 - SEAL-LIP TYP |
| 2220120 - PISTON | 9V0749 - HOSE A | 5D8809 - GASKET |
| 3G5689 - CYLINDER AS | 9V5996 - PIN | 8M8283 - SEAL O RING |
| 2175709 - HOSE AS. (1695403) | 8E3525 - HUB (7T3691) | 5V5288 - HOSE A |
| 2176316 - HOSE AS. | 2124651 - HOSE AS | 2342828 - HOSE AS. |
| 8W2944 - HOSE A | 0307014 - HOSE A | 2987386 - WASHER-FLAT |
| 9C2903 - TUBE A | 1741517 - HARNESS AS | 6U7709 - HOSE A |
| 7W3484 - Turbocharger TW9211 466612-0001 | 3091621 - TUBE | 2470144 - PUMP KIT |
| 2183255 - PUMP GP-F IN | 321269 - ELBOW | 1420227 - GASKET KIT |
| 6Y1361 - HOSE A | 2U9077 - HOSE AS. | 1087602 - HOSE A |
| 5T3689 - HOSE A | 2T1805 - HOSE A | 3P9240 - PUMP AS |
| 7N2459 - BRG-MAIN | 1647619 - SEAL-O-RNG | 9T2930 - JOINT A |
| 8S7601 - CHAMBER A | 2666669 - KIT-GASKET-C | 2919159 - GASKET KIT |
| 2173673 - SEAL-ISOLATI | 6E4361 - SHAFT | 1528346 - VALVE GP-SOL |
| 2929202 - GASKET KIT | 8N6862 - SEAL | 1004579 - EDGE (1078586) |
| 5T7972 - HOSE A | 0543067 - 5G0683 | 2107091 - CYL GRP 16' |
| 1227255 - HOSE AS-XT | 1772541 - PLATE AS | 10R0688 - DAMPER AS |
| 0951577 - O-RING | 2024304 - IDLER G TRAC | 4V7174 - CORNER LH |
| 1255356 - DISC | 3061798 - GASKET KIT | 0S1583 - CAP SCREW |
| 6I8804 - ADAPTER | 3V0730 - HOSE A | 2213372 - GASKET KIT |
| 1903835 - CORE AS. | 1635713 - SEAL-LIP | 1221611 - HOSE AS |
| 1448300 - PIN | 8R1465 - RIM AS | 8T4374 - BOLT |
| 8J1620 - BEARING | 10R1737 - MOTOR GP | 7W6335 - BEARING |
| 3B6753 - CAP SCREW | 2071511 - MOTOR GP-ELE | 2612044 - GUARD |
| 3S6544 - HOSE A | 1282754 - HOSE A | 5P2829 - OVERHAUL GASKET SET |
| 7N0573 - VALVE | 1068558 - MOTOR AS | 0R5513 - CORE A OIL C |
| 4K9930 - HOSE | 4V9285 - PINION | 1627405 - SCREW |
| 9M8513 - SEAL | 5K2007 - SHAFT | 909035 - TRACK ADJ KIT |
| 1397700 - CYLINDER AS- | 7W4590 - BEARING SET | 4D4028 - 7S1318 |
| 6Y5485 - New Rebuilt - TORQUE CONV | 2863062 - HOSE AS | 2355767 - PISTON AS |
| 3K9044 - PIN | 2U6570 - HOSE A | 4P1652 - GASKET |
| 1265064 - SHOE | 8J2338 - HOSE A | 1358219 - EDGE-SEGMENT |
| 3381037 - MOTOR GP-GR( | 6K7179 - COLLAR | 3E4876 - BUSHING |
| 9T3165 - BEARING | 7Y3586 - PIN | 5W4031 - RING RETAING |
| 167-2345 - SEAL U CUP | 0929428 - HOSE AS | 2585458 - HOSE AS |
| 1099212 - EDGE | 1561746 - HOSE AS | 0870330 - HOSE A |
| 246-2899 - RING-BACKUP | 5D6644 - SHIM | 2941794 - PIPE |
| 1A2540 - LOCK | 1U1625 - GEAR PUMP | 3383622 - GASKET KIT |
| 4D9876 - 5S9290 | 7W6162 - LINE A | 9V2498 - HOSE A |
| 8N1234 - RING-PISTON | 4D3767 - HOSE A | 3F3759 - SEAL |
| 2350923 - HOSE AS | 1068916 - BOLT | 3025999 - PUMP GP-PS |
| 2442073 - SEAL KIT | 3G7013 - BEARING | 1080706 - HOSE A |
| 8D2251 - HOSE A | 5P9147 - SEAL O RING | 0950805 - WASHER,PLAIN |
| 1N3463 - BELT SET | 3S0302 - RING | 4W8133 - Crankshaft SEAL GP |
| 8E3124 - RETAINER | 6L9719 - PLATE | 9H7415 - CAGE |
| 7V3715 - WASHER | 1427348 - GASKET KIT | 8W7819 - HOSE A |
| 2086387 - CM. HOSE | 4J9220 - RING | 9W8384 - HUB |
| 3627003 - BOLT-HEX | 6I7571 - HOSE A | 8X3189 - HOSE A |
| 1T0757 - CARRIER | 5M4086 - NOZZLE A. | 6V4753 - GASKET KIT |
| 4H6523 - SHAFT | 2794980 - PUMP GP-CLA | 1V2154 - HOSE A |
| 1077473 - MUFFLER | 2K5253 - BEARING | 1H8035 - CAPSCREW |
| 1070345 - HOSE A | 1119319 - HYD TANK IT/918UP | 3180365 - CRANKSHAFT G |
| 2C8131 - GLASS | 3E7298 - SWITCH | 6I8849 - CONE |
| 6W7195 - HOSE A | 5E9833 - BOLT | 2927306 - HOSE AS. |
| 1220217 - ROLLER GP | 1032858 - RING SET, PI | 7M7426 - LINE ASSY |
| 0358156 - SPRING | 1485382 - ACTUATOR | 3206825 - GASKET KIT |
| 0774768 - BALL, LOCK | 7N0449 - NOZZLE | 9C2815 - CUSHION A |
| 5P6690 - GASKET | 1W4097 - HOUSING | 1737902 - HOSE AS. |
| 1958483 - BOLT | 2095582 - SWITCH AS-MA | 1454846 - HOSE AS |
| 7X0449 - NUT | 6T4804 - HOSE A | 9N6474 - HOSE |
| 7E0029 - ISOLATOR | 6V5408 - GASKET KIT | 8V5173 - VALVE G |
| 1434254 - HOSE AS | 1656592 - HOSE AS | 3275354 - HARNESS AS-P |
| 5T4578 - HOSE A | 4I7803 - HOSE AS | 5S7699 - HOSE A |
| 3Y9754 - HOSE AS | 3G8282 - END BIT | 1H8720 - SEAL-O-RING |
| 5S4862 - HOLDER | 2F7648 - BEARING | 0994643 - BOLT |
| 6C7052 - HOSE A | 7X3188 - BOLT | 3K5402 - BALL STUD |
| 2894951 - LINK RH CLA (7T4043) | 1672303 - SEAL-U-CUP | 1124815 - CYL AS |
| 6F4438 - BOLT | 7K8877 - CONE | 9N1756 - SEAL |
| 5P6876 - MIRROR | 1156930 - HOSE AS | 0931353 - O-RING |
| 1875611 - HOSE AS | 1630930 - SKIRT-PISTON | 1230790 - PULLEY |
| 1555232 - INDICATOR A | 9W2012 - HOSE A | 6Y0312 - EDGE-CUTTING |
| 5S5509 - HOSE A | 8P5323 - SHAFT | 2322672 - GASKET KIT |
| 2543435 - HOSE AS. | 909006 - KIT | 2408245 - HOSE AS. |
| 2S1755 - GASKET | 1927216 - HOSE AS. | 7S0104 - HOSE A |
| 6Y2811 - BEARING | 0643843 - SNAP RING | 3K8566 - HOSE A |
| 1258808 - JOINT G-UNIV | 5P9824 - GASKET KIT | 9N0307 - SEAL |
| 5I4138 - HOSE AS | 0924418 - HOSE A | 5D9507 - HOSE A |
| 0775093 - O-RING | 3V5562 - HOSE A | 1786552 - MANIFOLD |
| 1363686 - GSK KIT | 1B8715 - KEY | 1764887 - CYLINDER |
| 8T4841 - GASKET KIT | 2S6917 - O RING | 118445 - HOSE A |
| 9T9227 - SCREEN A | 0994380 - SWING MOTOR | 8Y1622 - STRIP |
| 4I7664 - SEAL KIT | 3356218 - HEAD GP-CYL | 1953643 - HOSE AS. |
| 4373863 - ARM AS-V R (10R1365) | 8R0889 - HOSE A | 8I0181 - BAR NOSE |