Caterpillar CB66B Compactor parts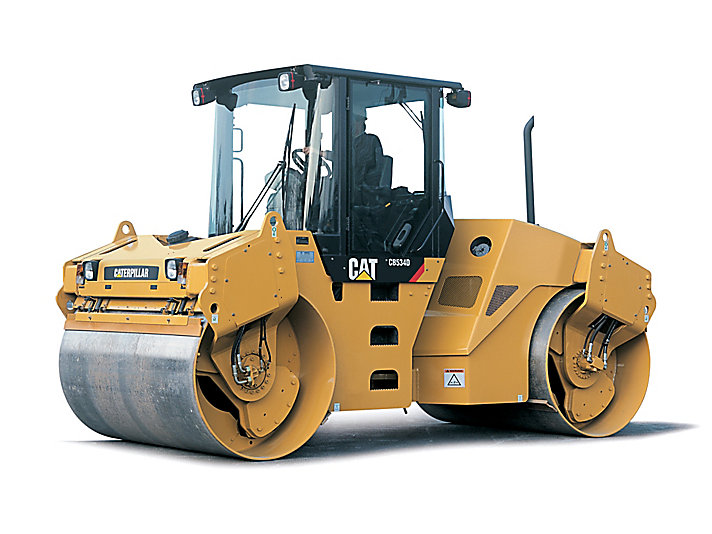 Here is some more information about Caterpillar CB66B Compactor:
ENGINE
Gross Power 106.0 kW
Engine Model Cat C4.4

WEIGHTS
Maximum Operating Weight 14780.0 kg
Standard - Operating Weight 13180.0 kg
Static Linear Load 30.5 kg/cm

DIMENSIONS
Overall Length 4742.0 mm
Wheel Base 3450.0 mm
Height - With ROPS/FOPS 3068.0 mm
Overall Width 2325.0 mm
Drum Width 2130.0 mm
If you send us your request, we will make you an offer for original and Aftermarket Caterpillar parts for your Caterpillar CB66B Compactor.
Caterpillar CB66B Compactor - it is a big machine. But even such machine sometimes needs maintenance.
Our online parts store give you an access to more than 1 000 000 Caterpillar parts that we have in our inventory.
Below is a small list of Caterpillar parts for this equipment. However, if you are interested in something - please use the site search.
| | | |
| --- | --- | --- |
| 1087629 - HOSE AS. | 1654026 - SWITCH AS | 2192991 - HOSE AS. |
| 1J8162 - SEAL | 1V2281 - CARRIER | 6W9668 - HOSE A |
| 1457038 - HOSE AS | 0920136 - HOSE A | 7B7935 - RIVET |
| 4I1036 - 4I1034 | 8X6489 - HOSE A | 4664938 - SEALTIP |
| 8S3653 - BONNET | 2066297 - HOSE AS. | 1425096 - GASKET KIT |
| 8Y7970 - HOSE A | 5P3929 - COUPLING | 6N4931 - GASKET |
| 8W4599 - HOSE A | 3K8071 - HOSE A | 3535691 - CYLINDER GP |
| 6C3209 - BOLT | 1411644 - GASKET KIT | 1082787 - LOCKWASHER |
| 7E9898 - CONNECTOR AS | 2812900 - PLATE | 3790117 - KIT-SEAL-H.C |
| 1W3185 - SENDER | 8T6746 - RING-WEAR | 6V2351 - KIT GASKET |
| 1020741 - LINK A | 1985647 - SEAL-O-RING | 4V7991 - HOSE A |
| 9Y4456 - FILTER AS | 0R7828 - PUMP GP GEAR | 1N3414 - GASKET |
| 4T5114 - CYLINDER A | 1377854 - ROD AS | 6V5996 - KIT GASKET |
| 1723679 - SEAL KIT | 5J6424 - BEARING | 1766219 - SOLENOID |
| 1873615 - GASKIT KIT (1030081) | 5Y0742 - IDLER G (1111730) | 3288333 - HOSE AS. |
| 3105823 - SHOE TRACK (1534874) | 0R1500 - CART A REMF | 6V5957 - GASKET KIT |
| 1T1010 - TORQUE CONVERTER | 3440291 - HOSE AS | 0876650 - 087-6650 |
| 4M2250 - GASKET | 3E8582 - COIL A | 3108318 - HOSE AS |
| 2888724 - GEAR-CLA | 1W4438 - PULLEY-CRANK | 6I0843 - BOLT |
| 2P2651 - FUEL LINE | 3S0127 - BOLT | 2317798 - V10-3 CARTRI |
| 6V0235 - GASKET KIT | 7N2665 - HOSE | 1P7254 - GASKET KIT |
| 2175771 - SHAFT | 1471942 - PUMP GP FUEL | 4D6298 - NUT |
| 4663816 - KITGASKET | 0310250 - LOCKNUT | 8F9960 - SEAL |
| 2179148 - HOSE AS | 7D3467 - HOSE A | 1124236 - CYLINDER G |
| 8M7173 - PAWL | 2508085 - VALVE GP | 2Y4517 - CRANKSHAFT A |
| 4M8971 - GASKET | 2T2135 - HOSE A | 0453570 - BALL |
| 7J0570 - CARTRIDGE G. (35 GPM) | 0968288 - O RING | 9V3960 - PIN A |
| 5D2187 - OIL SEAL | 6T4961 - HOSE A | 5G6702 - HOSE A |
| 5U4043 - HOSE AS | 1007558 - NOZZLE | 1899266 - SENSOR GP-SP (1600028) |
| 2235945 - SEAL KIT | 2016903 - MOTOR GP | 4I6237 - 4I6236 |
| 4K1596 - PLUG | 4S9398 - BEARING | 6G1299 - HOSE A |
| 5S5912 - RETAINER | 2133294 - GAUGE | 0990024 - BOLT |
| 2054858 - HOSE AS. | 8T0296 - BOLT | 1210545 - SEAL-SHAFT |
| 3853573 - BRACKET | 0R6959 - Turbocharger S4DS025 198123 | 2V0157 - HOSE A |
| 2198809 - KIT-BRAKE CY | 1259215 - PIN | 7E8825 - HOSE AS |
| 2357769 - BEARING-SLEE | 5D4535 - PIN | 2024039 - HOSE AS |
| 6I0650 - BOLT | 1786557 - HOSE | 7W8903 - GASKET |
| 1017779 - HOSE A | 8Y0893 - HOSE A | 5T9125 - HOSE A |
| 8T0292 - BOLT | 8J9739 - HOSE A | 1N3762 - PLUG |
| 1589060 - CYL GP-0140 | 7G5618 - MANIFOLD | 4W4810 - FILTER A |
| 5K1843 - ANGLE A | 3G1716 - GASKET | 2030265 - SEAL-O-RING |
| 9D2348 - HOSE A | 1D5698 - BOLT 7/8 X 2 1/4 | 1178924 - HOSE A |
| 9C6369 - STRIP | 2999134 - MOTOR GP-GEA | 3812713 - KIT GASKET |
| 2043226 - DISC-OUTER | 9J7110 - ROD A | 4499123 - KIT-GASKET |
| 8R0953 - HOSE A | 4532845 - BOLT-HEX H | 8C0583 - GASKET KIT |
| 6Q3942 - HOSE A | 0520512 - RETAINER | 8W3015 - HOSE A |
| 5P9818 - GASKET KIT | 1309215 - GASKET | 1210187 - GASKET KIT |
| 6I9454 - SHOE | 2341877 - GASKET KIT | 3W6600 - HOSE A |
| 4V7307 - CYLINDER A | 8T1418 - SEAL KIT-STD | 0778325 - O-RING |
| 1412914 - CYLINDER G | 3210990 - INJECTOR GP- | 8M2771 - CLIP |
| 3601794 - HOSE AS. | 2755462 - EDGE SEGMENT | 6J6703 - PIN |
| 0997982 - SPACER | 1W7964 - GASKET | 1480885 - STATOR |
| 6Y9908 - HOSE A | 1437232 - HOSE AS | 7T3024 - HOSE A |
| 9X7550 - SEAL | 5M6604 - GASKET | 0785408 - O'RING |
| 6I0724 - ADAPTER | 1169333 - HOSE AS | 0R9756 - AIR COMPRESS |
| 5M7335 - BEARING | 1608510 - BOLT | 4N7978 - SHAFT |
| 2426776 - MOTOR GP-PSF | 4U4258 - HOSE ASSEM 3 | 4W2567 - ADAPTER |
| 1115051 - WRENCH INJCT | 8V6433 - BOLT | 1P5981 - ADAPTER |
| 2Y4790 - HOSE A | 2024993 - HOSE AS (1582408) | 1249849 - SEAL |
| 1J7622 - CAP | 1672461 - SEAL-WIPER (1672462) | 1807752 - PIN |
| 2236609 - HOSE AS | 2977651 - GASKET | 2M6615 - FUEL LINE |
| 4E9277 - HOSE AS. | 2042677 - PLATE-VALVE | 1259134 - BEARING |
| 1944599 - HOSE AS. | 2261892 - MOTOR GP-COM | 2951411 - INJECTOR GP |
| 1342595 - BOOM | 3K1434 - RING | 9235095 - END BIT-8230/40 |
| 3G2194 - CARTRIDGE A | 1Q5101 - HOSE A | 8W9802 - HOSE A |
| 3V4330 - HOSE A | 2167015 - HOSE AS. | 5N8378 - NUT |
| 6E1907 - BODY | 4D8151 - 5S9334 | 0R3192 - PUMP GP |
| 4K6735 - COVER AS | 9G6079 - ALTERNATOR | 4N8816 - SPACER |
| 2835204 - MANIFOLD-CLA | 8X3015 - HOSE A | 0349571 - HOSE A |
| 3257393 - HANDRAIL GP | 5P4921 - RACE | 7J8199 - PUMP AS |
| 1187214 - SEAL | 8E9379 - END BIT | 2110804 - PUMP AS-FUEL |
| 3V8487 - TUBE AS | 3845930 - RACE-OTR-CLA | 5J2604 - SHAFT |
| 3B1143 - LOCK | 2Y1777 - SHAFT | 1028353 - MTR G |
| 3349968 - MOTOR GP-PSF | 9Y4982 - INJECTOR G | 1240939 - HOSE AS. |
| 7V4304 - TUBE A | 0821639 - O RING | 8C5050 - GASKET KIT |
| 1927431 - HOSE AS. | 2107273 - CAP | 2256719 - HOSE AS. |
| 3F5792 - SEAL | 1079570 - SEAL-O-RING | 1709192 - GASKET KIT |
| 5H8985 - PIN | 2663719 - PUMP GP-F IN | 0930226 - BOLT 90L |
| 1G5044 - HOSE A | 9U3636 - HOSE A | 2W7290 - TUBE AS |
| 2R0620 - SCREW TAP | 3469825 - ALTERNATOR G | 1331247 - SEAL |
| 2W3294 - PLUNGER | 7K2824 - HOSE A | 1F2644 - BUSHING |
| 8S5344 - BUSHING | 8M4435 - SEAL O RING | 3359214 - CLAMP-BAND |
| 2992036 - PIN-CLASSIC | 1793044 - CYLINDER | 6V5938 - GASKET KIT |
| 6V2734 - CONE | 4V2120 - PIN | 3148520 - GASKET-CLA |
| 6V1322 - BOLT | 1649921 - CUP AS | 1749795 - SEAL-FACE |
| 7C6591 - CLAMP | 9X8151 - CONTROL G | 0774314 - WASHER |
| 7N7748 - TURBO G | 2406899 - SEAL KIT | 2114839 - GASKET KIT (1558697) |
| 1543660 - PIN TRACK | 1903445 - MOTOR GP-RH | 2780533 - MOTOR |
| 0949327 - WASHER,PLAIN | 6B4343 - RIVET | 4372001 - GASKET-K-C |
| 9W2563 - HOSE A | 0998232 - O RING | 1138751 - TIE |
| 998111 - SPRING PIN | 9S6820 - HOSE A | 3G1551 - HOSE A |
| 4S5001 - SEAL G. | 1L4774 - IMPELLER A | 2M0533 - BEARING |
| 3807381 - BRG-SLV-CLA | 1454557 - HOSE AS. | 8N1504 - TUBE AS |
| 0334801 - SCREW | 0785398 - O'RING | 8J6245 - RING |
| 5T9838 - HOSE A | 8S4468 - SHOE | 2436637 - PUMP GP |
| 5P8970 - GASKET KIT | 7S0941 - HOSE A | 1739779 - BOLT-HEX |
| 8F9206 - SEAL | 1914457 - GASKET | 3127758 - KIT-GASKET |
| 2578470 - PUMP | 3335930 - MOTOR KT STG | 4L0734 - ROLLER A |
| 1838230 - CRANKCASE AS | 5S5590 - 4V6561 | 3I1201 - ELEMENT |
| 8T1908 - SEAL KIT-STD | 3014624 - SHAFT-CLASSI | 1484641 - SEAL-LIP TYP |
| 9N4331 - PLATE (9G7462) | 3148543 - SFT-PUMP-CLA | 8T4894 - O RING |
| 9J2350 - PIN | 7X0584 - WASHER | 7S0223 - HOSE A |
| 6B9277 - GASKET | 5W4089 - REPR KIT SEA | 9D5914 - HOSE A |
| 5W3669 - LOCKWASHER | 1233420 - RIM AS (8W8337) | 8S0387 - TRACK SHOE |
| 2974862 - WHEEL-CLASSI | 8C3662 - SOLENOID A | 1259487 - HOSE AS |
| 947583 - CLAMP ASSY. | 8T1401 - SEAL KIT-STD | 2266092 - GEAR-CLASSIC |
| 5U2352 - HOSE ASSEM 1 | 8E0886 - LINK MAST | 1166791 - GASKET KIT |
| 8U2630 - SEAL O RING | 7N1192 - BRG-MAIN | 1856805 - HOSE AS. (1194933) |
| 1P0558 - SLEEVE | 8L4296 - SEAL KIT | 6D4252 - HOSE A |
| 24H1598 - WASHER | 3843849 - CARR-RNG-CLA | 0992336 - COTTER PIN |
| 5P6270 - SEAL RING | 5D2548 - HOSE A | 8W4325 - HOSE A |
| 2397943 - SEAL AS. | 6V5477 - GASKET KIT | 7T2211 - LINK |
| 2175178 - PUMP GP-GR A | 8T5001 - BOLT | 1889147 - HOSE AS. |
| 3769016 - KIT-SEAL-H.C | 8T7246 - RING | 0860148 - BEARING |
| 1430541 - MOTOR AS | 5D7465 - SEAL | 2256720 - HOSE AS. |
| 2A4448 - GASKET | 0812598 - SCREW | 931519 - RING,B |
| 5J6421 - BEARING | 2H2255 - DOWEL | 6N7212 - MUFFLER A |
| 1S4398 - BOLT | 6Y3595 - LINK AS.-TRA | 2T1048 - HOSE A |
| 3K9616 - BEARING | 7D5278 - HOSE A | 0780667 - ELEMENT AS |
| 2267993 - DRUM-CLASSIC | 6A6095 - HOSE A | 2268572 - HOSE AS |
| 1720991 - HOSE AS. | 6F6151 - CM. TUBE | 1381413 - HOSE AS |
| 7M7875 - WASHER | 3P1104T - THRUST RING | 6K2718 - PLUNGER |
| 1416188 - SEAL | 1559125 - BEARING | 2U4683 - BULB 24V 3W( |
| 2796528 - VALVE GP-SOL (1492610) | 1083427 - HOSE AS | 1981944 - HOSE AS. (1059487) |
| 8R7896 - HOSE A | 7T4966 - CAP | 7Y1781 - COVER AS |
| 9Y2150 - TUBE AS | 5K6155 - SEAL | 9U8806 - TIP WHEEL |
| 8W4863 - HOSE A | 9J0298 - HOSE A | 9W1875F - END BIT D6 RH |
| 4229526 - BRG-SLV-CL | 5A8374 - ROLLER G | 1429519 - MOTOR GP-TRA |
| 8W0156 - HOSE A | 6L5304 - GASKET | 2G8614 - PIN |
| 9D5378 - HOSE A | 5S7379 - BOLT | 2651401 - CROWN-PISTON |
| 9S1618 - GUIDE A | 1Z9960 - SHOE-TRACK | 1331290 - FILTER GRP |
| 2W6283 - PULLEY | 9G1697 - PAD | 9R7696 - PIN |
| 5K1770 - SEAL O RING | 5U7604 - HOSE ASSEM 1 | 1185982 - SPACER |
| 7C6357 - SHAFT | 3466687 - ELEMENT PRI | 3771446 - KIT-GASKET-S |
| 1J2176 - SEAL-O-RING | 8T4183 - BOLT | 6U6549 - HOSE A |
| 1496031 - BEARING-MAIN | 1852154 - MOTOR GP | 5B3253 - GEAR |
| 8T7880 - GASKET KIT | 1596528 - NUT | 2G7464 - INSERT |
| 6Y4411F - END BIT D6 RH | 4J9289 - SEAL KIT | 9J3628 - ROD A |
| 5T3820 - HOSE A | 1078107 - MANIFOLD | 1183616 - HOSE AS |
| 6K2430 - SEAL | 5P9439 - BEARING | 7Y3991 - MOTOR AS |
| 1346261 - BEARING | 3T8409 - LINK | 6V2942 - KIT GASKET |
| 2991994 - CORE AS-CLAS | 5P6379 - ROLLER | 8T7175 - SEAL |
| 3550765 - GASKET KIT | 1085127 - HOSE A | 2037685 - INJECTOR GP- |
| 6E2192 - PISTON | 0960211 - GUIDE | 9S1927 - LINK |
| 9S6586 - GEAR | 1090072 - SEAL O RING | 2366730 - 5I4359 |
| 4Y4340 - PIN AS | 2459791 - HEAD | 6B0132 - BEARING-INNER RACE |
| 8N4364 - CORE AS | 4600735 - KIT GASKET | 5W4868 - SEAL-O-RING |
| 9T1340 - SHAFT | 2892875 - BODY | 3148721 - SPIDER-CLA |
| 1007563 - NOZZLE | 4728012 - SEAL-LIP-C | 1285091 - SWITCH |
| 1332504 - GUARD A | 1508459 - GASKET KIT | 2788764 - KIT-GASKET-F |
| 3369318 - DISC FRICTIO | 5K1814 - SEAL | 961778 - SHIM |
| 0776302 - RING, SNAP | 8W3771 - HOSE A | 1127367 - HOSE AS |
| 7C6436 - PUMP AS | 1G8451 - PISTON | 2G1272 - HOSE A |
| 8E8789 - BAR AS | 2666397 - DRIVE GP-FIN | 10R6684 - PUMP GP HYD |
| 4S6524 - GAGE | 4N9971 - FUEL LINE | 0785023 - HEXAGON CAP |
| 3K3764 - BEARING | 2750106 - HOSE AS. | 2W9128 - ROD AS-CONN |
| 1403116 - GASKET KIT | 4W9480 - ROD A | 1080803 - SHAFT |
| 3294953 - CYLINDER | 2775067 - SLEEVE | 0949240 - BOLT |
| 4P3977 - GASKET | 8H2434 - DRUM | 5116224 - OIL SEAL |
| 1569627 - HOSE AS | 1664922 - HOSE AS. | 6V1973 - GASKET KIT |
| 6L6208 - SPRING | 2047950 - SENSOR GP- | 9P3467 - SHAFT |
| 3H6842 - BEARING | 5S5558 - HOSE A | 4W4609 - BACKPLATE A |
| 4J3632 - CUTTING EDGE - D6H | 5I7626 - NUT | 5S8097 - LOCK |
| 4651655 - GLASS | 4189603 - RACE-OTR-C | 2978990 - HOSE AS. |
| 1W8616 - WASHER | 4N5079 - HEAD A CYL | 2372561 - HOSE AS. |
| 2T1955 - PLATE | 5W1277 - BOLT | 2473364 - LINE AS-CLA |
| 8T8206 - PIN-SPRING | 6I2559 - CLEANER G | 1086940 - HOSE A |
| 3G5502 - CYLINDER A | 3V3549 - WASHER | 8T4853 - GASKET KIT |
| 2W2928 - TUBE AS | 7G4332 - STOPPER | 7X3171 - GASKET KIT |
| 2362910 - HOSE AS. | 0929393 - HOSE AS | 2L1204 - TUBE-OIL LIN |
| 7S2261 - HOSE A. | 4I7466 - GEAR | 7R4543 - NUT |
| 2S1488 - SHAFT | 3585856 - 3604294 | 1856953 - MOTOR GP-PIS |
| 1409262 - HOSE A | 2G8075 - PIN | 7W9414 - BEARING-MAIN |
| 1025916 - HOSE A | 4154993 - KIT GASKET (3604172) | 3193857 - GASKET KIT |
| 2780219 - CIRCLIP | 7W3671 - LINE A | 2164781 - GASKET KIT |
| 1933116 - SEAL KIT-STD (1570284) | 8T0341 - BOLT | 5P8329 - GASKET KIT |
| 1999267 - SEAL-O-RING | 8D4291 - PISTON | 4I9870 - GASKET |
| 3133829 - SEAL KIT | 2T2595 - HOSE A | 9J5546 - CYL A |
| 1W3853 - GASKET | 7T3456 - DISC | 2151782 - HOUSING-LGCY |
| 9D7439 - HOSE A | 3305053 - MOTOR GP-WIP | 1P0567 - PLATE |
| 7N0628 - GASKET G | 8U3357 - HOSE A | 1931688 - PAD |
| 0315923 - HOSE A | 9D6487 - HOSE AS | 1960224 - GEAR |
| 3V1066 - HOSE A | 1306763 - PISTON | 3889354 - BODY AS-PI (10R6007) |
| 9V1809 - HOSE A | 3U5956 - HOSE AS | 6Y1174 - GASKET KIT |
| 7W2241 - HEAD A | 9J5551 - RING-EXPANDE | 1243533 - DOWEL |
| 1085204 - HOSE A | 4W7382 - OIL COOLER | 0R7010 - Turbocharger S2ESL-105 125-1124 |
| 8J6208 - PIN | 5T5652 - HOSE A | 9U1454 - TUBE A |
| 4P4010 - MUFFLER | 3487651 - MOTOR GP-ELE | 2P3747 - DISC A |
| 1928745 - LIFTER AS | 7I1105 - HOSE A | 3P1112 - LINK |
| 1999929 - BEARING | 2K7485 - PIN | 6Y9037 - HOSE AS |
| 3079863 - GUARD | 1H3024 - PISTON | 0307942 - ELBOW |
| 2443616 - HOSE AS. | 3J4278 - SPACER | 1957192 - EDGE |
| 1M9971 - SPACER | 2435808 - SEAL KIT | 6W7641 - HOSE AS |
| 6V9219 - GASKET KIT | 1967648 - ELEMENT | 7D1646 - HOSE A |
| 9T0106 - CYLINDER G | 3V5910 - HOSE A | 3086843 - SOLENOID AS |
| 2S7579 - LINK A | 7W2522 - EXHAUST VALVE | 8E1913 - GEAR A |
| 3686259 - HOSE AS. | 8T7310 - RING | 1128692 - BEARING |
| 2P8907 - SPIDER A | 9G8587 - LINK A | 1991814 - HOSE AS |
| 3P2792 - SEAL RING | 10R7399 - PUMP GP HYD | 2363257 - PIPE |
| 2369250 - HOSE AS. | 2100053 - PUMP GP-GR A | 1691129 - GEAR PUMP AS |
| 1B3993 - CONE | 4239427 - KIT GASKET | 1220703 - HOSE A |
| 1758368 - 22" MASTER G | 1415150 - PAD | 8T3375 - GASKET KIT |
| 1P7045 - GASKET | 5R8402 - HOSE AS | 4W0291 - PLUNGER |
| 3T5356 - CAGE | 4540484 - BOLT-SOCKE | 10R9156 - BAR GP EQUAL |
| 3T8013 - HOSE A | 1991828 - HOSE AS | 4397M10 - MAIN BEARING SE |
| 1C7826 - ADAPTER | 9D5962 - HOSE A | 5I3095 - 5I3094 |
| 9X6402 - GASKET KIT | 8J8176 - EDGE CUTTING | 1572318 - RING |
| 7K5213 - PIN | 7T4135 - BEARING | 1270853 - HOSE AS |
| 6T1065 - HOSE A (4V9199) | 4E6977 - HOSE A | 3644132 - MOTOR GP-STG |
| 4690176 - KITGASKET | 3T7912 - TUBE AS | 1304317 - HOSE A |
| 3263882 - RADIATOR | 1099123 - EDGE-CUTTING | 2U2414 - BOLT P60 |
| 1W7123 - FUEL LINE | 8N6004-L - COMPLETE CYLINDER HEAD | 1386529 - SHROUD-HEEL |
| 7S1287 - HOSE A | 7Y1941 - HOSE | 6U0077 - HOSE ASSY 3/ |
| 969577 - SPRING | 8W3244 - HOSE A | 8Y2536 - HOSE AS. |
| 8W6641 - HOSE A | 1553652 - CYL GP-0165- | 8X7141 - HOSE A |
| 7K9331 - PIN | 4W2637 - CONTACTOR | 2Q0199 - HOSE A |
| 9S8973 - RING G | 3E7484 - KIT GASKET | 9R5238 - SPACER |
| 9T7577 - BODY AS | 1319801 - HOSE AS | 4I5627 - HOSE A |
| 1315291 - GASKET KIT | 4P9259 - CLAMP | 6D5209 - HOSE A |
| 7N1962 - HEAD ASSY-CYL (D342) | 1238115 - HOSE A | 7B6368 - BALL |
| 8E3465 - ADAPTER | 6V1027 - GASKET KIT | 7Y5226 - NUT |
| 1235259 - MOTOR GP | 9X1336 - CABLE | 5B9407 - HOSE |
| 9U8042 - HOSE AS | 4T5255 - CAP | 2253146 - ALTERNATOR G |
| 2422955 - MOTOR GP-GR( | 4S7694 - GASKET KIT | 0R1218 - CRANKSHAFT A |
| 8W4553 - HOSE A | 2H0191 - SCREW (1143006) | 6J0931 - BEARING |
| 2895284 - HOSE AS. | 1418849 - GASKET KIT | 2048315 - HOSE AS |
| 0950709 - BOLT,HEXSOCK | 9T2470 - CYLINDER A | 4640896 - KIT GASKET |
| 2941841 - GASKET | 2Q0872 - HOSE A. | 1440745 - COMPRESSOR G (4W6425) |
| 1772912 - HOSE A | 6D3794 - HOSE A | 1038236 - RING |
| 2435801 - SEAL KIT | 4I0854 - HOSE A | 1188288 - CYL GP |
| 1087272 - 108-7270 | 3289179 - COUPLING AS- (1160442) | 8X8186 - GEAR SUN |
| 2V4726 - HOSE A | 1075769 - SEAL O RING | 1557524 - HOSE AS |
| 1471900 - GASKET KIT | 1W1115 - ELBOW | 3509624 - KIT-GASKET(S |
| 8T9391 - BOLT | 9J8184 - PUMP AS | 8E5284 - BEARING |
| 2Y4213 - PULLEY | 3152631 - L.E.D. FLOOD BU | 9T1710 - POPPET |
| 9S4183 - PLUG | 1133632 - ADAPTER | 3S3978 - SEAL |
| 6R5552 - MOTOR GP-ELE | 2838144 - LAMP GP-FLOO | 4505710 - KIT-GASKET |
| 7T2794 - STATOR | 1663365 - V-BELT SET | 2766168 - SEALING WASH |
| 6C0739 - CARRIER | 0858822 - LINER | 1239705 - SPRING AS |
| 2151670 - GEAR-LGCY | 0315725 - HOSE A | 1915648 - SEAL-LIP TYP |
| 3A2286 - KIT-HARDWARE | 2H3854 - BOLT | 1562541 - BOLT |
| 4K4986 - SEAL O RING | 8V4980 - HOSE A | 1A5660 - NUT |
| 9T2200 - HYDRAULIC CARTRIDGE | 3449510 - HOSE | 1S3584 - NUT |
| 8E1340 - BAR A | 1726712 - IMPELLER | 0551625 - HOSE A |
| 1410345 - GASKET KIT | 9F7585 - RACE | 7X8155 - HOSE |
| 2559079 - HOSE AS | 5G6608 - HOSE A | 4D2560 - UNION |
| 6N1558 - RING-SEAL | 7S0447 - HOSE A | 5Y0353 - INDICATOR |
| 2961353 - GEAR-CLASSIC | 7W4487 - WASHER | 4L8481 - CLAMP |
| 7S0491 - HOSE A | 1569084 - PUMP GP-PS-B | 1010638 - CABLE TIE |
| 2Y5556 - HOSE A | 1755280 - SPIDER | 6Y0923 - BUSHING |
| 2Y7256 - INDICATOR | 6C0027 - PIPE | 7J2430 - HOSE A |
| 2D7612 - WHEEL | 1957218 - SHANK | 8X6171 - HOSE A |
| 2540684 - IDLER GP-TRA | 1135994 - HOSE AS | 1279471 - SEAL |
| 6S4899 - HOSE A | 8X6792 - HOSE A | 9W9098 - EDGE-CUTTING |
| 1722848 - BEARING-SLEE | 2955676 - PIN AS-CLA | 1642281 - GASKET KIT |
| 5185139 - KIT SEAL | 1095702 - SEAL | 1021295 - HOSE A XT |
| 7X2791 - SEAL KIT | 1782972 - GASKET KIT (6V4539) | 7Y6081 - HOSE A |
| 8W4962 - HOSE A | 5I7787 - PLATE | 1836929 - RING-RETAIN |
| 1979455 - HOSE AS. | 2683661 - HOSE AS. | 0774752 - O-RING |
| 1005047 - ALTERNATOR | 4381393 - GASKET | 3165979 - ROTOCOIL AS |
| 1428165 - HOSE AS | 3022710 - PIN-CLASSIC | 1T1247 - SLEEVE |
| 8D4009 - TUBE AS | 7U3372 - HOSE | 1H7922 - FITTING |
| 1P1534 - LINK M | 3052767 - GASKET KIT | 2G1293 - CAM FOLLOWER |
| 2U2724 - BOLT HEX HD | 0920750 - HOSE A | 3Y9463 - HOSE AS |
| 9W5806 - CUTTING EDGE | 2W5240 - PIPE | 9N5023 - PUMP GRP - WATER |
| 4151925 - BRG-ALIN-CLA | 6W8720 - HOSE A | 7Y4262 - PLATE |
| 2339466 - KIT-GASKET-S | 6V5683 - BOLT | 7V0904 - CUTTING EDGE |
| 1V9613 - CHAMBER A | 7J6883 - SHAFT | 7T4689 - BIT-END |
| 1449950 - GASKET | 5I7648 - GASKET | 0908473 - HOSE A |
| 0951757 - SEAL O RING | 3J9196 - NUT | 9S6948 - SHAFT |
| 7Y3913 - MOTOR AS | 3197384 - BALLAST AS.- | 813180 - BOLT |
| 0814600 - SCREW | 1W9198 - FUEL LINE | 2607845 - HOSE AS |
| 5P6269 - SEAL RING | 9X2856 - CM GUARD HOS (5P5739) | 4N5634 - TURBO G |
| 3A3565 - ALTERNATOR 24V 35 AMPS. | 5P1027 - SLEEVE | 1648178 - HOSE AS |
| 7C7600 - CARTRIDGE AS | 7Q8322 - SCREW | 5T9692 - HOSE A |
| 9C0775 - HOSE AS | 6Y6397 - SHOE | 1621548 - HOSE AS |
| 1546881 - CYLINDER AS | 1S1327 - GASKET KIT (1471003) | 3119360 - BRG-CLA |
| 1945329 - HOSE AS. | 2H3526 - PLATE | 2M6495 - REGULATOR |
| 0344990 - HOSE A | 9M1832 - TUBE-SE FUEL | 1572630 - PUMP GP-GR |
| 1503757 - BEARING | 5P1132 - STEM A | 7W4872 - TURBO KIT |
| 1582408 - HOSE AS | 4214023 - SEAL-U-CUP | 6V7472 - GASKET KIT |
| 2J7429 - BRACKET | 0114783 - PIN | 3A2016 - HOSE A |
| 1077331 - BEARING | 1395991 - HOSE A | 306805 - O RING |
| 8T4058 - SEAL O RING | 1261879 - RING-SEALO | 10R4648 - PUMP GP HYD |
| 5W6387 - SEAL A | 4H9836 - SEAL | 4U8020 - HOSE ASSEMBL |
| 1123345 - HOSE A | 1394752 - GASKET KIT | 0784970 - HEXAGON CAP |
| 8C3234 - SCREW | 8T8343 - RING | 3311664 - SEAL |
| 2042518 - SENSOR GP | 4M8210 - LOCK | 1M8384 - INSERT |
| 2462828 - HOSE AS. | 1559079 - PUMP GP-HYD | 9S6917 - GEAR |
| 7X1799 - CABLE | 8F9284 - PISTON PIN | 1247569 - GASKET KIT |
| 4H8385 - GEAR | 7X3392 - WASHER | 8H8648 - PLATE |
| 0375711 - HOSE A | 3792840 - LAMP | 2S0288 - SEAL |
| 1419789 - GASKET KIT | 1090968 - GASKET KIT | 3790198 - ACTUATOR-CLA |
| 8T1791 - SEAL A | 1146413 - SEGMENT-SPRO | 4J5351 - SEAL |
| 9H1031 - WASHER | 7J2433 - HOSE A | 4V2746 - PINION |
| 8T7463 - ELEMENT | 1480293 - GASKET KIT | 1457813 - GASKET KIT |
| 1987834 - TIE ROD AS | 5033716 - COTTER PIN | 1266675 - CAP-BEARING |
| 2375330 - PIN | 1497108 - ROLLER GP | 5M9131 - LOCK |
| 1504885 - PUMP AS-STR | 2N8612 - BELT SET | 4179540 - KIT GASKET |
| 0785605 - INVERTED FLA | 6Y9040 - HOSE AS-LH | 1694365 - HOSE AS |