Spare parts for Caterpillar drilling equipment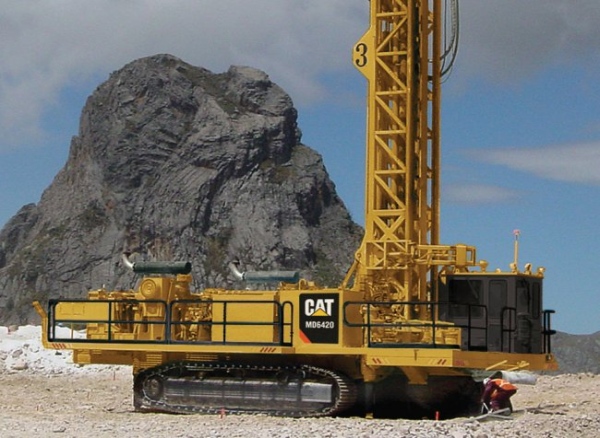 By providing the opportunity to buy spare parts for drilling equipment
Caterpillar
online, Heavy Equipment Spare Parts made ​​the necessary parts are actually available just in one button click. We have spare parts for all Caterpillar drilling machines used in the mining industry, including drilling rigs and crawler drilling rig blast hole. Within these two categories, Caterpillar produces several models for different needs, including different capacity models for each type of rig. That's what we must remember buying drill bits for Caterpillar equipment.
Brand Caterpillar produces heavy equipment of high quality. In his direction the company is focused on the mining industry and is a world leader in the production of about drilling equipment and spare parts.
Heavy Equipment Spare Parts offers both aftermarket and original spare parts from the manufacturer. You can buy aftermarket parts for drilling rigs
Caterpillar
at low cost and spare parts warranty of one year. Contact a specialist Heavy Equipment Spare Parts, and it will help you understand the benefits of each option.
Heavy Equipment Spare Parts confirmed its reliability, ensuring high-quality cost-effective equipment and delivering it in a variety of places on time.
SPARE PARTS
| | | | |
| --- | --- | --- | --- |
| 9D0771-HOSEA | 4F2320-WASHER | 6F8110-CONE | 9F7177-GASKET |
| 9D1058-SPRING | 4F2411-SEAL | 6F8146-SEAL | 9F7283-RING |
| 9D1072-HOSEA | 4F2654-GASKET | 6F8509-SEAL | 9F7378-RING |
| 9D1242-BLADEA | 4F2710-NUT | 6F8520-BEARING | 9F7383-RING |
| 9D1274-STEPA | 4F2739-SLEEVE | 6F8613-GASKET | 9F7450-GASKET |
| 9D1447-KEY | 4F3408-SEAL | 6F8814-CLAMP | 9F7707-RING |
| 9D1548-PLATE | 4F3508-CAPSCREW | 6F8815-CLAMP | 9F7882-PIN |
| 9D1611-CABLE | 4F3651-BOLT | 6F8868-CLAMP | 9F8072-ROLLERA |
| 9D2099-GEAR | 4F3653-BOLT | 6F9163-GASKET | 9F8073-RACE |
| 9D2174-SPACER | 4F3654-BOLT | 6F9165-CLAMP | 9F8122-CAPSCRE |
| 9D2177-SPIDER | 4F3656-BOLT | 7F0192-CAPSCRE | 9F8125-LOCKWASH |
| 9D2252-INSERT | 4F3657-BOLT | 7F0482-NUT | 9F8254-SOCKET |
| 9D2641-SPRING | 4F3658-BOLT | 7F0502-WASHER | 9F8477-RING |
| 9D2724-RING-SEAL | 4F3664-BOLT | 7F0548-WASHER | 9F8553-GASKET |
| 9D2754-INSERT | 4F3672-BOLT | 7F0560-WASHER | 9F8558-INSULATO |
| 9D2851-BOOT | 4F3714-WASHER | 7F0880-GASKET | 9F8999-CAPSCRE |
| 9D2868-LENS | 4F3956-GASKET | 7F1866-CAPSCRE | 9F9206-SHIM |
| 9D3127-BASE | 4F4042-BOLT | 7F2022-PIN | 9F9327-SCREW |
| 9D3459-HOSEA | 4F4097-RING | 7F2050-NUT | 9F9522-CAPSCREW |
| 9D3523-WASHER | 4F4384-BEARING | 7F2060-NUT | 9F9920-BUSHING |
| 9D3566-HOSEA | 4F4541-BEARING | 7F2122-SEAL-O-R | 9F9933-SHIM |
| 9D3704-SOCKETA | 4F4584-SEAL | 7F2742-BEARING | 2G0151-SOCKET |
| 9D3706-SOCKETA | 4F4585-PLUG | 7F2836-LOCK | 2G0244-DIAL |
| 9D3882-HOSE | 4F4752-SEAL | 7F3425-CAPSCRE | 2G0267-LATCHA |
| 9D4049-HORNG | 4F4784-SWITCHA | 7F3512-SPRING | 2G0271-STUD |
| 9D4094-BEARING | 4F4873-GASKET | 7F3901-SEAT | 2G0272-NUT-ACORN |
| 9D4163-GASKET | 4F4879-CAPSCREW | 7F4283-BOLT | 2G0283-CATCH |
| 9D4966-HANDLEG | 4F4974-CLAMP | 7F4364-GASKET | 2G0317-LATCH |
| 9D5036-WASHER | 4F5003-SPRINGA | 7F4782-GASKET | 2G0401-VALVE |
| 9D5182-STRIP | 4F5004-SPRINGA | 7F5015-GASKET | 2G0413-RESISTOR |
| 9D5193-LATCHA | 4F5148-GASKET | 7F5227-CAPSCRE | 2G0415-BRACKET |
| 9D5194-LATCHA | 4F5192-CAPSCREW | 7F6013-BEARING | 2G0493-WASHER |
| 9D5444-PIN | 4F5409-SPRING | 7F6112-BOLT | 2G1006-SPACER |
| 9D5496-MOUNTINGA | 4F5607-SEAL | 7F7238-ELEMENT | 2G1034-VALVE |
| 9D5844-HOSEA | 4F5639-GASKET | 7F7461-SCREW | 2G1043-WASHER |
| 9D5921-SHAFT | 4F5640-GASKET | 7F7510-LOCK | 2G1049-SPACER |
| 9D6134-SPACER | 4F5675-SEAL | 7F7590-GASKET | 2G1203-SEAL-RING |
| 9D6371-CABLEA | 4F5676-SEAL | 7F7772-BEARING | 2G1605-LENS |
| 9D6583-SEAL | 4F5695-PLUG | 7F7780-PIN | 2G1611-BUSHING |
| 9D6638-STRIP | 4F5941-GASKET | 7F7781-WASHER | 2G1612-PAD |
| 9D6663-VALVE | 4F6024-DOWEL | 7F7782-RETAINER | 2G1664-HOSEA |
| 9D6889-PLATEA | 4F6066-GUARD | 7F7783-SPRING | 2G1946-FILTER |
| 9D6896-STRAINER | 4F6095-GASKET | 7F7889-GASKET | 2G2159-DRYER |
| 9D7032-SWITCH | 4F6108-GASKET | 7F7983-BEARING | 2G2413-PIN |
| 9D7079-HOSEA | 4F6109-GASKET | 7F8022-BOLT | 2G2509-KIT-SEAL |
| 9D7884-SPRING | 4F6123-SPRING | 7F8036-LOCK | 2G2700-HANDLEG |
| 9D7928-CABLE | 4F6154-DOWEL | 7F8092-KNOB | 2G2945-SHIM |
| 9D7984-SEAL | 4F6165-DOWEL | 7F8267-RING | 2G2946-SHIM |
| 9D7986-SEAL | 4F6174-GASKET | 7F8268-SEALOR | 2G3219-SHIM |
| 9D7987-SEAL | 4F6464-WASHER | 7F8340-SHIM | 2G3221-SHIM |
| 9D7988-SEAL | 4F6568-SPACER | 7F8351-LOCK | 2G3373-BEARING |
| 9D8042-SEALORING | 4F6880-GASKET | 7F8607-SEALOR | 2G3505-LOCK |
| 9D8224-GASKET | 4F7003-GASKET | 7F8698-CAPSCREW | 2G3506-LOCK |
| 9D8508-GROMMET | 4F7101-BUSHING | 7F8921-LOCK | 2G3537-VALVE-RELAY |
| 9D8587-SWITCH | 4F7115-SPRING | 7F9067-PIN | 2G3594-VALVE |
| 9D8632-END | 4F7116-SPRING | 7F9090-SCREW | 2G3672-HOSEA |
| 9D8683-SWITCH | 4F7124-GASKET | 7F9223-LOCKWAS | 2G3765-SPRING |
| 9D8717-SPACER | 4F7226-CAPSCREW | 7F9224-TERMINAL | 2G3970-SWITCHG |
| 9D8799-RING | 4F7356-LOCK | 7F9504-PLUG | 2G4099-PIN |
| 9D8848-LATCH | 4F7387-SEAL | 7F9547-PINA | 2G4553-PLATE |
| 9D9738-SLIDER | 4F7388-SEAL | 7F9557-BEARING | 2G4561-HOSEA |
| 9D9739-BEARING | 4F7389-RING | 7F9558-BUSHING | 2G4706-HOSEA |
| 9D9778-STRAP | 4F7390-RING | 7F9559-BUSHING | 2G5170-VALVEG |
| 1F0636-SEAL | 4F7391-RING | 7F9571-SCREW | 2G5459-SCREW |
| 1F0748-NUT | 4F7507-SEAL | 7F9572-NUT | 2G5581-LINER |
| 1F0929-BUSHING | 4F7827-BOLT | 7F9578-SPRING | 2G5667-RETAINER |
| 1F1006-DOWEL | 4F7952-SEAL | 7F9579-SOCKET | 2G5671-WASHER |
| 1F1344-NUT | 4F7956-BELT | 7F9776-BRACKET | 2G5672-WASHER |
| 1F1480-FITTING | 4F7957-CAPSCREW | 7F9777-BUSHING | 2G5675-WASHER |
| 1F1569-GASKET | 4F8386-GASKET | 7F9802-SPRING | 2G6087-BUTTON |
| 1F1739-NUT | 4F8396-GUARD | 8F0024-HOSEA | 2G6285-VALVEKIT |
| 1F2362-BEARING | 4F8420-PACKING | 8F0212-SEALOR | 2G6595-VALVEG |
| 1F2627-BUSHING | 4F8421-SHIM | 8F0230-BUSHING | 2G6664-KITHORN |
| 1F2771-BEARING | 4F8711-PLUG | 8F0244-GROMMET | 2G7006-HOSEA |
| 1F3131-GASKET | 4F8824-RING | 8F0492-SPACER | 2G7181-VALVEKI |
| 1F3133-GASKET | 4F8843-GASKET | 8F0896-GASKET | 2G7182-KIT |
| 1F3278-FITTING | 4F8946-SEAL | 8F1145-RING | 2G7183-REFILLK |
| 1F4111-CAPSCREW | 4F8965-CAPSCREW | 8F1179-CLIP | 2G7184-VALVEKI |
| 1F4192-CLIP | 4F9029-SEAL | 8F1315-SCREWA | 2G7464-INSERT |
| 1F4449-SPRING | 4F9109-FERRULE | 8F1326-WASHER | 2G7757-STEPA |
| 1F4503-BEARING | 4F9325-GASKET | 8F1397-SEAT | 2G7786-ARM |
| 1F4583-SEAL | 4F9653-SEAL | 8F1434-LOCKWASH | 2G7801-HANDLE |
| 1F4738-GASKET | 4F9785-GASKET | 8F1559-INSULATO | 2G7842-RETAINER |
| 1F5151-DOWEL | 5F0149-RING | 8F1911-SCREENA | 2G7843-BALL |
| 1F5198-SPRING | 5F0304-PLUG | 8F2373-LOCK | 2G8020-VALVEG |
| 1F5403-END | 5F0585-CONE | 8F2401-GASKET | 2G8227-VALVEG |
| 1F5842-CAPSCREW | 5F0589-CUP | 8F2434-BELT11/16X49.5 | 2G8579-CLAMP |
| 1F6115-SCREW | 5F1248-CONE | 8F2691-SEAL | 2G8588-PIN |
| 1F6296-CAPSCREW | 5F1474-PLUG | 8F3132-GASKET | 2G8589-SHAFT |
| 1F6762-BOLT | 5F1678-SEAL | 8F3152-BOLT | 2G8590-SHAFT |
| 1F6887-BEARING | 5F1969-ROLLER | 8F3170-BEARING | 2G8591-SHAFT |
| 1F7178-GASKET | 5F1970-PIN | 8F3437-LEVER | 2G8592-SLIDER |
| 1F7307-AMMETER | 5F2252-WASHER | 8F3469-RING | 2G8594-CYLRETKIT |
| 1F7464-CAPSCREW | 5F2465-CUP | 8F3522-SEAL | 2G8631-BEARING |
| 1F7552-FITTING | 5F2754-RING | 8F3869-GASKET | 2G8633-PIN |
| 1F7567-CLIP | 5F2807-CAP | 8F4028-SPACER | 2G8651-KIT-BEARING |
| 1F7958-NUT | 5F2830-BEARING | 8F4099-GASKET | 2G8713-ELEMENTG |
| 1F7960-WASHER | 5F2852-WASHER | 8F4102-PLATE | 2G8772-BOOT |
| 1F8875-PLATEA | 5F3092-RING | 8F4197-CAPSCRE | 2G9103-SHIM |
| 1F9223-GASKET | 5F3106-SEAL | 8F4225-CAPSCRE | 2G9104-SHIM |
| 1F9387-GASKET | 5F3144-SEAL | 8F4469-SEAL | 2G9267-ARMA |
| 1F9489-WASHER | 5F3181-GASKET | 8F4486-CAPSCREW | 2G9268-ARMA |
| 2F0025-TUBE | 5F3498-PACKING | 8F4610-RING | 2G9349-CAMSHAFT |
| 2F0126-SEAL | 5F3500-SHIM | 8F4994-SEAL | 2G9356-GASKET |
| 2F0808-SCREW | 5F3728-BEARING | 8F5092-GASKET | 2G9491-SEAL |
| 2F1336-FITTING | 5F3999-SEAL | 8F5340-SEAL | 2G9632-BOLT |
| 2F2154-RODA | 5F4258-SEAL | 8F5368-WASHER | 2G9791-GASKET |
| 2F2815-LOCK | 5F4475-BOLT | 8F5714-CLAMP | 2G9792-GASKET |
| 2F2860-SCREW | 5F4689-PIPEA | 8F5899-SPARKPL | 2G9793-GASKET |
| 2F2990-PLUG | 5F4764-PRYBAR | 8F5900-SEAL | 2G9794-GASKET |
| 2F3659-GASKET | 5F4899-CAPSCRE | 8F6058-BUSHING | 3G0027-PINA |
| 2F4159-LOCK | 5F5398-BOLT | 8F6123-BOLT | 3G0034-TRUNNION |
| 2F4585-GASKET | 5F5434-VENTA | 8F6124-BOLT | 3G0222-BEARING |
| 2F4586-GASKET | 5F5442-SCREW | 8F6142-GASKET | 3G0361-GASKET |
| 2F4594-GASKET | 5F5552-GASKET | 8F6143-GASKET | 3G0570-HOSEA |
| 2F4752-GASKET | 5F5835-SPRING | 8F6230-SEAL | 3G0572-HOSEA |
| 2F5152-CLAMP | 5F6044-BOLT | 8F6302-CAPSCREW | 3G0575-HOSEA |
| 2F5721-BEARING | 5F6222-SEAL | 8F6350-CAPSCREW | 3G0897-ROLLERA |
| 2F6066-RING | 5F6368-GASKET | 8F6419-CAPSCRE | 3G0911-SHIM |
| 2F6067-RING | 5F6371-ADAPTER | 8F6453-BOLT | 3G1264-RETAINER |
| 2F6156-LOCK | 5F6393-SHAFT | 8F6575-PLUG | 3G1280-SPACER |
| 2F6678-SEAL | 5F6445-LEVER | 8F6647-GASKET | 3G1613-TUBEA |
| 2F6869-PIN | 5F6545-GASKET | 8F6711-SEAL | 3G1688-KIT-SEAL |
| 2F7294-WASHER | 5F6562-WASHER | 8F6783-CLAMP | 3G1820-RING |
| 2F7306-SCREW | 5F6658-JAR | 8F6974-CAPSCREW | 3G1845-GASKET |
| 2F7761-GASKET | 5F6932-BOLT | 8F7219-SEAL | 3G2078-CABLEA |
| 2F7940-SCREENA | 5F7054-SEAL | 8F7242-WASHER | 3G2079-CABLEA |
| 2F7941-GASKET | 5F7309-WASHER | 8F7263-PIN | 3G2192-RETAINER |
| 2F7964-SEAL | 5F7403-LOCK | 8F7278-DIAPHRAG | 3G2193-RINGSEA |
| 2F7996-GASKET | 5F7404-NUT | 8F7280-CLAMP | 3G2241-RETAINER |
| 2F8057-NUT | 5F7642-GASKET | 8F7289-BOOT | 3G2242-RING |
| 2F8616-NUT | 5F7881-CONDENSE | 8F7331-DIAPHRAG | 3G2244-PLUG |
| 2F9077-LOCK | 5F7993-PIN | 8F7559-RING | 3G2276-GASKET |
| 3F0957-DOWEL | 5F7994-PIN | 8F7689-KEY | 3G2286-SEALA |
| 3F1147-WASHER | 5F8000-RING | 8F7702-SEAL | 3G2569-CAP |
| 3F1240-GROMMET | 5F8081-GASKET | 8F8049-LOCK | 3G2585-SHIM |
| 3F1395-SEAL | 5F8353-WRENCH | 8F8052-LOCKWASH | 3G2632-PLUG |
| 3F1396-CONE | 5F8651-BEARING | 8F8151-COCK | 3G2665-COVER |
| 3F1417-WASHER | 5F8913-NUT | 8F8178-BOLT | 3G2673-SEAL |
| 3F1547-SEAL | 5F8916-LOCK | 8F8513-CLIP | 3G2714-RETAINER |
| 3F1552-SHIM | 5F8933-BOLT | 8F8523-BEARING | 3G2716-RING-SEA |
| 3F1555-GASKET | 5F9144-SEAL | 8F8544-CAPSCREW | 3G2839-GASKET |
| 3F1953-DOWEL | 5F9338-BOLT | 8F8606-SPRING | 3G2911-SEALA |
| 3F1955-GASKET | 5F9342-GASKET | 8F8682-LOCK | 3G3005-PIN |
| 3F1960-LOCK | 5F9657-RING | 8F8683-LOCK | 3G3259-SEALA |
| 3F2771-COTTERP | 5F9669-LOCK | 8F8733-SEAL | 3G3281-GASKET |
| 3F3049-CONE | 5F9963-LOCK | 8F8804-CAPSCRE | 3G3320-BEARING |
| 3F3727-RING | 5F9999-ADAPTER | 8F8858-BUTTON | 3G3321-SEALA |
| 3F3759-SEAL | 6F0155-RING | 8F8861-SEAL | 3G3357-ADAPTER |
| 3F3915-COUPLING | 6F0156-RING | 8F8882-RING | 3G3470-RING-WEAR |
| 3F4134-BAFFLE | 6F0196-BOLT | 8F8996-NUT | 3G3521-BEARING |
| 3F4479-PIN | 6F0253-LOCKWASH | 8F8997-NUT | 3G3644-TUBEA |
| 3F4956-SHIM-.03" | 6F0612-NUT | 8F8998-NUT | 3G3726-NUT |
| 3F4971-PIN | 6F0711-RING | 8F9206-SEAL | 3G3747-RING |
| 3F5022-PLUG | 6F1069-SEALA | 8F9320-WASHER | 3G3752-SEALA |
| 3F5108-BOLT | 6F2956-CUP | 8F9365-PIN | 3G3781-BUSHING |
| 3F5289-KEY | 6F3202-GASKET | 8F9516-SEAL | 3G3855-GASKET |
| 3F5792-SEAL | 6F3203-GASKET | 8F9538-RING | 3G3916-RING-RETAIN |
| 3F6166-EXTENSIO | 6F3465-COTTER | 8F9836-LUG | 3G4146-WASHER |
| 3F6185-PIN | 6F3930-CORE | 8F9838-YOKEA | 3G4258-ADAPTERLH |
| 3F6353-CAPSCREW | 6F4161-DOWEL | 8F9866-GREASEG | 3G4259-ADAPTERRH |
| 3F6448-TRUNNION | 6F4201-GASKET | 8F9960-SEAL | 3G4285-BIT |
| 3F6605-SEAL | 6F4438-BOLT | 9F0825-PLUG | 3G4308-ADAPTER |
| 3F6608-SHIM | 6F4718-SEAL | 9F1399-RING | 3G4309-ADAPTER |
| 3F6645-BOLT | 6F4855-SEAL | 9F1479-GASKET | 3G4434-PINA |
| 3F6795-PIN | 6F4868-GASKET | 9F1806-GASKET | 3G4493-VALVEG |
| 3F7147-SCREW | 6F4991-CAPSCREW | 9F1831-BIT | 3G4604-SHAFT |
| 3F7182-CONE | 6F5188-GASKET | 9F2167-SCREW | 3G4770-GLASS |
| 3F7414-BUSHING | 6F5225-RING | 9F2247-PLUG | 3G4775-SEAL |
| 3F7473-BUSHING | 6F5264-COTTERP | 9F2289-SPACER | 3G4779-PLATE |
| 3F7474-BUSHING | 6F5281-CAPSCREW | 9F2491-CAPSCREW | 3G4914-SEAL |
| 3F7673-NUT | 6F5282-CAPSCREW | 9F2636-NOZZLEA | 3G5022-NUT |
| 3F7674-NUT | 6F5297-JOINT | 9F2773-CAPSCREW | 3G5098-RING |
| 3F8526-WASHER | 6F5559-SEAL | 9F2978-NUT | 3G5233-RING |
| 3F8638-SPRINGA | 6F6062-YOKEA | 9F3154-PIN | 3G5358-ADAPTER |
| 3F8845-SPRING | 6F6672-SEAL | 9F3788-RING | 3G5359-ADAPTER |
| 3F8914-RING | 6F6673-SEAL | 9F3823-RING | 3G5750-BEARING |
| 3F9025-BOLT | 6F6677-SPRING | 9F3958-SEAL | 3G5873-KIT-SEAL |
| 3F9556-LOCKWASH | 6F6678-SPRING | 9F4263-GASKET | 3G6070-HOSEA |
| 3F9609-PACKING | 6F6740-GASKET | 9F4337-WIREA | 3G6098-PINA |
| 3F9780-WASHER | 6F7010-END | 9F4446-RING | 3G6395-ENDEDGE |
| 4F0255-PIN | 6F7012-STUD | 9F4522-GASKET | 3G6652-BUSHING |
| 4F0356-GASKET | 6F7024-BOLT | 9F4976-LOCKWASH | 3G6657-HOSEA |
| 4F0378-GASKET | 6F7027-BOLT | 9F5088-SEAL | 3G6658-HOSEA |
| 4F0381-GASKET | 6F7030-BOLT | 9F5599-LOCKWAS | 3G6659-HOSEA |
| 4F0391-BOLT | 6F7031-BOLT | 9F5644-LOCKWASH | 3G6660-HOSEA |
| 4F0411-CAPSCREW | 6F7032-BOLT | 9F5647-BUSHING | 3G6825-KIT-SEAL |
| 4F0925-BOLT | 6F7035-BOLT | 9F5940-GASKET | 3G6883-CLIP |
| 4F0961-GASKET | 6F7036-BOLT | 9F5975-CAPSCREW | 3G6884-CLIP |
| 4F1204-NUT | 6F7048-WASHER | 9F6304-SPRING | 3G6885-HOSEA |
| 4F1252-PIN | 6F7058-NUT | 9F6445-NUT | 3G6891-RACE |
| 4F1392-RING | 6F7062-WASHER | 9F6580-CAPSCREW | 3G6910-BEARING |
| 4F2041-CUP | 6F7063-NUT | 9F6635-SHIM | 3G7242-PLUG |
| 4F2129-BEARING | 6F7301-GASKET | 9F6641-CAPSCRE | 3G7334-HOSE |
| 4F2218-LOCKNUT | 6F7316-CAPSCREW | 9F6656-RING | 3G7375-TUBE |
| 4F2283-BRACKET | 6F7522-NUT | 9F6705-SPRING | 3G7402-SPRING |
| 4F2293-LOCKWASHER | 6F7523-CAP | 9F6936-BOLT | 3G7426-GASKET |
| 4F2294-NUT | 6F7767-GASKET | 9F7022-CAPSCREW | 3G7752-PINA |
| 4F2301-ROTOR | 6F7901-BOLT | 9F7104-RING | 3G8047-GROMMET |
| 4F2309-GASKET | 6F8007-SPRING | 9F7105-ROLLERA | 3G8054-CLIP |