Komatsu HD1500-8 Rigid Dump Truck parts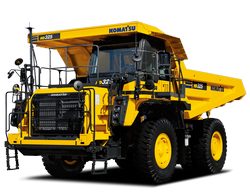 Komatsu HD1500-8 Dump Truck - it is a big machine. It is a Rigid Dump Truck and works in difficult operating conditions. That's why this machine sometimes needs maintenance.
Our online parts store give you an access to more than 500 000 Komatsu parts that we have in our inventory.
Here is some more information about Komatsu HD1500-8 Rigid Dump Truck:
ENGINE POWER
1.175 kW / 1.576 HP @ 1.900 rpm
RATED PAYLOAD
142 metric tons
BODY CAPACITY, HEAPED
78 m³ / 94 m³

ENGINE
Model -> Komatsu SDA16V159-3
Type -> Overhead valve, direct injection type, turbocharged, aftercooled, water-cooled, 4-cycle
Engine power
at rated engine speed -> 1.900 rpm
SAE J1995 -> 1.175 kW/1.576 HP
ISO 9249 / SAE J1349*
(net engine power)
1.103 kW/1.479 HP
Fan drive type -> Hydraulic driven
No. of cylinders -> 16
Bore × stroke -> 159 × 159 mm
Displacement -> 50,3 l
Max. torque -> 7.170 Nm (731 kgf∙m)
Governor -> Electronically controlled
Lubrication system
Lubrication method -> Gear pump, force lubrication Filter Full-flow filter
Air-filter type -> Dry type with double elements, precleaner and evacuator valve
If you send us your request, we will make you an offer for original and Aftermarket Komatsu parts for your Komatsu HD1500-8 Rigid Dump Truck.
Below is a small list of Komatsu parts for this equipment. However, if you are interested in something - please use the site search.
| | | |
| --- | --- | --- |
| 32335540 - UNION | 423-35-16100 - BODY ASS'Y | 421-54-21350 - PLATE |
| 417-06-12132 - CAP | 42T-64-H0R61 - STUD | 21T-30-00090 - CARRIER ROLL |
| 5041835 - AIR FILTER | 419-877-2150 - PLATE | 17M-49-42131 - BRACKET |
| 195-979-5852 - MAT | 195-22-73211 - HUB | 707-99-43310 - SERVICE KIT |
| 700-28-55000 - RELIEF VALVE | 6162-63-7390 - GASKET | 88265540 - TRACKPAD 800 |
| 198-49-63571 - HOSE ASS'Y | 37A-62-A4640 - HOSE | 428-33-11110 - CYLINDER |
| 17A-01-62221 - JOINT | 22F-70-33780 - COVER | 561-20-61200 - YOKE |
| 562-15-22430 - GEAR | 6743-71-7120 - CONNECTOR-FE | 423-57-H0P05 - CUSHION SEAT |
| 425-54-12530 - SHAFT | 6166-11-7550 - COVER | 79582673 - HOSE |
| 73576 - SLEEVE-B | 42N-64-11251 - VALVE | 418-879-A120 - UNION |
| 331864R1 - SHIM | 725998KM - O-RING | 708-2L-00760 - XPUMP ASSM |
| 209-70-00340 - ARM | 56D-15-15111 - VALVE SEAT | 704-37-02350 - NEEDLE BEARI |
| 90672540 - RING | 878000424 - KIT, GASKET | 416-22-22410 - SHAFT |
| 816101160 - SWITCH - SAF | 426-22-32531 - GEAR | 421-926-4940 - HANDRAIL |
| 707-86-15010 - TUBE | 195-61-58310 - HOSE | 5070191 - RUBBER |
| 6745-71-3210 - GEAR | 20G-70-33910 - VALVE | 21T-06-34422 - WIRING HARNE |
| 683846C1 - BELT | 925055A - PIPE,TAIL | 21K-06-72273 - CABLE |
| 8255-60-4960 - SEAL KIT | 86740M - MUFFLER | 418-17-33320 - COUPLING ASS |
| 20T-43-82190 - CABLE | 96900940 - ANGLE | 26197 - GAUGE, WATER |
| 58F-80-05600 - SILENCER,INL | 561-54-8A984 - LADDER | 721-32-10420 - ACCUMULATOR |
| 705-52-30270 - PUMP ASS'Y | 418-62-48140 - TUBE | 706-66-40330 - BUSHING |
| 423-23-21130 - CAGE | 4592221 - PIVOT PIN | 418-23-23220 - HOUSING |
| 723-40-87180 - CASE | 23B-952-7480 - PACKING | 95773440 - STRIP |
| 708-3M-00020 - PUMP ASSM | 6151-81-4590 - PLATE | 209-60-52720 - POPPET |
| 561-43-84810 - BRACKET | 42C-03-17961 - BRACKET | 425-62-13740 - PLATE |
| 706-7C-51130 - PLUG | 41E-93-11111 - PLATE | 209-32-12190 - MASTER PIN |
| 6127-51-1152 - BUSHING | 42Y-63-H0P38 - BUSHING | 207-54-68130 - SHEET |
| 423-06-A3120 - LICENSE LAMP | 42N-04-11240 - WASHER | 17A-12-51111 - TUBE |
| 50454498 - RING | 58D-MP-AK150 - KIT, STRG PI | 21S-970-2620 - WASHER |
| 423-62-11310 - JOINT | 207-32-05050 - SHOE BOLT KI | 707-88-32170 - SHIM |
| 707-14-18010 - XCYLINDER | 914526 - RETAINER RIN | 4558936 - CYLINDER |
| 56B-60-27210 - VALVE | 94160740 - HOSE | 561-54-86981 - GUARD |
| 56B-74-11760 - PLATE | 22F-943-3211 - HOSE | 21N-26-11150 - GAUGE |
| 22U-62-22431 - HOSE | 426-43-39412 - COVER | 21P-63-K2141 - TUBE |
| 198-03-11471 - GASKET | 569-20-71920 - YOKE | 21W-973-4471NK - TUBE |
| 17A-06-13311 - WIRING HARNE | 6731-61-6130 - CONNECTION W | 707-99-34440 - SERVICE KIT |
| 855021109 - O-RING | 707-01-0J670 - XCYLINDER AS | 198-54-55310 - GRIP |
| 79A-264-0091 - SCALE | 208-62-42510 - HOSE | 21409 - RING LOCATI |
| 20X-60-21101 - XMOTOR ASM | 56B-33-11430 - SEAL | 561-84-81780 - JOINT |
| 21W-03-42511 - HOSE | 22K-54-21935 - COVER | 707-86-66340 - TUBE |
| 6215-71-6110 - BRACKET | 705-17-03410 - O-RING | 1809784C1 - GASKET |
| 4623339 - SPACER | 37A-54-11760 - SUPPORT | 418-62-51150 - HOSE |
| 58B-06-01710 - SPACER | 17861 - SHOE, TRACK | 22L-62-12116 - HOSE |
| 21T-54-39461 - BRACKET | 421-07-31630 - HOSE | 90654240 - SCRAPER |
| 6162-73-7120 - TUBE | 5231798 - WHEEL HUB | 42U-01-11060 - CARRIER |
| 421-Z94-3980 - GROMMET | 700-82-93000 - DETENT ASS'Y | 5194529 - MAXI P SOFTW |
| 23B-27-31580 - STUD, BALL | 238-01-12331 - GASKET | 198-09-31290 - ROLLER BEARI |
| 6162-14-4570 - CONNECTOR | 424-07-41132 - HOSE | 21T-70-00211 - SHIM ASS'Y |
| 423-54-51260 - BRACKET | 21T-62-76760 - TEE | 419-S99-2440 - BRACKET |
| 3F1062600 - ELBOW | 21M-54-22130 - SHEET | 423-93-41370 - PLATE |
| 21S-70-22520 - PIN | 20Y-62-52970 - HOSE ASS'Y | 37C-942-1990 - V BELT |
| 7831-48-4102 - CONTROLLER | 56C-46-13832 - RING | 423-57-11330 - DEVICE ASS'Y |
| 816214672 - WASHER | 425-S33-3260 - HANDLE | 424-54-31241 - SHEET |
| 708-2L-06860 - COVER ASS'Y | 65463340 - SHROUD | 421-03-61430 - SEAL |
| 4619498 - STATOR HALF | 22M-03-11491 - CONDUIT | 423-03-61431 - SHROUD |
| 37217599 - COUPLING | 89422E - RAIN CAP | 65135140 - SEAL RING |
| 708-2L-35630 - RETAINER | 90074740 - BUSHING | 22L-06-21270 - GARNISH |
| 37A-06-11471 - WIRING HARNE | 8240-70-6020 - BEARING | 175-79-33240 - COLLAR |
| 22U-03-22780 - HOSE | 423-43-48720 - AWNING | 500951200 - WASHER |
| 22M-54-25311 - GRIP | 235-22-12390 - BLOCK | 195-01-53181 - HOSE |
| 207-43-34260 - BRACKET | 22M-62-14100 - VALVE ASM. | 6212-12-4130 - MANIFOLD |
| 5091582 - PROTECTION | 58B-00-00900 - SERVICE KIT | 76699973 - CYLINDER |
| 593-12-0079 - TUBE ASSY | 2A7-06-15211 - CABLE | 569-54-81150 - COVER |
| 847925 - SCREW ALTER | 20T-54-71570 - BOLT | 90465A - ELBOW |
| 56B-54-37310 - PLATE | 423-64-35101 - VALVE ASS'Y | 6151-71-8520 - ADAPTER |
| 421-06-13422 - SUPPORT | 235-70-31411 - NUT | 561-22-63710 - BRACKET |
| 37C-22-11980 - GASKET | 17A-54-42321 - PLATE | 195-911-4640 - SWITCH |
| 423-54-62651 - BRACKET | 418-62-52880 - PLATE | 536002R2 - VALVE |
| 44536940 - PISTON | 398329R1 - RING | 2A5-62-12350 - BRACKET |
| 22M-04-31141 - HOSE | 207-46-44171 - SHEET | 561-85-81130 - SUPPORT |
| 20U-54-24961 - NUT | 421-54-41830 - SHEET | 705-18-32510 - GEAR |
| 566-63-23680 - WEAR RING | 233-60-24410 - TUBE | 707-51-16630 - RING |
| 704-27-47011 - CASE | 343929R1 - RING | 195-00-00533 - POWER TRAIN |
| 42A-877-5502 - BOOM ASS'Y | 707-13-22440 - XCYLINDER | 34310699 - SPRING WASHE |
| 6252-21-3130 - PLATE | 723-46-15430 - PISTON | 195-43-48220 - LEVER |
| 427-S05-4920 - TUBE | 680680C1 - BELT | 421-43-57430 - HOSE |
| 5078220 - NUT | 707-86-46610 - TUBE LH | 708-1S-13310 - PISTON |
| 17M-22-47160 - TUBE | 561-03-61940 - TUBE P60 | 42C-43-18220 - LEVER ASS'Y |
| 417-33-11430 - RING | 417-01-51340 - HOSE | 390596043 - PIN |
| 81M7-55101 - TRACK ROLLER | 56B-82-31120 - DUCT | 22B-54-13820 - WASHER |
| 195-33-12260 - HOSE | 22M-70-00110 - BOOM ASSY. | 17A-27-41690 - COVER |
| 205-06-64540 - LAMP | 426-13-43330 - SHIM | 17M-15-25650 - SHAFT |
| 207-01-72181 - BRACKET | 56B-03-31981 - TANK | 20K-14-32310 - O-RING |
| 30114R1 - BOLT | 90521940 - RETAINER | 5244355 - THROTTLING |
| 51461998 - HOSE | 51788998 - BOLT | 707-88-28190 - BRACKET |
| 5063079 - HARNESS | 90679840 - UNION | 5034100 - SEAL KIT 90 |
| 561-89-82562 - COVER | 708-2L-04930 - CASE ASM., F | 208-54-31120 - DOOR |
| 569-07-81322 - HOSE | 423-62-61830 - HOSE | 22J-54-26261 - SHEET |
| 207-979-7520 - HOSE | 6216-94-3720 - RING | 21478 - CYLINDER, TE |
| 419-02-31111 - PIPE | 705-52-40160 - PUMP ASM | 6216-64-4790 - LEVER, IDLER |
| 56B-89-22120 - BRACKET | 22B-62-16610 - HOSE P60 | 20Y-06-16280 - BOX |
| 703-08-95620 - SEAL | 238-43-14330 - TUBE | 708-23-13431 - RETAINER |
| 79277073 - NOZZLE | 423-70-62100 - BOOM ASS'Y | 5077403 - LINK |
| 419-15-13551 - RETAINER | 23A-60-06220 - SEAL KIT | 5237992 - SPECIAL TOOL |
| 58E-FM-AK020 - 1000 HR PM K | 21T-70-33221 - COVER | 709-62-11340 - PLUG |
| 312708641 - BUCKLE | 707-97-00430 - SENSOR ASS'Y | 21N-72-34250 - PIN |
| 561-54-8H300 - COVER ASS'Y | 561-86-6L320 - BRACKET | 21W-06-44185 - HARNESS, WIR |
| 707-58-14230 - XROD | 568-15-12960 - SPRING | 4620551 - GUIDE |
| 720-2M-04360 - BLOCK ASSY,R | 94164240 - HOSE | 6130-62-6410 - HOSE |
| 423-54-54522 - COVER | 4879416 - ROCKER BEARI | 17M-49-42151 - HOSE |
| 58F-60-40470 - HOSE ASSY | 671822C3 - TUBE | 6216-94-3180 - GASKET,AIR C |
| 42Y-15-H0V07 - SIEVE | 56C-27-24000 - XFINAL DRIVE | 421-54-41550 - SHEET |
| 175-06-51140 - GAUGE | 81174 - U-JOINT | 90057A - REDUCER |
| 428-46-11380 - SHIM | 22U-62-34841 - HOSE | 6520-81-1080 - CONNECTOR |
| 426-Z84-2791 - DOOR | 56B-22-25052 - FINAL DRIVE | 6165-11-5290 - SEAL |
| 6222-K1-9900 - GASKET KIT | 235-60-11200 - VALVE | 569-54-81141 - COVER |
| 35869840 - PUMP | 80632973 - Sun gear sha | 647553C1 - HOSE |
| 6127-11-1141 - CROSSHEAD GU | 56D-02-11132 - COVER | 23B-809-8550 - SHAFT |
| 6156-11-5450 - COVER | 421-03-32231 - LOCK | 392059173 - HOSE 1400 |
| 178-13-11720 - SEAL RING | 69238700 - SWITCH | 21P-26-K0220 - TUBE |
| 195-30-62480 - RING | 207-27-63220 - BEARING | 721-58-35580 - ROD |
| 708-27-07122 - SERVO VALVE | 22U-03-31450 - SHEET | 22N-06-51330 - PLATE |
| 425-16-21530 - TUBE | 561-07-85610 - CASE | 198-60-51201 - VALVE ASSY,C |
| 20N-60-31680 - O-RING | 705497C1 - SHIM | 5067526 - ARM |
| 6265-71-3220 - SHAFT | 6216-71-4221 - TUBE INJECT | 208-03-75130 - OIL COOLER |
| 95271340 - PIPE ASSY | 5061863 - ROLLER | 209-03-00151 - RADIATOR ASS |
| 5060278 - SAW BAR CLAM | 198-06-47170 - WIRING HARNE | 20K-970-5521 - TUBE |
| 423-926-3592 - WIRING HARNE | 714-12-32421 - GEAR | 96178640 - SHIM SET |
| 708-2L-25731 - SPOOL | 7826-14-7501 - CONTROLLER | 79815573 - FILTER |
| 425-06-23111 - SUPPORT | 20Y-70-42220 - PIN | 411-44-11470 - TEE |
| 207-46-41620 - WEIGHT | 7823-31-1202 - MONITOR | 21N-54-31811 - COVER |
| 21T-60-12710 - CAP | 273-43-12290 - SPRING | 56D-23-15000 - XFINAL DRIVE |
| 287-22-11631 - NUT | 7826-17-3502 - CONTROLLER | 707-G2-00400 - CYLINDER ASS |
| 21W-62-38190 - HOSE | 208-54-69710 - SHEET | 6212-55-8131 - CONNECTOR |
| 51729298 - UNION | 427-03-12430 - TUBE | 707-58-90940 - XROD |
| 423-54-21730 - SHEET | 723-10-13800 - RELIEF VALVE | 21P-970-K262 - TUBE |
| 235-54-32450 - COVER | 5075517 - HYDRAULIC HO | 90658473 - RING |
| 707-27-10910 - HEAD | 2999793M - PLUG | 42C-06-13360 - WIRING HARNE |
| 176-38-41360 - SHIM | 42U-09-H4000 - HOSE | 92326540 - CATCH |
| 20N-70-41620 - PIN | 20U-26-21210 - CAP | 37A-22-11190 - NUT |
| 708-2G-15420 - SEAT | 195-13-11005 - XTORQCON V D | 567-32-71310 - DISC |
| 56D-02-11572 - COVER | 5079913 - SEAL | 17M-30-25261 - COVER |
| 708-2L-34410 - ELBOW | 707-35-30580 - BACK-UP RING | 209-62-45790 - HOSE |
| 421-22-31180 - CARRIER | 700-42-31470 - SPRING | 58D-SM-AK020 - SPDL MAINT K |
| 714-12-Z0004 - TRANSMISSION | 963801KF - NIPPLE | 22459 - KIT SEAL RE |
| 21T-30-32650 - SUPPORT | 22L-62-32920 - HOSE | 424-16-11640 - HEAD COVER A |
| 22U-62-43621 - HOSE | 20E-54-K6070 - FRAME | 32337740 - RESERVOIROR |
| 569-54-41491 - ROD | 56B-54-2P310 - WIRING HARNE | 22U-01-A0130 - HOSE |
| 6166-55-8121 - TUBE | 209-32-11311 - SHOE | 198-911-7770 - BRACKET |
| 426-877-1340 - TUBE | 425-963-A641 - WLDMNT,TOP C | 206-63-K1140 - CYLINDER ASS |
| 6736-71-4221 - TUBE NO.2 | 42N-56-14010 - BRACKET | 7824-65-2003 - CONTROLLER |
| 6216-71-4350 - TUBE - INJEC | 207-04-A1910 - TANK | 20X-04-21130 - PLATE |
| 5080637 - SCREW | 708-25-09360 - VALVE ASS'Y | 566-89-8G161 - SHEET |
| 208-62-43260 - HOSE | 707-99-66760 - SEAL KIT | 20T-01-81443 - HOSE |
| 714-23-05220 - SERVICE KIT | 198-09-31331 - BEARING | 175-65-33670 - LINING |
| 235-61-12100 - VALVE ASS'Y | 21W-62-44440 - SEAT | 561-86-68430 - WIRING HARNE |
| 561-85-81160 - COVER | 22E-09-11520 - JOINT | 22U-62-31361 - HOSE |
| 6245-81-9550 - WIRING HARNE | 21N-03-41250 - BRACKET | 195-49-31380 - ELBOW |
| 235-54-41821 - COVER | 567-15-41270 - PLUG | 22B-62-14423 - HOSE |
| 625314C1 - COLLAR | 714-13-14110 - COUPLING | 93040 - PAD ARM |
| 93467040 - ROD | 6219-51-2220 - HOSE | 426-22-12531 - GEAR |
| 5024221 - HEX BOLT M6 | 22P-54-12351 - SHEET | 7835-10-5001 - MONITOR |
| 34061299 - BRIGHT WASH | 426-03-21150 - ELBOW | 195-43-12740 - BRACKET |
| 5055017 - HARNESS | 6245-81-5160 - COVER | 363-06-33160 - LAMP |
| 662409C1 - SEAL | 795-799-2110 - DRIVER | 569-61-85172 - TUBE |
| 51511940 - VALVE | 705-17-33430 - GEAR | 425-62-14570 - HOSE |
| 707-00-0C051 - CYLINDER ASS | 6252-81-9510 - CLIP | 23A-03-21240 - HOSE |
| 5198885 - HYD HOSE | 58E-06-02041 - FUSE BOX, DV | 17503 - PUMP, TRACK |
| 421-926-3512 - ROOF | 4602269 - HOLDER | 6211-81-4270 - WIRE |
| 720-2M-14530 - COVER | 195-03-61360 - PLATE | 566-35-19121 - PLUNGER |
| 21N-63-72561 - BRACKET | 56D-74-11280 - GUARD | 425-S33-3470 - PLATE |
| 561-15-62290 - HUB | 709-74-92420 - RETAINER | 232-60-54110 - NIPPLE |
| 22M-62-14700 - VALVE ASSM | 22M-62-13780 - HOSE | 6210-61-3370 - SEAT |
| 198-30-46230 - SHAFT | 21M-62-33330 - HOSE | 17A-61-12531 - HOSE |
| 816214112 - GASKET | 195-54-56221 - STEP | 23B-07-61311 - HOSE |
| 235-809-3951 - DUCT | 58E-98-01250 - DUCT, AIR | 22M-62-22810 - HOSE |
| 425-54-17410 - ASHTRAY | 703-08-23160 - SWIVEL JOINT | 51650298 - HOSE |
| 22L-62-18641 - HOSE | 195-61-41151 - SEAL | 41E-35-11210 - ADJUSTER |
| 198-63-45480 - TUBE | 20Y-53-18880 - SEAL P60 | 22U-979-2300 - DUCT ASS'Y |
| 836764244 - BELT PULLEY | 42T-22-H0P31 - DISC | 60774740 - TUBE |
| 17M-49-41151 - BRACKET | 42A-06-58110 - BRACKET | 21N-53-32322 - COVER |
| 421-07-31101 - AIR CONDITIO | 427-54-28361 - SUPPORT | 425-60-35532 - TUBE |
| 58F-80-00910 - PLATE | 93642740 - PIN WITH PLA | 71089273 - HYDRAULIC MO |
| 208-53-12980 - PLATE | 6754-21-9120 - GASKET | 418-62-A1531 - HOSE |
| 705-17-01540 - BRACKET | 427-S05-1790 - DUCT | 421-43-27220 - CYLINDER ASS |
| 714-15-05041 - SERVICE KIT | 17A-03-51250 - STAY | 421-56-H0R92 - CABLE |
| 426-20-14540 - FITTING,GREA | 418-06-44110 - COVER | 6261-11-5610 - MUFFLER |
| 2A7-01-21421 - HOSE | 3830401 - 12CCVALVE-24 | 600-182-3150 - GASKET |
| 705-56-44090 - XPUMP ASS'Y | 22L-54-19330 - COVER | 426-Z04-2230 - PLATE |
| 91925940 - RING | 51890898 - LENS HEAD SC | 22F-70-23300 - ARM ASS'Y |
| 17A-06-11681 - WIRING HARNE | 56B-54-28411 - COVER | 22L-62-28110 - HOSE |
| 5059721 - PIN | 8295-72-2222 - SHAFT | 425-20-15111 - HOUSING |
| 885111132 - LIGHT, WORKI | 207-06-32140 - WIRE | 566-02-8L620 - PIPE |
| 50438698 - BOLT | 419-03-11241 - GUARD | 51352698 - HOSE |
| 90069040 - BUSHING | 36806140 - VALVE | 209-62-77720 - HOSE |
| 58E-60-01040 - HOSE | 38522240 - HOUSING | 198-54-76361 - STEP |
| 708-27-13212 - VALVE PLATE | 2355280S - HYD HEAD | 207-54-41811 - HANDRAIL |
| 42N-62-14140 - HOSE | 7831-62-2002 - MODULE | 17M-30-66271 - BOGIE |
| 56D-54-22210 - COVER | 898082C1 - RING | 7835-70-1417 - MONITOR |
| 42C-46-14510 - BRACKET | 562-15-22290 - HUB | 6222-31-1450 - PULLEY |
| 17A-61-21141 - HOSE | 5009391 - ORING | 42U-09-H0700 - FUSE |
| 312605681 - GLASS,UPPER | 418-06-A3440 - SWITCH ASS'Y | 58D-06-10480 - WIRING HARNE |
| 195-32-04502 - TRACK SHOE A | 56B-03-31411 - TUBE | 6732-71-3220 - SCREW,HEX FL |
| 428-06-21230 - SWITCH | 4587219 - HOSE BRACKET | 418-04-11130 - FUEL TANK |
| 22U-01-11133 - SEAL | 56D-54-12841 - COVER P60 | 84866 - ROLLER |
| 17A-03-41930 - TUBE | 208-63-63170 - TUBE | 207-43-21130 - HOSE |
| 198-Z11-3391 - LEVER | 24833 - SWITCH, ROCK | 837070197 - SCREW |
| 418-07-45130 - HOSE | 79329273 - SEAL. SHAFT | 23B-03-71150 - AFTER COOLIE |
| 79228473 - HOSE | 21T-38-71210 - ELBOW | 208-62-51900 - VALVE ASS'Y |
| 427-43-27750 - BLOCK | 17A-15-25811 - COVER | 416-01-31170 - CUSHION |
| 42N-64-11880 - GASKET KIT | 21N-06-41180 - WIRING HARNE | 425-Z90-4460 - SHEET |
| 707-86-68110 - TUBE | 198-32-31540 - SHOE,TRACK 8 | 21M-54-15570 - SEAL |
| 419-06-51142 - COVER RH | 89091940 - CATCH | 6110-41-4540 - CAP |
| 22K-70-18520 - LINK | 6150-21-6601 - COVER ASS'Y | 561-22-72961 - BEARING |
| 708-25-00230 - BLOCK ASS'Y | 325286R1 - SPACER | 21N-70-35230 - NIPPLE |
| 235-60-14660 - TUBE | 50625398 - DISC | 56B-54-21B90 - SHEET |
| 42C-54-15131 - HANDRAIL | 702-16-71210 - SEAL | 6261-11-9160 - PLATE |
| 51093698 - HOSE | 421-S62-2290 - BRACKET | 22M-972-3312 - MOTOR ASS'Y |
| 711-66-17120 - HOUSING | 6204-21-5180 - PLUG | 943479 - CLAMP HOSE 5 |
| 418-06-33212 - LAMP | 706-78-71220 - SPOOL | 65494368 - SENSOR |
| 6245-31-3100 - CONNECTING R | 209-54-77151 - COVER | 5212796 - CARDAN SHAFT |
| 707-99-64330 - SEAL KIT | 72801 - VALVE | 22U-62-13890 - TEE |
| 58F-60-00050 - VALVE,AUTONO | 208-43-61140 - CABLE | 27045940 - HOSE |
| 417-975-4214 - FRAME | 79444473 - UNION, ELBOW | 90722340 - Grommet 15 |
| 426-01-A2310 - ADAPTER | 79633873 - DIPSTICK | 207-54-76460 - FRAME |
| 5070187 - HARNESS | 95401940 - PLATE | 5194324 - HYD.HOSE |
| 7830-62-2007 - CONTROLLER | 416-54-31490 - PLATE | 20T-63-57441 - CYLINDER |
| 202-00-71510 - PLATE | 421-960-A210 - UPPER ASSY K | 6152-22-3141 - COVER |
| 175-54-21275 - NET | 707-58-85250 - XROD, PISTON | 417-04-31115 - FUEL TANK |
| 22180 - ROD CYL - T | 58F-03-00080 - FITTING, TEE | 364358C1 - HOSE PRC PER |
| 425-43-58961 - HOSE | 426-43-A1220 - BRACKET | 6738-11-3130 - NOZZLE |
| 708-4L-00931 - XPUMP ASSY | 21T-54-39520 - COVER | 425-62-32380 - BRACKET P6 |
| 4054990 - SLEEVE | 395-56-13500 - BOLT HEX | 427-70-24160 - TUBE |
| 205-62-72210 - GROMMET | 20K-23-31740 - WASHER | 643449161 - ADAPTER 90 A |
| 21M-54-18760 - SHEET | 896753R1 - ROD | 707-13-20460 - XCYLINDER |
| 6262-31-1510 - PULLEY | 20G-70-41510 - LINK LH | 561-50-6P101 - SUSPENSION A |
| 5002328KF - ADAPTER 1.0 | 427-62-21841 - HOSE | 567-32-41301 - BRAKE ASS'Y |
| 561-86-68330 - WIRING HARNE | 419-60-48112 - HYDRAULIC TA | 419-54-21461 - ROD |
| 5203783 - SHIM | 802350002 - NUT | 28824KF - VALVE SECTIO |
| 23A-40-11540 - SPRING | 207-03-76360 - COVER | 203-54-K1100 - CAB ASS'Y |
| 6215-71-4231 - TUBE | 26139 - ROD, TIE - V | 421-06-51860 - CABLE |
| 17A-61-13510 - HOSE | 6251-F0-0032T3 - ENGINE ASS'Y | 207-00-31630 - MARK |
| 2A5-53-11271 - LOCK | 21M-30-12270 - PLATE | 645283C1 - HOSE |
| 417-60-15430 - CASE ASS'Y | 426-850-1214 - LINK | 235-45-33331 - BLOCK |
| 5065253 - BUSHING | 423-57-H0P42 - SWITCH ASS'Y | 20K-14-32220 - SPRING |
| 56B-06-3A410 - WIRING HARNE | 198-43-51680 - SHAFT | 2A6-62-A1010 - HOSE |
| 425-54-15451 - SHEET | 42U-18-21030 - TUBE | 468339R1 - RING |
| 58F-06-41430 - CABLE,JUMPST | 77201773 - DOWEL PIN | 3946463S - SERVICE PT |
| 21M-03-15520 - SHEET | 706-8J-01310 - MOTOR ASS'Y | 22K-03-21311 - SHEET |
| 419-60-A1710 - GUARD P60 | 58D-98-01430 - O-RING, W/RE | 20Y-62-22910 - HOSE |
| 8296-93-1150 - PLATE | 723-26-15430 - PLATE | 42U-93-11D10 - DECAL |
| 17M-13-46221 - TUBE | 37B-09-11842 - O-RING | 209-70-75761 - TUBE |
| 21T-64-36690 - HOSE | 561-43-41620 - INSULATOR | 22U-04-41110 - TANK |
| 20Y-62-17170 - HOSE | 6210-51-8110 - HOSE | 91265540 - CYLINDER |
| 23B-60-71330 - LEVER | 28199740 - FREEZING BUS | 22U-00-21310 - PLATE |
| 6240-21-7140 - PLATE | 195-61-49150 - HOSE | 76518573 - SPRING RETAI |
| 94553140 - TUBE | 2A5-62-15380 - HOSE | 206-57-A1690 - ARMREST, ASS |
| 721-58-10100 - XROD | 42C-43-19110 - O-RING | 5075648 - PIPE |
| 2938-06-2201 - WIRE,FR VALV | 22M-54-23560 - SEAL | 6251-11-6651 - COVER |
| 195-01-53252 - HOSE | 23S-15-22630 - RING GEAR | 51711198 - SEAL KIT |