Komatsu HM400-5 Articulated Dump Truck parts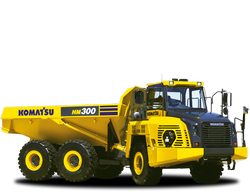 Komatsu HM400-5 Dump Truck - it is a big machine. It is a Articulated Dump Truck and works in difficult operating conditions. That's why this machine sometimes needs maintenance.
Our online parts store give you an access to more than 500 000 Komatsu parts that we have in our inventory.
Here is some more information about Komatsu HM400-5 Articulated Dump Truck:
ENGINE POWER
353 kW / 473 HP @ 2.000 rpm
BODY CAPACITY, HEAPED
24 m³
MAX. PAYLOAD
40 ton

ENGINE
Model -> Komatsu SAA6D140E-7
Type -> Common rail direct injection, water-cooled, emissionised, turbocharged, after-cooled diesel
Engine power
at rated engine speed -> 2.000 rpm
ISO 14396 -> 353 kW/473 HP
ISO 9249 (net engine power) -> 348 kW/466 HP
No. of cylinders -> 6
Bore × stroke -> 140 × 165 mm
Displacement -> 15,24 l
Max. torque -> 2.257 Nm (230 kgf-m)
Governor -> Electronically controlled
Lubricating system -> Gear pump, force lubrication
Filter -> Full-flow filter
Air-filter type -> Dry type with double elements and precleaner (cyclonpack type), plus dust indicator
If you send us your request, we will make you an offer for original and Aftermarket Komatsu parts for your Komatsu HM400-5 Articulated Dump Truck.
Below is a small list of Komatsu parts for this equipment. However, if you are interested in something - please use the site search.
| | | |
| --- | --- | --- |
| 18684 - COIL, SOLENO | 426-70-11482 - BUSHING | 6215-71-1232 - INJECTION PU |
| 421-06-12187 - WIRING HARNE | 17A-30-45210 - RETAINER | 707-86-13770 - TUBE (LH) |
| 22B-62-18770 - HOSE | 427-03-22250 - TUBE | 6261-81-8520 - WIRING HARNE |
| 6240-61-3340 - PULLEY | 566-52-6C150 - TUBE | 58F-RS-AK010 - REAR SUSP OH |
| 79661973 - TUBE-KIT | 423-07-31743 - DUCT | 419-54-54190 - LADDER |
| 709-14-11581 - VALVE | 21539N - MUFFLER | 23B-25-41500 - CHAIN ASS'Y |
| 21M-26-21230 - BUTTON | 6151-81-4110 - WIRING HARNE | 5049282 - LIST |
| 569-95-64450 - HOSE | 423-03-59640 - HOSE | 195-61-43861 - HOSE |
| 20C-62-32311 - HOSE | 853011013 - HOSE | 17M-43-42111 - BRACKET |
| 708-1H-02032 - VALVE, RELIE | 22F-910-2700 - BLADE ASS'Y | 195-71-72313 - BLADE |
| 42C-54-13781 - BULKHEAD | 235-06-35360 - PLATE | 234-27-32460 - COVER |
| 6154-61-1200 - WATER PUMP A | 56D-93-12241 - PLATE | 21M-54-21890 - SHEET |
| 207-54-72250 - SHEET | 37A-99-11001 - HYD OVERRIDE | 6743-11-4940 - HOSE |
| 816214019 - LEVER | 707-13-22560 - XCYLINDER | 195-06-75331 - BRACKET |
| 205-46-21390 - COVER | 17816 - PANEL, MUFFL | 5041956 - FLANGE |
| 421-U45-5610 - BRACKET | 424-54-41511 - BRACKET | 7823-37-3003 - XCONTROLLER |
| 76773373 - DISK | 707-46-16080 - BUSHING | 195-06-23160 - AMMETER |
| 22L-62-14700 - HOSE ASS'Y | 198-03-71510 - CORE | 711-20-32520 - SHAFT |
| 426-43-27620 - TUBE | 6219-71-8120 - TUBE, FUEL | 392435001 - HOSE |
| 426-54-46761 - SEAL | 22L-54-17820 - SUPPORT | 198-78-61140 - TUBE |
| 20G-22-11450 - WASHER | 99811200 - SUPPORT RING | 22B-54-15290 - SEAL |
| 22B-62-31371 - HOSE | 306603061 - PIPE | 203-06-K1310NK - COVER |
| 836119994 - HOSE | 23A-952-1151 - GLASS | 20Y-54-62431 - COVER |
| 235-16-13170 - HOSE | 93533140 - PIPE ASSY | 19M-06-32130 - WIRING HARNE |
| 419-46-12480 - PACKING | 705-21-32370 - PUMP ASS'Y | 6240-81-9151 - WIRING HARNE |
| 6222-73-1130 - PUMP ASSY, I | 927591C1 - HOSE | 421-W30-3111 - BASE |
| 17M-30-66113 - BOGIE | 26734KF - FOAM, BARRIE | 86221M - MUFFLER |
| 58F-00-00220 - GREASE PUMP | 640045126 - PLUG | 5091488 - COVER |
| 627880C1 - SHAFT | 392078015 - HOSE | 561-88-48340 - PINION ASS'Y |
| 423-03-51480 - BRACKET | 50290098 - ORING | 69454800 - UNION |
| 20S-01-70101 - ENGINE27.6HP | 423-22-21500 - CASE ASS'Y | 22M-54-14B30 - PLATE |
| 205-54-73460 - SEAL | 6755-81-9220 - BRACE | 419-U83-1130 - ADAPTER |
| 20K-62-36351 - HOSE | 427-03-12440 - TUBE | 5007259 - SWITCH |
| 425-70-11381 - SHIM | 6245-81-3180 - COUPLING | 729049 - BOOT |
| 51484498 - HOSE | 22U-62-22680 - HOSE | 426-06-23111 - SUPPORT |
| 20Y-54-51B11 - HINGE | 208-62-71390 - HOSE | 23B-27-11160 - BRACKET |
| 561-02-62270 - CLAMP | 195-43-24530 - LEVER | 207-30-68230 - SUPPORT |
| 5211133 - WASHER | 41E-15-26170 - SPRING | 659825C1 - O-RING |
| 6262-11-8820 - COVER | 6164-51-1851 - SHAFT | 58F-06-10250 - WIRING HARNE |
| 42C-54-22271 - COVER | 42C-S95-3660 - HOSE P60 | 238-22-15110 - LOCK |
| 566-89-8C720 - COVER | 96021440 - BUSHING | 58F-06-01281 - CABLE,WIRELE |
| 704-37-03310 - COUPLING | 20T-62-73370 - HOSE | 37C-30-11120 - RIM |
| 20N-62-44430 - HOSE | 283-86-11120 - CABLE | 711-47-31770 - PLATE |
| 561-84-62430 - BAND | 198-54-75440 - BRACKET | 6219-C0-0033 - ENGINE ASS'Y |
| 3939393S - 25 | 723-56-41790 - SPRING | 22K-43-31441 - CABLE |
| 691430C1 - SHIM | 20T-62-66580 - HOSE | 198-54-78750 - BRACKET |
| 17A-49-41291 - TUBE | 21M-54-22430 - STEP | 20G-62-32371 - TUBE |
| 20E-63-K1300 - CYLINDER ASS | 22B-54-32730 - PLATE | 878000658 - KIT, GASKET |
| 209-70-41230 - CLAMP | 6743-11-5721 - MUFFLER | 4A1-54-11320 - COVER |
| 76960673 - PUSH | 569-87-62140 - HOSE | 4656573 - CAP |
| 423-Z90-5470 - GUARD | 6211-21-5520 - FILLER | 418-43-47201 - VALVE ASSY |
| 42C-56-12510 - FINISHER | 62169840 - PLUG CONTACT | 20Y-54-65141 - BRACKET |
| 816214659 - NUT, SELF LO | 566-07-6A532 - COVER | 205-965-1310 - SPACER |
| 707-52-90650 - BUSHING | 208-00-41180 - PLATE | 207-979-A621 - HOSE |
| 56B-54-22111 - FENDER | 8206-75-3720 - PULLEY | 707-01-0M490 - BOOM CYL.ASY |
| 20E-910-K840 - TUBE | 206-62-71390 - HOSE | 427-S05-3580 - TUBE |
| 6221-61-1810 - GASKET | 421-06-12770 - WIRE | 205-54-72691 - BRACKET |
| 19M-06-37171 - WIRE HARNESS | 42U-20-H0P02 - UNIVERSAL JO | 175-70-22190 - SCREW |
| 89132A - ELBOW | 22F-54-31812 - COVER | 426-03-33632 - SUPPORT ASS' |
| 419-54-52220 - COVER | 42T-54-21730 - GAS DAMPER | 425-03-32510 - BRACKET |
| 6219-81-7150 - WIRING HARNE | 421-54-56992 - GRILLE | 561-20-A1110 - U-JOINT DRIV |
| 6127-41-4510 - SPRING SEAT | 42U-54-11410 - BUFFER | 208-01-21941 - STRAINER |
| 723-19-18600 - CONTROL VALV | 8240-70-7141 - PIN | 708-8H-33220 - PLATE |
| 58B-06-00180 - RESISTOR STR | 6735-21-3220 - SEAL | 711-49-11510 - TURBINE |
| 426-04-A2220 - PLATE | 96387140 - WIRING HARNE | 42N-02-12831 - MOUNT |
| 708-21-05100 - SHIM KIT | 6643-11-5110 - EXHAUST MANI | 6216-54-6360 - BRACKET-OIL |
| 419-62-52690 - HOSE | 209-46-42450 - SHIM P60 | 426-15-13320 - SHAFT |
| 425-880-1380 - CLAMP | 5242861 - BEARING MOTO | 23A-60-19910 - O-RING |
| 21K-973-7570 - SEAT | 22K-60-22170 - PLATE | 561-89-85831 - STEP |
| 419-01-A1190 - TUBE | 170-14-45241 - GASKET | 235-53-32230 - PLATE |
| 22M-70-22830 - PIN | 680582C1 - SHAFT | 21K-70-73140 - LINK, BUCKET |
| 417-62-41150 - HOSE | 5073352 - PLATE | 42R-17-H0P46 - O-RING |
| 209-53-11971 - SHEET | 37C-70-13113 - FRAME | 23B-809-8871 - COVER |
| 22U-62-13540 - CUSHION | 6216-71-553A - BRACKET | 419-15-12221 - PISTON |
| 705-52-30920 - XPUMP ASSM | 426-13-46400 - VALVE ASS'Y | 714-07-14101 - COUPLING ASS |
| 427-15-00132 - CARRIER ASS' | 22P-62-15360 - HOSE | 426-35-11141 - TUBE |
| 73647 - GASKET,F | 20Y-62-K2960 - HOSE | 4A1-62-20390 - HOSE ASSY |
| 198-06-46180 - WIRING HARNE | 423-64-H3151 - CONTROL VALV | 22B-62-19330 - HOSE |
| 426-07-32441 - FILTER | 42A-56-52530 - SEAL | 207-03-41351 - BRACKET |
| 421-06-51410 - WIRING HARNE | 232-957-6441 - GLASS | 21W-54-51340 - SEAL |
| 31928699 - SCREW | 366317R93 - SWITCH | 363-18-31191 - HOSE |
| 708-1H-31630 - COVER | 562-13-05070 - SERVICE KIT | 6733-71-5650 - BALL |
| 444482 - ELBOW | 566-61-46122 - TUBE | 22U-62-29590 - ELBOW |
| 76867473 - DISC | 21N-01-37310 - BRACKET | 58F-06-04450 - RESISTOR,BRA |
| 21N-54-31651 - FRAME | 790-A25-2910 - PIN DRIVER 2 | 175-40-22170 - GUIDE |
| 421-60-11770 - COVER | 714-07-43811 - RETAINER | 421-54-34233 - SHEET |
| 206-70-55173 - TUBE | 27399KF - PLATE, COVER | 5053486 - SPRING |
| 707-E4-00171 - CYLINDER ASS | 2A5-00-11410 - PLATE,REFLEC | 561-07-82380 - HOSE |
| 96695700 - HORN | 195-06-74160 - PLATE | 3307479S - SERVICE PT |
| 848200021 - NUT | 426-06-11690 - BUZZER | 51909498 - HOSE |
| 22B-979-3181 - BRACKET | 235-43-00120 - SHIM ASS'Y | 70591R1 - GASKET |
| 419-54-15280 - WEATHER STRI | 22U-63-52720 - ROD, PISTON | 6127-51-5640 - SPRING |
| 306458634 - PANEL | 425-S05-2141 - TUBE | 42W-70-H0P49 - CYLINDER ROD |
| 20J-54-12240 - COVER | 844200524 - GASKET KIT | 26696 - ELBOW, EXHAU |
| 425-03-23520 - PLATE | 22U-54-25160 - SPACER | 21P-06-K3332 - WIRING HARNE |
| 23A-63-22140 - CYLINDER | 4525051 - BRACKET | 22B-979-2702 - UNIT ASS'Y |
| 417-04-21131 - COVER | 30858799 - SCREW | 6114-11-6320 - GASKET |
| 23210940 - CALIPER | 8248-70-5360 - COVER | 226-09-12750 - JOINT P60 |
| 208-53-13571 - BRACKET | 20M-62-72411 - HOSE | 56D-02-21810 - BRACKET |
| 22F-71-21130 - PIN | 21N-46-35261 - SHEET | 423-54-32120 - SHEET |
| 17A-979-1930 - SEAL | 708-1L-00680 - XPUMP ASS'Y | 51471498 - HOSE |
| 5040990 - ELECTRIC CAB | 8240-32-1170 - BUSHING | 42U-06-13110 - LAMP, RIGHT |
| 707-98-26620 - KIT | 175-71-00233 - BRACE ASS'Y | 418-03-51230 - TUBE |
| 569-15-81230 - BUSHING | 567-32-41310 - DISC | 42W-23-H0P20 - BUSHING |
| 5075039 - VALVE SECTIO | 6218-21-3860 - PULLEY P60 | 21W-62-51320 - HOSE |
| 427-S05-6411 - COVER | 6732-11-6140 - ADAPTER | 176750H1 - CLAMP |
| 566-93-6B780 - PLATE | 35056899 - FITTING | 20G-06-41810 - SWITCH P |
| 6215-81-5660 - BRACKET | 6245-21-5120 - PAN | 6140-61-1511 - SEAL |
| 4572858 - CLAMP | 56B-02-21690 - BRACKET | 708-1U-00250 - XPUMP ASSY |
| 5036782 - AIR FILTER | 3946322S - SERVICE PT | 22F-26-00012 - SWING MACHIN |
| 417-875-2570 - COVER | 207-27-62150 - GEAR | 58D-06-01211 - BRACKET A. |
| 702-16-62440 - BOOT | 799-609-1110 - STOPPER | 22U-00-11920 - PLATE |
| 425-33-31150 - CYLINDER | 2A5-54-12680 - SHEET | 22195 - PIN, TRACK C |
| 21S-62-32251 - HOSE | 900309A - INSERT | 42U-54-13000 - BEARING |
| 721-36-20011 - PISTON | 416-18-33843 - HOSE | 58B-04-00182 - TANK,FUELW/C |
| 927026A - PIPE,EXHAUST | 708-8H-13920 - SEAL | 428-20-15231 - COUPLING ASS |
| 20Y-979-K140 - HOSE | 5063653 - PROTECTION | 721-58-10530 - XROD,PISTON |
| 175-61-34640 - TUBE | 42T-09-H1350 - SCREW | 569-93-66710 - OIL CHART |
| 5061236 - SPACER | 6150-22-6600 - COVER | 3303311 - ATOMIZER |
| 20Y-62-43580 - ELBOW | 207-03-41471 - TUBE | 5197113 - COMPENSATOR |
| 195-54-69132 - SUPPORT | 707-F1-01480 - XCYLINDER AS | 421-54-H4C91 - REINFORCEMEN |
| 208-62-44320 - HOSE ASSY | 23B-809-9190 - HOSE | 85487 - INSTALLER |
| 22B-54-32660 - PLATE | 22U-62-26511 - BRACKET | 23B-30-32112 - RIM |
| 42C-13-11210 - CASE | 19931 - CARTRIDGE, P | 561-88-86112 - BRACKET |
| 76914873 - POLE CABLE | 423-879-A390 - CONNECTOR | 705-17-48410 - GEAR |
| 885270578 - WIRING HARNE | 6136-21-5770 - PLATE | 791-685-5730 - BAR |
| 20Y-70-22221 - BOSS | 51791498 - HOSE | 418-22-11132 - CAGE |
| 198-03-79250 - HOSE ASSM | 566-54-6A780 - GUARD | 23B-735-3350 - SHIM |
| 653556C91 - TUBE | 207-01-41452 - HOSE ASS'Y | 561-89-87510 - VALVE |
| 707-98-42720 - SEAL KIT | 209-06-78410 - CABLE | 416-43-31130 - HOSE |
| 23A-03-31661 - HOSE | 21T-04-32330 - PLATE | 21P-06-K2250 - WIRING HARNE |
| 421-56-11891 - GLASS | 22M-973-2640 - MAT - FLOOR | 21X-54-32470 - SEAL |
| 22L-54-23640 - SHEET | 418-54-42330 - BRACKET | 425-03-21700 - CORE ASS'Y |
| 56B-02-51560 - GUARD | 6710-71-6100 - FILTER ASS'Y | 20U-62-22270 - HOSE |
| 70076N - AIR ELEMENT | 392009112 - HOSE | 6253-61-6330 - BRACKET |
| 6215-11-9111 - PLATE | 312607124 - RADIATOR | 424-54-H4480 - HINGE |
| 706-47-40251 - RING | 207-53-32440 - BRACKET | 708-7T-02090 - RELIEF VALVE |
| 5210289 - HYD.HOSE | 51579098 - SCREWS | 421-22-31951 - COVER |
| 569-54-63200 - CONSOLE BOX | 69555673 - HARNESS | 419-43-37230 - HOSE |
| 6252-71-5330 - HOSE | 421-U44-4790 - TUBE P60 | 5072419 - HYDRAULIC HO |
| 706-77-72610 - HOUSING | 707-81-30080 - COLLAR | 198-Z11-4550 - PLATE |
| 17A-71-12361 - LOCK | 209-62-K1330 - HOSE | 561-89-67620 - WIRING HARNE |
| 7823-56-1400 - PLATE | 195-21-41211 - FRAME ASSY | 20Y-25-11300 - SWING CIRCLE |
| 6215-81-5870 - TUBE | 37B-09-46058 - PIN | 8296-70-6850 - STOPPER |
| 569-40-85430 - TUBE | 799-205-1220 - PROBE | 17A-13-48310 - HUB |
| 22F-973-3250 - ELBOW ASSY. | 4522532 - PISTON ROD | 21U-70-21360 - PIN |
| 419-46-36130 - TUBE | 22U-62-12680 - TUBE | 22U-43-21130 - LEVER |
| 21X-70-11370 - SPACER | 7823-30-8212 - MONITOR | 569-54-81453 - COVER |
| 20Y-54-39810 - PLATE | 207-62-71960 - HOSE | 79674473 - FUSE BOX |
| 58F-80-05630 - SILENCER,FRN | 21T-64-33121 - TUBE | 22L-70-1A700 - BOOM ASS'Y |
| 714-12-12480 - GEAR | 63439740 - LAMP | 312612189 - FUSE BOX |
| 419-54-11552 - FENDER | 5068592 - MOUNTING | 6746-21-7320 - TUBE |
| 561-95-83240 - BRACKET | 419-22-33611 - HOUSING | 56D-54-34410 - HANDLE |
| 714-12-38550 - COVER | 195-911-8331 - BRACKET | 421-03-63331 - TUBE |
| 5054349 - GLASS | 195-03-63222 - BRACKET | 79794173 - SEAL KIT |
| 7826-36-2400 - CLAMP ASS'Y | 425-877-2220 - HOSE | 22K-70-18410 - BRACKET |
| 7830-32-1401 - BOX | 51286598 - SCREW | 421-06-52291 - WIRING HARNE |
| 421-62-12171 - TUBE | 17A-54-13320 - SHEET | 51500498 - HOSE |
| 203-06-41920 - BUZZER | 6520-91-1010 - PLATE | 562-15-22980 - PLATE |
| 711-28-32142 - RACE | 92961540 - CAPACITOR | 5246084 - PIN |
| 5083644 - PUMP | 6204-11-8620 - HOSE | 205-62-74250 - HOSE |
| 20S-62-81652 - BRACKET P60 | 6215-21-5210 - PAN | 91270240 - TOOL SET |
| 195-Z11-6211 - LINK | 51606798 - O-RING | 195-04-41111 - BLOCK |
| 6219-71-1220 - COMMON RAIL | 21N-54-39130 - SHEET | 707-27-13391 - HEAD |
| 6251-81-9690 - WIRE | 23B-27-81170 - BUSHING | 427-15-15910 - O-RING |
| 235-60-34130 - CLAMP | 195-32-E2340 - MASTER LINK | 235-70-15251 - BUSHING |
| 208-06-71571 - WIRING HARNE | 9604227 - COUPLING | 22B-06-31171 - BRACKET |
| 421-93-23571 - CHART,OIL | 198-71-21211 - CAP | 195-03-43270 - TUBE |
| 4672780 - HYDRAULIC HO | 707-01-0C170 - XCYLINDER AS | 195-03-66520 - BRACKET |
| 20054 - SPOOL, COMPE | 836855446 - O-RING | 723-56-41970 - PLUG |
| 425-62-33421 - TUBE | 206-70-65160 - TUBE | 6219-71-8530 - TUBE |
| 21T-53-33350 - COVER | 198-63-43530 - SNAP RING | 385-11277101 - HINGE |
| 955983 - O'RING | 21T-64-36631 - BRACKET | 21T-54-66610 - SASH ASS'Y |
| 561-89-86950 - GUARD | 427-S33-1481 - WIRING HARNE | 208-54-44191 - SHEET |
| 5066570 - FLANGE | 8221-75-2540 - SCRAPER | 21011 - MOTOR, TRACK |
| 42N-60-11871 - RUBBER | 198-Z11-2360 - SEAL | 207-62-74240 - BRACKET |
| 206-63-73340 - XCYLINDER | 79434873 - GASKET | 79713173 - PIPE |
| 17M-06-42330 - WIRING HARNE | 42C-06-14160 - PLATE | 22U-979-1421 - HOSE |
| 89714P - TUBING,FLEX | 46170640 - Cover | 205-979-7190 - INSULATOR |
| 416-18-43490 - ELBOW | 206-62-K1530 - TUBE | 95061840 - NUT |
| 9610192 - SCREW HHC M | 421-33-11450 - SLEEVE | 707-01-0L710 - CYLINDER ASS |
| 198-03-61930 - RUBBER | 723-40-56700 - VALVE ASS'Y | 836840794 - REPAIR KIT |
| 6136-71-5140 - PIPE | 421-62-33560 - ELBOW | 58E-46-01170 - LADDER A., R |
| 20U-54-25341 - SHIM | 5090954 - HYDRAULIC HO | 7823-62-1000 - MONITOR |
| 42U-56-11130 - WINDOW | 5034686 - PLUG | 23B-43-42180 - TUBE |
| 707-98-75410 - KIT, CYL SEA | 425-06-22645 - WIRING HARNE | 925255 - O-RING 64.50 |
| 801250257 - SCREW | 6156-11-5160 - BOLT | 79225273 - Piston seal |
| 21T-06-32241 - WIRING HARNE | 51697198 - SOCKET | 22B-62-32121 - HOSE |
| 79444173 - PIPE ASSY | 416-54-31953 - PLATE | 312648781 - PROTECTION R |
| 418-877-3271 - BRACKET | 425-54-31641 - COVER | 234-835-2230 - SPRING |
| 707-71-91260 - CAP | 6527-81-1030 - TUBE | 70762 - RETAINER |
| 42C-01-11253 - TUBE | 22T-61-21810 - ELBOW | 17M-71-41180 - BRACKET |
| 6216-74-7260 - SCREW,HEX SD | 707-01-0K280 - XARM CYL ASS | 692344 - SEAL KIT |
| 42N-54-19890 - INSERT | 201-46-23110 - TUBE | 235-60-14910 - BODY |
| 95037540 - PISTON RING | 312648656 - GRID | 93152440 - BUSHING |
| 617415C1 - SHIM | 51583298 - SOCKET | 208-06-61380 - SWITCH |
| 417-03-61570 - HOSE | 425-03-42390 - BRACKET | 195-30-37241 - RETAINER |
| 206-70-61271 - TUBE | 56C-23-24052 - XBRAKE ASSY | 21N-63-52371 - TUBE |
| 707-13-18231 - CYLINDER,LH | 421-43-56210 - SWITCH | 714-12-24291 - SHIM |
| 205-00-31830 - PLATE | 424-15-13841 - CAGE | 419-03-62320 - SEAL |
| 566-46-12180 - PIN | 203-62-63910 - HOSE | 22J-62-15111 - HOSE |
| 419-925-5960 - BRACKET | 17M-54-26161 - COVER | 6110-53-2170 - ROLL PIN |
| 235-833-3152 - BRACKET | 51656298 - HOSE | 42C-S95-1870 - COVER |
| 427-06-25214 - WIRING HARNE | 37A-54-15751 - GASKET | 96869100 - GASKET |
| 707-88-25390 - BRACKET | 426-20-32110 - PROPELLER SH | 58D-98-02040 - BRAKE LINE A |
| 427-01-21620 - MUFFLER | 21T-01-64280 - PIPE | 209-03-41931 - COVER |
| 21T-68-68570 - HOSE ASS'Y | 562-33-32220 - HUB | 561-44-66510 - WIRING HARNE |
| 8248-70-5071 - BOLT | 22L-09-R3760 - PUSHBUTTON | 22K-54-21340 - CUSHION |
| 723-48-26501 - CONTROL VALV | 209-06-75170 - WIRING HARNE | 20Y-54-13560 - PIN |
| 427-03-21602 - RADIATOR ASS | 175-15-43230 - GEAR | 6745-11-4110 - COVER |
| 17M-30-26181 - GUIDE | 20G-43-31150 - LEVER | 708-3T-03222 - VALVE ASS'Y |
| 425-925-3122 - CAB | 569-54-62611 - RUBBER | 21Y-04-11330 - CUSHION |
| 421-12-12730 - BODY | 416-18-43830 - HOSE | 2A5-62-14461 - HOSE |
| 419-46-18150 - TUBE | 20M-70-14130 - PIN | 22U-62-23220NK - BRACKET |
| 42C-01-12551 - BRACKET | 425-54-14190 - WIRE ROPE | 428-22-11260 - O-RING P60 |
| 56B-93-22141 - PLATE | 707-11-13322 - CYLINDER | 418-93-22231 - CHART, OIL |
| 6164-11-5830 - GASKET | 205-54-71822 - ROD | 426-13-00010 - HOUSING ASS' |
| 50236298 - O-RING | 21T-06-11430 - HOSE | 6252-61-7160 - TUBE |
| 707-52-11611 - BUSHING | 17A-43-12151 - COVER | 21T-54-33751 - COVER |
| 425-15-13131 - CAGE | 6215-21-3310 - BRACKET | 6738-61-4110 - AFTER COOLER |
| 195-54-42781 - BAR | 421-03-11890 - BAND | 844160130 - KIT, GASKET |
| 22U-54-14510 - GLASS | 21K-62-74120 - TUBE | 707-59-14020 - XROD |
| 21T-54-39790 - SHEET | 79407573 - Upper fixed | 22444 - COIL, SOLENO |
| 37C-03-11312 - HOSE | 706-75-03350 - MOTOR ASS'Y | 20E-54-K2290 - BLADE |
| 6216-24-5420 - RETAINER,DIP | 885270576 - CABLE (--) | 51666698 - SCREW |
| 42C-62-14230 - BRACKET | 19M-04-11410 - GAUGE | 425-62-23530 - BRACKET |
| 706-77-42950 - OIL SEAL | 423-07-33402 - BOX ASS'Y | 2A7-06-15321 - WIRING HARNE |
| 56B-27-11614 - COUPLING | 96969540 - PLATE | 17M-03-46271 - HOSE |
| 5092095 - HYDRAULIC HO | 8240-70-5743 - BRACKET | 17A-15-22160 - SPACER |
| 56D-15-12022 - CLUTCH ASS'Y | 17M-61-51290 - HOSE | 20G-61-K2460 - WASHER, SPRI |
| 6251-11-4320 - CONNECTOR | 7835-34-1004 - XMONITOR | 42C-15-21001 - TRANS ASY P6 |
| 21T-62-67820 - TUBE | 6735-81-8420 - HOUSING,BEAR | 8295-75-2680 - PLATE |
| 69451000 - PIPING | 708-8H-03011 - VALVE | 69593673 - TUBE |
| 711-68-11160 - BEARING | 426-13-42541 - FREE WHEEL | 56B-61-12111 - TUBE |
| 421-03-51710 - TANK | 6732-71-5450 - NIPPLE | 424-54-31910 - SEAL |
| 6216-74-5630 - TUBE,FUEL DR | 198-Z11-2680 - WIRING HARNE | 195-03-64680 - HOSE |
| 5228341 - LOCK PLATE | 208-60-75250 - COVER_____P6 | 6245-11-9320 - BRACKET |
| 5060849 - SEAL KIT | 7835-37-1004 - MONITOR | 423-43-27560 - HOSE |
| 207-43-51150 - LEVER | 42C-56-11520 - GLASS | 421-09-A1220 - WASHER |
| 425-13-33360 - SHIM | 6245-81-6270 - BRACKET | 22K-62-18311 - HOSE |
| 235-53-31440 - PLATE | 2A5-06-21420 - CABLE | 208-70-00410 - ARM ASS'Y |
| 423-07-52440 - FILTER | 22M-54-21540 - SHEET | 51802998 - HOSE |
| 285-35-11720 - CONNECTOR | 208-03-77290 - SEAL | 74958H45 - LOCKNUT, |
| 42C-93-11740 - PLATE | 312740109 - TUBE | 816213902 - ATOMIZER |
| 416-03-33332 - HOSE | 708-2E-15190 - SHIM | 735108C91 - PUMP FUEL IN |
| 6166-61-6870 - PLATE | 20Y-54-62440 - SHEET | 172141-29111 - SPROCKET |
| 42R-17-H0P53 - RING | 198-54-78770 - SHEET | 5210449 - HYD HOSE |
| 21N-62-33290 - BLOCK | 5004766 - SPRING ROD | 561-52-82571 - TUBE |
| 6205-K1-2104 - GASKET KIT | 76365073 - WATER PUMP | 19M-78-12730 - HOSE |
| 203-979-6771 - HOSE | 208-54-73560 - SHEET | 234-44-61190 - TUBE |