Spare parts for Komatsu trucks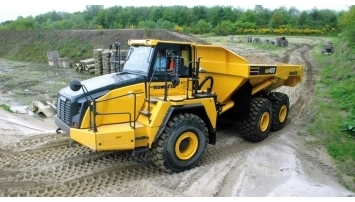 Find parts for trucks
Komatsu
is sometimes difficult, but not with our shop. Our company has over 10 years provides the best parts of the highest quality. We understand how important it is to have a presence in the durable and reliable parts for trucks and heavy machinery. That is why we are proud that our customers can trust us in terms of the acquisition of the best parts.
We offer the lowest prices on aftermarket and original spare parts. If you need spare parts for other equipment, you will always be able to find everything you need in our department store, because we have everything. We provide fast delivery, so you can get the spare parts in the shortest possible time. Due to the build quality of our parts, you can always count on the fact that your equipment will last a lot longer than you expected. This means that you will spend a lot less money for replacement parts, and be able to do more work.
If you need a price quote or if you have any questions, please contact us. Our qualified experts will answer questions you may have, so you can easily place your order and wait for delivery. Selecting parts from our store, you will not regret it and you will be guaranteed to be satisfied, as many of our previous and regular customers.
| | | | |
| --- | --- | --- | --- |
| KD0-23740-0250 - BRUSH | KD0-33700-1360 - BRACKET | KD0-47100-3400 - MAGNETIC SWITCH | KD1-0507-14501 - O-RING |
| KD0-23750-0050 - BRUSH HOLDER | KD0-33700-1960 - BRACKET ASS'Y | KD0-47100-3420 - MAGNETIC SWITCH | KD1-0514-32523 - OIL SEAL |
| KD0-23750-0120 - HOLDER ASS'Y | KD0-33700-1970 - BRACKET ASS'Y | KD0-47100-3421 - MAGNETIC SWITCH | KD1-0540-06001 - BUSHING |
| KD0-23750-0140 - HOLDER | KD0-33700-2070 - BRACKET ASS'Y | KD0-47100-3510 - MAGNETIC SWITCH | KD1-0550-05013 - TERMINAL |
| KD0-23750-0160 - BRUSH HOLDER | KD0-33700-2141 - BRACKET ASSY | KD0-47100-3590 - MAGNETIC SWITCH | KD1-09006-0210 - NUT |
| KD0-23750-0220 - HOLDER ASS'Y | KD0-33700-2223 - BRACKET | KD0-47100-3591 - MAGNETIC SWITCH | KD1-09066-0050 - RING |
| KD0-23750-0250 - BRUSH HOLDER ASS'Y | KD0-33700-2590 - BRACKET ASSY | KD0-47100-3592 - SWITCH | KD1-09101-0100 - WASHER |
| KD0-23901-0030 - BOLT | KD0-33700-2710 - BRACKET ASS'Y | KD0-47100-3820 - SWITCH | KD1-09102-0010 - INSULATION WASHER |
| KD0-23901-0170 - BOLT | KD0-33710-0272 - BRACKET | KD0-47100-3880 - SWITCH | KD1-09201-0070 - BALL BEARING |
| KD0-23903-0020 - SCREW | KD0-33710-1340 - BRACKET | KD0-47100-3940 - MAGNETIC SWITCH | KD1-09201-0410 - BALL BEARING |
| KD0-23904-0070 - PIN | KD0-33710-1661 - BRAKCET | KD0-47100-4060 - MAGNETIC SWITCH | KD1-09201-0411 - BALL BEARING |
| KD0-23913-0080 - SPRING | KD0-33710-2622 - BRACKET | KD0-47100-4070 - SWITCH | KD1-09201-0460 - BALL BEARING |
| KD0-23921-0230 - WASHER | KD0-33710-2870 - BRACKET | KD0-47760-1330 - COVER | KD1-09201-0530 - ROLLER BEARING |
| KD0-23951-0281 - PACKING | KD0-33710-3100 - BRACKET | KD0-47760-1331 - COVER | KD1-09202-0070 - ROLLER BEARING |
| KD0-23951-0301 - PACKING | KD0-33710-3300 - BRACKET | KD0-47760-1440 - COVER | KD1-09210-0020 - OIL SEAL |
| KD0-23951-0330 - PACKING | KD0-33710-3360 - BRACKET | KD0-47780-0505 - TERMINAL ASS'Y | KD1-09210-0050 - OIL SEAL |
| KD0-24951-0070 - PACKING | KD0-33719-0030 - REGULATOR | KD0-47780-0530 - TERMINAL ASS'Y | KD1-09210-0060 - OIL SEAL |
| KD0-25000-2770 - SAFETY RELAY | KD0-33719-0031 - BRACKET ASS'Y | KD0-47780-0580 - TERMINAL ASS'Y | KD1-09210-0190 - OIL SEAL |
| KD0-25000-2991 - SWITCH | KD0-33719-0080 - BRACKET ASS'Y | KD0-47780-0630 - TERMINAL ASS'Y | KD1-09210-0230 - SEAL |
| KD0-25000-5290 - SAFETY RELAY | KD0-33720-0340 - BRUSH HOLDER | KD0-47780-0670 - TERMINAL ASS'Y | KD1-09210-0420 - OIL SEAL |
| KD0-25000-5573 - SAFETY RELAY | KD0-33720-0390 - BRUSH HOLDER | KD0-74000-0420 - PUMP | KD1-09210-0590 - OIL SEAL |
| KD0-25000-5731 - SAFETY RELAY | KD0-33720-0450 - BRUSH HOLDER | KD0-74130-0090 - VALVE ASS'Y | KD1-09210-0650 - OIL SEAL |
| KD0-25000-6080 - SAFETY RELAY | KD0-33720-0520 - BRUSH HOLDER | KD0-74901-0100 - BOLT | KD1-09210-0670 - OIL SEAL |
| KD0-25000-6081 - SWITCH ASS'Y | KD0-33720-0780 - BRUSH HOLDER | KD1-0055-06162 - SCREW | KD1-09210-0800 - OIL SEAL |
| KD0-25000-6083 - SWITCH | KD0-33730-0370 - RECTIFIER ASS'Y | KD1-0056-06202 - SCREW | KD1-09210-0850 - SEAL |
| KD0-25000-6090 - SAFETY RELAY | KD0-33730-0770 - RECTIFIER | KD1-0060-08142 - SCREW | KD1-09210-0940 - SEAL |
| KD0-25000-6091 - SAFETY RELAY | KD0-33730-1480 - RECTIFIER | KD1-0060-08162 - SCREW | KD1-09210-0960 - OIL SEAL |
| KD0-25000-6220 - SAFETY RELAY | KD0-33730-1600 - RECTIFIER | KD1-0060-10182 - DISH SCREW | KD1-09210-1000 - SEAL |
| KD0-25000-6320 - SAFETY RELAY | KD0-33730-1800 - RECTIFIER | KD1-0240-06185 - BOLT | KD1-09210-1010 - SEAL |
| KD0-25000-6430 - SAFETY RELAY | KD0-33730-1820 - RECTIFIER | KD1-0240-06255 - BOLT | KD1-09210-1020 - SEAL |
| KD0-25000-6440 - SAFETY RELAY | KD0-33730-2080 - RECTIFIER | KD1-0240-06285 - BOLT | KD1-09210-1040 - OIL SEAL |
| KD0-25000-6521 - SAFETY RELAY | KD0-33730-2190 - RECTIFIER | KD1-0240-06305 - BOLT | KD1-09210-1060 - OIL SEAL |
| KD0-25000-6560 - SAFETY RELAY | KD0-33730-2271 - RECTIFIER | KD1-0240-06355 - BOLT | KD1-09211-0180 - O-RING |
| KD0-25000-6570 - SAFETY RELAY | KD0-33730-2300 - RECTIFIER | KD1-0240-06385 - BOLT | KD1-09211-0300 - O-RING |
| KD0-25000-6590 - SAFTY RELAY | KD0-33730-2380 - RECTIFIER | KD1-0240-06605 - BOLT | KD1-09211-0341 - O-RING |
| KD0-25000-6610 - SAFETY RELAY | KD0-33730-2560 - RECTIFIER | KD1-0240-08405 - BOLT | KD1-09211-0360 - PACKING |
| KD0-25000-6790 - SAFETY RELAY | KD0-33761-1200 - COVER | KD1-0280-05012 - NUT | KD1-09211-0380 - O-RING |
| KD0-25000-6791 - SWITCH | KD0-33780-0640 - TERMINAL ASS'Y | KD1-0280-18022 - NUT | KD1-09211-0390 - O-RING |
| KD0-25000-6820 - SAFETY RELAY | KD0-33784-0230 - BAR | KD1-0330-05012 - WASHER | KD1-09211-0520 - O-RING |
| KD0-25000-6830 - SAFETY RELAY | KD0-33784-0260 - BAR | KD1-0330-06022 - WASHER | KD1-09211-0571 - O-RING |
| KD0-25000-6852 - SWITCH | KD0-33901-0340 - BOLT | KD1-0330-12012 - WASHER | KD1-09211-0930 - O-RING |
| KD0-25000-6870 - SAFETY RELAY | KD0-33901-0370 - BOLT | KD1-0330-16012 - WASHER | KD1-09211-0980 - O-RING |
| KD0-25000-6890 - SAFETY RELAY | KD0-33901-0371 - BOLT | KD1-0335-05002 - WASHER | KD1-09211-1050 - O-RING |
| KD0-25000-6900 - SAFETY RELAY | KD0-33901-0430 - BOLT | KD1-0335-16002 - WASHER | KD1-09211-1060 - O-RING |
| KD0-25000-6910 - SAFETY RELAY | KD0-33901-0470 - BOLT | KD1-0335-18002 - SPRING | KD1-09211-1070 - O-RING |
| KD0-25000-6950 - SAFETY RELAY | KD0-33901-0500 - BOLT | KD1-0345-05001 - SEAL | KD1-09211-1120 - O-RING |
| KD0-25000-6951 - SWITCH ASS'Y | KD0-33901-0640 - BOLT | KD1-0345-06001 - SEAL | KD1-09211-1160 - O-RING |
| KD0-25000-6960 - SAFETY RELAY | KD0-33901-0750 - BOLT | KD1-0345-08001 - SEAL | KD1-09211-1180 - O-RING |
| KD0-25000-6961 - SAFETY RELAY | KD0-33901-0760 - BOLT | KD1-0400-30160 - PIN | KD1-09251-0440 - PACKING |
| KD0-25000-6970 - SWITCH | KD0-33901-0790 - BOLT | KD1-0400-40100 - PIN | KD1-09252-0020 - CAP |
| KD0-25000-6971 - SWITCH ASS'Y | KD0-33902-0080 - NUT | KD1-0416-04160 - KEY | KD1-09252-0141 - CAP |
| KD0-25000-7050 - SWITCH ASS'Y | KD0-33902-0090 - NUT | KD1-0442-62067 - BALL BEARING | KD1-09252-0210 - CAP |
| KD0-25000-7051 - SWITCH ASS'Y | KD0-33923-0980 - COLLAR | KD1-0452-62017 - BALL | KD1-09252-0211 - CAP |
| KD0-25000-7280 - SWITCH | KD0-33926-0080 - RETAINER | KD1-0452-62027 - BALL BEARING | KD1-09252-0370 - CAP |
| KD0-25000-7321 - SWITCH | KD0-33926-0370 - RETAINER | KD1-0452-62037 - BALL BEARING | KD1-09252-0380 - CAP |
| KD0-25000-7340 - SWITCH ASS'Y | KD0-33926-0470 - BUSHING | KD1-0452-62047 - BEARING | KD1-09252-0420 - CAP |
| KD0-25000-7510 - SWITCH | KD0-33943-1050 - BUSHING | KD1-0452-62057 - BEARING | KD1-09252-0430 - CAP |
| KD0-25000-7970 - SWITCH | KD0-35100-0080 - ROTOR ASS'Y | KD1-0452-62074 - BALL BEARING | KD1-09279-0080 - NUT |
| KD0-33000-2200 - ALTERNATOR | KD0-35120-0040 - FIELD COIL | KD1-0452-63027 - BEARING | KD1-09279-0090 - NUT |
| KD0-33000-2280 - ALTERNATOR | KD0-35120-0050 - FIELD COIL | KD1-0452-63037 - BALL BEARING | KD1-21100-1190 - ARMATURE |
| KD0-33000-2290 - ALTERNATOR | KD0-35120-0450 - FIELD COIL | KD1-0452-63047 - BALL BEARING | KD1-21100-1200 - ARMATURE |
| KD0-33100-0530 - ROTOR ASS'Y | KD0-35200-0060 - STATOR ASS'Y | KD1-0452-63057 - BALL BEARING | KD1-21100-1210 - ARMATURE ASS'Y |
| KD0-33100-0601 - ROTOR ASS'Y | KD0-35200-0230 - STATOR ASS'Y | KD1-0454-06087 - BALL BEARING | KD1-21100-1240 - ARMATURE ASS'Y |
| KD0-33100-1380 - ROTOR ASS'Y | KD0-35200-0400 - STATOR ASS'Y | KD1-0454-60037 - BALL BEARING | KD1-21181-0010 - STOPPER |
| KD0-33100-1450 - ROTOR ASS'Y | KD0-35310-0021 - BRACKET | KD1-0454-60047 - BALL BEARING | KD1-21181-0050 - STOPPER |
| KD0-33120-0220 - FIELD COIL ASS'Y | KD0-35411-0102 - PULLEY | KD1-0454-60057 - BALL BEARING | KD1-21181-0122 - STOPPER |
| KD0-33200-1311 - STATOR ASS'Y | KD0-35411-0180 - PULLEY | KD1-0454-60067 - BALL BEARING | KD1-21181-0180 - STOPPER |
| KD0-33200-1370 - STATOR ASS'Y | KD0-35411-0190 - PULLEY | KD1-0454-62007 - BALL BEARING | KD1-21181-0200 - STOPPER |
| KD0-33200-1410 - STATOR ASS'Y | KD0-35411-0200 - PULLEY | KD1-0454-62047 - BALL BEARING | KD1-21181-0210 - STOPPER |
| KD0-33310-0132 - BRACKET | KD0-35411-0210 - PULLEY | KD1-0456-60067 - BALL BEARING | KD1-21181-0310 - STOPPER |
| KD0-33310-0430 - BRACKET | KD0-35411-0220 - PULLEY | KD1-0456-62007 - BALL BEARING | KD1-21230-0070 - FIELD COIL ASS'Y |
| KD0-33310-0521 - BRACKET | KD0-35411-0360 - PULLEY | KD1-0456-62047 - BALL BEARING | KD1-21230-0360 - FIELD COIL |
| KD0-33311-0420 - BRACKET | KD0-35411-0391 - PULLEY | KD1-0456-63037 - BEARING | KD1-21230-0490 - FIELD COIL ASS'Y |
| KD0-33311-0490 - BRACKET | KD0-35421-0050 - FAN | KD1-0456-63054 - BEARING | KD1-21230-0940 - FIELD COIL ASS'Y |
| KD0-33311-0510 - BRACKET | KD0-35700-0030 - BRACKET | KD1-0456-63057 - BALL BEARING | KD1-21300-1950 - BRACKET |
| KD0-33400-0591 - PULLEY ASS'Y | KD0-35700-0130 - BRACKET ASS'Y | KD1-0462-62017 - BALL BEARING | KD1-21300-1951 - BRACKET |
| KD0-33400-0700 - PULLEY ASS'Y | KD0-35710-0140 - BRACKET | KD1-0462-62027 - BALL BEARING | KD1-21300-1960 - BRACKET |
| KD0-33400-0720 - PULLEY ASS'Y | KD0-35719-0151 - REGULATOR | KD1-0462-63037 - BEARING | KD1-21300-1970 - BRACKET |
| KD0-33400-0730 - PULLEY ASS'Y | KD0-35730-0011 - RECTIFIER ASS'Y | KD1-0462-63057 - BALL BEARING | KD1-21300-2011 - BRACKET |
| KD0-33400-0732 - PULLEY | KD0-35730-0080 - RECTIFIER | KD1-0500-06010 - LOCK NUT | KD1-21300-2012 - BRACKET |
| KD0-33400-0760 - PULLEY | KD0-35730-0510 - RECTIFIER ASS'Y | KD1-0501-06110 - LOCK WASHER | KD1-21300-2190 - BRACKET |
| KD0-33400-0810 - PULLEY ASS'Y | KD0-35926-0060 - RETAINER | KD1-0505-00501 - O-RING | KD1-21303-0300 - PIN |
| KD0-33400-1070 - PULLEY | KD0-35943-0100 - INSULATE BUSH | KD1-0505-00601 - O-RING | KD1-21310-1530 - BRACKET |
| KD0-33400-1160 - PULLEY | KD0-35943-0140 - BRUSH | KD1-0505-00801 - O-RING | KD1-21320-0020 - SHAFT |
| KD0-33400-1350 - PULLEY | KD0-35943-0150 - BRUSH | KD1-0505-02001 - O-RING | KD1-21320-0600 - SHIFT LEVER ASS'Y |
| KD0-33400-1500 - PULLEY ASS'Y | KD0-35943-0160 - BRUSH | KD1-0506-01001 - O-RING | KD1-21320-0780 - SHIFT LEVER |
| KD0-33400-1510 - PULLEY ASS'Y | KD0-35943-0170 - BRUSH | KD1-0507-02501 - O-RING | KD1-21320-0810 - SHIFT LEVER |
| KD0-33400-1600 - PULLEY ASS'Y | KD0-35951-0060 - PACKING | KD1-0507-05001 - O-RING | KD1-21351-0030 - METAL |
| KD0-33400-1670 - PULLEY | KD0-41000-0100 - REGULATOR | KD1-0507-06001 - O-RING | KD1-21351-0060 - METAL |
| KD0-33400-1720 - PULLEY ASS'Y | KD0-44000-0840 - REGULATOR | KD1-0507-07501 - O-RING | KD1-21351-0110 - METAL |
| KD0-33400-1730 - PULLEY ASS'Y | KD0-44000-1255 - REGULATOR | KD1-0507-08001 - O-RING | KD1-21351-0410 - METAL |
| KD0-33400-1750 - PULLEY | KD0-47100-0140 - MAGNETIC SWITCH | KD1-0507-08501 - O-RING | KD1-21351-0510 - METAL |
| KD0-33400-1800 - PULLEY ASS'Y | KD0-47100-0320 - MAGNETIC SWITCH | KD1-0507-09001 - O-RING | KD1-21351-0670 - METAL |
| KD0-33400-1830 - PULLEY | KD0-47100-2680 - MAGNETIC SWITCH | KD1-0507-09501 - O-RING | KD1-21351-0780 - METAL |
| KD0-33411-2800 - PULLEY | KD0-47100-3030 - MAGNETIC SWITCH | KD1-0507-10001 - O-RING | KD1-21351-0790 - METAL |
| KD0-33411-2810 - PULLEY | KD0-47100-3031 - MAGNETIC SWITCH | KD1-0507-10501 - O-RING | KD1-21351-0840 - METAL |
| KD0-33411-2850 - PULLEY | KD0-47100-3040 - MAGNETIC SWITCH | KD1-0507-11501 - O-RING | KD1-21351-0850 - METAL |
| KD0-33411-2860 - PULLEY | KD0-47100-3041 - MAGNETIC SWITCH | KD1-0507-12001 - O-RING | KD1-21351-0860 - METAL |
| KD0-33411-2870 - PULLEY | KD0-47100-3060 - MAGNETIC SWITCH | KD1-0507-12501 - O-RING | KD1-21351-1000 - METAL |
| KD0-33700-1312 - BRACKET ASS'Y | KD0-47100-3110 - MAGNETIC SWITCH | KD1-0507-14001 - O-RING | KD1-21351-1010 - METAL |