Caterpillar 323D2 Excavator parts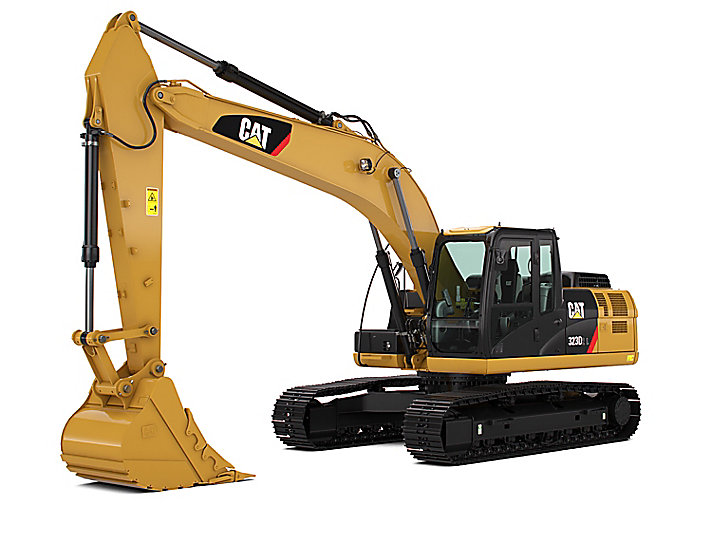 Here is some more information about Caterpillar 323D2 Excavator:
ENGINE
Engine Model Cat C7.1 ACERT
Net Power 116.0 kW
Bore 105.0 mm
Stroke 135.0 mm
Displacement 7.01 l
Engine Power - ISO 14396 118.0 kW
Net Power - SAE J1349/ISO 9249 116.0 kW
Engine RPM - Operation 1700.0 r/min
Engine RPM - Travel 1800.0 r/min

WEIGHTS
Maximum Operating Weight 22800.0 kg
Minimum Operating Weight 22100.0 kg
If you send us your request, we will make you an offer for original and Aftermarket Caterpillar parts for your Caterpillar 323D2 Excavator.
Caterpillar 323D2 Excavator - it is a big machine. But even such machine sometimes needs maintenance.
Our online parts store give you an access to more than 1 000 000 Caterpillar parts that we have in our inventory.
Below is a small list of Caterpillar parts for this equipment. However, if you are interested in something - please use the site search.
| | | |
| --- | --- | --- |
| 7S9676 - LINING G | 8W3184 - HOSE AS | 2474879 - VALVE |
| 8E8306 - DISC | 1786538 - COVER AS | 7D1079 - HOSE A |
| 9H4557 - SEAL | 8N3818 - GUARD A | 7L5258 - GASKET |
| 2128491 - MUFFLER | 1T0423 - BEARING | 5S9211 - HOSE A |
| 5K4182 - GEAR | 4I7675 - HOSE A | 8G8512 - HOSE A |
| 3148502 - BRG-BALL-CLA | 1590269 - SHIM | 5E3474 - NUT |
| 6N8615 - GAGE | 7U9389 - HOSE AS | 7P3652 - SEAL |
| 1289693 - SHAFT-TRACK | 1R0755 - ELEMENT | 9W0099 - BEARING |
| 4W5867 - PUMP A | 4J5325 - PIN | 5N5272 - TUBE A |
| 1473435 - HOSE A (1737546) | 1786536 - CRANKCASE AS | 2Y5507 - BRACKET-LH |
| 4T6878 - CYLINDER GRP | 2151689 - GEAR-LEGACY | 3167251 - ALTERNATOR |
| 5P6372 - RACE&ROLLER | 1698576 - RING-RETAINI | 3Y7605 - HOSE A |
| 6B9239 - GASKET | 1V9633 - DIODE A | 2294896 - SEAL-O-RING |
| 4F6154 - DOWEL | 9S9540 - SHAFT | 1983611 - BELT |
| 1620191 - GEAR | 0985777 - HOSE A | 6T4807 - HOSE A |
| 1M3917 - SHAFT | 7D7267 - HOSE A | 2022046 - HOSE AS. |
| 2412538 - PIN AS-CLA | 0380083 - HOSE A | 1864330 - SEAL KIT-STD (7X2656) |
| 8L4690 - BEARING | 1158397 - BEARING | 1358275 - HOSE A |
| 6T8466 - CABLE | 3405800 - BEARING-ROLL | 5G3047 - REBUILD KIT |
| 1730640 - VALVE GP-COM | 9W5837 - CONE | 5R4766 - SERVICE KIT |
| 3P1116 - LINK-HALF | 1129808 - HOSE AS | 2263013 - HOSE AS |
| 1411941 - GASKET KIT | 0983773 - NUT | 9T0656 - RING |
| 4C5593 - ANTI-SEIZE | 1361679 - VALVE G | 4N8190 - CORE AS |
| 9N5022 - WASHER | 6V4725 - GASKET KIT | 0969529 - O RING |
| 3148997 - HARNESS | 2124663 - GASKET KIT | 1006849 - ELEMENT |
| 3833683 - GASKET-CLA | 5I5208 - ELEMENT | 6V4707 - GASKET KIT |
| 1604304 - HOSE AS | 3V9820 - HOSE A | 3S7519 - PULLEY |
| 1793007 - PISTON | 2310247 - SPACER-CLA | 6W9735 - HOSE A |
| 0915837 - HOSE A | 2T0791 - HOSE A | 8K6456 - CORNER |
| 5S7678 - HOSE A | 7G1222 - RING-SEAL | 2864942 - HOSE AS. |
| 2A1736 - HANDLE | 3K4265 - SUPPORT | 3N4510 - HOSE A |
| 2A6571 - HOSE AS | 5P7796 - SEAL | 8F1180 - BEARING |
| 6N1572 - MOUNT AS | 2530066 - COR GUARD RH (1735428) | 2900186 - GASKET KIT |
| 1408786 - HOSE AS | 5V1510 - PIN | 7N2353 - SWITCH |
| 1M4156 - GEAR | 9W5369 - HOSE A | 206973 - GASKET |
| 6V4773 - GASKET KIT | 7G5572 - GEAR | 2160004 - SEAL-U-CUP |
| 0038109 - RING-HYD SEA | 1981803 - HOSE AS. | 2929043 - CYLINDER GP |
| 2991968 - BEARING-CLAS | 9R8790 - HOSE A | 8R9532 - HOSE A |
| 1511834 - 151-1833 | 1083434 - HOSE A | 2699714 - HOSE AS. |
| 4Y0339 - HOSE A. | 3T8048 - HOSE A | 6D0593 - GEAR |
| 9G5319 - DUO-CONE | 1D4590 - CAPSCREW | 7N0739 - PISTON G |
| 1120765 - SUPPORT | 2017213 - HOSE AS. | 2260179 - GUARD AS-CLA |
| 4256640 - KIT GASKET | 6J4694 - PLUG | 8Y9032 - HOSE AS |
| 10R2844 - TURBO GP BAS | 8N2496 - GASKET | 5T7205 - HOSE AS |
| 7W2699 - VALVE-EXHAUS | 4Z6060 - VALVE | 4562531 - KIT GASKET |
| 6Y3909 - PIN | 5S1492 - LOCK | 7M9045 - ELEMENT A-A |
| 1433035 - CYLINDER AS | 0966136 - WASHER | 6R7248 - HOSE A |
| 1243012 - GASKET KIT | 9K7640 - HOSE A | 4V4107 - RIM |
| 0981292 - O-RING | 2874300 - COUPLER AS | 9T3320 - MANIFOLD |
| 4T2921 - EDGE | 3G8296 - END BIT | 2405978 - VALVE |
| 2T2583 - HOSE A | 2T2185 - HOSE A | 1368898 - PUMP GP |
| 9S5294 - GUARD A | 6I4613 - PLATE | 1007607 - LEVER |
| 4716638 - BOLT | 1123305 - HOSE A | 6N1869 - NUT |
| 1782999 - HOSE AS (1544999) | 6N2821 - PUMP G | 8E9048 - HOSE A |
| 6V7260 - GASKET KIT | 1537601 - RING-RETAINE | 0R1010 - PUMP GP WTR |
| 7I8287 - HOSE A | 6V8635 - CONNECTOR AS | 8W0248 - HOSE A |
| 2572756 - GASKET KIT | 3W8403 - SLEEVE | 2275978 - LAMP GP-FLOO |
| 3206993 - GASKET KIT | 2461132 - MUFFLER | 2A3665 - WASHER |
| 2T2100 - HOSE A | 5D1708 - BULB | 3P0649 - SEAL-O-RING |
| 2959446 - MOTOR GP-PSF | 6D6289 - CLAMP HOSE (1447574) | 0783330 - SNAP RING |
| 2H4496 - PLATE | 5U9007 - HOSE ASSEM 1 | 3E7294 - BREAKER A (1712212) |
| 1241306 - HOSE AS. | 1383100 - ELEMENT | 1W7242 - SHAFT |
| 2982770 - GEAR-CLA | 5G2621 - CUSHION A | 8082552 - LINK W/BOSSES, |
| 3T7792 - PIN | 1D4716 - NUT | 1F7464 - CAPSCREW |
| 8C5193 - SEAL | 0020754 - CUP | 2660999 - HOSE AS. |
| 1289656 - STRIP-WEAR | 2735090 - SEAL-LIP TYP (1698617) | 8T7169 - SEAL-O-RING |
| 0931605 - RING | 2U9078 - HOSE AS | 1S9527 - GASKET |
| 7X2813 - SEAL KIT | 3T8151 - PIN | 5P2830 - GASKET KIT |
| 3P3623 - LOCK | 5W5100 - BOLT | 6D4909 - CAP |
| 6U3682 - NUT | 1354627 - HOSE AS | 3150301 - HOSE AS. |
| 9P8239 - HOSE A | 4907804 - BEARING-TA | 7T4657 - LINK |
| 9W7088 - DISC | 7G2486 - GEAR | 2889170 - HOSE AS |
| 8Y8682 - SPRING | 2U3499 - DIAPHRAGM | 3259639 - KIT-GASKET(C |
| 7G5776 - SHAFT | 0920475 - HOSE A | 5M2788 - SERVICE G. |
| 1U3505 - CARTRIDG KIT | 9W6749 - PLATE-WEAR (9V0959) | 6F3203 - GASKET |
| 6K8314 - PIN | 3H6767 - PIN | 7J9794 - BEARING |
| 4J1614 - PIN | 1553739 - HOSE AS | 0774525 - SEAL O-RING |
| 3763636 - BRG-SLV-CLA | 6L8975 - TUBE | 3G7764 - BIT |
| 6V8033 - GASKET KIT | 1357903 - HOSE AS | 6T5613 - SPACER |
| 6N0634 - GASKET | 0875756 - 087-5755 | 1197864 - SPIDER |
| 6G5773 - HOSE A | 9S8003 - PLUG | 5U8503 - HOSE ASSEM 3 |
| 9L7828 - PISTON | 1492684 - BASE AS. | 9W3655 - HOSE AS |
| 9S8891 - BOLT | 2G5673 - WASHER | 7P8659 - HOSE A |
| 7M3956 - SEAL | 9L6130 - BELT SET | 7Y1363 - CORE AS |
| 0994913 - BOLT | 6V1157 - LATCH | 6G3043 - SEGMENT |
| 5K0442 - BEARING | 7M8109 - GASKET KIT | 4V1057 - HOSE A |
| 5D1371 - COUPLING AS | 1451846 - HOSE A | 2T1130 - HOSE A |
| 2G8611 - PIN | 7X2058 - LAMP AS | 6G5486 - HOSE A |
| 1373623 - SEAL O RING | 950707 - BOLT HEXSOCK | 5H9857 - VEE BELT |
| 8J6861 - BEARING | 8V6145 - HOSE A | 5P0125 - TOOL A |
| 2244536 - SENSOR GP | 3193469 - PIN-CLA | 2534628 - STRIP-WEAR |
| 9N0402 - BRACKET | 1693124 - HOSE | 4S5940 - CARRIER |
| 2P8779 - LEAD A | 6Y7471 - PIN | 9W5357 - CASE A |
| 8V1910 - HOSE A | 1124411 - WHEEL A (9R0221) | 5F0736 - PIN |
| 1710334 - PUMP AS-DOUB | 3E0075 - SWITCH A | 2P8868 - KIT-BRUSHSPG |
| 1411667 - CLAMP-HOSE | 6Y0186 - GEAR | 7N0908 - PLATE A |
| 8W0069 - HOSE A | 9W1767 - BIT | 3206827 - GASKET KIT |
| 6G8058 - HOSE A | 6V2537 - GASKET KIT | 3964516 - KIT-PSTN R |
| 0781729 - HEXAGON CAP | 0776309 - LINE, FUEL | 2660889 - INDICATOR |
| 2963255 - CYL GP-0130 | 1301918 - PIN | 0336034 - O-RING |
| 2G9009 - DRUM | 6V5959 - KIT GASKET | 1G8456 - RING BACK |
| 7L5093 - BELT SET | 1187831 - HOSE A | 1402334 - ELEMENT |
| 4Y6625 - GASKET | 2023096 - HOSE AS. | 8K6894 - HOSE A |
| 4208545 - GASKET KIT | 9R3497 - TUBE AS | 7S5097 - ELBOW |
| 3226302 - SPROCKET-TCK | 3G5098 - RING | 0838679 - HOSE A |
| 1184470 - HOSE AS | 0947471 - GASKET | 8Y6559 - HUB |
| 3849703 - HOSE A | 8T0282 - BOLT | 9X2290 - GASKET KIT |
| 3G8316 - END BIT | 1885527 - LINK AS | 517130 - SEAL KIT |
| 1S4180 - SHAFT | 5W5485 - SEAL-O-RING | 1921747 - HOSE AS |
| 2342816 - HOSE AS | 2507536 - LINE AS-CLA | 2003149 - TOP CLAMP |
| 3F9141 - SEAL | 9R0111 - BEARING SLEEVE | 1899031 - HOSE AS |
| 7S2747 - SCREEN A | 4N0513 - BODY A | 2107078 - CYL GP-0108- |
| 2P9510 - SEGMENT - D8 (9 PCS) | 4I7610 - 4I7608 | 7D9053 - HOSE A |
| 4W7005 - HEAD GP. | 4P1806 - RING-PISTON | 8T1406 - SEAL KIT-STD |
| 4K3126 - BEARING | 2339456 - GASKET KIT | 1531403 - CAP-PRESSURE |
| 8N1620 - SHIELD | 5P1915 - GASKET KIT | 7Y8475 - HOSE AS |
| 1W5382 - GASKET | 2P9492 - LINK AS | 1293719 - SEAL |
| 8D1277 - HOSE A | 5S5588 - HOSE A | 7K8862 - HOSE A |
| 9W7882 - BLOCK | 2N9298 - GUIDE | 2364381 - HOSE AS |
| 4W1237 - TURBO G | 3535065 - GASKET-OIL P | 8I0186 - STUD |
| 9G8826 - HOSE A | 3079674 - PUMP GP-GEAR | 1724007 - HOSE A |
| 8V1695 - HOSE A | 0915919 - HOSE A | 6W0326 - HOSE AS |
| 9C3619 - HOSE A | 9H6834 - GASKET | 1W0429 - HOSE A |
| 4495551 - KIT GASKET (4219845) | 1043134 - BEARING | 0821830 - CAPSCREW |
| 1H9027 - GASKET | 4N5823 - FILTER A | 1987826 - KINGPIN SEAL |
| 4U1324 - HOSE ASSEM 1 | 1753915 - COOLER-OIL | 1953650 - HOSE AS. |
| 1355061 - HOSE AS | 8M7543 - GASKET | 2Y1599 - SOCKET A |
| 1414121 - SENSOR GP | 2283508 - CYLINDER GRP LIFT | 2566455 - CORE |
| 6Y1175 - KIT-CLUTCH | 8E4420 - SHOE | 7C4414 - RING PISTON |
| 3T8955 - MOTOR G (3T2787) | 5I4218 - HOSE AS | 7M8108 - GASKET KIT |
| 1014017 - SPRING | 1440806 - NUT-TRACK | 6P6652 - HOSE A |
| 3009481 - PUMP GP-PS-B | 4I1037 - HOSE A (1041694) | 2023619 - HOSE AS |
| 1020363 - HOSE AS XT | 5P5319 - CUP AS | 3P1117 - LINK-HALF |
| 3069449 - CAP AS TCK (1283503) | 0780120 - PLUG MISC | 2453512 - GASKET |
| 7W2513 - RING SET | 9G2423 - LINK A | 5R1426 - GASKET KIT |
| 3G2797 - BEARING | 3708590 - PLATE-CLUTCH | 2597062 - SEAL AS.-CLA |
| 4T7480 - JOINT A (4T8689) | 3529707 - RING TRUST (9W2755) | 6Y1532 - HOSE A |
| 5P9816 - GASKET KIT | 4V1228 - SEGMENT | 8U6456 - SEAL O RING |
| 7F7621 - NUT-FLANGE | 4E6633 - HOSE A | 4F5942 - GASKET |
| 9V6594 - HOSE A | 6V8399 - SEAL | 8D4578 - YOKE |
| 6J0800 - BEARING | 2J5907 - BOLT | 2435809 - SEAL KIT |
| 5V7517 - HOSE A | 7D8017 - HOSE A | 1Y7671 - GASKET |
| 1194760 - RING-WEAR | 1M9968 - BUSHING | 9R2483 - ADAPTER |
| 6D7318 - HOSE A | 4W7394 - GASKET | 0068865 - RADIATOR CAP |
| 1N3032 - TUBE | 125375 - PLOW BOLT 1.1/4X3.3/4 | 2699596 - HOSE AS. |
| 6E4007 - BARREL | 6I0235 - BOLT | 1004627 - GUIDE IN (1605436) |
| 0R7757 - MOTOR GP | 0991927 - RING SNAP | 7X1553 - SEAL |
| 1764820 - HOSE AS | 7S1392 - HOSE A | 8G8331 - PIN |
| 7N2495 - TURBO G | 1387099 - CUP-RLR BRG | 7J5129 - BRACKET A |
| 6S7230 - HOSE A | 4K7286 - SUPPORT W/BUSH | 2583260 - PUMP GP |
| 7L5259 - GASKET | 1S1326 - GASKET KIT | 1535484 - GASKET |
| 3T3672 - RING-SEAL | 5T9938 - HOSE A | 0017227 - RING |
| 3763638 - MOUNT-CLA | 1564575 - SEAL-LIP TYP | 0943574 - HOSE,RADIATR |
| 7X0537 - WASHER | 1807350 - PIN-PISTON | 0R3423 - NOZZLE A |
| 2D0596 - SEAL O RING | 1255773 - SOLENOID | 9Y0047 - CLAMP |
| 2136572 - HOSE AS | 9V4588 - HOSE A | 5V1784 - CORNER LH |
| 5W1315 - BOLT | 3H5454 - VALVE A | 8T0272 - BOLT |
| 9G2471 - PISTON | 9C8994 - HOSE A | 1052791 - GASKET KIT |
| 1236593 - KIT GASKET | 1642851 - PUMP GP-PS | 2N8204 - GASKET |
| 1110716 - ELEMENT | 9T4038 - HYDRAULIC CARTRIDGE | 336041 - SEAL O RING |
| 2246179 - MOTOR GP COM | 8N9489 - CHAMBER AS | 2244944 - VALVE GRP |
| 2P8702 - GASKET | 2125152 - HOSE AS | 4555514 - PUMP GP. |
| 1488439 - TEE AS-ORFS | 0931518 - RING,BACK-UP | 8D9448 - BOSS |
| 0965260 - CARRIER R.AS | 9G8824 - HOSE A | 7S0417 - HOSE A |
| 1427374 - HOSE AS | 1336092 - SEAL KIT | 7Y4173 - HOSE A |
| 4174535 - SHIM-CLA | 2136954 - DRUM-STER-LG | 1141831 - HOSE AS |
| 7N5496 - GEAR | 1088759 - KNOB A | 1226890 - L/M HOSE-IN |
| 1306056 - SEAL A | 7J5639 - BOLT | 7X0407 - BOLT |
| 950671 - BOLT | 1335942 - HARNESS AS | 4M8013 - RING-PISTON |
| 1R9709 - PISTON | 7M1857 - SHIM | 1441143 - GASKET KIT |
| 8E2842 - BAR A | 4N3714 - CHAMBER AS | 3809849 - VALVE |
| 8B7624 - BEARING | 2369249 - HOSE AS. | 7M9910 - SCREW |
| 2368745 - CORE AS | 0964277 - ROLLER A | 3V6775 - HOSE A |
| 1144786 - GASKET KIT | 9R0390 - MOUNT AS | 5P8944 - RING |
| 7S0933 - HOSE A | 6A7129 - BEARING-SLEEVE | 5W2855 - BEARING |
| 1W6184 - SHIELD | 2582806 - TANK GP | 4S5943 - PISTON |
| 6N3189 - SPRING | 3261139 - SHOE-TRACK (9Z9265) | 9F1899 - VEE BELT |
| 7E9227 - HOSE AS | 1873164 - TUBE AS | 2529685 - GASKET |
| 2321171 - INJECTOR GP- | 1234489 - HOSE A | 9T9979 - SHAFT |
| 6V4775 - GASKET KIT | 1121062 - HOSE AS | 2043628 - SEAL KIT |
| 9R2512 - SEAL-O-RING | 1962238 - PUMP AS | 2385057 - Turbocharger S200AG047 174193 |
| 3K3809 - GASKET | 3P0894 - SHAFT | 7J9851 - CYLINDER G |
| 3856118 - YOKE-CLA | 5P1469 - CM-HOSE STK | 3T3598 - HARNESS AS |
| 2K4473 - RING | 1W9211 - FUEL LINE | 6Y4768 - HOUSING |
| 3465549 - CYLINDER AS | 1616149 - SEAL-O-RING | 2211426 - MANIFOLD-EXH |
| 1634148 - ROLLER GP TR | 4I0818 - HOSE A | 2979155 - PISTON |
| 8X6187 - HOSE A | 2037767 - GASKET KIT | 6L2279 - PLUG |
| 4B2042 - NUT | 4992699 - PIN-CLA | 4174498 - BRG-BALL-C |
| 5S8501 - GLOW PLUG & | 1R0711 - FUEL FILTER | 8080569 - LINK W/BOSSES |
| 1128566 - HOSE AS | 9M3486 - SPACER | 5A7884 - END BIT LH |
| 4J8261 - BIT | 3T9125 - HOSE A | 1285960 - HOSE AS |
| 7N6550 - CYL BLK G | 2849488 - HOSE A | 5N4688 - GASKET |
| 0821640 - O RING | 3E6910 - BOLT | 0991110 - IDLER WHEEL |
| 1797272 - LIFTER AS-UI (1159393) | 6D0679 - KNOB | 0983045 - O RING |
| 8N1725 - COVER | 6U0344 - HOSE ASSY 1/ | 2020196 - HOSE AS |
| 4W3632 - MUFFLER | 8D3591 - CARRIER | 3P0819 - PLATE CLUTCH |
| 8K4070 - HOSE A | 7D3190 - HORN ASSY. | 1672447 - SEAL |
| 2278918 - CORE AS | 2767389 - BEARING KT-B | 7K9218 - SEAL-LIPTYPE |
| 7N1991 - SUPPORT | 9L7623 - HEAD A | 7V0624 - HOSE A |
| 2241184 - HOSE | 5T0906 - COVER AS | 1463328 - T/C-GRP. |
| 3E7465 - KIT GASKET | 6I9587 - BEARING | 7M7219 - BEARING |
| 9X8877 - BOLT | 1021365 - HOSE A | 2264931 - GUARD-CLASSI |
| 813220 - SEAL O-RING | 1084551 - HOSE AS | 2W7455 - GEAR A |
| 1227137 - LAMP AS | 1M4291 - DOWEL | 5P8040 - CLAMP |
| 4I1741 - 4I1739 | 2392396 - SENSOR GP-PR | 6T3714 - GASKET |
| 3493411 - GASKET KIT | 3V3306 - WASHER | 8J7566 - HOSE A |
| 6N9461 - GASKET | 1972579 - HOSE AS | 7C0711 - GASKET |
| 2111036 - HOSE AS. | 2457421 - GASKET | 2264378 - GEAR-PLANET |
| 2V2176 - HOSE A | 2660199 - RING-WEAR | 1946725 - SENSOR |
| 3490676 - KIT-DT GASKE | 4M7470 - GROMMET | 1991818 - HOSE AS |
| 3203060 - SENSOR GP | 1504373 - LINK AS.-TRA | 4944389 - KIT GASKET |
| 9M9085 - CIRCUIT BRKR | 8F3355 - GEAR | 2W6967 - ELBOW |
| 1Q5358 - HOSE AS | 1W5817 - OIL PAN | 3N7680 - PLUG GROUP |
| 5S2884 - COLLAR | 1856802 - HOSE AS. | 6N6805 - PUMP A |
| 2071549 - STARTING MOTOR | 2092370 - HOSE A | 9W5531 - TUBE AS |
| 5E1203 - BEARING | 1057486 - CYL A | 1M6423 - STUD |
| 9N3060 - MAIN BEARING 0.020 | 1497045 - GASKET KIT | 2P4708 - CLUTCH A |
| 630695C1 - BEARING (1P2636) | 4T0208 - BEARING | 0340855 - RING BACKUP |
| 6K6722 - CUSHION A | 3333073 - DRIVE GP | 5S4008 - 4V5205 |
| 2W6769 - SEAL-O-RING | 2177733 - SHAFT | 9N5409 - BODY ASSY. |
| 1630851 - HOSE A | 3G3628 - PIN A | 8J2059 - GEAR PUMP |
| 8E6749 - SEAL AS. | 2751426 - HOSE AS. | 4196072 - SHAFT-CLA |
| 10R8694 - MOTOR GP | 8C9130 - SEAL A | 2K7814 - BEARING |
| 1482978 - TUBE AS | 9W8270 - GEAR | 2506562 - RING GP. |
| 5A8600 - CLAMP DIAMETER 4.67(in) | 1P1942 - GEAR | 6I1092 - GASKET |
| 7N3948 - VEE BELT | 3465691 - DISC-BK-CLA | 7M5112 - COLLAR |
| 4U9603 - HOSE ASSEMBL | 9T9202 - CYLINDER G | 964395 - REPAIR KIT |
| 6V2599 - GASKET KIT | 0682860 - HOSE A | 7S2753 - GASKET |
| 1767688 - INSERT-V SEA | 7E8629 - HOSE | 8U0730 - ROD G |
| 5R6259 - HOSE A | 2227883 - SWITCH AS-RO | 0966198 - KEY ASSY |
| 3P6160 - HOSE A | 6K5079 - PIN | 9W6904 - RING |
| 6D3781 - VALVE A | 6N2815 - OIL PUMP | 0814807 - SCREW BOLT |
| 6I8803 - TIP ABRAS | 5P2006 - GASKET KIT | 2751425 - HOSE AS |
| 1363688 - GASKET KIT | 4N8216 - VEE BELT | 9N5451 - RETAINER |
| 0813331 - O RING | 5P9852 - GASKET KIT | 8N7929 - ENGINE BEARING |
| 1B4074 - BALL BEARING | 7W6340 - GASKET | 1080890 - HOSE A |
| 8D3093 - SPACER | 8W0846 - HOSE A | 6V9975 - COUPLING AS |
| 8X8366 - HOSE A | 1629207 - PUMP GP-VN | 6K0838 - SEGMENT - 955 (5 PCS) |
| 7M1201 - DOWEL | 1990518 - SEAL-O-RING | 9F2637 - NIPPLE |
| 0339829 - HOSE A | 5W5386 - BEARING | 9W5736 - CUTTING EDGE |
| 9K7967 - HOSE A | 3J9703 - RING | 1S5315 - CAP A |
| 6N4601 - PULLEY | 4P6126 - ROD AS-CONN | 1923798 - HOSE AS |
| 0R1742 - NOZZLE AS-RE | 4394544 - RING-CLA | 6U2188 - HOSE ASSEM A |
| 8R0809 - BRAKE GP | 3289050 - SENSOR AS | 6V8601 - KIT GASKET |
| 3T4026 - DISC | 2163554 - RETAINER AS. | 4S7529 - HOSE A |
| 2254572 - CYL GP-0140 | 7X2811 - SEAL KIT-STD | 6P8369 - SEAL |
| 9D5906 - HOSE A | 4E3999 - SHIM PACK | 2690265 - JOYSTICK CONT.GP |
| 1886246 - BUSHING | 3T0253 - HOSE A | 6P6130 - LINK MASTER |
| 3B5790 - BEARING | 8T0334 - WASHER | 2572758 - PIN AS |
| 6V6777 - LATCH | 1292890 - HOSE AS. | 8X4440 - HOSE A |
| 9X4453 - STARTER - 24 VOLTS | 9T7783 - SHAFT | 1411293 - HOSE A |
| 3175984 - SCREW | 1106678 - HOSE A | 1534941 - ROD-TIE |
| 0776041 - CAPSCREW | 9W6298 - SEAL AS | 131407B - RLR GRP S/F |
| 2821826 - HOSE AS | 2683755 - HOSE AS | 6Y6482 - SEAL AS |
| 901405 - SEAL KIT | 2210133 - HOSE AS. | 1446294 - VALVE GRP |
| 8C1901 - HOSE A | 4162124 - BRG-RLR-CLA | 1159324 - HOSE AS |
| 1439185 - COMPRESSOR G | 0R5542 - CORE GP-OIL | 2081725 - HOSE AS. |
| 4I3992 - HOSE AS | 2497346 - PUMP AS | 1139011 - RING |
| 2884439 - HOSE AS | 6T1313 - CABLE | 4T6977 - RING BACK UP |
| 1047238 - PLATE | 4I5897 - HOSE A | 1442494 - SCREW |
| 3407285 - GASKET | 1118209 - SPIDER | 0785293 - EXTERNAL RET |
| 5M7423 - SEAL | 8Y0809 - SPIDER | 9R0717 - HOSE AS |
| 2G2645 - HARNESS A | 3376882 - HOSE AS. | 773723 - BALL |
| 1W4072 - RETAINER | 1503377 - ROD | 1095188 - HOSE A |
| 2658723 - BEARING-SLEE (1405166) | 6V1562 - GASKET KIT | 8N6708 - BELT SET |
| 6I6787 - RING | 4U0531 - HOSE ASSEM 1 | 6D9127 - HOSE A |
| 3S4380 - GEAR A | 8H0889 - LOCK | 2Q0314 - HOSE A |
| 8E5601 - SHAFT | 5P5828 - RING | 3S2892 - LOCK |
| 8N2522 - HOUSING FUEL PUMP | 1W8492 - ROD AS-CONN | 2Y3735 - CARTRIDGE AS |
| 1720842 - CARTRIDGE AS | 0983432 - LOCKNUT | 3G7624 - BEARING |
| 6S4072 - TRUNNION | 3677900 - REGULATOR-TE | 7F2045 - SEAL |
| 8S4737 - BOLT | 3J2988 - SEAL | 2336955 - CYLINDER AS |
| 9M6048 - SEAL | 7D3957 - HOSE A | 1728176 - GASKET KIT |
| 2260455 - GASKET KIT | 1761722 - HOSE AS. | 1438193 - SEAL |
| 5J3713 - NUT | 1T1952 - PLATE | 7D5937 - HOSE A |
| 9D7047 - SHIM | 3T3967 - LAMP AS | 5P3849 - GASKET KIT |
| 3123565 - HEAD AS | 9X2488 - CLAMP | 5J2528 - PLUNGER |
| 3111897 - CARTRIDGE AS | 3731888 - LINE-FI-CLA | 3W7503 - HOSE A |
| 1527767 - PUMP GP-PS-B | 7J9759 - CYLINDER A | 6I8856 - PROTECTOR |
| 1835306 - TIP-J400-P | 7W8623 - LINE AS | 8S0943 - HALF-LINK |
| 2138165 - FLANGE-STER- | 3274103 - BOLT M10X30 | 1B4110 - BALL BEARING |
| 8T1686 - ELBOW | 2977266 - TRUNNION-CLA | 2G4114 - HOSE A |
| 6N7966 - CARTRIDGE AS | 2Y5880 - BOLT | 1550799 - HOSE AS |
| 4W2472 - SPRING | 5M1817 - GASKET | 1134462 - REGULATOR |
| 9S3955 - CAGE | 0920425 - HOSE A | 6V0851 - GASKET KIT |
| 0543059 - HOSE A | 1837529 - MOTOR GP-PST | 3125932 - GASKET KIT |
| 1B4109 - BEARING-ROLLER | 2976161 - GASKET KIT | 2916338 - HOSE AS. |
| 1692940 - HOSE AS | 8C7661 - BOLT | 2040655 - HOSE AS. |
| 6E1864 - CYLINDER G | 8I3852 - SEAL-O-RING | 8T3740 - SEAL KIT-STD |
| 8X3016 - HOSE A | 2P2061 - CONNECTOR | 3P5780 - GUARD G (3P5789) |
| 1665452 - SEAL-PISTON | 4D2988 - HOSE A | 9W7091 - SHOE |
| 1553857 - CYLINDER AS | 8T8919 - BOLT | 0617061 - HOSE (0679679) |
| 7P8133 - SHAFT | 3H6104 - SPIDER BRG ASSY | 8E7494 - ROLLER G |
| 1916583 - HOSE AS. | 6N4952 - GASKET CORE | 1073466 - ADAPTER |
| 5S7766 - HOSE A | 6D1746 - BOLT | 2G0498 - HOSE A |
| 2M1163 - PLATE | 7G7617 - PLATE | 2355915 - HOSE |
| 2T0733 - HOSE A | 4I1419 - HOSE A | 9T3198 - CYLINDER G |
| 5D3283 - COUPLING AS | 9S2247 - LOCK WASHER | 8W3190 - HOSE A |
| 9S3618 - REPAIR KIT | 8N0999 - ALTERNATOR G | 9D0054 - PIN |
| 2542270 - SEAL-O-RING | 5T7124 - HOUSING | 8T4497 - LOCKWASHER |