Caterpillar 340D2 L Excavator parts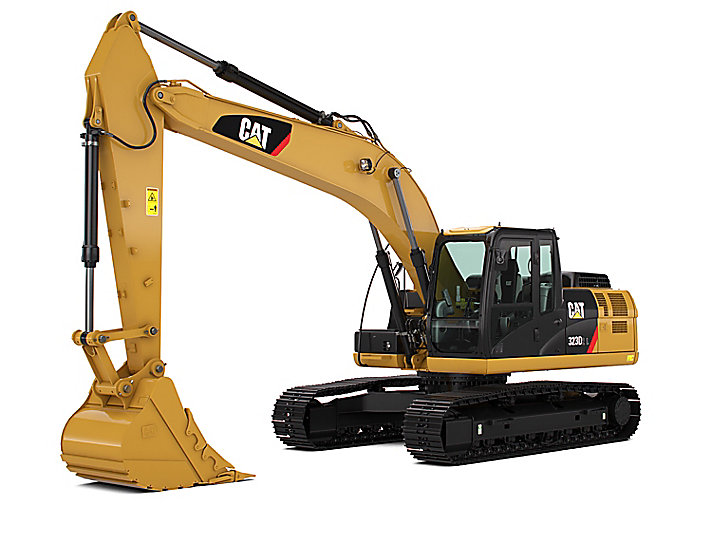 Here is some more information about Caterpillar 340D2 L Excavator:
ENGINE
Engine Model Cat C9 with ACERT Technology
Bore 112.0 mm
Stroke 149.0 mm
Displacement 8.8 l
Engine Power - ISO 14396 209.0 kW
Maximum Altitude - Without Derate 2300.0 m
Net Power - SAE J1349/ISO 9249 208.0 kW

WEIGHTS
Operating Weight 41500.0 kg
If you send us your request, we will make you an offer for original and Aftermarket Caterpillar parts for your Caterpillar 340D2 L Excavator.
Caterpillar 340D2 L Excavator - it is a big machine. But even such machine sometimes needs maintenance.
Our online parts store give you an access to more than 1 000 000 Caterpillar parts that we have in our inventory.
Below is a small list of Caterpillar parts for this equipment. However, if you are interested in something - please use the site search.
| | | |
| --- | --- | --- |
| 9M4685 - SPRING | 3958651 - 1324618 | 8H3325 - NUT |
| 2377249 - LINK AS | 6G9429 - BRACKET-RAIL | 9R8735 - HOSE A |
| 5J3864 - RING | 5L2494 - BOLT | 1273446 - CAP GP-TCK I |
| 1U3252 - TIP | 8R3941 - COLLET | 1021230 - HOSE AS XT |
| 8E8285 - GEAR | 9W6644 - SEAL G | 6C6453 - HOSE AS XT |
| 3Y6917 - LAMP | 1108485 - HOSE A | 4H9705 - BEARING-SLEEVE |
| 9T4245 - SEAL KIT | 8J8703 - SEAL AS | 1862141 - PUMP GP-PS |
| 0844404 - SCREW | 1373298 - BOLT-HEX HEA | 9R9857 - HOSE A |
| 8E1858 - SEAL GP-DUO | 1G5567 - HOSE A | 0918933 - HOSE ASSY |
| 2196550 - GASKET KIT | 1727524 - BOLT | 4410314 - LAMP GP |
| 8S8942 - HOSE A | 1144304 - ROD AS | 7I5829 - HOSE AS |
| 1W0936 - GEAR | 4808269 - PIN-CLA | 0963048 - BOLT HEX |
| 6V5504 - SEAL O RING | 7K9150 - HOSE A | 9P3242 - PLATE |
| 3U5100 - HOSE ASSY 1 | 3P3513 - PAD | 8N9084 - BEARING-STD |
| 9J9806 - RING-WEAR | 1876015 - 187-6014 | 7D0758 - LOCK |
| 5F9049 - BEARING | 1P0451 - GASKET | 6Y1757 - BEARING |
| 8N1145 - FUEL LINE | 0982988 - CIRCLIP | 6J7797 - BEARING |
| 7Y0642 - GEAR RING | 6E0129 - PUMP G | 1336997 - INSERT-VALVE |
| 2T2448 - HOSE A | 1862500 - HOSE AS. | 6G5543 - SHIM |
| 6N9608 - REBUILD KIT | 4S7517 - GASKET | 1834529 - HOSE AS |
| 5K4500 - SEAL | 7Y5959 - HOSE AS | 3844813 - JOINT-UV-CLA |
| 2Q0950 - HOSE AS | 1516789 - GLASS | 9M5240 - HOSE |
| 5K9070 - ADJUSTER | 8D7086 - BEARING | 9H6480 - SEAL |
| 2331589 - TURBO GP-BAS | 0933921 - O-RING | 1T1561 - RING |
| 1R0794 - ELEMENT AS | 2V5923 - HOSE A | 0S2388 - GASKET |
| 4165513 - ACCUM-AC-C | 3807677 - BEARING-ALIG (1599311) | 2780224 - HOUSING-BRAK |
| 1121795 - HOSE AS | 9R9402 - SEAL | 3A3433 - KIT GASKET |
| 2H3911 - SEAL | 7X7945 - ADAPTER | 5269329 - BRG-SLV-CL |
| 1H1023 - RING (0775094) | 3658828 - PIN-CLA | 1C9932 - HOSE AS. |
| 7J5492 - CYLINDER | 4456171 - CABLE, CAB DOOR | 8C5221 - SEAL |
| 1M0620 - STUD (9H2403) | 4T7759 - HOSE A | 1648180 - HOSE A |
| 7J3867 - SEAL-RING | 951714 - O-RING | 4D9303 - 5S9312 |
| 2977761 - PISTON | 5P8797 - GASKET KIT | 9L8344 - CONNECTOR AS |
| 7Y4624 - RING | 9X0691 - BOLT | 963469 - SEAL |
| 1J4946 - HOSE A | 2Q0992 - HOSE AS | 2N5953 - GASKET |
| 3J8683 - RING | 8S1495 - GASKET | 2107098 - CYL GP-0076- |
| 6V1691 - GASKET KIT | 7E9196 - SEAL | 8T3383 - GASKET KIT |
| 3844829 - RACE-OTR-CLA | 3K8428 - PIN | 0901402 - GROUP-HYDRAULIC KIT |
| 9J2012 - LEVER G | 9X7408 - SEAL O RING | 9K4241 - HOSE A |
| 7N8599 - PUMP G FUEL | 9R8523 - PIN | 1117397 - HOSE AS |
| 3282264 - MOTOR GP-WIP | 7W2117 - HOSE AS | 8S5722 - PLATE |
| 5T4823 - HOSE A | 8C4454 - GASKET KIT | 7T0799 - MOTOR GP. ELECTRIC |
| 2423523 - LAMP GP-FLOO | 1B6579 - BEARING-CONE | 1850295 - BEARING |
| 3E3297 - SEAL KIT | 9T9158 - VALVE GP | 8R7929 - WASHER |
| 9G9151 - CLIP | 2M5589 - PINION | 2572752 - GASKET KIT |
| 1252961 - PUMP GP-F.I. | 6V2379 - GASKET | 2G2223 - HOSE A |
| 1552252 - PLUG KIT | 2K8714 - BUSHING | 4I7780 - 4I7778 |
| 6U3238 - HOSE ASSEM 1 | 0988083 - HOSE A | 7D4698 - HOSE |
| 0619910 - HOSE | 8W2397 - HOSE AS | 2344665 - CYL GP-0220 (1560697) |
| 1188271 - PIN | 4T9301 - BUSHING | 7G3431 - RING-RET.EX |
| 5E3110 - O RING | 5K7654 - HOSE A | 2481172 - SEAL KIT |
| 9G3066 - HOSE A | 4W5710 - BRG-CONN ROD | 1052814 - ALTERNATOR |
| 5S9616 - COUPLING AS | 6N3122 - MOTOR G ELEC | 4K8036 - INSULATOR |
| 5P9232 - GASKET KIT | 8X6436 - HOSE A | 4R8330 - ADAPTER |
| 2409505 - HOSE AS. | 1159569 - HOSE AS | 1845086 - GEAR |
| 8D1791 - SEAL | 2818870 - GASKET KIT | 2059025 - SEAL KIT |
| 1167223 - BOLT | 2096010 - SEAL KIT | 9D5867 - HOSE A |
| 1Q0481 - HOSE A | 3442630 - FUSE-20AMP | 6V0623 - GASKET KIT |
| 7M8265 - MANIFOLD | 2164476 - SHAFT GP | 9D3242 - BEARING-CONE |
| 9P4207 - RIM A | 9Y1085 - FUEL LINE | 0340693 - HOSE A |
| 1413479 - PIN | 0773850 - O-RING | 1988726 - Turbocharger S2ES-083 166381 |
| 2778996 - SEAL-LIP TYP | 4V4105 - SPROCKET | 7N4782 - SPRING |
| 1P9650 - GASKET | 1315297 - GASKET KIT | 8J4411 - BEARING |
| 1087361 - 108-7360 | 8S8268 - FILM | 5B0946 - TOOTH |
| 6F0510 - SPACER | 9X6291 - GASKET KIT | 0773146 - WASHER, THRU |
| 7I5225 - HOSE A | 1B3909 - BEARING-CUP | 8J6310 - New Rebuilt - VALVE |
| 2M4108 - GASKET | 1T1085 - CARRIER A | 8U1367 - RING |
| 2125419 - HOSE AS | 6I6555 - ADAPTER | 5E2768 - BEARING |
| 1892492 - SEAL-O-RING | 4I8871 - CYLINDER A | 2V1948 - HOSE A |
| 5T4763 - HOSE A | 2506457 - FLANGE | 5P6874 - MIRROR |
| 3I1991 - P556916 | 2U2553 - NUT FULL M6 | 3F5789 - BEARING |
| 5S5251 - CRANKSHAFT | 1S7179 - SHOE | 6N4751 - GEAR |
| 2470565 - ROLLER GP -S (1175046) | 3418223 - MOTOR GP-WIP | 3076157 - PIN, BUCKET |
| 9V8325 - HOSE A | 62444D - BEARING (1193388) | 6N9236 - CORE A OIL C (4W5551) |
| 8C5210 - SEAL | 1070677 - VALVE GP | 4S8488 - COUPLING AS |
| 3P3241 - PLATE | 1D4559 - BOLT 1/2X1 1/2NC | 5S7175 - FUEL LINE |
| 4N0406 - GEAR | 3205932 - CYL GP-110 6 | 8S5293 - PLATE A |
| 3W9678 - SPACER | 8C9011 - SEAL HEAD | 2527046 - KIT-DT GASKE |
| 1096778 - CYL GP | 2751384 - HOSE AS. | 2261377 - HOSE AS |
| 3371162 - HOSE AS. | 2258536 - GASKET | 2823106 - KIT-GASKET |
| 1609845 - COMPRESSOR | 117-9675 - SHIM | 4445235 - PUMP GP-PS |
| 3V5605 - GEAR | 2866530 - HOSE AS. | 6T6080 - MOUNT AS |
| 3309279 - PUMP GP-CLA | 2Y7988 - SPIDER A | 9K7951 - CAP VALVE |
| 1638472 - HOSE AS | 3J1404 - 7S0372 | 0R7234 - Turbocharger GT5002 701756-5001 |
| 2961344 - BRACKET-CLAS | 2712319 - HOSE AS. | 9Y9256 - PUMP AS |
| 3K2230 - GEAR - PLANET | 5P2522 - CONE | 1241104 - HOSE A |
| 0S1616 - CAP SCREW | 7M0169 - VEE BELT | 1906205 - TURBO GP-BAS |
| 9D5972 - HOSE A | 1291983 - TUBE AS | 6S0286 - YOKE |
| 9T5117 - HOSE A | 1W9896 - PIPE | 1B8709 - KEY |
| 9D0994 - CUP BEARING | 4W5359 - SEAL | 2B5559 - PLUG - CORE |
| 4J0644 - CAP SCREW | 5P4052 - GASKET KIT | 5F5369 - BOLT 3/8 X 1 |
| 8E4623 - ROLLER G CAR | 1M6724 - GASKET | 1955994 - Turbocharger S200G022 178089 |
| 1164278 - CONTROL G | 1541821 - GASKET | 1406823 - EDGE-CUTTING |
| 9C1885 - HOSE A | 0636000 - SPRING | 3W2197 - PLATE |
| 7G4297 - HARNESS A | 9U4899 - HOSE A | 1Q5203 - HOSE A |
| 4L9822 - SEAL-LIP TYP | 6E4217 - PLATE | 1491930 - HOSE A |
| 4K0484 - KEY | 1709972 - PISTON AS | 1069872 - PUMP AS |
| 2388913 - HOSE AS. (OR | 3613157 - CONTROL GP | 1123858 - SEAL-LIP TYP |
| 2278190 - TC GP BSC (1T1213) | 2332225 - SEMI AUTO HONE | 7M9763 - LOCK NUT |
| 1292380 - BEARING | 1N3702 - TUBE A | 6L5079 - SWITCH |
| 1880791 - ELBOW | 9X0332 - SOLENOID KIT | 875396 - SEAL U CAP |
| 1319690 - HOSE AS. | 2536093 - TUBE AS. | 3529824 - HOSE AS. |
| 2H3855 - CAPSCREW | 7401193 - SEAL WASHER - D5 | 9C3856 - SPACER |
| 3535690 - CYLINDER AS | 5P6619 - SEAL-O-RING | 6V9748 - SEAL |
| 1470841 - HOSE AS | 9J5091 - SHAFT | 3Y8522 - SWITCH |
| 8K6630 - DOWEL | 1W7399 - FILTER A | 1W5655 - TUBE |
| 5H7847 - GASKET | 3J4776 - SEAL | 2967635 - Turbocharger GTA5518L 751286-25 |
| 4I5585 - HOSE A | 1375541 - PUMP AS | 5C6616 - HOSE A |
| 2487857 - BEARING | 7G6042 - CAGE | 1850345 - CYL GP |
| 3138156 - HOSE AS. | 1253725 - TENSIONER A | 1184128 - CYL GRP |
| 1177827 - HOUSING-CLUTCH | 3467674 - GASKET KIT | 9W3656 - HOSE AS |
| 3Y9756 - HOSE AS | 2T0669 - HOSE A | 6V5555 - SEAL O RING |
| 1296100 - HOSE AS | 7R7566 - HOSE A | 5T2336 - HOSE A |
| 6Y6394 - SHOE | 9C7074 - BEARING SLEEVE | 1707614 - VALVE |
| 1402961 - KIT-ROLLER | 2Y5410 - BUMPER | 7M0969 - LOCK |
| 6V6446 - KIT-GASKET-S | 7J8024 - PLUG | 2976870 - GASKET KIT |
| 3017969 - PIN-CLASSIC | 2528374 - GASKET | 3728868 - PUMP AS |
| 907005 - CASE 1450 TRACK | 9M1608 - WASHER | 3A3715 - SPROCKET A |
| 9T1302 - SECTION KIT | 2T2428 - HOSE A (1154698) | 2049749 - PUMP GP-PS-B |
| 4P9832 - LIFTER AS | 2F9047 - BLOCK | 3537415 - KIT-BRG(MAIN |
| 1884167 - PLATE | 1585089 - RELAY AS (1303033) | 7G6442 - NUT |
| 2P9659 - PINION | 2136534 - HOSE AS | 6K0137 - BOLT |
| 5Y7018 - NOZZLE A | 4N0865 - GASKET | 3T4307 - BEARING |
| 2674106 - HOSE AS. | 1835159 - CYLINDER AS | 2151734 - GEAR-PLANET- |
| 1590550 - TIP-J550 | 2A2350 - STOP | 1260199 - HOSE AS |
| 8P6998 - BEARING | 1004044 - EDGE END | 774494 - HEXAGON NUT |
| 8T5431 - WIPER | 1124421 - HOSE A | 2V5719 - YOKE |
| 5P8766 - GASKET KIT | 1080949 - LINK | 2167003 - HOSE AS. |
| 3E7462 - GASKET KIT | 9X7450 - SEAL U CUP | 5P3499 - BEARING |
| 4E3760 - CAP | 7T7388 - GUIDE | 1005218 - CLIP |
| 8V6102 - HOSE A | 4I3823 - HOSE A | 3P1605 - GASKET |
| 4F3652 - BOLT | 1653167 - HOSE AS | 4N7903 - STARTER - 24 VOLTS |
| 1559543 - PIN-SPRING | 1960330 - NUT | 2369805 - HOSE AS |
| 1451831 - HOSE AS | 1712215 - BRKR AS-CKT (1265008) | 1737477 - ROD END-SPER |
| 781704 - BOLT 3/8 X 1 | 4346770 - IDLER PULLEY, | 7W0508 - GEAR |
| 2659181 - KIT-GASKET-F | 3R9346 - BELT SET | 5S7711 - HOSE A |
| 8S5349 - BEARING | 8D3311 - BEARING | 2021050 - HOSE AS |
| 5R8541 - V-BELT SET | 5N8389 - SPRING | 8H0669 - GASKET |
| 3079843 - PUMP GP-WATE | 5S1757 - INSERT | 0785394 - O'RING |
| 1672314 - SEAL-U-CUP | 1488411 - PLUG AS-STO | 4N2484 - BONNET |
| 2299295 - BULB | 8X5979 - HOSE A | 3880642 - BRG-SLV-CLA |
| 0950850 - PIN,SPLIT | 7C4508 - WATER PUMP | 1915605 - RING |
| 2017099 - HOSE AS | 5P9440 - SEAL-LIPTYPE | 1934035 - GASKET KIT |
| 7N5647 - TUBE ASSY | 7B8521 - SWITCH | 2568691 - SIDECUTTER L (1673837) |
| 4M9678 - VEE BELT | 2197628 - GASKET KIT | 7F7669 - GASKET |
| 4206541 - RACE-OTR-C | 1240937 - HOSE A XT5 | 5J2383 - SEAL O RING |
| 1158742 - HOSE AS. | 3385071 - VALVE GP-SOL | 2332431 - PISTON AS. |
| 2P9187 - IMPELLER | 9W4363 - HOSE AS | 1278778 - BAR A |
| 3276513 - SEAT GP | 1380884 - ADAPTER | 9P3971 - PINION |
| 1P8004 - GASKET | 5J6334 - BEARING | 1606307 - CAP-BEARING |
| 4T5076 - RING BACK UP | 0961585 - SEAL | 2481196 - KIT-SEAL-H.C |
| 1412618 - GASKET | 5J6902 - EDGE | 4I1430 - 4I1428 |
| 7K4474 - TERMINAL (2Y1086) | 2120837 - HOSE AS. | 1U2872 - HOSE A |
| 5V6177 - CARRIER | 7B2420 - FERRULE | 5I7797 - GASKET KIT |
| 1834491 - HOSE AS | 5U4038 - HOSE AS | 5W4914 - HOSE A |
| 2014655 - HOSE AS | 1727772 - WATER PUMP | 6V7463 - GASKET KIT |
| 3W3197 - HOSE A | 8D3316 - HOSE A | 3919854 - SPRG-VLV-CLA |
| 4N7531 - LEAD A | 2607509 - HOSE AS. | 6Y2058 - LINK AS-TRAC |
| 2302970 - CAP AS | 8T8883 - SEAL O RING | 2S3443 - DRUM |
| 7G2485 - GEAR | 6I4034 - GASKET | 2143325 - HOSE AS. |
| 2407359 - CARTRIDGE GP | 20R0619 - CYL PACK AS | 2434626 - HOSE AS |
| 0271287 - FITTING | 3195647 - SEAL KIT | 1558154 - HOSE AS |
| 1895373 - SEAL KIT (8T2166) | 2064277 - GASKET-PLATE | 9P1331 - SEAL-RING |
| 0875320 - HOSE A | 1560761 - MOTOR GP | 9J1509 - HOSE |
| 2038824 - ARM AS-V ROC | 9C0895 - HOSE A | 8T2883 - TEE |
| 4I0798 - 4I0797 | 9T6809 - SEAL KIT | 5Y0155 - VALVE A-CHEC |
| 6L4435 - GASKET | 1774658 - NUT-BEARING | 5M5007 - PLATE |
| 8C9114 - RING | 4S8099 - COLLAR | 2T0891 - HOSE A |
| 2534654 - SHIM | 5D3184 - LOCKWASHER | 2987919 - SCREW |
| 1417682 - HOSE AS | 1780261 - HOSE AS. | 7002576 - SEAL - D4 |
| 4B3604 - SET SCREW | 1726011 - SEAL-BRAKE | 7M0878 - GASKET |
| 6D1601 - SPRING | 8J3749 - SEAL A | 3089882 - PIN AS-CLA |
| 4T3045 - END BIT RH | 1566145 - HOSE AS | 7Y8494 - 7Y8493 |
| 6W2394 - HOSE A | 2P8104 - BEARING | 3256173 - PLGR-PMP-CLA |
| 7W6158 - HOSE A (1630851) | 6V7830 - TETRAGAGE G | 2460657 - KIT-SEAL-H.C |
| 3S1608 - ELBOW | 2461131 - MUFFLER | 2403489 - KIT-GASKET-F |
| 7G5758 - CARRIER | 3G2569 - CAP | 3P1115 - LINK-HALF |
| 8X8264 - HOSE A | 1885156 - TURBO GP-BAS | 5L5012 - VEE BELT SET |
| 1347422 - IMPELLER | 1549838 - SLEEVE | 3P4583 - RING-SEAL |
| 6R2894 - HOSE A | 2657538 - BDG-FLOAT EX | 6B9664 - VALVE |
| 6N8637 - FUEL LINE | 2726587 - PUMP GP-GEAR | 8S9698 - GASKET KIT |
| 3K8280 - PIN | 0062987 - O-RING | 2048260 - HOSE AS |
| 2Y9409 - PRE SCRNR AS | 8E2229 - PIN | 7D6188 - HOSE A |
| 7X2465 - BOLT | 3089932 - SHAFT-PL-CLA | 5U2353 - HOSE ASSEM 1 |
| 2914731 - PUMP AS-F IN | 1917727 - CYLINDER AS. | 2590831 - SHAFT-DRIVE |
| 1979580 - GASKET | 5T3682 - HOSE A | 1409031 - GASKET KIT |
| 2344796 - GASKET | 2560258 - PUMP AS-WASH | 2906711 - HOSE AS. |
| 0990660 - RING B/UP | 2748487 - PUMP GRP BAS | 9V5997 - COLLET A |
| 5B4399 - RING | 3021410 - CARTRIDGE GP | 8S8866 - HOSE A |
| 8X2262 - SHAFT SUN | 3477390 - KIT-DT GASKE | 8S8374 - HOSE A |
| 5L7942 - PRECLEANER G (1243237) | 1M1471 - GUARD A | 2029785 - GASKET KIT |
| 1F1480 - FITTING | 8I0198 - PLATE RH (1437708) | 1632428 - PUMP AS |
| 1T0437 - HOUSING | 5S6045 - GASKET | 1396177 - GASKET KIT |
| 5W5362 - RING-RETAIN | 0778025 - HOSE ASSY | 4U1334 - PROPSHAFT AS |
| 1B4439 - NUT | 2906712 - HOSE AS. | 5M5242 - GEAR |
| 6725278 - ADAPTER | 6G5544 - SHIM | 7K0734 - BOLT |
| 7S2269 - HOSE A | 8U9507 - DISC | 3645266 - BRG-SLV-CLA |
| 1298229 - HOSE | 6V5029 - SEAL | 5W9862 - HOSE A |
| 7K2898 - PIN | 3221942 - WASHER-HARD | 7C1772 - PUMP AS |
| 6E4219 - GUIDE-SPRING | 6V3724 - GASKET KIT | 785412 - O RING |
| 0R3715 - CYL HEAD A | 0959805 - BOLT | 2774421 - COVER-SIDE |
| 8C8593 - KIT GASKET (7X2404) | 2310018 - PINION-CLASS | 6J7376 - GASKET |
| 1U0294 - CUTTING EDGE | 2159996 - SEAL KIT | 3046625 - TUBE AS |
| 1Q1373 - HOSE A | 2383312 - STUD-WHEEL | 7U1903 - SUPPORT |
| 2H5221 - SEAL | 7H1268 - CAGE | 1640621 - VISOR |
| 3W4129 - HOSE A | 2433933 - HOSE AS. | 3V3655 - HOSE A |
| 10R0937 - MOTOR GP | 2030532 - SHIM | 1T0018 - WHEEL |
| 2339480 - GASKET KIT | 2431129 - HOSE AS. | 3327318 - CAMSHAFT (6N5768) |
| 9W9991 - IDLER AS-BRG | 1876784 - HOSE AS (1529502) | 5W7158 - BOLT |
| 1K7849 - COVER | 7X7721 - KIT GASKET | 6V0455 - BEARING |
| 9U4640 - HOSE A | 0R1000 - PUMP GP WTR | 1P0268 - CONNECTOR AS |
| 1511846 - HOSE AS | 3B8845 - ROLLER A | 4D1644 - BEARING-SLEEVE |
| 4H3157 - KEY | 8J2602 - New Rebuilt - VALVE | 3K1717 - CABLE |
| 7S5888 - COVER | 7J8298 - CYL A | 9R4282 - HOSE A |
| 5K7924 - GEAR | 0990471 - BOLT | 2152616 - GASKET |
| 3120208 - KIT-GASKET(O | 3G5452 - TIP | 1G8458 - SEAL O RING |
| 8S8871 - LOCK-NUT | 1334759 - SEAL KIT-STD | 1659287 - SEAL-LIP TYP (1163386) |
| 8R5729 - HOSE A | 6W5797 - LEVER A | 1308478 - BLADE AS |
| 3153441 - TIP WHEEL | 0960768 - ALARM TRAVEL | 3W2966 - HOSE A |
| 7X5370 - RING RETAIN | 2386718 - SEAL KIT | 1534010 - MIRROR AS |
| 0812833 - CAPSCREW | 6L8598 - RING | 1515864 - CRANKSHAFT A |
| 5P6657 - GASKET KIT (1441142) | 0R7578 - Turbocharger GT4294S 716269-0001 | 8C0665 - SEAL KIT-STD |
| 6L8964 - HOSE | 7P9068 - HOSE A | 1285210 - HOSE |
| 5H6565 - BREAKER | 0951579 - O-RING | 5I7483 - HOSE AS |
| 10R2660 - Turbocharger S310G122 250-7701 | 3293243 - FILTER AS. | 7N1405 - MOUNT |
| 5P4939 - SCREW A | 7Y5457 - VALVE A | 0965741 - SHIM |
| 0995871 - SEAL | 4T6488 - HOSE A | 1792125 - HOSE AS |
| 6Y1949 - LINING | 0995119 - SEAL | 8E9459 - HOSE A (6Y1246) |
| 6J6917 - SEAL | 8V0729 - HOSE A | 9J4252 - TIP |
| 6V9231 - GASKET KIT | 1402382 - GASKET KIT | 7T3864 - HOSE A |
| 3487051 - VALVE GP LINE | 2291859 - PUMP GP | 1289262 - BUSHING |
| 3V9115 - SHOE | 2128613 - PULLEY | 7G0861 - GEAR |
| 7S2157 - HOSE A | 1523749 - BEARING | 4518604 - KIT GASKET |
| 1646911 - HOSE AS | 1M3151 - PIN | 5P9576 - GASKET KIT |
| 2060518 - CYL GRP | 8T8093 - SEAL | 8E5247 - BEARING |
| 7X2522 - GASKET KIT | 8S7061 - GASKET KIT | 3714310 - GEAR-DRV-CLA |
| 3T2941 - HOSE A | 7T9162 - MOTOR GP. ELECTRIC | 1173719 - HOSE AS |
| 2W5539 - RADIATOR CORE | 9J6251 - TRUNNION | 8K4867 - HOSE A |
| 4P0301 - REGULATOR | 2Y9455 - BREATHER | 3937144 - FILTER, OIL |
| 7G6956 - HOSE A | 10R1504 - LIFTER AS. | 8S9205 - HOSE A |
| 3V6803 - HOSE A | 8W4142 - SHAFT | 8W9637 - HOSE A |
| 1226899 - L/M HOSE-IN | 2436741 - HEAD AS | 4E7773 - HOSE A |
| 2236949 - HOSE AS | 3507555 - INJECTOR GP- | 3012478 - PUMP AS |
| 0960097 - HOSE | 1666766 - HOSE AS | 1251126 - TURBOCHARGER |
| 0L1213 - GASKET | 0313077 - HOSE A | 6B4851 - BEARING-CUP |
| 2362909 - HOSE AS. | 3H8591 - BALL | 6V9835 - TEE |
| 1T0365 - FLANGE | 2211406 - GASKET KIT | 9S9538T - D/F ROLLER GRP-D5B |
| 6E6155 - BEARING | 2G8615 - WASHER | 1539184 - PUMP G |
| 9J1105 - PIN A | 4I0811 - 4I0809 | 9S0746 - GASKET |
| 0015520 - CUP | 1792997 - SPRING GP-RE | 4S5758 - PLUNGER |
| 1223821 - REGULATOR | 4D2844 - HOSE A | 1002790 - HOSE A |
| 1672210 - SEAL AS-BUFF | 2D1201 - EYE BOLT | 1990657 - BEARING |
| 3546757 - KIT GASKET | 1W9203 - FUEL LINE | 4S9387 - BEARING G. |
| 2953462 - PUMP GP-PS-B | 1F2747 - BUSHING | 2125328 - HOSE AS (1385335) |
| 1097594 - HOSE AS | 2370325 - HOSE AS. | 7I7813 - HOSE AS |
| 3644115 - ROD AS (1144304) | 2S4018 - SEAL | 6K8162 - RING |
| 2167012 - HOSE AS. | 1085209 - HOSE A | 8N4301 - FILTER A |
| 5J8150 - SEAL-U-CUP | 5I8597 - HOSE AS | 5P2004 - GASKET |
| 8W0958 - HOSE A | 9D5980 - HOSE A | 4496052 - KIT GASKET |
| 1V1762 - RING | 8J2355 - BRG-SLEEVE | 8M2620 - SEAL |
| 2Y4239 - TERMINAL | 1013254 - SLEEVE | 1608528 - HOSE AS |
| 8T4977 - SEAL | 1554387 - HEX. SCREW | 3891339 - KIT-GASKET ( |
| 2327637 - ARM A | 9Y1230 - MANIFOLD | 1121665 - MUFFLER |
| 9L7630 - GASKET | 6V0889 - MOTOR GRP | 1286862 - HOSE AS |
| 9L6639 - VEE BELT | 8R6941 - PLATE | 0875764 - SLEEVE |
| 0782041 - SYMMETRICAL | 6K3041 - LEVER AS | 8W3965 - HOSE A |
| 1559806 - GASKET KIT | 2G0478 - DISC | 4533652 - BRG-TPR-CL |
| 6D0556 - KIT | 5S9285 - HOSE A | 2922960 - KIT-GASKET-S (6V9918) |
| 0969413 - O RING | 3305061 - MOTOR GP-WIP | 3193471 - RETAINER-CLA |
| 1271520 - GASKET KIT | 7K2839 - HOSE A | 1535390 - BEARING-BALL |
| 4T7190 - CUTTING EDGE | 6N2642 - OIL PUMP | 8L8570 - COVER AS |
| 2U7464 - SEAL | 8X5570 - HOSE A | 4574411 - KIT GASKET |
| 1275022 - GASKET KIT | 2650913 - KIT-GASKET-A | 9N1843 - GSKT-AIR COM |
| 1707086 - HOSE AS. | 7P6570 - PLATE | 10R2039 - TURBO GP BAS |
| 1863277 - SEAL GP-DUO | 8S6517 - BEARING | 3777448 - CONE-BRG-CLA |
| 0964794 - BOLT | 2915304 - WATER PUMP | 1170836 - CYLINDER A |
| 6V9603 - CONE | 8U2374 - SEAL | 5S5726 - GASKET |
| 2P9614 - COMPRESSOR G | 9W2571 - HOSE A | 3489543 - LAMP GP-FLOO |
| 1901669 - HOSE A | 3133512 - KIT-GASKET(F | 2V1921 - HOSE A |
| 1059911 - SENSOR | 3G0030 - PIN | 1G7426 - BOLT |
| 4477267 - HOSE A | 1616273 - HEX SCREW | 4204888 - KIT GASKET (1394757) |
| 2414559 - HOLDER | 3647252 - HOSE AS. | 2128714 - PUMP GP-HYD |
| 9L5119 - HOSE A | 2418920 - SEAL KIT | 2125525 - HOSE AS |
| 3S8182 - BOLT | 2M8411 - STUD | 2442067 - SEAL KIT |
| 7C6961 - BEARING MAIN | 8X7556 - HOSE A | 7S1085 - CORE A RAD |
| 1317123 - BEARING | 4537863 - PLUNGER & BARREL | 5W4794 - SEAL-O-RING |
| 0060804 - SCREW | 8S4555 - HOSE A | 5N8374 - SLEEVE |
| 8V7625 - BAND | 2335196 - GASKET KIT | 1V4603 - LINK-SPLIT |
| 2S3721 - GASKET | 1645754 - HOSE AS. | 2538672 - FORKS |
| 9P1594 - HOSE A | 9X7289 - RING | 3833672 - GOV-COMP-CLA |
| 3G2889 - CARTRIDGE G | 2034040 - SEAL | 2246357 - SEAL-INTEGRA |
| 9C6342 - WASHER | 1672443 - SEAL-U-CUP S | 0816885 - PIN |
| 5086650 - ADJ-HYD-CL | 1526485 - CYLINDER GP | 7Y0663 - GEAR |
| 2W1085 - TUBE A | 1065534 - DRYER | 9C9838 - LINING KIT |
| 8J5140 - HOSE A | 9Y7756 - Turbocharger S4DW-018 197762 | 1V7620 - HOSE A |
| 2270576 - HOSE AS | 1354688 - CYL A | 7P3976 - HOSE A |
| 2951543 - KIT-GASKET-O | 1692028 - HOSE AS | 1869776 - BEARING |
| 6W9117 - HOSEA | 0781805 - LOCKWASHER 3/8 | 1873298 - GUIDE |
| 9L9851 - VALVE INTAKE 3208 NA | 2R1230 - RING | 7F7983 - BEARING |
| 1916149 - HEAD | 2215080 - HOSE AS | 3J1406 - 7S1287 |