Parts for Doosan Excavators
The obvious advantage of our company: we offer genuine spare parts and accessories of Doosan .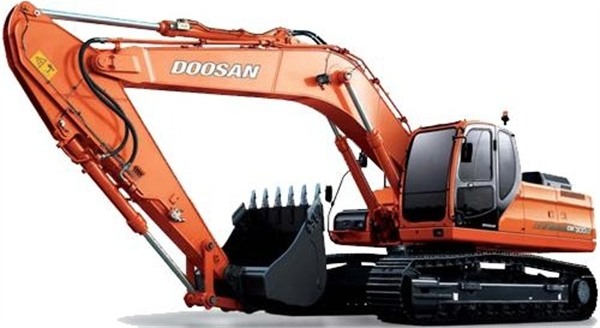 Large range of spare parts and consumables in stock. It is also possible the order of the original
DOOSAN
spare parts
. We are always ready to give you advice in choosing precisely the
DOOSAN parts
, which you need.
We are also ready to offer you a wide range of additional equipment for excavators and loaders fronalnyh:
1. For the destruction:
- breakers
- crushers
- Crushing buckets
2. For the construction:
- Hydrodrills
- Piling installation
- Hydraulic rammers
3. For overload and work with primers:
- Buckets obschezemleroynye
- Buckets rock
- Buckets rock-rippers
- Grapples
- Rippers (cultivators)
- Forks and brevnozahvaty
4. Others:
- Lines
- Quick-release device
- Swivel-tilt mechanism working equipment
- Preheater WEBASTO
| | | | | |
| --- | --- | --- | --- | --- |
| 06.22022-0912 | MX503470 | S5102603 | 2.181-00183 | 3046200 |
| 65.01110-6351 | MX509266 | 186-00017A | 2.181-00184 | 3036865 |
| 2180-1026D23 | MX160084 | S0565466 | 2.120-00816 | K9002983 |
| S2218766 | MX503141 | 114-00425 | S8000181 | K9003004 |
| S2218566 | MX501471 | 2114-1813 | S8030081 | K9003409 |
| K1014396A | MX505034 | 2114-1814 | 2181-4133D3 | * NA00074 |
| DS2058282 | MX054307 | 471-00105A | K1006248 | K9002985 |
| DS2055822 | MX054178 | K1004266 | 121-00010D5 | K9002991 |
| K1006536 | MX054173 | 2181-1890D2 | DS2012250 | K9003016 |
| 2181-1184 | S3450943 | S8000111 | K1017307A | K9003017 |
| K1001029 | S5102303 | S8450012 | DS2013695 | K9003018 |
| DS2802023 | 65.01101-6040H | 4010297 | 123-00094 | K9003271 |
| S6710041 | K1008702E | 4010296 | 123-00095 | K9003005 |
| 160-00020 | K1008703E | 2181-4133D3 | 2114-1594 | K9003046 |
| K1000057 | S5102803 | S8000181 | 2114-1592 | K9003407 |
| 2181-4112 | 2114-1180D20 | S8000231 | 119-00003 | K9003047 |
| 2181-4112 | 121-00010D1 | S8030081 | 182-00009 | K9003250 |
| DS2805007 | 124-00199D5 | S8030121 | 123-00096 | K9003028 |
| S4032833 | K1002569B | 2180-1026D19 | 2109-1041 | K9003194 |
| 2181-1923D12 | 426-00284A | S2212766 | 2109-1042 | K9003329 |
| K1014397 | 426-00284B | DS0025020 | S2216873 | K9002972 |
| K1014398 | K1000352A | K1003637G | 180-00179 | 2120-4059A |
| K1014402 | DS0025017 | DS2011489 | 2181-1116D4 | S4013333 |
| MX514891 | DS2304086 | 140-01585C | 2181-1116D2 | S4013333 |
| DS2092058 | 2181-4133D6 | DS2011488 | S5740890 | 200-00021 |
| DS2054328 | 2181-1126D6 | K1018179B | S6500300 | 276-00135 |
| DS2092054 | DS2232108 | K1002886A | S6500650 | 276-00137 |
| DS2092055 | 2181-2627D2 | K1002909B | 115-00037 | 2278-9017 |
| DS2054328 | S0508966 | 2124-1026D2 | S5740890 | 276-00136 |
| DS2092054 | S5102503 | 2181-2627D1 | 191-00167 | 276-00137 |
| DS2092055 | DS2012311 | 2181-2627D11 | S3453116 | 2278-9017 |
| S8000111 | DS2012310 | S8000231 | 401-00452B | 625-00115 |
| 124-00209D1 | DS2013691 | S8030121 | K9001771 | 625-00117 |
| K1001029 | DS2055871 | S0515266 | K9005039 | 2200-1035A |
| K1002116E | DS2012266 | 4010318 | K9001773 | 200-00010A |
| K1002117 | S8000141 | 3033724 | 2.120-00816 | 2401-9259 |
| K1002117A | S8000181 | S0560766 | S6510800 | 2210-9410B |
| K1002117B | S8030081 | S5010713 | 2.115-00327 | 2480-9022 |
| K1002117C | S8000231 | S5102703 | K9001774 | 2480-9022A |
| K1002118 | S8030161 | DS2013555 | 2180-1216D150 | 2480-9022B |
| K1002118A | S8000291 | DS2013554 | 2.120-00816 | 2891-1437A |
| S5102803 | K1001029 | DS2013552 | 2.123-00297 | 621-01867 |
| K1004006 | 124-00208D4 | DS2013553 | 2.121-00263 | 621-01867A |
| K1002118B | 2181-1702D2 | K1018179B | K9001775 | S5110901 |
| K1002118C | 2181-2816D2 | DS2026122 | K9001771 | S5102901 |
| 423-00030 | 195-02925 | DS2025048 | K9001777 | S5102901 |
| 420-00004A | 65.96501-0061 | DS2023198 | K9001778 | S4012933 |
| K9000999 | 65.96601-0046A | DS2013557 | K9001779 | S0521561 |
| 195-00335 | 65.96601-0046B | 2181-2627D2 | K9001780 | S0527661 |
| 195-00329 | 65.98701-0010 | 2181-2627D13 | K9001781 | S0527661 |
| 181-00020 | 65.98701-0012 | 2181-2816D4 | K9001782 | S5103101 |
| 2181-1702D4 | 65.96401-0011 | 2181-4133D37 | K9001783 | 2114-9012 |
| 2181-1126D14 | 65.96401-0012 | DS2404009 | K9001784 | S0565361 |
| 2181-1890D9 | 06.56180-0712 | DS2404022 | K9001785 | S2221761 |
| S8000341 | 65.99601-8042 | S8000181 | K9001786 | S0570461 |
| S8000111 | 65.01903-0048B | S8000231 | K9004228 | S5110901 |
| S8000291 | 65.01903-0050 | S8030081 | K9001788 | S2221761 |
| 2180-1026D19 | 65.01510-0157 | S8030161 | K9001789 | S4013133 |
| S0515366 | 65.01904-0022A | 2180-1026D19 | K9001790 | 2200-1035A |
| S0515066 | 65.01510-0158 | 2181-9081 | K9001816 | 2260-9036 |
| S2215766 | 65.03901-0063B | S2215466 | K9001817 | 2260-9037 |
| S2215966 | 65.03901-0072 | K1013261H | S6510650 | S5102603 |
| S2215966 | 65.03901-0064B | 2423-1550 | K9001818 | 2121-1251 |
| S5102703 | 65.03901-0073 | 2181-1950D2 | K9001819 | 2120-1339 |
| S5110703 | 65.03905-0023A | 2549-9112 | K9001820 | 200-00010A |
| DS2059489 | 65.03905-0020 | 420-00352D6 | K9005040 | 2260-9036A |
| 2184-1046D68 | 65.96501-0033B | K1003664D1 | 3037536 | 2260-9037A |
| DS2059490 | 65.04902-0010 | 2181-1126D27 | 3037537 | S5102603 |
| S2216466 | 515-00012A | 2181-1126D7 | 3071643 | 2121-1251 |
| K1008273 | S2215566 | 2181-1126D96 | K1009635 | 2121-1251A |
| DS2092056 | K1007011 | 2181-1702D4 | K1000722A | 2120-1339 |
| DS2093223 | K1006379 | 2181-1702D5 | K1003180A | 2230-1041B |
| 2181-1951D16 | K1002597E | 2181-2295D12 | K1038409 | 2109-1052 |
| MX164104 | 426-00247A | 2181-2295D4 | K1009745A | 109-00052A |
| MX164064 | 426-00247B | 2181-2590D2 | K1009160A | 109-00052B |
| S8000141 | K9007363 | DS2459001 | K1009161A | 180-00297D3 |
| K1002119A | 1.519-00001 | 2181-1951D6 | 2185-1247D142 | S0770261 |
| DS2055857 | S8000111 | 2181-2635 | K1009271B | 2114-9012 |
| DS2055857 | 181-00779 | S8000111 | S8470075 | 2627-1014A |
| K1002120 | 2181-1702D4 | S8000141 | S8450006 | 2627-1015A |
| K1002120A | 2181-1702D4 | K1001029 | 124-00208D2 | 2627-1016 |
| 420-00021A | 2181-1126D14 | S0512966 | S0521366 | 2627-1016A |
| K9001000 | 2181-1951D11 | S5102603 | DS0025014 | 2627-1017 |
| S8000111 | DS2093208 | 2181-2047A | K1001029 | 2627-1017A |
| 2181-1126D14 | DS2093024 | 2181-2047A | S0515066 | 2625-1190B |
| S5110803 | DS2091032 | 124-00208D5 | S5102903 | 64709 |
| S8000401 | DS2093229 | 124-00208D9 | 2114-1816A | 3161628 |
| 181-00078D5 | DS2093230 | S5010613 | S5102703 | 624-00088B |
| S2218966 | 124-00208D5 | DS2094094 | S5010913 | 191-03429B |
| 2124-1084D2 | 124-00208D7 | DS2093218 | DS0025017 | 191-03430B |
| MX514893 | K1001029 | DS2094068 | K1009271B | 2114-1370 |
| MX514892 | S0556766 | DS2094066 | K1009271C | 120-00322A |
| MX512365 | S2209266 | DS2094067 | K9004261 | 2114-1059D229 |
| MX514478 | S5102503 | DS2093217 | K9004262 | 2114-1059D224 |
| MX514940 | S5110503 | DS2093216 | K9004263 | 2160-9011 |
| MX053429 | S8000141 | DS2093215 | K9004263A | K1006982A |
| MX504308 | K1000817 | DS2093214 | K1015210 | 624-00082E |
| MX509267 | 2181-1702D56 | DS2093280 | * NA00467 | K1013130B |
| MX053428 | K1002655C | 2181-2295D16 | K9004264 | 195-02643C |
| MX514768 | K1001873A | K1013261E | K9004265 | 161-00550 |
| MX516112 | 420-00347 | K1002819 | K9004265A | 161-00548 |
| MX510506 | K1017382 | 195-02721J | K9004266 | 2114-1929 |
| MX052528 | K1017382A | 181-00144D41 | K9004267 | 2114-9012A |
| MX512372 | K1001871B | 2181-1126D14 | K9004268 | K1009639 |
| MX509227 | 06.06175-8309 | 2181-1126D34 | K9004269 | S0771466 |
| MX509266 | 06.11063-9216 | K1038032 | K9004270 | S0521566 |
| 195-00163 | 65.90535-0005 | 2181-1951D8 | K9004271 | S5102903 |
| S0563466 | 06.16731-2109 | 2181-2281D15 | K9004272 | K1013130H |
| 2537-9002 | 65.98150-0002 | S8000111 | K1010769 | 3064109 |
| S0508853 | 06.56190-0704 | S8000111 | K9003878 | 3069103 |
| S0512053 | 65.27441-7007 | S8000141 | K1013130E | 3902662 |
| S5102503 | 65.28652-0013 | S8000181 | K1009642C | 4004381 |
| S5100603 | 06.01943-3323 | K1001029 | K1009642E | 4022525 |
| K1010065 | 06.01913-3217 | S0511866 | K1009641B | 3161630 |
| 161-00404 | 65.19103-6010 | S0512066 | K1023869A | 3401236 |
| 534-00062 | 65.19103-6010A | S0556466 | K1023869B | 4851 |
| 515-00013 | 65.90441-0009A | S5102603 | 2120-2135A | 2901-1053G |
| K1009422 | 65.19107-0001 | S5102503 | S4012633 | 2901-1053H |
| 195-02910A | 65.19107-0001A | 547-00001 | S5010613 | 2901-1081 |
| 195-02910C | 65.93020-0055 | 471-00118 | K1009721A | 2901-1081A |
| 2114-1898D6 | 06.11063-9217 | DS2092013 | K1015292A | 2901-1052 |
| S5010713 | 06.01943-3319 | DS2093054 | K1037930 | 2621-2745B |
| 2120-2166D54 | 65.41530-0161 | DS2091007 | K1015293 | 2621-3577A |
| S0515653 | 65.41530-0161A | DS2092059 | K1015294 | 2300-6003 |
| 2197-1661 | 65.90201-0063 | DS2092047 | K1024182 | 2300-1051 |
| S5102503 | 06.16731-2110 | DS2093096 | 124-00310A | 2300-9002 |
| S0508853 | 06.11063-9217 | K1041294 | DS0025014 | 2300-6011 |
| 530-00463A | 06.01494-4414 | K1002820 | K1001029 | MX509267 |
| K1009424 | 06.16731-2110 | K1018162C | 547-00026 | MX161487 |
| 160-00061 | 06.01494-4414 | DS2094062 | 2195-3500 | 65.01304-0010N |
| S5102503 | 06.16731-2110 | DS2093211 | S3450833 | * NA01264 |
| S0508853 | 65.41530-0162 | DS2093158 | S5100203 | MX151765 |
| 530-00464 | 65.41530-0162A | DS2092067 | S0514666 | MX151766 |
| 534-00062 | 65.90201-0063 | DS2093210 | DS2105006 | 190-00695 |
| 515-00013 | 06.16731-2110 | 2181-1126D36 | 2181-2104D6 | MX509267 |
| K1009445 | 06.11063-9217 | 2181-1950D2 | S8000181 | MX503623 |
| 549-00102 | 06.01494-4410 | 2181-1702D4 | S8470032 | MX509267 |
| K1002406D4 | 06.16731-2110 | 2181-1702D5 | K1019027 | MX160085 |
| 2547-9045 | 06.01494-4416 | 2181-1126D85 | DS2079193 | MX161485 |
| S8000161 | 06.16731-2110 | 2181-1951D1 | 124-00208D5 | MX503141 |
| DS2308021 | 65.99605-8028 | 2181-1951D7 | 2181-1950D1 | MX506011 |
| K1002153 | 65.03901-0063B | S8000111 | S8000111 | MX509721 |
| K1009446A | 65.03901-0072 | 2181-1126D14 | K1008922E | MX501474 |
| 538-00012 | 65.03901-0064B | DS2093028 | K1006520 | MX503141 |
| 426-00282 | 65.03901-0073 | 2181-2281D3 | K1044605 | MX506012 |
| 181-00804 | 65.03905-0023A | 2181-2590D2 | K1006530 | MX504621 |
| 549-00101 | 65.03905-0020 | 2181-2047A | K1006973 | MX151975 |
| K1002406D5 | 65.96501-0033B | K1018146C | K1046352 | MX509268 |
| MX164108 | 65.04902-0010 | K1000556G | K1046350 | MX161497 |
| MX054573 | 65.06903-0018 | K1000556H | K1016092 | MX161495 |
| MX503143 | 65.06903-0028 | 420-00475 | K1002864 | MX505074 |
| MX502759 | 65.96501-0069 | 121-00010D7 | DS2479003 | MX516221 |
| MX514747 | 06.56342-1208 | 2181-1126D27 | DS2479004 | MX516222 |
| MX161487 | 65.08901A0012 | 2181-1126D7 | S0515266 | MX160517 |
| MX504308 | 65.08901-0044 | S8000141 | S5010713 | MX160513 |
| MX151975 | 65.08902-0025 | S2205066 | S5102703 | MX509269 |
| MX140062 | 65.09904-0008 | K1003945 | S0561066 | MX501847 |
| MX509268 | 65.09901-0025 | DS2095017 | DS2105079 | MX509993 |
| MX161495 | 65.09901-0033 | DS2095015 | DS2105076 | MX509994 |
| MX053264 | 65.08901-0063 | DS2095013 | DS2105022 | MX263568 |
| MX514768 | 65.96601-0045A | DS2095014 | DS2105078 | MX503031 |
| MX516112 | 65.96601-0067 | DS2095016 | S8450012 | MX503456 |
| MX514936 | 195-01684A | DS2093219 | K1001029 | MX037994 |
| MX065024 | DS2093202 | DS2093186 | 2124-1509D2 | MX055779 |
| MX512210 | DS2093130 | DS2094169 | 124-00209D1 | MX061464 |
| MX502620 | DS2093209 | K1018146C | 124-00208D2 | MX263567 |
| MX516114 | DS2093131 | K1000555G | K1017270G | MX511432 |
| MX514062 | 124-00208D5 | K1000555H | K1009701B | MX167286 |
| MX516114 | 124-00209D5 | 2181-1126D27 | K1009701C | MX511573 |
| MX502649 | K1001029 | 2181-1126D7 | 140-01453B | MX510519 |
| MX502855 | 2181-1951D7 | S8000141 | 2474-9016A | MX514823 |
| MX516114 | S0512066 | S2205066 | K1011675 | MX504414 |
| MX514844 | S5102603 | 124-00208D8 | K1011675A | MX053291 |
| MX516112 | S5102503 | 2181-1126D14 | 473-00052 | K1022783 |
| MX510582 | S8000111 | 2181-1126D103 | 422-00027A | K1022784 |
| MX065024 | S2212266 | 2181-1126D108 | 180-00200 | K1022785 |
| MX059004 | S2211866 | 2181-1126D7 | K1012685A | K1022786 |
| MX065024 | S5110603 | 2181-1702D25 | K9005662 | K1022791 |
| MX061459 | S0508866 | 2181-1702D4 | K1029257 | DS0025040 |
| MX509272 | 2181-1951D6 | 2181-1951D1 | 2136-1434 | * NA00443 |
| MX063036 | 2181-1126D14 | 128807 | 2129-1008 | S5102603 |
| MX508922 | 2181-1702D4 | 3096077 | S4012733 | S5010613 |
| MX509228 | 195-02925A | 119364 | S8011200 | S0511653 |
| MX052528 | MX507171 | 3095356 | S8011850 | 120-00179 |
| MX509227 | * NA01049 | 3090996 | S8011650 | 120-00246 |
| MX502759 | 65.02101-0024 | 3084713 | 474-00055 | S0502853 |
| MX501399 | 65.90430-0014 | 3074317 | 2426-1175 | S4012203 |
| MX061464 | 2197-2092 | 3074316 | 2129-1393 | S4012533 |
| MX063036 | 3085615 | K9001822 | S0512066 | S5010513 |
| MX508829 | 3033714 | K9001823 | S5102603 | S5100203 |
| MX508828 | K1017269E | K9001824 | S0565466 | S5102503 |
| MX507934 | 470-00166H | K9001825 | 114-00425 | 2121-1305 |
| MX160435 | 470-00166J | 2.123-00250 | 2114-1813 | K1026565 |
| MX508833 | 470-00166L | S2215361 | 2114-1814 | S3450823 |
| MX514198 | 119-00014AD1 | S2216673 | S2202766 | 527-00004 |
| MX504309 | K1001029 | K9000961 | S8000111 | K1040506 |
| MX501981 | DS2802021 | 2.180-01187 | 119-00025B | 2120-2187 |
| MX513768 | 473-00033 | 2.120-00839 | 3037236 | S0508663 |
| MX524083 | S8011450 | K9001826 | 3009330 | 2525-1012 |
| MX515838 | S0512066 | 2.123-00132 | 3044360 | 516-00009 |