Komatsu PC700LC-11 Hydraulic Excavator parts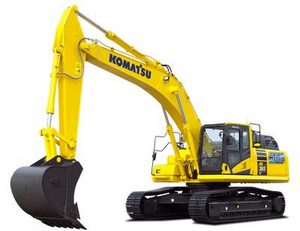 Komatsu PC700LC-11 Hydraulic Excavator - it is a big machine. It is a Crawler Excavator and works in difficult operating conditions. That's why this machine sometimes needs maintenance.
Our online parts store give you an access to more than 500 000 Komatsu parts that we have in our inventory.
Here is some more information about Komatsu PC700LC-11 Excavator:
ENGINE
Model -> Komatsu SAA6D140E-7
Type -> Common rail direct injection,
water-cooled, emissionised,
turbocharged, after-cooled diesel
Engine power
at rated engine speed -> 1.800 rpm
ISO 14396 -> 327 kW / 439 HP
ISO 9249 (net engine power) -> 325 kW / 436 HP
No. of cylinders -> 6
Bore × stroke -> 140 × 165 mm
Displacement -> 15,24 l
Fan drive type -> Hydraulic, reversible
Cooling -> Suction type cooling fan
with radiator fly screen
If you send us your request, we will make you an offer for original and Aftermarket Komatsu parts for your Komatsu PC700LC-11 Excavator.
Below is a small list of Komatsu parts for this equipment. However, if you are interested in something - please use the site search.
| | | |
| --- | --- | --- |
| 20G-00-K1502 - DECAL KIT | 259225 - HEATER | 195-43-48550 - LEVER |
| 58E-06-07550 - CIRCUIT ID | 207-26-54280 - GEAR | 707-98-12280 - KIT |
| 5214008 - HYD PIPE | 561-74-8B101 - BODY ASS'Y | 427-S05-5880 - BLOCK |
| 416-06-11150 - CAP | 51100898 - HOSE | 195-78-22391 - NIPPLE |
| 6643-11-5120 - EXHAUST MANI | 170-09-11120 - OIL SEAL | 208-53-12190 - COVER |
| 21T-979-3631 - HOSE | 27907 - HARNESS | 561-61-63670 - BRACKET |
| 423-54-41421 - GRILLE TOP | 21U-60-32310 - NIPPLE | 21Y-54-11300 - COVER ASS'Y |
| 41E-60-21110 - TANK | 3890245C - C W AIDS | 417-S62-6241 - HOSE |
| 21N-06-11530 - BRACKET | 609111 - PRESSURE INS | 51465398 - HOSE |
| 206-70-53140 - PIN | 17541 - O-RING, HYDR | 566-02-8L981 - HOSE |
| 76204573 - LAMP | 925091 - O-RING | 569-06-88280 - CABLE |
| 708-2G-04241 - CASE ASS'Y | 5069556 - HANDLE | 6610-71-8911 - BREATHER |
| 8295-70-3211 - BRACKET P60 | 566-61-81490 - BRACKET | 42C-Z89-9211 - WIRING HARNE |
| 427-93-22751 - PLATE | 682952C1 - VALVE | 90574640 - BUSHING |
| 742940C2 - SPRING | 5075103 - SUN VISOR | 20Y-62-18860 - HOSE |
| 198-50-00114 - EQUALIZER BA | 6162-15-5280 - PIPE | 421-54-61370 - HOSE |
| 425-03-51371 - HOSE | 198-71-51340 - BUSHING | 707-01-0L660 - XBOOM CYLIND |
| 20Y-54-16480 - SHEET | 6215-61-3690 - BELT SET=5 | 5074605 - PULL ROD KIT |
| 90707540 - SWITCH | 232-40-53650 - SLEEVE | 42C-S33-1136 - KNOB ASS'Y |
| 56B-86-11112 - COVER | 56B-04-53210 - COVER | 8248-75-4460 - RUBBER |
| 561-88-66520 - HUB | 201-70-75582 - DISTRIBUTOR | 971096125 - SEAL |
| 23B-15-13950 - ROLLER BEARI | 51578298 - Hose, assy. | 416-942-A250 - WHEEL IMPELL |
| 581-43-12101 - BRAKE PEDAL | 3917577 - SERVICE PT | 90591C - STACK CHROME |
| 207-27-21350 - PIN | 415-40-22180 - SHEET | 423-54-54220 - LADDER |
| 645096C1 - TUBE | 6245-11-7680 - COVER | 836866476 - CRANKSHAFT |
| 425-54-21761 - HOOD | 5049004 - HOSE | 76707273 - ADJUSTMENT |
| 6261-61-4400 - FAN ASS'Y | 21K-04-73113 - TANK | 17M-54-23240 - COVER |
| 836862483 - EXTENSION CA | 425-06-22232 - WIRING HARNE | 6218-61-1650 - BOLT |
| 6742-01-3580 - GASKET | 203-62-44520 - HOSE | 206-46-21180 - GROMMET |
| 5062764 - HARNESS | 8240-70-6210 - DRIVE WHEEL | 195-30-68941 - PLATE |
| 836852744 - PLUG | 21N-38-31161 - GAUGE | 42R-17-H0S59 - RING,BACK-UP |
| 42T-56-H0P27 - VALVE | 5063651 - PROTECTION | 51305298 - SCREW |
| 58E-98-00040 - RING, BACK-U | 417-06-22340 - WIRE | 22U-01-41250 - HOSE |
| 195-Z11-2850 - COVER | 175-06-36260 - CLIP | 3A1-04-11431 - HOSE ASS'Y |
| 418-43-37780 - HOSE | 561-15-00080 - FILLER ASS'Y | 7861-94-0850 - RESISTER |
| 7821-91-2450 - LOCK PLATE P | 76516573 - HINGE | 42U-09-H3290 - HOSE ASSY. |
| 170-43-12240 - SPRING | 90668840 - Marker | 742479C3 - BOLT |
| 23207340 - ALLEN HD WRE | 6745-71-1240 - HEAD | 566-43-43350 - BRACKET |
| 711-67-16620 - SPOOL | 418-43-47170 - TUBE | 801250045 - SCREW |
| 566-43-82740 - HOSE | 238-15-25750 - LEVER | 17A-27-11630 - TEETH |
| 21T-30-32550 - YOKE | 711-56-31142 - RETAINER | 418-54-16111 - GUARD |
| 3945569S - SERVICE PT | 20Y-977-2290 - LEVER | 21T-04-71380 - STRAINER |
| 6137-31-2410 - PISTON PIN | 561-54-64540 - CASE | 6733-82-8310 - IMP-TUR COMP |
| 58B-22-12841 - SHAFT | 198-03-15830 - HOSE | 569-60-8A180 - STRAINER ASS |
| 425-S33-3290 - BOLT | 417-U77-5350 - HOSE | 8234-93-1250 - PLATE |
| 209-30-55120 - YOKE | 19699 - RING, BACK-U | 56B-27-11710 - RETAINER |
| 425-70-11961 - PIN | 419-54-52630 - MAT | 6221-61-6310 - CONNECTOR |
| 58E-06-01241 - WIRING HARNE | 707-71-50011 - PLUNGER | 37B-09-46039 - PIN |
| 9402708 - CONNECTR | 76636373 - PIPE | 42C-16-12120 - HOSE P60 |
| 562-13-53110 - HOUSING | 417-03-A1720 - HOSE, ASSY | 195-911-9130 - SHEET |
| 37441399 - PIECE, CONNE | 42U-63-H0P80 - GASKET | 96314640 - PLUG |
| 427-62-25420 - TUBE,R.H | 709673C1 - BUSHING | 6128-61-6841 - GASKET |
| 195-61-44621 - HOSE | 89683K - TUBING | 209-00-77271 - PLATE |
| 569-07-63320 - HOSE | 42C-06-12332 - WIRING HARNE | 203-54-00614 - CAB ASS'Y |
| 5080563 - FIRE EXTINGU | 175-33-24760 - GASKET | 426-06-22650 - WIRING HARNE |
| 6240-11-5751 - FLANGE | 561-61-65642 - BRACKET | 416-03-H3210 - HOSE |
| 20Y-60-A1210 - ACCUMULATOR | 278040R2 - SLEEVE | 50250198 - BOLT |
| 4602501 - CLAMP (REPL | 6215-61-2701 - COOLER ASY,O | 723-11-17280 - RETAINER |
| 568-02-11230 - U-BOLT | 79799573 - SEAL | 207-70-00061 - SHIM ASS'Y |
| 208-54-69350 - SHEET | 51064698 - O-RING | 418-54-42240 - COVER ASS'Y |
| 20Y-01-K1660 - STATOR | 20Y-46-54160 - SHEET P60 | 37B-09-4B005 - BUSHING |
| 56C-61-12890 - COVER | 79748973 - MAGNET | 93307140 - STRIP |
| 418-54-45210 - SHEET | 707-71-31470 - COLLAR | 425-43-48870 - WIRING HARNE |
| 34255099 - CIRCLIP | 418-20-13661 - SHAFT | 421-925-4910 - SEAL |
| 424-43-27210 - TUBE | 708-1W-28820 - PLATE | 5265571 - GASKET |
| 709-62-11330 - RETAINER | 427-S05-4180 - BRACKET | 205-00-71570 - PLATE |
| 226-09-12210 - UNION | 6275-51-8120 - TUBE | 20Y-62-53651 - HOSE |
| 175-54-35340 - HOSE | 209-06-61293 - WIRING HARNE | 7830-11-2101 - SWITCH ASS'Y |
| 21K-03-72720 - SHEET | 707-99-32280 - KIT, SERVICE | 6711-11-4720 - HOSE |
| 63666040 - COVER | 6262-71-5790 - BRACKET | 427-W90-A310 - BRACKET |
| 17M-71-48550 - SHIM | 709-95-93104 - VALVE ASS'Y | 418-T80-4513 - FRAME |
| 5006232 - PLATE | 200767706 - PIPE | 6162-73-8270 - PLUG |
| 600-311-9350 - CASE | 703-15-96020 - SEAL | 17A-32-01160 - TRACK SHOE A |
| 21N-00-11121 - MARK | 42C-54-12175 - BRACKET | 208-27-52311 - BOLT |
| 207-03-76190 - SHEET | 425-46-31211 - PLATE | 42W-54-31161 - LOCK MOUNTIN |
| 42N-62-17790 - PIPE | 17M-49-41241 - HOSE | 707-44-12250 - RING |
| 22U-54-12374 - COVER | 5063130 - FILTER | 98224040 - BUCKET CYLIN |
| 21N-956-1330 - CLAMP | 392368095 - HOSE | 707-98-43210 - SERVICE KIT |
| 707-99-64120 - SERVICE KIT | 56B-54-31G20 - SHEET | 198-15-22890 - PLATE |
| 37C-46-11151 - COVER | 208-54-42471 - SHEET | 17A-03-61390 - HOSE |
| 3A1-70-11290 - SHIM | 23A-952-7710 - SASH ASS'Y | 417-926-3872 - GLASS |
| 6110-73-6830 - GASKET | 6152-12-5430 - ELBOW | 6151-53-8190 - CLIP |
| 428-63-14120 - TUBE | 707-00-0H720 - CYLINDER ASS | 20S-970-7652 - BRACKET |
| 19M-54-13750 - HAND RAIL | 58D-80-00180 - PLATE, BENT | 6162-33-6420 - BUSHING |
| 22U-54-18190 - CAP | 20Y-62-25202 - VALVE ASS'Y | 42U-09-H4710 - HOSE |
| 417-43-37660 - VALVE | 562-15-32760 - PISTON | 20U-54-25980 - LOCK |
| 37A-57-11900 - OPERATORS SE | 238-19-11130 - GASKET | 707-98-25070 - KIT, CYL SEA |
| 4690333 - CLAMP | 17M3207400KIT - UC KIT,D275A | 6620-61-5140 - RETAINER |
| 5091575 - HOOD | 21W-62-32670 - HOSE | 708-1W-03710 - VALVE ASS'Y |
| 41E-70-15F60 - SHIM | 28453KF - HOSE, SUCTIO | 20G-14-31160 - CLUTCH GLYD |
| 195-49-55541 - HOSE ASS'Y | 561-60-62610 - BRACKET | 23A-952-1361 - BOLT |
| 4669136 - KICK-BACK QU | 6210-21-3440 - GEAR | 21330R1 - NUT |
| 198-15-22750 - PISTON | 706-75-74910 - HOUSING | 209-38-78120 - CASE |
| 306503748 - GASKET | 56B-93-12230 - PLATE | 8296-62-1981 - HOSE |
| 2938544170 - SCREW | 566-52-8C220 - TUBE | 5071747 - HYDRAULIC HO |
| 5219237 - SCREW | 21W-62-62510 - HOSE | 423-62-H3A00 - PIPE |
| 561-88-70205 - XAXLE | 58B-BK-AK030 - REAR BRK SEA | 6164-61-1870 - PLUG |
| 22N-43-00020 - PEDAL ASS'Y | 208-62-72550 - HOSE | 707-36-14510 - PISTON |
| 707-71-31181 - COLLAR | 6216-64-4130 - BEARING | 56B-15-32940 - SPACER |
| 208-32-41151 - PIN | 705-14-34531 - PUMP ASS'Y | 707-99-37300 - SERVICE KIT |
| 392431010 - HOSE | 3945134S - SERVICE PT | 21T-62-71330 - BRACKET |
| 58B-01-20010 - CRADLE, ENG | 21M-54-17722 - FRAME | 8148040 - PIN, HINGE |
| 419-54-31186 - SHEET | 6209-72-1210 - XINJECTION P | 51260298 - HOSE |
| 5226374 - HYDRAULIC PI | 421-04-21210 - FUEL TANK | 175-63-22341 - CYLINDER |
| 42C-62-12671 - TUBE | 425-16-41320 - TUBE | 70712 - SCREW |
| 42N-06-11280 - WIRING HARNE | 25487R1 - BOLT | 22P-53-28560 - COVER |
| 421-921-3290 - FINISHER | 6162-15-7710 - COVER | 207-30-00533 - TRACK ROLLER |
| 22K-01-21440 - SHEET | 41F-43-18220 - LEVER | 22U-54-24490 - SHEET |
| 707-88-21880 - BAND | 51730598 - HOSE | 207-43-51450 - SPACER |
| 5058280 - HYDRAULIC MO | 20Y-54-KA260 - SHEET | 234-977-1750 - BOLT |
| 56B-30-11530 - DRIVER | 21S-63-02112 - CYLINDER ASM | 21M-46-21581 - SHEET |
| 3834335S - SENSOR | 42C-07-33411 - WIRING HARNE | 421-18-42110 - TUBE |
| 208-979-7961 - COVER ASS'Y | 64370140 - HOSE | 561-54-87220 - SHIM |
| 561-92-62441 - WIRING HARNE | 561-06-61160 - BRACKET | 21K-03-72530 - SHEET |
| 198-50-32282 - SEAL | 17A-54-47860 - SEAL | 77021473 - CHAIN |
| 707-27-90620 - HEAD | 706-8H-04110 - COVER ASS'Y | 42C-62-11860 - HOSE |
| 7872-20-3202 - CONTROLLER | 21W-62-57631 - HOSE | 427-S05-3882 - TUBE |
| 50413698 - SCREW | 21P-06-K3390 - BRACKET | 426-54-42520 - PLATE P60 |
| 23B-15-19220 - SEAL RING | 19M-03-21500 - U JOINT | 42C-Z91-1110 - WIRING HARNE |
| 5239395 - MEASURING EQ | 17A-54-27840 - SEAL | 23S-60-21600 - CHECK VALVE |
| 28592KF - FITTING,ADAP | 23B-16-31790 - TUBE | 95035640 - UNION |
| 195-03-63960 - BRAKE RH RAD | 206-62-A1730 - HOSE ASS'Y | 5006872 - SCREW SHC |
| 5061656 - FILTER KIT | 421-925-4920 - HOLDER ASS'Y | 423-926-A840 - WASHER FL N |
| 42T-64-H0R58 - HOUSING | 198-06-55280 - WIRING HARNE | 6735-71-5150 - MANIFOLD,FUE |
| 707-36-25110 - PISTON | 207-70-A3160 - PLATE | 421-60-45451 - SHEET |
| 643485101 - ADAPTER TEE | 5091011 - SUN VISOR | 22L-60-22113 - TANK |
| 7831-47-7000 - PANEL ASS'Y | 207-30-41390 - COVER | 22N-62-12490 - HOSE ASSY |
| 5203527 - BEARING HOUS | 208-62-75860 - HOSE 2850MM | 707-01-0M570 - CYLINDER ASY |
| 5093146 - WASHER P6 | 23B-07-74320 - SHEET | 9602402 - BEARING |
| 175-43-35210 - SCREW | 569-61-84770 - NIPPLE | 426-Z90-4222 - COVER |
| 97870540 - MODIFICATION | 6151-12-3110 - NOZZLE HOLDE | 56B-03-24580 - HOSE |
| 708-7H-16210 - RETAINER | 418-54-32891 - COVER | 6219-71-4660 - PLATE |
| 207-60-41170 - TANK | 208-26-62120 - GEAR | 6215-71-1970 - CUSHION |
| 56B-46-13241 - PIN LOWER | 6210-61-3221 - SHAFT | 81984KF - MANIFOLD, CR |
| 208-54-42221 - COVER | 17A-03-14130NK - BAND | 86778M - MUFFLER |
| 21M-62-52430 - HOSE | 6164-81-9910 - BOLT | 425-62-42140 - HOSE |
| 561-03-81530 - HOSE | 89538K - HANGER,MUFFL | 421-62-43920 - HOSE |
| 56B-54-58550 - GUARD | 285-02-11320 - CLIP | 5264323 - STRUT |
| 418-T80-4391 - PIN | 5199192 - REPAIR KIT | 21K-62-71650 - HOSE |
| 56D-54-11251 - BAR | 6166-65-1712 - TUBE | 203-62-58470 - CLIP |
| 22B-26-21120 - CASE | 20Y-53-13361 - DUCT | 426-56-A2220 - ARM,WIPER WE |
| 56B-03-12850 - BRACKET P60 | 6156-11-5111 - MUFFLER | 600-311-9760 - PLUG |
| 6731-71-5840 - PUMP.FUEL TR | 655608C1 - CYLINDE | 702-21-27260 - SLEEVE |
| 201-30-72310 - YOKE | 203-54-56531 - COVER | 5057567 - TERMINAL LUG |
| 418-S95-2390 - HOSE | 312705602 - CYLINDER | 37294640 - BUSHING P60 |
| 51352198 - Bolt | 569-83-61D01 - PLATE | 42C-06-12322 - WIRING HARNE |
| 17A-30-13490 - SUPPORT ASSY | 22L-54-21291 - SHEET | 426-06-22510 - SHEET |
| 21T-04-32311 - LEVER | 5065201 - COVER | 569-54-89210 - GUARD |
| 659611C1 - PLATE | 418-926-4970 - HOSE | 566-61-82122 - TUBE |
| 863-04-1814 - CRTRDG,SOLEN | 88472N - ELEMENT | 426-62-33671 - HOSE |
| 51238998 - HOSE | 37A-62-12152 - HOSE | 81107 - PUMP, HYD. T |
| 707-98-15740 - SERVICE KIT | 66165740 - Guard plate | 76860773 - TUBE |
| 417-62-21320 - TUBE | 421-06-23350 - LAMP | 6219-61-8460 - PLATE |
| 423-70-33G60 - PLATE | 22B-01-11150 - SHEET | 562-15-11331 - SLEEVE |
| 6151-81-3112 - XAIR COMPRES | 427-15-00150 - SHAFT | 416-16-21210 - HOSE |
| 561-43-83831 - COVER | 426-S99-2111 - WIRING HARNE | 416-904-3811 - BAR |
| 20Y-00-22780 - DECAL | 878000363 - KIT, GASKET | 58E-97-00050 - COVER,PLM3 F |
| 426-03-35122 - TUBE | 566-22-82630 - BUTTON | 426-62-A1650 - BAND |
| 20Y-54-29621 - COVER | 653189C1 - TUBE | 26869KF - GUARD, SWING |
| 90720940 - PUMP, PILOT | 62782540 - BUSH | 6164-21-6471 - GASKET NON-A |
| 22M-57-22120 - SEAT,OPERATO | 561-97-62150 - PLATE | 51595540 - HOSE |
| 421-01-31110 - BRACKET | 259367 - ELECT V | 425-06-12155 - WIRING HARNE |
| 56B-54-32740 - SHEET | 2A5-03-13920 - SHEET | 5037787 - SCREW |
| 195-72-61140 - PLATE | 6754-11-6320 - CONNECTOR | 418-22-37380 - WASHER |
| 419-06-58210 - BRACKET | 22U-62-25380 - HOSE | 6743-31-3210 - BEARING-CON |
| 363-57-31101 - SEAT ASS'Y | 205-01-K1460 - NUT | 175-15-42453 - GEAR |
| 20Y-57-31100 - SEAT ASS'Y | 2A5-54-17540 - COVER | 19842 - BRACKET FIL |
| 17M-21-46131 - TUBE | 421-54-13370 - SUPPORT | 427-S95-3791 - TUBE |
| 723-46-40200 - VALVE ASS'Y | 19M-03-31630 - BAFFLE | 21K-30-34211 - COVER |
| 711-56-31550 - RIVET | 195-21-32320 - CAP | 5210360 - PROTECTION |
| 56D-46-21532 - GRILLE | 8242-70-5272 - WASHER | 209-01-77221 - HOSE |
| 22U-43-22451 - BRACKET | 21T-00-31150 - PLATE | 207-62-62560 - PLATE |
| 424-03-22230 - HOSE | 423-35-11151 - TUBE | 569-03-41211 - CORE |
| 58B-22-00590 - COVER,GREASE | 235-22-12240 - TUBE | 56B-43-27960 - TUBE |
| 6202-63-1230 - GASKET | 708417C1 - ELBOW | 42U-06-12470 - HARNESS |
| 417-07-45130 - HOSE | 92865140 - SUPPORT FLAN | 203-62-62150 - HOSE |
| 423-S62-2331 - HOSE | 421-54-25132 - HANDRAIL | 22B-54-38320 - STOPPER |
| 562-15-29420 - BEARING | 836316408 - AIR FILTER | 3F45B2638 - PLATE, NAME |
| 423-U44-6681 - PLATE | 707-86-00790 - TUBE | 17A-22-15821 - CAGE |
| 711-47-51270 - PILOT | 42N-62-17350 - HOSE | 417-15-15870 - SPRING |
| 51811798 - HOSE ASSY | 22B-54-12122 - COVER | 708-2L-00161 - PUMP ASS'Y |
| 42U-09-H3890 - PIN | 5070139 - RETROFIT KIT | 424-926-3822 - CONTROL ASS' |
| 21W-46-41770 - SEAL | 21T-68-68430 - BRACKET | 418-06-41380 - BRACKET |
| 6751-81-5130 - RETAINER | 58F-90-00050 - SCREW, PIVOT | 6261-11-8740 - BRACKET |
| 195-15-12632 - RING GEAR | 209-62-57740 - UNION | 3896712 - HTR COOLNT T |
| 20Y-62-16260 - HOSE | 69408 - BUSHING | 60095 - ROLL-PIN |
| 561-03-64110 - WIRE NET | 195-06-71411 - WIRING HARNE | 8240-75-1591 - BRACKET |
| 20M-70-11251 - PIN | 425-35-11861 - TUBE | 423-54-H4B10 - SHEET |
| 707-01-0F790 - CYLINDER ASS | 207-60-51420 - COVER | 205-70-67540 - PIN |
| 21S-57-32220 - BRACKET | 203-54-68313 - COVER | 610712C92 - SEAL |
| 428-Z84-4930 - PLATE | 5245275 - CYLINDER | 17M-27-21631 - TEETH |
| 5201666 - COUPLING | 20Y-03-K1220 - OIL COOLER A | 175-15-15550 - VALVE |
| 42C-Z89-6170 - PLATE | 50436998 - UNION | 707-36-50560 - PISTON |
| 21W-01-41180 - BRACKET | 816024502 - GLASS | 42U-63-11110 - CYLINDERSTEE |
| 7823-65-2002 - MONITOR | 195-Z11-5770 - HOSE | 209-62-79240 - TUBE |
| 6262-71-7710 - VALVE ASSY | 6215-21-8021 - METAL ASM | 702-16-09151 - VALVE ASS'Y |
| 201-973-7350 - TUBE | 209-03-41880 - SHEET | 21K-30-24142 - SPRING |
| 195-06-54221 - WIRING HARNE | 426-W37-1130 - RING | 6252-11-7110 - CONNECTOR |
| 561-22-72200 - SHIM ASSY | 195-928-1320 - SHIM | 426-13-49121 - BEARING |
| 5072655 - HYDRAULIC HO | 207-62-K2570 - HOSE | 56D-60-21111 - TANK |
| 418-62-53780 - BRACKET | 60334540 - CLIP | 56B-46-21K90 - PLATE |
| 714-23-15560 - O-RING | 20T-01-35210 - SPACER | 569-06-8A300 - SWITCH ASS'Y |
| 4692344 - HOLDER | 17124 - GUIDE, PLUNG | 58B-98-10400 - BOLT, 12 PT, |
| 633405C1 - PLUG AS | 206-68-11120 - VALVE | 42C-15-15842 - COVER P60 |
| 51769998 - HOSE ASSY | 56D-03-32611 - CLAMP | 94509040 - RAIL |
| 425-70-31870 - BUSHING | 21P-43-K1244 - BRACKET | 6142-82-6550 - SPACER P |
| 569-61-88710 - TUBE | 708-1T-04150 - CASE ASS'Y | 878040026 - FORK ASSM |
| 51521998 - HOSE | 418-926-3504 - CAB ASS'Y | 427-S05-3721 - TUBE |
| 900094C - PIPE,STACK | 561-61-81391 - PLATE P | 21M-70-15160 - TUBE |
| 20E-62-K1871 - HOSE | 423-00-H0060 - SCREW | 2A7-970-1111 - TUBE |
| 198-15-29510 - RING | 427-62-11742 - TUBE | 195-54-82380 - ROD |
| 22U-06-27412 - WIRING HARNE | 56B-54-17233 - HAND RAIL | 418-02-A1120 - BRACKET |
| 235-25-11740 - PIN | 3945145S - SERVICE PT | 6127-81-7161 - CLAMP |
| 96967940 - LADDER | 195-Z11-2560 - NOZZLE | 5053628 - FLOPPY DISK |
| 21N-00-11190 - PLATE | 421-46-36150 - TUBE | 235-60-15420 - ELBOW |
| 21T-01-67420 - SEAL | 23B-03-14110 - HOSE | 708-2L-42150 - BEARING |
| 8296-70-1631 - LINER | 175-15-69230 - SEAL RING | 423-60-51140 - TUBE |
| 21U-62-22630 - NIPPLE | 5245161 - PULSE SENDER | 42N-06-12190 - LEVER |
| 20Y-53-11H71 - HINGE | 312602600 - LEVER | 714-07-05130 - SERVICE KIT |
| 23B-43-05020 - SERVICE KIT | 6136-81-4670 - CUSHION | 426-22-32751 - HUB |
| 417-43-17420 - PLATE | 707-60-80050 - XROD, PISTON | 390602035 - BUSHING |
| 5036190 - CLAMP | 423-62-52240 - HOSE | 23B-60-75980 - HOSE |
| 427-54-24121 - FLOOR | 6127-81-4530 - HOSE | 235-70-13280 - CAP |
| 89645P - TUBING,FLEX | 419-06-12980 - WIRING HARNE | 29061KF - SAW TEETH NO |
| 921829C1 - RACE | 8240-70-2490 - BRACKET | 63156A - FOOT WL |
| 6202-12-3870 - WASHER | 705-52-21190 - PUMP ASS'Y | 42U-09-H1050 - NUT |
| 708-7W-01040 - COVER ASS'Y | 306410151 - PIPE | 21M-979-2151 - HOSE |
| 419-22-26130 - CABLE | 86622M - MUFFLER | 419-975-2140 - BOLT |
| 569-06-83322 - WIRING HARNE | 209-60-13390 - CAP | 569-07-61671 - HOSE |
| 418-33-11251 - PLATE | 421-23-30133 - AXLE ASSY | 42C-03-13521 - BAFFLE |
| 41F-S05-1182 - COVER | 208-62-42221 - HOSE ASS'Y | 17A-06-41242 - WIRING HARNE |
| 708-7R-13340 - RETAINER | 933218C1 - SEAL | 56B-88-12170 - MOTOR |
| 203-32-51461 - SHOE | 2A7-54-12890 - SEAL | 421-03-41360 - PACKING |
| 51323098 - HOSE | 566-07-81170 - HOSE | 22D-43-14220 - YOKE |
| 20E-60-K4920 - SEAL KIT | 21K-62-71320 - HOSE | 20Y-30-K2560 - GUARD |
| 21T-62-64270 - TEE | 17M-13-44110 - HOUSING | 940199 - SCREW |
| 19205KF - GAUGE, PRESS | 42N-64-11161 - SOLENOID VAL | 42C-46-11261 - GUARD |
| 86742M - MUFFLER | 312610078 - PIPE | 802510222 - SPLIT WASHER |
| 21N-30-16230 - KEY | 42C-43-17102 - VALVE P60 | 36684199 - RING |
| 21T-62-69240 - TUBE | 198-30-47160 - ROLLER GUARD | 209-30-65150 - NUT |
| 209-53-12131 - COVER | 610411C1 - RING | 90939640 - COVER |
| 5043078 - SEAL | 421-Z93-6370 - PLATE | 195-49-11821 - GAUGE |
| 198-13-31510 - TURBINE | 561-89-85110 - COVER | 423-62-52740 - VALVE ASS'Y |
| 6732-82-3480 - BELT - V RIB | 56B-43-17951 - TUBE | 17M-27-21160 - GUARD |
| 423-54-44311 - SHEET | 702-16-51324 - VALVE | 6150-81-7940 - PIPE |
| 22B-54-27551 - GRIP | 20X-01-22170 - STOPPER | 217761 - WASHER |
| 207-62-34620 - GROMMET | 21M-03-22521 - SEAL | 56B-27-34000 - XBRAKE ASS'Y |
| 925014A - PIPE,EXHAUST | 17A-71-11A92 - PLATE | 884748C1 - PLUG |
| 423-U12-3350 - ROTOR | 21Y-973-1580 - TUBE | 18173 - LENS, LIGHT |
| 21M-62-52730 - HOSE | 6502-12-1352 - NUT | 421-93-A1450 - DECAL |