Caterpillar 416F2 Loader parts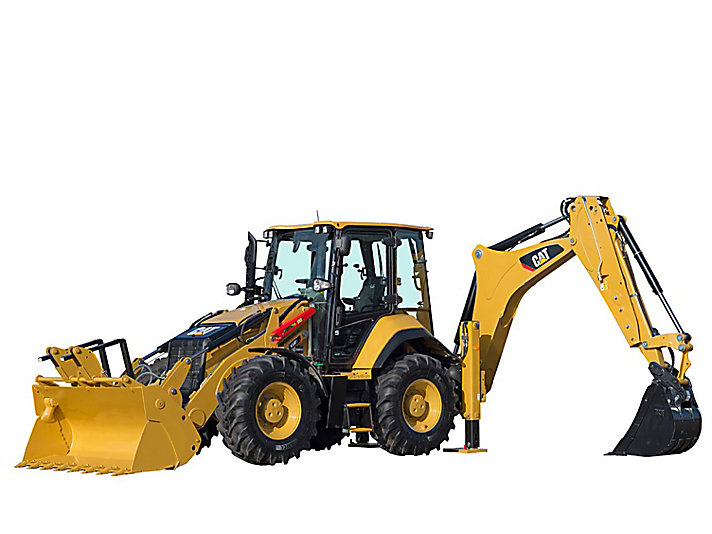 Here is some more information about Caterpillar 416F2 Loader:
ENGINE
Net Power - SAE J1349 64.0 kW
Bore 105.0 mm
Stroke 127.0 mm
Displacement 4.4 l
Engine Model Cat 3054C Mechanically Turbocharged

WEIGHTS
Operating Weight - Maximum 11000.0 kg
Cab - ROPS/FOPS 163.0 kg
Four Wheel Drive 178.0 kg
Air Conditioning 46.0 kg
If you send us your request, we will make you an offer for original and Aftermarket Caterpillar parts for your Caterpillar 416F2 Loader.
Caterpillar 416F2 Loader - it is a big machine. But even such machine sometimes needs maintenance.
Our online parts store give you an access to more than 1 000 000 Caterpillar parts that we have in our inventory.
Below is a small list of Caterpillar parts for this equipment. However, if you are interested in something - please use the site search.
| | | |
| --- | --- | --- |
| 5D7052 - HOSE A | 8N1607 - BODY A | 0307829 - HOSE |
| 6C6521 - HOSE AS | 4S5348 - AIR FILTER | 2316845 - SEAL KIT |
| 8Y0395 - PIN | 3234559 - HOSE AS. | 3B8990 - FITTING |
| 6W3098 - HOSE AS | 1428742 - HOSE AS. | 1835300 - TIP-J300-P |
| 7J6600 - HOSE A | 3156110 - HOSE AS. | 3G6184 - BRACKET |
| 6V3834 - SEAL O RING | 6N7989 - LAMP AS | 4N8017 - PIPE |
| 2952694 - MOTOR GP-WIP | 0521138 - GROUP-HYDRAULIC KIT | 8T1388 - SEAL KIT |
| 4E4142 - RETAINER | 1600248 - TUBE AS | 7M0730 - SHOE |
| 4F4769 - SEAL A. | 9N3669 - PUMP G WAT | 8T8157 - SEAL |
| 9D9865 - HOSE A | 1A0530 - PIN | 2813576 - DRIVE AS-FAN |
| 1P0408 - MUFFLER | 3W5424 - SHAFT | 8M7698 - SPIDER A |
| 2U8539 - HOSE AS | 2722161 - HOSE AS. | 6N5338 - BELT |
| 2713038 - RING-PISTON | 1240959 - HOSE AS. | 5J6924 - END BIT |
| 4529553 - SFT-DRV-CL | 9F5444 - RING | 3731892 - LINE-FI-CLA |
| 8X4575 - ELEMENT | 2071510 - STARTING MOTOR | 8F4197 - CAP SCREW |
| 2214972 - HOSE AS | 1877339 - PUMP GP-PS-B | 7D5238 - WASHER |
| 5183973 - PUMP-CLA | 7X3174 - BOLT | 5W1492 - WASHER |
| 8R3921 - COLLET | 9G9340 - BEARING | 2422545 - SEAL KIT |
| 4M0732 - RETAINER A | 0551486 - HOSE AS | 5M3688 - HOUSING A |
| 3G4309 - ADAPTER RH | 3244231 - ELEMENT | 8U0895 - HOSE A |
| 9U3864 - HOSE A | 1P1195 - HOSE | 4E1285 - LINK AS |
| 3W8795 - HOSE A (1263495) | 0L1250 - LOCK | 4U2797 - HOSE ASSEM 3 |
| 0S1627 - CAP SCREW | 1521036 - HOSE AS | 3988333 - CARRIER-CLA |
| 2868895 - HOSE AS | 2976873 - GASKET KIT (1144671) | 1303013 - SHAFT A-LH |
| 5U7751 - HOSE ASSEM 1 | 8T0380 - BOLT | 5S7717 - HOSE A |
| 2835201 - SHAFT-CLA | 8T8730 - SOCKET-CONNE | 20R0125 - Turbocharger S310G119 179251 |
| 6V7447 - KIT GASKET | 9R4676 - PIN | 8P6245 - CARRIER ROL |
| 3N3148 - TUBE AS | 1127997 - GASKET KIT | 6I7566 - HOSE A |
| 7C0684 - INDICATOR | 2G1177 - HOSE A | 1165354 - CYLINDER G |
| 4P7685 - GAUGE | 9S1614 - GUARD | 2D8341 - BEARING-OUTER RACE |
| 0819012 - PIN | 2801383 - GASKET | 6D1707 - SEAL |
| 2065234 - ELEMENT AS | 6V5224 - BOLT | 5C5212 - HOSE A |
| 2B4029 - CAP ASSY. | 112RL1 - RIVET | 1T1431 - SHAFT |
| 2P6876 - PUMP G GEAR | 1274589 - PUMP GP. | 7G2454 - GLASS |
| 5B4218 - PULLEY 4B428 | 2396142 - WATER PUMP | 1229965 - HOSE A |
| 1890944 - HOSE AS (8X3172) | 1346918 - HOSE AS | 9G4235 - HOSE A |
| 1850106 - PISTON | 1457008 - HOSE AS | 8T4835 - BOLT |
| 3S9894 - GASKET | 1636508 - LAMP AS | 7N9478 - TURBO G |
| 2P1781 - SPACER | 6E6419 - RING | 6T4177 - BEARING SLEEVE |
| 7B5064 - RIVET | 6T1261 - INSERT | 6V3769 - GASKET KIT |
| 4N5857 - CAP | 5S5174 - INDICATOR HEAT | 2884450 - HOSE AS. |
| 3089843 - COVER-CLA | 2530563 - ARM AS-SWING | 6W5875 - HOSE A |
| 8S2524 - GASKET KIT | 4M5280 - NUT | 546534 - SHIM |
| 3951305 - PIPE-EXT-CLA | 1W1172 - GASKET | 1659282 - SEAL |
| 9D8288 - HOSE A | 2062867 - PUMP AS | 2137396 - GASKET KIT |
| 1717025 - HOSE AS | 2937500 - SEAL KIT | 20R0460 - MOTOR GP STG |
| 1428868 - HOSE | 0950598 - BOLT | 1758075 - DF ROLLER GR |
| 3879434 - INJECTOR GP- (2934071) | 2002232 - ALTERNATOR | 1252589 - FITTING |
| 6B9287 - HUB | 3E7985 - SOLENOID A | 6H9361 - RING |
| 5S5881 - LOCK NUT | 2534645 - SHAFT | 5E7467 - SEAL |
| 4W1134 - TURBO G | 1645489 - PUMP GP-2PS- | 3G6358 - HOSE A |
| 4431201 - CAGE-BRG-C | 5D3777 - HOSE A | 2012078 - BAR AS-EQUAL |
| 1577126 - VALVE-EXH | 1G7844 - HOSE A | 9G6017 - MOTOR A |
| 8X5362 - HOSE A | 1P7055 - HOSE A | 9W3079 - HOSE A |
| 1Q4607 - SHOE | 2V1695 - HOSE A | 8T4545 - FITTING-TUBE |
| 2B7410 - PLUG (2B0858) | 5M3396 - BEARING | 4S4555 - HOSE AS |
| 5T5119 - VALVE G | 7D1663 - HOSE A | 2125528 - HOSE AS |
| 1158244 - GASKET KIT | 4I6055 - 4I6054 | 6V3742 - GASKET KIT |
| 7N4371 - HOSE | 6V2158 - GAGE | 9T5363 - PLATE A |
| 5P4989 - OVERHAUL GASKET SET | 4415602 - BRG-DBL-CL | 9T1805 - ROD A |
| 1859149 - PUMP GP-2PS | 0967567 - SEAL | 8N7264 - GASKET |
| 4378157 - KIT GASKET | 6C0262 - HOSE A | 5T2462 - HOSE A |
| 4T6504 - END BIT | 5S8873 - HOSE A | 7W2936 - INDICATOR |
| 8W5177 - HOSE A | 3U8737 - HOSE ASSEMBL | 1913565 - SEAL KIT-STD (1279809) |
| 2479765 - SUPPORT | 3G3021 - HOSE A | 4V5376 - RIM |
| 6F7172 - DOWEL | 4N1627 - LINER | 9C7744 - HOSE A |
| 9T3716 - CYLINDER G | 6D9857 - HOSE A | 2003563 - HOSE AS (1296025) |
| 6V9469 - GAGE | 8W4107 - HOSE A | 5L4660 - BELT SET |
| 1647739 - HOSE AS | 1083612 - SPACER | 4T4708 - PIN |
| 1433778 - GASKET KIT | 3V8853 - HOSE A | 3S0874 - FITTING |
| 3T2508 - RING SEAL | 8W4011 - HOSE AS | 6L3046 - GASKET |
| 9U4434 - HOSE AS XT | 8J8375 - RING | 8T7259 - RING |
| 2M1125 - RING | 1875791 - HOSE AS | 6I9644 - TRACK GP |
| 3W9015 - HOSE A | 0875766 - HOSE A | 9K3058 - HOSE A |
| 4W3027 - BREATHER A | 111-8187 - ROD A | 1315476 - HOSE AS |
| 7C8401 - HOSE A | 1361756 - SHAFT | 1B3908 - BEARING |
| 4P4677 - TURBO GP (1005865) | 9D2887 - RACE | 9U9165 - HOSE A |
| 1054822 - CYLINDER A | 2P0406 - GASKET | 2236952 - HOSE AS |
| 3327047 - KIT- STRUT ( | 1349510 - HOSE AS | 7C9532 - CLAMP |
| 0R2163 - CYL HEAD-REM | 2M6402 - VALVE | 0774718 - O-RING |
| 0R5007 - PLATE CLUTCH | 7T2530 - RING | 1651681 - GASKET KIT |
| 6V8714 - CONNECTOR AS | 7W6705 - LINE A | 2095939 - VALVE |
| 1007837 - HOSE A | 0938790 - O-RING | 3601978 - KIT-BEARING |
| 4P9395 - FUEL LINE | 6D2192 - PLUNGER | 1033559 - BOX AS-LH |
| 1630764 - HOSE AS | 9W8559 - TIP | 9D3288 - BOLT |
| 3G8225 - SPACER | 3256123 - MANF-EXH-CLA | 3585189 - CYL GP |
| 2782355 - SEGMENT | 6V3795 - GASKET KIT | 6V4737 - GASKET KIT |
| 5F7404 - NUT | 0801001 - SCREW | 5S1218 - VALVE A |
| 1W4123 - SEAL-L TYPE | 1087389 - 108-7387 | 1J1902 - SEAL |
| 9G3105 - BUSHING | 3226837 - HARNESS | 5V8997 - HOSE A |
| 4E5365 - HOSE A | 1414620 - GASKET KIT | 1279157 - SCREW |
| 2S4357 - PINION | 0980811 - BEARING | 8W9284 - HOSE A |
| 3429900 - GASKET KIT | 6I0218 - BOLT | 6K0713 - HOSE |
| 0057061 - RING SEAL | 8C3114 - RING | 8N9685 - CARTRIDGE AS |
| 6T9445 - REGULATOR | 3919816 - PAD-CLA | 2125713 - PLUG |
| 6V7460 - KIT GASKET | 2385084 - SEAL-O-RING | 7N0239 - NUT COMP |
| 8J6213 - SEAL A | 3J5552 - GASKET | 6E4657 - PUMP GP-GR A |
| 4N5902 - COVER AS | 9W2025 - CONE | 6C9087 - LOCK WASHER |
| 1K1708 - BEARING | 3199990 - HOSE AS. | 3535126 - PLUG 9S8006 |
| 9M0401 - SEAL KIT | 6Y4059 - HOSE A | 1912319 - SEAL KIT (1002931) |
| 1279110 - HOSE AS | 4V0779 - HOSE A | 8H8898 - PIN |
| 1474357 - BEARING SLEEVE | 9L9178 - BOLT | 1540489 - SEAL - F.I. |
| 9C0567 - CARRIER | 1361678 - VALVE GP-SOL | 5R6250 - HOSE A |
| 3B4524 - LOCKWASHER | 5H7515 - BEARING | 1191185 - HOSE AS |
| 8B7121 - FITTING | 5W2773 - CUP | 6P5317 - RING |
| 8L6274 - MANIFOLD | 6Y8911 - TUBE AS | 3P0023 - PULLEY |
| 1095144 - PLATE PORT | 9M5238 - BEARING | 2W6594 - CORE ASSY. |
| 0827449 - CLAMP COLLAR | 5T9880 - HOSE A | 8C9329 - STRIP-WEAR |
| 5N7764 - HOSE A | 9S8770 - GASKET | 1069036 - BEARING |
| 1773397 - PUMP GP-GR B | 0T0840 - BOLT | 9D2252 - INSERT |
| 7V5310 - HOSE A | 2U9758 - HOSE AS | 1234080 - HOSE AS |
| 5I3171 - HOSE AS | 0915998 - HOSE A | 4P3922 - LINE AS |
| 2292868 - RING-PISTON- | 4H3947 - FITTING | 1322387 - HOSE AS |
| 1107243 - CARRIER | 5E0548 - BRG CONE | 7G5831 - RING |
| 3G7653 - HYDRAULIC CARTRIDGE | 5I8631 - BARREL | 5P0539 - NUT |
| 6J3840 - JOINT A | 3465192 - SEAL AS-BUFF (1672214) | 8J6019 - HEAD AS |
| 1366090 - GASKET KIT | 4W5825 - V-BELT | 4D7947 - BEARING A |
| 6V5924 - KIT GASKET | 4F8377 - BEARING | 1075005 - JOINT AS |
| 3183356 - TANK AS | 8I2404 - ROLLER GP | 4B8383 - LOCK |
| 1199359 - TIP PEN | 3J5530 - 8S8919 | 0S2415 - LOCK |
| 9G6161 - BUSH MST CLA | 8H7980 - PISTON | 1W2871 - SHAFT |
| 906005 - SEAL KIT TD25B | 4N8892 - GASKET | 7X5849 - CAP SCREW |
| 3751722 - CYL GP-0170 (2836188) | 2T2143 - HOSE A | 6V5048 - SEAL-O-RING |
| 6V3081 - HOSE A | 8N4975 - MUFFLER | 1588159 - HOUSING |
| 2U6487 - HOSE A | 5T5963 - HOSE A | 1990656 - CASE BEARING |
| 2792252 - SEAL-O-RING | 8K3203 - HOSE A | 7X0312 - BOLT |
| 9Y4366 - GASKET | 2D3469 - GASKET | 1011464 - CYLINDER A |
| 1615913 - HOSE A | 6Y0860 - SEAL G | 4N9946 - FUEL LINE |
| 2179423 - HOSE A | 8E3726 - STATOR | 8S8309 - HOSE A |
| 2886118 - PUMP GP-F IN | 2V0577 - HOSE A | 0953534 - GASKET |
| 3P0215 - GEAR | 4S8903 - INSERT-VALVE | 6I6903 - 6I6901 |
| 7G0897 - DISC-THRUST | 1306182 - HOSE AS | 6V8188 - NUT |
| 1871315 - HEAD GASKET | 0960192 - LOCK WASHER | 1141153 - PIN |
| 3T0360 - SHOE | 2076806 - VALVE GP-SOL | 1417278 - GASKET KIT |
| 8H1956 - ALTERNATOR G | 6N4932 - GASKET | 7W3550 - LINER |
| 3K0139 - BEARING SLEEVE | 6F7048 - WASHER | 2382227 - SENSOR-FUEL |
| 8W0253 - HOSE AS | 2768916 - HOSE AS. | 1645486 - PUMP GP-PS-B |
| 4B3698 - ROLLER A | 2139162 - HOSE AS. | 9Y7212 - PISTON |
| 5E3692 - LOCKWASHER | 1213307 - MOUNT AS | 1497051 - GASKET KIT |
| 2U2623 - SCREW HEX HD | 8T7210 - SEAL-O-RING | 8R4658 - HOSE A |
| 1991815 - HOSE AS | 4S7647 - VALVE | 7X1602 - SENSOR A (1077142) |
| 3770399 - VALVE SEAT | 9J0940 - PIN | 8V1719 - HOSE A |
| 8L9811 - RING (0779687) | 8X8067 - MOUNT AS | 1356415 - HOSE AS |
| 3783970 - GEAR-CLA | 1029950 - HOSE AS | 2358031 - PUMP GP-FAN |
| 5K1458 - GROMMET | 1262153 - BEARING | 2647757 - PLATE AS |
| 2H6776 - PLATE | 1046624 - GASKET KIT | 1192203 - BEARING |
| 1180994 - HOSE A | 8C7333 - KIT GASKET | 0616333 - HOSE A |
| 1538714 - HOSE AS-XT | 2412512 - PIN AS-CLA | 7J3300 - RING-WEAR |
| 2478998 - SEAL KIT | 1473492 - MOTOR GP-PST | 8S2778 - SEAL KIT |
| 1302802 - HOUSING | 3S7981 - DISC | 3U5955 - HOSE ASSEM 1 |
| 1718709 - SWITCH | 8C0874 - HOSE A | 7G2492 - GEAR |
| 1916249 - HOSE AS | 2782363 - SEGMENT-SPRO (1146413) | 2473299 - CHMBR AS-CLA |
| 4J8982 - SEAL | 8N3723 - EXHAUST VALVE | 1G8520 - HOSE A |
| 7M7222 - TUBE | 5I4406 - ROTATING GP | 3189649 - KIT-GASKET(W |
| 7X2663 - SEAL KIT-STD | 4E3637 - GEAR | 2S4078 - SEAL |
| 1560313 - IDLER GP | 4P6930 - GASKET (1077832) | 8V1715 - SPACER |
| 2Y3568 - INDICATOR | 4I0817 - HOSE AS | 9M4010 - BEARING |
| 1729973 - LAMP AS | 7W7339 - GASKET | 8R0825 - BRAKE G |
| 3W2470 - HOSE A | 4V7343 - HOSE A | 7J4264 - PIN |
| 1068958 - PUMP AS | 9D6538 - RING | 1P5262 - CAGE |
| 9W4279 - HOSE AS | 1906278 - HOSE AS. | 2214937 - HOSE AS |
| 0777359 - CUP | 7T6931 - HOSE A | 1248237 - TRACK ROLLER |
| 9B0399 - LINK A | 6B9897 - GEAR | 1262080 - FILTER G |
| 2262258 - HOSE AS | 4J3237 - SEAL A. | 8F6575 - PLUG |
| 9M2573 - LOCK | 2V1914 - HOSE A | 1957901 - TURBO |
| 5N2088 - BELT SET | 9M0588 - SEAL KIT | 2987400 - SHIM |
| 6V5204 - RING | 2599711 - PIN AS | 1041946 - LIFT CYL |
| 7C6310 - LINE AS | 1295127 - HOSE AS | 1M0328 - STRIP |
| 7I5735 - HOSE AS | 0358161 - SEAL | 5I4927 - RETAINER UPP |
| 1H1780 - GEAR | 1382665 - SEAL | 1227251 - HOSE A |
| 9J8803 - CYLINDER A | 7X2751 - SEAL KIT | 2079711 - TRACK |
| 1004046 - EDGE | 5Y0743 - IDLER A | 4I1456 - 4I1455 |
| 7Y3585 - PIN | 2347967 - ELEMENT | 6V8980 - ELBOW |
| 4D5960 - HOSE A | 1123285 - HOSE AS XT | 0985774 - HOSE A |
| 6V9229 - GASKET KIT | 4416964 - BARREL | 2624971 - GASKET KIT |
| 4N9556 - SHROUD | 4T6277 - HOSE A RH | 8T0362 - BOLT |
| 2002787 - HOSE AS. | 0R8252 - AIR COMPRESS | 9M5349 - SPRING |
| 3119547 - BEARING | 8C9678 - LAMP AS | 6V0215 - GASKET KIT |
| 1043347 - HOSE AS | 2Q0969 - HOSE AS | 6E6584 - PLATE |
| 9R0139 - BEARING | 7D6193 - HOSE A | 2125535 - HOSE AS (2076264) |
| 0857540 - SEAL O RING | 8X8887 - HOSE AS | 0953394 - BUSHING |
| 1931689 - PAD | 9J6093 - PIN A | 4N8814 - FUEL LINE |
| 9G9813 - ALARM G | 1U3996 - SEAL | 3920164 - KIT GASKET |
| 9R1820 - SEAL | 6W4185 - HOSE A | 4D7345 - CABLE |
| 6Y7977 - DISC | 4N8559 - CORE A RAD | 2051098 - GASKET KIT |
| 3H7617 - GASKET | 8R7401 - HOSE A | 2N1931 - ELBOW |
| 1549001 - HOSE AS | 1V5410 - BEARING | 3V7899 - HOSE A |
| 9Y3099 - GASKET | 1U3031 - HOSE A | 2364494 - HOSE AS |
| 2142456 - REGULATOR | 7T2690 - HOSE A | 1663544 - PLATE A |
| 2555974 - ROD END | 1014867 - SK-P-V-10-3.000X6.250 | -2987999 |
| 2S7978 - WASHER | 2R0429 - HOSE A | 5Y1675 - PUMP GYP |
| 8S5011 - SEAL-O-RING | 3648704 - HOSE AS. | 9M4760 - GASKET KIT |
| 4194646 - PUMP WTR-C | 7N8526 - HEAD A-CYL | 5V3042 - GUIDE |
| 2T3849 - HOSE AS | 9J4163 - PISTON | 7R5348 - FILM |
| 2P0347 - PLUG | 0550411 - HOSE A | 5216893 - PULLEY-CLA |
| 5S7769 - HOSE A | 8D1266 - SENDER AS | 5P9459 - GASKET KIT |
| 9L8339 - WASHER | 2W7677 - GEAR | 827484 - WASHER - D4H/D5H |
| 6B1628 - BUSHING | 6C2348 - GLASS | 2291080 - GEAR GP-BRG |
| 5F6262 - BEVEL GEAR SHAFT | 2594598 - SEAL-O-RING | 9K9731 - SPACER |
| 6G1528 - RIM AS | 2204552 - GASKET KIT | 7T6979 - HOSE A |
| 9X0640 - O RING | 0774358 - CUP BEARING | 2D4211 - ARM |
| 2G1369 - HOSE A | 6I8642 - RACE | 5K3496 - BEARING |
| 7I5423 - HOSE AS | 6E3662 - CYLINDER G | 6U7951 - HOSE |
| 3V5498 - SPRING | 2733239 - HOSE AS. | 1544576 - MOTOR GP |
| 1411324 - HOSE AS | 8R8498 - CYL G | 2550853 - HOSE AS |
| 1935160 - SETSCREW-HEX | 1061096 - EDGE CUTTING | 1216264 - HOSE A XT |
| 2D6418 - BEARING-OUTER RACE | 5J0336 - END BIT - 621/627 1 1/8 | 2958281 - MUFFLER |
| 5J5643 - CONNECTOR | 9Y6190 - BEARING | 9N4353 - TIP ABRASION |
| 5V1514 - PIN A | 7Y8381 - 087-5766 | 9N5921T - CONN ROD BRG 0.020 |
| 9C6614 - HOSE A | 1260453 - INSERT-V SEA | 1453775 - RETAINER |
| 3B5317 - COTTER PIN | 2V0213 - HOSE A | 8K4071 - HOSE A |
| 4M6386 - CRANKSHAFT | 4S6526 - SPRING | 1382052 - INTAKE VALVE |
| 0R3346 - CORE GP OIL | 6Y2381 - LINING | 3S1274 - SHAFT |
| 0774670 - NUT, HEX | 1700635 - HOSE AS | 2040403 - SHOE, 600MM |
| 2956408 - BEARING-CLA | 6E6152 - BARRELL | 1346936 - HOSE A |
| 1J1738 - PIN | 4N7335 - VEE BELT | 2023762 - HOSE A |
| 9D8010 - HOSE A | 8V0721 - HOSE A | 1063663 - HOSE AS |
| 4S8047 - GASKET KIT | 7V1669 - HOSE A | 2B8091 - RING |
| 2394909 - INJECTOR GP- (2490709) | 2105947 - WASHER | 9R9164 - HOSE A |
| 9X8564 - GASKET KIT | 3U7366 - HOSE ASSEM 1 | 9W3136 - RING |
| 1756779 - COMPRESSOR | 1418599 - STUD | 1083413 - HOSE A |
| 7I5406 - HOSE AS | 1800689 - HOSE AS. | 1082366 - CM HOSE BULK |
| 9W3287 - HOSE A | 6S7449 - HOSE A | 1931685 - PAD |
| 5E2544 - SHIM KIT | 3B3985 - BEARING-INNER RACE | 9J0765 - SEAL KIT |
| 5H2954 - INDICATOR | 7W2356 - PUMP G | 2H9298 - SEAL |
| 7X4754 - SEAL | 2W3409 - BONNET | 3U4097 - HOSE ASSEM 1 |
| 7J1792 - SHANK A | 2W5089 - VEE BELT SET | 2544505 - EDGE AS |
| 1558694 - GASKET KIT | 8H9186 - SPRING | 1275563 - BELT SET |
| 1057366 - BEARING-SLEEVE | 2P4037 - HOSE A | 1608070 - HOSE AS |
| 1620234 - CONNECTION G | 6N8877 - HEAD A | 7T9369 - GEAR |
| 3V5409 - CABLE A | 1090958 - PIN | 0538010 - HOSE A |
| 1871818 - HOSE AS. | 5Y0705 - BOLT | 1924681 - HOSE AS. |
| 1362429 - IDLER GP-FRO | 1K9099 - NUT | 3J1906 - NUT |
| 1979441 - HOSE AS. | 9D1649 - HOSE A | 2U1573 - O RING 199.3 |
| 1668598 - CORE AS | 2744598 - HOSE AS. | 3013394 - BEARING-CLA |
| 9M0729 - SHIM | 2302529 - GASKET KIT | 2A3348 - DOWEL |
| 09H1772 - PLOW BOLT 7/8 X 3.1/2 | 3744720 - CORE-CLR-CLA | 2442071 - SEAL KIT |
| 7V6656 - HOSE A | 1851903 - CYLINDER AS. | 9T3370 - BARREL |
| 0R1250 - CRANKSHAFT A | 5P2745 - GASKET KIT | 2Y4810 - CLAMP |
| 9C5344 - SPACER | 3465690 - GEAR-CLA | 5I7678 - GASKET |
| 1075612 - GUARD | 4P2439 - HEAD ASSY | 9N4252 - TIP LONG |
| 2510059 - HOSE AS. | 4471727 - BOLT-HEX H | 5P8809 - GASKET KIT |
| 0964299 - NUT 320/325 - 20X1.5 | 9X2369 - IN HOSE STK (4J7312) | 1160613 - COUPLING AS |
| 1797487 - HOSE AS | 6W1323 - HOSE A | 6I3655 - MANIFOLD (1017354) |
| 906002 - IHC TD9B-150 TR | 2230296 - PUMP AS-WATE | 4T6511 - CUTTING EDGE |
| 2189825 - PUMP GP-F IN | 6V8589 - GASKET KIT | 875391 - BACK-UP RING |
| 4N3661 - GASKET | 0951701 - O-RING | 1258842 - GASKET |
| 1609366 - GASKET KIT | 7X2540 - BOLT | 6V6437 - KIT GASKET |
| 7C6966 - BEARING-THRU | 1535940 - BOLT | 2621421 - CONTROL GRP |
| 2322719 - GASKET KIT | 9T2466 - CYLINDER A | 9X4381 - LAMP G |
| 0813438 - SCREW | 507118 - GROUP-HYDRAULIC KIT | 5A3358 - BOLT |
| 1V1779 - HOSE A | 4Q3698 - HOSE AS | 4B9373 - CONE |
| 1953809 - HARNESS AS | 6V1792 - BOLT-TRACK | 1T1988 - SHAFT |
| 7M0821 - GEAR | 2058712 - CLAMP-PIPE | 1B9746 - DISC |
| 4D7023 - SEAL | 1234487 - HOSE A | 2178938 - BELT TIGHTENER |
| 8E1279 - SPRING | 5M2277 - FOLLOWER | 3P4054 - SHAFT |
| 1878036 - HOSE AS. | 1523724 - PIN AS | 1658855 - BUSHING |
| 8Y6884 - SERVICE | 7M5337 - GUARD | 0R8576 - PUMP GRP |
| 7T8476 - BEARING | 8W0061 - HOSE A | 7Y1513 - PIPE |
| 2G4267 - HOSE A | 9C0093 - PIN | 2257003 - SEAL-O-RING |
| 8M9757 - PUMP A | 2414062 - CYL GP | 6V3950 - BEARING |
| 6Y8199 - HOSE A | 0780061 - O-RING | 1865732 - PIN |
| 1614002 - ACTUATOR AS (1244236) | 1S6762 - OIL COOLER - CORE ASSY | 7J9413 - TIP RIPPER CENTERLINE D8-D9 |
| 0777652 - BEARING, CUP | 2218762 - MOTOR AS-GOV (1573178) | 1422011 - PULLEY AS |
| 6K6046 - PIN | 1095081 - HOSE A | 3179465 - GASKET KIT |
| 2116797 - HOSE AS | 6N3907 - CRANKSHAFT A | 5S9181 - HOSE A |
| 8T3576 - SEAL KIT | 8C9038 - BRG KIT | 4J8262 - BIT |
| 5S4282 - AIR FILTER | 8J5836 - GASKET | 1986827 - V-BELT-BANDE |
| 1280385 - BEARING | 1119630 - HOSE A | 5P9138 - GASKET KIT |
| 4197245 - PIN-CLA | 7D1190 - HOSE A | 2780223 - HOUSING-BRAK |
| 2418446 - ELEMENT-SEC | 5J1358 - SEAL | 2T2479 - MOLDBOARD |
| 8S4148 - TUBE A (9K3887) | 7T1625 - CUTTING EDGE | 2956440 - RING-CLA |
| 2391566 - HOSE AS. | 2069298 - SEAL O RING | 2826629 - SPROCKET-CLA |
| 1356261 - CLAMP | 1500313 - HOSE AS | 1157999 - HOSE A |
| 9Y6883 - GUIDE INT | 7T8145 - GUIDE | 5P1991 - GASKET |
| 4F8824 - RING | 4U9367 - HOSE ASSEMBL | 0875533 - BEARING |
| 2V3157 - BEARING | 3G5984 - KIT-SEAL | 1U4476 - BIT END |
| 5S1213 - PLATE | 1061792 - STUD TAPER | 6N8979 - FUEL LINE |
| 3527243 - VALVE GRP | 3736708 - SPRING-DISC (3P3635) | 2060521 - CYLINDER AS |
| 4S9462 - ENGINE BEARING | 9W1453 - TIP LONG | 9L9577 - GASKET |
| 8N8796 - SERVICE GP | 8T4191 - BOLT | 2G4478 - HOSE A |
| 0875513 - TUBE A EXH E | 7I5407 - HOSE AS | 1065104 - HOSE A |
| 2A0614 - GASKET | 1336524 - HOSE AS | 4208568 - GASKET-CLA |
| 9D8224 - GASKET | 9U3397 - HOSE A | 9P0863 - PIN |
| 3162525 - GASKET KIT | 1241307 - HOSE AS | 1176527 - GASKET KIT |
| 2416004 - PUMP AS-FUEL | 4F9029 - SEAL | 0874503 - HOSE A |
| 1Q5318 - HOSE A | 3024394 - GUARD | 1106326 - AIR FILTER |
| 4P5440 - GEAR | 776039 - BOLT 1 X 2 1/2 | 6Y2083 - DISC |
| 1529531 - HOSE AS | 3K0949 - PIN | 1566473 - GLASS-LOWER |
| 1656942 - BLOCK-TCK ID | 9J1159 - RING WEAR | 0777611 - O-RING |
| 8N4622 - ELEMENT | 2759232 - HOSE AS. | 8E4288 - ROLLER GP |
| 9C6660 - HOSE A | 1Q3238 - HOSE AS | 9K8510 - HOSE A |
| 7M0298 - VEE BELT SET | 1778481 - HOSE AS | 9W2734 - PUMP G |
| 9G8009 - SWITCH | 2U4276 - (P&S) BOLT H | 2P3102 - GASKET KIT |
| 127024 - HOSE A | 6V5918 - GASKET KIT | 1184053 - BARREL |
| 8R4656 - HOSE A | 2661303 - HOSE AS. | 7B0663 - SEAL-O-RING |
| 3T3103 - HOSE A | 6V3014 - HOSE A. | 4484217 - KIT-BEARIN |
| 6T4206 - SEAL AS | 2769028 - CAP AS RLR A | 6L5766 - GASKET |
| 1882315 - BOLT | 0R5807 - Turbocharger 3LM373 310135 | 4B5219 - BOLT |
| 4W2066 - INDICATOR | 3P1088 - LINK AS-TRK | 2292888 - MOUNT |