Caterpillar 428F2 Loader parts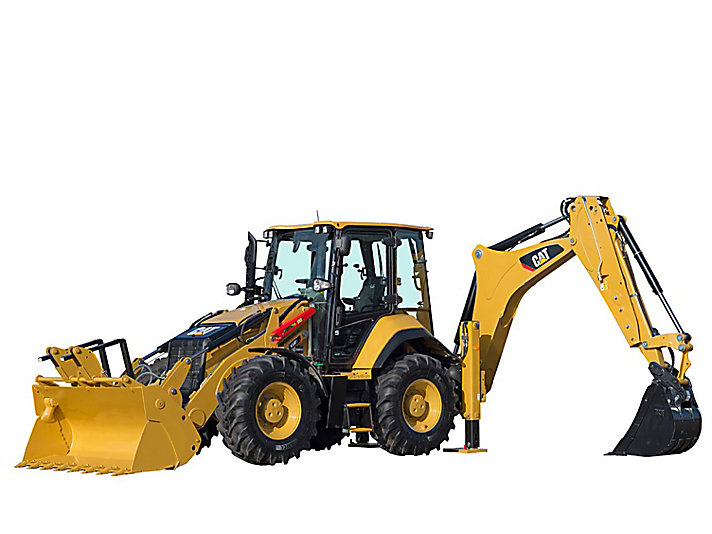 Here is some more information about Caterpillar 428F2 Loader:
ENGINE
Power - Net 64.9 kW
Dimensions - Bore 105.0 mm
Dimensions - Displacement 4.4 l
Dimensions - Stroke 127.0 mm
Engine 3054C 68.5 kW Mechanical Turbo

WEIGHTS
Operating Weight - Nominal 8425.0 kg
Operating Weight - Maximum 11000.0 kg
4.3 m Extendible Stick - Excluding Front Counterweight 203.0 kg
If you send us your request, we will make you an offer for original and Aftermarket Caterpillar parts for your Caterpillar 428F2 Loader.
Caterpillar 428F2 Loader - it is a big machine. But even such machine sometimes needs maintenance.
Our online parts store give you an access to more than 1 000 000 Caterpillar parts that we have in our inventory.
Below is a small list of Caterpillar parts for this equipment. However, if you are interested in something - please use the site search.
| | | |
| --- | --- | --- |
| 1539597 - HOSE A | 1395662 - HOSE AS | 1558693 - GASKET KIT |
| 2704357 - BODY ASSY. PISTON | 1858671 - TIRE | 1J3930 - TRUNNION |
| 1303595 - PIN | 1641908 - HOSE AS | 9J5758 - PLATE |
| 2093041 - O-RING | 8E4950 - YOKE | 0869210 - O RING |
| 1P8482 - ELEMENT | 0949908 - BRACKET,RE | 5K8250 - STRIP |
| 2313313 - BAR AS-CLAS | 2969933 - GASKET KIT | 3346198 - LAMP GRP |
| 0780317 - CUP | 3256201 - SFT-WPMP-CLA | 8W4052 - HOSE A |
| 10R1913 - MOTOR GP ELE | 5P1694 - CM-HOSE STK | 3G7429 - PUMP AS |
| 8S5278 - PIN | 9S4222 - Turbocharger 4LF505 149797 | 8X5569 - HOSE A |
| 1101488 - GEAR | 8J5065 - HOSE A | 2385015 - SEAL O-RING |
| 1P0914 - GASKET KIT | 9Y0205 - SEAL KIT | 1019921 - SPROCKET SEG |
| 7J2038 - SEAL RING | 0951097 - BOLT | 3F0561 - BEARING |
| 6V6371 - GASKET KIT | 9T8360 - FLANGE A | 4E9644 - HOSE AS |
| 2220104 - PUMP GP-HYD | 8K2651 - HOSE A | 8T8204 - RING-WEAR |
| 3T5631 - SEAL AS | 1935153 - WASHER | 6J1889 - SEAL V CUP |
| 4V1537 - HOSE A | 6S4904 - HOSE A | 1869777 - BEARING |
| 2559152 - PUMP GP-GR 1 | 2024015 - HOSE AS | 3987111 - HANDLE AS |
| 1893862 - GUARD | 4F0356 - GASKET | 9S7214 - GASKET KIT |
| 6P8138 - RING | 9H1213 - RING SET | 8T9377 - BOLT |
| 616711 - RING | 0898635 - SCREW | 4J6789 - SHAFT |
| 4S7793 - THROWER | 1864118 - GEAR | 2L3244 - BEARING |
| 1276674 - 127-6673 | 0963741 - CAP | 2799868 - FINAL DRIVE |
| 2U6106 - HOSE A | 8E7915 - BEARING | 7W2138 - MAIN BEARING |
| 5F9872 - IMPELLER | 2394383 - STRIP | 2U2626 - NUT FULL M10 |
| 3156661 - GASKET KIT | 8T6397 - SEAL KIT | 4H0254 - DOWEL |
| 3845932 - RACE-OTR-CLA | 6V1338 - GASKET KIT | 5K2595 - SEAL |
| 9D1356 - HOSE A | 8W4904 - HOSE A | 1V2276 - BRAKE G |
| 2W2585 - CRANKSHAFT A | 9U3355 - HOSE A | 2422543 - SEAL KIT |
| 0950608 - BOLT | 785013 - BOLT 3/4 X 3 | 3397766 - ALTERNATOR G |
| 9N3999 - HOUSING | 5J9060 - ROD AS | 6D3133 - SHIM |
| 1382554 - BRIDGE A | 3J7283 - FITTING | 1687319 - SEAL-SHAFT |
| 3218932 - ALTERNATOR | 2846625 - HOSE AS. | 8S4110 - HOSE A |
| 8A8585 - HOSE AS | 6Y6797 - HOSE AS | 1143542 - BELT SET |
| 2941680 - SEAT | 2551947 - HOSE AS. | 2887502 - HOSE AS |
| 4D1736 - RING | 3G3797 - HOSE A | 8W5293 - PIN |
| 1342252 - SENSOR | 7M7226 - GASKET | 6S3414 - SPRING |
| 1046202 - CLIP LADDER | 5P5410 - BEARING | 2158127 - KIT - GASKET |
| 7N9342 - PLATE-THRUST (1003652) | 1669142 - GASKET | 4H2494 - SLEEVE |
| 9U2400 - HOUSING | 1094300 - HOSE A | 3V0048 - HOSE A |
| 9R2638 - HOSE A | 5P4326 - SEAL | 1275494 - ELBOW |
| 4P3778 - CLAMP | 5Y1362 - HOSE A | 4514071 - KIT SEAL |
| 1158411 - HOSE | 9J2307 - ADAPTER | 1109449 - GASKET KIT |
| 3N5739 - SPRING | 3595105 - COOLER AS-OI | 7Y1598 - SUPPORT |
| 2U1491 - (P&S) SEAL U | 8X2157 - HOSE A | 1266669 - GASKET KIT |
| 3289135 - COUPLING AS- | 8E8586 - LINK | 9V2711 - HOSE A |
| 1538085 - HOSE AS | 1391452 - HOSE AS | 9R9409 - SEAL |
| 5P9454 - GASKET KIT | 0961579 - RING BACK-UP | 7X5126 - PLUG |
| 2341625 - GASKET KIT | 4D3145 - GASKET | 1730126 - SPRING |
| 1553682 - HOSE AS | 1661482 - SHIM | 6P7705 - CARRIER |
| 7S4434 - BODY AS | 7C9302 - HOUSING | 7Y5693 - 7Y6081 |
| 3E6498 - SWITCH A | 1P1578 - BEARING | 9J6254 - CAP |
| 3P7986 - SLEEVE | 3026336 - SHIM | 3285573 - BEARING-ROD |
| 0969573 - GASKET | 6D9164 - SHAFT | 1348267 - GASKET KIT |
| 7M0336 - SCREW | 780663 - CONE A | 4U2703 - HOSE ASSEM |
| 1476202 - INDICATOR | 4M4826 - SUPPORT A | 9S8848 - GASKET |
| 5D3299 - HOSE A | 3909331 - KIT GASKET | 1193057 - INSERT |
| 7D4922 - HOSE A | 1213280 - HOSE AS | 5I3294 - PIN AS |
| 1559074 - CYL GP-0200 | 8T1422 - SEAL KIT-STD | 3S5017 - ELBOW |
| 8D8212 - TUBE AS | 2579346 - COMPRESSOR G | 3364157 - VALVE GP-CON |
| 3135663 - KIT-GASKET(C | 9S6760 - BELT SET | 7I7554 - SEAL O RING |
| 1110978 - 111-0976 | 4S9781 - RACE | 0950460 - BOLT |
| 1876030 - HOSE AS | 1566600 - LOCK AS | 9S7862 - HOSE A |
| 3E8917 - KIT GASKET | 2778576 - ROLLER GP (0997549) | 8T1392 - SEAL KIT |
| 2G6375 - SHAFT | 5S1200 - ELBOW | 2U8749 - TUBE A |
| 0900405 - GROUP-HYDRAULIC KIT | 2076246 - HOSE AS | 1328239 - HOUSING AS |
| 4368392 - GASKET-K-C | 8J4424 - CYLINDER A | 7D3504 - STUD |
| 2344329 - LAMP GP-FLOO | 2156315 - SWITCH | 5R6618 - HOSE A |
| 7M5113 - RLR & SHAFT | 3479174 - CYLINDER AS | 6D2931 - 6D4969 |
| 4228110 - CTG-VANE-C | 2097462 - WASHER-PINIO | 7E6085 - HOSE AS |
| 4N9330 - CLAMP | 7L3249 - GASKET | 4Y0418 - HOSE AS |
| 3089847 - GEAR AS-CLA | 9C7573 - HOSE A | 1026460 - FIN DRIVE G |
| 6V0899 - GASKET KIT | 4089758 - HEAD GASKET SET | 2159312 - SCREW |
| 4K9616 - SHAFT | 5M2733 - VEE BELT | 4N7498 - PUMP GP-WATE |
| 7D9177 - HOSE A | 1544018 - PUMP GP-PS-B | 2389200 - BOLT |
| 2974864 - HOUSING-CLAS | 7N8749 - GASKET | 2U2542 - NUT NYLOC 1/ |
| 1047962 - HOSE A | 5W8021 - SEAL-O-RING | 9W5167 - PINION |
| 10R9838 - PUMP GP-F XF | 2W3312 - RING | 2159916 - SEAL KIT |
| 1526975 - HOSE AS | 7N2876 - FUEL LINE | 8X6163 - HOSE A |
| 4P2658 - RING-PISTON | 1463032 - CYLINDER GP | 8U1767 - SEAL-O-RING |
| 3801512 - PUMP-FT-CLA | 6P8832 - HOSE A | 2906527 - MOTOR GP |
| 1561151 - YOKE AS | 7V6625 - HOSE A | 6D1036 - HOSE A |
| 8K1673 - 8K3203 | 7N1899 - GASKET | 9S0315 - ROLLER G D F |
| 7G9119 - GEAR | 1441012 - PIN | 6B2250 - GASKET |
| 0920128 - HOSE A | 2254842 - NUT | 3H6014 - CYLINDER LINER |
| 6V1979 - GASKET KIT | 4252552 - KIT GASKET (1427528) | 1396829 - GASKET KIT |
| 7T1630 - CUTTING EDGE | 4W3717 - TUBE | 1355148 - ACTUATOR AS. |
| 0981135 - O-RING | 4L1269 - GASKET | 5I4988 - GASKET |
| 1583816 - HOSE AS | 9Y3593 - GASKET | 3G2151 - HOSE A |
| 3071959 - SHIM | 3T3602 - RING | 5S9331 - HOSE A |
| 5P0373 - SEAL G | 8R9452 - HOSE A | 1135945 - RING-SEAL |
| 8E4541 - BIT END | 1J4384 - PIN | 4T0203 - PIN |
| 201-32-00300 - LINK ASS'Y 7 (1686753) | 2366272 - BRG-SLEEVE | 8M0468 - GUIDE A |
| 7D5304 - HOSE A | 3P6023 - HOSE A | 4583868 - PINION-CIR |
| 3558710 - 3544754 | 8S4941 - HOSE A | 1410413 - EDGE-CUTTING |
| 2094159 - CARRIER-WHEE | 0785717 - O'RING PLUG | 9R5865 - BEARING (1754070) |
| 9W2678 - PIN | 1505038 - HOSE AS | 1733391 - SHAFT-DRIVE |
| 3832121 - DISC-FCN-CLA | 1889143 - CROWN AS-PIS | 2041129 - SEAL KIT-STD |
| 4W7731 - HOSE | 8C7320 - GASKET KIT | 1981846 - Turbocharger S310G080 173264 |
| 3014762 - GEAR-AS-CLAS | 1687035 - HOSE AS | 2138823 - HOSE AS |
| 2G8610 - PIN | 4W7656 - GASKET (7E3772) | 8N1438 - TUBE A |
| 5I7706 - NOZZLE A | 4J6326 - BEARING | 2169604 - GASKET-V COV |
| 1238253 - CLAMP AS-V-B | 7S6798 - SEAL | 1515207 - ROD AS-CONN |
| 8T6431 - ROD END | 2215028 - HOSE AS | 4V8011 - HOSE A |
| 8K2769 - HOSE A | 3273972 - PUMP GP-GR A | 2109126 - HOSE |
| 6S3192 - RETAINER | 7C8370 - CAP | 9W8552 - TIP |
| 2136702 - BEARING-SLEEVE | 7J9863 - ROD A | 2B8352 - WASHER |
| 2M3509 - SHIM | 3731914 - EJECTOR-CLA | 9X6492 - BOLT |
| 6U2819 - NUT | 1796910 - PISTON AS | 1834678 - HOSE |
| 4C5598 - ANTI-SEIZE | 4I1631 - HOSE A | 7Y4956 - LOCK NUT |
| 3783996 - CORE-RDR-CLA | 2U8531 - HOSE A | 2339579 - HOSE AS. |
| 7K7205 - HANDLE ASSY. | 7C4428 - AIR CLEANER | 01010-62070 - BOLT (6V5845) |
| 1093427 - INSERT-INTAKE | 2414588 - BOLT | 2H9325 - GASKET |
| 8D4004 - SPRING | 7S0259 - HOSE A | 6S1753 - RING |
| 8W6133 - HOSE A | 7I7428 - HOSE A | 8T3596 - BOLT |
| 3316023 - MOTOR GP-STG | 1587912 - BEARING-BALL | 7S0182 - 4V5204 |
| 9H6864 - BOLT | 7X2675 - SEAL KIT | 1546560 - HOSE AS |
| 1G4753 - HOSE A | 6N7958 - Turbocharger TV8106 465048-5001 | 2P5697 - BEARING |
| 3B8998 - FITTING | 2G3788 - HOSE A | 1319500 - HOSE AS |
| 2422158 - HOSE AS. | 9W0546 - HOSE A | 6V1565 - GASKET KIT |
| 1639452 - SWING AS | 7M8485 - SEAL | 2501273 - GASKET KIT |
| 8F1191 - COLLAR | 7K3301 - TUBE AS | 6Y4061 - HOSE A |
| 0R5754 - Turbocharger Compatible TV8106 0R5754 | 3010LWN - NOSE W/O LH | 1646871 - ADAPTER A |
| 2K8198 - SEAL O RING | 5P6257 - GASKET KIT | 0969956 - LINK GRP |
| 2S7040 - WHEEL | 8R2533 - PISTON | 8V6572 - HOSE A |
| 1087378 - HOSE A | 1686983 - SHOE | 3923548 - KIT GASKET (1301950) |
| 2144524 - ROTATING GP | 0777226 - BEARING | 1471790 - VALVE GP PILOT A |
| 6Y0938 - LINK | 1748193 - HOSE AS. | 2Y4151 - CLAMP HOSE |
| 1440195 - CM-HOSE STK | 4I1422 - HOSE A | 7W1645 - ADAPTER |
| 3T6882 - PIN | 8K2776 - HOSE A | 9T1196 - CYLINDER G |
| 1U7663 - FITTING | 6A4725 - SHAFT | 1N4864 - ELEMENT |
| 5W9412 - SEAL-O-RING | 8N1089 - DIODE A | 8K0509 - PLATE |
| 3453699 - HOSE AS | 0R5012 - PLATE CLUTCH | 9N5246 - BEARING |
| 6E1904 - BODY | 7W9943 - SENDER | 5P8396 - BEARING (8E3962) |
| 0782011 - O'RING | 0R1088 - PUMP GP-HYD | 8J8624 - SHAFT |
| 3199989 - HOSE AS. | 2427205 - CONTROL GROUP | 4J8070 - ROD A |
| 2456831 - SEAL KIT | 9X8180 - LAMP AS | 1R7742 - HOSE FLEX |
| 2645073 - MOTOR GP | 4F1395 - GUIDE | 5P9711 - NIPPLE A |
| 9T0415 - CYLINDER GRP | 6T9238 - BUSHING | 5U6758 - MOTOR GP |
| 8C1910 - HOSE A | 3151461 - GASKET KIT | 2285621 - BEARING SLEEVE |
| 6K6075 - COVER AS | 3T2307 - BAR GP-EQUAL | 4T2917 - CUTTING EDGE |
| 1471011 - GASKET KIT | 7R8872 - O RING | 9K2837 - HOSE A |
| 6T0240 - RETAINER | 2813440 - HOSE AS | 3527202 - VALVE GP-P R |
| 3026076 - SUPPORT | 8K5331 - CAP | 3V5877 - HOSE A |
| 9Y1279 - Turbocharger S2BS-001 313624 | 5J1555 - SEAL-OIL | 2489803 - HOSE AS. |
| 1170751 - GEAR PLANET | 3850244 - MOTOR AS | 0944628 - KEY WOODRUFF |
| 9X0934 - O RING | 9C6244 - GEAR | 1221778 - PIN A |
| 6V8337 - BOLT (1496394) | 6G2447 - HOSE A | 7J9635 - CYL A |
| 0965803 - WASHER | 2690262 - JOYSTICK CONT.GP | 1885767 - TRACK CHAIN |
| 3E3805 - CM SEAL STK | 2877231 - HOSE AS. | 4260035 - SFT-PUMP-C |
| 9M3979 - SHAFT | 9P0202 - RETAINER A | 5P9143 - GASKET KIT |
| 0R5888 - REB CART G | 1627123 - GASKET KIT | 5Y0014 - BALL |
| 1049494 - HOSE A | 2123463 - INJECTOR GP- (10R0963) | 7N3521 - OIL COOLER |
| 1852174 - HOSE AS (9U4100) | 2985732 - RETAINER-BAL (1652794) | 2481167 - SEAL KIT |
| 1734611 - HOSE AS. | 9W0519 - DISC | 2803801 - HOSE AS. |
| 1144793 - GASKET KIT | 2P9563 - MOUNT A | 6J7929 - HOSE A |
| 0898630 - SCREW | 7N4448 - INSERT | 8C3446 - VALVE |
| 3N2832 - GASKET | 8F8523T - CAM BEARING | 3G9055 - SEAL |
| 1604104 - STRIP | 7Y4257 - SPACER | 5C9772 - HOSE A |
| 7W6534 - PLUG | 0R4513 - WATER PUMP G | 6R3300 - HOSE A |
| 2T2089 - HOSE A | 6N2438 - COVER | 3002834 - BUSHING CAMSHA |
| 2M4027 - GASKET | 10R0482 - PUMP GP | 7U5948 - HOSE AS |
| 2049765 - PUMP GP-PS & | 2955451 - MOUNT AS-CLA | 3053361 - GASKET KIT |
| 3P1823 - ADAPTER | 1313719 - SEAL-O-RING | 9X8399 - WASHER |
| 1898941 - PUMP GP-GR | 3923566 - KIT GASKET | 4V2879 - BRG SLEEVE |
| 3J6848 - NUT | 6V1589 - GASKET KIT | 9R2134 - TUBE AS |
| 7W9463 - LINE AS | 4I0822 - 4I0821 | 2440732 - GASKET KIT |
| 1W1880 - SHAFT | 1833722 - CYLINDER AS. | 1087630 - HOSE AS |
| 3B8491 - FITTING | 1095381 - GASKET KIT | 7Q8326 - SCREW |
| 6A3591 - FITTING | 0658092 - GASKET KIT | 7X5497 - BLOCK CYL |
| 2374147 - HOSE AS. | 2M7974 - GASKET | 1039252 - SEAT,VALVE,I |
| 7M2023 - HEAD A-SERVI | 8I0203 - PLATE LH (1395249) | 3E7844 - CONTROL GP |
| 4465928 - KIT GASKET | 0643274 - MOUNT | 0R3043 - CYL KIT |
| 6V4537 - GASKET KIT | 1465602 - HOSE | 3599010 - HARNESS |
| 1504651 - SEAL-O-RING | 6I1196 - INTAKE VALVE | 6T8174 - SEGMENT - D7 (5 PCS) |
| 6G5994 - HOSE A | 2S5280 - HOSE | 2405524 - SEAL KIT |
| 8T7267 - SEAL O RING | 7D8100 - HOSE A | 2341985 - GASKET KIT |
| 4M1451 - FUEL LINE | 1F0882 - CUP | 4V3044 - PLATE |
| 4F2411 - SEAL | 3994443 - BRG-TPR-CLA | 676121 - BOLT 3/8 X 1 |
| 6V4351 - PLATE | 3283655 - ELEMENT A | 6G0303 - PIN |
| 7C2998 - TURBO G | 2006570 - HOSE AS. | 2672482 - SPACER |
| 1153746 - 115-3744 | 8G9530 - SHIM | 4T7186 - CUTTING EDGE |
| 5P4990 - GASKET KIT | 7X9500 - BOLT | 3063998 - BOOT-RUBBER (4M1829) |
| 9735190 - LINK W/BOSSES, | 6V2414 - GASKET KIT | 2001312 - CAMSHAFT |
| 2U6105 - HOSE AS | 2310695 - WASHER-THRUS | 5U3198 - HOSE ASSEM 1 |
| 7J7488 - BEARING | 6V3738 - GASKET KIT | 4366691 - THRUST WASHER |
| 3R4826 - VALVE A | 8P4803 - HOSE A | 4H6142 - UNION |
| 9M7609 - SPRING | 1267951 - GASKET KIT | 6K7284 - PIN |
| 1S7929 - GASKET | 9J9357 - ROD ASSY. | 1987670 - HOSE AS. |
| 3307445 - HOSE AS. | 5195249 - BELT | 0617540 - SEAL O RING |
| 1172623 - HOSE AS. | 5I8426 - SEAL O RING | 7D8189 - HOSE A |
| 1K8916 - GEAR | 4N7982 - PULLEY | 2S8966 - GASKET KIT |
| 1136509 - 113-6508 | 6W1340 - HOSE A | 0951737 - O-RING |
| 2126934 - CLAMP-T'BOLT | 6C0650 - FLANGE | 8M4336 - BEARING |
| 1616870 - CLAMP - HOSE | 1622964 - GASKET KIT | 7J8766 - HOSE A |
| 2A3399 - GASKET | 7D3815 - GEAR | 8W0229 - HOSE A |
| 2430383 - SEAL KIT | 2063548 - CYLINDER AS | 7N6236 - HOSE |
| 4I4620 - PIN | 9K5354 - BOLT | 8T5338 - ADAPTER |
| 2298752 - FLOORMAT | 1S9353 - COVER AS | 812882 - WASHER M10 ZINC PLATED |
| 5V4009 - HOSE A | 8W4986 - HOSE A | 1670619 - GASKET KIT |
| 5P4483 - PLUG | 4T1520 - CAGE A | 8J6242 - SEAL |
| 6V2241 - GASKET KIT | 3S2446 - ARM | 1964290 - PIN |
| 0949298 - NUT (6) | 1P0711 - CARTRIDGE AS | 2M7975 - COVER |
| 7J6728 - HOSE A | 1P0915 - GASKET KIT | 2170596 - GASKET-CONN |
| 3119435 - PLGR-RLF-CLA | 5G9842 - SEAL | 7F0880 - GASKET |
| 6V8352 - SEAL-O-RING | 9W3120 - PIN | 6V5475 - GASKET KIT |
| 4T2862 - CUTTING EDGE | 0695757 - HOSE A | 1417706 - HOSE A |
| 1450801 - PIN | 2858034 - HOSE AS | 8E5309 - ADAPTER |
| 1419776 - WASHER-HARD | 1931684 - PAD | 1W9210 - FUEL LINE |
| 5P9769 - BEARING | 2T1796 - HOSE A | 9M2407 - GASKET |
| 8P0484 - LOCK | 2575178 - HOSE AS. | 2953377 - LAMP GP-HEAD |
| 7G5127 - HOSE A | 2923376 - HOSE AS | 7K0629 - HOSE A |
| 1597692 - HOSE AS | 2321835 - PUMP GP-PS-B | 6V5453 - KIT GASKET |
| 3783986 - ARM-RKR-CLA | 1375094 - HOSE AS | 5P9228 - GASKET KIT |
| 6Y3585 - PUMP AS | 2208162 - PUMP GR | 1018740 - MUFFLER |
| 1597681 - HOSE AS | 1632084 - SWITCH A | 3015249 - PIPE AS.-CLA |
| 0907055 - HOSE A | 1S4644 - LEAD A | 2V0250 - NUT |
| 2023229 - HOSE AS | 2P5218 - CORE A RAD | 7C7338 - TUBE AS |
| 4F3287 - BEARING-OUTER RACE | 7V6892 - HOSE A | 6E2927 - PUMP AS |
| 6N7721 - VEE BELT | 7N1999 - SEAL G CRANK | 9C4215 - HOSE A |
| 1363312 - HOSE AS | 2615604 - BOLT-HEX HEA | 3967265 - PIN-CLA |
| 8T7319 - SEAL-FACE | 3P3983 - HOSE A | 1906560 - BELT |
| 1R7170 - THERMOSTAT | 2478978 - MOTOR GP-PIS (1505875) | 6D3166 - HOSE A |
| 2755273 - SHAFT-AS-CLA | 6V0357 - SEAL O RING | 8K5270 - HOSE A |
| 2940502 - CAM SHAFT | 9P0201 - RETAINER | 1P3934 - CUP AS |
| 5T2517 - HOSE A | 1403098 - GASKET KIT | 6V3752 - KIT GASKET |
| 8T7882 - KIT GASKET | 7M1845 - PLATE A | 1085183 - BUCKET |
| 3K0452 - NUT | 1653173 - HOSE AS | 0931603 - RING |
| 2987224 - CAP-FUEL | 5P7914 - SEAL | 2W7933 - CORE AS |
| 2167844 - FLANGE-CLASS | 9R6698 - HOSE A | 5839-V61 - ADAPTER, ESCO |
| 7Y4293 - PLATE | 4F3749 - WASHER | 2009100 - NUT 20MM |
| 6T1441 - BOLT | 4536509 - BRG-SLV-CL | 6D4233 - HOSE A |
| 1450066 - GASKET KIT | 1170067 - ELBOW | 7I2719 - ROLLER |
| 6I0275 - COVER AS | 9W3011 - HOSE A | 3P4548 - GEAR PUMP |
| 8J3699 - SEAL O RING | 1016789 - CLIP | 3T6959 - HOSE AS |
| 1328546 - HOSE AS | 6V0644 - ROLLER BEARI | 9K7290 - BOLT |
| 6H3491 - SEAL ASSY | 1876261 - CONNECTOR-BH | 2P0884 - ELEMENT |
| 8P8744 - RING-SEAL | 1391537 - ELEMENT-FILT | 0926113 - HOSE A |
| 5K7791 - SPACER | 1740833 - HOSE AS. | 8S0211 - TUBE AS |
| 2697884 - PUMP GP-GR | 5137982 - ROD-CLA | 4E0207 - SEAL |
| 5S7046 - RING | 7K9988 - PIN | 1449963 - ALT GP |
| 0928731 - HOSE AS | 9Y1654 - SEAL (1606387) | 5P5700 - SEAL O RING |
| 9W2303 - CUTTING EDGE | 1553811 - HOSE AS. | 3N4858 - SHAFT |
| 6V5656 - SEAL | 0949333 - WASHER PLAIN | 4B9000 - PISTON-CYL |
| 1104742 - SEAL O RING | 1297695 - HOSE | 0817978 - HOSE A |
| 7S7393 - GEAR & PINION | 1396455 - HOSE | 1S0916 - SEAL |
| 6Y6182 - ROLLER | 1347023 - MOTOR GP | 2551751 - HOSE AS. |
| 3256043 - CONNECTR-CLA | 1Y0664 - PUMP GP-EO 1 | 1319673 - 4I1071 |
| 2400712 - HOSE AS. | 8C7040 - O-RING | 8E4199 - BIT END RH |
| 2607992 - HOSE AS. | 1116743 - HOSE A | 9W3010 - HOSE A |
| 1734171 - RING-RETAINI | 6Y4912 - DISC (8E4075) | 3135530 - HOSE AS. |
| 1457390 - INTAKE VALVE | 1115158 - HOSE AS | 0687484 - HOSE A |
| 6V5984 - GASKET KIT | 7K9490 - PIN | 8N7004 - NOZZLE A |
| 5W1326 - BOLT | 0363909 - HOSE A | 0R1237 - CRANKSHAFT A |
| 6L5490 - GASKET | 7N9532 - CYL HEAD A | 1142430 - BEAM AS |
| 7N7500 - ELEMENT A-O | 1396847 - GASKET KIT | 9U4642 - HOSE A |
| 1P1145 - HOLDER A | 3034780 - LOCKNUT | 9J4753 - SEAL RING |
| 9F7707 - RING | 9R8467 - HUB AS | 7Y1434 - SPACER |
| 0643830 - BEARING | 4I7401 - SPRING | 7X5077 - HEX NUT |
| 6V4558 - KIT GASKET | 3T1783 - NUT | 9H0223 - SEAL |
| 7K0621 - TUBE AS | 2071647 - HOSE AS. | 6C2828 - CAP |
| 7H9605 - INDICATOR | 2193368 - BUCKET | 4S6941 - PIPE |
| 4U8164 - HOSE ASSY | 5K3931 - CUP | 901407 - TRACK ADJUST KI |
| 2091457 - HOSE AS. | 0687084 - HOSE A | 2472981 - Turbocharger GTA4594BS 762552-5003 |
| 5P5991 - M HOSE STK | 0951280 - SCREW,SET | 7K2838 - HOSE A |
| 1885638 - SPROCKET SEG | 9W9986 - IDLER A | 7G3146 - HOSE A |
| 1768184 - GASKET KIT | 3076558 - RADIATOR | 2923360 - HOSE AS |
| 7W9546 - TUBE AS | 1404778 - WASHER | 5S7680 - HOSE A |
| 1253728 - HOSE AS | 401095402 - Turbocharger 3LJ319 159484 | 8N6212 - BASE A |
| 9P7782 - RIM A | 1558696 - GASKET KIT | 9K4242 - HOSE A |
| 3790184 - CAP-RAIN-CLA | 2046537 - GASKET KIT | 2167025 - HOSE AS. |
| 3188230 - CYLINDER KIT | 3096405 - SCREW-HHCS | 3935115 - STUD-TAPER |
| 4T8083 - CUTTING EDGE | 5U1717 - HOSE REMOTE | 6E3394 - MOTOR GP |
| 2840482 - HOSE AS. | 0R3508 - CORE A OIL | 3256053 - CPLG-EXH-CLA |
| 1787190 - STEER CYL AS | 2T2394 - HOSE A | 0816891 - BOLT |
| 1210725 - GUARD AS | 6N5437 - MUFFLER | 10R8712 - PUMP GP F |
| 8D9296 - BEARING | 1486522 - ROLLER GP-SF | 4D7924 - HOSE A |
| 0338751 - HOSE A | 8V1615 - GUIDE | 2340355 - GASKET KIT |
| 1P0622 - BEARING | 9U6985 - ELEMENT | 4M9298 - RING |
| 7K3526 - SPIDER&BRG A | 2250415 - HOSE AS | 2F2396 - BEARING A |
| 2445447 - PUMP GP-GR A | 6V2733 - SEAL G | 2P4305 - GASKET |
| 5149572 - ROD BEARING | 1327994 - PIN | 1T1047 - BEARING |
| 1135943 - MOTOR GP | 2938333 - KIT-DT BEARI | 8P9293 - DISC A |
| 8K4414 - RETAINER | 6V2931 - GASKET KIT | 0L1714 - WASHER |
| 9P1595 - HOSE A | 9D6207 - HOSE A (0817978) | 9T2453 - CYLINDER G |
| 1W5211 - CARTRIDGE - TURBO 950/120 | 5T7730 - HOSE A | 9U0786 - SHAFT |
| 3602986 - HARNESS AS | 2862952 - HOSE AS. | 8X8407 - ADAPTER |
| 0R1728 - PLATE | 4332040 - SENSOR, PRESSUR | 2V7198 - PILOT |
| 1087390 - HOSE A | 1837512 - HOSE AS | 2112015 - RETAINER |
| 2W1230 - SCREW | 5S6202 - ROD-CONNECTI | 1177506 - HOSE AS |
| 8W1367 - PIN | 1V4615 - SHOE-TRACK | 3685091 - WASHER-HARD |
| 5M6228 - BEARING | 4T6588 - CUTTING EDGE | 9S2302 - ROTOR AS |
| 1148861 - SPRING AS | 2897763 - CYL GP-0170 | 9M9932 - WHEEL |
| 1P8460 - PIPE | 2442228 - PUMP GP-PS-B | 9C1106 - HOSE A |
| 6G3044 - SEGMENT | 1883274 - HOSE AS | 8T3592 - SEAL KIT |
| 1U1444 - SHAFT | 5J9205 - EDGE | 4T9319 - RING |
| 6Y3424 - BEARING | 1473311 - SPINDLE | 1463033 - CYLINDER AS |
| 2205621 - TURBO GP-BAS | 915613 - CONE | 1099125 - EDGE-CUTTING |
| 1947921 - TURBO GP-BAS | 8C4455 - GASKET KIT | 785031 - CAP SCREW |
| 2F5721 - BEARING-BALL | 8W7293 - HOSE A | 2W0237 - BELT SET |
| 1047040 - STARTER-24 VOLTS - 3116 | 9L9317 - PISTON | 1P8068 - HOSE A |