Caterpillar 908K Loader parts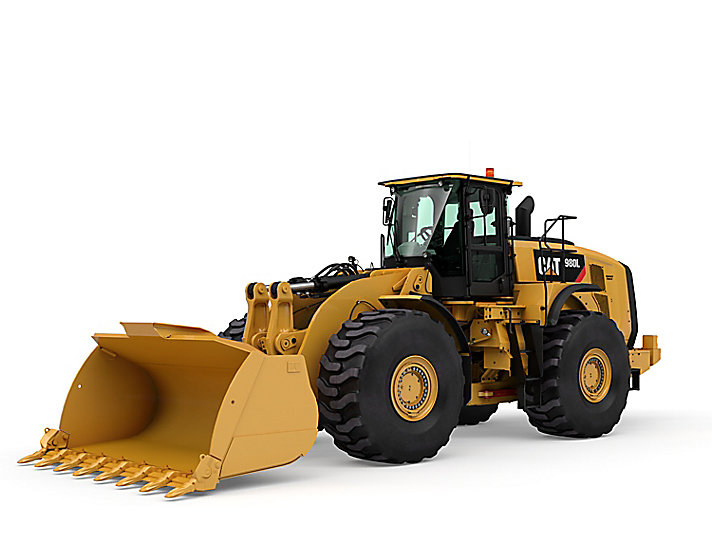 Here is some more information about Caterpillar 908K Loader:
ENGINE
Maximum Gross Power 55.0 kW
Net Power 51.0 kW
Engine Model Cat C3.3B DIT*

WEIGHTS
Operating Weight 6365.0 kg
If you send us your request, we will make you an offer for original and Aftermarket Caterpillar parts for your Caterpillar 908K Loader.
Caterpillar 908K Loader - it is a big machine. But even such machine sometimes needs maintenance.
Our online parts store give you an access to more than 1 000 000 Caterpillar parts that we have in our inventory.
Below is a small list of Caterpillar parts for this equipment. However, if you are interested in something - please use the site search.
| | | |
| --- | --- | --- |
| 2463436 - KIT-SEAL-H.C | 2Q2016 - HOSE A | 3610719 - CYLINDER AS |
| 12H236 - WASHER STD | 5110897 - NUT SQUARE 9/16 | 4P3080 - TUBE AS |
| 8X0666 - HOSE A | 5S5190 - WHEEL | 8H1058 - GUARD |
| 6J6229 - PIN | 7E7492 - RING | 2F2402 - BEARING A |
| 6V4606 - BOLT | 8U6904 - RING-BACKUP | 3E7492 - GASKET KIT |
| 2243237 - HOUSING | 4H3283 - BOLT | 4W4384 - MANIFOLD |
| 2P4426 - SHAFT | 1186322 - ELEMENT | 2V6129 - COVER AS |
| 3741848 - BRG-RLR-CLA | 2201725 - HOSE AS | 8V5224 - HOSE A |
| 2236810 - HOSE AS | 1506751 - SEAL-WIPER | 0R6973 - Turbocharger S200G-003 167865 |
| 5U6077 - HOSE ASSEMBL | 7S7408 - HOSE A | 6N4975 - GASKET |
| 3W3497 - HOSE A | 5424700 - RING-CLA | 963944 - O RING |
| 1264422 - CONTROL G | 2191388 - HOSE AS (1338790) | 2S8961 - PULLEY |
| 1146570 - HOSE AS. | 2R2612 - FRAME A | 3S1099 - ELBOW |
| 8T4843 - KIT GASKET | 4H6984 - BEARING | 3678361 - GEAR GP-BR |
| 7T3143 - DISC-THRUST | 8C5370 - GASKET KIT | 6B5069 - RACE-INNER |
| 8G4569 - RING-RETAINE | 3W2214 - HOUSING A | 1452372 - HOSE AS |
| 1412822 - HOSE A | 102571 - SETSCREW HEX | 5N6092 - HOSE A |
| 4604910 - KIT GASKET | 6V5057 - SEAL-O-RING | 9S1162 - BEARING-STD |
| 9G5317 - SEAL GP | 6D0561 - HOSE A. | 1093206 - SEAL O RING |
| 2050708 - SPROCKET | 4457180 - GLASS | 1T1637 - HOUSING A |
| 2426236 - HOSE AS | 1784533 - CYLINDER AS. | 4I6382 - 4I6380 |
| 1638445 - HOSE AS | 3G1977 - HOSE A | 0870515 - HOSE A |
| 8K3210 - HOSE A | 6W2875 - HOSE A | 8K9661 - GEAR |
| 5G9467 - PIN A | 1111050 - 111-1049 | 7F6009 - BEARING |
| 8D3508 - BOSS | 7Y1744 - TRACK ADJUSTER | 9X2546 - BOLT |
| 2692274 - HOSE AS. | 4T0263 - CYLINDER G | 1M2668 - GASKET |
| 2298568 - BLOCK AS - C | 3602275 - BRG-ALIN-CLA | 4S5833 - SPACER |
| 1R0659 - FILTER A | 2197710 - MOTOR GP-GRT | 8T4956 - BOLT (0818766) |
| 5I8010 - Thermostat / Water Pump regulator | 7V6716 - PIN | 2V3049 - HOSE A |
| 8K3584 - VENT A | 9V4516 - HOSE A | 7N2443 - WASHER THRUS |
| 2S4198 - ADAPTER | 9T4006 - SEAL KIT | 0314437 - HOSE A |
| 6P6035 - MANIFOLD | 7Q8330 - BOLT | 1660577 - PUMP AS-WATE |
| 0773260 - CAPSCREW | 6Y6783 - BEARING | 3H0761 - COVER AS |
| 3049965 - HOSE AS. | 6V3775 - GASKET KIT | 6N2206 - CAP A |
| 1081153 - ELEMENT | 4K4114 - SEAL | 1962484 - HOSE AS |
| 8W0737 - HOSE A | 2S5925 - VALVE | 9C5691 - GEAR |
| 3U7012 - HOSE AS | 2Y5012 - VEE BELT | 6D0741 - BEARING |
| 4W1876 - PUMP AS | 9K9207 - TUBE AS | 1R0753 - FUEL FILTER |
| 1237576 - SEAL | 8D3289 - HOSE A | 1382158 - HOSE AS |
| 5B9079 - NUT | 5H4792 - PIN | 1003852 - PIN |
| 6L1651 - SEAL O RING | 6V5590 - RING | 9W7530 - MODULE A |
| 1506553 - PIN | 3E5239 - RELAY A | 7R9578 - HOSE A |
| 2897912 - PUMP GP-GR 1 | 1735787 - SETSCREW | 9C8682 - SHOE AS |
| 8G0877 - PIN A | 6V2945 - GASKET KIT | 3T5031 - LATCH |
| 3763644 - COLLET-CLA | 4B4340 - RIVET | 1T0755 - CAGE |
| 6C9434 - HOSE AS | 8J7076 - HOSE A | 1608743 - BOLT |
| 2089844 - HOSE | 7E7933 - REGULATOR | 5I7950 - ELEMENT |
| 3E8886 - SEAL KIT-STD | 5E0551 - BALL | 7F3488 - SHOE |
| 2Y1172 - TERMINAL A | 4W7079 - HOSE A | 2167001 - HOSE AS. |
| 3082850 - HOSE AS. | 0951585 - O-RING | 1270617 - FAN |
| 2853597 - PUMP GP-PS-B | 9H8217 - GASKET | 8N7932 - ENGINE BEARING |
| 1482304 - HOSE AS | 0R7665 - PUMP GP | 9B0143 - SHAFT |
| 0092064 - SEAL O RING | 5I8869 - 5I8868 | 1157814 - HOSE AS |
| 1895379 - SEAL KIT | 1412150 - PIN | 1074603 - GLASS |
| 2169824 - PUMP GP-F IN | 1481335 - HOSE AS | 6N8873 - HEAD A |
| 8M7457 - BUSHING | 1994501 - SPACER | 2119981 - GASKET KIT |
| 4W1743 - MUFFLER A | 7X9649 - BEARING | 7J9701 - ROD A |
| 3B9114 - FITTING | 5W1305 - BOLT | 3109365 - MOTOR GP PLV |
| 2P5680 - TURBINE | 2P1311 - ELBOW | 1153184 - CAP-LOWER |
| 8N7934 - BEARING | 0687384 - HOSE A | 0939904 - BOLT,SHOE |
| 1414116 - GASKET KIT | 9H5548 - SEAL O RING | 1417484 - CYL GP-0133- |
| 5P3335 - OVERHAUL GASKET SET | 2P8888 - LEAD ASSY | 2302934 - HOSE |
| 9F7117 - GASKET | 7T4450 - HOSE A | 7U9409 - HOSE AS |
| 0785184 - HEXAGON NUT | 2366954 - FRAME AS | 7C6209 - PLATE |
| 3D8352 - RING | 8N4959 - SHAFT | 0618862 - BELT |
| 9X7778 - MOTOR GP | 2S4364 - RETAINER | 4J9049 - TUBE |
| 2069496 - HEAD | 7P6893 - BEARING | 9W3377 - SHAFT |
| 9D6277 - HOSE A | 1V2117 - REPAIR KIT | 5P6314 - SLEEVE |
| 1V8957 - PIN | 1Q5097 - HOSE A | 9C4755 - HOSE A |
| 1078769 - SILENCER | 0663350 - CONE | 5H8773 - SLEEVE |
| 1501249 - INDICATOR AS (1135315) | 5I8047 - PIPE | 2385256 - KIT-FLANGE |
| 5E2811 - BEARING CUP | 1485373 - HOSE AS | 8T7185 - SEAL |
| 2266062 - HOSE AS. | 3472380 - RING-PISTON- | 8N3263 - GASKET |
| 7X3533 - GASKET | 7T9311 - PIN | 1048774 - HOSE A |
| 0830218 - SEAL KIT | 2K0337 - NUT | 8J9420 - KIT-REPAIR R |
| 2P9630 - RING G-PISTO | 1134457 - PULLEY | 6K0433 - SEAL |
| 2096007 - SEAL KIT | 9W8630 - HOSE A | 1746102 - PISTON AS |
| 4N2384 - HOSE | 9P3320 - GEAR | 2011919 - NUT-HEX (WHE |
| 7C4292 - SKIRT PISTON | 7N3918 - MAIN BEARING 0.010 | 1T0805 - RETAINER |
| 1895371 - SEAL KIT (7X2710) | 1A1999 - DOWEL | 9X0262 - ADAPTER |
| 1731007 - SEAL | 7N7764 - COMPRESSOR G | 1495532 - ACCUMULATOR |
| 9W3012 - HOSE A | 2125544 - HOSE AS | 3092931 - SCREW-HHCS |
| 7V9122 - HOSE A | 6H9074 - CAP A.-RAIN | 2P2541 - BODY AS |
| 1021229 - 102-1227 | 3E6785 - SEAL-O RING | 9W6717 - SEAL G |
| 0083155 - CUP | 1N3972 - GASKET | 2607989 - HOSE AS. |
| 1029004 - ACTUATOR | 9T2583 - SEAL | 1760864 - HOSE AS |
| 0951712 - O-RING | 1492915 - BEARING | 8V1515 - TUBE AS |
| 1123044 - RING | 7I8020 - HOSE A XT5 | 7C4304 - FUEL LINE |
| 3P0298 - CARRIER | 8X6157 - HOSE A | 9J4983 - PUMP AS |
| 7B9514 - LOCK | 9C8075 - GEAR | 1004083 - SEAL KIT |
| 9C3187 - PIN | 1V9469 - SHOE-MASTER | 2V6720 - PIN |
| 6D7304 - HOSE A | 1159462 - GASKET KIT | 1345986 - SEAL KIT |
| 2M3903 - ROLLER A | 0813180 - SCREW | 1183795 - GASKET KIT |
| 2106141 - HOSE RAD | 3P1109 - BUSHING | 0R7784 - PUMP GP-HYD |
| 6D6465 - HOSE A | 1753070 - SENDER AS-TE | 3F4594 - GEAR |
| 2U1255 - BALL | 1078366 - PISTON | 5A6902 - VALVE RELIEF |
| 9691/16 - TRACK NUT | 6Y1936 - LINING | 2977177 - GEAR-CLA |
| 8D8704 - BEARING | 0961747 - O-RING | 9C8074 - GEAR |
| 4J8998 - SEAL O RING | 1357912 - HOSE AS | 7C3864 - CAMSHAFT |
| 0R9340 - MOTOR GP | 0774197 - O-RING | 9F6662 - GEAR |
| 0996774 - LOCKWASHER | 5P6298 - SCREW HEX H | 2T3038 - CHAIN A |
| 1278684 - HOSE A | 1138999 - PLUG | 9R0430 - BEARING |
| 1S8804 - BOLT-TRACK | 2410897 - SEAL KIT | 4352457 - GASKET |
| 1402852 - GASKET KIT | 2174726 - END EDGE | 3V5657 - HOSE A |
| 1953495 - SEAL KIT | 6V2935 - GASKET KIT | 8E7838 - GEAR |
| 1891951 - GASKET KIT | 2G0550 - HOSE A | 1166736 - HOSE AS |
| 6I9525 - SEGMENT | 1120885 - PAD | 4K1944 - CARTRIDGE G. (38 GPM) |
| 0813335 - SAFETY BELT | 1S6390 - SEAL | 1559077 - CYL GP-0220 |
| 4458077 - CABLE, CAB DOOR | 3074641 - VALVE-EXHAUS | 1119991 - MOTOR GP |
| 1672009 - ELEMENT AS | 1002781 - HOSE A | 5T4987 - HOSE A |
| 1885431 - BOLT 18MM | 6G0462 - PIN | 643058 - CLAMP |
| 2Y5086 - GAGE A | 6W0249 - HOSE A | 1736733 - HOSE AS |
| 1485374 - HOSE AS | 1255085 - HOSE AS | 1U3516 - SHAFT |
| 0874480 - HOSE A | 1A4689 - TRACK SHOE | 8N0404 - HEAD ASSY-CYL (3304 PC) |
| 7U4971 - HOSE A | 0R5755 - REB TURBO G | 7J6837 - PUMP G |
| 10R0546 - MOTOR GP-HYD | 6D1523 - HOSE A. | 8J5880 - New Rebuilt - VALVE GRP |
| 8C4774 - MOTOR G | 2P4404 - HOUSING A | 969539 - BEARING |
| 8N2368 - SHIELD | 2P2042 - HOUSING | 8U5988 - GEAR DISC |
| 7S0872 - HOSE A | 4656193 - O-RING | 9R0097 - PIN |
| 1382050 - EXHAUST VALVE | 1960332 - LOCKNUT | 4E8877 - HOSE A |
| 823067 - SEAL O RING | 9W9734 - IDLER GP (1100510) | 1P8067 - HOSE A |
| 4I6030 - HOSE A | 8K7170 - PIN | 1P0722 - BEARING |
| 1K9467 - SPIDER | 7N3621 - SWITCH AS-MA | 6T1314 - CABLE |
| 6V8902 - KIT GASKET | 4N3998 - BRIDGE | 0774262 - BREATHER |
| 6U0780 - HOSE ASSEM 3 | 1189494 - LINER-CYL | 3503739 - HANDRAIL |
| 1947008 - VALVE | 8S6021 - GASKET | 6E4944 - HEAD |
| 3638086 - KIT-GASKET(S | 2389824 - HOSE AS | 3E6371 - SWITCH A |
| 5P1945 - REDUCER | 7C0344 - NOZZLE | 1441326 - SHANK A |
| 7P6524 - PLATE | 1924933 - MOTOR GP-PST | 1429291 - ELEMENT |
| 7W9737 - SHAFT | 3109500 - HOSE AS. | 2790106 - PUMP GP-GR A |
| 5P5357 - CONE | 4N4125 - GASKET | 6U0910 - HOSE ASSEM 1 |
| 5P1952 - GASKET | 0920496 - HOSE A | 2310017 - PINION-CLASS |
| 7I0966 - RING | 2909980 - MOTOR GP-GR- | 2552029 - HOSE AS. |
| 8W0032 - HOSE A | 2864827 - HOSE AS-CGI | 8S4645 - LOCK |
| 1238686 - MOTOR GP | 6H8792 - TUBE A | 8T1559 - SEAL KIT-STD |
| 1772484 - KEY | 1263755 - HOSE AS | 5T8735 - HOSE A |
| 1354925 - WATER PUMP | 8T8089 - RING | 6K9149 - SEAL-O-RING |
| 9C2037 - HOSE A | 1G6490 - HOSE A | 1465614 - HOSE AS |
| 2003497 - SEAL KIT | 2530287 - MOTOR GP-STG | 6U0322 - HARNESS AS |
| 9U1475 - HOSE A | 0928265 - HOSE A | 7T1093 - SEAL |
| 7W7181 - MUFFLER | 0990001 - CAP | 2305571 - PUMP AS |
| 7U5278 - HOSE A | 7T7862 - METER KIT | 7D1175 - HOSE A |
| 7N7799 - REGULATOR A | 2422547 - SEAL KIT | 9M1393 - RING |
| 2259646 - HOSE AS | 5S8371 - HOSE A | 1402847 - HOSE AS |
| 2923127 - GASKET KIT | 4V1788 - HOSE A | 1623301 - HOSE AS |
| 1979326 - RETAINER-PIN | 3T0235 - HOSE A | 4324250 - KIT GASKET |
| 1297927 - BEARING | 0874939 - 087-4938 | 2667953 - PUMP GP-PS-B |
| 9W4481 - INSERT | 3801514 - CORE-CLR-CLA | 0876545 - ADAPTOR |
| 8T7268 - SEAL O RING | 2G5369 - PISTON | 358066 - BOLT |
| 5I7568 - GASKET | 3739404 - HOSE AS. | 5S6887 - HOLDER G-BRG |
| 5L9018 - SCREW | 0875454 - HOSE A | 2151921 - GEAR-PLANET- |
| 9R1404 - PLATE | 9U8233 - BEARING | 1672452 - SEAL-WIPER |
| 7V6667 - HOSE A | 0349409 - HOSE A (0303292) | 1278209 - INJECTOR GP |
| 3S1427 - SEAL O RING | 9J8225 - VALVE G | 0R7180 - Turbocharger S3BSL-100 166338 |
| 1618919 - MOTOR GP | 2S1251 - GASKET | 1252470 - HOSE A |
| 8C5674 - HARNESS A | 8D5633 - LEVER AS | 7J0566 - CARTRIDGE G. (25 GPM) |
| 1V5987 - ROD | 3S6874 - RING | 1330251 - SHOE |
| 3826892 - YOKE-CLA | 4V2119 - PIN | 8T8112 - SEAL O RING |
| 2339463 - GASKET KIT | 0618624 - HOSE A | 3148542 - SEAL-RNG-CLA |
| 0S1076 - PIN | 1987843 - SHIM | 1477979 - MOTOR GP-COM |
| 2036135 - CYL BLOCK | 8T8180 - SEAL | 8S2125 - BEARING |
| 8W5156 - HOSE A | 1160463 - COUPLING AS | 4C5300 - SEALANT |
| 9L9658 - LOCK | 2897917 - PUMP GP-GR 1 | 0676899 - BUSHING |
| 2199500 - HOSE AS. | 1P7409 - EYE BOLT | 5P1199 - CM-TUBE STK |
| 1222277 - SEGMENT-SPRO | 7K5138 - SPACER | 2003498 - SEAL KIT |
| 5B0651 - FITTING | 0869812 - O RING | 0308537 - BOLT |
| 7Y4384 - HOSE A | 5I3125 - 5I3124 | 1P2696 - CONE |
| 3D5623 - DRIVER | 7Y4256 - PIN | 7N1415 - WASHER |
| 1649505 - GASKET KIT | 3630559 - KIT | 9K9158 - BEARING-SLEEVE |
| 2254118 - ELEMENT | 1T0364 - FLANGE | 64076VB - RUBBER TRACK (B |
| 5D4517 - 5S7727 | 4N3984 - BEARING | 7E9552 - MANIFOLD |
| 1065395 - HOSE A | 2W6965 - COUPLING AS | 0781937 - O'RING |
| 9W8646 - HOSE A (1690420) | 1045841 - EDGE | 4199849 - KIT GASKET |
| 7S4629 - PUMP AS | 1967659 - HOSE | 6J7836 - RING |
| 1144794 - GASKET KIT | 2192602 - RAD TANK 769/771D | 2198097 - HOSE AS. (1900484) |
| 9P9159 - HOSE A | 2182830 - HOSE AS. (1364224) | 8B8439 - BEARING |
| 1189727 - PUMP GP | 2057187 - GOVERNOR AS | 2Y8685 - COMPRESSOR G |
| 5S1522 - RING | 2G6654 - BELT GP. | 5P7807 - BEARING-BALL |
| 2295546 - SEAL KIT | 6V1339 - GASKET KIT | 4N5936 - Turbocharger 4LE504 310258 |
| 2551742 - HOSE AS. | 6E1240 - BUSHING | 6V5476 - GASKET KIT |
| 1T1841 - TORQUE CONVERTER | 1352336 - SENSOR | 2G1301 - HOSE A |
| 2159985 - SEAL KIT | 5D3554 - CUSHION A | 1C6545 - CONEK |
| 1891781 - SEAL KIT-STD (8T1456) | 6N6940 - TUBE AS | 5P5640 - M GASKET STK |
| 2W4338 - HOSE AS | 1628315 - VALVE | 8N1701 - HOSE A |
| 4196376 - BRG-MAIN-C | 8L5695 - FUEL LINE | 2083394 - HOSE AS. |
| 4532855 - BOLT-HEX H | 3T4283 - COLLAR | 0323748 - CAP RADIATOR |
| 1944175 - BEARING-SLEE | 6V8614 - GASKET KIT | 0950125 - NUT |
| 1W7525 - HOSE | 0319406 - HOSE A | 7V0035 - HOSE A |
| 2076297 - HOSE AS. | 5V5297 - New Rebuilt - DIFFERENTIAL | 6T4121 - SOLENOID A |
| 3V8901 - New Rebuilt - PUMP DRIVE | 4368369 - KIT GASKET | 0994899 - BOLT |
| 0R0705 - PUMP GP-WATE | 9W6334 - HOSE A | 1S1590 - LEAD A |
| 5F8081 - GASKET | 9J1283 - PLATE | 5S5878 - BRACKET |
| 1838950 - SEAL KIT | 2526334 - ELEMENT | 8N1729 - ROD |
| 1318674 - GEAR | 2128484 - PISTON | 2326154 - GASKET KIT |
| 2M4210 - SPACER | 5P5678 - M-SEAL STK (1432557) | 2D9216 - BEARING |
| 3E7741 - LAMP G-24V | 6L5457 - GASKET | 7C8540 - SUPPORT A |
| 2416092 - PUMP GP-28 | 2H6121 - DISC ASSY | 5P1421 - CM-HOSE STK |
| 3G0964 - HOSE A | 3T6083 - PAD A | 1893620 - CLAMP |
| 8U1071 - HOSE A | 1849144 - HOSE AS | 1672497 - SEAL-WIPER |
| 2339209 - GASKET KIT | 3G6660 - HOSE A | 8S8981 - EXHAUST PIPE |
| 8N1726 - CONNECTING ROD | 1254119 - BULB | 1070750 - TUBE AS |
| 3K0768 - PIN | 2W0499 - GEAR | 3352590 - HOSE AS. |
| 1997077 - HOSE AS. | 2372766 - HOSE AS | 3261641 - P550900 - FILTER AS |
| 8T3372 - GASKET KIT - | 1182284 - Turbocharger S3BSL-128 167972 | 9J5088 - SHAFT |
| 7X5362 - O-RING | 8G3659 - PLATE | 9J9550 - HOSE A |
| 3G0361 - GASKET | 1W5210 - Turbocharger TO4B91 409410-0009 | 7D6093 - HOSE A. |
| 6E6571 - ROTATING GP | 1444614 - BEARING | 7R5502 - BEARING |
| 8N6854 - GASKET | 3525457 - HOSE AS | 2355507 - CARTRIDGE AS |
| 1423011 - PUMP AS | 1U0181 - END BIT | 8V6174 - JOINT AS |
| 1726542 - HOSE AS | 1R5493 - WASHER | 5K2888 - HUB |
| 9P0440 - LATCH | 1793006 - SUPPORT | 3480820 - HOSE AS |
| 1386685 - PIN | 9R1061 - HOSE AS | 6V2587 - KIT GASKET |
| 6K2702 - SPACER | 2044912 - CYLINDER | 0676925 - PUMP A |
| 5M6039 - HEAD GASKET | 1414612 - BEARING-BALL | 8C8569 - GASKET KIT |
| 6I0945 - RETAINER | 1077638 - TUBE AS | 8N2056 - MANIFOLD |
| 6I8481 - GEAR | 6Y4619 - GEAR | 7D4801 - CAP A |
| 3G5261 - PISTON | 8D8213 - TUBE AS | 6U4868 - HOSE ASSEMBL |
| 0950391 - RING,BACK-UP | 1095724 - SEAL GP | 0920486 - HOSE A |
| 5K4819 - PIN | 1K6697 - BOLT 5/8 X 1 3/4 | 6E4218 - PLATE |
| 9U0366 - HOSE AS. | 6V9698 - GASKET KIT | 0813727 - COLLAR |
| 6I2820 - TUBE A | 2035023 - HOOD 322C | 9W0499 - HOSE A |
| 1588667 - CIRCUIT BRKR | 2P8979 - HOSE A | 4I3614 - PISTON |
| 5S0160 - STRIP | 5T2920 - JOINT GP-UNI | 6T2786 - HOSE A |
| 1638291 - HOSE AS | 6V9928 - REBUILD KIT | 7Y5131 - BEARING |
| 8T0652 - BOLT | 7N7747 - HOUSING | 2031100 - PLUNGER KIT |
| 8R3937 - COLLET | 7Y2348 - PIN | 1221161 - SEAL KT CYL |
| 2V3048 - HOSE A | 2956412 - BEARING-CLA | 0931376 - SEAL,DUST |
| 7M4721 - BELT SET | 3J2183 - ROD-END | 8T1177 - BEARING |
| 6N3926 - Turbocharger 3LM289 182248 | 1023679 - TUBE AS | 2Y4681 - HOSE A |
| 6D8498 - SCREW | 0R2149 - CYL HEAD-REM | 2885723 - PUMP GP-PSTN |
| 7X0434 - BOLT | 8U4351 - BOLT | 0981242 - SNAP RING |
| 0785189 - HEXAGON NUT | 1709990 - PLATE | 1W7551 - TEMPERATURE GAUGE |
| 1876028 - HOSE AS | 8C3792 - GASKET KIT | 3K2556 - RING |
| 3500952 - SEAL-BUFFER | 9T6302 - CROWN-PISTON | 1266515 - SEAL-O-RING |
| 2166162 - MOTOR GP FAN | 2043220 - SEAL | 5U2791 - HOSE ASSEM 1 |
| 2945579 - BEARING-ALIG | 5S5879 - BRACKET | 1282749 - HOSE A |
| 5P9945 - GASKET KIT | 8E9024 - BIT A | 9W7236 - SEAL G |
| 8L5517 - SEAL | 6V1179 - SEAL | 968381 - BEARIN |
| 7Y3764 - HOSE A | 1V7344 - RIM G | 7C9288 - HOSE A |
| 9Y9380 - GASKET | 0303145 - HOSE | 0988751 - HOSE AS |
| 951022 - BEARING - ROLLER | 2573227 - DRYER-DYE | 1466692 - ELEMENT |
| 8N2431 - GASKET | 2397072 - HOSE AS. | 3G2357 - ADAPTER |
| 2M0856 - FLOODLAMP A | 3S0083 - BEARING | 9S8704 - RING G |
| 6Y4086 - HOSE A | 2335169 - PAD | 1417106 - LUBE G |
| 2V7269 - PLATE BRAKE 980 | 2472670 - MUFFLER-CLA | 2917263 - PUMP GP-2PS- |
| 6D3405 - GASKET | 9K0723 - PIN | 5P8139 - CONE |
| 3G8314 - END BIT | 3134019 - KIT-GASKET(F | 7S5900 - STARTER - 24 VOLTS |
| 8X9517 - HOSE A | 6V3758 - GASKET KIT | 0951635 - O-RING |
| 6T9561 - RING | 9X2476 - KIT GASKET | 5839-V69 - ADAPTER, ESCO |
| 6C9431 - HOSE AS | 1313009 - GASKET | 5D6543 - SEAL O RING |
| 3D0224 - BEARING | 1084097 - DAMPER AS | 3W7976 - SEAL |
| 5D5875 - GASKET | 7T1631 - CUTTING EDGE | 2706234 - GASKET |
| 6T4316 - SEAL G (4D4510) | 7G4858 - TRUNNION | 8V1692 - HOSE A |
| 3L5986 - GASKET | 3A3425 - RECTIFIER | 7K6093 - TUBE ASSY. |
| 2P1949 - GUARD A | 2U2372 - PLUG | 6N5476 - SEAL GROUP |
| 4B4286 - WASHER | 2509294 - GASKET KIT | 1011879 - FILM CAUT |
| 1406135 - GASKET KIT | 1618573 - PLATE-WEAR | 6E2388 - PUMP G |
| 1352377 - GASKET KIT | 1316001 - PIN | 6D7661 - HOSE A |
| 7S3625 - PIPE | 0908356 - HOSE A | 1100842 - DISC-CLUTCH |
| 0786248 - O'RING | 1314408 - GUARD | 2582854 - SPROCKET |
| 0857238 - HOSE A | 2V1372 - HOSE A | 1087572 - HOSE A |
| 9C7730 - HOSE A | 2W0496 - GEAR | 1497378 - GROMMET |
| 9X3595 - SEAL AS | 3E3366 - PLUG A | 2S8957 - CHAMBER ASSY |
| 2362254 - HOSE AS | 4603207 - KIT GASKET | 2W1713 - TUBE AS |
| 2335491 - BEARING | 3522153 - PUMP AS-WATE | 9C6612 - HOSE A |
| 2789255 - BEARING-SLEE | 1460742 - RING | 6H3461 - RING |
| 1888764 - LINK ASSM | 6E4948 - HEAD AS | 6D4196 - BEARING |
| 2265973 - GASKET KIT | 2720390 - SEAL | 1098774 - HOSE AS |
| 3410979 - SEAL O-RING | 5M7345 - GEAR | 8T4910 - BOLT |
| 1697839 - SEAL KIT | 4274478 - HEADLIGHT | 6W1958 - ELEMENT |
| 8S9306 - FUEL LINE | 2487466 - HOSE AS. | 1011660 - PINION A |
| 7T3146 - DISC | 1593100 - HOSE AS (ORF | 1426902 - GASKET KIT |
| 2144862 - SENSOR | 6V5434 - GASKET KIT | 8C9389 - SEAL-O-RING |
| 2215017 - HOSE AS | 1459283 - CORE AS | 7Y0985 - PLATE |
| 8T4200 - BOLT (0812813) | 1530712 - GASKET KIT | 2208601 - MOTOR GP |
| 9V6167 - PIN | 9H1145 - GASKET | 2741512 - VALVE GP-FCO |
| 5T2925 - STRIP-WEAR | 2V8622 - HOSE A | 5T2522 - HOSE A |
| 1525705 - GASKET | 5J6926 - END BIT LH F | 9W1793 - BEARING |
| 1099030 - EDGE SEGMENT | 7E2899 - RING SET | 1528043 - LINK A. |
| 7E9578 - INTAKE VALVE | 7X0373 - BOLT | 4516455 - SEAL-CLA |
| 0396315 - PIN | 1350550 - LAMP GP-FLOO | 1366202 - CLEANER AS-A |
| 1023496 - HOSE A | 8T8096 - RING | 6V1679 - GASKET KIT |
| 6V4626 - BOLT | 1259562 - COMPRESSOR | 1282569 - HOSE AS |
| 7T9188 - ROLLER GP DF | 0686133 - HOSE A | 0920748 - HOSE A |
| 5S6348 - NUT | 1H9437 - PLATE | 5P9225 - GASKET KIT |
| 0827516 - BEARING | 2788376 - PUMP GP-PS-V | 2660861 - HOSE AS. |
| 2561371 - HOSE AS | 4196377 - BRG-CON-CL | 2049531 - COIL COND |
| 7J1334 - BEARING | 6V5783 - SCREW | 1687224 - PISTON PIN |
| 4W5228 - AIR FILTER | 2172895 - DISC-BRAKE | 3075261 - HOSE AS. |
| 1184637 - HOSE A | 1087357 - HOSE A | 8T1399 - SEAL KIT |
| 9U3810 - GEAR RING | 1600196 - PUMP AS | 8R8559 - HOSE A |
| 8L4158 - SHAFT | 9R0313 - HUB AS | 2476893 - VALV-EXH-CLA |
| 7K7071 - BASE | 5N8965 - LEVER | 3183708 - PUMP AS.- BA |
| 3119440 - PLT-THST-CLA | 3087480 - FILTER AS-FU | 8E4800 - SHOE |
| 7M5745 - DISC ASSY | 3I1428 - X006244 FILT | 1005864 - TURBOCHARGER |
| 9K7938 - HOSE A | 5F8916 - BEARING | 6L4497 - GASKET |
| 1734607 - HOSE AS. | 8T9365 - BOLT | 7P6737 - HOSE A |
| 6V9237 - GASKET KIT | 7W2293 - CYL SLEEVE | 1B3934 - BEARING |
| 0778209 - ELBOW, HYDRA | 1291937 - GREASE DESRT | 8S9089 - BOLT |
| 3G5949 - CYL G-TILT | 1017354 - MANIFOLD | 1432404 - VALVE GP |