Caterpillar 950 GC Loader parts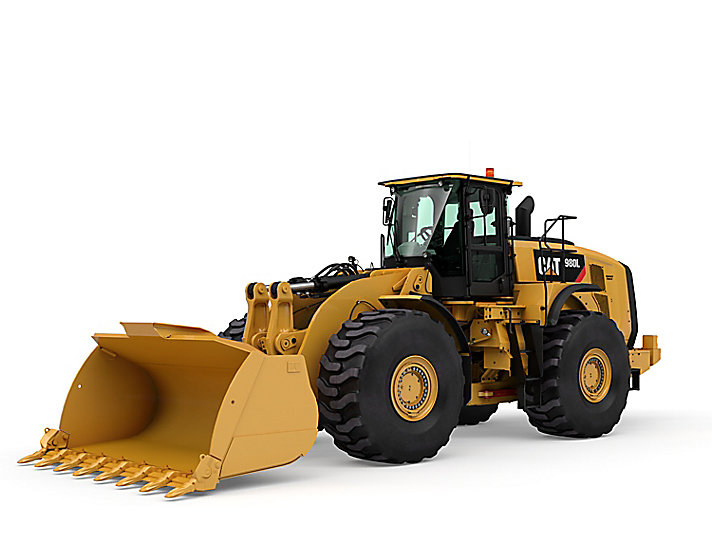 Here is some more information about Caterpillar 950 GC Loader:
ENGINE
Net Power - ISO 9249 151.0 kW
Engine Model Cat C7.1
Bore 105.0 mm
Stroke 135.0 mm
Displacement 7.01 l

WEIGHTS
Operating Weight 18676.0 kg
If you send us your request, we will make you an offer for original and Aftermarket Caterpillar parts for your Caterpillar 950 GC Loader.
Caterpillar 950 GC Loader - it is a big machine. But even such machine sometimes needs maintenance.
Our online parts store give you an access to more than 1 000 000 Caterpillar parts that we have in our inventory.
Below is a small list of Caterpillar parts for this equipment. However, if you are interested in something - please use the site search.
| | | |
| --- | --- | --- |
| 1F3753 - SHAFT | 9J6062 - CAP | 1556991 - HOSE AS |
| 6Y3407 - HOSE A | 4K0149 - PLUG | 6B6683 - NUT |
| 2D8781 - TERMINAL | 1Q1653 - HOSE A | 0785057 - HEXAGON CAP |
| 9B9103 - BUSHING | 2755472 - EDGE SEGMENT (1092677) | 6V2239 - GASKET KIT |
| 1U3383 - RING | 2S5692 - PULLEY | 7X5111 - LOCKWASHER |
| 0981163 - O-RING | 7T5539 - HOSE A | 1944902 - SPRING |
| 3P0815 - SEAL | 9W2013 - HOSE A | 9L5115 - HOSE A |
| 2Y4476 - SEALED UNIT | 3775834 - RBLD-CMP-CLA | 1171242 - LINK A |
| 9X8298 - GASKET KIT - | 4L0648 - CORE AS | 3V0356 - HOUSING |
| 1802657 - SCREW | 2712489 - SEAL-WASHER | 3U1086 - BEARING |
| 9W9354T - TLA 45 L/K E200/320 GREASE | 2K4513 - BUSHING | 4T3794 - HOSE A |
| 4M5992 - BUSHING (1758682) | 1C6766 - CONEK | 0R6053 - Turbocharger S4DS025 198123 |
| 0773164 - BEARING | 1799579 - BEARING | 2P9574 - LINES A |
| 3279094 - COUNTERWEIGHT | 2236662 - HOSE AS | 6J9474 - PIN |
| 4T3720 - EDGE | 1733451 - PLATE-SEPAR | 4J8252 - GLASS |
| 1195752 - HOSE AS | 6V7350 - SEAL | 1283547 - PUMP AS |
| 7E6508 - CAP A | 3073038 - MOTOR GP-FAN | 1878936 - SENDER AS-F |
| 7N1208 - SPRING | 9W6656 - EDGE-CUTTING | 9J6067 - TRUNNION |
| 4B3034 - CUP AS | 1335631 - PLUG | 4T7640 - SHAFT A |
| 3470475 - PLT-CLCH-CLA | 1021228 - 102-1227 | 4N0532 - GASKET |
| 5M3949 - SHAFT | 1336521 - HOSE AS | 6V4761 - GASKET KIT |
| 8W0184 - HOSE A | 4F6174 - GASKET | 9N5284 - BRG-MAIN |
| 9M2132 - GASKET | 6N5482 - PLATE | 3J6558 - BRACE |
| 3P1168 - GASKET KIT | 2133604 - HOSE AS (1563693) | 1024140 - BRACKET AS |
| 1236622 - BRKT AS-RH | 4Y0118 - HOSE AS | 1W8396 - PUMP A |
| 1092196 - CARTRIDGE | 5P9095 - ROLLER BRG | 2133457 - SEAL KIT-H.C |
| 8S6086 - PAN OIL | 1071673 - 107-1671 | 8Q6653 - SEALANT |
| 8V6951 - JOINT AS | 3T4939 - GEAR | 1028502 - MANIFOLD |
| 5K3425 - HOSE A | 8W1194 - HOSE A | 1C6451 - CONEK |
| 2386658 - RADIATOR GRP | 7M9222 - HOSE A | 9J5111 - SEAL KIT |
| 1912978 - HOSE AS | 2337670 - HOSE AS. | 4P6508 - CORE AS |
| 7T7665 - HOSE A | 3156668 - GASKET KIT | 3G5918 - PUMP G |
| 2260171 - PUMP GP-CLA | 2262956 - HOSE AS | 1376568 - GASKET KIT |
| 9W8275 - TRUNNION A | 1P3088 - TURBO A | 6K4385 - BOSS |
| 5J7517 - CARTRIDGE | 2409938 - SEAL KIT | 3V6000 - HOSE A |
| 7W5258 - BELT SET | 3U5101 - HOSE ASSY 1 | 8T8920 - BOLT |
| 1163211 - HOSE AS | 2426803 - PIN-DOWEL | 1247276 - ROLLER GP TK |
| 1990661 - O-RING - FRO | 1305333 - LINK | 9C3835 - HOSE AS |
| 2607915 - HOSE AS. | 8G0522 - HOSE A | 9H1212 - RING SET |
| 8J5863 - SEAL ASSEM | 2P1374 - CONE | 2825042 - DISC-THRUST |
| 1531940 - HOSE | 6V1799 - SEAL G | 1N9176 - SEAL A |
| 7D6838 - HOSE A | 1142579 - GASKET | 9S6729 - BEARI SLEEVE |
| 9C3853 - CAP | 3010591 - GASKET KIT | 2038747 - VALVE |
| 3960064 - SEAL-O-RIN | 3F5567 - BOLT | 5T9884 - HOSE A |
| 1326170 - SEAL KIT STD | 2577750 - HOSE AS. | 7M0430 - PIN & SPACER |
| 7X0351 - BOLT | 0622723 - CONE | 2N9300 - VALVE |
| 2462901 - VALVE GP - A (1432405) | 1389127 - STICK | 2R1405 - HOSE A |
| 3J9449 - NUT | 8R8760 - HOSE HUMP | 1783590 - MOTOR GP |
| 5378888 - BOLT | 3024249 - SHAFT AS.-CL | 7T9978 - EDGE CUTTING |
| 2074735 - HOSE AS | 4N7905 - STARTER - 24 VOLTS | 2305003 - GASKET KIT |
| 7S8292 - MAIN BRG STD MIBA | 3N4512 - HOSE A | 4463057 - GEAR-PIN-C |
| 2P3767 - TUBE AS | 2344588 - CYLINDER AS | 3316557 - KIT-GASKET(M |
| 0969528 - O RING | 3348400 - GASKET KIT | 3596596 - MUFFLER AS |
| 3150800 - PIN AS | 2558849 - CARRIER-PLAN (1127304) | 9S2248 - SUPPORT A |
| 1709865 - SEAL | 5S4455 - RING | 1F2558 - BUSHING |
| 1531157 - SEAL | 6Y4063 - HOSE A | 2159302 - PUMP GP-2PS- |
| 0964892 - WASHER | 8S6559 - MUFFLER | 9V2327 - BEARING |
| 8U3356 - HOSE A | 1W5846 - SEAL A | 1195325 - BEARING |
| 6K0414 - PIN | 2T2243 - HOSE A | 0R6728 - Turbocharger S2EG070 199713 |
| 1326598 - SPL CUP | 5J5908 - BEARING | 9Y1979 - GASKET |
| 9X2615 - BOLT | 8C8478 - BOLT (1615268) | 7X9403 - BOLT METRIC |
| 6K7177 - BEARING | 5P3252 - GASKET KIT | 9X7354 - SEAL |
| 5I4486 - PLATE | 0R1723 - PLATE | 1028272 - 102-8271 |
| 8C3164 - GASKET KIT | 6V0904 - GASKET KIT | 5I7584 - CAP |
| 4H7594 - GEAR | 0614197 - CUP | 5I7592 - NUT |
| 1M5242 - GASKET | 931729 - RING SNAP | 7S3036 - SEAL |
| 4352400 - REGULATOR- | 6V5414 - GASKET KIT | 0681379 - FAN BELT |
| 8E5308 - ADAPTER | 7S3987 - TUBE AS | 7F4524 - PIN |
| 8B6021 - ADAPTER | 1011635 - GASKET | 2W9729 - PUMP G |
| 3B7738 - NIPPLE (0080728) | 4K7297 - RACE | 1661495 - SEAL-LIP TYP |
| 2974827 - GASKET KIT | 2950415 - MANIFOLD-CLA | 4151928 - RACE-OTR-CLA |
| 4K8864 - CLIP | 2590699 - SEAL KIT | 1330115 - SPRING |
| 5K2015 - TUBE AS | 1296622 - HOSE AS | 2S5818 - BOLT |
| 7H2445 - SPRING | 3V1329 - HOSE A | 1538179 - PUMP |
| 5P9859 - GASKET KIT | 8T2498 - KIT GASKET | 8M5260 - SEAL O RIN |
| 6T0062 - PLATE | 1229964 - HOSE A | 5P9930 - GASKET KIT |
| 8K0518 - PIN | 2959421 - MOTOR GP-PST | 7R3909 - HOSE A |
| 1S2268 - PISTON | 0102639 - PLOW NUT 5/8 | 6V0218 - GASKET KIT |
| 0953418 - SEAL | 8H3128 - BOLT | 9C2762 - HOSE A |
| 6V2449 - BEARING | 4295784 - TRACK BOLT 24MM | 1276678 - 127-6677 |
| 8E8305 - DISC | 2339474 - GASKET KIT | 2J1402 - CYLINDER G |
| 0878752 - GASKET | 1541675 - SEAL | 7G0747 - SHAFT |
| 5T2410 - HOSE A | 0951763 - SEAL O RING | 2330168 - BUCKET |
| 5P1964 - GASKET | 5P0093 - SEAL | 5U8624 - HOSE ASSEM 1 |
| 2268766 - GASKET | 1441282 - PLATE | 7E0322 - SEAL AS |
| 1Q5065 - HOSE A | 9T3369 - PIN | 9U0365 - HOSE A |
| 1714900 - HOSE AS | 1597683 - HOSE AS | 1087208 - HOSE A |
| 1134388 - CYLINDER AS | 5S8786 - HOSE A | 2K4083 - PIN |
| 3801518 - GASKET-CLA | 0775853 - O-RING | 9R9403 - PINION |
| 4519028 - RING-CLA | 6V2531 - GASKET KIT | 9T7893 - CYLINDER G |
| 2G8746 - HOSE A | 6I0455 - BOLT | 774969 - WASHER - D4H/D5H |
| 8D5362 - WASHER | 4K8516 - INDICATOR | 7X2546 - BOLT |
| 1136429 - HOSE A-XT6 | 8G3732 - SEAL | 2357155 - HOSE AS. (1146570) |
| 2V4734 - GEAR | 3C0152 - HOSE A | 1100612 - HOSE A |
| 962501 - GROWER WASHER | 1786473 - MOUNT AS | 2977095 - SCREW-HEX HD |
| 3D8913 - UNION | 1H6361 - GEAR | 1418847 - GASKET KIT |
| 4J8622 - BOLT | 1878921 - DISC - FRICT | 6V1184 - GASKET KIT |
| 7W9853 - ELEMENT | 1806196 - HOSE AS | 8D5121 - SHAFT |
| 6K0248 - VALVE A | 2067893 - BOLT-HEX HEA | 8U6347 - SWITCH |
| 8N6149 - HOSE A | 2S9911 - BELT | 1406033 - HOSE AS |
| 4I3569 - RING | 9G5093 - PLUG | 5T7298 - HOSE A |
| 3777457 - PLATE-RCT-CL | 6T8409 - YOKE | 1048608 - BELT |
| 7U4304 - HOSE | 1935430 - KIT-SEAL-H.C | 0775554 - BREATHER |
| 1V7318 - HOSE A | 3B7784 - BOLT | 2666335 - SPACER |
| 5G8708 - DRUM | 1256705 - HOSE AS | 3V2053 - HOSE A |
| 6V5586 - SEAL-O-RING (1135688) | 8T1477 - SEAL KIT | 2U7636 - HOSE A |
| 1136548 - HOSE AS | 1426232 - WHEEL GP | 5T7007 - HOSE A |
| 7J4981 - TRUNNION | 3411429 - SEAL-PIP | 5I8005 - SWITCH |
| 3G1896 - HOSE A | 3G0954 - BEARING | 9S6811 - SPRING |
| 4J2620 - SEAL AS | 3670803 - HOSE AS. | 1895384 - SEAL KIT |
| 1G4760 - HOSE A | 2236703 - HOSE AS | 4L8176 - GASKET |
| 1M6036 - SEAL O RING | 2724673 - MUFFLER (1252945) | 8K4174 - HOSE A |
| 8C1919 - HOSE A | 7I0086 - HOSE AS | 3E7319 - FILTER |
| 2357775 - GUARD AS-TCK | 1297859 - BEARING SET | 8J1688 - SEAL-O-RING |
| 1758704 - TOP ROLLER | 2326173 - GASKET KIT | 1A1415 - NUT |
| 3807482 - SPRKT-DR-CLA | 0951716 - O-RING | 1931687 - PAD |
| 3E4228 - SEAL POLYPAK | 3148666 - CPLG-PMP-CLA | 3611699 - PIN-CLA |
| 2W1711 - PISTON | 0300167 - RING | 3747502 - PUMP-CLA |
| 1W4369 - PULLEY | 6V1245 - END | 3012307 - LINK AS TRK |
| 1072518 - GASKET | 2D0093 - GASKET | 5I6125 - NUT |
| 2R0695 - PIN | 0773483 - WASHER | 3522150 - PUMP AS-WATE (1593137) |
| 7H2444 - SEAL-O-RING | 4M8133 - THROWER | 975249 - SEAL O-RING |
| 1539085 - HOSE AS | 9S7831 - HOSE A | 6T1980 - COLLAR |
| 3291435 - HOSE AS. | 9K5398 - HOSE A | 1262522 - CONE-BEARING |
| 6G6275 - RING-SEAL | 9W7332 - SEAL KIT | 4364714 - PISTON |
| 960433 - SNAP RING | 4I8813 - HOSE A | 2186862 - HOSE AS. |
| 1417116 - BELT | 9C2086 - HOSE A | 9S4671 - SEAL |
| 8K6084 - STRIP | 1526412 - HOSE AS | 4W5311 - CYLINDER HEAD |
| 3T7920 - SLEEVE | 3P0786 - GEAR | 3362212 - SEAL AS-WTR |
| 4W0250 - SHAFT A | 1720038 - GASKET | 7N8516 - HEAD |
| 8N5111 - LINE A | 3G8288 - END BIT | 3E6322 - HORN A |
| 4T8584 - PUMP AS | 3P8230 - HOSE A | 0R4543 - TURBOCHARGER |
| 6I6854 - HOSE A | 2716441 - CYL GP-0220- | 3B8822 - ELBOW |
| 1071579 - HOSE A | 3338750 - KIT-SEAL | 2837623 - CAM SHAFT |
| 2592400 - Turbocharger GTA4088BS 752538-9009 | 5A4543 - NUT | 3021407 - TURBO GP-BAS (2967647) |
| 5U3693 - SEAL WIPER | 2899660 - PUMP GP-PS-B | 1407044 - GEAR |
| 8T7297 - SEAL-O-RING | 1129533 - HOSE AS | 5I8000 - FAN |
| 2K5106 - SHIM PACK | 2536420 - HOSE AS. | 2N1287 - FITTING |
| 10R1929 - PISTON PK GP | 2637664 - GASKET KIT | 8X6176 - HOSE A |
| 1261817 - ELEMENT | 8W9946 - HOSE A | 1698563 - PUMP GP-GR A |
| 3573773 - KIT-SEAL-H.C (8T4772) | 6V9010 - CONNECTOR | 6V9718 - GASKET KIT |
| 0915125 - HOSE A | 5P9243 - GASKET KIT | 1W1227 - TURBO G |
| 3053390 - GASKET KIT | 9N0139 - IMPELLER | 2880735 - BOLT-HEX HEA |
| 0049039 - CUP | 1632442 - INTAKE VALVE | 8D3238 - HOSE A |
| 6C2461 - LAMP G | 2Y5724 - FUEL LINE | 3K3534 - BEARING |
| 2888485 - ARM AS RH | 8Y7431 - HOSE A | 0982638 - O RING |
| 3P7482 - CAP (3P3744) | 1897709 - HOSE AS. | 1V7002 - BEARING |
| 5E2745 - O RING | 2357503 - CANOPY A | 9J1140 - BUSHING |
| 1G5568 - HOSE A | 7T4174 - LINK | 5F9338 - BOLT |
| 6R2732 - SEAL | 4206531 - RACE-OTR-C | 6E5876 - CYLINDER A |
| 1893925 - BOLT | 1R0727 - FILTER A | 5W2977 - BEARING |
| 8T3649 - SEAL KIT-STD | 7N7997 - GASKET | 1899801 - SENSOR GP-SP |
| 1156428 - PISTON | 7J9568 - VALVE A | 5N6159 - BEARING |
| 1403685 - HOSE AS | 4204432 - KIT GASKET | 2K4481 - PIN |
| 0R2186 - MOTOR G | 1301306 - GASKET KIT | 2956419 - CAP GP-CLA |
| 4D2990 - HOSE A | 2914153 - NUT | 1959344 - LINK AS.-TRA (1171374) |
| 1528781 - HOSE AS | 6N7697 - COVER COMPRE | 6N0095 - GASKET |
| 3933661 - GASKET-K-CLA | 6V0473 - RING | 6K9209 - PIN |
| 5W1284 - BOLT | 7E8929 - BODY AS.-PIS | 1265875 - FLYWHEEL AS |
| 2236916 - HOSE AS | 1473806 - HOSE AS | 8S4735 - BOLT |
| 2G4479 - HOSE A | 9J2358 - PIN | 5P1263 - CM HOSE BULK |
| 3P5446 - LOCK NUT | 0812880 - SCREW | 1637287 - GASKET KIT |
| 1152368 - INTAKE VALVE | 3462033 - PLATE | 9T5359 - SHAFT |
| 7T9976 - EDGE CUTTING | 2434787 - HOSE AS | 4W7019 - NOZZLE |
| 7Y3546 - LINK | 8C3667 - SOLENOID A (1023506) | 3H2900 - GROMMET |
| 2803045 - HOSE AS | 7U0598 - HOSE A | 1535353 - HOSE AS. |
| 1220452 - HOSE AS | 1168038 - CAP-BEARING | 4E1065 - PIN AS |
| 0781697 - BOLT 1/4 X 1 | 2T2263 - HOSE A | 9F3848 - SEAL |
| 2410153 - HOSE AS. | 0965916 - SEAT | 1194774 - CORE AS |
| 2A4576 - CUP AS | 6C9200 - LOCKWASHER | 0915118 - HOSE A |
| 0924533 - HOSE A | 5I8085 - ALTERNATOR | 1991797 - HOSE AS |
| 5S1188 - SEAL O RING | 6K5618 - GASKET | 7S2244 - CORE AS |
| 6V4555 - GASKET KIT | 2835666 - GASKET HEAD | 3537572 - HOSE AS. |
| 9C1068 - HOSE A | 8K0801 - HOSE A | 2094330 - BUSHING-TRUM |
| 3056216 - GASKET KIT | 62334VU - USED RUBBER TRA | 8E1204 - DISC |
| 7X7167 - BEARING | 8D7084 - BEARING | 1472668 - HOSE A |
| 3244195 - GASKET | 1123451 - HOSE A | 7E9067 - FLYWHEEL |
| 2588721 - BUTTON (1049270) | 3683051 - HOSE AS. | 4B5882 - GASKET |
| 2908160 - BULB-HID | 2287586 - PUMP GP-PS | 5P7602 - BEARING |
| 6L5363 - GASKET | 2G9909 - DISC A | 2401673 - PUMP GP |
| 8K3206 - HOSE A | 2W1141 - BEARING | 7F7783 - SPRING |
| 1T0762 - RACE | 4W0303 - CORE A | 1341382 - CYLINDER GP |
| 3V7075 - MOUNT | 3D7447 - HOSE A | 7T4957 - STARTING MOTOR |
| 2P6463 - GASKET KIT | 0551260 - HOUSING | 8T4133 - NUT |
| 2162228 - HOSE AS | 3492885 - GASKET KIT | 7G6945 - SPRING |
| 1072473 - PUMP A WAT | 6I2570 - CLEANER G | 8T2456 - GASKET KIT |
| 2W7779 - HOSE A | 2260454 - GASKET KIT | 2176157 - CONNECTOR |
| 9C8634 - PIN | 9N3079 - SPACER | 6V9027 - SEAL-O-RING |
| 4405104 - SEAL | 2023097 - HOSE AS. | 7E6844 - SEAL GROUP |
| 1661490 - SHIM | 6V9915 - GASKET KIT | 2525163 - HOOD |
| 8G6192 - HOSE AS. | 1W4476 - HOSE | 5T4400 - HOSE A |
| 3P1170 - GASKET KIT | 4F1726 - BEARING STD | 5D6765 - 5S8233 |
| 155498 - HOSE A | 102639 - PLOW NUT 5/8 | 546592 - SEAL ASSY. |
| 4T8989 - SHANK A | 1P8276 - GASKET KIT | 6V0340 - GASKET KIT |
| 6V4723 - GASKET KIT | 0775068 - BEARING, CON | 1879683 - PUMP |
| 3190847 - GASKET KIT | 3T9561 - GLOW PLUG | 3157668 - MOTOR STARTE |
| 1417143 - HOSE-ELBOW | 7T1634 - CUTTING EDGE | 9S0128 - COUPLING AS- |
| 4536502 - PMP-WTR-CL | 7K2089 - BOLT | 4D5147 - 8S8907 |
| 0773935 - O-RING | 7K0555 - HOSE A | 8T6284 - BEARING |
| 6J2245 - SEAL O RING | 7R5055 - RING RET | 2W3379 - GAGE A |
| 1261805 - ELEMENT | 1796862 - SEAL KIT | 2J5262 - DISC |
| 3029896 - PUMP AS-VAC | 1U1738 - RING-BACKUP | 1644550 - GASKET KIT |
| 4N4178 - PLATE | 2882541 - KIT-DRIVE TR | 9D5459 - HOSE A |
| 7W3895 - CAP A | 7M6955 - GASKET | 4U5101 - HOSE ASSY |
| 9C2414 - HOSE A | 1977008 - DOWEL | 1W9460 - RING (1365203) |
| 5P1480 - SEAL-O-RING | 6N1226 - ROTOR AS | 5D5113 - 7S0313 |
| 1512941 - CRANKSHAFT A | 9M4874 - ENGINE BEARING | 4151901 - GASKET-K-CLA |
| 4413488 - HOSE A | 5I8111 - GASKET | 2395416 - GASKET KIT |
| 3148535 - RETAINER-CLA | 2489805 - HOSE AS. | 4Q1478 - HOSE A |
| 0813780 - SNAP RING | 8W3185 - HOSE A | 3059167 - KIT-GASKET |
| 4F5290 - O RING | 7I5410 - HOSE AS | 7D5751 - HOSE AS |
| 1U3142 - BOOT | 5J6929 - BIT (4T6671) | 2976845 - KIT-SEAL-H.C |
| 3210980 - SHOE TRACK | 3002587 - RETAINER-CLA | 951717 - O-RING |
| 3332056 - TREAD | 0776245 - BEARING, NEE | 1782982 - GASKET KIT |
| 8M1467 - PIN | 4P4307 - BRACKET | 1389402 - MOTOR G |
| 8W4057 - HOSE A | 1363105 - HOSE AS | 2P9107 - HOSE A |
| 1087163 - HOSE AS | 0773677 - NUT HEX JAM | 1M3506 - RING |
| 6F7036 - BOLT | 7N5985 - SWITCH A | 9S0671 - XT3 HOSE HYD |
| 9D7199 - HOSE A | 5P1997 - GASKET | 6K5525 - HOSE A |
| 1096379 - HARNESS AS | 4E4421 - HOSE A | 2Y9286 - NUT |
| 3G1269 - CARTRIDGE G (9T2200) | 2455114 - HOSE AS. | 2418925 - SEAL KIT |
| 6J3575 - SEAL | 1057360 - RING | 6N6654 - BELT |
| 1803907 - SEAL-INTEGRA | 7T0969 - HORN A | 1188682 - ADAPTER |
| 3537494 - PUMP GP-PS-B | 4674246 - KIT-GASKET | 7K3893 - CUTTING EDGE |
| 1642481 - HOSE AS | 2101568 - HOSE AS | 2S0736 - WASHER |
| 7D6094 - HOSE A | 2037988 - HOSE AS. | 1295348 - PUMP GP |
| 4Q0344 - HOSE AS XT5 | 6V9633 - GASKET | 8U4504 - HOSE A |
| 6D6116 - CAP | 2450602 - SEAL KIT | 2V5007 - HOSE A |
| 2C1865 - SEAL O RING | 8K6358 - PIN | 9P0604 - SPIDER ASS'Y |
| 4P9828 - BEARING | 4D2305 - RETAINER | 8R1446 - New Rebuilt - ROLLOUT |
| 2903913 - TUBE FUEL-IN | 6T9867 - ROLLER G | 6S8229 - HOSE A |
| 6V3768 - GASKET KIT | 1949457 - PULLEY-CRANK | 4342471 - KIT GASKET |
| 3996059 - BRG-BALL-CLA | 6V8781 - TEE | 8X9144 - HOSE A |
| 7R8734 - HOSE AS. | 1136030 - PANEL AS | 5J4493 - CAP |
| 4U5236 - HOSE ASSEMBL | 7W7082 - SPRING OUTER | 1031381 - HOSE A |
| 7F5324 - CONE-DOUBLE | 8E5707 - PLATE | 9W9606 - IDLER GP-TRA |
| 1666519 - HOSE AS | 4M9117 - GASKET | 9R7011 - PIN |
| 2N7517 - BOLT | 2048393 - HOSE AS | 5I5180 - WASHER |
| 3164416 - GASKET KIT | 2433883 - PUMP GP-GR-B | 2G2556 - HOSE A |
| 1428596 - GASKET KIT (1471900) | 1A2935 - SCREW | 6U5249 - HOSE ASSEM 1 |
| 0874532 - HOSE A | 6I0363 - BOLT | 4U0760 - HOSE ASSEM 1 |
| 2167853 - PINION | 7I1375 - 7I1374 | 6P8054 - SPACER |
| 7S8573 - O RING | 7S0241 - HOSE A | 5D9216 - 5S8811 |
| 8X0460 - HOSE A | 6N7502 - GASKET | 7R0098 - O RING |
| 7U5940 - HOSE AS | 5M7629 - BUSHING | 6D0692 - SEAL O RING |
| 9M2045 - PINION | 2560623 - WHEEL-BLOWER | 1335044 - CROWN-PISTON |
| 0791085 - BEARING LOCK | 1S1187 - BELT SET | 5I4476 - PLATE |
| 3777416 - STAT-CON-CLA | 6T6657 - HOSE A | 774022 - O RING |
| 0780152 - BEARING | 0819306 - VALVE BRTHR | 2399773 - HOSE AS. |
| 2K8257 - SEAL | 5H2730 - GASKET | 1177605 - HOSE AS |
| 1601835 - PUMP GP-GR 3 | 7S0953 - HOSE A | 2C0464 - GASKET |
| 1688497 - HOSE A | 4346109 - PUMP-WTR-C | 2P3425 - PINION |
| 6V4661 - STEM A | 7T7305 - PLATE | 1516421 - HOSE AS |
| 7D8018 - HOSE A | 2536555 - HOSE AS. | 8T6684 - ELBOW |
| 2G0617 - CLAMP | 3095089 - HOSE AS. | 6K1935 - HOSE A |
| 2147566 - SEAL-O-RING | 4M2571 - RING | 1048598 - HOSE A |
| 8T6847 - GASKET KIT | 9W3981 - HOSE AS | 1074605 - GLASS |
| 0785416 - O'RING | 7C4204 - TURBO G | 2214939 - HOSE AS |
| 4659287 - BOLT - 320 EXC 20X1.5X59 | 8W9948 - HOSE A | 9S9399 - ROLLER G.SF |
| 7D0035 - PLATE | 1436511 - PISTON | 1141485 - HOUSING |
| 0R1307 - ROD AS-REM | 4T2991 - CUTTING EDGE | 1303082 - HOSE AS |
| 4B6074 - NUT | 8E2087 - EDGE | 5S4047 - GASKET KIT |
| 8J1039 - HOSE A | 2G1084 - DISC | 0303194 - HOSE A |
| 8P4520 - PISTON (8S9005) | 1U1458 - PIN | 0919120 - HOSE A |
| 8T7276 - SEAL-FACE | 2020305 - HOSE AS | 2011238 - PIN-GET |
| 515144 - GROUP-HYDRAULIC KIT | 0813352 - WASHER | 1437983 - SEAL KIT |
| 9C1399 - HOSE AS | 6V8062 - GASKET KIT | 2344800 - GASKET |
| 2L5893 - PIN | 4E8505 - IDLER GP-CLA | 2999089 - HOSE AS. |
| 5S5811 - GASKET KIT | 8S4732 - BOLT | 1134584 - HOSE AS |
| 9W4581 - HOSE A | 4H9712 - GASKET | 6T9693 - SEAL-O-RING |
| 2929952 - MOTOR GP-HYD | 2746717 - SENSOR | 1953641 - HOSE AS. |
| 9C1398 - HOSE AS | 3N4514 - HOSE A | 4I0772 - HOSE A |
| 990649L - REPAIR LINK | 2V0486 - HOSE A | 2665358 - PLATE |
| 3S6886 - GASKET | 5H9165 - SHAFT | 9Y4468 - FILTER AS |
| 1470709 - CYLINDER GP | 2610888 - MANIFOLD-CLA | 8T4154 - BOLT (7X2537) |
| 1132050 - GASKET | 1075002 - CAGE | 4N9530 - CARTRIDGE AS |
| 6G1122 - HOSE A | 1864180 - SEAL KIT-LUB | 5R7137 - WASHER |
| 1048857 - HOSE AS XT | 2455079 - HOSE AS | 8T7547 - BOLT |
| 6V9872 - CONNECTOR AS | 7R7418 - HOSE A (1454060) | 8C5248 - CAP |
| 6W7758 - HOSE AS | 5P1098 - GASKET KIT | 9D5458 - HOSE A |
| 5T9520 - HOSE A | 8G0409 - HOSE A | 2072947 - PUMP GP-PS-B |
| 1445694 - RING-PISTON | 9J3745 - HOSE A | 9S6911 - RING |
| 6V1880 - GASKET KIT | 3498854 - MANIFOLD | 7M1308 - BEARING |
| 4I5933 - HOSE AS | 8T8178 - SEAL-O-RING | 5P8025 - COTTER PIN |
| 1554586 - HOSE AS | 3V6904 - WASHER | 7H9600 - INDICATOR |
| 3465689 - SHAFT-CLA | 4M4493 - BEARING | 1235511 - 117-5550 |
| 7P2493 - SHOE | 8M0934 - BELT SET | 7S9566 - SHOE |
| 0682157 - TERMINAL A | 5W6852 - HOSE A | 784969 - BOLT |
| 1774142 - HOSE AS. | 6T0720 - SHAFT | 0953393 - BUSHING |
| 7C0577 - GASKET | 5Y1295 - HOSE A | 6P7772 - RING-SEAL |
| 1894710 - ROTATING GP | 3G3352 - ADAPTER | 2063927 - MOTOR GP |
| 1538455 - GASKET | 2S1238 - TUBE | 5E0517 - BEARING |
| 1066876 - PIN | 2G1450 - HOSE A | 5S9612 - GASKET |
| 1S7462 - SEAL | 2208161 - TRACK RUBBER | 7Y1166 - HOSE |
| 3024181 - BUSH | 6I2123 - GASKET | 3696067 - HOSE AS. |
| 2214761 - HOSE AS | 3V2051 - HOSE A | 2844010 - KIT-GASKET-A |
| 2N4080 - SEAL GROUP | 8W9963 - HOSE A (8W4015) | 1T0231 - RETAINER |
| 2J6050 - WASHER | 2764300 - HARNESS | 2238082 - GASKET KIT |
| 0915228 - BOLT | 2430359 - SHOE-CLASSIC | 4T5495 - BALL STUD |
| 2T2102 - HOSE A | 1Q5185 - HOSE AS | 5H5241 - SEAL |