Caterpillar 963D Loader parts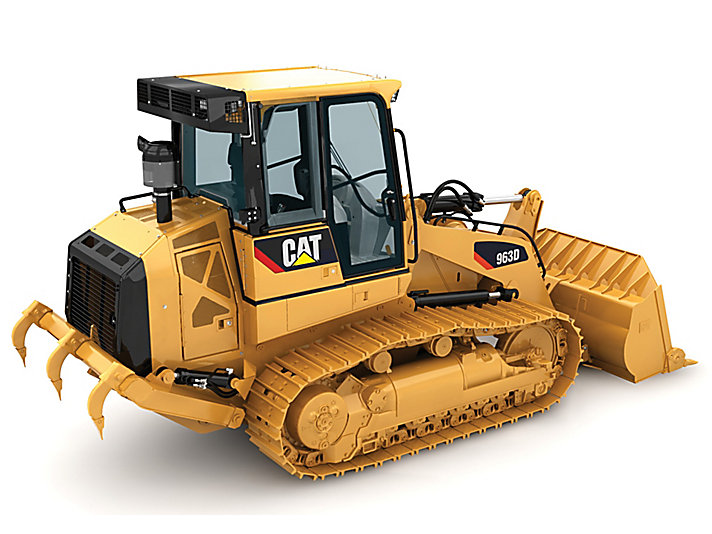 Here is some more information about Caterpillar 963D Loader:
ENGINE
Power 141.0 kg/mm
Engine Model Cat C6.6 ACERT
Net Power - ISO 9249 141.0 kg/mm
Net Power - SAE J1349 141.0 kg/mm
Net Power - EEC 80/1269 141.0 kg/mm
Bore 105.0 mm
Stroke 127.0 mm
Displacement 6.6 l

WEIGHTS
Operating Weight 20220.0 kg

If you send us your request, we will make you an offer for original and Aftermarket Caterpillar parts for your Caterpillar 963D Loader.
Caterpillar 963D Loader - it is a big machine. But even such machine sometimes needs maintenance.
Our online parts store give you an access to more than 1 000 000 Caterpillar parts that we have in our inventory.
Below is a small list of Caterpillar parts for this equipment. However, if you are interested in something - please use the site search.
| | | |
| --- | --- | --- |
| 2G8760 - SEAL O RING | 1T1505 - SHAFT | 4Q5452 - SWITCH AS |
| 2470619 - HARDWARE KT | 2985625 - CONTROL GP | 9P1382 - HOSE A |
| 10R6269 - MOTOR GP HYD | 9L6653 - VEE BELT | 8Y8356 - HOSE A |
| 2Q1917 - HOSE AS | 9V6661 - HOSE A | 0821906 - BOLT |
| 2049204 - HOSE AS. | 7E6006 - PUMP GP | 1341366 - HOSE AS. |
| 1P1109 - CARTRIDGE A | 6G3535 - BALLSTUD | 3G2390 - HOSE A |
| 4B0977 - PLATE A | 7P9872 - GEAR | 2953354 - COUPLING |
| 1408506 - HOSE AS | 9W6191 - PLATE A (1663544) | 3D2236 - SPROCKET A |
| 1408718 - WASHER | 3V4046 - PLATE | 3153379 - PUMP AS-WATE |
| 0773429 - ROD - END | 2276056 - SHAFT | 2019299 - SERVICE KIT |
| 7I5405 - HOSE AS | 1541943 - RING | 8W1749 - PLATE |
| 7D4196 - HOSE A | 8M7454 - WASHER | 7R3473 - O RING |
| 0032771 - CUP | 1258175 - BLADE AS | 119527 - HOSE A |
| 7N5080 - GASKET | 2T1389 - HOSE A | 7R8908 - SCREW |
| 2P2333 - SEALER | 1732517 - GASKET KIT | 1184176 - CYL GP-0140 |
| 1D4706 - CAPSCREW | 7W1890 - ELBOW | 9C7153 - HOSE AS. |
| 3F7147 - BOLT | 1W9519 - MUFFLER | 4T2863 - CUTTING EDGE |
| 0955477 - O-RING IC-20 | 8T0669 - BOLT | 3K2511 - PIN |
| 3E7473 - GASKET KIT | 7D0274 - SHIELD | 3010RWN - NOSE W/O RH |
| 0777636 - SEAL | 8N2021 - HOSE | 8X1372 - HOSE A |
| 1428128 - GASKET KIT | 1785500 - NOZZLE | 1B7482 - BOLT |
| 1294481 - GASKET KIT | 3E5449 - SOLENOID | 3T3133 - SWITCH |
| 0358066 - BOLT | 6V9710 - GASKET KIT | 2344583 - SEAL AS |
| 4T6929 - RING | 5G8697 - HOSE A | 0974592 - HOSE A |
| 7E4793 - HOSE AS | 4W5700 - BEARING | 2354172 - HOSE AS |
| 1414055 - BRG SLEEVE | 2019672 - HOSE AS. | 1456744 - CROWN AS |
| 1709941 - SEAL KIT | 9W5807 - CUTTING EDGE | 1136065 - GASKET OIL P |
| 4S8899 - INSERT-VALVE | 1116013 - HOSE A | 6G7803 - VENT A |
| 6V4554 - GASKET KIT | 2899674 - RIM TCK CLA | 2900543 - GASKET KIT |
| 1G7837 - HOSE A | 0990219 - SPROCKET | 2493958 - MOTOR GP |
| 1106979 - TURBOCHARGER | 8W5640 - HOSE A | 2357132 - ALTERNATOR |
| 9L6892 - COLLAR | 6V3579 - BEARING-CUP | 7D4219 - HOSE A |
| 1U4925 - BIT END | 1R5931 - HOSE | 8S9288 - HOSE A |
| 7X2639 - SEAL KIT | 1982796 - HOSE AS | 7Y5694 - 7Y6081 |
| 2S7527 - FLANGE | 1366085 - GASKET KIT | 9R0411 - BEARING SLEEVE |
| 1315496 - GASKET | 4N4441 - TURBO G | 0981223 - O-RING |
| 9W3940 - GEAR | 5D1071 - SEAL | 1797866 - HOSE AS |
| 0307939 - PLUG | 0985779 - HOSE A | 8T8407 - SEAL |
| 1296620 - HOSE AS | 5T5299 - HOSE A | 1041694 - HOSE A |
| 9D6267 - HOSE A | 3680122 - PLT-CLCH-CLA | 1087675 - HOSE A |
| 1600083 - MOTOR | 7J7320 - SEAL | 4W5287 - TURBO G |
| 7L5306 - GASKET | 0982487 - BRG-CONE | 8N3969 - GASKET |
| 4206533 - RACE-OTR-C | 8T6444 - SEAL | 1865147 - RING-WEAR |
| 1V4271 - HOSE A | 1094793 - SEAL | 6N0674 - GAUGE |
| 5U9911 - HOSE ASSEM 1 | 0534833 - HOSE A | 1381184 - HOSE AS |
| 7M4844 - LOCK | 1432849 - FILTER | 8X4164 - HOSE A |
| 3J3918 - SEAL O RING | 7S2335 - HOSE A | 7T5159 - GUARD |
| 8J4391 - RING | 2410110 - SEAL KIT | 2451361 - COOLER AS-OI |
| 6V5479 - KIT GASKET | 5C9553 - BOLT | 1887513 - SENSOR GP |
| 2048321 - HOSE AS | 3014681 - GEAR-CLASSIC | 1M7390 - LOCK |
| 1946054 - SPACER | 8V1345 - HOSE A | 1192166 - CORE AS |
| 2069498 - SEAL KIT | 7X9490 - BOLT | 6Y1781 - ROLLER GP-CA |
| 2591857 - GUARD | 0964897 - WASHER | 8U1377 - RING |
| 6Y8043 - PLATE | 1097287 - ELEMENT | 2S1212 - BUSHING |
| 7G0858 - PLATE | 1054741 - PIN | 1132907 - IDLER G |
| 4D0866 - OIL SEAL | 2149086 - PIVOT SHAFT | 4I5709 - HOSE A |
| 7G7616 - HUB | 2G6780 - SHAFT | 1441232 - HOSE A |
| 3235925 - ROLLER GP-SF | 6I3996 - GASKET | 0915124 - HOSE A |
| 1362445 - RING-BACK UP | 1653928 - BOLT-HEX HEA | 5H2912 - GASKET |
| 1332964 - CYLINDER GP | 2266001 - SHAFT-CLASSI (1P6266) | 2365671 - GRAPPLE HOLDERS |
| 993611 - WASHER 5/16 | 8X2561 - STUD | 3T9658 - BEARING |
| 4D3907 - SHIM | 4I1755 - 4I1754 | 2778995 - SEAL-LIP TYP (1M3003) |
| 2602390 - PIN AS | 1353892 - SEAL KIT | 3E5400 - CONTROL G |
| 2360772 - HOSE AS. | 2P0266 - PAD | 1186232 - HOSE AS RH |
| 2624913 - ACTUATOR AS. | 2473291 - CHMBR AS-CLA | 7G7014 - FLANGE |
| 7368691 - NUT - TRACK D9L/D9N | 1856517 - HOSE AS. | 161286 - HOSE A |
| 8E8411 - SHANK AS.-RI | 9R2435 - SPACER | 3117404 - PUMP GP-2PS |
| 5A6495 - MOTOR A. | 8S9321 - HOSE A | 2712708 - VALVE |
| 7C5335 - INSERT-VALVE | 5W5800 - New Rebuilt - PUMP | 4I4814 - PIN |
| 1250418 - SEAL-O-RING | 9D6051 - HOSE A | 9X6431 - GASKET KIT |
| 5P4823 - GASKET KIT | 8W1768 - HOSE A | 3K8421 - PIN |
| 1W2081 - Turbocharger TW9102 465456-5003 | 2674139 - HOSE AS. | 105496H - BEARING (1T0299) |
| 7K0079 - PIN | 5P2305 - RACE | 6D4244 - CLIP |
| 1196371 - HOSE A | 5T3706 - HOSE A | 5V4687 - HOSE A |
| 1021674 - HOSE A | 9V0755 - HOSE A | 5A8173 - BOLT |
| 6U7807 - HOSE A | 8V7387 - HOSE A | 2236813 - HOSE AS |
| 6N0723 - GAUGE | 4P9942 - SEAL END TNK | 1838172 - GUIDE |
| 2201510 - HOUSING AS-R | 1173356 - BAR AS | 7N1628 - BOLT |
| 2177385 - GEAR - PLANE | 2P7575 - HOSE A | 9L5520 - MANIFOLD |
| 1612109 - HOSE AS | 1S7056 - BEARING | 7M1674 - ELEMENT |
| 7I5409 - HOSE AS | 3748339 - BRG-ALIN-CLA | 2005717 - METER AS |
| 4I7467 - GEAR | 2236737 - HOSE AS | 1048948 - 104-8947 |
| 8J1665 - SEAL O RING | 8I1040 - HOSE AS | 3119254 - HOSE AS. |
| 9J5468 - SEAL | 1958404 - NUT | 7I7728 - CARRIER |
| 4F6534 - GEAR | 1077520 - HOSE AS | 3P3676 - CLAMP |
| 3933254 - MECHANICAL FUEL | 3128338 - CORE AS-OIL | 8H8376 - GASKET |
| 2704361 - VALVE-EX-CLA | 5W5081 - RING-RETAINI | 1031760 - HOSE A |
| 8T8143 - RING | 6V1182 - GASKET KIT | 8M3137 - PUMP A |
| 1702498 - 8T4196 | 2664362 - GASKET KIT | 2590849 - CYL GRP |
| 7S0222 - HOSE A | 8050179 - H-LINK, BUCKET | 5L4940 - GASKET |
| 2M6449 - SEAL | 7G8434 - New Rebuilt - TORQUE CONV | 0112724 - LOCKWASHER 9/16 |
| 3696068 - HOSE AS. | 7M4715 - BELT SET | 4I1762 - 4I1760 |
| 7D0026 - PIN | 4L8165 - BREATHER A | 3056223 - KIT-GASKET-T |
| 5S5507 - HOSE A | 6K4717 - BEARING | 5W5738 - GEAR |
| 1358736 - SEAL KIT-STD | 1210781 - GASKET KIT | 2011519 - GASKET KIT |
| 5D0244 - BEARING-SLEEVE | 9G0280 - PISTON-CLUTCH | 8L3282 - ADAPTER |
| 2497013 - PUMP GP | 7X0587 - WASHER | 2368391 - STICK |
| 2622212 - COVER | 4T3133 - ELEMENT | 6Y2549 - HOSE A |
| 2081545 - HOSE AS. | 9F8580-010 - ENGINE BEARING | 2237453 - HOSE |
| 2G1394 - HOSE A | 9P7039 - RING-SEAL | 9C3408 - KNOB |
| 7C0260 - RING-PISTON | 4H6371 - STRIP | 3508601 - TRANSMISSION |
| 1160234 - CABLE | 4551900 - KIT GASKET | 2352476 - SEAL-O-RING |
| 7N6602 - BELT SET | 9D6585 - SEAL | 7T1889 - ELEMENT |
| 1058882 - MOTOR GP | 4I1411 - 4I1410 | 3399833 - PIN AS (1386679) |
| 0940618 - SPROCKET,DRI (0957412) | 0772860 - BEARING | 4D1633 - HOSE A |
| 3J6497 - SCREW | 7N9695 - BRACKET | 3T2747 - RETAINER |
| 1051437 - RETAINER | 4P2656 - RING-PISTON | 8K0589 - DOWEL |
| 4M8303 - SEAL O RING | 8P1916 - GEAR | 1085030 - HOSE A |
| 7V6658 - HOSE A | 3J2464 - END BIT | 1458459 - PLATE RETRAC |
| 6K9070 - WASHER | 0874938 - HOSE AS | 4424953 - BUSHING |
| 9T9460 - PLATE | 8P0422 - SEAL A | 6V6421 - GASKET KIT |
| 8B6511 - CUP | 9S8001 - PLUG | 1741505 - MOTOR AS-27 (2831152) |
| 4186781 - STUD TAPER | 951708 - SEAL O RING | 0950609 - BOLT |
| 6Y0054 - HOSE A | 2S1185 - RING | 6N6597 - GASKET |
| 2M0378 - HOSE A | 4I7680 - 4I7678 | 1252937 - GASKET |
| 8N9104 - PLATE | 1211605 - SEAL KIT | 1176072 - HOSE AS |
| 2G0162 - HOSE A | 5U7938 - HOSE ASSEM 1 | 3V3492 - HOSE A |
| 3L8187 - LOCK WASHER | 5L7819 - GASKET | 3E3338 - KIT GASKET |
| 8E3466 - ADAPTER | 7W3202 - CRANKSHAFT SEAL GP | 8T5479 - HOSE A |
| 1533962 - SENSOR GP-PR | 3118107 - MOTOR GP-STG | 6C4399 - HOSE A |
| 0069969 - ADHESIVE | 1303139 - BRG-SLEEVE | 5T9908 - HOSE A |
| 2113583 - HOSE AS. | 3643927 - UNDERCARRIAGE LH | 3454731 - LINER GP CAB |
| 1516967 - HOSE AS | 1897915 - HOSE AS. | 1323443 - GASKET KIT |
| 1055180 - BIT AS | 3V7368 - HOSE A | 4197255 - BRG-CON-CL |
| 9W8116 - SEAL AS | 1198114 - PUMP G | 7E7381 - HOSE AS |
| 2662540 - GASKET KIT | 0019677 - RING | 1209431 - HOSE |
| 5P9322 - GASKET KIT | 1434308 - HOSE A | 1255361 - HOSE AS |
| 2656975 - HOSE AS. | 2478876 - CYLINDER AS | 8J6314 - CUP AS |
| 4309695 - SHAFT | 4M7022 - RING | 8J3879 - SEAL |
| 1B6577 - BEARING-CONE | 0899095 - BEARING | 1358994 - HOSE A |
| 1141157 - SPACER | 4I3615 - RING BACKUP | 0966114 - RECEPTACLE |
| 7S2576 - HOSE A | 4F1725-020 - ENGINE BEARING | 1726050 - BEARING NDL |
| 1067128 - BEARING | 2109097 - WATER PUMP | 4N0350 - GEAR |
| 8R7190 - HOSE A | 4V8217 - TUBE AS | 4N4101 - EXTENSION G |
| 4533432 - BOLT-HEX H | 1771633 - HOSE AS. | 2260556 - HOSE AS |
| 5W4872 - SEAL | 0963992 - PLATE VALVE | 4D6433 - WASHER |
| 7X2563 - BOLT | 1452888 - VALVE | 2Y7375 - MUFFLER |
| 1164825 - BEARING | 0529154 - GROUP-HYDRAULIC KIT | 6V9230 - GASKET KIT |
| 9G6427 - BOLT | 8X7873 - PINION | 4T3044 - END BIT |
| 2Y4215 - GASKET | 130378 - HOSE A | 1126055 - V-BELT |
| 0385824 - HOSE A | 6N9237 - CORE A OIL C (4W5550) | 1294296 - BEARING-SLEEVE |
| 1793276 - HOSE AS | 3F1535 - WASHER | 3T8333 - HOSE A |
| 4E0719 - HOSE A | 8S6621 - HOSE A | 4T6592 - CUTTING EDGE |
| 1158066 - HOSE A | 8X4373 - HOSE A | 2T1627 - HOSE A |
| 7V7004 - HOSE A | 676757 - AMMETER | 2126215 - TORQUE CONVERTER |
| 0957526 - O-RING | 0930155 - BOLT | 6V6428 - KIT GASKET |
| 7N8063 - ELBOW | 9C1250 - HOSE A | 2114443 - GEAR-PLANET |
| 9N1370 - BEARING CONN | 5S9227 - HOSE A | 1808992 - COUNTERWEIGHT |
| 6B4978 - COLLAR | 1882412 - HOSE AS. | 2U2461 - BOLT HEX HD |
| 4489153 - SFT-DRV-CL | 9X7715 - SEAL LOBED | 2310898 - SEAL KIT |
| 8W4711 - HOSE A | 2941744 - PISTON | 9S7418 - HOSE A |
| 8S8270 - HOSE A | 0774370 - O-RING | 2777122 - HOSE AS |
| 2802710 - BREAKER AS | 3181472 - CONTROL GRP | 9T1080 - PUMP AS |
| 6B6682 - NUT | 7K0525 - HOSE A | 7T8194 - CABLE A |
| 1178885 - NUT | 9Y9893 - GASKET | 7S8311 - BEARING A |
| 9R3933 - PIN | 6L1694 - GASKET | 7S0186 - HOSE A 4S063 |
| 3148531 - LINER-CLA | 8E6930 - GASKET | 4P4927 - HOSE AS |
| 9R0237 - PIN | 3747495 - PLT-BLCK-CLA | 6V4768 - GASKET KIT |
| 5T8702 - HOSE A | 5L1831 - GASKET | 4E1174 - SHAFT |
| 1979581 - PULLEY | 6V3781 - GASKET KIT | 7C1240 - GASKET |
| 6V1668 - WASHER | 1319616 - HOSE AS. | 6T0960 - PAD |
| 4K6297 - ELBOW | 3V2754 - HOSE A | 6K9714 - HOSE A |
| 9W4662 - DISC | 8S6417 - COUPLING AS | 7R0892 - BEARING |
| 2742638 - MOTOR GP-PSF | 5F3715 - NUT | 2307133 - PUMP GP-GR B |
| 3263095 - GASKET KIT | 7W4408 - RING-OIL | 3763630 - BRG-HLF-CLA |
| 3853995 - | 2937547 - PIN | 1P8283 - GASKET KIT |
| 7I1304 - HOSE AS. | 3S0336 - BOLT | 1G4764 - HOSE A |
| 5V4129 - HOSE A | 8X0465 - JOINT GRP | 7M7476 - BELT SET |
| 1259856 - SEAT | 2220105 - ROTATING GP (0874780) | 6V2251 - GASKET KIT |
| 0R3670 - CYL HEAD A | 9D8292 - HOSE A | 3P0796 - PLATE |
| 7S0256 - HOSE A | 7R7406 - HOSE A | 0951683 - O-RING |
| 366775 - V- BELT (1 PC) | 8C8722 - NUT | 2462334 - HOSE AS. |
| 6E6168 - SEAL | 5T7899 - HOSE A | 506106 - SEAL KIT HYDRAULIC CYLINDER |
| 5P5067 - RACE | 4D9849 - 7S0325 | 1545410 - ARM A |
| 1342679 - BOGIE AS | 2W9162 - BREATHER A | 2391123 - HOSE AS. |
| 5G0682 - HOSE A | 7G0661 - WHEEL | 0776840 - CONE BRG |
| 9J9960 - PLATE WEAR | 1376717 - SPRING | 1140753 - BEARING-SLEEVE |
| 8T6912 - BOLT | 4T5452 - TIP | 7V5350 - TUBE AS |
| 5N6063 - HOSE A | 3P2235 - NIPPLE | 8W0148 - HOSE AS |
| 9L2532 - GASKET | 8E0040 - HOSE AS | 2601528 - BELT |
| 3P7084 - TUBE | 1092675 - EDGE SEGMENT | 7T9542 - GEAR |
| 1695592 - GEAR-PLANET | 4E5369 - HOSE A | 9R2144 - HOSE AS |
| 1L6716 - BEARING | 0964402 - BUSHING | 1885614 - TRACK SHOE (8S0387) |
| 7G6447 - SHOE-TRACK | 1130427 - HOSE A | 8T4938 - SEAL KIT |
| 3555669 - MOTOR GP-PIS | 6E2926 - New Rebuilt - VALVE | 1171601 - HOSE AS |
| 1026470 - FINAL DR G | 5S6297 - SEAL A | 2454630 - SENSOR GP-SP (1097193) |
| 6N8952 - PUMP G | 8X6532 - HOSE AS | 8M5599 - KEY |
| 3831593 - ORFC-SCR-CLA | 2856124 - WASHER-HARD | 3005890 - HOSE AS. |
| 3F5751 - SHAFT | 3207335 - CARRIER-WHEE | 5G2958 - HOSE A |
| 0774468 - O-RING | 9C2088 - HOSE A | 8T7193 - SEAL |
| 6G8018 - VALVE G | 2J5513 - DISC A | 1252942 - PISTON |
| 0687366 - HOSE A | 3833703 - SFT-FTP-CLA | 1P4792 - GASKET KIT |
| 3543826 - HOSE AS. | 1750305 - HOSE AS. | 8I0179 - BAR NOSE |
| 1129919 - HOSE | 8E7448 - GEAR | 8J1657 - CYLINDER A |
| 5E8173 - BOLT HEX HD | 2491072 - HOSE AS. | 3457551 - KIT DT GASKE |
| 1895383 - SEAL KIT | 6V9199 - BOLT | 2404608 - HOSE AS. |
| 0525153 - GROUP-HYDRAULIC KIT | 9D6521 - ROD | 8X5036 - HOSE A |
| 0R4315 - MOTOR GP | 1136870 - 113-6869 | 961043 - TRACK BOLT 5/8X2-3/32 |
| 3466615 - BODY AS-PIST | 5R8308 - HOSE A | 2945402 - BOLT |
| 1598127 - BRACKET AS. | 3V2042 - HUB | 9D3377 - HOSE A |
| 8M5388 - ELEMENT A-F | 3N4363 - CORE A AFTCL | 1F6477 - BUSHING |
| 8S8189 - HOSE A | 625300 - PLOW BOLT 5/8 X 3 | 1972137 - HOSE AS |
| 5S7877 - BEARING-BALL | 1895346 - HOSE AS. | 6N6424 - WATER PUMP |
| 1354690 - ROD AS | 7W2508 - KIT-BEARING | 3657664 - HOUSING |
| 1P0035 - TURBO GP. | 1078017 - HOSE A | 2P9489 - SEAL ASSY - D8 LINKS |
| 8E7255 - GEAR RING | 2364667 - PUMP GP-2PS- | 3G4209 - END BIT |
| 5W1448 - RING-RETAIN | 1864459 - HOSE AS. | 4J2379 - BEARING |
| 2298344 - HOSE AS | 1N2936 - MUFFLER | 0801323 - NUT |
| 1876781 - HOSE AS (1434216) | 7W8621 - LINE AS | 5310305 - BOLT |
| 2870206 - MUFFLER | 3066875 - SENSOR GP-LE | 1984497 - HOSE AS. |
| 8X7657 - HOSE A | 2Y8625 - FUSE | 1048749 - HOSE A |
| 2272004 - HOSE AS. | 1217739 - PUMP AS | 7C3496 - PISTON AS |
| 1532410 - PANEL-SIDE | 1130454 - HOSE A | 1V9143 - BEARING SLEEVE |
| 0816606 - PLUG | 9X4276 - SWITCH A | 3524287 - BOLT-HEX HEA |
| 2012485 - PLUNGER KIT | 8E0399 - ROLLER G | 3G3000 - HOSE A |
| 4253656 - KIT GASKET | 7G4313 - TUBE AS | 6Y7652 - CUP |
| 2964290 - SHAFT | 4V1718 - SPACER | 3A2858 - DISC-FRICTION |
| 875506 - RING SEAL | 9U4876 - HOSE A | 1987806 - GREASE NIPPL |
| 1647179 - CYLINDER AS | 5T7027 - HOSE A | 7I7119 - HOSE AS |
| 2094242 - SCREW | 0874711 - LOCK NUT | 7C6975 - BRG MAIN |
| 2238109 - ADAPTER LH | 2F8001 - SHAFT | 9S9699 - INSERT |
| 7S0378 - HOSE A | 1311646 - CAP AS | 7K2738 - VALVE A |
| 4W5107 - MOTOR G | 5C4367 - HOSE A | 9W8865 - HOSE A |
| 8P7685 - GASKET | 2816593 - KIT-GASKET | 4T7638 - ROLLER A |
| 2022635 - HOSE AS | 2044037 - PLATE | 6N8316 - BEARING |
| 2852040 - BELT | 20R0074 - PUMP GP HYD | 1480899 - HOSE AS |
| 8W3968 - TUBE A | 2B0176 - HEAD AS | 3S9606 - AIR FILTER |
| 1973696 - SEAL LIP TYP | 5P0032 - GASKET KIT | 1V5374 - CASE ASSY. |
| 6W2407 - HOSE A | 0R4511 - HEAD GP | 1083426 - HOSE AS |
| 8E4435 - SHOE | 1154202 - GASKET | 2747395 - SENSOR GP. TEMP |
| 0R9510 - TURBO GP | 5P4135 - BOLT | 0R7848 - DAMPER GP |
| 9S5193 - BODY AS | 3017964 - LINK-CLASSIC | 9Y7895 - GUIDE-VALVE |
| 5D6231 - HUB | 0R4932 - PUMP GP | 1906432 - HOSE AS. |
| 9G4436 - HOSE A | 6K8026 - TUBE AS | 2276099 - GEAR GP-BRG |
| 1654854 - SEAL-O-RING | 9J9640 - TRUNNION | 2885125 - DRIVE GP |
| 1020519 - CYLINDER A | 5I7657 - GASKET | 1546402 - GASKET KIT |
| 1555234 - INDICATOR A | 7K4370 - BOLT | 7T9093 - BIT-END |
| 0875607 - HOSE AS | 9G8011 - SWITCH | 2828303 - HOSE AS. |
| 2804303 - PUMP GP-GEAR | 2274342 - BEARING-SLEE | 4T2923 - CUTTING EDGE |
| 1M7259 - GASKET | 2U0096 - SEAL DOWTY 3 | 8W0232 - HOSE A. |
| 2478747 - CYLINDER AS | 3252011 - PUMP | 6V5845 - BOLT |
| 1B8589 - LOCKWASHER | 5C4718 - HOSE A | 2408246 - HOSE AS |
| 2196584 - GASKET KIT | 1400500 - HOSE AS | 2214958 - HOSE AS |
| 2814781 - HOSE AS. (2653955) | 8T7935 - GASKET KIT | 1229227 - EDGE CUTTING |
| 1T1727 - IMPELLER | 0619051 - SEAL-O-RING | 64058VB - RUBBER TRACK (B |
| 8J7791 - PIN | 5W2930 - BOLT | 2069290 - SEAL-O-RING |
| 2U2774 - SCREW SKT HD | 1758035 - ROLLER G-SF | 0006448 - BEARING |
| 5V8921 - GEAR | 7X2699 - SEAL KIT | 1677489 - NOZZLE |
| 7W6223 - PUMP KIT | 3E3381 - RECEPTACLE A | 5S8349 - HOSE A |
| 7C1651 - GASKET | 2367799 - VALVE STEERING | 2334880 - PISTON AS |
| 3654846 - SEGMENT GRP RT9 | 4641331 - CLAMP-HOSE | 9W2390 - HOSE A |
| 2357774 - GUARD AS-TCK | 6V9893 - GASKET KIT | 1D4572 - CAPSCREW |
| 2221767 - SPACER-CLASS | 3B4990 - BOLT | 4Y1034 - PIN |
| 5V5661 - BEARING | 1636700 - SENDER AS | 1955476 - PIN AS |
| 0822653 - HOSE | 8X9937 - HOSE A | 5T9668 - HOSE A |
| 2418924 - SEAL KIT | 7C4019 - WHEEL | 0801176 - WASHER |
| 6G8268 - HOSE A | 8K6284 - SHAFT | 1M7249 - COVER |
| 7J9731 - BEARING | 1T1051 - IMPELLER | 1643615 - GASKET KIT |
| 1359002 - HOSE AS | 7W4782 - PLUNGER | 4N1292 - LOCK |
| 1439198 - HOSE AS | 0813022 - SCREW | 2706187 - GASKET |
| 2256909 - SEAL-O-RING | 6J6877 - TUBE AS | 2667974 - CYLINDER GP |
| 5K3929 - BEARING | 3047211 - KIT-GASKET-R | 8N7925 - ENGINE BEARING |
| 9J6583 - PIN | 7S0469 - HOSE A | 1096483 - HOSE A |
| 5B0935 - FITTING | 2354952 - PUMP AS | 4606029 - KIT GASKET |
| 9W2765 - SETSCREW | 2624914 - ACTUATOR AS. | 4D7781 - BEARING |
| 1653600 - PLUG-GLOW | 2095959 - SEAL KIT | 1M8651 - RING |
| 3139227 - HOSE AS. | 2900481 - HOSE AS | 8C5052 - GASKET KIT |
| 3S9949 - SPRING | 8T5590 - BEARING-CUP | 2645891 - PULLEY-CLA |
| 5E5740 - NUT-HEX CAP | 3147018 - PLATE | 4V8208 - HOSE A |
| 7G4856 - GEAR PUMP | 1300912 - COIL A | 0102570 - SCREW |
| 2557546 - Turbocharger GTB5518BS 757473-0003 | 3492346 - VALVE | 1734836 - HOSE AS |
| 9S2013 - KIT | 1884168 - PLATE-VALVE | 780308 - BIT ASSY-CUTTER BIT-PK70 |
| 1T1314 - SHAFT | 8F8804 - CAP SCREW | 7D2199 - SLEEVE |
| 957896 - RING RETAINING | 4S6667 - HOSE A | 1475589 - HOSE AS |
| 1997848 - HOSE AS | 9V2403 - YOKE | 6I9459 - TUBE A |
| 2308124 - LINK | 2163946 - GASKET KIT | 6N3170 - HOSE A |
| 2076157 - HOSE AS (1116918) | 4N0699 - GASKET | 9V8893 - HOSE A |
| 1423424 - GASKET KIT | 2520001 - HOSE AS. | 6N8014 - HEAD A-CYL |
| 5T3663 - HOSE A | 2434770 - GASKET KIT | 1484942 - HOSE AS |
| 2424275 - CYCL GP | 7E2631 - GASKET | 2750040 - VALVE GP-MDL |
| 7S1417 - HOSE A | 4D9559 - GASKET KIT | 0676050 - GUIDE |
| 2980540 - NUT | 3657416 - CYLINDER GP | 6D5601 - 6D4853 |
| 2991996 - CORE AS-CLAS | 8C8102 - BEARING | 7X2723 - KIT-SEAL-H.C |
| 6S0871 - HOSE A | 1107881 - SWITCH AS | 6U6072 - HOSE ASSEMBL |
| 8N5342 - ENGINE BEARING | 4V8203 - HOSE A | 3V3899 - HOSE A |
| 7E9195 - PUMP AS | 5P8550 - GEAR | 4D2143 - BEARING |
| 3P1035 - OVERHAUL GASKET SET | 4T9040 - HOSE A | 1768131 - SPACER (1652798) |
| 1927870 - BEARING-CONN | 1F4419 - GASKET | 5V1716 - SHAFT |
| 1346926 - HOSE AS | 2923790 - INJECTOR GP- | 0R0989 - INSERT |
| 1337082 - RING SET | 2394217 - BEARING | 1T0708 - STATOR |
| 1P5411 - SLEEVE | 2797153 - GASKET KIT | 3404402 - KIT-GASKET |
| 2D2443 - SEAL | 0375701 - HOSE A | 7Y1635 - ADJUST GP A |
| 2P8430 - CONNECTOR AS | 9N5307 - GASKET | 1389907 - SLEEVE |
| 5J8009 - SEAL | 0676006 - PLUG | 2892131 - CONE SPL TAP |
| 5M5689 - CLAMP | 1N4323 - ENGINE BEARING | 1548587 - FLAT GASKET |
| 3199972 - HOSE AS. | 5M5009 - IDLER A | 1114394 - HOSE AS |
| 5K5940 - SUPPORT | 8E4192 - SEAL GROUP | 3579776 - ROD AS |
| 9N0983 - LEVER A | 2078235 - PUMP GP-GR A | 5T2521 - HOSE A |
| 1065806 - MOTOR GP | 0676003 - BOLT | 1505185 - HOSE AS |
| 3V6260 - HOSE A | 1099214 - EDGE | 2405809 - HOSE AS. |