Caterpillar 980L Loader parts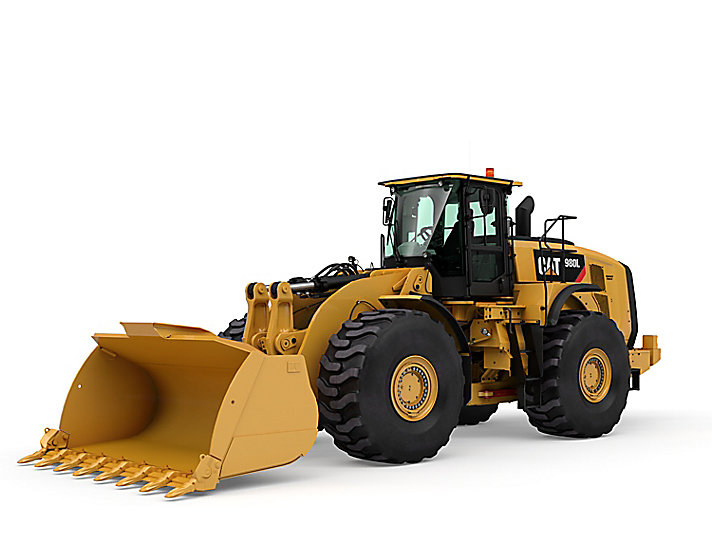 Here is some more information about Caterpillar 980L Loader:
ENGINE
Net Power - ISO 9249 278.0 kW
Engine Model Cat C13 ACERT
Displacement 12.5 l
Maximum Power - 1,800 rpm - ISO 14396 - Metric 303.0 kW
Maximum Net Power - 1,800 rpm - ISO 9249 - Metric 278.0 kW

WEIGHTS
Operating Weight 30090.0 kg
If you send us your request, we will make you an offer for original and Aftermarket Caterpillar parts for your Caterpillar 980L Loader.
Caterpillar 980L Loader - it is a big machine. But even such machine sometimes needs maintenance.
Our online parts store give you an access to more than 1 000 000 Caterpillar parts that we have in our inventory.
Below is a small list of Caterpillar parts for this equipment. However, if you are interested in something - please use the site search.
| | | |
| --- | --- | --- |
| 10R6036 - PUMP GP HYD | 0998321 - HOSE | 7S7379 - HOSE A |
| 951578 - O-RING | 6N7987 - LAMP AS | 4W7761 - LINE A (4W1281) |
| 1956025 - CARTRIDGE AS | 1864407 - SEAL KIT-STD (1017554) | 1153030 - CABLE A |
| 2S3931 - HOSE | 1979371 - PIN - PISTON | 4M1846 - PLATE |
| 5I7862 - GASKET | 8N6800 - PUMP G | 523159 - GROUP-HYDRAULIC KIT |
| 6J1500 - SEAL-U-CUP | 9P9000 - SHAFT | 9D1058 - SPRING |
| 5H0244 - GASKET | 2342826 - HOSE AS. | 0781702 - HEXAGON CAP |
| 1262043 - HEAD AS | 0983394 - O RING | 8J0177 - STUD |
| 1719297 - WASHER | 4198267 - KIT GASKET | 5I8545 - HOSE AS |
| 5D0394 - HOSE A | 1855431 - BOLT-TAPER | 0931483 - RING,BUFFER |
| 1369640 - LIFTER AS | 2G8738 - BEARING | 0868523 - LOCKWASHER |
| 1746127 - HOSE AS | 7I1204 - HOSE A | 1608499 - NUT-HEX |
| 8N2327 - SWITCH | 4P0601 - GASKET HEAD | 1428828 - CAP A |
| 2G3006 - HOSE A | 6V2502 - KIT GASKET | 9M2431T - MAIN BRG STD |
| 3G1893 - HOSE A | 1949998 - RADIATOR GP | 3149672 - HOSE |
| 1940106 - HOSE AS | 3C4423 - V BELT | 0676178 - WASHER |
| 8C5383 - GASKET KIT | 5D7069 - HOSE A | 9S7008 - SHAFT |
| 9W5722 - LINK-PIN END | 5D5897 - 5S9249 | 1279298 - HOSE A |
| 4T2949 - CUTTING EDGE | 4T2922 - EDGE CUTTING | 0958067 - O-RING |
| 4392696 - SEAL U CUP | 1021128 - 102-1127 | 0837935 - HOSE A |
| 2608079 - HOSE AS | 2224087 - HOSE AS (FOR | 1805079 - TUBE AS |
| 8Y9063 - BAND A | 3826889 - PLATE-CL-CLA | 2S3482 - GASKET KIT |
| 8R7337 - SLEEVE | 7M4925 - BUSHING PISTON PIN | 3211270 - TUBE-OIL |
| 3E8898 - GASKET KIT | 2607990 - HOSE AS. | 9R0863 - HOSE A |
| 8D1948 - YOKE A | 1992239 - FILTER AS-OI (1704472) | 1G4724 - HOSE A |
| 9C2635 - HOSE A | 9T2854 - CYLINDER G | 2153811 - HOSE AS |
| 1W6755 - COMPRESSOR | 2738316 - SEAL-O-RING | 1613007 - SHAFT |
| 8N1379 - Turbocharger 5MFW975 184633 | 1220456 - HOSE A | 1608166 - PLATE-THRUST |
| 9J8198 - PUMP AS | 1W8258 - SEAL | 9M6974 - GASKET |
| 3044COG - GASKET, O/H SET, 3044C/D | 2166591 - HOSE AS | 3E7410 - TEE |
| 6I6465 - ADAPTER (1590465) | 2751818 - HOSE AS | 4B5171 - SEAL |
| 8D3228 - HOSE A | 6V1194 - BEARING | 5Y1363 - HOSE A |
| 2211296 - HOSE A | 1895390 - GASKET KIT | 8P2019 - RING-SEAL |
| 1061606 - SHOE | 1232367 - ELEMENT | 6V1398 - GASKET KIT |
| 10R6225 - PMP GP WATER | 1B4118 - BALL BEARING | 3940897 - GASKET-CLA |
| 8N6058 - GASKET | 4J4626 - PISTON | 9S9650 - HUB-GEAR |
| 3537429 - KIT-BRG(-0.5 (0332380) | 3527459 - KIT-DT GASKE | 5J2952 - PIN |
| 2144502 - SEAL KIT | 9H2403 - STUD | 5P1949 - CUP AS |
| 2907483 - MOTOR GP | 4601450 - KIT GASKET | 2200190 - DISC-FRICTION |
| 0513893 - WASHER | 1786545 - RING SET | 4M0310 - PRECLEANER A |
| 2T1347 - HOSE A | 1345583 - LEVER AS. | 2627051 - CYLINDER AS |
| 5V7222 - GEAR | 9X6620 - LOCK-NUT | 1181045 - HOSE A |
| 1V6951 - TUBE AS | 9W2301 - CUTTING EDGE | 8I0209 - BAR SPACER |
| 8H6507 - SPRING | 1216359 - HOSE AS | 6E1163 - CYLINDER A |
| 6I3875 - GASKET | 0949022 - HOSE | 3043885 - CAP-FUEL |
| 5S4630 - BEARING | 7X5681 - SPACER | 8S5736 - SPRING |
| 1555782 - ARM AS | 6V1911 - BOLT | 6F7058 - NUT |
| 2199770 - PUMP AS | 0983894 - O RING | 4T6310 - CUTTING EDGE |
| 8C6923 - GASKET KIT | 6Y8080 - ROLLER GP-CA | 9K3282 - HOSE A |
| 4I7788 - VALVE G | 1242272 - COUPLING | 0776280 - BEARING |
| 2411710 - BOLT - VLV P | 2P9486 - PIN | 1321653 - HOSE AS |
| 3251564 - GASKET KIT | 1956020 - TURBOCHARGER | 4V5374 - SPROCKET A |
| 5P8982 - GASKET KIT | 1226882 - L/M HOSE-IN | 1857682 - SEAL KIT-STD (7X2819) |
| 7P6774 - CYLINDER | 1312192 - SUPPORT | 1B4331 - NUT |
| 3B8995 - FITTING | 6J1152 - BEARING | 9J5549 - PISTON |
| 1P0284 - COVER | 6V5095 - SEAL | 4S8724 - DISC |
| 3E7424 - CLAMP | 2112833 - GASKET-TURBO | 9W6723 - BOGIE |
| 4J3420 - RING | 1B4041 - CUP | 3256016 - BRG-CLA |
| 2412618 - PIN-CLASSIC (7K9370) | 1915094 - TURBO GP-BAS | 8N1996 - GASKET |
| 7D6298 - HOSE A | 7E5996 - ROD AS | 947134 - PISTON PIN - 3066 |
| 5P0763 - CM HOSE BULK | 8C7060 - HOSE A | 3256019 - BRG-SLV-CLA |
| 2239159 - RING-PISTON- | 8X7869 - DISC INNER | 1W7810 - GASKET |
| 1319718 - 124-0931 | 9R2800 - HOSE A | 6K4554 - GEAR SUN |
| 8R1390 - BOOT | 8X6833 - SHAFT | 5N8501 - HEAD A |
| 0680010 - HOSE A | 4K1431 - LEVER | 1M5156 - DOWEL |
| 8W1524 - HOSE A | 9C1294 - HOSE AS | 4B9883 - BOLT |
| 5S9364 - HOSE A | 6W2408 - HOSE A | 2V4818 - HOSE A |
| 3245136 - GENERATOR | 3530649 - GEAR GP-BRG | 7G5569 - GEAR |
| 2392007 - 239-2006 | 7V5669 - CYLINDER A (7V6544) | 1672227 - SEAL |
| 0R5385 - Turbocharger Compatible 4LE302 7N5892 | 2674734 - RING-SEAL | 0950466 - BOLT |
| 1097058 - HOSE A | 3930930 - MUFFLER-CLA | 2043057 - PLATE-BK DRI |
| 1128126 - HOSE AS | 6H1649 - SPRING | 9R7096 - HYD TANK BACKHOE |
| 7Y1759 - SHIM | 4K7342 - BAR | 3J5031 - END BIT RH F 6A/5A |
| 5I4216 - HOSE AS | 1488270 - GASKET KIT | 1885764 - SEAL WASHER |
| 8T1424 - SEAL KIT-STD | 1522638 - BOLT-TORX HD | 2933649 - ELEMENT |
| 4T6231 - CUTTING EDGE | 2F5060 - NUT | 3837991 - SYNCHRO AS |
| 7P7602 - HOSE A | 8X3276 - WASHER | 2344465 - CYLINDER AS |
| 6K4363 - YOKE | 1262055 - SPRING | 6A7539 - RIM CLA |
| 9G7323 - IDLER G | 0821914 - NUT HEX | 4H8981 - GASKET |
| 9R5921 - BEARING | 7T7678 - STATOR | 1647187 - HOSE AS |
| 6Y0571 - BEARING A | 1360626 - CROWN AS | 8E7447 - GEAR |
| 2F4355 - STOP | 5P8890 - SEAL-LIP SEA | 1Q0482 - HOSE A |
| 7N3515 - GEAR | 2955884 - HOSE AS. | 1120742 - SHAFT |
| 1V3264 - HOSE A | 3E7486 - GASKET KIT | 1535341 - HOSE AS |
| 5D0304 - LOCK-NUT | 1673467 - CONVERTOR | 5P3410 - GASKET KIT |
| 2236665 - HOSE AS | 0908637 - HOSE A | 7B6443 - STRIP |
| 9D5907 - HOSE A | 7T4155 - BEARING | 1130489 - HOSE A |
| 0876649 - HOSE AS | 2253544 - HOSE AS. | 1019352 - EDGE |
| 0777319 - O-RING | 2631830 - BELT | 5D3640 - VALVE ASSY. |
| 6V5218 - BOLT | 4N3047 - VALVE SPRING | 3848704 - VALV-INT-CLA |
| 7Y2670 - HOSE A | 1473502 - HOSE AS | 1773709 - NUT |
| 8W6813 - HOSE A | 5S8890 - HOSE A | 9S8993 - WHEEL A |
| 2H1703 - PACKING | 1157597 - PUMP G | 1W3897 - TURBO G |
| 5S8808 - HOSE A | 875375 - PLOW BOLT 7/8X3-3/4 | 0R5168 - CRANKSHAFT - 3304 ENG |
| 2209086 - ADAPTER TIP LH | 0365742 - GASKET | 4V9199 - HOSE A |
| 8V6432 - PLATE (8V7317) | 9D1857 - HOSE A | 9T6077 - CYLINDER G |
| 2J5462 - TRUNNION | 7E7997 - BEARING | 0915059 - HOSE A |
| 7R2975 - PLATE | 1883777 - DISC | 1361103 - SEAL KIT |
| 0801247 - SCREW | 4B6835 - NUT | 7C3411 - LINE A -FUEL |
| 8E7406 - LINK | 0R4317 - MOTOR GP | 4B2687 - GASKET |
| 7T3173 - PISTON | 0964877 - NUT | 2B9018 - LOCK |
| 8W4990 - HOSE A | 7D0291 - HOSE A | 1F8267 - SEAL - D4 |
| 0964443 - RING WIPER | 8S8901 - HOSE A | 0R2808 - CRANK .20US |
| 3298797 - TENSIONER-BE | -2988003 | 7S0164 - 7D6387 |
| 2T1657 - HOSE A | 3207372 - O-RING | 8C5219 - SEAL-WIPER |
| 3A5438 - CONE | 9D4298 - HOSE A | 4T9051 - HOSE A |
| 1406534 - HOSE AS | 8S5028 - HOSE A | 8C3166 - GASKET KIT |
| 4N8221 - BELT | 4M0495 - END | 8M4704 - SEAL |
| 8K4001 - HOSE A | 9W6991 - RING-SEAL | 0650720 - BEARING |
| 1B4438 - NUT | 2354631 - HOSE AS | 0915978 - HOSE A |
| 7T2770 - IDLER AS-BRG | 9M2260 - COUPLING AS | 3747168 - DOOR GP HOOD SI |
| 6J6682 - VALVE G (6J6624) | 7200-030 - FILTER - OIL | 2797724 - ENGINE AR |
| 1471206 - GEAR | 4J3207 - 5S8874 | 5P4605 - GASKET KIT |
| 3268702 - KIT-GASKET(S | 7T4662 - LINK | 1915548 - CYL GRP |
| 2264954 - ROD GP-CLASS | 1329174 - HOSE AS-XT3 | 4I8443 - VALVE CHECK |
| 1144682 - GEAR | 2186095 - HOSE AS. (1428742) | 1597303 - SPRING |
| 1646560 - BODY AS | 3T6602 - SEAL G | 1B0676 - PIN |
| 8F4453 - DISC | 4N2953 - LOCK-RING | 1T0417 - BOLT |
| 8W7263 - HOSE A | 5C4138 - HOSE A | 6V6356 - KIT GASKET |
| 2534635 - PLATE AS | 6D5494 - 8S9214 | 9C2084 - HOSE A |
| 5V3736 - JOINT GP. | 1T1054 - FLANGE A | 1169526 - PUMP AS |
| 7I5447 - HOSE A | 9C9002 - HOSE A | 1526482 - CYLINDER GP |
| 2615615 - BOLT HEX HEA | 9V0476 - VALVE ASSY | 1484872 - HOSE AS. |
| 1701219 - HOSE AS | 4394330 - KIT SEAL | 5E0873 - SNAP RING |
| 8T9496 - LOCKNUT | 2489882 - HOSE AS. | 7T3946 - SWITCH |
| 0947504 - TAPPET | 1342263 - RETAINER | 2490368 - HOSE AS |
| 7X4744 - SEAL | 0R7821 - PUMP GP GEAR | 2203779 - GASKET KIT |
| 6V4649 - SEAL | 5A7959 - BOLT | 2791014 - PLATE |
| 3B7363 - SEAL | 1984342 - NUT | 3S1349I - WASHER - SEGMENT D11N |
| 7M2523 - GUARD | 1178774 - CABLE | 1452415 - HSG.AS LEVER |
| 2352479 - SEAL-O-RING | 6D0385 - 7S0445 | 7N5892 - Turbocharger Compatible 4LE302 7N5892 |
| 1093421 - PUMP AS | 1U0929 - SCREW | 3K2144 - BEARING SLEEVE |
| 9K9243 - TUBE AS | 8R8391 - HOSE A | 9P8212 - PAD |
| 6H8346 - NUT | 2P9142 - GASKET | 4B4843 - GASKET |
| 3215658 - COIL AS | 1413751 - GUARDS | 1937637 - SEAL KIT-STD (8T1410) |
| 1252782 - PISTON SKIRT | 8Y8378 - HOSE A | 1282958 - BUSHING |
| 1226715 - HOSE AS | 4L8189 - STUD | 1321648 - 121-1772 |
| 5P0598 - CLAMP | 1642450 - HOSE AS | 1789178 - PUMP GP-GR 2 |
| 9N4142 - HOSE A | 7V6699 - HOSE A | 4V5400 - HOUSING |
| 2G8767 - WASHER | 1123453 - HOSE A | 4U2623 - HOSE ASSEM 3 |
| 5P8964 - GASKET KIT | 1977180 - MOTOR GP-PIS | 7X1379 - RELAY A |
| 0773934 - O-RING | 1984777 - WASHER-HARD | 2059587 - GLASS-LH |
| 5P7466 - CLIP | 1382103 - Turbocharger S200S 169293 | 1863322 - MOTOR GP-ELE |
| 3V1133 - STRIP | 8T8006 - AUGER-SEGMEN | 8C9111 - RING |
| 4H5642 - DRUM | 1130437 - HOSE AS | 1129439 - HOSE A |
| 10R2423 - PUMP GP HYD | 5W1698 - WASHER-SEAL | 1M1341 - END (1A9252) |
| 1W9192 - FUEL LINE | 3V3910 - HOSE A | 4W3204 - LINE A |
| 7S9181 - LINK | 8S1528 - BOOT | 8U0755 - RING |
| 2F6067 - RING | 9Y6111 - CYL HEAD A | 3905275 - GASKET-K-CLA |
| 7N1993 - GASKET | 9G7563 - DIODE A | 0L1170 - HANDLE |
| 7W2878 - CARTRIDGE | 0982769 - BRG NEEDLE | 2H3777 - LOCKNUT |
| 4560207 - KIT SEAL | 0181336 - BOLT | 6I9510 - PLATE |
| 1022370 - SPROCKET | 8J8767 - SEAL | 3801235 - GASKET SET LOW |
| 2W7255 - SHAFT | 7D1173 - HOSE A | 1D6260 - BOLT |
| 1358989 - HOSE AS | 8X9628 - HOSE A | 8K9259 - HOSE A |
| 3602351 - PIN-CLA | 1356497 - HOSE AS | 4186597 - SWITCHAS |
| 3106460 - BOLT-HEX | 8T4136 - BOLT | 2J5394 - COLLAR |
| 1965952 - Turbocharger S410G 175963 | 2770731 - PUMP GP-GR A | 4H8909 - GASKET |
| 1850186 - CYLINDER AS | 0R5793 - Turbocharger TV6142 465774-0003 | 2459208 - CORE AS-O CL |
| 8V1343 - HOSE A | 2W1039 - SEAL-RUBBER | 7U9422 - HOSE AS |
| 2120969 - HOSE AS | 8N5495 - ELEMENT A-A | 9G0041 - DIAPHRAGM |
| 5P9828 - GASKET | 9S0303 - SUPPORT A | 9S5278 - BEARING |
| 6V2478 - RING | 8C1325 - HOSE A | 4J8231 - EDGE CUTTING |
| 10R2206 - TURBO GP BAS | 7D5236 - HOSE A | 8Y7028 - PIN |
| 8J9239 - KIT-SEAL | 9R9567 - HARNESS A | 904405 - GROUP HYDRAULIC KIT |
| 7G3907 - COVER AS | 1955996 - Turbocharger S200G022 178089 | 2164825 - PUMP GP-PS-B |
| 9W8839 - PLUG | 2812505 - GASKET KIT | 1593021 - GASKET |
| 4L8121 - GASKET | 9L7786 - BEARING-THRUST 0.010 | 3669312 - SENSOR AS-PR |
| 1672304 - SEAL-U-CUP | 2Y6399 - PUMP GYP (2Y6391) | 4Q1949 - HOSE AS |
| 6Y1971 - HOSE A | 8X5333 - HOSE A | 4C4786 - O-RING KIT |
| 3949195 - DISC-FCN-CLA | 2519341 - SEAL KIT | 0947574 - CLAMP |
| 8C9151 - SEAL A | 8H0456 - BEARING-SLEE | 2S8414 - GASKET |
| 9N1371 - BEARING MAIN | 2189978 - GEAR | 1616267 - HEX SCREW |
| 3843479 - SPRG-IDL-CLA | 1683655 - VALVE SAFETY | 9Y1623 - HOSE A |
| 7S0196 - HOSE A | 1960404 - BOLT | 6D7338 - ARM A |
| 9J1175 - BEARING | 1772553 - SEAL O RING | 7K9981 - PIN |
| 5J8019 - RING | 6L8037 - GASKET | 0961778 - SHIM |
| 3S4047 - RING SET | 7S3999 - SPRING | 2S0168 - GEAR |
| 2000930 - HOSE AS | 1741823 - WASHER | 3825859 - SEAL-O RING |
| 5C5211 - HOSE | 6N4928 - GASKET | 4F5017 - O RING |
| 7N9353 - GASKET | 1387025 - GASKET KIT | 2457420 - GASKET |
| 4354849 - SCRN-SUC-C | 7Y5808 - HOSE AS | 2U1331 - BEARING INBO |
| 8B2462 - LINING | 5I8634 - BUSHING | 4F0559 - BEARING |
| 1S8607 - BAFFLE | 2883705 - LINK AS CLA | 1608184 - BEARING-SLEEVE |
| 2464780 - HOSE AS | 3470481 - SEAL-CLA | 6F6672 - SEAL |
| 4389354 - KIT GASKET | 6D7384 - HOSE A | 2G2553 - HOSE A |
| 3R7010 - BIT | 1J6775 - BOLT | 7X9193 - CAPSCREW |
| 1334047 - ROD AS | 0950849 - PIN,SPLIT | 2V8628 - IDLER GP-CLA |
| 1699739 - BLOT | 6J5377 - STRUT | 1U1857 - TOOTH |
| 1068964 - LAMP AS | 2G2996 - HOSE A | 1W1052 - TURBO G |
| 2419528 - HOSE AS. | 3P2795 - SEAL RING | 7D5142 - HOSE A |
| 3034803 - CONNECTOR | 2090962 - WASHER | 7X2787 - SEAL KIT |
| 5P8955 - GASKET KIT | 5D8269 - BOLT | 4F0925 - BOLT |
| 6K9063 - NUT | 1487819 - COUNTERWEIGHT | 3T9562 - GLOW PLUG |
| 4F4974 - CLAMP | 7S0595 - HOSE | 1645499 - LAMP GP-FLOO |
| 3864944 - RACE-OTR-CLA | 9S6914 - RING | 8N3454 - FUEL LINE |
| 1004298 - RING PISTON | 8S3491 - HOUSING A | 1415575 - GASKET KIT |
| 4659243 - KITGASKET | 2A0202 - LOCK | 1T0595 - CARRIER |
| 2342808 - HOSE AS. | 7H0556 - RING | 7X1701 - CNTL GP ELEC |
| 3134585 - HOSE-OIL DRA | 9Y4418 - FILTER AS | 0931824 - BUSHING,ROD |
| 6V1786 - GASKET KIT | 1450291 - HOSE AS | 2036806 - PUMP GP-FAN |
| 3260766 - SEAL-U-CUP | 4D6476 - HOSE A | 5A7882 - END BIT-LH |
| 1N3082 - CORE A OIL C | 8J4310 - ADAPTER CTR J350 215-219-225 | 1857676 - SEAL KIT-STD (7X2788) |
| 1262016 - PUMP G | 5P6982 - BEARING-BALL | 9D6073 - HOSE AS |
| 5A3196 - MOTOR A. | 5W5350 - NUT | 8X9146 - HOSE A |
| 3886603 - CARR-RNG-CLA | 3H0881 - RING-PISTON | 2U8492 - SEAL |
| 4F3672 - BOLT | 7M9957 - BULB | 6K0393 - LINK |
| 3P2793 - SEAL RING | 1986041 - MOTOR GP-PVL | 2504262 - HOSE AS |
| 2298810 - SEAL-PRESS I | 2139932 - GEAR-LOCK | 1319672 - HOSE AS. |
| 4V9314 - HOSE A | 1128008 - CONE | 8P5961 - GEAR |
| 3G4138 - GASKET | 1940356 - HOSE AS | 1H7416 - LINING G |
| 1758930 - BUSHING-CLA | 4F2710 - NUT | 1S6654 - BUSHING |
| 2923110 - GASKET KIT | 9U8122 - GASKET | 3488378 - GASKET KIT |
| 2992242 - TUBE AS | 2442393 - HOSE AS. | 1230980 - GASKET KIT |
| 1097235 - CYL GRP | 1U3346 - HOSE A | 3N4969 - BEARING |
| 7T3145 - DISC-THRUST | 2624069 - MOTOR GP-WIP | 6V3753 - GASKET KIT |
| 4K8734 - BEARING | 7C6173 - GASKET | 0821638 - O RING |
| 6G0994 - HOSE A | 6S4900 - HOSE A | 2231469 - Turbocharger GT500201B 701756-5013S |
| 9W7018 - DISC | 3K8715 - RING BACK-UP | 3Y4070 - GEAR |
| 7U9385 - HOSE AS | 9W5588 - PIN | 1844395 - GUIDE |
| 1K8061 - WASHER | 2455130 - HOSE AS. | 5241288 - RLR-BRG-CL |
| 6K4498 - BRACKET A | 5385051 - ADAPTER GP | 8N4210 - FUEL LINE |
| 1G8450 - SEAL DUST | 3D9412 - GASKET | 5I8769 - SEAL |
| 1657138 - CARTRIDGE AS | 9X7314 - RING | 3W6974 - HOSE A |
| 1135784 - HOSE AS | 4D2302 - SEAT | 0926889 - HOSE A |
| 1089342 - CARTRIDGE AS | 3G4929 - PIN | 1484643 - BEARING |
| 0981225 - SNAP RING | 8J5061 - HOSE A | 3E9875 - KIT GASKET |
| 0826599 - BEARING | 1685248 - SEAL-ISOLATI | 0949596 - CLAMP |
| 1V7075 - LINK A | 9X6617 - BOLT | 3F9556 - LOCK WASHER (0337621) |
| 7J5366 - LOCK | 9J8165 - CYLINDER G | 6I0789 - BOLT |
| 2W7678 - GEAR | 2956411 - BEARING-CLA | 9S4205 - PLUG |
| 1328570 - HOSE AS | 5V0593 - DISC | 6V2928 - GASKET KIT |
| 3744703 - GEAR-FLY-CLA | 1958372 - CLIP | 1Q5308 - HOSE AS |
| 4I7220 - HOSE AS-XT6 | 2344345 - HOSE AS | 1216277 - 121-6276 |
| 8C0869 - BIT A | 3E2034 - SWITCH | 6N3827 - DRIVE A |
| 9C2716 - HOSE A | 9R4608 - HOSE A | 1933115 - SEAL KIT-STD (7X2719) |
| 8Y0342 - STRIP | 2529985 - COUNTERWEIGHT | 0536952 - SEAL - D4 |
| 9S8679 - CHAMBER A | 0980806 - BEARING | 3832557 - ALTERNATOR |
| 0964275 - RING BACKUP | 3767654 - CARRIER-CLA | 0R3108 - CYLINDER AS. |
| 3256157 - PIPE-EXH-CLA | 10R1061 - BLOCK GP CYL | 2297173 - SEAL KIT |
| 3U7168 - HOSE ASSEM 3 | 9R4062 - BEARING | 5U8124 - HOSE ASSEM 1 (5U2884) |
| 6I8309 - CARRIER A | 4360518 - SPRINGVAL | 3034712 - TRACK BOLT 33MM |
| 9W6622 - SEAL G | 5P7844 - BEARING | 7I7122 - HOSE AS-XT |
| 2J6361 - RACE | 7V1572 - HOSE A | 4S00685 - FILTER, CAB |
| 7N5815 - GEAR | 7C8609 - BEARING-SLEE | 1617550 - RETAINER |
| 0829769 - BEARING | 4P3576 - TUBE A | 1541584 - PIN |
| 0602040 - CONE | 4M6385 - GASKET | 3V6518 - HOSE A |
| 1950803 - HOSE AS. (1222402) | 9V3534 - WASHER | 7V0581 - HOSE A |
| 8C4494 - SEAL KIT | 9C8495 - HOSE AS | 4151902 - ADAPTER-CLA |
| 0984070 - BEARING | 8T7330 - KIT GASKET | 9R6176 - WHEEL A |
| 8J7321 - CYLINDER G | 2326652 - GASKET KIT | 7X7893 - HOSE |
| 5W1697 - WASHER | 1100013 - CUP AS | 1382077 - TURBO GP |
| 4M6107 - ROLLER A | 1178546 - RING-BACKUP | 1B4069 - BEARING |
| 5A9992 - LINING | 1566010 - PUMP GP-WTR | 1099445 - MOUNT AS |
| 3043151 - PUMP GP-GR-B | 7U9424 - HOSE AS | 6W5735 - HOSE A |
| 2028649 - MIRROR AS. | 8P4547 - GEAR A | 9W7043 - CUTTING EDGE |
| 3G7806 - HOSE A | 7L2894 - GASKET | 9R1053 - HOSE AS |
| 964879 - NUT | 7Y4194 - 7Y4193 | 2618625 - SEAL KIT |
| 8S5409 - GASKET | 5W1406 - WASHER | 4S5879 - SEAL O RING |
| 9T4179 - PISTON | 0687714 - HOSE A (0672182) | 4451615 - KIT GASKET |
| 3975054 - PAD-CLA | 3P0629T - TLA 38 LK - D7G SALT | 4W6691 - ELEMENT |
| 2212305 - CROWN-PISTON | 1W5651 - TUBE A (9Y2148) | 8T9993 - BEARING |
| 1962246 - PUMP GP-PS-B | 1653161 - HOSE AS | 1146386 - ARM A |
| 7V8513 - HOSE A | 1099121 - EDGE-CUTTING | 2493681 - MOTOR GP-ELE |
| 1256038 - HOSE A | 1330125 - CORE AS | 3V3307 - WASHER |
| 7D7464 - HOSE A | 3H1604 - LINK | 9H4776 - GASKET |
| 5K3967 - YOKE A | 0530247 - SEAL | 10R2995 - PUMP GP HYD |
| 4K0138 - RACE | 3V7729 - SPACER | 5L3826 - BELT SET |
| 4D7165 - SEAL O RING | 4196380 - BRG-MAIN-C | 7T4209 - CABLE A |
| 7R6541 - RING RET | 1111653 - TURBO GP | 1070977 - BEARING |
| 4N2531 - VEE BELT | 10R9569 - TURBO GP BAS | 1438918 - RING WEAR |
| 3498545 - CYL GP-0140 | 5T6723 - HOSE A | 9G9174 - GEAR |
| 1940198 - HOSE AS | 2129535 - GASKET KIT | 2310471 - MOTOR GP-PLV |
| 9M6499 - 8S8885 | 1036079 - PUMP AS | 0925956 - HOSE A |
| 1668142 - CYL GP-0102- | 1370313 - TUBE AS | 0963996 - SPACER |
| 0874931 - HOSE AS | 3E6799 - SEAL | 9Y5651 - IMPELLER |
| 1H2264 - O RING | 3206394 - PUMP GP-ELEC | 1J0962 - BOLT |
| 9T2837 - SEAL KIT (1180106) | 5P9396 - GASKET KIT | 1028375 - HOSE AS |
| 2W4831 - PISTON AS | 2255437 - PISTON | 1729205 - PUMP GP-WT B |
| 8M0100 - HEAD | 5T6167 - HOSE A | 8E7565 - GEAR |
| 8T8139 - SEAL-O-RING | 9W5979 - SEAL GP | 7R3462 - SCREW |
| 6G9867 - HOSE A | 1155658 - SEAL | 1160412 - HOSE A |
| 1406788 - END BIT-LH | 8U5972 - BEARING | 22416R1 - RING |
| 2U6488 - HOSE A | 1L4789 - LOCKWASHER | 9T8450 - PLATE |
| 0969715 - BOLT | 2V1540 - HOSE A | 3S5826 - REBUILD KIT |
| 6S3457 - PIN | 3V9816 - HOSE A | 2W0001 - HEAD-CYL |
| 3969912 - BRG-ALIN-CLA | 1640331 - GASKET KIT | 4374170 - GASKET |
| 2611552 - MOTOR GP-AIR | 2426862 - CYL GP-SEAL | 7T4145 - SLEEVE |
| 6W5763 - HOSE A | 5263048 - BRG-SLV-CL | 2003645 - GEAR GP-BRG |
| 7X2560 - BOLT | 2429841 - KIT-GASKET-M (8T3378) | 8Y3792 - BELT G |
| 3P1602 - SHAFT | 8N3326 - ARM A | 3240123 - DRIVE AS-FAN |
| 1427284 - GASKET KIT | 3K8365 - CAGE | 8N2669 - TURBOCHARGER - D5/D6D-H |
| 0067287 - HOSE | 7X5408 - WASHER LOCK | 1488861 - GASKET KIT |
| 4W6943 - BOX | 5E8786 - SCREW | 1555729 - HOSE AS |
| 9T1752 - GASKET | 2S3440 - CLAMP | 5V2740 - CABLE A |
| 9D6269 - HOSE A | 2703951 - PUMP GP-HYD | 10R6129 - MOTOR GP HYD |
| 7S3884 - PUMP G OIL | 4T2506 - PUMP AS | 0682519 - BUSHING |
| 7X0392 - BOLT | 1473509 - HOSE AS | 1612338 - HOSE AS |
| 6N5876 - GASKET | 10R3619 - PUMP GP HYD | 7R2974 - PLATE |
| 4228160 - PMP-VANE-C | 7N4160 - SWITCH | 2546029 - HUB-IDLER GE |