Caterpillar 986H Loader parts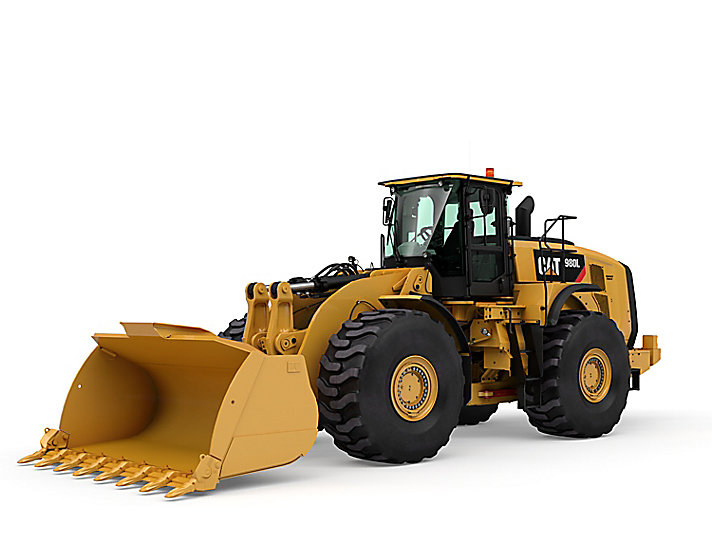 Here is some more information about Caterpillar 986H Loader:
ENGINE
Net Power 305.0 kg/mm
Engine Model Cat C15 ACERT
Bore 137.0 mm
Stroke 171.5 mm
Displacement 15.2 l

WEIGHTS
Operating Weight 43717.0 kg
If you send us your request, we will make you an offer for original and Aftermarket Caterpillar parts for your Caterpillar 986H Loader.
Caterpillar 986H Loader - it is a big machine. But even such machine sometimes needs maintenance.
Our online parts store give you an access to more than 1 000 000 Caterpillar parts that we have in our inventory.
Below is a small list of Caterpillar parts for this equipment. However, if you are interested in something - please use the site search.
| | | |
| --- | --- | --- |
| 0821903 - BOLT HEX | 1946469 - MOTOR GP-TRA | 1N3860 - GASKET-OIL |
| 6V5906 - GASKET KIT | 8K1362 - PANEL A | 2U6116 - HOSE AS |
| 7N7999 - GASKET CYL | 8C7715 - O-RING | 8W0225 - HOSE A |
| 0951559 - O-RING | 7N4525 - GEAR | 1140757 - BEARING-SLEEVE |
| 3069433 - CAP AS | 5K2171 - CONNECTOR | 1504547 - SEAL- BONDED |
| 1937185 - MOTOR GP-PRV | 2486744 - GASKET KIT | 1672327 - SEAL-U-CUP |
| 1730894 - HOSE AS | 4D5141 - HOSE A | 7I1020 - HOSE A |
| 4N2685 - ROLLER | 2D3467 - HUB | 0963774 - COTTER PIN |
| 0A4605 - RING | 2053411 - HOSE | 1852639 - FAN AS |
| 1750000 - HOSE AS. | 9T4505 - SEAL LIP TYP | 1857678 - SEAL KIT-STD (2407308) |
| 4U5954 - HOSE ASSY 1 | 19H1847 - BOLT 5/8 X 2 1/2 NC | 6J5349 - SCREW |
| 3196789 - MIRROR | 9R0110 - PIN | 1838265 - COVER |
| 8C4771 - SOLENOID G (1255774) | 8W5165 - HOSE A | 1644588 - GASKET KIT |
| 2G4507 - HOSE A | 1B0936 - SEAL-LIP TYP | 4612110 - WASHER |
| 3395117 - HOSE AS. | 6Y5814 - PIN | 4M1454 - FUEL LINE |
| 4T6242 - EDGE | 1338994 - LINES AS | 1364183 - BOLT |
| 1093759 - CABLE A | 4M5285 - RING | 9W3607 - SHAFT |
| 3G4532 - CYLINDER A | 4Z5959 - CYLINDER G | 9W7329 - HOSE A |
| 0931399 - SEAL,DUST | 9X8272 - BOLT | 0949337 - WASHER,SPRNG |
| 4567377 - SWITCH | 2215048 - HOSE AS | 5V5527 - HOSE A |
| 7N8062 - PLUG | 2911612 - LINK AS TRK | 9R8242 - SEAL |
| 9P5572 - GASKET | 6I9502 - PLATE | 3Y1495 - CAP SCREW A |
| 2P1507 - GASKET | 7U9658 - HOSE AS | 3N0515 - GUIDE-VALVE |
| 7T0687 - ROLLER GP-DF | 4904732 - ROD AS | 8P8780 - HOUSING |
| 2564756 - PUMP GP-CLA (1P0005) | 0875163 - VALVE | 5G5779 - HOSE A |
| 0780169 - SEAL OIL FRN | 3577981 - CYLINDER | 6W2990 - CUTTING EDGE |
| 100350 - PLOW BOLT 1 X 3.1/2 | 1347321 - HOSE | 1877110 - HOSE AS |
| 9F8122 - BOLT | 2213969 - SHAFT 35VQ/V | 7G2608 - SHAFT |
| 6I9239 - LINK | 6V1674 - GASKET KIT | 1W0374 - LINE A-F INJ |
| 8D7414 - PINION-CIRCLE DR PINION 12/140/160 | 0R6988 - Turbocharger BTG7506 466445-0012 | 1136510 - 113-6508 |
| 0876584 - HOSE A | 3B4632 - COTTER PIN | 3Y8686 - HOSE A |
| 0868953 - LAMP | 6E1908 - PISTON | 8R2991 - HOSE AS |
| 4W9485 - HEAD A | 2194458 - PIN | 2S0174 - HOSE A |
| 8P9456 - SEGMENT | 9T2715 - CYL A | 1221234 - HOSE A |
| 8T0367 - BOLT | 3V8849 - HOSE A | 3D8401 - SPACER |
| 9W9905 - RING LOCK | 8W5056 - HOSE A | 8U4275 - HOSE A |
| 3497432 - GASKET KIT | 7Y1455 - SEAL | 6L4569 - HOSE |
| 5P3945 - CAP | 9H3847 - GASKET | 2B7111 - PACKING |
| 8M1630 - CLAMP | 1128128 - HOSE AS | 1438839 - SEAL-REAR C |
| 9S6428 - HOSE A | 1P7912 - GLOW PLUG | 3488674 - KIT-GASKET |
| 1028273 - 102-8271 | 7M0829 - ROD A | 2552970 - AIR CLEANER |
| 2632602 - HOSE AS | 5D4187 - SEAL O RING | 3905265 - DISC-FCN-CLA |
| 1S8807 - PACKING | 8T7892 - GASKET KIT | 2W7238 - HOSE AS |
| 7N7085 - INDICATOR | 5I4966 - BOLT | 2339473 - GASKET KIT |
| 7J0670 - ELEMENT | 1940019 - HOSE AS | 9S7215 - GASKET KIT |
| 1324922 - SEAL KIT-STD | 5R6621 - HOSE A | 1615809 - BEARING |
| 1B5932 - DOWEL | 7U7745 - ACCUMULATOR | 1857668 - SEAL KIT-STD (7X2763) |
| 5C8584 - GEAR | 1672325 - SEAL-U-CUP | 6I0842 - GASKET |
| 8K6893 - HOSE A | 3188382 - GEAR GP-IDLE | 1634527 - PLATE-BEARIN |
| 2120136 - PIN-SUSP CYL | 1706306 - INDICATOR AS | 6T7709 - HOSE A |
| 9W2317 - EDGE CUTTING | 1226489 - HOSE A | 5H4018 - COVER AS |
| 1190636 - MOTOR AS | 9W9204 - CAP A | 6V0603 - GASKET KIT |
| 2P6142 - BELT SET | 2168632 - HOUSING-FRON | 2261973 - HOSE AS |
| 4228114 - CTG-VANE-C | 1440502 - RING KIT-PIS | 2363124 - HOSE AS |
| 1893396 - NUT | 1V9326 - HOSE A | 2500544 - VALVE |
| 2755286 - SPROCKET-CLA | 1D6489 - GASKET | 5S7760 - HOSE A |
| 1773494 - BOLT | 0R8180 - CARTRIDGE GP | 7L3290 - CONE |
| 2S8271 - GASKET KIT | 6N3879 - HOSE A | 2P8102 - BEARING |
| 9F1848 - BUSHING | 6V6752 - BEARING | 2006153 - HOSE AS. |
| 3343345 - HARNESS | 9C3196 - HOSE A | 4K5987 - CM-HOSE STK |
| 1333359 - MANIFOLD | 2412522 - PIN AS-CLA | 2Y2387 - STEM A |
| 2963332 - PUMP GP-PS-B | 9N1330 - BELT SET | 1W5060 - CAMSHAFT |
| 9W4381 - NUT | 2465913 - SEAL KIT | 5D4204 - CLIP |
| 950939 - RING,SNAP | 4M2969 - GASKET | 1400736 - VALVE |
| 8U6239 - BOLT | 5H3253 - VALVE | 8F1959 - RING |
| 9W0351 - DISC-THRUST | 6G6263 - HOUSING | 9W6668 - SEAL G |
| 1404534 - ROLLER AS TR | 10R9098 - ALTERNATOR G | 9J0707 - RING |
| 1S0430 - CLAMP | 9X4219 - CABLE | 1129269 - HOSE A |
| 6V8977 - SEAL | 0R2763 - OIL PUMP G | 1485049 - HOSE AS |
| 6P2090 - BASE | 5S1770 - LOCK-NUT | 2977225 - PINION-CLA |
| 2038391 - SEAL KIT-STD | 8N4935 - REGULATOR | 7X2529 - GASKET KIT |
| 9P5923 - TUBE AS | 4N0217 - GASKET | 1G7995 - HOSE A |
| 8X1551 - HOSE A | 1431286 - GASKET KIT | 0308100 - HOSE A |
| 1099124 - EDGE-CUTTING | 7E0479 - CARTRIDGE G | 4H1477 - PIN |
| 1366750 - EDGE CUTTING | 7X7954 - GASKET KIT | 3D2981 - GASKET |
| 4D6419 - WASHER | 8W0151 - HOSE AS | 5M0578 - BEARING NEEDLE |
| 1159398 - ARM ROCKER | 2W1177 - PISTON G | 6C0071 - HOSE A |
| 2G5785 - HOSE A | 3825052 - SPDR-FAN-CLA | 8I3437 - PAD WEAR |
| 1875709 - HOSE AS | 4T9298 - BUSHING | 8X8746 - HOSE A |
| 5K9248 - FITTING | 3821820 - TRACK SHOE | 1850348 - RING-BACK UP |
| 4N4713 - BEARING | 1G1506 - GEAR | 6N8968 - HOSE A |
| 9W4288 - SEGMENT (9W7191) | 4N6257 - ADAPTER | 7S7507 - FITTING |
| 1054210 - GASKET | 6D7538 - HOSE A | 7M8514 - RING |
| 0R8359 - PUMP GP-HYD | 4P6706 - LINE ASSY. | 3T4704 - SOLENOID |
| 2925531 - HOSE AS. | 1087482 - HOSE A XT | 2970535 - VALVE GP PILOT |
| 1039206 - KIT GASKET | 9C2360 - HOSE A | 3035828 - VALVE GP CONT |
| 8E0466 - ADAPTER (7T8456) | 9X1813 - SLEEVE | 0774948 - SEAL |
| 3119543 - PUMP GP-HYD | 7I7677 - COUPLING A | 1210827 - ROLLER G.DF |
| 7D8644 - HOSE A | 2B1955 - BOLT | 2094249 - BEARING |
| 2985753 - SNAP RING | 2390583 - GASKET | 0875423 - CYLINDER A |
| 9N7442 - O RING | 7M7864 - BELT SET | 4M1836 - KIT |
| 8W9758 - HOSE A | 2S4233 - PULLEY | 1934675 - PUMP GP-GEAR |
| 7Y0639 - GEAR | 5P9335 - GASKET KIT | 2399897 - GASKET KT-TO |
| 1092333 - SEAL-O-RING | 4N1151 - GASKET | 7N1366 - PISTON AS |
| 4V0616 - HOSE A | 2M9347 - VALVE | 0774389 - BEARING, CON |
| 2N5688 - HOSE | 1208757 - FILTER AS | 1102119 - MANIFOLD |
| 8K3256 - HOSE A | 2W0718 - CARTRIDGE AS | 6I2864 - GUIDE |
| 2522679 - PUMP GP-PS-B | 1733283 - PAN AS | 3350036 - CYL GP-0120 |
| 2866826 - HOSE AS. | 0952667 - O-RING | 3K0719 - SEAL |
| 1348951 - PLATE | 7Y0336 - SPACER | 7Y1457 - ADJUSTMENT G |
| 0687701 - HOSE A | 7X7947 - SEAL KIT | 8T9749 - LAMP AS |
| 6N1813 - PUMP AS | 6V2575 - GASKET KIT | 3405576 - GASKET KIT |
| 9L7873 - DIAPHRAGM | 8R6762 - RETAINER | 2S7062 - SHAFT |
| 8E6140 - VALVE A | 1856591 - SEAL KIT (7X2735) | 4N5906 - SPRING |
| 2S8999 - GASKET | 4W5707 - BRG-MAIN (1496034) | 5L5656 - BELT SET |
| 6K6654 - HOSE A | 5V9307 - HOSE A | 1874446 - Turbocharger S330W057 170245 |
| 0929411 - HOSE AS | 3026333 - PLATE | 1258810 - SPIDER |
| 2128489 - NUT | 8W4029 - HOSE A | 8Y7965 - HOSE A |
| 5P1268 - CM HOSE BULK | 5J2221 - WIPER | 8S9071 - CAGE |
| 2418367 - SWITCH AS-MA | 2U2465 - BOLT HEX | 2236361 - RING-PISTON |
| 7P6348 - BEARING | 2T3911 - HOSE AS | 6L5311 - GASKET |
| 3P8681 - BEARING | 5W6367 - BEARING | 1465652 - HOSE AS |
| 2S1509 - SEAL | 8T1647 - GASKET KIT | 0R2129 - CYL HEAD-REM |
| 0R9164 - ROD AS | 8E1291 - HOSE A | 510120 - SEAL KIT 988 ST |
| 9U3939 - HOSE A | 9L8063 - GASKET ROCKER COVER 3208 | 2974674 - PUMP GP-F IN |
| 8T2440 - SPRING AS | 1694882 - PUMP GP-PS-B | 5S6921 - LOCK |
| 8G0841 - MOUNT AS | 1282211 - HOSE AS | 1259484 - HOSE AS |
| 1707499 - PUMP GP-F IN | 6T2942 - HOSE A | 1583027 - RING-BACKUP |
| 1477245 - GEAR SET-BEV | 4219846 - KIT GASKET | 0876553 - 087-6551 |
| 2713050 - WHEEL AS. (1197785) | 5T9695 - HOSE A | 6T1996 - PLATE |
| 9T9909 - PUMP AS | 9X5696 - CABLE | 1386558 - TIP TWIN SHA |
| 3089836 - CARR AS-CLA | 1519747 - ROLLER GP SF | 1U0740 - BIT |
| 2919916 - PIN | 1063326 - SEAL O RING | 6C3039 - HOSE A |
| 8X7787 - HOSE A | 9P9508 - FLANGE A | 6U1989 - FITTING |
| 0775557 - O-RING (0304605) | 8I0182 - BAR NOSE | 1991959 - HOSE AS |
| 5P1269 - CM HOSE BULK | 2963329 - PUMP GP-PS-B | 9X0511 - PLATE |
| 0919117 - HOSE A | 6L4784 - BOLT | 1634520 - HOSE AS |
| 4394844 - HOSE | 3162277 - PUMP GP-GR 1 | 2881394 - PISTON |
| 0780562 - PIN | 7S6537 - GUARD A | 9R9210 - HOSE A |
| 5W6278 - HOSE A | 9S2262 - GASKET | 5N4692 - VEE BELT |
| 7C7503 - CARTRIDGE | 0918508 - HOSE A | 4T5407F - END BIT D4/D5/D |
| 5I8584 - HOSE A | 1006423 - HOSE | 1V4494T - TRACK BUSHING |
| 2400145 - PUMP GP-PS-B | 2G5296 - SHAFT | 2341879 - KIT-GASKET-R |
| 2P4010 - GASKET KIT | 1243493 - PUMP GP-GR-B | 7E6210 - REGULATOR |
| 7M4046T - CAM BEARING | 6K8214 - FITTING | 1Q1768 - HOSE A |
| 3P3096 - GEAR | 4I4804 - PIN | 1W7043 - KIT REBUILD (1700556) |
| 2867176 - VALVE | 8X9157 - GEAR | 7T5603 - HOSE AS |
| 7Y4385 - 7Y4384 | 2160794 - MOTOR GP-AUG | 0A1927 - CONE |
| 9T4221 - SHAFT | 1R8919 - PLATE | 1216266 - HOSE AS. |
| 950007 - MOTOR GP. ELECTRIC | 310219 - BOLT | 3B4631 - COTTER PIN |
| 9M5236 - SLEEVE | 2980547 - NUT-LOCK | 5M2997 - SEAL |
| 6G8235 - HOSE A | 6V2593 - GASKET KIT | 1080190 - SHAFT |
| 6T9171 - GASKET | 5U5922 - HOSE-HUMP | 2457500 - CYL AS. |
| 2357770 - BRG - SLEEVE | 4W1456 - COUPLING AS | 3C5546 - SEAL |
| 9J1854 - HOSE A | 2V5710 - GEAR PLANET | 7T6028 - HOSE A |
| 2955698 - SHAFT AS-CLA | 3T3393 - CLAMP | 8S1460 - CLAMP |
| 9X3573 - SEAL | 3960092 - SEAL-O-RIN | 5P2561 - GASKET KIT |
| 1873098 - PUMP GP-PS-B | 0676052 - SPRING VALVE | 2048423 - HOSE AS |
| 1J6744 - BEARING | 3584986 - MOTOR GP-PRF | 8E9750 - PISTON |
| 1916629 - SPACER | 8C3663 - SOLENOID A (1554652) | 9M6193 - SPRING A |
| 5P9957 - RING | 4424705 - KIT LINER | 1181608 - ROLLER G |
| 9M2688 - TUBE | 2S7157 - PLATE | 2148989 - HOSE AS |
| 6L4571 - HOSE | 6Y2752 - BUSHING | 0966521 - O RING |
| 1256556 - PIN AS | 6I1357 - SEAL | 6Y8655 - PLATE |
| 2145097 - STEERING CYL | 8B6512 - CONE | 2W5538 - CORE AS |
| 0L1017 - NUT | 2911559 - SEAL AS-BUFF | 7Q8302 - SCREW |
| 1485743 - SENDER-TEMP | 1758367 - SHOE | 9X7557 - SEAL |
| 1C7959 - HOSE AS | 1557523 - HOSE AS. | 2387483 - ROLLER GP-SF (1780614) |
| 6I1034 - FUEL LINE | 2089066 - ELEMENT AS-S | 5L1893 - TUBE |
| 5I8853 - HOSE A | 9J1852 - HOSE A | 1481226 - PISTON (1388172) |
| 1329700 - CYL GP | 2646156 - ROD-VALVE PU | 7T9752 - CONE |
| 9C6017 - GEAR | 2613683 - VALVE | 1294447 - CYLINDER GP |
| 5K7172 - INDICATOR | 9V6558 - HOSE A | 5T5564 - HOSE A |
| 8W9742 - SEGMENT | 1070586 - ROLLER GP DF | 2261958 - HOSE AS. |
| 5S8233 - HOSE A | 6N4597 - COUPLING AS | 2138467 - GASKET KIT |
| 6V3971 - RING | 1981517 - GASKET | 1192990 - RING-PISTON |
| 1967839 - SHOE TRACK | 2268001 - PINION-CLASS | 0777847 - PIN, ROLL |
| 780089 - VALVE | 0995764 - HOSE FLEX | 1061097 - EDGE CUTTING |
| 7N5337 - HOSE | 3W6977 - HOSE A | 8N8225 - MAIN BEARING |
| 4K5655 - BEARING | 5J7263 - TRUNNION | 9C1110 - HOSE A |
| 1366943 - GASKET KIT | 0592944 - WASHER | 20R2817 - PLATE CLUT |
| 6L1977 - BELT SET | 6J0276 - END BIT LH HOT CUPPED 6S | 2215094 - HOSE AS |
| 8T4475 - LINK | 7T7341 - DISC | 9H2710 - GASKET |
| 2955442 - FLANG AS-CLA | 2801879 - SEAL | 1118149 - HOSE AS |
| 5S4592 - CORE AS | 3D9716 - SWITCH A. | 1392626 - HOSE AS |
| 9G7197 - BEARING | 6C6448 - HOSE AS | 7T5776 - HOSE AS |
| 4V9607 - LEVER A | 6D6518 - HOSE A | 4E5412 - HOSE AS |
| 9S7584 - UNION | 3585014 - MOTOR GP | 8E4235 - BOGIE A |
| 8Y7969 - HOSE A | 2542267 - CONNECTION A | 1637882 - SENSOR |
| 6N9968 - BRG-STD | 8E4121 - HOSE A | 2807856 - MOTOR GP-PRF |
| 2511636 - GASKET | 6V3740 - GASKET KIT | 8I4237 - RING-SEAL |
| 3777464 - GASKET-K-CLA | 2389848 - HOSE | 3607881 - MUFFLER-CLA |
| 1918032 - CARTRIDGE AS | 1885790 - 5/8" MASTER | 2600786 - RETAINER-CLA |
| 1J2149 - SHIM | 1243685 - GASKET KIT | 2420248 - HOSE AS. |
| 2H3918 - SEAL | 1154222 - GASKET OIL P (1193072) | 10R7621 - PUMP AS FUEL |
| 1037698 - CAP,SEALING | 4W8739 - HOSE A | 1655970 - SWITCH |
| 0777240 - BUSHING, SEL | 2797139 - GASKET KIT | 9H1980 - PINION |
| 6V4786 - GASKET KIT | 0947336 - HOSE,RUBBER | 2212572 - HOSE AS. |
| 6F1752 - SHAFT | 1309218 - GASKET | 3434575 - HOSE AS. |
| 1Q1767 - HOSE A | 3M5044 - CONE-TAPERED | 3E9856 - BOLT |
| 1241669 - COUPLING AS | 1859148 - PUMP GP-2PS- | 7I0985 - RUBBER |
| 7X9281 - SCREW | 1917943 - LINE AS-FUEL | 9T3382 - GASKET |
| 9P2653 - GEAR PUMP | 2076129 - HOSE AS. (1620724) | 2769775 - HOSE AS |
| 6S6251 - MOUNT AS | 7X2628 - RING | 7P1577 - PIN |
| 1380563 - HOSE AS | 4W1131 - CARTRIDGE G | 5V0622 - JOINT GP. |
| 3256058 - CYLINDER-CLA | 8K3077 - HOSE A | 1165353 - CYLINDER G |
| 5N9357 - PUMP GP-WATE | 8E8341 - SEAL G | 4560197 - KIT SEAL |
| 3N8462 - SEAL | 8P0769 - HUB | 2276938 - HOSE AS |
| 2243125 - BASE | 1313736 - SOCKET | 3176600 - PIN A |
| 7T1151 - SEAL | 0924445 - HOSE A | 1062048 - RETAINER |
| 7Y1978 - MUFFLER | 1282055 - HOSE AS | 6T8403 - WINDOW A |
| 1U1887 - TOOTH | 7J9732 - BEARING | 7D8649 - HOSE A |
| 3848698 - VALV-EXH-CLA | 1596128 - HOSE AS | 1532523 - LAMP AS |
| 529453R1 - CUP (9S7949) | 2T3883 - FLIGHT AS | 5T7021 - HOSE A |
| 8J4515 - GEAR PUMP | 1048921 - HOSE A (1233614) | 6Y8185 - MASTER PIN |
| 0L1022 - PLUG | 4H5952 - GASKET | 2436146 - HOSE AS. |
| 1366088 - GASKET KIT | 5J4974 - SEAL | 0964790 - BOLT |
| 3421547 - HOSE AS | 7G1316 - STATOR | 5P9632 - GASKET KIT |
| 3050329 - ELEMENT | 2M0890 - GASKET | 1287990 - HOSE A |
| 5T6924 - HOSE A | 1128416 - BREATHER | 2H3848 - SEAL |
| 2S3321 - RETAINER | 1B8825 - CLAMP | 5F5381 - O RING - D7 |
| 2253150 - MOTOR GP-ELE | 1713446 - HOSE AS | 1175765 - CAGE |
| 1556647 - CUP AS | 2T0790 - HOSE A | 1W6796 - HOSE A |
| 5P5996 - M TUBE STK | 1194272 - LINK GP STB | 0517138 - GROUP-HYDRAULIC KIT |
| 3S9668 - RACE | 9C8619 - HOSE A | 1653171 - HOSE AS |
| 2012837 - PIN | 4328939 - BEARING-CU | 5196320 - FILTER |
| 6V3744 - GASKET KIT | 1386458 - TIP J450 T/S | 8N8012 - LINE AS |
| 9J1187 - BEARING | 6E1819 - SECTION KIT | 2M3818 - SEAL O RIN |
| 8V7214 - CUTTING EDGE | 3W4157 - HOSE A | 1114051 - HOSE A |
| 9X8563 - GASKET KIT | 2G2222 - HOSE A | 3G7648 - ROD AS |
| 9X4776 - CABLE | 1104712 - EDGE | 2U2526 - CLAMP |
| 5U8584 - HOSE ASSEM 1 | 2447238 - HOSE AS. | 5W2568 - STEM G-ACTU |
| 6D4246 - CLIP | 3348405 - GASKET KIT | 5E9957 - O RING |
| 3B9970 - WORM | 4E9274 - HOSE A | 0306815 - PLUG |
| 2J9919 - 8S8857 | 4S5405 - STEM A | 0066184 - RING |
| 2562213 - HOSE AS. | 4356046 - COMP-AIR-C | 1891942 - BOLT-HEX HEA |
| 1409902 - GASKET KIT | 1276371 - LINK AS | 1226505 - HOSE A |
| 1S1321 - GASKET KIT | 9W6693 - D-C SEAL | 1667683 - HOSE AS |
| 2D9191 - BEARING-CONE | 8W0102 - HOSE AS | 1735122 - HOSE AS |
| 5S8601 - GASKET KIT | 1273164 - CIRCLIP | 8D1648 - DISC |
| 5I8871 - HOSE AS | 8E4675 - SEGMENT | 1890282 - SEAL KIT-STD (4I9391) |
| 2230583 - MOTOR GP-PST | 1C8159 - HOSE A | 1792912 - HOSE AS |
| 4T8799 - SOLE | 0950332 - RING SNAP | 5P9651 - BEARING |
| 1371289 - CARRIER | 1407308 - GASKET KIT | 6K8309 - PIN |
| 1W2070 - BODY A | 9U1738 - DISC-FRICTION | 4M1828 - RETAINER |
| 6D4636 - CLIP | 3167118 - HOUSING AS-A | 2458342 - GASKET |
| 0813294 - SCREW | 1870664 - HOSE AS. | 3G8119 - CYLINDER G |
| 1322129 - HOSE AS | 0374802 - HOSE A | 2583545 - GRILL AS |
| 7K9563 - GEAR | 5Y1374 - HOSE A | 6B8238 - SEAL |
| 8H8819 - BEARING | 5D4085 - BOLT | 7I0919 - 7I0918 |
| 7K2582 - LEVER | 9W6990 - RING-SEAL | 3059362 - LINK |
| 6V9256 - GASKET KIT | 1V1097 - HANDLE ASSY. | 4L7923 - GASKET |
| 6I1342 - SHAFT | 2236642 - HOSE AS | 2Y8324 - ARMATURE A |
| 7N2049 - DOWEL | 1060379 - HOE AS | 2J3950 - NUT |
| 821894 - BOLT 1/2X1 1/2NC | 4E7771 - HOSE A | 1687949 - VALVE |
| 6I0488 - HOSE KIT | 6V1726 - BOLT | 6D5766 - HOSE A |
| 8X4691 - HOSE A | 8K0079 - BUSHING | 3019300 - HOSE AS. |
| 2160597 - HOSE AS. | 4W7147 - GASKET | 7C6301 - LINE AS |
| 4551899 - KIT GASKET | 1T1410 - ROLLER | 9W5732 - CUTTING EDGE |
| 5S5625 - HOSE A | 7E5114 - V-BELT | 5A7510 - HOSE A |
| 8X1376 - HOSE A | 3653117 - DOOR | 1737447 - EDGE-SEGMENT |
| 5185133 - KIT SEAL | 2037989 - HOSE AS. | 6S9062 - SEAL AS |
| 2N2878 - SPRING | 2043626 - SEAL KIT | 7J9474 - CUTTING EDGE |
| 0779732 - CUP | 1482341 - VALVE G | 7U6362 - HOSE AS |
| 4K5086 - YOKE | 8J8566 - New Rebuilt - VALVE G. | 3P0677 - HOSE A |
| 3973967 - PUMP GP-PS (2712116) | 1324720 - TOOTH-UNI | 0785709 - 90D O'RING E |
| 5S3949 - TUBE AS | 5D6329 - DISC | 1301503 - HEAD GP |
| 3S6981 - SHIM PACK | 9R2495 - SEAL-O-RING | 2177388 - HOSE |
| 6N6071 - AIR FILTER | 9B5668 - LOCK | 8D1642 - SEAL |
| 9S3392 - TRACK ROLLER | 2336742 - VALVE-CHECK | 5L8732 - BRUSH A |
| 5T9997 - HOSE A | 1345560 - WIPER G (1477969) | 7N2839 - Turbocharger TV6137 465244-1 |
| 4B7075 - WASHER | 9C9689 - HOSE A | 3D9334 - REBUILD KIT |
| 0535242 - HOSE A | 1746829 - GASKET KIT | 8W2711 - HOSE A |
| 4I6392 - 4I6391 | 8S8232 - HOSE A | 1337029 - EXHAUST VALVE |
| 1P1116 - SHAFT | 4N7594 - WHEEL A | 1248899 - GASKET KIT |
| 0931484 - RING,BUFFER | 975255 - SHIM | 3176389 - PUMP GP-FUEL |
| 2B4229 - CLAMP | 3014765 - LINK-CLASSIC | 3Y9516 - PIN |
| 10R2781 - INJ GP | 3E3368 - WEDGE | 4H8397 - GEAR |
| 0774671 - WASHER, LOCK | 3F7415 - BUSHING | 6V0213 - GASKET KIT |
| 3119515 - CYL GP-0150 | 2750885 - KIT-GASKET | 4I3508 - 4I1688 |
| 1141383 - SHAFT | 3T8952 - MOTOR G-ELEC | 2Q1943 - HOSE AS |
| 3S5128 - PLATE | 8T8925 - BOLT | 8W0235 - HOSE AS |
| 1J6740 - BEARING | 2T2262 - HOSE A | 0L2351 - RING |
| 2897780 - CYL GP-0170 | 9T1364 - SCREEN | 8I6346 - HOSE AS 3/8" |
| 9Q3670 - V-BELT-BANDE | 1690560 - PUMP GP-2PS- | 5L3648 - MOTOR A |
| 5D0412 - HOSE A | 1183783 - SCREW | 8U5814 - UNIVERSAL |
| 1930618 - SENSOR | 0777445 - PLUG | 4I0832 - 4I0830 |
| 1620727 - HOSE AS | 6V0278 - GASKET | 9C9842 - SHOE AS.-LIN |
| 9J4295 - ADAPTER RH | 0785606 - INVERTED FLA | 5T7116 - HOSE A |
| 4U0731 - HOSE ASSEM 3 | 5T9992 - HOSE A | 1G4762 - HOSE A |
| 8W1489 - HOSE A | 7J3142 - PLATE | 3512740 - HOSE AS. |
| 2G8053 - REFILL KIT | 0083086 - SCREW | 2183270 - GASKET |
| 3083431 - BEARING SET | 7D8510 - WHEEL G | 8N0517 - AIR CLEANER ASSY. |
| 2142078 - HOLDER AS-LG | 6T4964 - CAP A (6T4965) | 4D5619 - HOSE |
| 3402367 - RING-RETAINI | 0996999 - RING BACKUP | 4I1027 - 4I1025 |
| 1114530 - HOSE A | 1742156 - HOSE AS. | 8R4665 - HOUSING |
| 0R4612 - PUMP GP HYD | 2V0705 - PIN | 1077001 - STEM-SWING |
| 1764888 - RING-BACK UP | 5027502 - BEARING | 5J7018 - RING |
| 1192531 - TEE | 2V5712 - HUB | 3148516 - ELBW-EXH-CLA |
| 3900991 - LCK-VALV-CLA | 3483289 - GASKET KIT | 2V3340 - HOSE A |
| 9C4753 - HOSE A | 0968058 - RING SNAP | 4576093 - KIT SEAL |
| 7J9910 - CROWN-PISTON | 7D7004 - CLUTCH AS | 1774668 - GASKET KIT |
| 9P6798 - RING-SEAL | 4512175 - WASHER-HAR | 1278222 - INJECTOR GP |
| 1212725 - SENSOR G | 2744708 - KIT-WATER PU | 1956343 - RIM |
| 6N9851 - CORE AS | 0931479 - PACKING,ROD | 5856-U40 - ADAPTER, 2 |
| 2100934 - O-RING | 6I1214 - ATOMIZER A | 1777953 - HOSE AS. |
| 7E3204 - MANIFOLD (1078108) | 3109544 - KIT-GASKET | 4L9021 - SEAL |
| 2D6381 - PINION | 7G3435 - GEAR | 7X2807 - SEAL KIT |
| 3F7473 - BUSHING | 6P6586 - SPRING | 3303123 - MOTOR GP-ELE |
| 3B1317 - ROLLER ASSY. | 1875705 - HOSE AS | 6Y2737 - CUP |