Caterpillar 986K Loader parts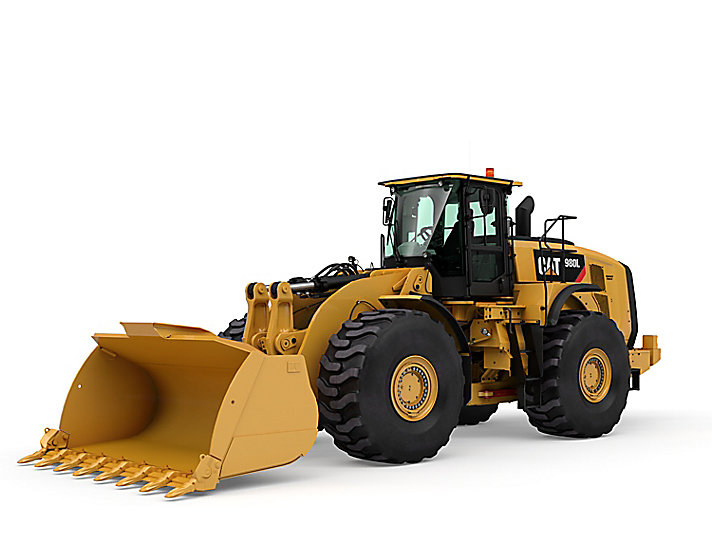 Here is some more information about Caterpillar 986K Loader:
ENGINE
Net Power 278.0 kg/mm
Engine Model Cat C15 ACERT
Bore 137.0 mm
Stroke 171.5 mm
Displacement 15.2 l

WEIGHTS
Operating Weight 44818.0 kg
If you send us your request, we will make you an offer for original and Aftermarket Caterpillar parts for your Caterpillar 986K Loader.
Caterpillar 986K Loader - it is a big machine. But even such machine sometimes needs maintenance.
Our online parts store give you an access to more than 1 000 000 Caterpillar parts that we have in our inventory.
Below is a small list of Caterpillar parts for this equipment. However, if you are interested in something - please use the site search.
| | | |
| --- | --- | --- |
| 1045655 - HOSE | 8J1300 - PIN | 2A4492 - STUD |
| 8X9629 - HOSE A | 1233444 - HOSE AS. | 6B2695 - CUP AS |
| 0300058 - BEARING A | 6W2666 - HOSE AS | 2U5114 - PIN TENSION |
| 0304989 - HOSE A | 1160520 - COUPLING AS | 0779510 - HOSE ASSY |
| 2K5058 - CASE ASSY. | 7G3414 - CLIP | 8R1515 - HOSE A |
| 2892935 - SEAL AS (1672195) | 6L3177 - TUBE | 6W8278 - WASHER |
| 3V5879 - HOSE A | 5T6810 - HOSE A | 7D9167 - HOSE A |
| 3N7284 - HOSE A | 3302012 - | 1S5138 - VEE BELT |
| 1039684 - METAL,CON-RO | 1866190 - ACCUMULATOR (1763900) | 4228118 - CTG-VANE-C |
| 1448223 - HOSE AS | 9G8693 - MOTOR A | 9S3390 - ELBOW |
| 7X1906 - CABLE | 1165570 - SPRING | 3580768 - SCREW-ADJUST |
| 2775156 - GASKET KIT | 7Y0681 - CYLINDER | 2404595 - HOSE AS. |
| 2W8093 - SPRING | 4T6788 - ELEMENT | 0323411 - HOSE |
| 2P6820 - VEE BELT | 3198081 - GASKET KIT | 5S5497 - HOSE A |
| 1371384 - SEAL KIT | 6V4940 - | 2894179 - GASKET |
| 2667972 - CYLINDER GP | 5A8397 - BOLT | 8M8621 - GASKET |
| 2702720 - PUMP GP-PS&G | 2047949 - SENSOR GP (1761602) | 5G2022 - HOSE A |
| 1159783 - HOSE A | 7G0437 - PLATE | 9R2511 - PINION AS |
| 7E4821 - CARTRIDGE AS | 1T0290 - PLATE | 0993047 - PIN DOWEL |
| 2174727 - CENTER EDGE | 2987845 - SCREW | 1622954 - GASKET KIT |
| 0335879 - RING | 4W2539 - PIPE | 982972 - SNAP RING |
| 8T9373 - BOLT | 7X9746 - HOSE A | 2505698 - HOSE AS. |
| 1S4382 - GASKET | 5M2057 - SEAL | 6W4486 - HOSE AS |
| 0991398 - HOSE | 6D5395 - HOSE A | 6Y5318 - SEAL G |
| 4P5435 - COMPRESSOR | 8U2622 - LAMP | 3L5907 - GASKET |
| 2915010 - DOOR RH | 0041962 - SEAL | 2147457 - CLAMP-T'BOLT |
| 7K2018 - SEAL | 6V1133 - GASKET KIT | 2V8570 - HOSE A (0980082) |
| 1915649 - SEAL KIT | 1653192 - HOSE AS | 8E7475 - GEAR |
| 4069801 - COUPLING, HYD | 1801694 - HOSE AS. | 9W7040 - PISTON |
| 1T0772 - RING | 4H9611 - FUEL LINE | 2454393 - GASKET |
| 1557525 - HOSE AS | 3067717 - INJECTOR | 4P8753 - LINE AS |
| 5M7366 - BEARING | 1058901 - GASKET | 0550793 - HOSE AS |
| 4N8466 - ELBOW | 5S5595 - HOSE A | 1240865 - 124-0864 |
| 3B4627 - COTTER PIN | 2625924 - BOLT | 7107319 - BOBCAT TOOTH (S |
| 1P0431 - RING-TOP | 7C7337 - TUBE AS | 1052601 - SEAL KIT |
| 5I7655 - PIPE | 8W9602 - BAND A | 2048395 - HOSE AS |
| 1451039 - HOSE A (1303909) | 2440960 - SEAL KIT | 2H3910 - SEAL |
| 2238503 - HOSE AS | 1M7073 - O RING | 7T3355 - ADAPTER |
| 6V8187 - NUT | 7S8544 - HOUSING | 1U4183 - END BIT |
| 8N9023 - MAIN BEARING | 9X2040 - SCREW | 1243687 - GASKET KIT |
| 2055266 - PUMP GRP | 1850807 - VALVE GRP | 1534906 - SEAL-O-RING |
| 6U3641 - HOSE ASSEMBL | 7J3868 - SEAL-RING | 514115 - SEAL KIT HYDRAULIC CYLINDER |
| 2578738 - RING-SNAP (1041236) | 5I7720 - PIPE | 5E9844 - SEAL |
| 8S4742 - BOLT | 8T8880 - GASKET KIT | 3079233 - BUSHING, ARM |
| 1211772 - HOSE A-XT | 2346712 - HOSE AS. | 1480611 - HOSE AS. |
| 2866824 - HOSE AS | 1230983 - GASKET (1432878) | 1728827 - HOSE AS |
| 7W0182 - PLUNGER | 6E1332 - PLATE | 3523921 - SEAL-O-RING |
| 2A3746 - PLUG | 6V0900 - GASKET KIT | 4K6809 - RETAINER |
| 1W0148 - CORE A (1041815) | 5T4658 - HOSE A | 2M9138 - HOSE |
| 6G5155 - BEARING | 6Y9032 - HOSE AS | 4W4851 - HOSE A |
| 6V4861 - BLOCK | 3089804 - BRG-CAGE-CLA | 1V7328 - COLLET |
| 6V0242 - GASKET KIT | 9X7523 - SEAL | 8X7882 - DISC OUTER |
| 2426238 - HOSE AS | 1970769 - GASKET | 7K7835 - HOSE A |
| 5W5479 - SEAL-O-RING | 8T0342 - BOLT | 1T1755 - SHAFT |
| 1121000 - HOSE AS. | 6V5201 - RING | 2Q2047 - HOSE AS |
| 784999 - BOLT 5/8 X 2 1/2 NC | 2192434 - RING-WEAR | 1414094 - HOSE AS |
| 6V0973 - SEAL | 2482618 - MOTOR GP | 7S0313 - HOSE A |
| 1504906 - HOSE AS | 7C8296 - ISOLATOR | 0635004 - LOCKWASHER 1/2 |
| 4E0702 - GEAR | 1589065 - RING | 2264755 - Crankshaft SEAL GP |
| 2152899 - BOLT-HEX HEA | 0774726 - STUD | 8K3218 - HOSE A |
| 1369371 - PIN | 9W6618 - SEAL KIT | 2005233 - INDICATOR |
| 1620682 - GASKET AS-CY | 4C9614 - SEALANT | 8D0527 - GEAR |
| 9W8937 - LINK AS | 3076210 - RECOIL, SPRING | 1764819 - HOSE AS |
| 5M6646 - LOCK | 8X6065 - HOSE A | 1C6691 - CONEK |
| 1309042 - CYLINDER G | 9G5101 - TUBE AS | 9T7780 - GASKET |
| 7S2020 - RING | 1176442 - SEAL | 6I9790 - DAMPER BOLT |
| 6L2780 - GASKET | 9S1062 - GASKET KIT | 0996467 - ROLLER |
| 2520192 - HOSE AS. | 6P7379 - HOUSING A | 9D5097 - SOCKET A |
| 5M1994 - LOCK NUT | 1392373 - MOTOR GP | 1672482 - SEAL-WIPER (1433673) |
| 1749517 - PIN-TAPERED | 6R7295 - HOSE A | 8C1914 - HOSE A |
| 1035688 - VEE BELT SET | 3315291 - RADIO GP CD | 4W1281 - LINE A (8N6011) |
| 1120841 - HOSE AS | 2494060 - HOSE AS. | 1370897 - 137-0896 |
| 7N0940 - VALVE EX 3406 3408 3412 | 7X4291 - BALL BRG | 2752103 - INDICATOR |
| 2901352 - HEAD GP-CYL | 2106038 - SEAL - D4 | 9N5697 - SEAL A |
| 2V1822 - HOSE A | 1385111 - HOSE A-XT | 4M5397 - LOCK |
| 4206217 - PLT-SEAL-C | 8C3076 - SEAL | 1171830 - HOSE A |
| 1216765 - CYLINDER A | 0931730 - RING,SNAP | 1S8754 - JOINT A |
| 4V5388 - SHAFT | 7F3708 - PIN | 8W8859 - HOSE A |
| 1623302 - HOSE AS | 4I4808 - PIN AS | 3775829 - BUSHING-CLA |
| 8K3714 - PIN | 7V5353 - HOSE A | 0823090 - O RING |
| 9V1883 - BEARING | 5T7123 - HOSE A | 8R0713 - SPRING |
| 1T0706 - BEARING | 1616863 - HOSE AS. | 4W6030 - V-BELT SET |
| 1G5454 - HOSE A | 6718006 - BOBCAT BOLT ON | 7E0859 - POTENTIOMETER |
| 1021311 - HOSE A | 3D8323 - VALVE A | 8W7910 - HOSE A (8W5387) |
| 0996864 - HOSE | 1111043 - HOSE A | 3127702 - WHEEL AS |
| 1440477 - GASKET | 8S9202 - HOSE A | 4174519 - BRG-SLV-CL |
| 5U3531 - RING-PISTON | 1M9711 - GASKET | 0536594 - HOSE A |
| 0921263 - HOSE AS | 6V1016 - GASKET KIT | 7D6841 - JOINT AS |
| 2538003 - GASKET KT-EN | 1141486 - HOUSING | 0944216 - O-RING |
| 3P3891 - SHOE-MASTER | 4U7258 - HOSE ASSEMBL | 6C5758 - SEAL O RIN |
| 8T9018 - SEALER | 8C7431 - O-RING | 6V5758 - SEAL-O-RING |
| 4V9809 - STEP A | 2A5770 - GASKET | 1741724 - HOSE AS. |
| 1177070 - HOSE A | 9N3078 - SHAFT | 1087670 - HOSE A |
| 6F7033 - BOLT | 9M3399 - GASKET | 9P7757 - GEAR |
| 5F9238 - HOSE A | 8G1505 - HUB | 5H0051 - PLATE |
| 5S1818 - VEE BELT | 1918021 - Turbocharger S300G071 178029 | 9M5893 - SEAL |
| 3417665 - PUMP GP | 1V9325 - HOSE A | 1566143 - HOSE A |
| 2526863 - PIN-CLASSIC | 5A3565 - BUSHING | 5R5545 - HOSE AS |
| 1924009 - HOSE A | 2753571 - SHOE-TCK-CLA | 4N5613 - ARM. |
| 8N6707 - BELT SET | 0618306 - HOSE | 3T3727 - SWITCH A |
| 1782971 - GASKET KIT (5P9634) | 1R5318 - SEAL O RING | 3V4821 - STRIP |
| 5T1738 - WORM GEAR | 2410825 - GASKET KIT | 3864950 - RACE-OTR-CLA |
| 1217631 - RING RETNG | 4442021 - KIT GASKET | 4W5360 - Crankshaft SEAL GP |
| 4W4797 - TUBE AS | 6V5465 - KIT GASKET | 6D1741 - HOSE A. |
| 2A6842 - HOSE AS | 3R2689 - VEE BELT | 7B2174 - SEAL |
| 1G6918 - SEAL | 1642313 - HOSE AS | 2L2094 - BEARING |
| 7T4475 - HOSE AS | 7N8175 - GASKET | 1677640 - HOSE AS |
| 2512553 - PIN | 6Y6079 - HOSE AS | 7X7925 - BOLT |
| 8K6285 - SHAFT | 1443826 - GASKET | 4W3490 - TUBE A |
| 2404598 - HOSE AS. | 6D5588 - HOSE A | 2685589 - SEAL (1593955) |
| 4P6857 - GASKET | 1944425 - GASKET KIT | 1282952 - PISTON |
| 9M4335 - PIN | 6V7979 - REING-RETAIN | 1620236 - RING |
| 1348402 - HOSE AS | 1127448 - ELEMENT | 4S6574 - GAGE FUEL |
| 2071558 - MOTOR GP | 8K6015 - GEAR | 8P3196 - HOSE A |
| 6T0609 - PIN | 1003250 - LENS AMBER | 1328559 - HOSE AS |
| 6J9480 - PIN | 6G3207 - WASHER THRUS | 1930478 - TRACK BOLT 9/16X1-15/16 |
| 7T9258 - HOSE AS | 0875298 - HOSE A | 6Y2057 - BUSHING |
| 7T8173 - SHAFT | 2677378 - AXLE AR | 7S0329 - HOSE A |
| 6V2247 - GASKET KIT | 7N2418 - METER-HOUR | 2108235 - SCREW |
| 6D2627 - HOSE A | 1673466 - SWITCH | 2L8066 - TERMINAL |
| 3807471 - DISC-STR-CLA | 1W3306 - INDICATOR | 5P3924 - BEARING |
| 3148250 - HOSE AS. | 4V4854 - COVER AS | 0777321 - O-RING |
| 1719742 - HOSE AS | 1135950 - SEAL | 5P8056 - GASKET KIT |
| 1796710 - HOSE AS | 5T8718 - HOSE AS | 8S7093 - GASKET |
| 8C3655 - BRUSH KIT | 0964278 - SEAL GP | 5P1181 - GASKET KIT |
| 6Y3834 - SEGMENT | 2766164 - PIN | 7U5273 - HOSE A |
| 7T5612 - BLOCK (1656946) | 5P6931 - GASKET KIT | 2220110 - PUMP GP-2PL |
| 8T1638 - KIT GASKET | 3755445 - SPRNG-TK-CLA | 6U6612 - HOSE ASSEMBL |
| 0969990 - BOLT | 2450579 - SEAL KIT | 9R9475 - BEARING |
| 2048077 - HOSE AS | 3A2285 - KIT-HARDWARE | 8U2158 - SWITCH A. |
| 6K6844 - HOSE A | 1002859 - PRECLEANER G | 1630853 - GASKET KIT |
| 5S9199 - HOSE A | 1620150 - BEARING-SLEEVE | 3S9669 - RACE |
| 1226241 - HOSE A | 1549731 - THREAD LOCK | 4235611 - GASKET |
| 0784983 - HEXAGON CAP | 3B1925 - WASHER | 1266950 - CYL GP |
| 7G0204 - HOSE A | 1451828 - HOSE AS | 1095297 - GASKET |
| 2508737 - BOLT | 1211519 - CYLINDER AS | 1648177 - HOSE AS |
| 7S4992 - CAP A | 1411936 - GASKET KIT | 2153569 - HOSE AS |
| 9F5975 - CAP SCREW | 3185088 - GASKET KIT | 2667922 - MOTOR GP-PSF |
| 1689108 - CYLINDER AS. | 9W6676 - SEAL G | 1146652 - HOSE AS |
| 7C7614 - BRACKET AS | 5I8044 - PIPE | 1695618 - GEAR-PLANET |
| 2772925 - CONNECTION A | 4D3734 - UNION | 9X7719 - SEAL |
| 2155852 - HOSE AS | 2P1966 - GEAR A | 7M9923 - SLEEVE |
| 8S9300 - BELL AS | 1141294 - SHAFT | 2V0151 - HOSE A |
| 5D0353 - BOLT | 5P9171 - RING | 8D5381 - HOSE |
| 8J7584 - HOSE A | 5T2409 - HOSE A | 3B7389 - BEARING |
| 2052495 - LEFT SIDE GUARD | 3R4832 - HOSE A | 8C3846 - RING |
| 6V0621 - GASKET KIT | 1H8466 - GASKET | 0875057 - 087-5055 |
| 4609003 - SEAL-O-RIN | 2V9234 - HOSE A | 4L6233 - ELBOW |
| 2078494 - HOSE AS | 9T8944 - CYLINDER GP | 9R2591 - HOSE AS. |
| 5U8595 - HOSE ASSEM 1 | 7X4288 - O RING | 1131147 - FLANGE |
| 9U8435 - HOSE A | 4347284 - GASKET-K-C | 0868591 - RET RING |
| 1252050 - HOSE A | 2842917 - HOSE AS-AIR | 1291101 - VALVE GP |
| 3S3846 - HOSE | 9W6613 - RING | 3777436 - PLATE-CL-CLA |
| 951586 - SEAL - O - RING | 3P1946 - SUPPORT A | 2510001 - PLATE-MAIN |
| 2266622 - HOSE AS | 1853986 - SEALANT | 2T1049 - HOSE A |
| 7Y1418 - CM HOSE | 7B5060 - RIVET | 4663811 - KIT GASKET |
| 7T4213 - STOP | 3G8071 - CYLINDER GP | 0951787 - RING,BACK-UP |
| 2497063 - HOSE AS. | 1412680 - GASKET KIT | 1V7445 - RIM G |
| 1882933 - BRAKE KT-LIN | 2236794 - HOSE AS | 1701371 - BEARING |
| 6D2403 - WASHER | 2594783 - HOSE AS | 0931822 - BEARING |
| 3520200 - PUMP GP-WATE | 3P2842 - HOSE A | 0941228 - LABEL,HOSE |
| 7E7630 - IMPELLER | 6N9219 - CORE A OIL C (7E2660) | 3434013 - TOOTH-SCARIF |
| 4K0008 - PLUG | 4J0520 - SEAL-O-RING | 9N5125 - VALVE |
| 9J4175 - HOSE A | 1M8800 - SHOE 26 STD D7 | 1087626 - HOSE AS |
| 1705252 - INJECTOR GP- | 2790108 - PUMP GP-GR 1 | 2405718 - HOSE AS. |
| 8W8085 - HOSE A | 6V2347 - GASKET KIT | 3K0831 - PIN |
| 8W5090 - HOSE A | 9T5822 - HEAD AS | 4H0553 - FITTING |
| 5V9151 - CYLINDER A | 6L4757 - HOSE | 2922771 - KIT-SEAL |
| 2407194 - GASKET-HEAD | 3105912 - BOWL AS | 1252966 - SENSOR-MAG. |
| 1778782 - PUMP KIT | 5T3936 - HOSE A | 7W4648 - SEAT-SPRING |
| 5P8973 - GASKET KIT | 1105495 - 110-5493 | 7D3203 - 8D6627 |
| 6Y8023 - BEARING-IDLE | 6G0901 - BOLT | 1615811 - BEARING |
| 2F8621 - DISC A | 1R9317 - PISTON ASSY - 3066 | 1618149 - CUP |
| 1136349 - NUT | 4T7807 - RING | 4V6104 - RETAINER |
| 2L3649 - PLATE | 1687246 - PISTON PIN | 8T7987 - CONE |
| 2975867 - GASKET KIT | 7G2832 - RING | 4N6765L - CYL HEAD, LOAD |
| 6V1858 - GASKET KIT | 1237034 - ROD AS | 7M0407 - GASKET KIT |
| 3U8090 - WASHER | 6L1962 - NUT | 8I4457 - GASKET |
| 8V8427 - COVER AS | 126412 - HOSE A | 525154 - SEAL KIT 988 LI |
| 9W7481 - GEAR | 8A2167 - SEAL | 7X6719 - RET RING |
| 1559560 - HOSE AS (ORF | 0371603 - GASKET | 3504340 - SEAL GP DUO |
| 8N5384 - MANIFOLD | 6U2149 - HOSE ASSEM 3 | 801171 - BOLT |
| 2R0694 - MOUNT AS | 8T7287 - SEAL | 1313895 - HOSE AS-XT6 |
| 7C5161 - LINE AS | 1979456 - HOSE AS. | 1V3361T - THRUST RING |
| 5P5901 - M SEAL STK | 7Y1810 - BOLT | 7G5608 - HOSE A |
| 8M6218 - GUARD | 5D6936 - HOSE AS (1339499) | 1025868 - HOSE AS |
| 0614196 - CUP | 5T9834 - HOSE A | 4T4333 - PIN-PIVOT |
| 7G2526 - GEAR-PLANET | 3P1972 - GASKET KIT | 1055059 - TURBOCHARGER |
| 9P5987 - HOSE A | 1480168 - HOSE AS | 1966928 - GASKET KIT - |
| 3943496 - ALTERNATOR | 8W2620 - HOSE A | 0775257 - O-RING |
| 7H7539 - NUT | 1412728 - PULLEY | 1982952 - SEAL,DUST |
| 4200652 - SEAL AS | 1S3921 - SPRING | 1155853 - TURBO GP |
| 8T9022 - GSK SILICONE | 3N8098 - HOSE A | 6C9430 - HOSE AS XT |
| 1233793 - ROD AS | 4S8337 - AIR FILTER | 7R4708 - BELT ALT |
| 7I1367 - HOSE A XT | 5J9188 - ARM A | 9D7986 - SEAL |
| 3465709 - PIN-CYL-CLA | 3142769 - KIT-GASKET(T | 0926820 - HOSE A |
| 3807535 - PULY-FAN-CLA | 2258287 - GASKET | 8K0042 - GEAR |
| 6689371 - S/F RLR GRP 864 | 6N7828 - PLNGR & BARL | 3148538 - RTNR-PN-CLAS |
| 1908038 - PIN AS | 1R8913 - BEARING | 2388650 - CAT ELC |
| 7W2173 - RADIATOR CORE | 1071983 - LAMP AS | 7D6608 - HOSE A |
| 4S5981 - GEAR | 533123 - TILT CYL KIT 95 | 8X6161 - HOSE A |
| 8D2469 - SHAFT | 4T6489 - HOSE A | 5N8335 - CYLINDER HEAD |
| 6V7359 - GROMMET | 9U4144 - HOSE A | 8Y4426 - HOSE A |
| 3190764 - HOSE AS | 5V5698 - RECEIVER | 3022858 - HOSE AS. |
| 8J6544 - SPROCKET | 8R4568 - PISTON | 2322538 - HOSE AS |
| 9R4988 - HOSE AS | 1424849 - HOSE A | 3E8906 - GASKET KIT |
| 7S1348 - HOSE A | 3041894 - IDLER GP TRK | 1L0480 - FITTING |
| 5G1214 - HOSE A | 2127469 - CYLINDER | 1B4076 - BEARING |
| 9C2773 - HOSE A | 1326832 - PUMP GP-GEAR | 1528039 - LINK A |
| 4K7462 - SEAL | 2D7695 - COLLAR | 9T8993 - PUMP G |
| 2040712 - BOLT | 9G9894 - HOUSING CLUTCH | 8E5600 - ROLLER A (0964277) |
| 5K7247 - SPACER | 7E4639 - RADIATOR A | 1140917 - SHIELD |
| 2623029 - BUCKET | 4T6760 - EDGE SEGMENT | 10R7218 - BLOCK GP CYL |
| 8E6090 - LINK AS-TRAC | 2224942 - GASKET KIT | 2T0252 - ROLLER AS |
| 4T9123 - EDGE-SEGMENT | 5S7830 - DISC | 1W9208 - FUEL LINE |
| 1M3265 - FITTING | 4D7686 - SEAL | 4T9910 - CYLINDER AS |
| 6P0259 - VALVE G | 9V2230 - HOSE A | 1563640 - YOKE AS |
| 2725680 - RING | 1J6269 - RING | 1A5964 - CAPSCREW |
| 1319518 - 131-9516 | 2R0098 - SEAL O RING | 2M5202 - GASKET |
| 2946285 - HOSE AS. | 909020 - KIT | 1734777 - HOSE AS |
| 1644927 - HARNESS | 1192950 - GASKET | 0R5538 - CORE GP-OIL |
| 1756920 - WASHER | 1M9748 - GASKET | 3W1599 - SEAL |
| 3D6873 - HOSE A | 1769170 - LEVER KIT | 1504213 - HOSE AS |
| 1C6515 - CONEK | 6E6659 - PUMP AS | 4T2305 - EDGE |
| 0814064 - SCREW | 1646732 - CLAENER GRP | 0905291 - HOSE A |
| 8W3265 - HOSE A | 8T1797 - SEAL A | 2276112 - HOUSING KIT |
| 2779757 - PUMP GP-GR 1 | 8T9485 - GASKET KIT | 4174500 - BRG-BALL-C |
| 9Y1655 - SEAL (1606386) | 3S5096 - CLAMP | 8T6475 - KIT GASKET |
| 8J6270 - CYLINDER A | 1048728 - 104-8726 | 5H9685 - GASKET |
| 2621900 - CYL GRP | 8K4231 - HOSE A | 8X3422 - HOSE A |
| 1175033 - PUMP A-WAT | 1414749 - GASKET KIT | 7G5624 - SHAFT |
| 9H7534 - SPRING | 3488375 - GASKET KIT | 8V4110 - HOSE A |
| 2341530 - STEP AS. | 0983997 - BLEEDER | 1F1344 - NUT |
| 2463434 - SEAL KIT | 3H8510 - BUSHING | 2144285 - PLATE AS-BUM |
| 3020394 - PUMP GP-PS-B | 6V6962 - MIRROR | 2608002 - HOSE AS. |
| 8M2888 - GASKET | 1V7643 - HOSE A | 3771430 - KIT-GASKET-C |
| 2241311 - HUB-CLASSIC | 3T8469 - GEAR | 3959555 - SEAL-O-RIN |
| 8X6180 - HOSE A | 4J3815 - GASKET | 1W6932 - Turbocharger TV8112 465332-7 |
| 0982977 - BEARING | 2423116 - HOSE AS. | 1219916 - PISTON |
| 3U4564 - SEAL | 1212066 - GASKET | 0890114 - BALL |
| 2H1765 - RING | 3011076 - SEAL RING | 1N4324 - ENGINE BEARING |
| 7J8611 - ELBOW | 1619820 - PIN | 1353225 - SHAFT AS |
| 6V8042 - GASKET KIT | 3801574 - BRG-BALL-CLA | 7K0872 - HOSE A |
| 1725189 - IMPELLER | 7R5866 - NUT | 1G5927 - SEAL KIT |
| 1740040 - HOSE AS. | 4B4280 - WASHER | 8X5303 - GEAR WORM |
| 0997089 - HOSE | 8M5146 - SEAL O RING | 6Y1254 - RETAINER |
| 8C5167 - SEAL-LIP TYP | 1W9781 - GASKET | 2965306 - MOTOR GP GR |
| 5H5553 - SCREW | 5P7979 - BOLT | 5S9312 - HOSE A |
| 1946920 - HOSE AS. | 6D1783 - 8S8936 | 8M2667 - PUMP AS |
| 2000407 - MOTOR-HYD | 4B4801 - PLATE | 1G4731 - HOSE A |
| 5P9137 - GASKET KIT | 4695312 - LINER-CYLI | 1487786 - HOSE AS |
| 1724454 - JOINT GP-UNI | 9X8904 - BOLT 12PT | 1334802 - SEAL KIT |
| 2977034 - SCREW-HHC 3/ | 5S0928 - CARRIER | 8N2729 - RING-SEAL |
| 2867166 - BEARING-SLEE | 0915963 - HOSE A | 6K0546 - PIN |
| 5V8994 - HOSE A | 1180869 - PIN | 9002042 - 25064 |
| 114-4866 - BUSHING | 1506737 - SEAL WIPER | 2602970 - PUMP GP-F TF |
| 3148703 - PULLEY-CLA | 6U7842 - HOSE A | 1617569 - CYLINDER AS |
| 1259943 - LAMP-LENS | 2552993 - GASKET | 3K5075 - PIN |
| 2869821 - SPROCKET-CLA | 3474578 - TIE-STRAP | 3V5564 - HOSE A |
| 5I4344 - HOSE AS | 8U0663 - HOSE A | 2519815 - ARM LH |
| 3U9367 - HOSE AS | 6Y1199 - STOPPER | 5P0089 - BEARING |
| 2Y5064 - PLUG | 5K1311 - GASKET | 1T1701 - CARRIER |
| 9C7631 - HOSE A | 9P7239 - PUMP AS | 7G4121 - GUARD G |
| 1U0322 - BEARING | 1004005 - PUMP GR | 3034938 - CLEVIS |
| 9W5838 - CUP | 2G8613 - PIN | 2W7873 - GASKET |
| 1583294 - 7K1181 | 2J7426 - SEAL | 3744699 - LINE-FI-CLA |
| 0779927 - O-RING | 1192362 - HOSE A | 7N2213 - BEARING |
| 8V1720 - HOSE A | 5M1905 - SHAFT | 3309296 - YOKE AS-CLA |
| 2V3954 - CASE A | 8C9660 - WASHER | 1838224 - TUBE AS |
| 7S7982 - GASKET KIT | 1492606 - HOSE AS (1450915) | 9S4997 - CORE A RAD |
| 4I6121 - HOSE A | 1128195 - GASKET KIT | 1218509 - 087-5898 |
| 2039728 - GASKET KIT | 7W3777 - PULLEY A | 2J1737 - CLAMP |
| 1110416 - GUARD AS-RH | 8N5388 - MUFFLER | 7N0909 - TERMINAL A |
| 2N3475 - SCREW | 4B3665 - BEARING-ROLLER | 5F5051 - BEARING |
| 1W0373 - LINE A-F INJ | 8W5060 - HOSE A | 0813042 - O-RING |
| 2P8986 - CUP AS | 4I0575 - SHIM | 7G5568 - GEAR |
| 8T0271 - BOLT | 3C3681 - NUT | 3B4233 - CONE |
| 2V3549 - HOSE A | 2125312 - HOSE AS | 6V3782 - GASKET KIT |
| 861879 - SOLENOID ASSY. | 1890268 - SEAL KIT-STD (7X2824) | 6B5310 - BOLT |
| 4P9963 - FUEL LINE | 1V8034 - PIN | 931379 - GASKET |
| 1503343 - GASKET KIT | 3S9738 - CORE A RAD | 0781986 - O'RING |
| 6L4381 - HOSE | 0R4328 - ALTERNATOR G | 4N0610 - DIAPHRAGM |
| 8T3597 - NUT | 6H0192 - STUD | 3988335 - SPROCKET-CLA |
| 684497 - CAP.OIL FILL | 3467528 - GASKET KIT | 0635025 - WASHER |
| 9R0705 - HOSE AS | 6G2527 - KIT-SEAL | 2500555 - HOSE AS. |
| 6A5151 - HOSE A | 1086616 - HOSE A | 3S8109 - PIN |
| 1638365 - HOSE A | 1S0795 - GASKET | 8S9182 - RING |
| 3B9393 - FITTING | 4P2524 - CARTRIDGE | 2304017 - BRAKE DISC |
| 8V8413 - HOSE A | 1440338 - HOSE AS. | 1521101 - HOSE A |
| 6W0238 - HOSE A | 9K2514 - BUSHING | 3026335 - SHIM |
| 2G4611 - HOSE A | 2D5658 - BEARING | 6V9235 - GASKET KIT |
| 2343029 - HOSE | 6Y0208 - CONE | 5I8095 - RECTIFIER A. |
| 7Y0238 - GEAR | 1421377 - RING | 1739685 - BOLT-HEX HEA |
| 1276826 - HOSE AS-XT | 7K1275 - LEVER AS | 1395550 - HOSE AS |
| 8P4922 - RING-SEAL | 5I4986 - BOLT | 8S4739 - BOLT |
| 5W6391 - SCRAPER | 3T9118 - RING | 0R7292 - Turbocharger GT4294S 716269-0001 |
| 1530104 - HOSE | 1U2816 - SPRING | 951785 - RING BACKUP |
| 6N0390 - GASKET | 3530273 - KIT-GASKET(R | 2U8545 - HOSE AS |
| 3G2454 - MOUNT | 6V0336 - GASKET KIT | 9C5048 - BEARING SLEEVE |
| 6I6355 - ADAPTER | 3G5226 - CYLINDER GP | 1V6185 - PIN |