Caterpillar 988H Loader parts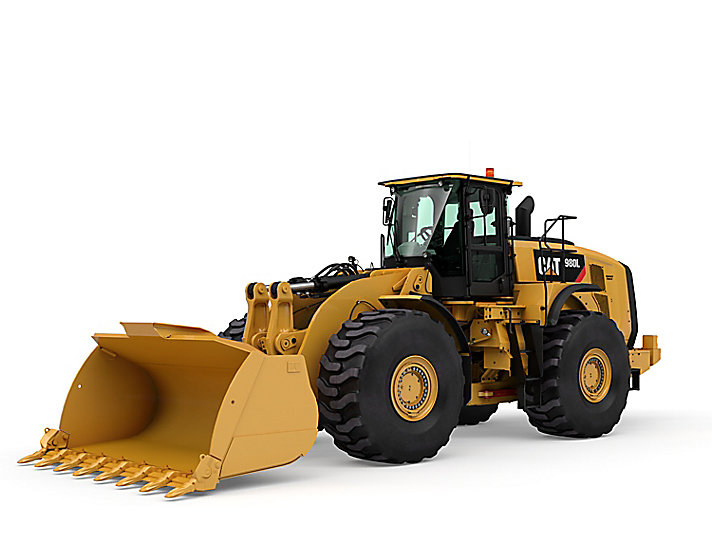 Here is some more information about Caterpillar 988H Loader:
ENGINE
Net Power 373.0 kg/mm
Engine Model Cat® C18 ACERT®
Gross Power 414.0 kg/mm
Net Power - ISO 9249 373.0 kg/mm
Gross Power - ISO 3046-2 388.0 kg/mm
Bore 145.0 mm
Stroke 183.0 mm
Displacement 18.1 l

WEIGHTS
Operating Weight 50144.0 kg
If you send us your request, we will make you an offer for original and Aftermarket Caterpillar parts for your Caterpillar 988H Loader.
Caterpillar 988H Loader - it is a big machine. But even such machine sometimes needs maintenance.
Our online parts store give you an access to more than 1 000 000 Caterpillar parts that we have in our inventory.
Below is a small list of Caterpillar parts for this equipment. However, if you are interested in something - please use the site search.
| | | |
| --- | --- | --- |
| 1407700 - ADAPTER | 7K3861 - HOSE A | 6Y9468 - RETAINER A |
| 1313200 - ELBOW | 5S9335 - HOSE A | 4P9075 - INJECTOR GP |
| 1760626 - WASHER | 2277448 - AIR FILTER | 0776791 - BOLT |
| 9V2410 - HOUSING | 137592 - HOSE A | 4T6382 - EDGE |
| 6D2848 - HOSE A | 7W5614 - SEAL | 3262044 - GASKET KIT |
| 1491912 - ELEMENT | 8S6513 - BEARING | 0969984 - BOLT |
| 0982873 - SEAL SHAFT | 9Y9432 - COVER AS | 7N6698 - HOSE A |
| 1917734 - CYLINDER AS | 3550776 - GASKET KIT | 6V5139 - SEAL |
| 7Y5119 - RING | 5M9132 - LOCK | 5N7977 - SHIELD A |
| 1241847 - HOSE A | 1308107 - SEAL GP | 1P0735 - RING SET |
| 5N4751 - BELT SET | 1921410 - SEAL KIT (1353802) | 1851016 - RADIATOR GRP |
| 4P4687 - WHEEL | 4I8800 - 4I8799 | 3V4879 - STRIP |
| 8T7187 - SEAL-O-RING | 9W5386 - HOSE A | 8C9646 - SOLENOID A |
| 2S1752 - LINK | 5T9820 - HOSE A | 2A5709 - GASKET |
| 2912165 - POTENTIOMETER | 1915576 - MOTOR GP-PSF | 6V3323 - BEARING |
| 3284266 - CYLINDER AS. | 2M8912 - PLATE | 2128572 - GASKET |
| 0950652 - BOLT,HEXSOCK | 7E0759 - HOSE | 7S0538 - GASKET |
| 6R3858 - HOSE A | 5V5474 - SPIDER A | 4W5492 - BEARING |
| 2014899 - CYLINDER AS | 0776040 - CAPSCREW | 6Y6412 - SHOE |
| 9W4280 - HOSE AS | 5T3189 - PIN | 9B4512 - BAIL A |
| 1917946 - LINE AS-FUEL | 2T0910 - HOSE A | 1P1077 - PLA & RECT A |
| 9T1276 - PLATE | 1580522 - PUMP GP-PS-B | 8C7562 - SCREW |
| 3T5425 - ARMATURE | 4I9220 - THERMOSTAT | 7N8604 - STARTER G |
| 3071527 - BRG-SLV-CLA | 1412686 - GASKET KIT | 4L7904 - GASKET |
| 2440968 - KIT-SEAL-H.C (1937639) | 5V2972 - JOINT AS | 2709293 - DISC FRICTION |
| 4F3602 - GASKET | 1885600 - CARRIER ROLL | 951589 - SEAL O RING |
| 1300485 - PIN | 1440720 - PISTON AS | 9S4775 - BEARING |
| 3G6194 - BRACKET | 3S0004 - WASHER | 2440958 - SEAL KIT |
| 8T9379 - BOLT | 2281776 - SEAL KIT | 1402944 - GASKET KIT |
| 1672219 - SEAL | 5S5557 - HOSE A | 6W1150 - HOSE A |
| 2472661 - MUFLR AS-CLA | 2214925 - HOSE AS | 1538383 - HOSE A |
| 3T2785 - MOTOR G | 9P7101 - PLATE | 1280833 - HOSE AS |
| 2P6147 - V-BELT | 3F5750 - BEARING-OUTER RACE | 5A8610 - STUD |
| 3864953 - BRG-RLR-CLA | 1714116 - GASKET KIT | 8T3353 - GASKET KIT |
| 5P9844 - GASKET KIT | 6V6143 - INSTALLER | 4228162 - PMP-VANE-C |
| 1080955 - LINK A | 4V4884 - SEAL | 2362911 - HOSE AS. |
| 0935201 - O-RING | 0956637 - O-RING | 1428162 - HOSE AS. |
| 1S7575 - ENGINE BEARING | 4196307 - BRG-MAIN-C | 1544250 - GASKET KIT |
| 2140533 - GEAR-RING-LG | 6L8796 - BEARING | 2896386 - PUMP GP-PS-B |
| 7G9224 - RING-SEAL | 2J7763 - WASHER | 0928344 - HOSE A |
| 2G1659 - CAM FOLLOWER | 2531238 - RETAINER-PIN | 8T7183 - SEAL-FACE |
| 1054646 - HOSE AS | 2T1665 - HOSE A | 9R3182 - PIN |
| 1088562 - MOTOR GP | 5126464 - BRG-BALL-C | 2686704 - FILTER |
| 0876648 - HOSE AS | 5T2510 - HOSE A | 8T3016 - WASHER |
| 1S4305 - WASHER | 6V9236 - GASKET KIT | 4E2167 - SPRING |
| 2720156 - HOSE AS. | 7P8730 - HOSE A | 5S0188 - PLATE |
| 1P2566 - BEARING | 2661509 - GASKET KIT | 5E1996 - HOSE RUBBER |
| 1273445 - CAP AS TCK | 2107445 - GASKET KIT - | 8T2393 - SCREW |
| 2147126 - HOSE AS | 1043137 - HUB | 7X2407 - GASKET KIT |
| 2619647 - CRANKSHAFT A (1W6213) | 1087396 - HOSE A (4I5991) | 2424042 - MOTOR GP-PSF |
| 4B4741 - FITTING | 3016948 - SLEEVE TAPOR | 0920456 - HOSE A |
| 3P5983 - GUARD A | 6N2851 - INSERT | 9C7424 - HOSE A |
| 3995260 - GASKET | 1070611 - SWITCH | 1780199 - INJECTOR GP (10R9237) |
| 7C4301 - FUEL LINE | 2674107 - HOSE AS | 0534837 - HOSE A |
| 1G6221 - HOSE AS | 8T1698 - BEARING | 5F4339 - SEAL |
| 4T3272 - PISTON | 1N5823 - SWITCH ASSY. | 7D5007 - VALVE A |
| 9S4103 - CORE A RAD | 6T9880 - RIM A | 6Y7923 - DISC |
| 7S2565 - HOSE A | 1711705 - ADAPTER-TIP | 0774926 - MASTER LINK |
| 8D3257 - HOSE A | 8W3555 - HOSE A | 6K8899 - BRACKET A |
| 9T0934 - CYLINDER A | 7I8249 - HOSE A | 2992058 - SHAFT-CLASSI |
| 7D3973 - HOSE A | 1613411 - GASKET | 5V7629 - COLLET |
| 3925441 - KIT GASKET | 1451841 - HOSE AS. | 1884217 - RING |
| 7W2223 - HEAD A | 4P0661 - REGULATOR | 7Y3794 - HOSE A |
| 2725869 - HARNESS AS | 8W6153 - HOSE A | 4L9826 - BEARING |
| 7C8281 - MANIFOLD | 5T4401 - HOSE A | 5M7280 - WASHER |
| 9C4809 - HOSE A | 9C6615 - HOSE A | 4H1350 - BOLT |
| 951541 - SEAL O RING | 1940505 - BEARING | 4C7068 - HOSE 5000 |
| 982695 - LOCKWASHER 7/8 | 7C3421 - LINE AS | 118955 - HOSE A |
| 9W8938 - LINK AS | 1H6203 - O RING | 6I0342 - FUEL LINE |
| 8F8570 - CYLINDER LINER | 1492341 - GASKET KIT | 4J3236 - RING |
| 8M7456 - MASTER PIN (6Y8185) | 5U6067 - HOSE ASSEM 1 | 4C1335 - SPACER |
| 2747913 - ELEMENT | 1143361 - SEAL | 0928349 - HOSE A |
| 1321015 - PROTECTOR | 2D0601 - ROTOR AS | 2410104 - HOSE AS. |
| 3828046 - BRG-SLV-CLA | 4M1832 - GASKET | 7U5943 - HOSE AS |
| 7Y4380 - HOSE A | 6Y0309 - TIP RIPPER | 1483328 - HOSE AS |
| 3Y8850 - MOTOR GP | 2302520 - BEARING-CONN | 6K9194 - ELBOW |
| 9M2049 - GEAR | 2B2254 - SPRING | 1S5738 - INSERT |
| 3718949 - CM HOSE BULK (5P1265) | 5U8242 - HOSE ASSEM 3 | 1862488 - RING-BACKUP |
| 1743038 - HOSE AS | 9P1360 - BEARING | 0905292 - HOSE A |
| 6V6422 - KIT GASKET | 5L5013 - VEE BELT SET | 3G2332 - SHAFT |
| 1106658 - HOSE AS | 8X5031 - HOSE A | 5G8291 - HOSE A |
| 2N6331 - HOSE | 5222302 - BRG-RLR-CL | 3975057 - PAD-CLA |
| 1996854 - HOSE AS | 0R5472 - PISTON | 7X7732 - PLUG |
| 2138113 - GASKET KIT - | 1263018 - MOTOR AS | 6Y1090 - STATOR |
| 6L1688 - GASKET | 1310825 - BEARING-SLEEVE | 3B9067 - FITTING |
| 6V1653 - SEAL | 2263939 - SPRING KIT | 2S8960 - GASKET |
| 3354198 - HOSE AS | 7M0685 - SUPPORT ASSY | 1T0679 - ROLLER |
| 1G6070 - BOLT | 1291924 - GREASE MULTI | 2G6871 - HOSE A |
| 8T5030 - BOLT | 1053478 - BOLT | 4I1086 - HOSE A |
| 1C3911 - O-RING | 2P1956 - BOLT | 1420225 - GASKET KIT |
| 6I7929 - HOSE A | 6D5493 - 8S8936 | 3232081 - PUMP GP-GR 1 |
| 2258534 - GASKET | 0R6170 - Turbocharger S4DS025 198123 | 3E4325 - KIT GASKET |
| 4V2873 - BRG SLEEVE | 7D2563 - INDICATOR | 3T5021 - CARRIER |
| 6V8543 - SEAL | 2H5106 - GASKET KIT | 2594739 - CYLINDER AS |
| 5V2545 - STRAP | 6Y4457 - BEARING | 0801255 - SCREW |
| 8M2550 - DISC ASSY | 8X1874 - HOSE A | 4L1468 - WASHER |
| 9N5610 - HEAD A | 5I7933 - GASKET | 1H7481 - SHAFT |
| 8X2799 - HOSE A | 3K6709 - SEAL | 2136682 - SLEEVE BRGS |
| 1341486 - PUMP GP-WATE | 1281693 - HOSE A | 1012154 - SEAL-LINKAGE |
| 9G2401 - WASHER | 1505146 - UNLOADER KIT | 1159042 - HOSE AS. |
| 8P7790 - VALVE GRP | 4K4284 - RING (1599642) | 1S4557 - CLIP |
| 1487121 - GASKET KIT | 1434090 - HARNESS AS | 5P3345 - BOLT |
| 5T6969 - HOSE A | 7X2169 - SEAL | 3540741 - HOSE AS. |
| 7C5570 - LINE AS (9Y3969) | 8G4568 - GEAR | 9F7882 - PIN |
| 4B8314 - CUP AS | 2927384 - HOSE AS. | 0875975 - SHIM |
| 2K5964 - RING | 1475544 - GASKET KIT | 4Y3863 - HOSE AS. |
| 3P0647 - SEAL-O-RING | 5I4347 - HOSE AS | 9G8726 - RING |
| 5S8842 - HOSE A | 6H2744 - BEARING | 3P2684 - CARRIER |
| 9R1278 - HOSE A | 3194166 - PUMP GP-GEAR | 4I0769 - HOSE AS |
| 1261812 - ELEMENT | 8W9004 - TUBE AS | 9Y8795 - BOLT |
| 8X1150 - HOSE A | 2V0512 - HOSE A | 2040813 - BOLT HEX HEA |
| 8N6709 - V BELT | 2621928 - CYLINDER AS. | 8Q2653 - HOSE A |
| 6Y6295 - SHOE (1758371) | 0869324 - O RING | 1C6157 - CONEK |
| 1885633 - TRACK BOLT | 247-8904 - ROD AS | 3757728 - KIT-DT GASKE |
| 2159952 - MOTOR GP-PS- | 3E8896 - KIT GASKET | 1084148 - GASKET KIT |
| 8D8889 - CAP | 2Q1161 - HOSE AS | 9S3114 - SHAFT |
| 8J5919 - SEAL A | 8M2621 - SPACER | 2048125 - HOSE AS |
| 2501845 - DISC-FRICTIO (1700048) | 1S0172 - CORE AS | 3G3734 - SEAL |
| 2W5537 - RADIATOR CORE | 1600055 - CYL AS | 4V3832 - RESERVOIR A |
| 2322600 - GASKET KIT | 7C7605 - INSERT-VALVE | 1177508 - HOSE A |
| 2308102 - CYLINDER | 1180507 - GASKET KIT | 1355577 - CORE AS |
| 8N5621 - BRG-ROD | 1171614 - HOSE AS. | 1119123 - BREAKER A |
| 0974076 - HOSE AS | 2295332 - SEAL | 2505081 - HOSE AS |
| 1300142 - GASKET KIT | 1606310 - CAP-BEARING | 6D5632 - 8S8923 |
| 9L7682 - INTAKE VALVE | 9T3197 - CYLINDER A | 1989445 - GASKET |
| 6N5941 - GAGE | 1066878 - PIN | 4B2906 - PIN |
| 9P5253 - WIRE AS | 5S7020 - RACE | 4S8430 - GEAR |
| 2S3719 - GASKET | 0964289 - ROLLER A | 3S4028 - BODY PISTON |
| 5F0746 - BRACKET | 2965270 - SENSOR GP | 1M8746 - SEAL G (0964294) |
| 2186601 - HOSE AS. | 5A5744 - MOTOR A. | 3T0885 - HOSE A |
| 6G9871 - HOSE A | 9J5901 - CUTTING EDGE | 1569748 - CLAMP |
| 8E3332 - SHOE (1758184) | 1944901 - SPRING | 2719369 - HOSE AS. |
| 6G5537 - BEARING | 3087030 - KIT-PISTON | 1M3150 - PIN |
| 4V9219 - HOSE A | 3Y9760 - HOSE AS | 7T4308 - TORQUE CONVERTER |
| 3B4618 - COTTER PIN (0963774) | 1964703 - MOTOR GP-PLV | 6E1816 - HEAD AS |
| 1298391 - BRG KIT-TX | 6I9251 - ADAPTER RH | 6Y1032 - CAP |
| 2671399 - MOTOR GP-VN- | 5V3570 - SHOE A | 3G7891 - BEARING |
| 1183510 - GEAR | 0854758 - HOSE | 1905796 - HOSE-LOWER |
| 4S9325 - RACE | 2M0141 - GASKET G. | 1376951 - HOSE AS |
| 3S6263 - COUPLING AS | 2J1404 - SHIM | 1G5055 - HOSE A |
| 0303285 - HOSE | 0785399 - O'RING | 5K7037 - BEARING |
| 1129265 - HOSE A | 8052020 - GUARD, TRACK | 3F8117 - BUSHING |
| 7S6393 - BEARING-SLEE | 2201532 - CYL GP-0140- | 3T4516 - TRUNNION |
| 2W6584 - CORE A | 6V2961 - GASKET KIT | 6D1777 - GEAR |
| 7X2523 - KIT GASKET | 7S0485 - HOSE A | 8H0619 - GASKET |
| 6E1901 - ROD A | 2V6586 - GEAR | 2Y9782 - CLAMP |
| 4M0656 - RETAINER | 3P8993 - ALARM-BACKUP | 7P0805 - SHOE |
| 2582553 - PUMP GP-GR B | 1083433 - HOSE AS | 4W5479 - PUMP AS |
| 1217634 - DISC-GEAR | 8W4319 - HOSE AS | 8T8944 - SEAL O RING |
| 7T2524 - GEAR | 9H1113 - RING | 9K1773 - GEAR |
| 2V7966 - HOSE A | 1W9167 - CLAMP | 0081903 - BEARING CUP |
| 3T8036 - HOSE A | 0784957 - HEXAGON CAP | 1386552 - TIP-PNTRN HD |
| 3084530 - PUMP GP-2PL- | 1V8604 - GEAR | 1758028 - SPROCKET |
| 2W9727 - IMPELLER | 1550052 - HOSE AS. | 1434110 - GASKET KIT |
| 9H7669 - WASHER-LEATH | 3D9126 - CUP AS | 1S4974 - SEAL O RING |
| 5A4630 - LOCKWASHER | 8N7296 - RETAINER | 9R5922 - BEARING |
| 2434768 - GASKET KIT | 3112540 - DISC-BRAKE | 5F0688 - TUBE AS |
| 1968439 - HOSE AS. | 2339408 - GASKET | 1319501 - 131-9500 |
| 7C7693 - CARTRIDGE | 1184134 - CYLINDER GP | 1347055 - 134-7053 |
| 5D8455 - WORM | 3477387 - KIT-DT GASKE | 2724437 - HOSE AS. |
| 3T8601 - BOLT | 7X3393 - WASHER | 9P9511 - SHAFT |
| 2W8128 - GSK-CYL HD | 1T1444 - SHAFT | 9X6591 - GASKET KIT |
| 4184839 - HOSE A | 1432830 - LATCH A | 8K1678 - HOSE A |
| 8W0123 - HOSE AS | 9J5229 - BEARING | 9G0286 - RING-SEAL |
| 4D2852 - HOSE A | 8S8880 - HOSE A | 0332379 - KIT-BRG |
| 0R6884 - CARTRIDGE GP | 9R6776 - HOSE A | 3092932 - SCREW-HHCS |
| 9T8452 - HYDRAULIC PISTON | 5K5225 - HOSE | 2V3291 - HOSE A |
| 2759177 - CYLINDER AS | 3T4715 - GEAR | 6T8520 - BOLT |
| 3P7958 - GEAR PUMP | 9N5065 - REGULATOR | 1377606 - FRAME |
| 9W7989 - SEAL | 4B9786 - BALL | 2T0875 - HOSE A |
| 8S6393 - COUPLING AS | 0R6342 - Turbocharger S3AS002 312881 | 2551743 - HOSE AS. |
| 1K4703 - WASHER | 0966252 - COTTER PIN | 1198770 - PUMP AS |
| 1S0751 - PLATE | 6N4589 - LIFTER A | 9150230 - EX270-5 TRACK A |
| 1382318 - DISC | 1873833 - SHIM | 3G8312 - END BIT |
| 2910140 - MUFFLER AS | 8W2562 - HOSE A | 4J3342 - RING |
| 1531217 - GASKET KT | 9J7552 - HOSE A | 9X5524 - SOLENOID A |
| 6V3582 - CLAMP | 3110023 - WATER PUMP | 1362616 - HOSE AS |
| 8V0596 - HOSE A | 7F0368 - HOSE | 7M2531 - ROD |
| 2130194 - GUARD | 2M9222 - GASKET | 8T8016 - BEARING-CUP |
| 1C7287 - HOSE AS-MP12 | 0523133 - GROUP-HYDRAULIC KIT | 2Y6757 - HOSE A |
| 1702497 - 5C2874 | 186780 - SEAL | 272241 - NUT HEX - SEGMENT D7 3/4 |
| 10R0371 - Turbocharger S200AG048 171770 | 1937629 - SEAL KIT-STD (1326148) | 2185197 - BRG-SLEEVE |
| 5P9242 - GASKET KIT | 0952568 - O-RING | 1990778 - SNAP - RING |
| 4255623 - KIT GASKET | 6V2946 - GASKET KIT | 0781977 - O'RING |
| 2103090 - HOSE AS. (1947712) | 2995511 - SEAL-VALVE-S (2768131) | 2267473 - NO DESCRIPTION |
| 3949826 - GEAR-PL-CLA | 4K3418 - CUSHION A | 1671950 - RETAINER |
| 8H9223 - GASKET | 1525761 - HOSE AS | 1W2361 - NUT |
| 8L5418 - TUBE AS | 1715368 - HOSE AS | 1087621 - HOSE AS |
| 4N8734 - PUMP G | 8R3918 - COLLET A | 3S2614 - GEAR |
| 4D2287 - VALVE A (1400212) | 4T2315 - EDGE-CUTTING | 8H1172 - TUBE AS |
| 7U9669 - HOSE A | 3W1848 - SEAL A | 6T9883T - D/F ROLLER GRP - D4 |
| 9N0578 - RING-PISTON | 1C4760 - HOSE A | 4D0309 - CAP |
| 2900460 - PLATE | 4V5368 - TUBE AS | 7D4175 - HOSE A |
| 1M9610 - WASHER | 5F8933 - BOLT | 7K8209 - REPAI-BRAK K |
| 1U7664 - FITTING | 8081885 - H-LINK, BUCKET | 7M0272 - BEARING |
| 8X5972 - HOSE A | 9W4478 - CAP AS | 2B2404 - CLIP |
| 1732520 - GASKET KIT | 1960495 - HOSE AS-XT | 1960643 - HOSE AS |
| 2956436 - HUB - CLA | 1013125 - GASKET | 137165 - HOSE A |
| 2A3696 - PLUG | 8W0126 - HOSE A | 8T1703 - SEAL-O-RING |
| 7U9846 - HOSE AS | 4B3609 - SET SCREW | 2V0394 - BEARING SLEEVE |
| 2H6078 - DISC ASSY | 1T1804 - STATOR | 6U0805 - HOSE ASSEM 3 |
| 3634540 - KIT-GASKET-T | 2394290 - GASKET KIT | 5T4775 - HOSE A |
| 2136947 - SWITCH | 1028415 - GASKET KIT | 3167280 - LOCK NUT |
| 1U2406 - CUTTING EDGE | 2P0324 - GASKET KIT | 9Y0146 - LINE A (4W5806) |
| 3T0352 - TRK LINK 78 | 4205735 - GASKET | 2W0865 - BODY A |
| 9L5650 - SEAL | 0818822 - BOLT HEX HD | 2V6028 - PIN |
| 1151849 - LINK A-TR | 2271200 - SLEEVE-INJ | 5P9221 - GASKET KIT |
| 1567172 - CONT GP-E | 1933096 - SEAL KIT-STD (7X2730) | 4P7709 - TURBOCHARGER |
| 8T8692 - VALVE G | 1871507 - RING-PSTN-OI | 8E7710 - MANIFOLD |
| 0R6359 - Turbocharger S4DC-006 313001 | 3964141 - BRG-RLR-CLA | 5P1956 - GASKET |
| 2457493 - PISTON | 7T9989 - HOUSING | 1710893 - VALVE GP-MDL |
| 2W3679 - GASKET | 0916723 - HOSE A | 1W6539 - PUMP AS |
| 1027685 - HOSE A | 6V1427 - STUD | 0962071 - BOLT |
| 2225915 - GASKET | 3F7673 - NUT | 3T3156 - MOTOR G |
| 4T5464 - HOSE A | 9U2284 - HOSE A | 3S8066 - LOCK |
| 1374550 - CLAMP AS | 2T2159 - HOSE A | 1428790 - PIN A |
| 9D2319 - BEARING | 1376718 - SPRING-VALVE | 1167341 - PUMP GP-GR A |
| 2816157 - SPRING-VALVE | 1611703 - SENSOR GP | 1359957 - HOSE AS |
| 7X2659 - SEAL KIT | 2941777 - GASKET | 1275400 - BEARING |
| 1128041 - CARRIER | 2B1108 - CLAMP | 1129951 - SHAFT |
| 7Q8329 - SCREW | 1262185 - HOSE AS-XT5 | 2U5262 - CIRCLIP 1400 |
| 5D9731 - CUTTING EDGE | 2816269 - PUMP GP-GR A | 1912676 - GEAR-RING |
| 1883395 - HOSE A | 1080705 - HOSE A | 1J0487 - RING |
| 8C3409 - SEAL KIT-STD | 1596102 - ELEMENT (1005593) | 8S9695 - GASKET KIT |
| 1601113 - GASKET KIT | 7C7747 - CLAMP | 3112743 - HOSE AS |
| 4H6917 - SPRING | 8M4437 - SEAL O RIN | 1099200 - TIP-WIDE |
| 2886684 - GASKET KIT | 1005231 - MOTOR GP | 2270325 - HOSE AS |
| 7X2534 - BOLT | 1P6857 - GASKET | 8C8594 - KIT GASKET (7X2405) |
| 1U2472 - PIN | 1520277 - HOSE AS | 0982971 - SCREW |
| 9C6939 - HOSE A | 4M0078 - GASKET | 2389349 - TURBO GP-BAS |
| 1198745 - PUMP G | 9T6320 - CYLINDER A | 9M4752 - GASKET KIT |
| 6T8250 - RETAINER | 2609840 - MOTOR GP-PST | 3199466 - GASKET KIT |
| 1297770 - BEARING | 3930935 - PIN-CLA | 1V6192 - TUBE AS |
| 5I4604 - CLAMP AS | 8S0780 - HOSE | 3B2096 - GASKET |
| 7S3002 - BEARING | 3256049 - COVER AS-CLA | 2027206 - HOSE AS |
| 2536562 - HOSE AS. | 8G3202 - BEARING | 1448984 - SEAL |
| 7F9111 - GASKET | 2236907 - HOSE AS | 1367891 - MOTOR GP-ELE |
| 1V9721 - HOSE A | 1843229 - HOSE AS (1098080) | 5E0137 - O RING |
| 1566471 - GLASS | 1641205 - SEAT GRP | 6N1047 - HOSE A |
| 8C2265 - VALVE | 1021328 - HOSE AS XT | 1543986 - SWITCH |
| 5S6447 - INSERT | 4587515 - BEARING | 9X3465 - BULB 24V |
| 6V2936 - GASKET KIT | 1T0541 - PILOT | 9K6792 - HOSE A |
| 1Q1232 - HOSE A | 4425359 - KIT LINER | 6V5720 - MOTOR GP ELE |
| 1849508 - HOSE AS | 1W6300 - SHIELD | 2054008 - GASKET |
| 1V2992 - GEAR | 1031075 - SEAL KIT | 7E3455 - TUBE AS |
| 5M3996 - GEAR | 2048089 - HOSE AS | 515130 - USE - DS515130 |
| 2A3356 - GASKET | 1114509 - HOSE A | 4947045 - KIT GASKET |
| 1078618 - CONTROL G (1003450) | 814983 - SEAL O-RING | 4553274 - BONT-VLV-C |
| 3G1643 - HOSE A | 7Y8476 - 7Y8475 | 1334297 - SEAL |
| 1280279 - HOSE AS | 6V2466 - GASKET KIT | 9K5028 - HOSE A |
| 5S9221 - HOSE A | 1687941 - SPRING | 4196260 - SEAL, COUPLING |
| 3026331 - STRIP-WEAR (2574939) | 9N3241 - GASKET | 8L5696 - FUEL LINE |
| 3467529 - GASKET KIT | 8N0597 - PULLEY | 1V1290 - BEARING SLVE |
| 2P7762 - TUBE AS | 0057889 - SHUT OFF | 5N8352 - HOSE A |
| 1185459 - HOSE A | 1168574 - WASHER | 1T0806 - RETAINER |
| 7U9394 - HOSE AS | 10R7396 - PUMP GP HYD | 7E5584 - COOLER OIL |
| 9V3954 - PIN A | 3P2075 - PLUNGER | 2307312 - HOSE AS |
| 3801517 - SPDR-FAN-CLA | 2605620 - SEAL-O-RING | 3577982 - CYLINDER |
| 1P0910 - GASKET KIT | 1260445 - HEAD ASSY | 6V9245 - GASKET KIT |
| 9V8395 - SHOE A | 1V1409 - CARRIER | 7I1382 - 7I1381 |
| 2260207 - PILOT AS-CLA | 7M3254 - TUBE-FUEL LI | 1P7001 - GASKET KIT (1670618) |
| 1Q0491 - HOSE A | 1104717 - GASKET KIT | 2U5355 - RING |
| 1940020 - HOSE AS | 6C6311 - HOSE AS | 1123828 - HOSE AS |
| 1V8851 - CAP | 1167498 - PUMP GP HYD | 0918136 - HOSE A |
| 1428918 - PUMP GP-PS-B | 3073050 - PUMP GP-GR B | 2N2486 - BOLT |
| 6W9118 - HOSEA | 8E4542H - L/H END BIT | 6D1521 - HOSE A. |
| 8L5137 - BELT SET | 4P8582 - LINE AS | 9D6584 - SEAL |
| 4D5918 - HOSE A | 1315474 - HOSE A | 5T6481 - HOSE A |
| 8T3957 - BOLT | 8T8086 - SEAL-O-RING | 1T0208 - RING |
| 3365714 - VALVE GP-CON | 4B6977 - GASKET | 8S2332 - BOLT |
| 1289864 - BEARING | 8V2532 - KIT-SEAL | 3119354 - BRG-BALL-CLA |
| 9W8727 - HOSE A | 8X9344 - HOSE A | 7K0766 - YOKE A |
| 1177424 - HOSE AS | 3E6747 - SEAL O RING | 8X4999 - RETAINER |
| 0941509 - SHAFT | 1085232 - HOSE A | 2V9149 - HOSE A |
| 4H7977 - FLANGE A-ST | 1334048 - CYLINDER AS | 2564762 - HEAD AS-CLA |
| 7C5628 - HOUSING | 2P3205 - BOLT | 0965028 - INDICATOR A |
| 7D8984 - SHIM | 1470383 - HOSE AS | 4N4040 - CARTRIDGE |
| 1777952 - HOSE AS. | 4V7173 - LOCK-NUT | 6S4061 - 3S6252 |
| 1061613 - SHOE | 2S4983 - DISC A | 10R0936 - MOTOR GP |
| 3V6655 - DRUM | 3844786 - BRG-BALL-CLA | 1H8399 - RING |
| 2366729 - 5I4359 | 3Y3970 - HOSE A | 3083422 - KIT-GASKET(S |
| 5M1246 - CARRIER ROL | 5D8194 - BOLT 3/4 X 2 1/2 | 6H3479 - GASKET |
| 5T9881 - HOSE A | 2789913 - CYLINDER AS | 0941902 - RING |
| 0697421 - HOSE A | 9M4372 - BEARING-SLEE | 2764072 - CARTRIDGE AS |
| 2016617 - SENSOR | 1484642 - SEAL-O RING | 1537383 - SHIM |
| 0951778 - RING,BACK-UP | 0950890 - PIN,SPRING | 3N7241 - HOSE A |
| 6V0407 - SEAL | 2813082 - MOTOR GP-PST | 0963525 - O RING |
| 5D7725 - 5T2514 | 2P4698 - BEARING | 5P4825 - GASKET KIT |
| 2888707 - KIT-GASKET-F | 2326195 - GASKET KIT | 9G9182 - SPINDLE |
| 8T8735 - PLUG | 5M9416 - LOCK | 5S1141 - BEARING |
| 2039752 - HOSE | 9D7984 - SEAL | 1950052 - HOSE AS |
| 6L4714 - ELEMENT | 3G1305 - CYL G RH | 1308297 - HOSE AS |
| 2385571 - HOSE AS. | 1425849 - HOSE AS. | 2S8727 - VEE BELT |
| 1P4582 - FLANGE | 1048056 - BOLT | 8W4596 - HOSE A |
| 4I5923 - HOSE A | 4B9050 - RETAINER | 9V3122 - BAND |
| 9S4230 - BEARING-NEED | 1100858 - CAP SEALING | 7J5535 - HOSE A |
| 5T3702 - HOSE A | 1921289 - GASKET | 0821343 - CLAMP HOSE |
| 1985529 - BEARING-SLEE | 9C4807 - HOSE A | 7N6340X - CYL HEAD LOADED |
| 7W9020 - BELL AS | 8N3180-KIT - LINER KIT | 2004230 - PUMP GP-VANE |
| 5S0465 - PINION | 2796671 - KIT-GASKET | 1856217 - SHAFT SUN (1915973) |