Caterpillar 990K Loader parts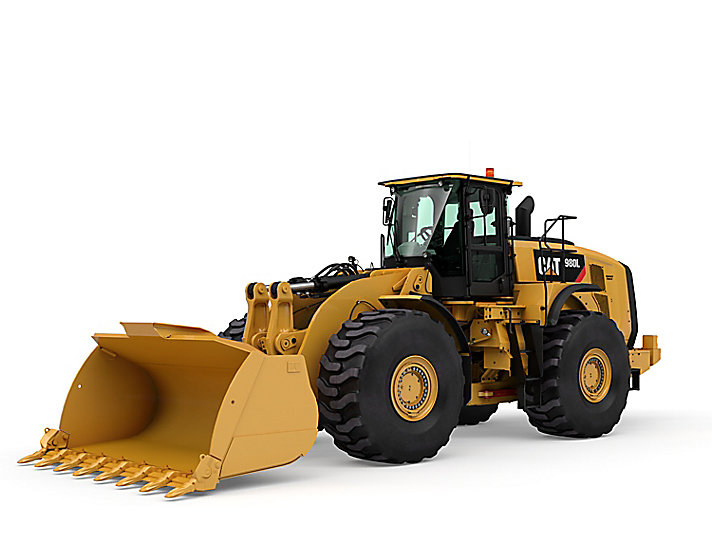 Here is some more information about Caterpillar 990K Loader:
ENGINE
Net Power 521.0 kg/mm
Engine Model Cat C27 ACERT
Bore 137.2 mm
Stroke 152.4 mm
Displacement 27.03 l
Torque Rise 18.0 %

WEIGHTS
Operating Weight 80974.0 kg
If you send us your request, we will make you an offer for original and Aftermarket Caterpillar parts for your Caterpillar 990K Loader.
Caterpillar 990K Loader - it is a big machine. But even such machine sometimes needs maintenance.
Our online parts store give you an access to more than 1 000 000 Caterpillar parts that we have in our inventory.
Below is a small list of Caterpillar parts for this equipment. However, if you are interested in something - please use the site search.
| | | |
| --- | --- | --- |
| 8E7534 - RETAINER | 0950979 - BEARING,BALL | 2024230 - HOSE AS |
| 9L1794 - HOSE | 7N5959 - SPRING | 6I0512 - GASKET |
| 5W1290 - BOLT | 4J3043 - SEAL | 9J2008 - PLUNGER |
| 0874781 - ROTATING GP | 1838115 - CORE AS-OIL | 6Y6743 - LINK |
| 5I7719 - COTTER PIN (1032826) | 6Y5244 - SEGMENT | 2829069 - HOSE AS. |
| 2705948 - VALVE GP PILOT | 0927762 - HOSE | 8T7320 - SEAL |
| 1044762 - HOSE AS | 1107559 - HOSE AS | 6N4364 - ROTOR ASSY |
| 2145828 - HOSE AS. | 2892931 - SEAL WIPER (9J2547) | 9M1605 - BEARING |
| 1352367 - GASKET | 7G2506 - YOKE A | 8I1976 - CONNECTOR |
| 2256481 - COVER AS-VAL | 7N5425 - GASKET | 3N2896 - AIR FILTER |
| 1725026 - HOSE AS. | 4253588 - BRG-CLA | 6V3713 - GASKET KIT |
| 3E3274 - KIT GASKET | 0780095 - CAPSCREW | 2V7920 - HOSE A |
| 8W4938 - CARRIER | 1N3166 - MOUNT A | 3469382 - SEAL-WIPER |
| 1619084 - GASKET KIT | 0931354 - O-RING | 1642484 - HOSE AS |
| 0965963 - O RING | 0952988 - O-RING | 2111019 - RADIATOR GRP |
| 2513989 - BUCKET | 2T0794 - HOSE A | 9D5995 - HOSE A |
| 1797489 - HOSE AS | 2125119 - BOLT | 3806209 - Turbocharger GTA4702BS 743001-5006 |
| 9J2010 - PISTON | 6U6743 - HOSE ASSEMBL | 4U1847 - HOSE A |
| 1838610 - FILTER GRP | 6V5064 - SEAL O RING | 2582782 - HOSE AS |
| 1527695 - HOSE AS | 3P1932 - ADAPTER | 6Y5706 - HOSE AS |
| 9R2847 - HUB | 3451354 - MOTOR GP-ELE | 1154877 - GEAR-SUN |
| 7X2501 - BOLT | 1128193 - HOSE AS | 4342472 - KIT GASKET |
| 5W6849 - HOSE A | 8N3410 - GASKET | 2462641 - PAD |
| 7I5054 - HOSE A (6Y2123) | 2G3034 - HOSE A | 1760389 - TURBO GP-BAS |
| 8T7981 - GASKET KIT | 4F4584 - SEAL | 5S5642 - HOSE A |
| 7N2063 - SHAFT | 4W5689 - ENGINE BEARING | 3851657 - CROWN AS.-PI |
| 1211564 - MOTOR G | 8W7814 - HOSE AS | 1514838 - SEAL |
| 1031506 - PAD | 2869826 - SHOE TCK CLA | 7E6011 - LIFTER AS |
| 1265466 - GASKET | 4808268 - PIN-CLA | 5H2471 - CEMENT |
| 8W6531 - HARNESS AS | 2T1052 - HOSE A | 1998304 - MOTOR GP-PIS |
| 2W1709 - RING SET | 2P5080 - AIR CLNR A | 1L5081 - SPACER |
| 3727509 - BRG-SLV-CLA | 0R9856 - MOTOR GP | 7I7732 - NUT |
| 5S5276 - GASKET | 3P2886 - HOSE A | 1V1006 - HOSE A |
| 4B2363 - PLUG | 5T7032 - HOSE A | 0951692 - O-RING |
| 1210867 - BEARING | 4K7574 - TUBE | 2892951 - SEAL LIP |
| 3350420 - VALVE GP-TES | 1892287 - HOUSING | 2538616 - PUSH ARM |
| 3P0774 - GASKET | 4363461 - KIT GASKET | 1255369 - HOSE AS |
| 1130295 - HOSE AS | 0778140 - SWITCH TOGGL | 2385569 - HOSE AS. |
| 2322111 - TIP | 1389793 - KIT-GASKET-F | 0R8461 - INJ GP FUEL |
| 7W9083 - Turbocharger TL8106 465622-0004 | 1082403 - HOSE A | 1402744 - GASKET KIT |
| 2V9150 - HOSE A | 3861294 - LENS AS-FLOO (1075853) | 1270577 - COIL AS |
| 1478784 - O-RING SEAL | 4B8574 - BEARING | 1273362 - JOINT GRP |
| 5S4558 - V CLAMP | 3969934 - HUB-CLA | 2824448 - HOSE AS |
| 5S9269 - HOSE A | 1378662 - SEAL KIT-STD | 7T5040 - GEAR |
| 7P6531 - SHAFT | 2591035 - KIT-DT GASKE | 3J3185 - BEARING |
| 4M8967 - GEAR | 5D9557 - EDGE | 7D0909 - HOSE A |
| 5M1516 - GUARD | 2931137 - FILTER AS | 0537845 - HOSE A |
| 2583366 - HOSE AS | 2204554 - GASKET KIT | 2886377 - GASKET KIT |
| 8T8952 - SEAL-O RING | 3P1337 - HOSE A | 0956616 - O-RING |
| 1357711 - HOSE AS | 1243011 - GASKET KIT | 5G5846 - PINION |
| 2268775 - CONNECTION A | 6Y1343 - GEAR | 4611057 - HOSE |
| 8N0628 - BEARING | 2169534 - HOSE AS | 7G2488 - GEAR |
| 1221269 - HOSE A | 2035870 - HOSE AS | 1725667 - HOSE AS |
| 4D8212 - SPIDER | 1032139 - STUD | 7V0537 - HOSE A |
| 5C6046 - HOSE A | 3B7614 - BOLT | 6V9877 - ELBOW |
| 8N4224 - FUEL LINE | 8X7150 - HOSE AS | 9Y6138 - HOSE A |
| 7S6300 - BEARING-SLEE | 6S7518 - HOSE A | 5I7506 - BRACKET A |
| 3880584 - BRG-RLR-CLA | 8X3403 - HOSE A | 9J4263 - BEARING |
| 5P6230 - BEARING | 7W0226 - GASKET | 103-3583 - AUGER SHAFT |
| 1912535 - DRIVE GP-FIN | 5M3535 - GASKET | 8E6100 - SHOE TRK |
| 0920449 - HOSE A | 1565198 - SEAL-0-RING | 4M1751 - SPACER |
| 4W3984 - DAMPER AS | 3741837 - BRG-RLR-CLA | 0930349 - WASHER |
| 1319722 - HOSE AS | 8F8858 - BUTTON | 4V7081 - STRAP |
| 0861648 - SEAL O RING | 4T2804 - TIP LONG HD | 7W2242 - CYLINDER HEAD |
| 7X5533 - NUT | 4228170 - PMP-VANE-C | 1359397 - EDGE-CUTTING |
| 0R5804 - Turbocharger 4LF302 315792 | 5S8172 - HOSE A | 4245341 - KIT GASKET |
| 3D5456 - COVER AS | 2Q5714 - HOSE AS | 6U2147 - HOSE ASSEM 3 |
| 4828093 - PIN-CLA | 6V3251 - SEAL O RING | 1451037 - HOSE A |
| 1050254 - MAIN BEARING | 6V2700 - SEAL | 2751663 - HOSE AS. |
| 0870513 - HOSE A | 6V5474 - KIT GASKET | 6I1024 - FUEL LINE |
| 2W7213 - BEARING SLEEVE | 5W0965 - RING | 2529691 - HOSE AS. |
| 0036901 - BELT | 4M5226 - BEARING | 5M1176 - SEAL G |
| 9C9457 - HOSE A | 2B2994 - PIN | 1293157 - HOSE AS |
| 2060517 - CYLINDER AS. | 0817035 - TYRAP 1/16 X | 2K0121 - PIN |
| 1M9011 - SEAL | 9F6304 - SPRING | 9N3608 - GASKET |
| 6L1596 - SCREW | 5P7920 - ELBOW | 5K2323 - BEARING |
| 7L9482 - HOSE | 1003798 - GUIDE VALVE | 2829826 - HOSE AS. |
| 2089754 - HOSE AS. | 1177114 - BEARING AS (1561871) | 1227311 - SLEEVE |
| 6G9856 - GEAR-PLANET | 7X2489 - BOLT | 3778575 - TUBE AS |
| 6L5294 - GASKET KIT | 8W1755 - BRACKET | 0785428 - O'RING |
| 8Y7414 - HOSE A | 1V5288 - TUBE AS | 5F8365 - VALVE EXHAUST |
| 9U0363 - HOSE A | 1444265 - GASKET KIT | 1505820 - CYLINDER AS |
| 1725638 - PUMP GP-2PS- | 1915031 - SEAL KIT-STD (1324937) | 7D2928 - SPACER |
| 9D5969 - HOSE A | 5S9243 - HOSE A | 0780702 - BRG CONE |
| 1V5376 - CASE ASSEM | 4I7807 - HOSE AS | 7N4651 - TURBO G |
| 2412568 - PIN-CLASSIC | 5K4181 - GEAR | 1M3552 - VALVE INTAKE D330A-B D333A |
| 0R7794 - MOTOR GP-HYD | 1R6224 - PIN | 2287097 - SEAL-O-RING |
| 1394184 - INSERT | 1429091 - PIN AS | 0957899 - WASHER,SPRNG |
| 4W7016 - NOZZLE | 1P5412 - BUSHING | 6F7062 - WASHER |
| 5T1246 - BEARING | 5L4753 - RING | 1P1130 - KIT BRUS SET |
| 1296025 - HOSE AS | 2315127 - PUMP GP-GEAR | 1687800 - LOCKNUT |
| 5D0133 - PLATE | 2S1541 - ORIFICE | 2878470 - KIT-GASKET-F |
| 8X8736 - HOSE A | 1027618 - HOSE AS | 1543748 - HOSE AS |
| 9F2940 - GROMMET | 6N6804 - PUMP A | 5I4087 - New Rebuilt - VALVE |
| 3662974 - NUT-HEX TO | 8R2200 - SHAFT | 6V0974 - GROMMET |
| 4N4042 - HOUSING | 2590814 - PUMP GP-PS-B | 1099719 - WASHER |
| 0874724 - BEARING | 1117128 - HOSE A | 2U5186 - BOLT HEX HD |
| 5T8366 - STRIP | 9H8260 - BOLT | 6H8351 - LOCKWASHER |
| 3C1887 - SCREW | 2982493 - PUMP GP-GR-B | 0104038 - YOKE END |
| 1238098 - CYLINDER GP | 1W9195 - FUEL LINE | 3014763 - IMPELLER-CLA |
| 9U3432 - HOSE A | 8E1248 - HOSE A | 1786635 - SHAFT |
| 1582490 - GASKET KIT | 1767562 - HOSE AS | 4W2475 - LIFTER A |
| 1138433 - CRANKSHAFT SEAL GP | 8F4631 - BEARING | 1254066 - GASKET |
| 2P0659 - GEAR ASSY | 1724004 - HOSE A | 9X1130 - CABLE AS |
| 0664128 - BEARING | 1244125 - RETAINER | 7T3025 - HOSE A |
| 4498815 - BOLT | 2394376 - SPRING | 6N9995 - ATOMIZER A |
| 5M6213 - PLUG | 1188098 - HOSE AS | 8E8308 - DISC-THRUST (7T3144) |
| 3620838 - Turbocharger GTA5518L 751286-25 | 1R0756 - FUEL FILTER | 0950763 - NUT |
| 9G9086 - BEARING | 3349977 - MOTOR GP-PST | 9D7081 - HOSE A |
| 1514518 - CYL GP | 2233095 - GAUGE | 8J7825 - HOSE A |
| 2835206 - PISTON-CLA | 19M8806 - BOLT 22MM X 110 | 3085931 - KIT-GASKET(S |
| 9V7557 - TUBE A | 1305010 - NUT-HEXAGON | 4V3396 - HUB-CLASSIC |
| 7V6543 - PISTON | 5E8141 - PIN COTTER | 0995123 - VALVE |
| 2116626 - PUMP AS | 0930251 - BOLT,SHOE | 0618850 - ADAPTER |
| 6T5091 - HOSE A | 1372817 - BEARING-SLEEVE | 1275992 - HOSE A-XT |
| 1432529 - HOSE AS | 0981180 - O-RING | 2U6153 - HOSE A |
| 2K9470 - GASKET | 5202879 - SFT-PUMP-C | 6N0762 - PULLEY |
| 2662437 - METER KIT | 1996264 - HOSE AS. | 6K6053 - PIN |
| 0780668 - BEARING | 1747832 - HOSE AS. | 1R7754 - BOLT |
| 7V7383 - HOSE A | 4T9378 - CARTRIDGE AS | 2363259 - BOLT |
| 2122269 - PUMP GP-GERO | 8W4915 - HOSE A | 7K2017 - NUT |
| 127044 - HOSE A | 9R9220 - HOSE A | 8S8899 - HOSE A |
| 7T6654 - CONE | 2471292 - VALVE GP | 0924417 - HOSE A |
| 2T2920 - HOSE A | 0785429 - O'RING | 1018192 - HARNESS AS |
| 8T4001 - NUT | 8C8741 - GASKET KIT | 4I6238 - 4I6236 |
| 3D0365 - SPRING | 5K5941 - DIAPHRAGM | 9R7478 - HOSE A |
| 1534952 - STUD | 9T2853 - CYLINDER G | 6A4067 - VALVE |
| 7W7024 - NOZZLE | 1606493 - ROD AS-GRD H | 3168620 - GASKET KIT |
| 8W4194 - HOSE A | 73414A - HOSE A | 6F3824 - BUSHING |
| 8T9059 - BOLT | 4W6136 - VALVE | 1353262 - SEAL KIT-STD |
| 4I1634 - HOSE A | 3J4458 - SEAL | 0688524 - BOLT |
| 4373247 - KIT GASKET | 1006298 - CAMSHAFT AS | 7C7991 - FUEL LINE |
| 3807404 - PLATE-CLA | 3667441 - BYPASS GP-EX | 1163390 - SEAL (0957102) |
| 5J5559 - SEAL A (5J5560) | 5P3493 - GASKET KIT | 3496987 - GASKET KIT |
| 2608000 - HOSE AS. | 126995 - HOSE A | 8J0251 - CARTRIDGE AS |
| 7D8889 - BEARING | 7T9446 - SPACER | 8W6843 - HOSE A |
| 8T4241 - RING (0777663) | 0537627 - HOSE A | 8D2824 - MANIFOLD |
| 2422159 - HOSE AS. | 6D9856 - HOSE A | 6Y6395 - SHOE |
| 8N4201 - FUEL LINE | 1003249 - LENS | 9V2132 - HOSE A |
| 1614111 - OIL PUMP | 8H1123 - STRIP | 2G8025 - O RING |
| 1404611 - SEAL | 1083450 - HOSE A | 4422005 - KIT GASKET (3669656) |
| 1528070 - RING | 1940105 - HOSE AS | 8X9630 - HOSE A |
| 2480869 - HOSE AS. | 2239296 - ALTERNATOR | 4T4221 - SEAL SET |
| 0315718 - HOSE A | 3Y9761 - HOSE AS | 3699499 - BODY-PCL-CLA |
| 6V3830 - SEAL O RING | 0R7014 - Turbocharger S2ESL105 168369 | 1736738 - HOSE A |
| 3807373 - BRG-SLV-CLA | 2S4899 - SHAFT | 5J6904 - CUTTING EDGE |
| 1170266 - SEAL | 3165978 - ROTOCOIL AS | 4S7864 - LOCK |
| 1S0814 - BOLT | 1858675 - TIRE RIM | 9C2345 - HOSE A |
| 4Y3429 - HOSE AS. | 1786591 - HOSE | 4T2957 - HOSE A |
| 4197841 - BUSHING | 1167885 - OIL PAN | 2190280 - GASKET KIT |
| 0336032 - O-RING | 4I6448 - HYDRAULIC PISTON | 0975421 - BEARING |
| 7G1901 - BEARING | 3P2855 - PLATE | 0773096 - O-RING |
| 4198661 - RETAINER-C | 5T7158 - DRIVE G | 2416202 - ADAPTER AS-S |
| 4D2489 - HOSE A | 8R3942 - COLLET | 2011774 - MUFFLER AS |
| 1633433 - HOSE AS | 1734782 - HOSE AS | 3509621 - GASKET KIT |
| 5I4391 - 5I4390 | 4S5942 - HOUSING | 917230 - SEAL KIT |
| 3149961 - PISTON | 3S3842 - HOSE | 1908199 - PUMP GP-PS-B |
| 9V6525 - SHIM PACK | 2T2925 - HOSE A | 10R1551 - PUMP GP-2PL- |
| 1123837 - HOSE A | 1W1822 - VALVE | 6C6189 - HOSE AS |
| 8V2536 - KIT-PIN | 3T2481 - STRIP | 4F7388 - SEAL |
| 7C5172 - LINE ASSY. | 9K0050 - BRAKE G | 1698387 - RING |
| 4355925 - CLUTCH | 1989332 - HOSE AS. | 1128227 - GASKET KIT |
| 1W0550 - SPIDER A (4W8409) | 8E6755 - BEARING | 4T5945 - RING |
| 5A9536 - SHANK RIPPER D5-D6D STRAIGHT | 8K0974 - HOSE A | 1S6527 - PLATE |
| 1021158 - 102-1157 | 2514306 - BUCKET | 1440811 - HOSE A |
| 1182251 - HOSE AS | 2437104 - HOSE AS | 1990764 - PLANET BEARI |
| 3181181 - SENSOR GP | 3P3403 - ROLLER G | 2125708 - BEARING |
| 7T9754 - CONE | 1111759 - GASKET KIT | 5V3128 - TUBE A |
| 1843655 - HOSE AS | 2518256 - MANIFOLD | 3D8884 - ELBOW |
| 6Y2383 - LINING | 2976380 - GASKET KIT | 0695128 - HOSE A |
| 1586632 - SWITCH | 6V7351 - SEAL O RING | 2037163 - GASKET KIT |
| 1C3704 - TOOTH | 6Y7968 - DISC | 6M5711 - SEAL-O-RING |
| 2Y4970 - FLANGE | 8S9696 - GASKET KIT | 6K9924 - GUARD |
| 2078635 - HOSE AS. | 8K1945 - SHAFT | 1995707 - HOSE AS. |
| 8T7178 - SEAL | 4V0968 - LOCK | 9T0661 - ROD AS |
| 7J6727 - HOSE A | 9W0607 - LAMP-12V | 9W0683 - BOGIE A |
| 154903 - HOSE A | 1259637 - HOSE AS XT3 | 1S9325 - GASKET |
| 1348203 - HOSE AS | 5T6532 - CYLINDER KIT | 4Q0811 - HOSE AS XT5 |
| 2G3661 - HOSE A | 5C6615 - HOSE A | 1297855 - GASKET |
| 6V9171 - LOCKNUT | 4338194 - GSKT-PAN-C | 2551990 - HOSE AS. |
| 7X8716 - CAPSCREW | 6K1910 - SHOE | 8X6729 - BEARING SLEEVE |
| 1387378 - GAUGE | 3198173 - LINE-FI-CLA | 4W7590 - PUMP A |
| 8T6683 - RING WEAR | 1107144 - SHAFT | 1552260 - PLUG KIT-CON |
| 8J4251 - TIP SHORT | 2551665 - HOSE AS | 1V0536 - PIN |
| 964253 - IDLER GRP W/BRKTS- 315/320 | 8I0712 - HOSE A | 4T9788 - HOSE A |
| 3520206 - PUMP AS-WATE | 5M6211 - SHAFT | 3U2757 - HOSE A |
| 9G0116 - SWITCH A | 0781891 - HEAVY DUTY H | 2430565 - HOSE AS |
| 1183618 - HOSE A | 9W7468 - PLATE | 6I4786 - GASKET |
| 8N7639 - ELBOW | 2217637 - DRIVE GP-FIN | 6S3002 - SEAL O RING |
| 8P4278 - GEAR | 9U3217 - HOSE A | 5L4041 - BOLT |
| 8S9694 - GASKET KIT | 1028163 - PISTON ASSY. | 1Q4728 - SHOE |
| 4S7561 - HOSE A | 1T1566 - BEARING | 2U6610 - HOSE A |
| 1923792 - CYLINDER AS | 2W6682 - PULLEY | 9C4978 - PIN |
| 2S6692 - BEARING | 6Y4575 - PLATE | 1268850 - BEARING KIT |
| 1679569 - HOSE A | 3S6907 - GEAR | 1T1005 - CONVERTER G |
| 1211459 - RING | 1537950 - HOSE AS | 5J8172 - New Rebuilt - CYL GRP |
| 7X7708 - KIT GASKET | 1062721 - MOTOR A | 8N7923 - MAIN BEARING |
| 5U8508 - HOSE ASSEM 1 | 0964795 - BOLT 12MM X 1.75 X 30 | 3406184 - PUMP |
| 2M7876 - SEAL | 3833682 - GASKET-CLA | 2F2567 - PIN |
| 2071508 - MOTOR AS | 5P0477 - SLEEVE | 8W3163 - HOSE A |
| 8M0214 - GASKET | 3364182 - CYLINDER AS. | 1R0746 - ELEMENT |
| 6V7634 - BOLT | 3V3509 - TUBE AS | 3P5762 - LK AS-TK-CLA |
| 9W8823 - HOSE A | 8E4540 - BIT LH | 8J8322 - RING |
| 9C7298 - HOSE A | 109445 - HOSE A | 2768900 - MOTOR GP-ELE |
| 0616824 - HOSE A | 3K5513 - BUSHING | 7N9679 - SEAL-O-RING |
| 1917694 - SEAL KIT-STD | 1M0644 - BOLT | 6D7998 - HOSE A |
| 1P6261 - CLAMP | 1720907 - HOSE A | 6B6636 - BOLT |
| 2D6642 - BALL | 1152972 - BEARING ROD | 3T6339 - DISC |
| 1002952 - KIT GASKET | 2018647 - HOSE AS. | 4587042 - BEARING |
| 9T3338 - PLATE | 2213297 - HOSE AS (1083426) | 1M5913 - GASKET |
| 1W7596 - GASKET (7C2230) | 5G8831 - HOSE A | 4N1722 - GASKET |
| 1V1379 - SPINDLE | 3W2196 - HOUSING | 4K1302 - SPRING |
| 6W1431 - HOSE A | 6C6594 - HOSE AS. | 2P9654 - LINK-MASTER |
| 1641066 - GLASS | 3P6161 - HOSE A | 2521801 - MOTOR GP-ELE |
| 3256750 - LADDER AS | 8T8171 - SEAL-FACE | 6V7431 - GASKET KIT |
| 4E9524 - HOSE A | 3262045 - GASKET KIT | 7D0083 - SHIM |
| 1357796 - DOOR | 2U2450 - BOLT HEX HD | 5N2346 - BELT SET |
| 3142543 - GASKET KIT | 9S3029 - RING-PISTON | 9X7797 - LENS AS |
| 3157857 - GASKET KIT | 2048313 - HOSE AS-XT3 | 5C6739 - BEARING SLEEVE |
| 3V0051 - HOSE A | 1P1566 - SHAFT | 2360778 - HOSE AS. |
| 1933321 - GASKET KIT | 5D6937 - HOSE A | 0949409 - RING,SNAP |
| 2264848 - CAP AS-CLASS | 0983093 - CAPSCREW | 8Y0414 - HOSE A |
| 2P8669 - GASKET | 0R3018 - CAMSHAFT A | 1002870 - CARTRIDGE AS |
| 6I0593 - BOLT | 1S3781 - RING | 5E9651 - BOLT |
| 5I7679 - GASKET | 1V7301 - HOSE A | 1990862 - BOLT |
| 8V9585 - CUTTING EDGE | 7X5331 - ELBOW 90 | 5D4177 - HOSE |
| 1S6119 - SEAL O RING | 5I8870 - HOSE AS | 5V1530 - LINK A |
| 7W0367 - TUBE AS | 3472381 - RING-PISTON- (1613424) | 5U1752 - HOSE ASSEMBL |
| 1J8265 - SCREW | 7T6088 - BEARING | 2G0475 - DISC |
| 6J4795 - PIN | 8T1612 - KIT GASKET | 1873095 - MOTOR GP-PSF |
| 7D1647 - HOSE A | 7X0292 - BOLT | 5J1392 - TRUNNION |
| 1G5325 - VALVE TIRE | 1051632 - SEAL | 0R2812 - CRANKSHAFT A |
| 2S6658 - HOSE | 7J1336 - BEARING | 9J9805 - PISTON |
| 5H7936 - SERVICE GP | 1226351 - HOSE A | 0996976 - RING WEAR |
| 5D9231 - ADAPTER | 1381986 - GASKET KIT | 9U2977 - HOSE A |
| 5N7766 - HOSE A | 8J7415 - WASHER | 8N8931 - ENGINE BEARING |
| 6I3650 - PISTON | 3119404 - LINE-FI-CLA | 8P7836 - PISTON |
| 1126525 - HOSE AS | 4J4497 - CYLINDER G | 3979295 - KIT SEAL |
| 5P9590 - HANDLE A | 2237468 - CAMSHAFT AS | 4I8865 - CYLINDER A |
| 0801177 - CIRCLIP | 4D9969 - 5S8183 | 6J7167 - SEAL |
| 3G1209 - SEAL | 2560622 - WHEEL-BLOWER | 0781733 - HEXAGON CAP |
| 5W6036 - GASKET | 8N5427 - BRG-ROD | 7H1861 - LOCK-NUT |
| 1408125 - GASKET KIT | 1947771 - HOSE AS. | 2U2413 - BOLT |
| 1995698 - SEAL | 1843563 - SWITCH AS-PR | 1252947 - WASHER |
| 9S8482 - PIPE | 9L9045 - FITTING | 3434576 - HOSE AS. |
| 4P9657 - HOSE AS | 4D5629 - HOSE A | 8T0659 - WASHER (1143364) |
| 1440832 - ELEMENT | 1081618 - HOSE A | 2162612 - KIT - GASKET |
| 2947745 - SOCKET AS. (1365694) | 1976440 - BEARING | 3P1979 - SEAL |
| 7Q8320 - NUT | 1Y0521 - BUSHING | 3G8597 - GASKET |
| 1940530 - HOSE AS. | 1555779 - PIVOT AS | 10R2438 - PUMP GP HYD |
| 2P1738 - PLATE | 3940898 - SPIDER-CLA | 1T1004 - RING |
| 4W1148 - TURBOCHGR G | 2426778 - PUMP GP-HYD | 3W7501 - HOSE A |
| 1672455 - SEAL-WIPER | 3643850 - HARNESS | 6S9592 - GASKET KIT |
| 1078127 - HOSE A | 3G7637 - New Rebuilt - PUMP | 9W1709 - HOSE A |
| 5T5301 - HOSE A | 2440973 - SEAL KIT | 1237724 - SEAL-O-RING |
| 8E4567 - CUTTING EDGE | 4J3591 - BRACKET | 7U3373 - HOSE AS. |
| 7G5972 - PLATE | 1H3052 - END BIT - 621/627 1 1/8 | 0R9434 - CAMSHAFT AS (1345276) |
| 8H7732 - ROLLER A. | 3160554 - GASKET KIT | 7S0325 - HOSE A |
| 1108574 - HOSE AS. | 5U4040 - HOSE AS | 1697828 - SEAL KIT |
| 4H5507 - CONN ROD BRG STD | 2990304 - GASKET | 3N4070 - SHAFT |
| 7N3480 - HEAD | 0329943 - GASKET | 5P7465 - CLIP |
| 8T1127 - RING | 2037370 - BRG-SLEEVE | 3550769 - GASKET KIT |
| 6L4783 - BOLT | 7K9514 - PIN | 7I4146 - HOSE A |
| 6V6209 - CAP | 5N8375 - CUP | 3801509 - HSG-CLCH-CLA |
| 7C2199 - CLAMP | 3192165 - KIT-GASKET(F | 3251636 - GASKET KIT |
| 0967814 - O RING | 1305859 - PLATE-REAC | 7G7594 - ROLLER GP DF |
| 7Y0736 - RECOIL SPRIN | 1276828 - HOSE AS | 8X4040 - PIN AS. |
| 5183977 - SEAL-CRK-C | 7T4178 - LINK | 6G0336 - SECTION |
| 3262046 - GASKET KIT | 3775833 - BRG-SLV-CLA | 4D0856 - SEAL |
| 2P8721 - GOVERNOR AS | 1992366 - BRACKET AS | 3038765 - PUMP GP-PS-B |
| 8K8305 - SHOE | 2G4061 - HOSE A | 6J8811 - PIN A |
| 2279848 - SEAL AS-WTR | 8X8677 - HOSE A | 0R7985 - PUMP GP-HYD |
| 1705181 - NOZZLE | 4N5654 - VALVE | 1032019 - HOSE A |
| 1T1364 - SEAL | 6V1784 - GASKET KIT | 1180928 - HOSE A |
| 2P7828 - OIL PAN | 5R7249 - HOSE A | 961055 - BACK-UP RING |
| 5S7888 - RETAINER | 2J1075 - BRACKET | 2280454 - MOTOR GP-PSF |
| 2Y6999 - CLAMP-HOSE | 7B0365 - SHIM | 7X2586 - BOLT (1465131) |
| 3G1852 - CYLINDER A | 1P9024 - SPRING EQUAL | 2112661 - AIR FILTER A |
| 622336C91 - CONE (0300061) | 3N6099 - CORE A OIL C | 2Y7668 - SEALED UNIT |
| 5P7151 - RING-RETAINI | 2340315 - GASKET KIT | 5P9140 - GASKET KIT |
| 8D8168 - BEARING | 2P7491 - ELBOW | 2N8943 - INSERT-INTAKE |
| 828006 - PLUG | 9D9094 - BREAKER | 3S8676 - HOSE A |
| 4488804 - KIT SEAL | 1Y3672 - RING LINER | 1538921 - HOSE AS |
| 6V5759 - SEAL-O-RING | 0310219 - BOLT | 2194335 - HOSE AS (2174185) |
| 2287110 - BEARING - SL | 3P0100 - HUB | 5U1452 - SWITCH BRAKE |
| 9J8199 - PUMP AS | 1769725 - TUBE | 2688150 - GASKET KIT |
| 9L7627 - HEAD ASSY. | 9B0859 - ROLLER G | 3P3441 - RING |
| 9R9411 - HOSE A (1220671) | 7P9982 - HOSE A | 0781946 - O RING |
| 7J8487 - HOSE A | 6Y6026 - HOSE A | 3436882 - KIT-GASKET |
| 1609369 - KIT GASKET | 1588989 - CYL GRP | 1300864 - HEAD AS.-CY |
| 8Q2672 - SEAL O RING | 1735549 - SEAL-O-RING | 3234174 - GASKET KIT |
| 2574156 - HOSE AS. | 3935209 - GASKET-CLA | 0931440 - SEAL,DUST |
| 9095828 - SPRING | 5F0683 - BOLT | 8I4232 - FILTER AS (1238189) |
| 7U7226 - HOSE AS | 1051646 - PISTON A | 2531396 - MOTOR GP-PRF |
| 7S7936 - COLLAR | 7T9824 - LINK | 4J3915 - SHIM |
| 1786544 - RING SET | 9D6052 - HOSE A | 2M2179 - PLATE |
| 1951135 - HOSE AS. | 1534874 - SHOE TRACK | 1947217 - NUT |
| 2090358 - SEAL KIT | 3P0619 - TRACK SHOE | 2501984 - TRUNNION |
| 7S5180 - GASKET KIT | 0774816 - PIN/SPRING | 6K4177 - BEARING |
| 0905562 - HOSE A | 4D9983 - 5S8894 | 6D9468 - HOSE A |