Komatsu WA270-8 Loader parts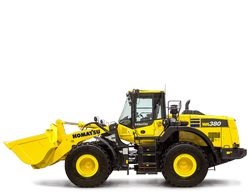 Komatsu WA270-8 Loader - it is a big machine. It is a Wheel Loader and works in difficult operating conditions. That's why this machine sometimes needs maintenance.
Our online parts store give you an access to more than 500 000 Komatsu parts that we have in our inventory.
Here is some more information about Komatsu WA270-8 Loader:
ENGINE POWER
115 kW / 153 HP @ 2.000 rpm
OPERATING WEIGHT
13.030 - 13.470 kg

ENGINE
Model -> Komatsu SAA6D107E-3
Type -> Common rail direct injection,
water-cooled, emissionised,
turbocharged, after-cooled diesel
Engine power
at rated engine speed -> 2.000 rpm
ISO 14396 -> 115 kW / 153 HP
ISO 9249 (net engine power) -> 111 kW / 149 HP
No. of cylinders -> 6
Bore × stroke -> 107 × 124 mm
Displacement -> 6,69 l
Battery -> 2 × 110 Ah
Alternator -> 90 A
Air-filter type -> Dry-air filter with automatic
dust emission and preliminary
purification including a dust
display
If you send us your request, we will make you an offer for original and Aftermarket Komatsu parts for your Komatsu WA270-8 Wheel Loader.
Below is a small list of Komatsu parts for this equipment. However, if you are interested in something - please use the site search.
| | | |
| --- | --- | --- |
| 20Y-03-43651 - RADIATOR ASY | 195-06-73960 - SHEET | 426-S62-6320 - HOSE |
| 424-35-16710 - TANK | 426-33-21050 - WHEEL BRAKE | 6162-25-3660 - SUPPORT |
| 198-Z11-3710 - HANDLE ASS'Y | 427-06-21890 - COVER | 79677873 - VALVE |
| 21W-54-32520 - HINGE | 2A5-54-11591 - SHEET | 955335KF - SCREW HHC |
| 312607827 - SUPPORT | 208-54-43941 - COVER ASS'Y | 20Y-43-11410 - LEVER |
| 427-S62-2440 - HOSE | 421-15-05050 - SHIM KIT | 568-15-15330 - SPRING |
| 427-03-22110 - TUBE | 836852299 - PIPE | 6261-51-9270 - SPRING |
| 6127-31-8150 - LOCK | 566-54-8A915 - PLATFORM | 6732-11-8640 - SEAL,RECT RI |
| 363-06-37130 - WIRING HARNE | 195-50-42111 - SHAFT | 708-2H-22440 - COLLAR |
| 21W-62-43820 - HOSE | 22U-62-22740 - HOSE | 198-71-61451 - PLATE |
| 707-58-85440 - ROD | 81845 - HOSE | 20X-63-64120 - ROD |
| 207-32-51131 - LINK | 421-54-24590 - BRACKET | 195-71-61650 - PLATE |
| 711-47-41141 - GEAR | 20K-61-31220 - NIPPLE | 17A-49-22121 - TUBE |
| 51491698 - O-RING | 58F-06-03070 - HARNESS,CAME | 20Y-27-13290 - O-RING |
| 6245-11-5110 - EXHAUST MANI | 5402909 - HOSE ASSY . | 9M7445-AM - BOLT |
| 424-54-31141 - DOOR | 22P-70-01110 - SWING | 561-87-A1130 - TUBE STR |
| 6262-11-7410 - CONNECTOR | 31829799 - BOLT | 22M-54-31601 - COVER ASS'Y |
| 836017421 - BUSHING | 707-G0-01500 - CYLINDER ASS | 6754-21-6211 - COVER |
| 799-704-1520 - NOZZLE | 6162-13-5132 - MANIFOLD | 362-01-43111 - HOSE |
| 203-01-51120 - PIN | 90782440 - FUSE BOX | 561-95-63100 - PUMP GREA |
| 26960440 - HOSE 1=1 MET | 206-63-54141 - XCYLINDER | 708-7R-13310 - PISTON |
| 17A-49-11831 - TUBE | 6205-21-1504 - BLOCK ASY, C | 20T-32-71161 - PIN |
| 5069252 - RETROFIT KIT | 940164C3 - YOKE | 90933K - REDUCER |
| 5203965 - FILTER ELEME | 58D-06-10900 - LAMP,HI BEAM | 421-64-15590 - PLUG |
| 56B-27-11052 - DIFFERENTIAL | 201-54-73371 - ROOF | 42N-93-13690 - DECAL,FRENCH |
| 708-8H-16141 - PLUG | 707-52-90600 - BUSHING | 708-2H-04340 - CRADLE |
| 195-911-7211 - AIR CONDITIO | 5064225 - VALVE | 392378044 - HOSE |
| 86731M - MUFFLER | 209-00-71880 - PLATE | 195-13-83162 - HOUSING |
| 3F10B2610 - PLATE EMRG E | 5059650 - COUPLING | 82525 - TUBELINE |
| 708-1T-00420 - PUMP ASS'Y | 423-06-45371 - SWITCH | 418-06-42760 - CABLE |
| 58B-00-00190 - SENSOR KIT | 20U-979-4320 - STAY | 569-54-88770 - GUARD |
| 175-70-22170 - BRACKET | 416-06-44120 - BOX | 22191R1 - WASHER |
| 79845773 - DIPSTICK | 21M-62-14140 - GROMMET | 20S-70-31180 - SPACER |
| 417-U77-A670 - CUF60IN-60IN | 22U-62-12312 - HOSE | 20G-14-31140 - CLUTCH HOUSI |
| 706-88-40162 - PISTON ASS'Y | 23B-60-42910 - TEE | 723-56-31510 - CASE |
| 205-54-51420 - COLLAR | 5066397 - SUPPORT | 5083990 - METERING VAL |
| 5048537 - HARNESS | 6252-11-5580 - TUBE | 419-43-28110 - CABLE ASS'Y |
| 42Y-96-H0P00 - HOSE 1=500CM | 198-Z11-3831 - DUCT | 34651199 - RING |
| 3031281R1 - PIN | 3899452S - SERVICE PT | 42C-44-11113 - SUPPORT P6 |
| 56B-54-16461 - SHIM | 5214394 - HYDRAULIC HO | 20Y-43-28540 - LEVER |
| 205-06-32191 - WIRING HARNE | 209-979-7380 - BRACKET | 2A6-60-11151 - COVER |
| 208-62-72160 - HOSE | 598359850 - SPRING PIN | 6261-41-4830 - COVER |
| 22L-43-18240 - LEVER | 42T-12-27040 - FLANGE | 426-46-31920 - BUSHING |
| 28169 - PLUG EXPANS | 205-62-55270 - NIPPLE | 417-43-19151 - SUPPORT |
| 37213099 - UNION | 6151-31-4600 - FLYWHEEL ASS | 79495973 - BAND |
| 3F0597614 - PIN | 6754-61-6320 - CONNECTOR | 707-00-0E650 - CYLINDER ASS |
| 6215-41-1300 - CAMSHAFT ASS | 94819340 - CLAMP | 6150-71-6550 - TUBE |
| 58F-00-00730 - PLATE A., SW | 198-43-51721 - BRACKET | 235-06-36520 - WIRING HARNE |
| 418-62-31551 - BRACKET | 6736-12-0110 - HEAD ASSM | 198-Y11-1360 - GLASS |
| 20T-63-78170 - TUBE | 76765173 - Pipe, assy. | 4879816 - SCREW |
| 6736-61-5120 - CLAMP,HOSE | 203-30-00330 - CARRIER ROLL | 21W-62-46471 - HOSE |
| 23A-43-12420 - PLATE | 21M-06-15520 - BRACKET | 425-S95-7220 - FRAME |
| 569-03-88833 - BAFFLE | 37A-09-4R224 - SPRING PIN | 5058004 - HOLDER |
| 6211-11-4351 - CONNECTOR | 549-12900 - SEAL KIT | 20S-70-31430 - LINK |
| 426-93-21270 - PLATE | 19M-06-31230 - TANK-W/SHIEL | 7861-93-1940 - SENSOR |
| 195-57-46111 - SEAT ASS'Y | 707-99-68660 - SEAL KIT | 309816R1 - PLATE |
| 19M-32-11334 - MASTER LINK | 17A-862-3240 - NET | 5043156 - ARM RIGHT |
| 427-03-22340 - TUBE | 2A5-04-11431 - HOSE | 6162-14-5350 - BRACKET |
| 17A-54-51381 - MAT | 198-30-68950 - BRACKET | 195-978-2140 - BRACKET |
| 561-54-83911 - SHEET | 714-11-18850 - FLANGE | 855670009 - O-RING |
| 4A1-00-10080 - PLATE | 22J-54-25372 - PLATE | 22J-98-25610 - OIL CHART |
| 417-927-AK30 - NUT | 2A5-06-12350 - WIRING HARNE | 419-62-23130 - RUBBER |
| 707-58-11370 - XROD | 79760073 - PANEL,CAB | 42921740 - TRAGROLLENKO |
| 209-01-77241 - PIPE | 922011335 - GASKET | 76905573 - REDUCTION RI |
| 42U-06-13120 - LAMP | 707-58-14560 - XROD - CYLIN | 2938856540 - WASHER |
| 208-30-54111 - YOKE | 207-979-7311 - BRACKET | 50056598 - CHUSE HEAD S |
| 76198173 - RESISTOR | 6130-72-5640 - HOSE | 600-815-5730 - CONTROLLER |
| 561-15-71132 - HOUSING | 20J-06-11411 - WIRING HARNE | 6130-11-5811 - GASKET |
| 2A6-54-11961 - COVER | 600-824-8110 - SAFETY RELAY | 21P-26-K1260 - GEAR ASS'Y |
| 17A-30-00310 - IDLER ASS'Y | 5198857 - SPOOL | 94127340 - HOSE |
| 561-03-81861 - BAFFLE | 417-43-17540 - HOSE | 22U-60-21331 - ACCUMULATOR |
| 582-06-11811 - TIMER | 5091522 - SENSOR | 4620291 - PISTON RING |
| 50970598 - UNION | 708-1U-19120 - PLATE | 418-43-37262 - HOSE |
| 42Y-15-H0P50 - BEARING | 561-92-82100 - BOX ASS'Y | 22U-54-35560 - NET |
| 417-70-B1380 - BLADE | 6162-13-5250 - CAP | 2A5-53-11790 - SEAL |
| 9403257 - UNION | 21U-62-32542 - HOSE | 6738-82-8040 - TURBOCHARGER |
| 58E-98-00370 - CONTROL ASSE | 561-27-71212 - HUB | 37B-54-11241 - FRAME |
| 58C-RS-AK010 - REAR SUSP OH | 21M-38-21460 - ELBOW | 426-35-15952 - TUBE |
| 561-54-62132 - GLASS | 711-60-26910 - GASKET | 424-54-41361 - SHEET |
| 7818-19-2010 - SENSOR | 56D-54-25670 - DECAL | 22K-62-21111 - HOSE |
| 79477873 - RELAY | 203-01-67510 - HOSE | 207-00-51121 - PLATE |
| 702-21-54330 - O-RING | 5069847 - MOUNTING | 22F-910-1810 - SWITCH |
| 419-18-48114 - HOSE | 421-54-61231 - HOOD | 76521073 - UNION |
| 58E-54-18580 - DUCT A.,STR | 417-62-13411 - STRIP | 22J-62-28240 - HOSE |
| 707-76-12550 - BUSHING | 20Y-54-38131 - WEATHER STRI | 21772A - MUFFLER |
| 706-8J-41360 - PISTON ASS'Y | 5072794 - PULSE SENDER | 6141-64-2560 - SPACER |
| 845230002 - VALVE | 6216-54-6910 - CLAMP,HOSE | 22B-54-11881NK - PLATE |
| 700-23-12002 - VALVE ASS'Y | 22B-54-12251 - COVER | 707-99-32140 - SERVICE KIT |
| 424-93-11412 - OIL CHART | 427-06-53120 - SWITCH | 569-61-82581 - PLATE |
| 2A5-62-11571 - BRACKET | 423-06-44550 - COVER | 42T-56-21C30 - BRACKET |
| 705-17-04760 - BOLT | 17A-54-49161 - MASK | 836840861 - GASKET KIT |
| 6211-11-9510 - COVER | 21N-62-16131 - TUBE | 21J-54-16140 - NUT |
| 955382 - SCREW | 419-S62-5150 - HOSE | 7821-91-2510 - PLATE P60 |
| 71562 - BRG,TAPE | 569-03-89321 - PLATE | 416-878-1470 - GROMMET |
| 21K-04-41161 - HOSE | 90685140 - FILTER | 419-62-31621 - HOSE |
| 90549A - CAP STACK | 205-03-31111 - RAD CORE P60 | 175-71-22121 - PLATE |
| 24857R1 - BOLT | 5069261 - PLATE | 207-03-42131 - SEAL |
| 42Y-62-H4230 - PUMP, HYD | 6150-51-7510 - COVER | 427-62-11720 - SHIM |
| 201-70-00822 - LINK ASS'Y | 175-45-21320 - NIPPLE | 561-61-64271 - UNION |
| 96679200 - BUTTON | 723-49-15204 - CONTROL VALV | 561-61-65322 - BRACKET |
| 419-43-37302 - VALVE ASS'Y | 76375773 - Mounting fla | 207-966-K970 - TUBE |
| 816213820 - CABLE | 21N-54-34150 - PLATE | 198-Z11-7820 - BRACKET |
| 6219-81-7430 - COVER | 20Y-53-16850 - SEAL | 6215-36-3050 - METAL ASS'Y |
| 195-30-11320 - PACKING | 2A6-54-11951 - COVER | 22L-54-17410 - COVER |
| 5243088 - O-RING | 207-03-A1510 - COOLER ASSY | 90576140 - HOSE |
| 42Y-72-H0P80 - HOSE | 208-62-75820 - HOSE | 6745-41-2151 - GUIDE - TAPP |
| 22U-54-21311 - NET P60 | 6164-11-7805 - GASKET KIT | 5023224 - FLANGE R/B 5 |
| 80614873 - KIT SEAL | 17A-27-00133 - FINAL DRIVE | 5079414 - AIR CONDITIO |
| 51094298 - HOSE | 6217-81-8712 - WIRING HARNE | 711-66-16870 - RING |
| 22214KF - CONNECTOR, S | 21T-979-3741 - HOSE | 6215-31-4300 - FLYWHEEL ASS |
| 561-40-41160 - BUSHING | 198-60-32330 - GASKET | 23B-40-44190 - SPOOL |
| 561-54-A4370 - SNDBRD LWR R | 6162-63-1301 - SHAFT ASS'Y | 5029553 - CAP |
| 42A-63-12140 - CYLINDER | 42U-09-H1440 - SCREW | 6240-11-6620 - TUBE |
| 427-43-27910 - TUBE | 561-54-80G01 - PLATFORM | 836339088 - INJECTOR |
| 419-963-A240 - COND ELEC | 7826-17-7500 - CONTROLLER | 22886KF - PLUG - SPLIT |
| 6136-21-2410 - SHAFT | 417-01-61510 - HOSE | 321139R91 - OIL SEAL |
| 31811699 - SCREW | 707-11-75540 - CYLINDER | 2A5-54-15492 - COVER |
| 203-979-1131 - HOSE ASS'Y | 2A6-00-11150 - PLATE | 425-03-22211 - TUBE |
| 566-06-46110 - WIPER ARM | 79327773 - PIPE | 21N-53-31922 - PIPE |
| 566-54-8A791 - GUARD | 6162-12-1152 - O-RING | 416-64-25130 - RETAINER |
| 58F-06-00630 - WIRING HARNE | 5030926 - CYL. CUTTING | 23B-43-72190 - SHAFT |
| 7835-70-2431 - CONTROLLER | 569-06-87240 - WIRING HARNE | 7861-92-4070 - SENSOR |
| 79433173 - INDICATOR | 427-62-14841 - ELBOW | 56B-93-11260 - PLATE |
| 23D-22-11751 - SEAL | 421-93-11623 - OIL CHART | 42W-22-H0R06 - DISC |
| 416-54-32770 - COVER P60 | 20Y-54-51551 - SEAL | 201-32-71170 - BUSHING |
| 421-43-28410 - KNOB | 706-7G-41910 - SPACER | 600-319-3881 - CARTRIDGE |
| 17M-06-44840 - WIRING HARNE | 3218657R1 - SHIM | 427-S95-A270 - LINK ASSY |
| 5239353 - HOSE | 198-06-46750 - WIRE HARNESS | 17202KF - MUFFLER-9IN |
| 702-16-51350 - PISTON | 22U-54-22460 - SHEET P60 | 22F-62-14160 - HOSE |
| 41E-54-24190 - BRACKET | 325287R1 - WASHER | 6162-63-3210 - PULLEY |
| 421-S95-7660 - PLATE | 425-62-13580 - HOSE | 175-15-44190 - SLEEVE |
| 425-02-21130 - MUFFLER P60 | 21T-54-36180 - WEATHER STRI | 195-49-34190 - RING |
| 17A-54-16111 - FRAME | 708-23-13410 - CAM | 427-32-15410 - DISC |
| 707-86-11270 - TUBE,RH | 423-46-41190 - PIN | 427-15-11140 - HOUSING |
| 37B-01-11480 - SUPPORT | 195-43-44320 - BOX | 56B-02-11724 - COVER |
| 6261-21-5711 - PAN | 90628940 - SEAL KIT | 70711 - WASHER |
| 6150-71-5370 - TUBE | 419-926-AC40 - SHEET-RH | 209-979-7781 - HOSE |
| 702-75-01310 - VALVE ASS'Y | 426-15-00400 - HOUSING ASS' | 17A-Z11-5540 - COVER ASS'Y |
| 6710-11-1840 - GROMMET | 5264885 - ADJUSTING CO | 21M-03-15180 - SEAL |
| 58B-98-00660 - NOZZLE, HIGH | 37B-70-17150 - PIN | 22U-70-11243 - LINK |
| 6136-11-5650 - PIPE | 21T-06-33910 - CONNECTOR | 423-06-H2130 - HARNESS |
| 51516098 - HOSE | 20N-60-42510 - SPRING | 89052C - PIPE,STACK |
| 198-911-8711 - HOSE | 3F4565099 - UNION | 76865073 - PIPE ASSY |
| 17M-54-41252 - PLATE | 2A5-54-12881 - SHEET | 425-Z90-4940 - SHEET |
| 425-20-32132 - PROPELLER SH | 5007685 - HYDRAULIC HO | 21T-04-31681 - TUBE |
| 424-35-11754 - TUBE | 561-95-85350 - VALVE ASS'Y | 77038273 - TUBE CPL. |
| 21K-70-23220 - PIN | 418-07-33432 - SHEET | 5059516 - BLOCK |
| 205-06-71225 - WIRE | 419-62-33584 - HOSE | 26961540 - WIPER BLADE |
| 3502094 - SPACER;A; .7 | 424-62-23290 - TUBE | 562-52-31210 - PIN |
| 209-26-71150 - GEAR | 707-01-0CA40 - XCYLINDER AS | 21M-06-11113 - WIRING HARNE |
| 426-06-33111 - SUPPORT | 20T-26-81210 - SEAL | 569-06-62580 - WIRING HARNE |
| 209-62-57390 - ELBOW | 561-86-86580 - COVER | 50438798 - SCREW |
| 6215-21-4190 - HOUSING | 208-03-58260 - SEAL | 92318440 - CABLE - STAR |
| 6737-71-5460 - CONNECTOR | 8A31-54-1110 - CUSHION | 20K-14-31290 - SHIM |
| 6732-11-5471 - BRACKET | 6738-82-5810 - CLIP | 417-06-25111 - PANEL |
| 20N-06-71175 - WIRE ASS'Y | 5072239 - STUMP TREATM | 234-15-22350 - CARRIER |
| 707-52-15400 - BUSHING | 418-879-A770 - COUPLER KIT | 561-03-80101 - TANK ASS'Y |
| 670079C3 - GASKET | 417-W22-1101 - WHEEL | 22B-06-11910 - SWITCH |
| 426-N42-3841 - HOLDER | 22U-62-26840 - HOSE | 421-850-0020 - LINK ASS'Y |
| 417-46-11151 - PIN | 208-979-4331 - ELBOW | 418-925-4600 - DOOR ASS'Y |
| 56B-03-22620 - BRACKET | 20M-30-81605 - IDLER ASS'Y | 425-22-37121 - COVER |
| 238-23-11130 - COVER | 5056167 - AIR CONDITIO | 423-07-51120 - HOSE |
| 198-61-61490 - BRACKET | 928008A - PIPE,TAIL | 421-43-37171 - PLATE |
| 708-7T-13261 - PLATE | 56B-61-54510 - BRACKET | 20S-63-02231 - BOOM CYLINDE |
| 6162-33-6130 - BUSHING | 711-47-72550 - SHAFT | 23B-03-67131 - HOSE P60 |
| 6754-71-6800 - FILTER ASS'Y | 562-13-05080 - SERVICE KIT | 6251-31-2030 - RING,PISTON |
| 5074264 - COUPLING | 22M-43-11141 - BRACKET | 8295-70-2750 - YOKE |
| 198-32-11450 - SHOE | 5075021 - ASSEMBLY KIT | 21T-04-64350 - WIRE ROPE |
| 562-27-31160 - SHIM | 207-32-K1920 - TRACK LINK | 312731062 - PIPE |
| 566-74-8A620 - BAR | 20Y-46-54151 - SHEET P60 | 27569R1 - SCREW |
| 205-54-66660 - HOLDER | 6732-81-6460 - SCREW | 714-07-42611 - PISTON |
| 6100-41-5440 - NUT | 20M-98-74130 - PLATE, CAUTI | 22L-62-1A151 - HOSE |
| 28488 - VALVE - CHEC | 425-03-51641 - HOSE | 418-927-AM90 - FUSE BLOCK |
| 21N-54-12180 - SEAT | 195-27-31330 - SHAFT | 76129 - STUD |
| 2A5-979-1211 - DUCT | 19M-49-11980 - HOSE | 425-Z90-3971 - SHEET |
| 32460340 - PLUG | 205-03-35170 - BRACKET | 878000463 - KIT - GASKET |
| 22M-54-25361 - PLATE | 17M-22-47952 - VALVE ASS'Y | 721-36-12070 - PISTON |
| 208-54-68460 - COVER | 425-W36-1120 - SIDE FLANGE | 195-43-41120 - PEDAL |
| 6735-11-3410 - SEAL, INJECT | 20G-62-K7630 - ADAPTER | 175-43-33121 - ROD |
| 5012548 - ADAPTER ST(N | 56B-92-22130 - GRILLE | 427-819-2240 - PLATE |
| 175-13-21691 - HOLDER | 22U-54-33340 - SEAL | 423-54-37810 - SHEET |
| 6245-A0-0012T3 - ENGINE ASS'Y | 21N-01-41110 - BOLT | 707-34-10600 - O-RING |
| 5066194 - VALVE SECTIO | 416-54-41550 - DOOR | 23C-06-12410 - SCREW |
| 702-21-HP009 - ORING | 707-86-47620 - TUBE | 21M-01-11340 - PLATE |
| 561-54-86740 - STEP | 20Y-54-86120 - SPACER P60 | 6152-12-5460 - COVER |
| 208-60-51300 - STRAINER | 425-974-2110 - WEIGHT,COUNT | 208-62-42480 - TUBE |
| 421-56-H0S52 - GLASS | 836866682 - BRACKET | 6210-61-6610 - CONNECTOR |
| 21W-30-34110 - GUARD | 707-71-34660 - COLLAR | 569-63-22520 - DUST SEAL |
| 51740698 - NUT | 23B-25-71590 - COVER P60 | 569-86-6M160 - BRACKET |
| 175-03-00252 - TUBE ASS'Y | 209-06-73381 - SWITCH | 56B-54-18213 - GUARD |
| 416-06-32530 - WIRING HARNE | 230-09-23185 - HOSE | 22B-70-11570SS - LINK |
| 58D-98-00400 - BOLT, HEX HD | 6215-81-5340 - CONNECTOR | 21K-54-73970 - SHEET |
| 421-03-44110 - CORE | 51818998 - HOSE | 23A-06-11290 - CABLE |
| 79975273 - HOSE_____P60 | 566-06-86413 - WIRING HARNE | 3235436M - ADJUSTING CO |
| 707-00-0H040 - CYLINDER ASS | 20Y-70-41221 - PLATE P60 | 21U-62-38260 - HOSE |
| 76892173 - PIPE ASSY | 562-13-56760 - SPRING | 49895140 - SPACER BLOCK |
| 416-54-41641 - PLATE | 5204157 - HOSE | 425-S05-2460 - TUBE |
| 425-03-35910 - HOSE | 419-62-54450 - HOSE | 6631-12-4221 - GASKET |
| 915089154 - SEAL | 42C-54-16330 - BULKHEAD | 5075759 - HYDRAULIC PI |
| 706-8H-41870 - RETAINER | 208-27-61170 - CARRIER | 56D-03-21291 - PACKING |
| 23B-22-11340 - SHAFT | 17A-22-12120 - PLATE | 20E-22-K1430 - SHIM |
| 17M-71-21710 - PIN | 5075460 - COOLER | 5080792 - HYDRAULIC HO |
| 5075588 - VALVE ASS'Y | 705-17-04520 - BRACKET | 5057588 - ROD, PISTON |
| 17820 - MEMBER, ENGI | 6735-21-4720 - SCREW,HEX HE | 20Y-970-7130 - ADAPTER |
| 23B-04-83370 - HOSE | 56B-02-12150 - SEAL | 2A5-54-11120 - COVER |
| 37C-03-11200 - RADIATOR | 306421731 - DECAL | 924077A - PIPE,EXHAUST |
| 707-03-00180 - CYLINDER ASS | 799-201-1150 - ADAPTER | 5064259 - BEARING |
| 22C-06-31150 - LAMP | 198-54-72821 - DUCT ASS'Y | 62830A - FASTENER |
| 198-21-11480 - LOCK | 6520-71-1020 - SENSOR,PRESS | 6216-61-5110 - CONNECTION |
| 21W-62-31910 - HOSE | 42U-56-H0P53 - SEAL | 707-00-0C330R - CTLINDER ASM |
| 23B-22-31651 - CAGE | 418-54-14113 - FENDER | 427-15-05030 - SERVICE KIT |
| 74163 - O-RING | 51493798 - UNION | 6151-29-4150 - SEAL |
| 22M-98-12110 - PLATE | 89853K - REDUCER,HUMP | 20U-Z14-1840 - PLATE |
| 569-52-62611 - TUBE | 39637140 - GASKET | 207-01-72151 - TUBE |
| 566-01-11641 - PLATE | 6221-F0-0130 - ENGINE ASS'Y | 58B-60-05220 - HOSE,Y08-D08 |
| 20G-62-K4520 - MARK | 569-43-83160 - VALVE ASS'Y | 561-84-63150 - FLANGE |
| 42N-62-13990 - HOSE | 42C-U44-1980 - HOSE P60 | 209-944-7331 - LINK |
| 566-61-82113 - TUBE | 56112 - PAD MOUN | 232-43-57180 - BUSHING |
| 723-19-15903 - CONTROL VALV | 22411R1 - RING | 836764393 - TURBO |
| 198-43-61561 - LEVER | 844200652 - PLATE | 56B-01-12710 - COUPLING ASS |
| 425-35-11551 - TUBE | 707-51-11731 - U-PACKING | 6156-11-8110 - COVER,HEAD |
| 42N-93-11340 - DECAL | 6156-11-3220 - NOZZLE | 22U-62-21361 - TUBE |
| 22M-54-31652 - BRACKET | 885111135 - LIGHT | 206-54-A1322 - COVER |
| 89059C - PIPE,STACK | 87246340 - AXLE HOLDER | 20Y-62-52310 - HOSE |
| 42N-856-2520 - BUSHING | 426-04-A2320 - HOSE | 72375 - GASKET |
| 20K-34-11121 - ROD | 6216-84-9630 - CABLE-ELECTR | 17M-71-41140 - BRACKET |
| 418-54-51161 - BRACKET | 232-06-52321 - GAUGE | 418-22-27411 - DISC |
| 20P-62-71136 - TUBE | 89652240 - PIN, END | 58B-03-00230 - MEMBER, SIDE |
| 395-22-11000 - FRONT AXLE | 56D-03-51A60 - CUSHION | 417-17-32132 - SPACER |
| 600-051-2240 - CLIP | 707-71-61050 - PLUNGER | 655267C1 - RING |
| 715381C1 - SPRING | 56B-03-21220 - CORE | 799-704-1510 - NOZZLE |
| 56D-61-22421 - TUBE | 76791873 - BUSHING | 21M-62-16290 - ELBOW |
| 419-62-48591 - TUBE | 209-62-53660 - BAND | 423-62-21290 - PLATE |
| 58E-61-00510 - FITTING, SAE | 17A-61-51430 - HOSE | 17M-71-21441 - ARM |
| 5036349 - SHIELD | 22L-70-1A500 - LINK ASS'Y | 207-70-B1510 - TOOTH |
| 6216-74-5530 - FITTING-FUEL | 21K-54-72152 - COVER | 6128-21-6682 - SHIELD |
| 58B-50-00700 - SUSPENSION,F | 569-15-05170 - SERVICE KIT | 17M-06-41660 - BRACKET |
| 42C-54-13940 - SEAL | 21P-70-21210 - ARM | 6212-61-1750 - SHAFT |
| 426-62-61720 - HOSE | 506476 - SEAL | 421-S95-7440 - BUSHING |
| 425-62-13892 - BRACKET | 5023262 - SPROCKET | 362-43-41110 - END |
| 79333973 - PIPE | 208-06-27341 - WIRING HARNE | 208-54-76410 - FRAME |
| 86550M - MUFFLER | 20M-62-82271 - NIPPLE | 82646KF - GUARD |
| 42R-17-H0R34 - PISTON | 426-926-3964 - STAY | 428-16-11123 - TUBE |
| 208-54-24760 - SHEET | 232-950-2121 - GLASS | 569-61-62121 - TUBE |
| 723-40-93900 - RELIEF VALVE | 170-33-12740 - SPRING | 17M-22-23271 - STOPPER |
| 21S-970-2760 - PIN | 22U-63-72191 - BRACKET | 58D-68-11000 - SWITCH,PRESS |
| 22M-973-1440 - TUBE | 175-15-45620 - STOPPER | 836862443 - KIT, GASKET |
| 42C-S95-3690 - COVER P6 | 21T-54-31892 - COVER | 22260 - FRAME, FRONT |
| 5082947 - BRAKE LINING | 418-926-4530 - SPACER | 566-03-11151 - GASKET |
| 425-56-21790 - SHEET | 421-43-47920 - COVER | 21D-54-13280 - PANEL |