Komatsu WA470-8 Loader parts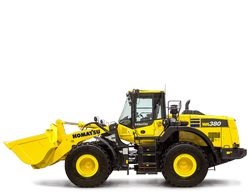 Komatsu WA470-8 Loader - it is a big machine. It is a Wheel Loader and works in difficult operating conditions. That's why this machine sometimes needs maintenance.
Our online parts store give you an access to more than 500 000 Komatsu parts that we have in our inventory.
Here is some more information about Komatsu WA470-8 Loader:
ENGINE POWER
204 kW / 273 HP @ 2.000 rpm
OPERATING WEIGHT
24.170 - 25.670 kg

ENGINE
Model -> Komatsu SAA6D125E-7
Type -> Common rail direct injection, water-cooled, emissionised, turbocharged, after-cooled diesel
Engine power
at rated engine speed -> 2.000 rpm
ISO 14396 -> 204 kW/273 HP
ISO 9249 (net engine power) -> 203 kW/272 HP
Max. torque / engine speed -> 1.330 Nm / 1.450 rpm
No. of cylinders -> 6
Bore × stroke -> 125 × 150 mm
Displacement -> 11,04 l
Fan drive type -> Hydraulic
Alternator -> 90 A/24 V
Starter motor -> 7,5 kW/24 V
Filter -> Main-flow filter with water separator
Air-filter type -> Dry-air filter with automatic dust emission and preliminary purification including a dust display
If you send us your request, we will make you an offer for original and Aftermarket Komatsu parts for your Komatsu WA470-8 Wheel Loader.
Below is a small list of Komatsu parts for this equipment. However, if you are interested in something - please use the site search.
| | | |
| --- | --- | --- |
| 20N-62-41280 - ELBOW | 207-30-76A21 - BRACKET | 21W-06-44135 - WIRE HARNESS |
| 707-51-17650 - RING | 203-63-55571 - TUBE | 2A7-970-1131 - TUBE |
| 6151-51-5311 - HEAD | 208-54-64590 - SEAL | 708-2H-03110 - VALVE ASS'Y |
| 561-88-66441 - BRACKET | 569-15-51192 - HOUSING | 427-15-16130 - SPRING |
| 58E-06-06680 - HARNESS, FIL | 562-02-31240 - FLANGE | 306249R1 - SPRING |
| 23B-02-61131 - HOSE | 42U-63-H0P11 - NUT | 89658940 - HYDRAULIC MO |
| 58130669 - SCREW | 208-53-22710 - ROOF | 425-54-12510 - BRACKET |
| 207-979-7560 - BRACKET | 79659373 - TOOTH SET | 20X-54-26360 - SHEET |
| 195-Z11-7141 - ACTUATOR ASS | 955315 - SCREW HHC | 567-07-71190 - FILTER |
| 617330031 - CIRCLIP | 21T-43-67123 - BOX | 208-72-71210 - HOSE |
| 21T-30-00080 - TRACK ROLLER | 208-62-42490 - TUBE | 6162-83-4550 - WIRING HARNE |
| 423-S95-8770 - TUBE | 569-01-62712 - COUPLING | 707-99-59100 - SERIVCE KIT |
| 195-50-31350 - PIN | 707-99-78740 - SERVICE KIT | 6735-71-5350 - TUBE,FUEL SU |
| 195-30-62800 - PIN ASS'Y | 363-70-31820 - PIN | 203-62-58110 - MARK |
| 419-U77-3540 - HOSE | 61260190 - BEARING | 709-90-71600 - VALVE ASSM |
| 18414 - COVER, THRU | 5208874 - MOUNTING | 22B-54-15310 - SEAL |
| 21N-53-32280 - GLASS WOOL | 6211-72-5140 - TUBE | 209-62-42670 - HOSE |
| 5022718 - COVER | 419-03-52560 - GUARD | 42W-57-H0P35 - ADJUSTER,WEI |
| 20U-60-22260 - SOLENOID VAL | 195-Z11-4320 - SEAL | 48786140 - BUSH |
| 76716373 - Seal ring | 42U-07-H0P10 - NOZZLE | 42C-54-11244 - BRACKET |
| 42A-43-53194 - BRACKET | 392059153 - HOSE | 5038594 - PISTON ROD |
| 943873C1 - LOCK | 22U-62-85860 - HOSE | 195-06-55931 - WIRING HARNE |
| 23B-22-32542 - TUBE | 426-03-21640 - STAY | 705-19-43660 - GEAR,DRIVE |
| 705-18-03631 - BRACKET | 421-U44-4890 - HOSE P60 | 22K-973-2820 - HOSE |
| 37A-62-13420 - TRANSMITTER | 23A-03-21420 - SHROUD | 175-978-5180 - RUBBER |
| 567-30-11810 - TUBE | 416-06-22221 - WIRE | 93139040 - HARNESS |
| 18809340 - GASKET | 836130285 - PISTON RING | 702-21-55870 - O-RING |
| 708-1W-43320 - CAM | 92258440 - PLATE LH | 195-15-75506 - VALVE ASS'Y |
| 705-44-82710 - PLATE,SIDE | 20Y-06-23871 - HARNESS,WIRI | 235-22-51530 - O-RING |
| 6240-61-4701 - TENSION PULL | 21W-957-2370 - SHIM | 22B-01-31541 - BRACKET |
| 885270171 - ROTAT.LAMP W | 42W-54-31C10 - GAS SRPIRNG | 561-15-05270 - KIT |
| 22B-62-11500 - VALVE ASS'Y | 426-46-63730 - WEIGHT | 22M-54-14550 - LATCH ASSEMB |
| 6204-21-4230 - HOUSING | 6746-51-9120 - BRACE | 21W-62-47430 - HOSE |
| 421-62-13344 - HOSE | 6240-31-3140 - BUSHING | 89236A - ELBOW |
| 426-43-27741 - COVER | 23B-03-61541 - SEAL | 836440085 - REPAIR KIT |
| 209-53-11941 - COVER | 6151-62-6320 - PLATE | 195-22-13290 - SPACER |
| 17M-30-25332 - COVER | 50465398 - HEX SCREW | 17M-30-56221 - RING |
| 5229295 - HARNESS | 18174 - LENS, LIGHT | 56B-88-12390 - TUBE |
| 234-06-81130 - WIRING HARNE | 234-22-32170 - NUT | 7821-91-2550 - PLATE |
| 708-2G-04630 - CAP ASS'Y | 58D-06-10071 - LAMP,HI BEAM | 206-54-A3510 - RAIL HAND |
| 6166-75-6571 - TUBE | 721-98-00480 - SEAL KIT | 206-70-27120 - BOOM |
| 6219-81-7830 - BRACKET | 37A-62-15810 - SUPPORT | 5050643 - BLOCK |
| 417-54-31330 - COVER | 195-61-49170 - HOSE | 421-40-11381 - JOINT |
| 46141940 - GUIDE RING | 426-43-37150 - RETAINER | 19M-98-26210 - PLATE |
| 5072686 - CAP | 37A-98-11321 - PLATE | 5280096 - PRESS RED.VA |
| 21N-70-11230 - PLATE | 426-43-58850 - COVER ASS'Y | 566-35-19220 - WASHER |
| 419-03-51280 - HOSE | 836640115 - SHIM | 415-03-11150 - COCK,DRAIN |
| 20K-70-31640 - LINK, BUCKET | 206-30-00090 - CUSHION ASS' | 799-704-1530 - NOZZLE |
| 58E-98-00410 - PLUG, STOP | 423-54-51830 - BRACKET | 21N-68-32530 - HOSE |
| 562-33-19940 - SEAL | 878000587 - KIT, CHANGE | 418-07-66150 - HOSE |
| 175-61-14490 - SPACER | 21W-62-21111 - HOSE | 426-15-13141 - CAGE |
| 17M-61-49821 - HOSE | 3946497 - F W SEPRTR | 5053735 - SHROUD, 890. |
| 5067665 - BUSHING | 423-Z02-1310 - BRACKET | 569-52-62613 - TUBE |
| 4503881 - PIVOT PIN | 423-54-43160 - SHEET | 21T-68-71140 - ELBOW |
| 209-38-71171 - PLATE | 428-15-00220 - HOUSING ASS' | 58F-80-11010 - HANDRAIL,DIA |
| 21M-62-22120 - HOSE | 6156-11-5180 - PLATE | 20E-23-K1210 - BOLT |
| 6151-11-5640 - BRACKET | 20K-06-31220 - BOLT | 419-43-13190 - UNION |
| 816206004 - KIT PLATE | 207-943-3150 - TUBE | 427-S95-2410 - GAUGE |
| 56B-27-24053 - BRAKE ASS'Y | 203-62-15650 - VALVE ASS'Y | 41E-43-38211 - KNOB ASS'Y |
| 208-03-71390 - COVER | 702-13-36281 - POPPET | 21N-54-42830 - CUSHION |
| 17A-03-51491 - BRACKET | 235-950-5430 - BRACKET | 425-54-52761 - HANDRAIL |
| 426-93-21620 - PLATE | 707-52-91550 - BUSHING | 6261-61-3840 - BRACKET |
| 32439040 - RUBBER BAND | 208-70-31242 - PLATE | 423-06-52771 - BRACKET |
| 836855517 - WASHER | 17A-12-61161 - GAUGE | 423-20-32511 - PROPELLER |
| 21T-53-33580 - BRACKET | 416-06-32321 - HARNESS, WIR | 6735-72-5110 - ISOLATOR,VIB |
| 705-41-01540 - PUMP ASS'Y | 425-20-15240 - DEFLECTOR | 5078958 - OIL COOLER |
| 723-21-03600 - VALVE | 203-60-63102 - MOTOR ASSM | 424-35-11691 - TUBE |
| 198-09-31670 - BEARING | 6204-21-3123 - COVER | 6245-81-6170 - BELT |
| 2A5-06-25220 - CABLE | 711-58-00300 - CONVERTER AS | 21N-62-39820 - CLAMP |
| 426-70-31212 - BELLCRANK | 56D-02-57480 - CUSHION | 5029749 - PISTON ROD |
| 56D-54-39460 - STEP | 42C-03-17991 - TUBE | 4602510 - CLAMP |
| 295204R1 - RING | 707-00-0E880 - CYLINDER ASS | 94053440 - O-RING |
| 22P-62-15111 - HOSE | 56D-02-51510 - BRACKET | 423-54-64171 - LADDER |
| 561-54-61551 - GUARD | 56B-86-32231 - BRACKET | 20G-23-K1180 - SHIM |
| 23B-950-5282 - COVER | 235-22-11250 - O-RING | 5071557 - SCREW |
| 426-15-00150 - SHAFT ASS'Y | 424-20-23650 - SHAFT ASS'Y | 8255-75-4450 - FLANGE |
| 42C-32-19110 - SPRING | 569-85-81110 - COVER | 20Y-54-35994 - CABLE |
| 6215-61-7412 - TUBE | 426-54-24910 - ANGLE | 790-102-1130 - WRENCH ASS'Y |
| 22U-43-22520 - YOKE | 6276-71-1210 - COMMON RAIL | 42N-62-14950 - HOSE |
| 21N-03-37541 - BRAKE | 198-Z11-2320 - GLASS | 562-15-19380 - BEARING P60 |
| 23D-950-4321 - LOCK ASS'Y | 708-25-15701 - VALVE ASS'Y | 67590340 - PIPE |
| 6150-21-5360 - OIL GAUGE | 195-61-49380 - HOSE | 706-7G-91120 - PISTON |
| 21P-01-K1281 - DAMPER | 23A-952-8740 - HOSE | 561-61-61111 - TUBE |
| 324452R1 - PLATE | 17M-61-24291 - HOSE | 22B-04-31170 - SEAL |
| 22B-54-28321 - GLASS | 21N-62-12352 - HOSE | 198-03-73211 - BRACKET |
| 5027028 - SHIM | 6201-12-3120 - NOZZLE | 6151-71-1733 - XINJECTION P |
| 17A-49-22160 - PLUG | 424-01-H0P05 - SUMP | 362-06-13210 - SWITCH |
| 209-54-41790 - COVER | 5029260 - FLANGE | 42A-43-52540 - CABLE |
| 207-53-32112 - DOOR ASSY | 56B-27-12412 - SHAFT | 17A-Z11-7750 - COVER |
| 42U-43-17A60 - PIN | 561-06-85190 - COVER | 21T-60-64110 - VALVE ASSY. |
| 20P-62-71161 - TUBE | 421-20-11520 - SPIDER ASS'Y | 22B-62-12132 - HOSE |
| 6271-31-2100 - RING ASS'Y | 58F-06-00701 - COVER, STR L | 6252-11-3100 - XINJECTOR AS |
| 423-30-21210 - RIM | 78436 - PIN, HD | 58D-54-01510 - PLATE, MOUNT |
| 37A-62-14421 - HOSE | 426-35-27230 - BOLT | 6136-21-5440 - GUIDE |
| 207-03-51361 - SEAL | 421-54-62571 - BRACKET | 5062204 - HARNESS |
| 208-27-00231 - FINAL DRIVE | 418-54-A2570 - INSULATOR | 20Y-54-37611 - GLASS |
| 418-54-61131 - STEP | 22L-979-3730 - HOSE | 208-46-32130 - WASHER |
| 42U-54-12140 - POSITIONER | 208-30-77240 - GUARD RH | 417-06-12412 - WIRE |
| 708-8H-13510 - RETAINER | 42C-Z89-1520YN - PLATE | 58B-00-00250 - CABLE ASS'Y |
| 561-61-85540 - GROMMET | 19M-98-11543 - MARK | 20791R1 - PIN |
| 29897640 - AXLE | 175-15-00214 - TRANSMISSION | 5008601 - YOKE |
| 5224101 - DECAL | 427-S05-3911 - FILTER | 418-62-05000 - SERVICE KIT |
| 23A-22-05011 - SERVICE KIT | 631805C1 - KIT | 6130-22-6760 - SPACER |
| 961082009 - SEAL | 424-54-H1E30 - BAR | 421-N24-H460 - INDICATOR |
| 723-50-54500 - VALVE ASS'Y | 198-43-51570 - ROD | 21N-03-37651 - SHEET |
| 28243 - WINDOW LEXA | 426-03-11641 - GASKET | 6166-13-3580 - CLIP |
| 198-50-43210 - DUST SEAL | 42N-93-13840 - DECAL,FRENCH | 416-62-43530 - HOSE |
| 3000136X - SEAL | 707-88-87361 - BAND | 58F-00-40610 - TANK K,FUEL |
| 423-U44-6471 - TUBE | 21D-60-13700 - VALVE | 208-62-21780 - TUBE |
| 711-49-05010 - SHIM ASS'Y | 278432R91 - BRG SET | 23A-53-31191 - PLATE |
| 708-23-14850 - PISTON | 17A-54-25311 - COVER | 17M-32-41120 - LINK |
| 22B-03-21511 - SHEET | 561-40-05300 - COVER | 21P-60-K1340 - CARTRIDGE |
| 22M-54-14720 - COVER | 42N-43-13621 - PROTECTION | 34212799 - SPLIT PIN |
| 58E-04-00650 - VENT | 19M-22-12341 - GASKET | 17M-911-6770 - PLATE P60 |
| 207-970-7162NK - BRACKET | 22B-54-25430 - SEAL | 419-926-1311 - COVER |
| 20Y-43-28560 - COVER | 427-54-23533 - HOOD | 312237604 - JOINT |
| 28435 - LENS LIGHT | 17A-22-50001 - POWER TRAIN | 6742-01-1360 - PLUG EXPANSI |
| 6210-11-8820 - GASKET | 205-970-7461 - ROTOR | 312207078 - CABLE ASSEMB |
| 569-15-32290 - HUB | 425-12-11510 - ELBOW | 423-07-31771 - SENSOR |
| 8234-70-3130 - BRACKET | 423-S95-H390 - PIPE | 418-64-55100 - STEERING VAL |
| 20Y-43-22620 - KNOB | 568-95-11361 - SWITCH | 21W-70-41930 - SPACER |
| 7826-31-2031 - KIT | 426-04-11150 - PLUG | 207-62-73670 - TUBE |
| 569-30-11161 - RETAINER | 425-62-33890 - TUBE | 708-1S-12350 - O-RING |
| 600-633-7800 - FAN | 21T-27-71280 - SHAFT | 6128-11-4810 - SPACER |
| 209-06-71112 - WIRING HARNE | 6205-61-5400 - OIL COOLER A | 90326240 - CYLINDER |
| 56D-34-11431 - PLATE | 21Y-03-11130 - BRACKET | 6560-81-5810 - SPRING,FUEL |
| 89198U - STAK,ALUMINI | 23B-03-71550 - PLATE | 22U-03-81560 - SEAL |
| 707-29-12180 - CYLINDER HEA | 6261-81-9830 - COVER | 4671317 - HOSE ASSY .7 |
| 419-54-48942 - COVER | 566-50-42150 - PACKING | 5075085 - TURBINE |
| 419-15-12240 - WASHER | 17M-78-41110 - VALVE | 198-54-75361 - COVER |
| 22F-54-17710 - BRACKET | 707-88-27950 - PLATE | 22705T - MUFFLER |
| 8296-70-1790 - PLATE | 232-27-51152 - PIN | 277975R1 - GASKET |
| 206-54-72120 - SHEET | 708-7S-01520 - COVER ASS'Y | 207-01-68330 - COVER |
| 419-54-B4131 - DOOR LH | 707-09-00021 - XCYLINDER AS | 417-S99-2140 - COIL ASS'Y |
| 569-61-43910 - BODY | 6735-81-6201 - TENSION ASS' | 195-71-61291 - CAP |
| 6732-62-3240 - SUPPORT, FAN | 2A5-03-13720 - HOSE | 58B-06-21191 - HARNESS,STRO |
| 176-76-62320 - ELBOW | 79247473 - PIPE | 205-57-72371 - BRACKET |
| 42C-43-18970 - TANK | 23W-22-22591 - SEAL | 21K-62-75270 - HOSE |
| 324105R91 - BEARING | 23B-22-31910 - SHAFT | 915089021 - PLUG |
| 99900740 - SUPPORT RING | 6205-11-5640 - CONNECT OR | 21T-62-74730 - CLAMP |
| 21X-70-11211 - PIN | 426-03-31220 - O-RING | 600-311-7612 - SEPARATOR |
| 56D-54-13120 - BRACKET | 207-62-42330 - HOSE | 79715673 - PIPE |
| 417-70-13150 - TUBE | 707-00-0C330 - CYLINDER ASM | 569-43-8L970 - HOSE |
| 423-54-51460 - COVER | 561-13-43180 - O-RING P60 | 56B-46-34232 - GUARD P6 |
| 5275606 - DELIMBING KN | 421-877-3480 - HOSE | 198-04-66111 - FLANGE |
| 208-06-81940 - WIRE.HARNESS | 836316926 - REPAIR KIT | 837079224 - SENSOR |
| 20E-60-K2860 - O-RING | 6151-11-4880 - BRACKET | 175-15-41122 - GASKET |
| 720-2M-14250 - NUT | 21P-60-K1510 - O-RING | 195-15-05600 - SERVICE KIT |
| 709-90-54902 - RELIEF VALVE | 423-54-25230 - HANDRAIL R.L | 19M-22-11282 - COVER |
| 281-35-19330 - ELBOW | 427-15-15980 - O-RING | 89187A - REDUCER |
| 5208002 - FEED ROLLER | 41E-70-15420 - SPACER | 3F0583605 - PIN |
| 23W-05-15870 - SWITCH | 22U-54-21633 - FRAME | 312649602 - HOSE |
| 198-27-33210 - BOX | 417-62-54510 - HOSE | 29385 - DEUSCH, CONN |
| 707-86-68060 - TUBE LH | 5016608 - ORING - 5MMX | 20Y-54-83720 - SHIM P60 |
| 93288540 - HOSE, SUCTIO | 22B-54-17670 - PLATE P60 | 6738-82-8810 - STUD |
| 7823-62-1200 - CASE ASS'Y | 198-71-42140 - HOSE | 423-54-44211 - SPACER |
| 5193199 - PROTECTION | 4691156 - PIN, PIVOT | 707-56-55650 - SEAL, DUST |
| 21K-03-72760 - SHEET | 723-26-16371 - PISTON | 42C-62-13951 - BRACKET |
| 6215-71-7420 - TUBE | 22U-06-27431 - WIRING HARNE | 566-06-42250 - WIRING HARNE |
| 972198 - O-RING | 684246C1 - BOLT | 3F0787058 - PIPE |
| 8233-62-3260 - FLANGE | 23B-07-61321 - HOSE | 203-03-56570 - NET |
| 198-71-32170 - PLATE | 96695600 - ACOUSTIC FUN | 72298 - RING |
| 600-492-2100 - CONTROLLER A | 417-S35-4110 - LEVER ASS'Y | 836316726 - GASKET TURBO |
| 392377022 - HOSE | 419-62-48470 - HOSE | 714-12-32511 - GEAR |
| 417-62-13272 - TUBE | 21W-978-2141 - BRACKET | 235-16-12120 - TUBE |
| 23B-60-61691 - BRACKET | 416-62-41350 - HOSE | 34268699 - RING |
| 600-181-3960 - CAP | 198-15-22730 - PISTON | 705-12-29640 - PUMP ASS'Y |
| 58B-09-00500 - BOLT,.625-11 | 76792773 - Bolt | 566-35-15410 - TEE |
| 705-29-31460 - DRIVE GEAR | 58E-EP-AK150 - MCRS COOLING | 56B-06-16460 - WIRING HARNE |
| 5047129 - BEARING PLAT | 21T-70-64120 - SHIM | 427-35-11380 - COVER |
| 201-62-66130 - ELBOW | 42026740 - BUSHING,FREE | 58F-MH-AK010 - W/M MOUNT KI |
| 53714D - GASKET SOFT | 21T-54-34961 - COVER | 17M-22-47472 - CASE |
| 6505-51-1082 - IMPELLER | 711-56-31160 - BEARING | 234-15-12780 - SCREW |
| 209-06-77350 - BREAKER,CIRC | 600-311-9820 - CASE | 207-54-65241 - FRAME |
| 706-8J-00510 - COVER ASS'Y | 198-63-02011 - XCYLINDER, L | 417-54-41221 - FENDER |
| 195-54-53191 - BRACKET | 7838-50-1000 - CONTROLLER | 21M-54-11111 - FRAME |
| 6212-11-5910 - COVER | 708-7R-15230 - SPRING | 6738-51-1100 - PUMP-LUBE OI |
| 8296-75-3380 - GUARD | 51881698 - HOSE | 714-07-12711 - END PLATE |
| 76786273 - PIPE P60 | 427-S05-5550 - TUBE | 20E-63-K5280 - PISTON |
| 207-62-73260 - PLATE | 561-54-81763 - GUARD | 17M-30-53480 - RING |
| 196-38-11180 - GEAR | 17M-22-22120 - SHAFT | 790-222-5120 - TOOL |
| 58E-06-07090 - FUSE,300A AM | 20K-14-32370 - PISTON | 20Y-62-21730 - TEE |
| 20X-43-22560 - CABLE | 423-S62-3140 - BRACKET | 714-12-32541 - GEAR |
| 419-62-53940 - JOINT | 427-62-11680 - SPRING | 6754-H0-0031T3 - XENGINE ASS' |
| 7834-70-7002 - MONITOR | 562-54-31820 - LADDER | 6201-21-5450 - GUIDE |
| 76909573 - CRANK | 6162-43-2370 - PIN | 205-06-61230 - HOSE |
| 22J-46-25281 - BRACKET | 421-00-H0230 - ELBOW | 195-50-22661 - BUSHING |
| 20S-43-12150 - YOKE | 209-60-76501 - VALVE ASS'Y | 207-53-31740 - RUBBER |
| 566-34-11160 - CAMSHAFT | 42T-64-H0R10 - PLUG | 392435043 - HOSE |
| 42U-64-H0P07 - NUT | 5249734 - CLAMP | 42C-70-11451 - COVER |
| 42T-56-21A40 - CONSOLE | 418-06-K2260 - LENS | 6746-61-8310 - TUBE_____P60 |
| 425-07-11881 - BRACKET | 202-981-1360 - BUSHING | 426-S99-2552 - TUBE |
| 566-93-8A230 - PLATE | 19607 - TUBELINE - 1 | 566-54-8A680 - SCREW |
| 6742-01-2690 - WASHER PLAIN | 418-926-4750 - BRACKET | 708-2G-12220 - SEAL |
| 750-0025 - CLAMP SET -3 | 21076 - PLATE, WEAR | 238-15-19410 - BEARING |
| 709-10-51170 - RETAINER | 203-03-56280 - HOSE | 22476 - KIT, SEAL - |
| 19M-15-00092 - SHAFT | 58D-40-00040 - KNUCKLE THRD | 419-54-12216 - STAY |
| 723-60-21400 - RELIEF VALVE | 426-03-67502 - RADIATOR ASS | 42N-02-13620 - HOSE |
| 42Y-06-H2121 - HARNESS | 9S2728-AM - SEG BOLT | 42Y-00-H1530 - STUD |
| 428-S33-2320 - LEVER | 6735-61-6120 - TUBE | 844160134 - KIT, GASKET |
| 421-06-62172 - WIRING HARNE | 5080849 - WASHER | 20K-62-35480 - HOSE |
| 306403835 - SHEET | 56B-83-11391 - TUBE | 21N-03-42591 - BRACKET |
| 392063076 - HOSE | 21W-60-41121 - ELEMENT | 21D-09-54730 - PLUG |
| 708-7T-11612 - END | 195-27-00810 - XFINAL DRIVE | 181789 - BEARING 998 |
| 561-57-81341 - BRACKET | 22J-54-15230 - SHEET | 207-03-71351 - SEAL |
| 6166-71-4930 - TUBE | 42Y-43-H7110 - LINE, BRAKE | 8240-79-1581 - FRAME |
| 21N-62-35740 - HOSE | 21K-03-41421 - HOSE | 58E-54-13820 - HANDRAIL A., |
| 421-56-21760 - WIPER ARM | 56C-54-17450 - GUARD | 51842598 - HOSE ASSY |
| 4A1-53-10560 - BOOMSIDE WIN | 95633B - FILTER,LUBE | 6934-71-5930 - HOSE |
| 95120340 - VALVE_____P6 | 21P-06-K2410 - HARNESS,WIRI | 20R-98-24130 - PLATE |
| 421-877-3140 - TUBE | 22J-32-37201 - IDLER ASS'Y | 22B-03-21431 - AFTER COOLER |
| 6215-71-7591 - TUBE | 22U-00-28140 - PLATE | 561-84-63190 - FLANGE |
| 8295-06-2211 - ARM | 421-40-22170 - CONTACT ASS' | 17A-979-2622 - COVER |
| 5062304 - CHECK VALVE | 209-00-71910 - DECAL | 417-62-13580 - NIPPLE |
| 90650173 - SCRAPER | 17A-911-2121 - HOSE ASM | 600-185-3100 - ASY,AIR ELEM |
| 22M-03-11480 - TANK | 6114-51-1310 - SHAFT | 8240-62-1860 - BLOCK P6 |
| 58F-80-05750 - ADAPTER,MOUN | 22U-03-28560 - SHROUD | 22B-43-23280 - SEAL |
| 60108511 - PIN DOOR LA | 198-15-11171 - GASKET | 21K-04-11160 - HOSE |
| 22F-62-11850 - HOSE | 5070824 - RING, SEAL | 5007258 - SWITCH |
| 209-72-53170 - BUSHING | 21P-63-K3270 - CYLINDER | 92348640 - BUSHING |
| 417-43-16232 - LEVER | 707-98-23810 - SERVICE KIT | 56D-83-36130 - ARM |
| 208-54-61860 - SHEET | 395005018 - XCYL ASM SWI | 5008784 - BANJO BOLT M |
| 561-13-00042 - SHAFT ASS'Y | 56D-20-14001 - DRIVESAHFT A | 6261-71-5551 - HOSE |
| 427-Z87-1320 - HOSE | 421-70-11432 - SHIM | 419-T80-4211 - BELLCRANK AS |
| 56D-13-05010 - KIT, SERVICE | 568-63-22580 - WEAR RING | 21T-01-67311 - PLATE |
| 208-62-76960 - BRACKET P60 | 6933-71-8110 - PRIMING PUMP | 423-V33-2140 - HAND RAIL |
| 845250081 - BLOCK VALVE | 56D-13-23130 - CASE | 424-877-4171 - TUBE |
| 209-62-43670 - BRACKET P60 | 708-1H-31620 - COVER | 208-03-52181 - SEAL |
| 424-35-05120 - SERVICE KIT | 421-62-41140 - TUBE | 8248-75-4230 - BRACKET |
| 20N-06-71300 - SWITCH ASS'Y | 421-56-H0S79 - LEVER ASSY | 427-62-23460 - TUBE |
| 425-54-55580 - COLLAR | 924098A - PIPE | 20T-03-81150 - CAP |
| 56B-54-3A760 - COVER | 56D-54-32730 - GUARD | 2A6-54-13171 - STEP |
| 425-46-36160 - TUBE | 425-70-00081 - LINK ASS'Y | 205-03-41891 - HOSE |
| 203-54-61413 - COVER | 4560469 - CYLINDER BAR | 5072480 - HYDRAULIC HO |
| 423-46-27150 - COVER | 76758373 - BELLOW | 22B-46-24170 - ROD |
| 419-93-A2320 - DECAL,F/HOOD | 23D-43-15140 - CABLE | 79369573 - HOSE ASSY |
| 418-40-42130 - BRACKET | 561-03-31510 - HOSE | 58B-60-00480 - RETAINER,MUD |
| 58B-43-00370 - TERMINAL | 6141-74-3920 - JOINT | 58C-98-00600 - TOOL,MOUNT S |
| 421-03-53331 - TUBE | 5058085 - MOTOR, HYDRA | 312612201 - WIRING HARNE |
| 42C-22-12830 - SHAFT | 17A-15-12252 - GEAR | 42U-46-13A50 - DISC |
| 20M-03-71120 - HOSE | 5065447 - HYDRAULIC HO | 56B-54-22151 - COVER |
| 90930K - CLAMP, U-BOL | 6166-61-1240 - BRACKET | 56D-54-34130 - SEAL |
| 421-54-42480 - STUD | 6158-C0-0440T2 - XENGINE ASSM | 312648087 - FRAME |
| 902579200 - INSTRUMENT | 425-22-22461 - SHAFT | 207-06-41210 - BRACKET |
| 707-58-14531 - ROD | 81883KF - PIN 3.50 LEV | 207-32-03841 - TRACK SHOE A |
| 20P-62-71151 - TUBE | 21T-30-32522 - PLATE | 208-03-21640 - STEP |
| 702-16-58601 - HANDLE | 419-43-55270 - SWITCH | 6735-81-8490 - BRACKET |
| 424-15-15561 - VALVE | 195-13-74310 - GEAR | 426-54-21140 - PLATE |
| 19M-30-21490 - GUARD | 418-06-31660 - PLATE | 6240-71-8910 - COVER |
| 5036937 - INPUT SHAFT | 600-181-9430 - GASKET | 90738140 - HOSE |