Komatsu WA500-8 Loader parts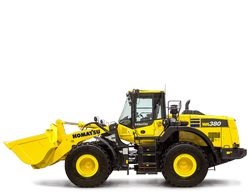 Komatsu WA500-8 Loader - it is a big machine. It is a Wheel Loader and works in difficult operating conditions. That's why this machine sometimes needs maintenance.
Our online parts store give you an access to more than 500 000 Komatsu parts that we have in our inventory.
Here is some more information about Komatsu WA500-8 Loader:
ENGINE POWER
266 kW / 357 HP @ 1.900 rpm
OPERATING WEIGHT
34.875 - 36.130 kg

ENGINE
Model -> Komatsu SAA6D140E-7
Type -> Common rail direct injection, water-cooled, emissionised, turbocharged, after-cooled diesel
Engine power
at rated engine speed -> 1.900 rpm
ISO 14396 -> 266 kW/357 HP
ISO 9249 (net engine power) -> 264 kW/353 HP
Max. torque / engine speed -> 1.785 Nm / 1.250 rpm
No. of cylinders -> 6
Bore × stroke -> 140 × 165 mm
Displacement -> 15,24 l
Fan drive type -> Hydraulic
Alternator -> 90 A/24 V
Starter motor -> 11 kW/24 V
Filter -> Main-flow filter with water separator
Air-filter type -> Dry-air filter with automatic dust emission and preliminary purification including a dust display
If you send us your request, we will make you an offer for original and Aftermarket Komatsu parts for your Komatsu WA500-8 Wheel Loader.
Below is a small list of Komatsu parts for this equipment. However, if you are interested in something - please use the site search.
| | | |
| --- | --- | --- |
| 17A-54-41812 - GRIP | 561-07-61410 - HOSE | 91285440 - Deflector |
| 723-40-71850 - SPRING | 42C-S95-2320 - PACKING ASSY | 42U-06-12132 - HARNESS |
| 790-A25-3200 - BUSHING/BEAR | 6735-71-5372 - TUBE | 17M-30-25210 - COVER |
| 42N-56-11120 - SUPPORT | 418-22-31710 - SHIM | 17M-32-08410 - LINK |
| 421-70-H1491 - ARM - ROCKER | 566-03-6A510 - CAP | 569-84-82171 - FENDER |
| 56D-61-32540 - TUBE | 565-02-11351 - MUFFLER | 22U-62-42840 - HOSE |
| 8240-04-1160 - HOSE | 86159M - MUFFLER | 835328783 - GEAR, RING |
| 8242-70-5260 - BREATHER | 423-07-31951 - DUCT | 175-71-11471 - BOLT |
| 22L-54-23441 - SHEET | 20Y-979-3712 - UNIT ASS'Y | 201-973-7170 - BRACKET |
| 416-V88-3160 - HOSE | 79223473 - Ring gear | 6152-72-1490 - INJECTION PU |
| 58B-22-12750 - BEARING | 20P-06-81411 - WIRE ASS'Y | 195-61-42440 - SPACER |
| 5032284 - CARTRIDGE, P | 426-62-23970 - BAND | 42C-Z89-3260 - PLATE |
| 5001261 - PLATE LOCK | 175-15-43210 - GEAR | 2938306061 - RIM - 4WD F |
| 836659739 - HYDRAULIC PU | 562-33-31210 - GEAR | 708-27-02035 - PUMP ASS'Y |
| 707-58-50C80 - XROD, PISTON | 51326098 - HOSE | 4691694 - PIPE |
| 425-01-51211 - HOSE | 208-54-43532 - COVER | 426-54-65240 - HANDRAIL |
| 22M-62-13450 - HOSE | 21N-27-11390 - BEARING | 21M-03-15170 - SEAL |
| 620086C2 - GASKET | 708-2M-12181 - SHAFT | 208-01-41560 - WASHER |
| 76370773 - BAFFLE, AIR | 195-60-41150 - CAP | 421-07-23940 - HOSE AIR |
| 58B-22-12412 - SHAFT | 5070147 - CAP | 6505-71-5520 - XTURBOCHARGE |
| 561-54-81121 - GRILLE | 198-30-01250 - TRACK FRAME | 58F-80-11180 - SPLITTER INS |
| 23B-43-81261 - HOSE | 754581 - COVER | 19M-54-12270 - BRACKET |
| 421-54-33421 - SHEET | 89509940 - FUSE | 566-86-6D130 - COVER |
| 21762A - MUFFLER | 404329R1 - HOSE | 561-06-63430 - WIRING HARNE |
| 21T-54-32680 - SHEET | 198-43-33130 - CABLE | 208-970-5260 - PLUG |
| 20T-62-81930 - HOSE | 425-35-11220 - TUBE | 37A-62-10070 - ELBOW |
| 530681R1 - GASKET | 65674R91 - CONE | 6151-71-5610 - TUBE |
| 421-54-11931 - SHIM | 423-U12-3120 - HOOD | 419-62-33374 - HOSE |
| 6240-31-1101 - CRANKSHAFT A | 17A-49-15121 - ELBOW | 207-25-51100 - SWING CIRCLE |
| 21N-70-33121 - LINK | 90898K - BRACKET | 600-815-2140 - RELAY |
| 426-13-41534 - BOSS | 42T-09-H1450 - HOSE | 207-54-A6111NK - RISER WELDME |
| 707-36-90360 - PISTON | 363-43-37410 - PAD | 426-40-32511 - PLATE |
| 707-36-70160 - PISTON | 207-54-54580 - SEAL | 21Y-98-17730 - PLATE ASS'Y |
| 6741-71-1810 - BRACE | 21T-960-1760 - TUBE | 424-54-31151 - BAFFLE |
| 203-03-71720 - SHEET | 427-62-11552 - TUBE | 27021KF - LAMP, RED |
| 707-G2-00320 - CYLINDER ASS | 6693-13-5730 - PIPE | 58E-60-11110 - CLAMP, TUBE |
| 42U-22-H0P44 - SCREW | 803701610 - SOCKET | 417-60-15440 - PLATE |
| 198-03-71150 - PLATE | 6110-23-4920 - PLUG | 42T-06-22080 - PLUG, ELECTR |
| 5034792 - PLATE HYDRA | 22L-03-21231 - SHEET | 50156098 - CIRCLIP |
| 58E-06-01624 - RELAY BRD HA | 6263-11-2410 - TUBE | 708-25-05140 - KIT |
| 42C-13-17181 - COUPLING | 20Y-54-35122 - GLASS | 51688498 - HOSE ASSY. D |
| 17A-06-25411 - BRACKET | 86304M - MUFFLER | 203-62-32561 - NIPPLE |
| 89744F - PIPE GUARD | 21N-30-17150 - COVER | 22U-03-22770 - SHEET |
| 675764C1 - GEAR | 207-30-41360 - RING | 3A1-62-13431 - WASHER |
| 707-58-25830 - ROD | 708-23-05011 - WASHER KIT | 425-33-21170 - CYLINDER |
| 423-02-61671 - HOSE | 21K-62-39130 - HOSE | 306421685 - PLATE |
| 416-06-34170 - HOLDER | 6219-21-5410 - GUIDE | 58F-50-40110 - HOUSING,SERV |
| 195-54-65251 - COVER | 6166-51-6530 - PLATE | 56D-61-32560 - BRACKET |
| 30780299 - SCREW | 6754-71-3120 - STUD | 416-20-15660 - FITTING |
| 903136 - LATCH ASSEMB | 426-926-3842 - COVER | 426-54-64670 - COVER |
| 6216-84-6340 - NUT | 23B-952-7720 - COVER | 205-26-71491 - GAUGE |
| 421-Z00-3160 - SHEET | 58F-80-44400 - PLUG, HOLE | 5228094 - BUNK LOADFLE |
| 612582C2 - GASKET | 22B-62-44140 - HOSE | 562-50-3A300 - SUSP ASSY FR |
| 561-57-64100 - SEAT | 21W-62-51660 - TUBE | 195-15-00323 - VALVE ASS'Y |
| 5007519 - CLAMP | 6623-21-6772 - GASKET | 836347308 - OIL SUMP |
| 561-95-85610 - CAB | 42N-54-19790 - FRAME | 419-T80-5960 - WEIGHT |
| 425-57-41230 - SEAT ASSEMBL | 30766R1 - NUT | 23769 - RING, AXLE S |
| 740605C1 - PLATE | 21S-04-31540 - HOSE | 708-23-18170 - SEAT |
| 50189698 - COLLAR RING | 42N-43-12940 - CABLE | 209-43-51520 - LEVER |
| 18047940 - BOLT | 76871673 - PLUG | 418-06-51440 - SEAL |
| 42C-64-15330 - O-RING | 91895B - PSR | 706-77-85301 - RELIEF VALVE |
| 5074278 - COUPLING | 45450-112 - GLASS,STATIO | 802640732 - KNOB |
| 207-62-32720 - BOLT | 198-30-00620 - SEAL ASY,FLO | 42Y-15-H0V03 - GASKET |
| 5009317 - SPRING | 76975573 - PIPE ASY. | 23S-35-22880 - O-RING |
| 58E-00-00450 - CENTER, UPPE | 208-54-41711 - COVER | 708-2L-25330 - BEARING |
| 64276C - SHIM | 37A-62-15830 - HOSE | 424-09-41131 - HOSE |
| 570-35-11350 - ELBOW | 175-01-00030 - SHIM ASS'Y | 567-15-42180 - SPACER |
| 6754-39-2010 - RING SET.50M | 707-01-0J020 - XDUMP CYLIND | 21Y-71-11213 - BLADE ASS'Y |
| 56B-61-32711 - COUPLING | 6742-01-5541 - XINJECTOR | 77006273 - TENSION WASH |
| 22B-54-22990 - SHEET | 207-62-A4911 - MANIFOLD BLO | 201-62-21880 - CLAMP |
| 425-01-11160 - PLATE | 51817498 - HOSE | 207-03-41630 - SEAL |
| 226-09-11590 - HOSE | 251304S - GASKET | 56E-54-25771 - MAT |
| 6743-72-5140 - COUPLING | 707-27-15610 - HEAD | 421-62-45930 - HOSE |
| 421-06-26130 - COLLAR | 6216-94-3680 - GASKET AIR C | 22B-54-34370 - STEP |
| 600-813-7152 - XSTARTER | 886031015 - FUEL LEVEL | 69234400 - SEAL KIT |
| 42C-22-12850 - SPACER | 3055140R1 - COVER | 175-78-69560 - COVER |
| 17A-04-11221 - HOSE | 58F-06-50400 - BRACKET ASS' | 195-Y11-2221 - HOSE ASS'Y |
| 20Y-54-00514 - DOOR ASS'Y | 6710-61-5161 - GASKET | 417-62-31110 - NIPPLE |
| 561-02-74750 - BRACKET | 723-43-13400 - CONTROL VALV | 51804398 - CLAMP PAIR |
| 208-32-07120 - LINK ASSY 98 | 421-43-37750 - PLATE | 624E-E0-0030 - ENGINE ASS'Y |
| 232-27-11531 - CAP | 426-03-A2541 - BRACKET | 426-01-12291 - TUBE |
| 21N-03-42451 - COVER | 92949740 - ROTARY JOINT | 178551 - WASHER |
| 42N-64-11270 - VALVE - SOLE | 5037792 - SHAFT | 424-46-00021 - SUPPORT ASM |
| 206-03-61630 - SEAL | 65429121 - SIGHT GLASS | 561-84-84551 - COVER |
| 21M-54-23880 - SHEET | 51530040 - PUSH HOOD | 500361472 - UNION |
| 42C-54-11161 - SCREEN | 6166-11-7670 - COVER | 234-70-82220 - COVER |
| 6743-11-5311 - BRACKET | 569-15-32232 - GEAR | 417-06-43521 - SUPPORT |
| 6734-21-5111 - OIL PAN | 418-S62-2342 - BRACKET | 205-977-7110 - HEATER |
| 56D-54-24920 - SEAL | 79413173 - THERMOSTAT | 51348498 - HOSE |
| 426-03-33472 - TUBE | 4A1-70-10010 - ARM ASS'Y, | 6240-31-1220 - FLYWHEEL ASS |
| 707-11-60320 - CYLINDER | 195-61-49110 - HOSE | 205-00-31480 - PLATE |
| 20Y-62-23310 - HOSE | 92355240 - CABLE GENERA | 51531998 - HOSE |
| 423-57-A1201 - KIT,ARMREST | 22U-62-31580 - HOSE | 22J-63-76220 - ROD |
| 22F-54-12840 - SEAL | 238-15-21370 - TUBE | 6752-81-9600 - AIR CLEANER |
| 2A5-30-11210 - CYLINDER | 5198457 - HYD. CYLINDE | 20E-00-K1190 - PLATE |
| 42W-23-H0P57 - CARRIER | 714-12-15012 - VALVE ASS'Y | 6128-61-6100 - AFTER COOLER |
| 569-20-81000 - PROPELLER SH | 5068758 - ROD | 85441 - SEAL |
| 421-62-43950 - HOSE | 703-10-98141 - GASKET | 423-03-63191 - SHIM |
| 955116 - SCREW | 20T-70-01310 - ARM ASS'Y | 6211-00-1100 - XENGINE S6D1 |
| 207-01-41121 - TUBE | 424-16-H1130 - HOSE ASSM | 569-97-8A280 - WIRING HARNE |
| 827010419 - PIN | 195-78-75110 - KNOB | 419-877-5250 - TUBE |
| 80532973 - TOP ROLL | 425-22-31102 - CARRIER | 3949163S - SERVICE PT |
| 93929840 - SHEET PLATE | 22N-70-31820 - ARM ASS'Y | 21T-54-36651 - MAT |
| 426-06-33710 - BATTERY WET | 837062698 - REPAIR KIT | 65180740 - HOSE |
| 427-03-21941 - SPACER | 17M-61-42321 - BRACKET | 3A1-62-11601 - VALVE ASSY |
| 17A-06-11682 - WIRING HARNE | 561-03-83180 - HOSE | 6219-71-5261 - HOSE |
| 205-00-71820 - PLATE | 33222699 - NUT | 42C-03-18130 - CORE |
| 20Y-54-51910 - TRIM | 195-Z11-4350 - ASHTRAY | 419-46-14110 - PIN |
| 198-06-63460 - BRACKET | 569-85-83114 - PLATFORM | 36712699 - O-RING |
| 416-43-47390 - JOINT | 79727873 - MODIFICATION | 701-37-26000 - CONTROL VALV |
| 330024R1 - GASKET HARD | 707-91-02560 - PISTON ASS'Y | 94405340 - STRIP |
| 705-17-40450 - DRIVE GEAR | 707-88-28330 - BRACKET | 561-54-66112 - GUARD |
| 208-62-42952 - TUBE | 22U-54-26740 - COVER ASS'Y | 21K-62-31540 - ELBOW |
| 79336573 - COUPLING | 198-61-61580 - HOSE | 21520 - PIN FRONT I |
| 566-93-85290 - PLATE | 22B-70-00363 - BOOM ASS'Y | 17A-71-51441 - BRACKET |
| 20Y-70-00450 - ARM ASS'Y | 20Y-62-58480 - ELBOW | 195-911-7941 - HOSE |
| 58E-00-83100 - ANTENNA KIT_ | 707-99-72240 - SERVICE KIT | 417-18-41101 - XPUMP |
| 425-43-36760 - O-RING | 21T-54-77180 - SEAL | 56D-54-34281 - GLASS |
| 42R-07-16100 - CONTAINER | 565-44-12500 - AIR RESERVOI | 562-22-32910 - STUD |
| 419-18-31371 - ELBOW | 703-09-93520 - COVER | 17M-03-41340 - GASKET |
| 705-44-80730 - SEAL | 79705373 - SEAL KIT | 707-99-73010 - KIT, CYL SEA |
| 6261-51-2540 - PLUG | 702-75-01900 - VALVE, RELIE | 426-V00-1150 - PLATE |
| 569-52-62492 - TUBE | 42C-56-12620 - FINISHER | 79497873 - SEAL KIT |
| 5071949 - VALVE SECTIO | 195-54-81380 - PLATE | 75992 - SEAL |
| 423-23-31250 - COUPLING ASS | 569-03-88592 - HOSE | 208-62-16840 - HOSE |
| 20Y-57-21240 - ADJUSTER, R. | 235-15-21210 - HOUSING | 6207-19-1431 - VALVE SEAT |
| 914004A - PIPE | 22P-910-2840 - HOSE | 79883273 - SEAL KIT |
| 6162-13-6460 - PIPE | 6711-11-4780 - HOSE | 5080750 - MOUNTING |
| 723-11-28380 - SPRING | 21T-27-71330 - RETAINER | 90453K - CONNECTOR |
| 19M-21-21D80 - SEAT | 6610-69-1210 - FILTER | 4529120 - CYLINDER HEA |
| 427-T86-2420 - BAR | 427-06-25422 - WIRING HARNE | 22M-62-13860 - HOSE |
| 6261-81-2700 - SENSOR,BOOST | 209-70-75210 - TUBE | 5065465 - MOUNTING |
| 818000014 - CLIP | 7834-27-2002 - CONTROLLER | 42T-01-14110 - SILENCER |
| 416-06-22290 - WIRING HARNE | 566-54-8L771 - HANDRAIL | 5065651 - BOX |
| 6128-11-5112 - EXHAUST MANI | 707-88-02760 - PLATE | 235-785-1111 - BRACKET |
| 22B-01-31271 - TUBE | 58E6000900SERV - FILTER STR | 5223385 - SWING DAMPER |
| 427-S33-1840 - O-RING | 21N-54-41741 - HAND RAIL | 418-62-A2220 - HOSE |
| 207-06-A8210 - WIRE | 6215-21-5610 - NIPPLE | 5070052 - CRANE BASE |
| 208-30-56411 - ROLLER | 63856 - HOSE | 45160C - MUFFLER |
| 8248-75-3360 - RUBBER | 21N-54-31481 - SHEET | 203-06-11731 - WIRING HARNE |
| 30884699 - SCREW | 195-15-75530 - GASKET | 195-56-11290 - PIN |
| 567-07-73700 - SUB ASS'Y | 93703040 - YOKE | 17A-30-43532 - PLATE |
| 6546-01-0040 - CATALYZER | 5065591 - HOSE FLAP | 569-22-71231 - COUPLING |
| 42T-64-23195 - LEVER ASM. | 424-03-A0401 - RADIATOR ASS | 861-20-0001 - PUMP |
| 198-54-73181 - SHEET | 421-06-31530 - CONNECTOR | 37125899 - UNION NUT |
| 90973A - TUBE | 21K-03-72650 - SHEET | 23A-60-33110 - HOSE |
| 425-S95-7J10 - COVER | 22U-04-31111 - TANK | 17A-06-61211 - WIRING HARNE |
| 5046275 - YOKE - ARTIC | 6130-82-5280 - SUPPORT | 6245-21-6420 - O-RING |
| 706-8H-41370 - PLATE | 20R-54-21161 - LEVER | 42N-62-12680 - ELBOW |
| 6738-M0-HH10 - ENGINE | 94740040 - SWITCH | 42C-62-17221 - TUBE |
| 999545 - GASKET SET | 428-62-13951 - TUBE | 427-S95-5321 - TUBE |
| 208-54-62591 - COVER | 6731-41-2180 - KIT TAPPET R | 209-53-13810 - COVER |
| 58B-04-10320 - TUBE ASS'Y | 235-27-31250 - COVER | 427-15-18120 - BRACKET |
| 22U-54-00132 - CAB ASS'Y | 5083869 - PLATE | 76957573 - HOSE 1=1 MET |
| 198-911-9861 - SHEET | 561-89-86911 - LADDER | 96739040 - LADDER-GUIDA |
| 78067373 - FILTER | 58B-50-01320 - SEAL,PISTON | 58F-60-40220 - COVER A. |
| 421-09-45110 - HOSE | 94038340 - HOSE | 22M-43-21470 - KNOB |
| 22P-979-1280 - GROMMET | 20Y-54-11720 - ROD | 83569KFSERV - LEVELER INTE |
| 5047567 - SCREEN | 5216536 - GASKET KIT | 5258649 - CYLINDER |
| 203-62-63780 - HOSE | 20S-30-00021 - TRACK ROLLER | 426-15-16261 - SPRING |
| 58E-00-01070 - BRAKE LINE A | 426-15-48692 - HUB | 195-54-71731 - MAT |
| 20Y-30-43230 - RING | 208-54-61132 - FRAME | 58D-93-00510 - STICKER,TOW |
| 20G-60-K4560 - RING | 914535 - RETAINER RIN | 23B-60-72540 - HOSE |
| 711-35-41521 - TURBINE | 17M-01-43150 - HOSE | 6218-81-8480 - BAND |
| 56D-43-17530 - NIPPLE | 209-30-77710 - COVER | 5092137 - HYDRAULIC MO |
| 8295-06-1390 - SEAL | 569-54-80401 - SUPPORT ASS' | 56B-54-19331 - BRACKET |
| 17A-01-51141 - TUBE | 711-47-81010 - TORQUE CONVE | 5062097 - HARNESS |
| 421-U44-5780 - HOSE | 6275-61-7720 - TUBE | 207-03-61260 - SHEET |
| 306429051 - LEVER | 6505-51-0210 - COLLAR | 7831-69-4203 - MODULE |
| 42N-43-13570 - HANDLE | 22B-54-12610YN - COVER | 3900349S - THERMO/CONN. |
| 198-Z11-4160 - SEAL | 21W-54-47831 - BRACKET | 207-25-A1320 - ADHESIVE |
| 20Y-43-16530 - BRACKET | 418-93-22132 - PLATE | 76951373 - SEAL KIT |
| 5070239 - PISTON ROD | 416-54-45630 - LATCH | 427-01-11911 - BRACKET |
| 5197692 - HYD HOSE | 235-61-14500 - VALVE ASS'Y | 5236287 - PLANETARY GE |
| 6732-82-3360 - BELT - V RIB | 58B-54-02301 - PLATFORM,LH | 20P-01-81880 - CUSHION |
| 195-22-11142 - PLATE | 702-16-02390 - LEVER ASS'Y | 5252938 - HYDRAULIC HO |
| 425-877-3241 - TUBE | 203-04-31130 - NIPPLE | 707-91-91130 - PISTON ASS'Y |
| 195-30-67230 - GUIDE | 90935340 - TUBE | 22J-54-25710 - PLATE |
| 42N-56-11660 - BOOT | 22U-26-41120 - GAUGE | 6732-21-5630 - GAUGE |
| 17A-04-22120 - ELBOW | 22P-06-11121 - BRACKET | 21T-54-31470 - FRAME |
| 5066133 - MOUNTING | 802148003 - WASHER | 6736-81-8200 - XTURBO,H1 |
| 207-26-71320 - BEARING | 21N-01-37130 - STOPPER | 51716598 - HOSE |
| 20U-959-3111 - PUMP ASSM | 39022840 - BOLT | 6745-71-1860 - BRACKET |
| 708-1W-24160 - PISTON, SERV | 37156540 - PIPING | 207-30-K1930 - PIN |
| 17M-911-2480 - HOSE | 723-61-26500 - VALVE ASS'Y | 418-22-31720 - SHIM |
| 20Y-06-K1171 - WIRING HARNE | 421-43-22951 - CHECK VALVE | 58E-06-00681 - WIRING HARNE |
| 58B-CB-AK030 - CAB ASS'Y | 706-7C-91210 - PLATE | 24918KF - HOSE ASSEMBL |
| 417-54-24520 - PLATE | 334966R1 - SHIM | 6136-21-5210 - OIL PAN |
| 21T-46-31161 - BRACKET | 205-03-42421 - HOSE | 22U-62-85810 - HOSE |
| 5072202 - SHIM | 93057 - WASHER-K | 7835-58-8000 - CONTROLLER |
| 708-27-08950 - VALVE ASS'Y | 720-2T-14170 - RETAINER | 51976998 - HOSE |
| 5075056 - PROTECTIVE Y | 419-70-31203 - BELLCRANK AS | 723-64-22101 - CONTROL VALV |
| 235-70-45340 - SHIM | 4877328 - DUST COVER | 5066062 - TOOL |
| 707-99-77620 - SERVICE KIT | 312607078 - STICK,DIP OI | 238-04-12130 - STRAINER |
| 569-43-86240 - PLATE | 19M-60-17160 - TUBE | 7831-46-4051 - MONITOR |
| 6150-51-6350 - STRAINER | 41E-N35-2130 - TUBE | 56B-03-31740 - PLATE |
| 22N-98-52410 - PLATE | 209-54-41311 - FRAME | 198-54-75211 - COVER |
| 195-54-43260 - BOLT | 427-S05-4610 - TUBE | 6211-71-5210 - TUBE |
| 425-54-31341 - GRILLE | 707-13-18820 - XCYLINDER | 20Y-43-11420 - YOKE |
| 5037625 - BEARING | 207-62-A1210 - TUBE | 207-54-41541 - FRAME |
| 419-54-34312 - COVER | 561-88-66710 - VALVE ASS'Y | 561-02-73140 - BRACKET |
| 417-43-26211 - SWITCH | 614704850 - O'RING | 427-13-05010 - SERVICE KIT |
| 56B-89-12150 - BRACKET | 21D-02-11170 - ELEMENT | 416-06-42350 - WIRING HARNE |
| 22F-62-11151 - PLATE | 910394900 - TOOL | 55146540 - SOCKET |
| 569-16-61324 - TUBE | 6162-33-3941 - WASHER | 23B-915-3112 - GUARD |
| 418-03-31622 - SHEET | 20G-61-K2390 - O-RING | 79265673 - FUSE |
| 662472C2 - GASKET NON A | 421-54-31282 - SPRING, GAS | 198034H1 - VALVE |
| 6218-11-9970 - BRACKET____P | 720-2M-03540 - VALVE,RELIEF | 79714073 - PIPE |
| 561-34-72114 - CYLINDER | 207-63-K1680 - PLUNGER | 21T-62-74420 - BLOCK |
| 21Y-01-11120 - HOSE | 22L-62-29481 - HOSE | 816215073 - STICKER KIT |
| 22B-54-11990 - SEAL | 363-70-31810 - PIN | 5195247 - HYD. CYLINDE |
| 195-54-77310 - COVER | 41E-S94-2130 - HOSE | 95036040 - REDUCING |
| 561-50-81320 - BEARING | 8295-70-2630 - HOPPER | 22M-43-22310 - WASHER |
| 417-54-54380 - COVER | 6218-71-8150 - BRACKET | 78069073 - HANDLE |
| 706-66-40270 - PIN | 6130-52-5171 - COVER | 706-7H-11560 - BUSHING |
| 566-98-15300 - CAP ASS'Y | 6732-11-1730 - BRACKET,LIFT | 423-926-4931 - HANDRAIL |
| 418-62-42140 - HOSE | 19M-43-34160 - LEVER | 934044R1 - WASHER |
| 6219-81-6930 - BRACKET | 17M-30-25263 - COVER | 424-54-45262 - FENDER |
| 51794298 - HOSE | 20M-62-33340 - CLIP | 20Y-62-23830 - HOSE |
| 707-99-77120 - SERVICE KIT | 207-27-72270 - SPROCKET | 8248-06-1131 - WIRING HARNE |
| 6136-19-1331 - VALVE GUIDE | 421-06-13450 - RH BRACKET A | 42C-03-17591 - TUBE |
| 426-06-32714 - WIRING HARNE | 20Y-54-27531 - LOCK | 566-22-11480 - LOCK |
| 23A-952-1312 - BRACKET | 20Y-70-36140 - BOOM | 5224017 - MOUNTING |
| 60837640 - SUCTION PIPE | 30413099 - Bolt | 702-16-08790 - VALVE ASS'Y |
| 42R-17-H0S64 - RING,BACK-UP | 723-43-13700 - CONTROL VALV | 6742-01-1001 - GASKET-OIL S |
| 234-30-22300 - RIM ASS'Y | 79211673 - KIT SEAL | 5075401 - HARNESS |
| 5048478 - KEYBOARD ( | 42C-54-14641 - HANDRAIL | 426-03-21930 - HOSE |
| 707-40-15110 - RETAINER | 707-86-13520 - TUBE | 234-01-51150 - SHIM |
| 426-54-42410 - SHIM | 421-54-56320 - FRAME | 2A6-62-12340 - TUBE |
| 76785773 - PIPE P60 | 6209-72-1420 - INJECTION PU | 22M-62-21172 - HOSE |
| 20T-62-67180 - TEE | 4674014 - HYDRAULIC HO | 51613598 - HOSE |
| 22E-09-11540 - JOINT | 425-963-2670 - FAN | 600-181-9280 - ELEMENT |
| 21T-68-68360 - BLOCK | 51748098 - HOSE | 417-62-A1260 - KIT |
| 22B-970-2100 - VALVE ASS'Y | 425-62-45660 - UNION | 58D-98-00870 - SCREW |
| 17A-54-42311 - LEVER | 959192 - SCREW | 207-03-00022 - RADIATOR ASS |
| 621441C2 - SHAFT | 208-979-7490 - HEATER ASS'Y | 426-879-3750 - TUBE P60 |
| 26230 - HOSE ASSEMBL | 425-62-33941 - HOSE | 17A-Z11-1560 - SEAL |
| 198-Z11-2270 - STRIP | 22M-43-21181 - LEVER | 21W-70-25190 - SHIM |
| 21W-01-21230 - COVER | 418-62-62671 - HOSE | 7824-89-7001 - MONITOR |
| 6245-71-1170 - ADAPTER | 21Y-54-11940 - SHEET | 22U-63-02651 - CYLINDER,BOO |
| 935522C1 - STRAP | 18761 - FAN ENGINE | 26701 - WASHER, HARD |
| 17A-06-41611 - PLATE | 649820C1 - CLAMP | 42U-63-25010 - CLAMP |
| 207-54-54540 - SEAL | 569-87-61320 - JOINT | 709-12-11250 - SPRING |
| 421-06-25112 - SWITCH | 207-70-53170 - PLATE | 416-06-16213 - WIRING HARNE |
| 707-86-67810 - TUBE | 6218-71-5260 - CLAMP | 23S-01-11140 - CUSHION |
| 56B-27-32001 - BRAKE ASS'Y | 75718173 - PLUG | 836331590 - THERMOSTAT |
| 5228277 - ROTATOR G171 | 426-Z84-3280 - HANDRAIL | 707-40-25870 - SPACER |
| 707253C1 - RING | 566-06-14321 - LAMP | 198-61-61460 - BRACKET |
| 22L-70-11451 - PIN | 5059824 - MOUNTING | 22B-54-21591 - SHEET |
| 175-13-21711 - LOCK | 427-06-13180 - PLATE | 418-43-57560 - HOSE |