Spare parts for Komatsu wheel loaders
If you want your wheel loader working well, you should buy only high quality parts for Komatsu wheel loaders. This efficient and productive machinery will be a great addition to any construction site, but in order to take full advantage of this technique, you must have access to high-quality spare parts.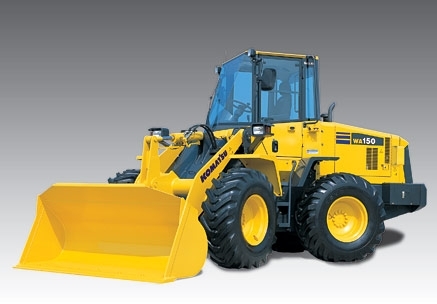 If you are looking for spare parts for wheel loaders of
Komatsu
, please contact our company, and you will find everything you need. Here you will find a huge selection of parts and components, including restoration, non-genuine, the former in the use of new parts for construction equipment. Here you will not only find you require spare parts, but also be sure not to overpay for shipping. We quickly deliver your order, regardless of which part of the world you are.
If you need something to carry, you are probably using a wheel loader. Regardless of what you carry, whether the logs, gravel, feed, snow, soil, raw materials, asphalt, rock or wood chips, the main goal is the timely execution of work and productivity. That's why you need a reliable manufacturer, which can be accessed when necessary replacement parts and equipment components.
You will not find a larger selection of parts for wheel loaders Komatsu, than in our store. If you need non-original spare parts or contact us today to learn more about our selection of spare parts for wheel loaders of
Komatsu
.
| | | | |
| --- | --- | --- | --- |
| DK155406-0220 - AIR BREATHER | DK156633-8300 - BOLT | DK487028-1100 - GUIDE | KD0-0274-06202 - BOLT |
| DK155412-5200 - IMPELLER | DK156633-8400 - BOLT | DK487028-1601 - GUIDE | KD0-0274-06652 - BOLT |
| DK155412-5300 - IMPELLER | DK156635-2420 - COUPLING | DK487028-1700 - GUIDE | KD0-0275-06222 - BOLT |
| DK155601-0400 - OIL SEAL | DK156635-2520 - COUPLING | DK487028-2700 - GUIDE | KD0-0275-06802 - BOLT |
| DK155615-2300 - SCREW | DK156635-4000 - COUPLING | DK487029-0500 - PLATE | KD0-0275-06852 - BOLT |
| DK156104-7600 - SPRING-TIMER | DK156635-7500 - GEAR | DK487029-0822 - PLATE ASS'Y | KD0-0276-05852 - BOLT |
| DK156107-0800 - SEAT-SPRING | DK156635-7800 - COUPLING | DK487029-1021 - PLATE ASS'Y | KD0-0280-05012 - NUT |
| DK156115-0100 - PLUG | DK156636-1500 - COUPLING | DK487030-1420 - VALVE | KD0-0280-10022 - NUT |
| DK156116-2220 - OIL SEAL | DK156636-1600 - COUPLING | DK487030-2000 - SEAT | KD0-0280-12022 - NUT |
| DK156117-0100 - O-RING | DK156636-6200 - COUPLING | DK487030-2200 - SEAT | KD0-0280-14022 - NUT |
| DK156133-0520 - HOLDER | DK156636-6220 - COUPLING | DK487031-1800 - SEAT | KD0-0280-16022 - NUT |
| DK156263-0700 - SPPRING | DK156636-8600 - COUPLING | DK487031-2000 - SPRING | KD0-0280-18022 - NUT |
| DK156264-0200 - SPRING | DK156636-8900 - COUPLING | DK487032-2700 - GUIDE | KD0-0345-05001 - WASHER |
| DK156266-1020 - HOLDER | DK156637-2820 - COUPLING | DK487033-0720 - VALVE | KD0-09001-4180 - BOLT |
| DK156290-1700 - COUPLING | DK156829-0400 - OIL SEAL | DK487039-0200 - GASKET | KD0-09001-4380 - BOLT |
| DK156309-0200 - OIL SEAL | DK156829-0500 - O-RING | DK487039-0300 - GASKET | KD0-09011-2120 - SCREW |
| DK156601-0100 - COUPLING | DK487000-1200 - CASE | DK487042-1000 - GUIDE | KD0-09201-0590 - BALL BEARING |
| DK156601-0300 - COUPLING | DK487000-5800 - CASE | DK487042-1100 - SPRING GUIDE | KD0-09201-0870 - BEARING |
| DK156602-0200 - JAW | DK487000-6500 - CASE | DK487046-0101 - STUD | KD0-09202-0070 - BEARING |
| DK156602-0500 - JAW | DK487000-7100 - CASE | DK487058-0420 - PIPE ASS'Y | KD0-21000-3783 - STARTING MOTOR |
| DK156602-1200 - JAW | DK487000-8000 - CASE | DK487061-2500 - O-RING | KD0-21000-4880 - |
| DK156603-4400 - BOLT | DK487001-2500 - CYLINDER | DK487061-3700 - O-RING | KD0-21300-2140 - BRACKET |
| DK156603-7200 - BOLT | DK487001-2700 - CYLINDER | DK487061-4000 - O-RING | KD0-21500-1773 - CLUTCH ASS'Y |
| DK156603-7900 - BOLT | DK487001-3200 - CYLINDER | DK487061-4100 - O-RING | KD0-21600-1460 - BRACKET |
| DK156603-9500 - BOLT | DK487001-3300 - CYLINDER | DK487061-4200 - O-RING | KD0-21600-1550 - BRACKET |
| DK156603-9700 - BOLT | DK487001-3700 - CYLINDER | DK487061-4300 - O-RING | KD0-21700-1670 - BRACKET |
| DK156605-1120 - PLATE | DK487001-3900 - CYLINDER | DK487061-4500 - O-RING | KD0-21700-1690 - BRACKET ASS'Y |
| DK156605-1400 - PLATE | DK487001-4200 - CYLINDER | DK487073-0900 - FLANGE | KD0-21700-1691 - BRACKET ASS'Y |
| DK156605-2120 - PLATE | DK487003-1900 - COVER | DK487073-1300 - FLANGE | KD0-21700-1700 - BRACKET ASS'Y |
| DK156605-2320 - PLATE | DK487003-3120 - COVER | DK487076-0200 - CAP | KD0-21740-0492 - BRUSH ASS'Y |
| DK156605-3720 - PLATE | DK487003-3200 - COVER | DK487085-0201 - SEAL | KD0-21750-0560 - BRUSH |
| DK156605-4220 - PLATE | DK487003-7301 - COVER | DK487088-0100 - BOLT | KD0-21750-0710 - BRUSH |
| DK156605-4320 - PLATE | DK487003-7601 - COVER | DK487088-1000 - BOLT | KD0-21750-0750 - HOLDER |
| DK156605-4420 - PLATE | DK487003-7701 - COVER | DK487093-0000 - ADAPTER | KD0-21750-0780 - HOLDER |
| DK156605-4620 - PLATE | DK487007-0400 - ADAPTER | DK487099-3721 - CYLINDER HEAD ASS'Y | KD0-21750-1210 - BRUSH HOLDER ASS'Y |
| DK156605-4800 - PLATE | DK487008-2501 - CRANKSHAFT | DK487099-5820 - PISTON RING KIT | KD0-21750-1260 - BRUSH HOLDER |
| DK156605-5320 - PLATE | DK487008-5900 - CRANKSHAFT | DK487099-7020 - PISTON RING KIT | KD0-21750-1432 - HOLDER BRUSH |
| DK156605-5420 - PLATE | DK487008-8301 - CRANKSHAFT | DK487099-9220 - PISTON KIT | KD0-21750-1433 - BRUSH HOLDER |
| DK156605-6020 - PLATE | DK487008-8400 - CRANKSHAFT | DK487351-0700 - WASHER | KD0-21750-1440 - BRUSH HOLDER |
| DK156605-6620 - PLATE | DK487008-9200 - CRANKSHAFT | DK487351-0800 - SPRING WASHER | KD0-21750-1451 - BRUSH HOLDER |
| DK156606-0100 - DISC | DK487008-9301 - CRANKSHAFT | DK487351-1000 - WASHER | KD0-21785-0833 - WIRE |
| DK156607-0300 - DISC | DK487009-0400 - PISTON | DK487650-0101 - SLEEVE | KD0-21901-1660 - BOLT |
| DK156609-0120 - DISC | DK487009-1000 - PISTON | DK487653-0300 - CRANKSHAFT | KD0-21901-1670 - BOLT |
| DK156609-0320 - DISC | DK487009-1601 - PISTON | DK487656-1920 - CYLINDER HEAD ASS'Y | KD0-21901-1700 - BOLT |
| DK156609-0900 - COUPLING | DK487009-1700 - PISTON | F6401-33180 - O-RING | KD0-21901-1720 - BOLT |
| DK156609-2500 - COUPLING | DK487009-2000 - PISTON | F6981-12180 - SPHERICAL BEARING | KD0-23100-0110 - ARMATURE ASS'Y |
| DK156609-5600 - COUPLING | DK487010-3320 - PISTON RING | GA400677-0816 - BOLT | KD0-23100-0121 - ARMATURE |
| DK156609-5900 - COUPLING | DK487010-3420 - PISTON RING KIT | GA408105-5204 - CARTRIDGE ASS'Y | KD0-23100-0161 - ARMATURE ASS'Y |
| DK156609-6100 - COUPLING | DK487010-3720 - PISTON RING | GA408105-5227 - ROTOR ASS'Y | KD0-23100-0201 - ARMATURE ASS'Y |
| DK156609-6300 - COUPLING | DK487010-4720 - RING | GA408105-5376 - ROTOR ASS'Y | KD0-23100-0230 - ARMATURE ASS'Y |
| DK156609-6700 - COUPLING | DK487010-5020 - RING ASS'Y | GA409148-0000 - PLATE | KD0-23100-0231 - ARMATURE ASS'Y |
| DK156609-7500 - COUPLING | DK487012-0100 - PIN, PISTON | GA409172-5035 - ROTOR ASS'Y | KD0-23100-0250 - ARMATURE |
| DK156609-9300 - COUPLING | DK487012-0400 - PIN | GA409172-5039 - CARTRIDGE ASS'Y | KD0-23100-0251 - ARMATURE |
| DK156610-0300 - COVER | DK487012-0920 - PIN | GA409172-5050 - ROTOR ASS'Y | KD0-23100-0260 - ARMATURE ASS'Y |
| DK156610-0600 - BUSHING | DK487012-1120 - PIN | GA409188-0000 - PLATE | KD0-23100-0261 - ARMATURE ASS'Y |
| DK156610-1400 - BUSHING | DK487013-0920 - ROD | GA410382-5007 - ROTOR ASS'Y | KD0-23230-0110 - FIELD COIL ASS'Y |
| DK156611-6000 - COUPLING | DK487013-1820 - CONNECTING ROD | GA410382-7 - CARTRIDGE ASS'Y | KD0-23230-0150 - FIELD COIL |
| DK156612-9420 - COUPLING | DK487013-2100 - CONNECTING ROD | GA441398-5052 - CARTRIDGE ASS'Y | KD0-23230-0210 - FIELD COIL |
| DK156613-1500 - PLATE | DK487013-2220 - CONNECTING ROD | GA447450-5022 - ROTOR ASS'Y | KD0-23230-0240 - FIELD |
| DK156615-0600 - WASHER | DK487013-2920 - CONNECTING ROD | GA467114-1005 - CARTRIDGE ASS'Y | KD0-23230-0281 - FIELD COIL |
| DK156615-0700 - WASHER | DK487014-0600 - METAL | GA467114-1006 - CARTRIDGE ASSY | KD0-23300-0270 - BRACKET |
| DK156615-1600 - WASHER | DK487017-0400 - BOLT | GA467175-0001 - ROTOR ASS'Y | KD0-23303-0020 - PIN |
| DK156615-1900 - WASHER | DK487017-1600 - BOLT | KB2012A-60004 - SERVICE KIT | KD0-23303-0030 - PIN |
| DK156615-2600 - WASHER | DK487018-2020 - CYLINDER HEAD | KB20121-01300 - O-RING | KD0-23310-0680 - BRACKET ASS'Y |
| DK156615-2800 - WASHER | DK487018-4320 - HEAD | KB20121-60901 - SEAL | KD0-23310-0740 - BRACKET |
| DK156615-3200 - WASHER | DK487018-4420 - CYLINDER HEAD | KB20121-61101 - PACKING | KD0-23310-0830 - BRACKET |
| DK156615-3300 - WASHER | DK487018-5222 - CYLINDER HEAD | KB20121-61405 - SEAL | KD0-23310-0860 - BRACKET ASS'Y |
| DK156615-3800 - WASHER | DK487018-5300 - CYLINDER HEAD | KB20122-60402 - BUSH | KD0-23320-0220 - LEVER ASS'Y |
| DK156615-4100 - WASHER | DK487018-6721 - CYLINDER HEAD | KB21001-00106 - O-RING | KD0-23500-0251 - CLUTCH ASS'Y |
| DK156615-4300 - WASHER | DK487018-6921 - CYLINDER HEAD | KB21011-31011 - CAP | KD0-23500-0261 - CLUTCH ASS'Y |
| DK156617-0900 - NUT | DK487018-7025 - CYLINDER HEAD | KB21011-31044 - CAP | KD0-23500-0350 - CLUTCH ASS'Y |
| DK156617-2000 - NUT | DK487018-8720 - CYLINDER HEAD | KB21013-30664 - VALVE ASS'Y | KD0-23500-0353 - CLUTCH ASS'Y |
| DK156617-2100 - NUT | DK487018-8920 - CYLINDER HEAD | KB21013-32395 - SPOOL ASS'Y | KD0-23500-0380 - CLUTCH ASS'Y |
| DK156617-2400 - NUT | DK487020-0400 - GASKET | KB21013-33309 - SPOOL ASS'Y | KD0-23500-0390 - CLUTCH ASS'Y |
| DK156617-2500 - NUT | DK487020-2100 - GASKET | KB21013-34810 - SECTION ASS'Y | KD0-23500-0392 - CLUTCH ASS'Y |
| DK156622-1100 - BUSH | DK487020-2200 - GASKET | KB95142-01300 - O-RING | KD0-23500-0420 - CLUTCH ASSY |
| DK156622-3100 - BUSHING | DK487020-2900 - GASKET | KD0-0055-05252 - SCREW | KD0-23500-0422 - CLUTCH ASS'Y |
| DK156622-3200 - BUSHING | DK487020-3000 - GASKET | KD0-0055-05282 - SCREW | KD0-23500-0430 - CLUTCH ASS'Y |
| DK156622-3300 - BUSHING | DK487020-3100 - GASKET | KD0-0056-05162 - SCREW | KD0-23500-0523 - CLUTCH ASS'Y |
| DK156630-0500 - COUPLING | DK487021-2020 - VALVE ASS'Y | KD0-0056-05182 - SCREW | KD0-23600-0090 - BRACKET ASS'Y |
| DK156630-0700 - COUPLING | DK487021-2420 - VALVE | KD0-0056-05252 - SCREW | KD0-23600-0170 - BRACKET ASS'Y |
| DK156630-6400 - COUPLING | DK487021-2921 - VALVE ASS'Y | KD0-0056-05282 - SCREW | KD0-23600-0220 - BRACKET ASS'Y |
| DK156630-6600 - COUPLING | DK487021-3420 - VALVE ASS'Y | KD0-0056-05452 - SCREW | KD0-23600-0230 - BRACKET |
| DK156630-9000 - COUPLING | DK487021-4620 - UNION | KD0-0080-05102 - BOLT | KD0-23600-0250 - BRACKET |
| DK156631-2900 - COUPLING | DK487021-5020 - VALVE ASS'Y | KD0-0080-05322 - BOLT | KD0-23600-0270 - BRACKET |
| DK156633-0900 - BOLT | DK487023-1200 - ROD | KD0-0080-05422 - BOLT | KD0-23610-0090 - BRACKET |
| DK156633-1200 - BOLT | DK487024-0800 - SPRING | KD0-0080-05452 - BOLT | KD0-23611-0690 - BRACKET |
| DK156633-2100 - BOLT | DK487024-1300 - SPRING | KD0-0080-05502 - BOLT | KD0-23611-0750 - BRACKET ASS'Y |
| DK156633-3300 - BOLT | DK487025-0400 - SEAT | KD0-0080-06182 - BOLT | KD0-23700-0040 - BRACKET ASS'Y |
| DK156633-4300 - BOLT | DK487025-0900 - SEAT | KD0-0090-08002 - BOLT | KD0-23700-0080 - BRACKET |
| DK156633-4900 - BOLT | DK487025-1200 - SEAT | KD0-0093-06052 - BOLT | KD0-23700-0130 - BRACKET |
| DK156633-5100 - BOLT | DK487026-0800 - VALVE | KD0-0123-05952 - BOLT | KD0-23710-0040 - BRACKET |
| DK156633-5200 - BOLT | DK487026-1700 - PLATE | KD0-0123-06802 - BOLT | KD0-23710-0090 - BRACKET |
| DK156633-5900 - BOLT | DK487026-2200 - PLATE | KD0-0143-06002 - BOLT | KD0-23711-0110 - BRACKET |
| DK156633-6000 - BOLT | DK487026-2300 - VALVE, DELIVERY | KD0-0240-05225 - BOLT | KD0-23711-0170 - BRACKET |
| DK156633-6200 - BOLT | DK487026-2800 - VALVE | KD0-0240-05505 - BOLT | KD0-23711-0221 - BRACKET |
| DK156633-6300 - BOLT | DK487027-0300 - SPRING | KD0-0270-05102 - BOLT | KD0-23740-0110 - BRUSH |
| DK156633-6900 - BOLT | DK487027-1100 - SPRING | KD0-0270-06452 - BOLT | KD0-23740-0180 - BRUSH |
| DK156633-7000 - BOLT | DK487027-1200 - SPRING | KD0-0270-06502 - BOLT | KD0-23740-0200 - BRUSH |
| DK156633-8200 - BOLT | DK487027-1500 - SPRING | KD0-0270-06602 - BOLT | KD0-23740-0210 - BRUSH |