Caterpillar Belts
Belt transmission is the transmission of mechanical energy by means of a flexible element - the Caterpillar drive belt, due to frictional forces or engagement forces (Caterpillar timing belts). It can have both a constant and variable gear ratio, whose shafts can be with parallel and intersecting axes.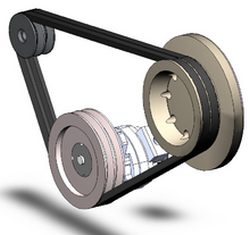 The Caterpillar belt performs two tasks: it operates a gas distribution system and aggregates of additional equipment such as a Caterpillar generator, a Caterpillar air conditioner compressor and so on.
There is a huge variety of drive belts:
- Caterpillar V-belt
- Toothed Caterpillar belt
Also distinguish single-row belts and multi-row Caterpillar belts. All of the above belts have one task - to drive the Caterpillar pulley of additional equipment or to drive other systems of equipment.
Caterpillar pulleys transmit torque using Caterpillar belts.
Original and replacement or aftermarket Caterpillar belts online.
Short list below: