Caterpillar Hydraulic Pumps
The Caterpillar hydraulic system works as follows: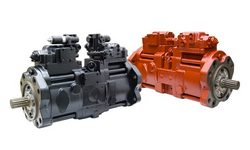 The diesel engine rotates the shaft of the Caterpillar hydraulic pump, which converts mechanical energy into energy hydraulic.
The hydraulic fluid is piped into the Caterpillar hydraulic pump and the Caterpillar hydraulic cylinders through the Caterpillar control valve system and converted there into mechanical energy of rotation or reciprocating motion.
After performing the work, the hydraulic fluid returns to the hydraulic oil tank and enters the Caterpillar hydraulic pump. The cycle of work is repeated.
Exist two types of heavy equipment Hydraulic systems:
A volumetric hydraulic system for its operation uses hydraulic motors and hydraulic pumps operating under high pressure up to 350 MPa. This system uses the principle of alternately filling the working chambers of the pump and the hydraulic motor with a hydraulic fluid and displacing it from there under high pressure. The speed of movement of the working fluid in such a system is small. The main factor of the system is pressure. The volumetric hydraulic drive in physical dimensions is more compact and has received wider application than hydrodynamic.
If you are looking for the original Caterpillar hydraulic pump or the replacement or aftermarket Caterpillar hydraulic pump, you can buy them from us online
| | |
| --- | --- |
| 0869871 - PUMP GP HYD | 1856373 - PUMP GP-HYD |
| 1049268 - PUMP GP HYD | 1856762 - PUMP GP-HYD |
| 1063880 - PUMP GP HYD | 1859038 - PUMP GP-HYD |
| 1064282 - PUMP GP HYD | 1859040 - PUMP GP-HYD |
| 1167498 - PUMP GP HYD | 1891708 - PUMP GP-HYD |
| 1214879 - PUMP GP HYD | 2003269 - PUMP GP-HYD |
| 1235263 - PUMP GP HYD | 2036808 - PUMP GP-HYDR |
| 1534867 - PUMP GP HYD | 2128713 - PUMP GP-HYD |
| 1534880 - PUMP GP HYD | 2128714 - PUMP GP-HYD |
| 1601013 - PUMP GP HYD | 2220104 - PUMP GP-HYD |
| 2708672 - PUMP GP HYD | 2220111 - PUMP GP-HYD |
| 2823372 - PUMP GP HYD | 2262451 - PUMP GP-HYD |
| 0R4603 - PUMP GP HYD | 2324792 - PUMP GP-HYD |
| 0R4608 - PUMP GP HYD | 2339591 - PUMP GP-HYD |
| 0R4609 - PUMP GP HYD | 2370683 - PUMP GP-HYD |
| 0R4612 - PUMP GP HYD | 2426778 - PUMP GP-HYD |
| 0R4614 - PUMP GP HYD | 2426779 - PUMP GP-HYD |
| 0R4628 - PUMP GP HYD | 2478976 - PUMP GP-HYD |
| 0R4629 - PUMP GP HYD | 2502565 - PUMP GP-HYD |
| 0R4631 - PUMP GP HYD | 2535160 - PUMP GP-HYD |
| 0R4632 - PUMP GP HYD | 2601529 - PUMP GP-HYD |
| 0R4634 - PUMP GP HYD | 2610841 - PUMP GP-HYDR |
| 0R4969 - PUMP GP HYD | 2624367 - PUMP GP-HYDR |
| 0R7411 - PUMP GP HYD | 2631399 - PUMP GP-HYD |
| 10R0830 - PUMP GP HYD | 2679475 - PUMP GP-HYD |
| 10R0833 - PUMP GP HYD | 2679478 - PUMP GP-HYD |
| 10R0834 - PUMP GP HYD | 2703949 - PUMP GP-HYD |
| 10R0836 - PUMP GP HYD | 2703950 - PUMP GP-HYD |
| 10R1552 - PUMP GP HYD | 2703951 - PUMP GP-HYD |
| 10R1724 - PUMP GP HYD | 2703952 - PUMP GP-HYD |
| 10R1551 - PUMP GP HYD | 2835974 - PUMP GP-HYD |
| 10R0854 - PUMP GP HYD | 2835976 - PUMP GP-HYD |
| 10R1308 - PUMP GP HYD | 2840431 - PUMP GP-HYD |
| 10R1307 - PUMP GP HYD | 2854163 - PUMP GP-HYD |
| 10R2423 - PUMP GP HYD | 2868990 - PUMP GP-HYD |
| 10R2424 - PUMP GP HYD | 2939113 - PUMP GP-HYD |
| 10R2427 - PUMP GP HYD | 2957854 - PUMP GP-HYD |
| 10R2433 - PUMP GP HYD | 2957855 - PUMP GP-HYD |
| 10R2436 - PUMP GP HYD | 3073525 - PUMP GP-HYD |
| 10R2438 - PUMP GP HYD | 3092938 - PUMP GP-HYDR |
| 10R2442 - PUMP GP HYD | 3119543 - PUMP GP-HYD |
| 10R2462 - PUMP GP HYD | 3119544 - PUMP GP-HYD |
| 10R2463 - PUMP GP HYD | 3222449 - PUMP GP-HYD |
| 10R2511 - PUMP GP HYD | 3338181 - PUMP GP-HYDR |
| 10R2517 - PUMP GP HYD | 3421793 - PUMP GP-HYD |
| 10R2521 - PUMP GP HYD | 3462584 - PUMP GP-HYD |
| 10R2859 - PUMP GP HYD | 3612561 - PUMP GP-HYD |
| 10R2860 - PUMP GP HYD | 5W8528 - PUMP GP-HYD |
| 10R3006 - PUMP GP HYD | 8U9669 - PUMP GP-HYD |
| 10R3044 - PUMP GP HYD | 8U9675 - PUMP GP-HYD |
| 10R3330 - PUMP GP HYD | 0R8358 - PUMP GP-HYD |
| 10R3331 - PUMP GP HYD | 0R8359 - PUMP GP-HYD |
| 10R3332 - PUMP GP HYD | 0R8368 - PUMP GP-HYD |
| 10R3333 - PUMP GP HYD | 0R8369 - PUMP GP-HYD |
| 10R3429 - PUMP GP HYD | 0R8382 - PUMP GP-HYD |
| 10R3144 - PUMP GP HYD | 0R8503 - PUMP GP-HYD |
| 10R3145 - PUMP GP HYD | 0R8507 - PUMP GP-HYD |
| 10R3348 - PUMP GP HYD | 0R9531 - PUMP GP-HYD |
| 10R3477 - PUMP GP HYD | 0R9532 - PUMP GP-HYD |
| 10R3619 - PUMP GP HYD | 1079352 - PUMP GP-HYD |
| 10R3805 - PUMP GP HYD | 0R9633 - PUMP GP-HYD |
| 10R3809 - PUMP GP HYD | 0R9634 - PUMP GP-HYD |
| 10R4356 - PUMP GP HYD | 0R7320 - PUMP GP-HYD |
| 10R4355 - PUMP GP HYD | 0R7412 - PUMP GP-HYD |
| 10R4504 - PUMP GP HYD | 0R7472 - PUMP GP-HYD |
| 10R3807 - PUMP GP HYD | 0R7476 - PUMP GP-HYD |
| 10R3808 - PUMP GP HYD | 0R7482 - PUMP GP-HYD |
| 10R4715 - PUMP GP HYD | 0R7490 - PUMP GP-HYD |
| 10R3476 - PUMP GP HYD | 0R7949 - PUMP GP-HYD |
| 10R4583 - PUMP GP HYD | 0R7985 - PUMP GP-HYD |
| 10R4714 - PUMP GP HYD | 0R7986 - PUMP GP-HYD |
| 10R5277 - PUMP GP HYD | 0R7987 - PUMP GP-HYD |
| 10R5603 - PUMP GP HYD | 0R7988 - PUMP GP-HYD |
| 10R4648 - PUMP GP HYD | 0R7989 - PUMP GP-HYD |
| 10R5462 - PUMP GP HYD | 0R7755 - PUMP GP-HYD |
| 10R5464 - PUMP GP HYD | 0R7756 - PUMP GP-HYD |
| 10R5878 - PUMP GP HYD | 0R7950 - PUMP GP-HYD |
| 10R6125 - PUMP GP HYD | 0R7952 - PUMP GP-HYD |
| 10R6126 - PUMP GP HYD | 0R7999 - PUMP GP-HYD |
| 10R6040 - PUMP GP HYD | 0R0858 - PUMP GP-HYD |
| 10R6041 - PUMP GP HYD | 0R0850 - PUMP GP-HYD |
| 10R6042 - PUMP GP HYD | 0R0863 - PUMP GP-HYD |
| 10R6328 - PUMP GP HYD | 0R0864 - PUMP GP-HYD |
| 10R6327 - PUMP GP HYD | 0R1072 - PUMP GP-HYD |
| 10R6330 - PUMP GP HYD | 0R1088 - PUMP GP-HYD |
| 10R3347 - PUMP GP HYD | 0R0912 - PUMP GP-HYD |
| 10R4506 - PUMP GP HYD | 0R0913 - PUMP GP-HYD |
| 10R6275 - PUMP GP HYD | 0R1062 - PUMP GP-HYD |
| 10R6276 - PUMP GP HYD | 0R7784 - PUMP GP-HYD |
| 10R6278 - PUMP GP HYD | 0R7786 - PUMP GP-HYD |
| 10R6369 - PUMP GP HYD | 0R7790 - PUMP GP-HYD |
| 10R6370 - PUMP GP HYD | 0R7791 - PUMP GP-HYD |
| 10R6371 - PUMP GP HYD | 0R7792 - PUMP GP-HYD |
| 10R3725 - PUMP GP HYD | 0R7793 - PUMP GP-HYD |
| 10R6683 - PUMP GP HYD | 10R0168 - PUMP GP-HYD |
| 10R6684 - PUMP GP HYD | 10R0532 - PUMP GP-HYD |
| 10R6685 - PUMP GP HYD | 10R0533 - PUMP GP-HYD |
| 10R6688 - PUMP GP HYD | 10R0537 - PUMP GP-HYD |
| 10R7145 - PUMP GP HYD | 10R0555 - PUMP GP-HYD |
| 10R7146 - PUMP GP HYD | 10R0534 - PUMP GP-HYD |
| 10R7147 - PUMP GP HYD | 10R0540 - PUMP GP-HYD |
| 10R7148 - PUMP GP HYD | 10R0552 - PUMP GP-HYD |
| 10R7387 - PUMP GP HYD | 10R0557 - PUMP GP-HYD |
| 10R7394 - PUMP GP HYD | 10R0544 - PUMP GP-HYD |
| 10R7396 - PUMP GP HYD | 10R0862 - PUMP GP-HYD |
| 10R7398 - PUMP GP HYD | 10R0863 - PUMP GP-HYD |
| 10R7399 - PUMP GP HYD | 10R0855 - PUMP GP-HYD |
| 10R7434 - PUMP GP HYD | 10R0857 - PUMP GP-HYD |
| 10R7435 - PUMP GP HYD | 10R0858 - PUMP GP-HYD |
| 10R6036 - PUMP GP HYD | 10R0859 - PUMP GP-HYD |
| 10R6038 - PUMP GP HYD | 10R1457 - PUMP GP-HYD. |
| 10R7401 - PUMP GP HYD | 2160039 - PUMP GP-HYD |
| 10R7402 - PUMP GP HYD | 0R0911 - PUMP GP-HYD |
| 10R7697 - PUMP GP HYD | 0R7954 - PUMP GP-HYD |
| 10R7698 - PUMP GP HYD | 1119978 - PUMP G-HYD |
| 10R7732 - PUMP GP HYD | 1140667 - PUMP G-HYD |
| 10R7733 - PUMP GP HYD | 1262073 - PUMP G-HYD |
| 10R3589 - PUMP GP HYD | 1559128 - PUMP G-HYD |
| 10R8698 - PUMP GP HYD | 1599456 - PUMP G-HYD |
| 10R8704 - PUMP GP HYD | 1G8029 - PUMP G-HYD |
| 10R8705 - PUMP GP HYD | 5W6102 - PUMP G-HYD |
| 10R8706 - PUMP GP HYD | 0815267 - HYD PUMP |
| 10R8711 - PUMP GP HYD | 0826412 - HYD PUMP |
| 10R8897 - PUMP GP HYD | 0830486 - HYD PUMP |
| 10R8898 - PUMP GP HYD | 0831675 - HYD PUMP |
| 10R8899 - PUMP GP HYD | 1757944 - HYD PUMP |
| 10R8900 - PUMP GP HYD | 1757945 - HYD PUMP |
| 10R9089 - PUMP GP HYD | 1759412 - HYD PUMP |
| 10R9359 - PUMP GP HYD | 1U7519 - HYD PUMP |
| 10R9220 - PUMP GP HYD | 5U2143 - HYD PUMP |
| 10R2995 - PUMP GP HYD | 7N2416 - BRG HYD PUMP |
| 10R7053 - PUMP GP HYD | 7R1221 - HYD PUMP |
| 10R7054 - PUMP GP HYD | 7X4246 - HYD PUMP |
| 10R9069 - PUMP GP HYD | 8C7987 - HYD PUMP |
| 10R9070 - PUMP GP HYD | 8I3038 - HYD PUMP |
| 10R9071 - PUMP GP HYD | 8T6302 - HYD PUMP |
| 10R8689 - PUMP GP HYD | 1212938 - PUMP-HYD |
| 10R8691 - PUMP GP HYD | 1212939 - PUMP-HYD |
| 10R8697 - PUMP GP HYD | 1221206 - PUMP-HYD |
| 10R9990 - PUMP GP HYD | 1342947 - PUMP-HYD |
| 20R0074 - PUMP GP HYD | 1423255 - PUMP-HYD |
| 0R7946 - PUMP GP HYD | 1567575 - PUMP-HYD |
| 0830356 - PUMP GP-HYD | 1894428 - PUMP-HYDRUAL |
| 1129561 - PUMP GP-HYD | 1945247 - PUMP-HYD |
| 1138278 - PUMP GP-HYD | 1945248 - PUMP-HYD |
| 1206022 - PUMP GP-HYD | 2130946 - PUMP-HYDRAUL |
| 1237316 - PUMP GP-HYD | 2348153 - PUMP-HYDRAUL |
| 1313879 - PUMP GP-HYD | 2374858 - PUMP-HYD |
| 1313892 - PUMP GP-HYD | 2374859 - PUMP-HYD |
| 1314824 - PUMP GP-HYD | 3092939 - PUMP-HYD |
| 1382638 - PUMP GP-HYD | 8C7989 - PUMP-HYD |
| 1521075 - PUMP GP-HYD | 0779507 - PUMP HYD |
| 1559079 - PUMP GP-HYD | 0780383 - PUMP HYD |
| 1593982 - PUMP GP-HYD | 0780597 - PUMP HYD |
| 1599454 - PUMP GP-HYD | 0822631 - PUMP HYD |
| 1599455 - PUMP GP-HYD | 0898146 - PUMP HYD |
| 1599836 - PUMP GP-HYD | 1G4619 - PUMP HYD |
| 1607094 - PUMP GP-HYD | 2036807 - PUMP HYD. |
| 1620238 - PUMP GP-HYD | 2421435 - PUMP HYDRAUL |
| 1628898 - PUMP GP-HYD | 2421436 - PUMP HYD FOO |
| 1628900 - PUMP GP-HYD | 2459965 - PUMP HYD 230 |
| 1662825 - PUMP GP-HYD | 3U6679 - PUMP HYDRAUL |
| 1697791 - PUMP GP-HYD | 3U6680 - PUMP HYDRAUL |
| 1698002 - PUMP GP-HYD | 4C4015 - PUMP HYD |
| 1709953 - PUMP GP-HYD | 4C5809 - PUMP HYD |
| 1771522 - PUMP GP-HYD | 7R8276 - PUMP HYD |
| 1772223 - PUMP GP-HYD | 7R9350 - PUMP HYD |
| 1772224 - PUMP GP-HYD | 9U5725 - PUMP HYD |
| 1783971 - PUMP GP-HYD | 0780287 - PUMP HYD |
| 1835031 - PUMP GP-HYD | 0884777 - PUMP HYD |
| 1835653 - PUMP GP-HYD | 0894695 - PUMP HYD |
| 1843954 - PUMP GP-HYD | 10R2861 - PUMP HYD |
| 1853198 - PUMP GP-HYD | |