Doosan Bottom Rollers
Doosan Bottom Roller is a crawler drive element that is a movable support for a Doosan equipment (a tractor, bulldozer, excavator, etc.) that use Doosan track chains. The part is to be installed with Doosan bearings on the axles to the suspension of the running gear.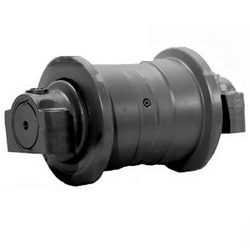 Doosan bottom rollers are mounted on bearings on axles that are connected to the body through a suspension. In order to mitigate impacts on the Doosan during the movement in a rough terrain, the Doosan rollers are usually made rubberized. It can also be made of composite materials. Doosan bottom rollers have an internal design based on a coil or cylindrical roller bearings. Thick-walled outer ring allows to withstand high radial loads.
Types of Doosan Bottom Rollers:
- Rubberized;
- Not rubberized;
- Rollers with internal cushioning.
Doosan Bottom roller supports the following functions:
- Improvement of the rotating Doosan track chain;
- Reduction of noise generated between the Doosan track chains and the Doosan bottom roller;
- Long service life of Doosan undercarriage spare parts.
All necessary original Doosan undercarriage parts and aftermarket or replacement Doosan bottom rollers online
| | |
| --- | --- |
| ROLLER,LOWER - 200104-00001A | ROLLER,LOWER - K1011871A |
| ROLLER,LOWER - 200104-00007B | ROLLER,LOWER - K1014351B, K1014351C |
| ROLLER,LOWER - 200104-00012A | ROLLER,LOWER - K1014351C |
| ROLLER,LOWER - 200104-00016-L | ROLLER,LOWER - K1023169, K1023169A |
| ROLLER,LOWER - 200104-00021, 200104-00044 | ROLLER,LOWER - K1023169A |
| ROLLER,LOWER - 200104-00023 | ROLLER,LOWER - K1030169, 200104-00017 |
| ROLLER,LOWER - 200104-00034 | ROLLER,LOWER - K1030169-L, 200104-00017-L |
| ROLLER,LOWER - 200104-00036 | ROLLER,LOWER - K1033977 |
| ROLLER,LOWER - 200104-00038, 200104-00007B | ROLLER,LOWER - K1037713, K1037713A |
| ROLLER,LOWER - 200104-00044 | ROLLER,LOWER - K1037713A, 200104-00021 |
| ROLLER,LOWER - 2270-1001B, 2270-1005H | ROLLER,LOWER - K1039253 |
| ROLLER,LOWER - 2270-1006A | ROLLER,LOWER - K1050247, 200104-00023 |
| ROLLER,LOWER - 2270-1032, 2270-1032A | ROLLER,LOWER - K9001699 |
| ROLLER,LOWER - 2270-1032A, 2270-1032S | ROLLER,LOWER - K9001706 |
| ROLLER,LOWER - 2270-1032B, 2270-1032S | ROLLER,LOWER - K9001713 |
| ROLLER,LOWER - 2270-1032S | ROLLER,LOWER,(STEEL SHOE) - 200104-00040 |
| ROLLER,LOWER - 2270-1061, 2270-1061P | ROLLER,LOWER,DOM,STEEL - 200104-00004A |
| ROLLER,LOWER - 2270-1061P, 200104-00036 | ROLLER,LOWER,EXP,STEEL - 200104-00017 |
| ROLLER,LOWER - 2270-1067A, 2270-1098A | ROLLER,LOWER,EXP,STEEL - 200104-00017-L |
| ROLLER,LOWER - 2270-1076 | ROLLER,LOWER,OLD - K1011713A, K1000976B |
| ROLLER,LOWER - 2270-1098, 2270-1098A | ROLLER,LOWER,RUBBER - 200104-00016 |
| ROLLER,LOWER - 2270-1098A, 2270-1098B | ROLLER,LOWER,SINGLE - 2270-6116, 2270-6116A |
| ROLLER,LOWER - 2270-1098B, K1037713 | ROLLER,LOWER,SINGLE - 5270-6071 |
| ROLLER,LOWER - 2270-1099A | ROLLER,MIDDLE - A136794, A136794A |
| ROLLER,LOWER - 2270-1135, 2270-1134 | ROLLER,MIDDLE - A146889 |
| ROLLER,LOWER - 2270-6021 | ROLLER,NEEDLE - 156588 |
| ROLLER,LOWER - 2270-6043, 2270-1098A | ROLLER,NEEDLE - 500D2098-00 |
| ROLLER,LOWER - 2270-6116A | ROLLER,NEEDLE - 900131-00005 |
| ROLLER,LOWER - 2270-6123 | ROLLER,NEEDLE - K1000718 |
| ROLLER,LOWER - 2270-6127A | ROLLER,NEEDLE - K1000719 |
| ROLLER,LOWER - 2270-9008 | ROLLER,NEEDLE - K9005408 |
| ROLLER,LOWER - 2270-9010, 2270-9404P | ROLLER,NEEDLE - MX252436, MX452034 |
| ROLLER,LOWER - 2270-9014, 2270-9014A | ROLLER,RUBBER - 161-00152 |
| ROLLER,LOWER - 2270-9014A, 2270-6123 | ROLLER,SEAL - AF0010C-004 |
| ROLLER,LOWER - 2270-9014AP, 2270-6123 | ROLLER,SEAT - 2.109-00277 |
| ROLLER,LOWER - 2270-9025, 2270-9025A | ROLLER,SEAT - 7403CH-403 |
| ROLLER,LOWER - 2270-9025A, 2270-9025B | ROLLER,SHEAVE - D580792B |
| ROLLER,LOWER - 2270-9025B, K1012065 | ROLLER,SHEAVE - D580793A |
| ROLLER,LOWER - 2270-9401, 2270-9401A | ROLLER,SHEAVE - D580794A |
| ROLLER,LOWER - 2270-9401A, 2270-9025 | ROLLER,SHEAVE - D580794B |
| ROLLER,LOWER - 2270-9401B, 2270-9025 | ROLLER,SHEAVE - D861182 |
| ROLLER,LOWER - 2270-9403, 2270-9403A | ROLLER,SHEAVE - D861183 |
| ROLLER,LOWER - 2270-9403A | ROLLER,SHEAVE - D861184 |
| ROLLER,LOWER - 2270-9404, 2270-9404P | ROLLER,SHEAVE - D862232 |
| ROLLER,LOWER - 2270-9404A, 2270-9404B | ROLLER,SHEAVE,CHAIN SHEAVE - 900131-00019 |
| ROLLER,LOWER - 2270-9404B, K1001452 | ROLLER,SIDE - A376014 |
| ROLLER,LOWER - 2270P1061 | ROLLER,SLIDE DOOR - 270-00054B, 900131-00014A |
| ROLLER,LOWER - 270-00039A, 270-00039B | ROLLER,SLIDE DOOR - 900131-00014A |
| ROLLER,LOWER - 270-00039B, 270-00039C | ROLLER,SMALL - A136793, A136793A |
| ROLLER,LOWER - 270-00039C, 270-00039E | ROLLER,SOLID - 2154-1023 |
| ROLLER,LOWER - 270-00039E, 200104-00040 | ROLLER,TAPERED - K6D1734 |
| ROLLER,LOWER - 270-00039E-L | ROLLER,THRUST - D360141, D360141A |
| ROLLER,LOWER - 270-00040A, 270-00040C | ROLLER,THRUST - D360141A |
| ROLLER,LOWER - 270-00040B | ROLLER,TRACK - 01003-00060, 270-00012 |
| ROLLER,LOWER - 270-00040C | ROLLER,TRACK - 200104-00011, 200104-00031 |
| ROLLER,LOWER - 270-00040C-L | ROLLER,TRACK - 200104-00031 |
| ROLLER,LOWER - 270-00044 | ROLLER,TRACK - 2270-1089 |
| ROLLER,LOWER - 270-00048B, 270-00048C | ROLLER,TRACK - 2270-1103B |
| ROLLER,LOWER - 270-00048C, 270-00048E | ROLLER,TRACK - 2270-1103E, 2270-1103G |
| ROLLER,LOWER - 270-00048E, 270-00048G | ROLLER,TRACK - 2270-1103G, 2270-1103I |
| ROLLER,LOWER - 270-00048G | ROLLER,TRACK - 2270-1103I |
| ROLLER,LOWER - 270-00060, 200104-00034 | ROLLER,TRACK - 2270-9021, 270-00008 |
| ROLLER,LOWER - 270-00062A | ROLLER,TRACK - 2270-9404P, K1001452 |
| ROLLER,LOWER - 270-00070 | ROLLER,TRACK - 270-00008 |
| ROLLER,LOWER - 270-00070A, 200104-00016 | ROLLER,TRACK - 270-00008A |
| ROLLER,LOWER - 270-6044, 2270-9401B | ROLLER,TRACK - 270-00012, 270-00012A |
| ROLLER,LOWER - 5270-9004A, 5270-9004B | ROLLER,TRACK - 270-00012A |
| ROLLER,LOWER - 5270-9004B | ROLLER,TRACK - 270-00012B, K1029324 |
| ROLLER,LOWER - 5270-9005A, 5270-9005B | ROLLER,TRACK - 270-00012C |
| ROLLER,LOWER - 5270-9005B | ROLLER,TRACK - 270-00053A, 200104-00004 |
| ROLLER,LOWER - K1000976A, K1000976B | ROLLER,TRACK - 270-00068, 270-00053A |
| ROLLER,LOWER - K1000976B | ROLLER,TRACK - K1029324 |
| ROLLER,LOWER - K1001452, 200104-00038 | ROLLER,TRACK - K1051211 |
| ROLLER,LOWER - K1007947 | ROLLER,TRACK - UCRL0024 |
| ROLLER,LOWER - K1007947A | ROLLER,TRACK - UCRL0040 |
| ROLLER,LOWER - K1008896, 200104-00001A | ROLLER,TRACK - UCRL0063 |
| ROLLER,LOWER - K1011015 | ROLLER,TRACK,STEEL SHOE - 200104-00004, 200104-00004A |
| ROLLER,LOWER - K1011015A | ROLLER,TRANSMISSION - A133986 |
| ROLLER,LOWER - K1011713 | ROLLER,TRAY ASSY - A301653 |