Doosan Belts
Belt transmission is the transmission of mechanical energy by means of a flexible element - the Doosan drive belt, due to frictional forces or engagement forces (Doosan timing belts). It can have both a constant and variable gear ratio, whose shafts can be with parallel and intersecting axes.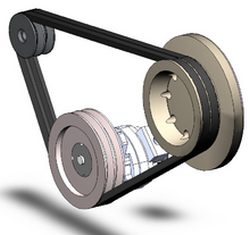 The Doosan belt performs two tasks: it operates a gas distribution system and aggregates of additional equipment such as a Doosan generator, a Doosan air conditioner compressor and so on.
There is a huge variety of drive belts:
- Doosan V-belt
- Toothed Doosan belt
Also distinguish single-row belts and multi-row Doosan belts. All of the above belts have one task - to drive the Doosan pulley of additional equipment or to drive other systems of equipment.
Doosan pulleys transmit torque using Doosan belts.
Original and replacement or aftermarket Doosan belts online.
| | |
| --- | --- |
| BELT - 130202-00005 | BELT,V - 65.96801-0120 |
| BELT - 130202-00006 | BELT,V - 65.96801-0121 |
| BELT - 130202-00021 | BELT,V - 65.96801-0142A |
| BELT - 130202-00045 | BELT,V - 65.96801-0150, 65.96801-0150A |
| BELT - 15875-9701-1, 2.106-00001 | BELT,V - 65.96801-0153 |
| BELT - 2.106-00001 | BELT,V - 65.96801-0161 |
| BELT - 2.106-00002 | BELT,V - 65.96801-0169, 65.96801-0201 |
| BELT - 2106-1007 | BELT,V - 65.96801-0172, 65.96801-0199 |
| BELT - 2106-1017D16, 65.96801-0115 | BELT,V - 65.96801-0193 |
| BELT - 2106-9004 | BELT,V - 65.96801-0212 |
| BELT - 2106-9007, 2106-1017D4 | BELT,V - 65.96801-0219 |
| BELT - 2106-9012, 2106-1017D5 | BELT,V - 65.96801-0222 |
| BELT - 2106-9022 | BELT,V - 65.96801-0223 |
| BELT - 25153-004500, 65.96801-0004 | BELT,V - 65.96801-0224 |
| BELT - 68.25301-6001 | BELT,V - 65.96801-0225 |
| BELT - 897314-2270 | BELT,V - 65.96801-0226 |
| BELT - A138373, 65.96801-0008 | BELT,V - 65.96801-0227 |
| BELT - A351282, A351250 | BELT,V - 65.96801-0228 |
| BELT - A403562 | BELT,V - 65.96801-0229 |
| BELT - A413674 | BELT,V - 65.96801-0230 |
| BELT - D160936 | BELT,V - A141533, 2106-1016D5 |
| BELT - D460217 | BELT,V - A141842, REC-B71 |
| BELT - D830107 | BELT,V - A218470 |
| BELT - K9007321 | BELT,V - A273789 |
| BELT - MX043613 | BELT,V - A273823 |
| BELT - MX044352 | BELT,V - A293311 |
| BELT - MX044919 | BELT,V - A298072, 65.96801-0133 |
| BELT - MX057444 | BELT,V - A333307 |
| BELT - MX057458 | BELT,V - A383836 |
| BELT - MX057642 | BELT,V - A403609 |
| BELT - MX057782 | BELT,V - A433757 |
| BELT - MX057887 | BELT,V - D141101, 2106-1021D19 |
| BELT - MX351712, MX351819 | BELT,V - D141102 |
| BELT - MX451112, MX512878 | BELT,V - D160589 |
| BELT - MX451798, MX510972 | BELT,V - D160589S, D160589 |
| BELT - MX500181 | BELT,V - D160590, 65.96801-0118 |
| BELT - MX502982 | BELT,V - D180234 |
| BELT - MX508752 | BELT,V - D3NN-10C318-C |
| BELT - MX510972 | BELT,V - D460906 |
| BELT - MX510973 | BELT,V - D461099 |
| BELT - MX511474 | BELT,V - D465091 |
| BELT - MX512024 | BELT,V - D470309, 65.96801-0097 |
| BELT - MX512875 | BELT,V - D471065 |
| BELT ASSY,SEAT - A142857, 901-00007 | BELT,V - D810694 |
| BELT ASSY,SEAT - A152345 | BELT,V - DS3201024, 65.96801-0194 |
| BELT ASSY,SEAT - A462479 | BELT,V - DS3201025 |
| BELT ASSY,SEAT - MX057488 | BELT,V - DS3201029 |
| BELT ASSY,SEAT - MX508344 | BELT,V - DS3201030 |
| BELT ASSY,SEAT - MX513850 | BELT,V - DS3202025 |
| BELT ASSY,SEAT,RESTRACTABLE - 6R6628, D700000 | BELT,V - DS3202026 |
| BELT ASSY,SEAT,RETRACTABLE - A152425K | BELT,V - DS3202028 |
| BELT ASSY,SEAT,SPAIN - A212041K | BELT,V - DS3202029 |
| BELT ASSY,SEAT,WITH S/W SEAT - A174706 | BELT,V - DS3202030 |
| BELT ASSY,WITH SWITCH - A378509 | BELT,V - DS3202031 |
| BELT GROUP,SEAT - 220213-00006 | BELT,V - DS3202039 |
| BELT GROUP,SEAT - A212041, A212041K | BELT,V - DS3202040 |
| BELT GROUP,SEAT,RETRACTABLE(OPTION) - A152425, A152425K | BELT,V - DS3202046 |
| BELT KIT - 65.96801-0052, 65.96801-0052A | BELT,V - DS3202047 |
| BELT KIT,V - K1019189, A293311 | BELT,V - K1013625D1, 65.96801-0201 |
| BELT,4PK1165 - A463563 | BELT,V - K1019626, A333307 |
| BELT,A - A152347 | BELT,V - K1022361, D461442 |
| BELT,AIR CONDITIONER - A138349 | BELT,V - K65.96801-0004, 65.96801-0004 |
| BELT,AIR CONDITIONER - A142896, 65.96801-0111 | BELT,V - K9003187 |
| BELT,AIR CONDITIONER - A147405 | BELT,V - MD079696, 2.106-00007 |
| BELT,ALTERNATOR - 65.96801-0220 | BELT,V - MX451388, MX511956 |
| BELT,ALTERNATOR - A147218, 65.96801-0084 | BELT,V - REC-A38 |
| BELT,ALTERNATOR - A403650 | BELT,V - REC-A44 |
| BELT,ALTERNATOR,ALT TYPE A - A147435 | BELT,V - REC-A45 |
| BELT,ALTERNATOR,ALTERNATOR - A218278, A273823 | BELT,V - REC-B40 |
| BELT,ALTERNATOR,ALTERNATOR - A218851, 65.96801-0072 | BELT,V - REC-B41 |
| BELT,ALTERNATOR,GM3.0L - 130202-00032 | BELT,V - REC-B43 |
| BELT,DRIVE - MX451799, MX510973 | BELT,V - REC-B44 |
| BELT,FAN - 1106-2013 | BELT,V - REC-B48 |
| BELT,FAN - 15875-97011 | BELT,V - REC-B49 |
| BELT,FAN - 2.106-00003, 2106-1021D12 | BELT,V - REC-B69 |
| BELT,FAN - 2106-1016D7, 65.96801-0057 | BELT,V - REC-B71 |
| BELT,FAN - 2106-6003 | BELT,V - REC-HA42 |
| BELT,FAN - 4106-4001, 2106-1016D7 | BELT,V - REC-HA44 |
| BELT,FAN - 586401-4200, DS3202026 | BELT,V - REC-HA45 |
| BELT,FAN - 894256-8000, 2106-1021D12 | BELT,V - REC-HA46 |
| BELT,FAN - 894479-1010, 2.106-00003 | BELT,V - REC-HA49 |
| BELT,FAN - 897068-7980 | BELT,V - REC-HA50 |
| BELT,FAN - 897224-9990 | BELT,V - REC-HA54 |
| BELT,FAN - A131686, 65.96801-0113 | BELT,V - REC-HA55 |
| BELT,FAN - A138344 | BELT,V - REC-HA57 |
| BELT,FAN - A147207, 65.96801-0135 | BELT,V - REC-HA59 |
| BELT,FAN - A213971, 2106-1021D1 | BELT,V - REC-HA60 |
| BELT,FAN - A333187, A333307 | BELT,V - REC-HA61 |
| BELT,FAN - A413504 | BELT,V - REC-HA62 |
| BELT,FAN - A433519, A233152 | BELT,V - REC-HA63 |
| BELT,FAN - A433610, A233152 | BELT,V - YE3040385 |
| BELT,FAN - D161357, 2106-1021D18 | BELT,V,130-2,M200,DD80L - 2106-1017D2, 65.96801-0095 |
| BELT,FAN - D461442, 65.96801-0074 | BELT,V,130W - 2106-1017D1, 65.96801-0064 |
| BELT,FAN - D490719 | BELT,V,130W-3 - 2106-1017D10, 65.96801-0094 |
| BELT,FAN - D490878 | BELT,V,220LC TROPICAL AREA - 2106-1017D15, 65.96801-0085 |
| BELT,FAN - D491136 | BELT,V,220LC,200W,921 - 2106-1017D3, 65.96801-0058 |
| BELT,FAN - D491454 | BELT,V,280,320,M300,M400,305 - 2106-1017D4, 06.58043-0552 |
| BELT,FAN - D830034, 65.96801-0004 | BELT,V,280,320,M300,M400FOR ALTERNATO - 2106-1017D5, 65.96801-0073 |
| BELT,FAN - D830108 | BELT,V,280-3,330-3,400LC-3 FOR ALT - 2106-1017D17, 65.96801-0122 |
| BELT,FAN - MX051382 | BELT,V,450 - 2106-1017D7, 65.96801-0070 |
| BELT,FAN - MX251035 | BELT,V,AIR CONDITIONER - A453979 |
| BELT,FAN - MX251036 | BELT,V,ALTERNATOR, FOR D436 - A138274 |
| BELT,FAN - MX251328 | BELT,V,D30S-5 YANMAR AIRCON - 130205-00048 |
| BELT,FAN - MX351647 | BELT,V,D35/45SM-2 - A123638A, 65.96801-0004 |
| BELT,FAN - MX351819 | BELT,V,DX140W - 2106-1019D27 |
| BELT,FAN - MX451048 | BELT,V,ECRFD - A433646 |
| BELT,FAN - MX451224, MX501044 | BELT,V,EURO3 ENGINE - 65.96801-0176, 65.96801-0199 |
| BELT,FAN - MX451225 | BELT,V,EURO3 ENGINE - 65.96801-0177, 65.96801-0200 |
| BELT,FAN - MX501044 | BELT,V,EURO3 ENGINE - 65.96801-0178, 65.96801-0201 |
| BELT,FAN - MX505293 | BELT,V,EURO3 ENGINE - 65.96801-0179, 65.96801-0202 |
| BELT,FAN - MX511626 | BELT,V,EURO3 ENGINE - 65.96801-0180, 65.96801-0203 |
| BELT,FAN - MX511956 | BELT,V,EURO3 ENGINE - 65.96801-0199 |
| BELT,FAN - MX512878 | BELT,V,EURO3 ENGINE - 65.96801-0200, 65.96801-0223 |
| BELT,FAN - MX514159 | BELT,V,EURO3 ENGINE - 65.96801-0201, 65.96801-0224 |
| BELT,FAN A2300 - A293226, 65.96801-0074 | BELT,V,EURO3 ENGINE - 65.96801-0202, 65.96801-0225 |
| BELT,FAN(DISC) - A351250 | BELT,V,EURO3 ENGINE - 65.96801-0203 |
| BELT,FAN,A2300, D25AE - A298149 | BELT,V,FAN - A218469, 65.96801-0007 |
| BELT,FAN,D439E - A453579 | BELT,V,FOR D25S SAFETY - A213946 |
| BELT,FAN,ENGINE - 106-00024 | BELT,V,FOR EURO-3 ENGINE - 65.96801-0170, 65.96801-0155 |
| BELT,FAN,FAN - A373024 | BELT,V,FOR EURO-3 ENGINE - 65.96801-0213 |
| BELT,FAN,FAN_A_TYPE _1175 - A413500 | BELT,V,FOR EURO-3 ENGINE - 65.96801-0214 |
| BELT,FAN,FAN_POLY_6PK_1165 - A403601 | BELT,V,FOR EURO-3 ENGINE - 65.96801-0215 |
| BELT,FAN,GM3.0L_HI-FAN - 130202-00033 | BELT,V,FOR EURO-3 ENGINE - 65.96801-0216 |
| BELT,FAN,GM4.3L AIR CONDITIONER - 130202-00003 | BELT,V,FOR G25S SAFETY - A213945, D160589S |
| BELT,FAN,M400-3 (P) - 2106-1021D11, 65.96801-0009 | BELT,V,L1625, B TYPE - A138438, 65.96801-0158 |
| BELT,FAN,RIB TYPE, FOR SAFETY - A232362 | BELT,V,M001 - 2106-1021D20, 65.96801-0108 |
| BELT,FAN,S55V - 2106-1021D12 | BELT,V,M001 - 65.96801-0108 |
| BELT,FLAT - 913681F | BELT,V,M105(FAN) - 2106-1019D23, 65.96801-0128 |
| BELT,LINK - 65.96801-0052A | BELT,V,M130-3 - 2106-1021D13, 65.96801-0075 |
| BELT,LINK - 65.96801-20MT | BELT,V,M200-3 - 2106-1019D11 |
| BELT,RIBBED - K9002603 | BELT,V,M300-V,M400-V - 2106-1019D22, 65.96801-0144 |
| BELT,S330LC-V,S360LC-V,S400LC-V - 2106-1019D17, 65.96801-0138 | BELT,V,M400(P)-3 - 2106-1019D12, 65.96801-0126A |
| BELT,SAFETY,DRIVER PROTECTOR - 2901-9007 | BELT,V,M500-V(QSM11) - 2106-1021D22, 65.96801-0153 |
| BELT,SEAT - 172561, 1.901-00002 | BELT,V,M500-VG - 2106-1021D26 |
| BELT,SEAT - 220213-00001 | BELT,V,MEGA - 2106-1019D24 |
| BELT,SEAT - 220213-00003 | BELT,V,MEGA 400-V,MEGA 300-V - 2106-1019D19, 2106-1019D20 |
| BELT,SEAT - 220213-00004 | BELT,V,MEGA 400-V/S360LC-V - 2106-1019D20 |
| BELT,SEAT - 220213-00009 | BELT,V,MEGA 500-V - 2106-1021D14, 65.96801-0133 |
| BELT,SEAT - 220213-00012 | BELT,V,MEGA 500-V - 2106-1021D15 |
| BELT,SEAT - 220213-00013 | BELT,V,PULLEY - 65.02601-0229 |
| BELT,SEAT - 220213-00014 | BELT,V,RAW EDGE COGGED TYPE - 06.58042-0530, 65.96801-0068D |
| BELT,SEAT - 220213-00015 | BELT,V,RAW EDGE COGGED TYPE - 65.96801-0004 |
| BELT,SEAT - 5901-1093 | BELT,V,RAW EDGE COGGED TYPE - 65.96801-0005 |
| BELT,SEAT - 901-00007 | BELT,V,RAW EDGE COGGED TYPE - 65.96801-0007 |
| BELT,SEAT - 901-00050 | BELT,V,RAW EDGE COGGED TYPE - 65.96801-0008 |
| BELT,SEAT - A147495 | BELT,V,RAW EDGE COGGED TYPE - 65.96801-0018 |
| BELT,SEAT - A172272 | BELT,V,RAW EDGE COGGED TYPE - 65.96801-0019 |
| BELT,SEAT - K9002018 | BELT,V,RAW EDGE COGGED TYPE - 65.96801-0030D, 65.96801-0073 |
| BELT,SEAT - K9005693 | BELT,V,RAW EDGE COGGED TYPE - 65.96801-0031D, 65.96801-0072 |
| BELT,SEAT,OPERATOR - K1020168 | BELT,V,RAW EDGE COGGED TYPE - 65.96801-0057 |
| BELT,SEAT,SEAT - 1.901-00002 | BELT,V,RAW EDGE COGGED TYPE - 65.96801-0058 |
| BELT,SEAT,SEAT - A159234 | BELT,V,RAW EDGE COGGED TYPE - 65.96801-0059 |
| BELT,SEAT,SEAT - K9001218 | BELT,V,RAW EDGE COGGED TYPE - 65.96801-0060 |
| BELT,SEAT,SEAT WITH SWITCH - A159235 | BELT,V,RAW EDGE COGGED TYPE - 65.96801-0061 |
| BELT,SEAT,SUPPLEMENT - SB2024E00 | BELT,V,RAW EDGE COGGED TYPE - 65.96801-0062 |
| BELT,SEAT,SWITCH - A172271, A159235 | BELT,V,RAW EDGE COGGED TYPE - 65.96801-0064 |
| BELT,SEAT,WITH SWITCH - A462738 | BELT,V,RAW EDGE COGGED TYPE - 65.96801-0066 |
| BELT,SERPENTINE - A232198 | BELT,V,RAW EDGE COGGED TYPE - 65.96801-0067 |
| BELT,SERPENTINE - A233152 | BELT,V,RAW EDGE COGGED TYPE - 65.96801-0068 |
| BELT,TEATNER BELT. SERVICE KIT - MX516057 | BELT,V,RAW EDGE COGGED TYPE - 65.96801-0069 |
| BELT,TETHER - 172287, 2.106-00005 | BELT,V,RAW EDGE COGGED TYPE - 65.96801-0072 |
| BELT,TETHER - 2.106-00005 | BELT,V,RAW EDGE COGGED TYPE - 65.96801-0073 |
| BELT,TIMING - A403831 | BELT,V,RAW EDGE COGGED TYPE - 65.96801-0075 |
| BELT,TIMING,BALANCER TIMING - A218198 | BELT,V,RAW EDGE COGGED TYPE - 65.96801-0076 |
| BELT,TIMING,GM4.3L - A433644 | BELT,V,RAW EDGE COGGED TYPE - 65.96801-0083 |
| BELT,TONGUE - A152348 | BELT,V,RAW EDGE COGGED TYPE - 65.96801-0084 |
| BELT,V - 06.58042-0313 | BELT,V,RAW EDGE COGGED TYPE - 65.96801-0085 |
| BELT,V - 06.58042-0512, 65.96801-0071 | BELT,V,RAW EDGE COGGED TYPE - 65.96801-0087 |
| BELT,V - 06.58042-0514 | BELT,V,RAW EDGE COGGED TYPE - 65.96801-0092 |
| BELT,V - 06.58042-0526, 65.96801-0161 | BELT,V,RAW EDGE COGGED TYPE - 65.96801-0094 |
| BELT,V - 06.58042-0711 | BELT,V,RAW EDGE COGGED TYPE - 65.96801-0095 |
| BELT,V - 06.58043-0520 | BELT,V,RAW EDGE COGGED TYPE - 65.96801-0096 |
| BELT,V - 06.58043-0521 | BELT,V,RAW EDGE COGGED TYPE - 65.96801-0097 |
| BELT,V - 06.58043-0523, 65.96801-0082 | BELT,V,RAW EDGE COGGED TYPE - 65.96801-0098 |
| BELT,V - 06.58043-0530, 06.58042-0530 | BELT,V,RAW EDGE COGGED TYPE - 65.96801-0100 |
| BELT,V - 06.58043-0552, 65.96801-0014 | BELT,V,RAW EDGE COGGED TYPE - 65.96801-0103 |
| BELT,V - 06.58043-0555 | BELT,V,RAW EDGE COGGED TYPE - 65.96801-0106 |
| BELT,V - 06.58043-0558 | BELT,V,RAW EDGE COGGED TYPE - 65.96801-0107 |
| BELT,V - 06.58043-0726, 65.96801-0064 | BELT,V,RAW EDGE COGGED TYPE - 65.96801-0109 |
| BELT,V - 104514-42780 | BELT,V,RAW EDGE COGGED TYPE - 65.96801-0113 |
| BELT,V - 1106-2001 | BELT,V,RAW EDGE COGGED TYPE - 65.96801-0115 |
| BELT,V - 1106-2004 | BELT,V,RAW EDGE COGGED TYPE - 65.96801-0116, 65.96801-0131 |
| BELT,V - 119656-42290 | BELT,V,RAW EDGE COGGED TYPE - 65.96801-0117 |
| BELT,V - 119865-42290 | BELT,V,RAW EDGE COGGED TYPE - 65.96801-0122 |
| BELT,V - 121236-42290, D460217 | BELT,V,RAW EDGE COGGED TYPE - 65.96801-0127 |
| BELT,V - 129612-42400 | BELT,V,RAW EDGE COGGED TYPE - 65.96801-0131 |
| BELT,V - 129916-42400, 2106-1021D21 | BELT,V,RAW EDGE COGGED TYPE - 65.96801-0132 |
| BELT,V - 130205-00001, K1019626 | BELT,V,RAW EDGE COGGED TYPE - 65.96801-0133 |
| BELT,V - 130205-00028 | BELT,V,RAW EDGE COGGED TYPE - 65.96801-0134 |
| BELT,V - 130205-00030 | BELT,V,RAW EDGE COGGED TYPE - 65.96801-0135 |
| BELT,V - 130205-00074 | BELT,V,RAW EDGE COGGED TYPE - 65.96801-0151 |
| BELT,V - 130205-00076 | BELT,V,RAW EDGE COGGED TYPE - 65.96801-0152 |
| BELT,V - 130205-00143 | BELT,V,RAW EDGE COGGED TYPE - 65.96801-0156 |
| BELT,V - 130205-00251 | BELT,V,RAW EDGE COGGED TYPE - 65.96801-0157 |
| BELT,V - 16282-9701-0 | BELT,V,RAW EDGE COGGED TYPE - 65.96801-0158 |
| BELT,V - 171087-42280, D471065 | BELT,V,RAW EDGE COGGED TYPE - 65.96801-0159 |
| BELT,V - 2.106-00007, 106-00024 | BELT,V,RAW EDGE COGGED TYPE - 65.96801-0160 |
| BELT,V - 2106-1008, 2106-1008A | BELT,V,RAW EDGE COGGED TYPE - 65.96801-0168, 65.96801-0168A |
| BELT,V - 2106-1008A, 65.96801-0157 | BELT,V,RAW EDGE COGGED TYPE - 65.96801-0168A |
| BELT,V - 2106-1009, 65.96801-0072 | BELT,V,RAW EDGE COGGED TYPE - 65.96801-0182 |
| BELT,V - 2106-1012 | BELT,V,RAW EDGE COGGED TYPE - 65.96801-0183 |
| BELT,V - 2106-1016D1, 2106-1021D1 | BELT,V,RAW EDGE COGGED TYPE NARROW V - 65.96801-0195A |
| BELT,V - 2106-1016D2, 65.96801-0104 | BELT,V,RAW EDGE COGGED TYPE NARROW V - 65.96801-0197A |
| BELT,V - 2106-1016D3, 65.96801-0018 | BELT,V,RAW EDGE COGGED TYPE NARROW V - 65.96801-0204 |
| BELT,V - 2106-1016D4, 2106-1021D4 | BELT,V,RAW EDGE COGGED TYPE NARROW V - 65.96801-0205 |
| BELT,V - 2106-1016D5 | BELT,V,RAW EDNE COGGED TYPE - 65.96801-0195, 65.96801-0195A |
| BELT,V - 2106-1016D6, 65.96801-0160 | BELT,V,RAW EDNE COGGED TYPE - 65.96801-0196, 65.96801-0196A |
| BELT,V - 2106-1016D8, 2106-1021D8 | BELT,V,RAW EDNE COGGED TYPE - 65.96801-0196A |
| BELT,V - 2106-1016D9, 2106-1021D9 | BELT,V,RAW EDNE COGGED TYPE - 65.96801-0197, 65.96801-0197A |
| BELT,V - 2106-1018D1, 65.96801-0120 | BELT,V,RAW EDNE COGGED TYPE - 65.96801-0208 |
| BELT,V - 2106-1018D2, 65.96801-0118 | BELT,V,RAW EDNE COGGED TYPE - 65.96801-0210 |
| BELT,V - 2106-1018D3 | BELT,V,RAW EDNE COGGED TYPE - 65.96801-0211 |
| BELT,V - 2106-1018D4 | BELT,V,RIBBED - 65.96801-0194, 130205-00251 |
| BELT,V - 2106-1018D5 | BELT,V,S030P/S035 - 2106-1021D23 |
| BELT,V - 2106-1019D10 | BELT,V,S130-V,S220LC-V - 2106-1019D5 |
| BELT,V - 2106-1019D15, 65.96801-0201 | BELT,V,S130W-3 - 2106-1021D4, 65.96801-0066 |
| BELT,V - 2106-1019D2 | BELT,V,S130W-V(FAN) - 2106-1019D6, 65.96801-0124A |
| BELT,V - 2106-1019D25 | BELT,V,S130W-V,S130-V - 2106-1019D1, 65.96801-0207 |
| BELT,V - 2106-1019D26 | BELT,V,S170LC-V - 2106-1019D18, 65.96801-0141 |
| BELT,V - 2106-1019D28 | BELT,V,S170W-3(COMPRESSOR) - 2106-1021D9 |
| BELT,V - 2106-1019D29 | BELT,V,S200-V - 2106-1019D4, 65.96801-0124A |
| BELT,V - 2106-1021D1 | BELT,V,S220LC,S200W - 2106-1021D5, 2106-1016D5 |
| BELT,V - 2106-1021D21, 65.96801-0004 | BELT,V,S250LC-V(FAN) - 2106-1019D16, 65.96801-0149 |
| BELT,V - 2106-1021D25, 65.96801-0072 | BELT,V,S280-V(FAN) - 2106-1019D3, 65.96801-0123 |
| BELT,V - 2106-6001, 2106-1018D1 | BELT,V,S280LC-III - 2106-1017D14, 65.96801-0121 |
| BELT,V - 2106-6002 | BELT,V,S330-V,S360LC-V,S400LC-V - 2106-1019D13, 65.96801-0130 |
| BELT,V - 2106-9005 | BELT,V,S450 - 2106-1017D13, 65.96801-0111 |
| BELT,V - 2106-9011, 2106-1017D3 | BELT,V,S450-V - 2106-1019D14 |
| BELT,V - 2106-9018, 2106-1017D3 | BELT,V,S450LC-V STD - 2106-1019D21, 65.96801-0034 |
| BELT,V - 2106-9028, 65.96801-0061 | BELT,V,S50 - 2106-1021D2, 65.96801-0104 |
| BELT,V - 25132-003700 | BELT,V,S50,S50W - 2106-1017D6, 65.96801-0072 |
| BELT,V - 25132-004250, 2106-1021D13 | BELT,V,S55 - 2106-1021D19 |
| BELT,V - 2614B656 | BELT,V,S55W-V - 2106-1021D18 |
| BELT,V - 2995-770-X91 | BELT,V,S80W-3 - 2106-1021D8 |
| BELT,V - 2995-920-X91 | BELT,V,T30 - 130205-00138 |
| BELT,V - 3028521 | BELT,V,TYPE A V_A1200 - A408062 |
| BELT,V - 4106-1010 | BELT,V,TYPE A V_A1225 - A408023 |
| BELT,V - 4106-1011 | BELT,V,TYPE A V_A1275 - A408067 |
| BELT,V - 4106-1015 | BELT,V,UL DS OPTION V_A1250 - A408063 |
| BELT,V - 51.96820-0175 | BELT,V,V-RIB - A233437 |
| BELT,V - 51.96820-0288 | BELT,V,V-RIBBED TYPE BELT - 65.96801-0034, 65.96801-0034A |
| BELT,V - 5714781 | BELT,V,V-RIBBED TYPE BELT - 65.96801-0034A |
| BELT,V - 5715360 | BELT,V,V-RIBBED TYPE BELT - 65.96801-0123, 65.96801-0123A |
| BELT,V - 5718288 | BELT,V,V-RIBBED TYPE BELT - 65.96801-0123A |
| BELT,V - 5741438 | BELT,V,V-RIBBED TYPE BELT - 65.96801-0124, 65.96801-0124A |
| BELT,V - 65.96801-0009, 65.96801-0151 | BELT,V,V-RIBBED TYPE BELT - 65.96801-0124A |
| BELT,V - 65.96801-0013, 65.96801-0103 | BELT,V,V-RIBBED TYPE BELT - 65.96801-0126, 65.96801-0126A |
| BELT,V - 65.96801-0014, 65.96801-0059 | BELT,V,V-RIBBED TYPE BELT - 65.96801-0126A, 65.96801-0226 |
| BELT,V - 65.96801-0017 | BELT,V,V-RIBBED TYPE BELT - 65.96801-0128, 65.96801-0128A |
| BELT,V - 65.96801-0023 | BELT,V,V-RIBBED TYPE BELT - 65.96801-0128A, 65.96801-0227 |
| BELT,V - 65.96801-0025 | BELT,V,V-RIBBED TYPE BELT - 65.96801-0130, 65.96801-0130A |
| BELT,V - 65.96801-0028, 65.96801-0085 | BELT,V,V-RIBBED TYPE BELT - 65.96801-0130A, 65.96801-0228 |
| BELT,V - 65.96801-0030, 65.96801-0073 | BELT,V,V-RIBBED TYPE BELT - 65.96801-0138, 65.96801-0138A |
| BELT,V - 65.96801-0031 | BELT,V,V-RIBBED TYPE BELT - 65.96801-0138A |
| BELT,V - 65.96801-0039 | BELT,V,V-RIBBED TYPE BELT - 65.96801-0140, 65.96801-0140A |
| BELT,V - 65.96801-0040 | BELT,V,V-RIBBED TYPE BELT - 65.96801-0140A |
| BELT,V - 65.96801-0041D, 65.96801-0076 | BELT,V,V-RIBBED TYPE BELT - 65.96801-0141, 65.96801-0141A |
| BELT,V - 65.96801-0045D, 65.96801-0069 | BELT,V,V-RIBBED TYPE BELT - 65.96801-0141A, 65.96801-0229 |
| BELT,V - 65.96801-0048 | BELT,V,V-RIBBED TYPE BELT - 65.96801-0142, 65.96801-0142A |
| BELT,V - 65.96801-0054, 65.96801-0058 | BELT,V,V-RIBBED TYPE BELT - 65.96801-0143, 65.96801-0143A |
| BELT,V - 65.96801-0068D, 65.96801-0068 | BELT,V,V-RIBBED TYPE BELT - 65.96801-0143A |
| BELT,V - 65.96801-0070 | BELT,V,V-RIBBED TYPE BELT - 65.96801-0144, 65.96801-0144A |
| BELT,V - 65.96801-0071 | BELT,V,V-RIBBED TYPE BELT - 65.96801-0144A, 65.96801-0230 |
| BELT,V - 65.96801-0072D | BELT,V,V-RIBBED TYPE BELT - 65.96801-0145, 65.96801-0145A |
| BELT,V - 65.96801-0073D, 65.96801-0073 | BELT,V,V-RIBBED TYPE BELT - 65.96801-0145A |
| BELT,V - 65.96801-0074 | BELT,V,V-RIBBED TYPE BELT - 65.96801-0146, 65.96801-0148 |
| BELT,V - 65.96801-0076D | BELT,V,V-RIBBED TYPE BELT - 65.96801-0148 |
| BELT,V - 65.96801-0079 | BELT,V,V-RIBBED TYPE BELT - 65.96801-0148A |
| BELT,V - 65.96801-0080 | BELT,V,V-RIBBED TYPE BELT - 65.96801-0149, 65.96801-0177 |
| BELT,V - 65.96801-0081 | BELT,V,V-RIBBED TYPE BELT - 65.96801-0155, 65.96801-0155A |
| BELT,V - 65.96801-0082 | BELT,V,V-RIBBED TYPE BELT - 65.96801-0155A |
| BELT,V - 65.96801-0083D, REC-HA57 | BELT,V,V-RIBBED TYPE BELT - 65.96801-0163 |
| BELT,V - 65.96801-0086, 65.96801-0086D | BELT,V,V-RIBBED TYPE BELT - 65.96801-0164, 65.96801-0203 |
| BELT,V - 65.96801-0086D | BELT,V,V-RIBBED TYPE BELT - 65.96801-0165 |
| BELT,V - 65.96801-0089 | BELT,V,V-RIBBED TYPE BELT - 65.96801-0171, 65.96801-0180 |
| BELT,V - 65.96801-0099 | BELT,V,V-RIBBED TYPE BELT - 65.96801-0173, 65.96801-0201 |
| BELT,V - 65.96801-0101 | BELT,V,V-RIBBED TYPE BELT - 65.96801-0174, 65.96801-0203 |
| BELT,V - 65.96801-0104 | BELT,V,V-RIBBED TYPE BELT - 65.96801-0207 |
| BELT,V - 65.96801-0111 | BELT,V,VALVE TIMING - A218162 |
| BELT,V - 65.96801-0112, 65.96801-0121 | BELT,V,VALVE TIMING - A252036 |
| BELT,V - 65.96801-0114 | BELT,V,WATER - A433756 |
| BELT,V - 65.96801-0118 | BELT,V,WATER PUMP - 130205-00064 |
| BELT,V - 65.96801-0119 | |