Hyundai Track Shoes
Hyundai track shoe - an integral part of the crawler chain Hyundai construction machines on equipment such as excavators, lifting machines, bulldozers, tractors and more. Designed to reduce the specific pressure of the weight of the base machine on the surface, which ensures patency on weak soils. To work equipped with rubber Hyundai tracks in urban areas, reducing noise and damage cover (asphalt, concrete and so on). For work in wetland conditions, arched track shoes are used.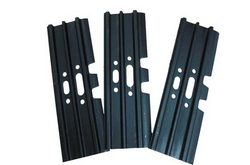 The Hyundai shoe track is one of the components of the Hyundai track. Hyundai shoes tracks are cast or forged units of wear-resistant steel, having on the outer surface of the lugs on the inner surface - the guide ridges, and apertures which include the teeth of the drive wheels, and lugs, which includes connecting pins pivotally connecting the tracks with each other. According to the constructive implementation of the Hyundai links, there are composite and integral castings.
At present, several dozen types of Hyundai shoes track are known. The design and material of the Hyundai shoe track are determined by the type and conditions in which the machinery will be operated. The choice of the type of Hyundai shoe track affects everything from weather conditions to the type of soil. For example, in the marshes are exploited wider swamp Hyundai track shoe.
All necessary original Hyundai undercarriage parts and aftermarket or replacement Hyundai track shoes online
| | |
| --- | --- |
| 81E6-26011 - SHOE-TRACK | 84E7-00581 - SHOE-TRACK |
| 81E6-26021 - SHOE-TRACK | 84E7-00590 - SHOE-TRACK 750mm |
| 81E6-26031 - SHOE-TRACK | 84E7-00591 - SHOE-TRACK |
| 81E6-26041 - SHOE-TRACK | 84E7-00601 - SHOE-TRACK |
| 81EH-28030 - SHOE-TRACK 600MM | 84E7-00601BG - SHOE-TRACK |
| 81EH-28031 - SHOE-TRACK | 84E7-00611 - SHOE-TRACK |
| 81EH-28031BG - SHOE-TRACK | E181-25061 - SHOE-TRACK(700MM) THICKNESS 9T |
| 81EH-28040 - SHOE-TRACK 700 | E181-25081 - SHOE-TRACK(800MM) |
| 81EH-28041 - SHOE-TRACK | ZTAA-00070 - SHOE-TRACK |
| 81EH-28041BG - SHOE-TRACK | ZTAA-00135 - SHOE-TRACK |
| 81EH-28050 - SHOE-TRACK 750MM | ZTAA-00136 - SHOE-TRACK |
| 81EH-28051 - SHOE-TRACK | 81E5-2502 - TRACK SHOE(600MM) |
| 81EH-28051BG - SHOE-TRACK | 81E5-2507 - TRACK SHOE(710MM)3BAR |
| 81EH-28061 - SHOE-TRACK | 81E5-2508 - TRACK SHOE(800MM) |
| 81EH-28061BG - SHOE-TRACK | 81E5-2509 - TRACK SHOE(900MM) |
| 81EH-28070 - SHOE-TRACK-900MM | 81E5-25100 - TRACK SHOE (750MM) |
| 81EH-28071 - SHOE-TRACK | 81E6-2502 - TRACK SHOE(600MM) |
| 81EH-28071BG - SHOE-TRACK | 81E6-2505 - TRACK SHOE(500MM) (nsp) |
| 81EL-28530 - SHOE-TRACK - 600MM | 81E6-2507 - TRACK SHOE(710MM) |
| 81EM-28030BG - SHOE-TRACK | 81E6-25090 - TRACK SHOE (960MM) SINGLE |
| 81EM-28031 - SHOE-TRACK | 81E6-26010 - TRACK SHOE(500MM) |
| 81EM-28031BG - SHOE-TRACK | 81E6-26020 - TRACK SHOE(600MM) |
| 81EM-28040BG - SHOE-TRACK | 81E6-26030 - TRACK SHOE(700MM) |
| 81EM-28060BG - SHOE-TRACK | 81E6-26040 - TRACK SHOE(800MM) 5/8 |
| 81EM-28070 - SHOE-TRACK (900MM) | 81E6-27090 - TRACK SHOE(960MM)SINGLE |
| 81EM-28070BG - SHOE-TRACK | 81E7-0020 - TRACK SHOE(600MM) |
| 81EM-28610BG - SHOE-TRACK | 81E7-0131 - TRACK SHOE(710MM) |
| 81EM-28630 - SHOE-TRACK | 81E7-0132 - TRACK SHOE(750MM) |
| 81N4-24520 - SHOE-TRACK | 81E7-0133 - TRACK SHOE(900MM) |
| 81N4-24530 - SHOE-TRACK | 81E7-0134 - TRACK SHOE(810MM) |
| 81N4-24540 - SHOE-TRACK | 81E9-28610 - TRACK SHOE |
| 81N5-24530 - SHOE-TRACK | 81EH-28060 - TRACK SHOE 800MM |
| 81N5-24560 - SHOE-TRACK | 81EH-28540 - TRACK SHOE(700MM) |
| 81N5-24560BG - SHOE-TRACK | 81EH-28560 - TRACK SHOE (800MM) |
| 81N6-22530 - SHOE-TRACK | 81EM-28010 - TRACK SHOE(800MM) - 2 BAR |
| 81N6-24520 - SHOE-TRACK | 81EM-28030 - TRACK SHOE(600MM) |
| 81N6-24530 - SHOE-TRACK | 81EM-28040 - TRACK SHOE(700MM) |
| 81N6-24530BG - SHOE-TRACK | 81EM-28060 - TRACK SHOE (800MM) |
| 81N6-24540 - SHOE-TRACK | 81EM-28080 - TRACK SHOE-SWAMP |
| 81N6-24540BG - SHOE-TRACK | 81EM-28610 - TRACK SHOE 700mm |
| 81N6-24560 - SHOE-TRACK | 81M5-51090 - TRACK SHOE 400MM |
| 81N6-25530 - SHOE-TRACK | 81M9-24510 - TRACK SHOE |
| 81N6-25540 - SHOE-TRACK | 81M9-25510 - TRACK SHOE |
| 81N6-25560 - SHOE-TRACK | 81M9-26510 - TRACK SHOE |
| 81N6-26520 - SHOE-TRACK | 81M9-27510 - TRACK SHOE |
| 81N8-25530BG - SHOE-TRACK | 81N1-24510 - TRACK SHOE |
| 81N8-25540BG - SHOE-TRACK | 81N1-26510 - TRACK SHOE |
| 81N8-26530 - SHOE-TRACK | 81N1-26530 - TRACK SHOE |
| 81N8-26530BG - SHOE-TRACK | 81N3-25520 - TRACK SHOE |
| 81N8-26540 - SHOE-TRACK | 81N3-26520 - TRACK SHOE |
| 81N8-26540BG - SHOE-TRACK | 81N3-26530 - TRACK SHOE |
| 81N8-26560 - SHOE-TRACK(800MM) | 81N3-26540 - TRACK SHOE |
| 81N8-26570 - SHOE-TRACK | 81N6-24570 - TRACK SHOE(900MM) |
| 81N8-27540 - SHOE-TRACK | 81N8-25530 - TRACK SHOE |
| 81NA-25530 - SHOE-TRACK | 81N8-25540 - TRACK SHOE |
| 81NA-25530BG - SHOE-TRACK | 81NA-25560BG - TRACK SHOE |
| 81NA-25540 - SHOE-TRACK | 81NB-25530 - TRACK SHOE(600MM) |
| 81NA-25540BG - SHOE-TRACK | 81W2-10010 - TRACK SHOE (710MM) 2 GROUSER |
| 81NA-25550 - SHOE-TRACK | 82E6-2507 - TRACK SHOE(710MM) |
| 81NA-25560 - SHOE-TRACK | 83E1-2509 - TRACK SHOE(900MM) |
| 81NA-25570 - SHOE-TRACK | 83E5-2509 - TRACK SHOE |
| 81NB-25530BG - SHOE-TRACK | AC226A - BOLT-TRACK SHOE |
| 81NB-25560 - SHOE-TRACK | CR1250B - NUT-TRACK SHOE |
| 81NB-25560BG - SHOE-TRACK | CR4595 - BOLT-TRACK SHOE |
| 81NB-27530 - SHOE-TRACK | E181-2503 - TRACK SHOE(610MM) |
| 81NB-27531 - SHOE-TRACK | E181-2506 - TRACK SHOE(710MM) THICKNESS 10.5T |
| 81NB-27531BG - SHOE-TRACK | E181-2508 - TRACK SHOE(800MM) see note |
| 81NB-27540 - SHOE-TRACK | E181-2510 - TRACK SHOE(910MM) |
| 81NB-27541 - SHOE-TRACK | E182-2503 - TRACK SHOE |
| 81NB-27541BG - SHOE-TRACK | E282-2502 - TRACK SHOE(600MM) |
| 84E7-00570 - SHOE-TRACK 600mm | E282-2506 - TRACK SHOE(700MM) |
| 84E7-00571 - SHOE-TRACK | E282-2508 - TRACK SHOE(800MM) |
| 84E7-00571BG - SHOE-TRACK | E282-2509 - TRACK SHOE(910MM) SWAMP - V |
| 84E7-00580 - SHOE-TRACK | RL101-3018 - TRACK SHOE 2 BAR |