Hyundai Starter Motors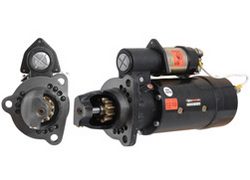 As the name suggests, a Hyundai starter for heavy equipment is used to start an internal combustion engine. To do this, it provides a primary rotation of the crankshaft with the required frequency. The starter is an integral part of the electrical system of any modern Hyundai equipment. Structurally it is a four-pole DC motor, powered by a Hyundai battery.
The Hyundai engine generates the energy necessary for the movement of the Hyundai equipment, due to the speed of the Hyundai crankshaft. All electrical equipment works from the same energy. In a stationary state, the engine is not capable of delivering either torque or electric energy. In this regard, it is necessary to "untwist" it with a special electric motor - a Hyundai starter motor, and an external power source - a Hyundai battery.
On motors with diesel power system, as well as on high-power engines, a Hyundai starter motor with a gearbox is installed. The planetary gearbox, consisting of several gears, is mounted in the starter housing. It several times strengthens the passing voltage, thereby increasing the torque.
Order the original or replacement (aftermarket) Hyundai starter motor you need online.
| | |
| --- | --- |
| 01180999 - STARTER | 21N6-21200 - CABLE(BATT RY-STARTER) |
| 05121-10600 - SWITCH-STARTER | 21N6-21210 - CABLE(BATT RY-STARTER) |
| 119836-77710 - STARTER ASSY | 21N8-10131 - CABLE(BATT RY-STARTER) |
| 129429-77011 - STARTER ASSY | 21N8-10132 - CABLE(BATT RY-STARTER) |
| 129429-77380 - STARTER KIT | 21N8-10200 - CABLE(ALT-STARTER) |
| 129429-77390 - STARTER KIT | 21N8-10201 - CABLE(ALT-STARTER) |
| 129900-77010 - STARTER(2.3KW | 21N8-12080 - CABLE(STARTER-HEATER RY) |
| 15461-6301-0 - ASSY STARTER | 21N8-42030 - CABLE(BATTRY-STARTER) |
| 15461-63011 - ASS'Y STARTER | 21N9-10100 - CABLE(RELAY-STARTER) |
| 16652-63010 - STARTER ASSY | 21N9-40030 - CABLE(BATTRY-STARTER) |
| 1C010-63010 - STARTER ASSY | 21NA-10200 - CABLE(ALT-STARTER) |
| 206389 - COVER-STARTER FLANGE | 21NA-10300 - CABLE(STARTER-HT RY) |
| 21E2-1000 - CABLE(STARTER-H/RELA | 21NA-40020 - CABLE(BATT RY-STARTER) |
| 21E2-60000 - CABLE(BATT RY-STARTER) | 21ND-10052 - CABLE(BATT RY-STARTER) |
| 21E2-60010 - CABLE(BATT RY-STARTER) | 21Q8-60030 - CABLE(RELAY-STARTER) |
| 21E2-60020 - CABLE(BATT RY-STARTER) | 21Q9-60030 - CABLE(RELAY-STARTER) |
| 21E2-60030 - CABLE(BATT-STARTER) | 21QA-40070 - CABLE(ALT-STARTER) |
| 21E2-60031 - CABLE(BATT RY-STARTER) | 21QA-60030 - CABLE(BATT RY-STARTER) |
| 21E2-60040 - CABLE(BATT-STARTER) | 21QB-22200 - CABLE(BATT RY-STARTER) |
| 21E6-10370 - CABLE(BATT-STARTER) | 21S1-0003 - STARTER |
| 21E6-10430 - IGNITION SWITCH-STARTER | 24L1-40190 - CABLE-STARTER |
| 21EA-60610 - CABLE(BATT RY-STARTER) | 24L1-40200 - CABLE-STARTER |
| 21EA-60611 - CABLE(BATT RY-STARTER) | 24L1-40201 - CABLE-STARTER |
| 21EG-10100 - CABLE/BATT RY-STARTER | 3021036 - STARTER |
| 21EG-10101 - CABLE(BATT RY-STARTER) | 3031007 - GASKET,STARTER |
| 21F6-20041 - SWITCH ASSY STARTER | 30890-05200 - SWITCH-STARTER |
| 21L6-40190 - CABLE(BATT RY-STARTER) | 32A66-01200 - STARTER ASSY |
| 21L8-10280 - CABLE(RELAY-STARTER) | 32A66-19200 - RELAY-STARTER |
| 21L8-10281 - CABLE(RELAY-STARTER) | 32B66-20102 - STARTER ASSY |
| 21L8-10310 - CABLE-STARTER | 36100-41C00 - STARTER |
| 21LB-20450 - CABLE(STARTER-HEAT RY) | 36100-83010 - STARTER ASS'Y |
| 21LB-34200 - CABLE(ALT-STARTER) | 36100-93011 - STARTER ASSY |
| 21LB-34201 - CABLE(ALT-STARTER) | 36120-93000 - SWITCH ASS'Y STARTER |
| 21LB-34530 - CABLE(BATT RY-STARTER) | 3909914 - STARTER(240) |
| 21LC-40061 - CABLE(STARTER-HEATER RY) | 3920329 - STARTER |
| 21LC-40070 - CABLE(ALT-STARTER) | E229-0013 - STARTER(240) |
| 21LC-40071 - CABLE(ALT-STARTER) | F21830010 - STARTER SWITCH |
| 21LC-40072 - CABLE(ALT-STARTER) | MC842657 - SWITCH,STARTER |
| 21LC-41010 - CABLE(ALT-STARTER) | XJAF-00504 - STARTER ASSY |
| 21LD-20050 - CABLE(RELAY-STARTER) | XJAF-01625 - STARTER ASSY |
| 21LD-20051 - CABLE(RELAY-STARTER) | XJAF-01740 - STARTER ASSY |
| 21LD-20060 - CABLE(HEATER RY-STARTER) | XJAF-01790 - STARTER ASSY |
| 21LD-34130 - CABLE(RELAY-STARTER) | XJAF-01791 - RELAY-STARTER |
| 21LF-34130 - CABLE(BATT RY-STARTER) | XJAF-02242 - STARTER ASSY |
| 21LH-20050 - CABLE(RELAY-STARTER) | XJAF-02674 - STARTER ASSY |
| 21LK-07250 - CABLE(BATT RY-STARTER) | XJAU-00240 - STARTER |
| 21LL-07250 - CABLE(RELAY-STARTER) | XJAU-00822 - STARTER |
| 21LM-07250 - CABLE(RELAY-STARTER) | XJAU-00961 - STARTER |
| 21LQ-01572 - CABLE(STARTER-RELAY) | XJBR-01436 - STARTER ASSY |
| 21M8-03911 - CABLE(BATT(+)-STARTER) | XJBR-01600 - STARTER ASSY |
| 21N4-01520 - CABLE(BATT RY-STARTER) | XJBT-01005 - STARTER ASSY |
| 21N4-01570 - CABLE(ALT-STARTER) | XJBT-01018 - STARTER ASSY |
| 21N4-01571 - CABLE(ALT-STARTER) | XJBT-01941 - STARTER ASSY |
| 21N4-01580 - CABLE(STARTER-HEATER RY) | XJBT-02067 - SWITCH ASSY-STARTER |
| 21N4-01581 - CABLE(STARTER-HEATER RY) | XJBT-02068 - LABEL-STARTER SWITCH |
| 21N4-40500 - CABLE(BATTRY-STARTER) | XJBT-02222 - SWITCH-STARTER |
| 21N4-40600 - CABLE(BATTRY-STARTER) | XJBT-02223 - KEY ASSY-STARTER |
| 21N5-10100 - CABLE(STARTER-HEAT RY) | XJDH-01876 - RELAY-STARTER |
| 21N5-10130 - CABLE(BATT RY-STARTER) | ZWAC-00272 - MOTOR-STARTER |
| 21N6-01510 - CABLE(ALT-STARTER) | ZWAC-00275 - PINION-STARTER |
| 21N6-20040 - CABLE(ALT-STARTER) | ZWAC-00282 - KIT-STARTER |
| 21N6-20041 - CABLE(ALT-STARTER) | 123900-77010 - STARTER |
| 21N6-21190 - CABLE(BATT-STARTER) | |