Hyundai wires and wiring harnesses
Modern Hyundai Construction equipment, is saturated with a large number of electronics, ranging from the illumination of devices and ending with electronic equipment. For the functioning of the entire Hyundai Construction electrical system, as for any electrical system need wires.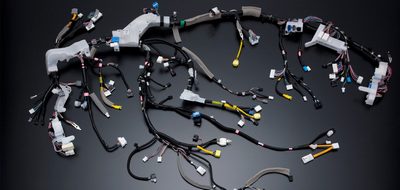 Hyundai Construction wiring comes in 2 types: high and low voltage. The first option is used in the ignition circuit, the second - to connect elements of the onboard Hyundai Construction electric system. Each wire is a collection of thin copper wires. Insulation is performed by winding Hyundai Construction wires.
The selection of such materials is dictated by the main requirements imposed on wires and Hyundai Construction wiring harnesses. Among them are: the flexibility of the wires, good conductive properties, resistance of the insulating material, both to high and to too low temperature conditions, non-propagation of the insulation of the combustion process, resistance to aggressive media such as gasoline or oil.
Hyundai Construction wiring is a collection of wires that are bundled together. In this case, the most optimal for use in such harnesses are considered to be wires with a length of at least 100mm. The harnesses also include tips, braid, caps that perform a protective function and are made, as a rule, of rubber. Since the wires are exposed to heat, this fact must be taken into account when choosing the size of the cross-section of the wires to be bundled. This is also influenced by the design features of the harness itself, the number of wires of which it consists and the strength indicators necessary for the installation and operation of wires. In the Hyundai Construction wiring, mainly wires with a cross section are used, the indicators of which are in the range of 0.5-95 mm, and the data on the insulation, respectively, are 0.35-1.6 mm. Depending on the color of the wires, there are several types of labeling. This helps to simplify their installation and helps to simplify the search in case of breakage. The color of the wires can be either completely single-colored (consists of 11 colors), or, in addition to the main color, contain stripes or rings that are colored differently.
In order to reduce radio interference, a braid of wires made of shielding material can be used, and to resist all sorts of mechanical effects that can damage wires, it is possible to use armored insulation.
The main requirements for these Hyundai Construction wires harnesses - resistance to high temperatures, oils, interference, no leakage current.
| | |
| --- | --- |
| 11E3-4015 - WIRE NET | 3287727 - CLIP-WIRE RETAINING |
| 11E3-4020 - WIRE NET | 3417095 - RETAINING CLIP-WIRE |
| 11E4-4025 - NET-WIRE | 375500043204 - WIRE ASSY-20 H818 |
| 11E6-21050 - WIRE NET | 3803682 - KIT-WIRE HARNESS |
| 11E9-40071 - NET-WIRE | 3883598 - CLIP-WIRE RETAINING |
| 11E9-4108 - WIRE NET | 3954204 - WIRE-GROUND |
| 11E9-42060 - WIRE NET | 3963736 - CLIP-WIRE RETAINING |
| 11EE-40140 - WIRE NET ASSY | 3977357 - WIRE-GROUND |
| 11EG-40060 - NET-WIRE | 3AH-0756 - WIRE HOLDER |
| 11EH-40062 - NET-WIRE | 3AH0756 - HOLDER-WIRE |
| 11EH-42060 - WIRE NET | 4200203 - RECEPTACLE & WIRE ASSY |
| 11EK-42061 - WIRE NET | 4200205 - PLUG & WIRE ASSY |
| 11EM-42060 - WIRE NET | 4200207 - WIRE |
| 11EN-42061 - WIRE NET | 4890404 - CLIP-WIRE RETAINING |
| 11M5-02780 - WIRE NET ASSY | 4AH-0643 - HOLDER-WIRE |
| 11M6-54140 - WIRE NET ASS'Y | 4AH0643 - HOLDER-WIRE |
| 11M6-54141 - WIRE NET ASSY | 51Q4-50350 - WIRE ASSY-STEEL |
| 11M6-54142 - WIRE NET | 71L1-0578 - WIRE ROPE - 450MM (18") STEP |
| 11M8-40110 - NET-WIRE | 71M7-40090 - WIRE-STEEL |
| 11M8-42071 - NET-WIRE | 71M7-40100 - BRACKET-WIRE |
| 11M9-45070 - WIRE NET ASSY | 71M8-41071 - WIRE ASSY-STEEL |
| 11N1-42160 - WIRE NET | 71M8-61200 - WIRE NET-RH |
| 11N3-40160 - WIRE NET | 71M8-61300 - WIRE NET-LH |
| 11N6-40120 - WIRE NET | 71M9-03860 - WIRE |
| 11N6-40140 - WIRE NET | 71M9-41070 - WIRE ASSY-STEEL |
| 11N6-43070 - WIRE NET | 71M9-41700 - NET-WIRE |
| 11N6-43110 - WIRE NET | 71M9-53101 - WIRE NET ASST-RH |
| 11N8-40250 - WIRE NET | 71MH-52401 - BRACKET-WIRE |
| 11N8-43241 - WIRE NET | 71MH-52801 - STEEL WIRE ASSY |
| 11N8-43242 - WIRE NET | 72LK-42330 - WIRENET |
| 11NA-40122 - WIRE NET | 72LL-42330 - WIRENET |
| 11NB-40230 - NET-WIRE | 72LM-42530 - WIRENET |
| 11NB-40240 - WIRE NET | 72LP-42330 - WIRE NET |
| 11NB-44020 - NET-WIRE | 72LP-42530 - WIRENET |
| 11NB-45230 - WIRE NET-AL COOLER | 72LQ-42330 - WIRENET |
| 11ND-40600 - WIRE NET | AH100135 - JUMP WIRE HARNESS |
| 11ND-40610 - WIRE NET | AM310-002-003 - WIRE CLAMP |
| 11Q6-40670 - NET-WIRE | AM83301500-1 - HARNESS-JUMP WIRE |
| 11Q6-40680 - NET-WIRE | AM83301502-2 - HARNESS JUMP WIRE |
| 11Q8-40270 - NET-WIRE | AM83303700-2 - HARNESS JUMP WIRE |
| 11Q8-40280 - NET-WIRE | C95110G0 - WIRE HARNESS ASSY |
| 11Q9-40641 - WIRE NET-RAD | E111-4016 - WIRE NET TWO PER SET |
| 11Q9-40651 - WIRE NET-O/C | E111-4120 - WIRE NET |
| 11QB-41300 - WIRE NET ASSY | E111-4121 - WIRE NET |
| 11QB-61070 - NET-WIRE | E121-3002 - WIRE-WIPER MOTOR |
| 12ND-40612 - NET-WIRE | E121-3009 - WIRE-WIPER MOTOR SUBS E121-3002 |
| 14E7-00440 - WIRE NET | E221-0105 - HARNESS-ENG WIRE |
| 14E7-00441 - WIRE NET | Q053-3007 - WIRE ASSY |
| 17121-63660 - WIRE ASSY-CONNECTING | Q303-5037A - WIRE ASSY |
| 201351 - CLAMP-WIRE TIE | S552-020102 - WIRE TIE - BLACK |
| 21A2-1001 - ACC WIRE HARNESS | S571-120002 - CLAMP-HOSE WIRE TYPE |
| 21A2-2002 - BOOM WIRE HARNESS | S571-140002 - CLAMP-HOSE WIRE TYPE |
| 21A2-2003 - MARK LAMP WIRE HARNESS | S571-160002 - CLAMP-HOSE,WIRE TYPE |
| 21A2-6002 - WIRE HARNESS FRONT WARNING | S571-180002 - CLAMP-HOSE WIRE TYPE |
| 21A2-80001 - UPPER WIRE HARNESS | S572-062006 - CLAMP-HOSE WIRE TYPE |
| 21E1-21110 - WIRE LINK | S572-220006 - CLAMP-HOSE WIRE TYPE |
| 21E1-49750 - WIRE LINK | S572-250002 - CLAMP-HOSE (WIRE TYPE) |
| 21E1-4981 - WIRE HARNESS | S572-270002 - CLAMP-HOSE WIRE TYPE |
| 21E3-1020 - LINK-WIRE | S572-280006 - CLAMP-HOSE WIRE TYPE |
| 21E6-1008 - HARNESS-BOOM WIRE | S572-300006 - CLAMP-HOSE,WIRE TYPE |
| 21EA-01021 - WIRE HARNESS, MAIN | S572-320006 - CLAMP-HOSE,WIRE TYPE |
| 21EA-10150 - WIRE HARNESS-BOOM | S572-340006 - CLAMP-HOSE,WIRE TYPE |
| 21EA-10160 - WIRE HARNESS | S572-380002 - CLAMP-HOSE WIRE TYPE |
| 21EA-60731 - HARNESS-WIRE SWITCH | S572-400002 - CLAMP-HOSE WIRE TY |
| 21EL-10073 - MAIN WIRE HARNESS,R180LC-3 | S572-430002 - CLAMP-WIRE TYPE |
| 21EL-10074 - MAIN WIRE HARNESS,R180LC-3 | S572-430006 - CLAMP-HOSE WIRE TYPE |
| 21EL-10075 - MAIN WIRE HARNESS, R180LC-3 | S572-460006 - CLAMP-HOSE WIRE TYPE |
| 21FA-10010 - WIRE HARNESS COWL | S572-470006 - CLAMP-HOSE WIRE TYPE |
| 21FA-10021 - WIRE HARNESS FRAME | S572-480002 - CLAMP-HOSE WIRE TYPE |
| 21FA-10030 - WIRE HARNESS REAR | S572-480006 - CLAMP-HOSE WIRE TYPE |
| 21FA-10060 - WIRE HARNESS LIGHT | S572-500002 - CLAMP-HOSE WIRE TYPE |
| 21FH-05140 - WIRE-POWER SUPPLY | S572-560002 - CLAMP-HOSE WIRE TYPE |
| 21HB-02141 - COVER-WIRE | S572-570006 - CLAMP-HOSE WIRE TYPE |
| 21L1-1034 - WIRE HARNESS | S572-580002 - CLAMP-HOSE WIRE TYPE |
| 21L2-11011 - WIRE HARNESS | S572-580006 - CLAMP-HOSE,WIRE TYPE |
| 21M6-10102 - MAIN WIRE HARNESS | S572-590006 - CLAMP-HOSE WIRE TYPE |
| 21M6-10103 - HARNESS-MAIN WIRE | S572-600006 - CLAMP-HOSE WIRE TYPE |
| 21M6-10104 - HARNESS-MAIN WIRE | S572-620006 - CLAMP-HOSE WIRE TYPE |
| 21M6-10201 - CONSOLE WIRE HARNESS | S572-630000 - CLAMP-HOSE,WIRE TYPE |
| 21M6-10300 - ENGINE WIRE HARNESS | S572-630002 - CLAMP-HOSE WIRE TYPE |
| 21M6-10301 - ENGINE WIRE HARNESS | S572-630006 - CLAMP-HOSE WIRE TYPE |
| 21M6-10302 - ENGINE WIRE HARNESS | S572-640006 - CLAMP-HOSE WIRE TYPE |
| 21M6-10401 - SOL.WIRE HARNESS | S572-650006 - CLAMP-HOSE WIRE TYPE |
| 21M6-10402 - HARNESS-SOL.WIRE | S572-670006 - CLAMP-HOSE,WIRE TYPE |
| 21M6-10600 - CAB.2 WIRE HARNESS | S572-690002 - CLAMP-HOSE WIRE TYPE |
| 21M6-10700 - CONSOLE WIRE HARNESS | S572-690006 - CLAMP-HOSE WIRE TYPE |
| 21M6-10701 - CONSOLE WIRE HARNESS | S572-720006 - CLAMP-HOSE WIRE TYPE |
| 21M6-51010 - HARNESS-BOOM WIRE | S572-730006 - CLAMP-HOSE WIRE TYPE |
| 21M6-52010 - CABIN 2 WIRE HARNESS | S572-750006 - CLAMP-HOSE WIRE TYPE |
| 21M6-52011 - CABIN 2 WIRE HARNESS | S572-770000 - CLAMP-HOSE,WIRE TYPE |
| 21M6-52020 - CABIN WIRE HARNESS | S572-770006 - CLAMP-HOSE WIRE TYPE |
| 21M6-52021 - CABIN WIRE HARNESS | S572-780002 - CLAMP-HOSE WIRE TYPE |
| 21M6-52022 - HARNESS-CAB WIRE | S572-780006 - CLAMP-HOSE WIRE TYPE |
| 21M6-53012 - CONSOLE WIRE HARNESS | S572-820006 - CLAMP-HOSE WIRE TYPE |
| 21M6-53013 - CONSOLE WIRE HARNESS | S572-850006 - CLAMP-HOSE WIRE TYPE |
| 21M6-53014 - CONSOLE WIRE HARNESS | S572-930006 - CLAMP-HOSE WIRE TYPE |
| 21M6-54012 - HARNESS-RELAY WIRE | S572-950006 - CLAMP-HOSE WIRE TYPE |
| 21M6-54013 - RELAY WIRE HARNESS | S581-340000 - CLAMP-HOSE WIRE TYPE |
| 21M6-55012 - MAIN WIRE HARNESS | S945-120000 - TIE WIRE |
| 21M6-55013 - MAIN WIRE HARNESS | SF111-0013 - CLAMP-WIRE |
| 21M6-55014 - MAIN WIRE HARNESS | SF111-0014 - CLAMP-WIRE |
| 21M6-55022 - ENG. WIRE HARNESS | XJAF-01224 - BRACKET-STOP WIRE |
| 21M9-23680 - HARNESS-EXT,WIRE | XJAF-01491 - WIRE |
| 21N6-10040 - BOOM WIRE HARNESS | XJAF-02830 - BRACKET-STOP WIRE |
| 21N6-21141 - HARNESS-BOOM WIRE | XJBV-00100 - WIRE |
| 21N6-21142 - HARNESS-BOOM WIRE | XJDH-00571 - BAND-WIRE |
| 21N6-21161 - HARNESS-BOOM WIRE | XJDH-00838 - WIRE-ACCELERATOR |
| 21N7-10050 - HARNESS-BOOM WIRE | XJDH-00908 - WIRE ASSY-RELEASE |
| 21N8-01600 - HARNESS-EXT WIRE | XJDH-01381 - WIRE ROPE |
| 21N8-01610 - HARNESS-EXT WIRE | XJDH-01559 - ROPE-WIRE |
| 21N8-01620 - HARNESS-WIRE,EXT | XJDH-01899 - WIRE |
| 21N8-10053 - HARNESS-LH,WIRE | XJDH-01905 - BRACKET-ACCEL WIRE |
| 21N8-50110 - HARNESS-EXT,WIRE | XJDH-01928 - WIRE |
| 21N9-10040 - HARNESS-BOOM WIRE | XJDH-02747 - WIRE ASSY-RELEASE |
| 21ND-20400 - WIRE LINK-ALTERNATOR | XJDH-02849 - WIRE-PUSH PULL |
| 21ND-94010 - WIRE HARNESS | XJDH-02850 - WIRE-PUSH PULL |
| 21Q6-10040 - HARNESS-BOOM WIRE | XJDH-02851 - WIRE-PUSH PULL |
| 21Q7-10040 - HARNESS-BOOM WIRE | XJDH-02956 - BAND-WIRE |
| 21Q8-10030 - BOOM WIRE HARNESS | XJDH-03028 - WIRE |
| 21Q9-10040 - HARNESS-BOOM WIRE | XKAN-00013 - HOLDER-WIRE |
| 21Q9-10050 - WIRE HARNESS-BOOM | XKBN-00060 - WIRE ASSY |
| 21QA-10040 - WIRE HARNESS-BOOM | XKBN-00083 - WIRE ASSY |
| 21S4-02010 - ROPS WIRE HARNESS | XKBN-00235 - WIRE ASSY |
| 21S4-02020 - FRAME WIRE HARNESS | XKBN-00266 - WIRE ASSY |
| 21S4-02021 - FRAME WIRE HARNESS | XKBN-00279 - WIRE ASSY |
| 2408R72D120 - ROPE-WIRE(AUX) | XKBN-00302 - WIRE ASSY |
| 2408R72D185 - ROPE-WIRE(MAIN) | XKBN-00308 - WIRE ASSY |
| 241803 - RECEPTACLE & WIRE | XKBN-00357 - WIRE ASSY |
| 2429T233 - WIRE END | XKBN-00404 - WIRE ASSY |
| 2430R178D1 - WIRE ROPE | XKBP-00027 - WIRE ASSY |
| 2430R178D9 - WIRE ROPE | XKBP-00060 - WIRE ASSY |
| 2430R180D1 - ROPE-WIRE | XKBP-00106 - WIRE ASSY |
| 2430R207D3 - ROPE-WIRE | XKBP-00115 - WIRE ASSY |
| 24L1-00012 - WIRE HARNESS | XKBP-00143 - WIRE ASSY |
| 24L1-00022 - WIRE HARNESS | XKBP-00165 - WIRE ASSY |
| 24L1-00030 - WIRE HARNESS | XKBP-00181 - WIRE ASSY |
| 24L1-00040 - WIRE HARNESS | XKBP-00214 - WIRE ASSY |
| 24L1-00081 - WIRE HARNESS | XKBP-00241 - WIRE ASSY |
| 24L1-00091 - WIRE HARNESS | XKBP-00265 - WIRE ASSY |
| 24L4-01040 - FRT WIRE HARNESS | ZFAD-00018 - WIRE-BUNDLE |
| 3003156 - SEAL-WIRE | ZGBN-00009 - SEAL-SINGLE WIRE |
| 3018920 - CLAMP-WIRE TIE | ZWAC-00145 - WIRE/CABLE |
| 3018924 - WIRE-GROUND | 11E3-40200 - WIRE NET |
| 31N6-11190 - CLAMP-HOSE WIRE TYPE | 6029-204-947 - WIRE HARNESS |
| 31ND-80100 - WIRE-ELECTRIC | |