Hyundai Belts
Belt transmission is the transmission of mechanical energy by means of a flexible element - the Hyundai drive belt, due to frictional forces or engagement forces (Hyundai timing belts). It can have both a constant and variable gear ratio, whose shafts can be with parallel and intersecting axes.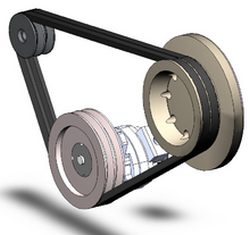 The Hyundai belt performs two tasks: it operates a gas distribution system and aggregates of additional equipment such as a Hyundai generator, a Hyundai air conditioner compressor and so on.
There is a huge variety of drive belts:
- Hyundai V-belt
- Toothed Hyundai belt
Also distinguish single-row belts and multi-row Hyundai belts. All of the above belts have one task - to drive the Hyundai pulley of additional equipment or to drive other systems of equipment.
Hyundai pulleys transmit torque using Hyundai belts.
Original and replacement or aftermarket Hyundai belts online.
| | |
| --- | --- |
| 01179673 - V-BELT,FAN | 3926866 - V-BELT |
| 01179784 - V-BELT,NARROW | 3928748 - TENSIONER-BELT |
| 01180434 - V-BELT | 3929330 - BELT-RIBBED(=3290062) |
| 01180437 - V-BELT, MAIN PULLEY/FAN F11-45 | 3934818 - TENSIONER-BELT |
| 01180462 - V-BELT 13 | 3934824 - TENSIONER-BELT |
| 01180846 - V-BELT-FAN | 3936202 - TENSIONER-BELT |
| 05910-20045 - V-BELT | 3936207 - TENSIONER-BELT |
| 11E4-3601 - V-BELT | 3936208 - BELT-TENSIONER |
| 11E9-3503 - V BELT,A/C A51" | 3936213 - TENSIONER-BELT(use master #) |
| 11EE-92101 - V-BELT A41 | 3937553 - TENSIONER, BELT |
| 11EE-92110 - V-BELT | 3937556 - TENSIONER, BELT |
| 11EG-91020 - V-BELT | 3944838 - BELT-V RIBBED |
| 11EM-90180 - V- BELT A-46 | 3957434 - TENSIONER-BELT |
| 11FV-30360 - BELT-FAN | 3967026 - BELT-V RIBBED |
| 11L6-01001 - V-BELT A-42 | 3972377 - BELT-RIBBED |
| 11L6-01120 - V-BELT | 3972382 - BELT-V RIBBED |
| 11M6-54090 - V-BELT A40 | 3974102 - TENSIONER-BELT |
| 11M8-90250 - V-BELT | 3976831 - TENSIONER, BELT |
| 11M8-90410 - V-BELT | 3976834 - TENSIONER-BELT |
| 11M9-90260 - BELT-V | 3979344 - BELT-V RIBBED |
| 11MH-90370 - V-BELT | 4022717 - BELT-V RIBBED(use master #) |
| 11N1-90160 - V-BELT | 4063948 - TENSIONER-BELT |
| 11N4-92110 - V-BELT | 4632958 - BELT-V RIBBED |
| 11N4-92130 - V-BELT 43.5 | 4920105 - tensioner, belt |
| 11N6-91130 - V-BELT | 4934044 - BELT-V RIBBED a-4 |
| 11N8-00130 - V-BELT | 71E7-0172 - BELT-AIRCON(A-60") |
| 11NB-90051 - V-BELT | 71L1-1011 - V-BELT 5A |
| 11S7-01210 - BELT PULLEY | 71LB-32040 - AIR RIDE SEAT WITH 3" SEAT BELT |
| 11S7-90640 - COVER-A/CON BELT | 71LD-60170 - BELT-LADDER |
| 11S7-90650 - V-BELTt | 71S4-10760 - SEAT BELT |
| 11S8-90270 - V-BELT (A-47") | 74L1-20700 - BELT-LADDER |
| 11U2-90271 - V-BELT | 74L3-20840 - BELT-LADDER |
| 129100-77320 - ADJUSTER,V-BELT | 74L4-20630 - BELT-LADDER |
| 129900-77330 - AJUSTER,BELT | 78987 - KIT-SEAT BELT |
| 12E1-3509 - V BELT (=A410200209-Z2) | 902172 - SEAT BELT |
| 12E2-3505 - V-BELT | 94L3-00231 - DECAL-SEAT BELT |
| 12L3-0120 - BELT A-TYPE,44" | AE010-E010 - SEAT BELT ASSY |
| 14E7-01240 - V-BELT,A/C- 1/2 X 38 | E127-3145 - V-BELT |
| 14L1-00860 - V-BELT | H28003-600 - SEAT BELT ASSY |
| 15469-9701-0 - BELT, FAN | ME900967 - V-BELT |
| 160206 - SEAT BELT KIT | ME902765 - V BELT |
| 196432 - SEATBELT KIT | XJAF-00739 - V-BELT |
| 198640 - KIT-TETHER BELT | XJAF-01105 - V-BELT-WATER PUMP |
| 198643 - KIT-SEATBELT | XJAF-01188 - V-BELT |
| 1C010-97010 - V-BELT | XJAF-01958 - V-BELT |
| 1G354-97011 - FAN BELT | XJAF-02065 - BELT-ALTERNATOR |
| 1G790-97010 - V-BELT | XJAF-02500 - v-Belt |
| 217638 - BELT-V RIBBED | XJAF-02934 - V-BELT |
| 21S1-1007 - SEAT BELT | XJAU-00165 - V-BELT |
| 21S1-2104 - SEAT BELT & S/W | XJAU-00287 - AJUSTER-BELT |
| 25132-003800 - V-BELT A-38 | XJAU-00467 - V-BELT,LOW-EDGE A42 |
| 25132-004200 - V-BELT,LOW-EDGE A42 | XJAU-00605 - ADJUSTER-BELT |
| 25132-004600 - V-BELT | XJAU-00838 - ADJUSTER-BELT |
| 25211-83C30 - V-BELT, FAN | XJAU-00840 - ADJUSTER-BELT |
| 25212-93001 - V-BELT | XJAU-00845 - V-BELT |
| 25212-93010 - BELT-FAN | XJAU-00894 - BELT-FAN |
| 25212-93011 - WATER PUMP V-BELT | XJAU-01042 - V-BELT |
| 25212-93C00 - V-BELT SET | XJAU-01075 - BELT-FAN |
| 25213-45C60 - V-BELT | XJAU-01076 - BELT-FAN |
| 25213-93200 - BELT-FAN(B-43INCH,1105MM) | XJBR-01482 - V-BELT |
| 25214-93200 - V-BELT | XJBR-01582 - BELT-FAN |
| 25231-45002 - V-BELT | XJBT-01019 - BELT FAN |
| 2614B544 - V-BELT, ALTERNATOR DX25 | XJBT-01264 - V-BELT |
| 3037425 - BELT (=5050340) | XJBT-02167 - BELT-COG |
| 3098755 - BELT V RIBBED | XJBT-02189 - BELT-V |
| 3100202 - TENSIONER-BELT | XJDH-01907 - V-BELT |
| 3102145 - BELT V, RIBBED | XJDH-01949 - V-BELT |
| 3103697 - BELT-V RIBBED | XJDH-03211 - BELT-SEAT |
| 3104027 - TENSIONER-BELT | XKBH-00194 - IDLER-DRIVE BELT |
| 3104029 - BELT-TENSIONER | XKCB-00035 - BELT-BUCKLE |
| 3254057 - FAN BELT | XKCB-00036 - BELT-TONGUE |
| 3288746 - BELT-V | YUAY-00012 - BELT-SEAT |
| 3288812 - BELT-V RIBBED | YUAY-00017 - BELT-TETHER |
| 3289012 - BELT-FAN | ZGBH-00054 - SEAT BELT |
| 3289056 - BELT-V RIBBED(FAN 9TYPE) | ZGBH-00061 - BELT-TETHER |
| 3289224 - BELT-V RIBBED | ZGBH-00102 - SEAT BELT 3inch(730~780-7/A) |
| 3289314 - FAN BELT | ZGBH-00195 - SECONDARY BELT |
| 3289347 - BELT V-RIBBED | ZGBH-00220 - SEATBELT |
| 3289437 - BELT-RIBBED | ZGBH-00227 - SEAT BELT KIT |
| 3289930 - BELT-V RIBBED | ZGBH-00239 - SEAT BELT KIT |
| 3289997 - Belt, V Ribbed | ZUAQ-00025 - SEAT BELT KIT-3" RETRACT |
| 3290051 - BELT/V-RIBBED | ZUAQ-00107 - SEATBELT KIT |
| 3681796 - BELT-V RIBBED | ZWAC-00318 - TENSIONER-BELT |
| 3681827 - SUPPORT-BELT | ZWAC-00328 - V-BELT |
| 3899594 - V-BELT | 15469-97010 - BELT, FAN |
| 3911557 - BELT, FAN | 5060436 - BELT-V RIBBED |
| 3911559 - BELT- V RIBBED 62" | 71S1-1011 - SEAT BELT |
| 3911563 - FAN BELT | 3037425S - BELT (=5050340) |
| 3911575 - FAN BELT | 3288746S - BELT-V |
| 3911576 - FAN BELT | 3289012S - BELT-FAN |
| 3911577 - BELT-V RIBBED(=3289056) | 3289089S - BELT-V RIBBED |
| 3911581 - BELT-V RIBBED(USE SUP. BY #) | 3289997S - Belt, V Ribbed |
| 3911582 - BELT-V RIBBED | 3899594S - V-BELT |
| 3911587 - BELT | 3911577S - BELT-V RIBBED(=3289056) |
| 3914086 - TENSIONER,BELT | 3289235 - BELT-V RIBBED(USE SUP. BY #) |
| 3918944 - TENSIONER-BELT | 3978022 - TENSIONER,BELT |
| 3919940 - BELT-V RIBBED | 3934823 - TENSIONER-BELT |
| 3921753 - BELT,SERP. | 3288856 - BELT-V RIBBED(order new# = 3288856) |
| 3922900 - TENSIONER,BELT | 3289257 - BELT-V,RIBBED(cum=3289257) |
| 3922901 - TENSIONER-BELT | 3929330S - BELT-RIBBED(=3290062) |
| 3924180 - BRACKET-BELT TENSIONER | 3978022S - TENSIONER, BELT |
| 3925953 - BELT-V RIBBED(order new# = 3288856) | 3976832 - TENSIONER, BELT |
| 3926848 - BELT- V RIBBED | 34349-02400 - V-BELT-WATER PUMP |
| 3926856 - BELT-V,RIBBED(cum=3289257) | 25132-004100 - V-BELT |