Hyundai engine repair kits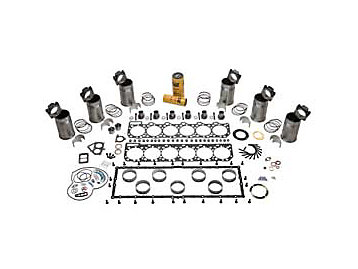 The Hyundai engine repair kit is a set of seals necessary to repair the engine.

The repair kit includes the following elements:
1. Cylinder head gasket.
2. Valve cover gasket.
3. Rings of wells of glow plugs.
4. Valve nuts for securing the valve cover.
5. Intake and exhaust manifold gaskets.
6. Throttle valve installation gasket.
7. A lining of the valve of idling.
8. Nozzle gaskets.
9. Oil-removing rings.
10. Seals: a camshaft, a cranked shaft (forward and back), the oil pump.
11. Oil pump Gaskets.
12. Turbocharger gasket.
13. Oil sump gasket.

It should also be understood that for Hyundai Construction equipment it is justified to use both original Hyundai engine repair kits and aftermarket (replacement or duplicate) Hyundai engine repair kits.

The repair kits do not include piston rings and liners. These Hyundai parts are purchased separately.

You can buy engine repair kits for Hyundai Heavy Equipment online in our online original and aftermarket Hyundai Construction parts store.
| | |
| --- | --- |
| 000974 - SEAL KIT, BLADE CYL. | 91E6-00203 - DECAL KIT(A) |
| 000984 - SEAL KIT | 91E6-00204 - DECAL KIT(A) |
| 000985 - SEAL KIT | 91E6-00213 - DECAL KIT(B) |
| 000986 - SEAL KIT | 91E6-2710 - SEAL KIT- TURNING JOINT |
| 000987 - SEAL KIT | 91E6-27100 - SEAL KIT,TURNING JOINT |
| 000988 - SEAL KIT | 91E6-2711 - SEAL KIT,BOOM CYL(3010A-50022) |
| 01319239 - KIT-REPAIR | 91E6-27110 - SEAL KIT TURNING JOINT |
| 02016775 - O-RING KIT | 91E6-2712 - SEAL KIT,ARM CYL |
| 0220.0387 - TELESCOPIC PIN KIT | 91E6-27120 - SEAL KIT(7-10) |
| 0220.0388 - LOCKING HANDLE KIT | 91E6-2713 - SEAL KIT,BCKT CYL |
| 08200218 - SEAL KIT-A(2.3,2.4, | 91E6-27150 - seal kit |
| 08R0150-19 - SEAL KIT | 91E6-2717 - SEAL KIT |
| 09157892 - SEAL KIT | 91E7-1030 - 290 DECAL KIT |
| 09830460 - SEAL KIT(1-4,2-11, | 91E7-20100 - TOOL KIT ASSY |
| 100-30185 - JOINT BEARING KIT | 91E7-2200 - DECAL KIT |
| 10064 - SEAL KIT(150 200~231,360, | 91E7-2210 - DECAL KIT 450LC |
| 10R0150-19 - SEAL KIT | 91E7-2708 - SEAL KIT (RCV) R450LC |
| 1120470201 - DIFFERENTIAL KIT(2-9) | 91E8-2707 - SEAL KIT,BOOM CY |
| 1120470201-FR - DIFFERENTIAL KIT(9-15,24) | 91E8-2708 - SEAL KIT,ARM CYL |
| 1120770403 - PISTON KIT(4-9) | 91E8-2709 - SEAL KIT,BCKT CYL |
| 11HF-50021 - FUEL KIT ASSY | 91E9-00211 - DECAL KIT FOR 290LC-3 |
| 11L4-0208 - TIRE INFLATION KIT | 91E9-00241 - DECAL KIT(B) |
| 11N6-70410 - FUEL WARMER KIT | 91E9-00251 - DECAL KIT-B |
| 11N8-70410 - FUEL WARMER KIT | 91E9-20110 - TOOL KIT ASSY |
| 11N8-90500 - PRE HEATER KIT | 91E9-20120 - TOOL KIT ASSY |
| 11N8-90510 - UNIVERSAL KIT D5WS-24V | 91E9-20121 - TOOL KIT ASSY |
| 11N8-90580 - UNIVERSAL KIT | 91E9-2710 - SEAL KIT |
| 11N8-90620 - PRE HEATER KIT | 91E9-2711 - SEAL KIT |
| 11N9-70410 - FUEL WARMER KIT | 91E9-2712 - SEAL KIT |
| 11NA-70410 - FUEL WARMER KIT | 91EE-00202 - DECAL KIT(A) |
| 129429-77380 - STARTER KIT | 91EG-00200 - DECAL KIT(A) |
| 129429-77390 - STARTER KIT | 91EG-00202 - DECAL KIT-A |
| 129900-11650 - ARM KIT,SUC. ROCKER | 91EG-00203 - DECAL KIT(A) |
| 129900-11660 - ARM KIT,EXH. ROCKER | 91EG-00212 - DECAL KIT-B |
| 1325-464 - KIT, SPRING CENTER | 91EH-00211 - DECAL KIT(B) |
| 150-4206 - SEAL KIT | 91EH-00221 - DECAL KIT(B) |
| 150-4267 - SEAL KIT | 91EK-00203 - DECAL KIT(A) |
| 150F0278 - SEAL KIT(=91L1-27220) | 91EK-00211 - DECAL KIT(B) |
| 150N4038 - SEAL KIT (=YUBS-00019) | 91EK-00212 - DECAL KIT(B) |
| 150N4038. - SEAL KIT | 91EK-00213 - DECAL KIT(B) |
| 151B0113 - SEAL KIT TRAVEL MOTOR HSL810 | 91EK-00313 - DECAL KIT |
| 15425-63400 - BRUSH KIT | 91EK-28001 - LIFTING CHART KIT |
| 156706 - KIT, ARMREST,LH | 91EL-00201 - DECAL KIT(A) |
| 156707 - KIT ARMREST,RH | 91EL-00202 - DECAL KIT(A) |
| 156714 - HEIGHTRISER KIT-SEAT | 91EL-00211 - DECAL KIT(B) |
| 156717 - BUMP STOP KIT | 91EM-00200 - DECAL KIT(A) |
| 156737 - WEIGHT ADJUSTER KIT | 91EM-00201 - DECAL KIT(A) |
| 156738 - BEARING KIT | 91EM-00202 - DECAL KIT(A) |
| 157157 - HGT RISER LATCH KIT | 91EM-00203 - DECAL KIT(A) |
| 157240 - FORE & AFT ADJ KIT | 91EM-00210 - DECAL KIT(B) |
| 157331 - BACK FORM KIT | 91EM-00211 - DECAL KIT(B) |
| 157333 - BACK FORM KIT | 91EM-00500 - DECAL KIT(A) |
| 157334 - HEIGHT RISER SPRING KIT | 91EM-00510 - DECAL KIT(B) |
| 157336 - SUSPENSION COVER KIT | 91EM-11100 - DECAL KIT(C) |
| 158146 - DAMPER ASSY KIT | 91EM-11200 - DECAL KIT(C) |
| 158176 - ADJUSTER KIT-FORE/AFT | 91EN-00200 - DECAL KIT-A |
| 158463 - SUSPENSION ASSY KIT | 91EN-00201 - DECAL KIT-A |
| 159546 - KIT-LUMBAR | 91ER-00201 - DECAL KIT(A) |
| 15HF-51001 - FUEL KIT & MUFFLER | 91ER-20050 - SEAL KIT |
| 15HF-53000 - FUEL KIT ASSY | 91ER-20051 - SEAL KIT-RCV(-7/A Excavator) |
| 15HF-55000 - COMMON KIT ASSY | 91FG-40201 - TOOL KITS |
| 15HH-51001 - FUEL KIT & MUFFLER | 91FH-00920 - DECAL KIT |
| 15HH-55000 - COMMON KIT ASSY | 91FH-00960 - DECAL KIT |
| 160055 - KIT-HEIGHT RISER | 91FH-00980 - DECAL KIT |
| 160122 - KIT-HEIGHT RISER SPRING | 91FH-40400 - TOOL KITS |
| 1602-12 - KIT,DETENT | 91FV-02000 - DECAL-KIT |
| 1602-91 - KIT, LOAD CHECK | 91FV-03000 - DECAL-KIT |
| 160206 - SEAT BELT KIT | 91HD-00010 - DECAL KIT |
| 160430 - KIT-BACK FOAM | 91HD-00020 - DECAL KIT |
| 160432 - KIT-SEAT FOAM | 91HD-00030 - DECAL KIT |
| 160436 - KIT-U/STOP B/STOP | 91HD-00040 - DECAL KIT |
| 160438 - KIT-WEIGHT ADJUSTER | 91HD-00050 - DECAL KIT |
| 160439 - KIT-BEARING | 91HD-00060 - DECAL KIT |
| 160441 - KIT-SUSPENSION COVER | 91HD-00070 - DECAL KIT |
| 160442 - KIT-FORE & AFT ADJUST | 91HD-00080 - DECAL KIT |
| 160F2105-0000 - PISTON KIT (200-LC) | 91HJ-00020 - DECAL KIT(B) |
| 161392 - HEAD REST KIT | 91HJ-00040 - DECAL KIT(B) |
| 161629 - HANDLE COVER KIT | 91L1-2001 - TOOL KIT + BOX |
| 164899 - KIT-DAMPER | 91L1-2200 - DECAL KIT |
| 165989 - KIT-LVR/CENTER PIVOT | 91L1-2702 - SEAL KIT(=7111-023-0EV) |
| 166011 - KIT-BEARING | 91L1-2711 - SEAL KIT,BOOM CYL(HL35C~#384) |
| 170985 - KIT-HANDLE | 91L1-2712 - SEAL KIT |
| 172526 - KIT-HEAD REST | 91L1-2713 - SEAL KIT,BCK CYL |
| 179010027 - SC01 KIT | 91L1-2718 - SEAL KIT |
| 190090 - SEAL KIT | 91L1-27210 - SEAL KIT |
| 192161 - KIT-ADJUST CABLE | 91L1-27220 - SEAL KIT |
| 193615 - KIT-ARMREST,LH | 91L2-2702 - SEAL KIT |
| 193616 - KIT-ARMREST,RH | 91L2-2705 - SEAL KIT |
| 195372 - KIT-SEAT FORM | 91L2-2706 - SEAL KIT |
| 195389 - KIT-UP/BUMP STOP | 91L2-2707 - SEAL KIT |
| 195392 - KIT-WEIGHT ADJUST | 91L2-2708 - SEAL KIT |
| 195401 - KIT-FORM | 91L2-2711 - SEAL KIT,BM CYL |
| 196185 - KIT-SUSPENSION | 91L2-2712 - SEAL KIT,STR CYL |
| 196404 - SUSPENSION COVER KIT | 91L2-2713 - SEAL KIT,BCK CYL(707-99-64430) |
| 196408 - PSM KIT | 91L3-2711 - SEAL KIT,BOOM CY(707-99-43110) |
| 196432 - SEATBELT KIT | 91L3-2712 - SEAL KIT,STR CYL(707-99-14610) |
| 196440 - COMPRESSOR KIT-24V | 91L3-2713 - SEAL KIT,BKT CY |
| 196441 - AIR SPRING/VALVE KIT | 91L3-27200 - SEAL KIT |
| 196443 - DAMPER KIT | 91L3-27201 - SEAL KIT |
| 196444 - SUSPENSION COVER KIT | 91L3-27210 - SEAL KIT |
| 196716 - KIT-SEAT COVER | 91L6-00016 - DECAL(A)-KIT |
| 197979 - SEAT CUSHION KIT | 91L6-00017 - DECAL(A)-KIT |
| 197980 - SEAT CUSHION KIT | 91L6-00380 - RIDE CONTROL KIT, HL 780-3 |
| 198636 - UPPER KIT-HEATED | 91L7-00012 - DECAL KIT A |
| 198639 - KIT-HEIGHT RISER | 91L7-00017 - DEDAL KIT A |
| 198640 - KIT-TETHER BELT | 91L7-00310 - DEACAL(A)-KIT |
| 198641 - KIT-SUSPENSION COVER | 91L7-00311 - DECAL(A)-KIT |
| 198642 - KIT-FORE/AFT ADJ | 91L7-00312 - DECAL(A)-KIT |
| 198643 - KIT-SEATBELT | 91L7-00313 - DECAL(A)-KIT |
| 198644 - KIT-HEATER | 91L7-00350 - DECAL(A) KIT |
| 198645 - KIT-CONNECTOR | 91L7-00351 - DECAL(A)-KIT |
| 198796 - HEADREST KIT | 91L7-40014 - DECAL(A)-KIT |
| 198818 - SEAT COVER KIT | 91L7-40015 - DECAL KIT (HL740TM-3) |
| 198822 - 61 MECH SUSPENSION KIT | 91L7-60050 - DECAL(A)-KIT |
| 198823 - AIR SUSPENSION KIT | 91L8-00012 - DECAL(A)-KIT |
| 198826 - PLASTIC PARTS KIT | 91L8-00014 - DECAL KIT |
| 198829 - MECHANICAL SPRING KIT | 91L8-00210 - DECAL(A)-KIT |
| 198842 - ARMREST KIT-LH | 91L8-00211 - DECAL(A)-KIT |
| 198843 - ARMREST KIT-RH | 91L8-40010 - DECAL(A)-KIT |
| 198845 - SEAT BASE KIT | 91L8-40011 - DECAL(A)-KIT |
| 198850 - PLASTIC PARTS KIT | 91L8-40012 - DECAL(A)-KIT |
| 199430 - AIR VALVE/KNOB KIT | 91LB-01101 - DECAL KIT(A) |
| 199484 - BACK CUSHION KIT | 91LB-01102 - DECAL KIT(A) |
| 199488 - BACK COVER KIT | 91LB-01103 - DECAL KIT(A) |
| 199489 - HARNESS KIT | 91LB-01104 - DECAL KIT(A) |
| 20-103836 - SEAL KIT | 91LB-01105 - DECAL KIT(A) |
| 200122 - BACK CUSHION KIT | 91LB-01109 - DECAL KIT(A) |
| 200124 - VEHICLE HARNESS KIT | 91LB-03000 - DECAL KIT(A)-TM |
| 2046A-45113 - KIT | 91LB-03002 - DECAL KIT(A)-TM |
| 2046A-45127 - SEAL KIT | 91LB-03003 - DECAL KIT(A)-TM |
| 2046B-41003 - PLATE KIT | 91LB-03004 - DECAL KIT(A)-TM |
| 2046B-41204 - CYLINDER BLOCK KIT | 91LB-03005 - DECAL KIT(A)-TM |
| 2094A-65132 - SEAL KIT(11,20) | 91LB-03006 - DECAL KIT(A)-TM |
| 2094A-65143 - SEAL KIT | 91LB-06102 - DECAL KIT(A) |
| 2094B-62308 - PLATE KIT | 91LB-06103 - DECAL KIT(A) |
| 2120671003 - CARRIER KIT(33-37,41,44) | 91LB-06104 - DECAL KIT(A) |
| 21315900 - SEAL KIT | 91LB-06105 - DECAL KIT(A) |
| 21318700 - BUSHING KIT | 91LB-06106 - DECAL KIT(A) |
| 21321300 - LEVER KIT | 91LB-06107 - DECAL KIT(A) |
| 21329700 - PLUNGER KIT | 91LB-06108 - DECAL KIT(A) |
| 21333000 - PLUNGER KIT (1 set only) you need 4 | 91LB-11101 - DECAL KIT(B) |
| 21624Y7295601 - SEAL KIT | 91LB-11102 - DECAL KIT(B) |
| 216581 - KIT-FITTING | 91LB-11200 - DECAL KIT(B) |
| 21E1-00580 - BULB KIT | 91LB-11400 - DECAL KIT(B) |
| 21E1-21150 - SERVICE KIT(AUTO IDLE) | 91LC-11100 - DECAL KIT(B) |
| 21E6-90200 - HYPER DAT KIT/CONTACT SERVICE DEPT. | 91LC-11101 - DECAL KIT(B) |
| 21EM-46200 - SERVICE KIT | 91LC-11200 - DECAL KIT(B) |
| 21EM-46201 - SERVICE KIT | 91LC-11400 - DECAL KIT(B) |
| 21LB-51700 - Kit-Stop Lamp Pressure | 91LD-11100 - DECAL KIT(B) |
| 21LM-10280 - DECAL KIT | 91LD-11101 - DECAL KIT(B) |
| 21LM-37000 - FR WIPER MOTOR KIT ASSY | 91LD-11300 - DECAL KIT(B) |
| 21LM-37100 - RR WIPER MOTOR KIT ASSY | 91LD-11400 - DECAL KIT(B) |
| 21LN-37000 - FRONT WIPER KIT ASSY | 91LF-01101 - DECAL KIT(A) |
| 21M8-00111 - RELAY KIT ASSY | 91LF-01102 - DECAL KIT(A) |
| 21M8-50051 - FUEL FILLER PUMP KIT | 91LF-01103 - DECAL KIT(A) |
| 21M8-50052 - FUEL FILLER PUMP KIT | 91LF-01104 - DECAL KIT(A) |
| 21M8-52000 - CLUSTER CASE KIT | 91LF-01105 - DECAL KIT |
| 21N1-40030 - WIPER MOTOR KIT ASSY | 91LF-01106 - DECAL KIT(A) |
| 21N4-90010 - FUSE & BULB KIT | 91LF-01107 - DECAL KIT(A) |
| 21N5-30040 - ELEC.BOX KIT ASSY | 91LF-01108 - DECAL KIT(A) |
| 21N5-30041 - ELEC.BOX KIT ASSY | 91LF-11101 - DECAL KIT(B) |
| 21N5-40300 - ELEC.BOX KIT ASSY | 91LF-11102 - DECAL KIT(B) |
| 21N6-00210 - WIPER MOTOR KIT ASSY | 91LF-11201 - DECAL KIT(B) |
| 21N6-01210 - WIPER MOTOR KIT ASSY | 91LF-11400 - DECAL KIT(B) |
| 21N6-21050 - ELECTRIC BOX KIT ASSY | 91LF-11600 - DECAL KIT(B) |
| 21N6-21051 - ELEC.BOX KIT ASSY | 91LG-11101 - DECAL KIT(B) |
| 21N6-32230 - Hrdt 2.0 Tool Kit | 91LG-11201 - DECAL KIT(B) |
| 21N6-32231 - HRDT 2.0 TOOL KIT | 91LG-11400 - DECAL KIT(B) |
| 21N8-17100 - ELEC. BOX KIT ASSY | 91M5-20010 - TOOL KIT |
| 21N8-17200 - ELEC BOX KIT ASSY | 91M5-20190 - TOOL KIT |
| 21N8-17300 - ELEC. BOX KIT ASSY | 91M7-60010 - DECAL KIT(A)-R55-3 |
| 21N8-17400 - ELEC. BOX KIT ASSY | 91M7-60011 - DECAL KIT(A)-R55-3 |
| 21N8-17500 - ELEC. BOX KIT ASSY | 91M7-60012 - DECAL KIT(A)-R55-3 |
| 21N8-17600 - ELEC. BOX KIT ASSY | 91M7-60022 - DECAL KIT(B)-R55-3 |
| 21N8-17700 - ELEC. BOX KIT ASSY | 91M8-00100 - DECAL KIT(A) |
| 21N8-17800 - ELEC. BOX KIT ASSY | 91M8-00200 - DECAL KIT(A) |
| 21N8-17900 - ELEC. BOX KIT ASSY | 91M8-00201 - DECAL KIT(A) |
| 21N8-18100 - ELEC. BOX KIT ASSY | 91M8-01201 - DECAL KIT(B) |
| 21N8-18200 - ELEC. BOX KIT ASSY | 91M8-10100 - DECAL KIT(B) |
| 21N8-18400 - ELEC. BOX KIT ASSY | 91M8-10101 - DECAL KIT(B) |
| 21Q6-31001 - FILLER PUMP KIT ASSY | 91M8-10102 - DECAL KIT(B) |
| 21Q6-31201 - WIPER MOTOR KIT ASSY | 91M8-10103 - DECAL KIT(B) |
| 21Q6-36100 - HOSE ADAPTOR KIT | 91M8-10104 - DECAL KIT(B) |
| 21Q6-36200 - FOOT VALVE KIT | 91M8-10105 - DECAL KIT(B) |
| 21Q6-36300 - CONTROL SWITCH KIT | 91M8-10106 - DECAL KIT(B) |
| 21Q6-36301 - CONTROL SWITCH KIT | 91M8-10200 - DECAL KIT(B) |
| 21Q6-60100 - REAR VIEW CAMERA KIT ASSY | 91M8-10402 - DECAL KIT(B) |
| 21Q6-60400 - REAR VIEW CAMERA KIT | 91M8-10403 - DECAL KIT(B) |
| 21QB-32900 - HCE-DT KIT | 91M8-18400 - LIFTING CHART KIT |
| 21S8-34770 - KIT ASSY(DT04-6P) | 91M8-20100 - TOOL KIT ASSY |
| 21S8-34780 - KIT ASSY(DT04-2P) | 91M9-00301 - DECAL KIT(A) |
| 21U2-41000 - FRONT WIPER KIT ASSY | 91M9-00400 - DECAL KIT(A) |
| 21U2-42000 - REAR WIPER KIT ASSY | 91M9-20200 - TOOL KIT ASSY |
| 2300782 - SEAL KIT(6,10,42,45) | 91MH-00010 - DECAL KIT(A) |
| 244781 - SEAL,CONNECTOR KIT | 91MH-00020 - DECAL KIT(A) |
| 24L3-20090 - GEAR SELECTOR KIT 4224672CLA | 91MH-02200 - DECAL KIT(B)-EXPORT |
| 250X280X35 - SEAL KIT-FLOATING | 91MK-00100 - DECAL KIT(A) |
| 26561117 - ELEMENT KIT, FUEL | 91MK-00101 - DECAL KIT(A) |
| 279970070 - SEAL KIT, TRVL MTR/RED GEAR | 91MK-00102 - DECAL KIT(A) |
| 2S/KIT-00010 - SEAL KIT | 91MK-00200 - DECAL KIT(A) |
| 30029-304 - SEAL KIT | 91MK-00201 - DECAL KIT(A) |
| 309424 - SEAL KIT | 91MK-00202 - DECAL KIT(A) |
| 309524 - SEAL KIT | 91MK-10102 - DECAL KIT(B)-EXPORT |
| 309549 - SEAL KIT, OVERLOAD VALVE | 91MK-10103 - DECAL KIT(B)-EXPORT |
| 309625 - SEAL KIT-VALVE,MAIN RELIEF | 91MK-10104 - DECAL KIT(B)-EXPORT |
| 309626 - SEAL KIT | 91MK-10105 - DECAL KIT(B)-EXPORT |
| 309628 - SEAL KIT | 91MK-10200 - DECAL KIT(B)-LOCAL |
| 30LB-95000 - RIDE CONTROL KIT | 91MK-10201 - DECAL KIT(B)-LOCAL |
| 30LB-95010 - RIDE CONTROL KIT | 91MK-10202 - DECAL KIT(B)-LOCAL |
| 30LB-95020 - RIDE CONTROL KIT | 91MK-20102 - DECAL KIT(B)-EXPORT |
| 30LB-98000 - EMERGENCY STEERING KIT | 91MK-20103 - DECAL KIT(B)-EXPORT |
| 30LB-98010 - EMERGENCY STEERING KIT | 91MK-20104 - DECAL KIT(B)-EXPORT |
| 30LB-99000 - RIDE CONTROL KIT | 91MK-20105 - DECAL KIT(B)-EXPORT |
| 30LC-95000 - RIDE CONTROL KIT | 91MK-20200 - DECAL KIT(B)-LOCAL |
| 30LC-95010 - RIDE CONTROL KIT | 91MK-20201 - DECAL KIT(B)-LOCAL |
| 30LC-98000 - EMERGENCY STEERING KIT | 91MK-20202 - DECAL KIT(B)-LOCAL |
| 30LC-98010 - EMERGENCY STEERING KIT | 91N1-00010 - DECAL KIT(A) |
| 30LC-99000 - RIDE CONTROL KIT | 91N1-00011 - DECAL KIT(A) |
| 30LC-99001 - RIDE CONTROL KIT | 91N1-00020 - DECAL KIT(A) |
| 30LD-95000 - RIDE CONTROL KIT | 91N1-00090 - DECAL KIT-A/S |
| 30LD-95010 - RIDE CONTROL KIT | 91N1-01100 - DECAL KIT(B) |
| 30LD-95020 - RIDE CONTROL KIT | 91N1-01101 - DECAL KIT(B) |
| 30LD-96000 - RIDE CONTROL KIT HL757TM-7 | 91N1-02100 - KIT-LIFTING CHART |
| 30LD-96010 - RIDE CONTROL KIT | 91N3-00100 - DECAL KIT |
| 30LD-97000 - Ride Control Kit | 91N3-00101 - DECAL KIT |
| 30LD-97100 - RIDE CONTROL KIT | 91N3-00102 - DECAL KIT |
| 30LH-92000 - EMER STEER KIT | 91N3-00103 - DECAL KIT |
| 30LH-92010 - EMER STEER KIT | 91N3-00104 - DECAL KIT |
| 30LH-93000 - RIDE CONTROL KIT | 91N4-00100 - DECAL KIT |
| 30LH-99000 - RIDE CONTROL KIT | 91N4-00101 - DECAL KIT |
| 30LK-75100 - EMERGENCY STEERING KIT | 91N4-00102 - DECAL KIT |
| 30LK-85100 - RIDE CONTROL KIT | 91N4-00103 - DECAL KIT |
| 30LL-75100 - EMERGENCY STEERING KIT | 91N4-00104 - DECAL KIT |
| 30LL-85100 - RIDE CONTROL KIT | 91N4-00105 - DECAL KIT |
| 30LM-75100 - EMERGENCY STEERING KIT | 91N4-00106 - DECAL KIT |
| 30LM-85100 - RIDE CONTROL KIT | 91N4-00107 - DECAL KIT |
| 30LN-75100 - EMERGENCY STEERING KIT | 91N4-00108 - DECAL KIT |
| 30LN-85100 - RIDE CONTROL KIT | 91N4-00200 - DECAL KIT |
| 30LP-75100 - EMERGENCY STEERING KIT | 91N4-00201 - DECAL KIT |
| 30LP-85100 - RIDE CONTROL KIT | 91N4-00202 - DECAL KIT |
| 30LQ-75100 - EMERGENCY STEERING KIT | 91N4-00203 - DECAL KIT |
| 30LQ-85100 - RIDE CONTROL KIT | 91N4-00204 - DECAL KIT |
| 311540 - SEAL KIT | 91N4-00205 - DECAL KIT |
| 3124053054 - OIL FILTER ELEMENT KIT | 91N4-00206 - DECAL KIT |
| 313077 - SEAL KIT | 91N4-10100 - TRADE MARK KIT |
| 313104 - SEAL KIT | 91N4-10101 - TRADE MARK KIT |
| 313105 - SEAL KIT | 91N4-10300 - TRADE MARK KIT |
| 31E3-00210 - SEAL KIT/LOCKING CYLINDER | 91N4-10301 - TRADE MARK KIT |
| 31E3-00211 - SEAL KIT | 91N6-00100 - DECAL KIT |
| 31E6-91701 - ACCUMULATOR KIT | 91N6-00101 - DECAL KIT |
| 31E7-2711 - SEAL KIT,BOOM CY | 91N6-00102 - DECAL KIT |
| 31E7-2712 - SEAL KIT,ARM CYL | 91N6-00103 - DECAL KIT |
| 31E7-2713 - SEAL KIT,BUCKET CYL | 91N6-00104 - DECAL KIT |
| 31E9-91350 - S/ACT PIPING KIT | 91N6-00105 - DECAL KIT |
| 31E9-91351 - S/ACT PIPING KIT | 91N6-00106 - DECAL KIT |
| 31EC-00165 - SEAL KIT | 91N6-00107 - DECAL KIT |
| 31EC-00166 - SEAL KIT | 91N6-00108 - DECAL KIT |
| 31EK-91011 - HAMMER PIPING KITR180-3&170W-3 | 91N6-00201 - DECAL KIT |
| 31EK-91700 - ACCUMULATOR KIT | 91N6-00202 - DECAL KIT |
| 31EK-91701 - ACCUMULATOR KIT | 91N6-00203 - DECAL KIT |
| 31EL-91010 - BRAKER HYD PIPING KIT | 91N6-00204 - DECAL KIT |
| 31EL-91910 - D/ACT PIPING KIT | 91N6-00205 - DECAL KIT |
| 31EL-91911 - D/ACT PIPING KIT (NSP) | 91N6-00206 - DECAL KIT |
| 31EM-00311 - SEAL KIT | 91N6-10101 - TRADE MARK KIT |
| 31EM-00540 - SEAL KIT | 91N6-10201 - TRADE MARK KIT |
| 31EM-00545 - SEAL KIT | 91N7-00100 - DECAL KIT |
| 31EM-91010 - HAMMER PIPING KIT 210-3 | 91N7-00101 - DECAL KIT |
| 31EM-91020 - MAIN HYD PIPING KIT | 91N7-00102 - DECAL KIT |
| 31EM-91021 - S/ACT MAIN PIPING KIT | 91N7-00103 - DECAL KIT |
| 31EM-91030 - ATTACH PIPING KIT | 91N7-00104 - DECAL KIT |
| 31EM-91031 - ATTACH PIPING KIT | 91N7-10100 - TRADE MARK KIT |
| 31EM-91032 - ATTACH PIPING KIT | 91N8-00100 - DECAL KIT(A/S) |
| 31EM-91700 - ACCUMULATOR KIT-BREAKER | 91N8-00101 - DECAL KIT |
| 31EN-91700 - ACCUMULATOR KIT | 91N8-00102 - DECAL KIT |
| 31EN-91701 - ACCUMULATOR KIT | 91N8-00103 - DECAL KIT |
| 31F6-02190 - SEAL KIT, CONTROL VA | 91N8-00104 - DECAL KIT |
| 31LM-90100 - CHARGE & GAUGE KIT | 91N8-00105 - DECAL KIT |
| 31M7-00280 - SEAL KIT | 91N8-00106 - DECAL KIT |
| 31M8-51530 - SEAL KIT | 91N8-00107 - DECAL KIT |
| 31M9-51530 - SEAL KIT | 91N8-10101 - DECAL-T/MARK KIT |
| 31MH-40110 - SEAL KIT | 91N8-10200 - DECAL-T/MARK KIT |
| 31MJ-40111 - SEAL KIT | 91N9-00100 - DECAL KIT |
| 31MK-40110 - SEAL KIT | 91N9-10100 - TRADE MARK KIT |
| 31N3-40950 - SEAL KIT(ITEM:7-12) | 91NA-00100 - DECAL KIT |
| 31N3-91210 - S/ACT MAIN PIPING KIT | 91NA-00101 - DECAL KIT |
| 31N3-91410 - D/ACT MAIN PIPING KIT | 91NA-00102 - DECAL KIT |
| 31N3-91510 - ATTACH PIPING KIT | 91NA-00103 - DECAL KIT |
| 31N4-17900 - PLUG KIT | 91NA-00104 - DECAL KIT |
| 31N4-40950 - SEAL KIT(10-22,33) | 91NA-10100 - TRADE MARK KIT |
| 31N4-40951 - SEAL KIT | 91NA-20120 - TOOL KIT ASSY |
| 31N4-91010 - S/ACT PIPING KIT | 91NB-00100 - DECAL KIT |
| 31N4-91020 - S/ACT PIPING KIT | 91NB-10100 - TRADE MARK KIT |
| 31N4-91030 - S/ACT PIPING KIT | 91NB-20130 - TOOL KIT ASSY |
| 31N4-91040 - S/ACT PIPING KIT | 91ND-02100 - KIT-LIFTING CHART |
| 31N4-91050 - S/ACT PIPING KIT | 91ND-02101 - KIT-LIFTING CHART |
| 31N4-91060 - S/ACT PIPING KIT | 91Q4-00091 - DECAL KIT-A/S |
| 31N4-91070 - S/ACT PIPING KIT | 91Q4-00092 - DECAL KIT-A/S |
| 31N4-91080 - S/ACT PIPING KIT | 91Q4-00102 - DECAL KIT(A) |
| 31N4-91090 - S/ACT PIPING KIT | 91Q4-00200 - DECAL KIT(A) |
| 31N4-91340 - ATTACH PIPING KIT | 91Q4-00301 - DECAL KIT(A) |
| 31N4-91420 - D/ACT MAIN PIPING KIT | 91Q4-02101 - KIT-LIFTING CHART |
| 31N4-92011 - D/ACT PIPING KIT | 91Q4-02300 - KIT-LIFTING CHART |
| 31N4-92021 - D/ACT PIPING KIT | 91Q4-02301 - DECAL-LIFTING CHART KIT |
| 31N4-92031 - D/ACT PIPING KIT | 91Q4-02400 - KIT-LIFTING CHART |
| 31N4-92041 - D/ACT PIPING KIT | 91Q4-03100 - LIFTING CHART KIT |
| 31N4-92051 - D/ACT PIPING KIT | 91Q4-04100 - LIFTING CHART KIT |
| 31N4-92061 - D/ACT PIPING KIT | 91Q4-04101 - DECAL-LIFTING CHART KIT |
| 31N4-92070 - D/ACT PIPING KIT | 91Q4-05100 - LIFTING CHART KIT |
| 31N4-92090 - D/ACT PIPING KIT | 91Q4-10105 - DECAL KIT(B) |
| 31N4-93011 - D/ACT PIPING KIT | 91Q4-10200 - DECAL KIT(B) |
| 31N4-93021 - D/ACT PIPING KIT | 91Q4-10300 - DECAL KIT(B) |
| 31N4-93031 - D/ACT PIPING KIT | 91Q4-20100 - DECAL KIT(B) |
| 31N4-93041 - D/ACT PIPING KIT | 91Q4-20105 - DECAL KIT(B) |
| 31N4-93051 - D/ACT PIPING KIT | 91Q4-30111 - DECAL KIT(B) |
| 31N4-93061 - D/ACT PIPING KIT | 91Q4-30121 - DECAL KIT(B) |
| 31N4-93110 - S/ACT HYD KIT | 91Q5-00100 - DECAL KIT(A) |
| 31N4-93120 - S/ACT HYD KIT | 91Q5-00300 - DECAL KIT(A) |
| 31N4-93130 - S/ACT HYD KIT | 91Q5-03101 - DECAL-LIFTING CHART KIT |
| 31N4-93140 - S/ACT HYD KIT | 91Q5-05101 - DECAL-LIFTING CHART KIT |
| 31N4-93150 - S/ACT HYD KIT | 91Q5-06101 - DECAL-LIFTING CHART KIT |
| 31N4-93160 - S/ACT HYD KIT | 91Q5-07100 - LIFTING CHART KIT |
| 31N4-93210 - D/ACT PIPING KIT | 91Q5-20113 - DECAL KIT(B) |
| 31N4-93220 - D/ACT PIPING KIT | 91Q5-20123 - DECAL KIT(B) |
| 31N4-93230 - D/ACT PIPING KIT | 91Q5-20133 - DECAL KIT(B) |
| 31N4-93240 - D/ACT PIPING KIT | 91Q6-00091 - DECAL KIT-A/S |
| 31N4-93250 - D/ACT PIPING KIT | 91Q6-00092 - DECAL KIT-A/S |
| 31N4-93260 - D/ACT PIPING KIT | 91Q6-00093 - DECAL KIT-A/S |
| 31N4-94010 - S/ACT PIPING KIT | 91Q6-00100 - DECAL KIT(A) |
| 31N4-94020 - S/ACT PIPING KIT | 91Q6-10103 - DECAL KIT(B) |
| 31N4-94030 - S/ACT PIPING KIT | 91Q6-10104 - DECAL KIT(B) |
| 31N4-94040 - S/ACT PIPING KIT | 91Q6-10105 - DECAL KIT(B) |
| 31N4-94050 - S/ACT PIPING KIT | 91Q6-10106 - DECAL KIT(B) |
| 31N4-94060 - S/ACT PIPING KIT | 91Q6-10107 - DECAL KIT(B) |
| 31N4-94070 - S/ACT PIPING KIT | 91Q6-10302 - DECAL KIT(B) |
| 31N4-94101 - S/ACT MAIN PIPING KIT | 91Q6-20100 - TOOL KIT ASSY |
| 31N4-94201 - D/ACT MAIN PIPING KIT | 91Q6-20200 - TOOL KIT ASSY |
| 31N4-94510 - D/ACT PIPING KIT | 91Q6-20201 - TOOL KIT ASSY |
| 31N4-94520 - D/ACT PIPING KIT | 91Q8-00100 - DECAL KIT(A) |
| 31N4-94530 - D/ACT PIPING KIT | 91Q8-00101 - DECAL KIT(A) |
| 31N4-94540 - D/ACT PIPING KIT | 91Q8-10102 - DECAL KIT(B) |
| 31N4-94550 - D/ACT PIPING KIT | 91Q8-10104 - DECAL KIT(B) |
| 31N4-94560 - D/ACT PIPING KIT | 91Q8-10201 - DECAL KIT(B) |
| 31N4-94570 - D/ACT PIPING KIT | 91Q9-00100 - DECAL KIT(A) |
| 31N4-95361 - ATTACH PIPING KIT | 91Q9-00101 - DECAL KIT(A) |
| 31N5-91010 - S/ACT PIPING KIT | 91Q9-10101 - DECAL KIT(B) |
| 31N5-91030 - S/ACT PIPING KIT | 91Q9-10200 - DECAL KIT(B) |
| 31N5-91050 - S/ACT PIPING KIT | 91QA-00102 - DECAL KIT(B) |
| 31N5-91351 - ATTACH PIPING KIT | 91QB-10101 - DECAL KIT(B) |
| 31N5-92010 - D/ACT PIPING KIT | 91QB-20100 - TOOL KIT ASSY |
| 31N5-92030 - D/ACT PIPING KIT | 91S1-2001 - TOOL KIT |
| 31N5-92050 - D/ACT PIPING KIT | 91S1-20011 - TOOL KIT ASSY |
| 31N5-93010 - S/ACT PIPING KIT | 91S1-20012 - TOOL KIT ASSY |
| 31N5-93020 - S/ACT PIPING KIT | 91S4-00021 - DECAL KIT |
| 31N5-93050 - S/ACT PIPING KIT | 91S4-00026 - DECAL KIT |
| 31N5-94010 - D/ACT PIPING KIT | 91S5-00021 - DECAL KIT |
| 31N5-94020 - D/ACT PIPING KIT | 91S5-00022 - DECAL KIT-HSL810 |
| 31N5-94050 - D/ACT PIPING KIT | 91S5-20011 - TOOL KIT ASSY |
| 31N5-94060 - D/ACT PIPING KIT | 91S5-20012 - TOOL KIT ASSY |
| 31N5-94070 - D/ACT PIPING KIT | 91S8-00101 - DECAL KIT(A) |
| 31N5-94080 - D/ACT PIPING KIT | 91S8-00102 - DECAL KIT(A) |
| 31N5-95010 - D/ACT PIPING KIT | 91S8-10100 - DECAL KIT(B) |
| 31N5-95030 - D/ACT PIPING KIT | 91S8-10600 - DECAL KIT(B) |
| 31N5-95050 - D/ACT PIPING KIT | 91S8-20000 - TOOL KIT ASSY |
| 31N6-26100 - Pattern Select Valve Kit(210-7/A) | 91S8-20101 - TOOL KIT ASSY |
| 31N6-40950 - SEAL KIT(ITEM:7-12) | 91W5-00190 - DECAL KIT-CABIN |
| 31N6-91010 - S/ACT PIPING KIT | 91W5-00191 - DECAL KIT-CABIN |
| 31N6-91012 - S/ACT PIPING KIT | 91W5-00192 - DECAL KIT-CABIN |
| 31N6-91022 - S/ACT PIPING KIT | 91W6-00190 - DECAL KIT-CABIN |
| 31N6-91032 - S/ACT PIPING KIT | 91W6-00191 - DECAL KIT-CABIN |
| 31N6-91042 - S/ACT PIPING KIT | 91W6-00192 - DECAL KIT-CABIN |
| 31N6-91051 - S/ACT PIPING KIT | 91W7-00191 - DECAL KIT-CABIN |
| 31N6-91052 - S/ACT PIPING KIT | 91W7-00192 - DECAL KIT-CABIN |
| 31N6-91061 - S/ACT PIPING KIT | 91W7-00193 - DECAL KIT-CABIN |
| 31N6-91310 - ATTACH PIPING KIT | 920171 - SEAL KIT |
| 31N6-91312 - ATTACH PIPING KIT | 923936 - KIT, ROTATING |
| 31N6-91313 - ATTACH PIPING KIT | 923938 - SHIM KIT |
| 31N6-91350 - ATTACH PIPING KIT | 923939 - KIT PISTON SHOE |
| 31N6-91360 - ATTACH PIPING KIT | 92LB-00010 - DECAL KIT(A) |
| 31N6-91700 - ACCUMULATOR KIT | 92LB-00011 - DECAL KIT(A) |
| 31N6-92010 - D/ACT PIPING KIT | 92LB-00012 - DECAL KIT(A) |
| 31N6-92011 - D/ACT PIPING KIT | 92LB-00013 - DECAL KIT(A) |
| 31N6-92012 - D/ACT PIPING KIT | 92LB-00020 - DECAL KIT(A) |
| 31N6-92022 - D/ACT PIPING KIT | 92LB-00060 - DECAL KIT(A) |
| 31N6-92032 - D/ACT PIPING KIT | 92LB-00061 - DECAL KIT(A) |
| 31N6-92042 - D/ACT PIPING KIT | 92LB-00062 - DECAL KIT(A) |
| 31N6-92051 - D/ACT PIPING KIT | 92LB-00080 - DECAL KIT-A/S |
| 31N6-92061 - D/ACT PIPING KIT | 92LB-01102 - DECAL KIT(B) |
| 31N6-93012 - S/ACT PIPING KIT | 92LB-01103 - DECAL KIT(B) |
| 31N6-93022 - S/ACT PIPING KIT | 92LB-01104 - DECAL KIT(B) |
| 31N6-93032 - S/ACT PIPING KIT | 92LB-01105 - DECAL KIT(B) |
| 31N6-93080 - S/ACT PIPING KIT | 92LB-01201 - DECAL KIT(B) |
| 31N6-93090 - S/ACT PIPING KIT | 92LB-01202 - DECAL KIT(B) |
| 31N6-94012 - D/ACT PIPING KIT | 92LB-01203 - DECAL KIT(B) |
| 31N6-94022 - D/ACT PIPING KIT | 92LB-01204 - DECAL KIT(B) |
| 31N6-94032 - D/ACT PIPING KIT | 92LB-06100 - DECAL KIT(B) |
| 31N6-94080 - D/ACT PIPING KIT | 92LB-06101 - DECAL KIT(B) |
| 31N6-94090 - D/ACT PIPING KIT | 92LB-06102 - DECAL KIT(B) |
| 31N6-95011 - S/ACT PIPING KIT | 92LB-06200 - DECAL KIT(B) |
| 31N6-95021 - S/ACT PIPING KIT | 92LB-06201 - DECAL KIT(B) |
| 31N6-95031 - S/ACT PIPING KIT | 92LB-06202 - DECAL KIT(B) |
| 31N6-95041 - S/ACT PIPING KIT | 92LC-01101 - DECAL KIT(B) |
| 31N6-96010 - D/ACT PIPING KIT | 92LC-01102 - DECAL KIT(B) |
| 31N6-96011 - D/ACT PIPING KIT | 92LC-01103 - DECAL-KIT(B) |
| 31N6-96021 - D/ACT PIPING KIT | 92LC-01104 - DECAL-KIT(B) |
| 31N6-96031 - D/ACT PIPING KIT | 92LC-01201 - DECAL KIT(B) |
| 31N6-96041 - D/ACT PIPING KIT | 92LC-01202 - DECAL KIT(B) |
| 31N6-96050 - D/ACT PIPING KIT | 92LC-01203 - DECAL KIT(B) |
| 31N6-96060 - D/ACT PIPING KIT | 92LC-01204 - DECAL KIT(B) |
| 31N7-91010 - S/ACT PIPING KIT | 92LC-06100 - DECAL KIT(B) |
| 31N7-91030 - S/ACT PIPING KIT | 92LD-01101 - DECAL KIT(B) |
| 31N7-91310 - ATTACH PIPING KIT | 92LD-01102 - DECAL KIT(B) |
| 31N7-91410 - D/ACT MAIN PIPING KIT | 92LD-01201 - DECAL KIT(B) |
| 31N7-91411 - D/ACT MAIN PIPING KIT | 92LD-01202 - DECAL KIT(B) |
| 31N7-92010 - D/ACT PIPING KIT | 92LD-06100 - DECAL KIT(B) |
| 31N8-17540 - PLUG KIT | 92LF-00010 - DECAL KIT(A) |
| 31N8-91010 - S/ACT PIPING KIT | 92LF-01101 - DECAL KIT(B) |
| 31N8-91310 - ATTACH PIPING KIT | 92LF-01103 - DECAL KIT (B) |
| 31N8-91312 - ATTACH PIPING KIT | 92LF-01201 - DECAL KIT(B) |
| 31N8-92010 - D/ACT PIPING KIT | 92LG-01100 - DECAL KIT(B) |
| 31N8-92011 - D/ACT PIPING KIT | 92LG-01200 - DECAL KIT(B) |
| 31N8-94011 - S/ACT PIPING KIT | 92LH-01101 - DECAL KIT(B) |
| 31N8-94021 - S/ACT PIPING KIT | 92LH-01102 - DECAL KIT(B) |
| 31N8-94031 - S/ACT PIPING KIT | 92LH-01103 - DECAL KIT(B) |
| 31N8-94041 - S/ACT PIPING KIT | 92LH-01104 - DECAL KIT(B) |
| 31N8-94050 - S/ACT PIPING KIT | 92LH-01107 - DECAL KIT(B) |
| 31N8-94060 - S/ACT PIPING KIT | 92LH-01200 - DECAL KIT(B) |
| 31N8-94070 - S/ACT PIPING KIT | 92LH-01201 - DECAL KIT(B) |
| 31N8-94210 - S/ACT MAIN PIPING KIT | 92LH-01202 - DECAL KIT(B) |
| 31N8-94410 - D/ACT MAIN PIPING KIT | 92LH-01203 - DECAL KIT(B) |
| 31N8-95010 - D/ACT PIPING KIT | 92LH-06100 - DECAL KIT(B) |
| 31N8-95011 - D/ACT PIPING KIT | 92LH-06101 - DECAL KIT(B) |
| 31N8-95021 - D/ACT PIPING KIT | 92LH-06103 - DECAL KIT(B) |
| 31N8-95031 - D/ACT PIPING KIT | 92LH-06200 - DECAL KIT(B) |
| 31N8-95041 - D/ACT PIPING KIT | 92LH-06201 - DECAL KIT(B) |
| 31N8-95050 - D/ACT PIPING KIT | 92LH-06203 - DECAL KIT(B) |
| 31N8-95060 - D/ACT PIPING KIT | 92LL-01105 - DECAL KIT(B) |
| 31N8-95070 - D/ACT PIPING KIT | 92LL-01205 - DECAL KIT(B) |
| 31N9-91010 - S/ACT PIPING KIT | 92LM-00010 - DECAL KIT(A) |
| 31N9-91011 - S/ACT PIPING KIT | 92LM-00011 - DECAL KIT(A) |
| 31N9-91021 - S/ACT PIPING KIT | 92LM-00012 - DECAL KIT(A) |
| 31N9-91031 - S/ACT PIPING KIT | 92LM-00080 - DECAL KIT-A/S |
| 31N9-91041 - S/ACT PIPING KIT | 92LM-00200 - DECAL KIT(A) |
| 31N9-91050 - S/ACT PIPING KIT | 92LM-01105 - DECAL KIT(B) |
| 31N9-92010 - DOUBLE ACTING PIPING KIT | 92LM-01205 - DECAL KIT(B) |
| 31N9-92011 - D/ACT PIPING KIT | 92LM-20000 - TOOL KIT ASSY |
| 31N9-92021 - D/ACT PIPING KIT | 92LN-00011 - DECAL KIT(A) |
| 31N9-92031 - D/ACT PIPING KIT | 92LN-00012 - DECAL KIT(A) |
| 31N9-92041 - D/ACT PIPING KIT | 92LN-01104 - DECAL KIT(B) |
| 31N9-92050 - D/ACT PIPING KIT | 92LN-01202 - DECAL KIT(B) |
| 31NA-91010 - S/ACT PIPING KIT | 92LP-00200 - DECAL KIT(A) |
| 31NA-91011 - S/ACT PIPING KIT | 92LP-01102 - DECAL KIT(B) |
| 31NA-91020 - S/ACT PIPING KIT | 92LP-01202 - DECAL KIT(B) |
| 31NA-91021 - S/ACT PIPING KIT | 92LP-06102 - DECAL KIT(B) |
| 31NA-91041 - S/ACT PIPING KIT | 92M8-20100 - TOOL KIT ASSY |
| 31NA-91050 - S/ACT PIPING KIT | 92M9-20100 - TOOL KIT ASSY |
| 31NA-91051 - S/ACT PIPING KIT | 92N6-17400 - KIT-LIFTING CHART |
| 31NA-92010 - D/Act Piping Kit | 92N6-17500 - KIT-LIFTING CHART |
| 31NA-92011 - D/ACT PIPING KIT | 92Q6-10106 - DECAL KIT(B) |
| 31NA-92021 - D/ACT PIPING KIT | 92S5-00021 - DECAL KIT |
| 31NA-92040 - D/ACT PIPING KIT | 92U2-20000 - TOOL KIT |
| 31NA-92041 - D/ACT PIPING KIT | 93MH-00010 - DECAL KIT(A) |
| 31NA-92051 - D/ACT PIPING KIT | 93MH-00020 - DECAL KIT(A) |
| 31NA-92060 - D/ACT PIPING KIT | 93MH-03100 - DECAL KIT(B)-EXPORT |
| 31NB-22100 - PATTERN CHANGER V/V KIT | 93MH-03201 - DECAL KIT(B)-LOCAL |
| 31NB-40550 - SEAL KIT(7-10) | 93N3-02100 - KIT-LIFTING CHART |
| 31NB-91011 - S/ACT PIPING KIT | 93N3-03100 - KIT-LIFTING CHART |
| 31NB-91021 - S/ACT PIPING KIT | 93N4-00090 - DECAL KIT-A/S |
| 31NB-91031 - S/ACT PIPING KIT | 93N4-01100 - DECAL KIT(B) |
| 31NB-91041 - S/ACT PIPING KIT | 93N4-01200 - DECAL KIT(B) |
| 31NB-91050 - S/ACT PIPING KIT | 93N4-01300 - DECAL KIT(B) |
| 31NB-91311 - ATTACH PIPING KIT | 93N4-01400 - DECAL KIT(B) |
| 31NB-91351 - ATTACH PIPING KIT | 93N4-02100 - KIT-LIFTING CHART |
| 31NB-91411 - D/ACT MAIN PIPING KIT | 93N4-03100 - KIT-LIFTING CHART |
| 31NB-92010 - D/ACT PIPING KIT | 93N4-04100 - KIT-LIFTING CHART |
| 31NB-92011 - D/ACT PIPING KIT | 93N4-05100 - KIT-LIFTING CHART |
| 31NB-92021 - D/ACT PIPING KIT | 93N5-01100 - DECAL KIT(B) |
| 31NB-92031 - D/ACT PIPING KIT | 93N5-01101 - DECAL KIT(B) |
| 31NB-92041 - D/ACT PIPING KIT | 93N5-01102 - DECAL KIT (B) |
| 31NB-92050 - D/ACT PIPING KIT | 93N5-01200 - DECAL KIT(B) |
| 31NB-98010 - KIT-AUTO GREASE LINE | 93N5-01300 - DECAL KIT(B) |
| 31ND-40450 - SEAL KIT | 93N5-01303 - DECAL KIT(B) |
| 31ND-80020 - KIT-AUTO GREASE PIPING | 93N5-01400 - DECAL KIT(B) |
| 31ND-80270K - MAIN DISTRIBUTOR KIT | 93N5-01500 - DECAL KIT(B) |
| 31ND-90310 - S/ACT MAIN PIPING KIT | 93N5-01600 - DECAL KIT(B) |
| 31ND-90410 - D/ACT MAIN PIPING KIT | 93N5-02100 - KIT-LIFTING CHART |
| 31ND-91310 - BOOM PIPING KIT-BREAKER | 93N5-03100 - KIT-LIFTING CHART |
| 31ND-91320 - BOOM PIPING KIT-BREAKER | 93N5-05100 - KIT-LIFTING CHART |
| 31ND-91330 - BOOM PIPING KIT-BREAKER | 93N5-06100 - KIT-LIFTING CHART |
| 31ND-91411 - ARM PIPING KIT-BREAKER | 93N5-07100 - KIT-LIFTING CHART |
| 31ND-91421 - ARM PIPING KIT-BREAKER | 93N6-01102 - DECAL KIT(B) |
| 31ND-91431 - ARM PIPING KIT-BREAKER | 93N6-01103 - DECAL KIT(B) |
| 31Q4-90110 - S/ACT MAIN PIPING KIT | 93N6-01104 - DECAL KIT(B) |
| 31Q4-90210 - D/ACT MAIN PIPING KIT | 93N6-01105 - DECAL KIT(B) |
| 31Q4-90310 - BOOM PIPING KIT | 93N6-01301 - DECAL KIT(B) |
| 31Q4-90320 - BOOM PIPING KIT | 93N6-02100 - KIT-LIFTING CHART |
| 31Q4-90410 - ARM PIPING KIT | 93N6-05100 - KIT-LIFTING CHART |
| 31Q4-90420 - ARM PIPING KIT | 93N7-01101 - DECAL KIT(B) |
| 31Q4-90430 - ARM PIPING KIT | 93N7-01201 - DECAL KIT(B) |
| 31Q4-90440 - ARM PIPING KIT | 93N7-02100 - KIT-LIFTING CHART |
| 31Q4-90500 - ACCUMULATOR KIT | 93N7-04100 - KIT-LIFTING CHART |
| 31Q4-93110 - S/ACT MAIN PIPING KIT | 93N8-00010 - DECAL KIT(A) |
| 31Q4-93210 - D/ACT MAIN PIPING KIT | 93N8-00011 - DECAL KIT(A) |
| 31Q4-94210 - D/ACT MAIN PIPING KIT | 93N8-00020 - DECAL KIT(A) |
| 31Q4-94310 - BOOM PIPING KIT | 93N8-00021 - DECAL KIT(A) |
| 31Q5-40250 - SEAL KIT | 93N8-00030 - DECAL KIT(A) |
| 31Q5-90110 - S/ACT MAIN PIPING KIT | 93N8-00090 - DECAL KIT-A/S |
| 31Q5-90210 - D/ACT MAIN PIPING KIT | 93N8-01101 - DECAL KIT(B) |
| 31Q5-90310 - BOOM PIPING KIT | 93N8-01105 - DECAL KIT(B) |
| 31Q5-90320 - BOOM PIPING KIT | 93N8-01106 - DECAL KIT(B) |
| 31Q5-90410 - ARM PIPING KIT | 93N8-01107 - DECAL KIT(B) |
| 31Q5-90420 - ARM PIPING KIT | 93N8-01108 - DECAL KIT(B) |
| 31Q5-90430 - ARM PIPING KIT | 93N8-01201 - DECAL KIT(B) |
| 31Q5-90500 - ACCUMULATOR KIT | 93N8-01203 - DECAL KIT(B) |
| 31Q5-93210 - D/ACT MAIN PIPING KIT | 93N8-02100 - KIT-LIFTING CHART |
| 31Q6-17630 - SPOOL KIT-TRAVEL | 93N8-03100 - KIT-LIFTING CHART |
| 31Q6-17640 - SPOOL KIT-ARM 1 | 93N8-06400 - DECAL KIT(B) |
| 31Q6-17650 - SPOOL KIT-BOOM 1 | 93N9-01201 - DECAL KIT(B) |
| 31Q6-17660 - SPOOL KIT-BUCKET | 93N9-01202 - DECAL KIT(B) |
| 31Q6-17670 - SPOOL KIT-SWING | 93N9-01203 - DECAL KIT(B) |
| 31Q6-17680 - SPOOL KIT-ARM 2 | 93N9-02100 - KIT-LIFTING CHART |
| 31Q6-17690 - SPOOL KIT-BOOM 2 | 93N9-03100 - KIT-LIFTING CHART |
| 31Q6-17700 - SPOOL KIT-TS | 93N9-04100 - KIT-LIFTING CHART |
| 31Q6-17710 - SPOOL KIT-OPTION | 93NA-02100 - KIT-LIFTING CHART |
| 31Q6-17720 - SPOOL KIT-BYPASS CUT | 93NA-06400 - DECAL KIT(B) |
| 31Q6-17730 - SPOOL KIT-SW PRIORITY | 93NB-01302 - DECAL KIT(B) |
| 31Q6-18120 - SPOOL KIT-BYPASS CUT | 93NB-01303 - DECAL KIT(B) |
| 31Q6-90320 - S/ACT MAIN PIPING KIT | 93NB-01304 - DECAL KIT(B) |
| 31Q6-90370 - ACCUMULATOR KIT-BREAKER | 93NB-01503 - DECAL KIT(B) |
| 31Q6-90420 - D/Act Main Piping Kit | 93NB-03100 - KIT-LIFTING CHART |
| 31Q6-91310 - BOOM PIPING KIT-BREAKER | 93NB-04100 - KIT-LIFTING CHART |
| 31Q6-91320 - BOOM PIPING KIT-BREAKER | 93NB-05100 - KIT-LIFTING CHART |
| 31Q6-91410 - ARM PIPING KIT-BREAKER | 93Q4-00091 - DECAL KIT-A/S |
| 31Q6-91420 - ARM PIPING KIT-BREAKER | 942401 - BEARING SPACER KIT |
| 31Q6-91430 - ARM PIPING KIT-BREAKER | 94E7-00011 - DECAL KIT(B) |
| 31Q6-91440 - ARM PIPING KIT-BREAKER | 94E7-00013 - DECAL KIT(B) |
| 31Q6-92430 - ARM PIPING KIT-BREAKER | 94E7-00052 - DECAL KIT(C) |
| 31Q7-90310 - S/ACT MAIN PIPING KIT | 94E7-00130 - DECAL KIT(A) |
| 31Q7-90410 - D/ACT MAIN PIPING KIT | 94E7-00131 - DECAL KIT(A) |
| 31Q7-91310 - BOOM PIPING KIT-BREAKER | 94E7-00133 - DECAL KIT(A) |
| 31Q8-17630 - SPOOL KIT-TRAVEL | 94E7-00135 - DECAL KIT(A) |
| 31Q8-17640 - SPOOLKIT-ARM 1 | 94E7-00136 - DECAL KIT(A) |
| 31Q8-17650 - SPOOL KIT-BOOM 1 | 94E7-00137 - DECAL KIT(A) |
| 31Q8-17660 - SPOOL KIT-BUCKET | 94E7-00138 - DECAL KIT(A) |
| 31Q8-17670 - SPOOL KIT-SWING | 94E7-00430 - DECAL KIT(B) |
| 31Q8-17680 - SPOOL KIT-ARM 2 | 94E7-00470 - DECAL KIT B |
| 31Q8-17690 - SPOOL KIT-BOOM 2 | 94L1-00024 - DECAL(A)-KIT |
| 31Q8-17730 - SPOOL KIT-SWING PRI | 94L1-00276 - DECAL(A)-KIT |
| 31Q8-90370 - ACCUMULATOR KIT | 94L1-00277 - DECAL(A) KIT |
| 31Q8-90411 - D/ACT MAIN PIPING KIT | 94L1-00670 - RIDE CONTROL KIT, HL770-3 |
| 31Q8-91310 - BOOM PIPING KIT-BREAKER | 94L1-00674 - RIDE CONTROL KIT |
| 31Q8-91410 - ARM PIPING KIT-BREAKER | 94L1-20000 - TOOL KIT ASSY |
| 31Q8-91420 - ARM PIPING KIT-BREAKER | 94L1-20001 - TOOL KIT ASSY |
| 31Q8-91421 - ARM PIPING KIT-BREAKER | 94L1-20002 - TOOL KIT ASSY |
| 31Q8-91430 - ARM PIPING KIT-BREAKER | 94L3-00807 - DECAL(A)-KIT |
| 31Q8-91431 - ARM PIPING KIT-BREAKER | 94L3-00808 - DECAL(A)-KIT |
| 31Q8-91432 - ARM PIPING KIT-BREAKER | 94L3-01230 - KIT, RIDE CONTROL, HL750-3 1001~ |
| 31Q8-91480 - ARM PIPING KIT-BREAKER | 94L3-01250 - DECAL(A)-KIT |
| 31Q9-91310 - BOOM PIPING KIT-BREAKER | 94L3-01251 - DECAL(A)-KIT |
| 31Q9-91410 - ARM PIPING KIT-BREAKER | 94L4-00013 - DECAL(A)-KIT |
| 31QA-91310 - BOOM PIPING KIT-BREAKER | 94L4-00016 - DECAL(A)-KIT |
| 31QA-91410 - ARM PIPING KIT-BREAKER | 94L4-00230 - DECAL(A)-KIT |
| 31QB-90310 - S/ACT MAIN PIPING KIT | 94L4-00231 - DECAL(A)-KIT |
| 31QB-90311 - S/ACT MAIN PIPING KIT | 94L4-00233 - DECAL(A)-KIT |
| 31QB-90370 - ACCUMULATOR KIT | 94L4-00237 - DECAL(A)-KIT |
| 31QB-90410 - D/ACT MAIN PIPING KIT | 94L4-00238 - DECAL(A)-KIT |
| 31QB-91310 - BOOM PIPING KIT-BREAKER | 94L4-00239 - DECAL(A) KIT |
| 31QB-91410 - ARM PIPING KIT-BREAKER | 94L4-00241 - DECAL(B)-KIT |
| 31S8-00310 - CABLE & CONTROL KIT | 94L4-00514 - DECAL(A)-KIT |
| 31S8-00340 - CONNETOR KIT | 94L4-00515 - DECAL(A) KIT HL760 |
| 31Y1-01320 - SEAL KIT, BOOM CYLINDER | 94L4-00610 - DECAL(A)-KIT |
| 31Y1-01550 - SEAL KIT, BUCKET CYLINDER | 94L4-00611 - DECAL(A)-KIT |
| 31Y1-01650 - SEAL KIT,BOOM SWIGN CYL OPT | 94L4-00614 - DECAL(A) KIT |
| 31Y1-01780 - SEAL KIT, DOZER BLADE | 94L4-00615 - DECAL(A) KIT |
| 31Y1-01820 - SEAL KIT | 94L4-00660 - KIT-RIDE CONTROL HL760-3 ~1241 |
| 31Y1-01980 - SEAL KIT | 94L4-00742 - RIDE CONTROL KIT 760-3 1332~ |
| 31Y1-02570 - SEAL KIT,BOOM CYL | 94N8-00020 - DECAL KIT(A) |
| 31Y1-02740 - SEAL KIT,ARM CYL (000970) | 94N8-00021 - DECAL KIT (A) |
| 31Y1-02870 - SEAL KIT-BUCKET | 94Q6-10102 - DECAL KIT(B) |
| 31Y1-03090 - SEAL KIT,OUTRIGGER CYL | 9510445 - SHIM KIT |
| 31Y1-03220 - SEAL KIT,BOOM CYL | 95EA-00202 - DECAL KIT(A) |
| 31Y1-03350 - SEAL KIT,ADJUST CYL | 95EA-00210 - DECAL KIT(B) |
| 31Y1-03560 - SEAL KIT,BOOM CYLINDER | 970B1102-00 - SPINDLE KIT |
| 31Y1-03561 - SEAL KIT,BOOM CYLINDER | 970B1204-00 - RV GEAR KIT |
| 31Y1-03562 - SEAL KIT | 986B9000-00 - SEAL KIT |
| 31Y1-03710 - SEAL KIT, ARM CYLINDER | 994B2100-00 - CYLINDER &PISTON KIT |
| 31Y1-03711 - SEAL KIT, ARM CYL(=31Y1-03712) | AR12719 - VALVE-REPAIR KIT |
| 31Y1-03712 - SEAL KIT(=31Y1-03711) | AS568 - SEAL KIT |
| 31Y1-03861 - SEAL KIT, BUCKET CYL | AS568-1 - SEAL-KIT |
| 31Y1-03862 - SEAL KIT | AS568-2 - SEAL KIT |
| 31Y1-04031 - SEAL KIT, DOZER CYL | AS568-3 - SEAL KIT |
| 31Y1-04032 - SEAL KIT | AS568-4 - SEAL KIT |
| 31Y1-04191 - SEAL KIT, BOOM CYL. | AS568-5 - SEAL-KIT |
| 31Y1-04192 - SEAL KIT,BOOM CYL | AS568-6 - SEAL KIT |
| 31Y1-04361 - SEAL KIT, ARM CYL. | ASKIT-59100 - AS KIT |
| 31Y1-04362 - SEAL KIT-ARM CLY | B044A-51028 - SEAL KIT |
| 31Y1-04461 - SEAL KIT, BUCKET | B044A-51145 - SEAL KIT |
| 31Y1-04462 - SEAL KIT,BUCKET CYL | B21120-0040K - SEAL KIT |
| 31Y1-04610 - SEAL KIT | BA0005A - SERVICE KIT |
| 31Y1-04771 - SEAL KIT | BA0273A - SEAL KIT |
| 31Y1-04911 - SEAL KIT,BOOM CYL | C001B-31028 - RELIEF VALVE KIT |
| 31Y1-04912 - SEAL KIT -BOOM CLY | C001B-31029 - RELIEF VALVE KIT |
| 31Y1-05091 - SEAL KIT,ADJUST CYLINDER | C011B-40339 - RELIEF VALVE KIT |
| 31Y1-05092 - SEAL KIT | C011B-40340 - RELIEF VALVE KIT |
| 31Y1-05260 - SEAL KIT,BOOM CYL (KIT DE ANILLOS) | C011B-61119 - SPOOL KIT-ARM 1 |
| 31Y1-05440 - SEAL KIT,ARM CYLINDER | C011B-61121 - SPOOL KIT-ARM 2 |
| 31Y1-05610 - SEAL KIT-BCKT CYL-KIT DE SELLOS | C011B-61123 - SPOOL KIT-BUCKET |
| 31Y1-06400 - SEAL KIT-2 PC ADJ CYLINDER | C3CLSKT-N - SEAL KIT |
| 31Y1-06401 - SEAL KIT,ADJUST CYLINDER | C3CTSKT-K - SEAL KIT |
| 31Y1-06561 - SEAL KIT,BOOM CYLINDER | DSK-H002266 - SEAL KIT,STEERING CYL |
| 31Y1-06731 - SEAL KIT,ARM CYLINDER | E161-3035-S - TOOTH PIN KIT |
| 31Y1-06841 - SEAL KIT/BUCKET | E181-T0000 - TRACK BOLT & NUT KIT |
| 31Y1-06990 - SEAL KIT BOOM CYLINDER | E262-5004-S - TOOTH PIN KIT |
| 31Y1-07190 - SEAL KIT,ARM CYLINDER | ES100-192X230X3 - F SEAL KIT |
| 31Y1-07350 - SEAL KIT,BUCKET CYL | F12C700114 - DECAL KIT |
| 31Y1-07600 - SEAL KIT,BOOM CYL | G7200004040 - PREFEEL KIT |
| 31Y1-07601 - BOOM CYL SEAL KIT | G7200004060 - PREFEEL KIT |
| 31Y1-07602 - SEAL KIT 280 TB | G7200025070 - DETENT KIT |
| 31Y1-07750 - SEAL KIT,ARM CYL | G7200028010 - SPRING KIT |
| 31Y1-07751 - SEAL KIT,ARM CYLINDER | H4 - SEAL KIT |
| 31Y1-07910 - SEAL KIT,BUCKET CYL | H5 - SEAL KIT |
| 31Y1-07911 - SEAL KIT,BUCKET CYL. | H6 - SEAL KIT |
| 31Y1-080095 - SEAL KIT(4-8,10,11,15, | HE2C00398B - SEAL KIT |
| 31Y1-08070 - SEAL KIT,BOOM CYLINDER | J99E1002 - HANDLE KIT(LH)-RCV LEVER (SEE NOTE) |
| 31Y1-08071 - SEAL KIT, BOOM CYL. | JIS1920S-SET - SEAL KIT-FLOATING |
| 31Y1-08240 - SEAL KIT,ARM CYL | K7200023000 - SEAL KIT-4 PCS PLUNGER SET |
| 31Y1-08241 - SEAL KIT,ARM CYL | K8470803733500A - SEALS KIT |
| 31Y1-08243 - SEAL KIT,ARM CYLINDER | K8471703723500A - SEALS KIT |
| 31Y1-08370 - SEAL KIT | K84785037301030 - SEAL KIT |
| 31Y1-08371 - SEAL KIT, BUCKET | KR14002 - SEAL KIT |
| 31Y1-08541 - SEAL KIT,BOOM CYLINDER | KR15001 - SEAL KIT |
| 31Y1-08691 - SEAL KIT,ARM CYLINDER | KR15501 - SEAL KIT (=KS15501) |
| 31Y1-08692 - SEAL KIT,ARM CYLINDER | KR16001 - SEAL KIT |
| 31Y1-08831 - SEAL KIT,BUCKET CYLINDER | KS-207 - FLOATING SEAL KIT-2 RINGS=1KIT |
| 31Y1-09060 - SEAL KIT,BOOM CYL | KS15501 - SEAL KIT-DUAL BODY(=KR15501) |
| 31Y1-09270 - SEAL KIT,ARM CYLINDER | KS207336X368X40 - FLOATING SEAL KIT |
| 31Y1-09271 - SEAL KIT | MC044013 - REPAIR KIT,P/X OIL PUMP |
| 31Y1-09410 - SEAL KIT,BCKT CYL | MC824938 - REAR BRAKE LINING KIT |
| 31Y1-09860 - SEAL KIT, ARM | MC838213 - DUAL BRAKE VALVE,REPAIR KIT |
| 31Y1-09990 - SEAL KIT, BOOM | MC838466 - DUAL BRAKE VALVE KIT |
| 31Y1-10160 - SEAL KIT, BUCKET | ME064354 - OIL FILTER ELEMENT KIT |
| 31Y1-10360 - SEAL KIT(5-8,10, | ME971550 - FUEL FILTER ELEMENT KIT |
| 31Y1-10510 - SEAL KIT(5-8,10, | ME999358 - THERMOSTART KIT |
| 31Y1-10630 - SEAL KIT(5-8,10, | MF28055KG0004 - LININGS REPAIR KIT(1SET) |
| 31Y1-10780 - SEAL KIT | P9640000061 - SEAL KIT |
| 31Y1-11030 - SEAL KIT(5-8,10-12 | R12292710 - SEAL KIT |
| 31Y1-11290 - SEAL KIT(5-12,15-19,31, | RK071603 - SEAL KIT(12,23,26,27) |
| 31Y1-12070 - SEAL KIT,arm cyl. -0017 | RK099203 - SEAL KIT(12,23,26,27) |
| 31Y1-12071 - SEAL KIT, ARM CYLINDER 0018- | RK099207 - SEAL KIT(12,23,26,27) |
| 31Y1-12072 - SEAL KIT | SK187 - SEAL KIT |
| 31Y1-12630 - SEAL KIT | SK243 - SEAL KIT |
| 31Y1-13010 - SEAL KIT | SK2SPA/036007/1 - SEAL KIT(3,7,8,9) |
| 31Y1-13340 - SEAL KIT | SK339 - SEAL KIT |
| 31Y1-13800 - SEAL KIT | SK396 - SEAL KIT |
| 31Y1-14050 - SEAL KIT | SK399-0001 - SERVICE KIT |
| 31Y1-14200 - SEAL KIT(5-8,10,11,13-16, | SK618 - SEAL KIT |
| 31Y1-14270 - SEAL KIT | SK645 - SEAL KIT |
| 31Y1-14360 - SEAL KIT | SKR5002 - SEAL KIT |
| 31Y1-15040 - SEAL KIT(6-9, | SKX5002 - SEAL KIT |
| 31Y1-15045 - SEAL KIT | TBA - SEAL KIT |
| 31Y1-15046 - SEAL KIT | ULPR0001 - REP KIT, FUEL PUMP DX25 |
| 31Y1-15047 - SEAL KIT | VZ50104490 - SEAL KIT |
| 31Y1-15230 - SEAL KIT(6-9,11,12, | XCAP310827 - END CAP KIT |
| 31Y1-15235 - SEAL KIT | XJAA-00048 - MAIN RELIEF VALVE KIT |
| 31Y1-15236 - SEAL KIT | XJAA-00049 - RELIEF VALVE KIT |
| 31Y1-15390 - SEAL KIT(6-9,11, | XJAA-00070 - RELIEF VALVE KIT |
| 31Y1-15395 - SEAL KIT | XJAA-00071 - RELIEF VALVE KIT |
| 31Y1-15540 - SEAL KIT(6-9,11, | XJAA-00084 - SPOOL KIT-ARM 2 |
| 31Y1-15545 - SEAL KIT | XJAA-00085 - SPOOL KIT-BUCKET |
| 31Y1-15700 - SEAL KIT(6-9,11,12, | XJAA-00086 - SPOOL KIT-BOOM 1 |
| 31Y1-15705 - SEAL KIT | XJAA-00087 - SPOOL KIT-TRAVEL |
| 31Y1-15880 - SEAL KIT(6-9,11,12, | XJAA-00088 - SPOOL KIT-S/TRAVEL |
| 31Y1-15885 - SEAL KIT | XJAA-00089 - SPOOL KIT-ARM 1 |
| 31Y1-15890 - SEAL KIT | XJAA-00090 - SPOOL KIT-OPTION |
| 31Y1-15900 - S/LOCK SEAL KIT(1-7!-1-10 | XJAA-00091 - SPOOL KIT-BOOM 2 |
| 31Y1-15910 - S/LOCK SEAL KIT(1-6,1-7, | XJAA-00092 - SPOOL KIT-SWING |
| 31Y1-15920 - S/LOCK SEAL KIT(1-6,1-7, | XJAA-00170 - SPOOL KIT-ARM 1 |
| 31Y1-15930 - SAFETY LOCK SEAL KIT(1-6, | XJAA-00171 - SPOOL KIT-ARM 2 |
| 31Y1-15940 - SEAL KIT(1-5,1-6,1-7) | XJAA-00172 - SPOOL KIT-BUCKET |
| 31Y1-15950 - SEAL KIT | XJAA-00199 - RELIEF VALVE KIT |
| 31Y1-15980 - S/LOCK SEAL KIT(1-8,1-9 | XJAA-00200 - RELIEF VALVE KIT |
| 31Y1-15990 - SEAL KIT | XJAA-00201 - RELIEF VALVE KIT |
| 31Y1-16000 - SAFETY LOCK SEAL KIT | XJAA-00203 - RELIEF VALVE KIT |
| 31Y1-16010 - S/LOCK SEAL KIT(1-7,2-7, | XJAA-00210 - RELIEF VALVE KIT |
| 31Y1-16020 - S/LOCK SEAL KIT(1-7,2-7, | XJAF-00559 - GASKET KIT-OVERHAUL |
| 31Y1-16030 - S/LOCK SEAL KIT(1-6,2-6, | XJAF-01307 - ROLLER KIT |
| 31Y1-16050 - SEAL KIT | XJAF-01312 - SPRING-PLUNGER KIT |
| 31Y1-16100 - SEAL KIT (1-6,1-7,31Y1-18420) | XJAF-01469 - GASKET KIT-OVERHAUL |
| 31Y1-16110 - SEAL KIT (1-3,2-3,31Y1-18410) | XJAF-01525 - VALVE KIT |
| 31Y1-16111 - SEAL KIT | XJAF-01627 - GASKET KIT |
| 31Y1-16112 - SEAL KIT | XJAF-01742 - GASKET KIT-OVERHAUL |
| 31Y1-16170 - SEAL KIT | XJAF-01796 - GASKET KIT-OVERHAUL |
| 31Y1-16180 - SEAL KIT (6-9,11,12,14-18,25,29) | XJAF-01805 - REPAIR KIT |
| 31Y1-16600 - SEAL KIT(6-9,11-13 | XJAF-02873 - GASKET KIT |
| 31Y1-16760 - SEAL KIT(6-9,11-13 | XJAU-00471 - STOPPER KIT-PINION |
| 31Y1-17030 - SEAL KIT(6-9,11,12 | XJAU-01020 - SCREW KIT |
| 31Y1-17190 - SEAL KIT(6-9,11,12 | XJBN-00260 - SEAL KIT(47,472,485, |
| 31Y1-17650 - SEAL KIT(5-8,10-12 | XJBN-00514 - SEAL KIT |
| 31Y1-17660 - SEAL KIT (5-8,10-12,14-18,22,23,27) | XJBN-00966 - Seal Kit-Pump Unit |
| 31Y1-18060 - SEAL KIT | XJBN-00967 - REGULATOR SEAL KIT |
| 31Y1-18061 - SEAL KIT (6-9,11,12,15-19,26,30) | XJBN-00968 - SEAL KIT-GEAR PUMP |
| 31Y1-18065 - SEAL KIT | XJBN-00969 - SEAL KIT-CASING ASSY |
| 31Y1-18070 - S/LOCK SEAL KIT(1-6,1-7 | XJBN-00971 - Pump Unit Seal Kit |
| 31Y1-18071 - Safety Lock Seal Kit (1-4,2-4) | XJBN-00972 - regulator seal kit |
| 31Y1-18075 - SEAL KIT | XJBN-00973 - EPPR CASING SEAL KIT |
| 31Y1-18110 - SEAL KIT(6-9,11-13,16-20, | XJBN-00974 - gear pump seal kit |
| 31Y1-18170 - SEAL KIT(6-9,11-13,16-20, | XJBN-01104 - SEAL KIT |
| 31Y1-18210 - SEAL KIT(6-9,10-13,16-20, | XJBN-01105 - CAM KIT |
| 31Y1-18245 - SEAL KIT | XJBN-01106 - SEAL KIT - PUMP UNIT |
| 31Y1-18246 - SEAL KIT | XJBN-01107 - Seal kit - Regulator |
| 31Y1-18250 - S/LOCK SEAL KIT | XJBN-01108 - seal kit for body pump |
| 31Y1-18255 - SEAL KIT | XJBN-01109 - seal kit for gear pump |
| 31Y1-18256 - SEAL KIT | XJBN-01116 - SET PLATE KIT |
| 31Y1-18257 - SEAL KIT | XJBN-01123 - SEAL KIT-PUMP UNIT |
| 31Y1-18410 - SEAL KIT (5-8,10-12,17-20,34,39,40) | XJBN-01194 - REGULATOR KIT |
| 31Y1-18411 - Seal Kit Boom Cylinder(R450) | XJBN-01195 - REGULATOR KIT |
| 31Y1-18412 - SEAL KIT | XJBN-01273 - OPTION SPOOL KIT |
| 31Y1-18420 - Seal-Kit(450-7 Arm Cyl.) | XJBN-01274 - BYPASS CUT SPOOL KIT |
| 31Y1-18430 - SEAL KIT (6-9,11-13,18-21,29,32) | XJBN-01275 - SWING PRIORITY SPOOL KIT |
| 31Y1-18480 - SEAL KIT (6-9,11-13,16-20,31,32,36) | XJBN-01345 - SPOOL KIT-TRAVEL |
| 31Y1-18490 - SEAL KIT-BUCKET CYLINDER | XJBN-01346 - SPOOL KIT-ARM |
| 31Y1-18580 - SEAL KIT | XJBN-01347 - SPOOL KIT-BOOM |
| 31Y1-19080 - SEAL KIT,ARM CYL | XJBN-01348 - SPOOL KIT-BUCKET |
| 31Y1-19090 - Seal-Kit,Bucket Cyl.(320-7/A) | XJBN-01349 - SPOOL KIT-SWING |
| 31Y1-19550 - S/LOCK SEAL KIT | XJBN-01350 - SPOOL KIT-OPTION |
| 31Y1-19610 - SEAL KIT (1-4, 31Y1-18480) | XJBN-01351 - SPOOL KIT-T/STRAIGHT |
| 31Y1-20000 - SEAL KIT (1-4,2-4) | XJBN-01352 - SPOOL KIT-BOOM |
| 31Y1-20190 - SEAL KIT | XJBN-01353 - SPOOL KIT-A/CONFLUENCE |
| 31Y1-20270 - SEAL KIT | XJBN-01354 - SPOOL KIT-SWING PRIORITY |
| 31Y1-20340 - SEAL KIT (6-9,11-13,16-20,26,29) | XJBN-01471 - TRAVEL SPOOL KIT |
| 31Y1-20430 - SEAL KIT | XJBN-01472 - ARM 1 SPOOL KIT |
| 31Y1-20450 - SEAL KIT (6-10,11,12,15-19,29,32) | XJBN-01473 - BOOM 1 SPOOL KIT |
| 31Y1-20910 - Seal Kit, Boom CYL(360-7/A) | XJBN-01474 - BUCKET SPOOL KIT |
| 31Y1-20920 - SEAL KIT (1-3,2-3,31Y1-20910) | XJBN-01477 - BOOM 2 SPOOL KIT |
| 31Y1-21100 - SEAL KIT-BOOM CYL | XJBN-01479 - BYPASS CUT SPOOL KIT |
| 31Y1-23190 - SEAL KIT | XJBN-01507 - SWING SPOOL KIT |
| 31Y1-23390 - SEAL KIT | XJBN-01508 - ARM 2 SPOOL KIT |
| 31Y1-23550 - SEAL KIT | XJBN-01512 - ARM 1 SPOOL KIT |
| 31Y1-23700 - SEAL KIT | XJBN-01513 - BOOM 1 SPOOL KIT |
| 31Y1-23730 - SEAL KIT | XJBN-01514 - BUCKET SPOOL KIT |
| 31Y1-23860 - SEAL KIT (5-8,10-12,14-17,22.. | XJBN-01515 - STRAIGNT TRAVEL SPOOL KIT |
| 31Y1-24090 - SEAL KIT | XJBN-01526 - TRAVEL SPOOL KIT |
| 31Y1-24310 - SEAL KIT | XJBN-01527 - ROD SPOOL KIT |
| 31Y1-24350 - SEAL KIT | XJBN-01528 - DOZER SPOOL KIT |
| 31Y1-24370 - SEAL KIT | XJBN-01534 - TRAVEL SPOOL KIT |
| 31Y1-24420 - SEAL KIT | XJBN-01535 - ARM 1 SPOOL KIT |
| 31Y1-24440 - SEAL KIT | XJBN-01536 - BOOM SPOOL KIT |
| 31Y1-24501 - SEAL KIT | XJBN-01537 - BUCKET SPOOL KIT |
| 31Y1-24670 - SEAL KIT | XJBN-01538 - SWING SPOOL KIT |
| 31Y1-24671 - SEAL KIT | XJBN-01539 - ARM 2 SPOOL KIT |
| 31Y1-24790 - SEAL KIT | XJBN-01540 - BYPASS-CUT SPOOL KIT |
| 31Y1-24791 - SEAL KIT | XJBR-01650 - KIT METAL-CRANKSHAFT |
| 31Y1-24792 - SEAL KIT | XJBR-01651 - KIT METAL-CRANKSHAFT |
| 31Y1-24980 - SEAL KIT | XJBR-01652 - KIT METAL-CRANKSHAFT |
| 31Y1-25260 - SEAL KIT | XJBR-01673 - INJECTION PUMP KIT |
| 31Y1-25440 - SEAL KIT | XJBT-01520 - HOLDER KIT-NOZZLE |
| 31Y1-25610 - SEAL KIT | XJBT-01923 - HOLDER KIT-NOZZLE |
| 31Y1-25780 - SEAL KIT | XJBT-02191 - LEVER KIT |
| 31Y1-25920 - SEAL KIT | XJBV-00002 - SEAL KIT |
| 31Y1-25960 - SEAL KIT | XJBV-00003 - CYLILNDER BLOCK KIT |
| 31Y1-26410 - SEAL KIT | XJBV-00004 - THRUST PLATE KIT |
| 31Y1-26580 - SEAL KIT | XJBV-00117 - SEAL KIT |
| 31Y1-26760 - SEAL KIT | XJBV-00118 - SEAL KIT |
| 31Y1-26820 - SEAL KIT | XJBV-00119 - SEAL KIT-PISTON BRAKE |
| 31Y1-26840 - SEAL KIT | XJBV-00120 - BLOCK KIT-CYLINDER |
| 31Y1-28330 - SEAL KIT | XJBV-00121 - PLATE KIT-BASE |
| 31Y1-28340 - SEAL KIT | XJBV-00122 - PLATE KIT-THRUST |
| 31Y1-28350 - SEAL KIT, BUCKET CYL. | XJBV-00178 - SEAL KIT |
| 31Y1-28360 - SEAL KIT | XJBV-00179 - BASE PLATE KIT |
| 31Y1-28370 - SEAL KIT | XJBV-00208 - RETAINER PLATE KIT |
| 31Y1-28600 - SEAL KIT | XJCK-00415 - SHIM KIT |
| 31Y1-28610 - SEAL KIT | XJCK-00416 - SHIM KIT |
| 31Y1-28790 - SEAL KIT | XJDD-00682 - SEAL KIT |
| 31Y1-28960 - SEAL KIT | XJDD-00683 - SEAL KIT |
| 31Y1-29100 - SEAL KIT | XJDD-00684 - SEAL KIT |
| 31Y1-29490 - SEAL KIT | XJDD-00685 - SEAL KIT |
| 31Y1-29500 - SEAL KIT | XJDD-01147 - SEAL KIT |
| 31Y1-29930 - SEAL KIT | XJDF-00040 - SEAL KIT(3,12,13) |
| 31Y1-30111 - SEAL KIT | XJDF-00052 - SEAL KIT(3,10) |
| 31Y1-30290 - SEAL KIT | XJDG-00141 - SEAL KIT |
| 31Y1-30720 - SEAL KIT | XJDH-01878 - CONDENSOR TANK KIT |
| 31Y1-30810 - SEAL KIT | XJDH-01892 - FILTER KIT |
| 31Y1-31150 - SEAL KIT | XJDH-03038 - SEAL KIT |
| 31Y1-31320 - SEAL KIT | XJDH-03179 - SEAL KIT(3-13) |
| 31Y1-31490 - SEAL KIT | XJDH-03358 - SEAL KIT |
| 31Y1-32140 - SEAL KIT | XJDH-03374 - SEAL KIT |
| 31Y1-32150 - SEAL KIT | XJDK-00023 - SEAL KIT-REDUCTION GEAR |
| 31Y1-32160 - SEAL KIT | XJDK-00035 - SEAL KIT-TRAVEL MOTOR |
| 31Y1-32450 - SEAL KIT | XJDK-00055 - SEAL KIT-REDUCTION GEAR |
| 31Y1-32670 - SEAL KIT | XJDK-00076 - SEAL KIT-HYD MOTOR |
| 31Y1-32910 - SEAL KIT | XJDK-00094 - PINION KIT |
| 31Y1-33110 - SEAL KIT | XJDK-00095 - CARRIER KIT |
| 31Y1-33420 - SEAL KIT | XJDK-00096 - BODY KIT-H |
| 31Y1-33570 - SEAL KIT | XJDK-00097 - CYLINDER BARREL KIT |
| 31Y1-33710 - SEAL KIT | XJDK-00098 - SWASH PLATE KIT |
| 31Y1-33711 - SEAL KIT | XJDK-00099 - SEAL KIT-SWING MOTOR |
| 31Y1-33870 - SEAL KIT | XJDK-00100 - SEAL KIT(RELIEF VALVE) |
| 31Y1-34010 - SEAL KIT | XJDK-00115 - PINION KIT |
| 31Y1-34060 - SEAL KIT | XJDK-00116 - CARRIER 1 KIT |
| 31Y1-34070 - SEAL KIT | XJDK-00117 - CARRIER 2 KIT |
| 31Y1-34080 - SEAL KIT | XJDK-00118 - BODY H KIT |
| 31Y1-34090 - SEAL KIT | XJDK-00119 - CYLINDER BARREL KIT |
| 31Y1-34340 - SEAL KIT | XJDK-00120 - SWASH PLATE KIT |
| 31Y1-34600 - SEAL KIT | XJDK-00121 - SEAL KIT(HYD MOTOR) |
| 31Y1-34790 - SEAL KIT | XJDK-00122 - CYLINDER BARREL KIT |
| 31Y1-35030 - SEAL KIT | XJDK-00123 - SEAL KIT |
| 31Y1-35060 - SEAL KIT | XJDK-00125 - CYLINDER BARREL KIT |
| 31Y1-35070 - SEAL KIT | XJDK-00126 - SEAL KIT |
| 31Y1-35150 - SEAL KIT | XKAG-00017 - SEAL KIT |
| 31Y1-35190 - SEAL KIT | XKAH-00002 - SPINDLE KIT |
| 31Y1-35200 - SEAL KIT-BM SAFETY LOCK | XKAH-00018 - GEAR-SPURV KIT |
| 31Y1-35212 - SEAL KIT | XKAH-00037 - REAR FLANGE KIT |
| 31Y1-35214 - SEAL KIT | XKAH-00078 - PISTON KIT-2SPEED |
| 31Y1-35450 - SEAL KIT | XKAH-00097 - RELIEF VALVE KIT |
| 31Y1-35590 - SEAL KIT | XKAH-00111 - SEAL KIT |
| 31Y1-35710 - SEAL KIT | XKAH-00302 - SEAL KIT |
| 31Y1-35840 - seal kit | XKAH-00303 - SEAL KIT |
| 31Y1-35930 - SEAL KIT | XKAH-00304 - SEAL KIT |
| 31Y1-35940 - SEAL KIT | XKAH-00342 - FLOATING SEAL KIT |
| 31Y1-35950 - SEAL KIT | XKAH-00358 - CARRIER KIT |
| 31Y1-35970 - SEAL KIT | XKAH-00366 - SEAL KIT |
| 31Y1-36150 - SEAL KIT | XKAH-00372 - FLOATING SEAL KIT |
| 31Y1-36170 - SEAL KIT | XKAH-00374 - REAR FLANGE KIT |
| 31Y1-36850 - SEAL KIT | XKAH-00459 - REAR FLANGE KIT |
| 31Y2-00480 - SEAL KIT | XKAH-00460 - SEAL KIT |
| 31Y2-00510 - SEAL KIT | XKAH-00465 - SEAL KIT |
| 31Y2-00630 - SEAL KIT,BOOM CYL | XKAH-00488 - SPINDLE KIT |
| 31Y2-00750 - SEAL KIT,BCKT CYL | XKAH-00492 - SPUR GEAR KIT |
| 31Y2-00900 - SEAL KIT, STRG CYL | XKAH-00613 - PUMP BODY SEAL KIT |
| 31Y2-01860 - SEAL KIT,STRG | XKAH-00616 - sealkit, swing motor |
| 31Y2-01990 - SEAL KIT,BOOM CYL | XKAH-00752 - C/BLOCK & PISTON KIT |
| 31Y2-02180 - SEAL KIT-BUCKET CYL | XKAH-00796 - REAR FLANGE KIT |
| 31Y2-02310 - SEAL KIT,STRG CYL | XKAH-00824 - SEAL KIT |
| 31Y2-02490 - SEAL KIT, BOOM CYL | XKAH-00836 - RELIEF VALVE BLOCK KIT |
| 31Y2-02600 - SEAL KIT,BUCKET CYL | XKAH-00838 - SEAL KIT |
| 31Y2-02690 - SEAL KIT, STEERING CYL | XKAH-00862 - SEAL KIT |
| 31Y2-02860 - SEAL KIT, BOOM CYL | XKAH-00863 - GEAR PUMP SEAL KIT |
| 31Y2-02970 - SEAL KIT, BUCKET CYL | XKAH-00891 - C/BLOCK & PISTON KIT |
| 31Y2-03030 - SEAL KIT,STEERING CYL | XKAH-01036 - REAR FLANGE KIT |
| 31Y2-03180 - SEAL-KIT | XKAH-01054 - SEAL KIT |
| 31Y2-03400 - SEAL KIT | XKAH-01060 - SEAL KIT |
| 31Y2-03580 - SEAL KIT | XKAH-01074 - SEAL KIT |
| 31Y2-03751 - SEAL KIT | XKAH-01075 - REAR FLANGE KIT |
| 31Y2-03921 - SEAL KIT(BUCKET,HL740-3) | XKAH-01077 - SEAL KIT |
| 31Y2-04062 - SEAL KIT | XKAH-01183 - CYL BLOCK& PISTON KIT |
| 31Y2-04281 - SEAL KIT | XKAH-01230 - REAR FLABGE KIT |
| 31Y2-04640 - SEAL KIT | XKAH-01279 - SEAL KIT |
| 31Y2-04750 - SEAL KIT | XKAH-01319 - REAR FLANGE KIT |
| 31Y2-04751 - seal kit | XKAH-01336 - CYLINDER BLOCK KIT |
| 31Y2-04930 - SEAL KIT, BOOM CYL. | XKAH-01423 - SEAL KIT |
| 31Y2-05070 - SEAL KIT, BUCKET CYL. | XKAH-01424 - SEAL KIT |
| 31Y2-05310 - SEAL KIT, STEERING CYL. | XKAH-01457 - SEAT KIT |
| 31Y2-05311 - SEAL KIT | XKAK-00078 - LOCK PLATE+HOLDER KIT |
| 31Y2-05790 - SEAL KIT | XKAL-00013 - SEAL KIT |
| 31Y2-05920 - SEAL KIT | XKAL-00015 - SEAL KIT |
| 31Y2-06251 - SEAL KIT, BUCKET CYL | XKAL-00017 - SEAL KIT |
| 31Y2-06260 - SEAL KIT | XKAL-00019 - SEAL KIT |
| 31Y2-06520 - SEAL KIT | XKAL-00028 - SEAL KIT |
| 31Y2-07021 - SEAL KIT(5-8,11,12) | XKAL-00030 - SEAL KIT |
| 31Y2-07430 - SEAL KIT(5-8,10,11,13-17, | XKAL-00032 - SEAL KIT |
| 31Y2-07590 - SEAL KIT(5-8,10-12,14-16) | XKAL-00034 - SEAL KIT |
| 31Y2-07660 - SEAL KIT | XKAL-00042 - SEAL KIT |
| 31Y2-07770 - SEAL KIT | XKAL-00046 - SEAL KIT |
| 31Y2-07860 - SEAL KIT(5-8,10-12,14-16) | XKAL-00049 - SEAL KIT |
| 31Y2-08080 - SEAL KIT | XKAL-00064 - SEAL KIT |
| 31Y2-08270 - SEAL KIT(5-8,10-12,14-17) | XKAL-00067 - SEAL KIT |
| 31Y2-10030 - SEAL KIT | XKAL-00068 - SEAL KIT |
| 31Y2-10130 - SEAL KIT | XKAL-00069 - SEAL KIT |
| 31Y2-10230 - seal kit | XKAY-00174 - PISTON ASSY (COMPLETE KIT-9 PIECES) |
| 31Y2-10430 - SEAL KIT | XKAY-00211 - SUPPORT KIT |
| 31Y2-10510 - SEAL KIT | XKAY-00218 - ROTARY KIT |
| 31Y2-10700 - SEAL KIT | XKAY-00219 - CYLINDER BLOCK KIT |
| 31Y2-10880 - SEAL KIT | XKAY-00223 - RETAINER KIT |
| 31Y2-11050 - SEAL KIT | XKAY-00226 - PISTON KIT |
| 31Y2-11240 - SEAL KIT | XKAY-00238 - C/BLC VLV SPOOL KIT |
| 31Y2-11590 - SEAL KIT-BUCKET CYLINDER | XKAY-00278 - seal kit |
| 31Y2-11800 - SEAL KIT | XKAY-00288 - ROTARY KIT |
| 31Y2-11980 - SEAL KIT | XKAY-00292 - RETAINER KIT |
| 31Y2-12150 - SEAL KIT | XKAY-00295 - PISTON KIT |
| 31Y2-12320 - SEAL KIT | XKAY-00325 - SEAL KIT |
| 31Y2-12450 - SEAL KIT | XKAY-00336 - PISTON KIT-SWASH |
| 31Y2-12620 - SEAL KIT | XKAY-00342 - ROTARY KIT |
| 31Y3-00490 - SEAL KIT | XKAY-00343 - CYLINDER BLOCK KIT |
| 31Y3-00570 - SEAL KIT DX20 | XKAY-00349 - RETAINER KIT |
| 31Y3-01420 - SEAL KIT | XKAY-00352 - PISTON KIT |
| 31Y3-28390 - SEAL KIT | XKAY-00372 - MAIN SPOOL KIT |
| 31Y3-30330 - SEAL KIT | XKAY-00413 - SEAL KIT |
| 31Y3-30340 - SEAL KIT | XKAY-00414 - SEAL KIT |
| 31Y3-30370 - SEAL KIT | XKAY-00416 - ROTARY KIT |
| 31Y3-30980 - SEAL KIT | XKAY-00417 - CYLINDER BLOCK KIT |
| 31Y4-00290 - SEAL KIT | XKAY-00418 - RETAINER KIT |
| 31Y4-00400 - SEAL KIT | XKAY-00419 - PISTON KIT |
| 31Y6-00110 - SEAL KIT | XKAY-00421 - RELIEF VLV ASSY KIT |
| 31Y6-00180 - SEAL KIT | XKAY-00425 - COVER KIT |
| 31Y6-00290 - SEAL KIT | XKAY-00427 - SPOOL KIT |
| 3264653 - SHAFT KIT-B/GEAR | XKAY-00428 - PUSH ROD KIT |
| 3264663 - SHAFT KIT-B/GEAR | XKAY-00445 - SWASH PISTON KIT |
| 3270533 - AXLE KIT PR24 | XKAY-00452 - ROTARY KIT |
| 3270543 - AXLE KIT PR15 | XKAY-00453 - CYLINDER BLOCK KIT |
| 3270553 - AXLE KIT PR12 | XKAY-00460 - RETAINER KIT |
| 3270563 - AXLE KIT PR10 | XKAY-00463 - PISTON KIT |
| 3286279 - KIT-WATER PUMP | XKAY-00476 - SPOOL KIT |
| 3289053 - KIT-SEAL | XKAY-00518 - SEAL KIT |
| 32A47-09000 - CONDENSER TANK KIT | XKAY-00528 - ROTARY KIT |
| 32A94-00050 - OVERHAUL GASKET KIT | XKAY-00529 - CYLINDER BLOCK KIT |
| 32A94-00060 - OVERHAUL GASKET KIT | XKAY-00532 - RETAINER KIT |
| 32B40-20100 - CARTRIDGE KIT,OIL FILTER, MHI S6S-D | XKAY-00535 - PISTON KIT |
| 32B65-09510 - OVER-HAUL KIT | XKAY-00553 - SEAL KIT |
| 32E6-91010 - PIPING KIT , BREAKER | XKAY-00567 - SWASH PISTON KIT |
| 32NA-91010 - S/ACT PIPING KIT | XKAY-00572 - ROTARY KIT |
| 32NA-91020 - S/ACT PIPING KIT | XKAY-00573 - CYLINDER BLOCK KIT |
| 32NA-91050 - S/ACT PIPING KIT | XKAY-00576 - RETAINER KIT |
| 32NB-91010 - S/ACT PIPING KIT | XKAY-00580 - PISTON KIT |
| 32NB-91020 - S/ACT PIPING KIT | XKAY-00595 - SEAL KIT |
| 32NB-91030 - S/ACT PIPING KIT | XKAY-00606 - SPOOL KIT(1,3) |
| 32NB-91040 - S/ACT PIPING KIT | XKAY-00607 - SPOOL KIT(2,4) |
| 32NB-92010 - D/ACT PIPING KIT | XKAY-00608 - PLUG KIT(1,3) |
| 32NB-92020 - D/ACT PIPING KIT | XKAY-00609 - PLUG KIT(2,4) |
| 32NB-92030 - D/ACT PIPING KIT | XKAY-00613 - HANDLE KIT(RH) |
| 32NB-92040 - D/ACT PIPING KIT | XKAY-00614 - HANDLE KIT(LH) |
| 32Q6-91310 - BOOM PIPING KIT-BREAKER | XKAY-00615 - SPOOL KIT |
| 330-SK - SEAL KIT | XKAY-00616 - HANDLE KIT(R) |
| 3302255-0133 - SEAL KIT | XKAY-00617 - HANDLE KIT(L) |
| 3302255-0135 - SEAL KIT 290LC-3 PAGE2142 | XKAY-00628 - CYLINDER BLOCK KIT |
| 33130-45760 - SCV KIT | XKAY-00629 - ROTARY KIT |
| 3350800317 - SEAL KIT | XKAY-00634 - CYLINDER BLOCK KIT |
| 3353977 - SEAL SERVICE KIT-FR | XKAY-00635 - ROTARY KIT |
| 3353978 - SERVICE KIT | XKAY-00640 - HANDLE KIT(R) |
| 33Q6-90310 - S/ACT MAIN PIPING KIT | XKAY-00641 - HANDLE KIT(L) |
| 33Q6-90410 - D/ACT MAIN PIPING KIT | XKAY-00645 - ROTARY KIT |
| 3469425303 - STUD ASSY KIT | XKAY-00646 - CYLINDER BLOCK KIT |
| 3469425304 - STUD ASSY KIT | XKAY-00647 - RETAINER KIT |
| 34E7-91701 - ACCUMULATOR KIT | XKAY-00648 - PISTON KIT |
| 34L1-02800 - ADAPTER KIT | XKAY-00650 - RELIEF VALVE KIT |
| 34L1-02920 - PUMP KIT-EMER STEER | XKAY-00655 - SPOOL KIT |
| 34L4-01780 - EMER STEER PUMP KIT | XKAY-00659 - PLUG KIT |
| 34Q6-90310 - S/ACT MAIN PIPING KIT | XKAY-00667 - SEAL KIT |
| 34Q6-90410 - D/ACT MAIN PIPING KIT | XKAY-00695 - RELIEF VLV ASSY KIT |
| 3502255-0134 - KIT, SEAL | XKAY-00709 - PLUG KIT |
| 3526330-0017 - SHIM KIT | XKAY-00715 - SPOOL KIT |
| 3526330-0028 - SHIM KIT | XKAY-00718 - HANDLE KIT - RH |
| 3545575 - REPAIR KIT | XKAY-00725 - HANDLE KIT - LH |
| 3545576 - TURBO GASKET KIT | XKAY-00730 - SPOOL KIT(1,3) |
| 3545652 - REPAIR KIT BURBO | XKAY-00743 - HANDLE KIT(RH) |
| 35D1-40310 - SEAL KIT | XKAY-00744 - HANDLE KIT(LH) |
| 35D1-40320 - SEAL KIT-SPOOL | XKAY-00747 - SEAL KIT |
| 37AF-FGSD - SHAFT KIT A | XKAY-00769 - SPOOL KIT(1,3) |
| 3800316 - KIT-ENGINE PISTON | XKAY-00770 - SPOOL KIT(2,4) |
| 3800320 - KIT-ENGINE PISTON | XKAY-00776 - PLUG KIT(1,3) |
| 3800321 - CYLINER-KIT | XKAY-00777 - PLUG KIT(2,4) |
| 3800328 - KIT-LINER | XKAY-00788 - HANDLE KIT-RH |
| 3800332 - KIT-CYL BLOCK HW | XKAY-00789 - HANDLE KIT-LH |
| 3800394 - KIT-FUEL W/SEPARATOR | XKAY-00791 - SEAL KIT |
| 3800480 - GEAR COVER KIT | XKAY-00802 - SPOOL KIT(1,3) |
| 3800636 - KIT-INTAKE VALVE | XKAY-00803 - SPOOL KIT(2,4) |
| 3800637 - KIT-EXHAUST VALVE | XKAY-00805 - PLUG KIT(1,3) |
| 3800709 - KIT-TURBOCHARGER | XKAY-00806 - PLUG KIT(2,4) |
| 3800828 - KIT | XKAY-00807 - HANDLE KIT(RH) |
| 3800968 - KIT-OIL SEAL | XKAY-00808 - HANDLE KIT(LH) |
| 3800969 - KIT-OIL SEAL | XKAY-00948 - SPOOL KIT(1,3) |
| 3800974 - KIT-WATER PUMP | XKAY-00949 - SPOOL KIT(2,4) |
| 3801254 - CYLINDER LINER KIT | XKAY-00952 - PLUT KIT(1,3) |
| 3801279 - MAIN BRG CAP KIT | XKAY-00953 - PLUG KIT(2,4) |
| 3801542 - ENGINE PISTON KIT | XKAY-00957 - HANDLE KIT(RH) |
| 3801628 - KIT,OIL SEAL | XKAY-00958 - HANDLE KIT(LH) |
| 3801629 - SEAL KIT | XKAY-00960 - SEAL KIT |
| 3801808 - KIT-CMPR HED REP | XKAY-00963 - ROTARY KIT |
| 3801826 - KIT-CYLINDER LINER | XKAY-00974 - SEAL KIT |
| 3801888 - STUD KIT | XKAY-01056 - COVER KIT |
| 3802007 - REPAIR KIT | XKAY-01057 - CAM KIT |
| 3802035 - REPAIR KIT | XKAY-01058 - SPOOL KIT |
| 3802060 - KIT PISTON | XKAY-01059 - PUSH ROD KIT |
| 3802062 - ENG.PISTON KIT | XKAY-01062 - SPOOL KIT(1,3) |
| 3802064 - ENG.PISTON KIT | XKAY-01063 - SPOOL KIT(2,4) |
| 3802070 - MAIN BRG KIT(STD) | XKAY-01064 - PLUG KIT(1,3) |
| 3802071 - MAIN BRG KIT(0.25) | XKAY-01065 - PLUG KIT(2,4) |
| 3802088 - LINER KIT | XKAY-01067 - HANDLE KIT-LH |
| 3802090 - ENG.PISTON KIT | XKAY-01068 - HANDLE KIT-RH |
| 3802091 - KIT-FUEL INJECTOR | XKAY-01069 - SEAL KIT |
| 3802092 - ENG.PISTON KIT | XKAY-01070 - support kit |
| 3802094 - ENG.PISTON KIT | XKAY-01102 - ROTARY KIT |
| 3802100 - PISTON KIT | XKAY-01103 - BLOCK KIT-CYLINDER |
| 3802102 - PISTON KIT(0.5) | XKAY-01105 - RETAINER KIT |
| 3802132 - ENGINE PISTON KIT | XKAY-01107 - PISTON KIT |
| 3802134 - ENGINE KIT | XKAY-01117 - SEAL KIT |
| 3802147 - KIT,RPR | XKAY-01121 - RELIEF VALVE ASSY KIT |
| 3802148 - TURBO REPAIR KIT | XKAY-01124 - ROTARY KIT |
| 3802149 - TURBO REPAIR KIT | XKAY-01125 - CYLINDER BLOCK KIT |
| 3802154 - KIT, CYLINDER LINER | XKAY-01132 - SPOOL KIT(1,3) |
| 3802160 - ENGINE PISTON KIT | XKAY-01133 - SPOOL KIT(2,4) |
| 3802212 - MAIN BEARING KIT | XKAY-01135 - PLUG KIT(1,3) |
| 3802227 - UPPER ENG.GASKET KIT | XKAY-01136 - PLUG KIT(2,4) |
| 3802263 - PISTON KIT | XKAY-01140 - SEAL KIT |
| 3802278 - KIT-LUBE OIL PUMP | XKAY-01147 - RETAINER KIT |
| 3802279 - PISTON KIT | XKAY-01223 - SEAL KIT |
| 3802283 - CYLKIT | XKAY-01224 - HANDLE KIT(RH) |
| 3802407 - KIT-LINER | XKAY-01225 - HANDLE KIT(LH) |
| 3802487 - KIT-ENGINE PISTON | XKAY-01228 - PLUG KIT(2,4) |
| 3802489 - KIT-ENGINE PISTON | XKAY-01229 - PLUG KIT(1,3) |
| 3802493 - KIT-ENGINE PISTON | XKAY-01232 - SPOOL KIT(2,4) |
| 3802641 - KIT-BLOCK H/WARE | XKAY-01233 - SPOOL KIT(1,3) |
| 3802657 - KIT-ENGINE PISTON | XKAY-01401 - SEAL KIT |
| 3802677 - KIT-INJECTOR | XKAY-01418 - SPOOL KIT(1,3) |
| 3802747 - KIT-ENGINE PISTON | XKAY-01419 - SPOOL KIT(2,4) |
| 3802753 - KIT-FUEL INJECTOR | XKAY-01422 - PLUG KIT(1,3) |
| 3802757 - KIT-ENGINE PISTON | XKAY-01423 - PLUG KIT(2,4) |
| 3802758 - KIT-ENGINE PISTON | XKAY-01426 - HANDLE KIT LH |
| 3802764 - KIT-ENGINE PISTON | XKAY-01427 - HANDLE KIT RH |
| 3802765 - KIT-ENGINE PISTON | XKAY-01431 - SEAL KIT |
| 3802798 - KIT-TUBOCHAGER | XKAY-01439 - SPOOL KIT(1,3) |
| 3802811 - KIT-CYLINDER | XKAY-01440 - SPOOL KIT(2,4) |
| 3802820 - KIT-SEAL | XKAY-01441 - PLUG KIT(1,3) |
| 3802907 - KIT-TURBOCHARGER | XKAY-01442 - PLUG KIT(2,4) |
| 3802918 - PISTON RING KIT | XKAY-01445 - SEAL KIT |
| 3802924 - KIT | XKAY-01454 - SPOOL KIT |
| 3802925 - ENGINE PISTON KIT | XKAY-01456 - PLUG KIT |
| 3802926 - ENGINE PISTON KIT | XKAY-01467 - SEAL KIT |
| 3802927 - ENGINE PISTON KIT | XKAY-01473 - ROTARY KIT |
| 3802928 - ENGINE PISTON KIT | XKAY-01474 - CYLINDER BLOCK KIT |
| 3802929 - ENGINE PISTON KIT | XKAY-01507 - REAR COVER ASSY KIT |
| 3802967 - KIT | XKAY-01508 - REAR COVER ASSY KIT |
| 3803156 - KIT-HOSE | XKAY-01509 - CYLINDER BLOCK KIT |
| 3803282 - VALVE REPAIR KIT | XKAY-01510 - ROTARY KIT |
| 3803297 - LINER KIT | XKAY-01517 - SEAL KIT |
| 3803354 - KIT,OIL SEAL | XKAY-01589 - SPOOL KIT(2.4) |
| 3803465 - KIT,CYLINDER | XKAY-01590 - PLUG KIT |
| 3803477 - KIT-OIL SEAL | XKAY-01591 - PLUG KIT |
| 3803487 - KIT,OIL SEAL | XKAY-01594 - SPOOL KIT |
| 3803488 - KIT,OIL SEAL | XKAY-01596 - PLUG KIT |
| 3803489 - KIT,OIL SEAL | XKAY-01598 - PEDAL KIT |
| 3803495 - KIT-PST C/NOZZLE | XKAY-01718 - HANDLE KIT-LH |
| 3803571 - GEAR COVER KIT | XKAY-01719 - HANDLE KIT-RH |
| 3803632 - CYLINDER KIT | XKAY-01723 - SEAL KIT |
| 3803682 - KIT-WIRE HARNESS | XKAY-01745 - HANDLE KIT(RH) |
| 3803703 - KIT-CYLINDER LINER | XKAY-01746 - HANDLE KIT(LH) |
| 3803726 - KIT-EXHAUST VALVE | XKAY-01809 - MAIN SPOOL KIT |
| 3803728 - OIL SEAL KIT | XKAY-01818 - PISTON KIT |
| 3803729 - KIT,SEAL | XKAY-01821 - RETAINER KIT |
| 3803739 - KIT-ENG PISTON | XKAY-01827 - CYLINDER BLOCK KIT |
| 3803740 - KIT-CYLINDER | XKAY-01828 - ROTARY KIT |
| 3803745 - KIT-TURBO BEARING | XKAY-01832 - SWASH PISTON KIT |
| 3803854 - KIT-INTAKE VALVE | XKBF-00100 - L/VALVE KIT-A(16,40-47,69, |
| 3803894 - OIL SEAL KIT | XKBF-00101 - L/VALVE KIT-B |
| 3803976 - ENG PISTON KIT | XKBF-00441 - LOCK VALVE KIT A |
| 3803978 - CYLINDER KIT | XKBF-00442 - LOCK VALVE KIT B |
| 3804304 - OIL SEAL KIT | XKBF-00626 - HOLDING VALVE KIT(A) |
| 3804700 - KIT-TAPPET | XKBF-00627 - HOLDING VALVE KIT(B) |
| 3804744 - OIL SRAL KIT | XKBF-00898 - LOCK VALVE KIT-A |
| 3804805 - KIT-TURBOCHARGER | XKBF-00899 - LOCK VALVE KIT-B |
| 3804826 - KIT-WATER PUMP | XKBF-01057 - LONG BOLT KIT |
| 3804899 - KIT-SEAL SERVICE,FR | XKBF-01097 - SEAL KIT |
| 3804927 - KIT-WATER PUMP | XKBF-01221 - KIT-SEAL,SECTION |
| 3804933 - KIT-CYL BLOCK HW | XKBF-01222 - KIT-SEAL,SPOOL |
| 3804980 - KIT-ENGINE PISTON | XKBF-01223 - KIT-RELIEF V/V |
| 3900960 - KIT-OIL PAN SERVICE | XKBF-01224 - KIT-SEAL |
| 3903576 - SOLENOID-KIT,FUEL SHUTOFF | XKBF-01256 - HOLDING KIT-A1 |
| 3905125 - KIT-SOLENOID | XKBF-01266 - HOLDING KIT-A2 |
| 39055-911 - SEAL KIT | XKBF-01314 - HOLDING VALVEV KIT-A1 |
| 3907792 - KIT, CYLINDER(1241175H91) | XKBF-01315 - HOLDING VALVE KIT-A2 |
| 3909409 - KIT-CRANK | XKBF-01511 - SPOOL KIT |
| 3909410 - KIT SEAL INC OIL SEALS OLD#3921265 | XKBH-00003 - GASKT KIT- ENG OVERHALL |
| 3909476 - KIT, INJ, REPAIR | XKBP-00102 - SEAL KIT |
| 3925626 - SEAL-W/SLEEVE KIT,FR | XKBQ-00597 - seal kit parking brake |
| 3926126 - KIT-SEAL | XKCA-00118 - SEAL KIT |
| 3933220 - KIT-BLOCK HARDWARE | XKCC-00037 - SEAL KIT |
| 3933224 - KIT-CYL BLOCK HW | XKCC-00040 - SEAL KIT |
| 3934486 - KIT-SEAL | XKCC-00071 - SEAL KIT |
| 3937111 - SEAL KIT-FRONT | XKCC-00097 - SEAL KIT |
| 3957797 - KIT-ENGINE PISTON | XKCC-00099 - SEAL KIT |
| 39806600 - SEAL KIT | XKCC-00140 - SEAL KIT |
| 39815500 - ASSY KIT | XKCC-00170 - SEAL KIT |
| 39Q6-41150 - PISTON KIT | XKCC-00225 - SEAL KIT |
| 39Q6-41260 - ROTARY KIT | XKCC-00247 - SEAL KIT |
| 39Q6-41270 - CYLINDER BLOCK KIT | XKCC-00264 - SEAL KIT |
| 39Q6-41300 - RETAINER KIT | XKCC-00327 - SEAL KIT |
| 39Q6-41810 - O-RING KIT | XKCC-00339 - SEAL KIT |
| 39Q6-41820 - D-RING KIT | XKCC-00365 - SEAL KIT |
| 39Q6-42180 - CARRIER ASSY KIT 2 | XKCC-00397 - SEAL KIT |
| 39Q6-42250 - CARRIER ASSY KIT 1 | XKCC-00436 - SEAL KIT |
| 3XKIT110110 - CAP-SPRING | XKCC-00458 - SEAL KIT |
| 400B1100-00 - CARRIER KIT | XKCC-00528 - SEAL KIT |
| 401B2070-00 - PISTON KIT-2 SPEED | XKCC-00529 - SEAL KIT |
| 4024777 - KIT-OIL SEAL | XKCC-00551 - SEAL KIT |
| 4024778 - KIT-OIL SEAL | XKCC-00596 - SEAL KIT |
| 4024808 - FUEL SOLENOID KIT | XKCC-00776 - SEAL KIT |
| 4024883 - KIT-FRONT SEAL | XKCC-00800 - SEAL KIT |
| 4024935 - KIT-LUB OIL PUMP | XKCC-00825 - SEAL KIT |
| 4024938 - ENGINE PISTON KIT | XKCD-00628 - SEAL KIT |
| 4024939 - CYLINDER KIT | XKCD-00681 - SEAL KIT |
| 4024967 - TURBOCHARGER KIT | XKCD-00737 - SEAL KIT |
| 4025130 - KIT-SENSOR | XKCD-00795 - SEAL KIT |
| 4025151 - KIT-STRIP SEAL | XKCD-00999 - SEAL KIT |
| 4025255 - KIT-IFSM SERVICE | XKCD-01026 - SEAL KIT |
| 4025270 - KIT-FRONT SEAL SERVICE | XKCD-01049 - SEAL KIT |
| 4043707 - TURBOCHARGER KIT | XKCD-01069 - SEAL KIT  |
| 4070536 - KIT-GEAR COVER | XKCD-01072 - SEAL KIT |
| 4089153 - CYLINDER LINER KIT | XKCD-01228 - SEAL KIT |
| 4089161 - CYLINDER BLOCK KIT | XKCD-01356 - SEAL KIT |
| 4089197 - KIT-L/OIL CLR HSG GASKET | XKCD-01373 - SEAL KIT |
| 4089320 - TURBOCHARGER KIT | XKCD-01389 - SEAL KIT |
| 4089342 - KIT, SEAL | XKCD-01397 - SEAL KIT |
| 4089469 - INJECTION KIT | XKCD-01402 - SEAL KIT |
| 4089541 - KIT-ACTUATOR | XKCD-01453 - SEAL KIT |
| 4089542 - KIT-REAR SEAL CRANK | XKCD-01454 - SEAL KIT |
| 4089647 - WATER PUMP KIT | XKCD-01455 - SEAL KIT |
| 4089672 - EXHAUST VALVE KIT | XKCD-01456 - SEAL KIT |
| 4089858 - KIT-TURBOCHARGER | XKCD-01457 - SEAL KIT |
| 4089863 - TURBO KIT | XKCD-01458 - SEAL KIT |
| 4089865 - KIT-ENGINE PISTON | XKCD-01459 - SEAL KIT |
| 4089995 - KIT-STRIP SEAL | XKCD-01460 - SEAL KIT |
| 4089996 - KIT-GEAR COVER | XKCD-01487 - SEAL KIT |
| 4090016 - KIT-ROD BEARING(0.25MM) | XKCD-01648 - SEAL KIT |
| 4090017 - KIT-ROD BEARING(0.50MM) | XKCD-01673 - SEAL KIT |
| 4090022 - KIT-WATER REPAIR | XKCD-01697 - SEAL KIT |
| 412B1000-00 - SEAL KIT | XKCD-01714 - SEAL KIT |
| 41M8-40011 - GROMMET KIT(A) | XKCH-00003 - SEAL KIT |
| 41M8-40012 - GROMMET KIT(A) | XKCH-00006 - SEAL-KIT |
| 41M8-40020 - GROMMET KIT(B) | XKCH-00007 - SEAL-KIT |
| 41M8-40021 - GROMMET KIT(B) | XKIT010000 - CHECK VALVE |
| 41M8-40111 - GROMMET KIT(A) | XKIT010200 - LOAD CHECK VALVE |
| 41M8-40112 - GROMMET KIT(A) | XPER118670 - DETENT KIT |
| 41M8-40120 - GROMMET KIT(B) | XPER118742 - DETENT KIT |
| 41M9-40011 - GROMMET KIT(A) | XV08110400 - BUCKET SPRING KIT |
| 41M9-40110 - GROMMET KIT(A) | Y120-035011 - WIPER-DUST (ORDER SEAL KIT) |
| 41MH-40012 - GROMMET KIT A | YCAC-01420 - KIT-DUST CAP ASSY |
| 41MH-40021 - GROMMET KIT | YUAY-00009 - GUIDE KIT |
| 41MJ-40010 - GROMMET KIT(A) | YUBS-00019 - SEAL KIT(1,5,13,16,18) |
| 41MJ-40011 - GROMMET KIT(A) | YUBS-00045 - SEAL KIT(1-8) |
| 41N1-50010 - GROMMET KIT(A) | YUBS-00068 - SEAL KIT(1,5,6,13,16,18) |
| 41N1-50020 - GROMMET KIT(B) | YUBS-00101 - SEAL KIT(61,62,93) |
| 41N3-50010 - GROMMET KIT(A) | YUBS-00102 - SEAL KIT(1,5,13,18) |
| 41N4-50010 - GROMMET KIT(A) | YUBS-00286 - SEAL KIT |
| 41N4-50011 - GROMMET KIT(A) | YUBS-00333 - SEAL KIT |
| 41N4-50012 - GROMMET KIT(A) | YUBS-00349 - CYLINDER BLOCK KIT |
| 41N4-50020 - GROMMET KIT(B) | YUBS-00383 - SHIM KIT |
| 41N4-50021 - GROMMET KIT(B) | YUBS-00409 - OVERHAUL SEAL KIT |
| 41N4-50031 - GROMMET KIT(C) | YUBS-00412 - ASSEMBLY KIT |
| 41N4-50040 - GROMMET KIT(B) | YUBS-00413 - SEAL KIT |
| 41N4-50112 - GROMMET KIT(A) | YUBS-00414 - SEAL KIT |
| 41N4-50113 - GROMMET KIT(A) | YUBS-00415 - SEAL KIT |
| 41N4-50122 - GROMMET KIT(B) | YUCE-00030 - SEAL & SPRING KIT |
| 41N4-50131 - GROMMET KIT(C) | YUCE-00049 - KIT-SEAL & SPRING |
| 41N5-50010 - GROMMET KIT(A) | YUCE-00083 - SEAL KIT |
| 41N5-50011 - GROMMET KIT(A) | YUCE-00111 - KIT-SEAL & SPRING |
| 41N5-50020 - GROMMET KIT(B) | YUCT-00003 - BRACKET KIT FOR MAGNET |
| 41N5-50030 - GROMMET KIT(C) | YUCT-00008 - HANDLE KIT |
| 41N6-50010 - GROMMET KIT(A) | YUCT-00010 - SEAL KIT |
| 41N6-50011 - GROMMET KIT(A) | YUCT-00017 - ROD KIT-TIE |
| 41N6-50020 - GROMMET KIT(B) | YUCT-00018 - PLUG KIT |
| 41N6-50021 - GROMMET KIT(B) | YUCT-00021 - ROD KIT - TIE |
| 41N6-50120 - GROMMET KIT(B) | YUCT-00037 - REPAIR KIT |
| 41N6-50610 - GROMMET KIT(A) | YUCT-00039 - LEVER KIT L3 |
| 41N6-50611 - GROMMET KIT(A) | YUCT-00043 - CONNECTOR KIT DEUTSCH |
| 41N6-50620 - GROMMET KIT(B) | YUCT-00044 - TIE ROD KIT |
| 41N6-53010 - GROMMET KIT(A) | YUCV-00008 - REPAIR KIT |
| 41N6-53011 - GROMMET KIT(A) | ZFAB-00002 - LEVER KIT |
| 41N6-53020 - GROMMET KIT(B) | ZFAB-00009 - PLUNGER KIT |
| 41N6-53031 - GROMMET KIT(C) | ZFAB-00023 - ASSY KIT |
| 41N7-50011 - GROMMET KIT(A) | ZFAB-00024 - SEAL KIT |
| 41N7-50022 - GROMMET KIT(B) | ZFAB-00038 - PUSH BUTTON KIT |
| 41N8-50010 - GROMMET KIT(A) | ZFAB-00039 - LEVER KIT |
| 41N8-70010 - GROMMET KIT(B) | ZFAB-00043 - DETENT KIT |
| 41N8-70011 - GROMMET KIT(B) | ZFAB-00044 - PLUNGER KIT |
| 41NB-50010 - GROMMET KIT(A) | ZFAB-00049 - PLUNGER KIT |
| 41Q4-50013 - GROMMET KIT(A) | ZFAB-00053 - PLUNGER KIT |
| 41Q4-50021 - GROMMET KIT(B) | ZFAB-00057 - PREFEEL POINT KIT |
| 41Q4-50033 - GROMMET KIT(C) | ZFAB-00063 - OPERATION KIT |
| 41Q4-50113 - GROMMET KIT(A) | ZFAB-00064 - PLUNGER KIT |
| 41Q4-50114 - GROMMET KIT(A) | ZFAB-00067 - ASSEMBLY KIT |
| 41Q4-50121 - GROMMET KIT(B) | ZFAB-00070 - HANDLE KIT(EC2000) |
| 41Q4-50132 - GROMMET KIT(C) | ZFAB-00086 - PREFEELING POINT KIT SPECIAL |
| 41Q4-50133 - GROMMET KIT(C) | ZFAB-00092 - HANDLE KIT(EC2000) |
| 41Q5-50011 - GROMMET KIT(A) | ZFAB-00094 - PUSH BUTTON KIT |
| 41Q5-50012 - GROMMET KIT(A) | ZFAB-00095 - LEVER KIT |
| 41Q6-50012 - GROMMET KIT(A) | ZFAB-00099 - DETENT KIT |
| 41Q6-50013 - GROMMET KIT(A) | ZFAB-00100 - PLUNGER KIT |
| 41Q6-50021 - GROMMET KIT(B) | ZFAB-00109 - PLUNGER KIT |
| 41Q6-50030 - GROMMET KIT(C) | ZFAB-00113 - PREFEELING POINT KIT |
| 41Q6-50610 - GROMMET KIT(A) | ZFAB-00115 - AMP CONNECTOR KIT |
| 41Q6-50620 - GROMMET KIT(B) | ZFAB-00119 - OPERATION KIT |
| 41Q6-53013 - GROMMET KIT(A) | ZFAB-00120 - PLUNGER KIT |
| 41Q6-53014 - GROMMET KIT(A) | ZFAB-00123 - ASSEMBLY KIT |
| 41Q6-53015 - GROMMET KIT(A) | ZGAG-00004 - TRACK LINK KIT |
| 41Q6-53021 - GROMMET KIT(B) | ZGAG-00005 - MASTER LINK KIT |
| 41Q6-53031 - GROMMET KIT(C) | ZGAQ-01634 - BRAKE LINING KIT |
| 41Q7-50011 - GROMMET KIT(A) | ZGAQ-01635 - SEAL KIT |
| 41Q7-50020 - GROMMET KIT(B) | ZGAQ-02616 - BR LINING KIT |
| 41Q8-50011 - GROMMET KIT(A) | ZGAQ-02617 - SEAL KIT |
| 41Q8-50012 - GROMMET KIT(A) | ZGAQ-03558 - SEAL KIT |
| 41Q8-50013 - GROMMET KIT(A) | ZGAQ-03559 - REPAIR KIT |
| 41Q8-50014 - GROMMET KIT(A) | ZGAQ-03560 - REPAIR KIT |
| 41Q8-50022 - GROMMET KIT(B) | ZGAQ-03561 - REPAIR KIT |
| 41Q8-50031 - GROMMET KIT(C) | ZGAQ-03563 - REPAIR KIT |
| 41Q9-50011 - GROMMET KIT(A) | ZGAQ-03564 - BRAKE LINING KIT |
| 41Q9-50021 - GROMMET KIT(B) | ZGAQ-03565 - REPAIR KIT |
| 41Q9-50031 - GROMMET KIT(C) | ZGAR-00028 - SEAL KIT(86,99,300.12) |
| 41QA-50011 - GROMMET KIT(A) | ZGAR-00029 - SEAL KIT(68.22-68.27) |
| 41QA-50021 - GROMMET KIT(B) | ZGAR-00030 - SEAL KIT(70.9-70.15) |
| 41QA-50030 - GROMMET KIT(C) | ZGAR-00036 - SEAL KIT(7-13) |
| 41QB-50011 - GROMMET KIT(A) | ZGAR-00037 - SEAL KIT(151,171,175) |
| 41QB-50012 - GROMMET KIT(A) | ZGAR-00042 - O-RING KIT |
| 41QB-50021 - GROMMET KIT(B) | ZGAR-00132 - SEAL KIT |
| 41QB-50022 - GROMMET KIT(B) | ZGAR-00577 - SEAL KIT |
| 41QB-50031 - GROMMET KIT(C) | ZGAR-00616 - SEAL KIT |
| 41W6-50020 - GROMMET KIT(B) | ZGAR-00635 - SEAL KIT |
| 42N6-50020 - GROMMET KIT(B) | ZGAR-00657 - SEAL KIT |
| 42N7-50010 - GROMMET KIT(A) | ZGAR-00658 - SEAL KIT |
| 42N7-50021 - GROMMET KIT(B) | ZGAW-00003 - SEAL KIT |
| 42N8-60010 - GROMMET KIT(A) | ZGBE-00056 - SEAL KIT |
| 43N4-50220 - GROMMET KIT(B) | ZGBH-00126 - COVER KIT,MSG95 |
| 43N4-50230 - GROMMET KIT(C) | ZGBH-00128 - SHOCK ABSORBER KIT |
| 43N5-50010 - GROMMET KIT(A) | ZGBH-00129 - BUMPER KIT |
| 43N5-50011 - GROMMET KIT(A) | ZGBH-00134 - LEVEL CONTROL KIT |
| 43N5-50020 - GROMMET KIT(B) | ZGBH-00139 - LOCKING LEVER KIT,MS |
| 43N5-50021 - GROMMET KIT(B) | ZGBH-00143 - SHOCK ABSORBER KIT |
| 43N8-90010 - GROMMET KIT(A) | ZGBH-00145 - SWING ARM KIT |
| 43N8-90020 - GROMMET KIT(B) | ZGBH-00146 - ROLLER KIT |
| 43NB-50010 - GROMMET KIT(A) | ZGBH-00150 - AIR SPRING KIT |
| 43NB-50011 - GROMMET KIT(A) | ZGBH-00154 - BUMPER KIT |
| 43NB-50020 - GROMMET KIT(B) | ZGBH-00156 - BELLOWS KIT,BLK,MSG9 |
| 43NB-50021 - GROMMET KIT(B) | ZGBH-00162 - ENDSTOP KIT |
| 43Q5-50010 - GROMMET KIT(A) | ZGBH-00204 - HINGE COVER KIT |
| 4460890 - CYLINDER BLOCK KIT | ZGBH-00205 - SLIDER KIT |
| 44Q6-50011 - GROMMET KIT(A) | ZGBH-00207 - BACKREST KIT |
| 44Q6-50020 - GROMMET KIT(B) | ZGBH-00217 - ARMREST KIT |
| 4510002 - PISTON RING,O-RING KIT | ZGBH-00218 - CUSHION KIT |
| 4510004-0250 - SCR KIT | ZGBH-00223 - CUSHION KIT |
| 4510018 - OVERHAUL SEAL KIT | ZGBH-00227 - SEAT BELT KIT |
| 4644-137-001 - KIT-CONVERSION | ZGBH-00239 - SEAT BELT KIT |
| 4644137001 - KIT-CONVERSION | ZGBH-00241 - LUMBER SUPPORT KIT |
| 4955155 - KIT-TURBOCHARGER | ZGBH-00243 - ARMREST-R KIT |
| 4955156 - TURBO KIT | ZGBH-00244 - SEAT CUSHION KIT |
| 4955160 - ENGINE PISTON KIT | ZGBH-00245 - BACKREST CHUSHION KIT |
| 4955216 - TURBOCHARGER KIT | ZGBH-00246 - SLIDE RAIL KIT-LH |
| 4955227 - KIT-PISTON | ZGBH-00247 - SLIDE RAIL KIT-RH |
| 4955239 - KIT-INTAKE VALVE | ZGBH-00250 - SEAT CUSHION KIT |
| 4955412 - KIT-CYLINDER BLOCK | ZGBH-00251 - BACKREST CUSHION KIT |
| 4955479 - TURBOCHARGER KIT | ZGBL-00006 - SEAL KIT |
| 4955566 - KIT-CRANK SHAFT SEAL | ZGBL-00009 - SEAL KIT |
| 4955665 - KIT-OIL SEAL | ZGBP-00114 - SEAL KIT |
| 4955706 - KIT-WATER PUMP | ZGBP-00128 - REGULATION KIT |
| 4955802 - KIT-W/PUMP, REPAIR | ZGBP-00131 - COMPENSATOR KIT-PRESS |
| 5060026 - SEAL KIT | ZGBP-00132 - VALVE KIT-CHECK |
| 5060053 - SEAL KIT | ZGBP-00135 - COMPENSATOR KIT-PRESS |
| 51799-1 - KIT-SEAL & SPRING | ZGBP-00139 - THROTTLE KIT-SHUTTLE |
| 5321-2 - KIT-SEAL & SPRING | ZGBP-00142 - VALVE KIT-2 WAYS |
| 550LG29154002 - SEAL KIT(STD) | ZGBP-00144 - SEAL KIT |
| 550LG36715002 - SEAL KIT | ZGBP-00145 - SEAL KIT-NBR |
| 55321-2 - KIT-SEAL & SPRING | ZGBP-00146 - SEAL KIT-NBR |
| 5CIN302 - SC01 BODY KIT | ZGBP-00147 - SEAL KIT-FLOW REGU |
| 5CIN303 - SC01 BODY KIT | ZGBP-00148 - SEAL KIT |
| 5COP108000 - FLANGE KIT | ZGBP-00149 - SEAL KIT-NBR ASSEMBLY |
| 5KIT110114 - RELIEF VALVE-INLET | ZGBP-00150 - SEAL KIT-NBR ASSY |
| 5V08108010 - DETENT KIT | ZGBP-00151 - SEAL KIT-NBR ASSY |
| 5V08708412 - BUCKET LOCK KIT | ZGBP-00268 - SEAL KIT |
| 5V08708414 - BUCKET LOCK KIT | ZTAA-00072 - FLOATING SEAL KIT |
| 5V09108040 - DETENT KIT | ZTAA-00073 - FLOATING SEAL KIT |
| 5V13108040 - DETENT KIT | ZTAA-00074 - FLOATING SEAL KIT |
| 5V13708113 - BOOM LOCK KIT | ZTAL-00013 - FLANGE KIT |
| 5V13708413 - BOOM LOCK KIT | ZTAL-00165 - BUSH-CONTROL KIT |
| 6017490 - CYLINDER SERVICE KIT | ZTAL-00191 - VR/SD16-FPM KIT |
| 60264 - SEAL KIT | ZTAL-00192 - VALVE KIT |
| 610B1101-0100 - HUB KIT | ZTAL-00194 - CAP KIT |
| 610B1102-0200 - SPINDLE KIT | ZTAL-00199 - SPRING KIT |
| 61234 - SEAL KIT | ZTAL-00222 - BELLOWS KIT |
| 61236 - SEAL KIT | ZTAL-00224 - JOINT KIT |
| 61237 - SEAL KIT | ZTAL-00225 - BODY KIT |
| 61238 - SEAL KIT(K) | ZTAL-00226 - SPOOL KIT |
| 612B2101-0100 - FLANGE KIT(= 703797) | ZTAL-00227 - SPOOL KIT |
| 6151-K1-5001 - GASKET KIT | ZTAL-00229 - JOINT KIT |
| 6151-K2-5002 - GASKET KIT | ZTAL-00230 - BODY KIT |
| 61L6-10910 - CUTTING EDGE KIT | ZTAL-00231 - SPOOL KIT |
| 61L6-10910BG - CUTTING EDGE KIT | ZTAL-00232 - SPOOL KIT |
| 61L6-10920 - CUTTING EDGE KIT | ZTAL-00233 - SPOOL KIT |
| 61L6-10920BG - CUTTING EDGE KIT | ZTAL-00234 - BOOM SPRING CAP KIT |
| 61L6-10960 - Tooth Kit(2-Piece) | ZTAL-00235 - BOOM BLOCK KIT |
| 61L6-10960BG - TOOTH KIT(2-PIECE) | ZTAL-00236 - BUCKET BLOCK KIT |
| 61LB-00910 - CUTTING EDGE KIT | ZTAL-00237 - P1 BLOCK KIT |
| 61LB-00910BG - CUTTING EDGE KIT | ZTAL-00238 - PLUG KIT |
| 61LB-00920 - CUTTING EDGE KIT | ZTAL-00239 - TIE ROD KIT |
| 61LB-00940BG - TOOTH & SEGMENT KIT | ZTAL-00240 - VALVE KIT |
| 61LB-00950 - TOOTH KIT(1-PIECE) | ZTAL-00241 - SIDE CAP KIT |
| 61LB-00950BG - TOOTH KIT(1-PIECE) | ZTAL-00242 - BODY KIT |
| 61LB-00960 - TOOTH KIT(2-PIECE) | ZTAL-00243 - EH CONTROL KIT |
| 61LB-00960BG - TOOTH KIT(2-PIECE) | ZTAL-00244 - PILOT CONTROL KIT |
| 61LB-06960 - TOOTH KIT | ZTAL-00245 - PILOT CONTROL KIT |
| 61LC-00910 - CUTTING EDGE KIT | ZTAL-00248 - BODY KIT |
| 61LC-00910BG - CUTTING EDGE KIT | ZTAM-00039 - DIFFERENTIAL KIT |
| 61LD-00910 - CUTTING EDGE KIT | ZTAM-00087 - CARRIER KIT |
| 61LD-00910BG - CUTTING EDGE KIT | ZTAM-00103 - PISTON KIT |
| 61LD-00920 - CUTTING EDGE KIT | ZTAM-00111 - SUPPORT KIT |
| 61LD-00920BG - CUTTING EDGE KIT | ZTAM-00392 - PLANET GEAR KIT |
| 61LD-00950 - TOOTH KIT(1-PIECE) | ZTAM-00583 - CARRIER KIT |
| 61LD-00950BG - TOOTH KIT(1-PIECE) | ZTAM-00591 - PISTON KIT |
| 61LD-00960BG - TOOTH KIT(2-PIECE) | ZTAM-00598 - SUPPORT KIT |
| 61LF-00910 - CUTTING EDGE KIT | ZTAM-00600 - SEAL KIT |
| 61LF-00910BG - CUTTING EDGE KIT | ZTAM-00601 - SEAL KIT |
| 61LF-00950 - TOOTH KIT(1-PIECE) | ZTAM-00615 - RING GEAR SUPPORT KIT |
| 61LF-00950BG - TOOTH KIT(1-PIECE) | ZTAM-00622 - STEERING CASE KIT 2 |
| 61LF-00990 - CUTTING EDGE KIT | ZTAM-00623 - CARRIER KIT |
| 61LG-00910 - CUTTING EDGE KIT | ZTAM-00626 - SUPPORT KIT |
| 61LG-00910BG - CUTTING EDGE KIT | ZTAM-00628 - ADJUSTING BOLT KIT |
| 61LG-00950 - TOOTH KIT(1-PIECE) | ZTAM-00641 - CARRIER KIT |
| 61LG-00950BG - TOOTH KIT(1-PIECE) | ZTAM-00642 - STEERING CASE KIT 1 |
| 61LG-00990 - CUTTING EDGE KIT | ZTAM-00643 - DIFFERENTIAL KIT-LSD |
| 61LH-06960 - TOOTH KIT | ZTAM-00829 - CARRIER KIT-PLANET GEAR |
| 61LK-00910 - CUTTING EDGE KIT | ZTAM-00834 - SUPPORT KIT-RING GEAR |
| 61LK-00950 - TOOTH KIT(1-PIECE) | ZTAM-00887 - CARRIER KIT-PLANET GEAR |
| 61LK-00960 - TOOTH KIT(2-PIECE) | ZTAM-00896 - SUPPORT KIT-RING GEAR |
| 61LL-00910 - CUTTING EDGE KIT | ZTAM-00931 - DIFFERENTIAL KIT |
| 61LM-00910 - CUTTING EDGE KIT | ZTAM-00974 - CENTRAL HOUSING KIT |
| 61LM-00950 - TOOTH KIT(1-PIECE) | ZTAS-00003 - SEAL KIT |
| 61LM-00960 - TOOTH KIT(2-PIECE) | ZTAS-00004 - SEAL KIT |
| 61LM-20910 - CUTTING EDGE KIT | ZTAS-00005 - SEAL KIT |
| 61LN-00911 - CUTTING EDGE KIT | ZTAS-00006 - SEAL KIT |
| 61LN-00950 - TOOTH KIT(1-PIECE) | ZTAS-00007 - SEAL KIT |
| 61LN-00960 - TOOTH KIT(2-PIECE) | ZTAS-00008 - SEAL KIT |
| 61LN-04030 - CUTTING EDGE KIT | ZTAV-00003 - SEAL KIT GEAR PUMP |
| 61LN-20910 - CUTTING EDGE KIT | ZTAV-00011 - COMPLETE ASSY KIT |
| 61LP-00911 - CUTTING EDGE KIT | ZTAV-00034 - SEAL KIT |
| 61LP-00950 - TOOTH KIT | ZTAV-00035 - SEAL KIT |
| 61LP-20910 - CUTTING EDGE KIT | ZTAW-00130 - SEAL KIT |
| 61LQ-00910 - CUTTING EDGE KIT | ZTAW-00149 - SEAL KIT |
| 61LQ-00960 - TOOTH KIT | ZTAW-00260 - SEAL KIT |
| 61LQ-06960 - TOOTH KIT | ZUAH-00060 - SEAL KIT(1,6-8,11-14) |
| 6204661M - SEAL KIT | ZUAH-00136 - PREFEEL KIT |
| 6204661N - SEAL KIT | ZUAH-00151 - SEAL KIT(12,23,26,27) |
| 633B1364 - O-RING(Kit#:91L1-27220) | ZUAH-00152 - KIT-SPVL |
| 633B1378 - O-RING(Kit# :91L1-27220) | ZUAH-00163 - SPINDLE KIT |
| 633B1401 - O-RING(Kit#:91L1-27220) | ZUAH-00165 - KIT-SPRING |
| 633B1428 - O-RING(Kit#:91L1-27220) | ZUAH-00173 - seal kit |
| 633B1474 - O-RING(Kit#:91L1-27220) | ZUAH-00175 - SEAL KIT |
| 64426 - SEAL KIT | ZUAH-00176 - SEAL KIT |
| 64429 - SEAL KIT | ZUAH-00187 - SEAL KIT-COMPLETE V/V |
| 64470 - SEAL KIT = 91L2-2706 | ZUAQ-00001 - UPPER ASSY KIT |
| 64533 - SEAL KIT | ZUAQ-00002 - FRAME ASSY KIT |
| 671B1102-04 - SPINDLE KIT | ZUAQ-00003 - BACK COVER ASSY KIT |
| 671B1102-05 - KIT-SPINDLE | ZUAQ-00004 - BACK COVER ASSY KIT |
| 671B1107-01 - KIT-SPUR GEAR | ZUAQ-00005 - BACK FOAM KIT |
| 671B2205-00 - CYLINDER & PISTON KIT | ZUAQ-00006 - SEAT COVER ASSY KIT |
| 671B3100 - RELIEF VALVE KIT | ZUAQ-00007 - SEAT COVER ASSY KIT |
| 674B9000-00 - SEAL KIT, TRAVEL MOTOR | ZUAQ-00008 - SEAT FOAM KIT |
| 679B4101-01 - FLANGE-REAR KIT | ZUAQ-00009 - HEIGHT RISER KIT |
| 682B1107-00 - SPUR GEAR KIT | ZUAQ-00010 - HANDLE KIT |
| 703797 - R/FLANGE KIT(= 612B2101-0100) | ZUAQ-00011 - HANDLE KIT |
| 705-90-01050 - SEAL KIT | ZUAQ-00012 - HEIGHT RISER SPRING KIT |
| 707816 - SEAL KIT(471-491,706,707) | ZUAQ-00013 - HEIGHT RISER LATCH KIT |
| 707817 - SEAL KIT | ZUAQ-00014 - DAMPER KIT |
| 7111-023-0EV - SEAL KIT(=7111-023-OEV) | ZUAQ-00015 - SUSPENSION ASSY KIT |
| 7113-016-00Z - SEAL KIT ONLY | ZUAQ-00016 - UP STOP/BUMP STOP KIT |
| 716682 - SPINDLE KIT | ZUAQ-00017 - AIR SPRING KIT |
| 716686 - SPUR GEAR KIT | ZUAQ-00018 - LEVER/CENTER PIVOT KIT |
| 716687 - FLOATING SEAL KIT(=KS-207) | ZUAQ-00019 - BEARING KIT |
| 716687A - FLOATING SEAL KIT | ZUAQ-00020 - ARMREST KIT-RH |
| 716688 - CYLINDER & PISTON KIT | ZUAQ-00021 - ARMREST KIT-LH |
| 716691 - RELIEF VALVE KIT | ZUAQ-00022 - FORE & AFT ADJUST KIT |
| 716694 - PISTON KIT | ZUAQ-00023 - SUSPENSION COVER KIT |
| 7177D-023-00C - SEAL KIT-MAIN PUMP | ZUAQ-00025 - SEAT BELT KIT-3" RETRACT |
| 718549 - SPINDLE KIT | ZUAQ-00026 - COMBINATION VALVE KIT |
| 718551 - SPUR GEAR KIT | ZUAQ-00027 - COMPRESSOR KIT-24V |
| 718867 - CYLINDER & PISTON KIT | ZUAQ-00028 - FLY LEAD KIT |
| 719116 - REAR FLANGE KIT | ZUAQ-00029 - LUMBAR KIT-GREY |
| 719263 - FLANGE KIT-REAR | ZUAQ-00030 - LUMBAR KIT-YELLOW |
| 719280 - CARRIER KIT | ZUAQ-00031 - TETHER KIT |
| 719282 - SEAL KIT-FLOATING | ZUAQ-00105 - SEAT CUSHION KIT-N/HEAT |
| 719513 - SEAL KIT | ZUAQ-00106 - SEAT COVER KIT-WIDE |
| 719514 - SEAL KIT | ZUAQ-00107 - SEATBELT KIT |
| 719515 - SEAL KIT | ZWAC-00282 - KIT-STARTER |
| 719516 - SEAL KIT | 31Y1-05800 - SEAL KIT, BLADE CYL. |
| 719517 - SEAL KIT | 31Y2-01080N - SEAL KIT |
| 71E6-52190K - LOCK ASSY KIT | 31Y2-01250 - SEAL KIT |
| 71LM-27002 - INSULATOR KIT | 31Y2-01390 - SEAL KIT |
| 71LM-29002 - ACCESSORY KIT | 31Y2-01570 - SEAL KIT |
| 71LM-29502 - DECAL KIT | 31Y2-01710 - SEAL KIT |
| 71LN-24002 - SUPPORT KIT-REAR | 31S5-00250 - SEAL KIT TRAVEL MOTOR HSL810 |
| 71LN-26002 - GLASS SUB KIT | 1606-12 - KIT,DETENT |
| 71M6-23010 - SPONGE-KIT | 161608 - KIT-DAMPER(order new part #=161608) |
| 71M6-23011 - SPONGE KIT | 703799BKT - PISTON KIT (200-LC) |
| 71M6-60410 - SPONGE-KIT | 309518 - SEAL KIT |
| 71Q5-80010-AS1 - CABIN A/S KIT | 21E1-00590 - BULB KIT |
| 71Q8-80010-AS1 - CABIN A/S KIT | 4224672 - GEAR SELECTOR KIT 4224672CLA |
| 71QA-53150 - SPONGE KIT | 7124-42150K - BEARING, KIT-62 NEEDLES |
| 71U2-27002 - GLASS KIT-FRONT | 31EM-00540N - SEAL KIT |
| 722343 - SEAL KIT(6,7,14,34,48-50 | 31M8-51530N - SEAL KIT |
| 722344 - SEAL KIT(19-21,25-27,47) | 31N4-91010-P - S/ACT PIPING KIT |
| 7403-026-0EE - SEAL KIT(9,10,17-20) | 31N6-91012-P - S/ACT PIPING KIT |
| 75D1-01620 - SCREEN REAR KIT | 31N8-94011-P - S/ACT PIPING KIT |
| 78987 - KIT-SEAT BELT | 91E6-27111 - SEAL KIT(7-10) |
| 800B2070-10 - PISTON KIT-2SPEED | 31Y1-01320N - SEAL KIT, BOOM CYLINDER |
| 801476 - GASKET & RING KIT | 31Y1-01550N - SEAL KIT, BUCKET CYLINDER |
| 801788 - GASKET & SEAL KIT | 31Y1-02740N - SEAL KIT,ARM CYL (000970) |
| 801880 - RING-PISTON & EXP KIT | 31Y1-02870N - SEAL KIT-BUCKET |
| 801881 - RING-PISTON & EXP KIT | 31Y1-03560N - SEAL KIT,BOOM CYLINDER |
| 802301 - SEALING KIT | 31Y1-03562N - SEAL KIT |
| 802306 - SEALING KIT | 31Y1-05440N - SEAL KIT,ARM CYLINDER |
| 802425 - PLATE KIT-DRIVE | 31Y1-05610N - SEAL KIT-BCKT CYL-KIT DE SELLOS |
| 802551 - RING GEAR & MTG KIT | 31Y1-06841N - SEAL KIT/BUCKET |
| 802562 - DRIVE PLATE ASSY KIT | 31Y1-07602N - BOOM CYL SEAL KIT |
| 8032053 - SEAL KIT | 31Y1-07751N - SEAL KIT,ARM CYLINDER |
| 810B1107-00 - SPUR GEAR KIT | 31Y1-07911N - SEAL KIT,BUCKET CYL. |
| 810B2105-00 - PISTON KIT | 31Y1-05950N - SEAL KIT(4-8,10,11,15, |
| 810B2107-02 - BODY KIT | 31Y1-08071N - SEAL KIT, BOOM CYL. |
| 813-320-99-25 - KIT-REPAIR | 31Y1-08243N - SEAL KIT,ARM CYLINDER |
| 814975 - DRIVE PLATE KIT | 31Y1-09410N - SEAL KIT,BCKT CYL |
| 81E6-T0000 - TRACK BOLT & NUT KIT | 31Y1-09860N - SEAL KIT, ARM |
| 81EL-T0000 - TRACK BOLT & NUT KIT | 31Y1-15390N - SEAL KIT(6-9,11, |
| 81EM-T0000 - TRACK BOLT & NUT KIT | 31Y1-18410N - SEAL KIT (5-8,10-12,17-20,34,39,40) |
| 81L1-20141 - ACTUATOR(SEE NOTES FOR SEAL KIT#) | 31Y1-18430N - SEAL KIT (6-9,11-13,18-21,29,32) |
| 81L8-00180 - EMER STRG PUMP KIT | 31Y1-21100N - SEAL KIT-BOOM CYL |
| 81M5-T0000 - TRACK BOLT & NUT KIT | 31Y2-00510N - SEAL KIT |
| 81N1-T0000 - TRACK BOLT & NUT KIT | 31Y2-01990N - SEAL KIT,BOOM CYL |
| 81N3-T0000 - TRACK BOLT & NUT KIT | 31Y2-02180N - SEAL KIT-BUCKET CYL |
| 831491 - ASSYEMBLY SET(KIT) | 31Y2-02310N - SEAL KIT,STRG CYL |
| 8611-023-00N - SEAL KIT-FRONT | 31Y2-02490N - SEAL KIT, BOOM CYL |
| 8611-023-00V - SEAL KIT | 31Y2-02690N - SEAL KIT, STEERING CYL |
| 8677-023-000 - SEAL KIT-REAR | 31Y2-02860N - SEAL KIT, BOOM CYL |
| 8682-023-00N - SEAL KIT,MA/PUMP | 31Y2-02970N - SEAL KIT, BUCKET CYL |
| 8702F-023-00Y - SEAL KIT | 31Y2-03180N - SEAL-KIT |
| 8709-3 - SHAFT & BRG. KIT | 31Y2-03751N - SEAL KIT |
| 8833-023-000 - SEAL KIT(4-6,12) | 31Y2-03921N - SEAL KIT(BUCKET,HL740-3) |
| 890728 - SEAL KIT | 31Y2-04062N - SEAL KIT |
| 894228-4040 - KIT-SPRING | 31Y2-04640N - SEAL KIT |
| 90L7-70000 - RIDE CONTROL KIT | 31Y2-04750N - SEAL KIT |
| 90LD-91020 - EMERGENCY STR'G KIT | 31Y2-05310N - SEAL KIT, STEERING CYL. |
| 90LD-92000 - EMER STEERING KIT | 31Y2-05920N - SEAL KIT |
| 90LF-90050 - RIDE CONTROL KIT | 31Y2-06251N - SEAL KIT, BUCKET CYL |
| 90LF-90060 - RIDE CONTROL KIT | 31Y2-06260N - SEAL KIT |
| 90LF-90100 - Ride Control Kit(740/TM-7A) | 31Y2-07430N - SEAL KIT(5-8,10,11,13-17, |
| 90LF-90250 - RIDE CONTROL KIT | 31Y2-07590N - SEAL KIT(5-8,10-12,14-16) |
| 90LF-90260 - RIDE CONTROL KIT | 31Y2-07660N - SEAL KIT |
| 90LF-91000 - EMERGENCY STEERING KIT | 31Y2-07770N - SEAL KIT |
| 90LF-92000 - EMERGENCY STEER KIT | 31Y2-07860N - SEAL KIT(5-8,10-12,14-16) |
| 90LF-92010 - EMERGENCY STEER KIT | 31Y2-08080N - SEAL KIT |
| 90LF-93000 - DUAL BRAKE PEDAL KIT | 31Y2-08270N - SEAL KIT(5-8,10-12,14-17) |
| 90LG-90500 - RIDE CONTROL KIT | 31Y3-01420N - SEAL KIT |
| 90LG-90510 - RIDE CONTROL KIT | 31Y6-00110N - SEAL KIT |
| 90LG-90600 - RIDE CONTROL KIT HL730TM-7 | 31Y1-06220 - SEAL KIT |
| 90LG-90610 - RIDE CONTROL KIT | PKIT-HL760A - PIPE WA (SEE S/N# 0222 PG2010) |
| 90LG-91500 - RIDE CONTROL KIT(730-7A) | 3803355 - SEAL KIT |
| 90LG-91600 - RIDE CONTROL KIT | 4955853 - MAIN BRG KIT(STD) |
| 90LG-92000 - EMERGENCY STRG KIT | 3802370 - LINER KIT |
| 90M6-60011 - DECAL KIT-R55-3 | 3802400 - CYLKIT |
| 90M6-65011 - DECAL KIT-R55-3 | YUBP-00027 - KIT-SEAL |
| 90ND-10102 - DECAL KIT(B) | YUBP-02320 - KIT-SEAL |
| 90ND-10104 - DECAL KIT(B) | YUBS-00247 - OVERHAUL SEAL KIT |
| 90ND-10105 - DECAL KIT(B) | 84L4-00160 - KIT-CONVERSION |
| 91E0-2705 - SEAL KIT,TURNING JOINT | 55321 - KIT-SEAL & SPRING |
| 91E1-2702 - SEAL KIT (KIT DE SELLOS) | 610B1101-0101 - HUB KIT |
| 91E1-2703 - SEAL KIT | 61234-000 - SEAL KIT |
| 91E1-2705 - SEAL KIT- (same as 91E2-2705) | 7113-023-0N0 - SEAL KIT ONLY |
| 91E1-2706 - SEAL KIT- BOOM CYL | 91E1-2705N - SEAL KIT- (same as 91E2-2705) |
| 91E1-2707 - SEAL KIT,ARM CYL (KIT DE SELLOS) | 91E1-2706N - SEAL KIT- BOOM CYL |
| 91E1-2708 - SEAL KIT,BUCKET CYLINDER | 91E1-2707N - SEAL KIT,ARM CYL (KIT DE SELLOS) |
| 91E1-2711 - SEAL KIT, TRAVEL MOTOR | 91E1-2704 - SEAL KIT |
| 91E1-2712 - SEAL KIT, TRVL MTR/RED GEAR | 91E6-27110N - SEAL KIT TURNING JOINT |
| 91E1-2713 - SPONGE KIT | 91E6-2712N - SEAL KIT,ARM CYL |
| 91E1-2721 - SEAL KIT(ITEM NO:121 122, | 91E8-2707N - SEAL KIT,BOOM CY |
| 91E2-2701 - SPONGE KIT | 91E9-2707N - SEAL KIT |
| 91E2-2702 - SEAL KIT | 91E9-2708N - SEAL KIT |
| 91E2-2703 - SEAL KIT | 7111-023-OEV - SEAL KIT(=7111-023-0EV) |
| 91E2-2704 - SEAL KIT | 707-99-64020 - SEAL KIT,BOOM CYL(HL35C~#384) |
| 91E2-2705 - SEAL KIT(=91E1-2705) | 707-99-73030 - SEAL KIT,BCK CYL |
| 91E2-2706 - SEAL KIT, TRAVEL MOTOR | 10263 - SEAL KIT |
| 91E2-2707 - SEAL KIT,BOOM CYLINDER | 91L7-00014 - DECAL KIT A |
| 91E2-2708 - SEAL KIT-ARM CYL | 970B1104-00 - RV GEAR KIT |
| 91E2-2709 - SEAL KIT,BUCKET CYLINDER | 31F8-04260 - SEAL KIT |
| 91E2-2710 - SPONGE KIT | PKIT-HL750A - HOSE ASSY,MAIN HYD |
| 91E2-2711 - SPONGE KIT | SK399-0101 - SERVICE KIT |
| 91E2-2713 - SEAL KIT | XKAH-01060-AS - sealkit, swing motor |
| 91E5-00211 - DECAL KIT(B) | 4-01-70302 - L/VALVE KIT-B |
| 91E5-04010 - 320LC DECAL KIT | SK1PH001 - SEAL KIT |
| 91E5-11400 - DECAL KIT(C) | 187498 - COMPRESSOR KIT-24V |
| 91E5-2000 - TOOL KIT ASS'Y | XKAY-01892 - SEAL KIT |
| 91E6-00201 - DECAL KIT | 31Y3-14490 - SEAL KIT |
| 91E6-00202 - DECAL KIT(A) | |