Hyundai oil filters
The Hyundai oil filter is a very important link in the Hyundai lubrication system. During the operation of the engine, the oil flushes away the carbon deposits and engine wear products. The absence of a Hyundai oil filter or its clogging will result in all these solid particles again falling between the parts of the engine, speeding up their wear and tear. Approaching thereby costly repairs.
The replacement of the Hyundai oil filter is made together with the replacement of oil.
Design of Hyundai oil filter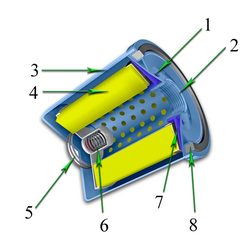 1 - oil inlets.
2 - outlet.
3 - the case of the oil filter.
4 - filter element.
5 - a spring.
6 - bypass valve.
7 - non-return valve.
8 - O-ring.
Original and aftermarket Hyundai oil filters online.
| | |
| --- | --- |
| 01174418 - OIL FILTER | 3934429 - ELEMENT-LUB OIL FILTER |
| 119000-35140 - STUD,LUB.OIL FILTER | 3955034 - HEAD-LUB OIL FILTER |
| 11E1-70140 - LUB OIL FILTER | 3971660 - HEAD-LUB OIL FILTER |
| 11N7-00020 - BRACKET-OIL FILTER | 3974326 - HEAD-OIL FILTER |
| 11NA-70110 - ENGINE OIL FILTER(=LF9009) | 3979393 - HEAD-LUB OIL FILTER |
| 11NB-70110 - OIL FILTER-ENGINE | 42624 - TUBE-OIL FILTER |
| 11Q4-00150 - BRACKET-OIL FILTER | 4928800 - HEAD-OIL FILTER |
| 11Q4-00151 - BRACKET-OIL FILTER | 4928802 - HEAD-OIL FILTER |
| 11Q4-00180 - BRACKET-OIL FILTER | 600-211-1230 - ENGINE OIL FILTER, 450LC |
| 129150-35151 - ENGINE OIL FILTER | HH1CO-32430 - CARTRIDGE-OIL FILTER(20D-7/E) |
| 15221-3314-0 - PLUG, OIL FILTER | MD008784 - CAP-OIL FILTER |
| 15521-3243-0 - OIL FILTER | ME054238 - OIL FILTER ELEMENT |
| 15628-32110 - OIL FILTER | ME064354 - OIL FILTER ELEMENT KIT |
| 16414-32430 - CARTRIDGE-OIL FILTER | XJAF-00391 - GASKET-OIL FILTER |
| 1C020-32430 - CARTRIDGE-OIL FILTER | XJAF-00592 - CAP-OIL FILTER |
| 1C020-32433 - ENGINE OIL FILTER | XJAF-01568 - SHAFT-OIL FILTER |
| 26311-83C03 - HEAD-OIL FILTER | XJAF-01775 - CARTRIDGE-OIL FILTER |
| 26311-93000 - OIL FILTER ASSY | XJAF-02032 - CAP ASSY-OIL FILTER |
| 26312-83000 - CASE-OIL FILTER | XJAF-02362 - Oil filter- Engine |
| 26312-83C10 - ELEMENT-OIL FILTER | XJAF-02375 - COVER-OIL FILTER |
| 26313-93000 - PACKING,ENG OIL FILTER CASE | XJAF-02376 - GASKET-OIL FILTER |
| 26316-83000 - ENGINE OIL FILTER | XJAF-02540 - CATRIDGE OIL FILTER S6S- |
| 26316-93000 - ENGINE OIL FILTER | XJAF-02588 - CARTRIDGE OIL FILTER |
| 26452-72000 - ENGINE OIL FILTER | XJAU-00152 - STUD-LUB.OIL FILTER |
| 26510-35000 - CAP OIL FILTER | XJAU-00639 - OIL FILTER WRENCH |
| 3102774 - HEAD-LUBE OIL FILTER | XJBR-00921 - CARTRIDGE, OIL FILTER |
| 3124053054 - OIL FILTER ELEMENT KIT | XJBR-01534 - CARTRIDGE, OIL FILTER |
| 32A40-00100 - ENGINE OIL FILTER | XJBR-01624 - OIL FILTER |
| 32A40-01100 - UNION-OIL FILTER | XJBR-01738 - ADAPTER-OIL FILTER |
| 32A40-02100 - UNION-OIL FILTER | XJBR-01739 - PLUG-OIL FILTER |
| 32B40-10100 - oil filter | XJBR-01745 - BASE-OIL FILTER |
| 32B40-20100 - CARTRIDGE KIT,OIL FILTER, MHI S6S-D | XJBT-00942 - PLUG-OIL FILTER |
| 3313281 - ENGINE OIL FILTER | XJBT-01083 - FLANGE-OIL FILTER |
| 3318853 - ENGINE OIL FILTER | XJBT-01498 - CARTRIDGE-OIL FILTER |
| 3335512 - HEAD-LUB OIL FILTER | XJBT-01883 - OIL FILTER |
| 3406949 - HEAD-OIL FILTER | XJBT-02020 - CARTRIDGE-OIL FILTER |
| 3834123 - HEAD-LUB OIL FILTER | XJBT-02220 - PLUG-OIL FILTER |
| 3863957 - TUBE-OIL FILTER | XKBH-00022 - GASKET-OIL FILTER BRKT |
| 3864007 - HEAD-LUB OIL FILTER | ZGAQ-03301 - OIL FILTER T/M |
| 3890710 - ELEMENT-LUB OIL FILTER | ZWAC-00214 - OIL FILTER CARTRIDGE |
| 3895147 - HEAD-LUB OIL FILTER | XJBR-00245 - CARTRIDGE-OIL FILTER(20D-7/E) |
| 3899699 - HEAD-LUB OIL FILTER | 119005-35151 - FILTER-OIL |
| 3908615 - ENGINE OIL FILTER | 1G850-32110 - FILTER-OIL |
| 3908616 - ENGINE OIL FILTER | 26345-84001 - FILTER-OIL(2ND).ENGINE |
| 3909352 - HEAD-LUB OIL FILTER | 26452-72001 - FILTER-OIL(1ST),ENGINE |
| 3915243 - HEAD, LUB OIL FILTER | 3101869 - FILTER-OIL |
| 3918328 - LUB.OIL FILTER HEAD | MD360935 - FILTER-OIL |
| 3918954 - LUB.OIL FILTER HEAD | XJBR-00881 - FILTER-OIL |
| 3919014 - HEAD-LUB OIL FILTER | XJBT-01097 - FILTER-OIL |
| 3921644 - CONNECTION-OIL FILTER | XJDH-01890 - FILTER-OIL |
| 3923357 - HEAD-LUB OIL FILTER | XJDH-01894 - FILTER-OIL |
| 3924338 - HEAD-LUB OIL FILTER | |