Hyundai Hydraulic Pumps
The Hyundai hydraulic system works as follows: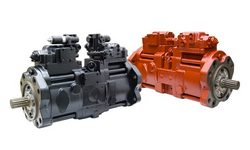 The diesel engine rotates the shaft of the Hyundai hydraulic pump, which converts mechanical energy into energy hydraulic.
The hydraulic fluid is piped into the Hyundai hydraulic pump and the Hyundai hydraulic cylinders through the Hyundai control valve system and converted there into mechanical energy of rotation or reciprocating motion.
After performing the work, the hydraulic fluid returns to the hydraulic oil tank and enters the Hyundai hydraulic pump. The cycle of work is repeated.
Exist two types of heavy equipment Hydraulic systems:
A volumetric hydraulic system for its operation uses hydraulic motors and hydraulic pumps operating under high pressure up to 350 MPa. This system uses the principle of alternately filling the working chambers of the pump and the hydraulic motor with a hydraulic fluid and displacing it from there under high pressure. The speed of movement of the working fluid in such a system is small. The main factor of the system is pressure. The volumetric hydraulic drive in physical dimensions is more compact and has received wider application than hydrodynamic.
If you are looking for the original Hyundai hydraulic pump or the replacement or aftermarket Hyundai hydraulic pump, you can buy them from us online
| | | | | | |
| --- | --- | --- | --- | --- | --- |
| | Model | Serial Number | Main Pump | Gear Pump | Notes |
| Old Crawler Excavator | | | | | |
| | R130LC | | 11E6-1501 | 3803830583-1 | |
| | R200LC | ~ 1033 | E111-1501 | 3803830583-1 | |
| | R200LC | 1034 - 1352 | E111-5120 | 3803830583-1 | |
| | R200LC | 1353 ~ | 31E1-03010 | 2902440-0396A | |
| | R280LC | | E211-1501 | 3803830583 | NV Type |
| | R280LC | | 31E2-03010 | 3803830583 | K3V Type |
| | R290LC | | 11E9-1501 | 3803830583-2 | |
| | R320LC | ~ 0737 | 11E5-1501 | 3803830583-1 | |
| | R320LC | 0738 ~ | 31E5-03010 | 2902440-0397A | |
| | R420 | | 31E7-4001 | 704-23-30601 | |
| | | | | | |
| 3-Series Crawler Excavator | | | | | |
| | R55-3 | ~ 1416 | 31M6-50031 | H9116R7658-0 | |
| | R55-3 | 1417 ~ | 31M6-50031 | 720004 | |
| | R130LC-3 | ~ 0177 | 11E6-1501 | 3803830583-1 | |
| | R130LC-3 | 0178 ~ | 31E6-03010 | 2902440-0395A | |
| | R160LC-3 | | 31EG-10010 | 2902440-0395A | |
| | R180LC-3 | ~ 0555 | 11EK-15010 | 438217 | |
| | R180LC-3 | 0556 ~ | 11EK-15011 | | |
| | R200NLC-3 | ~ 0002 | 11EK-15010 | 438217 | |
| | R200NLC-3 | 0003 ~ | 11EK-15011 | | |
| | R210 ECONO | | 31E1-03110 | 2902440-0396F | |
| | R210LC-3 | | 31EM-10010 | 2902440-0396A | |
| | R210LC-3H | ~ 0315 | 31EM-10010 | 2902440-0396A | |
| | R210LC-3H | 0316 ~ | 31EM-10140 | 718155 | |
| | R250LC-3 | | 31EN-10010 | 2902440-0396A | |
| | R290LC-3 | ~ 0072 | 11E9-1501 | 3803830583-2 | |
| | R290LC-3 | 0073 ~ | 31E9-03010 | 2902440-0397A | |
| | R290LC-3H | ~ 1221 | 31E9-03010 | 2902440-0397A | |
| | R290LC-3H | 1222 ~ | 31E9-03020 | 718156 | |
| | R360LC-3 | | 31EH-03010 | 2902440-0398A | |
| | R360LC-3H | | 31EH-03010 | 2902440-0398A | |
| | R450LC-3 | | 34E7-00250 | 2902440-0398A | |
| | R540LC-3A | | 34E7-03650 | 2902440-0398C | |
| | | | | | |
| 7-Series Crawler Excavator | | | | | |
| | R15-7 | | XJDH-01447 | | |
| | R16-7 | | XJDH-01447 | | |
| | R22-7 | | XJDH-03655 | | |
| | R28-7 | | XJDH-02793 | | |
| | R35-7 | | XJDH-02794 | | |
| | R35-7Z | | 31MH-10010 | XJDD-00692 | |
| | R35Z-7A | | 31MH-10010 | XJDD-00692 | |
| | R36N-7 | | XJDH-03717 | | |
| | R55-7 | | 31M8-10020 | XJDD-01033 | |
| | R55-7A | | 31M8-10020 | XJDD-01033 | |
| | R75-7 | | XJDH-01739 | XJDH-02362 | |
| | R80-7 | | 31N1-10010 | XJDD-00008 | Type 1 |
| | R80-7 | | 31Q1-10050 | | Type 2 |
| | R80-7A | | 31N1-10010 | XJDD-00008 | Type 1 |
| | R80-7A | | 31Q1-10050 | | Type 2 |
| | R110-7 | | 31N3-10050 | XJBN-00385 | |
| | R110-7A | | 31N3-10060 | XJBN-00385 | |
| | R140LC-7 | ~ 1682 | 31N3-10010 | XJBN-00385 | |
| | R140LC-7 | 1683 ~ | 31N3-10011 | XJBN-00922 | |
| | R140LC-7A | | 31N4-10010 | XJBN-00922 | |
| | R160LC-7 | ~ 0096 | 31N5-10010 | XJBN-00385 | |
| | R160LC-7 | 0097 ~ | 31N5-10011 | XJBN-00922 | |
| | R160LC-7A | | 31N5-10030 | XJBN-00922 | |
| | R180LC-7 | ~ 0071 | 31N5-10010 | XJBN-00385 | |
| | R180LC-7 | 0072 ~ | 31N5-10011 | XJBN-00922 | |
| | R180LC-7A | | 31N5-10030 | XJBN-00922 | |
| | R210LC-7 | | 31N6-10010 | XJBN-00737 | |
| | R210LC-7 | | 31N6-10050 | XJBN-00929 | |
| | R210LC-7 | | 31N6-10051 | XJBN-00929 | |
| | R210LC-7A | | 31N6-10080 | XJBN-00929 | |
| | R210LC-7H | ~ 0685 | 31N6-10020 | XKAH-00551 | |
| | R210LC-7H | 0686 ~ | 31N6-10030 | XJBN-00929 | |
| | R210NLC-7 | | 31N6-10010 | XJBN-00747 | |
| | R210NLC-7A | | 31N6-17010 | XJBN-01128 | |
| | R210LC-7 | ~ 1000 | 31N6-10010 | XJBN-00747 | |
| | R210LC-7 | 1001-3220 | 31N6-10050 | XJBN-00737 | |
| | R210LC-7 | 3221 ~ | 31N6-10051 | XJBN-00929 | |
| | R210LC-7A | | 31N6-10080 | XJBN-00929 | |
| | RC215C-7 | | 31N6-10051 | XJBN-00929 | |
| | RC215LC-7H | ~ 9067 | 31N6-10020 | XKAH-00551 | |
| | RC215LC-7H | 9068 ~ | 31N6-10030 | XJBN-00929 | |
| | R250LC-7 | | 31N7-10010 | XJBN-00737 | |
| | R250LC-7 | | 31N7-10011 | XJBN-00929 | |
| | R250LC-7A | | 31N7-10030 | XJBN-00929 | |
| | R290LC-7 | ~ 0208 | 31N8-10010 | XJBN-00520 | |
| | R290LC-7 | 0209-1179 | 31N8-10050 | XJBN-00847 | |
| | R290LC-7 | 1180 ~ | 31N8-10060 | XJBN-00965 | |
| | R290LC-7A | | 31N8-10080 | XJBN-00965 | |
| | R290LC-7H | | 31N8-10020 | XKAH-00242 | |
| | R300LC-7 | | 31N8-10030 | XJBN-00935 | |
| | R305LC-7 | ~ 1029 | 31N8-10011 | XJBN-00520 | |
| | R305LC-7 | 1030 ~ | 31N8-10070 | XJBN-00935 | |
| | R320LC-7 | | 31N9-10010 | XJBN-00655 | |
| | R320LC-7A | | 31N9-10010 | XJBN-00655 | |
| | R360LC-7 | | 31NA-10010 | XJBN-00520 | |
| | R360LC-7A | | 31NA-10030 | XJBN-00520 | |
| | R370LC-7 | | 31NA-10020 | | Type 1 |
| | R370LC-7 | | 31NA-10021 | | Type 2 |
| | R450LC-7 | ~ 0463 | 31NB-10010 | XJBN-00747 | |
| | R450LC-7 | 0464 ~ | 31NB-10020 | 31NB-30020 | |
| | R450LC-7A | | 31NB-10020 | 31NB-30020 | |
| | R450LC-7A | | 31NB-10022 | 31NB-30020 | |
| | R500LC-7 | | 31NB-10020 | 31NB-30020 | |
| | R500LC-7 | | 31NB-10022 | 31NB-30020 | |
| | R500LC-7A | | 31NB-10020 | 31NB-30020 | |
| | R500LC-7A | | 31NB-10022 | 31NB-30020 | |
| | R800LC-7A | | 31ND-10010 | XJBN-01192 | |
| | R800-7AFS | | 31ND-10010 | XJBN-01192 | |
| | | | | | |
| 9-Series Crawler Excavator | | | | | |
| | R16-9 | | 31MJ-10010 | XJDK-00124 | |
| | R27Z-9 | | 31MK-10010 | XJDK-00138 | |
| | R35Z-9 | | 31MH-10010 | XJDD-00692 | |
| | R55-9 | | 31M9-10030 | XJDD-00792 | |
| | R55-9S | | 31M9-10030 | XJDD-00792 | |
| | R60CR-9 | | 31M9-10030 | XJDD-00792 | |
| | R80CR-9 | | 31Q1-10010 | XJDD-01183 | |
| | R140LC-9 | | 31Q4-10010 | XJBN-01569 | |
| | R140LC-9S | | 31Q4-10010 | XJBN-01569 | |
| | R145CR-9 | | 31N4-10050 | XJBN-01569 | |
| | R160LC-9 | | 31Q5-10010 | XJBN-01569 | |
| | R160LC-9S | | 31Q5-10010 | XJBN-01569 | |
| | R180LC-9 | | 31Q5-10010 | XJBN-01569 | |
| | R180LC-9S | | 31Q5-10010 | XJBN-01569 | |
| | R210LC-9 | | 31Q6-10010 | XJBN-01196 | |
| | R210LC-9 | | 31Q6-10020 | XJBN-01196 | |
| | R210NLC-9 | | 31Q6-10100 | XJBN-01125 | |
| | R210LC-9BC | | 31Q6-10050 | XJBN-01196 | |
| | R210LC-9BH | | 31Q6-10050 | XJBN-01196 | |
| | R235LC-9 | | 31Q6-10010 | XJBN-01196 | |
| | R250LC-9 | | 31Q7-10010 | XJBN-01196 | |
| | R260LC-9S | | 31Q7-10050 | XJBN-01196 | |
| | R290LC-9 | | 31Q8-10010 | XJBN-00965 | |
| | R300LC-9S | | 31Q8-10030 | XJBN-00965 | |
| | R300LC-9SH | | 31Q8-10030 | XJBN-00965 | |
| | R320LC-9 | | 31Q9-10010 | XJBN-00847 | |
| | R330LC-9S | | 31Q9-10030 | XJBN-00847 | |
| | R330LC-9SH | | 31Q9-10020 | XJBN-00965 | |
| | R360LC-9 | | 31QA-10010 | XJBN-01499 | |
| | R380LC-9SH | | 31QA-10021 | 2902440-2520A | |
| | R480LC-9 | | 31QB-10011 | 31QB-30130 | |
| | R480LC-9S | | 31QB-10011 | 31NB-30020 | |
| | R520LC-9 | | 31QB-10011 | 31QB-30130 | |
| | R520LC-9S | | 31QB-10011 | 31NB-30020 | |
| | R800LC-9 | | 31QD-10010 | XJBN-01192 | |
| | R1200-9 | | 31QE-10010 | 31QE-30020 | |
| | | | | | |
| Old Wheel Excavators | | | | | |
| | R120W | | 11E3-1501 | | |
| | R130W | ~ 0115 | 11E6-1501 | 3803830583 | |
| | R130W | 0116 ~ | 31E6-03010 | 2902440-0395A | |
| | R200W2 | | 293G4127-9N09 | 3803830583-1 | |
| | | | | | |
| 3-Series Wheel Excavators | | | | | |
| | R55W-3 | | 31M6-06012 | 722310 | |
| | R95W-3 | | 31EE-10010 | H9116R7465-0 | |
| | R130W-3 | | 31EA-00200 | | |
| | R170W-3 | ~ 0285 | 11EK-15010 | 438217 | |
| | R170W-3 | 0286 ~ | 11EK-15011 | | |
| | R200W-3 | | 31ER-03010 | | |
| | | | | | |
| 7-Series Wheel Excavators | | | | | |
| | R55W-7 | | 31M8-15020 | XKAH-00860 | T5VP2D25 |
| | R55W-7 | | 31M8-15011 | XJDD-00876 | AP2D28 |
| | R55W-7A | | 31M8-15020 | XKAH-00860 | |
| | R140W-7 | ~ 0389 | 31N4-15011 | XJBN-00895 | |
| | R140W-7 | 0390 ~ | 31N4-15012 | XJBN-00923 | |
| | R140W-7A | | 31N4-15040 | XJBN-00923 | |
| | R170W-7 | ~ 0091 | 31N5-15010 | XJBN-00895 | |
| | R170W-7 | 0092 ~ | 31N5-15011 | XJBN-00923 | |
| | R170W-7A | | 31N5-15030 | XJBN-00923 | |
| | R200W-7 | | 31N6-15010 | XJBN-00841 | |
| | R200W-7A | | 31N6-15310 | XJBN-01125 | |
| | | | | | |
| 9-Series Wheel Excavators | | | | | |
| | R55W-9 | | 31M8-15021 | XJDD-00876 | |
| | R55W-9S | | 31M8-15021 | XJDD-00876 | |
| | R140W-9 | | 31Q4-15020 | XJBN-00923 | |
| | R140W-9S | | 31Q4-15030 | XJBN-00923 | |
| | R170W-9 | | 31Q5-15010 | XJBN-00923 | |
| | R170W-9S | | 31Q5-15030 | XJBN-00923 | |
| | R210W-9 | | 31Q6-15010 | XJBN-01125 | |
| | R210W-9S | | 31Q6-15320 | XJBN-01125 | |
3004242 - GASKET-HYD PUMP
3028422 - GEAR-HYD PUMP
3038993 - GEAR-HYD PUMP
3101278 - ADAPTER-HYD PUMP
3161567 - GEAR-HYD PUMP
31S4-00010 - HYD PUMP ASSY
35D1-10730 - HYD PUMP ASSY
3820754 - SUPPORT-HYD PUMP
3820755 - SUPPORT-HYD PUMP
3893988 - ADAPTER-HYD PUMP
3923321 - DRIVE-HYD PUMP
3936223 - DRIVE-HYD PUMP
3939962 - ADAPTER-HYD PUMP
3939963 - ADAPTER-HYD PUMP
3940245 - GASKET-HYD PUMP
3974850 - ADAPTER-HYD PUMP
31FT-01000 - HYD PUMP-TRIPLE
31E3-0017 - HYD PUMP-TANDEM