JCB Construction Batteries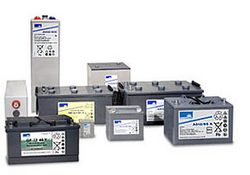 Electric JCB Construction battery - a chemical source of current, a source of electro-driving force of reusable action. The main specificity is the reversibility of internal chemical processes. That provides its multiple cyclic use (through charge-discharge) for the accumulation of energy and autonomous power supply of various electrical devices and equipment, as well as to provide backup sources of energy in vehicles and JCB Construction heavy equipment.
The most common now are:
1. Lead Acid is the most common type of battery used in JCB Construction's heavy equipment, or as an uninterruptible power supply in emergencies.
2. Nickel-cadmium (NiCd) - the most widely used as a replacement for a standard galvanic cell, also used in JCB Construction electric forklifts and other JCB Construction electrical equipment.
3. Nickel-metal hydride (NiMH) - also used as a replacement for a standard galvanic cell, in electric vehicles.
Please note that JCB Construction acid batteries are not allowed for air travel. We sheep it by sea or by road. That is why it is necessary to replace the JCB Construction battery for earlier.
Buy online original and aftermarket or replacement JCB Construction batteries