JCB Construction Swing Motors
Rotation of the working equipment of equipment to the place of unloading the bucket and a reverse rotation to the place of dripping are carried out by turning the turntable or the whole platform (for full-cycle JCB Construction excavators). The rotation takes approximately 60-70% of the working cycle time and significantly affects its overall duration.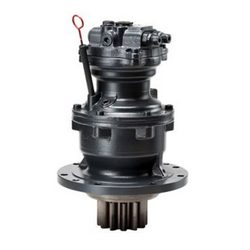 The hydrostatic JCB Construction Swing Motor just performs the function of turning in the horizontal plane of the working equipment relative to the running gear of the JCB Construction equipment.
The Swing JCB Construction Motor consists of a sturdy steel casing, in which several pairs of Novikov gearing gears are compactly arranged, allowing the transfer of loads significantly exceeding the permissible values ​​for involuntary engagement. On the low-speed shaft, on the splines, the output gear is attached, which is included in the open gearing with a gear ring of the turntable of the JCB Construction Heavy Equipment.
A large cogwheel is mounted on the fixed part of the JCB Construction platform. The JCB Construction rotation reducer is installed in such a way that the teeth of the output shaft of the JCB Construction rotary reducer engage the cogwheel of the JCB Construction equipment. When the JCB Construction swing motor shaft rotates, the equipment is rotated relative to the frame.
If you are interested in the original JCB Construction Swing Motor or the aftermarket (replacement) or rebuilt JCB Construction Swing Motor, you can order this unit online.
| | | | | |
| --- | --- | --- | --- | --- |
| Model | Serial No. | Slew Drive Assembly | Slew Motor | Swing Gear Box |
| 801 | 645001-649999 | 231/18200 | 20/900700 | |
| 801.4 | 720001-721136 | 20/903600 | | |
| 801.4 | 721137-724600 | | 20/907000 | 20/907152 |
| 801.4 | 724601-725162 | 20/903600 | | |
| 801.5 | 730001-730003 | 20/903600 | | |
| 801.5 | 730004-730206 | | 20/907000 | 20/907152 |
| 801.5 | 730207-730614 | 20/903600 | | |
| 801.5 Pro Dig | 730306-730308 | 20/903600 | | |
| 801.5 Pro Dig | 730320-730370 | 20/903600 | | |
| 801.6 | 728001-728056 | 20/903600 | | |
| 801.6 | 728057-728402 | | 20/907000 | 20/907152 |
| 801.6 | 728403-728498 | 20/903600 | | |
| 801.6N | 753001-753145 | | 20/907000 | 20/907152 |
| 801.6N | 753146-728498 | 20/903600 | | |
| 802 | 210001-210999 | | 50/007400 | 50/002600 |
| 802 | 732001-732356 | 05/903900 | 05/903901 | |
| 802 | 732357-732449 | 20/912300 | 20/912301 | |
| 802 Super | 1044000-1045999 | 20/912300 | 20/912301 | |
| 802 Super | 733848-734009 | 20/912300 | 20/912301 | |
| 802.4 | 732357-732999 | 20/912300 | 20/912301 | |
| 802.4 | 732450-732356 | 05/903900 | 05/903901 | |
| 802.4 Super | 733001-733847 | 20/912300 | 20/912301 | |
| 802.7 Plus | 747084-747210 | 20/912400 | 20/912401 | |
| 802.7 Super | 747211-74899 | 20/912400 | 20/912401 | |
| 802.7 | 747001-747034 | 20/905840 | 20/907001 | |
| 802.7 | 747035-747047 | | 20/910701 | 20/910710 |
| 802.7 | 747048-747083 | 20/912400 | 20/912401 | |
| 803 | 665001-665736 | 232/07000 | 20/901700 | |
| 803 | 666001-765291 | 20/905840 | 20/907001 | |
| 803 | 667292-667435 | | 20/910701 | 20/910710 |
| 803 | 765001-765027 | | 20/910701 | 20/910710 |
| 803 | 765028-765606 | 20/912400 | 20/912401 | |
| 803 MAGNUM | 747373-748999 | 20/912400 | 20/912401 | |
| 803 PLUS | 1159001-1159999 | 20/912400 | 20/912401 | |
| 803 PLUS | 765607-767004 | 20/912400 | 20/912401 | |
| 803 PLUS | 820000-829999 | 20/912400 | 20/912401 | |
| 803 SUPER | 1159001-1159999 | 20/912400 | 20/912401 | |
| 803 SUPER | 765607-767004 | 20/912400 | 20/912401 | |
| 803 SUPER | 820000-829999 | 20/912400 | 20/912401 | |
| 803 SUPER | 830000-830000 | 20/912400 | 20/912401 | |
| 804 | 734001-734324 | | 20/906205 | 20/950229 |
| 804 | 734325-734401 | 20/912500 | 20/912401 | |
| 804 PLUS | 734402-734629 | 20/912500 | 20/912401 | |
| 804 SUPER | 734630-735999 | 20/912500 | 20/912401 | |
| 8014 | 791000-795999 | 20/903600 | | |
| 8014 | 1156000-1156999 | 20/925541 | 20/951679 | 20/951674 |
| 8014 | 1282000-1283999 | 20/925541 | 20/951679 | 20/951674 |
| 8014 | 1319000-1324999 | 20/925541 | 20/951679 | 20/951674 |
| 8014 | 1392500-1392999 | 20/925541 | 20/951679 | 20/951674 |
| 8014 | 1626000-1627499 | 20/925541 | 20/951679 | 20/951674 |
| 8014 | 1792933-1794933 | 20/925541 | 20/951679 | 20/951674 |
| 8015 | 730800-731999 | 20/903600 | | |
| 8015 | 820000-821999 | 20/903600 | | |
| 8015 | 894000-895999 | 20/903600 | | |
| 8015 | 1020000-102399 | 20/903600 | | |
| 8016 | 728750-729999 | 20/903600 | | |
| 8016 | 1155000-1155999 | 20/925541 | 20/951679 | 20/951674 |
| 8016 | 1505500-1506499 | 20/925541 | 20/951679 | 20/951674 |
| 8016 | 1703600-1703999 | 20/925541 | 333/L8336 | 20/951674 |
| 8016 | 1794934-1796934 | 20/925541 | 333/L8336 | 20/951674 |
| 8017 | 800000-800999 | 20/903600 | | |
| 8017 | 896000-896999 | 20/903600 | | |
| 8017 | 1052000-1052999 | 20/903600 | | |
| 8018 | 801000-801999 | 20/903600 | | |
| 8018 | 897000-897999 | 20/903600 | | |
| 8018 | 1046000-1047999 | 20/925541 | 20/951679 | 20/951674 |
| 8018 | 1309500-1313999 | 20/925541 | 20/951679 | 20/951674 |
| 8018 | 1319000-1324999 | 20/925541 | 20/951679 | 20/951674 |
| 8018 | 1543500-1544999 | 20/925541 | 20/951679 | 20/951674 |
| 8018 | 2051250-2053249 | 20/925541 | 20/951679 | 20/951674 |
| 8018 CTS | 2073291-2075291 | 20/925541 | 333/L8336 | 20/951674 |
| 8018 CTSAG | 2073291-2075291 | 20/925541 | 333/L8336 | 20/951674 |
| 8018 CTSDL | 2073291-2075291 | 20/925541 | 333/L8336 | 20/951674 |
| 8018 Super | 1046000-1047999 | 20/925541 | 20/951679 | 20/951674 |
| 8018 Super | 1309500-1313999 | 20/925541 | 20/951679 | 20/951674 |
| 8018 Super | 1319000-1324999 | 20/925541 | 20/951679 | 20/951674 |
| 8020 | 1284000-1284999 | 20/925830 | | |
| 8020 | 1900100-1900499 | 20/925830 | | |
| 8020 | 2097875-2098875 | 20/925830 | | |
| 8025 ZTS | 1226500-1228500 | 20/925689 | 332/E5914 | 332/E5900 |
| 8025 ZTS | 1740000-1741499 | 20/925689 | 332/E5914 | 332/E5900 |
| 8025 ZTS | 1908000-1908499 | 20/925689 | 332/E5914 | 332/E5900 |
| 8025 ZTS | 2020000-2020999 | 20/925689 | 332/E5914 | 332/E5900 |
| 8025 ZTS | 2226007-2228007 | 20/925689 | 332/E5914 | 332/E5900 |
| 8026 CTS | 1779000-1780499 | 20/925689 | 332/E5914 | 332/E5900 |
| 8026 CTS | 2097875-2098875 | 20/925689 | 332/E5914 | 332/E5900 |
| 8026 CTS | 2097875-2098875 | 20/925689 | 20/912401 | |
| 8027Z | 898000-898999 | 20/925689 | 20/912401 | |
| 8027Z | 1226000-1226499 | 20/925689 | 20/912401 | |
| 8030ZTS | 1228500-1230499 | 20/925689 | 332/E5900 | 332/E5914 |
| 8030ZTS | 1908500-1908999 | 20/925689 | 332/E5900 | 332/E5914 |
| 8030ZTS | 2021000-2021999 | 20/925689 | 332/E5900 | 332/E5914 |
| 8032Z | 899000-899999 | 20/912500 | 20/912401 | |
| 8032Z | 1177000-1177999 | 20/912500 | 20/912401 | |
| 8035ZTS | 1230500-1231499 | 20/925690 | 333/L1624 | 20/952102 |
| 8035ZTS | 2022000-2022999 | 20/925690 | 333/L1624 | 20/952102 |
| 8040ZTS Tier 2 | 1056000-1057999 | 20/925616 | | |
| 8045ZTS Tier 2 | 1070500-1070635 | 20/925616 | | |
| 8040ZTS Tier 3 | 1056445-1056999 | 20/925616 | | |
| 8045ZTS Tier 3 | 1070636-1070641 | 20/925616 | | |
| 8045ZTS Tier 3 | 1070648-1071499 | 20/925616 | | |
| 8050RTS | 1741500-1742999 | 20/925616 | | |
| 8050ZTS | 1741500-1742999 | 20/925616 | | |
| 8052 | 802000-803999 | 20/918000 | 20/950195 | |
| 8052 | 1178000-1178999 | 20/918000 | 20/950195 | |
| 8052 | 1614000-1615999 | 20/918000 | 20/950195 | |
| 8055RTS | 1536000-1537499 | 20/925616 | | |
| 8055RTS | 1614000-1615999 | 20/925616 | | |
| 8055RTS | 2060250-2060749 | 20/925616 | | |
| 8055ZTS | 1536000-1537499 | 20/925616 | | |
| 8055ZTS | 1614000-1615999 | 20/925616 | | |
| 8055ZTS | 2060250-2060749 | 20/925616 | | |
| 8056 CHINA | 1296000-1296999 | 20/925321 | 20/952491 | 20/950444 |
| 8060 | 883000-88499 | 20/925321 | 20/952491 | 20/950444 |
| 8060 | 1236000-1237999 | 20/925321 | 20/952491 | 20/950444 |
| 8061CTS CHINA | 2081496-2083496 | 20/925321 | 20/952491 | 20/950444 |
| 8065DL | 1538310-1538999 | 332/S8057 | | |
| 8065RTS | 1538310-1538999 | 332/S8057 | | |
| 8065ZTS | 1537500-1538309 | 332/S8057 | | |
| 8080 | 1024000-1025999 | 20/925447 | 20/951631 | 20/951632 |
| 8080 | 1442000-1443999 | 20/925447 | 20/951631 | 20/951632 |
| 8085ZTS | 1071505-1072999 | 20/925447 | 20/951631 | 20/951632 |
| Go to top | | | | |
| Model | Serial No. | Swing Motor Assy | Swing Motor | Swing Gear Box |
| JS70 | 695501-695712 | JAC0001 | LNM0610 | LNM0639 |
| JS70 MONO | 695001-695076 | KAC0106 | KAC0101 | KAC0105 |
| JS70 MONO | 695077-695500 | KAC0144 | KAC0145 | KAC0161 |
| JS70 OFFSET | 695001-695076 | KAC0106 | KAC0101 | KAC0105 |
| JS70 OFFSET | 695077-695500 | KAC0144 | KAC0145 | KAC0161 |
| JS110 | 697002-697055 | KMC0017 | LNM0196 | LNM0197 |
| JS110 AUTO | 1168000-1168999 | 20/925360 | LNM0434 | LNO0104 |
| JS115 | 1786452-1786462 | 20/925360 | LNM0434 | LNO0104 |
| JS115 | 2113876-2115876 | 20/925360 | LNM0434 | LNO0104 |
| JS115 Auto | 1168000-1168999 | 20/925360 | LNM0434 | LNO0104 |
| JS115 Auto | 1703500-1703599 | 20/925360 | LNM0434 | LNO0104 |
| JS115 T4 | 00000001- | 20/925360 | LNM0434 | LNO0104 |
| JS115D | 1786452-1786462 | 20/925360 | LNM0434 | LNO0104 |
| JS115D | 2113876-2115876 | 20/925360 | LNM0434 | LNO0104 |
| JS130 | 1058001-1058049 | 20/925360 | LNM0434 | LNO0104 |
| JS130 | 699002-700999 | KNC0037 | LNM0196 | LNM0197 |
| JS130 | 758001-759999 | 20/925360 | LNM0434 | LNO0104 |
| JS130 | 890001-890999 | 20/925360 | LNM0434 | LNO0104 |
| JS130 AUTO | 1058102-1058999 | 20/925360 | LNM0434 | LNO0104 |
| JS130 AUTO | 1179000-1180999 | 20/925360 | LNM0434 | LNO0104 |
| JS130LC | 1058102-1058999 | 20/925360 | LNM0434 | LNO0104 |
| JS130LC | 1179000-1180999 | 20/925360 | LNM0434 | LNO0104 |
| JS130LC | 1535000-1535999 | 20/925360 | LNM0434 | LNO0104 |
| JS130LC | 1786463-1786863 | 20/925360 | LNM0434 | LNO0104 |
| JS130LC + | 1786463-1786863 | 20/925360 | LNM0434 | LNO0104 |
| JS130LC D | 1786463-1786863 | 20/925360 | LNM0434 | LNO0104 |
| JS130LC T4 | 00000001- | 20/925360 | LNM0434 | LNO0104 |
| JS145 AUTO | 1289000-1289999 | 20/925360 | LNM0434 | LNO0104 |
| JS145HD | 1600011-1600999 | 20/925360 | LNM0434 | LNO0104 |
| JS145HD | 1786864-1788884 | 20/925360 | LNM0434 | LNO0104 |
| JS145LC | 1600011-1600999 | 20/925360 | LNM0434 | LNO0104 |
| JS145LC | 1786864-1788884 | 20/925360 | LNM0434 | LNO0104 |
| JS145LC T4 | 00000001- | 20/925360 | LNM0434 | LNO0104 |
| JS145LCD | 1786864-1788884 | 20/925360 | LNM0434 | LNO0104 |
| JS145LCDTA | 1786864-1788884 | 20/925360 | LNM0434 | LNO0104 |
| JS145LCTAB | 1786864-1788884 | 20/925360 | LNM0434 | LNO0104 |
| JS150LC | 701002-701999 | KLC0001 | LNM0301 | LNM0300 |
| JS160 | 702001-702496 | KLC0008 | LNM0631 | LNM0449 |
| JS160 | 702497-703849 | | JLC0007 | JLC0008 |
| JS160 AUTO | 1059000-1059999 | 20/925738 | 20/925574 | |
| JS160 TIER 3 | 1612501-1612933 | 20/925738 | 20/925574 | |
| JS160 TIER 3 | 1704000-1704999 | 20/925738 | 20/925574 | |
| JS160LC | 1776500-1777499 | 20/925738 | 20/925574 | |
| JS160LCTAB | 1776500-1777499 | 20/925738 | 20/925574 | |
| JS160NLC | 1776500-1777499 | 20/925738 | 20/925574 | |
| JS160NLCTA | 1776500-1777499 | 20/925738 | 20/925574 | |
| JS180 | 702001-702496 | KLC0008 | LNM0631 | LNM0449 |
| JS180 | 702497-703849 | | JLC0007 | JLC0008 |
| JS180 AUTO | 1059000-1059999 | 20/925738 | 20/925574 | |
| JS180 TIER 3 | 1612501-1612933 | 20/925738 | 20/925574 | |
| JS180 TIER 3 | 1704000-1704999 | 20/925738 | 20/925574 | |
| JS180LC | 1776500-1777499 | 20/925738 | 20/925574 | |
| JS180LCTAB | 1776500-1777499 | 20/925738 | 20/925574 | |
| JS180NLC | 1776500-1777499 | 20/925738 | 20/925574 | |
| JS190 | 1059363-1059363 | 20/925738 | 20/925574 | |
| JS190 | 1224000-1224499 | 20/925738 | 20/925574 | |
| JS190 T3 | 1314100-1314299 | 20/925738 | 20/925574 | |
| Go to top | | | | |
| Model | Serial No. | Swing Motor Assy | Swing Motor | Swing Gear Box |
| JS200 | 1018001-1020001 | | 20/925315 | JRC0007 |
| JS200 | 1202500-1204022 | | 20/925315 | JRC0007 |
| JS200 | 1503300-1504499 | | 20/925315 | JRC0007 |
| JS200 | 1701500-1702499 | | 20/925315 | JRC0007 |
| JS200 | 705001-705906 | KRC0129 | LMN0432 | LNO0111 |
| JS200 | 705907-707999 | | JRC0006 | JRC0007 |
| JS200 TIER 3 | 1459000-1462006 | | 20/925315 | JRC0007 |
| JS200 TIER 3 | 1610000-1612499 | | 20/925315 | JRC0007 |
| JS200 TIER 3 | 1613000-1613999 | | 20/925315 | JRC0007 |
| JS200 TIER 3 | 2062750-2063049 | | 20/925315 | JRC0007 |
| JS200 TIER 3 | 2068788-2069288 | | 20/925315 | JRC0007 |
| JS200 TIER 3 | 2124884-2125884 | | 20/925315 | JRC0007 |
| JS200LC | 704002-704166 | KRC0108 | LNM0220 | LNM0354 |
| JS200LC | 704167-705000 | KRC0120 | LNM0442 | LNM0443 |
| JS200LC BR | 1633000-1639999 | | 20/925315 | 333/P1196 |
| JS200LC T2 | 1782453-1786451 | | 20/925315 | 333/P1196 |
| JS200LCBT2 | 1782453-1786451 | | 20/925315 | 333/P1196 |
| JS200NLCT2 | 1782453-1786451 | | 20/925315 | 333/P1196 |
| JS200S T2 | 1782453-1786451 | | 20/925315 | 333/P1196 |
| JS200SC CH | 1791932-1792932 | | 20/925315 | 333/P1196 |
| JS210 | 1018001-1020001 | | 20/925315 | JRC0007 |
| JS210 | 1202500-1204022 | | 20/925315 | JRC0007 |
| JS210 | 1503300-1504499 | | 20/925315 | JRC0007 |
| JS210 | 1701500-1702499 | | 20/925315 | JRC0007 |
| JS210 | 705001-705906 | KRC0129 | LMN0432 | LNO0111 |
| JS210 | 705907-707999 | | JRC0006 | JRC0007 |
| JS210 TIER 3 | 1459000-1462006 | | 20/925315 | JRC0007 |
| JS210 TIER 3 | 1610000-1612499 | | 20/925315 | JRC0007 |
| JS210 TIER 3 | 1613000-1613999 | | 20/925315 | JRC0007 |
| JS210 TIER 3 | 2062750-2063049 | | 20/925315 | JRC0007 |
| JS210 TIER 3 | 2068788-2069288 | | 20/925315 | JRC0007 |
| JS210 TIER 3 | 2124884-2125884 | | 20/925315 | JRC0007 |
| JS220 | 1018001-1020001 | | 20/925315 | JRC0007 |
| JS220 | 1202500-1204022 | | 20/925315 | JRC0007 |
| JS220 | 1503300-1504499 | | 20/925315 | JRC0007 |
| JS220 | 1701500-1702499 | | 20/925315 | JRC0007 |
| JS220 | 705001-705906 | KRC0129 | LMN0432 | LNO0111 |
| JS220 | 705907-707999 | | JRC0006 | JRC0007 |
| JS220 HD | 1018001-1020001 | | 20/925315 | JRC0007 |
| JS220 HD | 1202500-1204022 | | 20/925315 | JRC0007 |
| JS220 HD | 1503300-1504499 | | 20/925315 | JRC0007 |
| JS220 HD | 1701500-1702499 | | 20/925315 | JRC0007 |
| JS220 L.Reach | 1018001-1020001 | | 20/925315 | JRC0007 |
| JS220 L.Reach | 1202500-1204022 | | 20/925315 | JRC0007 |
| JS220 L.Reach | 1503300-1504499 | | 20/925315 | JRC0007 |
| JS220 L.Reach | 1701500-1702499 | | 20/925315 | JRC0007 |
| JS220 TIER 3 | 1459000-1462006 | | 20/925315 | JRC0007 |
| JS220 TIER 3 | 1610000-1612500 | | 20/925315 | JRC0007 |
| JS220 TIER 3 | 1613000-1613999 | | 20/925315 | JRC0007 |
| JS220 TIER 3 | 1766600-1766999 | | 20/925315 | JRC0007 |
| JS220 TIER 3 | 2062750-2063049 | | 20/925315 | JRC0007 |
| JS220 TIER 3 | 2068788-2069288 | | 20/925315 | JRC0007 |
| JS220 TIER 3 | 2124884-2125884 | | 20/925315 | JRC0007 |
| JS220 XD | 1018001-1020001 | | 20/925315 | JRC0007 |
| JS220 XD | 1202500-1204022 | | 20/925315 | JRC0007 |
| JS220 XD | 1503300-1504499 | | 20/925315 | JRC0007 |
| JS220 XD | 1701500-1702499 | | 20/925315 | JRC0007 |
| JS220LC CH | 1791932-1792932 | | 20/925315 | 333/P1196 |
| JS220LC T2 | 1782453-1786451 | | 20/925315 | JRC0007 |
| JS220LR | 1459000-1462006 | | 20/925315 | JRC0007 |
| JS220LR | 1610000-1612500 | | 20/925315 | JRC0007 |
| JS220LR | 1613000-1613999 | | 20/925315 | JRC0007 |
| JS220LR | 2062750-2063049 | | 20/925315 | JRC0007 |
| JS220LR | 2068788-2069288 | | 20/925315 | JRC0007 |
| JS220LR | 2124884-2125884 | | 20/925315 | JRC0007 |
| JS220LR T2 | 1782453-1786451 | | 20/925315 | 333/P1196 |
| JS220S CH | 1791932-1792932 | | 20/925315 | 333/P1196 |
| JS220S T2 | 1782453-1786451 | | 20/925315 | 333/P1196 |
| JS220XD TIER 3 | 1459000-1462006 | | 20/925315 | JRC0007 |
| JS220XD TIER 3 | 1610000-1612500 | | 20/925315 | JRC0007 |
| JS220XD TIER 3 | 1613000-1613999 | | 20/925315 | JRC0007 |
| JS220XD TIER 3 | 2062750-2063049 | | 20/925315 | JRC0007 |
| JS220XD TIER 3 | 2068788-2069288 | | 20/925315 | JRC0007 |
| JS220XD TIER 3 | 2124884-2125884 | | 20/925315 | JRC0007 |
| JS235 HD | 1018001-1020001 | | 20/925315 | JRC0007 |
| JS235 HD | 1202500-1204022 | | 20/925315 | JRC0007 |
| JS235 HD | 1503300-1504499 | | 20/925315 | JRC0007 |
| JS235 HD | 1701500-1702499 | | 20/925315 | JRC0007 |
| JS235 TIER 3 | 1459000-1462006 | | 20/925315 | JRC0007 |
| JS235 TIER 3 | 1610000-1612500 | | 20/925315 | JRC0007 |
| JS235 TIER 3 | 1613000-1613999 | | 20/925315 | JRC0007 |
| JS235 TIER 3 | 2062750-2063049 | | 20/925315 | JRC0007 |
| JS235 TIER 3 | 2068788-2069288 | | 20/925315 | JRC0007 |
| JS235 TIER 3 | 2124884-2125884 | | 20/925315 | JRC0007 |
| Go to top | | | | |
| Model | Serial No. | Swing Motor Assy | Swing Motor | Swing Gear Box |
| JS240 | 1504700-1505099 | | 20/925266 | 05/202200 |
| JS240 | 1773500-1774499 | | 20/925266 | 05/202200 |
| JS240 | 708501-709199 From: DEC-2001 | | 20/925266 | 05/202200 |
| JS240 | 708501-709199 To: DEC-2001 | KCB0085 | LNM0433 | LNM0444 |
| JS240 AUTO | 1040003-1041999 | | 20/925266 | 05/202200 |
| JS240LC | 708002-708500 | KBC0082 | LNM0383 | LNM0381 |
| JS240LCT4 | 2050000-2050249 | | 20/925266 | 05/202200 |
| JS240LCT4 | 2159374-2160374 | | 20/925266 | 05/202200 |
| JS240NLCT4 | 2050000-2050249 | | 20/925266 | 05/202200 |
| JS240NLCT4 | 2159374-2160374 | | 20/925266 | 05/202200 |
| JS240SC T4 | 2050000-2050249 | | 20/925266 | 05/202200 |
| JS240SC T4 | 2159374-2160374 | | 20/925266 | 05/202200 |
| JS260 | 1504700-1505099 | | 20/925266 | 05/202200 |
| JS260 | 1773500-1774499 | | 20/925266 | 05/202200 |
| JS260 | 708501-709199 From: DEC-2001 | | 20/925266 | 20/925266 |
| JS260 | 708501-709199 To: DEC-2001 | KCB0085 | LNM0433 | LNM0444 |
| JS260 AUTO | 1040003-1041999 | | 20/925266 | 05/202200 |
| JS260 XD AUTO | 1040003-1041999 | | 20/925266 | 05/202200 |
| JS260LCT4 | 2050000-2050249 | | 20/925266 | 05/202200 |
| JS260LCT4 | 2160375-2161375 | | 20/925266 | 05/202200 |
| JS260LRT4 | 2050000-2050249 | | 20/925266 | 05/202200 |
| JS260LRT4 | 2160375-2161375 | | 20/925266 | 05/202200 |
| JS260LXDT4 | 2050000-2050249 | | 20/925266 | 05/202200 |
| JS260LXDT4 | 2160375-2161375 | | 20/925266 | 05/202200 |
| JS260NLCT4 | 2050000-2050249 | | 20/925266 | 05/202200 |
| JS260NLCT4 | 2160375-2161375 | | 20/925266 | 05/202200 |
| JS260NXDT4 | 2050000-2050249 | | 20/925266 | 05/202200 |
| JS260NXDT4 | 2160375-2161375 | | 20/925266 | 05/202200 |
| JS260SCT4 | 2050000-2050249 | | 20/925266 | 05/202200 |
| JS260SCT4 | 2160375-2161375 | | 20/925266 | 05/202200 |
| JS260SXDT4 | 2050000-2050249 | | 20/925266 | 05/202200 |
| JS260SXDT4 | 2160375-2161375 | | 20/925266 | 05/202200 |
| JS290 | 1421200-1421599 | | 20/925615 | 05/204700 |
| JS290XD | 1421200-1421599 | | 20/925615 | 05/204700 |
| JS300LC | 712002-712500 | KSC0177 | KSC0166 | 05/200100 |
| JS330 | 712501-712951 (Upto 14/03/00) | KSC0197 | KSC0196 | KSC0198 |
| JS330 | 712501-712951 (From 14/03/00) | 215/10366 | KSC0196 | 05/200100 |
| JS330 | 712952-713999 | 215/10366 | KSC0196 | 05/200100 |
| JS330 AUTO TIER 3 | 1224215-1224999 (Upto 16/05/2010) | 215/10366 | KSC0196 | 05/200100 |
| JS330 AUTO TIER 3 | 1224215-1224999 (From 17/05/2010) | 332/K4683 | 332/K4684 | 05/200100 |
| JS330 AUTO TIER 3 | 1474000-1478999 (Upto 16/05/2010) | 215/10366 | KSC0196 | 05/200100 |
| JS330 AUTO TIER 3 | 1474000-1478999 (From 17/05/2010) | 332/K4683 | 332/K4684 | 05/200100 |
| JS330 AUTO TIER 3 | 1807000-1807299 (Upto 16/05/2010) | 215/10366 | KSC0196 | 05/200100 |
| JS330 AUTO TIER 3 | 1807000-1807299 (From 17/05/2010) | 332/K4683 | 332/K4684 | 05/200100 |
| JS330 AUTO TIER 2 | 1240500-1240999 (Upto 24/10/2010) | 215/10366 | KSC0196 | 05/200100 |
| JS330 AUTO TIER 2 | 1240500-1240999 (From 25/10/2010) | 332/K4683 | 332/K4684 | 05/200100 |
| JS330 AUTO TIER 2 | 1304700-1304999 (Upto 24/10/2010) | 215/10366 | KSC0196 | 05/200100 |
| JS330 AUTO TIER 2 | 1304700-1304999 (From 25/10/2010) | 332/K4683 | 332/K4684 | 05/200100 |
| JS330 AUTO TIER 2 | 2152770-2153270 (Upto 24/10/2010) | 215/10366 | KSC0196 | 05/200100 |
| JS330 AUTO TIER 2 | 2152770-2153270 (From 25/10/2010) | 332/K4683 | 332/K4684 | 05/200100 |
| JS330 AUTO TIER 2 | 2161376-2161876 (Upto 24/10/2010) | 215/10366 | KSC0196 | 05/200100 |
| JS330 AUTO TIER 2 | 2161376-2161876 (From 25/10/2010) | 332/K4683 | 332/K4684 | 05/200100 |
| JS330LCT4 | 2050500-2050749 | | 333/J2160 | 05/205900 |
| JS330LCT4 | 2050750-2050999 | | 333/J2160 | 05/205900 |
| JS330LRT4 | 2050500-2050749 | | 333/J2160 | 05/205900 |
| JS330LRT4 | 2050750-2050999 | | 333/J2160 | 05/205900 |
| JS330LRT4 | 2050500-2050749 | | 333/J2160 | 05/205900 |
| JS330LRT4 | 2050750-2050999 | | 333/J2160 | 05/205900 |
| JS330NLCT4 | 2050500-2050749 | | 333/J2160 | 05/205900 |
| JS330NLCT4 | 2050750-2050999 | | 333/J2160 | 05/205900 |
| JS330NXDT4 | 2050500-2050749 | | 333/J2160 | 05/205900 |
| JS330NXDT4 | 2050750-2050999 | | 333/J2160 | 05/205900 |
| JS330XD | 712501-712951 (Upto 14/03/00) | KSC0197 | KSC0196 | KSC0198 |
| JS330XD | 712501-712951 (From 15/03/00) | 215/10366 | KSC0196 | 05/200100 |
| JS330XD | 712952-713999 | 215/10366 | KSC0196 | 05/200100 |
| JS330XD AUTO TIER 3 | 1224215-1224999 (Upto 16/05/2010) | 215/10366 | KSC0196 | 05/200100 |
| JS330XD AUTO TIER 3 | 1224215-1224999 (From 17/05/2010) | 332/K4683 | 332/K4684 | 05/200100 |
| JS330XD AUTO TIER 3 | 1474000-1478999 (Upto 16/05/2010) | 215/10366 | KSC0196 | 05/200100 |
| JS330XD AUTO TIER 3 | 1474000-1478999 (From 17/05/2010) | 332/K4683 | 332/K4684 | 05/200100 |
| JS330XD AUTO TIER 3 | 1807000-1807299 (Upto 16/05/2010) | 215/10366 | KSC0196 | 05/200100 |
| JS330XD AUTO TIER 3 | 1807000-1807299 (From 17/05/2010) | 332/K4683 | 332/K4684 | 05/200100 |
| JS330XD AUTO TIER 2 | 1240500-1240999 (Upto 24/10/2010) | 215/10366 | KSC0196 | 05/200100 |
| JS330XD AUTO TIER 2 | 1240500-1240999 (From 25/10/2010) | 332/K4683 | 332/K4684 | 05/200100 |
| JS330XD AUTO TIER 2 | 1304700-1304999 (Upto 24/10/2010) | 215/10366 | KSC0196 | 05/200100 |
| JS330XD AUTO TIER 2 | 1304700-1304999 (From 25/10/2010) | 332/K4683 | 332/K4684 | 05/200100 |
| JS330XD AUTO TIER 2 | 2152770-2153270 (Upto 24/10/2010) | 215/10366 | KSC0196 | 05/200100 |
| JS330XD AUTO TIER 2 | 2152770-2153270 (From 25/10/2010) | 332/K4683 | 332/K4684 | 05/200100 |
| JS330XD AUTO TIER 2 | 2161376-2161876 (Upto 24/10/2010) | 215/10366 | KSC0196 | 05/200100 |
| JS330XD AUTO TIER 2 | 2161376-2161876 (From 25/10/2010) | 332/K4683 | 332/K4684 | 05/200100 |
| JS360 | 1807000-1807299 | | 20/952286 | 05/205900 |
| JS360 | 1909300-1910299 | | 20/952286 | 05/205900 |
| JS360 LR | 1807000-1807299 | | 20/952286 | 05/205900 |
| JS360 LR | 1909300-1910299 | | 20/952286 | 05/205900 |
| JS360 XD | 1807000-1807299 | | 20/952286 | 05/205900 |
| JS360 XD | 1909300-1910299 | | 20/952286 | 05/205900 |
| JS360LCT4 | 2050750-2050999 | | 20/952286 | 05/205900 |
| JS360LRT4 | 2050750-2050999 | | 20/952286 | 05/205900 |
| JS360LXDT4 | 2050750-2050999 | | 20/952286 | 05/205900 |
| JS360NLCT4 | 2050750-2050999 | | 20/952286 | 05/205900 |
| JS360NXDT4 | 2050750-2050999 | | 20/952286 | 05/205900 |
| JS370 | 2080666-2090666 | | 20/952286 | 05/205900 |
| JS450LC | 714002-714499 | KTC0136 | KTC0127 | KTC0113 |
| JS450LC | 714500-714549 | KTC0140 | KTC0141 | KTP0940 |
| JS460 | 714551-714580 | KTC0140 | KTC0141 | KTP0940 |
| JS460-T2 | 714581-714999 | 215/11174 | 20/925266 | 05/202400 |
| Go to top | | | | |
| Model | Serial No. | Swing Motor Assy | Swing Motor | Swing Gear Box |
| JS130W | 716001-716499 | KNC0037 | LNM0196 | LNM0197 |
| JS130W | 716500-717236 | 20/925360 | LNM0434 | LNO0104 |
| JS130W | 717003-717003 | 20/925360 | LNM0434 | LNO0104 |
| JS130W T3 | 1060300-1060999 | 20/925360 | LNM0434 | LNO0104 |
| JS130W T3 | 1314300-1314599 | 20/925360 | LNM0434 | LNO0104 |
| JS130W-PLE | 716500-717236 | 20/925360 | LNM0434 | LNO0104 |
| JS130W-T2 | 1060000-1060299 | 20/925360 | LNM0434 | LNO0104 |
| JS145W | 810001-810248 | 20/925360 | LNM0434 | LNO0104 |
| JS145W MON | 1458600-1458602 | 20/925360 | LNM0434 | LNO0104 |
| JS145W MON | 1789027-1789227 | 20/925360 | LNM0434 | LNO0104 |
| JS145W T3 | 1314300-1314599 | 20/925360 | LNM0434 | LNO0104 |
| JS145W T3 | 1458000-1458999 | 20/925360 | LNM0434 | LNO0104 |
| JS145W TAB | 1458600-1458602 | 20/925360 | LNM0434 | LNO0104 |
| JS145W TAB | 1789027-1789277 | 20/925360 | LNM0434 | LNO0104 |
| JS145W-T2 | 1061001-1061999 | 20/925360 | LNM0434 | LNO0104 |
| JS150W | 718001-718499 | KLC0001 | LNM0301 | LNM0300 |
| JS160W | 718503-718698 | KLC0008 | JLC0007 | LNM0449 |
| JS160W | 718699-179162 | | JLC0007 | JLC0008 |
| JS160W TIER 3 | 1421600-1421799 | | JLC0007 | JLC0008 |
| JS160W TIER 3 | 1451000-1451999 | | JLC0007 | JLC0008 |
| JS160W | 1789229-1789428 | | JLC0007 | JLC0008 |
| JS160W TAB | 1789229-1789428 | | JLC0007 | JLC0008 |
| JS160W TAB | 1789468-1789468 | | JLC0007 | JLC0008 |
| JS160W-PLE | 718503-719162 | | JLC0007 | JLC0008 |
| JS160W-T2 | 1062000-1062999 | | JLC0007 | JLC0008 |
| JS175W | 885004-885216 | | JLC0007 | JLC0008 |
| JS175W AUTO | 1235500-1235999 | | JLC0007 | JLC0008 |
| JS175W T3 | 1505100-1505499 | | JLC0007 | JLC0008 |
| JS175W T3 | 1628500-1628999 | | JLC0007 | JLC0008 |
| JS175W-T2 | 885217-885999 | | JLC0007 | JLC0008 |
| JS200W | 809001-809116 | | JRC0013 | JRC0008 |
| JS200W PLE | 809001-809116 | | JRC0013 | JRC0008 |
| JS200W T3 | 1314600-1314699 | | JRC0013 | JRC0008 |
| JS200W T3 | 1542000-1542499 | | JRC0013 | JRC0008 |
| JS200W-T2 | 809117-809999 | | JRC0013 | JRC0008 |
| Go to top | | | | |
| Model | Serial No. | Swing Motor Assy | Swing Motor | Swing Gear Box |
| JZ70 | 834001-834999 | JAC0001 | LNM0610 | LNM0639 |
| JZ140 | 1132355-1132356 | 20/925531 | 20/925570 | |
| JZ140 | 1137000-1390499 | 20/925531 | 20/925570 | |
| JZ140HD | 1137575-1137582 | 20/925531 | 20/925570 | |
| JZ140HD | 1390000-1390499 | 20/925531 | 20/925570 | |
| JZ140R | 1137575-1137582 | 20/925531 | 20/925570 | |
| JZ140R | 1390000-1390499 | 20/925531 | 20/925570 | |
| JZ140WM | 1137575-1137582 | 20/925531 | 20/925570 | |
| JZ140WM | 1390000-1390499 | 20/925531 | 20/925570 | |
| JZ235 | 1234500-1235499 | | 20/925809 | JRC0008 |
| JZ255 | 2084498-2084558 | | 20/925809 | JRC0008 |