John Deere Control Modules, Units - ECU, ECM
In John Deere electronics, an electronic control unit (ECU) is an embedded system that controls one or more electrical systems or subsystems in John Deere technology.
ECM (electronic engine control).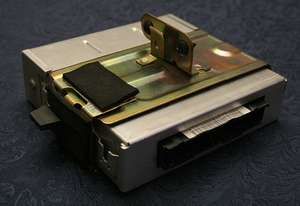 John Deere ECM - Engine Control Module.
John Deere ECU - Electronic Control Unit - electronic control unit - a general term for any electronic control unit.
By types of ECU can be divided into:
- Electronic (ECU),
- Engine control unit (ECM)
- Combined power transmission control unit
- Transmission control unit
- Brake control unit
- Central control module
- Central synchronization module
- Main electronic module,
- Suspension control module.
Taken together, these systems are sometimes referred to as John Deere computer hardware. Technically, this is not a single computer, but several blocks. Sometimes a single assembly includes several separate control modules.
Modern John Deere equipment include up to 80 ECU. Embedded software in an ECU continues to evolve according to quantity, complexity, and sophistication. Managing the increase in complexity and the number of ECUs as John Deere parts in John Deere technology has become one of the key tasks.
| | |
| --- | --- |
| A-1077755M1 - Basic Control Unit | F058721 - Central Control Unit |
| A-1077756M1 - Basic Control Unit | F060547 - Electronic Control Unit |
| A-1077757M1 - Basic Control Unit | F062780 - Central Control Unit |
| A-1661794M92 - Central Control Unit | F062884 - Central Control Unit |
| A-1987598C2 - Central Control Unit | F063353 - Electronic Control Unit |
| A-3762581M1 - Central Control Unit | F063807 - Electronic Control Unit |
| A-5086594 - Steering Control Unit | F064278 - Central Control Unit |
| A-897389M91 - Central Control Unit | F064355 - Central Control Unit |
| AFH206289 - Electronic Control Unit | F073212 - Electronic Control Unit |
| AL157035 - Steering Control Unit | F125941 - Electronic Control Unit |
| AL179837 - Electronic Control Unit | F604014 - Central Control Unit |
| AL201335 - Electronic Control Unit | F643037 - Electronic Control Unit |
| AL204071 - Electronic Control Unit | F672517 - Electronic Control Unit |
| AL205722 - Electronic Control Unit | F674374 - Central Control Unit |
| AL208999 - Steering Control Unit | F674383 - Central Control Unit |
| AL209751 - Steering Control Unit | H3756319500 - Basic Control Unit |
| AL210944 - Electronic Control Unit | KV24406 - Basic Control Unit |
| AL210945 - Electronic Control Unit | LW10040520 - Central Control Unit |
| AL211042 - Electronic Control Unit | LW10115391 - Electronic Control Unit |
| AL211581 - Electronic Control Unit | LW10354901 - Electronic Control Unit |
| AL211586 - Electronic Control Unit | LW10355114 - Basic Control Unit |
| AL211695 - Electronic Control Unit | LW10355115 - Basic Control Unit |
| AL211696 - Electronic Control Unit | LW10355117 - Basic Control Unit |
| AL211996 - Electronic Control Unit | LW10355130 - Electronic Control Unit |
| AL211997 - Electronic Control Unit | LW11004684 - Electronic Control Unit |
| AL213068 - Electronic Control Unit | LW8924810 - Electronic Control Unit |
| AL213069 - Electronic Control Unit | LW9285553 - Electronic Control Unit |
| AL213070 - Electronic Control Unit | LW9408485 - Central Control Unit |
| AL213071 - Electronic Control Unit | PFA10108 - Electronic Control Unit |
| AL213072 - Electronic Control Unit | PFA10226 - Electronic Control Unit |
| AM144054 - Electronic Control Unit | PFA10255 - Electronic Control Unit |
| AN303764 - Electronic Control Unit | PF0630172753 - Electronic Control Unit |
| AN303765 - Electronic Control Unit | PF81223 - Electronic Control Unit |
| AN304161 - Electronic Control Unit | PF81225 - Electronic Control Unit |
| AT152708 - Electronic Control Unit | PF81247 - Electronic Control Unit |
| AT164408 - Electronic Control Unit | PF81271 - Electronic Control Unit |
| AT180693 - Basic Control Unit | PF81306 - Electronic Control Unit |
| AT204261 - Electronic Control Unit | PF81438 - Electronic Control Unit |
| AT209628 - Electronic Control Unit | PF81459 - Electronic Control Unit |
| AT210212 - Electronic Control Unit | PG200298 - Electronic Control Unit |
| AT266104 - Central Control Unit | PT20483 - Basic Control Unit |
| AT311752 - Central Control Unit | SAA10748 - Basic Control Unit |
| AT314667 - Electronic Control Unit | TCA19388 - Basic Control Unit |
| AT320947 - Electronic Control Unit | TCA19774 - Electronic Control Unit |
| AT356760 - Electronic Control Unit | TCA19844 - Electronic Control Unit |
| AT357899 - Basic Control Unit | TCA19845 - Electronic Control Unit |
| AT369730 - Electronic Control Unit | TCA19858 - Basic Control Unit |
| AT405611 - Electronic Control Unit | TCA19859 - Basic Control Unit |
| AT420507 - Electronic Control Unit | TCA21660 - Basic Control Unit |
| AT420508 - Electronic Control Unit | TT206570 - Electronic Control Unit |
| AT425237 - Electronic Control Unit | TT206668 - Electronic Control Unit |
| AYC12288 - Steering Control Unit | TT214244 - Electronic Control Unit |
| AYC13175 - Central Control Unit | TT214311 - Electronic Control Unit |
| AZ57847 - Electronic Control Unit | TT214372 - Electronic Control Unit |
| AZ57848 - Electronic Control Unit | TT214402 - Electronic Control Unit |
| AZ57850 - Electronic Control Unit | TT214637 - Electronic Control Unit |
| CB01477472 - Steering Control Unit | TT217552 - Electronic Control Unit |
| CB11430692 - Steering Control Unit | VGA10313 - Basic Control Unit |
| CB11441672 - Electronic Control Unit | WZW0010785 - Electronic Control Unit |
| CB11451634 - Steering Control Unit | WZW10708 - Electronic Control Unit |
| CB11452730 - Electronic Control Unit | WZ2629355 - Electronic Control Unit |
| CXM111667 - Central Control Unit | WZ39000312 - Steering Control Unit |
| DC202395 - Central Control Unit | YZ105341 - Electronic Control Unit |
| DC206790 - Electronic Control Unit | YZ105883 - Electronic Control Unit |
| DC206791 - Electronic Control Unit | 280311280 - Steering Control Unit |
| DC207246 - Electronic Control Unit | 361370926 - Electronic Control Unit |
| DC208955 - Electronic Control Unit | 870305 - Basic Control Unit |
| DC209073 - Electronic Control Unit | 1190328961 - Basic Control Unit |
| DMA210295 - Electronic Control Unit | 1825503250 - Central Control Unit |
| DMA210604 - Electronic Control Unit | 4186074 - Basic Control Unit |
| EPC045952 - Steering Control Unit | 4251497 - Basic Control Unit |
| ER368036 - Electronic Control Unit | 4337025 - Electronic Control Unit |
| ER370606 - Electronic Control Unit | 4342342 - Electronic Control Unit |
| ER384254 - Electronic Control Unit | 4361197 - Basic Control Unit |
| FG2030142 - Steering Control Unit | 4366985 - Basic Control Unit |
| FG2030215 - Steering Control Unit | 4371482 - Basic Control Unit |
| FG2030382 - Steering Control Unit | 4371485 - Basic Control Unit |
| FG2030528 - Steering Control Unit | 4426238 - Basic Control Unit |
| FG2030540 - Steering Control Unit | 4429005 - Basic Control Unit |
| FYA00003210 - Electronic Control Unit | 5HP56136 - Electronic Control Unit |
| FYA00021131 - Basic Control Unit | 5NT3707328 - Electronic Control Unit |
| FYA60002388 - Electronic Control Unit | 8970686530 - Basic Control Unit |
| FYA60011701 - Basic Control Unit | 8981259471 - Basic Control Unit |
| FYA60011702 - Basic Control Unit | 8981732320 - Basic Control Unit |
| FYA60011703 - Basic Control Unit | 8981734070 - Basic Control Unit |
| FYA60011704 - Basic Control Unit | 8981737781 - Basic Control Unit |
| FYA60011705 - Basic Control Unit | 8981747300 - Basic Control Unit |
| FYA60011706 - Basic Control Unit | 8981747310 - Basic Control Unit |
| FYA60015050 - Electronic Control Unit | 8981784040 - Electronic Control Unit |
| FYA60015051 - Basic Control Unit | 8981939690 - Central Control Unit |
| FYA60015052 - Basic Control Unit | 8981939700 - Central Control Unit |
| FYA60015053 - Basic Control Unit | 8982166390 - Basic Control Unit |
| FYA60019214 - Basic Control Unit | 9104908 - Basic Control Unit |
| F005227 - Central Control Unit | 9104912 - Basic Control Unit |
| F005412 - Central Control Unit | 9107905 - Basic Control Unit |
| F005413 - Central Control Unit | 9125176 - Electronic Control Unit |
| F017486 - Steering Control Unit | 9137151 - Basic Control Unit |
| F017872 - Central Control Unit | 9137868 - Central Control Unit |
| F019320 - Central Control Unit | 9151228 - Basic Control Unit |
| F019321 - Central Control Unit | 9152070 - Basic Control Unit |
| F021493 - Central Control Unit | 9153184 - Basic Control Unit |
| F022999 - Central Control Unit | 9157868 - Basic Control Unit |
| F023064 - Central Control Unit | 9205168 - Basic Control Unit |
| F024103 - Basic Control Unit | 9205326 - Electronic Control Unit |
| F043909 - Central Control Unit | 9205328 - Basic Control Unit |
| F050805 - Electronic Control Unit | 9205329 - Basic Control Unit |
| F051118 - Electronic Control Unit | 9205330 - Basic Control Unit |
| F054924 - Central Control Unit | 9205331 - Basic Control Unit |
| F056118 - Central Control Unit | 9205332 - Basic Control Unit |
| F056351 - Central Control Unit | 9205333 - Basic Control Unit |
| F056555 - Central Control Unit | 9205663 - Basic Control Unit |
| F057244 - Central Control Unit | 9215785 - Electronic Control Unit |
| F057258 - Central Control Unit | 9269251 - Basic Control Unit |
| F057898 - Central Control Unit | 9281270 - Central Control Unit |
| F058559 - Central Control Unit | |